Get ready to discover some of the absolute best 27 easy recipes with potatoes! These delicious potato recipes are great side dishes. They are so good and exciting that you are bound to find something you have to make.
For example, there are pork belly mini potato stacks, Italian potato croquettes, lemon feta fries, Bombay potatoes, the crispiest homemade fries, and so many more.
Are you excited yet?
Let's dive in!
Pork Belly Mini Potato Stacks
You can get all fancy and call these thinly sliced potatoes by their French name, Pommes Anna. But we'll follow Laura's lead. The Cook At Home Mom calls them potato stacks. Topped with succulent pork belly, we'll just call them delicious.
Visit Cook At Home Mom for the recipe.
Potato Galette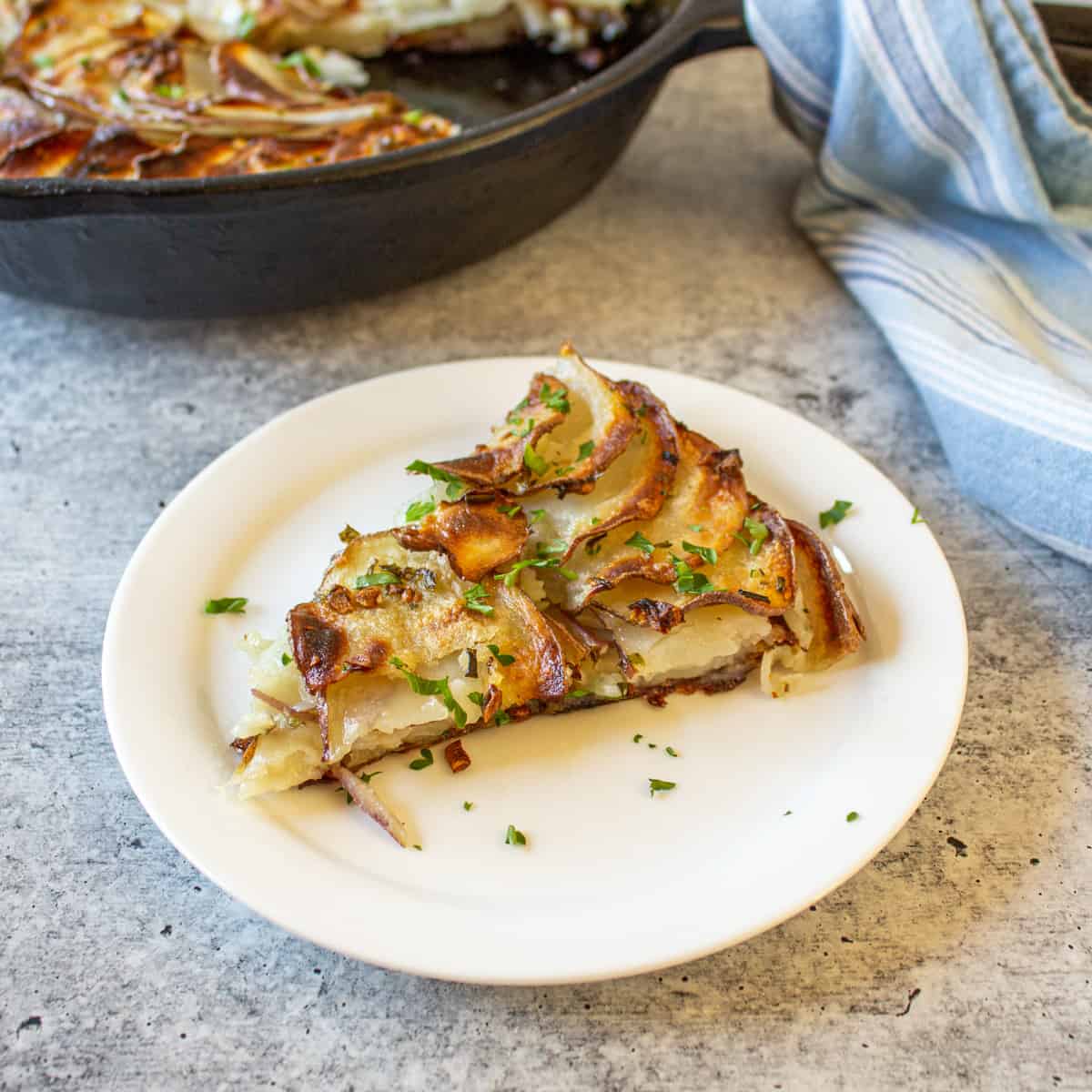 Baked in a cast iron pan, this potato galette from Kathy of Beyond The Chicken Coop is rustic elegance at its finest. When done, the potatoes will be crispy on the outside and creamy inside. Each bite is herby, buttery, garlicky, and tasty.
Visit Beyond The Chicken Coop for the recipe.
Crispy Smashed Potatoes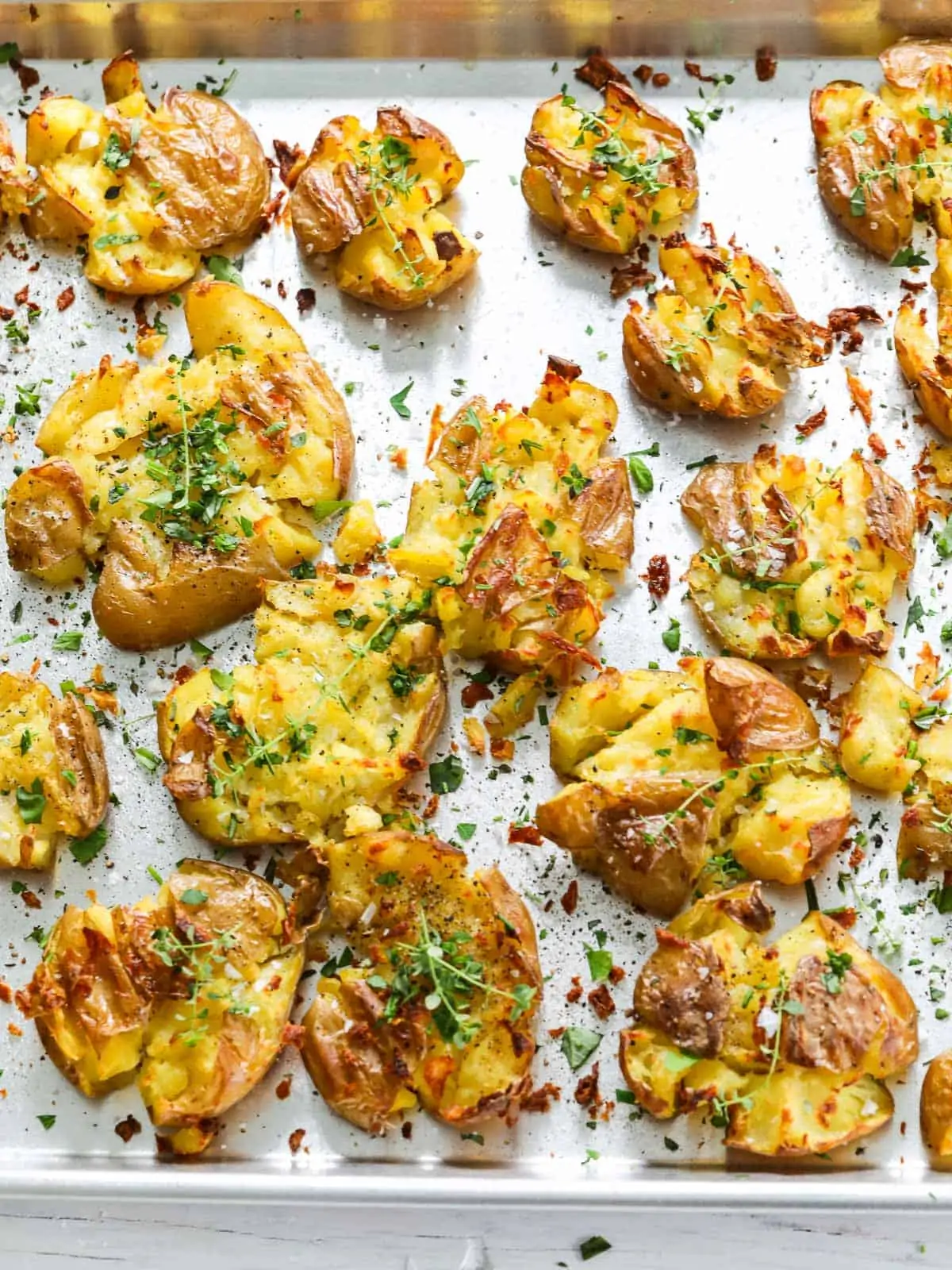 If you're stuck in a potato rut, these crispy smashed potatoes from Lisa of Delicious Table will get you on the right track. Most ingredients will be in your cupboard, so your grocery list will be pretty short. They're so crispy and herby and will make your table a little more delicious. Don't you want to make them tonight?
Visit Delicious Table for the recipe.
The Best Scalloped Potatoes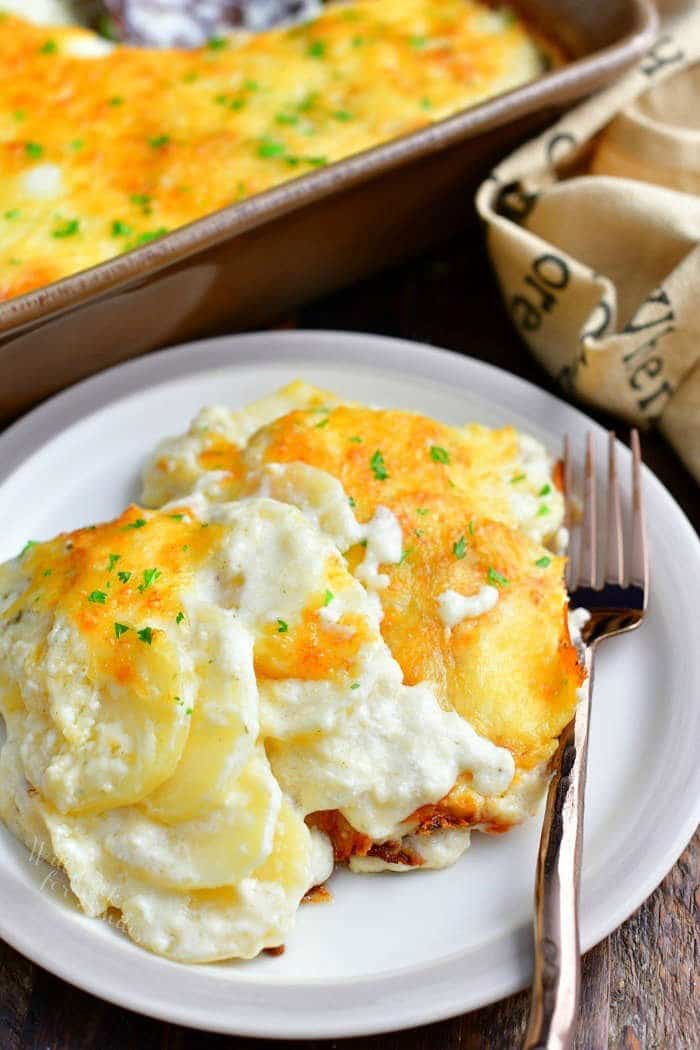 Lyuba Will Cook For Smiles. And with this scalloped potatoes recipe, you've found the perfect side dish to garner those grins. It's a sliced potato, creamy, cheese-filled, decadent dish with lots of flavor from pepper, garlic, and onion powder. And in case you wonder, Lyuba also explains the difference between scalloped and au gratin potatoes.
Visit Will Cook For Smiles for the recipe.
Best Homemade Italian Potato Croquettes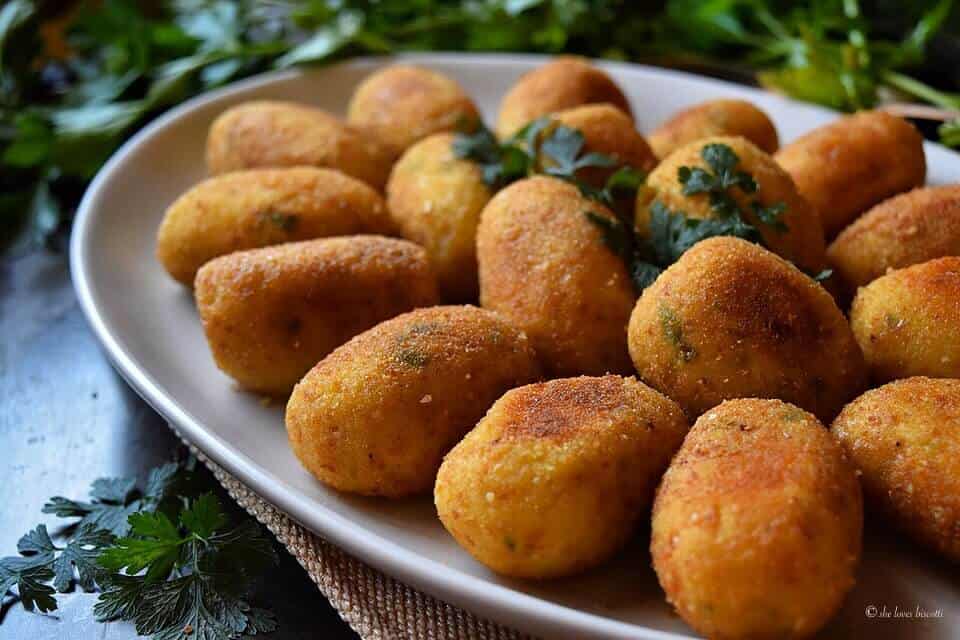 With help from Maria of She Loves Biscotti, you will discover how to make the best homemade Italian potato croquettes (crocchette di patate). She shares her secrets to selecting the correct type of potato and the best cooking method so you can make this fantastic Italian street food at home.
Visit She Loves Biscotti for the recipe.
Easy German Potato Pancakes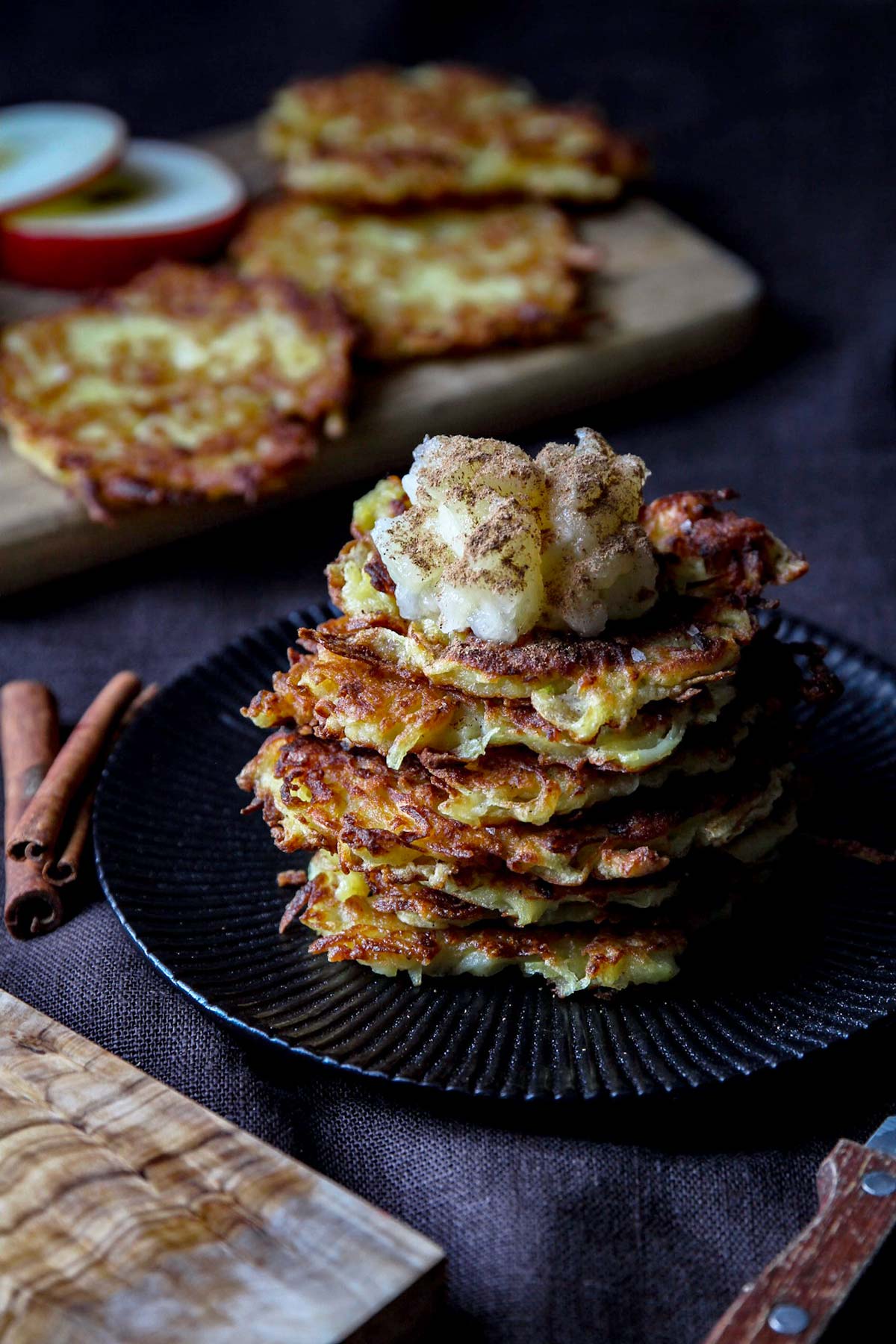 These 30-minute potato pancakes (also known as latkes) from All That's Jas are a classic German food eaten as a snack, main or side. Make them for breakfast with a little cinnamon applesauce, sour cream, and sausage links. Whatever you do, follow Jas's advice to deliciousness.
Visit All That's Jas for the recipe.
Sticky Maple Glazed Potatoes
While many potato recipes call for cream, butter, or both, these maple-glazed potatoes from Shu-Chun, creator of Joyful Dumplings, are vegan. And they're absolutely appetizing! First, baby potatoes are pan-fried for maximum crunch and then showered in a deliciously sweet and sticky, umami, garlicky, maple glaze.
Okay, this one is on our must-try list; we tried the sauce from this recipe, and it was unbelievable! Maple is a better choice than white sugar for added flavor. While Shun-Chun crisps her potatoes in the pan, we deep-fried ours…but that sauce!
Visit Joyful Dumplings for the recipe.
Parmesan Peppercorn Mashed Potatoes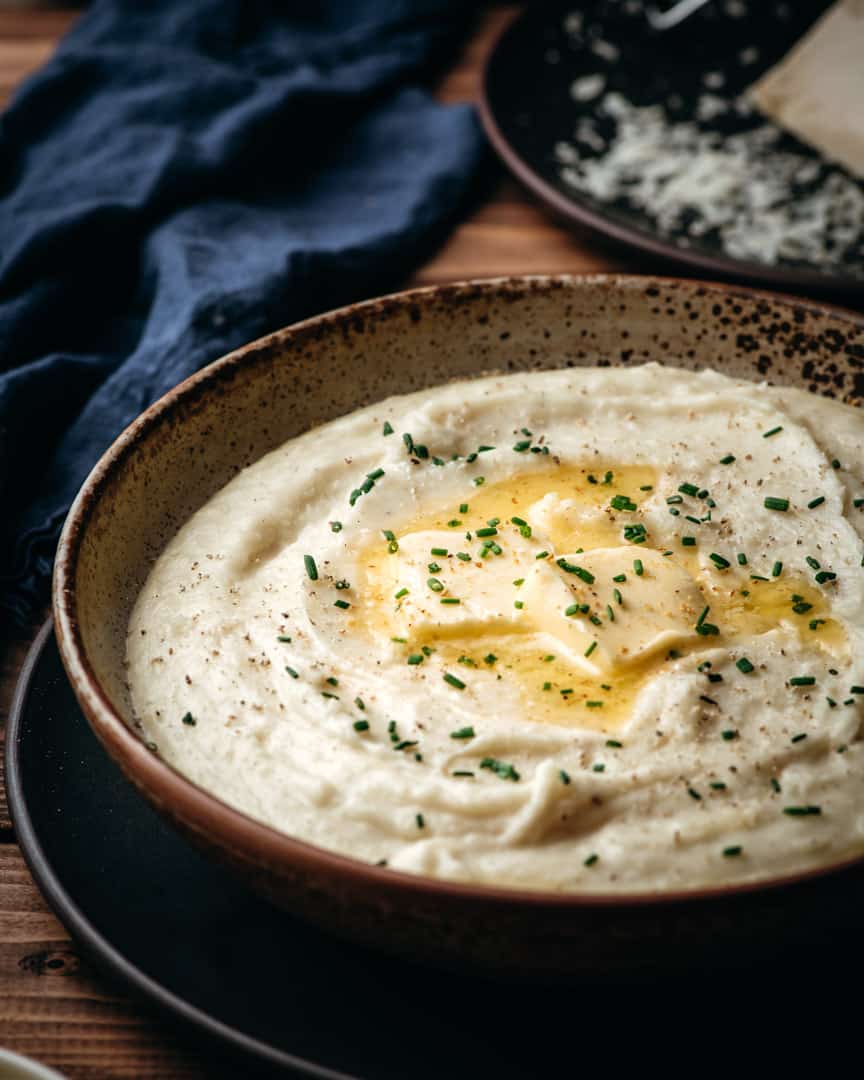 With these parmesan peppercorn mashed potatoes from the Cooking With Wine folks, steak sides are no longer an afterthought. We love this team as their recipes are precise. For example, this recipe calls for Yukon gold potatoes in grams and a specific kind of sour cream. So bring this dish to Thanksgiving and make a statement.
Visit Cooking With Wine for the recipe.
Potato Dinner Rolls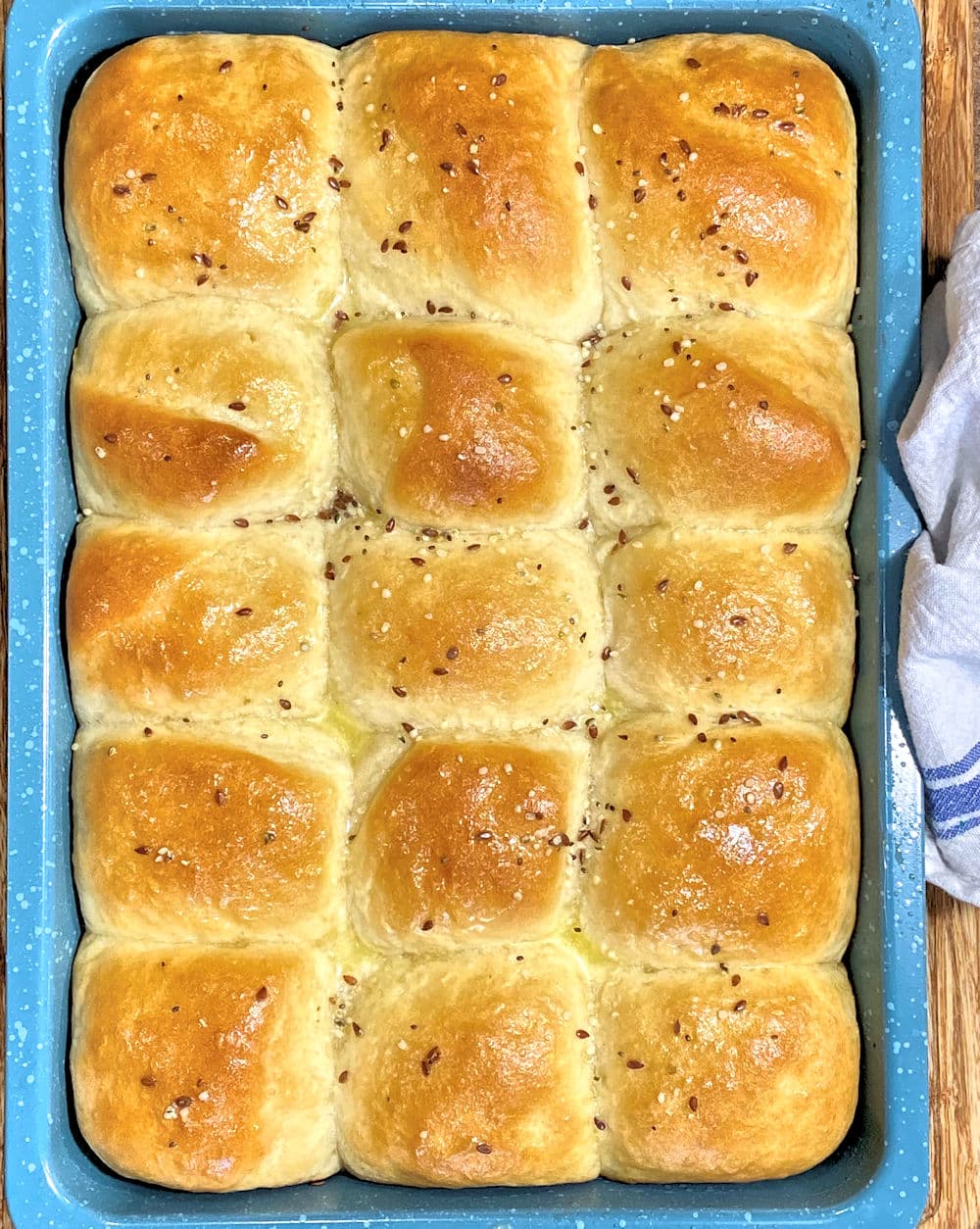 The inspiration for these bread machine potato rolls from Christian of 24Bite was an old recipe written on a note in a recipe box. How cool is that? The potato and you can use a fresh one or instant, make the rolls fluffy, light, and airy, precisely what you want for your holiday dinner rolls.
Visit 24 Bite for the recipe.
Loaded Mac and Cheese Stuffed Baked Potatoes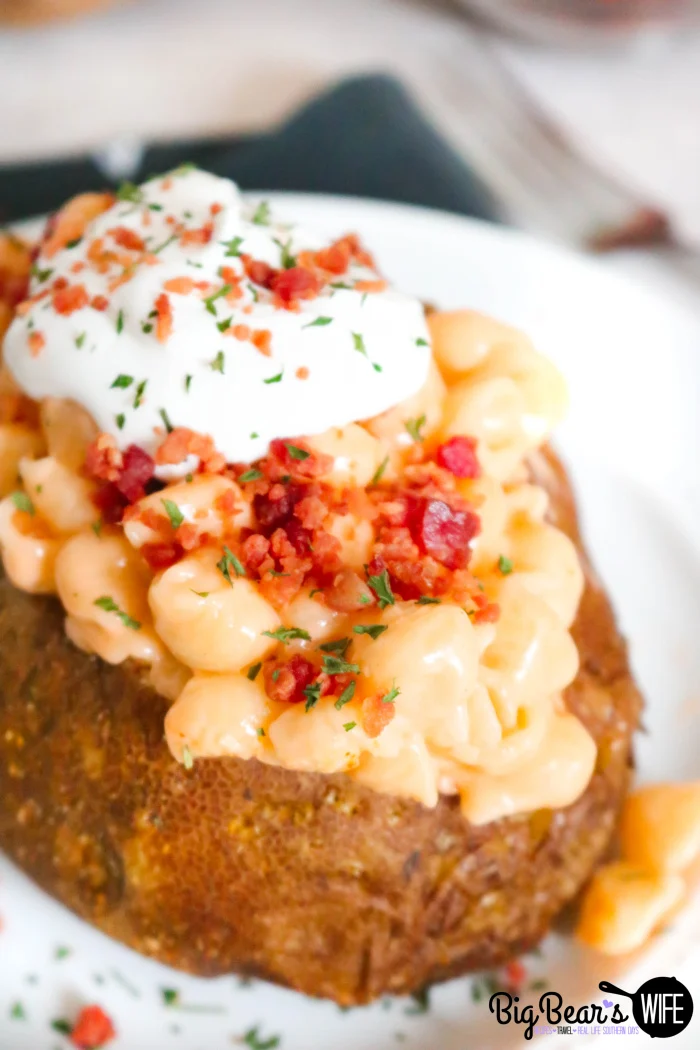 If you ever attend a carb lover festival (aka any holiday with our family, ever), bring this loaded mac and cheese stuffed baked potatoes from Angie of Big Bear's Wife. As it sounds, you take a baked potato and fill it with creamy, cheesy mac and cheese. Then top it with bacon bits, sour cream, and chives.
Visit Big Bear's Wife for the recipe.
Bombay Potatoes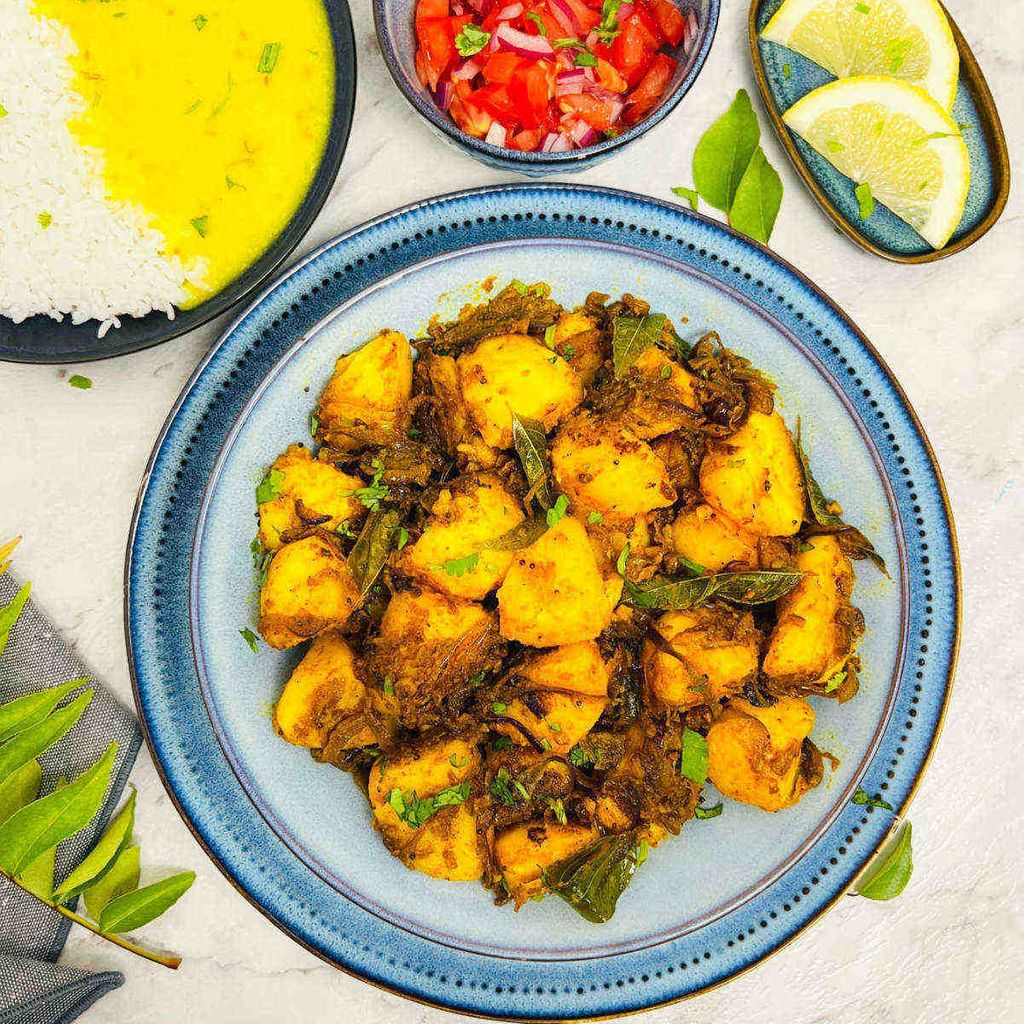 With just a glance, it's easy to see that these Bombay potatoes from Shilpa of East Indian Cookbook are bursting with flavor. That's because these crispy on the outside and tender on the inside potatoes are seasoned with loads of spices like turmeric, cumin, masala, chili powder, herbs, onions, and ginger. It's a flavor explosion!
Visit East Indian Cookbook for the recipe.
Microwaved Baby Potatoes
We love microwaved baby potatoes recipe from the Milners of Recipe This. There's nothing fancy with this quick recipe. With just four ingredients, including the potatoes, it takes about 10 minutes to make. It's just unpretentious but tasty mid-week eating, perfect for when life is busy and you just need to make it through.
Visit Recipe This for the recipe.
Brown Butter Mashed Potatoes With Roasted Garlic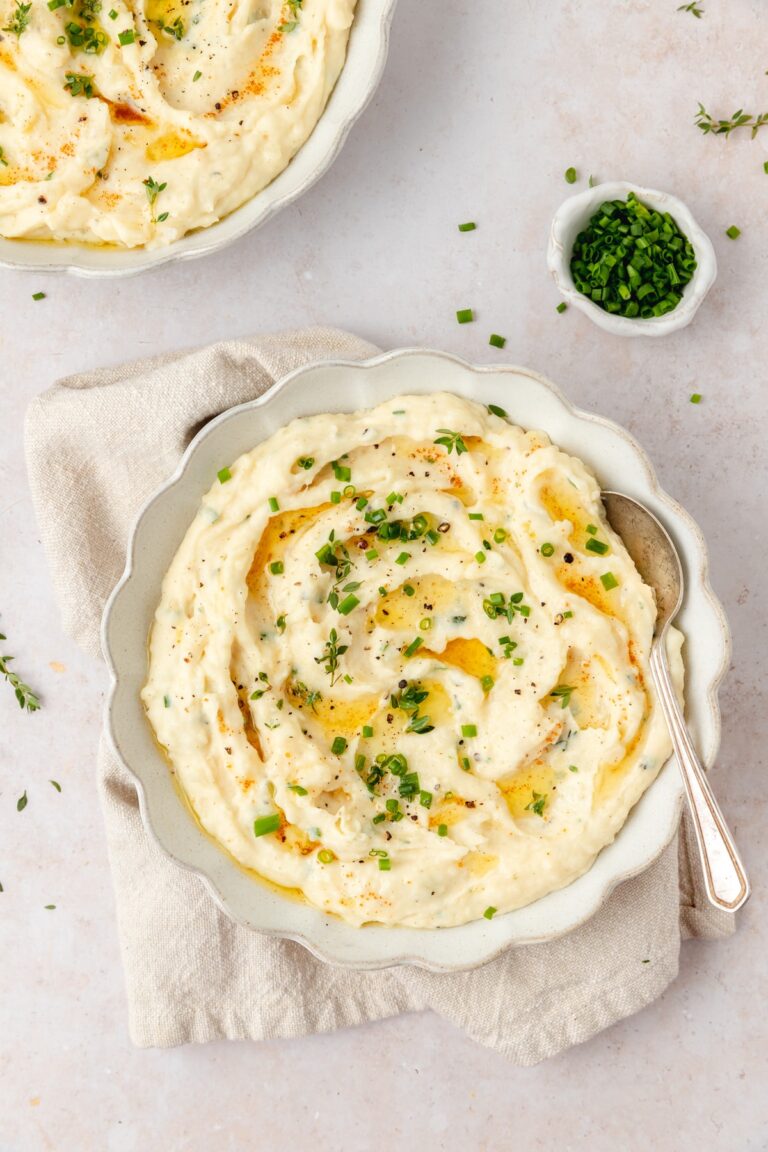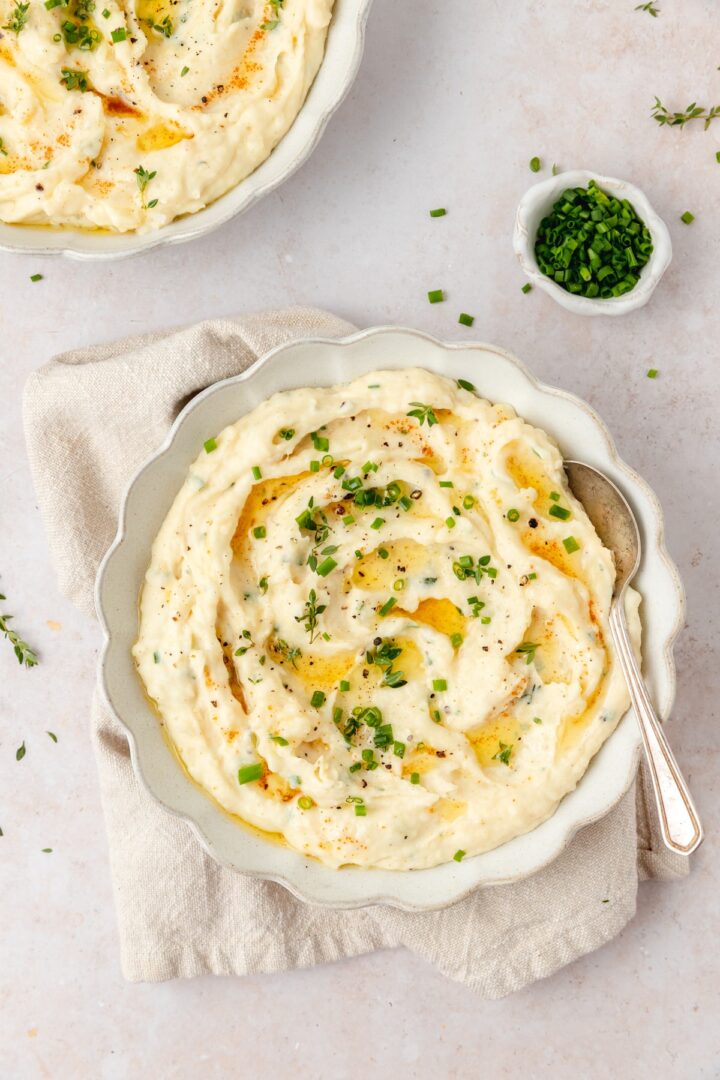 Brown butter imparts a nuttiness that takes average dishes to the stratosphere. So, these delish mashed potatoes from Kyleigh of Barley And Sage aren't ordinary. For one, she uses brown butter, which imparts a nuttiness that takes average dishes to the stratosphere. But that's not all! That flavor is further enhanced with roasted garlic, sour cream, chives, thyme, and more.
Visit Barley And Sage for the recipe.
Lemon Feta Fries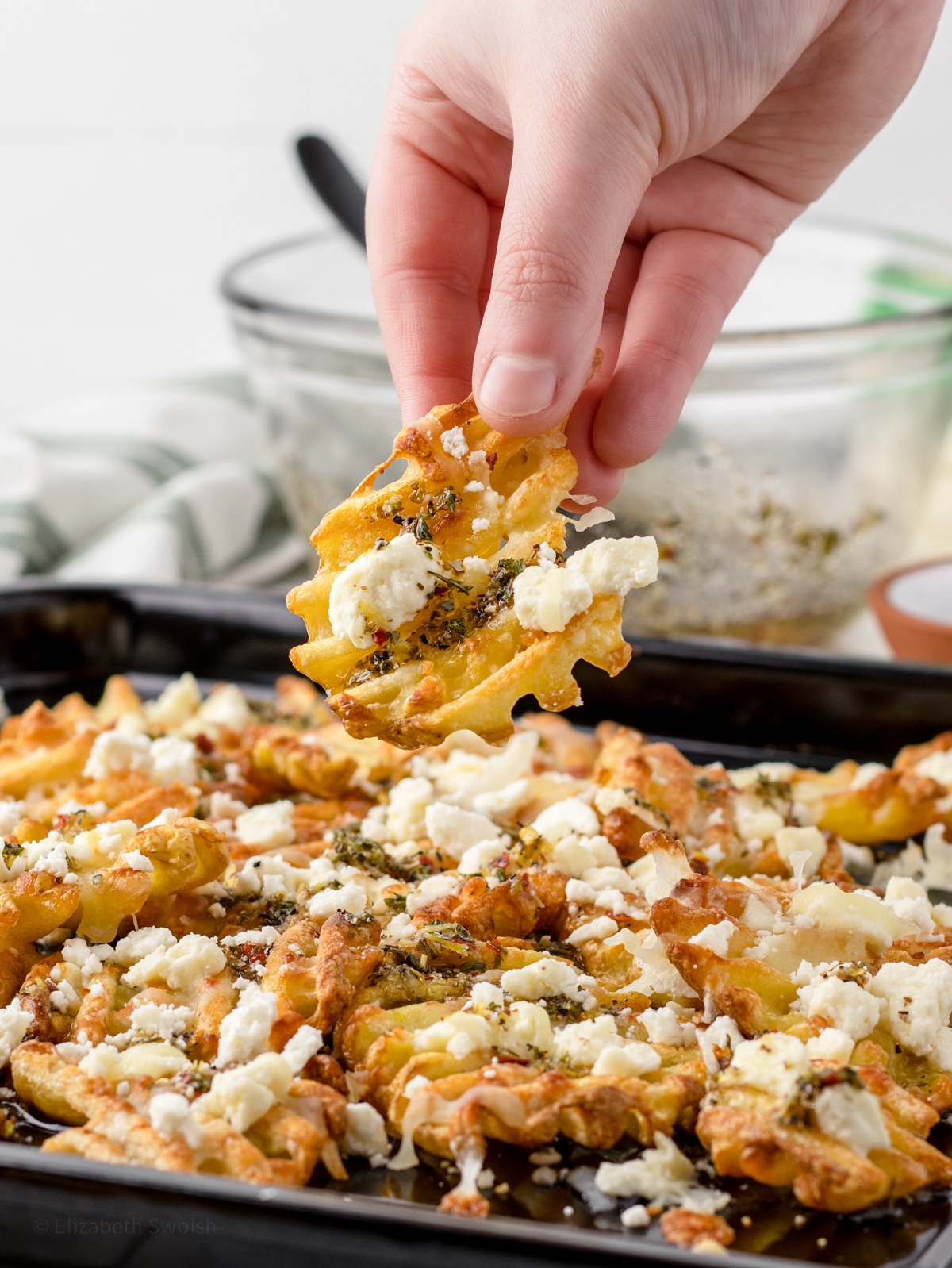 A pet peeve of ours is restaurants that treat fries as an afterthought—an obligatory side to accompany burgers. So with these great lemon feta fries from Entirely Elizabeth, you will break away from the mediocre. First, hot and crispy fries are piled high with mozzarella and feta cheeses. Then you drench them in her super flavorful, lemony, herby olive oil sauce.
Visit Entirely Elizabeth for the recipe.
Hasselback Potatoes
Mandy and Jane from Splash Of Taste offer this splendiferous buttery Hasselback potato recipe with lots of herbs and garlic. Following their instructions, including the best kind of potato to use, will lead you to crispy, thinly sliced potatoes held together at the bottom like an accordion. It's an impressive and fun-to-eat side dish.
Visit Splash Of Taste for the recipe.
Crockpot Potato Soup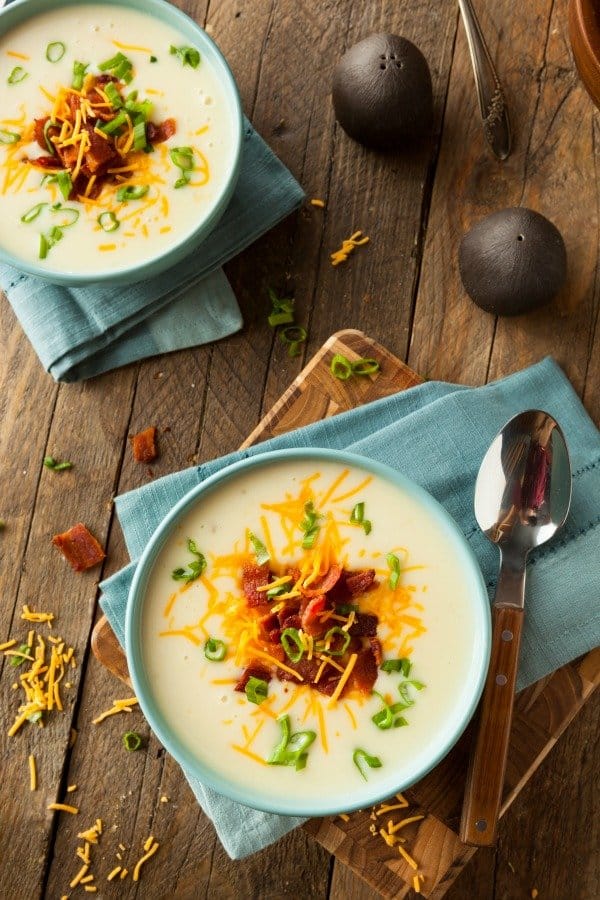 Head over to When Is Dinner, where Karen will teach you how to make this scrumptious fall-perfect crockpot potato soup. Load it with bacon, sour cream, and cheese when it's finished. So, if you love mostly hands-off recipes, this slow cooker soup is ready in 6 to 8 hours, right when you get home from work.
Visit When Is Dinner for the recipe.
Fried Potatoes And Onions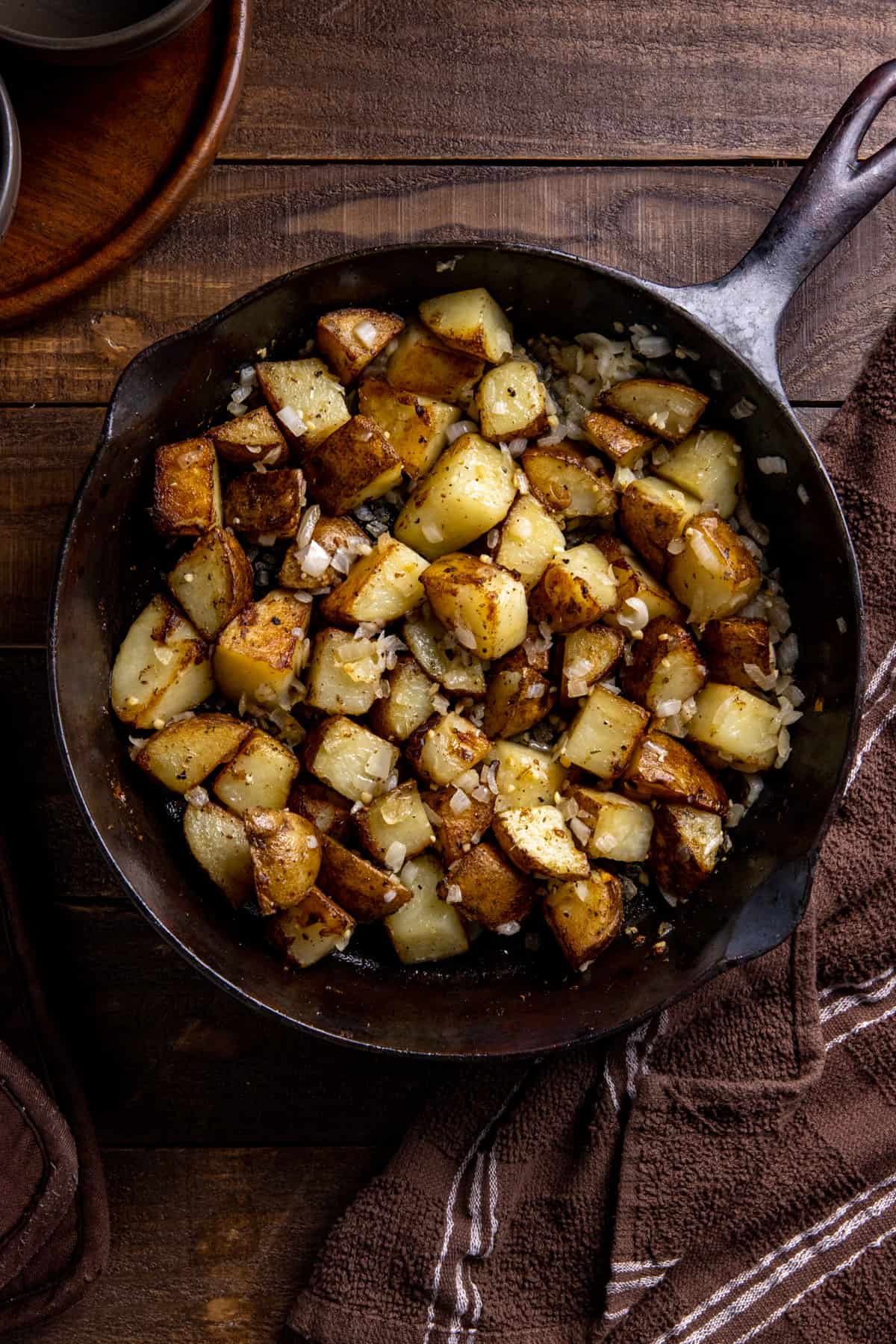 Anne, the creative behind My Kitchen Serenity—a food blog informed by Southern cuisine, is correct. The best fried potatoes are indeed made in a cast iron skillet and pair perfectly with sauteed onions. And this simple 20-minute recipe is one where you probably have all the ingredients on hand. It's incredibly flavorful, and the whole family will love it.
Visit My Kitchen Serenity for the recipe.
Potato Gratin with Porcini Mushrooms
Earthy, decadent, creamy, and cheesy, this potatoes gratin with porcini mushrooms from Ieva of Somebody Feed Seb is a wonderful side dish. However, it's so hearty and heavenly it could make the main course all its own.
Visit Somebody Feed Seb for the recipe.
Vegetarian Potato Curry Puff Recipe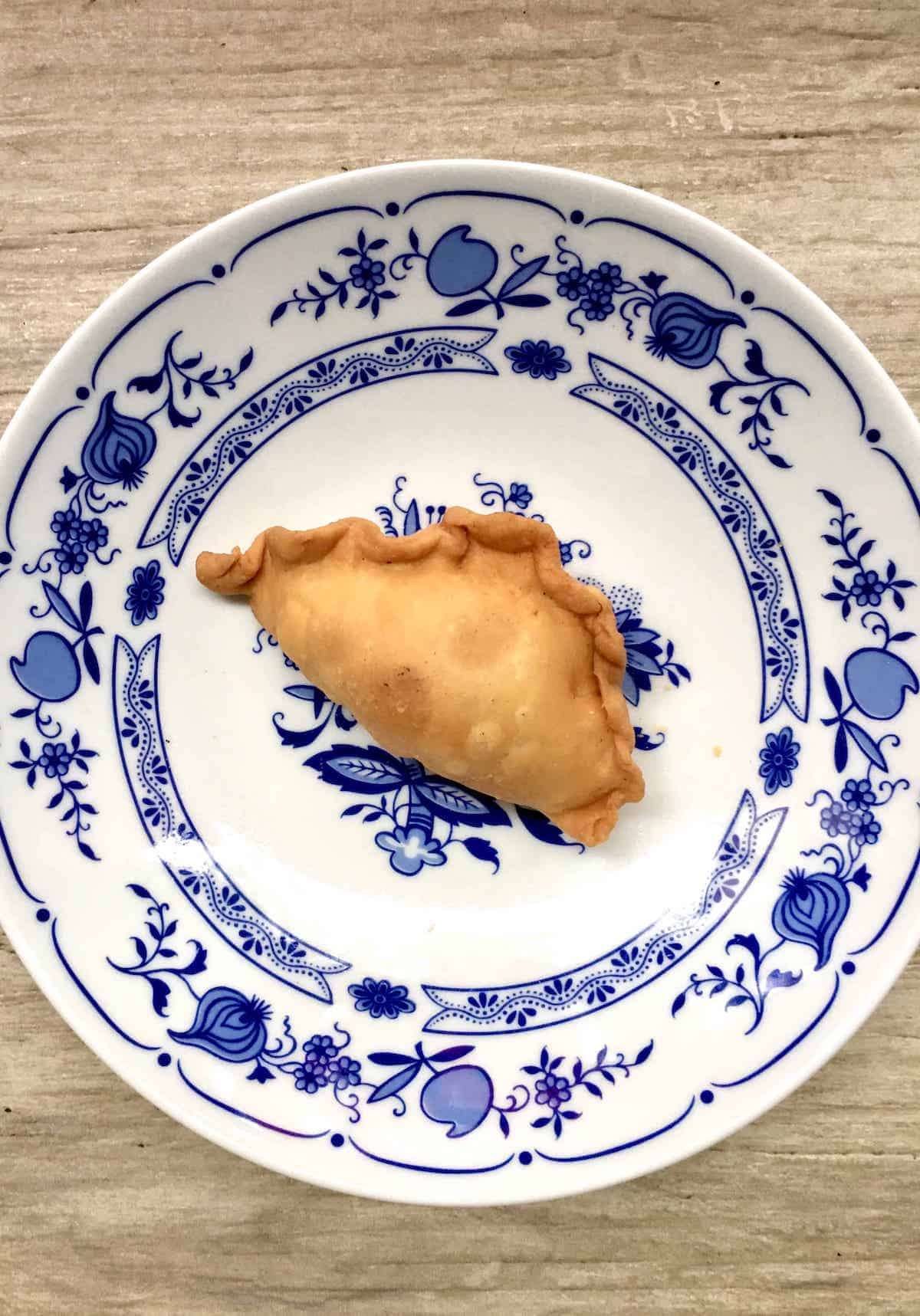 You won't miss meat with this vegetarian potato curry puff recipe from Zhou of Greedy Girl Gourmet. It's a deep-fried comfort food dough pocket filled, otherwise known as Karipap, with a delicious mix of potatoes and curry. The best part is that dough is easy to make as it doesn't require kneading.
Visit Greedy Girl Gourmet for the recipe.
Loaded Baked Potato Salad Recipe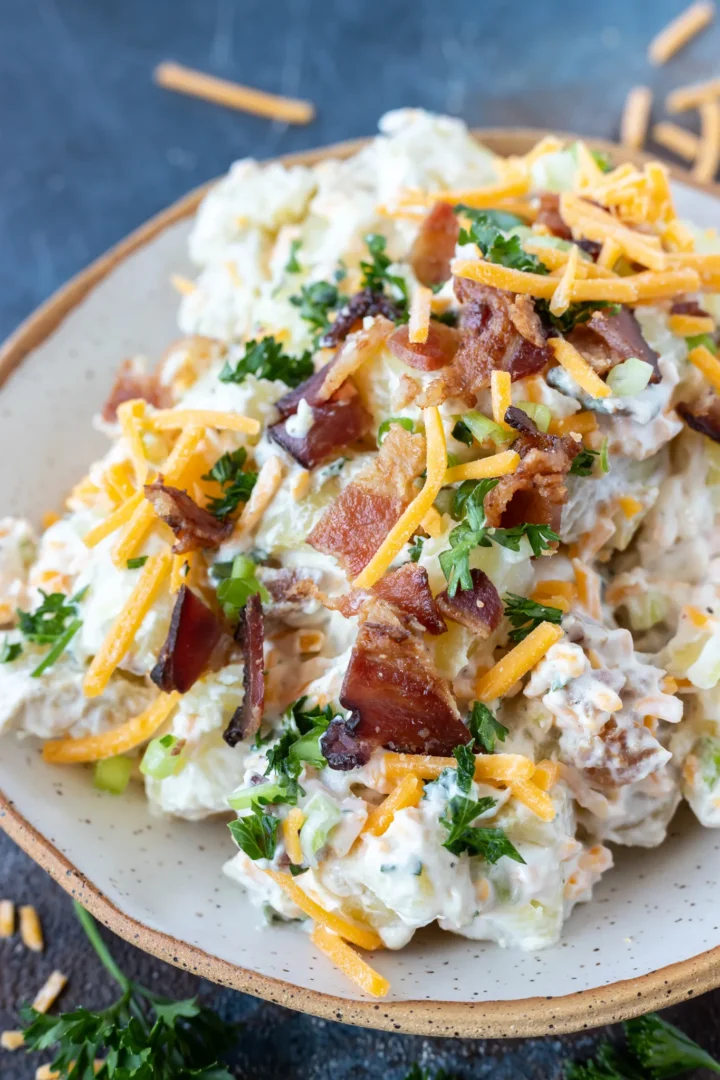 This loaded baked potato salad recipe from Nicole of Wonky Wonderful is thebomb.com! The bacon, cheese, and sour cream laden potato masterpiece has nearly 15,000 shares and is rated almost five stars with over 140 reviews. So, you can feel confident bringing this leveled-up potato salad to your next get-together.
Visit Wonky Wonderful for the recipe.
Potatoes Romanoff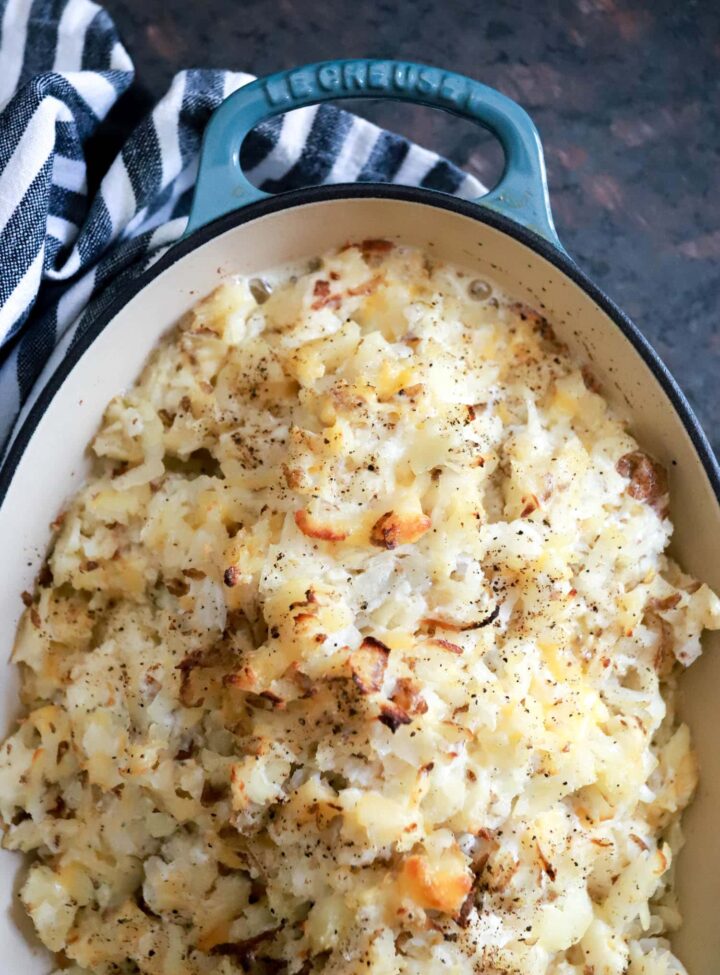 Never met Potatoes Romanoff? Fear not. Lindsay of My Therapist Cooks makes the introduction. It's a casserole dish with grated baked potatoes, lots of cheese, onions, and butter. This indulgent 30-minute side dish answers the question of what to do with those leftover baked potatoes.
Visit My Therapist Cooks for the recipe.
Potato Pave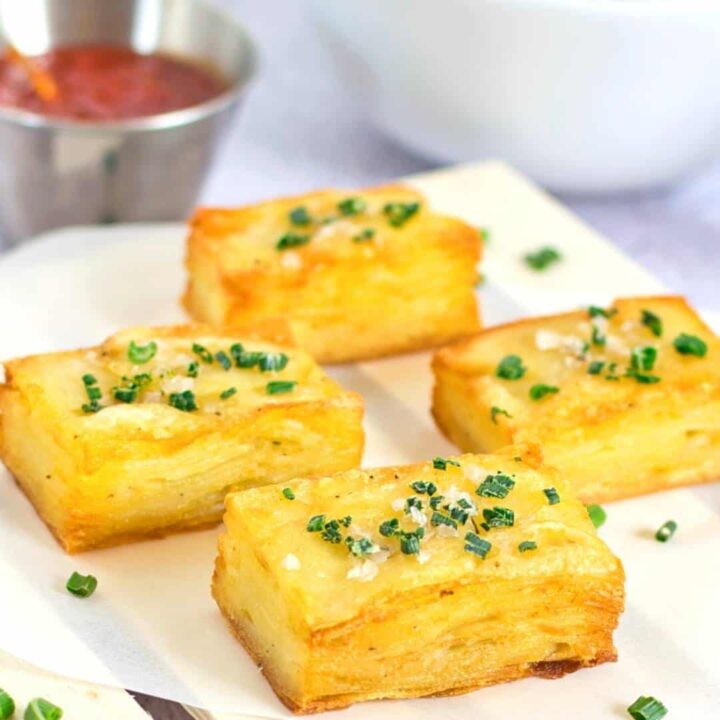 Another potato dish that might be new to you is this Potato Pave recipe from Food Wine And Love. Like scalloped or gratin, the potatoes are cut thinly, layered, and baked.
However, once they bake, place a weight over them to compress them. Finally, cut them into small rectangles before pan-frying. Sounds delicious! Just follow the instructions closely.
Visit Food Wine And Love for the recipe.
Air Fryer Hash Browns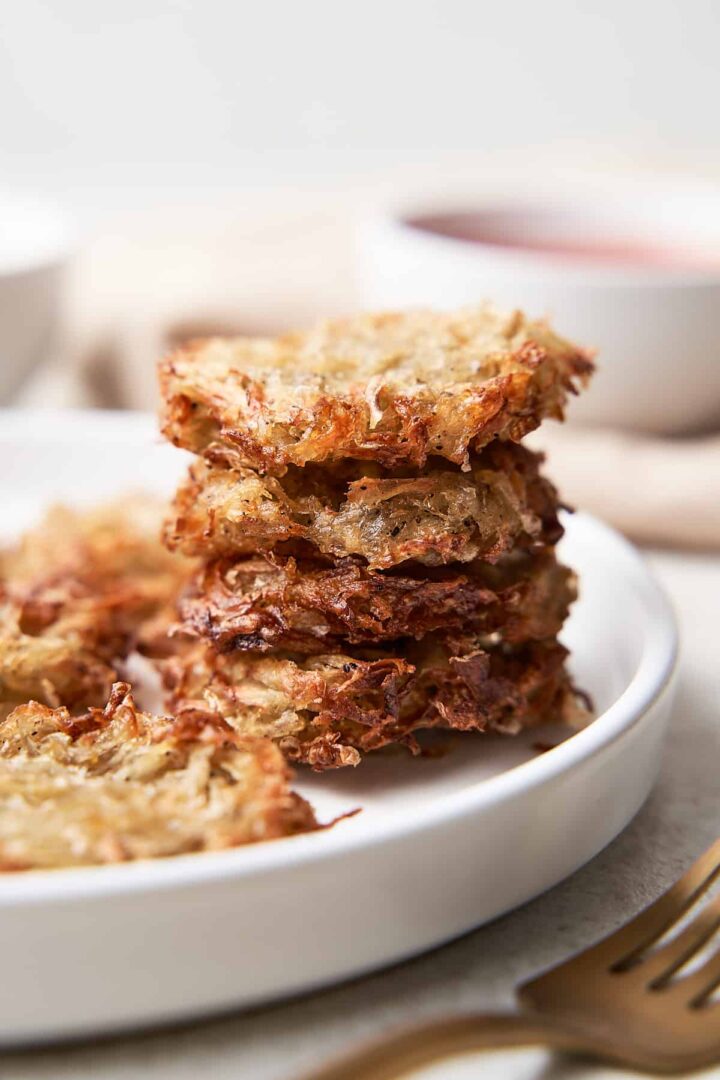 Mmmm! You can almost smell these hash browns from Mitch And Justine of Broke Bank Vegan through the computer screen. They're so golden brown, delicious, and best of all, you can make them conveniently in the air fryer. It sounds like a tasty way to start the day!
Visit Broke Bank Vegan for the recipe.
Slow Cooker Colcannon Potatoes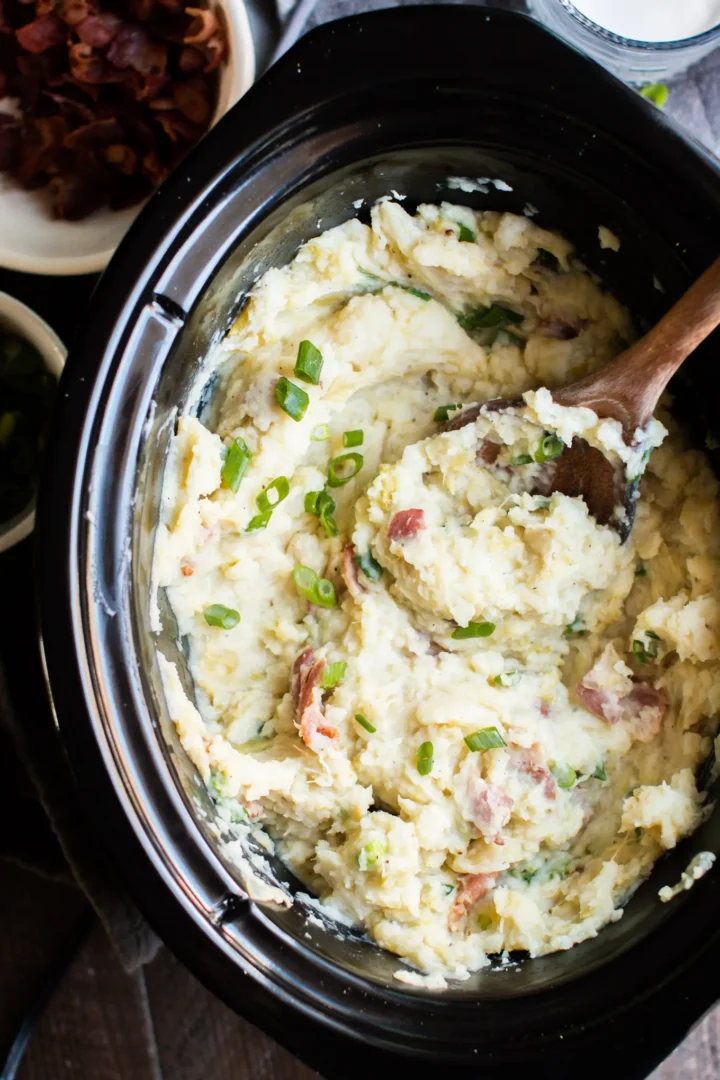 These Colcannon potatoes from Sarah of The Magical Slow Cooker may look like mashed potatoes full of delicious add-ins. They are. But there's one ingredient you would never guess; cabbage. That's right. This Irish side is a delightful mix of potatoes and cabbage (plus green onions and bacon). It doesn't get more Irish than that!
Visit The Magical Slow Cooker for the recipe.
Za'atar Fries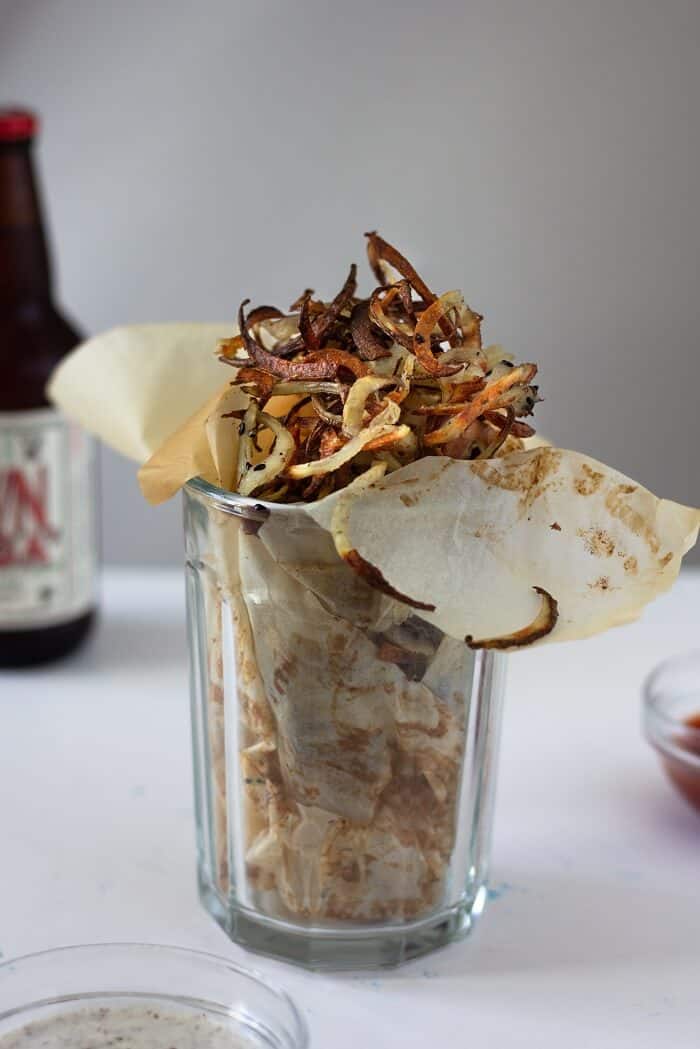 Heather, the owner of Delicious Not Gorgeous, created these za'atar fries. They're crispy, thinly sliced, baked spiralized fries seasoned with za'atar-an herby, sesame, lemony seasoning blend. And for dipping, there's a garlic lemon yogurt sauce.
Visit Delicious Not Gorgeous for the recipe.
Crispy Masala Fries
Starting with raw potatoes and lots of flavors, this masala fries recipe from Qashang of Chili To Choc is the real deal. The fries come out crunchy thanks to a bit of cornstarch and a double fry process. But we're here for that flavor which comes from chili powder, chaat masala, and dried mango powder. We can't wait to try this!
Note: Double frying works really well for crispy homemade fries.
Visit Chili To Choc for the recipe.
Crispy Potato Tacos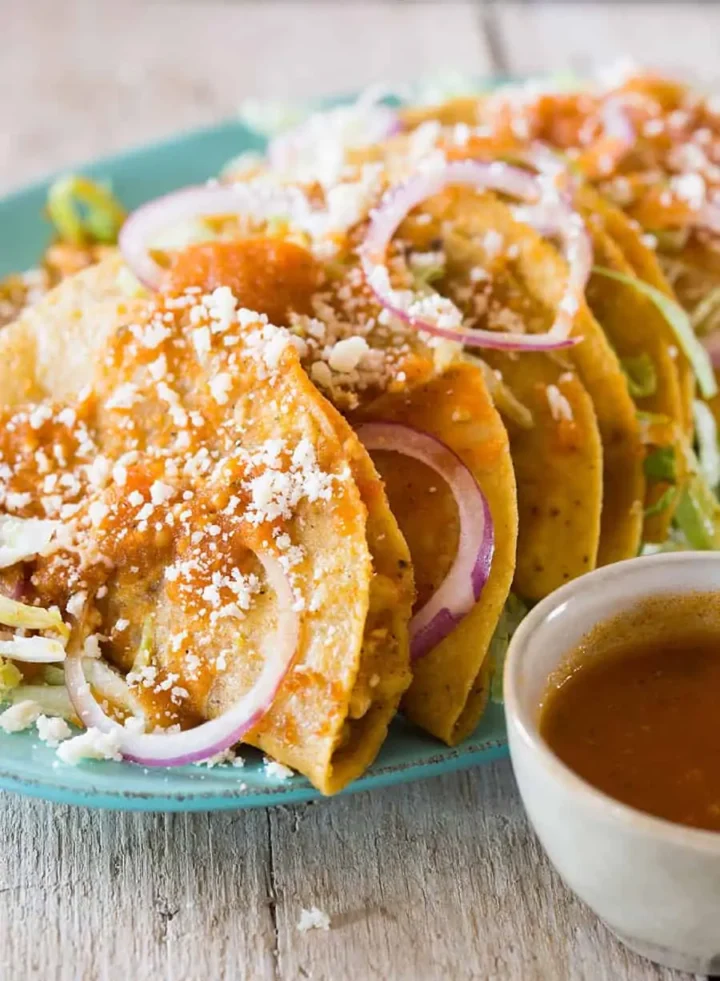 Reimagine taco Tuesdays with these vegetarian mashed potato tacos from Maricruz Avalos. But these aren't you're standard "Bob Evans" mashed potatoes. No, no, no! Those mashed papas are full of crumbly cotija cheese, cumin, paprika, pepper, and garlic powder. That's flavor! And that's the filling for your corn tortillas you crisp up and smother with an out-of-this-world tomato-based sauce.
Visit Maricruz Avalos for the recipe.
Which Potato Recipe Will You Make First?
Is it the slow cooker colcannon potatoes, the potato pave, or parmesan peppercorn mashed potatoes? They're all delicious options. Let us know.