You're going to drool over these 20 Outrageous Oreo Dessert Recipes from talented food bloggers. Here's a promise. You are bound to find something sweet and unique you absolutely have to make.
Here's a sneak peek of what you can expect.
There are several Oreo cookie creations, including brownies, Oreo Tiramisu, and even Oreo French Toast. Yes, you've read that right. So are you ready to discover tasty treats featuring the world's most popular sandwich cookie?
Let's dive in!
Oreo Cheesecake Cookies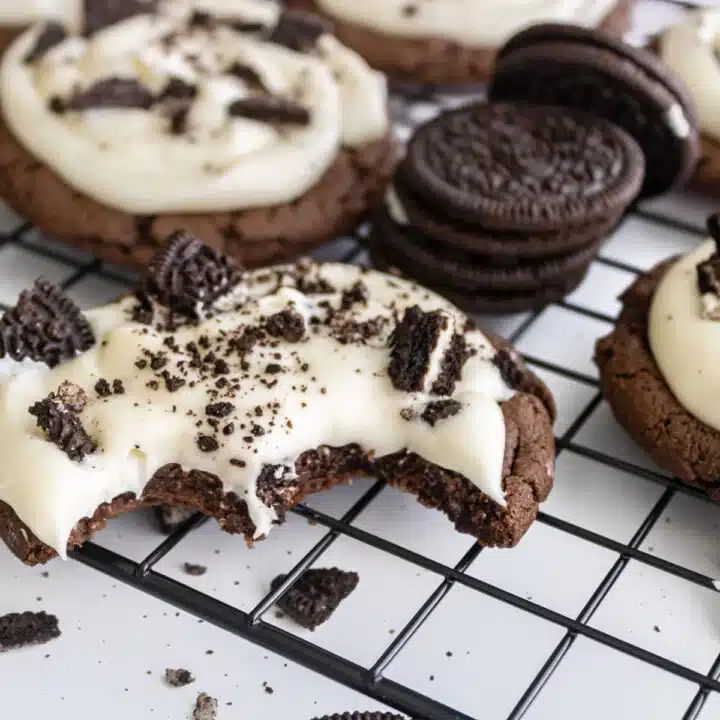 When desserts taste as good as these Oreo Cheesecake Cookies from Nicole and Andrea of Simply Scrumptious Eats, we don't really care how they look. Luckily, though, these cookies look every bit as delicious as they are. The base is chocolatey, fudgy cookie topped with a finger-licking cheesecake frosting. And to top it off, you finish it with cookie crumbles.
Oreo Stuffed Brownie Cookies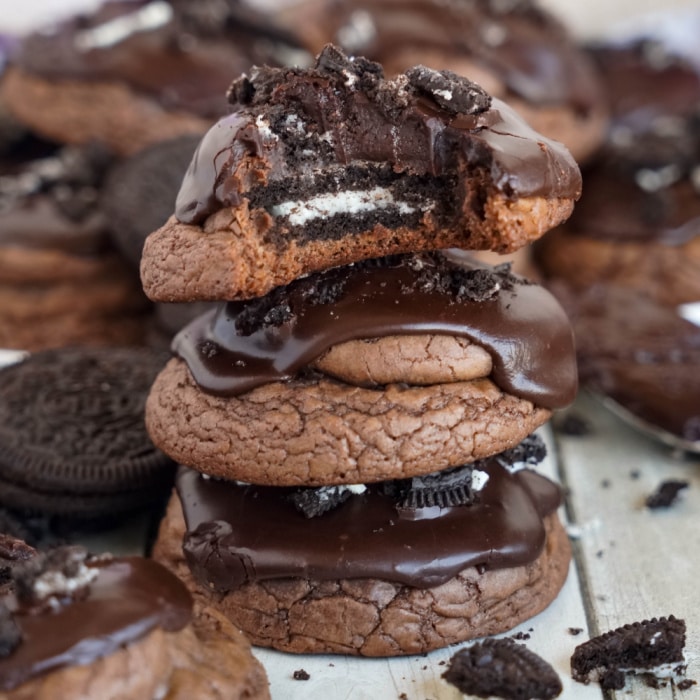 What happens when you stuff brownie cookies with Oreos and top them with a decadently creamy chocolate sauce? You get these luxuriously rich Oreo Stuffed Brownie Cookies from Julie of Lemon Peony. They make for a surprising potluck or movie night treat. Plus, they are easy, taking just 20 minutes to prepare and eight minutes to bake.
The Best Oreo Dessert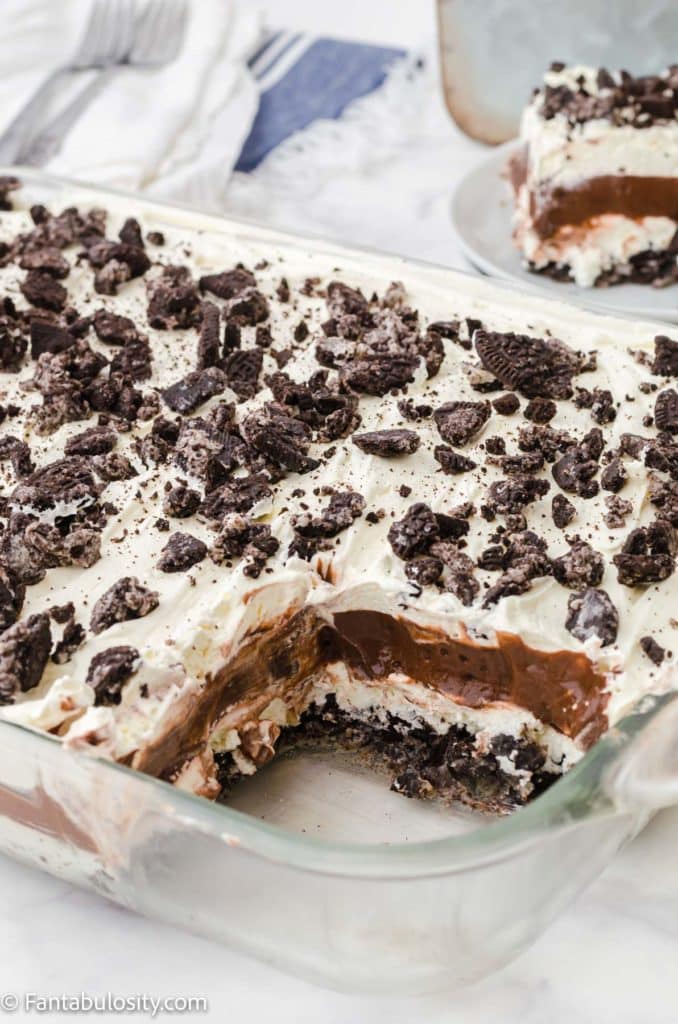 Jessica of Fantabulosity calls it The Best Oreo Dessert. So sure, it's a bold claim, but maybe it's plausible. Here's why. With just seven ingredients, including Oreos, melted butter, Cool Whip, and cream cheese, it's a simple no-bake treat sure to be the focus of your next get-together. Also, it doesn't take long to make. The hardest part is waiting for it to chill.
Easy Dairy Free Oreo Cheesecake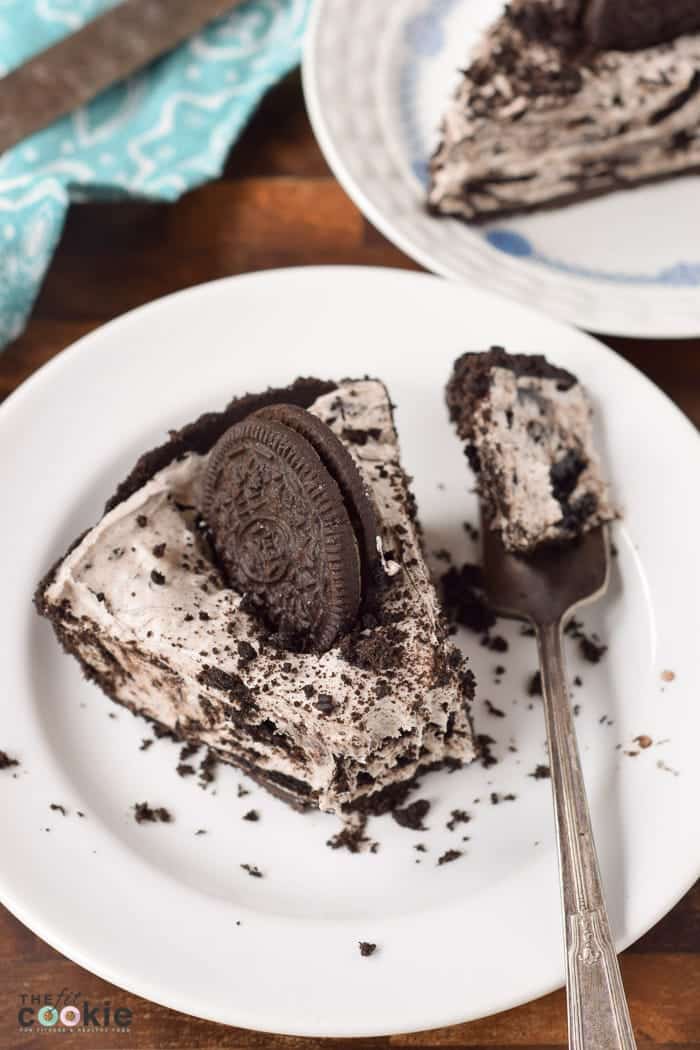 With this Easy Dairy Free Oreo Cheesecake, Sarah of The Fit Cookie shows that everyone should be able to enjoy Oreo desserts. The personal trainer and allergy mom created a decadent main attraction dessert: dairy-free, cashew-free, egg-free, and even gluten-free. And it's still delicious! See how she does it!
Crushed Oreo Red Velvet Cookies
With these Crushed Oreo Red Velvet Cookies, Samantha of Savor The Spoonful is your diet's worst nightmare. So here's the deal. It starts with her red velvet cookie mix enhanced with crumbled Oreo cookie pieces for a moist and decadent treat. It's a simple concept that's visually stunning.
Oreo Cinnamon Rolls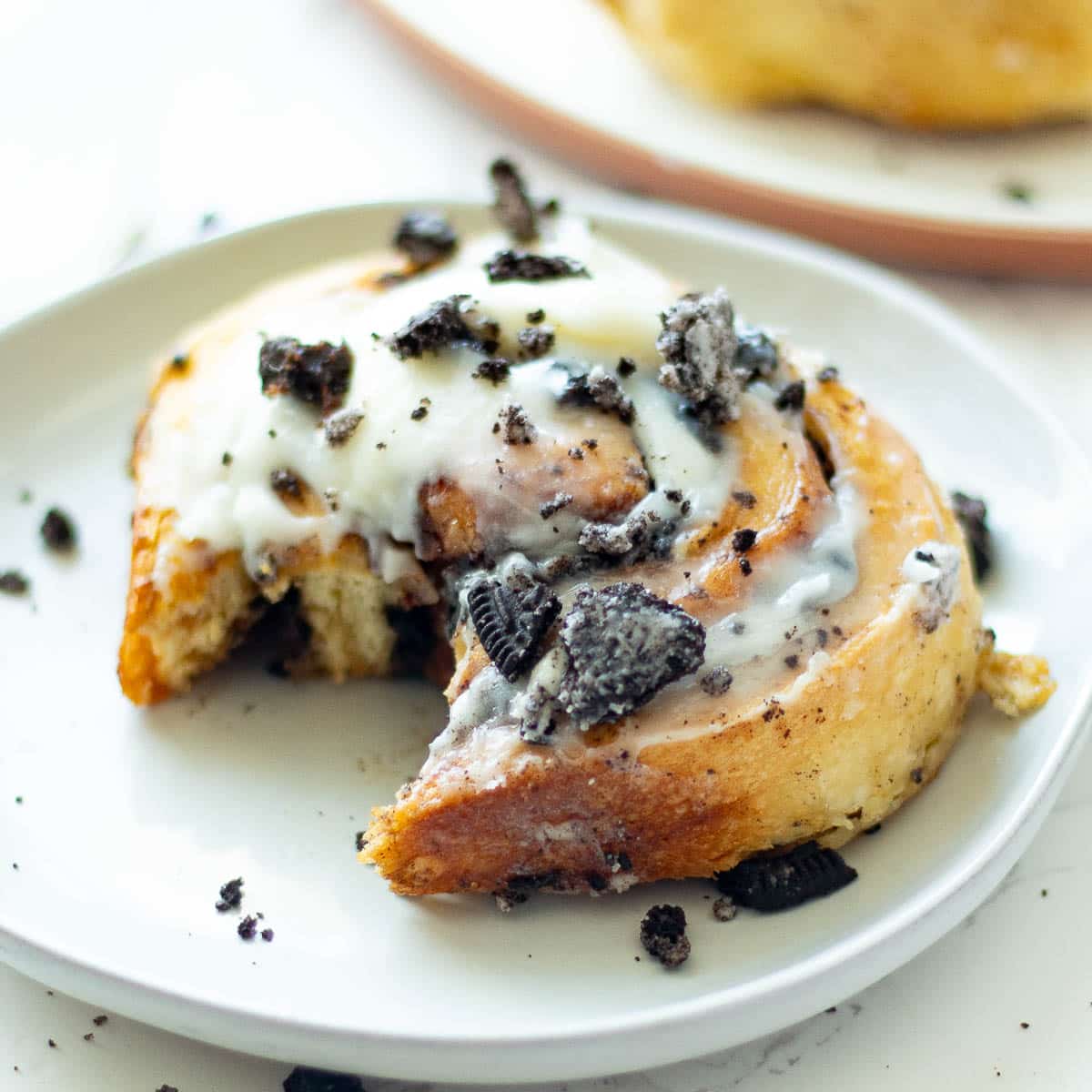 Chenée is an expert at creating sweet treat distractions like these Oreo Cinnamon Rolls you'll learn about Today. What are they? As the name implies, they're cinnamon rolls filled with Oreo cookie crumbles. Oh, and don't worry about making the dough from scratch. Instead, she keeps it simple by using canned rolls.
Oreo Tiramisu
This Oreo Tiramisu from Mary of Flouring Kitchen is, well, genius. Instead of ladyfingers, you soak in coffee, she swaps them for Oreos, making it a more flavorsome treat. The result is a twist on the classic Italian "pick me up" dessert so good you may never return to the original.
Easy Oreo Truffles
Are you looking for an indulgent after-school snack or bite-sized no-bake dessert? Well, look no further than these Easy Oreo Truffles by Kelley of Chef Savvy. So with just four simple ingredients, including Oreos and cream cheese, you can have the cant-eat-just-one treat ready in no time. All you have to do is throw the cookies in the food processor, add cream cheese, form balls, and set them in the fridge before dipping them in chocolate.
Deep Fried Oreos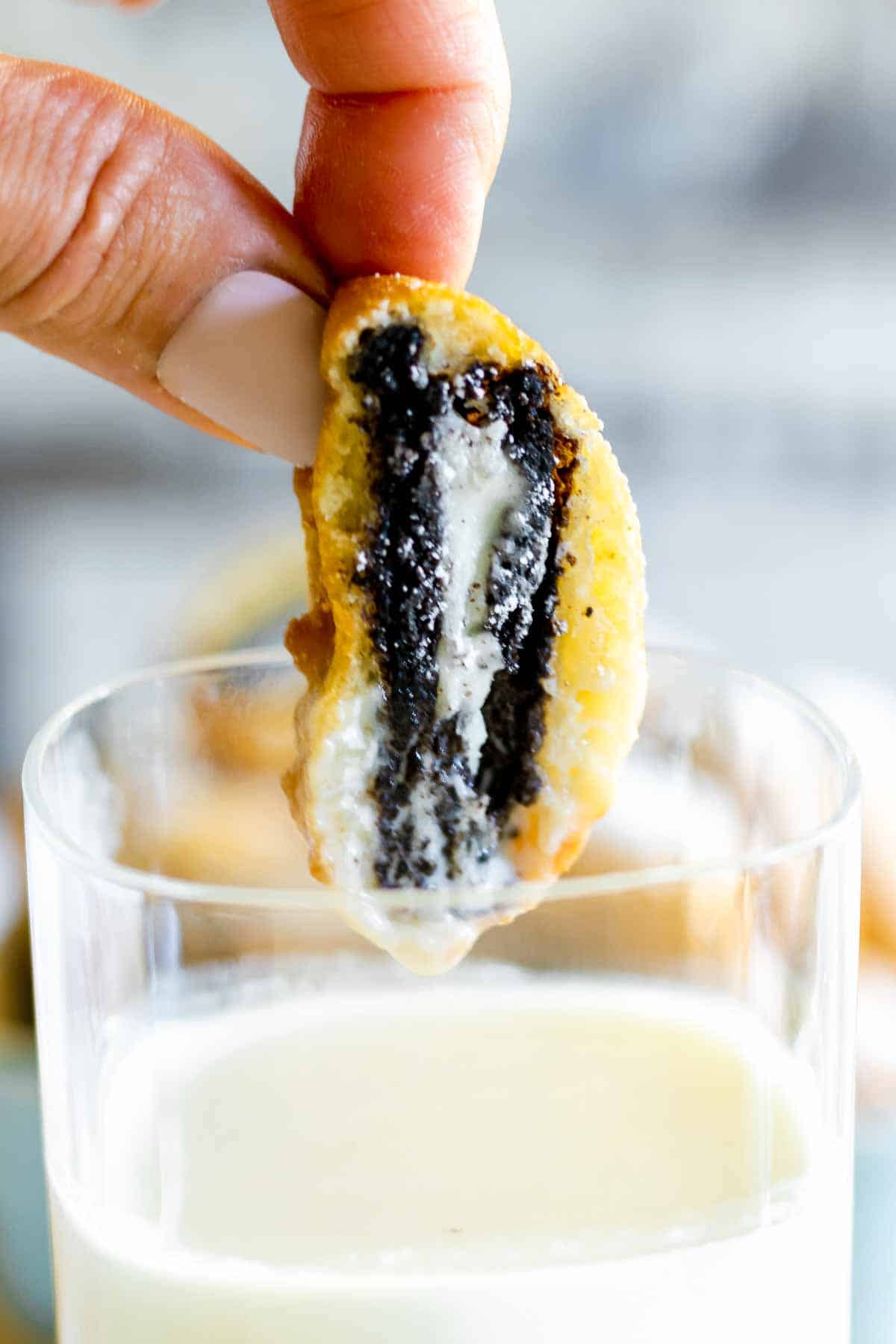 Alekas Get Together is your haven for party foods like the carnival and fair favorite Deep Fried Oreos. You make them by dipping Oreos in your favorite pancake batter recipe and frying until golden brown. Then, dust them with powdered or cinnamon sugar, or drizzle them with chocolate sauce. And although you may be hesitant to deep fry at home, what with the mess and all, don't worry. It can be done painlessly with Aleka's tips, like maintaining proper oil temp.
Air Fryer Bacon Wrapped Oreos
Just when we thought we had seen every type of bacon recipe out there, the inventive folks of Air Fryer Yum show us something new with these Air Fryer Bacon Wrapped Oreos. The two-ingredient fair-style food consists of just two ingredients; we're betting you know what they are. As a result, prep time is minimal, and they cook in minutes in your air fryer.
Cookies and Cream Oreo Fudge
There's so much to love about this Cookies and Cream Oreo Fudge recipe from Kachina of Sweet Mouth Joy. For one, it tastes incredible and looks festive. But secondly, it's a three-ingredient treat consisting of white chocolate chips and Oreos. But you'll also love that it doesn't require a candy thermometer. Plus, prep time literally takes just minutes, so double or triple the batch and give it away.
Oreo Cheesecake Brownies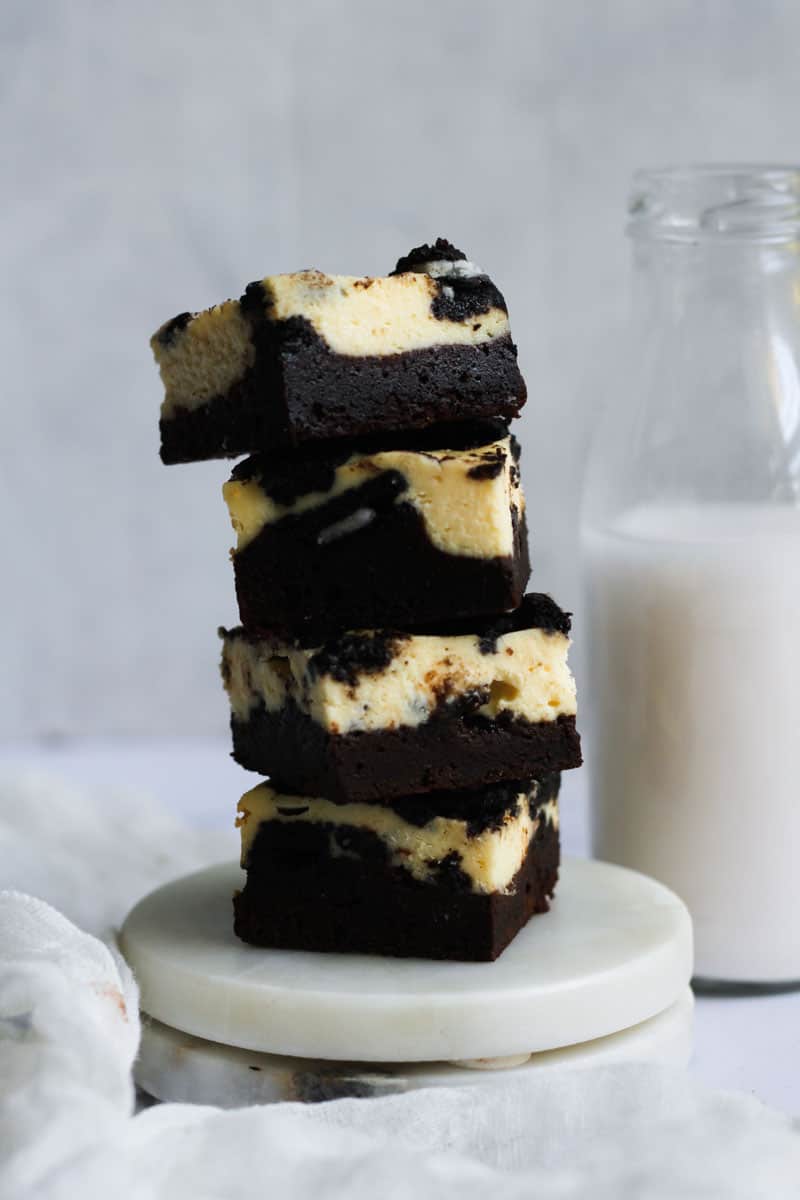 You're going to love these moist and luscious Oreo Cheesecake Brownies from Faaiza. It's simple, waistline-bulging decadence that combines the best of three worlds into Modest Munchies. First, there's a layer of fudgy brownie topped with cheesecake and chopped Oreo pieces sprinkled on top. So, good luck eating just one serving!
Oreo Ice Cream Cake with Caramel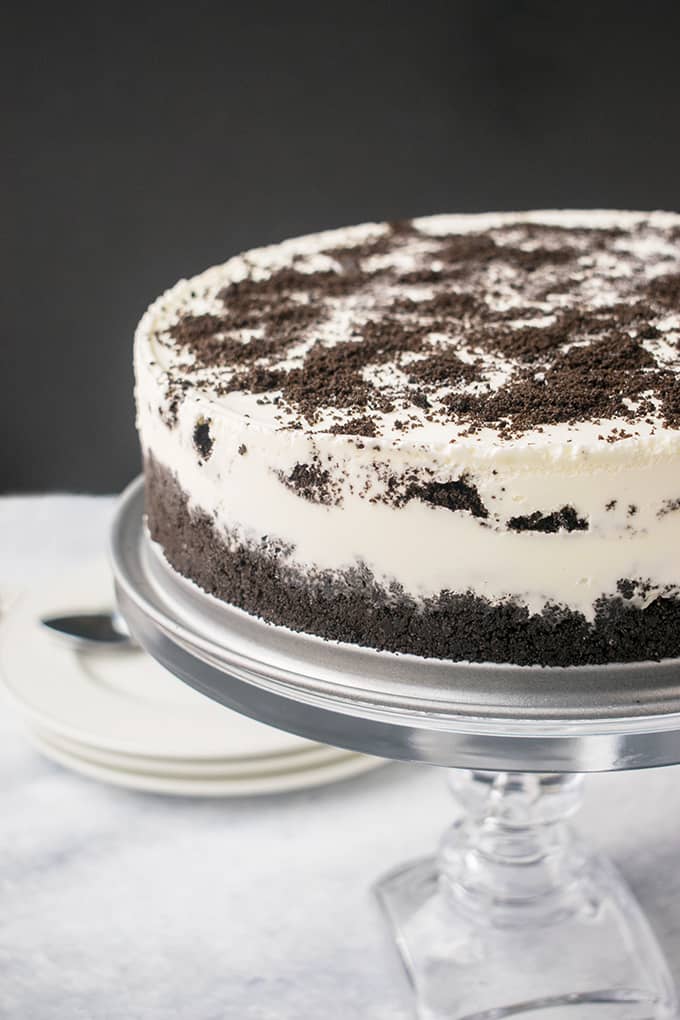 Consider this Oreo Ice Cream Cake with Caramel your official invitation to get Cooking With Mamma C. Our prediction? Once you visit, you'll never leave. In fact, smitten with the semi-homemade treat, you'll be waiting impatiently for her next creation. But starting with this one, you'll need vanilla ice cream, Oreos, caramel sauce (homemade or storebought), whipped cream, and patience. It needs to freeze for eight hours.
Oreo French Toast
Imagine the look on their faces when you present this Oreo French Toast from Jasmine of Golden Truffle to them. It starts with beloved eggy brioche bread dipped in Oreo dust-enhanced custard. Then you pan fry for a few minutes per side and serve with mascarpone whipped cream and crushed Oreos. Now if that doesn't get the whole family excited, what will?
Chocolate Swirl Instant Pot Oreo Cheesecake
This Chocolate Swirl Instant Pot Oreo Cheesecake from Paint The Kitchen Red is bonkers! It starts with an Oreo crust, then a cheesecake filling with crushed Oreos, and finally melted chocolate throughout. It's a nearly foolproof dessert made super-easy with the help of your instant pot.
Cookie Monster Cookies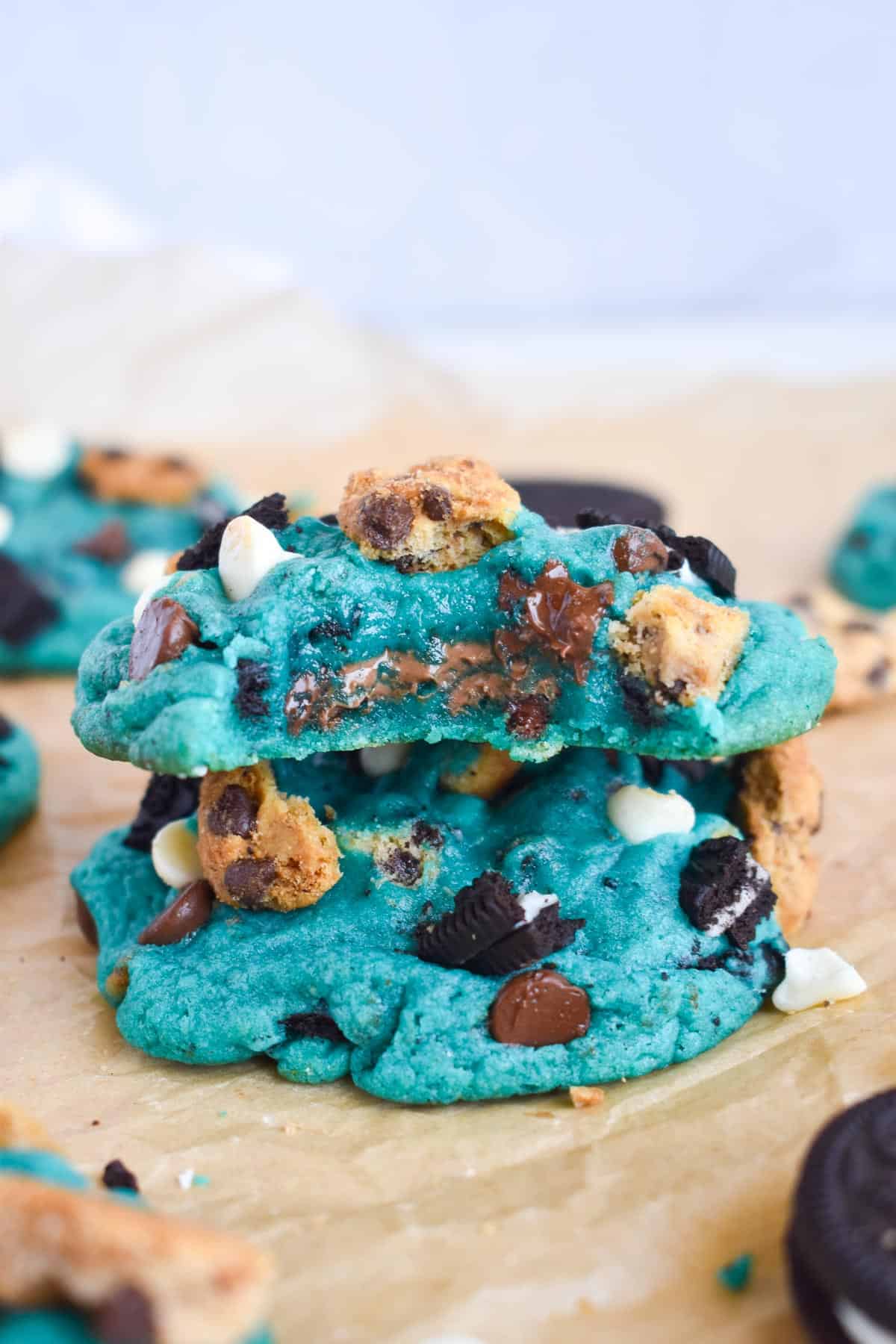 If one had to imagine what Cookie Monster Cookies might look like, they would come out something like this one from the mother-daughter duo of In Fine Taste. First, inspired by the viral Tik Tok sensation, they used their own cookie batter base. Next, it's time for the add-ins; lots and lots of add-ins like Oreos, chocolate chip cookies, chocolate melts, and more.
Cookies and Cream Ice Cream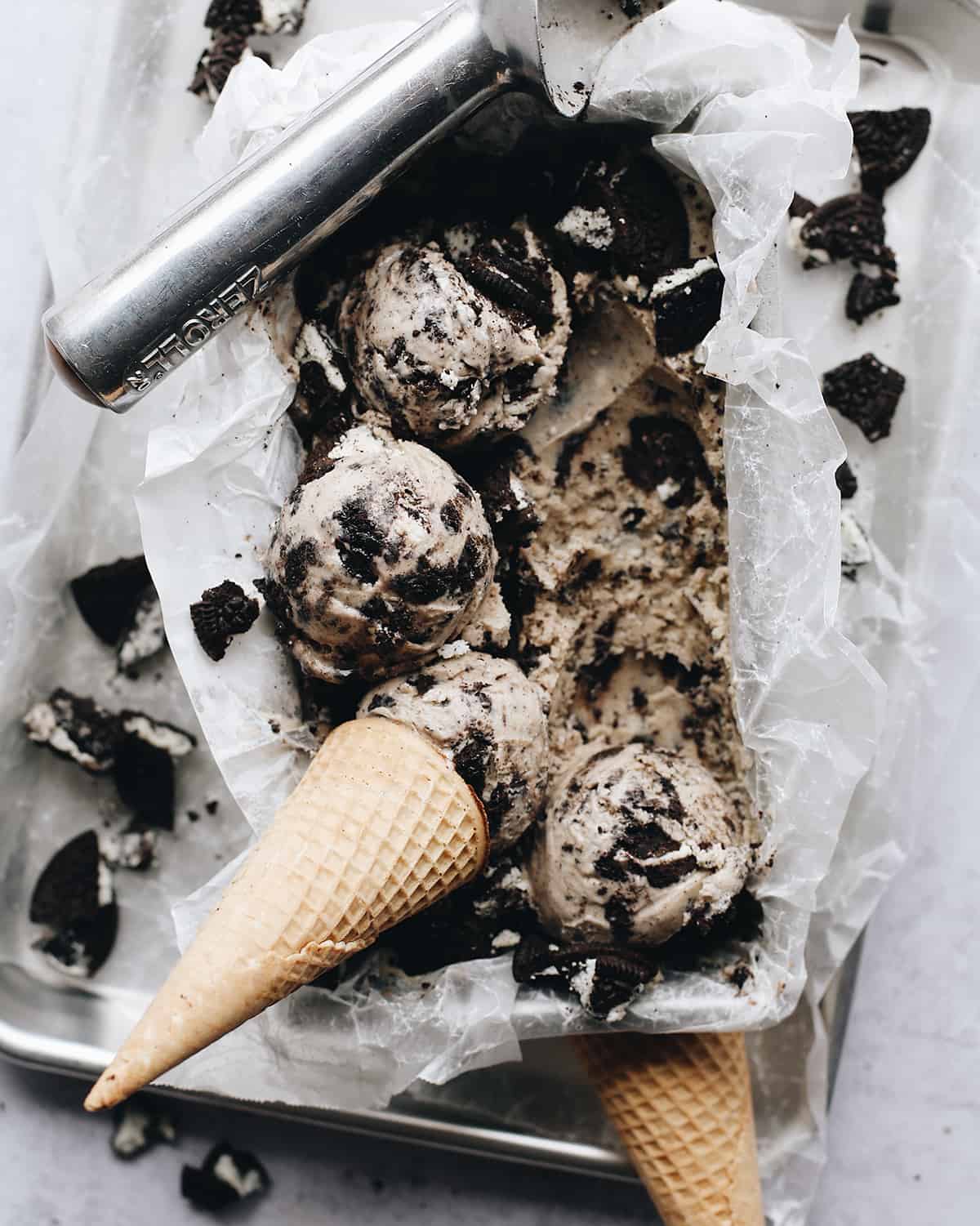 Even for those not fans of Oreos, Cookies and Cream Ice Cream is universally loved. It's a vanilla custard base loaded to the hilt with the world's most famous sandwich cookie. The ice cream base takes you ten minutes to cook, then 20 minutes to churn before freezing overnight.
Mini Oreo Cheesecake Tacos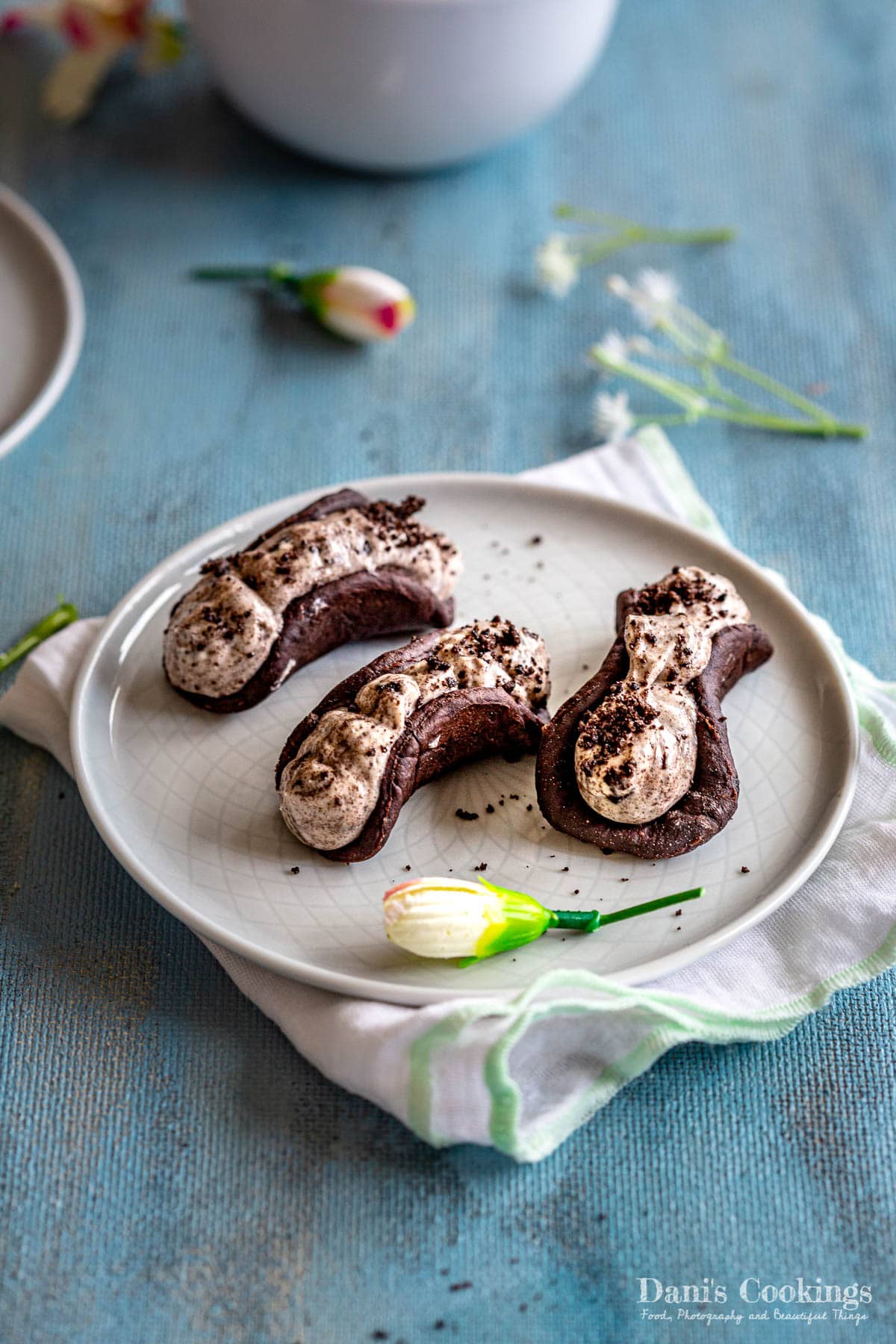 If you grew up in the '90s, you certainly remember the ice cream truck favorite, Choco Taco. Well, now it lives on in a new form through the viral power of the internet. So, enter the cheesecake taco era. In this case, it's Dani's Cookings' Mini Oreo Cheesecake Taco. She'll show you how to make the "taco" and Oreo cheesecake filling from scratch for a novel treat sure to be remembered.
Oreo Biscotti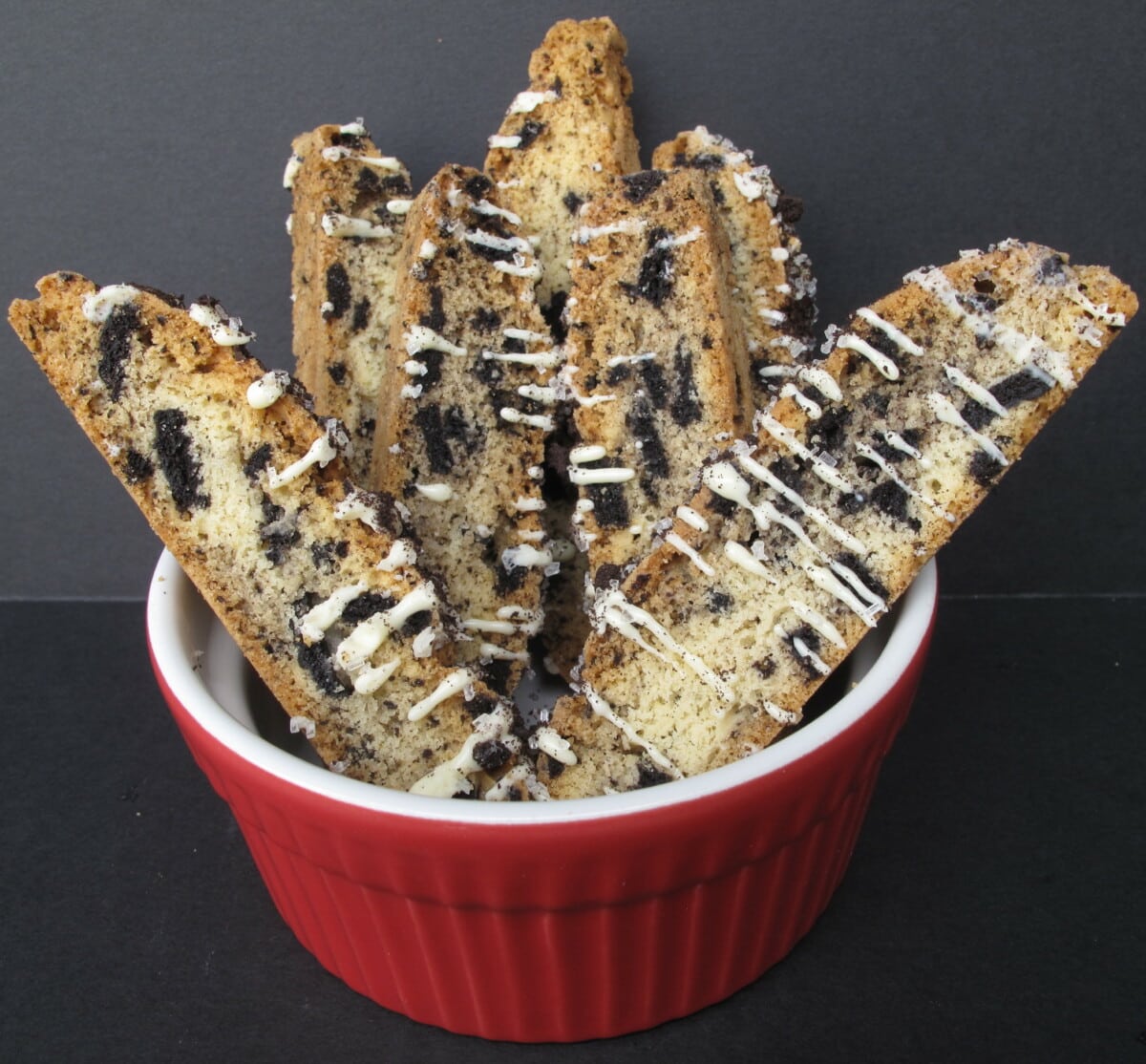 Oreo Biscotti by The Monday Box is a fun twist on the incredibly crunchy double-baked cookie. Like the Cookie Monster Cookies and Oreo Stuffed Brownie Cookies above, it's a cookie inside of a cookie. And while biscotti has a cache sure to impress, they aren't challenging to make with less than ten ingredients. All you need is a bit of patience. First, you bake, then cool and bake again.
Oreo Cheesecake Doughnuts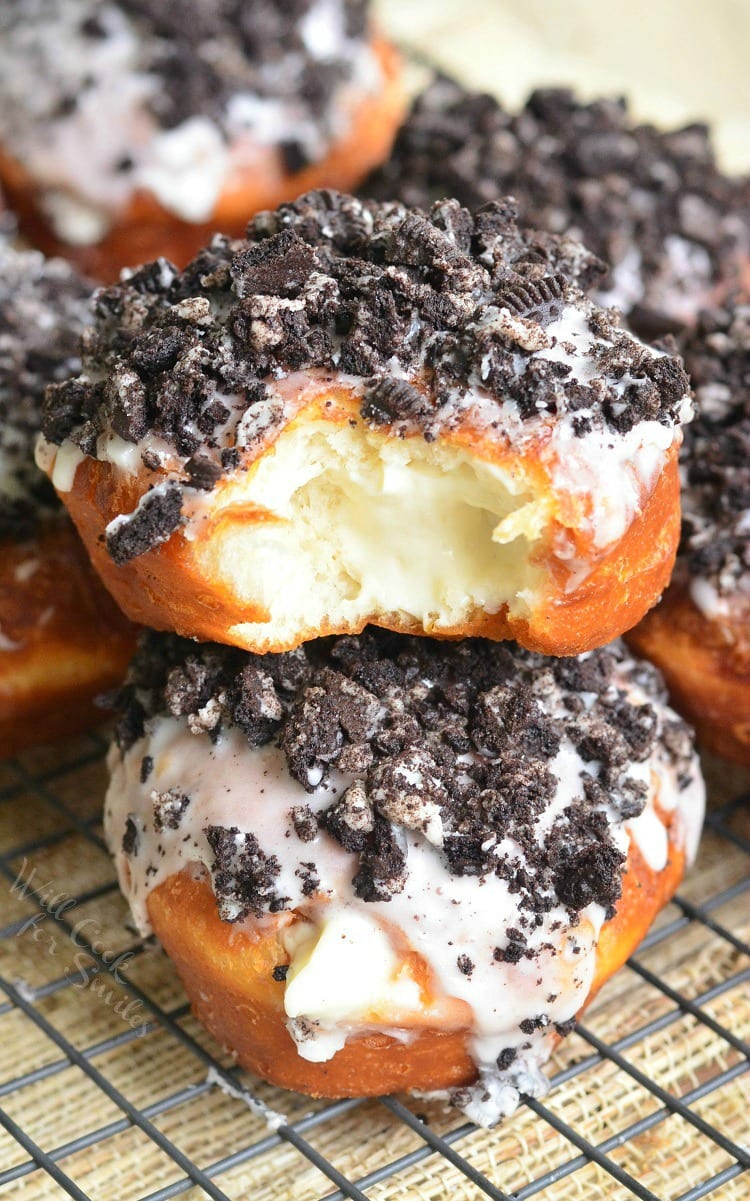 Lyuba Will Cook For Smiles, and you will, too, with this exciting Oreo Cheesecake Doughnuts recipe. She keeps it simple, using biscuit dough and a quick cream cheese-based cheesecake filling. Not bad right? But we haven't got to the good part yet. On top, add the sweet glaze and chopped Oreos. Now, it's fit for a party.
Which Oreo Dessert Recipes Will You Try First?
So, you've seen all kinds of Oreo dessert recipes, from doughnuts to cheesecake, ice cream, and dessert tacos. So, there's only one thing left to do; decide. Which treat are you going to try first? We'd love to know!
Looking for other cookie desserts, see our giant skillet cookie.