Our hot cookie dough recipe is easy, scrumptious, and even pretty sitting there in a cast iron pan. It's one of the easiest and most fun dessert recipes to make for a crowd, and it's so simple you won't have any trouble making it in the middle of the week.
Jump to Recipe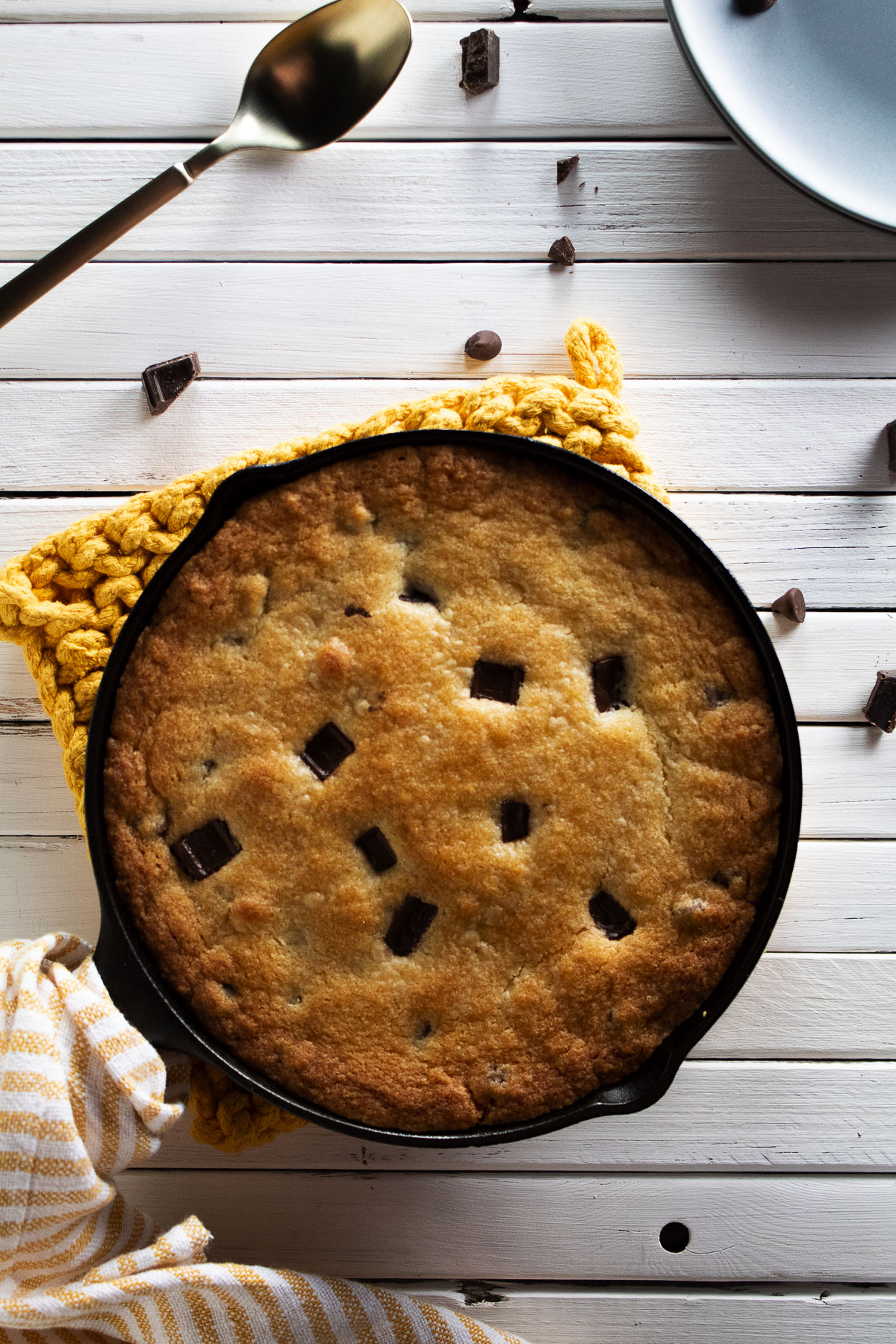 There are few things more scrumptious than a chocolate chip cookie and a glass of milk except for maybe hot cookie dough and a scoop of ice cream. But, what the heck is hot cookie dough, anyway, and how does it differ from a regular cookie? Well, the hot cookie dough is known for its warm gooey center, and it is amazing!
The ooey-gooey melted chocolate and tasty tender cookie dough make for the perfect ending to a delicious meal. And, it's an ideal way to wrap up a dinner party with lots of guests, and it's fun too! The kids will go bonkers for it, and the adults will ask how you made it!
Jump to:
Kind of Like a Chocolate Chip Cookie Pie
Unlike a fully baked cookie, this hot cookie dough recipe is baked in a deep dish cast iron pan or ramekin and pulled from the oven a few minutes before it is completely baked. So the best way to think about it is a chocolate chip cookie pie.
Not only is this recipe a home run as is, but it's also highly customizable. Thus, you can change it up based on seasonality, holidays, birthdays, and a near-infinite amount of special occasions. With that, we share several variations and a few more ideas you may want to try below.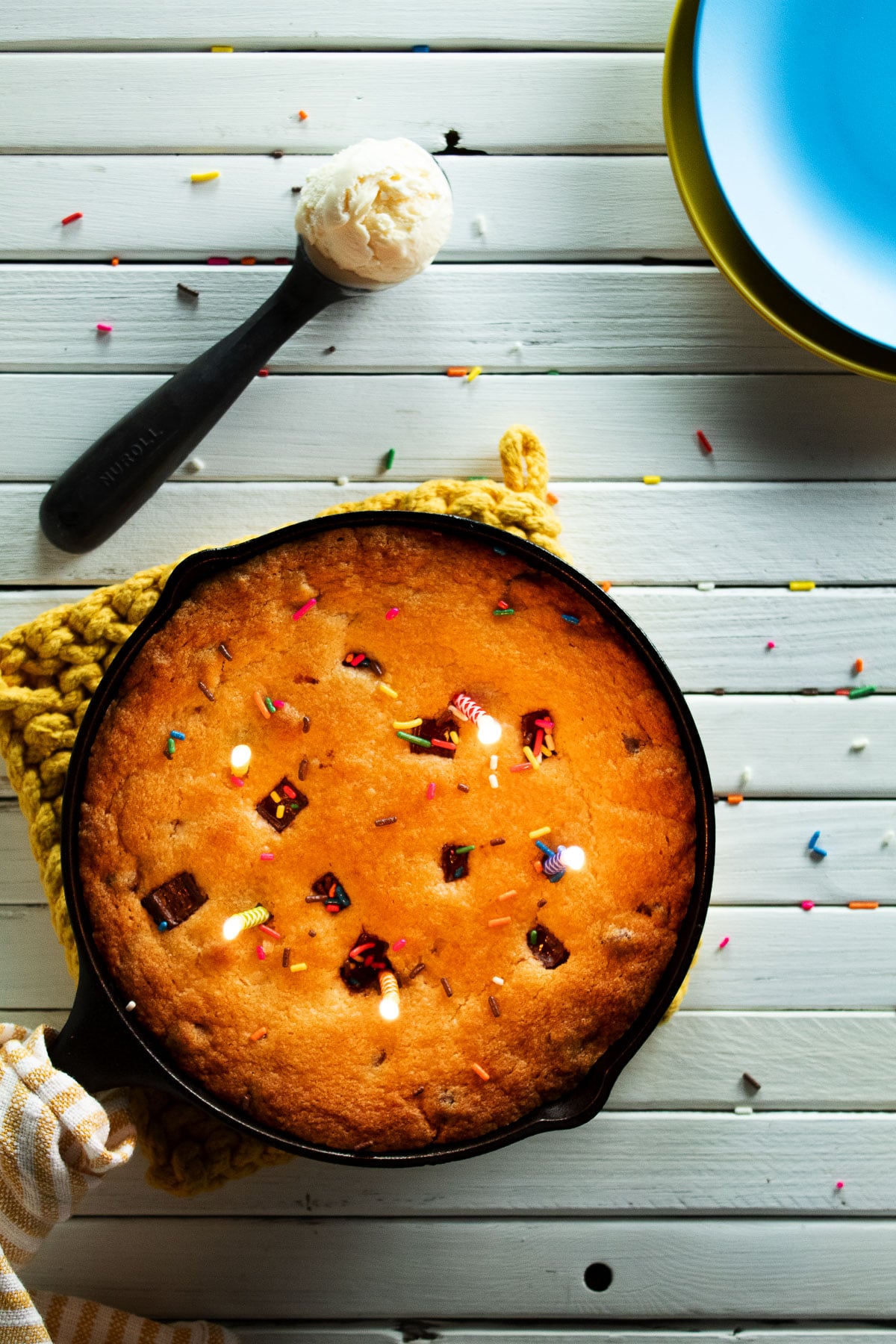 Ingredients
Below, you will see all ingredients and notice that they are the same for chocolate chip cookies. The quantities listed on the recipe card below are suitable for an 8-inch cast iron pan.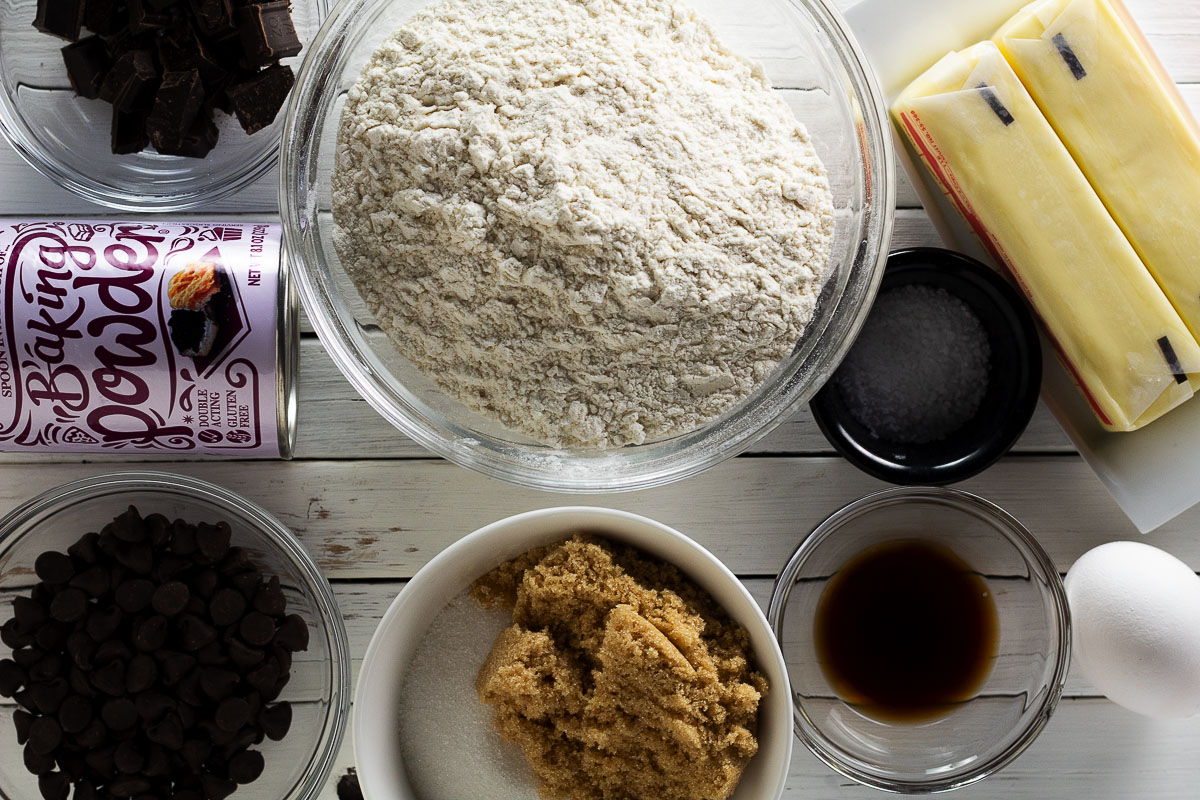 flour
baking powder
white sugar
brown sugar
vanilla extract
egg
chocolate chips
salt
butter
chocolate chunks
See the recipe card for quantities.
Critical Step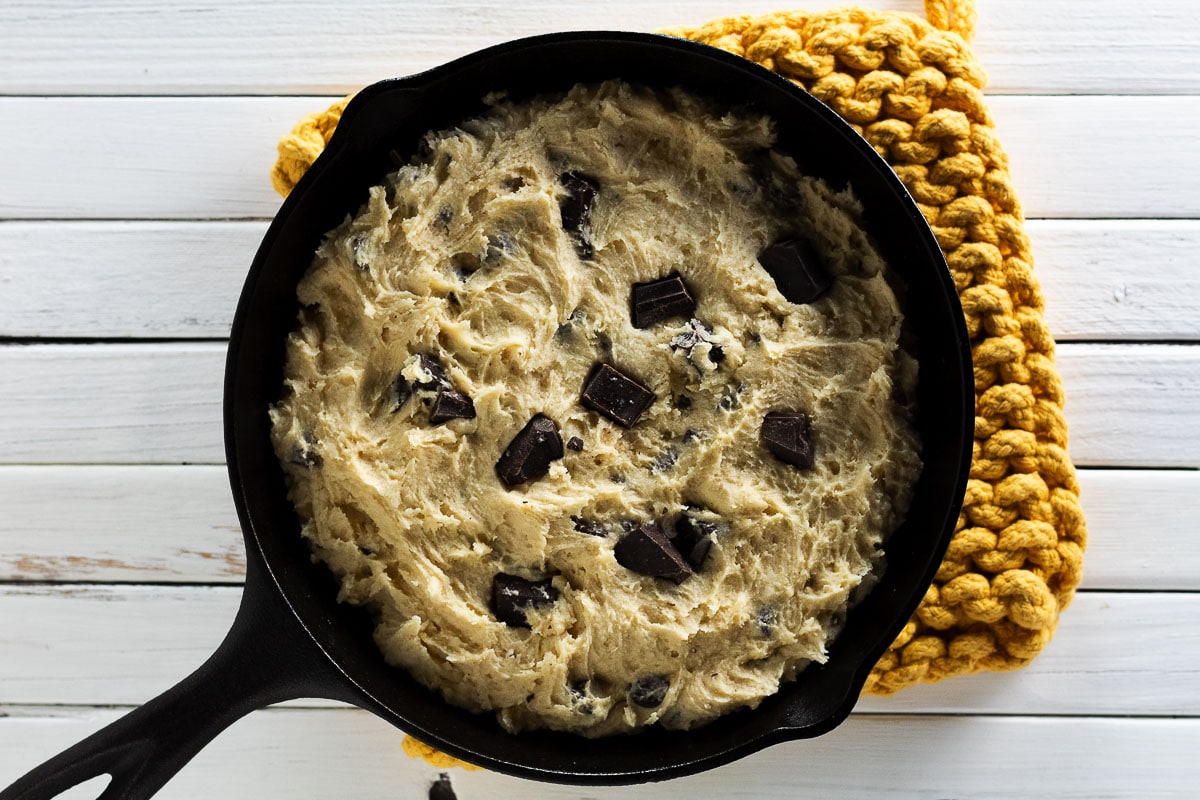 We filled the cast iron pan up to about three-quarters of the way for all of the tests. Doing so allows for the cookie to expand without baking over the sides. Then, as you can see above, we placed the chocolate chunks on top. This makes the presentation pretty and creates little pools of chocolatey heaven that are an amazing surprise.
Variations
There are many different ways that you can make this recipe. Of course, you are only limited by your imagination, but to help you get the ball rolling, we've come up with a few of our versions of this recipe.
S'mores – add marshmallows or marshmallow fluff, torch them and add graham cracker crumbs and bam you've got s'mores hot cookie dough.
Christmas – add peppermint and white chocolate chips and now you've got a hot cookie dough worthy of the most wonderful time of the year. Alternatively, if you don't like peppermint mixed with chocolate, you could add green and red m&m's to celebrate Christmas with this dessert.
Birthday – candles and sprinkles for a birthday cake alternative.
Peanut butter chips – there's few flavor combination that work as well together as chocolate and peanut butter.
Chopped nuts – walnuts, pecans, macadamia, peanuts, or even mixed nuts.
Valentines day – you can order pink m&m's online for a lovers day celebration.
Double chocolate – find your favorite recipe for a double chocolate chip cookie and bake it in a cast iron pan. Serve with vanilla ice cream.
Scoops of Ice Cream – you don't have to stick to just vanilla here. Chocolate, strawberry or even mint chocolate chip are good options.
Chocolate drizzle – 'nuff said
White chocolate drizzle
Salted caramel sauce
Hot Cookie Dough Recipe Variations We've Made
There are so many more variations you can come up with. So, check out the variations below to get the ball rolling.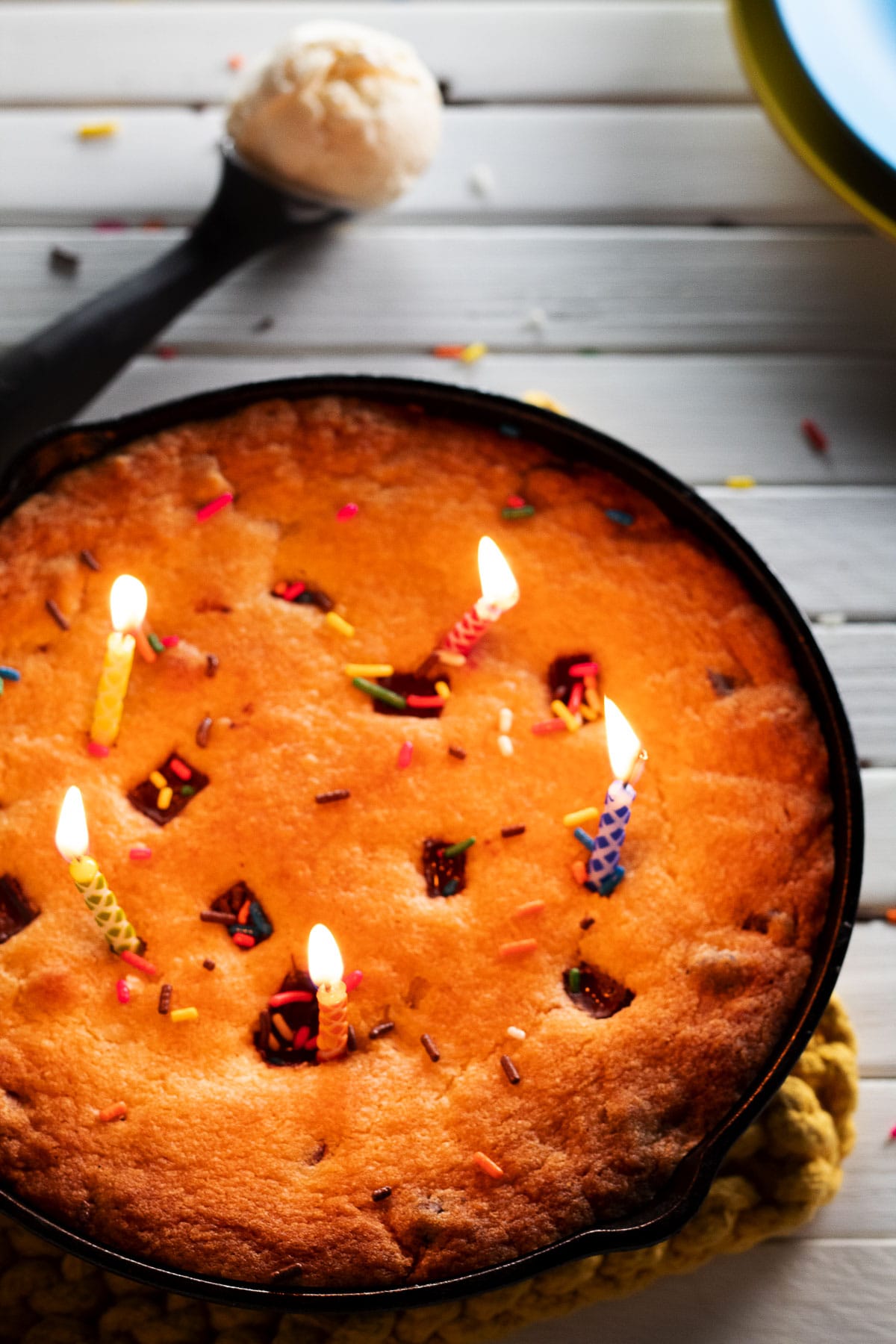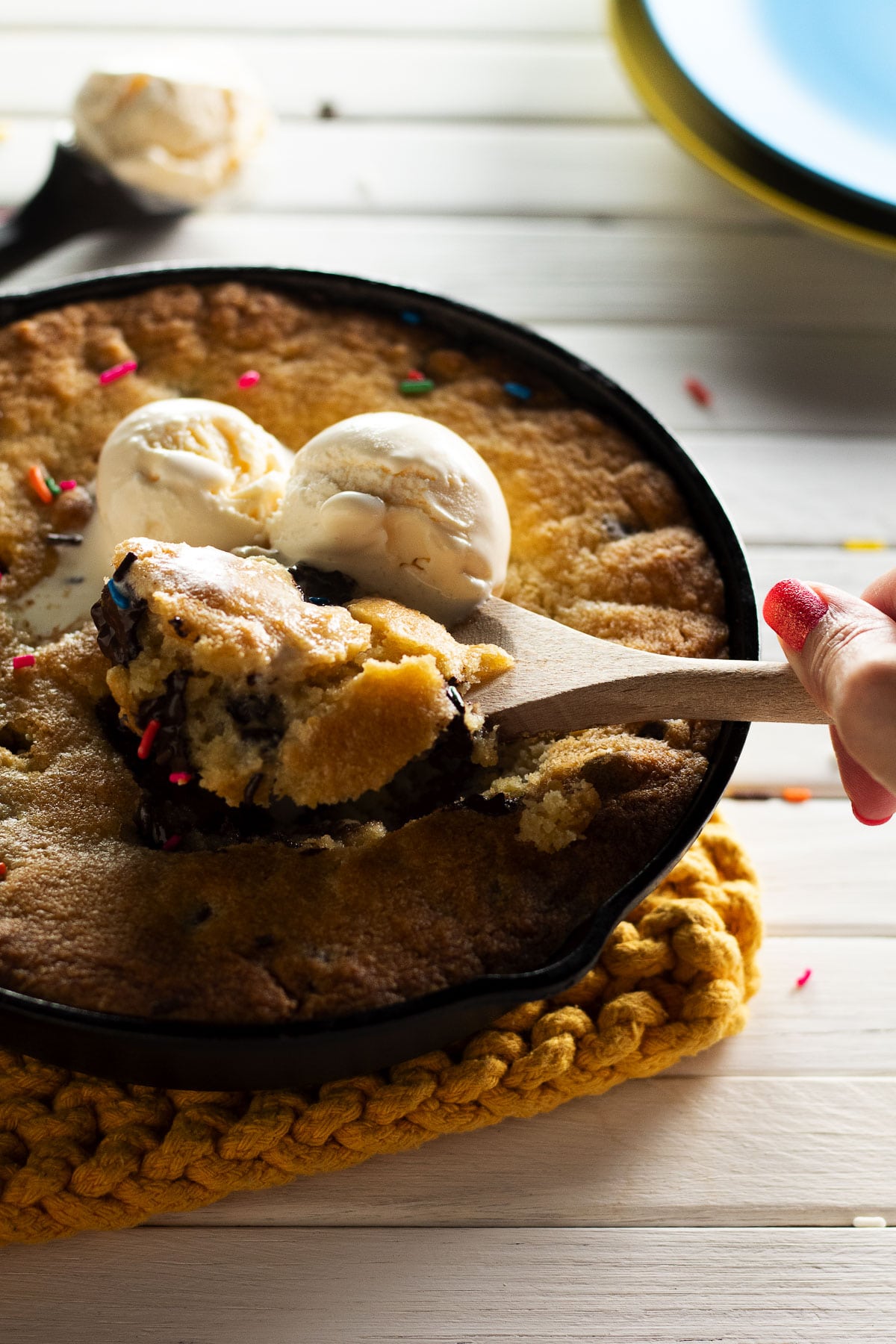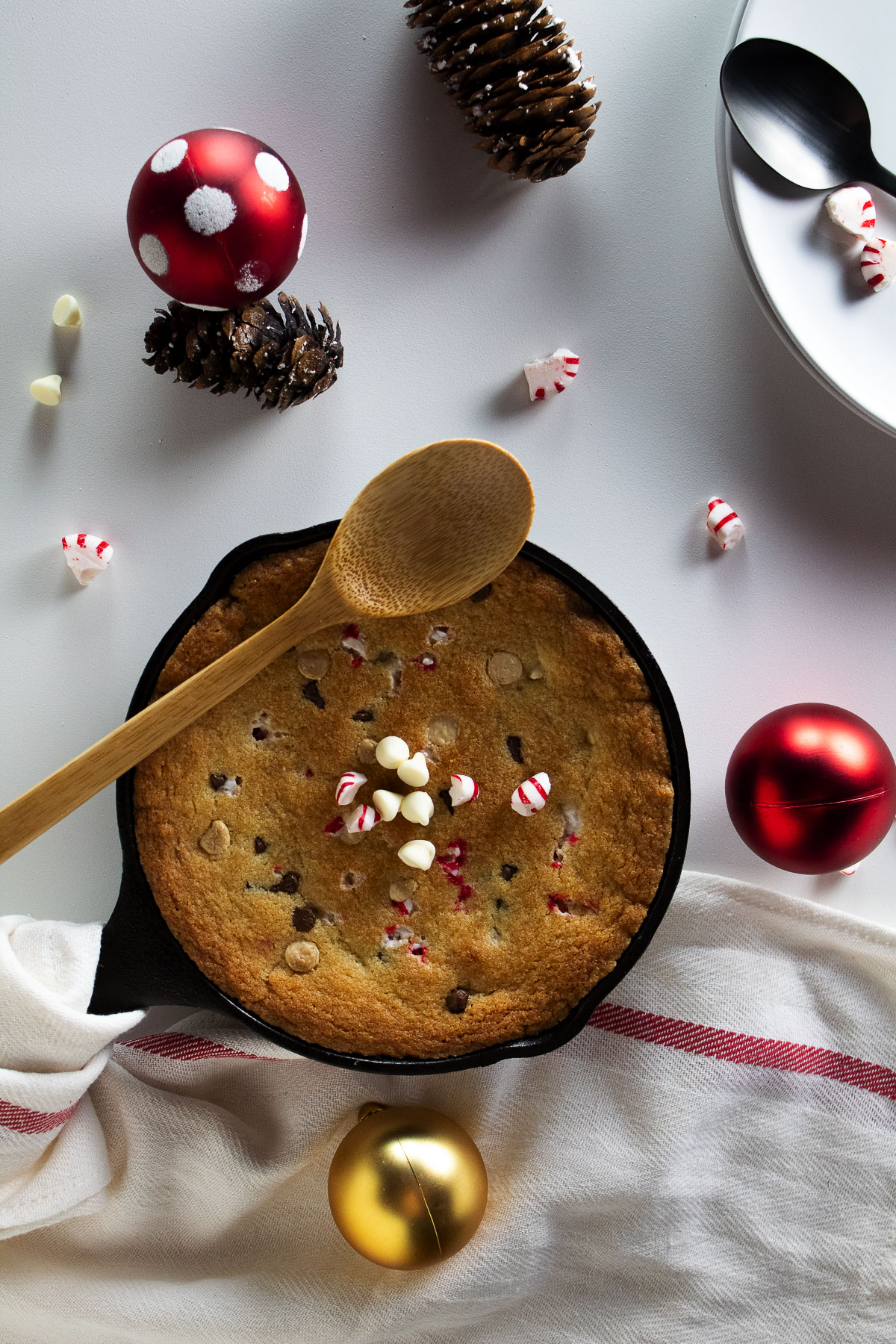 Tip: Hold a kitchen torch a few inches away from the marshmallow and sweep across it slowly. Gradually, the marshmallow will brown. So, keep doing this until the marshmallow is as dark as you want it. Do not keep the flame in one spot for too long.
Equipment
We tested this recipe in three different cast iron pan sizes; 3.5-inch, 6.5-inch, and 8-inch. Of course, each resulted in a different bake time. So, if you prefer to use a 12-inch pan, bake for 40 minutes to start, then check on it every 1 minute.
Storage
Store leftovers in a food storage container in the refrigerator for up to three days. When you reheat it, the center will most likely be fully cooked and missing that whole extra gooeyness that makes it hot cookie dough. But, it will still make for a good dessert.
Top Tip
Remove from the oven as soon as the timer sounds. You'd be surprised at how much even a single minute will change the outcome of the recipe.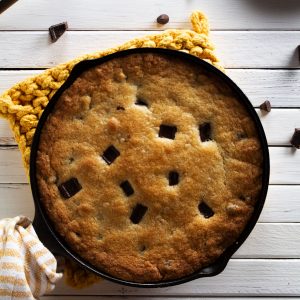 Hot Cookie Dough Recipe
Ooey-gooey deep dish hot cookie dough is a great recipe. And you know what, it's the perfect way to cap off a delicious dinner with friends and family. There are many ways to change this recipe for special occasions.
Equipment
cast iron pan or ramekins
Ingredients
1/2

cups

granulated sugar

1/2

cups

light brown sugar

1

large egg

1

tsp

vanilla extract

2

sticks

unsalted butter

1 3/4

cups

flour

1/2

tsp

salt

1

tsp

baking powder

1/2

cup

semi-sweet chocolate chips

1/2

cup

chopped chocolate chunks
Instructions
In a medium bowl add the flour, salt and baking powder and set aside. Cream the butter and sugar. Add the egg and vanilla extract and mix. 

Add the flour mixture and mix just until combined.

Fold in the chocolate chips and chunks. You don't want to add the chocolate while you are mixing with a hand mixer or stand mixer because it will break up the chocolate pieces.

We tested this in an 8 inch cast iron pan but you can use whatever size dish you have. Remember the cooking time will be different. Press the cookie dough in the pan until it fills the pan ¾ of the way up. Bake at 350 degrees for 30-33 minutes on the bottom rack of your oven. The center will be slightly gooey and super delicious.
Notes
Notes/Tips to include with the recipe:
This recipe has a lot of butter so no need to grease the pan you are using. 

I know some people may be concerned with eating raw or undercooked cookie dough. No worries. I have researched this and found from the link below that when you include egg into the cookie dough recipe as long as the temperature reaches 160 degrees it is safe to consume. That information is located under the preparing section. If you are still concerned you can cook the hot cookie dough a little longer and it will taste great but you won't get that gooey delicious center. https://www.fda.gov/food/buy-store-serve-safe-food/what-you-need-know-about-egg-safety

To check for doneness you can insert a toothpick and if it comes out clean you are ready to enjoy. If the toothpick has some dough on it like a cake batter, then cook it for another 2-3 minutes. 

Wondering what is the difference between a hot cookie dough and a deep dish cookie? Well, it's that delicious gooey center that separates them. The hot cookie is known for the warm gooey center. The deep-dish cookie is a very thick completely cooked cookie.

We tested this recipe in three different cast iron pan sizes which resulted in different baking times.

8-inch pan baked for 30-33 mins

3.5-inch pan baked for 13-14 mins (If you bake 4 of these at a time you will have to cook it for 15-17 mins)

5-inch pan baked for 19-21 mins
Nutrition
Calories:
313
kcal
Carbohydrates:
35
g
Protein:
3
g
Fat:
18
g
Saturated Fat:
11
g
Polyunsaturated Fat:
1
g
Monounsaturated Fat:
5
g
Trans Fat:
1
g
Cholesterol:
41
mg
Sodium:
138
mg
Potassium:
79
mg
Fiber:
1
g
Sugar:
20
g
Vitamin A:
474
IU
Calcium:
39
mg
Iron:
1
mg
Food safety
Now, this recipe does contain eggs and has that gooey center, so you might be wondering if it's safe to eat. Well, as long as the internal temperature reaches 160-degrees, eggs are safe to consume. We tested this recipe in various pan sizes, and they all ended up with an internal temperature higher than 160-degrees.
Presentation
Did you know that pretty food tastes better? It's true! Use a pretty kitchen towel or tea towel to wrap around the handle of the cast iron pan. Or, you could drizzle chocolate or salted caramel sauce in a zig-zag pattern before plating the hot cookie dough. Another thing you could do is plate the cookie on a colorful plate with a dollop of whipped cream. So, you have many options. I like that the cast iron pan adds a rustic touch to your display as is, but you'd be surprised how far the addition of a tea towel would go.