You're going to go bonkers for these creative imitation crab recipes made by innovative food bloggers. And trust us. They go far beyond simple imitation crab salad.
For example, there are baked sushi cups. That's right! All of the flavor of sushi in a bite-sized snack. Then, there's crab quiche, spicy kani salad, and so many more. So are you ready to discover imitation crab deliciousness?
Let's dive in!
For other seafood dishes, try our delicious baked fish recipes, our shrimp dinner recipes, and fish taco recipes.
Baked Sushi Cups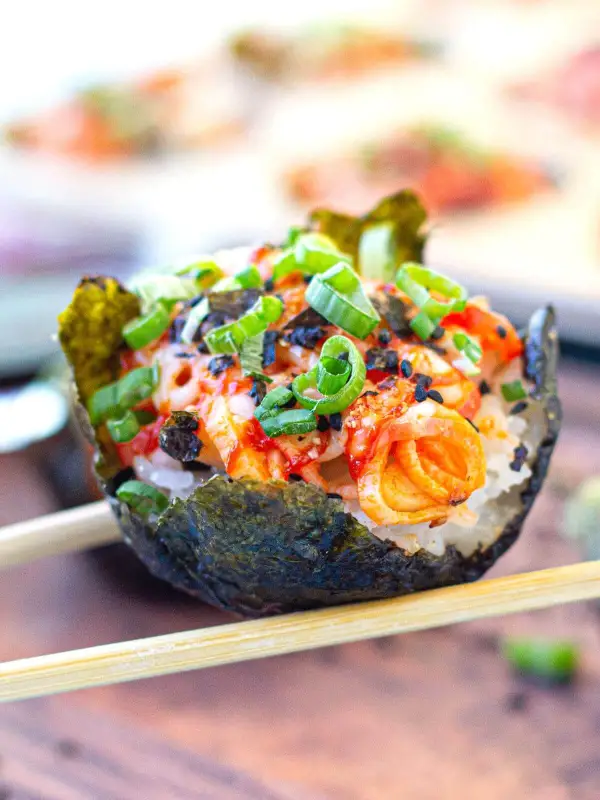 It will be love at first bite with these sensational Baked Sushi Cups! The creative snack combines sushi rice, imitation crab, and nori (seaweed sheets), all baked to perfection. The convenient appetizer brings a new twist to the world of sushi, offering a delightful fusion of flavors in every bite.
Air Fryer Shrimp and Crab Toast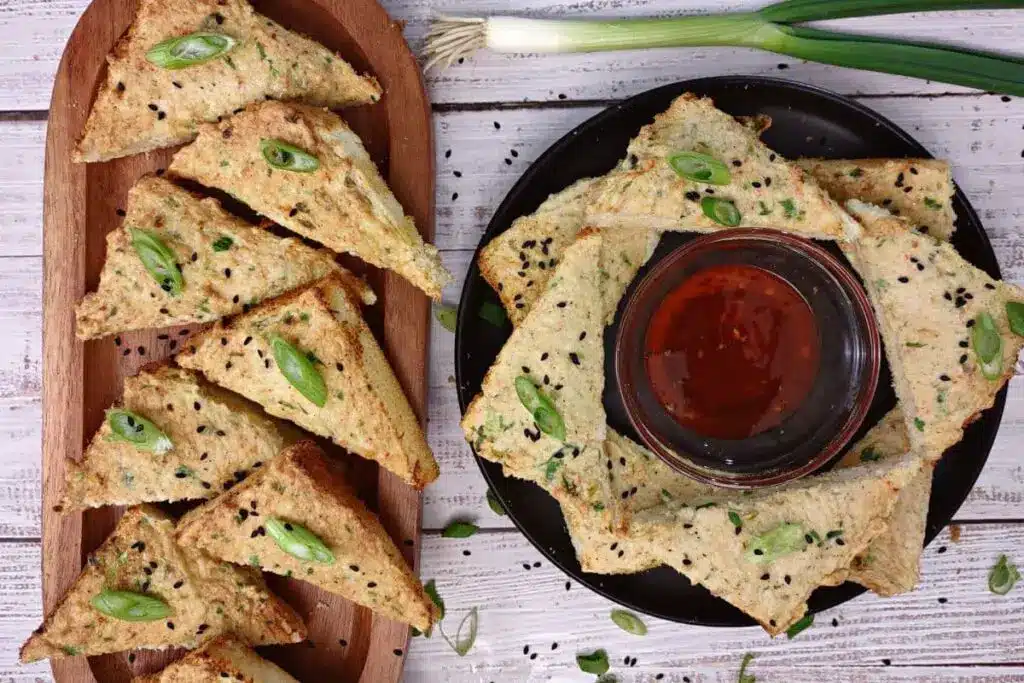 Prepare for a culinary delight with Air Fryer Shrimp and Crab Toast from Dinners Done Quick. Browned bread meets a super flavorful mix of crab meat, delicate shrimp, and a medley of spices. And while traditional Chinese shrimp toast is deep fried, this version by Katie uses the air fryer's magic. Elevate your appetizer game with this irresistible dish.
Crab Salad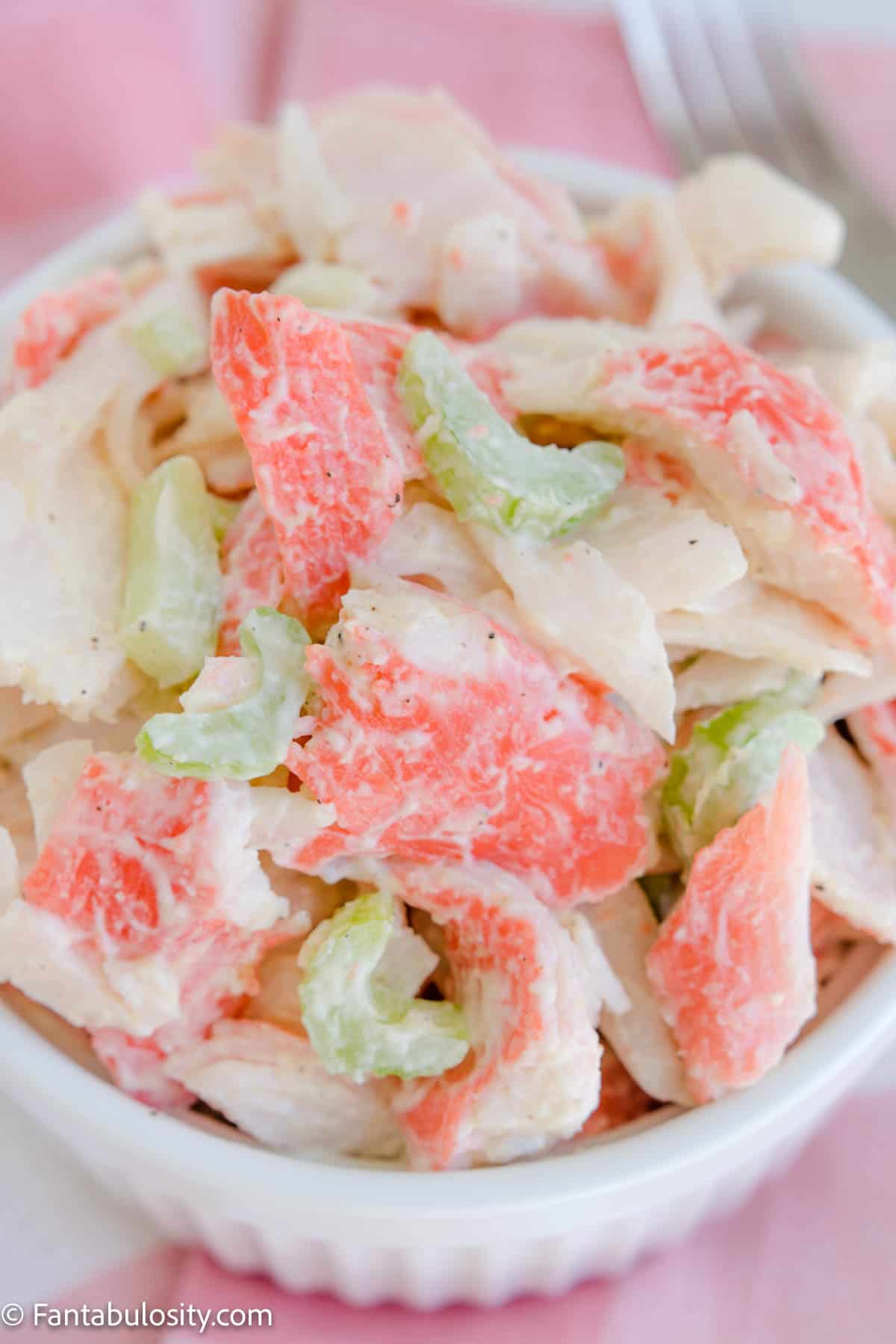 Hop into a refreshing Crab Salad bursting with flavors in just ten minutes and less than ten ingredients! This recipe by Jessica of Fantabulosity combines sweet and succulent crab meat with crunchy celery, tangy dijon, mayo, and spices. The result? A light and satisfying salad that will transport your taste buds straight to the seaside.
Crab Quiche with Swiss Cheese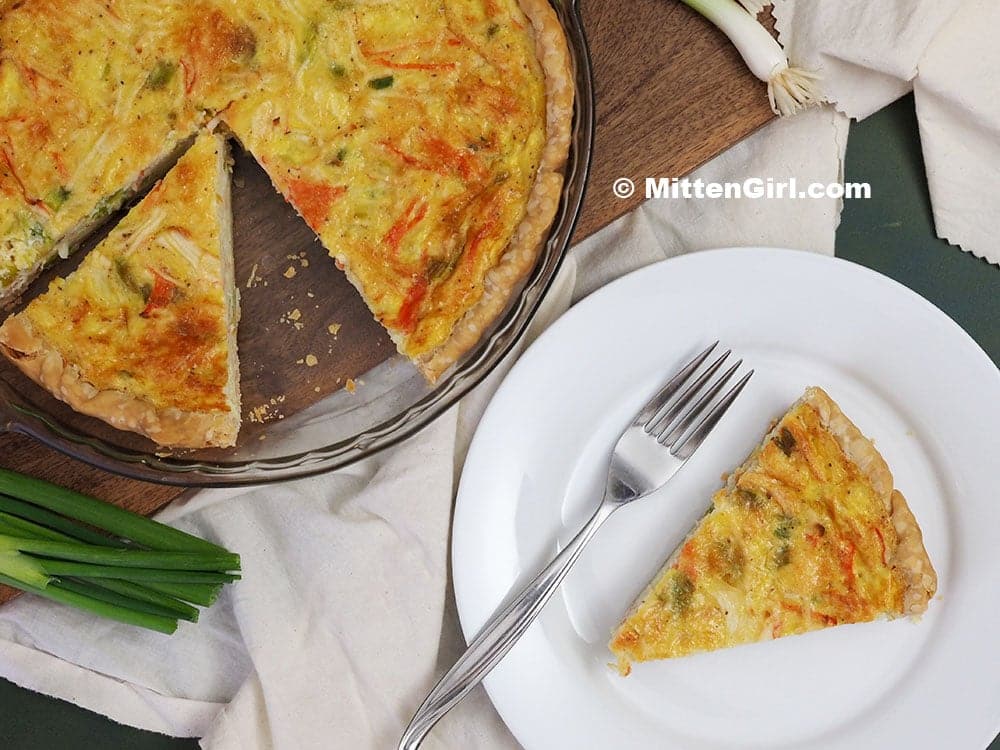 Experience a delightful symphony of flavors and textures with Crab Quiche with Swiss Cheese. Your new brunch favorite features a buttery crust filled with a custardy, creamy mixture of crab meat, Swiss cheese, and Old Bay seasoning. This quiche is a sophisticated yet comforting dish that will impress your guests and leave you craving more.
Buffalo Crab Dip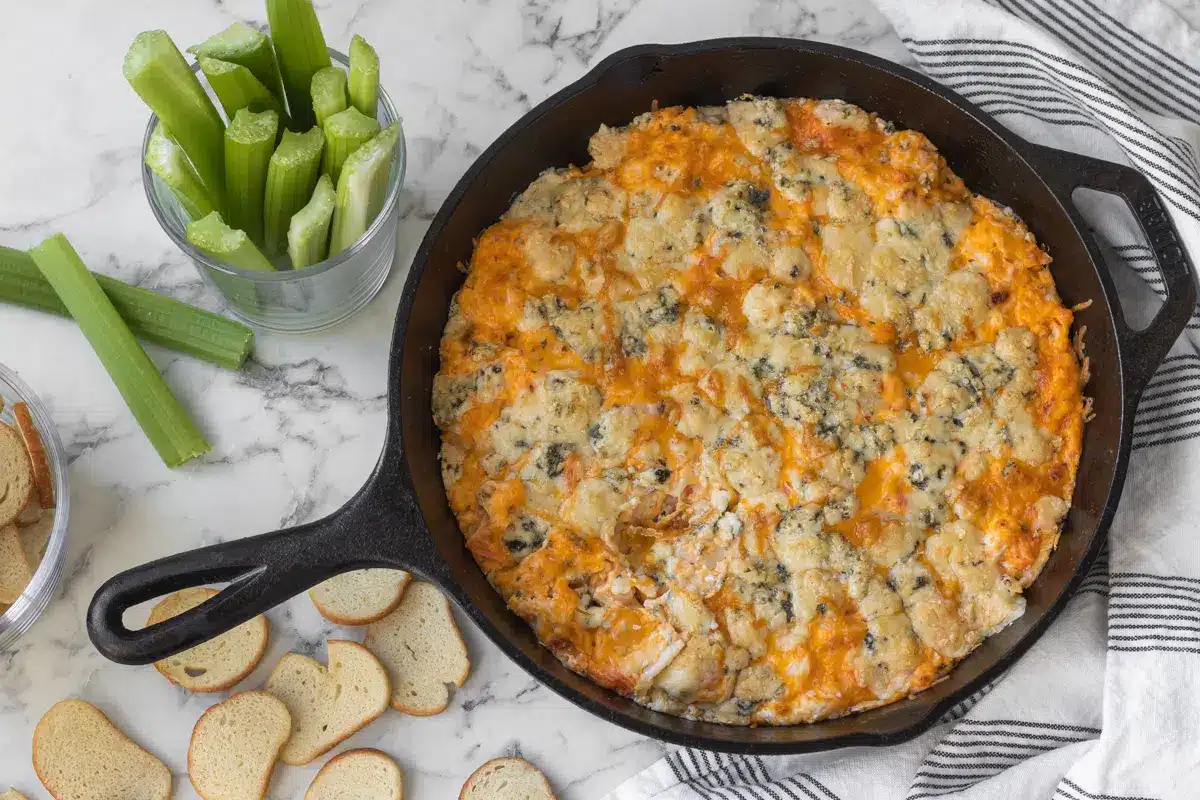 This bold and tangy Buffalo Crab Dip is Entirely Elizabeth. It's creamy and cheesy, combining succulent crab meat with spicy buffalo sauce, tangy cream cheese, mozzarella, and blue cheese crumbles. Best of all, it's ready in less than an hour. So whether you're hosting a party or simply craving a flavorful snack, this dip is the perfect choice to satisfy your cravings.
Crab Rangoon Dip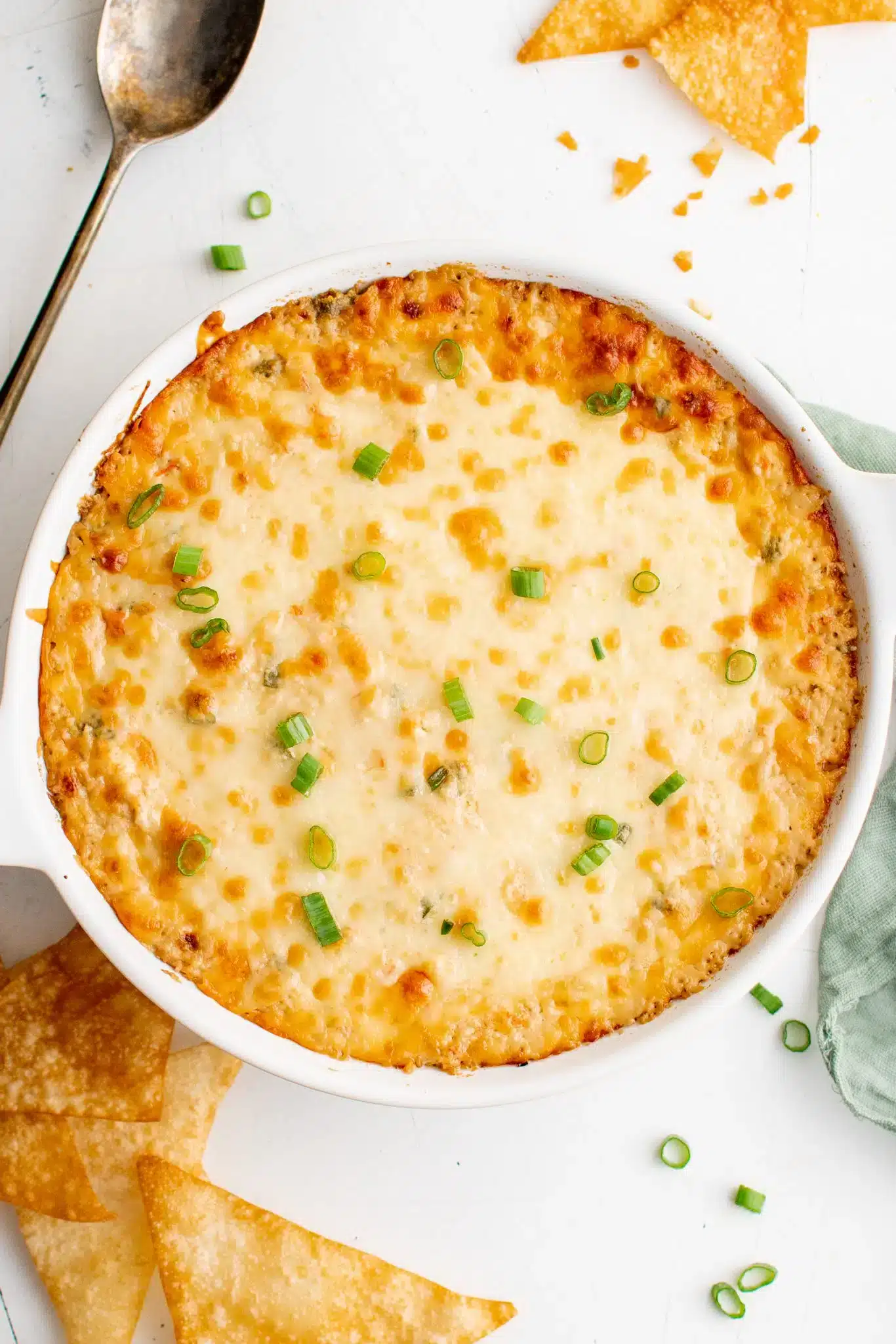 Indulge in the irresistible flavors of Crab Rangoon Dip from Jessica of The Forked Spoon. This creamy and cheesy dip captures the classic Chinese appetizer's essence but is far easier to make. With a luscious combination of cream cheese, crab meat, soy sauce, and garlic, every bite is a heavenly experience. Serve it at your next gathering with fried wontons, and watch it disappear in no time.
Air Fryer Crab Rangoon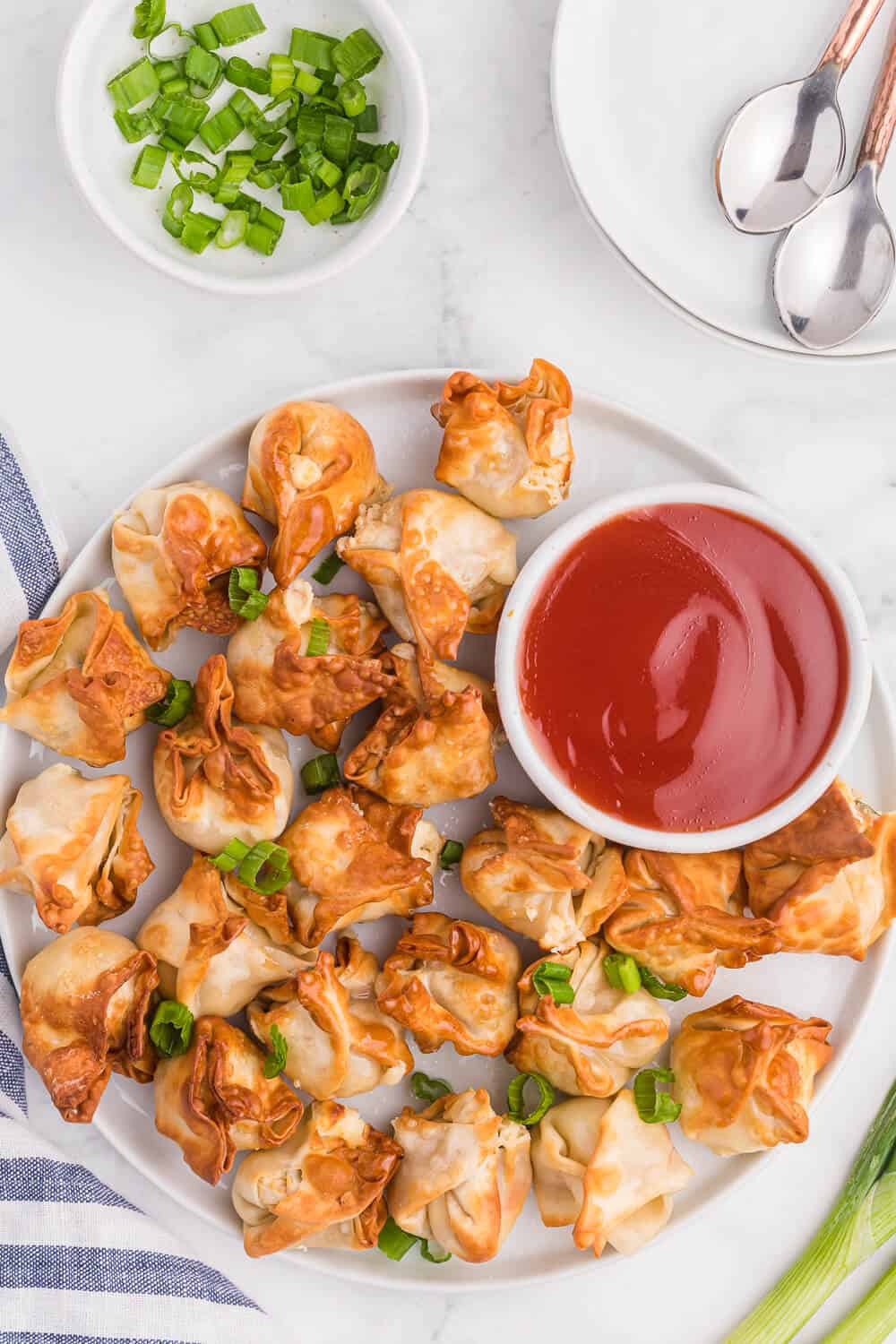 Experience the crispy and flavorful delight of Air Fryer Crab Rangoon by way of Simply Stacie. These golden pockets of deliciousness feature a creamy filling of cream cheese, imitation crab meat (or real), and Worcestershire, all wrapped in a crispy wonton wrapper. With the magic of the air fryer, you'll achieve the perfect crunch without the excess oil. Get ready to savor every bite!
Spicy Kani Salad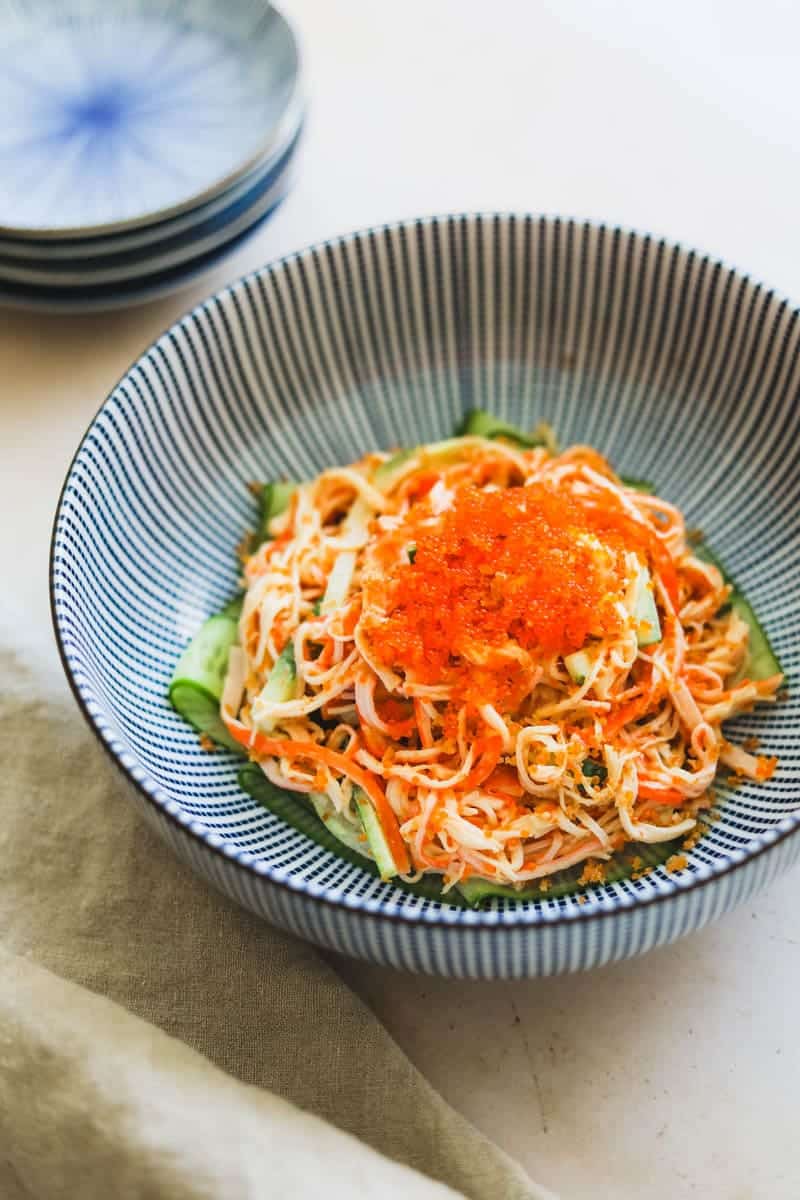 With imitation crab meat, kewpie-mayo, soy sauce, sriracha, and crunchy panko, this Spicy Kani Salad by Kat and Alec of The Heirloom Pantry is a spicy and refreshing dish with texture. You'll experience a harmonious balance of flavors and textures with each bite. Enjoy it as a light lunch or a vibrant side dish that will leave you wanting more.
California Sushi Roll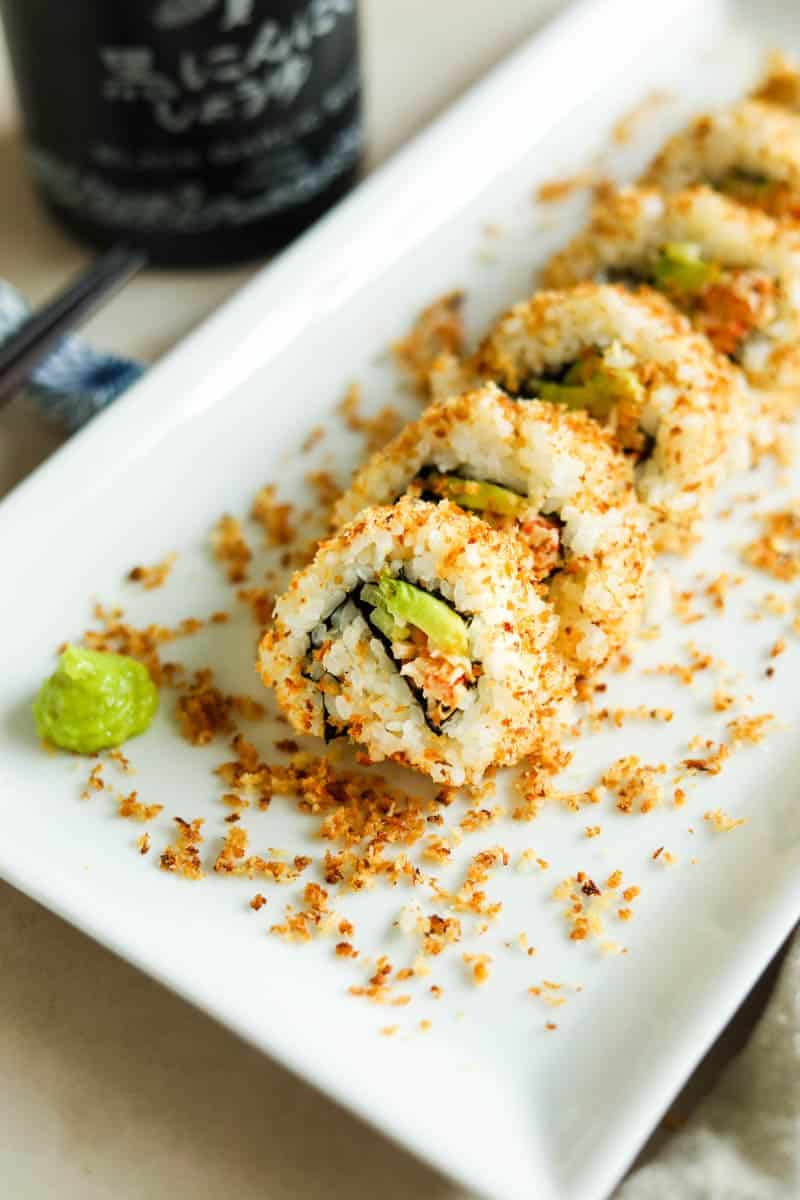 This California Sushi Roll by The Heirloom Pantry is a safe bet if you're on the fence about making sushi at home. The iconic sushi roll features a perfect balance of creamy avocado, crisp cucumber, sweet imitation crab meat, and a kick of spicy mayo, all wrapped in a layer of nori and rice. Each bite offers a satisfying blend of textures and flavors.
Tempura Fried Sushi Roll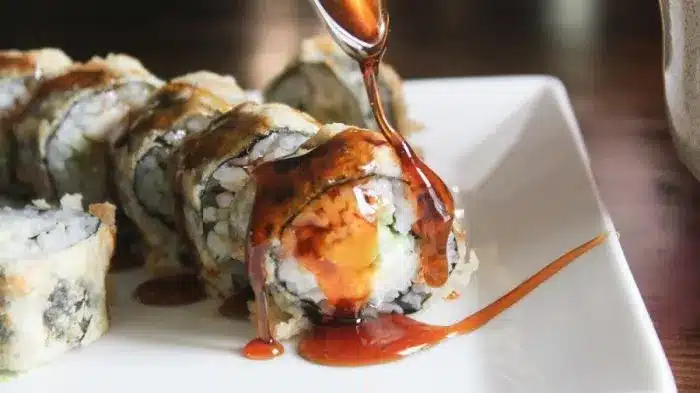 Get ready to tantalize your taste buds with this mouthwatering Tempura Fried Sushi Roll recipe from Jen Around The World. It's a fun fusion of Japanese and Western flavors that will leave you craving more. First, she shows you how to make the roll stuffed with cream cheese, veggies, and crab meat. Then dip it in the tempura batter and fry for a light and crispy snack or lunch. Dip them in tangy soy sauce or drizzle them with eel sauce for an explosion of flavors.
Seafood Lemon Garlic Pasta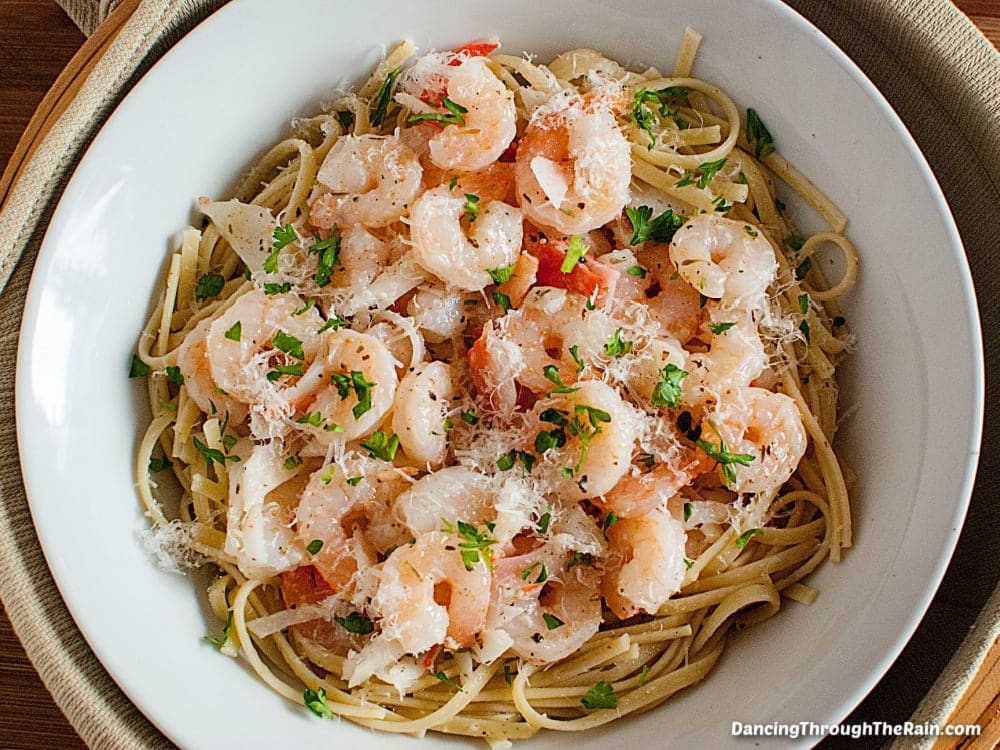 True seafood lovers will rejoice with this tantalizing seafood lemon garlic pasta recipe by Allie of Dancing Through The Rain. The tasty twist on shrimp scampi is a filling combination of imitation crab, perfectly pink shrimp, al dente noodles, and a creamy, buttery, lemony, herby sauce. It's quick, easy, zesty, and, well, heavenly.
Quick and Easy Crab Melt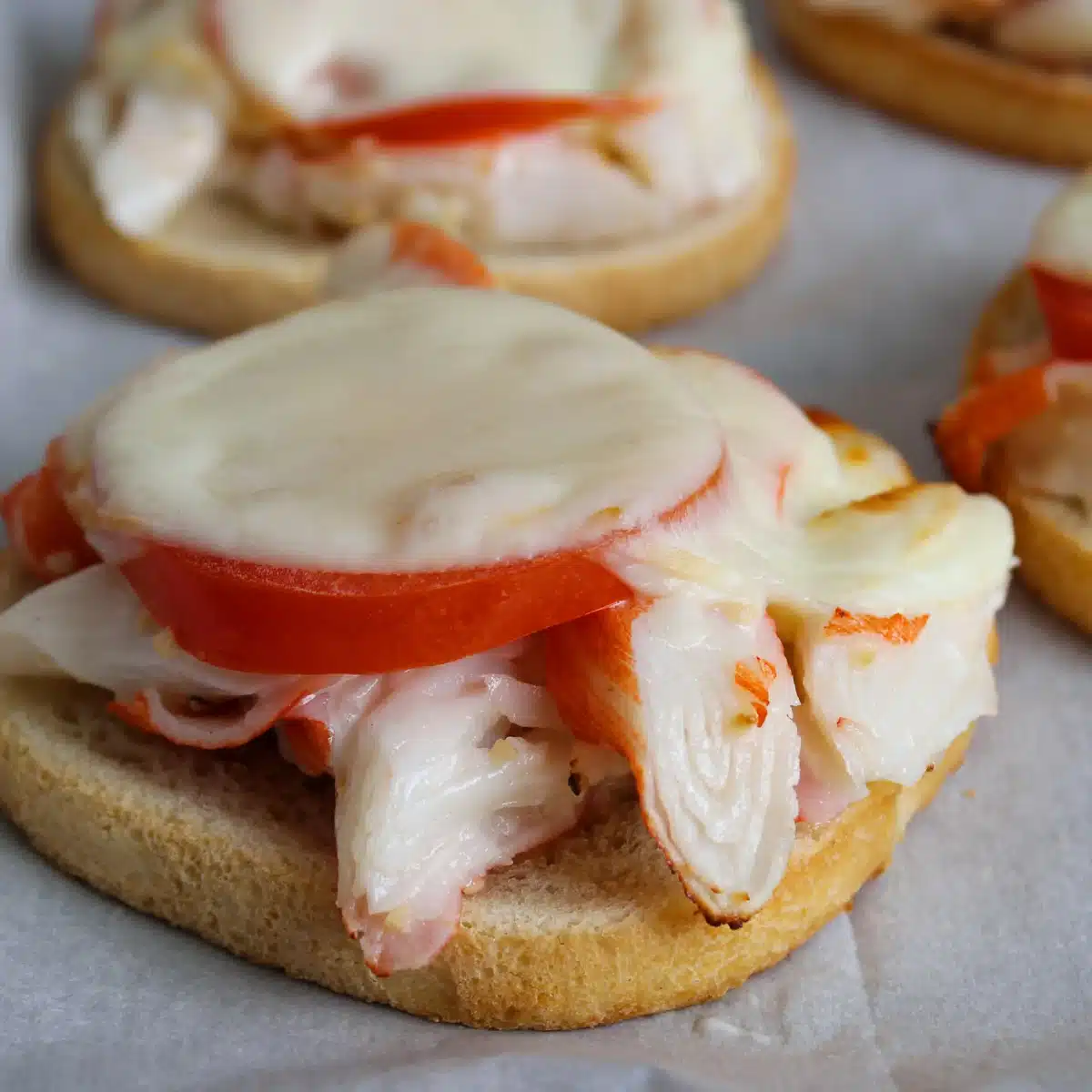 For a taste of seaside San Fran or Maine, embrace this mouthwateringly quick and easy crab melt by Andrea of Simply Scrumptious Eats. You'll enjoy the magnificent blend of imitation crab, garlic, onion, and lemon with sliced tomatoes on top of crispy ciabatta bread with melted provolone cheese.
Imitation Crab Dip Recipe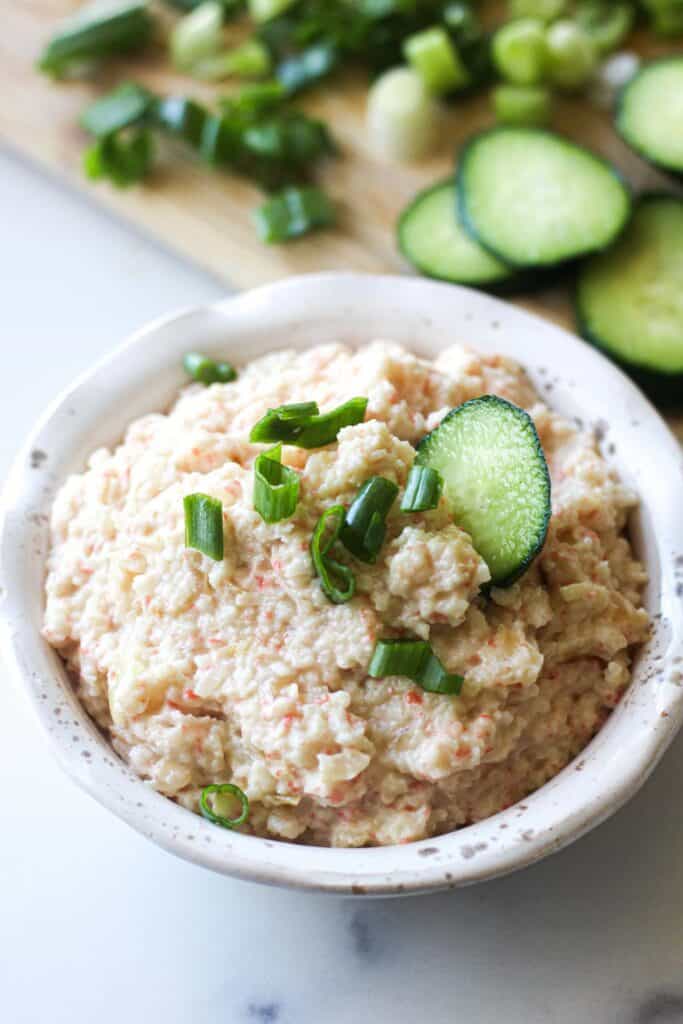 Serve this delightful imitation crab dip recipe warm or cold with crackers, pretzels, or celery. It'll be The Top Meal at your next party or gathering. That savory four-ingredient mix includes imitation crab, cream cheese, onion, broth, and a bit of butter. Your taste buds will be begging for more.
Air Fryer Crab Sticks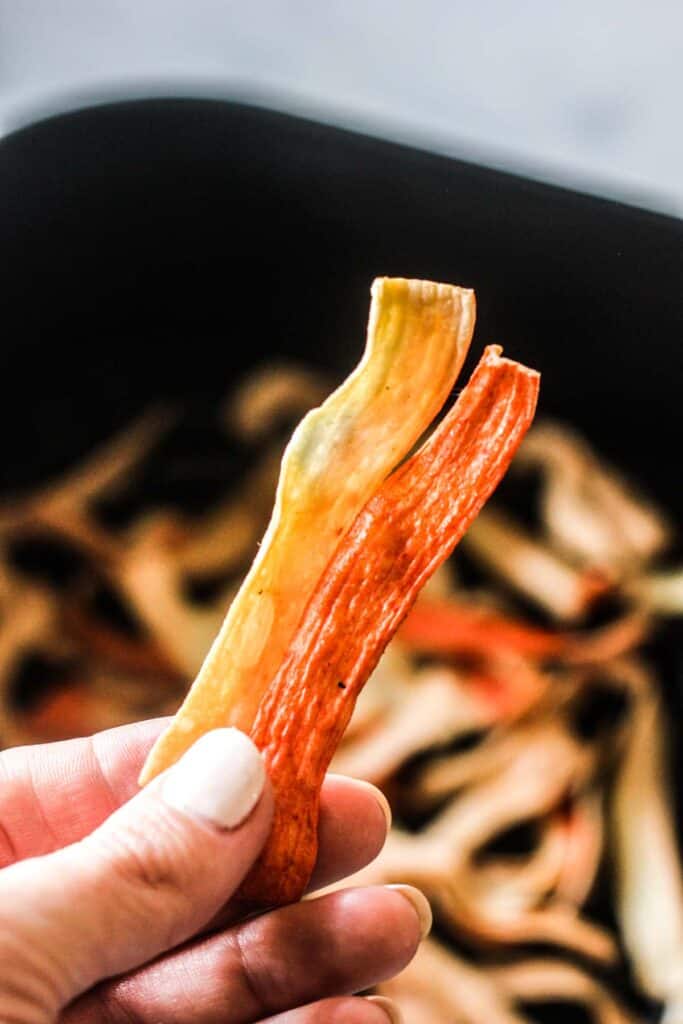 Crispy, golden, and delicious, these air-fried crab sticks from The Top Meal are a must-try. Just one bite, and you'll ditch the chips. And with just a few ingredients, including imitation crab, salt, and pepper, you can whip up this 20-minute seafood snack. It's a healthy alternative to the junk food aisle.
Crab-Stuffed Mushrooms with Cream Cheese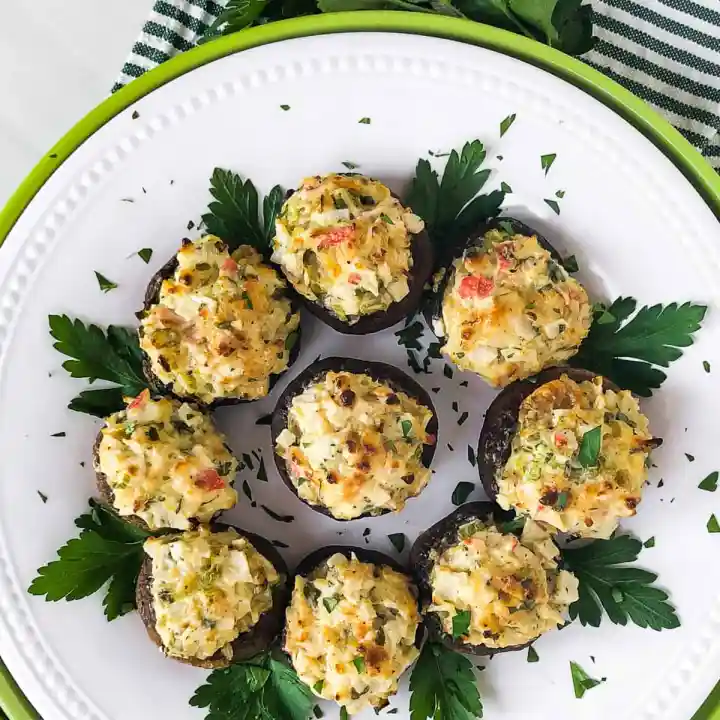 Sophisticated enough for your holiday spread but accessible for everyday snacking, you'll love this versatile crab-stuffed mushrooms with cream cheese recipe from Inspired Fresh Life. Combining savory and sweet crab, cream cheese, greek yogurt, aromatic herbs, and spices creates mouthwatering hors d'oeuvres ideal for any occasion.
Seafood Gnocchi Soup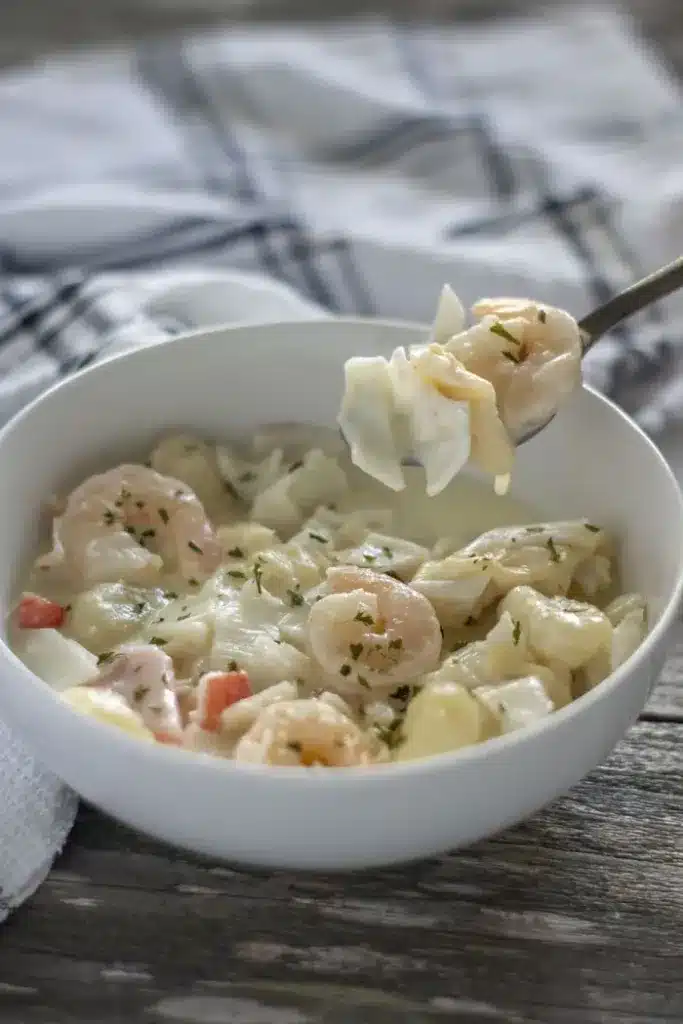 While the original seafood gnocchi soup calls for expensive lump crab, this version by Son Shine Kitchen uses the faux stuff. You'll love it all the same. It's packed with tender seafood, pillowy gnocchi, and a flavorful broth. This soup is a hearty and satisfying dish that will leave you feeling nourished and content.
Seafood Spring Rolls Recipe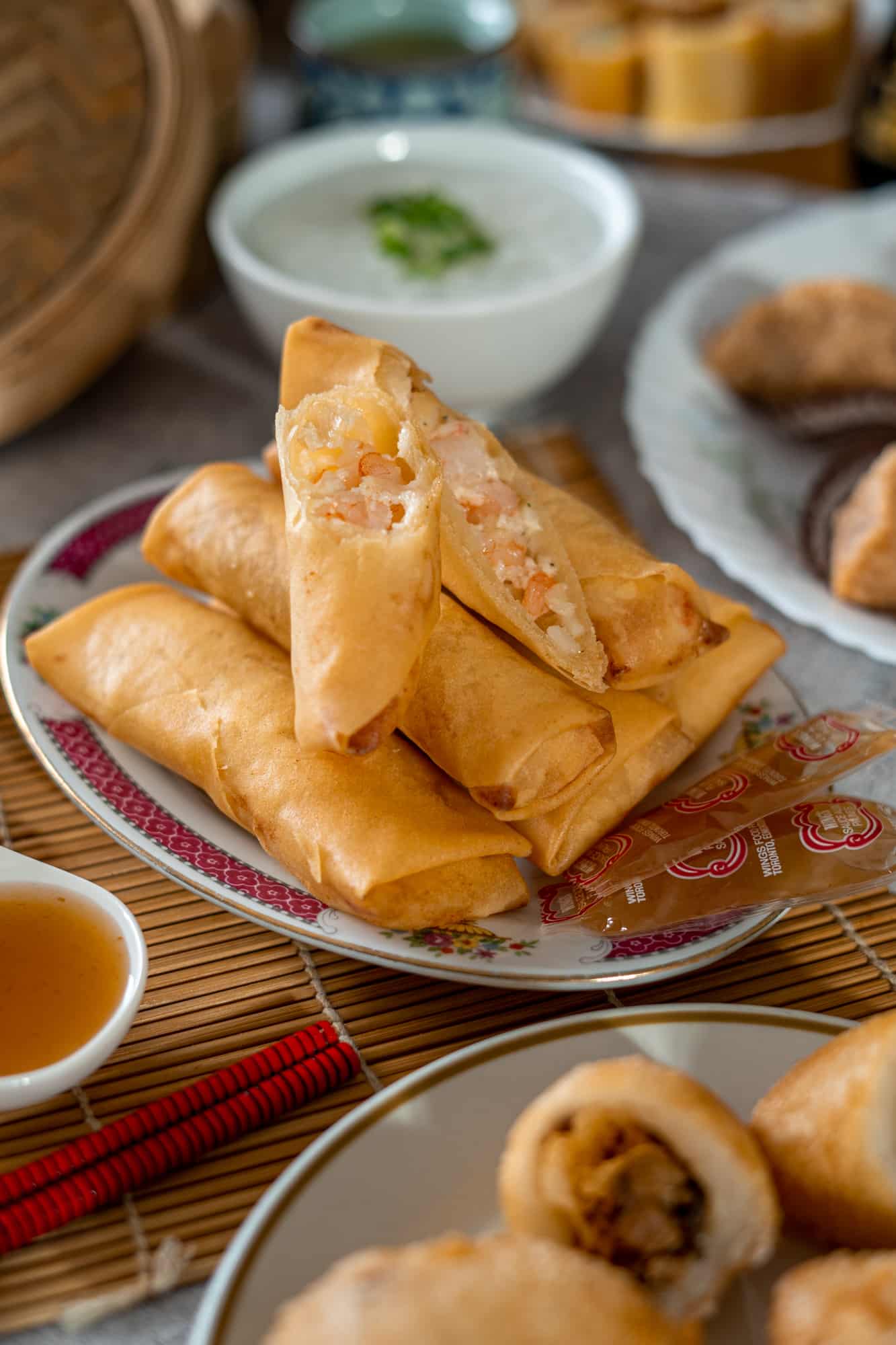 Don't be intimidated by the process of making these irresistibly crispy seafood spring rolls recipe from Papa G of Wok Your World. These little bites of sunshine are packed with a seafood medley, including scallops, shrimp, and imitation crab. At the same time, mayo and lemon make the mixture creamy and flavorful.
Crab Salad Recipe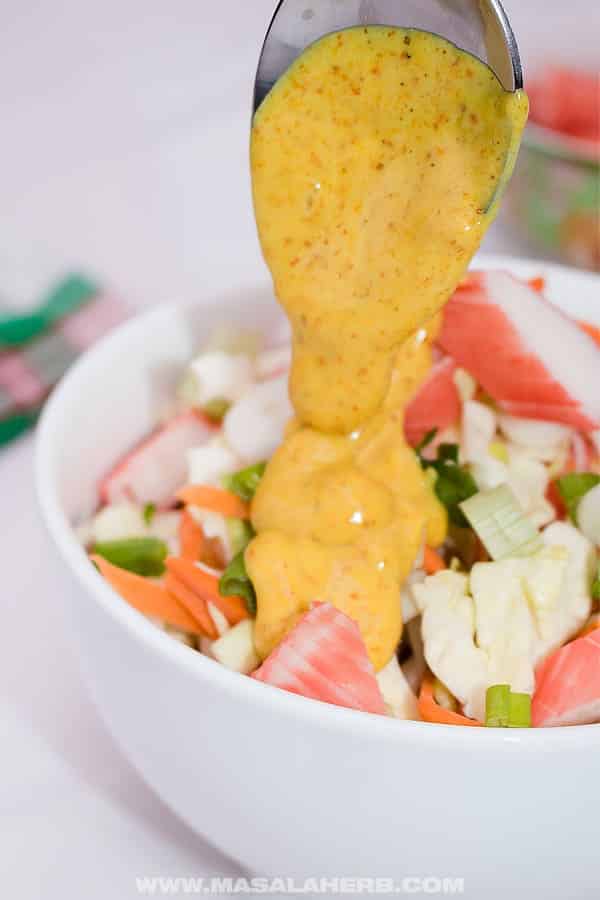 Helen of Masala Herb offers her twist on a classic with her curry crab salad recipe. It's so fresh and crunchy with crab sticks, cabbage, carrots, and green onion. Then there's the dressing she makes with mayo, curry powder, and lime juice. It looks like a brilliant summer lunch or dinner recipe!
Imitation Crab Sushi Bake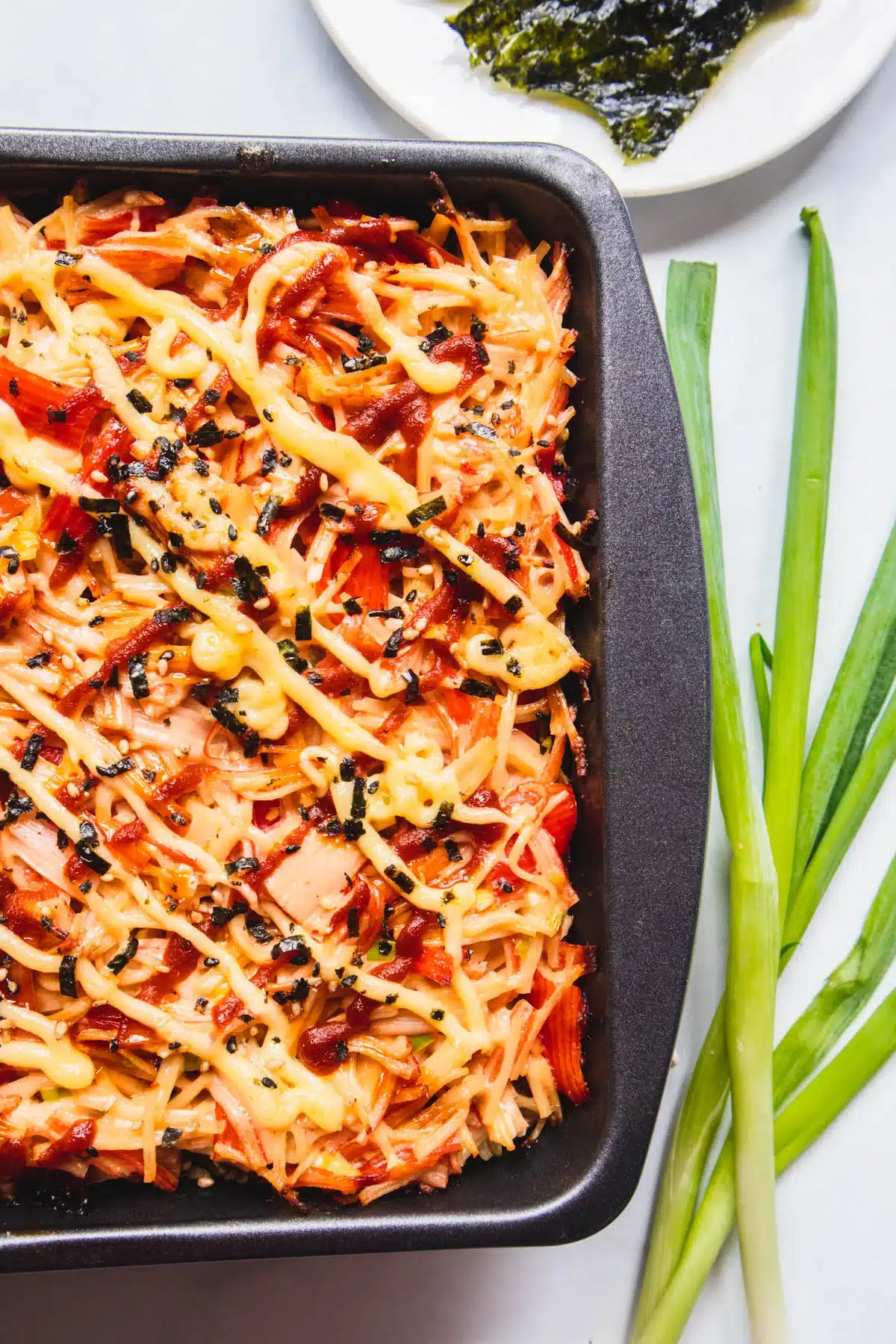 While not traditional, this imitation crab sushi bake by Mikha Eats is an inexpensive and unexpected crowd-pleasing meal. It's like having sushi but without the high cost. The Hawaiin favorite is full of rice, imitation crab, furikake, nori, cream cheese, and lots of flavorful elements like ponzu, light soy sauce, and Japanese mayo.
Crab Rangoon Egg Rolls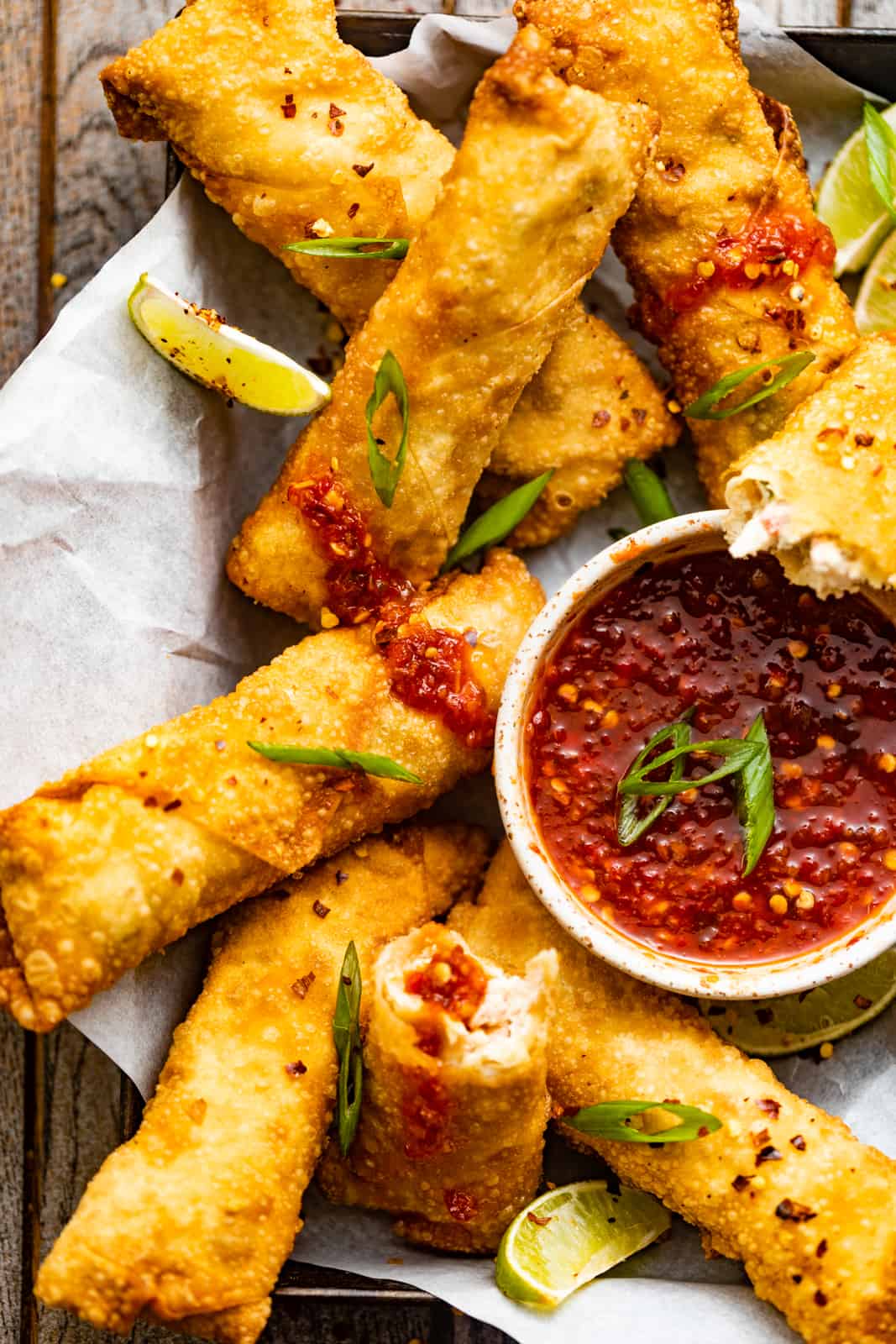 For these crab rangoon egg rolls by Brittany Breaks Bread, the researcher-turned-cook shows you how to make your favorite Chinese restaurant appetizer at home. Only this time, bigger. You'll find a scintillating mix of cream cheese, imitation crab meat, green onion, and spices, all wrapped in an egg roll wrapper instead of a wonton.
Crab Rangoon Pizza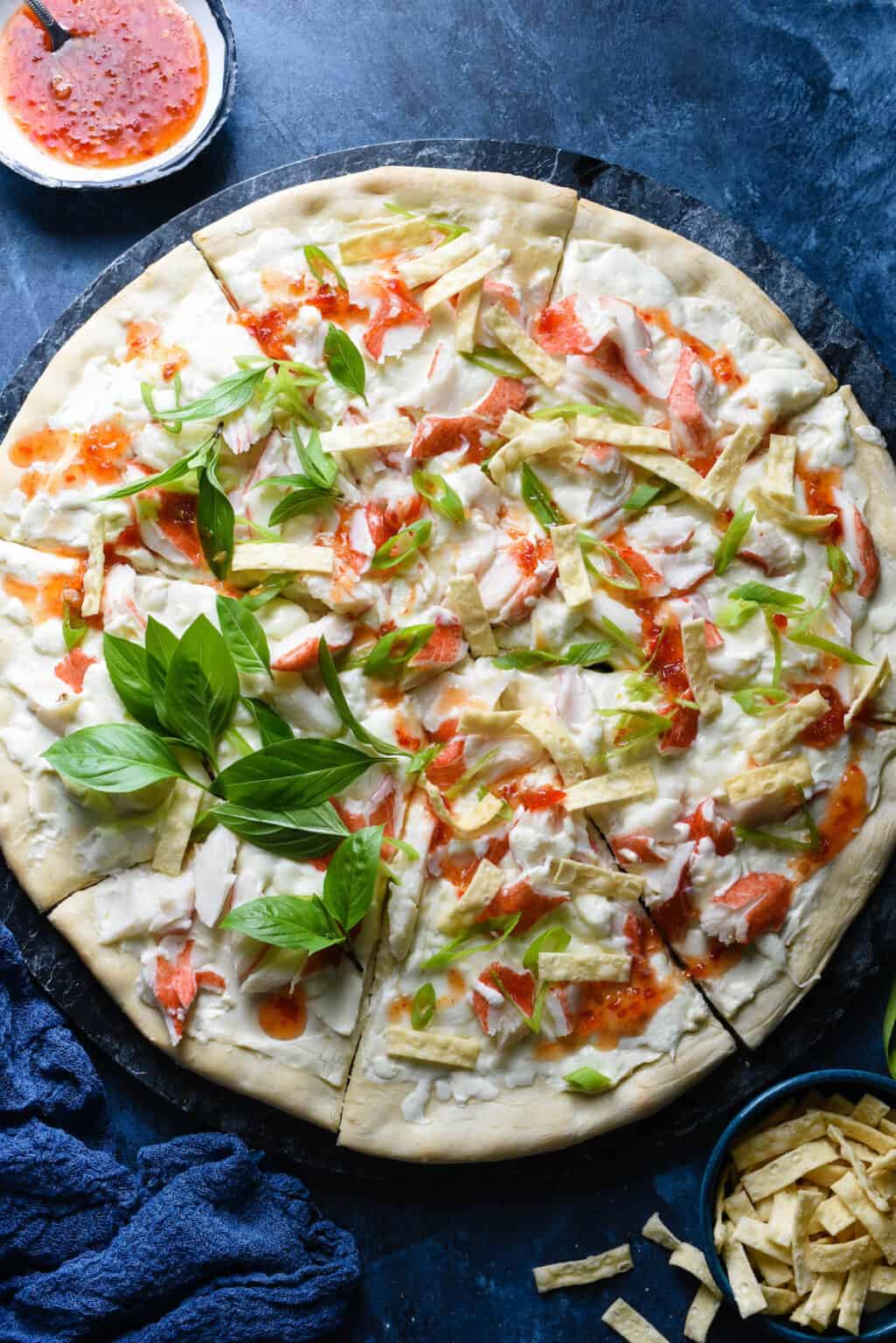 How clever is this crab rangoon pizza recipe from Lori of Foxes Love Lemons? It's a fusion of her daughter's favorite food and her husband's favorite food. So, can't go wrong there! You'll find a recipe for cream cheese, mozzarella, imitation crab, wonton strips, and herbs. Then finally, on top, you'll drizzle with a delicious sweet chili sauce.
Which Imitation Crab Recipes Will You Try First?
You've made it through to the end of this adventure. Now it's time to choose which of these delicious imitation crab recipes you'll be making first. You'll absolutely love the seafood gnocchi soup, the air fryer crab sticks, and the imitation crab dip recipe. Or did something else get your vote? We'd love to know!
Don't forget to see other seafood recipes, like some of the best baked fish recipes and dynamic fish recipes for dinner.