Fluffy, golden, and incredibly versatile, these 20 pancake recipes are beloved breakfast options that will leave you craving more! Below, we dive into pancake recipes, uncovering a treasure trove of flavors.
For example, you have traditional buttermilk pancakes to creative variations like Nutella stuffed, cannoli, strawberry shortcake, and even crispy kimchi pancakes. So are you ready to discover the wonderful world of pancakes?
Let's dive in!
For more breakfast recipes, check out these make-ahead breakfast sandwiches and high-protein breakfast ideas.
Confetti Pancakes
We'll start this list with this simple confetti pancakes recipe from Nicole of Fresh Apron. They're easy to make, fluffy, and full of sprinkles, giving each bite a fun burst of color. The kids will love them and may even want to help.
Nutella Pancakes
The first question we had when reviewing these Nutella pancakes by Marcellina In Cucina was, "how do you get the chocolate inside?" She shares a cool but simple trick to elevate your flapjacks to new heights. Once you learn it, your mind will run wild with possibilities!
Sheet Pan Pancakes From Mix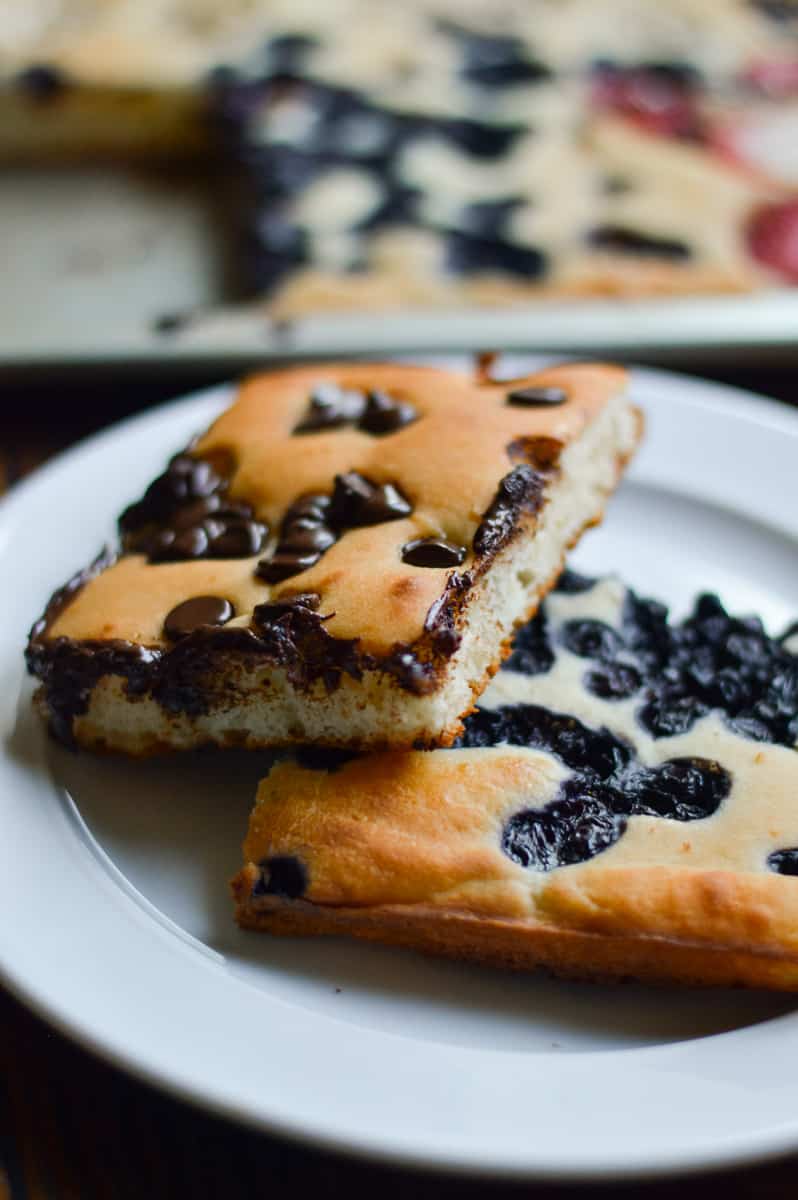 Nourished By Nic shares these sheet pan pancakes from mix for what is perhaps the simplest you could ever make. There is no flipping. There is no excess mess. And best of all, it's the perfect way to make pancake for a crowd. Because as Nicole puts it, "Flipping 50 pancakes, especially without a large griddle, takes FOREVER."
Chocolate Dutch Baby Pancake with Cherry Compote
No one will complain about this brilliant chocolate Dutch baby pancake with cherry compote by Caroline's Cooking, whether it's breakfast, brunch, or dessert. You bake the gigantic pancake in the oven, then top with cherry compote and mascarpone cheese. And if that flavor combination seems familiar, it is her take on black forest cake.
Ube Pancakes
These ube pancakes by Mae's Menu are a delicious way to experience the purple Asian root vegetable. Like any other standard pancake recipe, you have the usual ingredients; flour, eggs, sugar, etc. But things get interesting with the addition of Ube powder and extract.
Crispy Kimchi Pancakes
You're going to dig these crispy kimchi pancakes from Mikha Eats. It starts with a light, runny batter featuring tangy kimchi cabbage, kimchi juice, garlic, green onions, and gochujang for even more flavor. Plus, there's one ingredient that makes them incredibly crispy. You pan fry for a few minutes per side, resulting in a savory pancake with a delightful combination of crispiness and softness. Served with a savory and sweet dipping sauce, they make a fantastic appetizer or snack.
English Pancakes with Lemon and Sugar
With these English pancakes with lemon and sugar, Marie of Sugar Salt Magic reminds us that food is closely tied to memories. For her, she harkens back to childhood when her mum made them. Unlike American-style flapjacks, the English counterpart is thin because there is no leavening agent. However, they are thicker than a crepe. And instead of syrup, squeeze lemon juice all over them and sprinkle with sugar.
Oreo Pancakes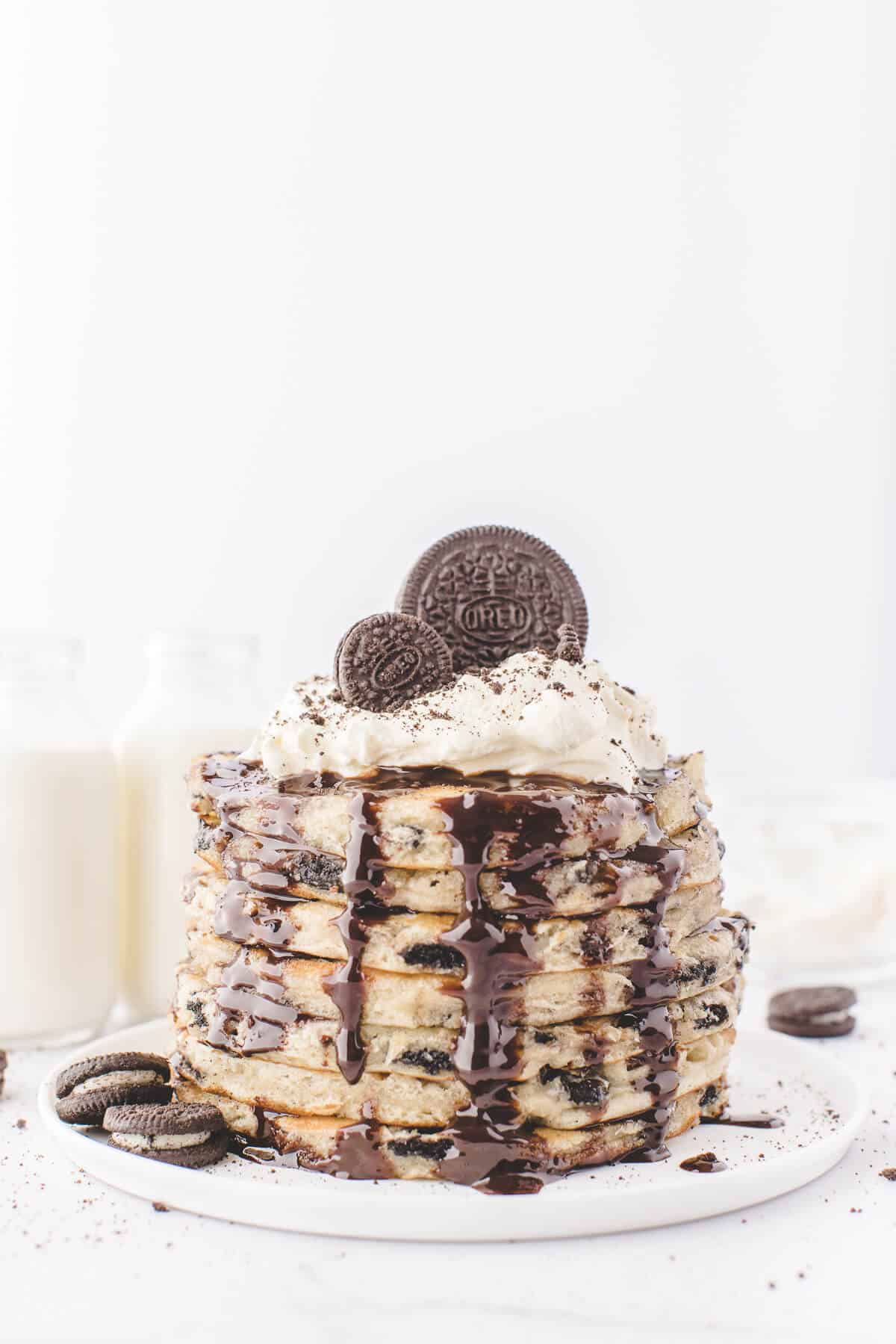 These Oreo pancakes by Simply Stacie is more dessert than breakfast. What are they? Fluffy and chocolatey! These pancakes are studded with crushed Oreo cookies, giving them a delightful crunch and a burst of cookies and cream flavor. Drizzled with chocolate syrup and topped with whipped cream, they are a lovely way to start your day on a sweet note.
Cinnamon Roll Pancakes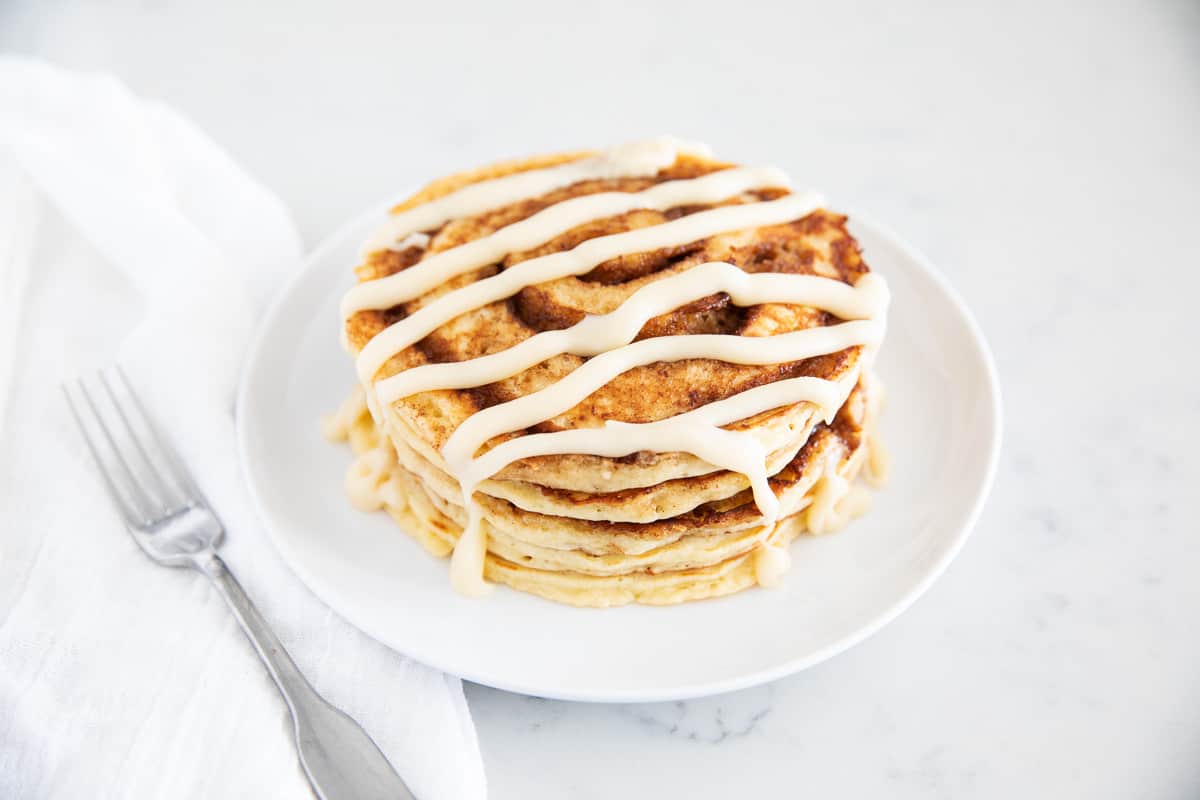 Combine the best of both worlds with these cinnamon roll pancakes by Jamielyn of I Heart Naptime. Fluffy pancakes swirled with a cinnamon sugar filling and drizzled with a luscious cream cheese glaze. These pancakes capture the essence of a warm and comforting cinnamon roll, but they are perfect for a cozy weekend breakfast or a special brunch.
Sourdough Pancakes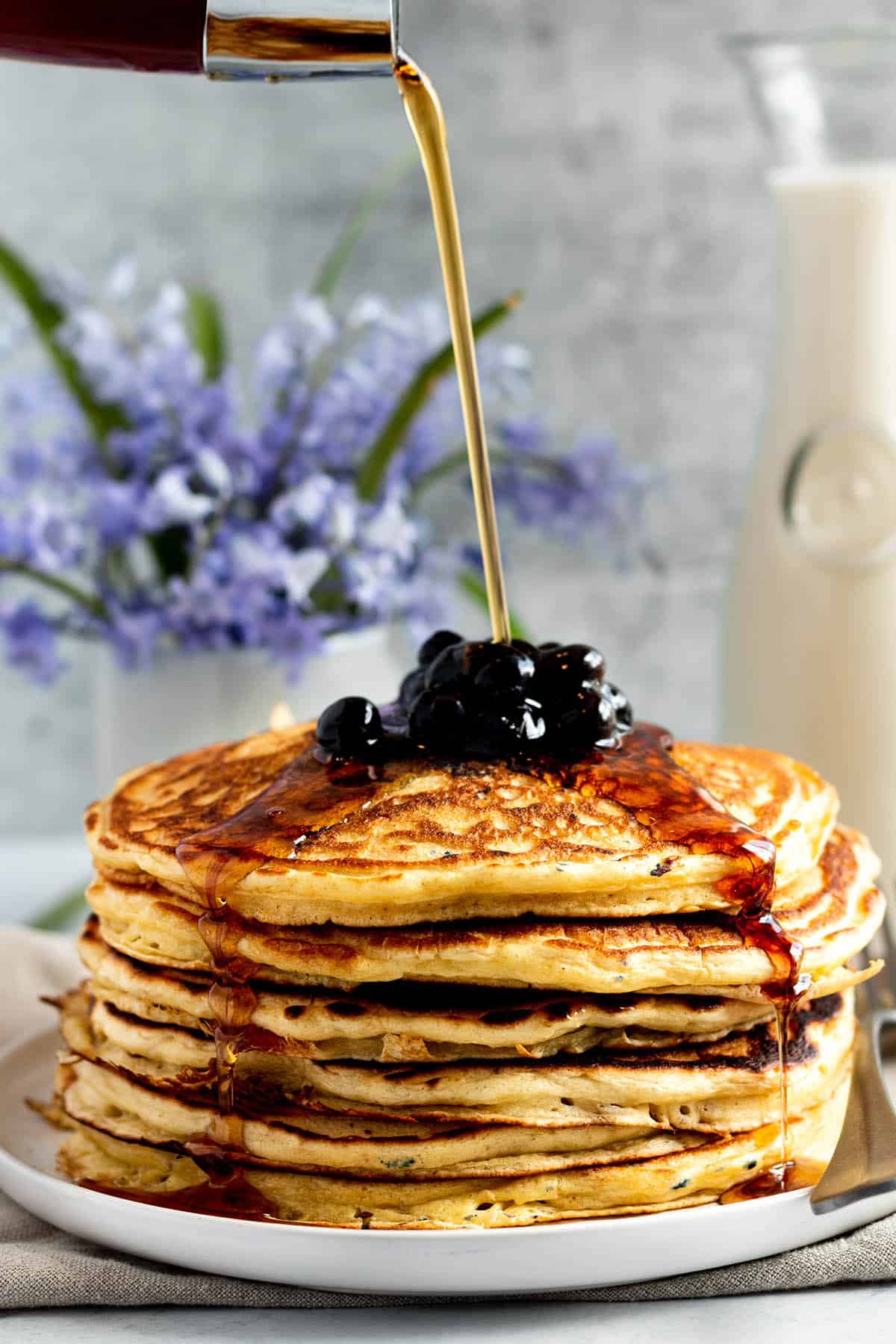 Elevate your pancake game with these tangy and fluffy sourdough pancakes by Kristen of Dirt And Dough. As you make them with sourdough starter, these pancakes have a subtle tanginess and a light and airy texture. They are a great way to use up excess starter and add a unique twist to your breakfast routine.
Savory Masa Pancakes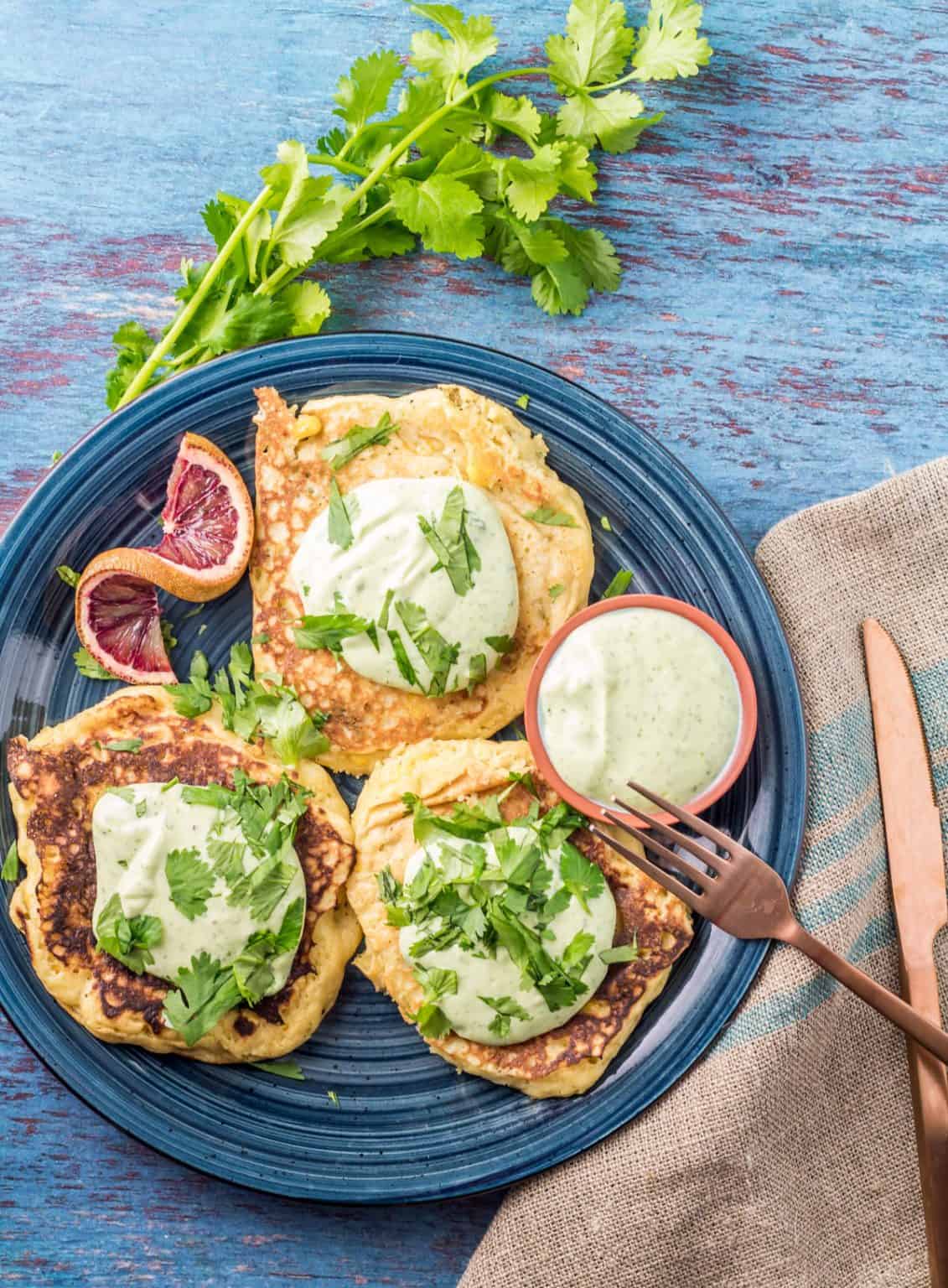 Try these savory masa pancakes for a pancake experience Beyond Mere Sustenance. The flavor is that of tortilla mixed with traditional pancakes. Only this time, there are no sweeteners. Instead, you get Mexican-inspired flavors like hatch green chiles, avocado, lime, sour cream, and cotija.
Cannoli Pancakes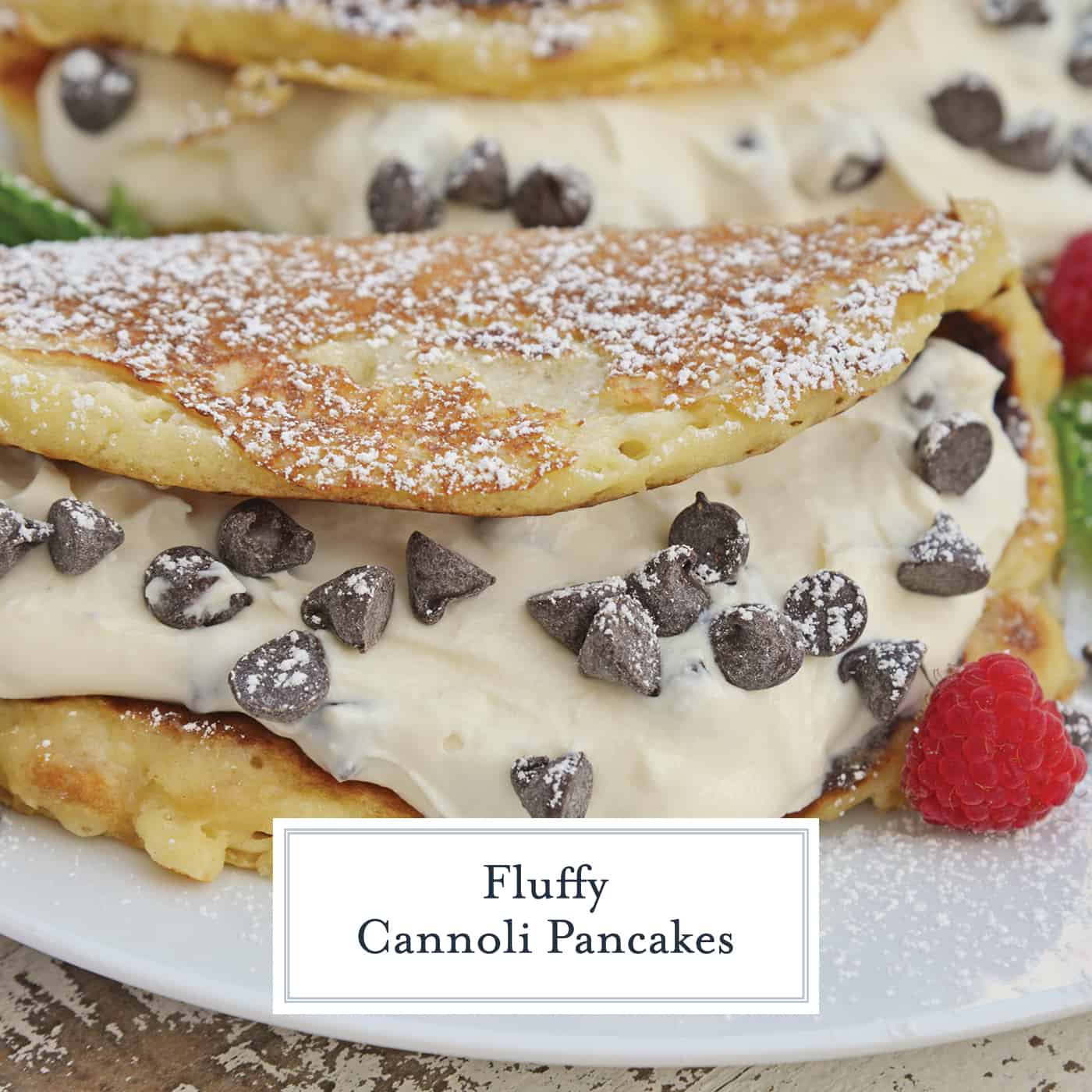 Jessica of Savory Experiments doesn't spend a whole of time on breakfast. But when she does, she goes all in on creations like these cannoli pancakes. It combines flavors of the classic Italian dessert with pancakes. It starts with a fluffy pancake, but the center is creamy ricotta, chocolate chip, and mascarpone cannoli filling. What's not to love?
Pancake Tacos with Caramelized Peaches and Pancetta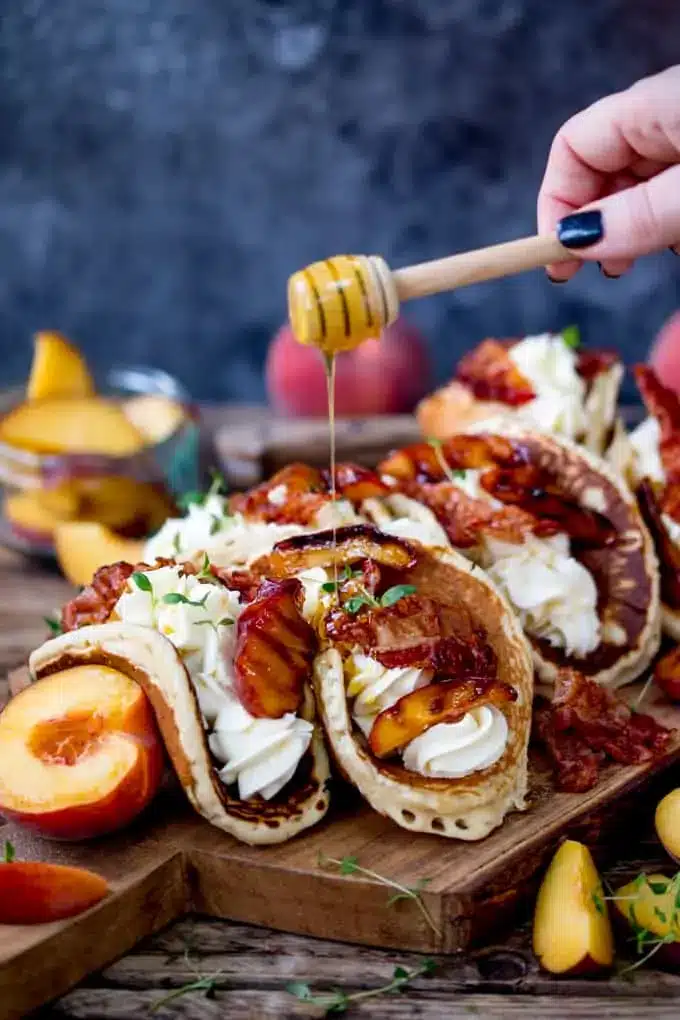 Level up your pancake game to epic proportions with these pancake tacos with caramelized peaches and pancetta by Nicky of Kitchen Sanctuary. It's a fun breakfast no one will see coming. The pancakes are fluffy and folded into the shape of a taco. Then, fill them with caramelized peaches, crispy pancetta, and a drizzle of maple syrup. This sweet and savory combination creates a unique and delicious breakfast or brunch experience.
Doraemon Dora Cakes
Transport yourself to the whimsical world of Doraemon (Japanese animated cartoon series) with these adorable Doraemon Dora cakes by Cielle of Savour The Pho. These small, fluffy pancakes are filled with sweet red bean paste inspired by the popular Japanese manga character. They are a fun and delicious treat for Doraemon fans of all ages. But they're worth trying, even if you know nothing about the series.
Double Chocolate Pancakes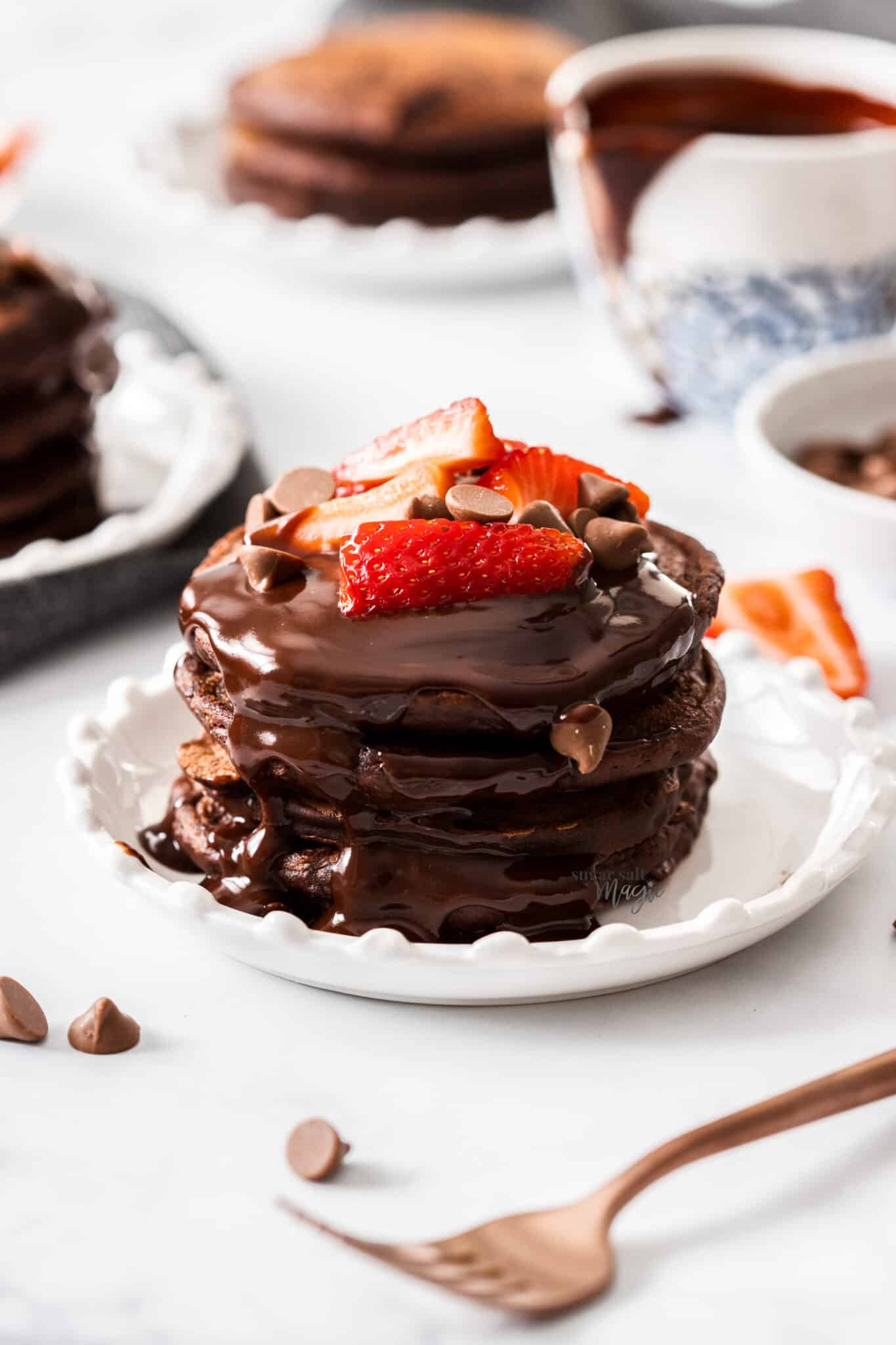 Consider these double chocolate pancakes from Marie of Sugar Salt Magic to be a PSA to all chocolate lovers. The passionate home chef and blogger shows you how to squeeze as much chocolate into each bite as possible. Each thin cake is loaded with cocoa powder, chocolate chips, and other ingredients that make them insanely moist, fluffy, and intensely chocolatey.
Strawberry Shortcake Pancakes
Now and again, Meaghan likes to make breakfast unique. But it can't be too complicated because, you know, 4 Sons R US. So these strawberry shortcake pancakes fight that bill. She tops light and fluffy pancakes with fresh strawberries, whipped cream, and a drizzle of sweet strawberry ice cream sauces for a taste reminiscent of the dessert classic.
Quick and Easy Mini Pancakes
Whip up a batch of these quick and easy mini pancakes by Marcellina Cucina for a satisfying breakfast in no time. You make miniature pancakes with simple pantry ingredients. They turn out light, fluffy, and perfect for a lazy weekend morning or a busy weekday. Top them with your favorite syrup, fruit, or whipped cream for a delightful start to your day.
Crispy Thin Martabak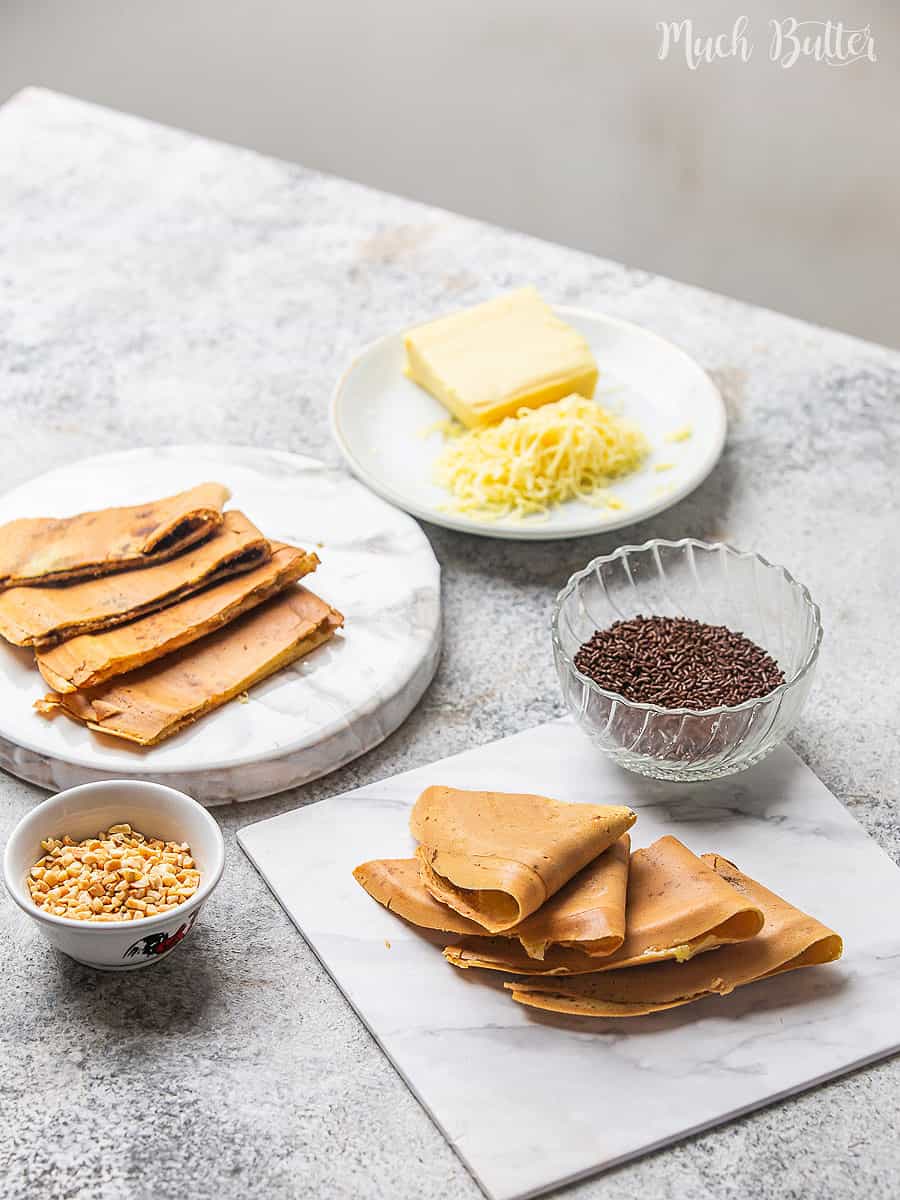 Experience the irresistible flavors of Indonesian cuisine with these crispy thin martabak pancakes by Much Butter. Martabak can be sweet or savory. And the fillings are unlimited, ranging from Toblerone to red velvet. However, for this version, you'll learn how to make them with chocolate and peanuts.
Scallion Pancake Recipe
This Korean scallion pancake recipe by The Art Of Food And Wine makes for a delicious snack, appetizer, or starter. You start by making a batter with flour, water, sesame oil, and scallions. Add shrimp to make them hearty. Finally, soy sauce, rice wine vinegar, and sugar dipping sauce make them irresistible.
Which Pancake Recipes Are You Most to Try First?
Pancakes are a versatile and beloved dish that always brings comfort and delight to the table. You've seen funfetti pancakes, pancake tacos with peaches, cream, and bacon, and many more. So, are you ready to fire up the griddle and flip your way to pancake bliss? What's it going to be?