Get ready to discover our list of 24 incredible easy fish recipes for dinner.
Seriously, there are some incredible tasty dinners that go far beyond average baked salmon and cod. Instead, you'll find crab stuffed salmon, blackened mahi mahi with habanero, and even a fried walleye fish sandwiches.
There are so many great Friday fish dinner options that will have you salivating in anticipation.
Let's jump in!
Crab Stuffed Salmon Recipe
If you're looking at this herby, lemony, crab-stuffed salmon from Maya of Wholesome Yum and thinking it looks too fancy to make at home. Hold your horses! You're dead wrong! The keto queen of easy low carb and drool-worthy dinners shows you how to make this delicious 30-minute meal from scratch. It's simple, using common ingredients. Perfect for a dinner party but quick enough to make during the week.
Visit Wholesome Yum for the recipe.
Mahi Mahi With Lemon Garlic Sauce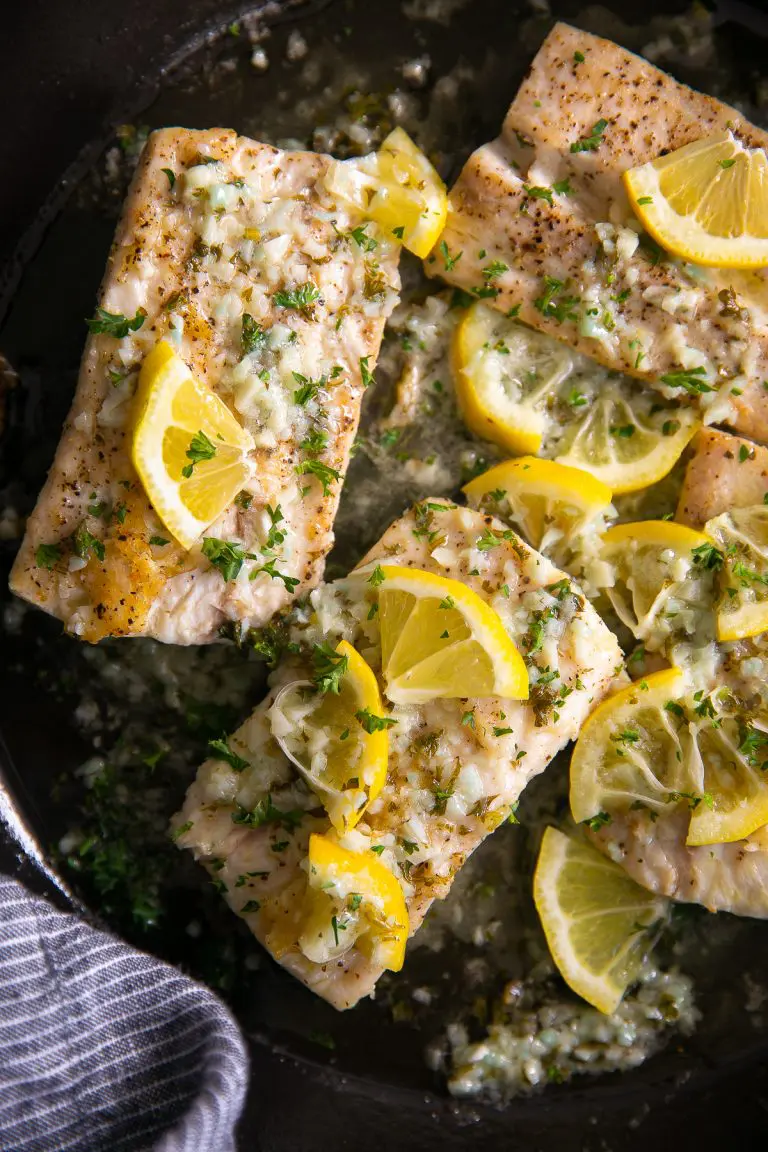 Mahi Mahi is a popular white fish. Its mild flavor means it can be dressed up with flavors ranging from mango and pineapple to lemon garlic butter, like this recipe from Jessica of The Forked Spoon. So it's super simple to make. Pan-sear it for a few minutes per side and top it with that lovely, silky garlic butter sauce, capers, and fresh parsley.
Visit The Forked Spoon for the recipe.
Keto Fried Fish Sticks Recipe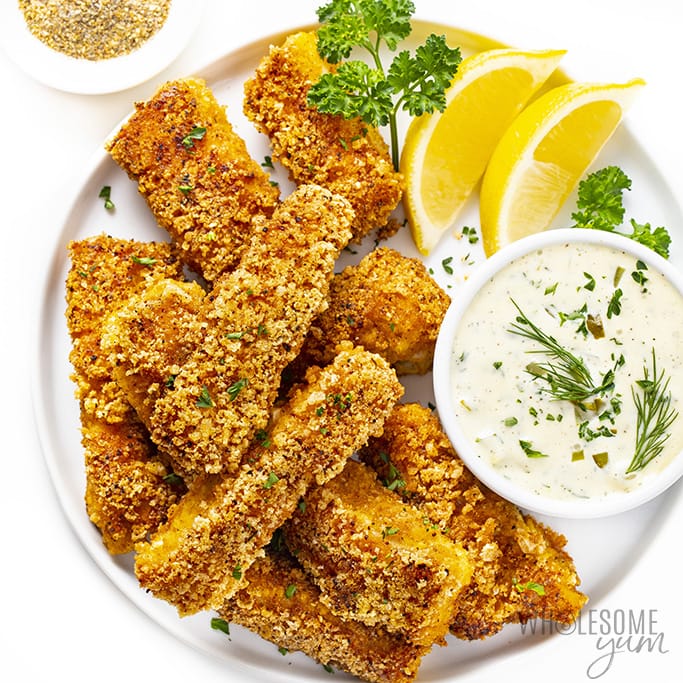 Believe it or not, you don't need all-purpose flour to make delicious, crispy fish sticks. Instead, Maya of Wholesome Yum shows you how to whip up her foolproof, tender on the inside, crunchy on the outside breaded, pan-fried fish. Keeping it keto, this low-carb easy fish dinner recipe made with coconut flour will keep you on the right track while satisfying the taste you're looking for.
Visit Wholesome Yum for the recipe.
Bengali Fish Curry in Instant Pot (Macher Jhal)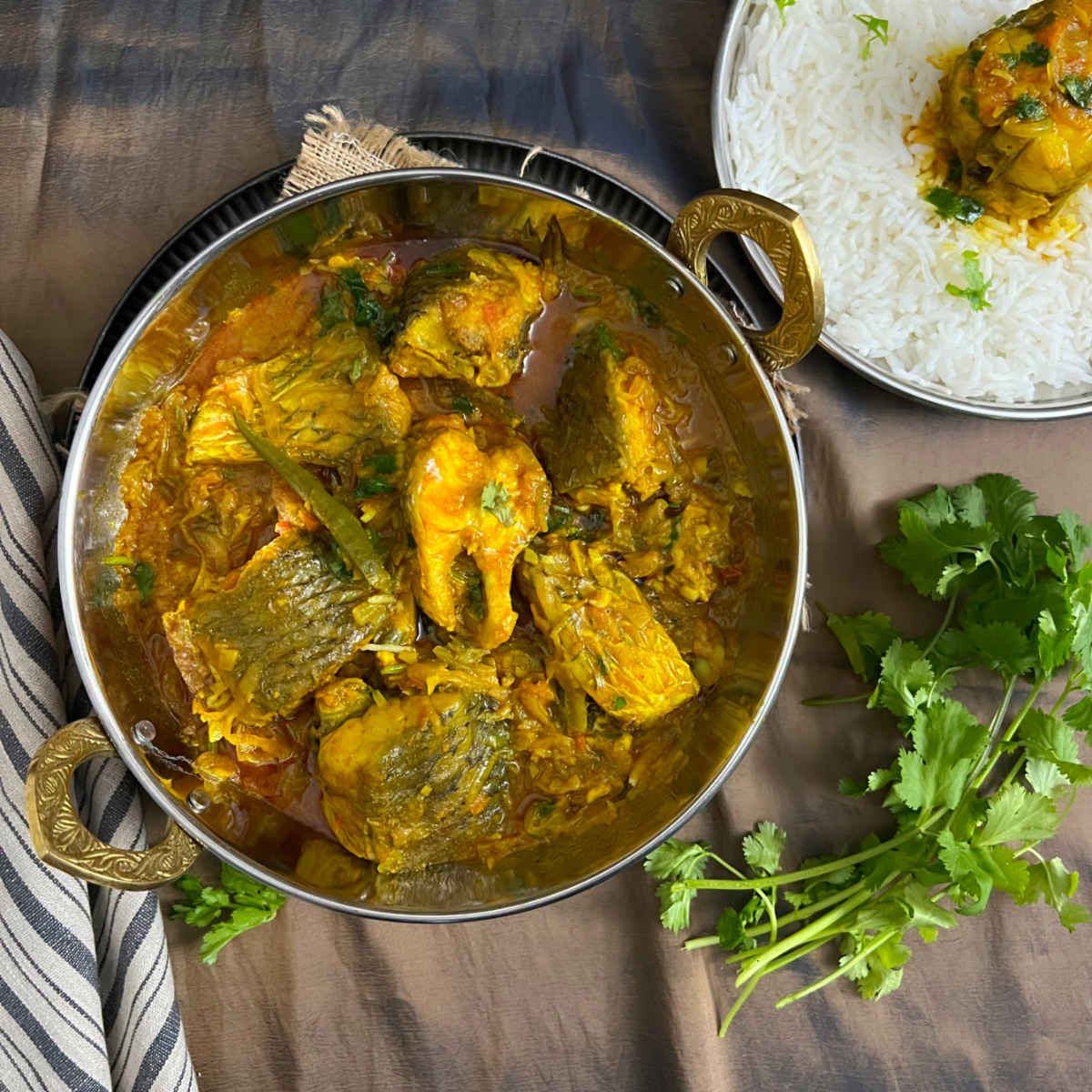 Naturally gluten-free, keto and paleo, this Bengali-style fish curry from Shilpa of Easy Indian Cookbook is versatile in that it fits into many different diets. Now, as good as curries are, they can have quite a few ingredients, particularly spices. But this one is different. There are just ten ingredients you won't have any trouble finding! And while the recipe calls for barramundi fish, you can substitute with cod, tilapia, or halibut.
Visit Easy Indian Cookbook for the recipe.
Blackened Mahi Mahi with Habanero Mango Salsa
OMG! The scent, sight, and taste of this blackened Mahi Mahi with habanero mango salsa from Alea of Trendgredient will transport you to the tropical destination of your dreams. So, is it Maui or Key West? Now, we're not going to mislead you; there are quite a few ingredients for this recipe. But, with flavors like chili-lime seasoning, mango, and red onion, to name a few, you're in for a "flavorcation."
Visit Trendgredient for the recipe.
Pan Fried Walleye Sandwich
If you're familiar with fresh Walleye like Christine of The Rustic Foodie, then you know all about the wonders of this mild white fish. Some might say it tastes like the "breeze that comes off a lake on a summer evening." It's excellent deep-fried or baked, but this recipe calls for quick dredging and pan-frying before making sandwiches.
Visit The Rustic Foodie for the recipe.
Pomfret Fish
Okay, so around your neck of the woods, pomfret fish may or may not be available. Still, with so many flavors like turmeric, garlic, ginger, and red chili paste, to name a few, we had to include this flavor bomb of a fish dish from Rachna Cooks. Plus, you can substitute pomfret with any white fish like red snapper, flounder, or even walleye.
Visit Rachna Cooks for the recipe.
Bang Bang Salmon
Bang bang is a delicious sauce from the popular Bonefish Grill restaurant. The copycat recipes usually call for mayo, chili sauce, honey, and other ingredients. It's superb! We've seen it on chicken and shrimp, but Saimi of One Carefree Cook put it on salmon for a sweet, savory fish main dish with a bit of heat.
Visit One Carefree Cook for the recipe.
Homemade Fish Burger With Tartar Sauce
This homemade fish burger with homemade tartar sauce from Somebody Feed Seb is like an upgraded fillet-o-fish from the popular restaurant with golden arches. Get this. You start with a white fish fillet dipped in egg and breadcrumbs, then you make the relish-less tartar sauce, and finally assemble it on a buttery brioche bun. No, you're not dreaming.
Visit Somebody Feed Seb for the recipe.
Cantonese Steamed Fish with Ginger and Shallots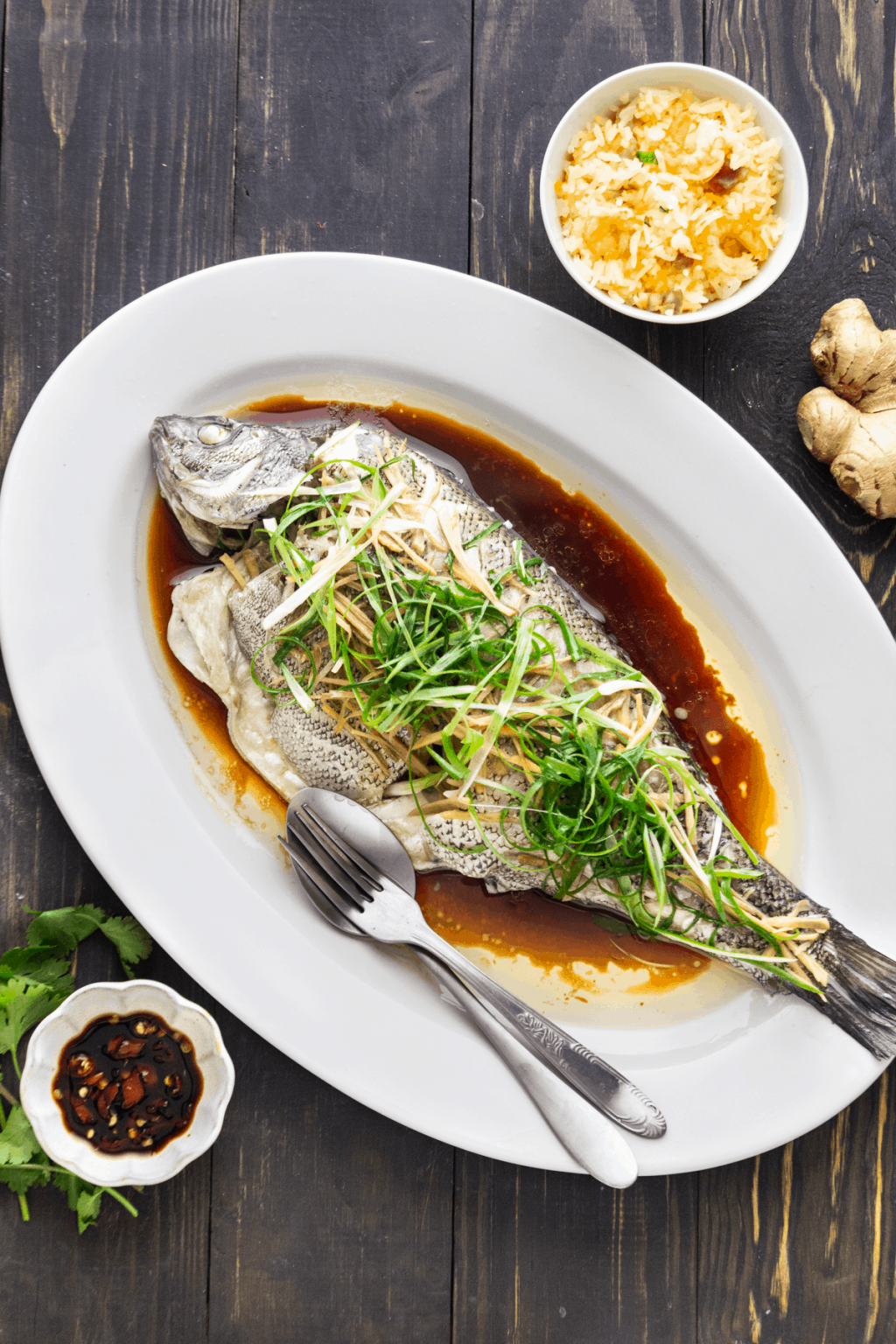 Yes, we know, this Cantonese steamed fish dish from Jeanette of Wok & Kin is so gorgeous it could grace the pages of a popular food magazine. But it's not just eye candy; it's also a practical 30-minute authentic Chinese dinner with surprisingly few ingredients, including whole fish, ginger, light soy sauce, and sugar.
Visit Wok & Kin for the recipe.
One Pan Spanish Fish Stew
The only thing better than cod fish stewed in Mediterranean flavors like olives, capers, turmeric, and garlic is serving it with crusty bread. But what'll take you right over the edge is that this easy weeknight meal from Somebody Feed Seb is ready in just 30 minutes.
Visit Somebody Feed Seb for the recipe.
Vietnamese Braised Fish
Vietnamese food is so darn good! Most preparations take your taste buds through a range of flavors, including sour, heat, and sweet. This Cá Kho Tộ, or Vietnamese braised fish recipe from Jeanette of Wok & Kin, is no different. You'll season fish steaks with fish sauce, ginger, shallots, and chilies. Mmm! Then there's that sauce you make with coconut water.
Visit Wok & Kin for the recipe.
Orange Ginger Salmon Recipe
Pair this baked orange glazed salmon with honey and ginger from Anne of Fannetastic Food with brown rice and veggies. You know what? Anne gets it. She's not trying to keep you in the kitchen all day. The registered dietician's recipe has just a handful of ingredients, most of which are in the name. So, after a 30-minute soak in the marinade, bake the fish for just 15 minutes. It's just what we need in our busy lives.
Visit Fannetastic Food for the recipe.
Blackened Salmon Bowl with Creamy Jalapeño Salsa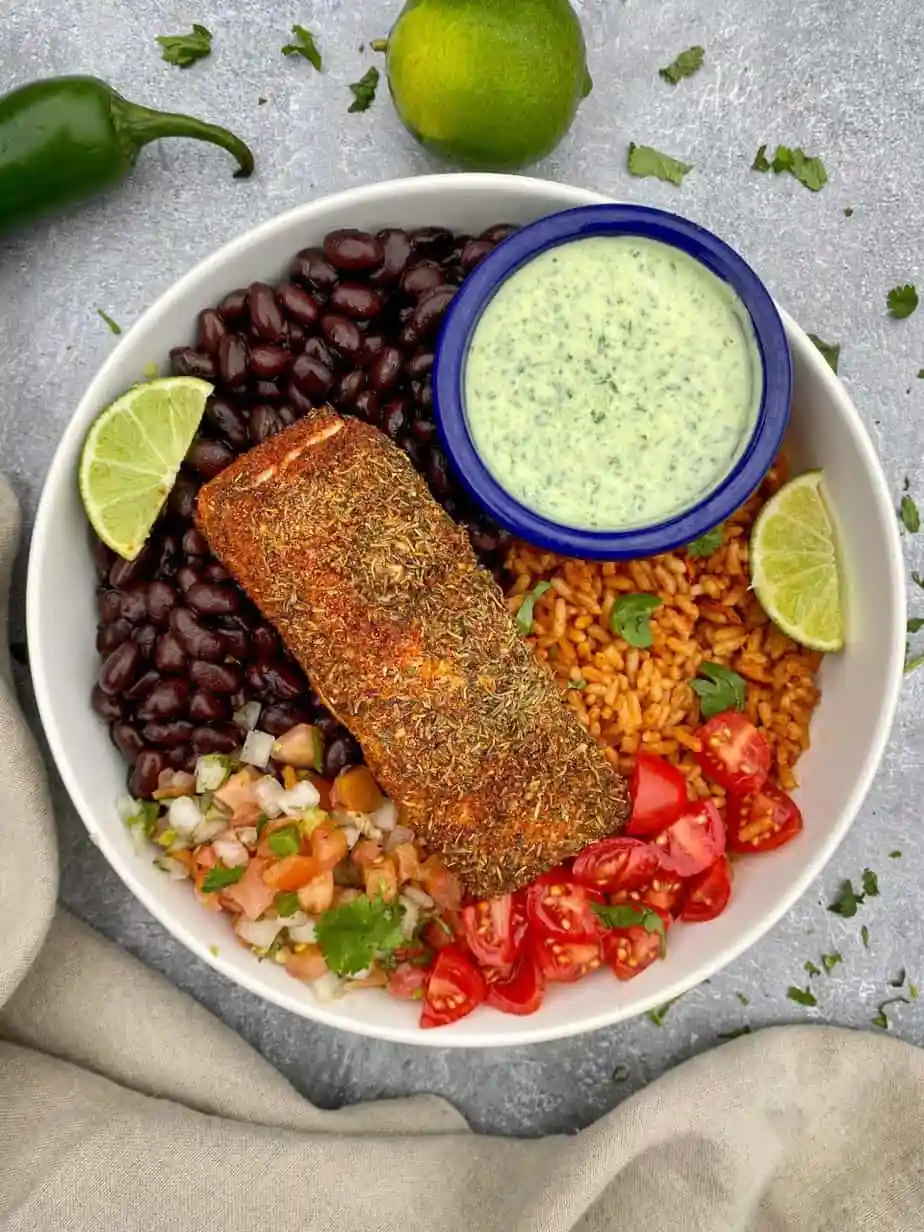 We get excited by bright and colorful foods like this blackened salmon bowl with creamy jalapeno salsa from Angela of Happy Honey Kitchen. Just look at it. Your body can't resist the call of those hearty beans, fresh tomatoes, salsa, rice, super-flavorful flaky blackened salmon, and finally, that yogurt-based creamy jalapeno salsa. What more could you want?
Visit Happy Honey Kitchen for the recipe.
Crispy Fried Fish
As much as we need healthy meals, it's near impossible to resist deliciousness like this crispy fish sandwich recipe from Jen of Cincy Shopper. It's white fish coated in a crispy panko breadcrumb coating and fried to a golden brown. Serve it on a bun with tartar sauce, lettuce, tomato, and french fries for a fish Friday everyone will yearn for.
Visit Cincy Shopper for the recipe.
Seared Ahi Tuna Tacos With Slaw
Anne of Fannetastic Food has a knack for developing recipes with her formula of equal parts tasty and healthy. For example, seared ahi tuna tacos are delicious but packed with tons of protein and other nutrients. So first, season the yellowfin tuna steaks, then lightly sear. Then you assemble the tacos with the cabbage and finally, drizzle with that, mmm, good chipotle sauce.
Visit Fannetastic Food for the recipe.
Smoked Tilapia
You don't have to wait for the weather to turn, to turn on your grill. Instead, Paul & Taryn suggest A Grill For All Seasons. For this smoked tilapia dish stuffed with shrimp, the experts show you how to make this impressive dinner with a gentle kiss of smoke. And while it does take an hour to cook, prep is just five minutes.
Visit A Grill For All Seasons for the recipe.
Oven Baked Garlic Butter Lemon Tilapia
Our bets are placed. This oven-baked tilapia with butter, garlic, and other seasonings from Ioana of Low Carb Spark is sure to become a favorite in your household. Look, it takes no time to make. After you put together the quick butter sauce, generously spoon it over the fish and bake for 15 minutes.
Visit low Carb Spark for the recipe.
Poor Man's Lobster
With this poor man's lobster recipe from Sara of Bitz N Giggles, she makes cod taste like lobster. Is she an alchemist? Well, with the price difference between the two kinds of seafood, she might as well be turning lead into gold. But how does she do it? It comes down to her ingredients and proportions. We'll let her show you.
Visit Bitz N Giggles for the recipe.
Fish Loaf
With a food processor, herbs, and a few key ingredients, Kate of Babaganosh shows you how to make this delicious fish loaf. A risky proposition? Perhaps, without the secret ingredients and proper cooking times. We were immediately concerned it would be dry and crumbly. But Kate shows you how to make it moist, delicious, and repeat-worthy.
Visit Babaganosh for the recipe.
Fajita Fish with Avocado Salsa
Topped with bright and vibrant salsa and seasoned with fajita flavors, this fish dinner recipe from Sara of Dinner At The Zoo is an ideal weeknight solution. It tasks just 35 minutes from start to finish to make this freezer aisle fish. Just serve it with rice or in tortillas, and you've got yourself a crowd pleaser.
Visit Dinner At The Zoo for the recipe.
One Pan Oven Baked Fish with Vegetables and Spices
Okay, so you want to feed your family something healthy but aren't really digging a sink full of dishes. You're not alone. Marina of All We Eat conjured up this one pan oven baked fish and vegetables recipe. The good and good-for-you dinner features white fish, red peppers, carrots, and other flavor-enhancing ingredients.
Visit All We Eat for the recipe.
Salmon Stir Fry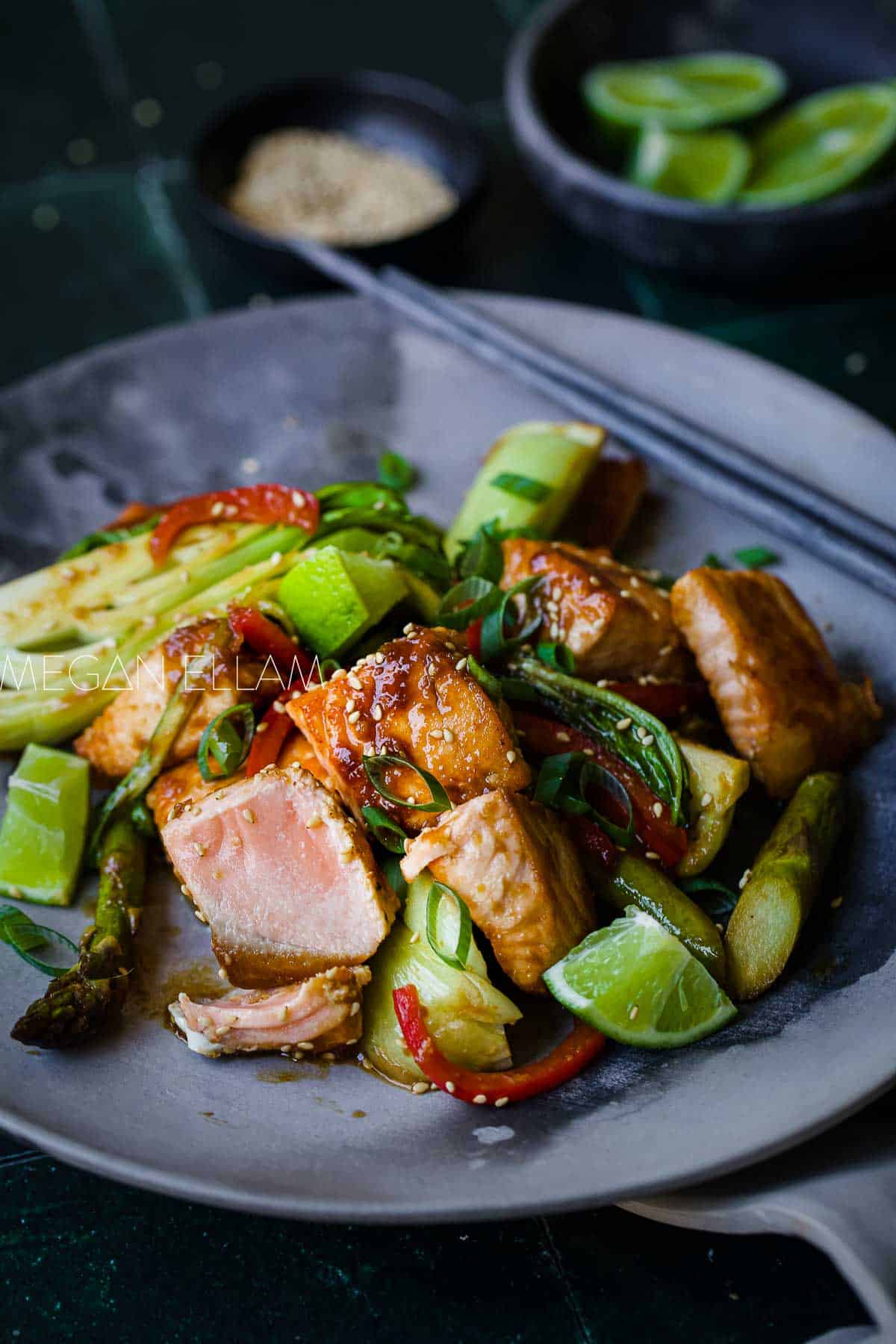 Although this weeknight fish dish is low carb, you don't have to be keto to enjoy this easy salmon stir fry from Megan of Mad Creations Hub. Just check out all the Asian-inspired flavors. For example, there's baby bok choy, sesame oil, garlic, and ginger. Bonus alert: it takes less than 15 minutes to make. Whoa!
Visit Mad Creations Hub for the recipe.
Sheet Pan Thai Baked Fish with Broccolini
Save your money, light some candles, and treat your significant other to a romantic dinner with this sheet pan Thai baked fish with broccolini From A Chef's Kitchen. Carol walks you through this 30-minute meal featuring your favorite white fish, like barramundi or tilapia, with a sweet and spicy glaze made of sriracha, sweet chili sauce, garlic, and ginger.
Visit From A Chef's Kitchen for the recipe.
Which Easy Fish Dinner Recipes Are You Craving?
You have so many craveable meal options on this page. So, which one are you looking to make first? Is it the poor man's lobster, the fajita fish with avocado salsa, blackened salmon bowls or something else? Let us know.
If you like this list, don't forget to see our list of canned salmon recipes, canned tuna recipes, and easy salmon side dishes.