You're going to love this list of 12 Tantalizing Fish Taco Recipes from inspiring food bloggers. They are perfect if you're looking to incorporate more seafood into your diet. They're nothing short of phenomenal.
Here's a sneak peek. For example, you have a Blackened Salmon Pineapple Pico De Gallo recipe, Beer Battered Fish Tacos, Baja-style, and many more. So, did you bring your appetite?
Let's dive in!
Are you looking for more seafood recipes? Check out Baked Fish Recipes and Shrimp Recipes For Dinner.
The Best Halibut Fish Tacos Recipe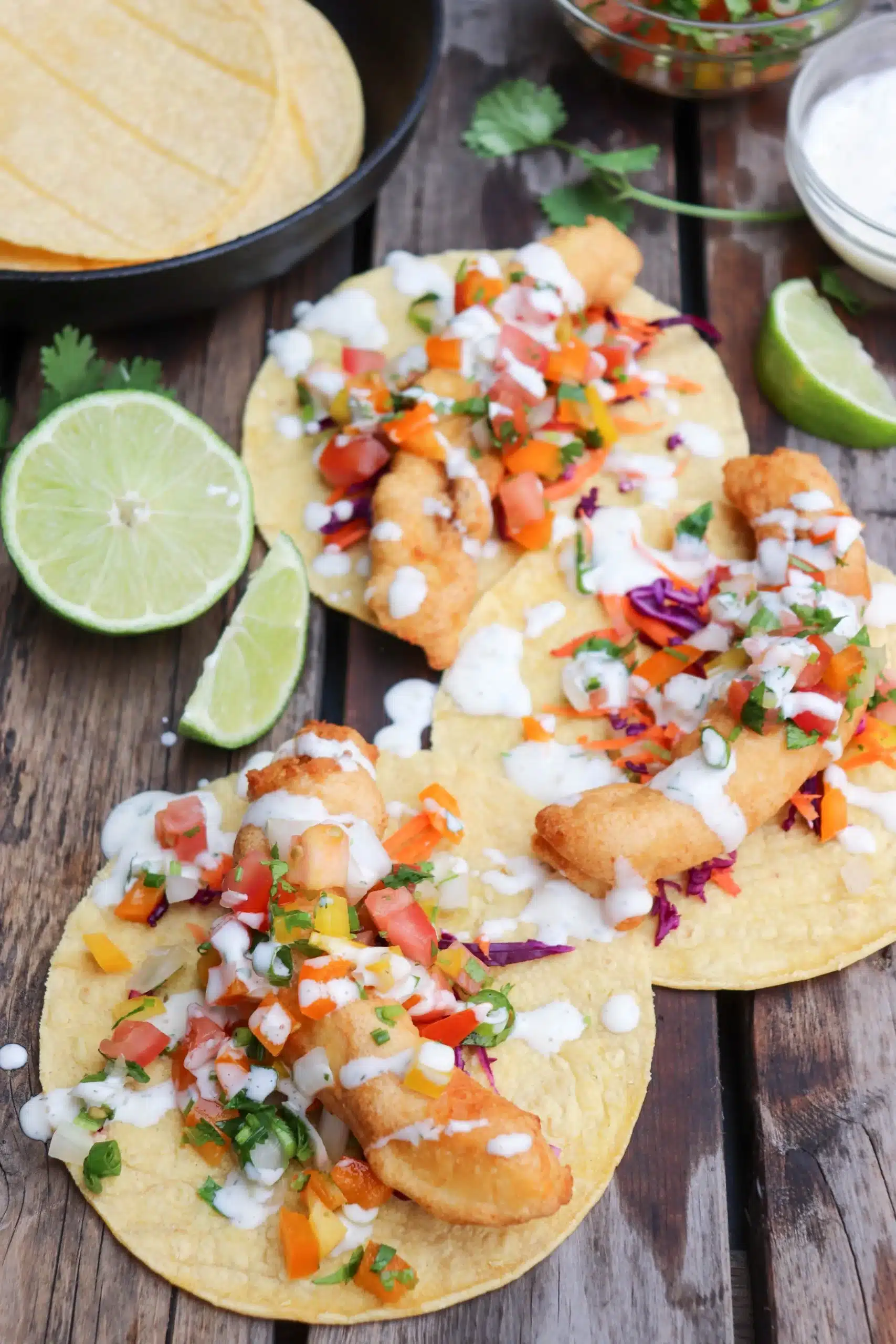 You may be overwhelmed when you go on a fishing trip and bring back a boatload of fresh halibut. So, what do you cook first? Well, for starters, you make The Best Halibut Fish Tacos from Homemade Heather which is pretty much required eating. But what makes them the best? We're betting it's the fresh fish wrapped in a crunchy, deep-fried golden-brown coating, fresh salsa, and other toppings.
Blackened Salmon Pineapple Pico De Gallo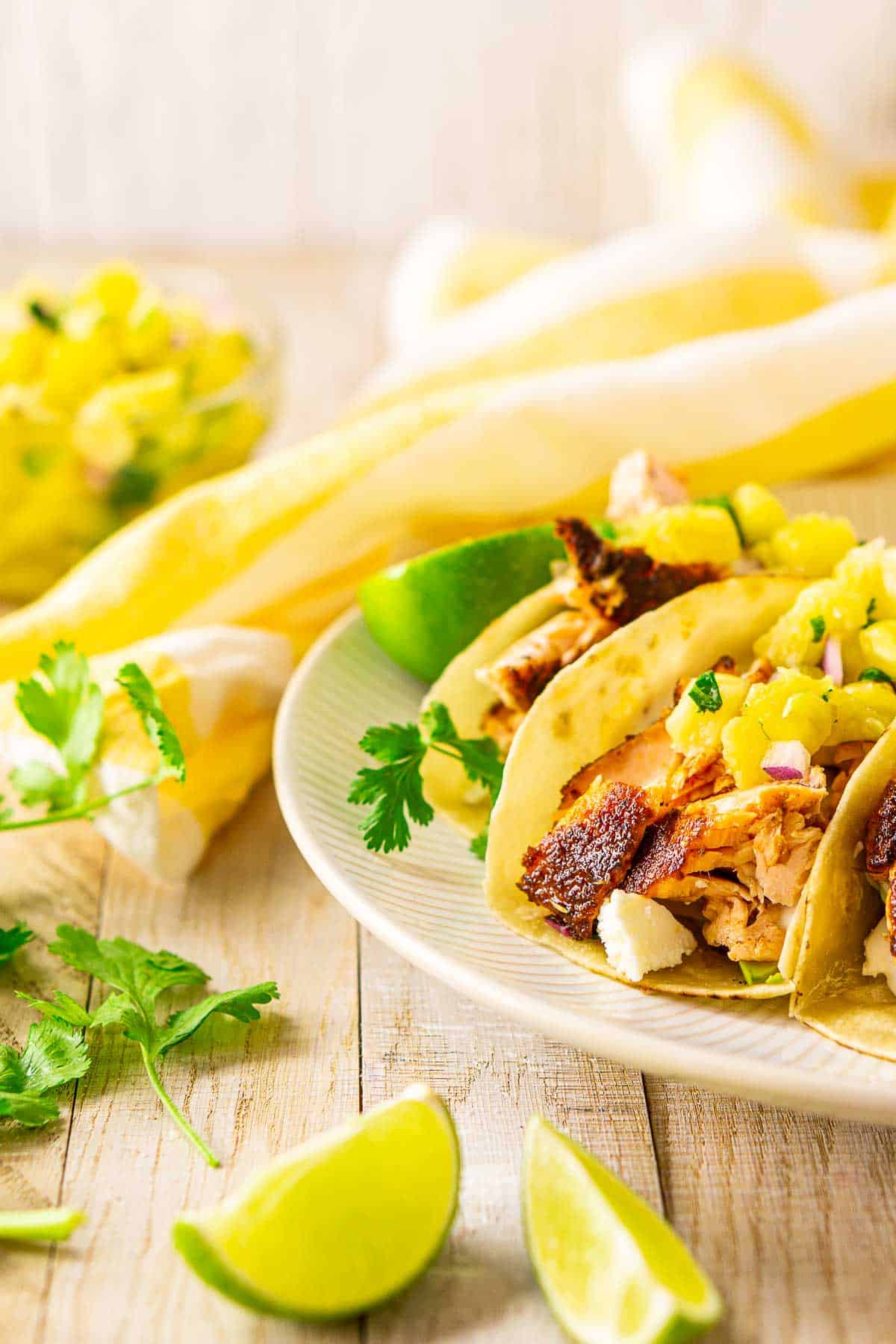 We couldn't think of a more clever way to describe these Blackened Salmon Tacos with Pineapple Pico De Gallo than "they're like summer wrapped in a tortilla. " So thank you, Amanda. First, season the fish with blackened seasoning, sear, and serve in warm corn or flour tortillas before spooning on as much fresh and fruity salsa as your heart desires. The only problem you'll have is figuring out how many to make.
Beer Battered Fish Tacos Recipe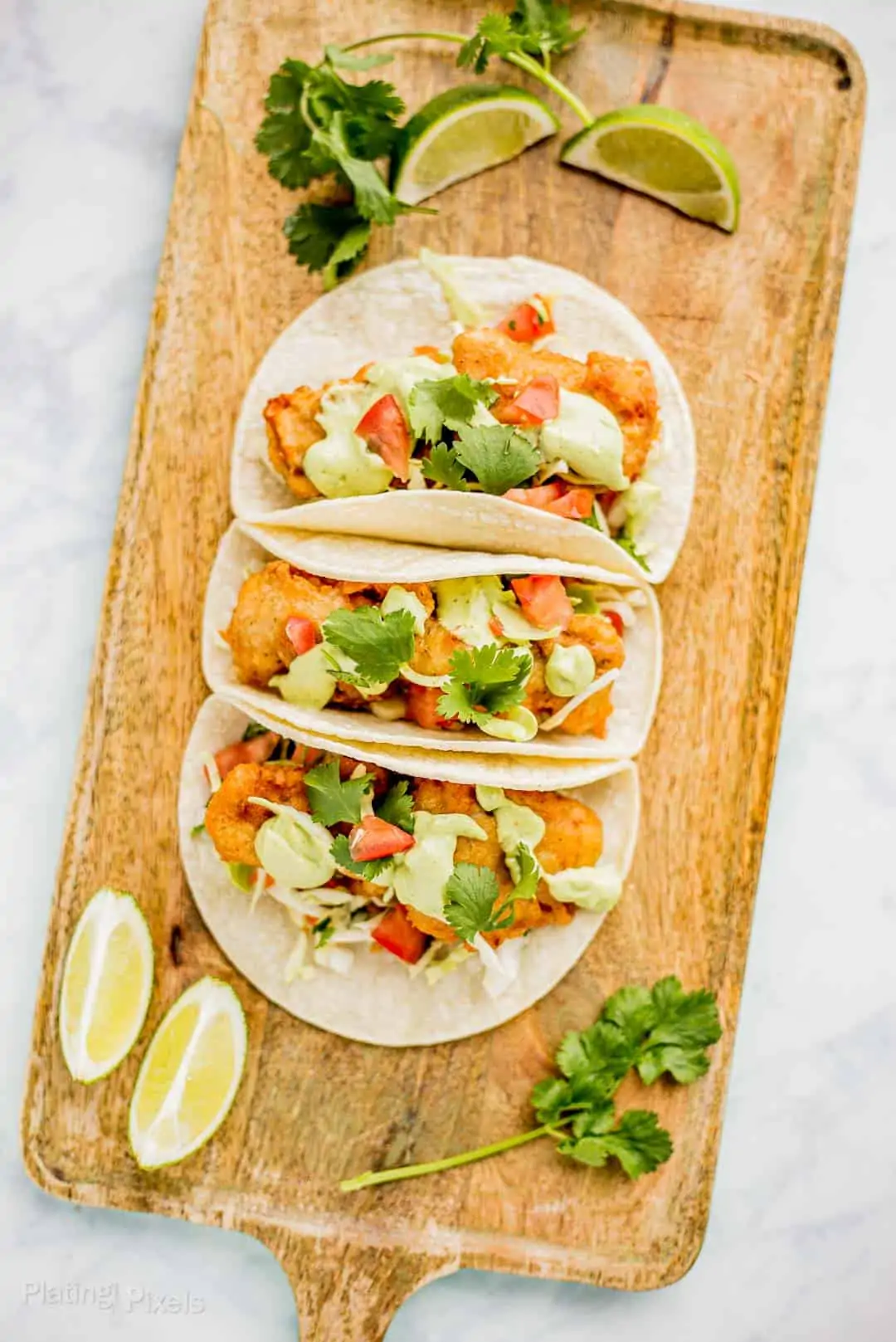 According to Matt of Plating Pixels, this Beer Battered Fish Tacos recipe is so good you might start having them for breakfast. At least, that was his experience after a trip to Mexico. The Baja favorite begins with your choice of fish like cod, halibut, or even mahi mahi.
Next, dip the fish in Matt's well-tested beer batter recipe until wholly coated and fry. The result is a puffed-up, deliciously crispy golden-brown exterior hiding tender, flaky white fish. Finally, add it to tortillas and top it with cabbage slaw and a homemade avocado sauce for a food experience you'll have over and over again.
Best Baked Tilapia Fish Tacos
These Baked Tilapia Fish Tacos from Maria of Kitchen At Hoskins are a wonderfully flavorful meal, ideal for weeknights and company. Best yet, they take just 30 minutes of prep. For the tilapia, start by coating it in a spice mix of cumin, chili, garlic, and paprika before dredging in panko. Next, it gets really fun with a slaw made of cabbage, cilantro, red onions, and jalapenos. And finally, top it with a sensationally simple two-ingredient prepared salsa and mayonnaise sauce.
Grilled Fish Tacos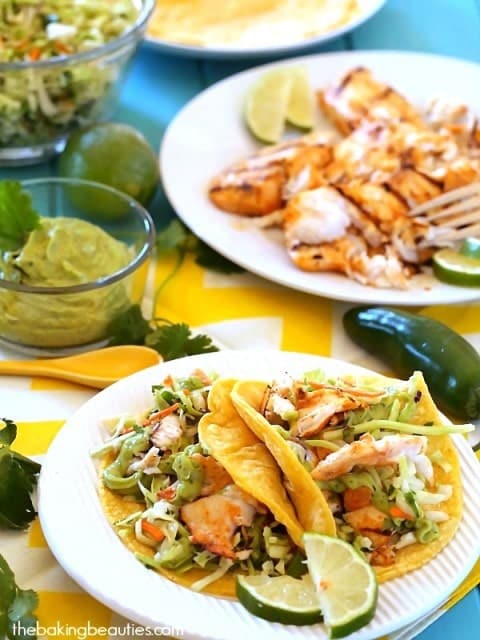 With a food blog called Faithfully Gluten Free, you might think that it only serves those following a GF diet. However, as exemplified by these delightful and universally loved Grilled Fish Tacos, you'd be wrong. It's a 40-minute meal, including prep, marination, and cooking time.
So, you start by whisking together lime juice, olive oil, and seasonings. Then, marinate, grill, and add your cole slaw and avocado sauce. Finally, once done, you've got a seafood feast everyone will love.
Ahi Tuna Tacos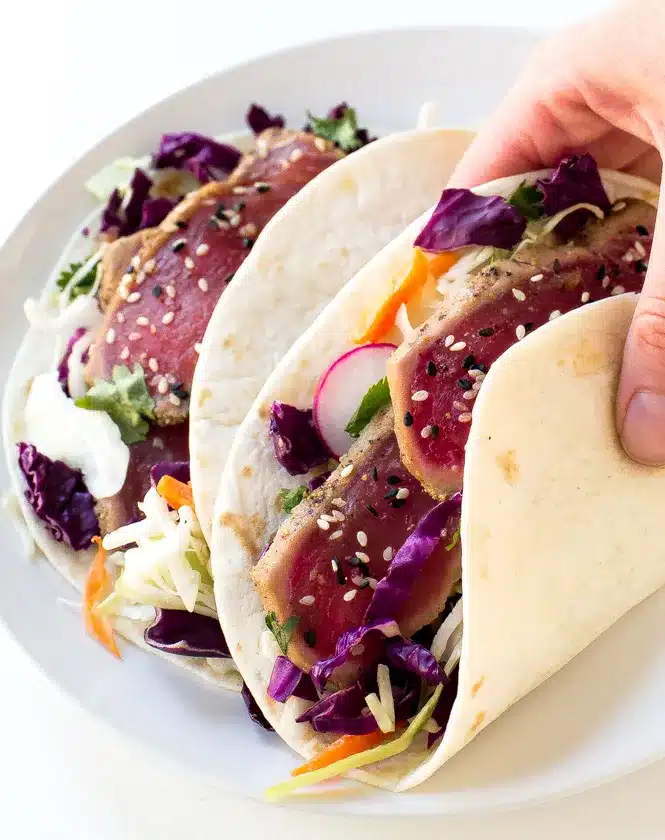 For Kelley of Chef Savvy, the best part of these seared Ahi Tuna Tacos isn't the soft flour tortillas, crunchy cabbage, fresh cilantro, radishes, or grilled fish. Instead, it's the spicy sriracha mayo. It's a refreshingly tasty and healthy meal we can't wait to see on our plates. Plus, they couldn't be easier with just 20 minutes to prepare!
Baja-Style Fish Tacos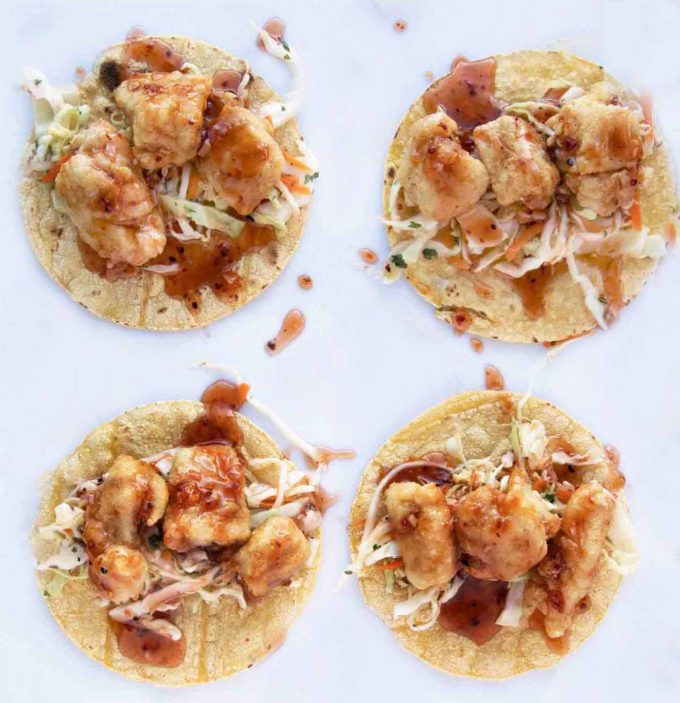 These Baja Style Fish Tacos are 40 years of culinary experience in the making. Just Ask Chef Dennis; they're the tacos of your dreams. Here's why. He likes to use corn tortillas and fried, blackened, seasoned mahi-mahi fish coated in flour enhanced with cornstarch for super crunchiness. Then there's a slaw with honey, lime, cilantro, and a homemade sweet chili sauce. You definitely want to try these today.
Cornmeal Crusted Fish Tacos
Meredith's Cornmeal Crusted Fish Tacos recipe is another reason why Our Love Language Is Food. They are significant other approved, and perhaps the reason why you stay in for taco night rather than take out. So here's why you'll love them. Wrapped inside a soft tortilla is Southwest seasoned fried crispy cornmeal-coated fish so good you'll want to keep the toppings to a minimum.
Grilled Walleye Tacos
These Grilled Walleye Tacos by A Worthey Read are the ones we're looking forward to trying the most. That's because they are full of Michigan walleye, which is such a delicious and underutilized fish (great for grilling and frying) that Tatanisha seasons with chili, lime, garlic, and pepper before grilling. However, the unexpected accompaniments, collard greens, tomatillo, and red onion, get us most excited.
Sea Bass Tacos
Because sea bass isn't the cheapest fish, you might never consider using it for tacos. But this Sea Bass Tacos recipe by Healthy Recipes 101 will change your mind. The delicious yet healthy (if a bit expensive) seafood, rich in vitamins, is excellent when pan-seared and combined with crunchy cabbage, red onion, cilantro, and the flavors of orange, lime, and coriander. Wow!
Salmon Tacos
These big-batch Salmon Tacos from Amanda's Cookin' make a whopping 24 servings! Which is just what you need to feed the whole family a refreshing, tasty, and nutritious meal. So hop on over where you'll discover a recipe for flaky salmon and marinade, avocado sauce, and fresh salsa. And don't worry. You won't be cooking all day. All it takes is 30 minutes to bake while you prepare the toppings.
Air Fryer Shrimp Tacos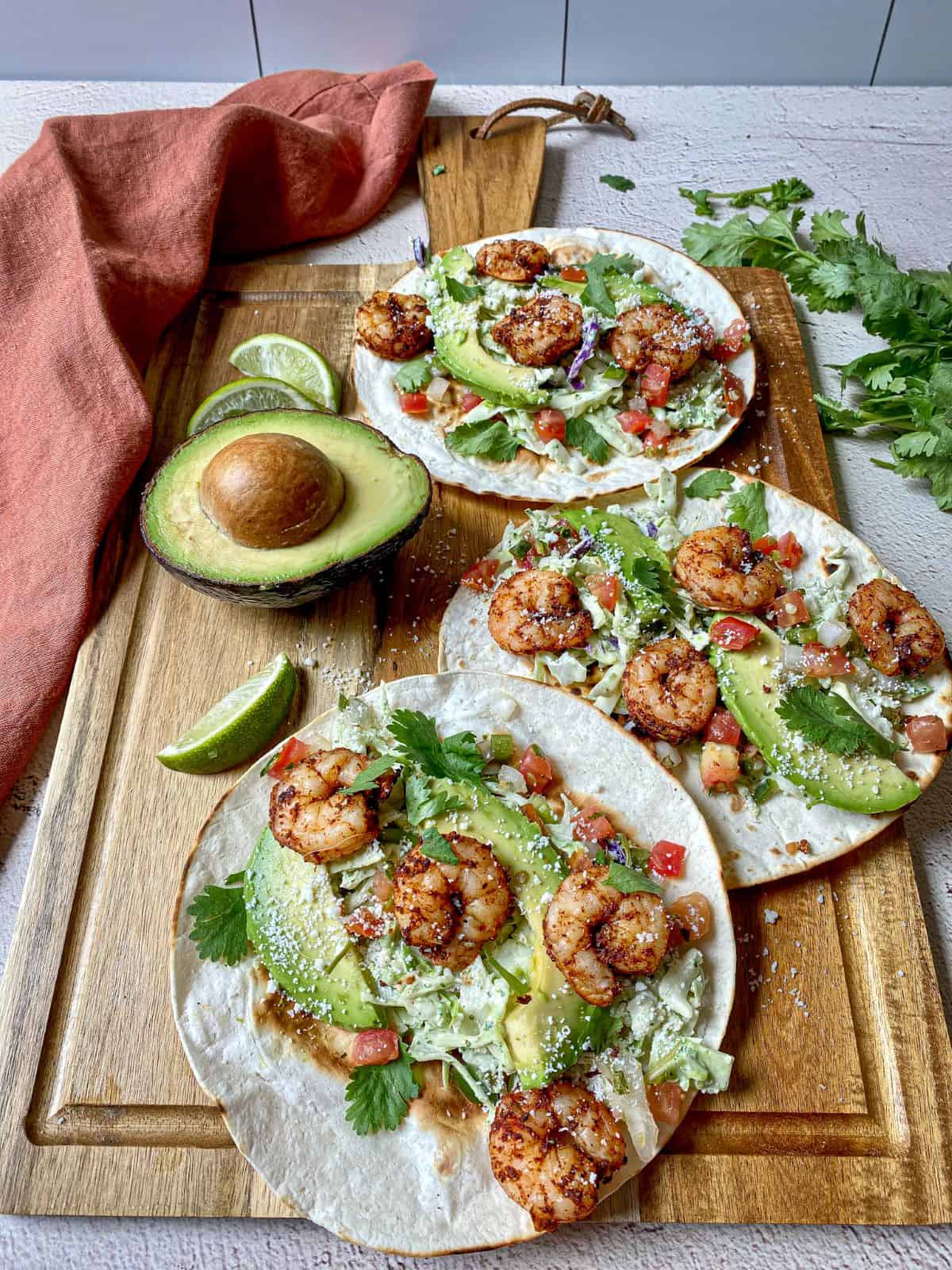 You'll never stop making these easy, tasty Air Fryer Shrimp Tacos from Happy Honey Kitchen. The succulent shellfish are flavored with low-sodium taco seasoning and layered with crisp cabbage slaw and a creamy, garlicky jalapeno sauce. Additionally, it takes just 20 minutes to make and is a great way to use up leftover shrimp.
Which Fish Tacos Recipe Will You Make First?
By now, you've seen many fish taco recipes. So, we're dying to know which ones will you try first. Is it the Grilled Walleye Tacos, the Ahi Tuna Tacos, Beer Battered Fish Tacos, or something else? Let us know!