If you're looking for a delicious high-protein snack, look no further than these 2 Ingredient Peanut Butter Cookies. Two cookies are packed with about 10 grams of protein. They are so good!
Plus, they're even better if you dip them in melted chocolate. They're soft, chewy, and very easy to make. They're so easy, in fact, that you don't even need a mixer!
Jump to Recipe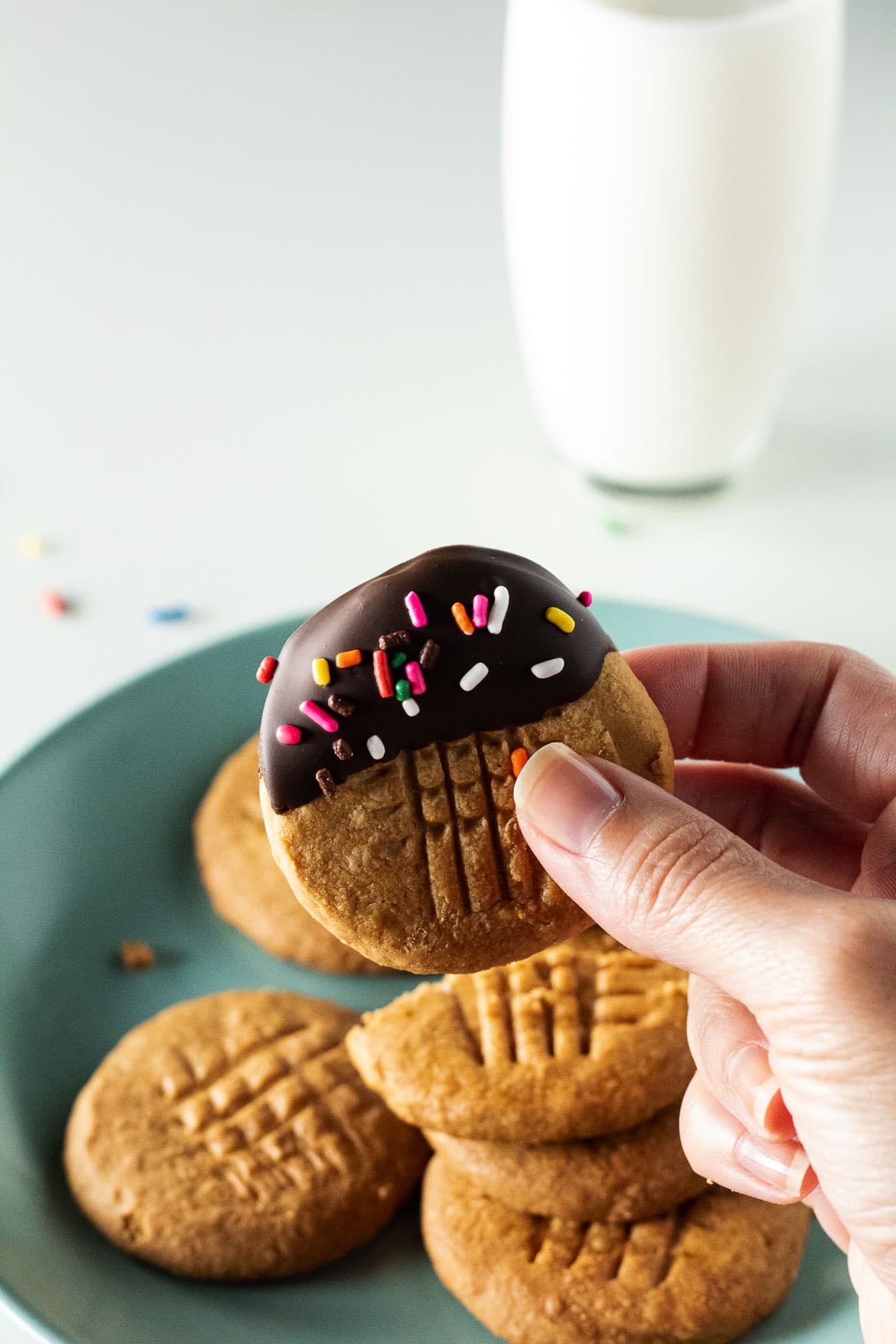 Like our high protein peanut butter balls, these cookies make for a great snack and go well with a glass of milk.
Plus, they fit many diets like vegan, vegetarian, dairy-free, egg-free, and gluten-free, and yet they don't taste like diet food. Follow along to see how it's done!
Jump to:
Ingredients
There are only two essential ingredients for these peanut butter cookies. Other optional ingredients include melted chocolate and sprinkles.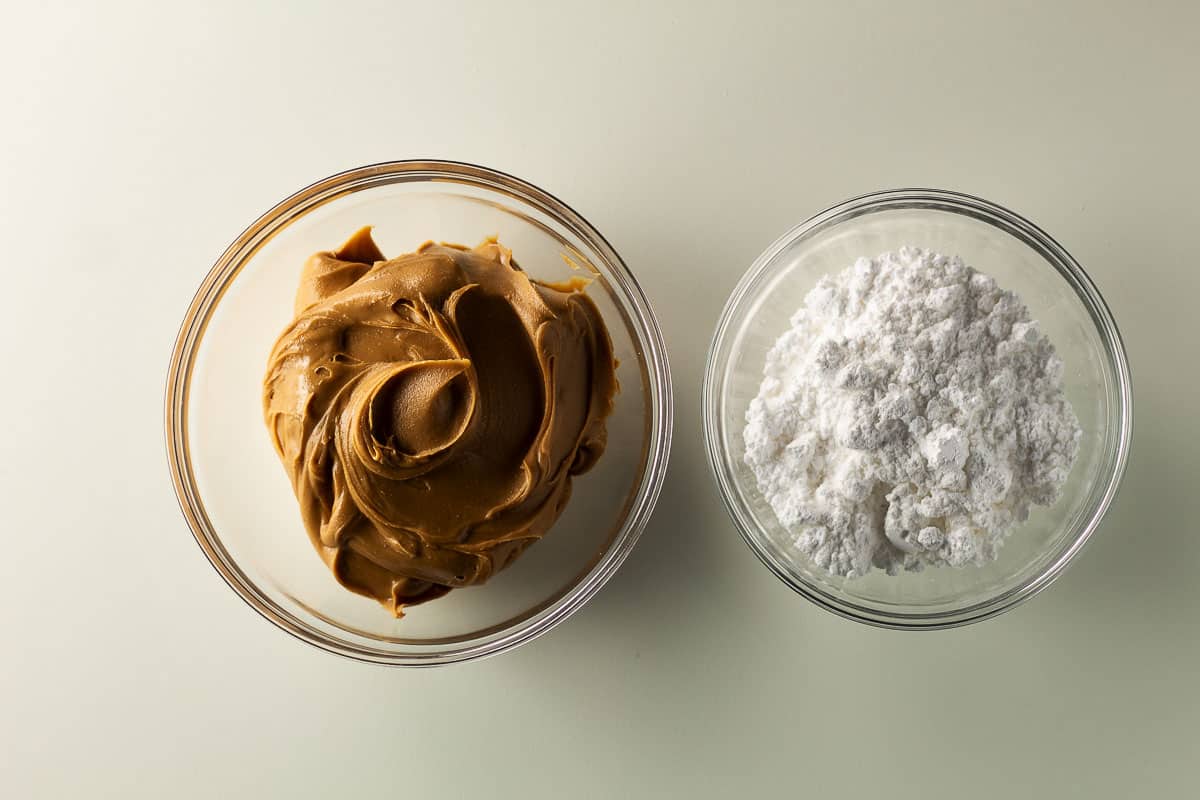 Peanut Butter – We used regular store-brand peanut butter for these and they turned out great. It was creamy but not drippy.
Powdered Sugar – Powdered sugar is technically two ingredients in one, sucrose (granulated sugar) and cornstarch. Cornstarch, though in small quantities, is the thickening and binding agent. It's also a secret ingredient many bakers use to make their goods soft.
See the recipe card for quantities.
Instructions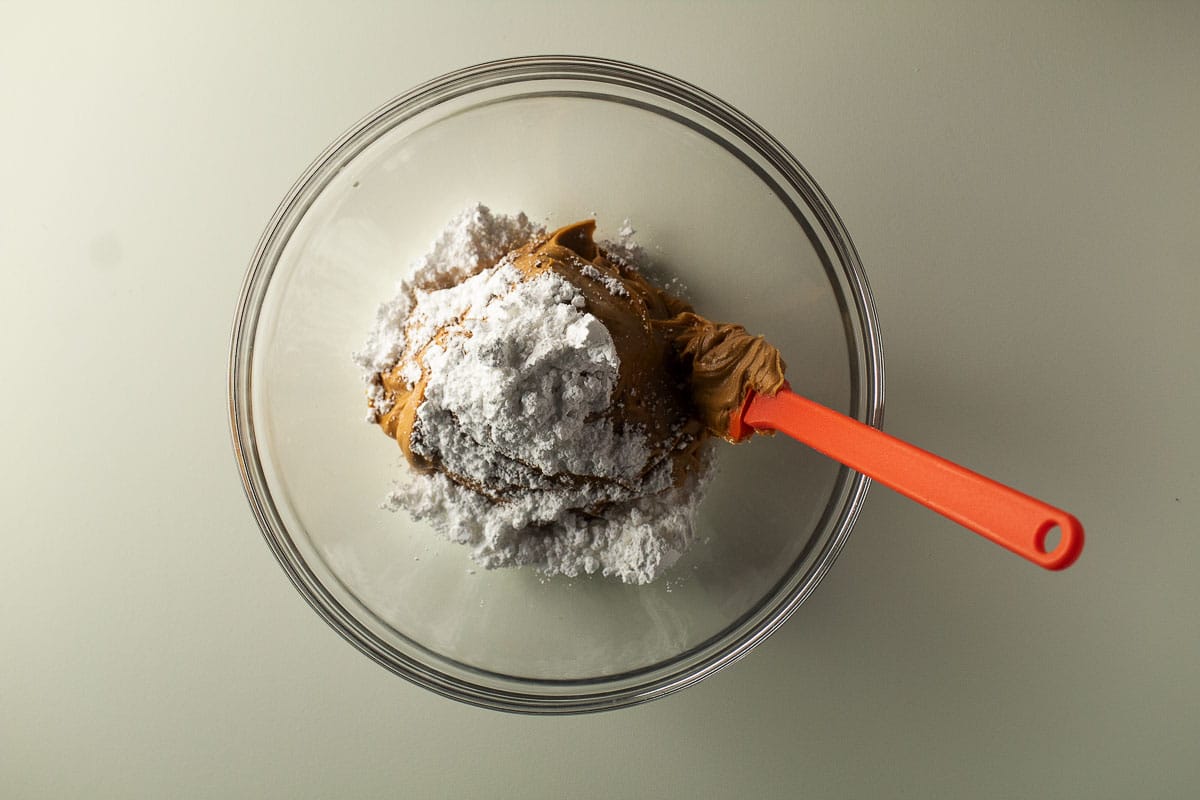 In a medium bowl, combine the peanut butter and powdered sugar.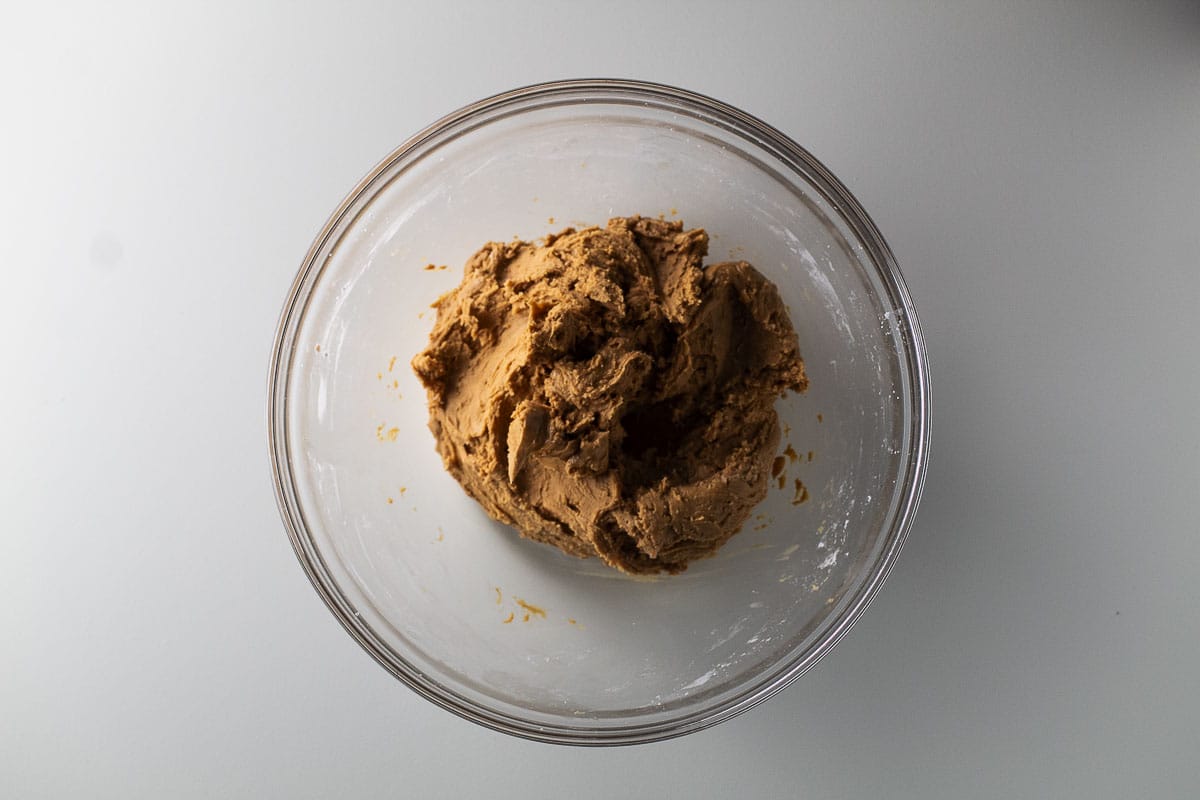 Mix well until the mixture is completely combined. Then chill the dough in the refrigerator for at least 30 minutes.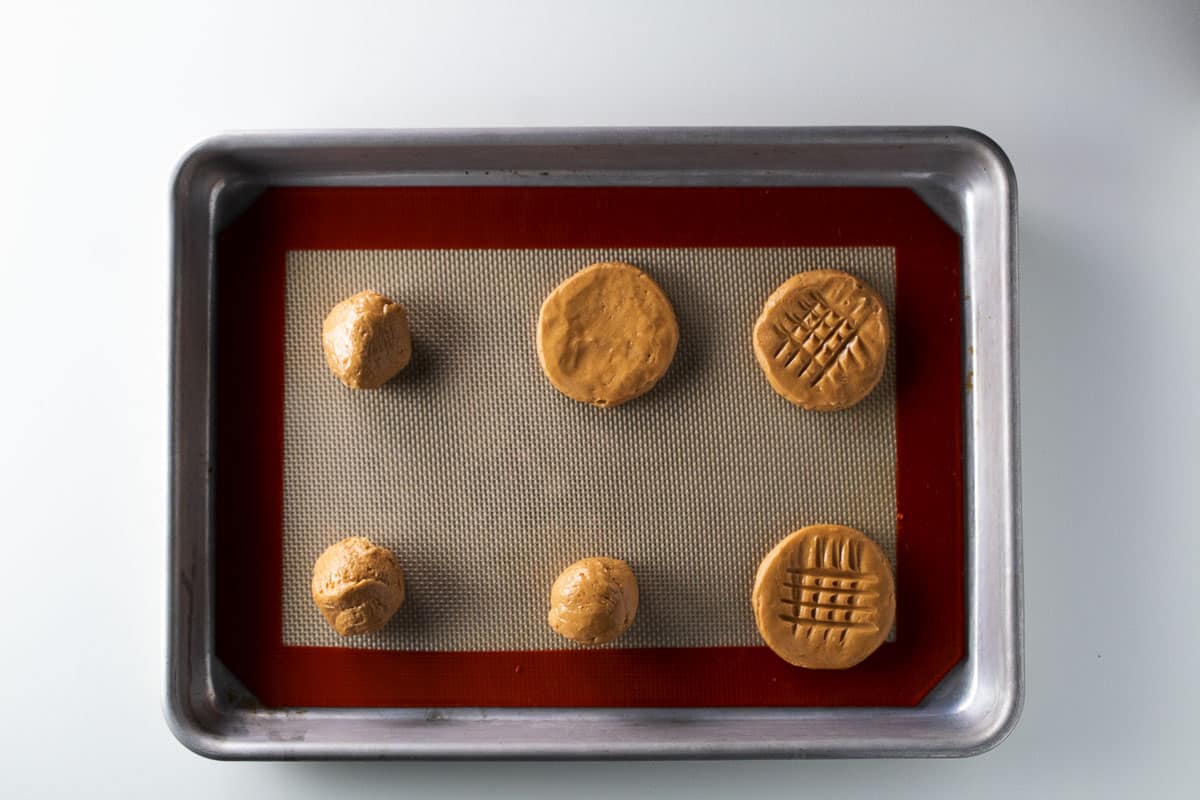 Form the dough into small balls, press flat, and mark with a fork. Then place them on a silicone or parchment-lined baking tray.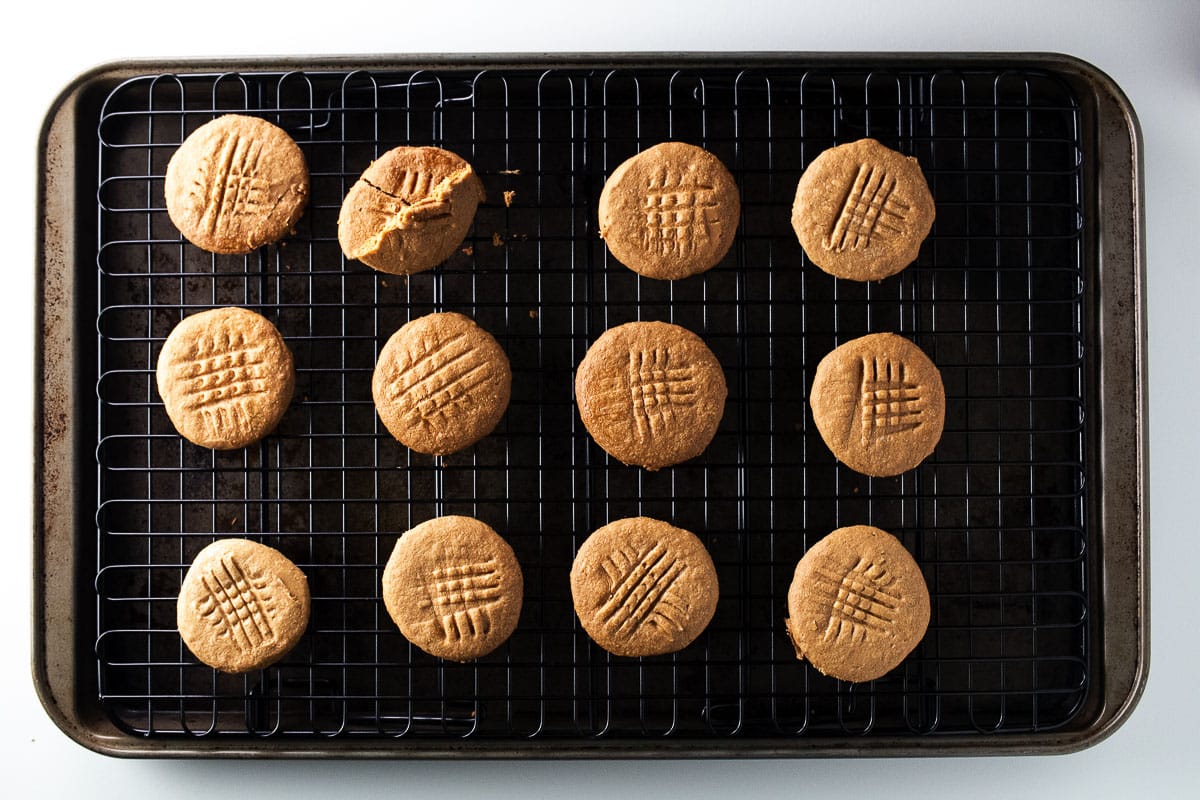 Place into oven at 350 degrees for between 9 and 12 minutes. Then, allow them to cool for 30 minutes.
Hint: Use a cup or glass to press down the cookie dough balls.
Variations
There are a number of ways you can change up the flavor of these simple peanut butter cookies to make them your own. Below, we give you some ideas to get you started.
Cocoa Powder – It'll take some experimenting, but adding some cocoa powder would give these basic peanut butter cookies a nice flavor.
Nuts – Add pecans, walnuts, peanuts, or whatever your favorite nut for added flavor and texture. This will also increase the protein.
White Chocolate – As we did with the dark chocolate in the image above, you can dip your cookies in melted white chocolate for a delicious upgrade.
Candy Melts – Pick your favorite candy melt color, such as green and red for Christmas or orange and black for Halloween.
Candy Pieces – M&M's, chopped Snickers, Butterfinger, or Heath bars are all excellent choices.
For the same great flavor in another recipe, try these super easy chocolate-dipped peanut butter balls.
Storage
Store them in a food storage container at room temperature for a week. Alternatively, you could keep them in the refrigerator. Or make a big batch and freeze them for up to 6 months.
Top tip
Allow these cookies adequate time to cool. Straight out of the oven, they will crumble apart. If you plan to dip them in chocolate, you should first chill them in the refrigerator.
FAQ
Why won t my peanut butter cookies harden?

Assuming you followed all directions, the best way for these cookies to firm up is to allow them to cool for at least 15 minutes. If you would like to speed up this process, place it in the refrigerator.
Why do you press down peanut butter cookies?

There are practical and decorative reasons to press down peanut butter cookies. For one, it ensures even baking. Second, flattening the cookies yields better texture. The edges are crispy, while the middle is soft and tender. And lastly, the hatch pattern of peanut butter cookies is a classic appearance.
Should peanut butter cookie dough be refrigerated before baking?
Yes! Refrigerating the dough makes it easier to handle and form. Also, cold dough won't spread as much as room-temperature dough.
Related
Looking for other recipes like this? Try these delicious peanut butter balls and this list of delicious peanut butter recipes.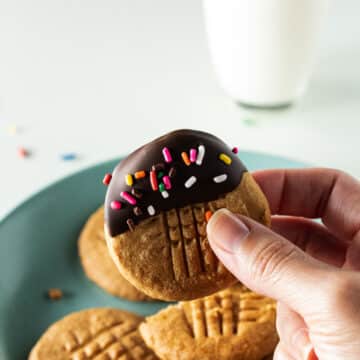 2 Ingredient Peanut Butter Cookies
Ingredients
1 1/2

Cup

Creamy Peanut Butter

3/4

Cup

Powdered Sugar
Instructions
Preheat the oven to 350 degrees and line a baking sheet with some parchment paper or use a silicone mat.

In a medium bowl, stir together the peanut butter and powdered sugar until it's completely mixed.

Place the cookie dough in the refrigerator for at least 30 minutes so it can firm up.

Once the dough is firm enough to scoop, take one tablespoon of the cookie dough and roll it in your hands to form a ball. Place each ball of cookie dough on the baking sheet about 2 inches apart.

Press gently on the cookie dough balls to flatten slightly. Then use a fork to make a crisscross shape on each cookie.

Bake the cookies for 8-10 minutes. Be careful not to overbake. They will continue to cook on the baking sheet.

Allow the cookies to cool completely before transferring them to a plate or container. Enjoy!
Notes
You can store leftovers in an air-tight container for up to 7 days at room temperature.
You can freeze the cookies in an air-tight container for up to 3 months.
This taste great if you dip them in chocolate like in the pictures. Have fun adding any color sprinkles you have.
You will use a little arm work to mix the peanut butter and powdered sugar together. I recommend using a wooden spoon.
Nutrition
Calories:
148
kcal
Carbohydrates:
10
g
Protein:
5
g
Fat:
11
g
Saturated Fat:
2
g
Polyunsaturated Fat:
3
g
Monounsaturated Fat:
5
g
Sodium:
92
mg
Potassium:
121
mg
Fiber:
1
g
Sugar:
7
g
Calcium:
11
mg
Iron:
0.4
mg