These 23 Greek yogurt recipes show that the protein-rich ingredient is not only delicious and nutritious, but it's also versatile with a place in a variety of dishes.
Here's a preview of what you can expect.
There are baking recipes like vegetarian potato tart, desserts like plum cake, pancakes, and even caramelized onion bacon dip. And that's just the beginning. There are so many more options!
Let's dive in!
By the way, if you like these Greek yogurt recipes, check out these ricotta cheese recipes.
Vegetarian Potato Tart Recipe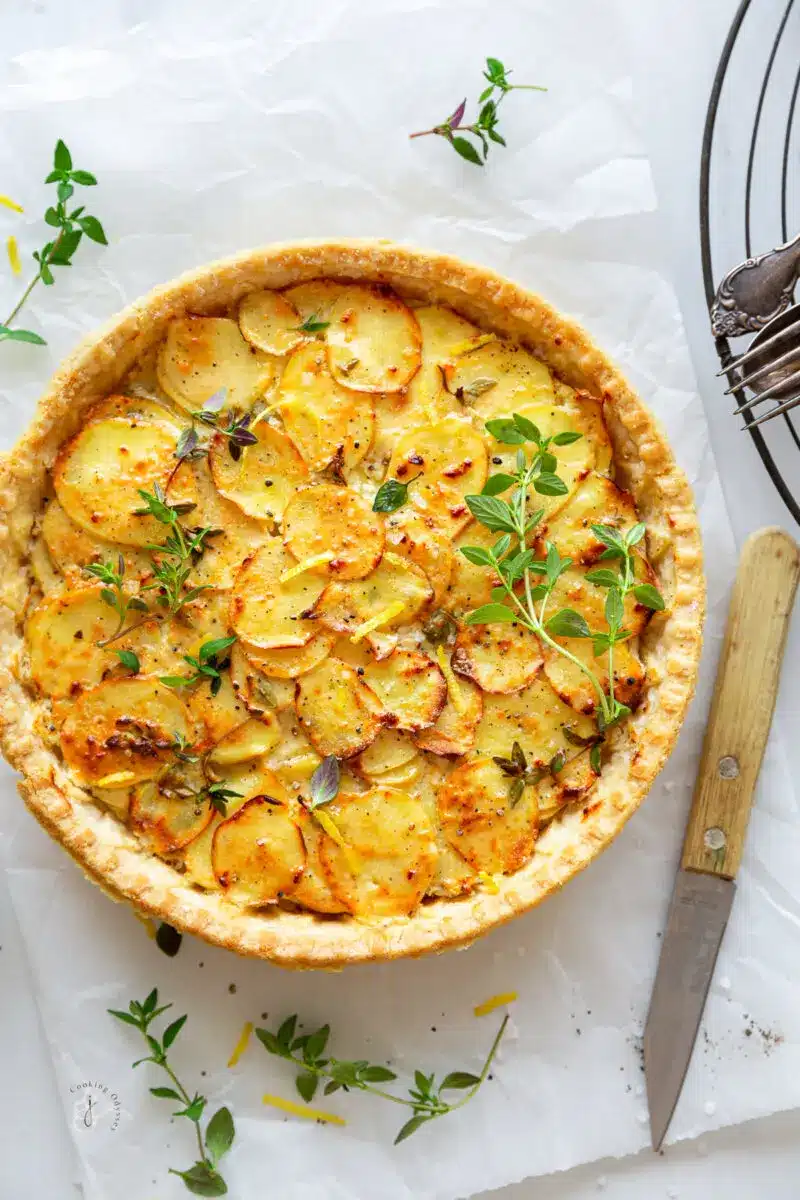 This vegetarian potato tart recipe is so easy to make it's like cheating on your cooking skills. It's like a dream come true with creamy baby potatoes layered on a flaky pastry. You can use store-bought pastry crust and pre-sliced potatoes, so peeling them is unnecessary. It's perfect for those who are on a budget and want a quick meal. Plus, it's suitable for vegetarians and can be made vegan. Serve it with a side salad or air fryer cauliflower for a delicious lunch or light dinner.
Easy Yogurt Plum Cake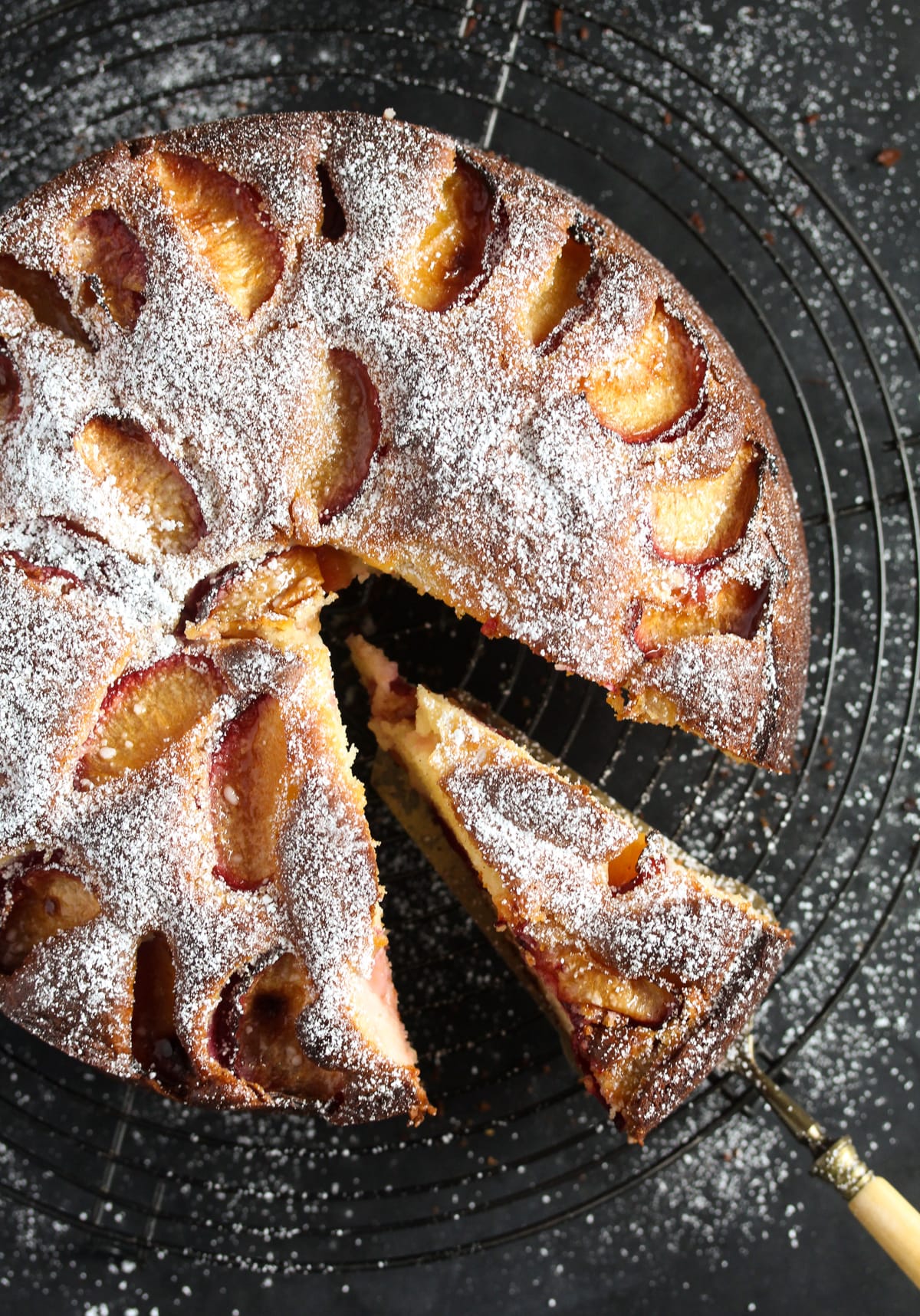 This yogurt plum cake from Where Is My Spoon is so good that it's worth breaking your diet for (just don't tell your personal trainer). Its tender, juicy texture and delicate flavor are simply delicious. And the best part? You make it with just a few simple ingredients already in your kitchen, like eggs, sugar, and Greek yogurt. So why not whip it up tonight?
Homemade Feta Bread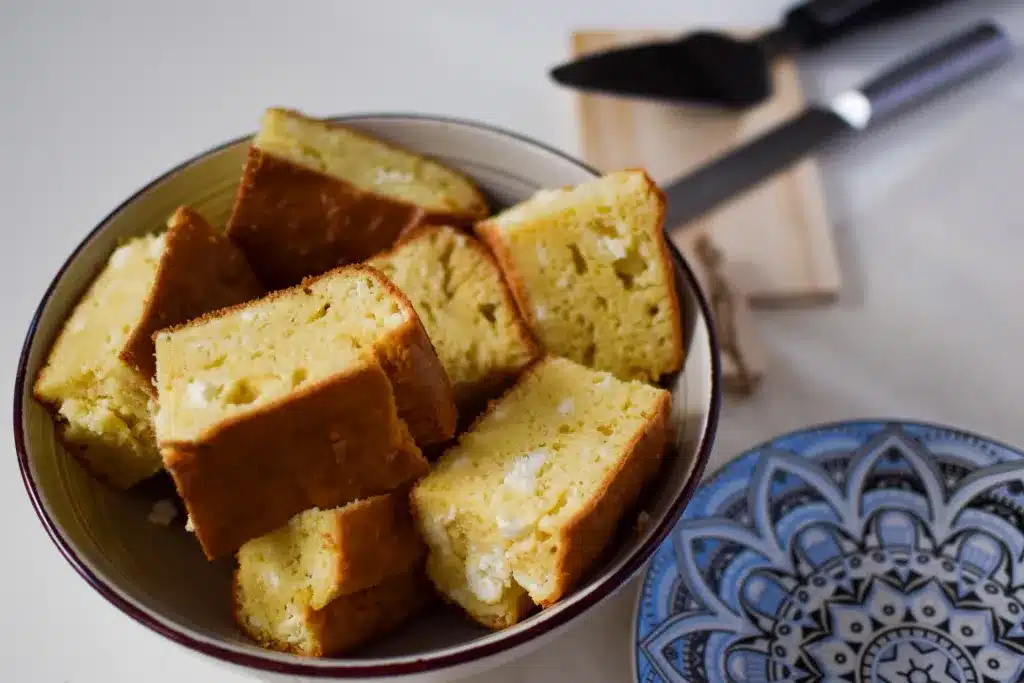 Do you know how you know a recipe is easy? When you can make it with your eyes closed and still end up with a delicious dish, just like this homemade feta cheese bread. The fluffy and airy texture of the bread, combined with the salty taste of feta cheese, makes for a tasty breakfast or snack. And with just a handful of ingredients, including eggs, flour, and baking soda, you can whip up this Balkan classic in no time.
No Bake Key Lime Yogurt Pie
Guilt-free indulgence doesn't get much better than key lime yogurt pie by Inger of Art Of Natural Living. With its light and fluffy texture and tangy flavor, this summer treat is a great way to satisfy your sweet tooth without the calories. All you need are key limes, yogurt, and a few other simple ingredients. And let's not forget about the added bonus of gut-helping probiotics.
Yogurt-Marinated Grilled Chicken Skewers Recipe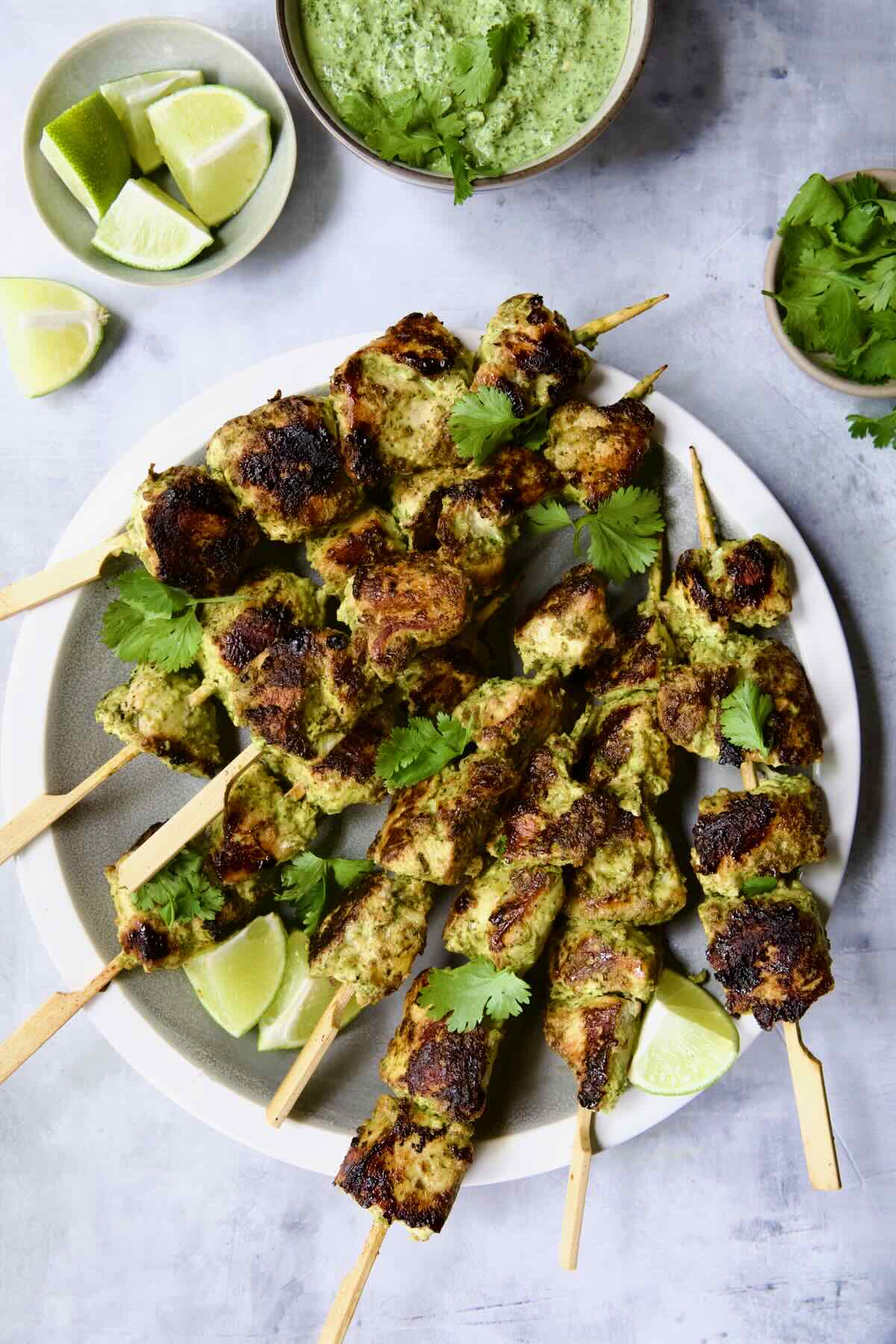 You won't regret trying this Yogurt-Marinated Grilled Chicken Skewers recipe From A Chef's Kitchen! The combination of tender, flavorful chicken and tangy cilantro mint chutney will have your taste buds dancing with joy. The yogurt marinade makes the chicken juicy and tender, while the chutney adds a spicy kick.
Raspberry Lemon Cheesecake Recipes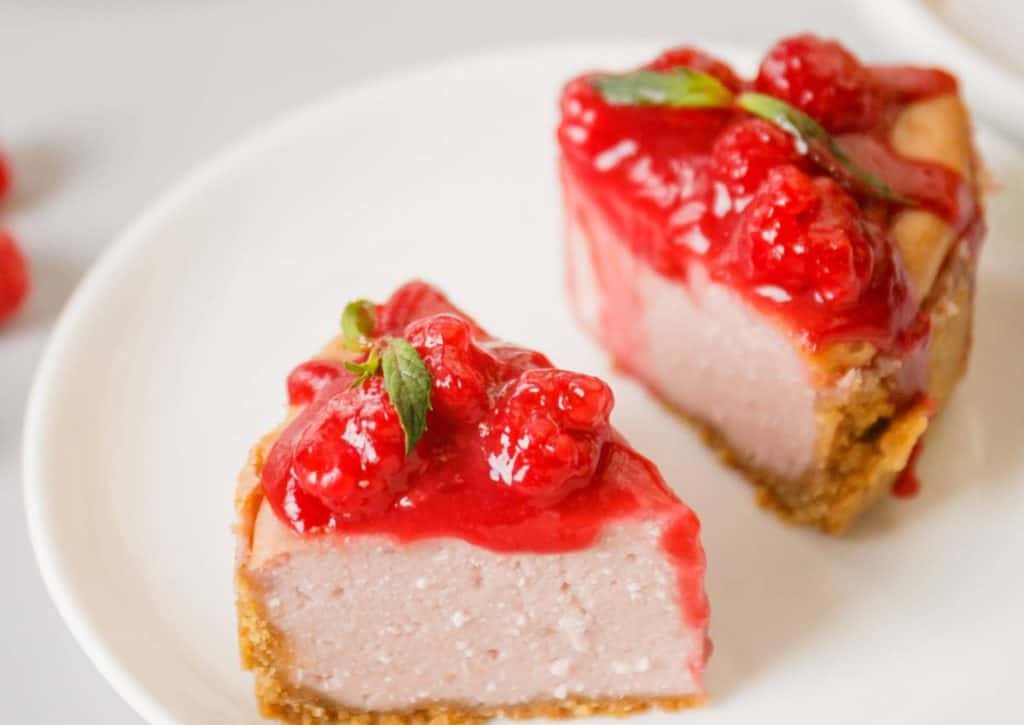 With this easy and fun lemon raspberry cheesecake recipe, you'll never let leftover Greek yogurt go to waste. Creamy and healthier than other recipes, it includes key ingredients such as cream cheese, graham cracker crumbs, and fresh raspberries. The simple recipe is perfect for young cooks and can be made with ingredients from your pantry. Lastly, you can garnish cheesecake with fresh whipped cream, mint leaves, and whole raspberries and serve with dessert wine. Freeze it for a refreshing dessert on a hot summer day.
Oat Flour Pancakes with Greek Yogurt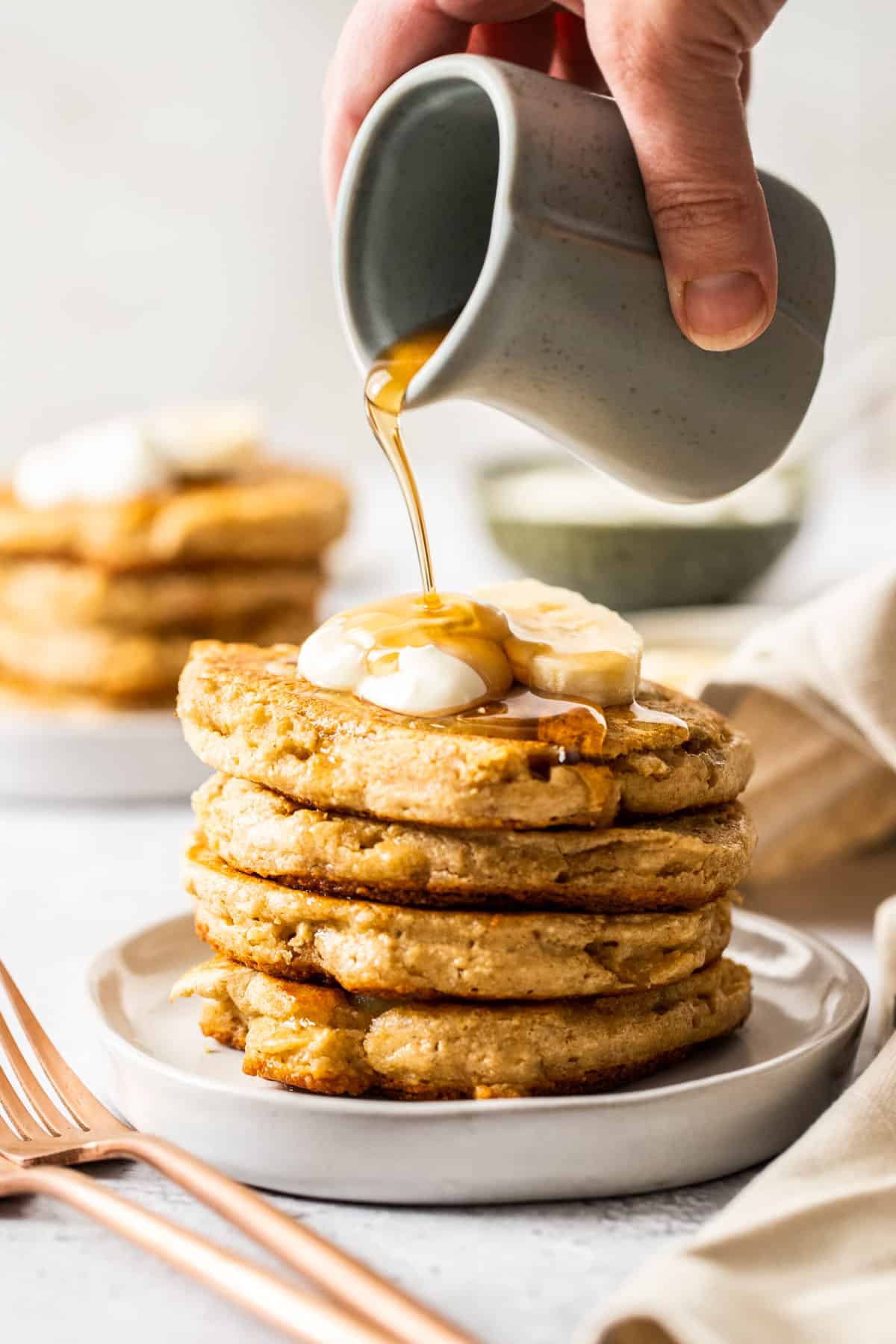 Healthy and delicious all in one, these Oat Flour Pancakes with Greek Yoghurt from It's Not Complicated Recipes are a yummy way to start your day! Packed with the key ingredients, rolled oats, and Greek yogurt, these light and fluffy flapjacks are sugar-free and packed with protein and dietary fiber. Finally, top them with your favorite fresh fruit and a drizzle of pure maple syrup for a satisfying finish.
Chipotle Cauliflower Tacos with Greek Yogurt Slaw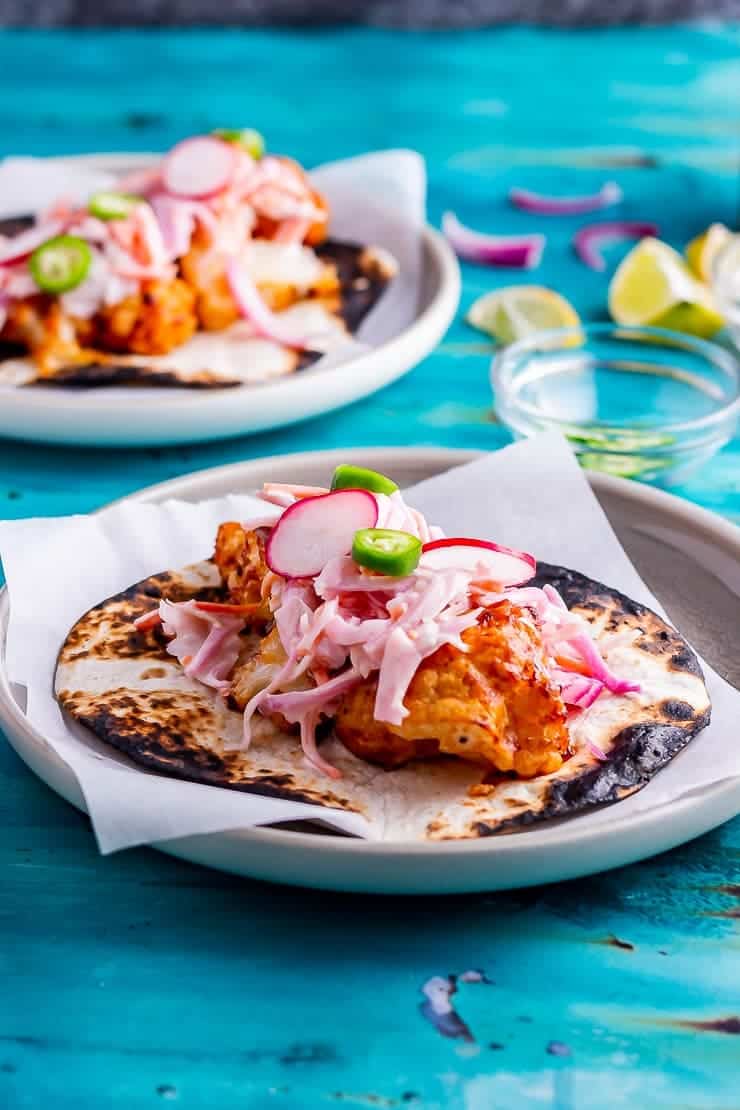 Bet you didn't know tacos could be this amazing! These chipotle cauliflower tacos are crispy, spicy, and tangy. The cauliflower is coated in a chipotle batter and baked crispy before being brushed with a sweet, spicy glaze. And the Greek yogurt slaw is the perfect accompaniment to the slightly spicy cauliflower. Top it off with some pickled red onions, radish slices, and chilies for a truly unique vegetarian taco experience. You won't miss the meat!
Caramelized Onion and Bacon Dip with yogurt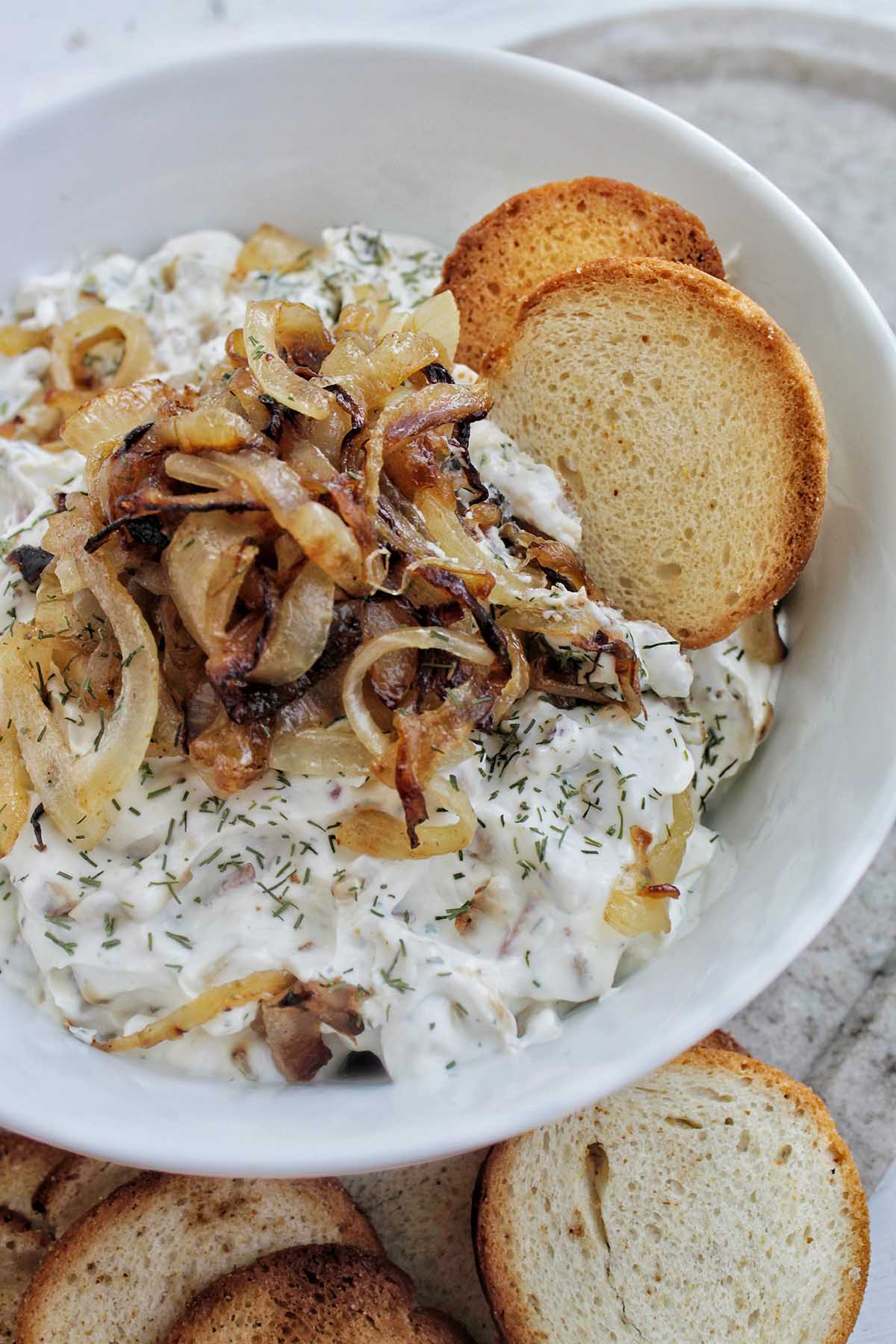 Don't take my word for it, make this caramelized onion and bacon dip with Greek yogurt by Homebody Eats once, and you'll never stop making it! Combining crispy oven-baked bacon and sweet caramelized onions creates a unique flavor that will make your taste buds dance. This easy-to-make recipe uses Greek yogurt and mayonnaise for a creamy base that is both light and delicious. Serve this dip with your favorite dippers, such as crackers, chips, or fresh veggies, and impress your guests.
Healthy Ranch Dip with Greek Yogurt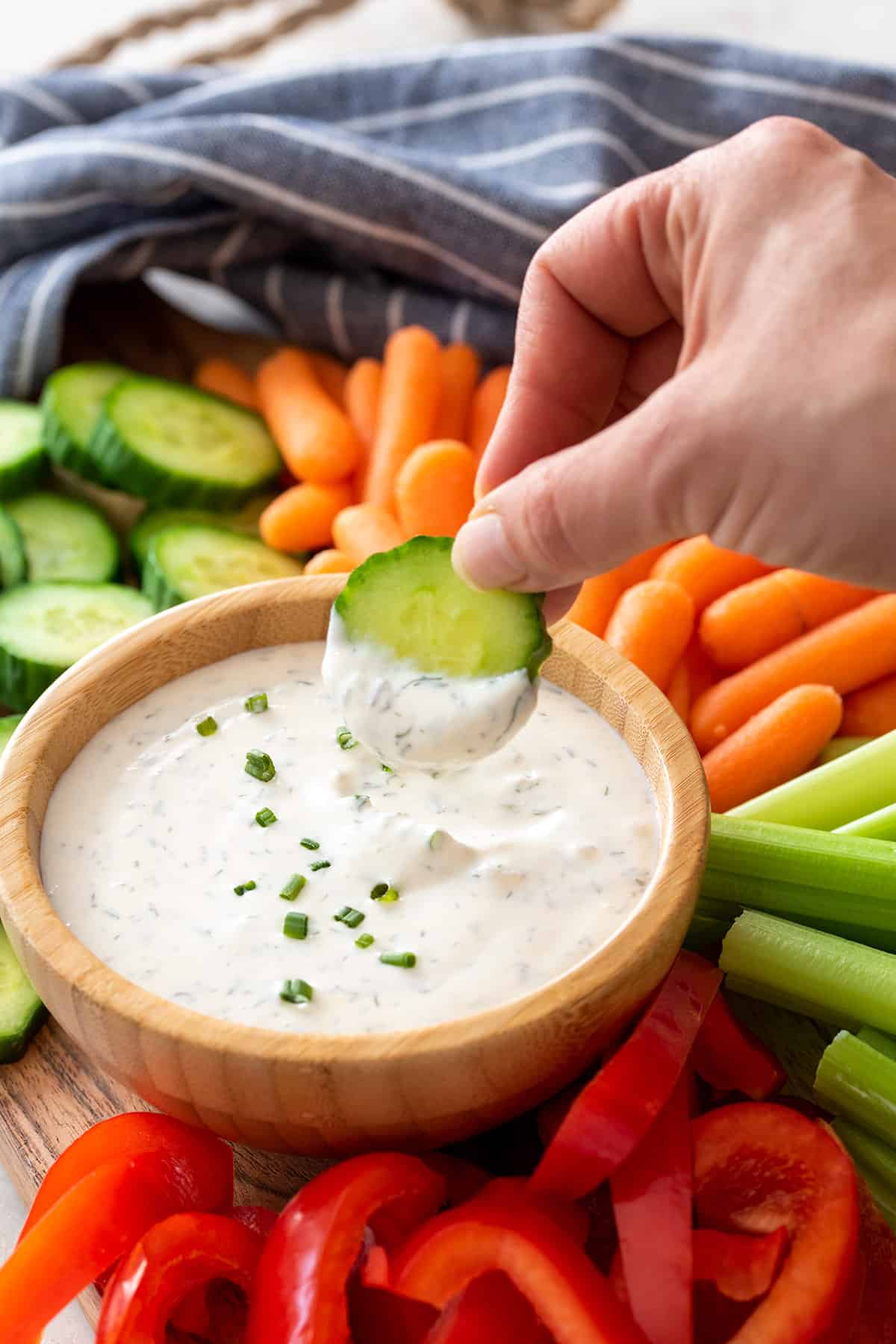 Get ready to spice up your snack game with this healthy ranch dip recipe! You only need common ingredients like plain Greek yogurt, buttermilk powder, dill, lemon juice, chives, and more! Plus, you can use it in so many versatile ways, like coating chicken breasts before baking or grilling or adding a dollop to chicken nachos for a refreshing twist. So, are you ready to dip?
Greek Yogurt Tuna Salad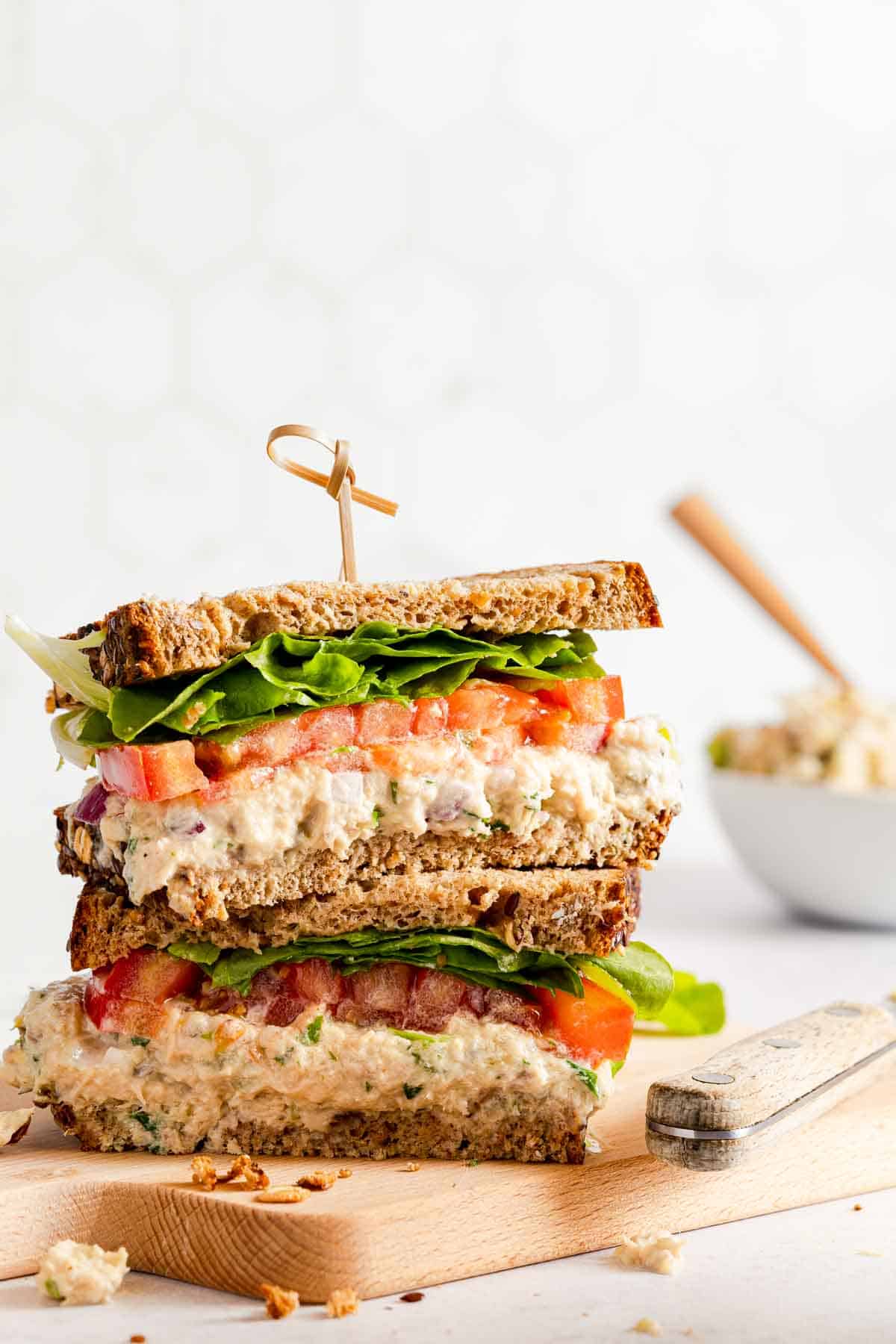 Are you tired of the same old bland tuna salad? Look no further! This Greek yogurt tuna salad recipe from Nibble & Dine answers your prayers. It's a light, tangy, and savory mix of freshly chopped red onion, celery, and Dijon mustard. But what's the secret ingredient? Sweet pickle relish to balance the tang of the yogurt. Plus, it's easy to make in only 10 minutes with just six ingredients!
Greek Yogurt Pasta Sauce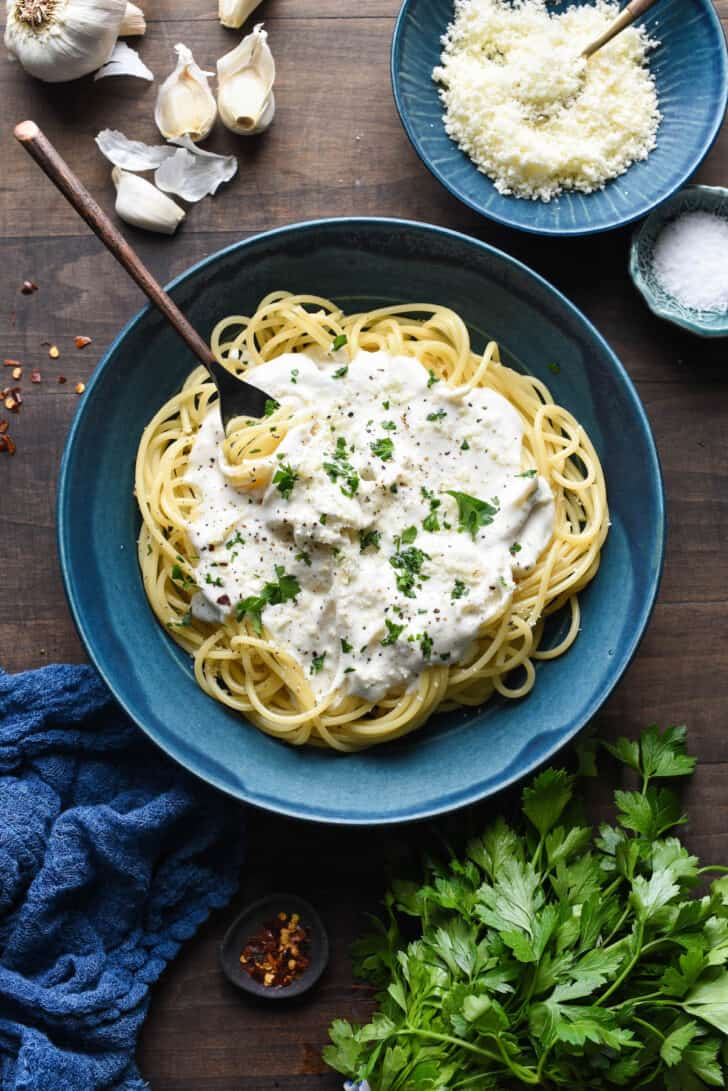 This Garlicky Greek Yogurt Pasta Sauce from Foxes Love Lemons is a healthier and more flavorful alternative to Alfredo sauce. The creamy and tangy sauce is perfect for a high-protein vegetarian dinner. You can enjoy it on Meatless Monday or any day of the week. The key ingredients for this sauce include Greek yogurt, butter, garlic, Parmesan cheese, and whole milk.
Strawberry Yogurt Popsicles
Calling your name are these healthy strawberry yogurt popsicles by Food Meanderings that are perfect for a hot summer day. All you need are a handful of ingredients, including fresh or frozen strawberries, creamy Greek yogurt, and a touch of coconut extract. Watching your diet? These popsicles are Weight Watchers-friendly for an excellent way to get your ice cream fix without all the calories.
Skinny Broccoli Salad with Greek Yogurt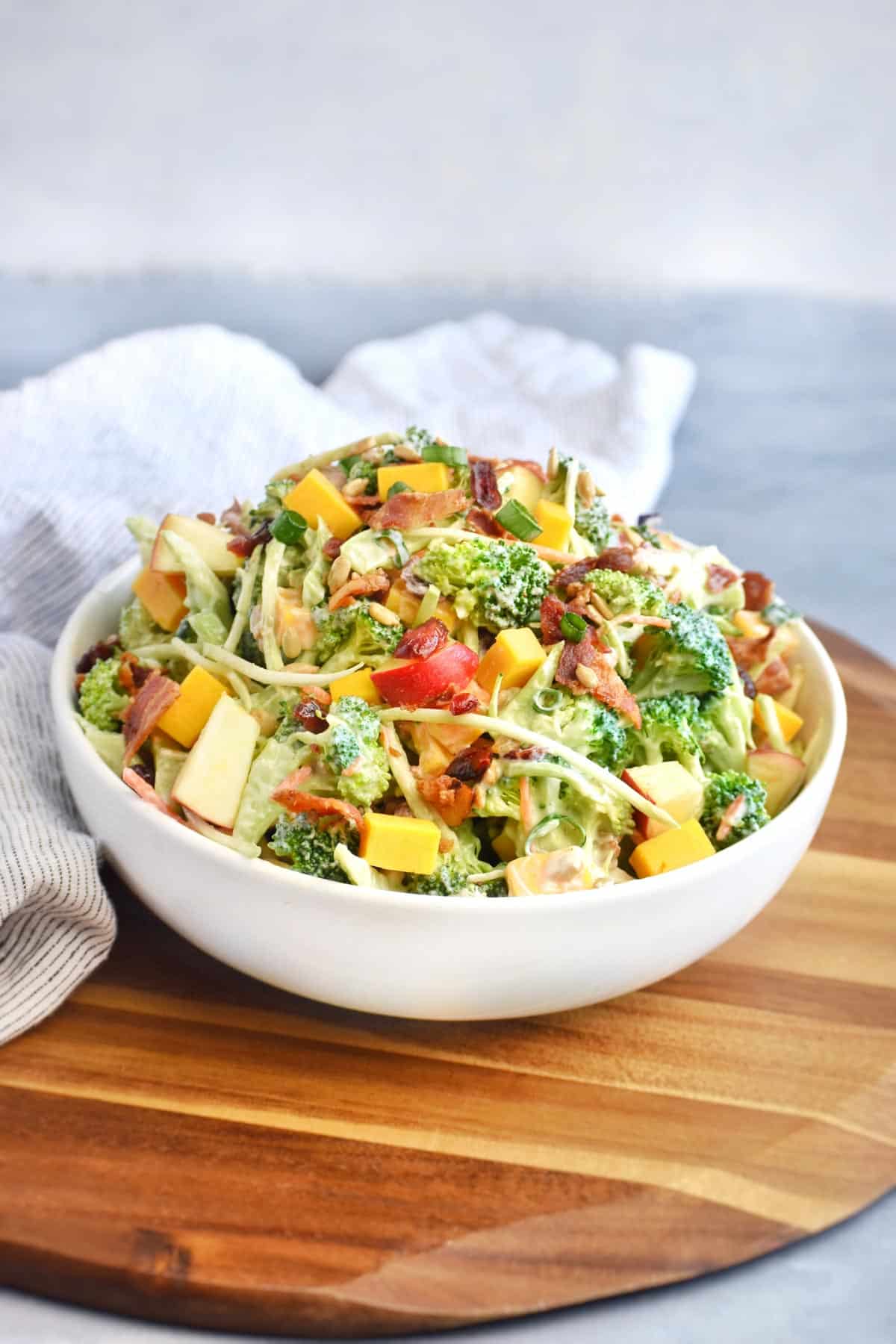 This skinny broccoli salad with Greek yogurt from In Fine Taste is a healthier and lighter version of the classic summer salad, and it is perfect for any potluck or barbecue! It's packed with delicious ingredients like broccoli crowns, apples, dried cranberries, green onions, and bacon, all coated in a light honey yogurt dressing. This salad is a sure crowd-pleaser.
Greek Yogurt Marinated Chicken with Lemon & Herbs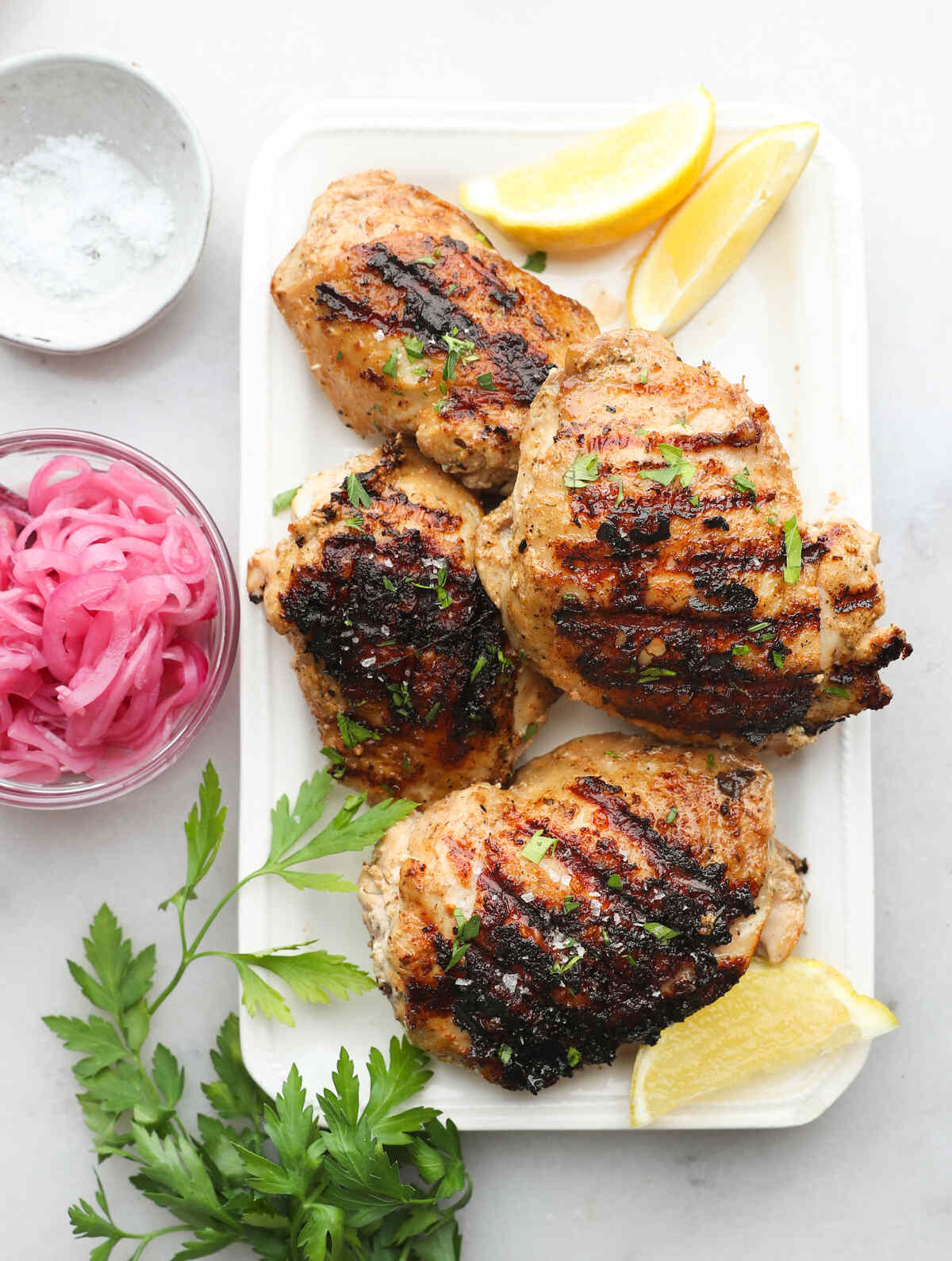 Get ready to excite your taste buds with this Greek Yogurt Marinated Chicken with Lemon & Herbs recipe by Cook At Home Mom that is easy to make and packed with tangy, bright flavors! It's so good that it's almost addictive! You can use it to marinate chicken breasts, thighs, drumsticks, and more.
Cilantro Lime Avocado Yogurt Dip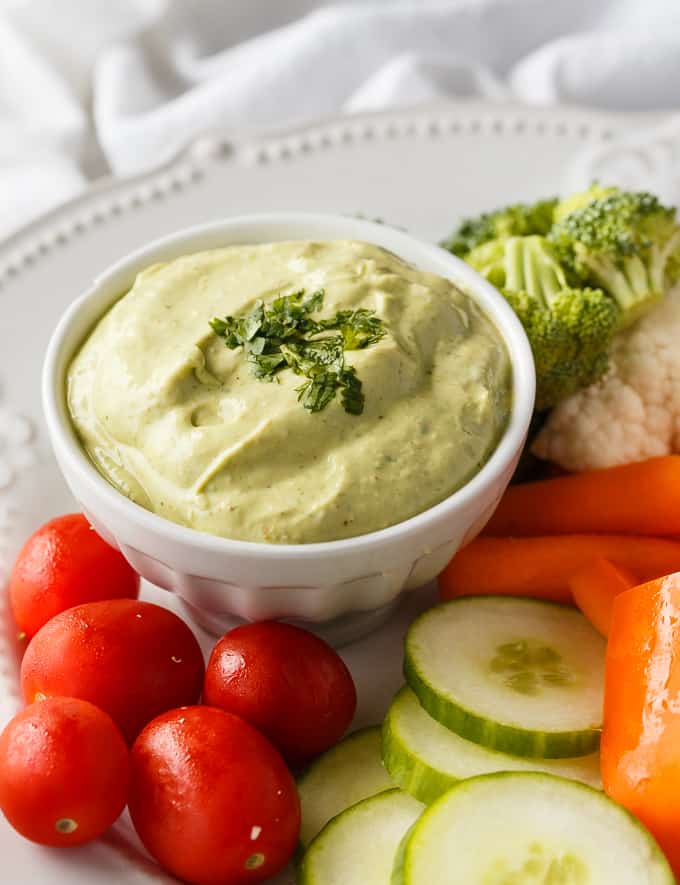 This cilantro lime avocado yogurt dip from Simply Stacie is the perfect addition to any summer gathering! Its creamy texture comes from Greek yogurt and avocado; the cilantro and lime add a fresh and vibrant flavor. The touch of chili powder adds a subtle heat that makes this dip irresistible. Plus, it's healthy and easy to make! Just blend everything and serve with your favorite veggies or pita bread.
Greek Yogurt Breakfast Bark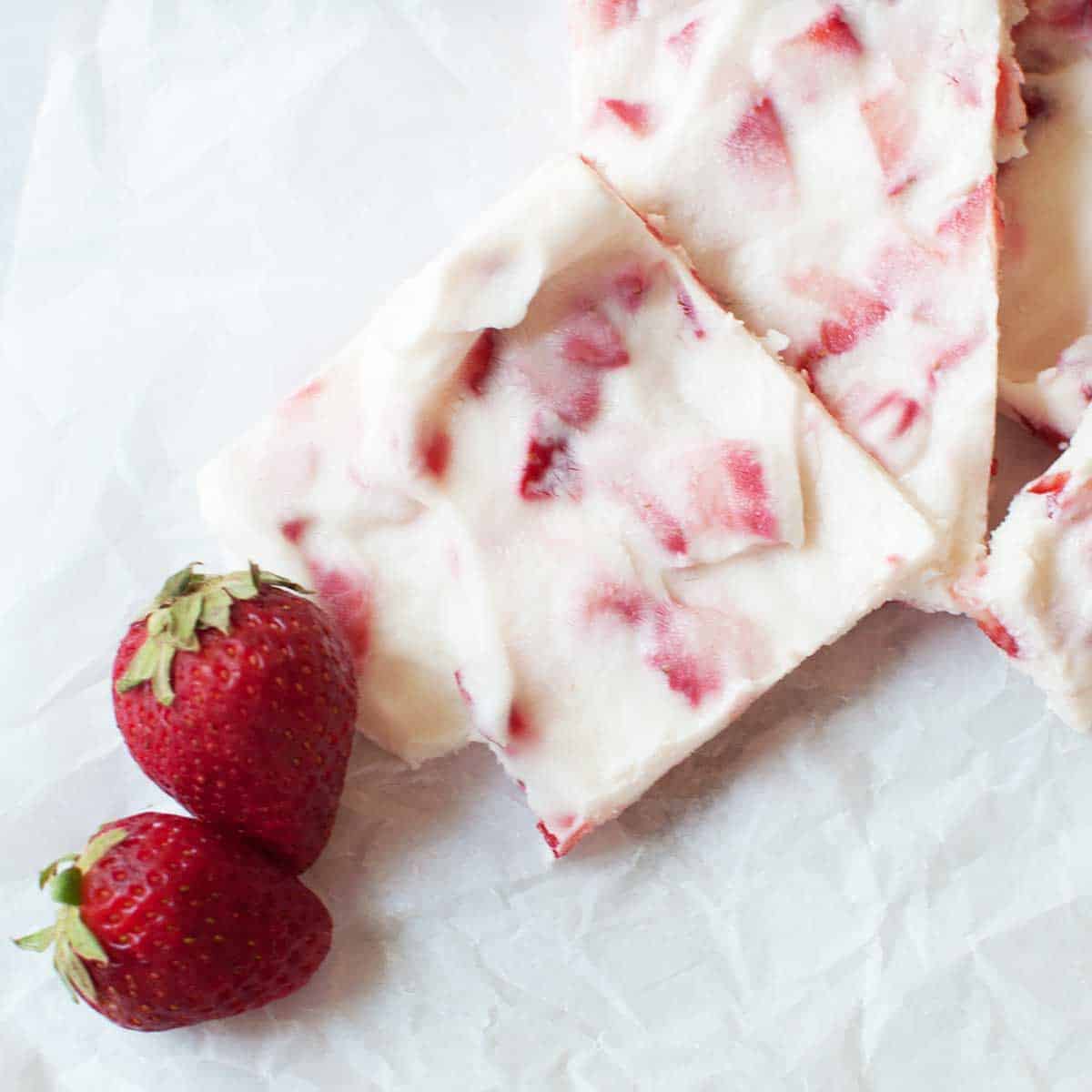 When it comes to a healthy and delicious breakfast, this Greek Yogurt Breakfast Bark by Two Pink Peonies is a must-try! All you need is vanilla Greek yogurt, honey, and diced strawberries. This recipe is naturally sweetened and perfect for satisfying your sweet tooth. Plus, it's super easy to make, and even kids can help!
Homemade Strawberry Frozen Yogurt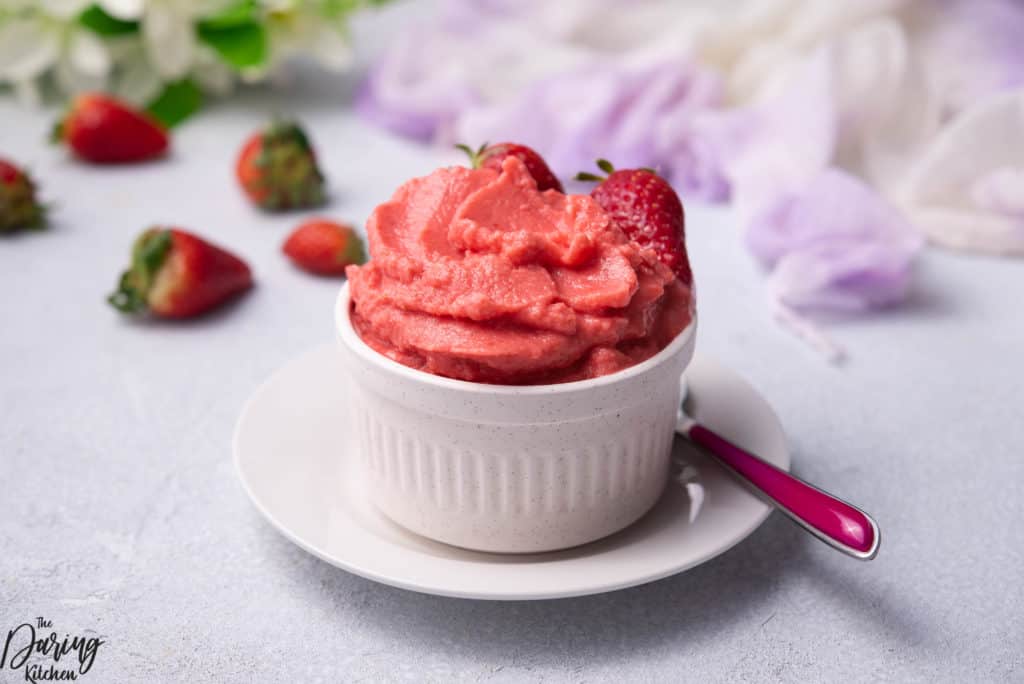 Not many sweet treats offer the perfect balance between healthy and indulgent, but this homemade strawberry frozen yogurt from The Daring Kitchen is undoubtedly one of them! It's super-easy to make in just 5 minutes, and a few ingredients, including frozen strawberries, Greek yogurt, and honey, make it a refreshing dessert perfect for cooling off on a hot summer day.
Greek Yogurt Pasta Recipe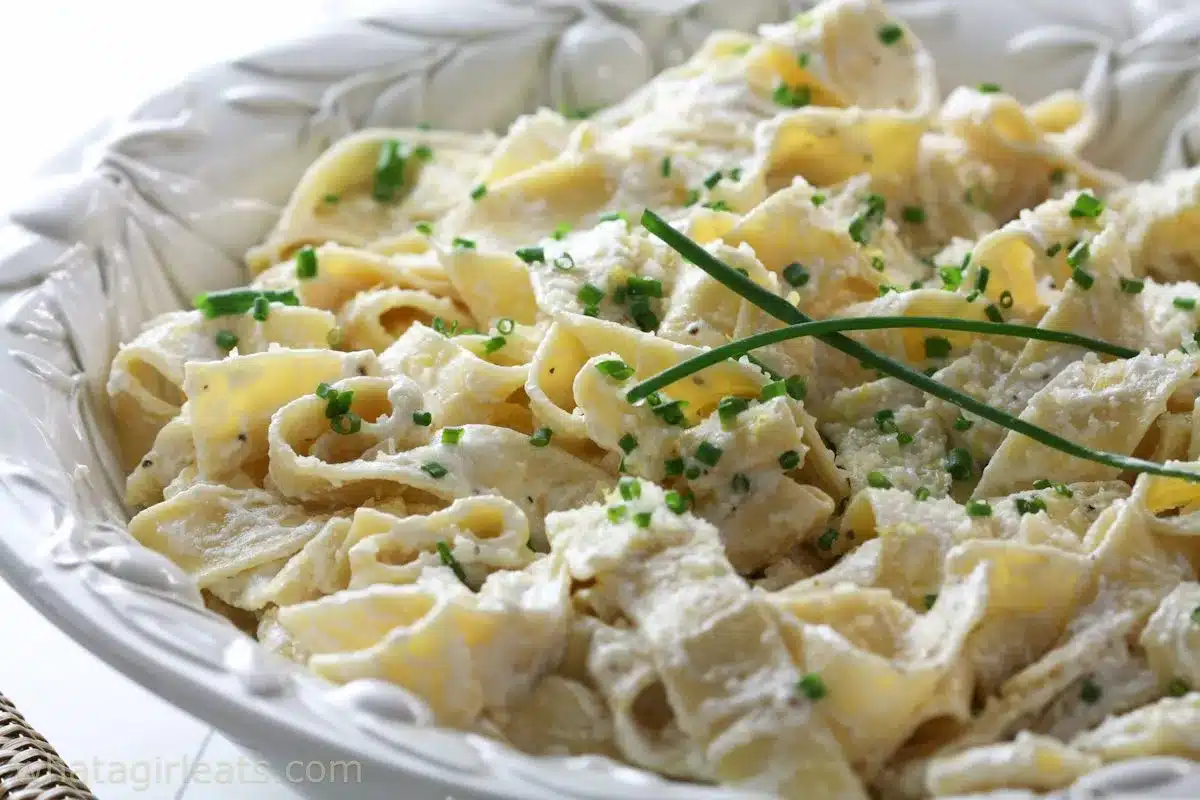 This Greek yogurt pasta recipe from What a Girl Eats is a simple, budget-friendly option that works for any end-of-month meal or when you're low on groceries. The tangy yogurt, butter, and garlic sauce is surprisingly delicious and healthier than traditional cream sauces. This recipe is versatile, and you can make it with any pasta, and adding lemon juice and zest adds a refreshing and tangy twist to the dish.
Greek yogurt Chicken Salad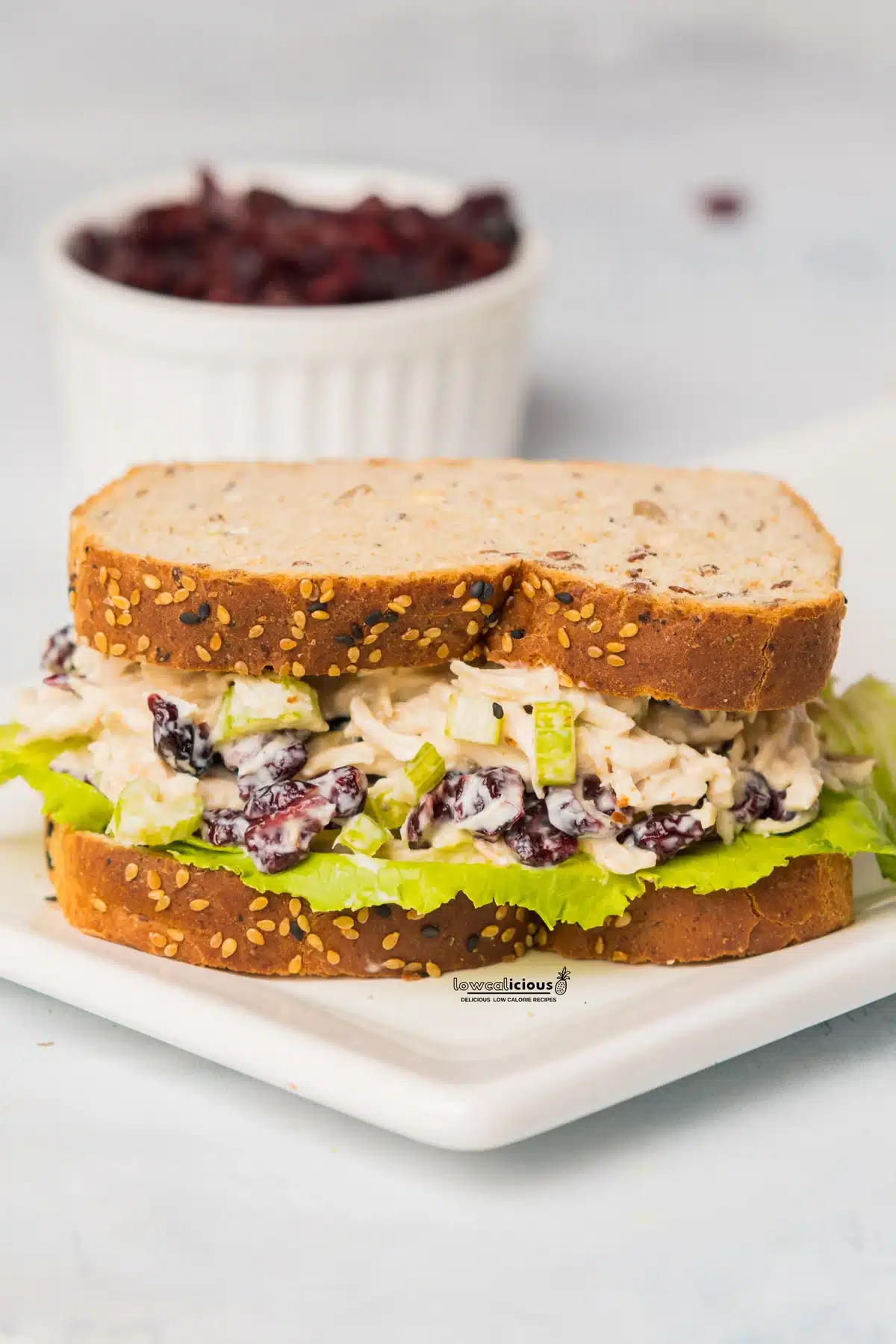 Prepare to be amazed by this low-calorie Greek Yogurt Chicken Salad recipe from Lowcalicious that's both healthy and flavorful. With only 15 minutes of cooking time, you can have a delicious chicken salad for lunch or dinner. Using non-fat Greek yogurt instead of mayonnaise provides a tangy and protein-packed benefit to this recipe, while dried cranberries and celery add a crunchy and slightly sweet texture.
Fudgy Greek Yogurt Brownies
These fudgy Greek yogurt brownies by way of Home Cooking Collective are like a cross between a chewy, fudgy, and a cakey brownie – they've got the best of everything, including a classic, thin, crinkly top with a fudgy, dense, and slightly chewy interior studded with chocolate chips. A little bit of espresso powder and a touch of flaky salt balances out the rich chocolate flavor, making them irresistible. And thanks to the addition of Greek yogurt, they stay moist for several days so that you can indulge in these delicious treats for longer.
Cauliflower Fritters with Creamy Tahini Dip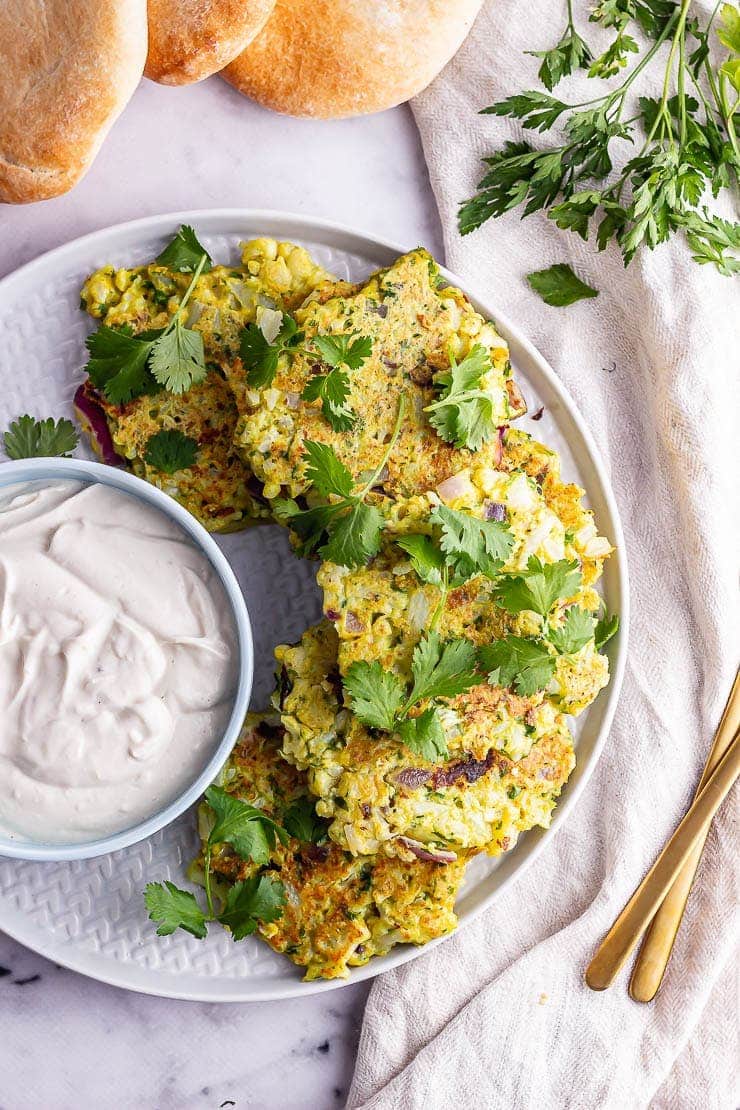 These crispy and healthy cauliflower fritters by The Cook Report will bring joy to your lunch or dinner. And with a creamy tahini yogurt dip, these vegetarian fritters are perfect for meal prep and can be made in a big batch for quick grab-and-go lunches during the week. They are super easy to make, and you can add whatever herbs and spices you like to the mix to change up the flavors.
Healthy Chocolate Fudge Truffles
If you're a fan of chocolate, but trying to eat more healthily, then these easy healthy chocolate fudge truffles Reuse Grow Enjoy is just right for you. The best part is you only need four ingredients, and no baking is required. They are effortless to make and can be adjusted to fit your dietary needs. So whether you're on a dairy-free, Paleo, low-carb, or sugar-free diet, you can still enjoy these delicious truffle treats.
Which Recipe with Greek Yogurt Will You Try First?
From dips to smoothies and chocolate truffles to fritters, Greek yogurt is a versatile and nutritious ingredient that can be used in various recipes. It's a great source of protein and can help you achieve your health and fitness goals. So, the only thing you need to do is choose which one you want to make. We'd love to know!