While many chicken breast recipes are described as boring, dry, and distasteful, the ones on this page are juicy and mouthwatering meals you can't wait to try!
So, these recipes are sure to elevate your chicken dinners.
Just have a sneak peek at what you'll find below. You'll find a bacon-wrapped chicken breast recipe, a buttermilk fried chicken sandwich, an authentic Middle Eastern chicken shwarma, and so many more. So are you ready to discover?
Let's dive in!
By the way, if you like this list, you'll love these air fryer chicken recipes.
Authentic Middle Eastern Chicken Shwarma
If you want to bring that authentic Mediterranean street food flavor to your kitchen, you have to check out this authentic middle eastern chicken shwarma recipe by Falasteeni Foodie. It starts with a pound of chicken breast marinated in yogurt, peppers, and spices, then wrapped in a soft tortilla with pickled turnips and pickles.
Grilled Honey Balsamic Chicken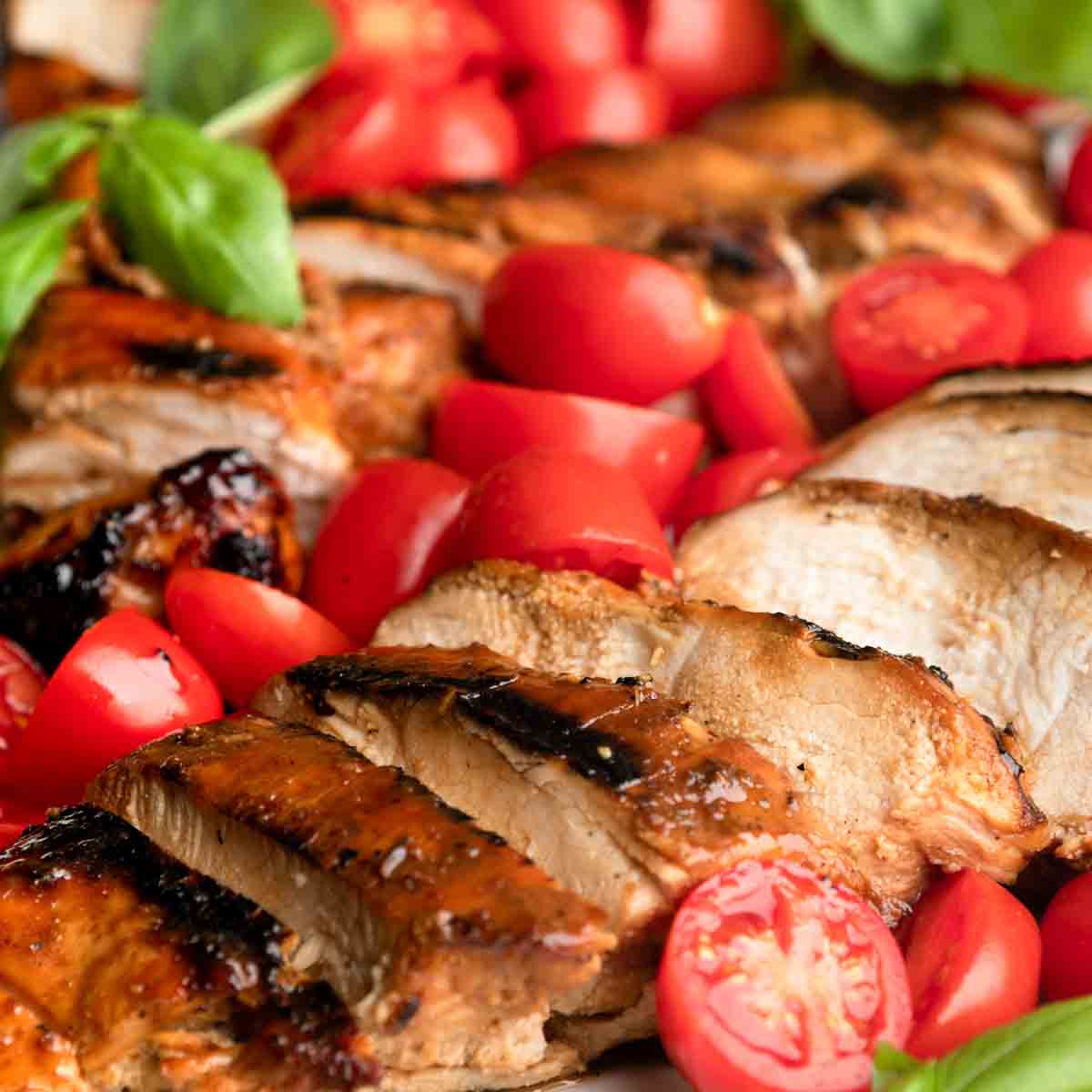 Make enough of this grilled honey balsamic chicken recipe by The Sage Apron to last you all week. It'll become a barbecue favorite to be enjoyed with pasta, salads, sandwiches, or all its own.
Bacon Wrapped Chicken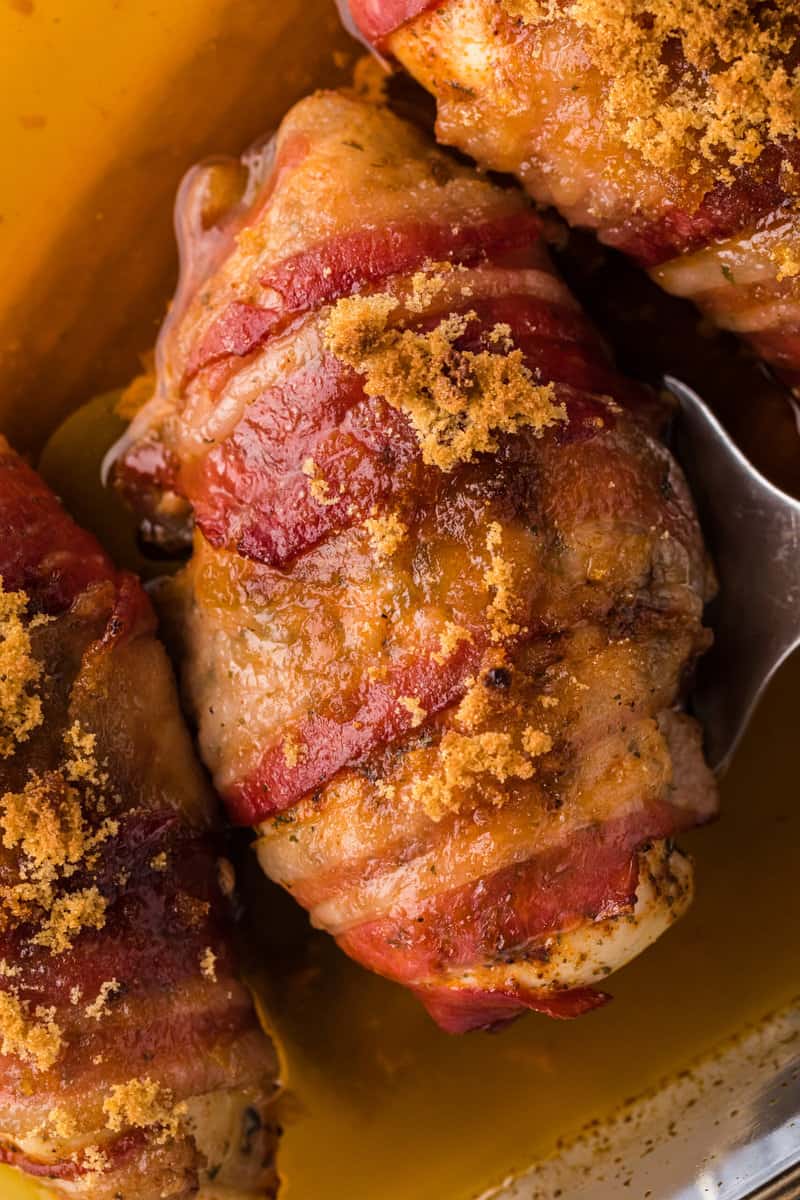 You don't have to travel too far to get the memo. Everything is better with bacon! And that my friend includes this divine bacon-wrapped chicken recipe by The Diary Of A Real Housewife. But while bacon is the star, it's packed with other flavors like paprika, garlic, onion, and parsley.
Crispy Chicken Milanese with Tomato Arugula Salad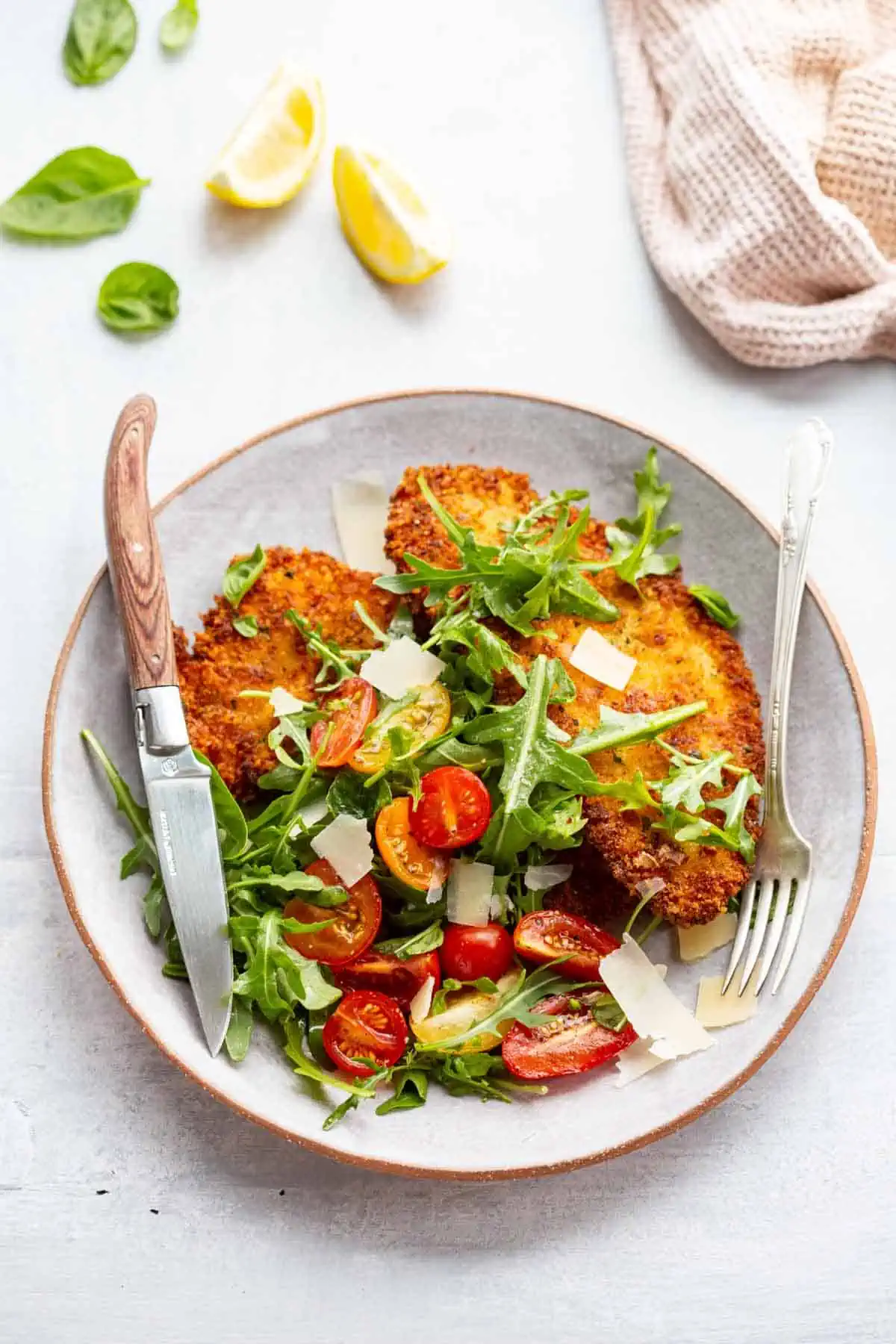 This crispy chicken Milanese with tomato arugula salad by Coley Cooks is guaranteed to become a household favorite. It features tender on the inside, crispy on the outside breaded and fried chicken cutlets. On top, there's a garlicky, tomato, and arugula salad.
Cheesy Provolone Chicken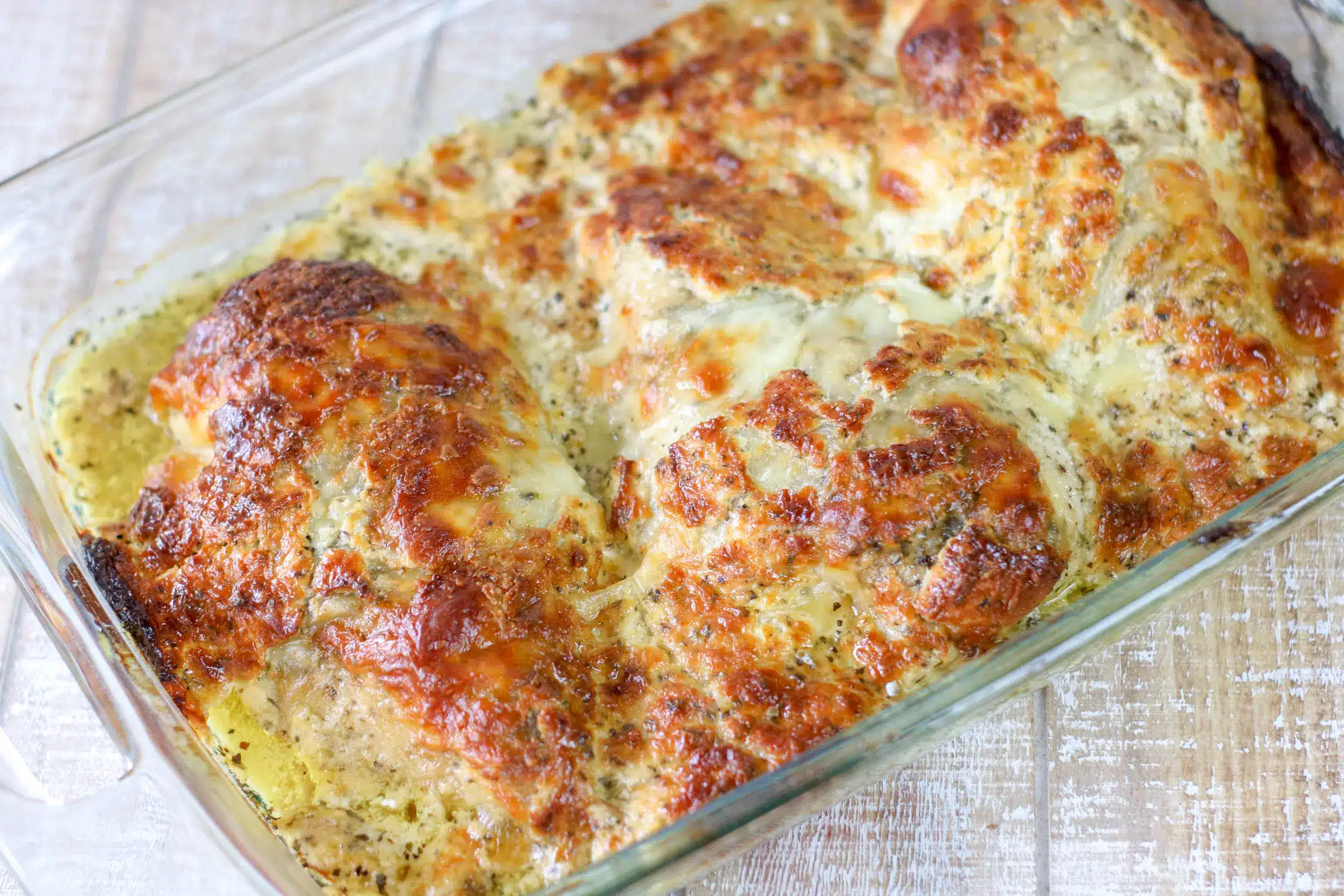 Got a package of chicken breast waiting in the fridge? Instead of salt, pepper, and barbecue, let's upgrade it with this crowd-pleasing cheesy provolone baked chicken recipe by Love These Recipes. It's creamy, rich, and herby. Perfect for weeknights.
Buttermilk Fried Chicken Sandwich
Skip those long lines and make this buttermilk fried chicken sandwich by Scarlati Family Kitchen. It starts with chicken breast soaked in buttermilk, pickle juice, and hot sauce marinade. Then, deep fry it and serve it on a brioche bun with pickles and mayo.
Huli Huli Chicken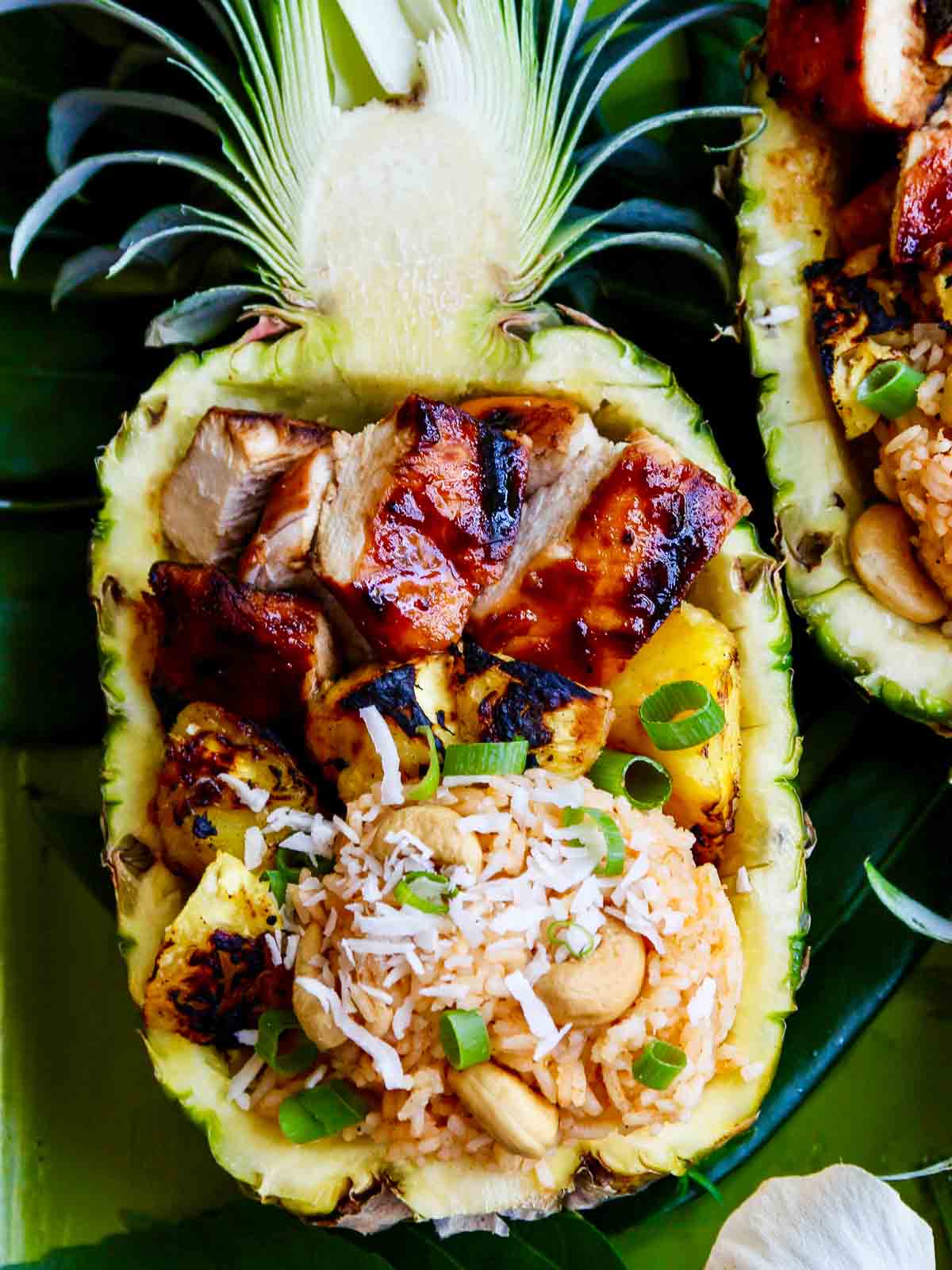 This huli huli chicken by way of Lisa from Delicious Table isn't only a satisfying way to eat chicken breast. It's probably the most fun way to do it. First, marinate chicken breast in a mix of ketchup, pineapple juice, honey, sauce, and more. Then, grill and serve in pineapples with coconut rice for a fantastic presentation.
Mango Chicken Curry with Coconut
Sabine, an avid traveler, and foodie, is bringing flavor from around the world with this mango chicken curry with coconut recipe. It's chicken breast swimming in a delightful mix of coconut milk, bell pepper, onion, garlic, curry powder, turmeric, and other flavorings.
Air Fryer Boneless Chicken Wings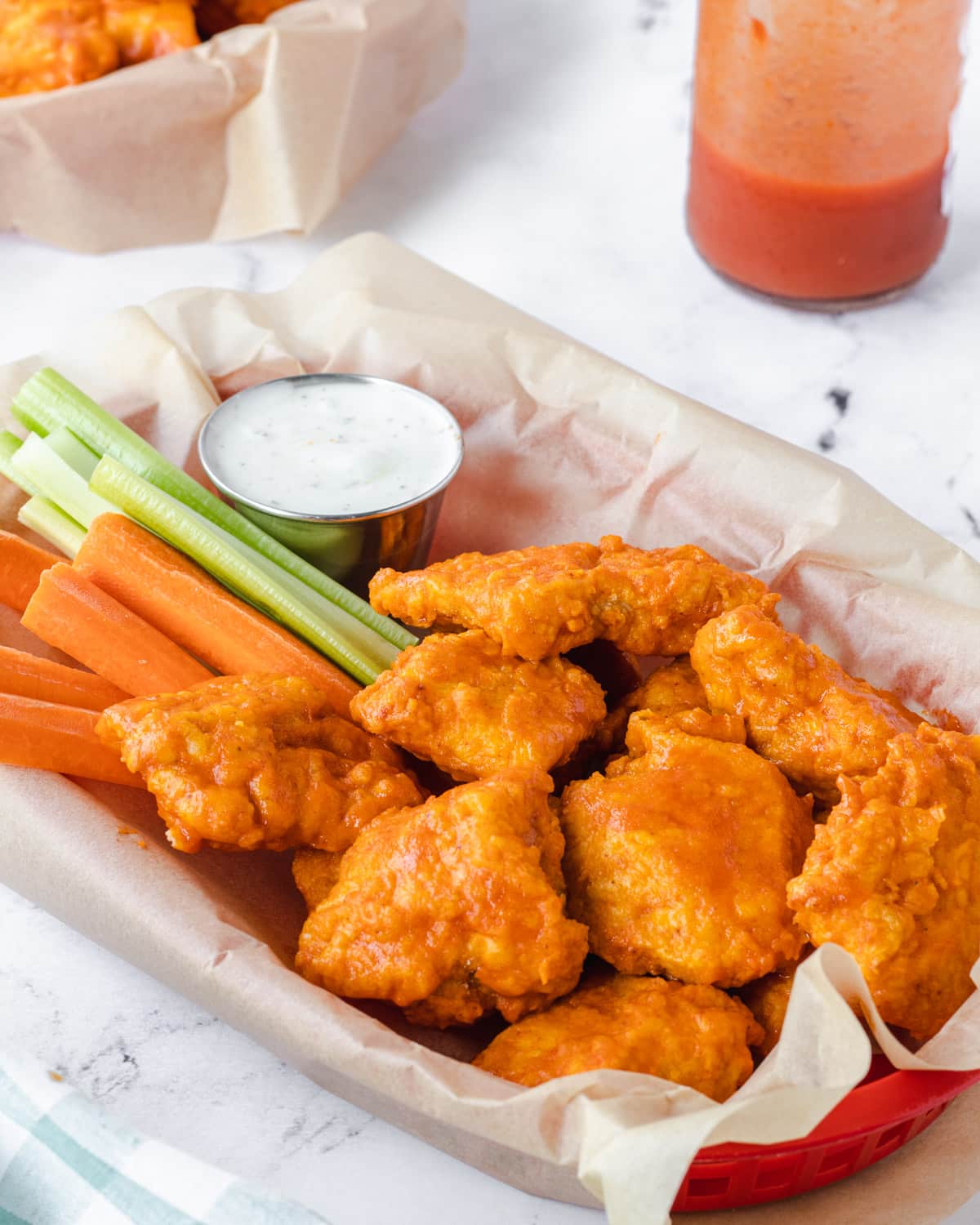 So, these air fryer boneless chicken wings by Erin of State Of Dinner aren't precisely the same as their deep-fried counterpart. But you'll be so busy eating you won't care because so delicious. They have a breading that makes them crispy. And you can't wait to douse them in that spicy buffalo sauce.
Teriyaki Chicken On A Stick
This teriyaki chicken on a stick recipe by Angela of The Short Order Cook is sweet, salty, and served in the most fun way. What more could you want from a chicken breast recipe? All you need is chicken breast, tamari, brown sugar, and a few other flavorful ingredients.
Smoked Poblano Pepper Stuffed Chicken
Smoked poblano pepper stuffed chicken from Stef's Eats And Sweets is what you need for grilling season or for the bbq obsessed all year long. It's seasoned chicken breast stuffed with a spicy mix of cream cheese, poblano peppers, and hot pepper cheese and wrapped in bacon.
Best Chicken and Waffles Recipe with Hot Honey Butter Sauce
We can't be friends if you can look at this best chicken and waffles recipe with hot honey butter sauce from Scratch Market and stay focused. This down-home gourmet features a crispy fried chicken breast served over a homemade waffle and drizzled with jalapeno honey butter. What's not to love?
The Best Air Fryer Orange Chicken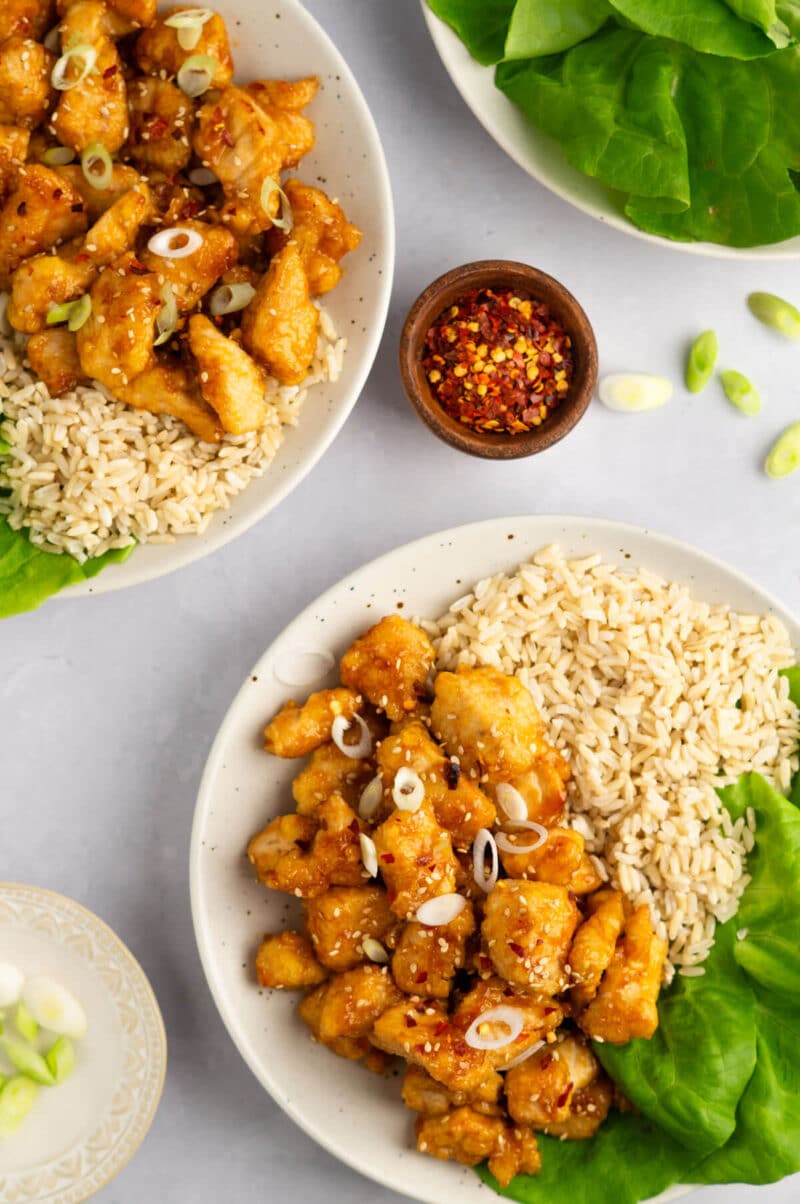 While the best air fryer orange chicken from Begin With Balance tastes fantastic, with the familiar flavors of takeout being delicious and easy, that's probably not the best part. You'll also love that you don't have to bread each piece of chicken individually and that it reheats great for leftovers.
Cilantro Lime Grilled Chicken
We love low-carb meals packed with flavor, better still if there are summer flavors like this tantalizing cilantro lime grilled chicken recipe by The Cookin' Chicks. It starts with a well-seasoned chicken breast crowned with diced avocado, tomato, red onion, lime, and cilantro.
Instant Pot Salsa Chicken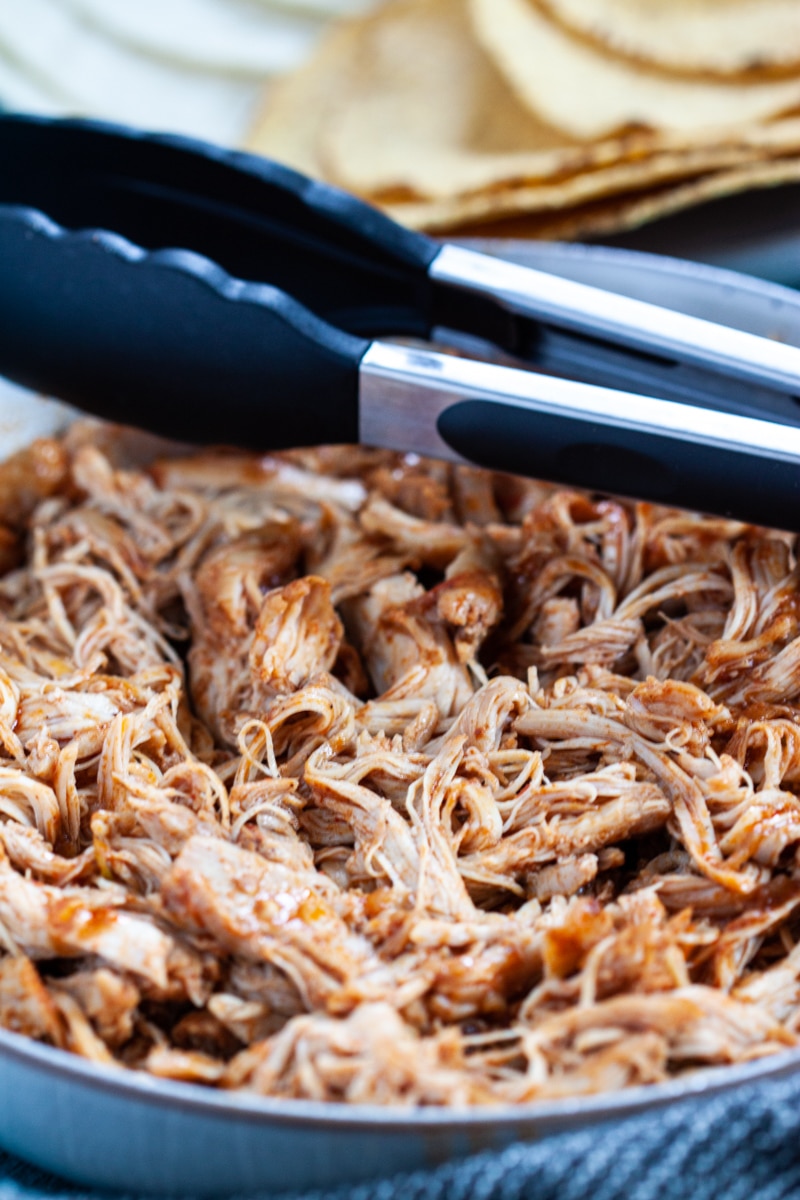 Turn to this instant pot salsa chicken recipe by Christina of MidWexican for a meal to save you from another night of takeout. There are just four ingredients: chicken breast, salsa, chicken stock, and taco seasoning. Just dump everything in the instant pot, and voila!
Crispy Panko Chicken
You'll love this perfectly crispy panko chicken for several reasons. First, you make it with the crispiest panko crust. Second, it takes just minutes to make with simple ingredients—most of which you likely have on hand. Lastly, if you like to work ahead, this recipe is make-ahead-friendly.
Easy Indian Chicken and Mushroom Pie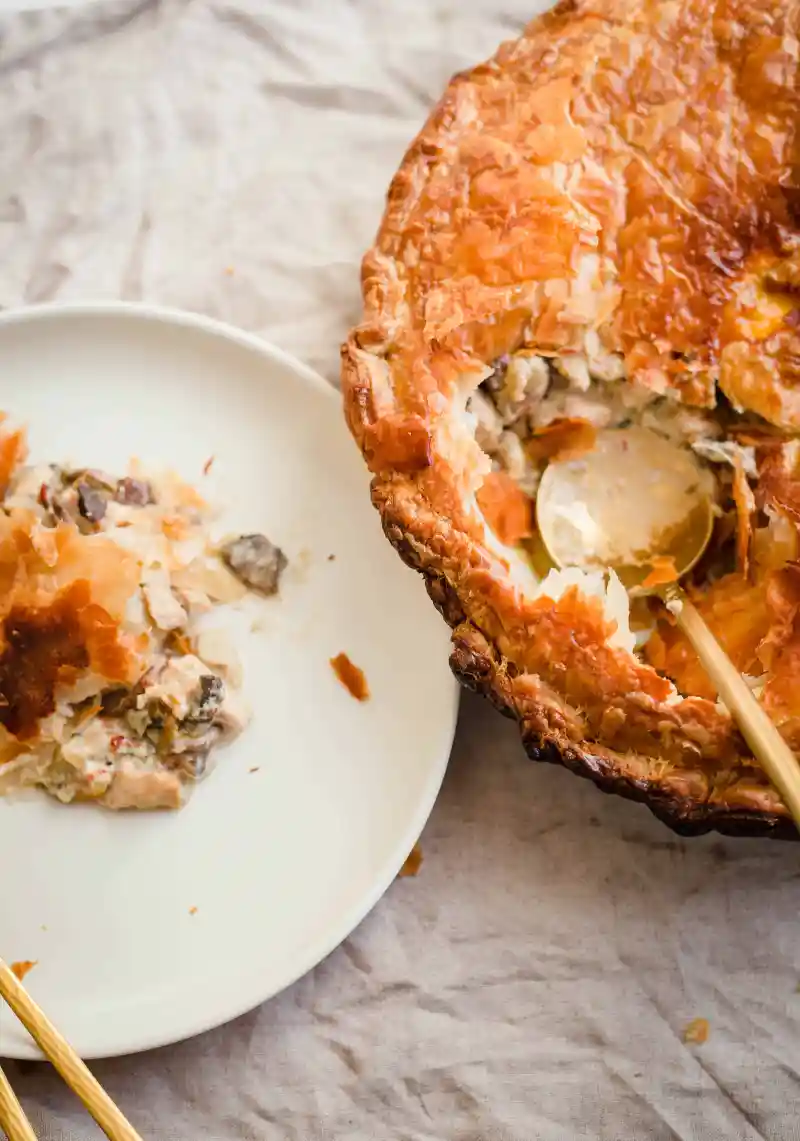 This easy Indian chicken and mushroom pie recipe from Tiffin And Tea Official is the kind you'll make over and over again. So, say hello to your new favorite fusion comfort food. You'll find a flaky crust like a traditional pot pie, but that's where the similarity ends. This one has intense flavors from mustard, chili flakes, garlic, cumin, and more.
Creamy Tuscan Chicken Orzo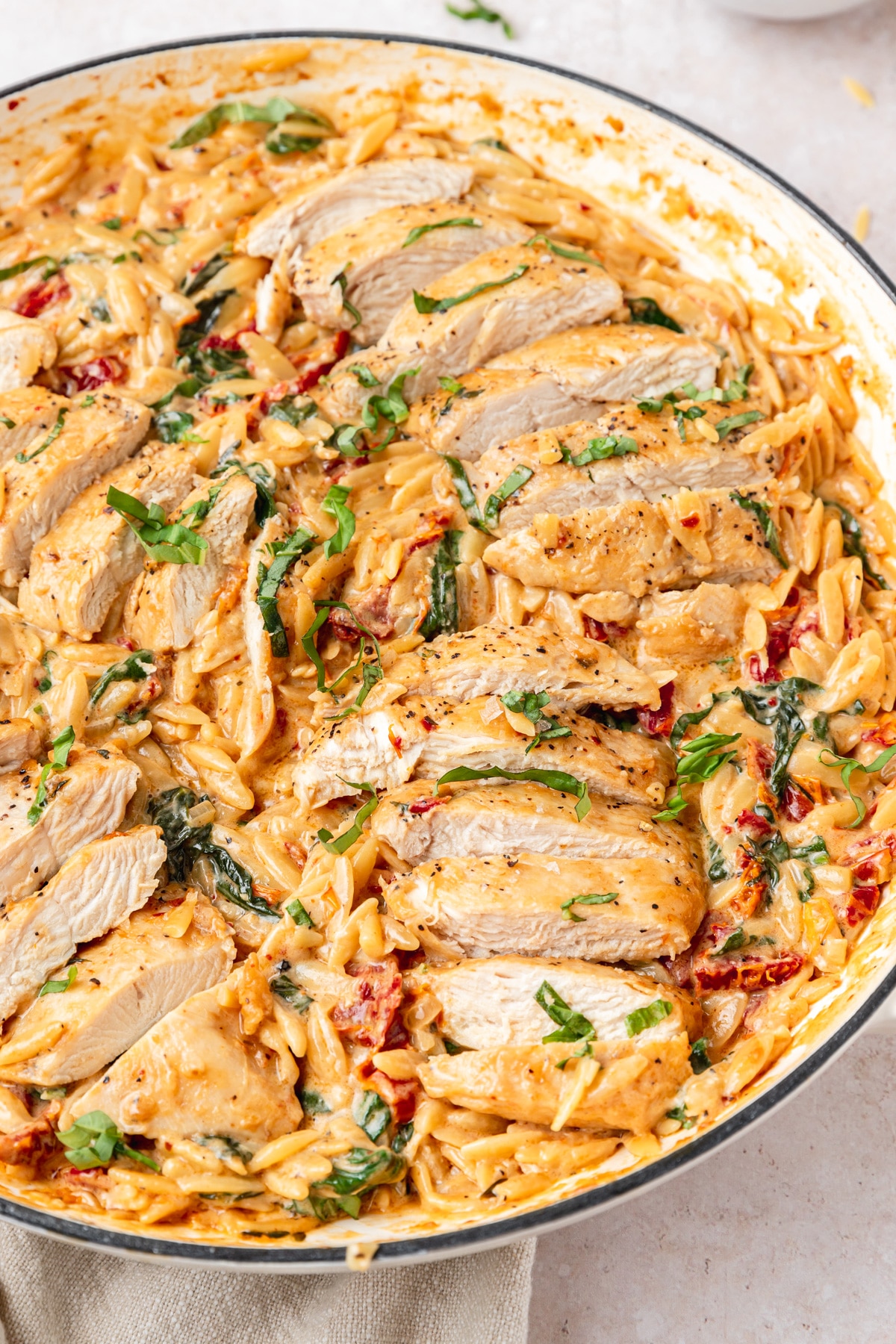 Visit Barley And Sage for this Creamy Tuscan Chicken Orzo recipe, and you'll discover a world of flavor. Chicken and rice-like pasta are seasoned to the high heavens in the light yet flavorful Northern Italian style. So, you can expect garlic, shallots, cooking wine, sun-dried tomatoes, Dijon mustard, and more.
Chicken Picatta
This chicken picatta recipe by Savory Experiments is so sumptuous you might think it takes all day to make. But you'd be wrong. Instead, the Italian-American thinly sliced breaded chicken breast dish is filled with simple ingredients like lemon, capers, shallots, garlic, and white wine.
Cuban Chicken and Rice
Cari of Fat Girl Hedonist brings us this arroz con pollo a la chorrera recipe (Cuban chicken & rice). It's a dish she hated growing up but learned to love later on. While some kids might not like it, your grown-up palate will appreciate the flavors of bell peppers, garlic, cooking wine, beer, and saffron.
Chicken Pakoras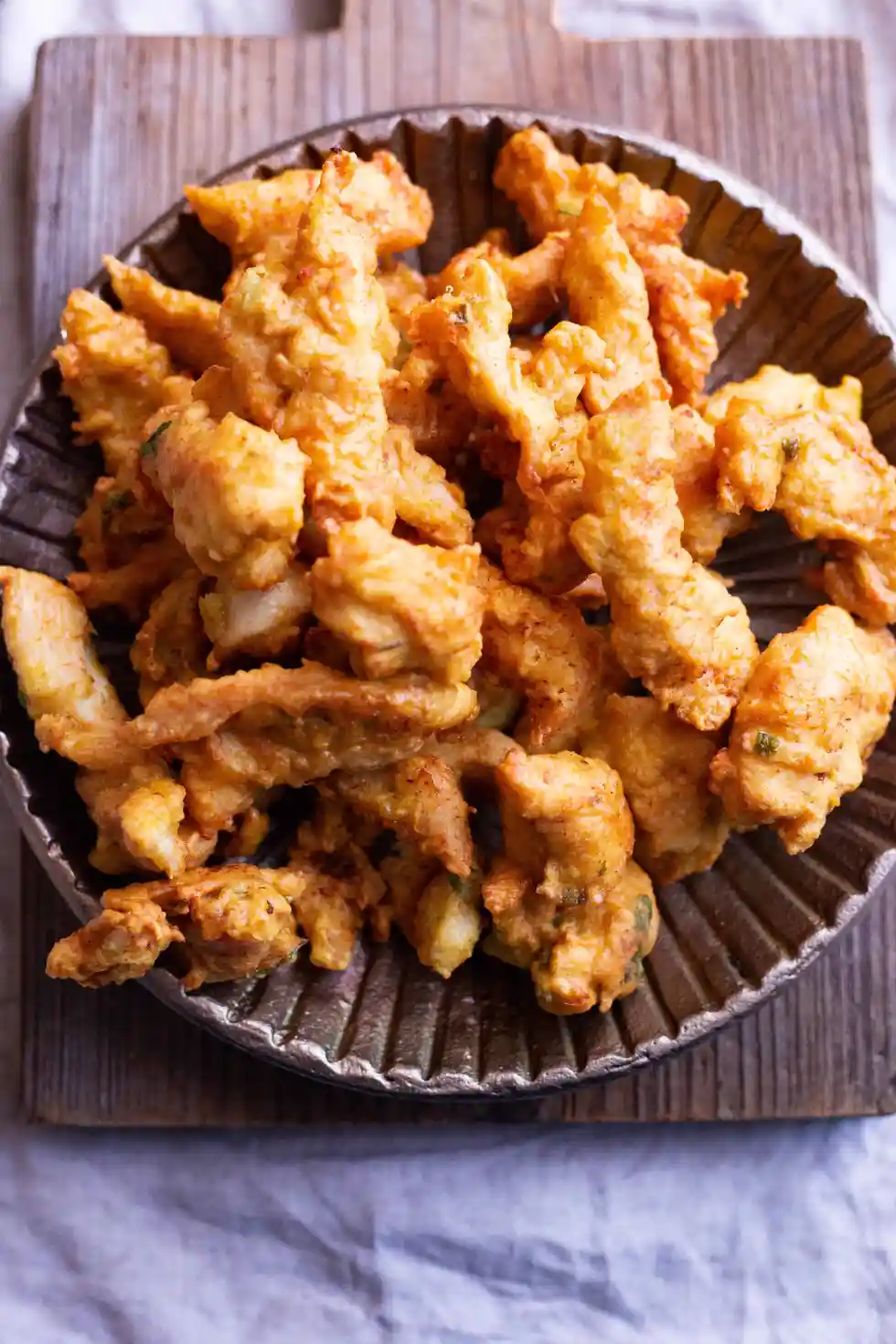 Pakoras are vegetarian Indian fritters typically containing potatoes or onions. These chicken pakoras by Tiffin And Teal Official take that same concept but with a protein upgrade. It's probably the best chicken tender you've ever had. The batter contains garlic, ginger, cumin, coriander, and turmeric.
Which Chicken Breast Recipes Will You Try First?
Whether you're craving familiar comfort food favorites like air fryer boneless chicken wings or seeking something more adventurous like huli huli Hawaiian chicken, these chicken breast recipes are a blank canvas waiting to be transformed into a masterpiece. So, now, there's only one thing to decide. Which recipe will you try first? We'd love to know!