Hot honey popcorn chicken – Delectable, mouthwatering bite-sized pieces of fried chicken, drizzled with our quick hot honey and topped with coleslaw and pickles. So, it's like a chicken sandwich without the bun. But, the bottom line, it's tasty! Really, really tasty!
Jump to Recipe
So we're a bit late to the hot honey hype train. And honestly, at the time of this publishing, we're not even sure if there's any hype around this tremendous condiment anymore. But we don't care if we're johnny come lately' in this scenario because hot honey is simply divine.
We love the stuff. Just check out some of the other hot honey recipes we've conjured up since discovering this magical food topping:
Hot honey mac and cheese bites
and hot honey salmon spread crostini's
Anywho, please continue reading to find out how we made this incredible dish. But be warned, this one takes you all the way. There's no going back!
Jump to:
Ingredients
Below, you will find all of the ingredients you will need to get this hot honey popcorn chicken show on the road.
Chicken Thighs
Buttermilk
Flour
Baking Powder
Dried Thyme
Salt
Pepper
Honey
Dried Chili Pepper Flakes
See the recipe card for quantities.
How to Make Hot Honey Popcorn Chicken
To make this hot honey popcorn chicken recipe, you need to soak the chicken thighs in buttermilk for at least one hour but up to overnight. This step tenderizes, flavors, and helps your chicken retain its moisture. It is a necessary step and key to restaurant-quality fried chicken.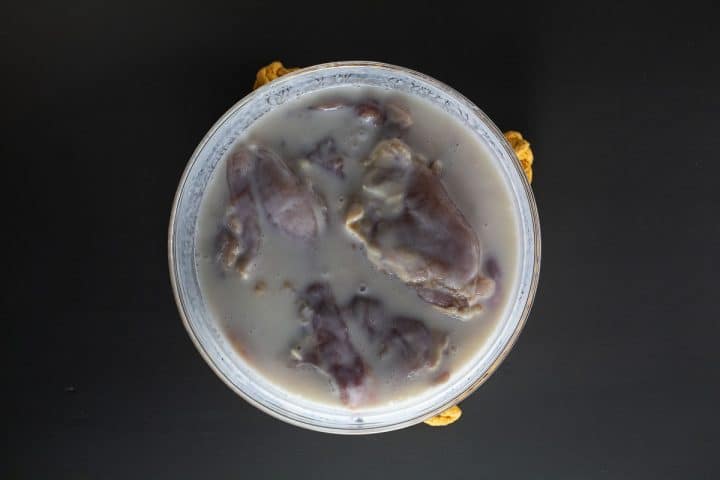 To get that extra thick, crispy coating on your chicken, you will need to add some buttermilk to the flour. Then kind of mash the buttermilk and flour together. This will create shaggy little chunks of flour bits. Yep, that's how it's done, guys. That's how you get that craggy, fried chicken with all the little knobby nooks and crannies. So, you should see that the flour is textured in the picture below.
Dip just a few pieces of chicken into the flour at a time and really make sure that each piece is well coated.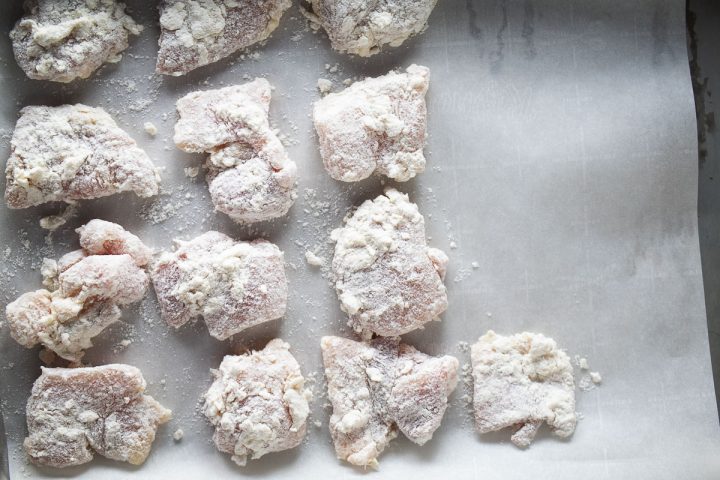 Hint: Have your frying station set up before you start to dredge the chicken. We've noticed that the flour starts to get moistened if you dredge the chicken too soon and doesn't end up as crunchy after frying.
To make the hot honey, check out our recipe here.
Do I Have to Use Chicken Thighs?
Nope. You can use boneless, skinless chicken breast or tenderloins. We like chicken thighs because they are so darn flavorful and juicy.
Can You Bake or Air Fry the Popcorn Chicken?
Sure! Now, I must say, deep-frying the chicken taste better than baking or air-frying (by a country mile), in our opinion. Still, we did a little testing with this recipe in the air fryer, but it needs a little more work. In the meantime, you can try this air fryer recipe or this baked popcorn chicken recipe.
How to Reheat Hot Honey Popcorn Chicken?
The absolute best way to reheat our hot honey popcorn chicken is in the air fryer at 375-degrees for three to five minutes. The next best way to reheat them is in the oven at the same temperature and time with the convection function if you have one.
Equipment
We deep-fried our popcorn chicken so that you will need either a stand-alone deep fryer or a dutch oven set up. Here are the tools that we use to fry most efficiently.
Storage
This recipe is too delicious to have leftovers. But just in case you do, know that you store the leftovers in the fridge for three or four days.
Top Tip
It is best if you don't overcrowd the frying vessel for deep-frying. Overcrowding causes the oil temperature to plummet, which causes your food to absorb more oil.
Safety
When deep-frying, the number one tip is to keep your workstation clean. Do not leave hot oil unattended. Use a food thermometer, and keep a fire extinguisher nearby.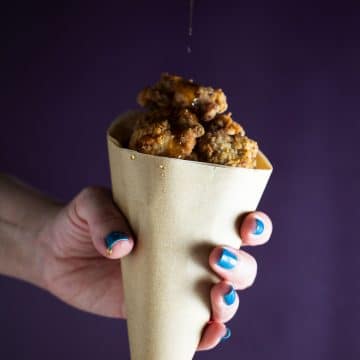 Hot Honey Popcorn Chicken Recipe
Bite-sized chicken thigh pieces coated in flour and deep-fried and topped with hot honey, coleslaw, and pickles. Delicious!
Ingredients
2

Pounds

Boneless Skinless Chicken Thighs

1 1/2

Cups

Flour

1

Tsp

Baking Powder

1/4

Tsp

Black Pepper

1/2

Tsp

Dried Thyme

2

Cups

Buttermilk

+ 3 Tbsp

1 1/2

Tbsp

Salt

1

Cup

Hot Honey Sauce
Instructions
In a large bowl mix 2 cups of buttermilk and 1 ½ tablespoon of salt. Add the chicken thighs and cover with plastic wrap and refrigerate for at least 1 hour to overnight.

Remove chicken from the buttermilk and pat them dry with a paper towel. Cut the chicken into 1-inch pieces and set aside.

In a shallow bowl add the flour, baking powder, black pepper, thyme, and 3 tablespoons buttermilk. Using your hands, rub your fingers in the flour until the mixture looks like coarse wet sand.

Working with a few pieces at a time, dredge the chicken into the flour mixture while lightly pressing to make sure the flour sticks. Place them on a baking sheet lined with parchment paper.

Use a deep pot or dutch oven filled with 2 inches of oil (about 4 cups). Preheat the oil to 350 degrees. When the oil is ready, fry in batches and cook for 3-4 minutes or until golden brown. Transfer to a baking sheet lined with a paper towel to drain. Continue with the remaining chicken pieces.

Dip into the hot honey sauce and enjoy.
Notes
Marinating the chicken in buttermilk will keep it moist, adds flavor, and tenderize the meat.
Adding buttermilk to the flour mixture will help create extra bits of crispiness when you fry the chicken.
You want to start out frying about 6-8 pieces of chicken at a time. You don't want to crowd the pan or the chicken won't get golden brown and crispy.
You can add any additional garnishes. We added a classic coleslaw on top and dill pickles.
Reheat in the air fryer at 375 degrees for 3-5 minutes. 
Freeze the cooked chicken for up to 4 months.
Nutrition
Calories:
258
kcal
Carbohydrates:
21
g
Protein:
26
g
Fat:
7
g
Saturated Fat:
2
g
Polyunsaturated Fat:
1
g
Monounsaturated Fat:
2
g
Trans Fat:
1
g
Cholesterol:
114
mg
Sodium:
1526
mg
Potassium:
386
mg
Fiber:
1
g
Sugar:
3
g
Vitamin A:
129
IU
Vitamin C:
1
mg
Calcium:
114
mg
Iron:
2
mg