These 24 fantastic brunch recipes will make your special occasion memorable. You'll find deliciously easy brunch recipe ideas for a crowd, make-ahead options, sweet treats, and savory dishes.
These elegant meals look as good as they taste! Here's a sneak peek!
You'll find the tastiest yeasted dough liege waffles, savory Dutch baby puff pancake, and novel cloud eggs with asiago cheese and chives. So, aren't you excited to discover more?
Let's dive in!
For more delicious brunch options, see these brinner recipes.
Brunch Meal Recipes
Liege Waffles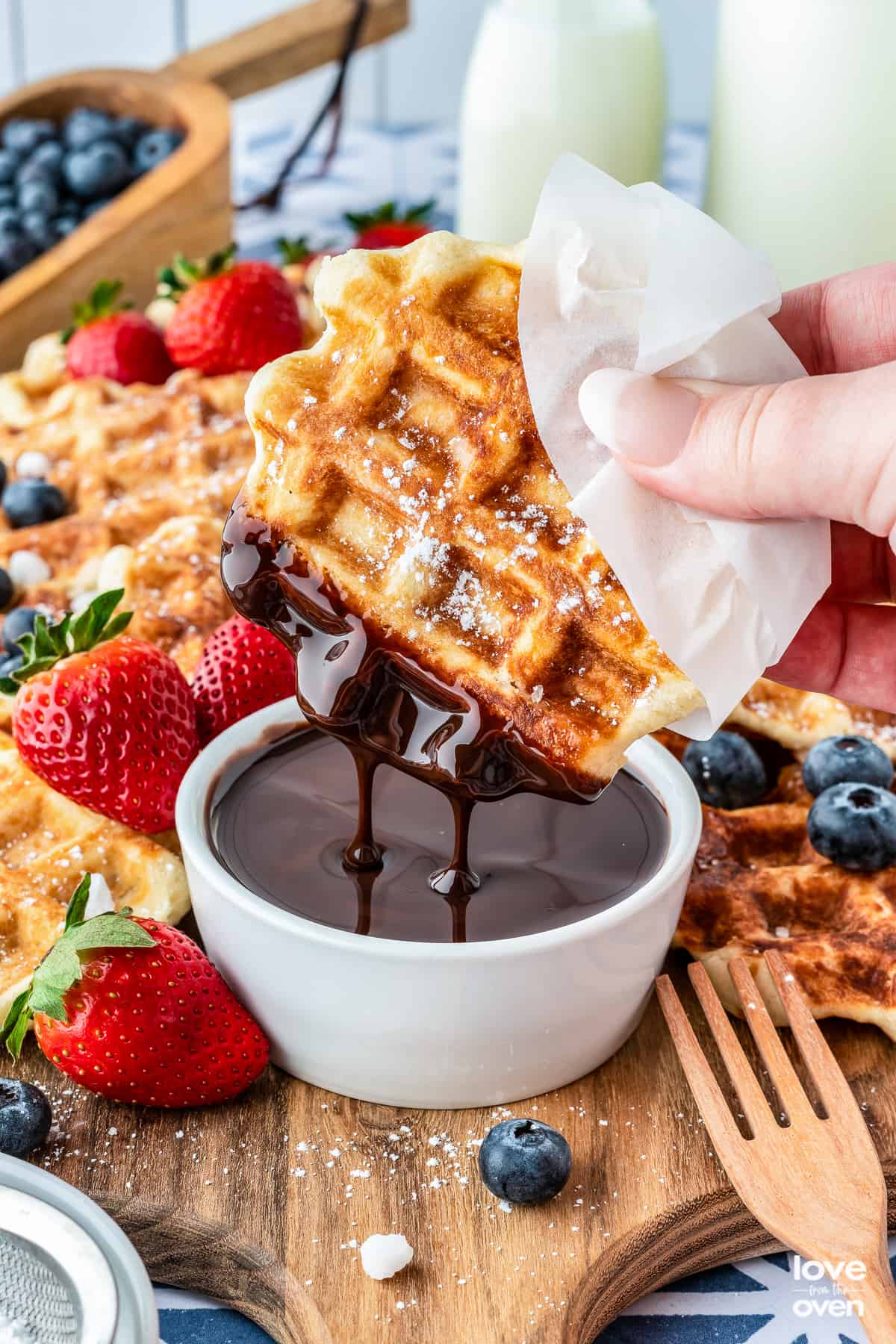 These liege waffles by Christi of Love From The Oven aren't your freezer aisle variety. Nor are they had by following a quick Bisquick batter recipe on the box. Instead, these waffles represent the pinnacle of the popular breakfast food. The crust is light and crispy, while the interior is soft and fluffy like a cloud, thanks to the rise from the yeasted dough.
Mushroom Galette
Cheryl of Bakes By Brown Sugar took inspiration from an agriculture tour to make this mushroom galette. The French savory pie is meaty from the texture of intensely flavorful, earthy cremini and shiitake mushrooms. But even more flavor appears in this free-form pie from the herbs, nutty gruyere cheese, and sharp garlic and shallots.
Raspberry Cheesecake Brioche Buns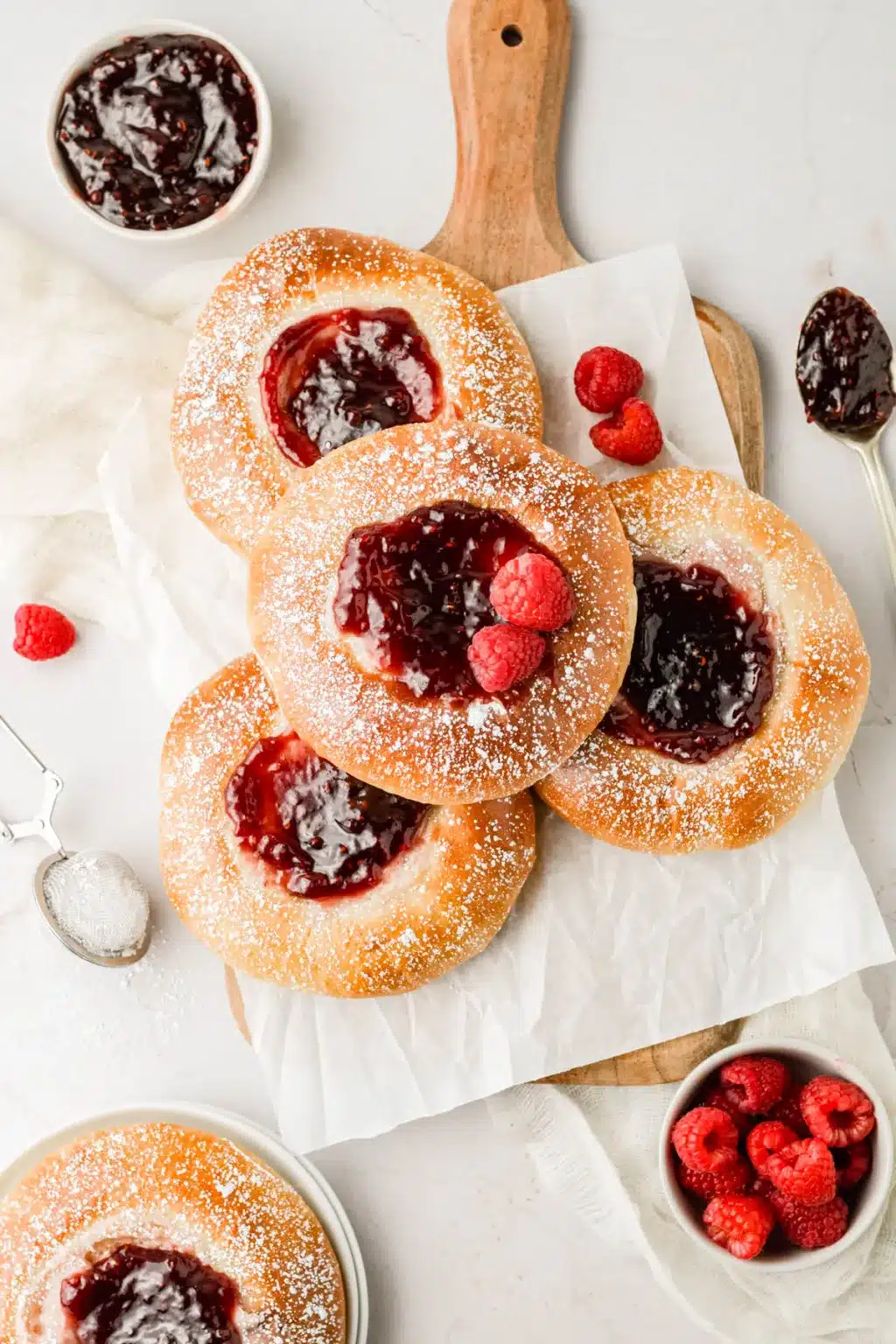 Like the best Danish you've ever had, these raspberry cheesecake brioche buns are perfect for Sunday brunch. From the color to the slightly sweet bread and rich filling, few can resist the call of this treat. Now, this dessert isn't a quick recipe. But it's impressive, and impressive often takes time. You can have them at room temperature, but they're especially memorable when served warm.
Sausage Spinach Quiche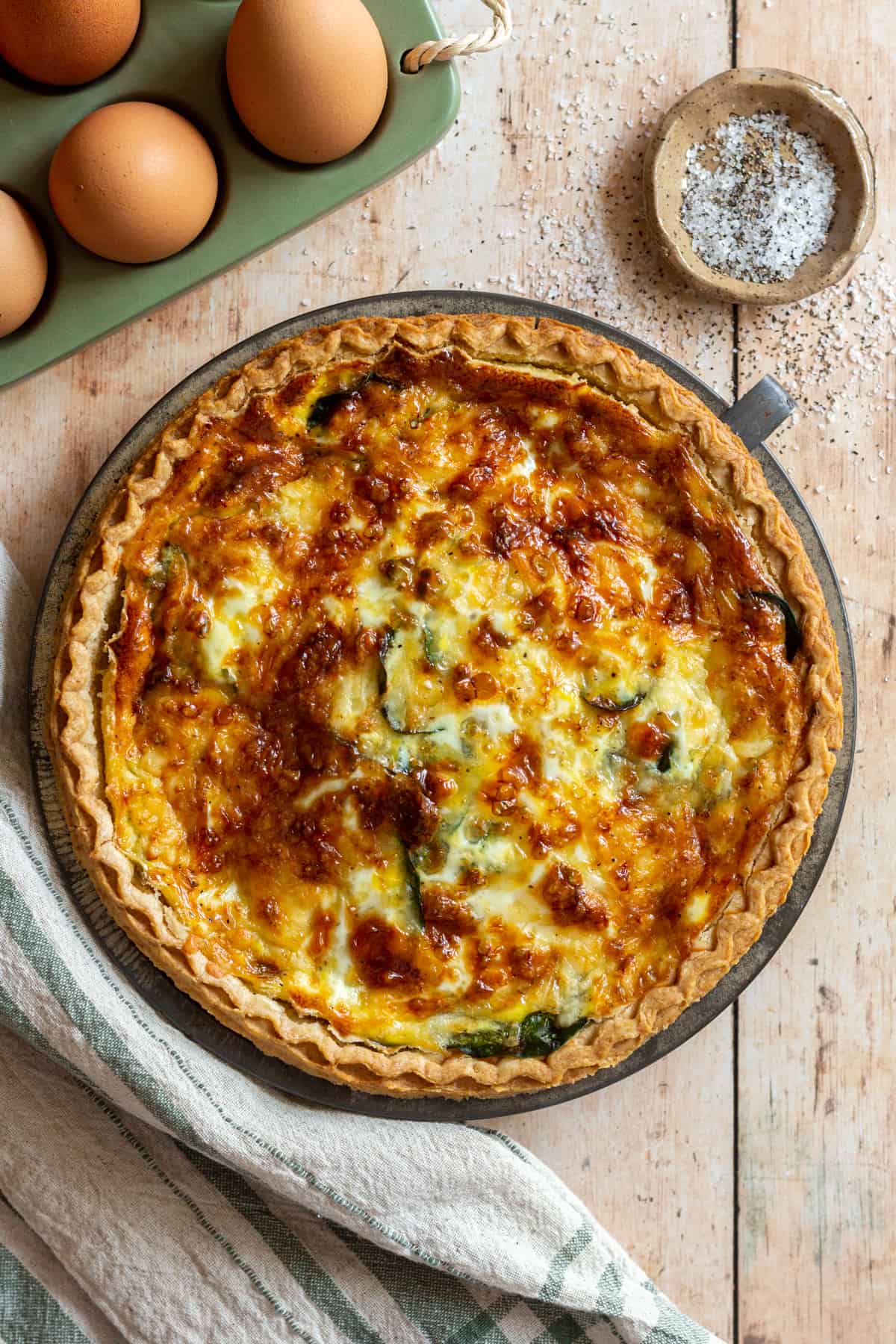 No list of brunch recipes can claim supremacy without at least one quiche entry. But while requisite, this sausage spinach quiche recipe by Katie of Sugar And Snap Peas isn't just filler. It's delicious, filling, attractive, and surprisingly easy. And that's not all. Katie provides you with not only a recipe but a formula for success. All her quiche recipes start with six eggs and utilize store-bought pie crust.
Blood Orange Olive Oil Cake
We subscribe to the notion that a brunch spread should be tasty and pretty. So when we came across this blood orange olive oil cake by A Paige Of Positivity, we couldn't resist. You have the striking appearance of the crimson flesh contrasted perfectly with the white glaze sprinkled with orange zest for good measure. And the flavors, including high-quality olive oil, make it a dessert all will rave about for years.
Savory Dutch Baby Puff Pancake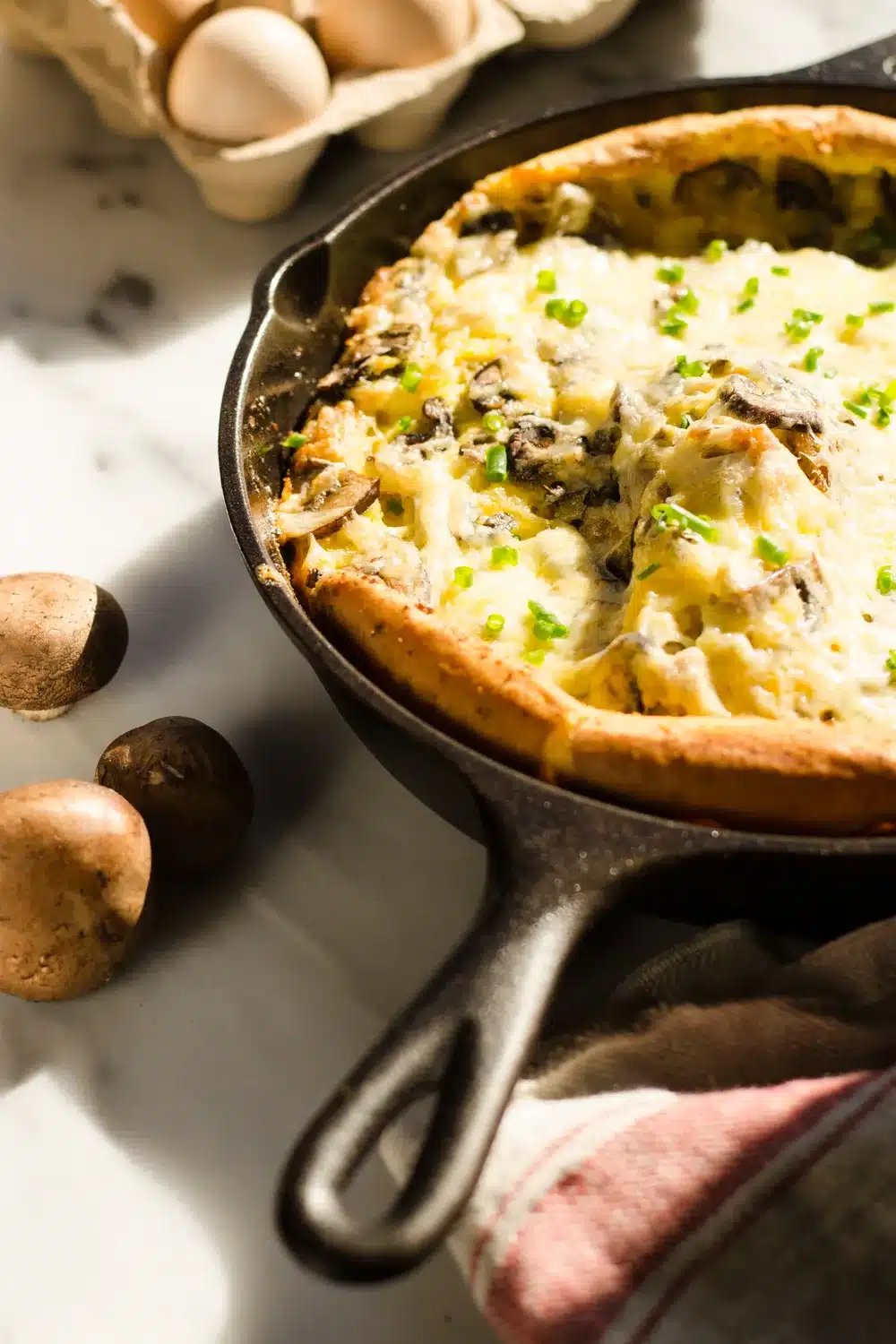 This savory Dutch baby puff pancake by Butter Side Up Blog, presented in a cast iron pan, is the kind of rustic elegance that can set your brunch celebration apart from the rest. It's eggy, creamy, rich with milk and cheese, meaty, herby, and oh-so hearty. Best of all, it's perfect for a crowd and easier to make than it looks.
Zucchini Flower Frittata Recipe
This zucchini flower frittata recipe is of the "waste not, want not" mindset generations previously subscribed to. So if you've zucchini flowers, turn them into something delicious instead of letting those delicate blossoms wilt away. With eggs, potatoes, and cheese, it's a simple 20-minute breakfast feast. So it's simple enough for summer weekday mornings but fancy enough for your brunch menu.
Croissant Bread Pudding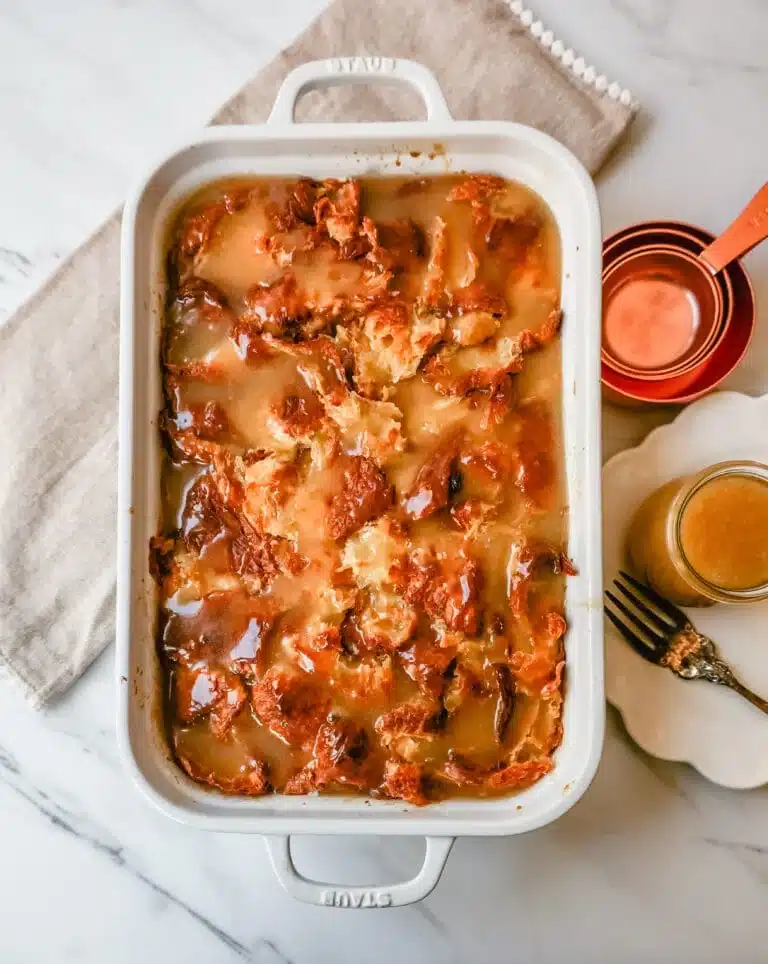 This croissant bread pudding recipe by Melissa of Modern Honey is indulgence on top of unbridled decadence. It features dainty, flaky croissants interspersed with layers of custard and topped with a homemade vanilla bean sauce so good you'll want to drink it. But that's not all, folks! It takes just minutes to assemble, making a great Christmas morning or brunch treat.
Cloud Eggs with Asiago Cheese & Chives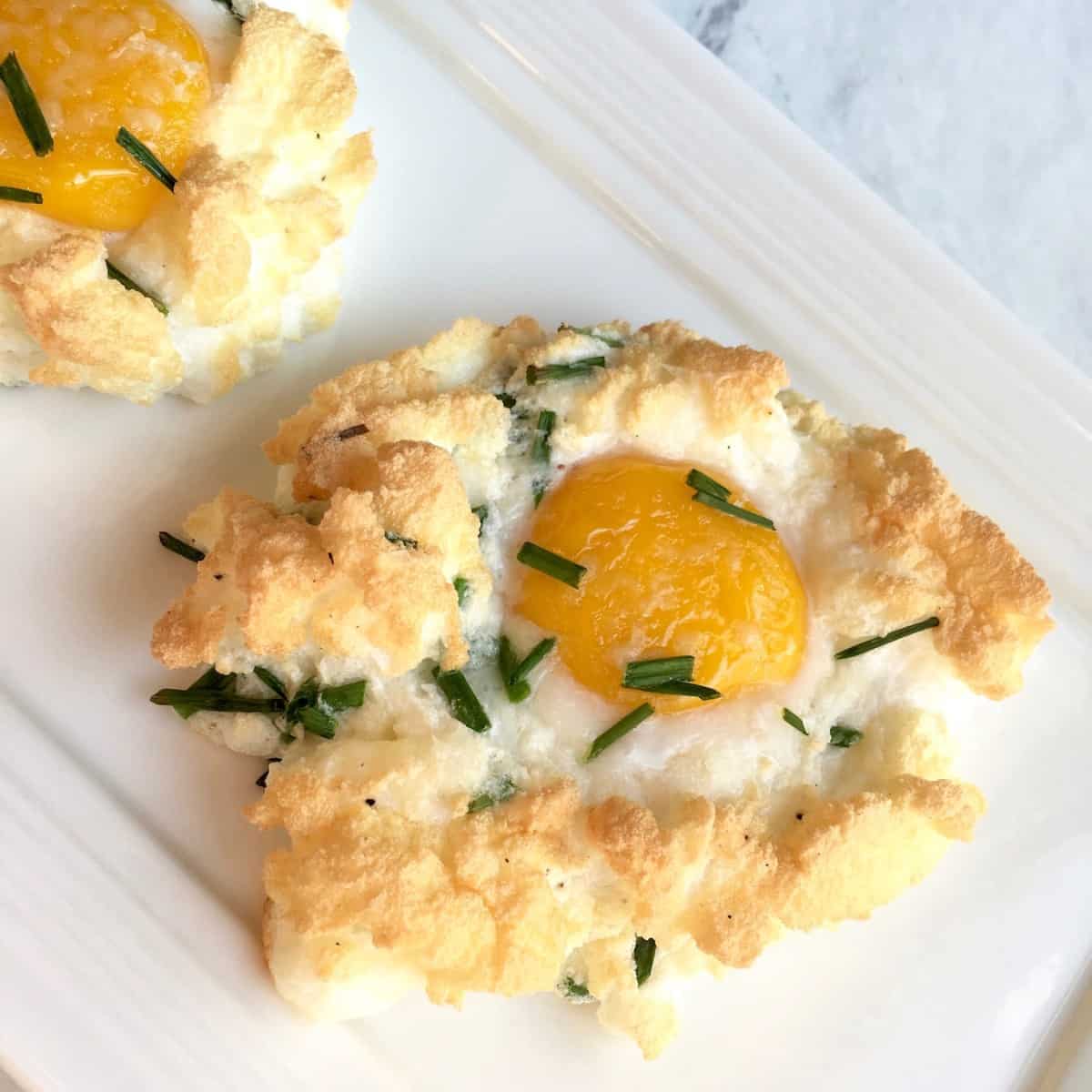 We've just found your new cute food crush with these inviting cloud eggs with asiago cheese & chives by Kim Schob. They say a picture is worth a thousand words, but you might need a few more. Because how the heck do you make them? Kim will fill in on the finer details. But, basically, you whip the egg whites, fold in asiago cheese and chives, form the "clouds," add yolks back in, and bake. How cute is that?
Sourdough Raspberry Lemon Rolls
Cinnamon rolls are delicious; there's no doubt about that. But sometimes you want a change-up, right? So you take on these sourdough raspberry lemon rolls by Samantha of Made In Motherhood. Here's what you get, my friend. It starts with slightly tangy, pillowy soft sourdough rolled up with a homemade raspberry filling, then topped with an electrifying lemon cream cheese frosting.
Manakish with Za'atar and Cheese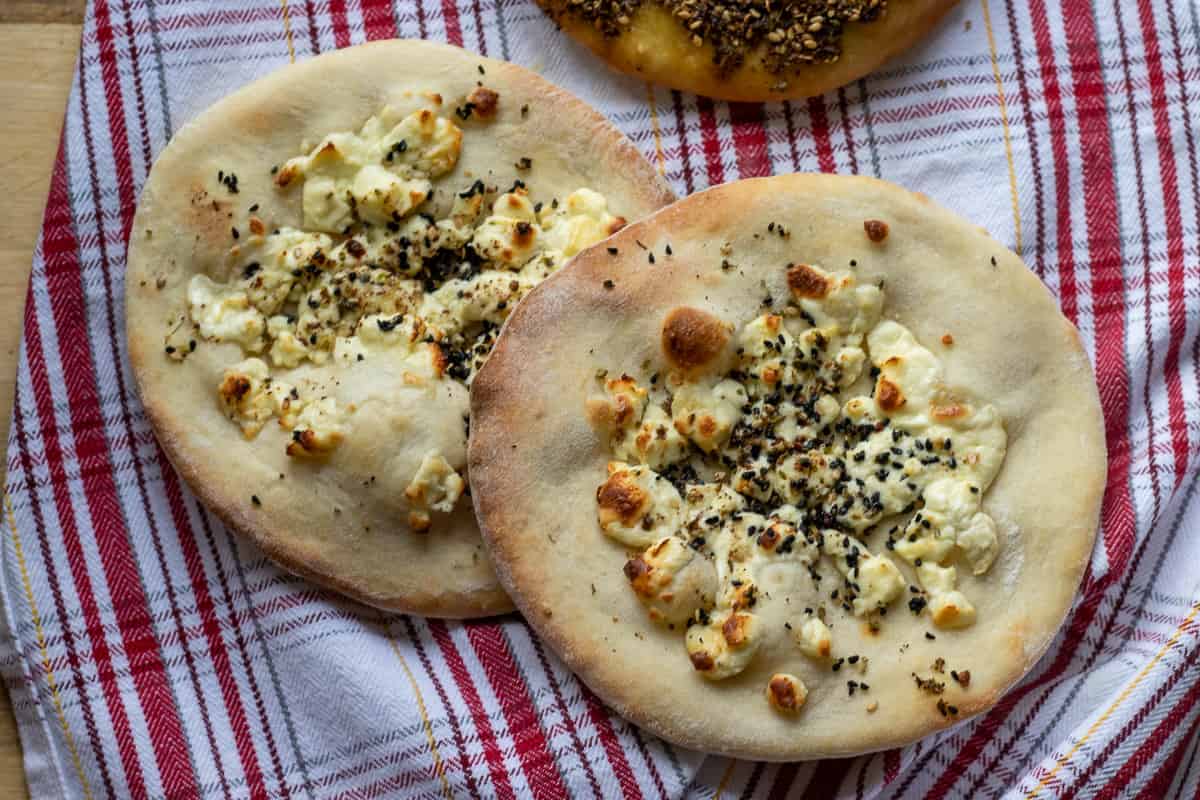 If you're reading Manakish with za'atar and cheese and wondering how to pronounce it, let alone what it is, you're not alone. Ayla of Cooking Gorgeous did a better job of explaining it than we could. But the shorthand is it's a Middle Eastern flatbread. You can top it with za'atar (a Middle Eastern seasoning blend), cheese, or even ground meat. It makes for a delicious if utterly unexpected, addition to your brunch spread.
Best Smoked Salmon Charcuterie Board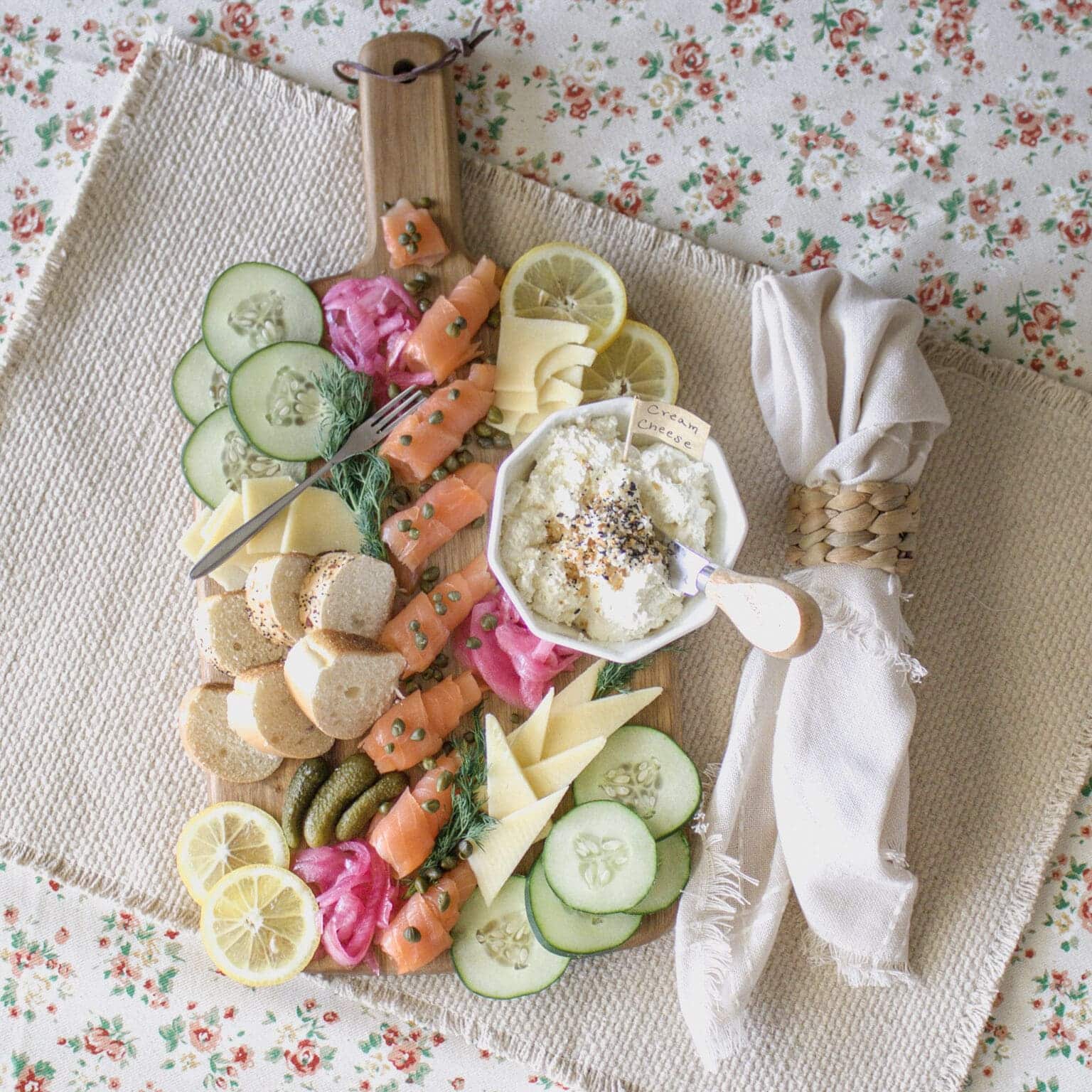 This smoked salmon charcuterie board from The Cultivation Of Cozy is the perfect ratio of beauty and effort. It's elegant, colorful, simple, and delicious, using smoked salmon as the focal point. Christen shows you all you need to make it a success. That includes cutting and arranging the cucumbers, pickled onions, cheese, and bagels.
Individual Bacon and Egg Galettes
These single-serving bacon and egg galettes from Alexandra of It's Not Complicated Recipes represent quick, sophisticated splendor your brunch or baby shower guests will gush over. They'll love that they pack a flavorful punch with a base of freezer aisle puff pastry, bacon, onion, and herbs. Your secret is they only take about 30 minutes to make.
Orange Crepes
Nicole is your classically trained Windy City Dinner Fairy chef whipping up gorgeous fare like these orange crepes. It starts with a delicate French-style pancake enhanced with a bright and citrusy orange custard and served with a rich and sweet mascarpone spread. They're elegant, sweet, and surprisingly easy to make, with a cooking time of just 10 minutes for eight crepes.
Breakfast Bundt Cake
This breakfast bundt cake recipe by Jenn of Princess Pinky Girl is a delightful combination of potatoes, eggs, ham, and vegetables, surprisingly baked in a bundt pan. The result is a beautiful and hearty meal for a crowd. It's like an egg bake but grander, so it's perfect for brunch.
Million Dollar Bacon Recipe
This million-dollar bacon recipe by Easy Family Recipes is sugar and spice and everything, well, you know the rest! Seriously, it takes bacon, an already perfect food, and builds on that. I know, magical. Kimber shows you how to make the indulgent, rich side with just five ingredients, including thick-cut bacon, pepper, and brown sugar in just the right quantities.
Smoked Salmon Eggs Benedict
Whether for a Mother's Day Brunch, Easter, or Tuesday morning, this smoked salmon eggs benedict by A Tasty Kitchen is a luxurious treat worthy of a repeat. Here's the deal. Smoked salmon and a poached egg sit atop a toasted English muffin, dripping in a velvety smooth hollandaise sauce.
Hawaiian Roll Breakfast Sliders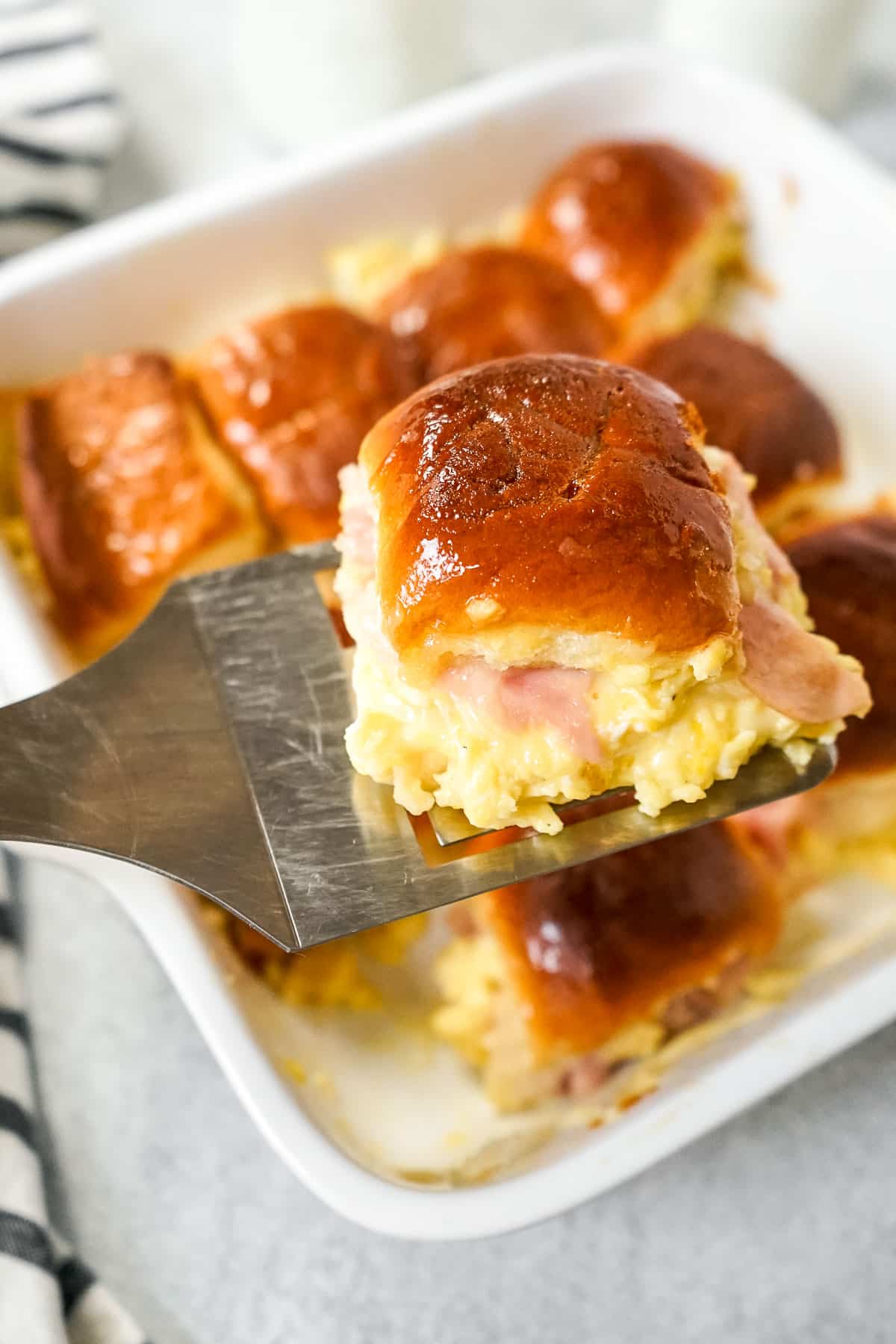 Casey of Get On My Plate promises you'll immediately be addicted to these Hawaiian Roll Breakfast Sliders. The down-home, comfort breakfast meal starts with Hawaiian rolls topped with fluffy scrambled eggs, American or Fontina cheese, and thinly sliced ham. Then, there's a delicious drizzle of honey butter for the piece de resistance.
Brunch Beverage Recipes
Pineapple Mimosa
We must thank Ali of The Littlest Crumb for yet another delicious grown-up beverage. This time it's a pineapple mimosa. And it couldn't be simpler. Just combine fresh pineapple juice or store-bought pineapple nectar with effervescent champagne, and you've got an elegant brunch drink recipe everyone will enjoy a bit too much.
Bloody Mary Board
This bloody mary board by the food blog Sweet and Savory Morsels is a fun and tasty way to introduce booze to your brunch menu. Choose this drink option, and you'll need a delicious assortment of meats, cheeses, and pickled vegetables to craft the best and perhaps over-the-top bloody mary cocktail.
Strawberry Mocktail Spritzer
With this strawberry mocktail spritzer, Alicia, The Dizzy Cook, shows us that you can still join the party, even without alcohol. A professional mixologist developed the flavor profile. You'll taste ginger, fennel, sour notes, and effervescence from sparkling water. Alicia also provides you with specific brand recommendations and other entertaining tips.
Lemonade Mimosas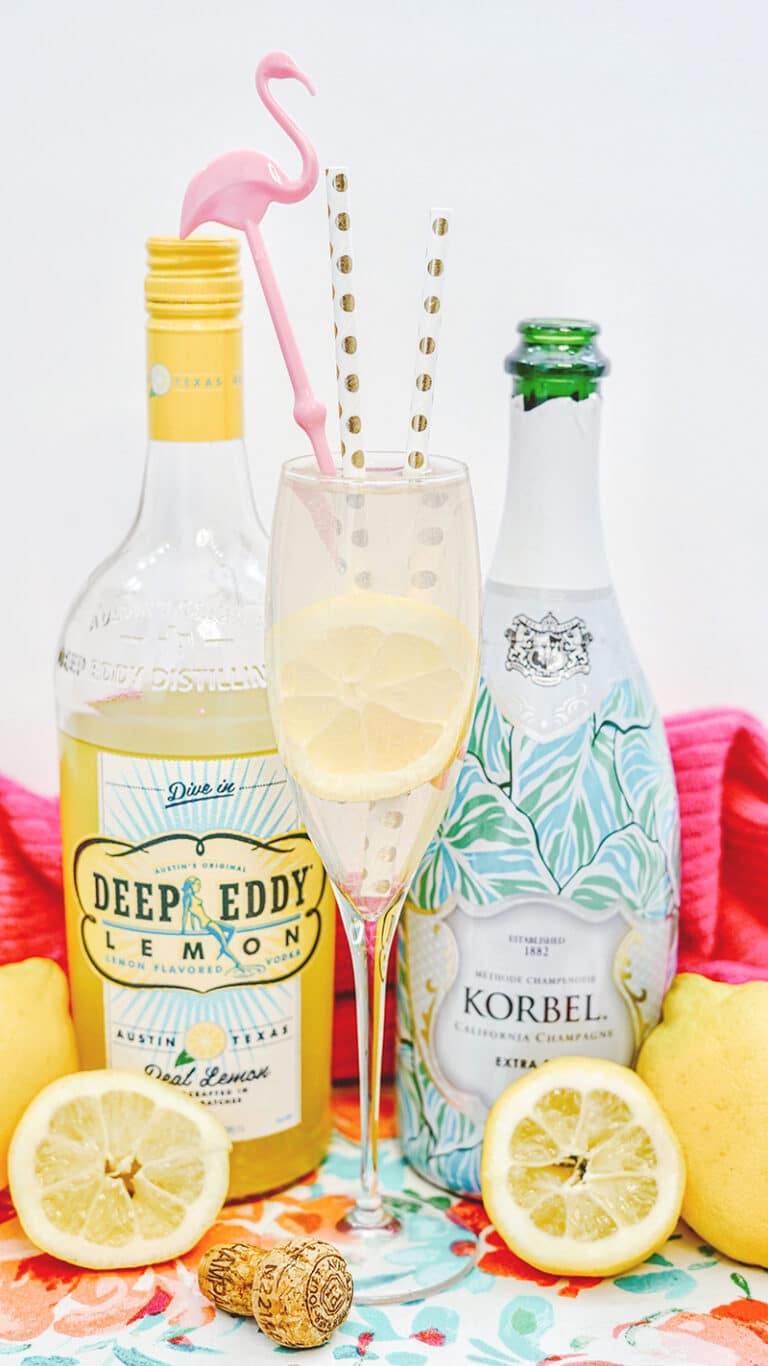 With a blog called Easy Sips And Dips, you know the team puts out all manner of brunch libations like these lemonade mimosas. But that's not the half of it! This party-perfect cocktail comprises just three ingredients: vodka, sparkling wine, and lemonade. So you get not only a delicious buzz-inducing beverage but also variations and tips like which champagne to use.
Caramel Brulee Latte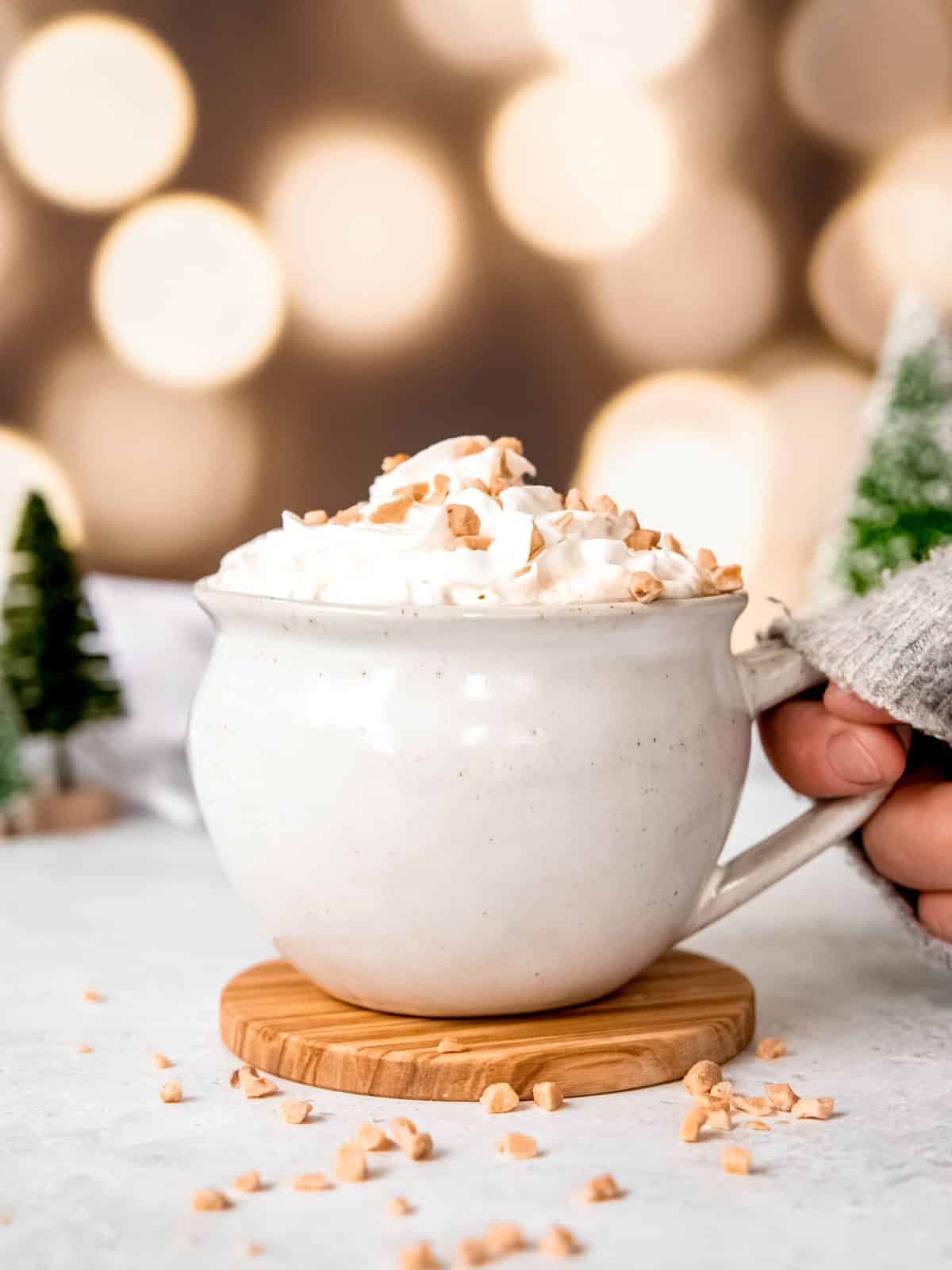 As brunch parties are usually early-ish, it's only fitting that you offer caffeine, but not just any java. Instead, you'll want to serve this caramel brulee latte (Starbucks copycat) by Coffee Copycat. It's decadent and buttery smooth with nutty and rich toffee candy crumbles. It's a fancy drink perfect for Christmas, brunch, and other get-togethers.
Strawberry Bellini
For a heightened sense of elegance, you'll want to follow Ali of The Littlest Crumb's Lead and serve your strawberry bellinis in a gold-rimmed champagne glass. Although fancy, you'll be surprised to know you make the cocktail with just two simple and inexpensive ingredients: strawberries and prosecco.
Which Brunch Recipe Will You Try First?
We've reached the end of this amazing list of brunch recipes, and we hope you've gathered some inspiration to create memorable meals for your celebrations. From multiple savory smoked salmon egg benedicts to sweet treats like sourdough raspberry lemon rolls, there are ideas to suit every palate. Here's to many more brunches to come. So what will your menu look like?