Get ready to fall head over heels for shortbread recipes' buttery, crumbly goodness! Below, we dive into the delightful world of easy shortbread pastry recipes, where simplicity meets indulgence.
Here's a taste of what you can expect.
You'll discover chocolate hazelnut shortbread cookies, strawberry shortbread cookies, rose cardamom shortbread cookies, and many more. So, are you ready to explore?
Let's dive in!
If you like this list of shortbread recipes, you'll love these mini cheesecakes.
Fresh Peach Tarts with Shortbread Crust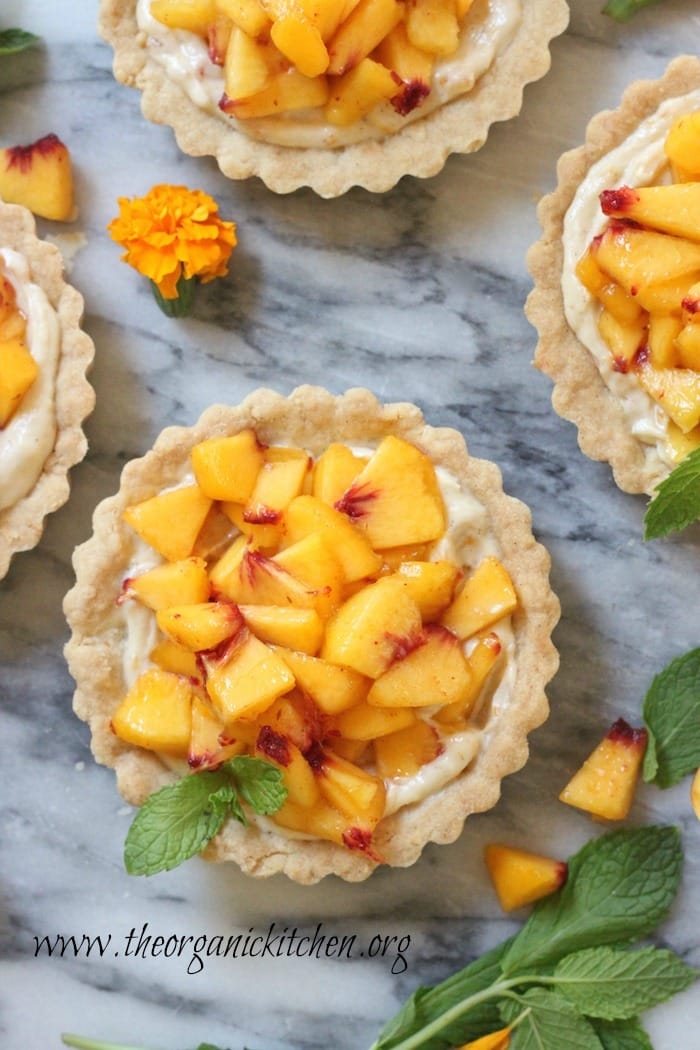 Fresh peach tarts with shortbread crust from The Organic Kitchen are the ultimate summer decadence! From the heavenly aroma of shortbread crust baking to the creamy, sweet filling of goat cheese and peach preserves, this recipe is a harmonious mix of flavors and textures. But that's not all! Top each tart with plump, juicy peaches for an eye-catching presentation.
Chocolate Hazelnut Shortbread Cookies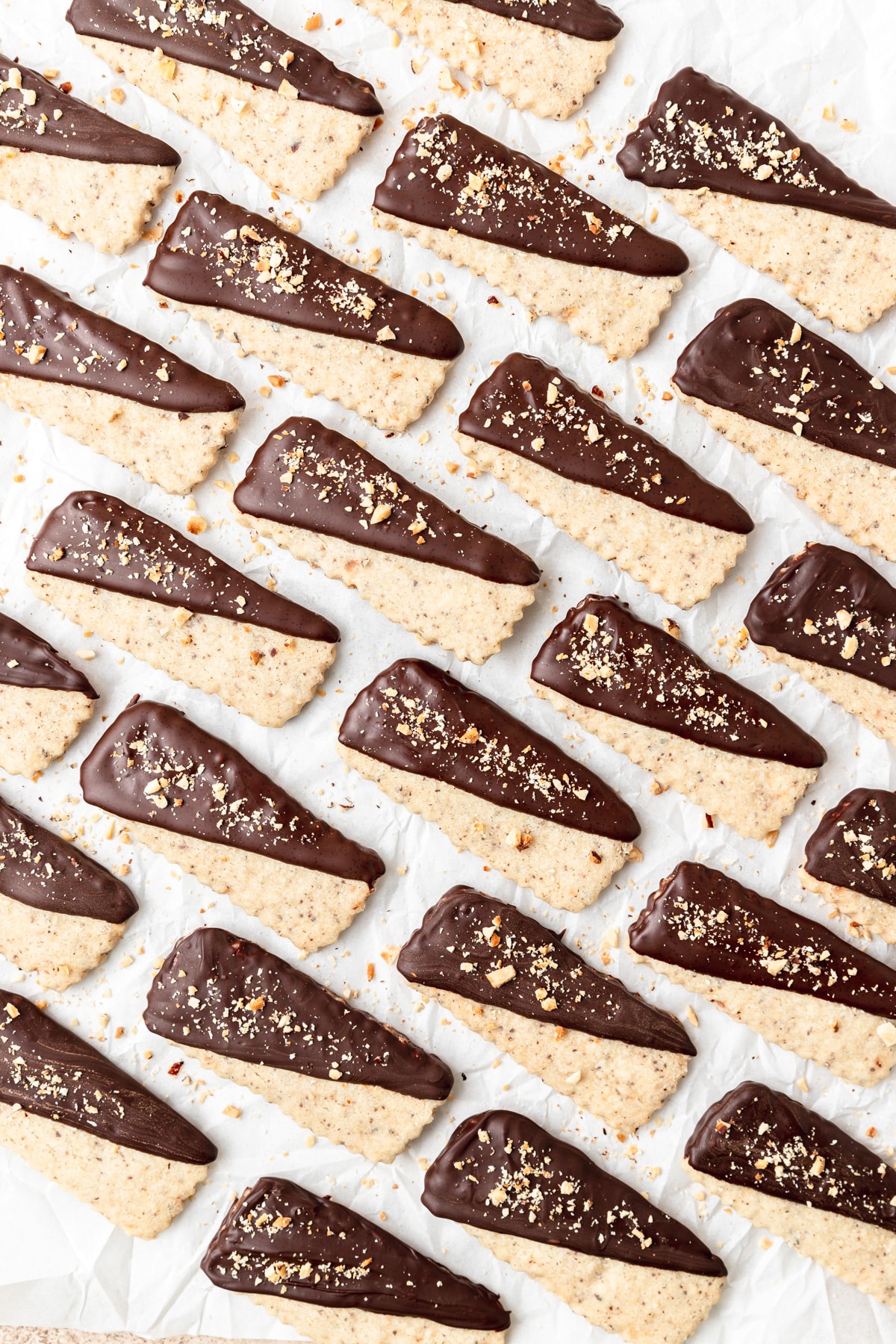 Don't miss these delectable chocolate hazelnut shortbread cookies by Barley & Sage. Whether you make rounds or bars, these heavenly treats boast a delicate, buttery, and nutty flavor thanks to the browned butter and hazelnut flour. And if that isn't good enough, you dip the cookies in a luscious coating of dark chocolate.
Strawberry Shortbread Cookies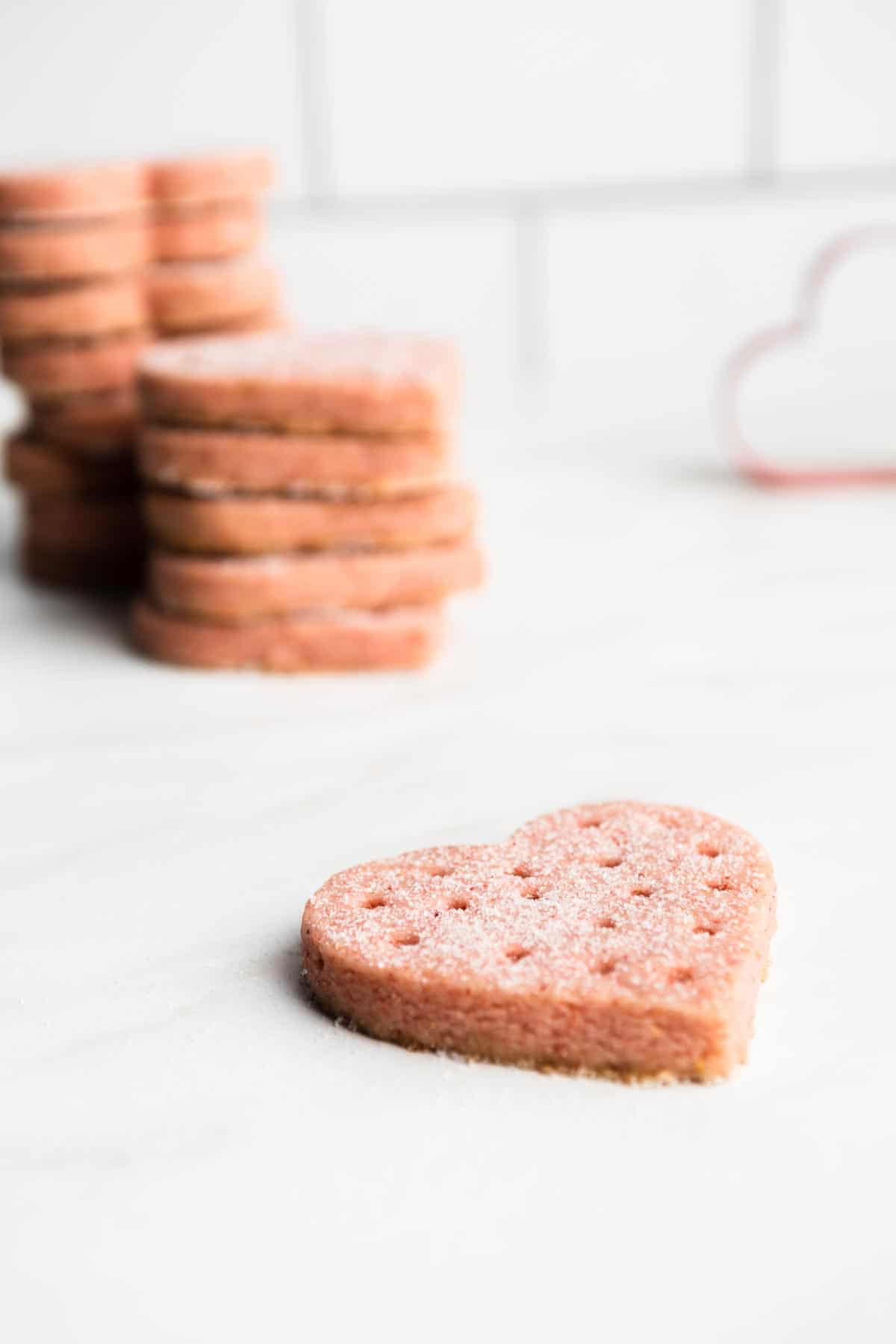 Introducing strawberry shortbread cookies from The Sage Apron, a delightful twist on the classic Scottish treat. These heart-shaped bites are infused with the intense flavor of freeze-dried strawberries and boast a tender, buttery crumb. And with just a handful of simple ingredients, these cookies are a breeze to make. Their natural pink hue adds a touch of elegance, making them perfect for occasions like Valentine's Day, Mother's Day or to spread some love any day of the year.
Lemon Lavender Shortbread Cookies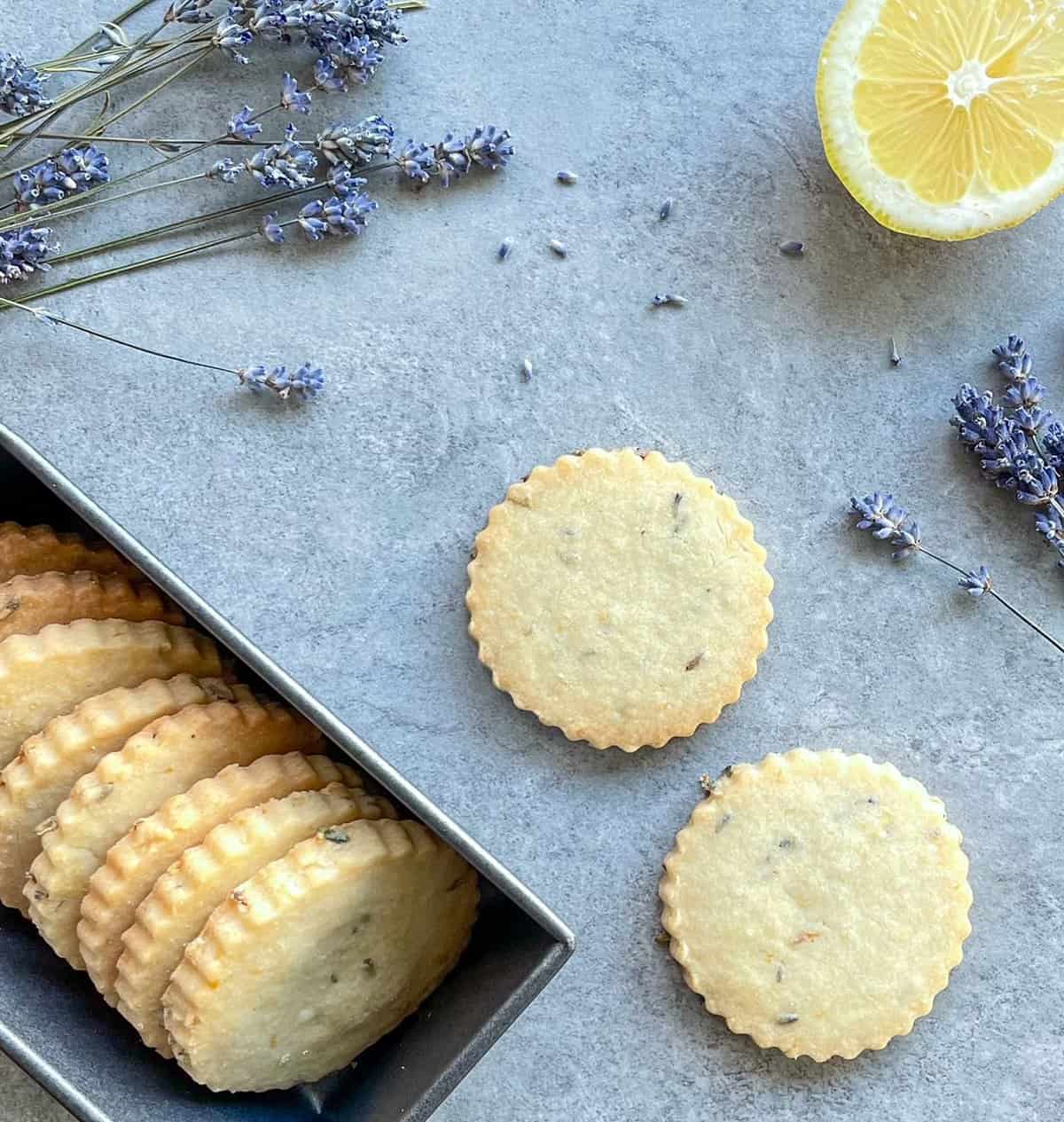 These mesmerizing lemon lavender shortbread cookies by Ugly Duckling Bakery are a fragrant dessert blending zesty lemon and fragrant lavender, elevating each bite. Additionally, Joanne explains the magic of baking ratios: one part sugar, two parts butter, and three parts flour create melt-in-your-mouth perfection.
Peanut Millionaires Shortbread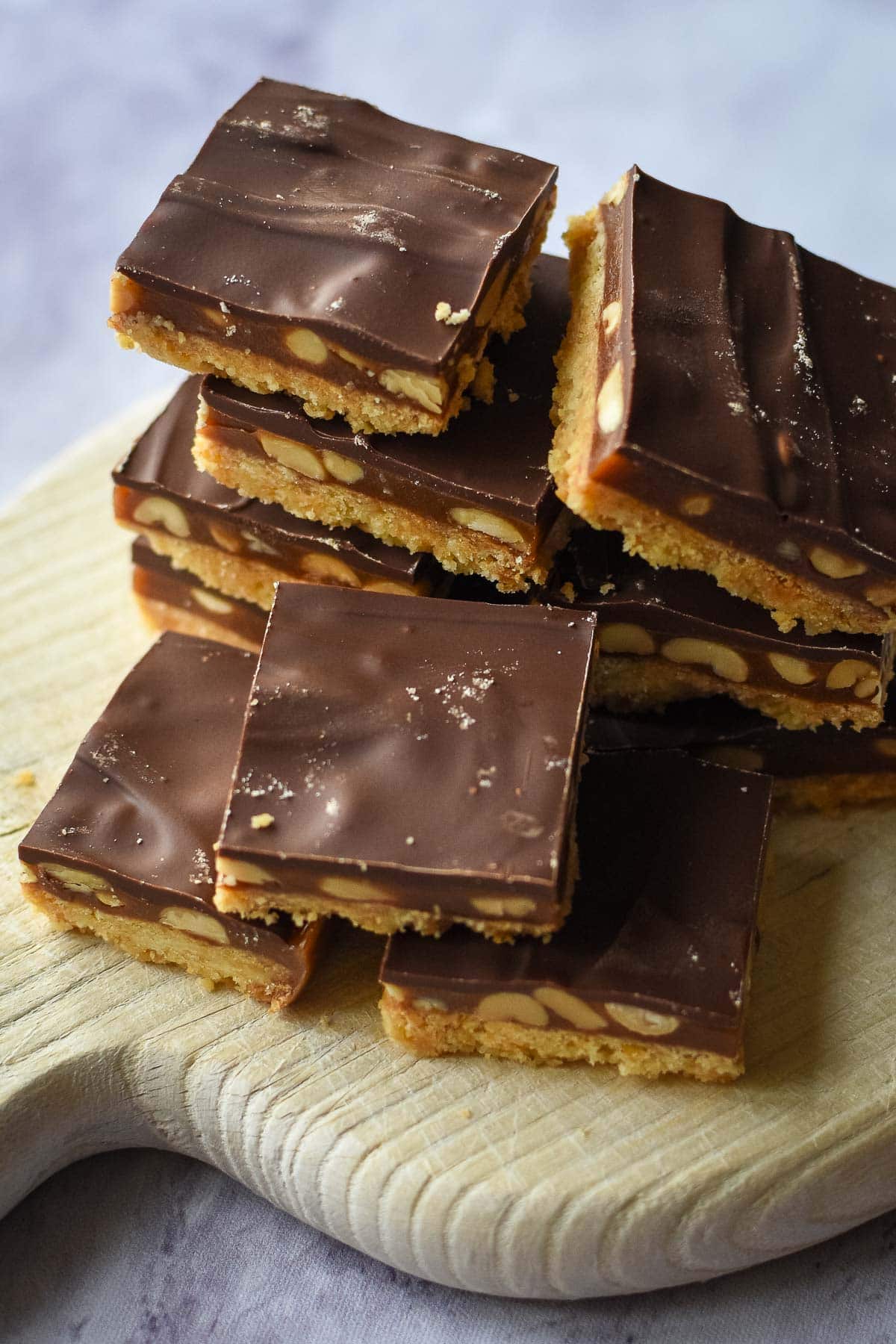 These peanut millionaires shortbread bars by Somebody Feed Seb are the ultimate sweet treat that caters to your every sweet craving. Imagine a fusion of Snickers and Twix bars, but even better! It's an unimaginably delicious combination of peanut-flavored shortbread, roasted salted peanuts, chewy caramel, and a luscious chocolate layer.
Rose Cardamom Shortbread Cookies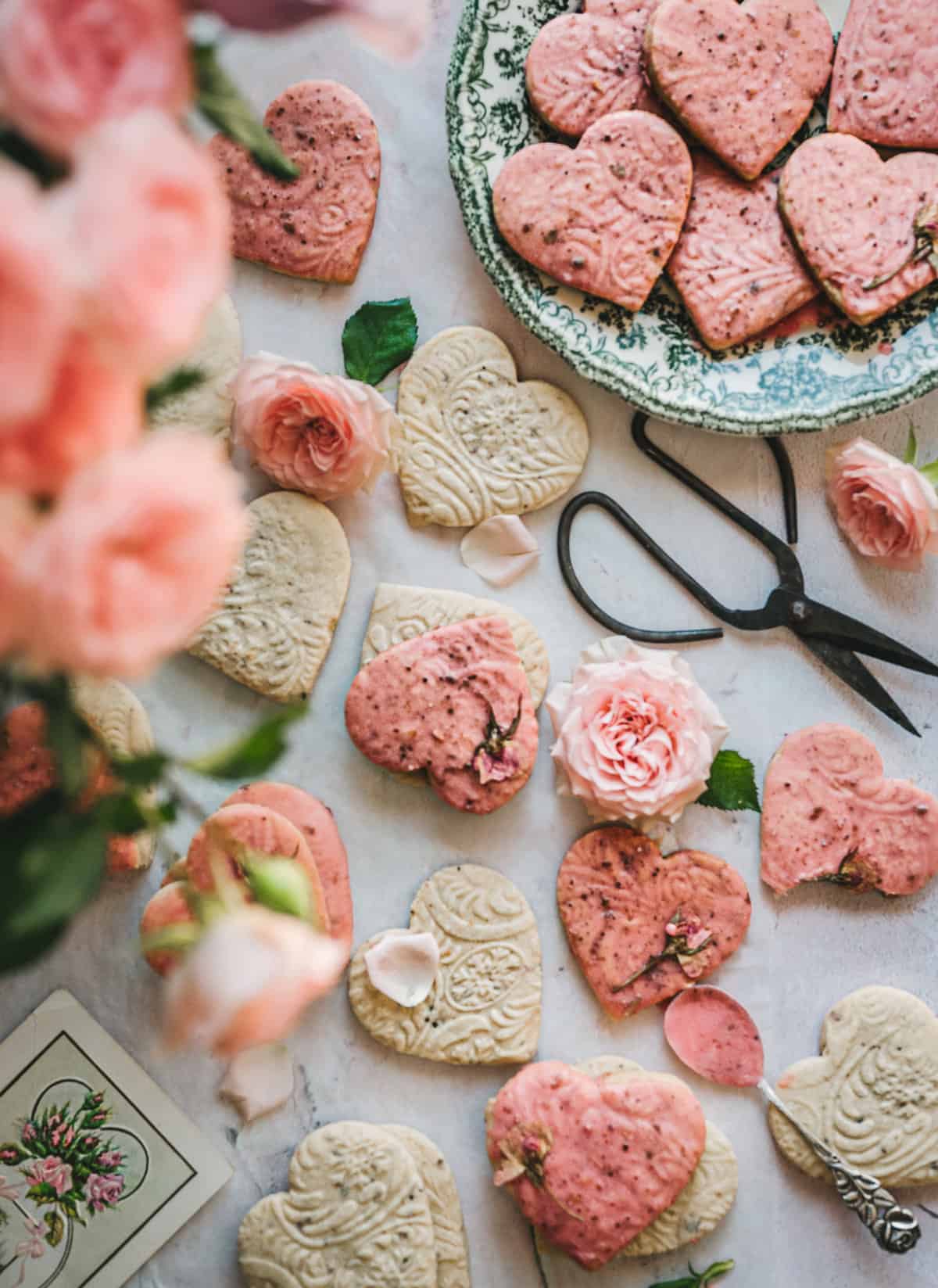 Inspired by the intoxicating scents of Nizwa (India) rose cardamom shortbread cookies by Frolic And Fare, these delicate treats captivate even those skeptical of rose-flavored treats. A match made in heaven, they have a perfect crumb and a soft pink rose water glaze.
Orange Shortbread Cookies with Cranberry Glaze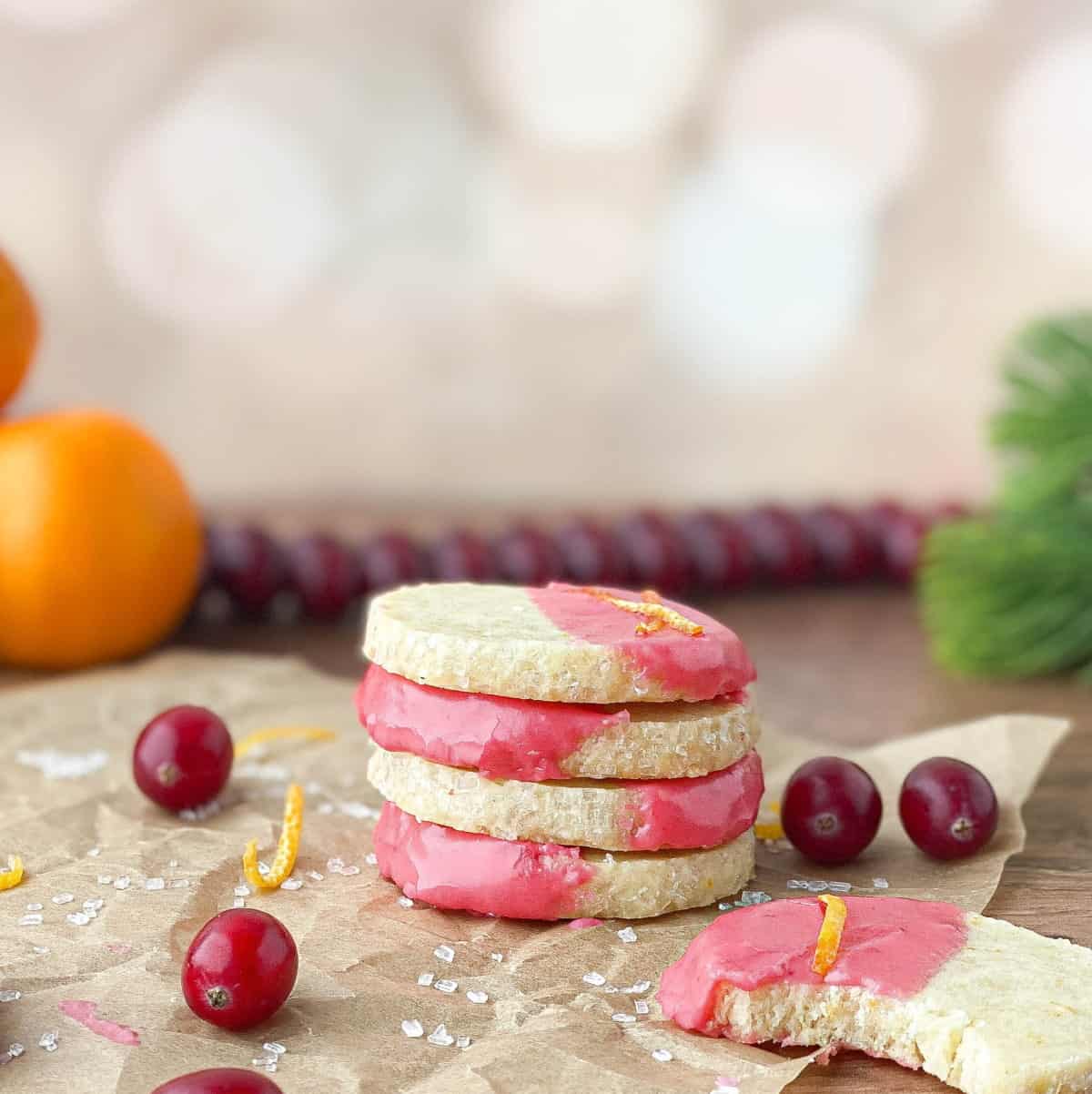 Orange shortbread cookies with cranberry glaze from Live To Sweet will take your taste buds on an adventure! Imagine delicate shortbread cookies infused with zesty orange and a velvety glaze made from juicy cranberries. It's a mix of flavors, resulting in a melt-in-your-mouth texture that will leave you craving more.
Macadamia Nut Shortbread Cookies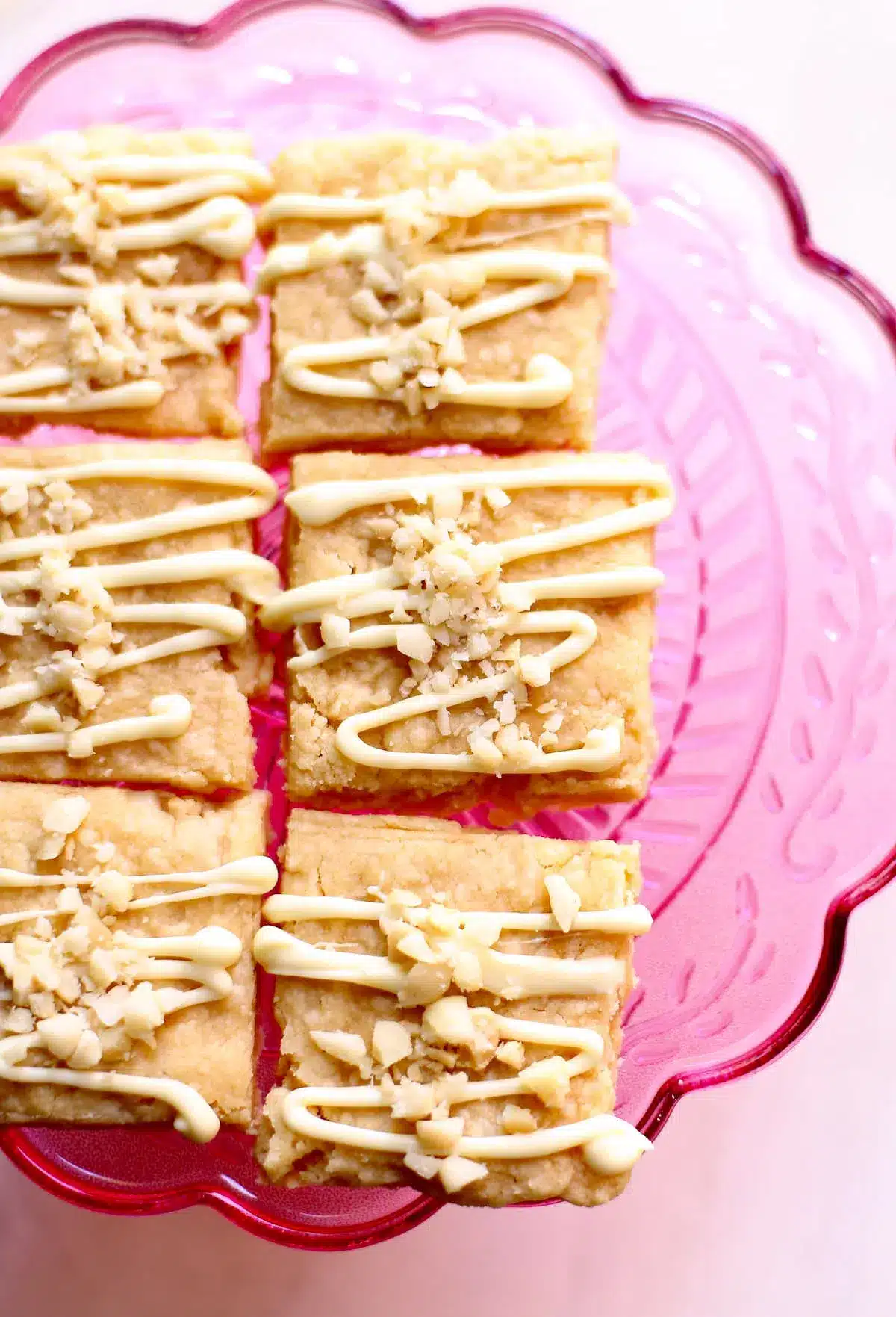 Explore the exquisite flavors of macadamia nut shortbread cookies hailing from Paige of Studio Delicious! This easy recipe brings the taste of Hawaii to your kitchen with buttery shortbread infused with the rich flavor of macadamia nuts. But wait, there's more! A drizzle of velvety white chocolate takes these cookies to heavenly levels of scrumptiousness.
Pumpkin Pie Bars with Shortbread Cookies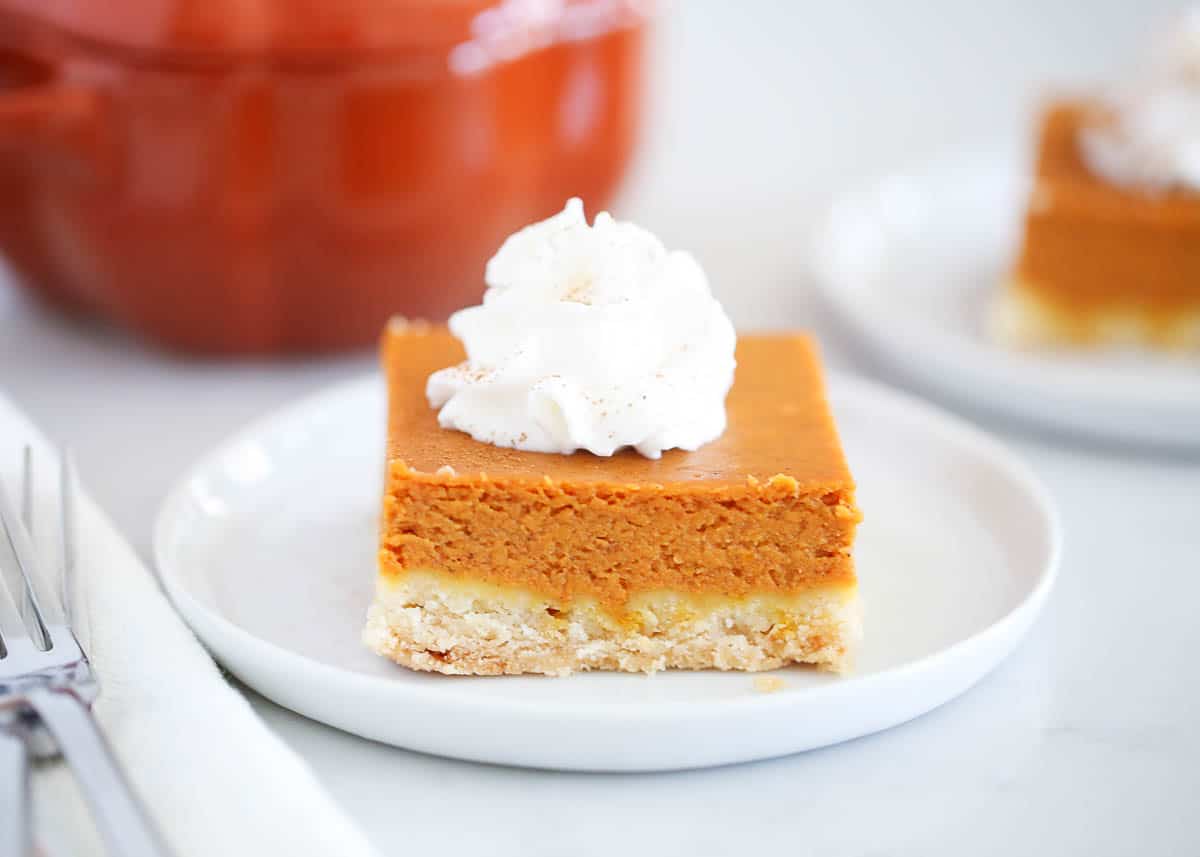 These magical pumpkin pie bars with shortbread cookies are a buttery shortbread crust by I Heart Naptime that meets a velvety filling with real pumpkin and aromatic spices. It's pumpkin pie without the fuss of a finicky crust. Just add a dollop of homemade whipped cream for a heavenly treat that transcends the holiday season. Plus, Jamielyn gives you tips to prevent a soggy crust and the secret to achieving the perfect texture.
Shortbread Turtle Thumbprint Cookies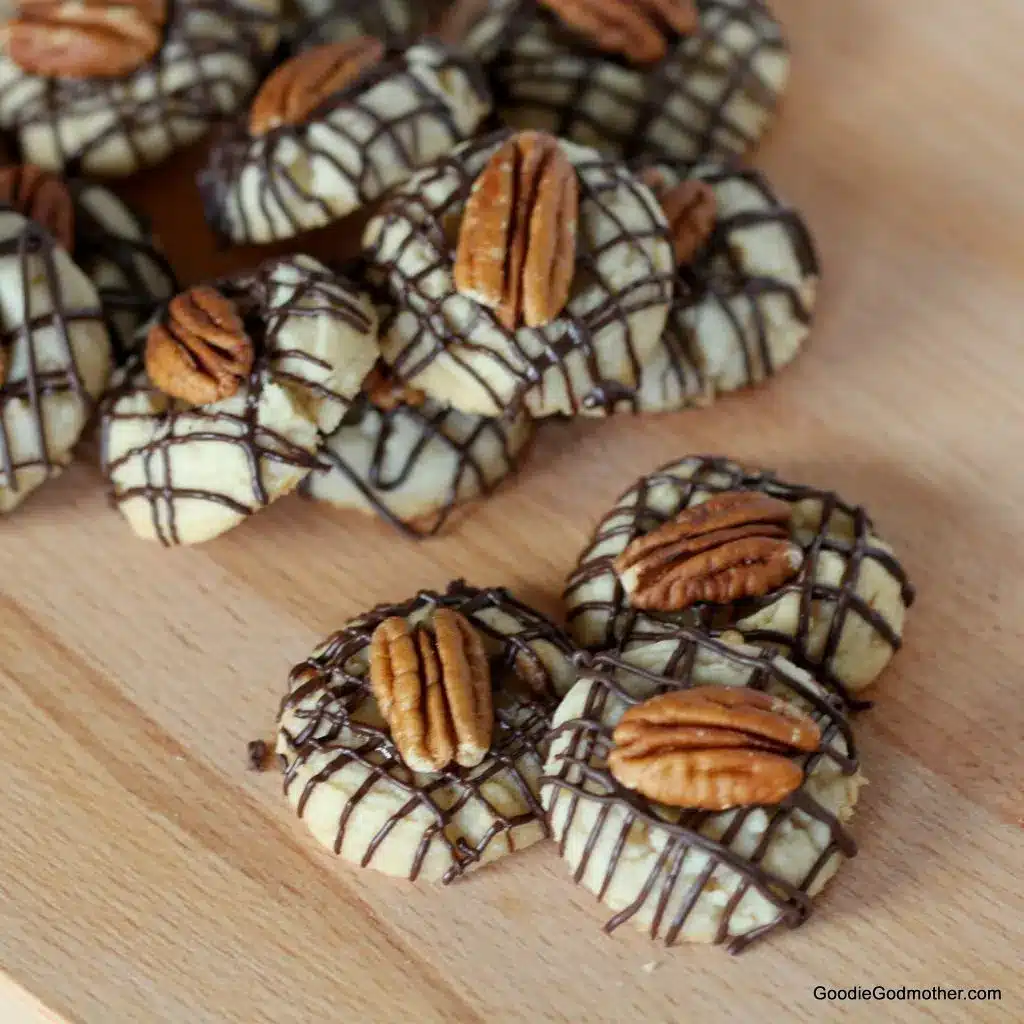 Get ready for sensational shortbread turtle thumbprint cookies from Goodie Godmother! The yummy treats twist the classic turtle candy, transforming them into irresistible thumbprint cookies. The buttery shortbread base is filled with homemade caramel, creating a gooey and indulgent center. Finally, finish it with a drizzle of rich chocolate and a perfectly placed pecan. Ahh, sweet bliss!
Buttery Espresso Shortbread Cookies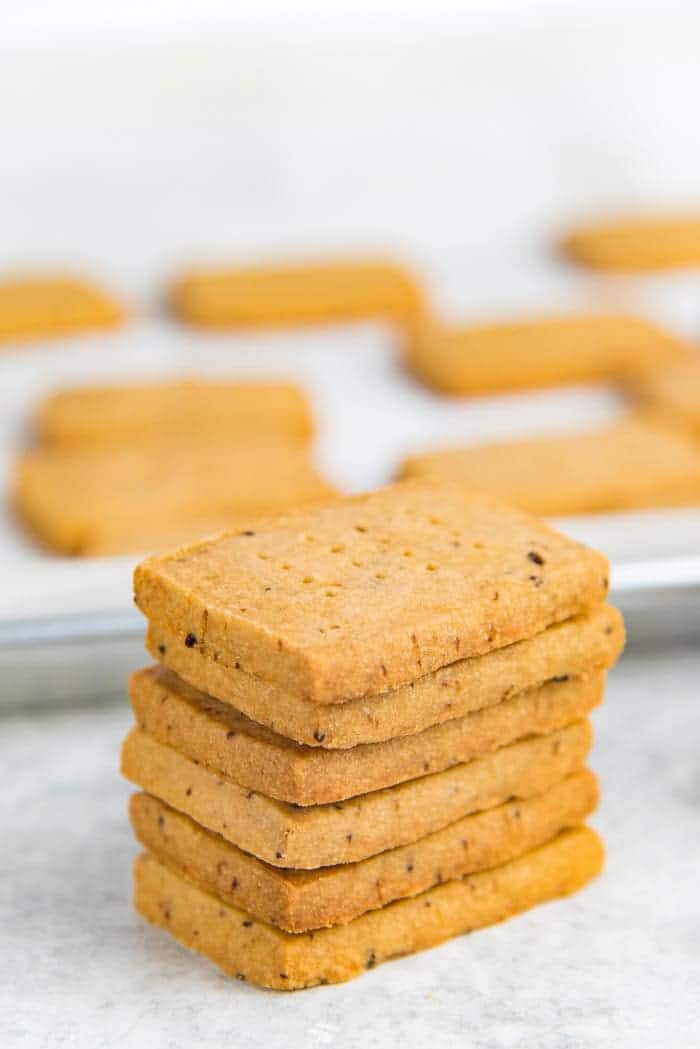 Satisfy your sweet cravings with buttery espresso shortbread cookies by Dini, The Flavor Bender. These buttery, crumbly coffee cookies are infused with a bold bittersweet flavor. Dip them in chocolate for extra decadence. They're perfect for snacking or gifting. Using instant coffee or espresso powder, they're a must-try for coffee and shortbread lovers.
Blueberry Earl Grey Shortbread Cookies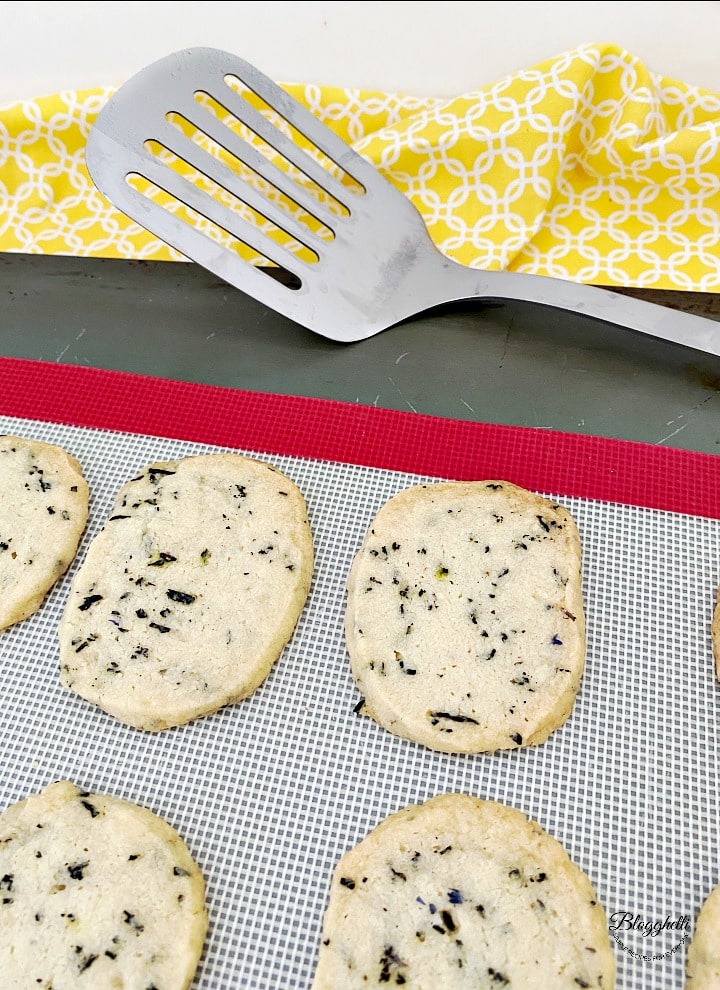 Crisp, buttery perfection meets the irresistible allure of blueberry-infused Earl Grey tea in these blueberry Earl Grey shortbread cookies from Blogghetti. The tangy lemon glaze adds a zesty twist! Plus, there's a secret ingredient to make tea time or any occasion that craves a touch of elegance a little more special.
Savory Rosemary Cheddar Shortbread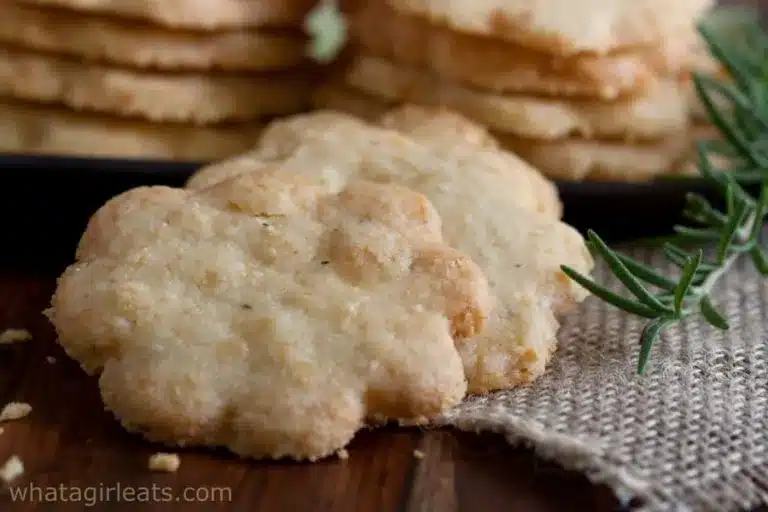 This buttery, crumbly savory rosemary cheddar shortbread from What A Girl Eats combines aged cheddar cheese with a subtle hint of rosemary, perfect for snacking with tea or coffee. It's a treat Cynthia created after being gifted Kerrygold cheese for Christmas. With tips from the author's mom's cocktail parties and a Bon Appetit recipe, these delicious shortbread cookies/crackers are a must-try. Simply bake, savor, and share!
Raspberry Shortbread Cookies with Lemon Glaze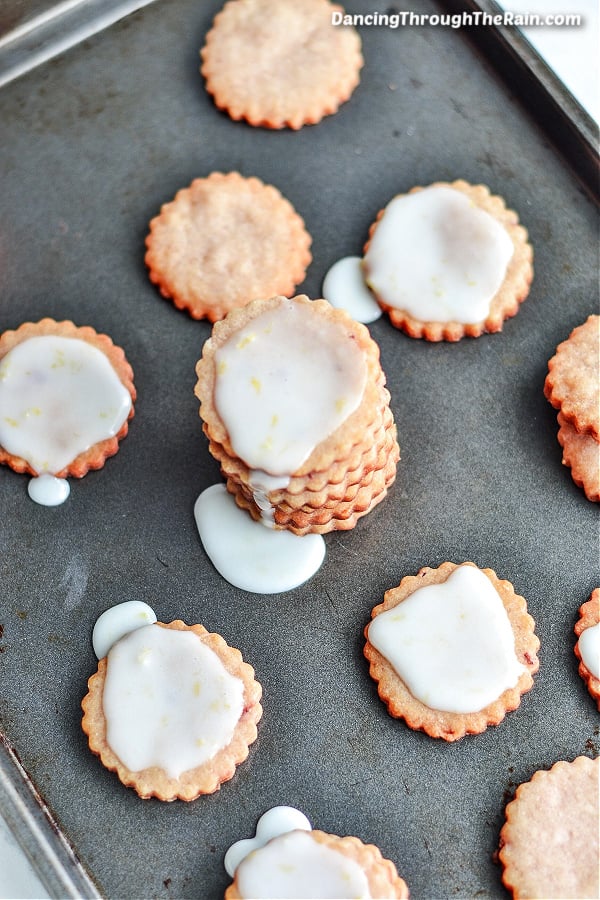 Raspberry shortbread cookies with lemon glaze—a heavenly treat bound to leave everyone wanting more! Imagine a buttery cookie base with luscious raspberry jam, upgraded by a tangy lemon glaze. Using everyday ingredients, they're simple to make. And they're ideal for any occasion, from baby showers to bridal showers.
Spicy Chocolate Dipped Pistachio Shortbread Cookies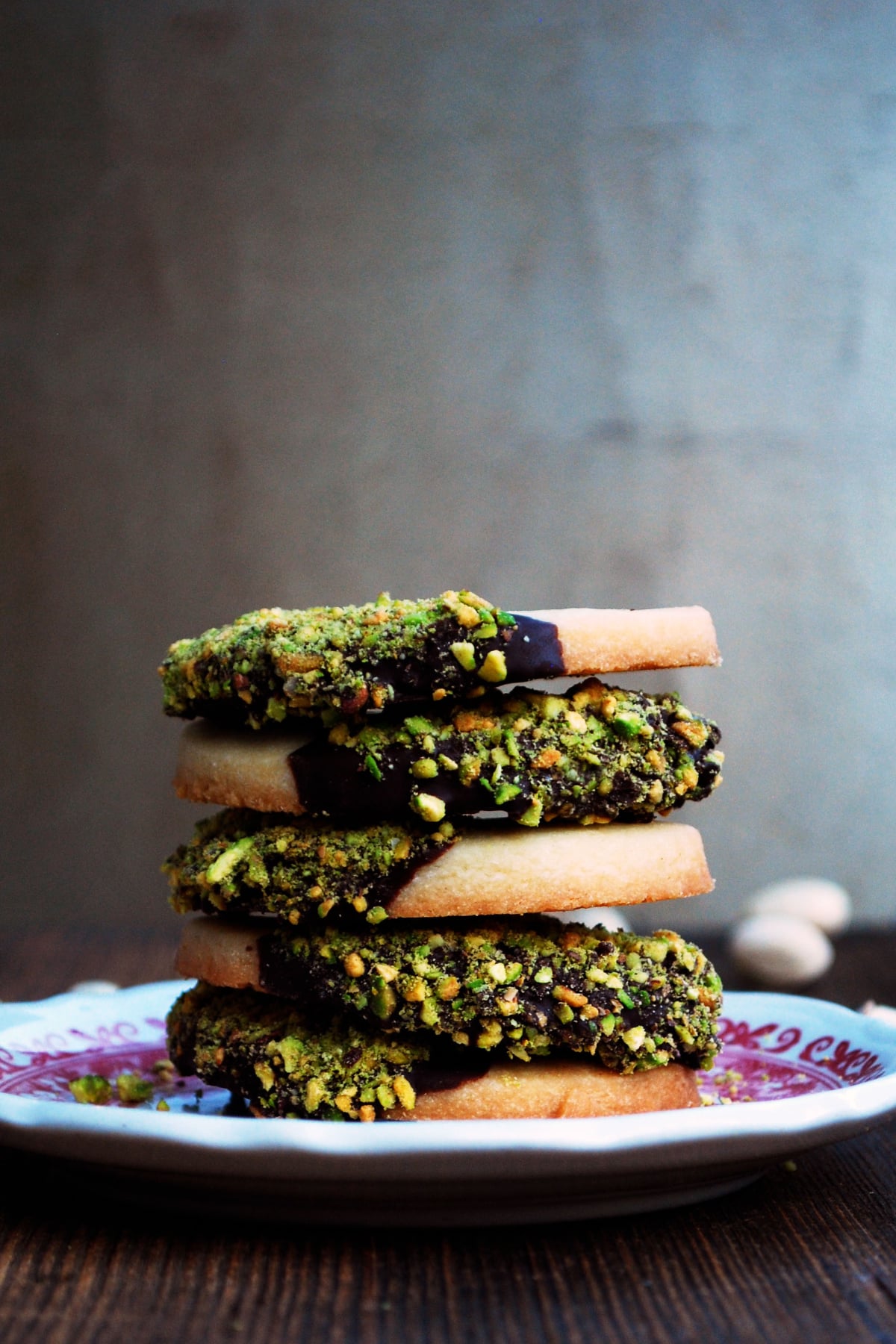 Dive into the irresistible allure of spicy chocolate-dipped pistachio shortbread cookies from The Live In Kitchen. Picture crisp shortbread rounds dipped in bittersweet chocolate and adorned with finely ground pistachios. And the cayenne pepper adds a subtle heat that enhances the cookie's sweetness. Serve with coffee, tea, or a glass of red wine.
Whipped Peppermint Shortbread Cookies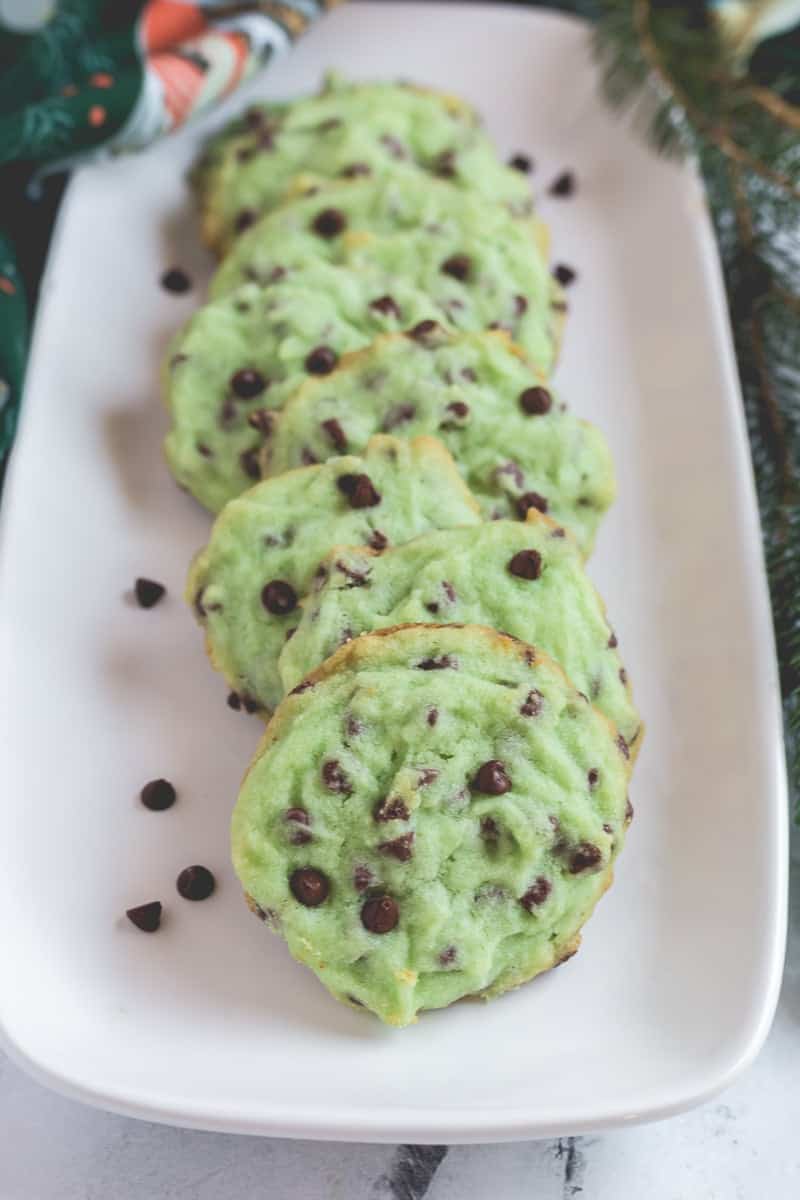 Whipped peppermint shortbread cookies from Sandra of She's Not Cookin' are like mouthwatering little fluffy clouds with chocolate chips that melt in your mouth. They're packed with refreshing peppermint flavor and a spin-off from the famous whipped chocolate chip shortbread. So you know they're going to be amazing.
Orange Shortbread Cookies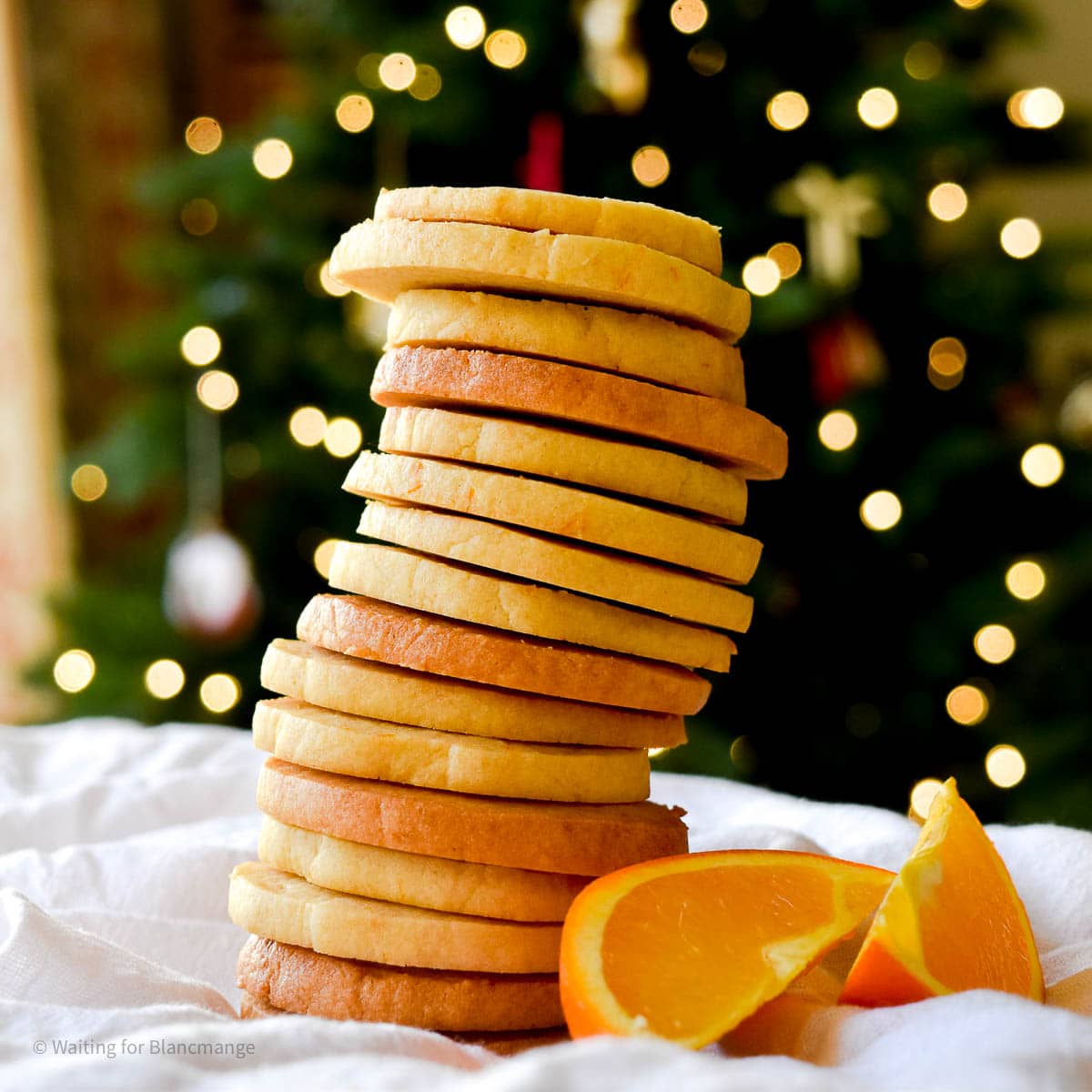 These orange shortbread cookies are a classic treat cherished in Liz of Waiting For Blancmange's family for ages. They're made with love, infused with the tangy goodness of orange juice, zest, and a touch of orange blossom water. These sliceable sugar cookies are perfect for any occasion and will surely become one of your favorites too.
Christmas Shortbread Thumbprint Cookies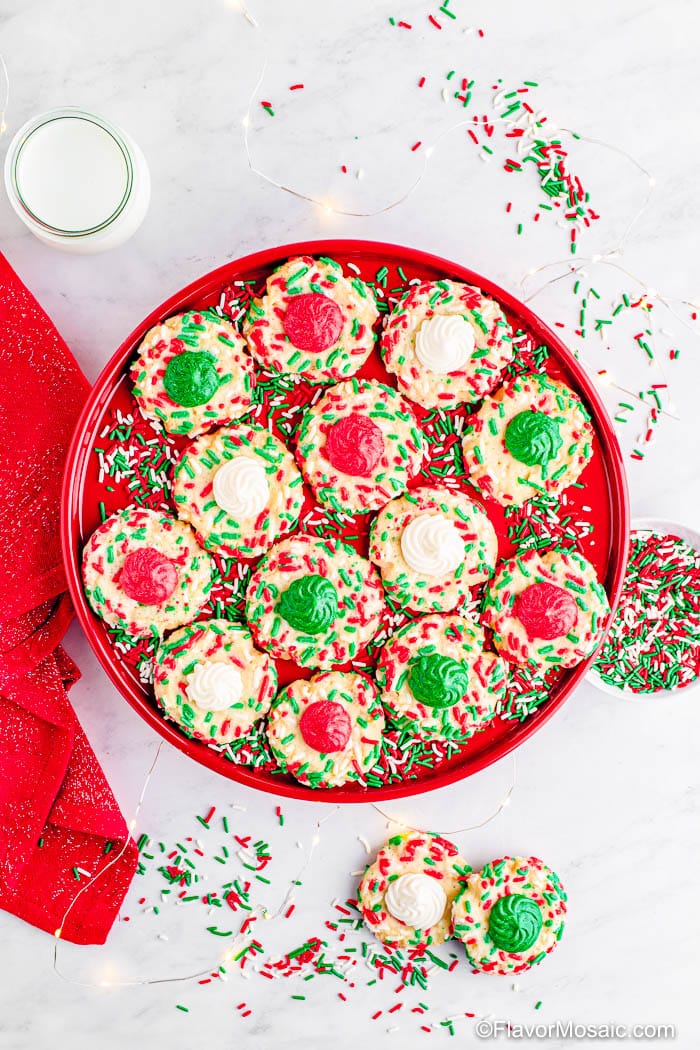 These Christmas shortbread thumbprint cookies from Flavor Mosaic are colorful, buttery treats covered in red and green sprinkles and topped with red, green, or white buttercream frosting. They evoke childhood memories and instantly set the mood for a festive holiday party. You can't help but make them with love. And they're sure to bring smiles to everyone's faces.
Easy Shortbread Twix Cookies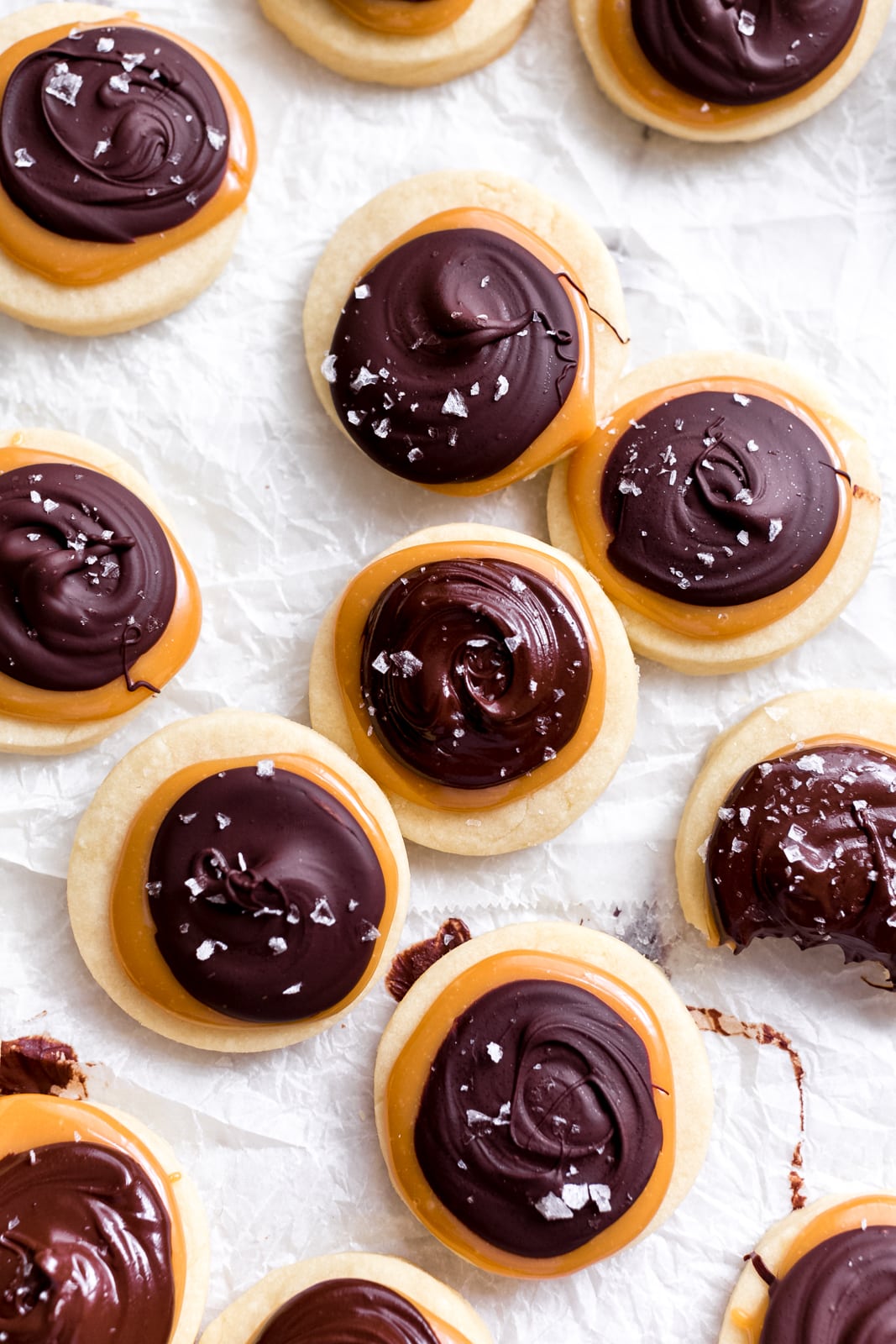 Excitement awaits in every bite of these dangerously easy Twix cookies from Little Spice Jar with a heavenly shortbread base topped with luscious caramel, melted chocolate, and a sprinkle of sea salt. Marzia will teach you the secret behind perfect shortbread cookies and how to achieve a shiny chocolate finish. With simple ingredients like butter, powdered sugar, and flour, these cookies are accessible with mostly pantry staples.
Lemon Bars with Shortbread Crust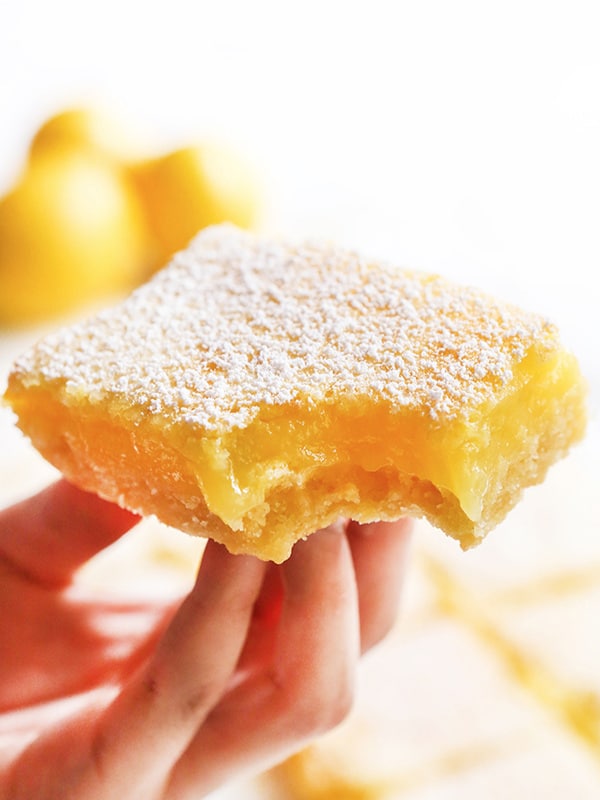 Megan of Pip And Ebby created the ultimate lemon bars with a heavenly shortbread crust! You have a tangy, luscious lemon curd filling on a perfectly baked buttery base. As Megan says, lemons are funny creatures, you know? They may not make you laugh, but their zesty magic is undeniable. These bars are the citrusy masterpiece you never knew you needed—prepare to be dazzled!
Which Shortbread Recipes Will You Try?
Our journey through the delicious world of shortbread recipes has come to an end. Hopefully, you've been inspired to unleash your creativity in the kitchen. So, you have many options if you prefer the timeless elegance of traditional shortbread or unique flavor combinations like rose cardamom. So which one will you try first? We'd love to know.