Take your snacking game to the next level with these flavor-packed and creative nacho recipes. It's an amazing collection whether you're looking for game day nachos or nacho recipes for dinner. So, we wouldn't be surprised if you wanted to make them all!
Here's a sample of what you can expect.
There are ahi tuna nachos, nacho fries, blackened shrimp tacos, ground beef recipes, steak nachos, and so many more. So are you ready to explore?
Let's dive in!
By the way, don't forget to see our fantastic list of street food recipes.
Jump to:
Savory Nacho Recipes
Ahi Tuna Nachos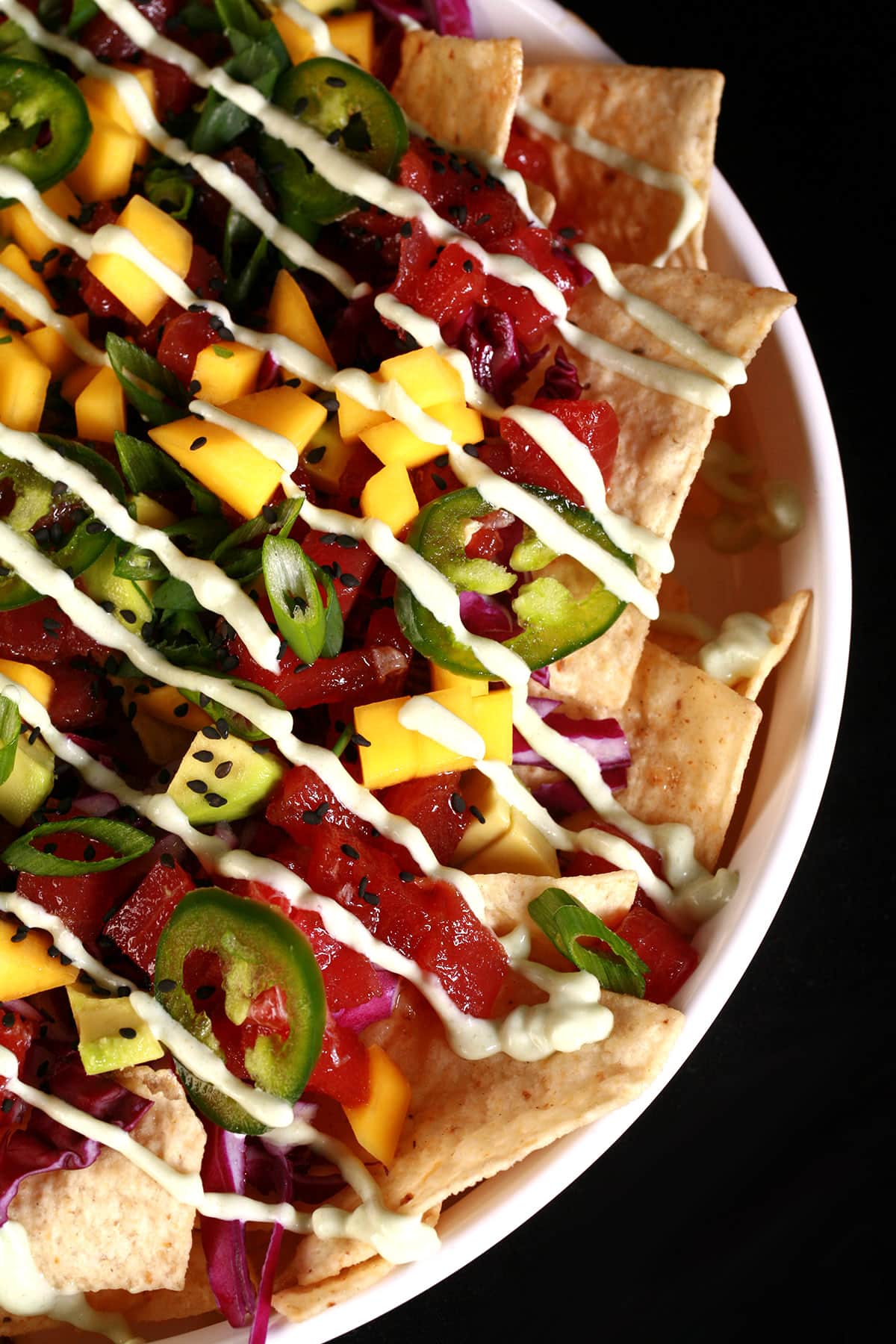 You know the food is good when it's the topic of conversation days later. Marie and her husband experienced just that when she created these ahi tuna nachos. While already a staple in Northern Mexico, California, and Florida, she did dream it up independently. Here's how she designed these nachos to fit her diet.
First, with a site called Beyond Flour, she went with gluten-free white corn tortilla chips. Next, sushi-grade tuna (she'll teach you what to look for), soy sauce, or coconut aminos. And finally, the toppings. You have many options, from purple cabbage to avocado and mango.
Potato Nachos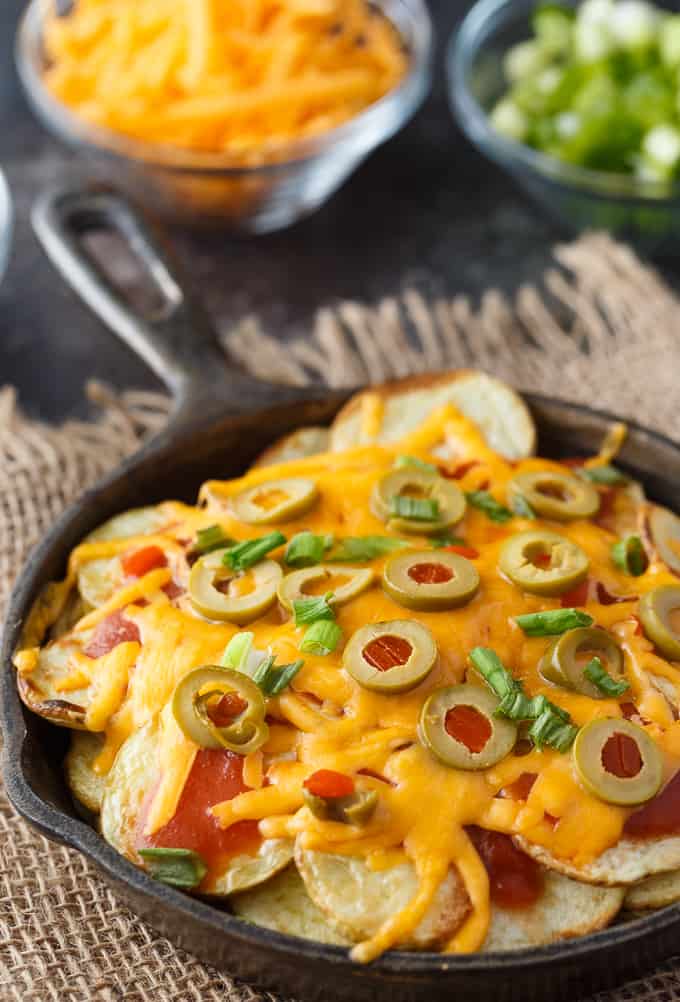 These potato nachos are Simply Stacie's way of switching up her nacho routine. But what makes these "potchos" (potato nachos) worth the extra effort? Well, there's something so delicious and comforting about potatoes sliced into medallions, broiled and loaded with sliced green olives, taco sauce, green onions, and melty cheese.
Spicy California Sushi Nachos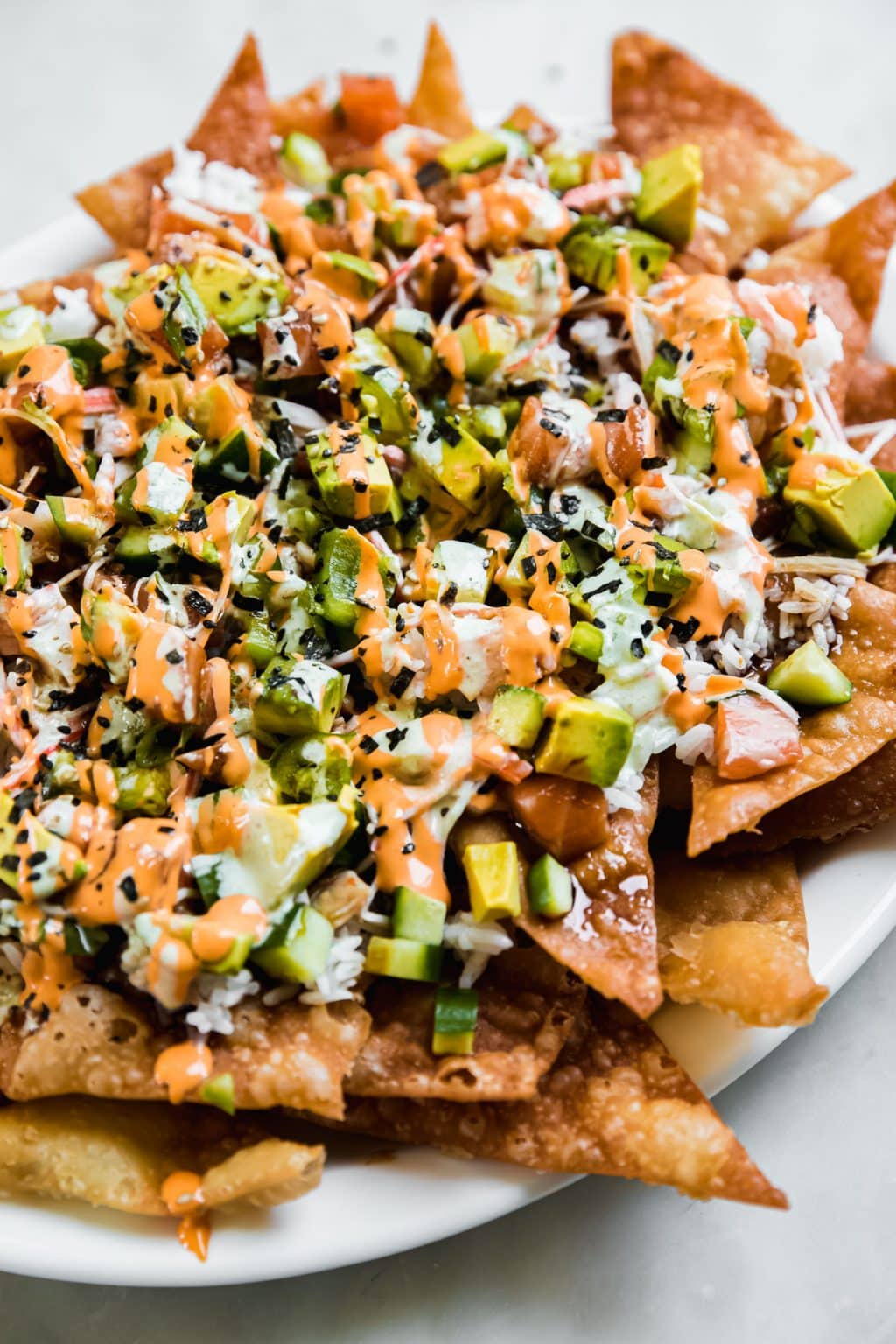 The hardest part about these spicy California sushi nachos by Marzia of Little Spice Jar is choosing the protein. You can go with imitation crab, shrimp, ahi tuna, or something entirely different. But that's after you deep fryer the wontons to make chips, slice the avocado and cucumbers, and drizzle with spicy sriracha mayo.
Nacho Fries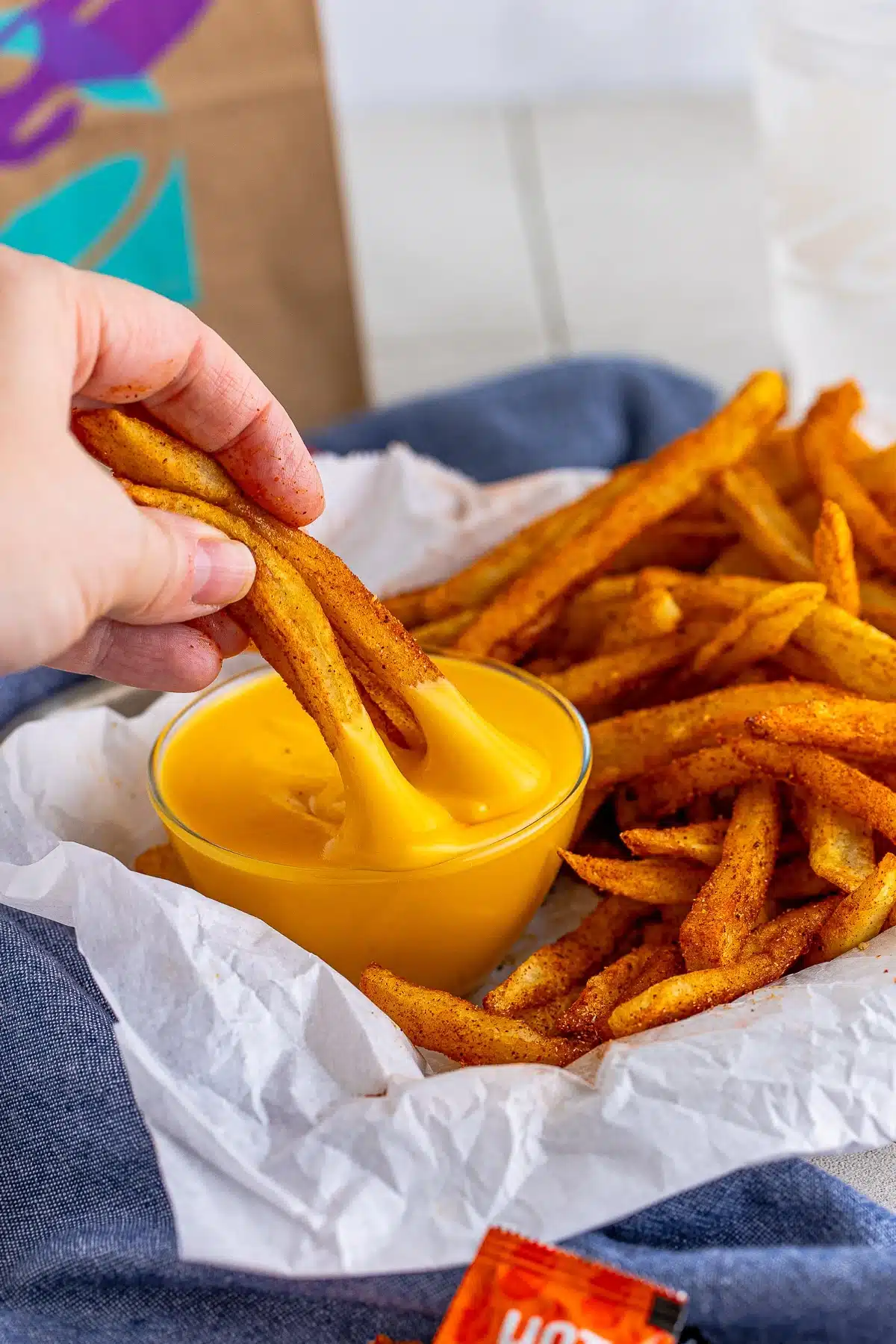 My only complaint about the nacho fries by Taco Bell is that the serving size is too small. But they are finger-lickin' delicious. Lucky for us, Dana of This Silly Girl's Kitchen created this nacho fries recipe so I we can have all the fries we dream of. She shows us how to fry the potatoes, season them, and make the perfectly dippable cheese sauce.
Middle Eastern Style Nachos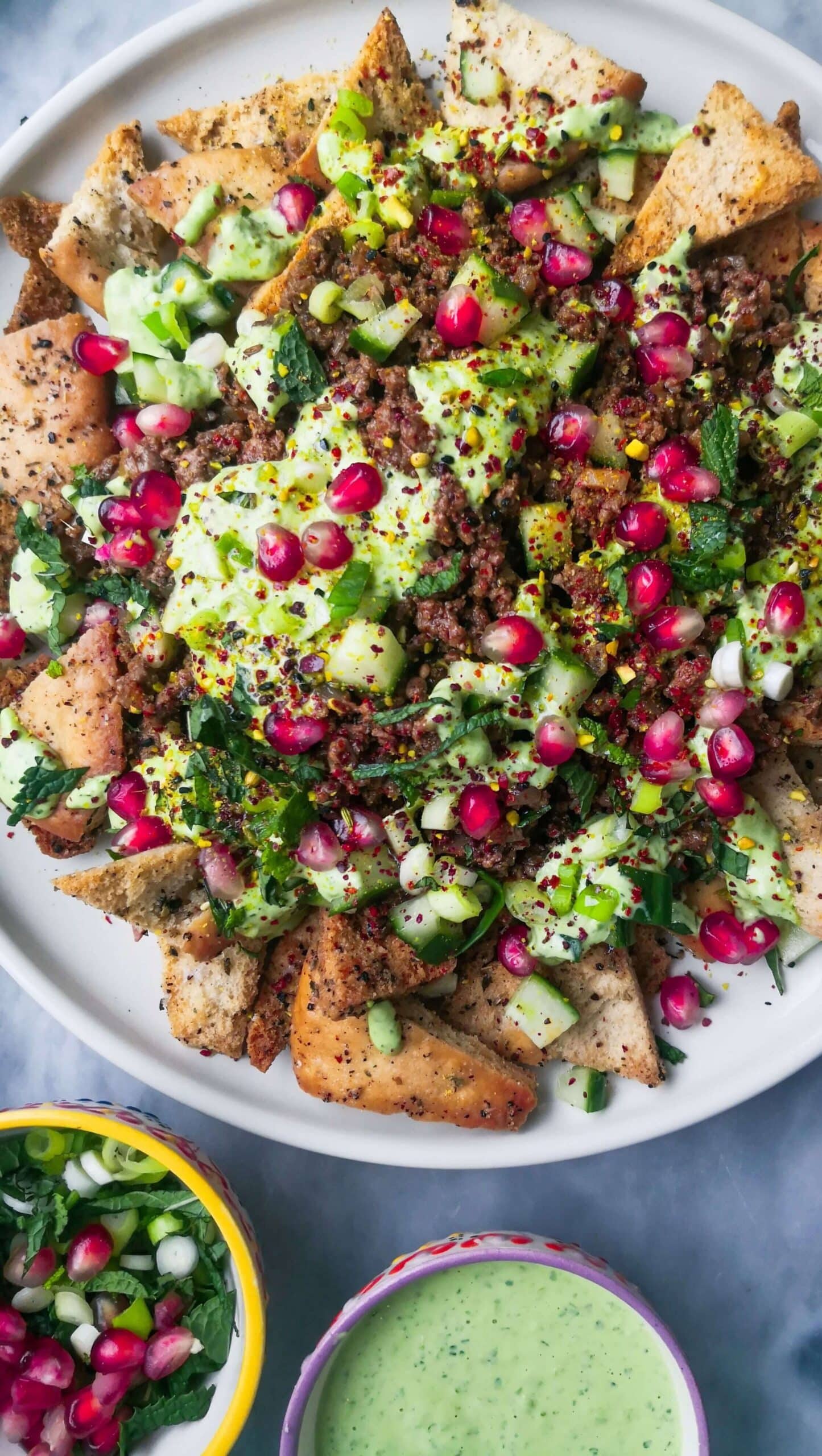 I bet you've never had nachos quite like these Middle Eastern Style Nachos from Dished By Kate. Fatteh, a Levantine dish, informs it. So you'll find a base of pita chips and sticky beef seasoned with an army of flavors like cinnamon, cumin, coriander, and sumac. Finally, you'll want to serve it with her green tahini sauce, diced pickled cucumber, and pomegranate seeds. The result is a fancy yet comforting meal almost too pretty to eat.
BBQ Chicken Nachos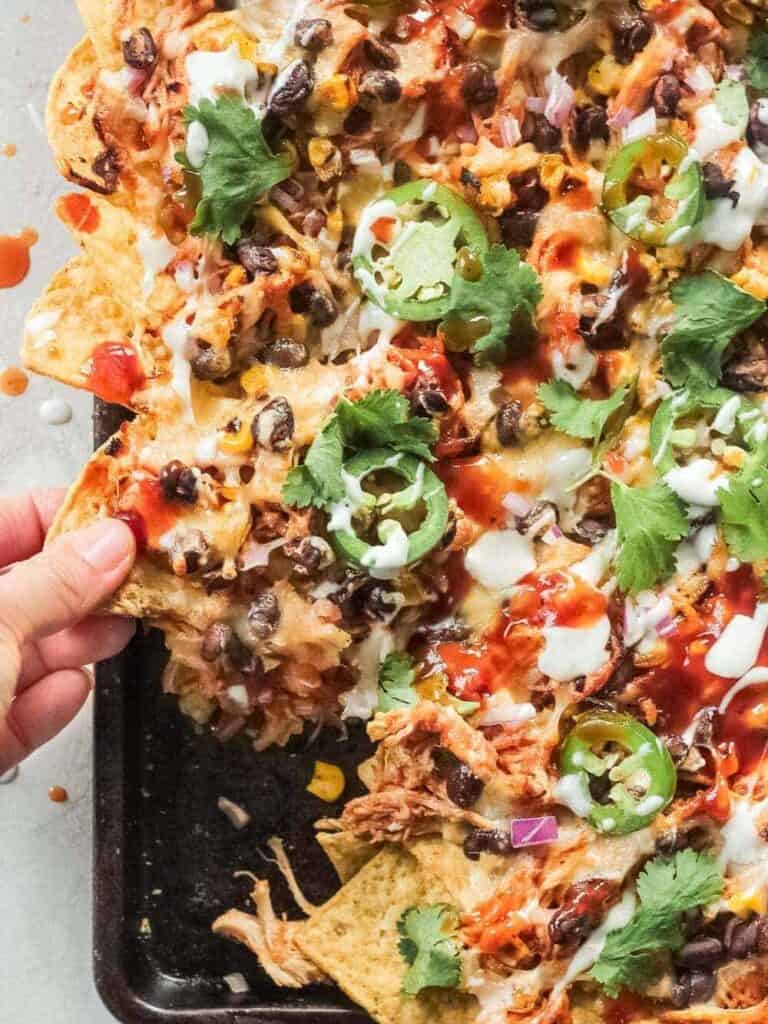 You can't go wrong with bbq chicken nachos from Becky of Easy Chicken Recipes. The tasty crowd-pleaser is filling and delicious with tortilla chips, leftover shredded chicken, barbecue sauce, black beans, corn, and cheese. It's highly customizable and takes just 20 minutes to make.
Loaded Tater Tot Nachos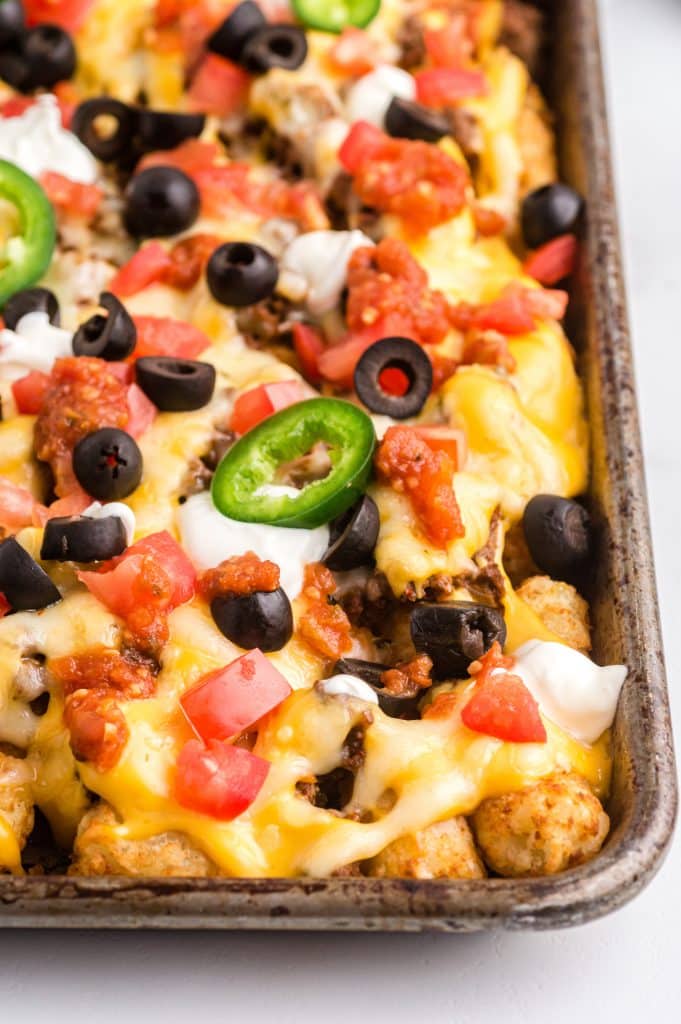 As Deanne of This Farm Girl Cooks says, this loaded tater tot nachos recipe is "nacho average tater tots." These beefy sheet pan totchos are loaded with black olives, jalapenos, nacho cheese, diced tomatoes, and sour cream. And at just one hour from start to finish, they are perfect for weeknight dining. So, all you have to do is set out forks and watch them disappear!
Blackened Shrimp Nachos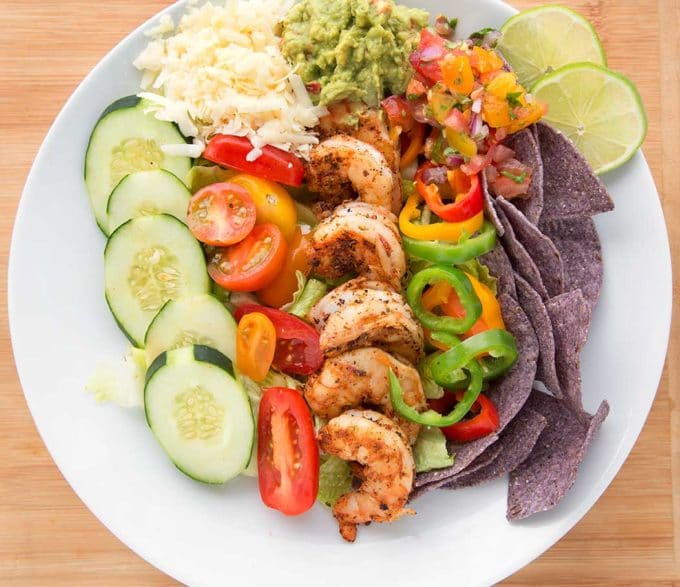 Chef Dennis has a love for shrimp, rivaled only by Bubba from Forest Gump. So, naturally, he combined his love of the famous crustacean with his love of football season to create this blackened shrimp nachos recipe. For this simple dining option, all you have to do is cook the shrimp, prepare all the toppings like guacamole, peppers, salsa, and layer.
Mexican Chicken Sheet Pan Nachos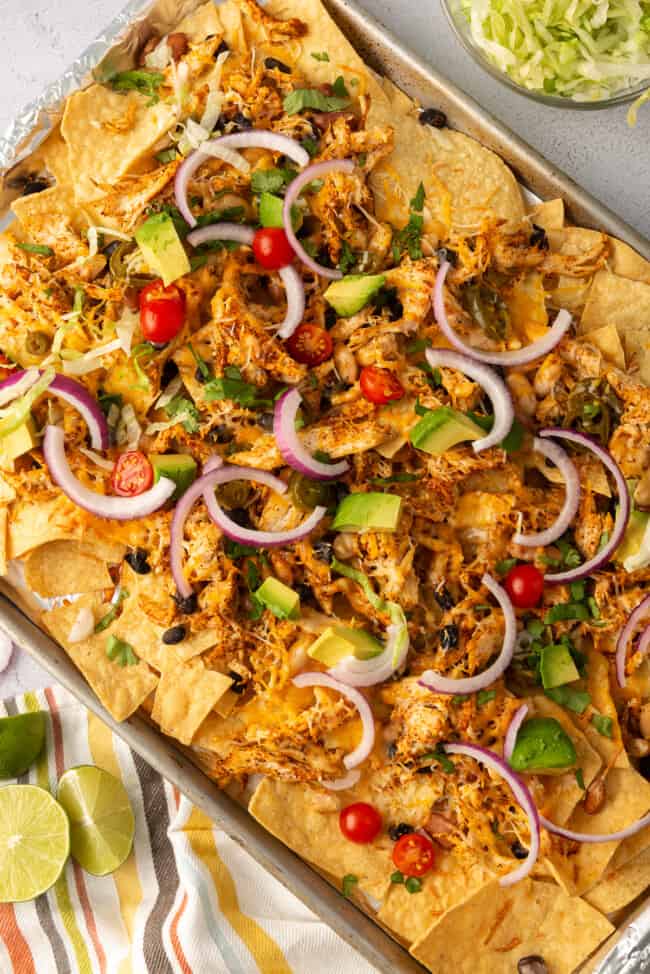 This Mexican chicken sheet pan nachos by Easy Chicken Recipes is what easy weeknight meals are all about. Eight servings are enough food for leftovers or a house full of greedy teenage boys. Plus, it's delicious with flavorful ground chicken, thanks to paprika, chili powder, cumin, and other seasonings. Next, cheese, chips, beans, and other toppings keep bellies full. And finally, at just 35 minutes, you can have dinner on the table in no time.
Carne Asada Nachos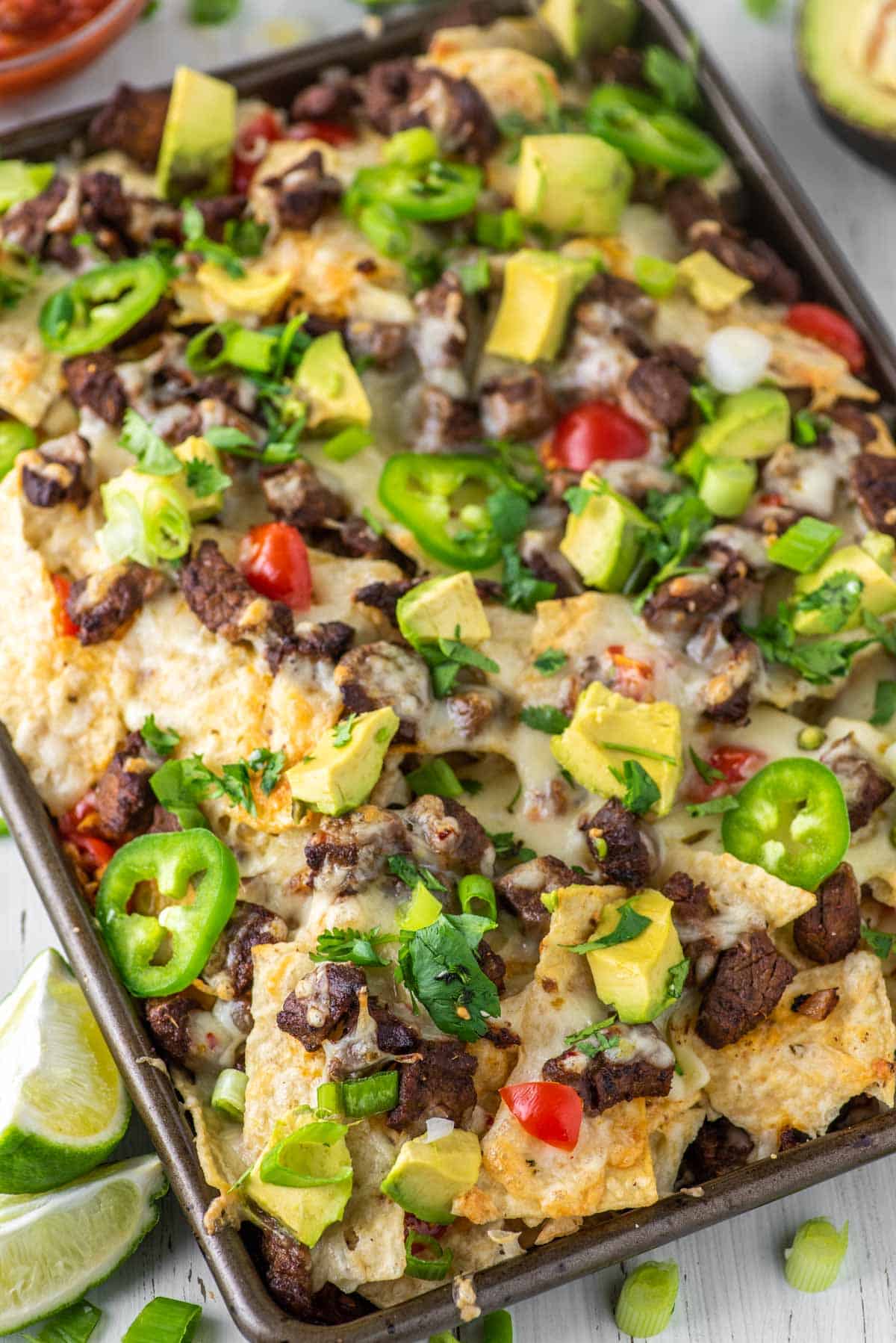 From tacos to enchiladas, there's no shortage of Mexican-inspired meals on Chisel And Fork. But, for Ryan, there's something about these carne asada nachos that keeps him coming back for more. Could it be the perfectly seasoned, melt-in-your-mouth, juicy, and tender flank steak? Or maybe it's the cheese, tomatoes, avocado, and homemade tortilla chips. Hungry yet?
Asian Beef Short Rib Nachos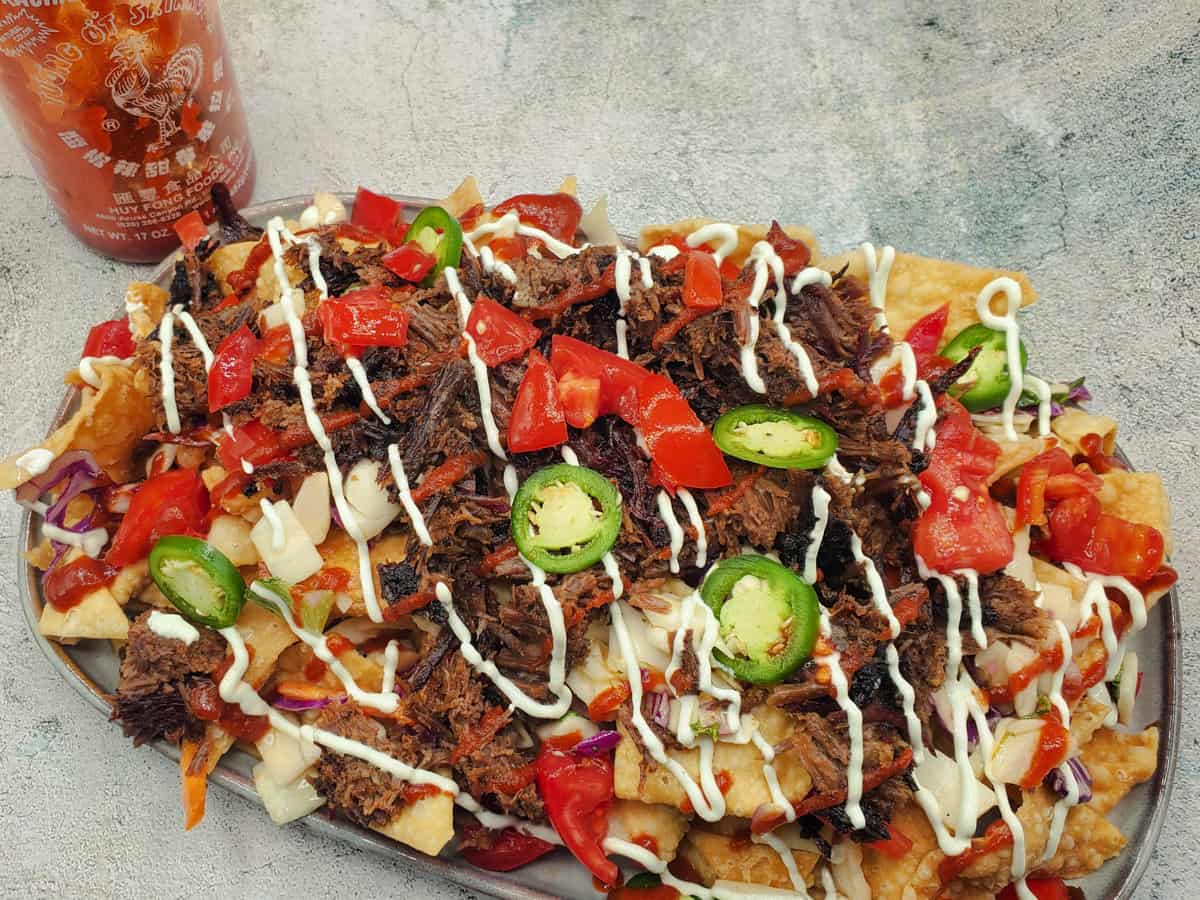 These Asian beef short rib nachos by Carne Diem are a unique snack or, for me, a complete meal. You have a base of crunchy wonton chips, a crisp Asian-style salad mix, sriracha, and spicy wasabi crema. But we've saved the best for last—the beef. The shortribs are perhaps the beefiest part of the cow, made even more irresistible with bbq rub.
Carnitas Nachos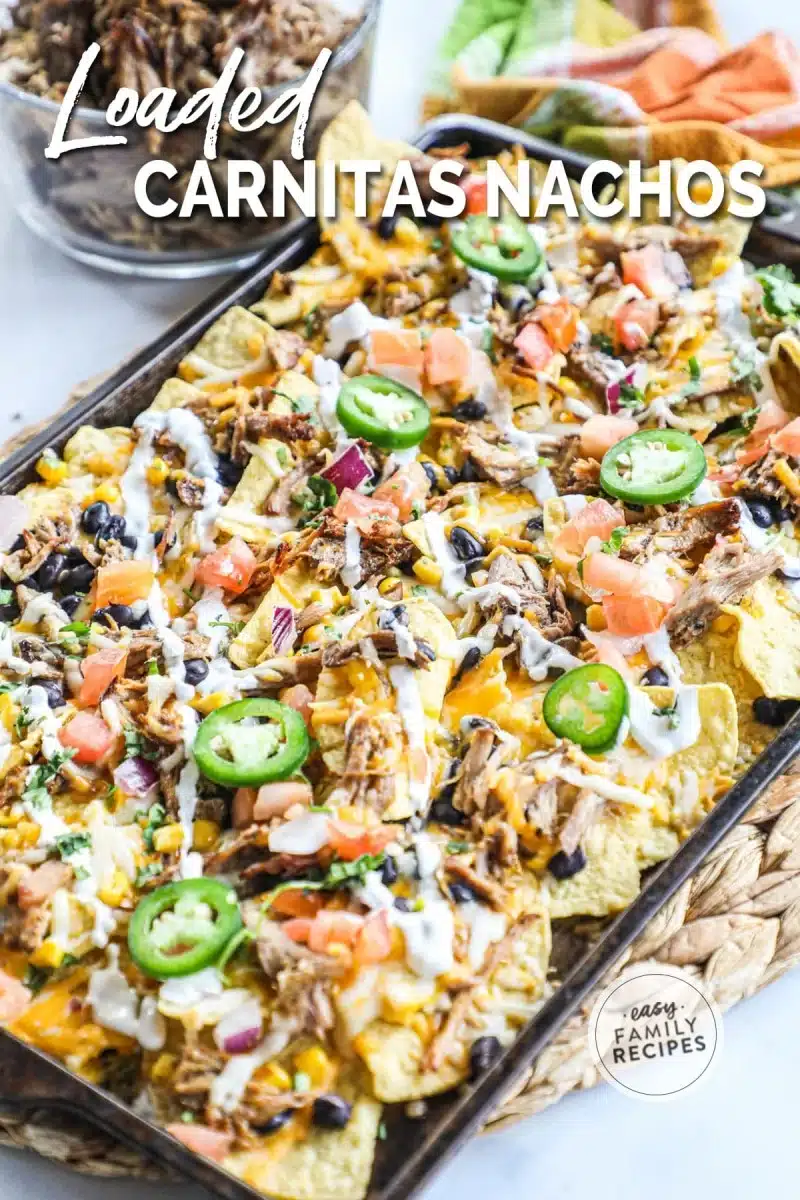 Once you slow cook the pork butt until juicy and too flavorful for words, these carnitas nachos from Kimber of Easy Family Recipes come together in just minutes. So not only are they delicious, but they're a perfect use of leftovers. Combine the oink with chips, salsa, beans, cheese, and other toppings your heart desires.
Mexican Street Corn Nachos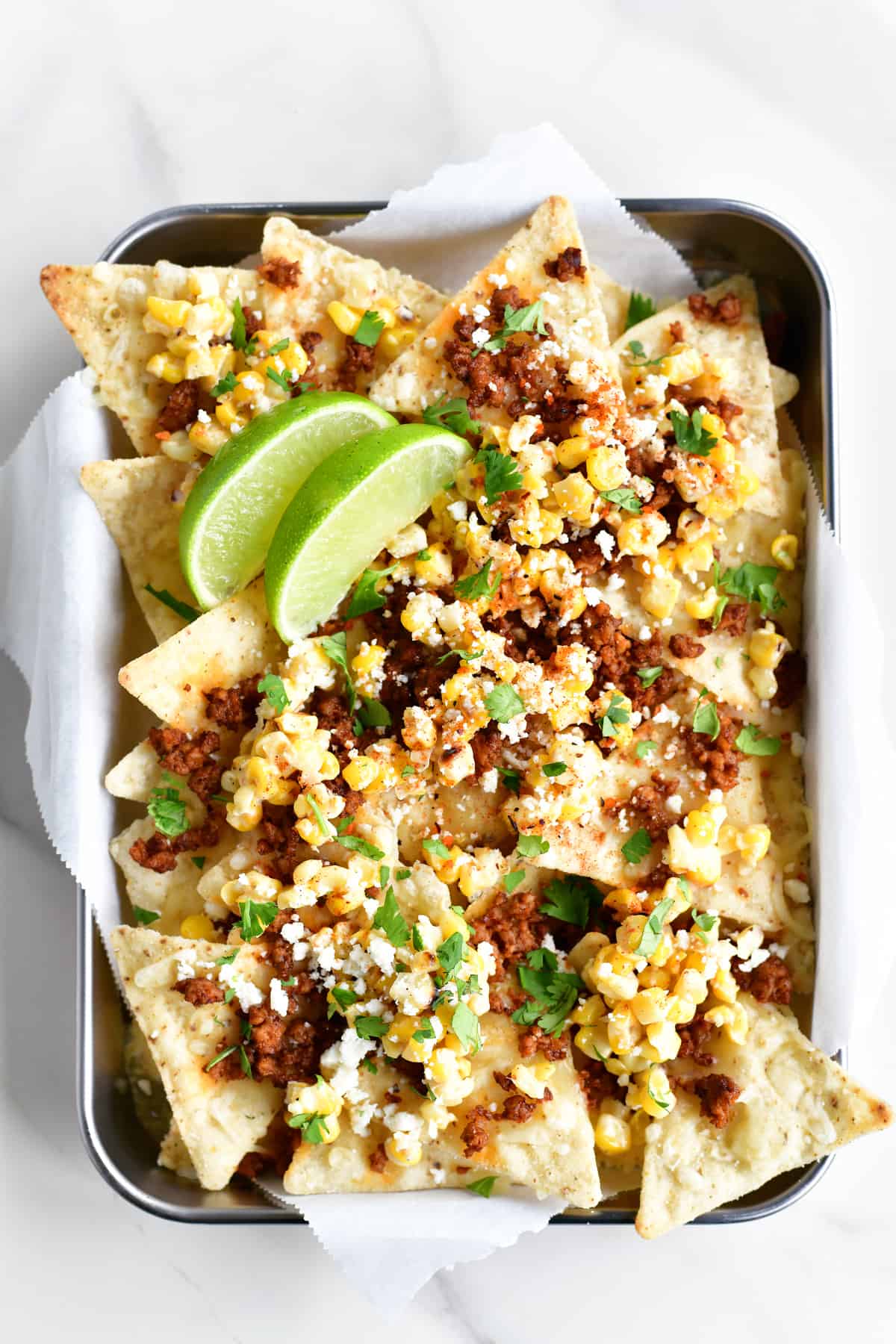 These Mexican street corn nachos by The Gunny Sack are like our elotes dip, so we know firsthand just how hard they are to stop eating. Seriously, one chip turns to ten in minutes. You have smoky grilled corn, fresh off the cob, salty cotija cheese, spicy chorizo pork sausage, and other flavor-adding ingredients. So, if you want to wow them, serve this snack and don't turn back.
Ground Beef Nachos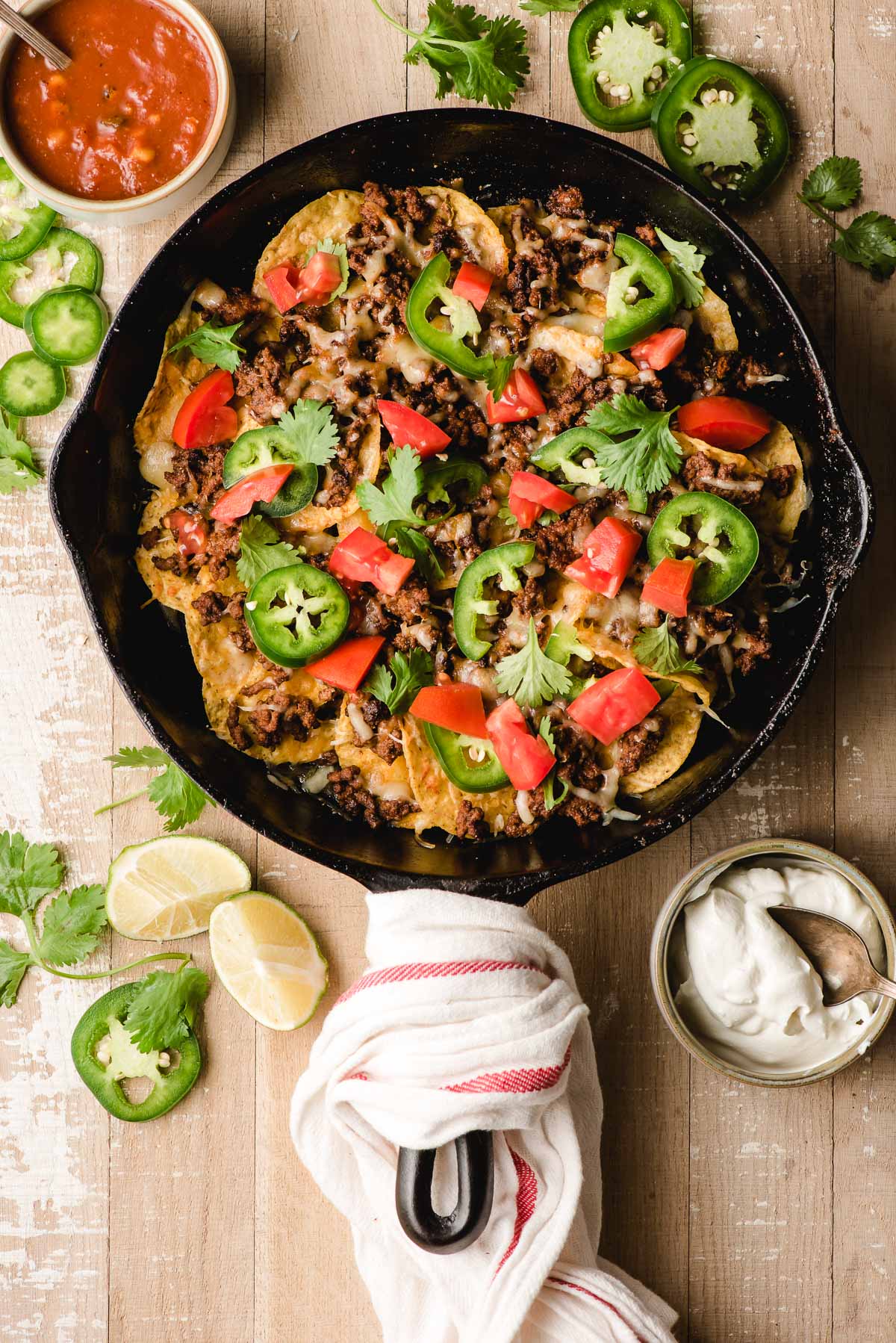 The Ground Beef Recipes team reminds us of the importance of having go-to meals like this ground beef nachos recipe. It's a meal Courtney finds herself making over and over again. That's because it hits all the marks. It's cheesy, beefy, satisfying, and takes less than 30 minutes. That's perfect for weeknights!
Italian Nachos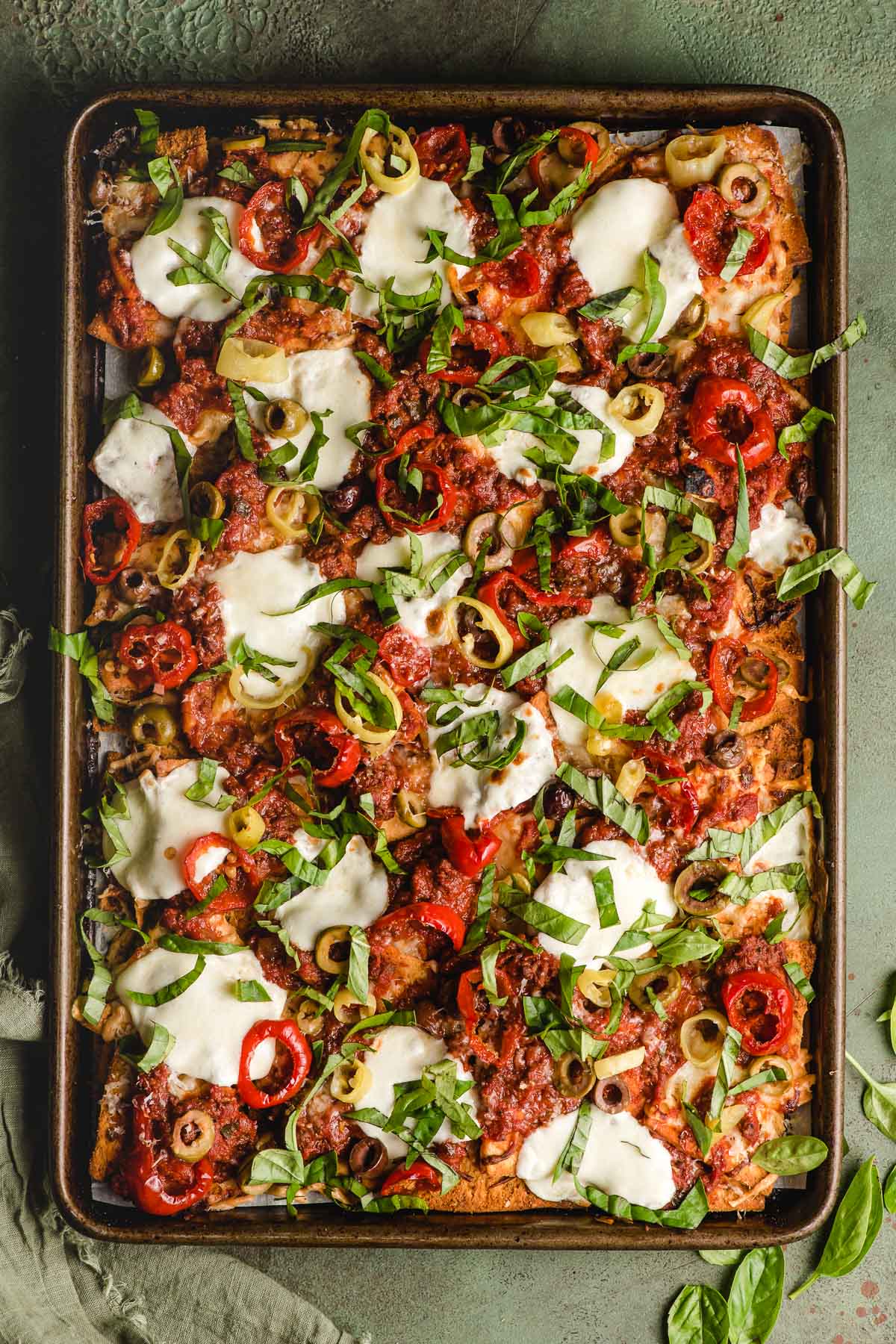 If you have leftover ground beef or spaghetti sauce sitting in the fridge, this Italian nachos recipe by Neighbor Food Blog is just what the doctor ordered. Sitting atop a bed of crispy pita chips, you'll find saucy ground beef, Stretchy melty cheese, and an assortment of veggies like olives and banana peppers. It takes less than 30 minutes, the kids will love it, and you will too.
Sweet Potato Nachos with Avocado Crema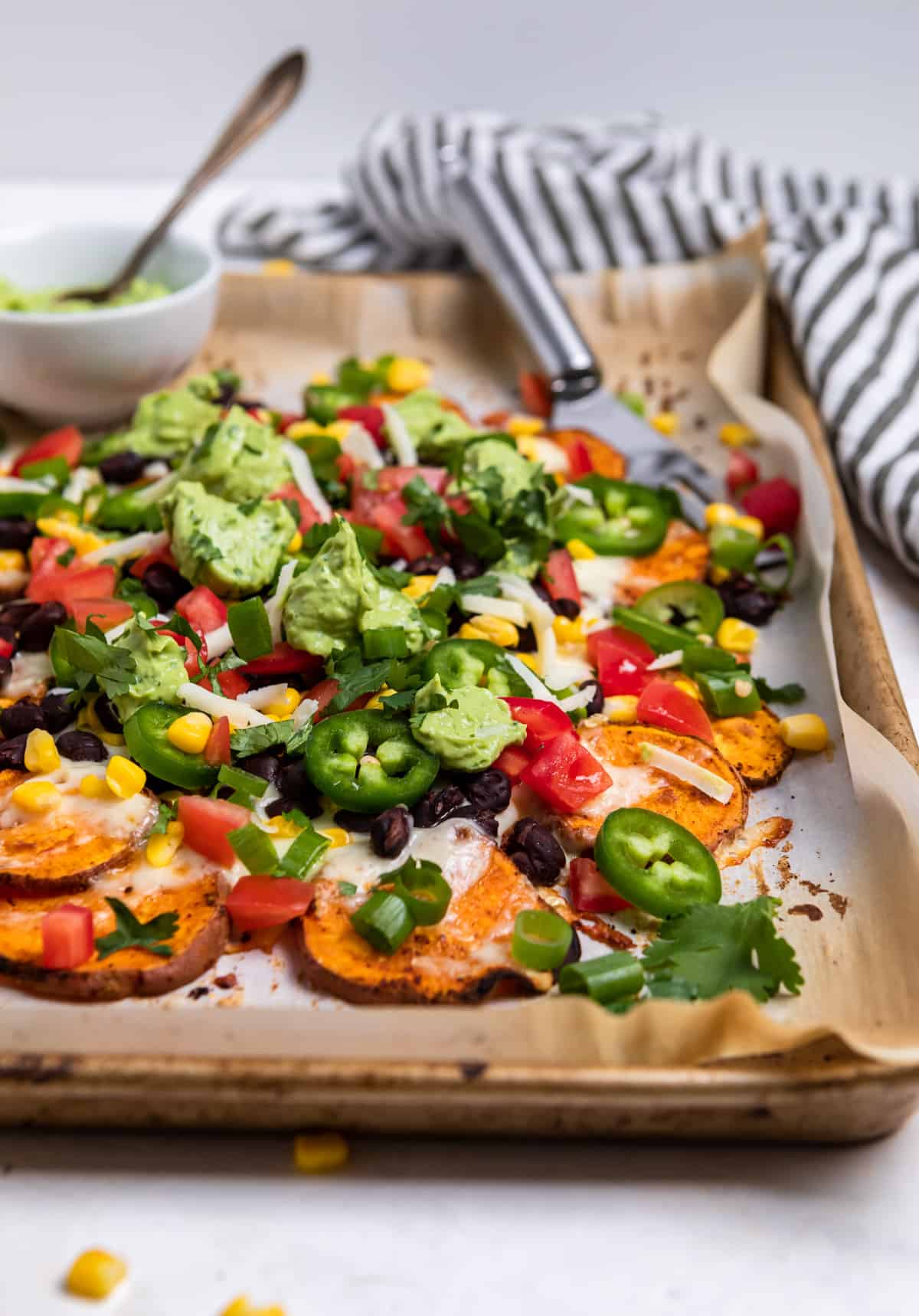 There's an immediate craving whenever I see bright, colorful food like these sweet potato nachos with avocado crema from Lemons & Zest. If you don't consider them "real" nachos, that doesn't bother Lorie one bit. Because she knows they are brimming with flavor thanks to spices like cumin, garlic powder, and chili powder. Plus, they're healthy and filling with sweet potatoes, tomatoes, and your favorite toppings.
Salmon Black Bean Nachos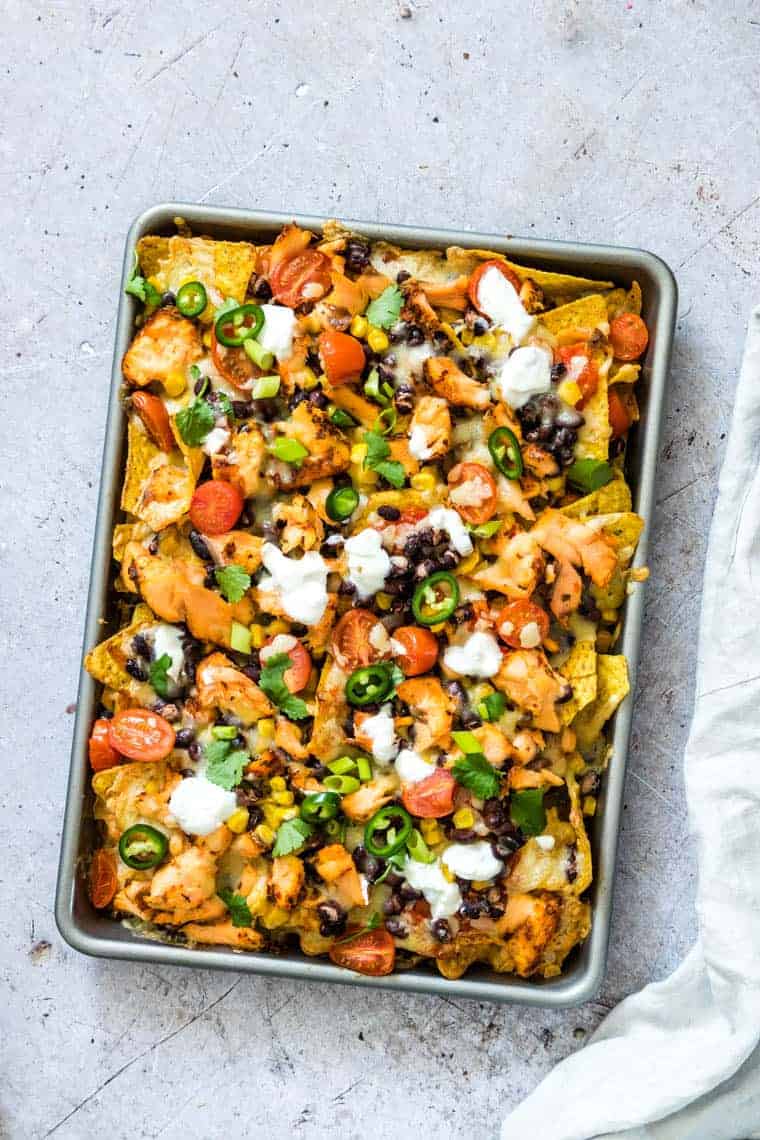 These salmon black bean nachos from Bintu of Recipes From A Pantry are easy enough for a weeknight meal but fancy enough for a Mother's Day feast. First, start with tortilla chips. Then, add salsa, beans, corn, and cheese for a filling meal. It takes less than 20 minutes and feeds a whole family.
Irish Nachos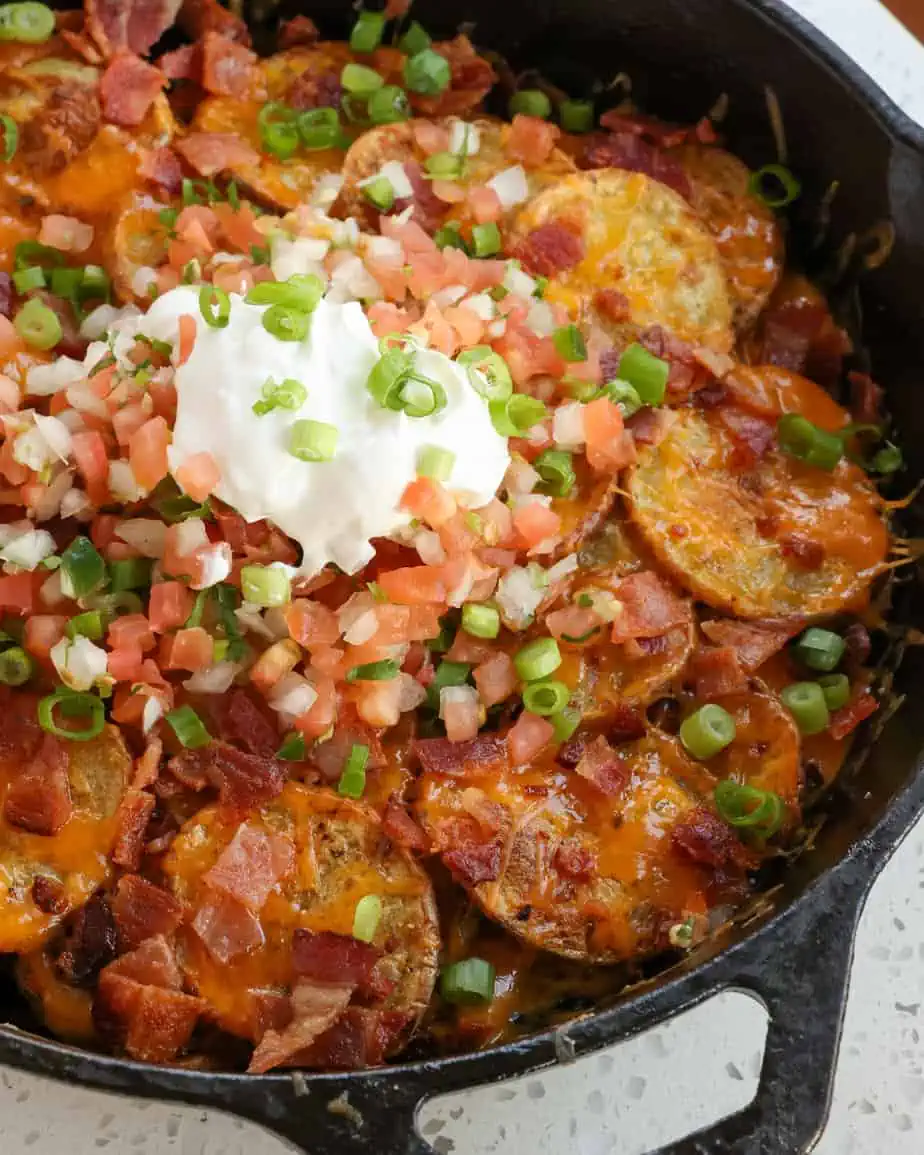 You don't have to wait until St. Patrick's Day for these Irish Nachos from Beth of Small Town Woman. They're like the most delicious loaded potato you've ever seen. There's a base of crispy homemade potato chips. Then, top them with cheese, salty crumbled bacon, sliced green onions, and sour cream for a filling meal you make on a Thursday night.
Dessert Nachos
Ice Cream Nachos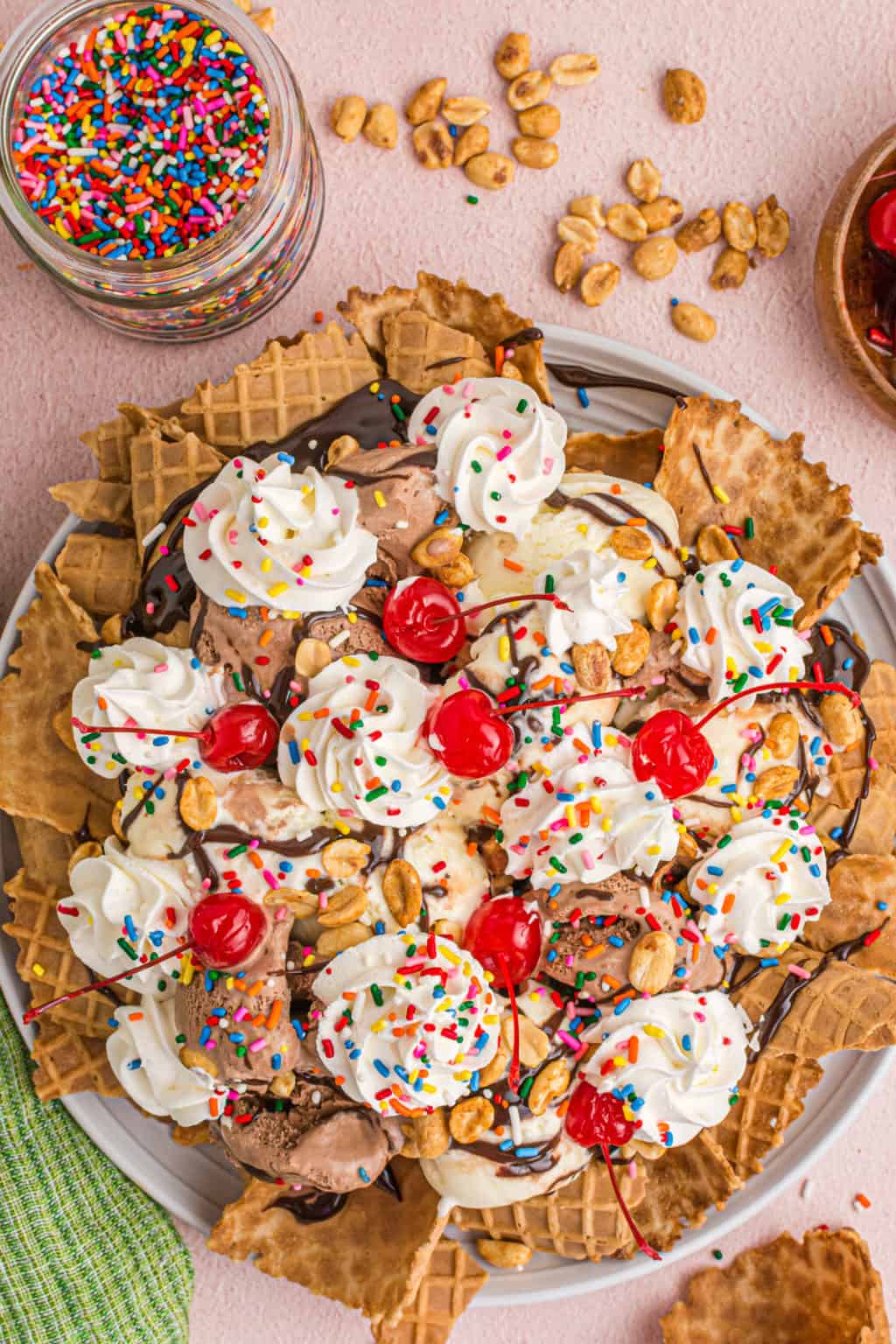 Nichole of The Salty Marshmallow hesitates to call these ice cream nachos a recipe because it's embarrassingly simple. But they're fun, completely customizable, and tasty. Think of it as a deconstructed ice cream cone. You have waffle cone pieces, your favorite ice cream, and all the toppings your little heart desires.
Mixed Berry Dessert Nachos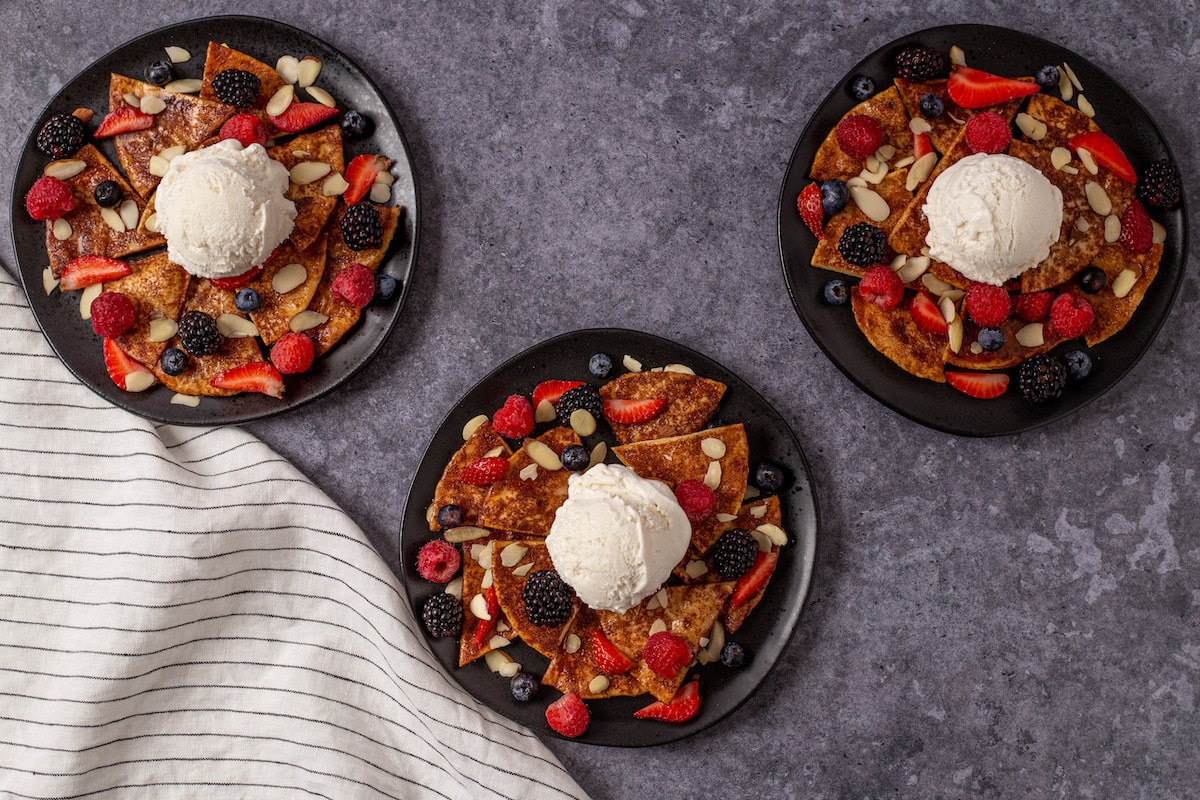 These mixed berry dessert nachos from Louisa of Food Plus Words are a creative way to use leftover flour tortillas. They comprise buttery cinnamon/sugar tortillas topped with fresh berries, sliced almonds, and vanilla ice cream. Mmmm! They take just minutes to make and are an ideal summertime dessert.
Strawberry Nachos with Cinnamon Chips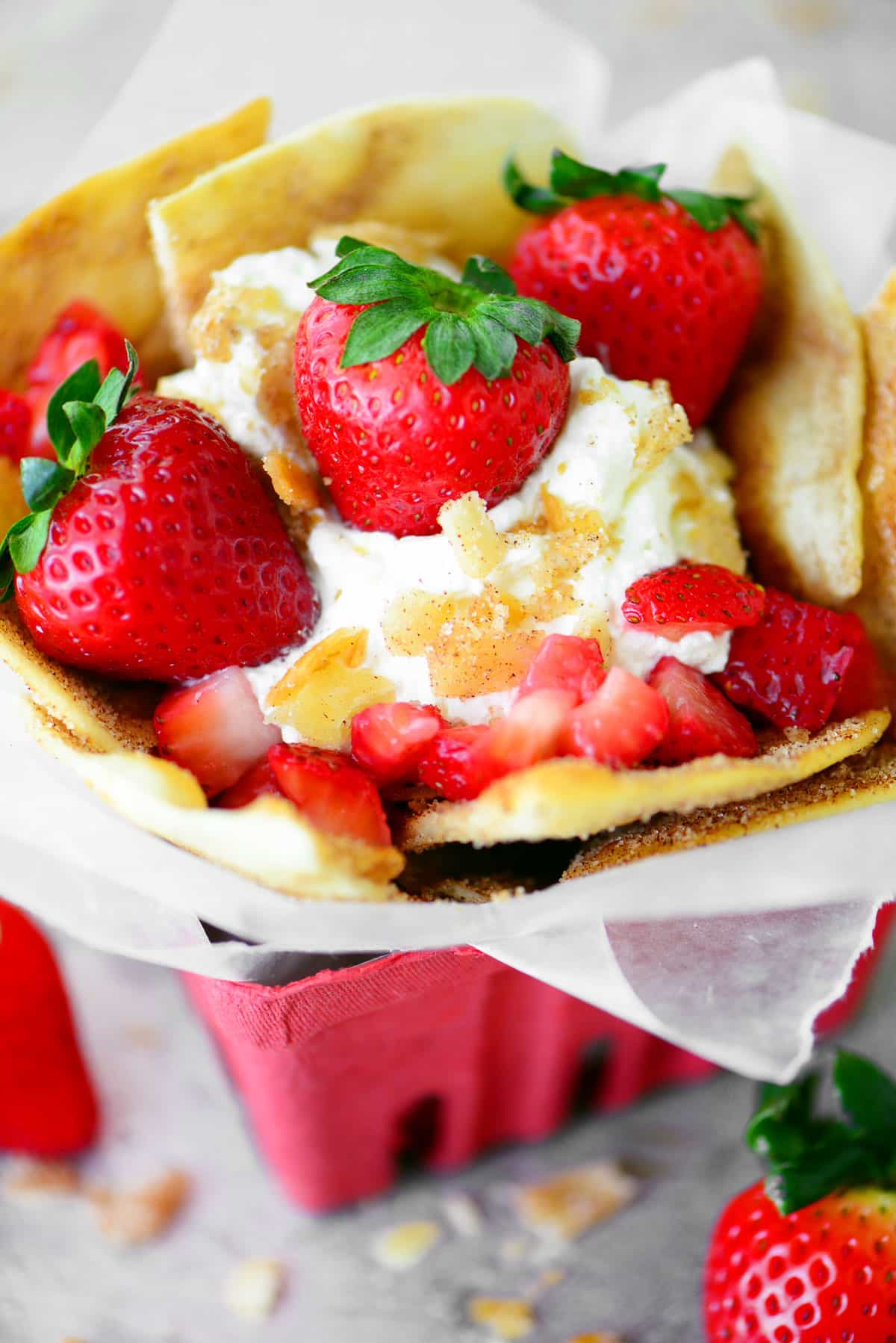 Are you looking for a delicious impromptu summer dessert recipe? Then you must see these strawberry nachos with cinnamon chips by Tonia of The Gunny Sack. They're full of crispy, cinnamon/sugar sprinkled flour tortilla chips, the juiciest strawberries, and rich whipped cream.
Apple Nachos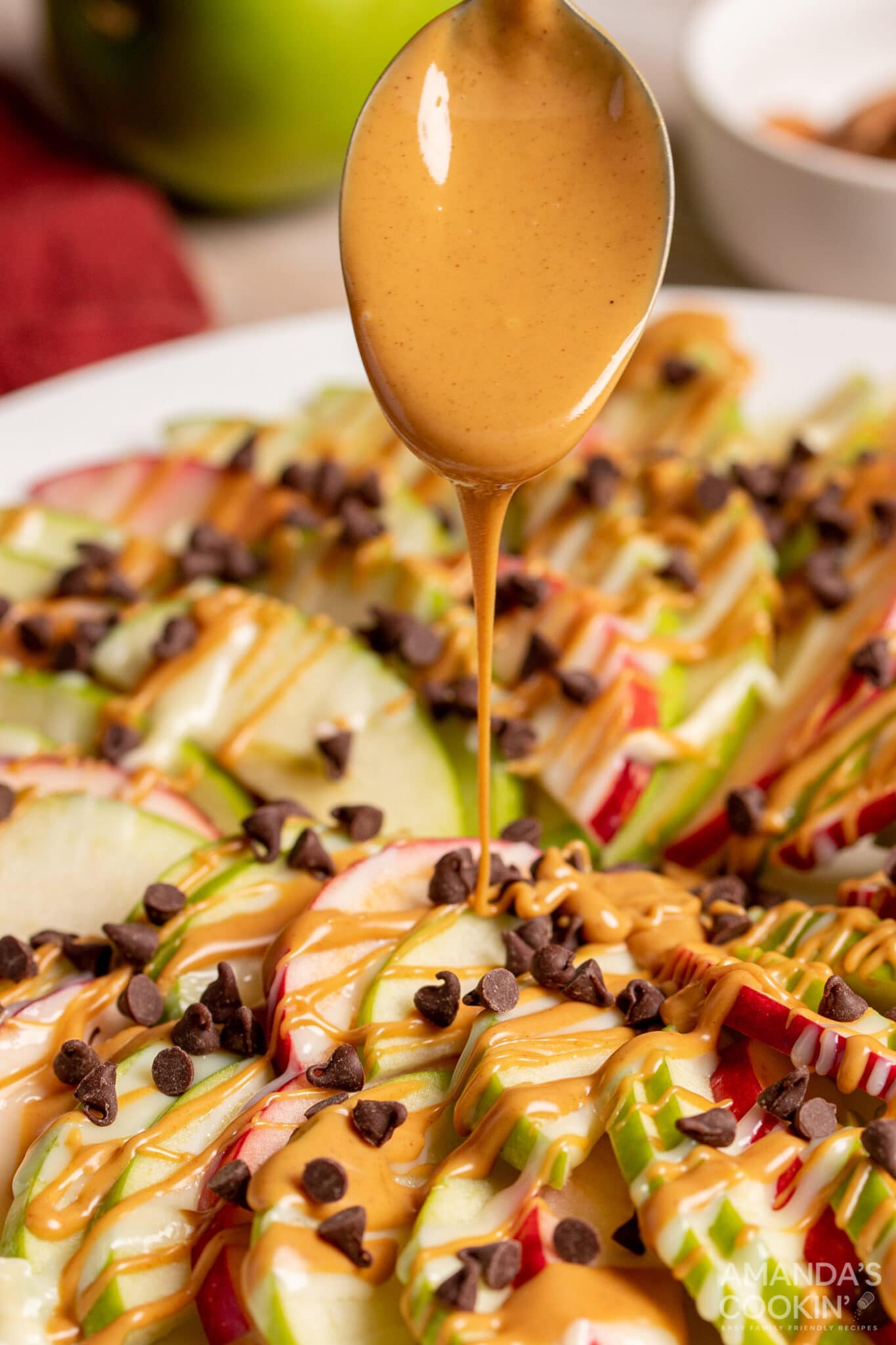 Fall is ruled by pumpkins, warm spices, cozy outfits, and of course, juicy, crisp apples. We like to dip them in caramel and coat them in candy, but today Amanda's Cookin' shows us how to turn them into apple nachos. Just take your favorite apple; Granny Smith works well. Then, top them with your favorites like chocolate chips, peanut butter, and shredded coconut. It's healthy, quick, and oh, so good!
S'mores Nachos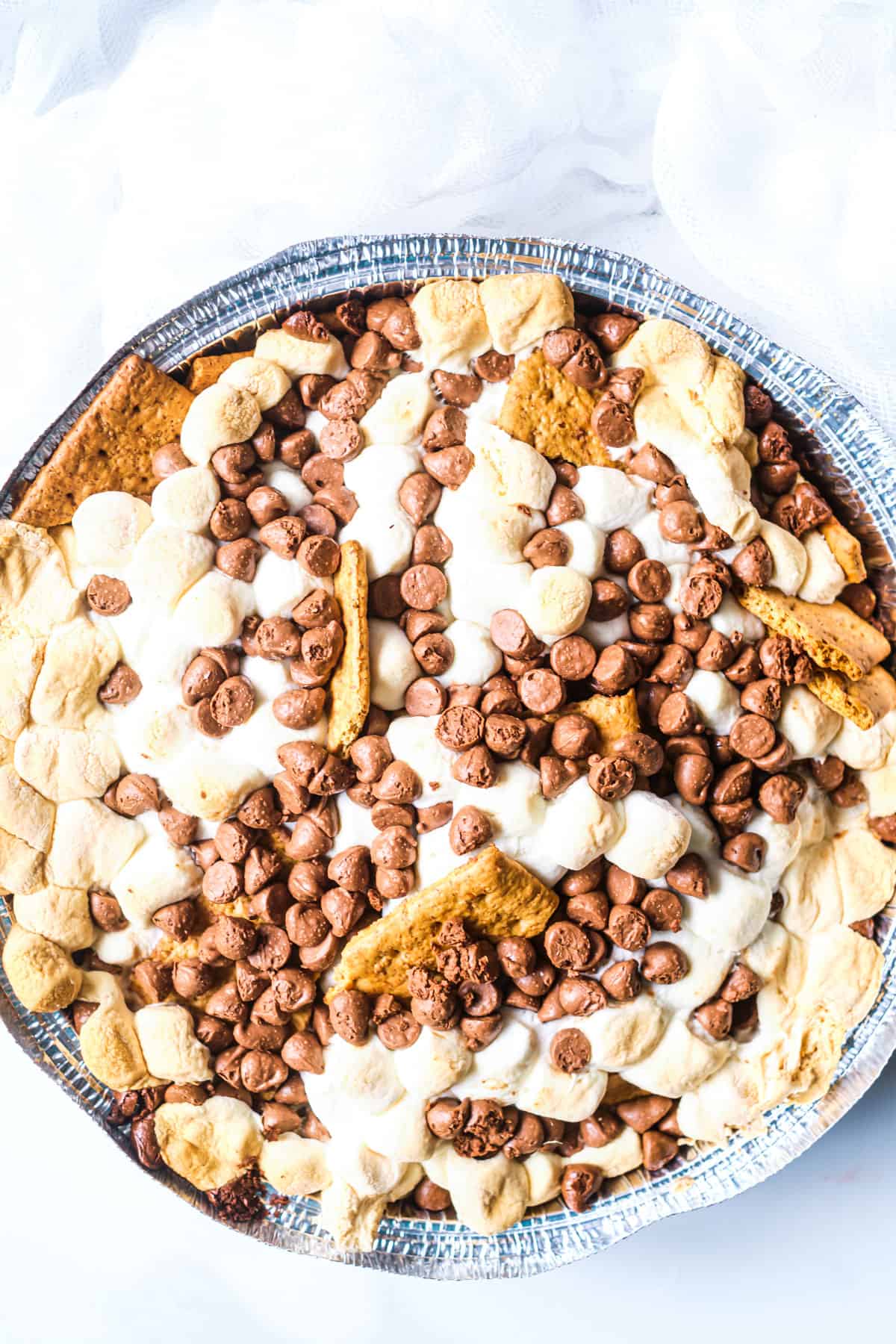 Bintu of Recipes From A Pantry shows us how to make these s'mores nachos over a campfire, grill, or oven. You have graham crackers as the base, slightly toasted marshmallows, and melty chocolate arranged for maximum dip-ability. And best of all, you don't have to head to the nearest campsite to enjoy them.
Which Nacho Recipes Will You Try First?
We all know that nachos are the ultimate crowd-pleaser. They're a scrumptious combination of flavors, textures, and variety. It's a guaranteed hit! You've seen savory nachos featuring Italian seasonings, ground beef, shredded chicken, cheese, onions, and so many more topping ideas. But there are also dessert recipe ideas like ice cream nachos, s'mores nachos, and strawberry nachos. So are you ready to get creative, have fun, and let the nacho adventure begin?