You'll find some of the best Easter recipes on this page. We have nearly every kind of recipe on this page, from traditional like hot cross buns to bird's nest cookies and even the best carrot cake. We've got you covered! You will find a recipe to inspire you to try something new this Easter.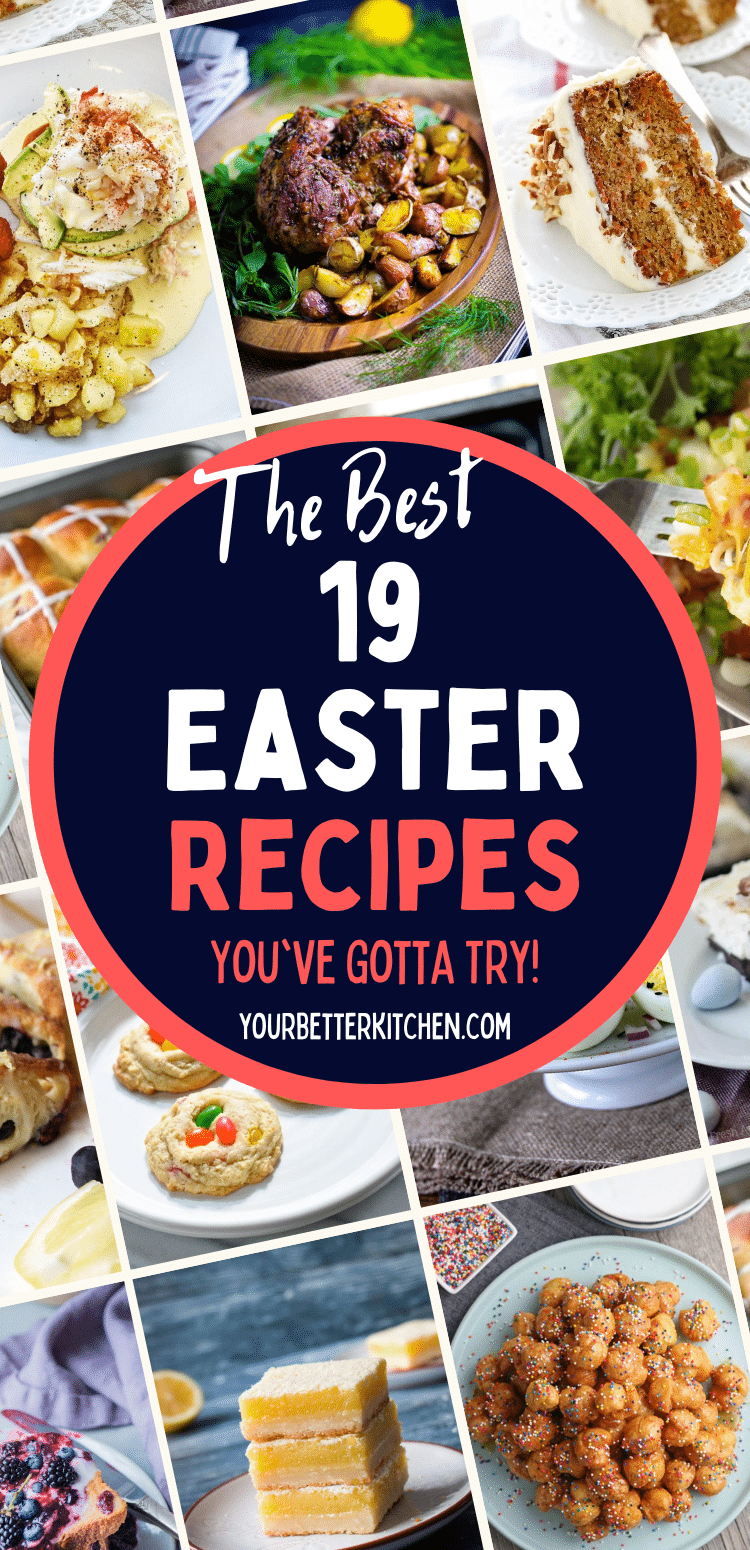 Be sure to check out our best Mother's Day recipes.
Jump to:
5 Fun Facts About Easter
1. In the Christian religion, Easter is the celebration of the resurrection of Jesus Christ.
2. The Easter bunny originated in Germany, and Dutch settlers brought the tradition to the United States in the 1700s.
3. Americans spend over $2billion on candy each year on Easter, almost neck and neck with Halloween.
4. The date we celebrate Easter changes each year depending on the phase of the moon. Easter is celebrated the first Sunday after the paschal full moon, the first full moon after the Spring solstice.
5. Nearly 200 million eggs are sold each year for Easter.
19 Best Easter Recipes
Below are 19 of the best Easter recipes you'll find to have a celebration to remember. You'll find modern recipes using fresh spring ingredients like crab and avocado eggs benedict and old-school recipes with new tips like hot cross buns honey baked ham. Inspiration is just a scroll of the mouse away. We love all the recipes here. But, as always, this list is just that, a list, not a rank.
Hot Cross Buns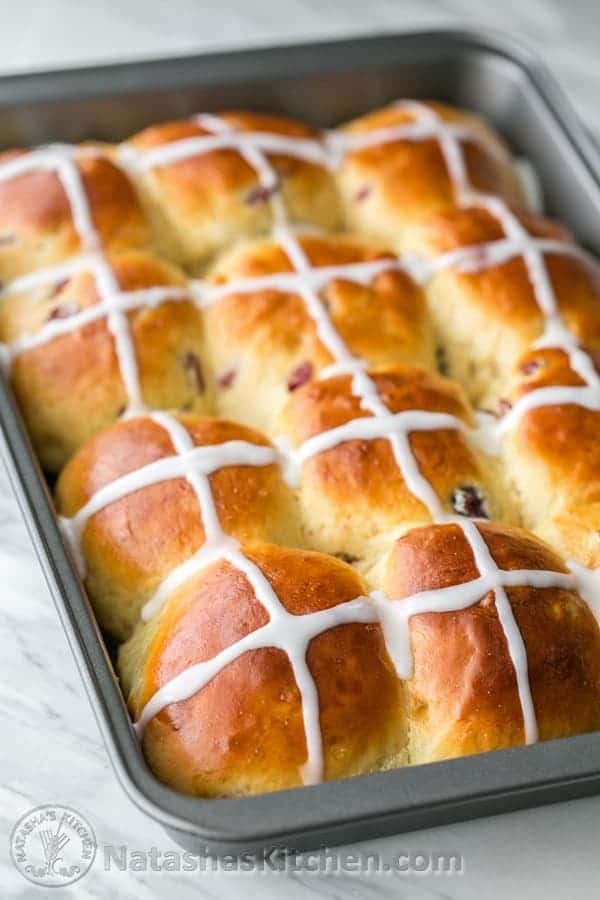 While many celebrate Easter with cute bunnies and Easter egg hunts (we're not knocking that), Natasha of Natasha's Kitchen made these hot cross buns to celebrate the true meaning of Easter for Christians the world over. They mark the end of Lent, and each part of the bun has a different purpose. You can read more about it here. These hot cross buns are delicious sweet rolls with a bit of cinnamon and nutmeg and an even sweeter glaze. And if you have leftovers, they'll go great with your morning coffee.
Visit Natasha's Kitchen for the recipe.
Crab and Avocado Eggs Benedict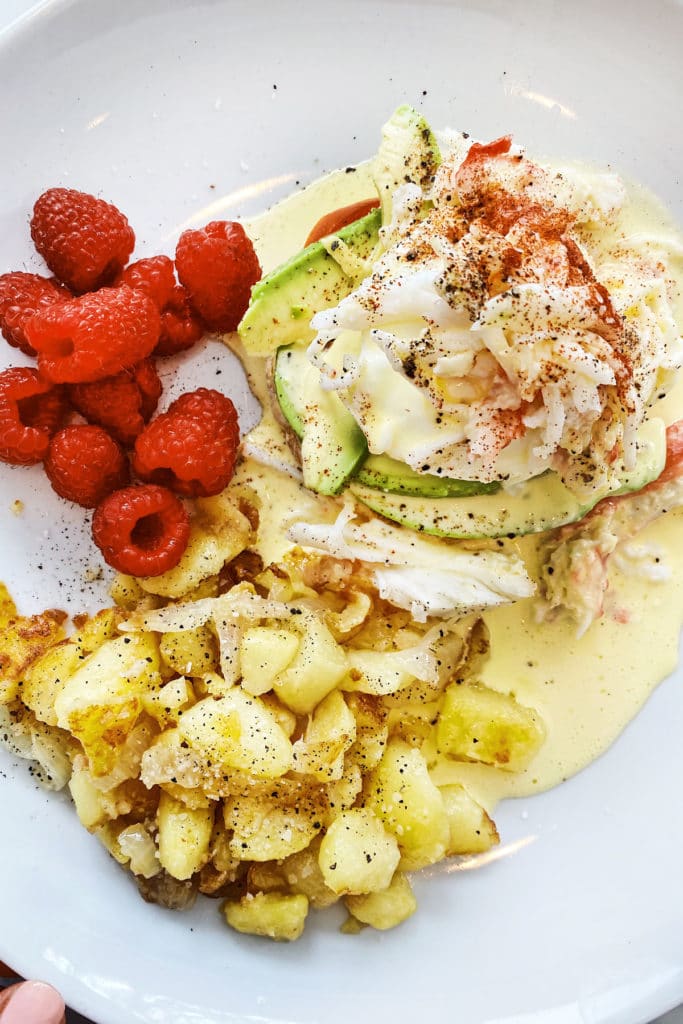 You won't believe how easy it is to make this leveled-up crab and avocado eggs benedict from Heidi of Foodie Crush! It would make an excellent addition to your Easter brunch menu. It includes easy poached eggs with several poaching methods. Then there's crab and a 3-minute hollandaise sauce you can make in the blender. Finally, serve it with hearty potatoes and raspberries as seen here or even halved grape or cherry tomatoes for more nutrient-dense vibrance.
Visit Foodie Crush for the recipe.
The Best Carrot Cake Recipe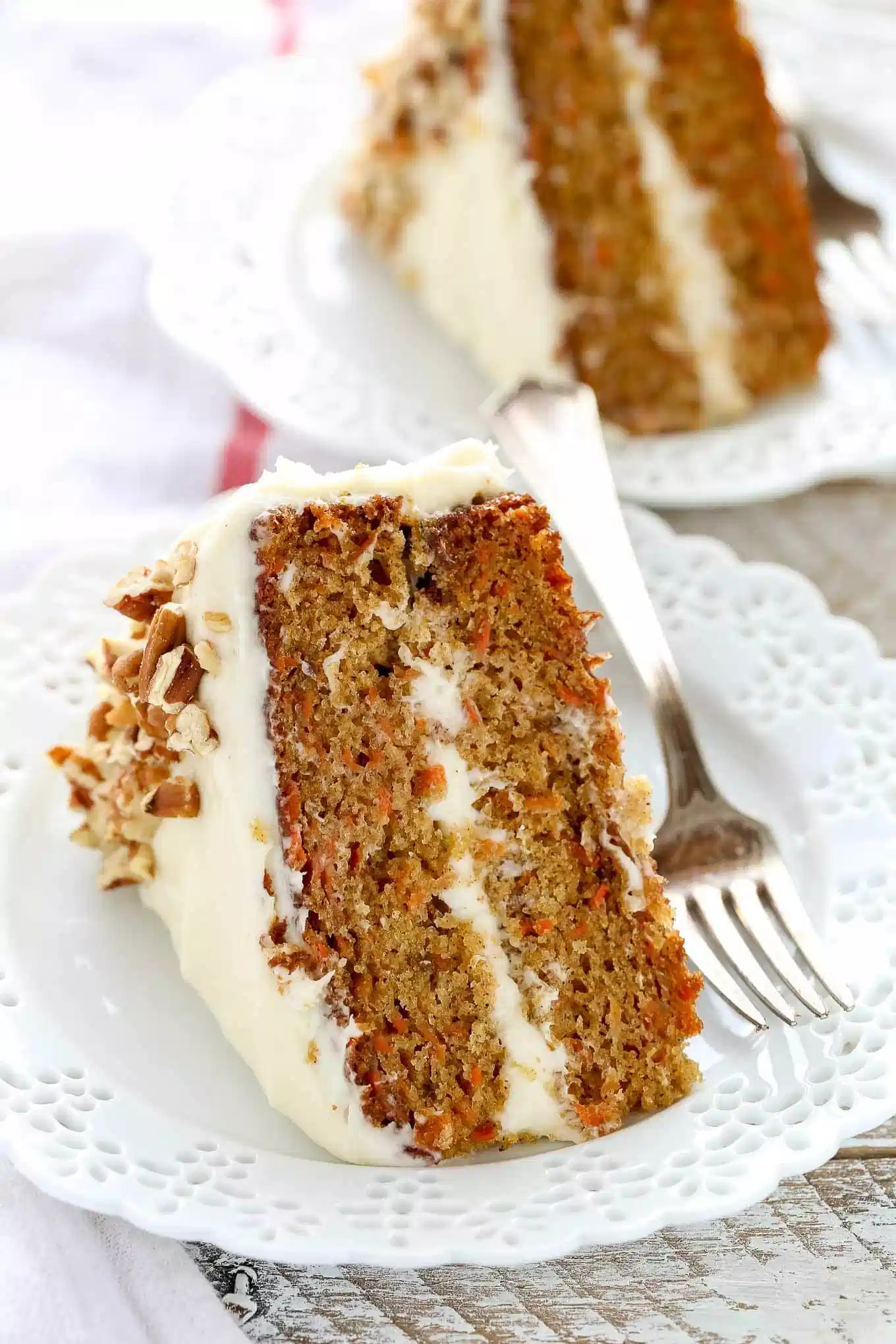 Live Well Bake Often with Danielle's carrot cake recipe. She says it's the best, a mighty large claim! However, it sure does look moist and delicious. But what makes her recipe so good? She shares some of her measure tips. Precise measuring is super-important. And while other recipes contain just cinnamon, she adds two additional spices in just the right amounts. We'll let the critics argue about best, but I'm betting it's as delicious as the picture looks.
Visit Live Well Bake Often for the recipe.
Birds Nest Cookies
According to Stacey of Bake Eat Repeat, it may be best to restrict these no-bake bird's nest cookies to Easter. First, they're so delicious that you'll eat them all day! Further, they're straightforward. You make them right on the stovetop by bringing the ingredients to a boil, presto chango, no-bake cookies in about 15 minutes. They're cute. They're fun. The kids will love them, and the adults will love them too.
Visit Bake Eat Repeat for the recipe.
No Bake Cadbury Egg Pie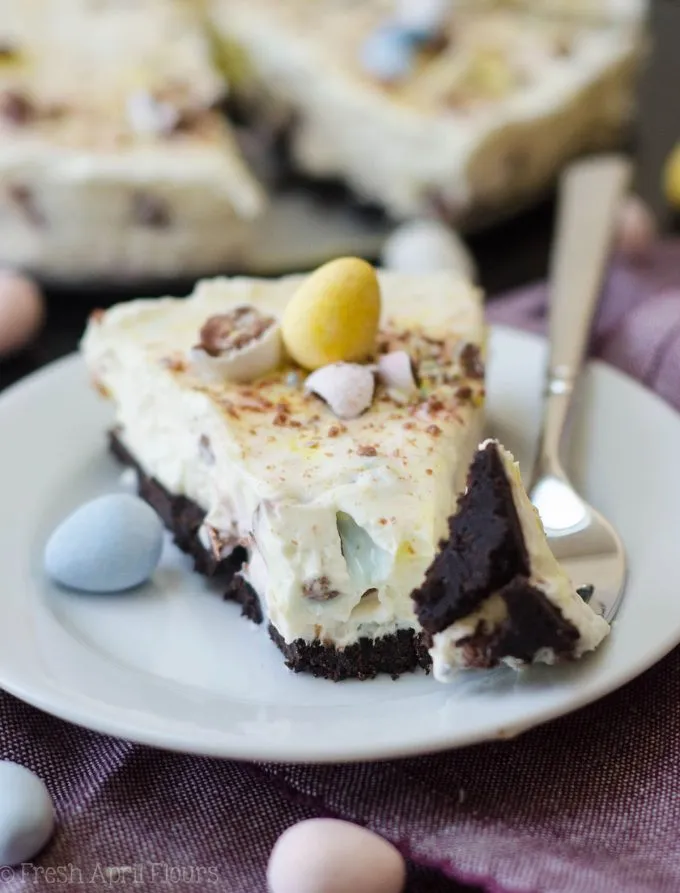 Self-professed nerd Lynn of Fresh April Flours made this pie in celebration of National Pi Day (3.14) and Easter. It's a fun little no-bake dessert filled with delicious miniature Cadbury creme eggs, an oreo crust, and cream cheese filling. But before you get to the recipe, you'll find cute anecdotes proving her nerd status, and you'll learn something interesting about numbers. I certainly did!
Visit Fresh April Flours for the recipe.
Fried Deviled Eggs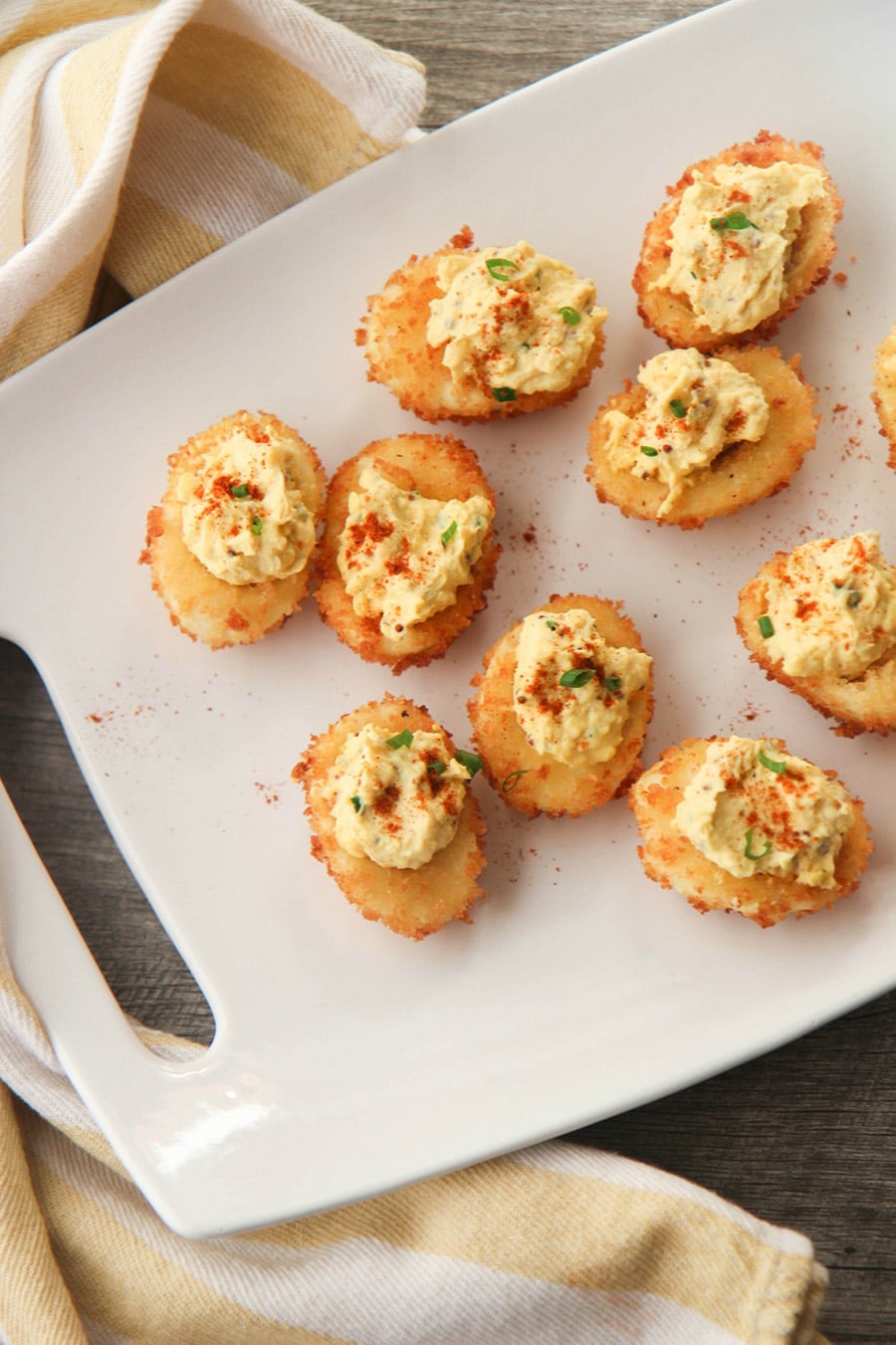 Julie from Cooked By Julie had us swooning with her fried deviled eggs recipe. We are fried food enthusiasts, so when we came across these appetizers, we were like, whoa! Must try them! Deviled eggs are a typical Easter appetizer and good on their own but with added fried crunch. Who could resist? Don't worry if you're not familiar with deep-frying at home. Julie offers you step-by-step process pics, answers to common questions, and even some variations for you to try!
Visit Cooked By Julie for the recipe.
Jelly Bean Cookies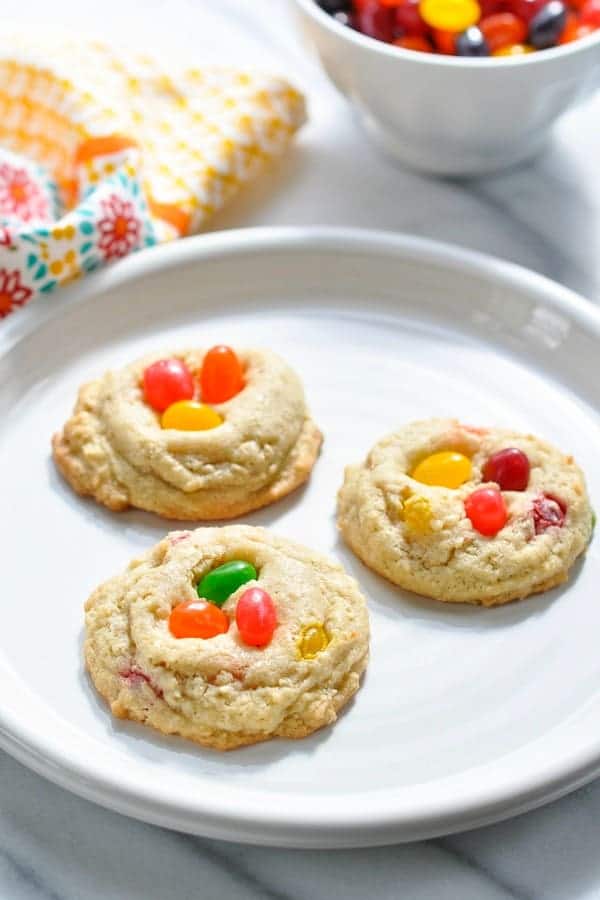 Celebrate Easter with this fun, portable, colorful jelly bean cookies recipe from Blair of The Seasoned Mom, a sure kid favorite. Ever have leftover Easter jelly beans? We always do. Well, now, you have a creative way to use them up. Blair provides you with all kinds of tips. Including how to make them soft and chewy, there's a jelly bean brand recommendation, chilling dough recommendations, and even variations.
Visit The Seasoned Mom for the recipe.
Boneless Roasted Leg of Lamb with Potatoes and Fennel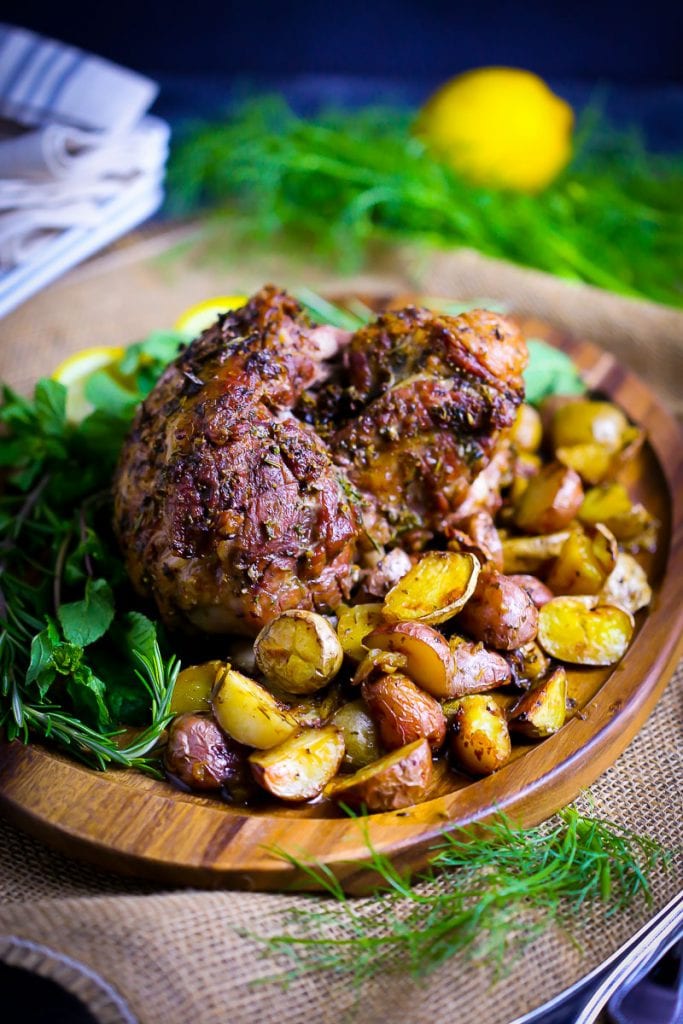 Invite this roasted leg of lamb recipe from Cathy of What Should I Make For to Easter dinner. It makes for a gorgeous and mouthwatering main course. The lamb, baby potatoes, and fennel are seasoned with a splendid gremolata (herb/lemon condiment) responsible for the delightful golden-brown crust and big flavor in every bite. And with Cathy's advice, this recipe, however refined and filling, is also easy.
Visit What Should I Make For for the recipe.
Blueberry Lemon Scones with Sweet Lemon Glaze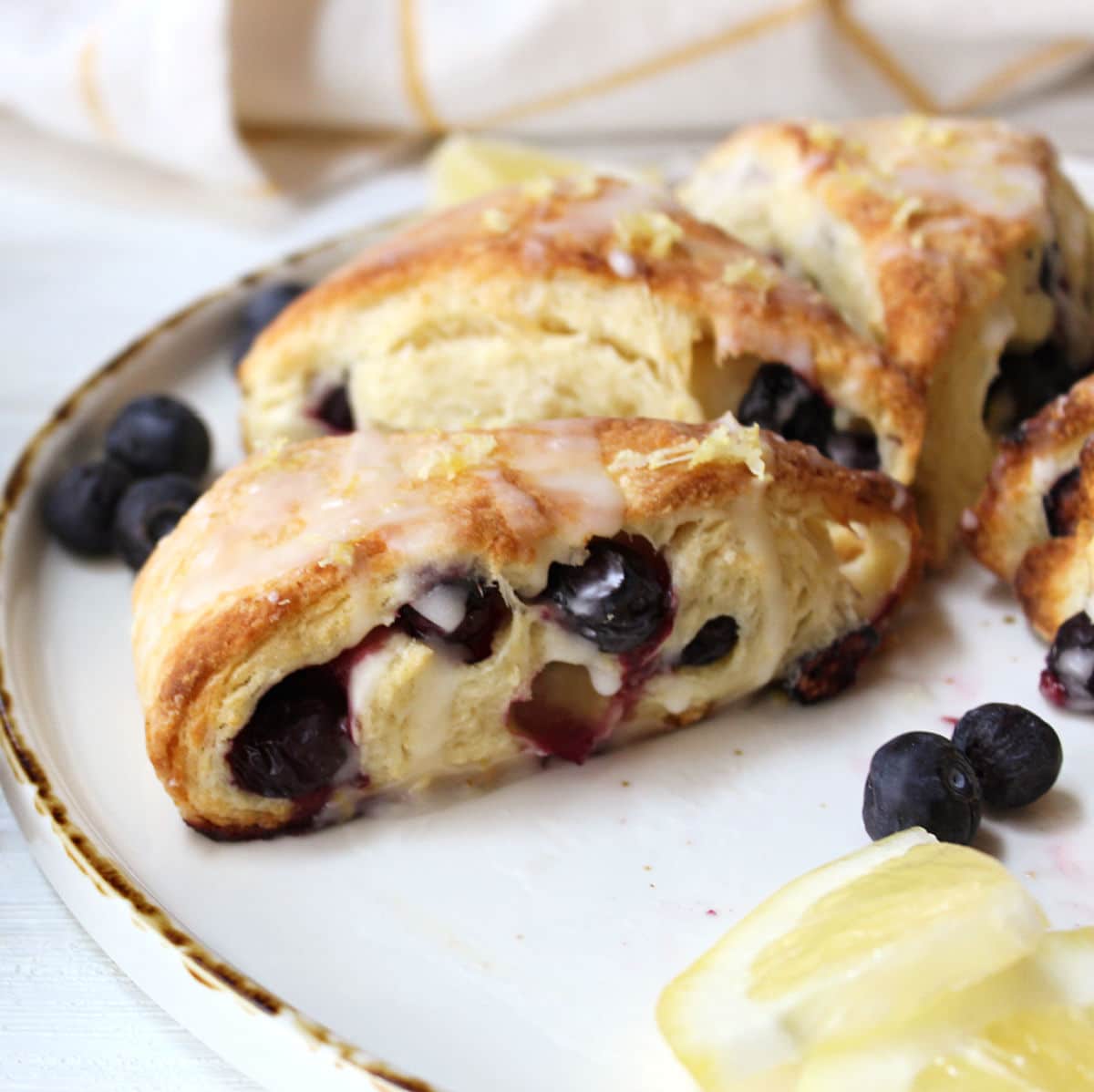 Bring these luscious blueberry lemon scones from Jerè of One Hot Oven to an Easter potluck and leave with an empty platter. The inside is tender and buttery, while the outside is crispy. With her tips, tricks, and advice (acquired through culinary school), you can be a scone master. Blueberry scones should be golden brown and speckled with blueberries. The dough should not be blue, as is the case if you mix the berries in the dough, which she does not suggest.
Visit One Hot Oven for the recipe.
Oreo Easter Bunny Truffles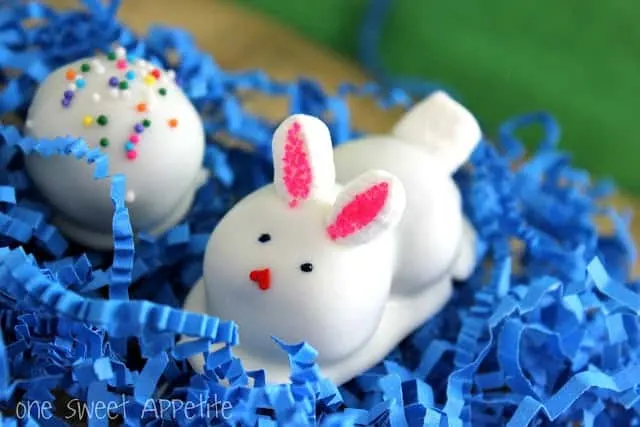 Cute holiday treats enthusiasts Jesseca of One Sweet Appetite shows us how to make these Oreo Easter bunny truffles. A fun recipe she's made several times on television. Now, I have to warn you. She does consider it to be an intermediate recipe. But with some practice and expert guidance, you will have it down in no time. Besides, they're so cute they're worth the effort. So plan and practice. You can make these adorable and delicious treats up to a week in advance.
Visit One Sweet Appetite for the recipe.
Easy Lemon Bars with Shortbread Crust
Lily of Little Sweet Baker shares her incredibly detailed recipe for easy lemon bars with shortbread crust – a perfect Easter treat. It's complete with FAQs, expert tips, and clear step-by-step instructions and images. You'll love the rich, buttery, shortbread crust that includes an ingredient to make them light and tender. And the lemon curd itself is sweet but not too sweet with just the right amount of tanginess. Sounds mouthwatering!
Visit Little Sweet Baker for the recipe.
Strawberry Hand Pies with Roasted Strawberry Filling
Ever the kitchen experimenter, Eileen of Baking Sense, created these strawberry hand pies – a tasty way to celebrate Easter (if you can find decent ones for Easter). She developed this recipe intending to keep the strawberries as fresh as possible while also drawing out enough moisture so that they don't make the delicious flaky crust soggy. Eileen helps you with lots of info, including the type of crust to use.
Visit Baking Sense for the recipe.
Smoked Trout Deviled Eggs
Smoked trout deviled eggs from Karen of Karen's Kitchen Stories are sure to catch the attention of folks wanting to make a twist on the classic appetizer. You'll find a tasty yet simple deviled eggs recipe with smoked trout and red onion. And if that's not enough, she also includes her method of making perfect boiled eggs. It's the ideal can't-eat-just-one appetizer. So perhaps, if you make these deviled eggs, you'll spark a mini-revival of this traditional party food.
Visit Karen's Kitchen Revival for the recipe.
Roasted Loaded Potatoes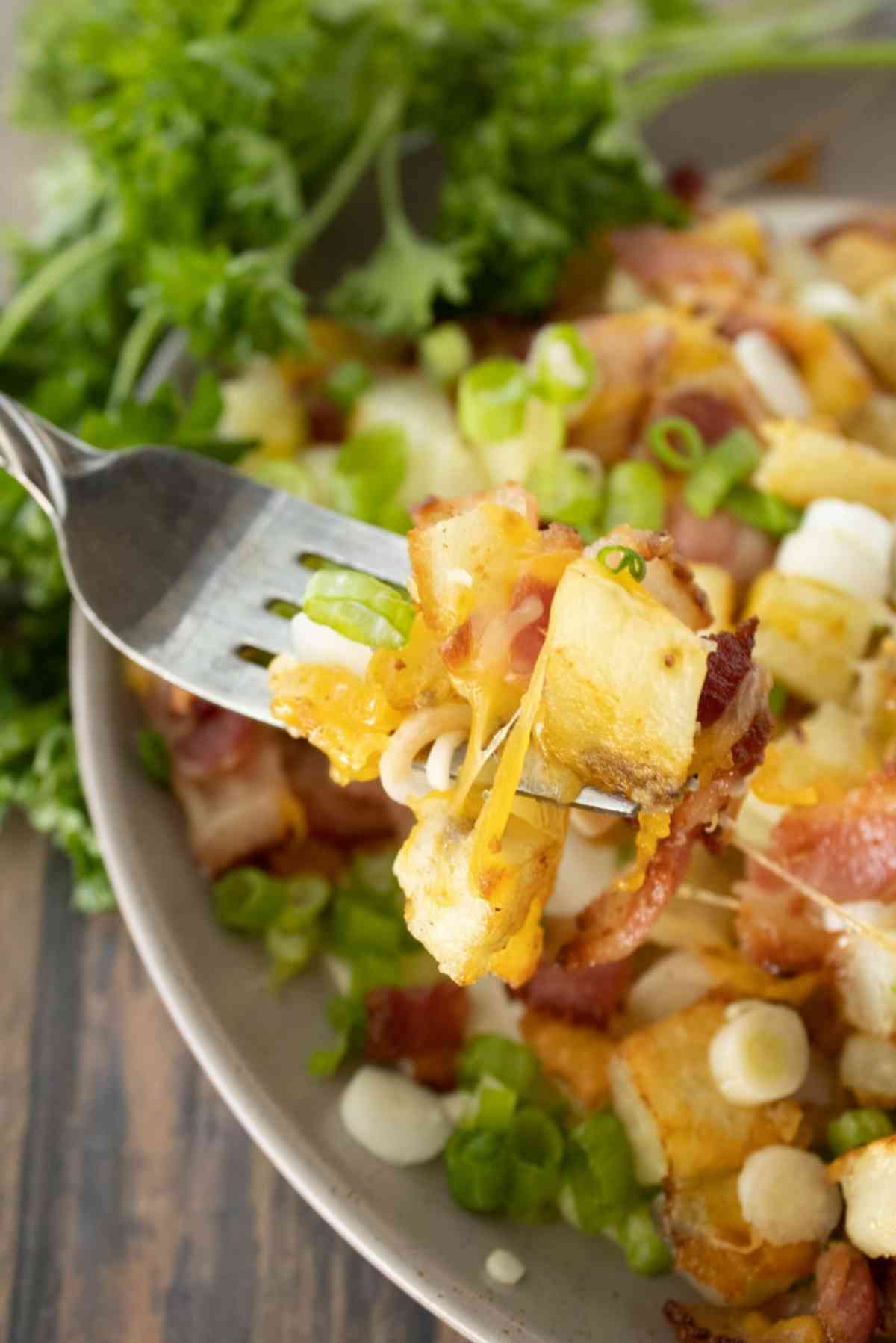 A platter of these roasted loaded potatoes from Mindee of Mindees Cooking Obsession will disappear as soon as you put them out on Easter! Now, basic roasted potatoes seasoned with salt, pepper, and herbs are good and definitely more customary than this recipe. But you can keep the atmosphere fun and merry with these loaded taters. And trust me, no one will be complaining that it isn't traditional.
Visit Mindee's Cooking Obsession for the recipe.
Simple Baked Ham Recipe with Brown Sugar Glaze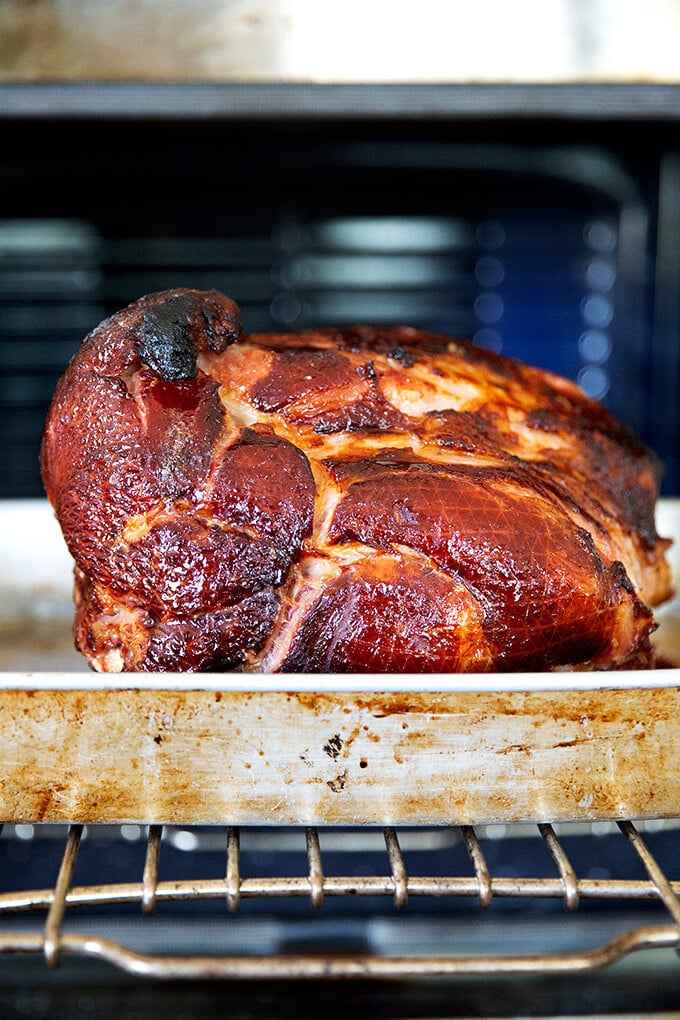 This simple ham recipe from Ali of Alexandra's Kitchen is a classic Easter food and a ham myth-busting goldmine. For one, a good ham recipe requires a good quality ham in the first place. She recommends one (without affiliation). And that glaze, while delicious, won't save a lousy ham. The flavor doesn't penetrate below the surface. It's a fantastic resource, including how best to cook your traditional Easter ham without drying it out.
Visit Alexandras Kitchen for the recipe.
Simple 15-Minute Vegan French Toast with Berry Compote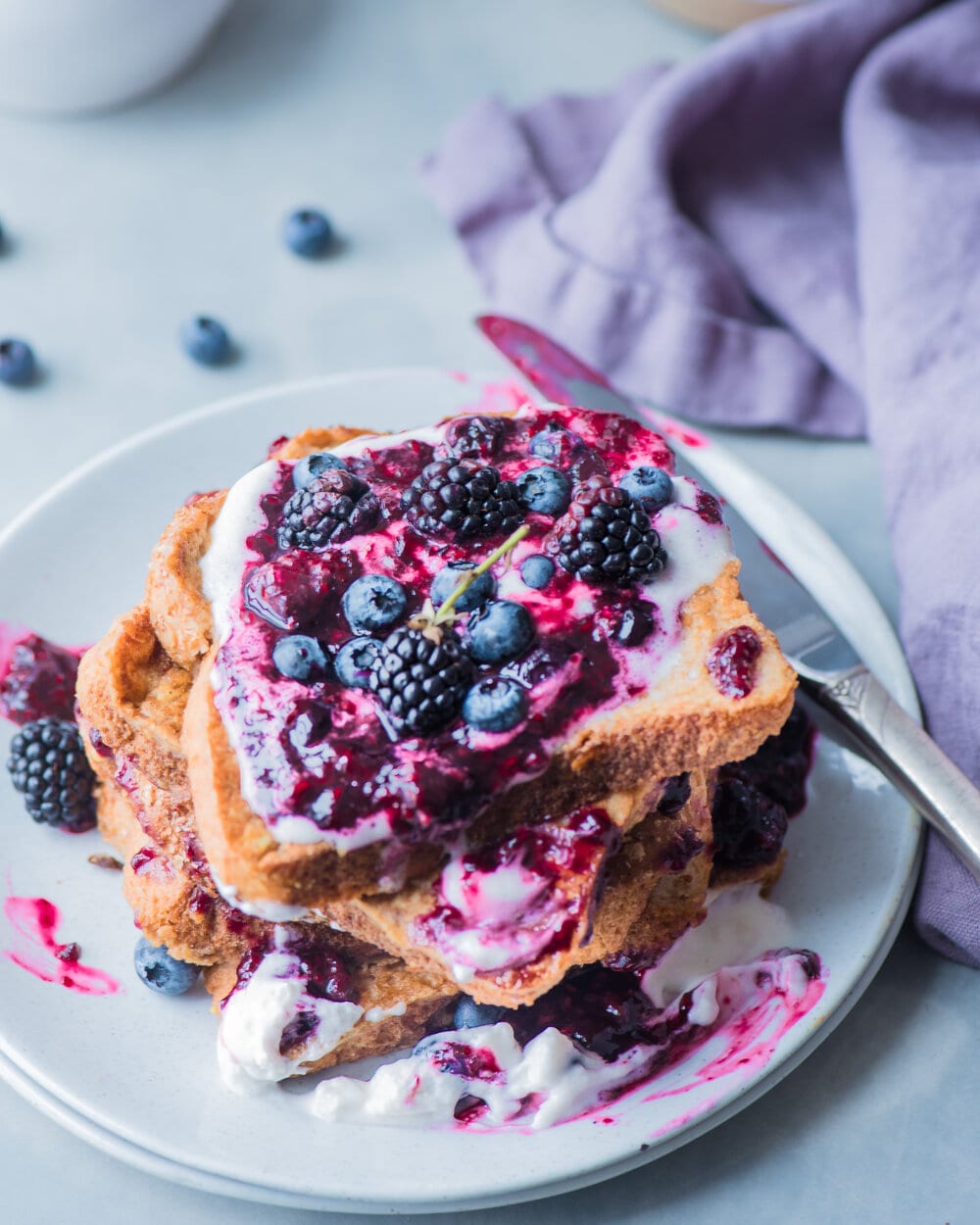 French toast with berry compote is a delicious sweet Easter brunch option. And would you believe this vegan version from Rainbow Plant Life has that eggy deliciousness you love about French toast without any eggs? I won't spoil how Nisha does it, but it's made possible with a vegan staple ingredient you can find at most grocery stores. In addition, you'll find a bevy of tips on her page, including a stale bread substitute if you don't have any lying around.
Visit Rainbow Plant Life for the recipe.
Southwestern Chipotle Quiche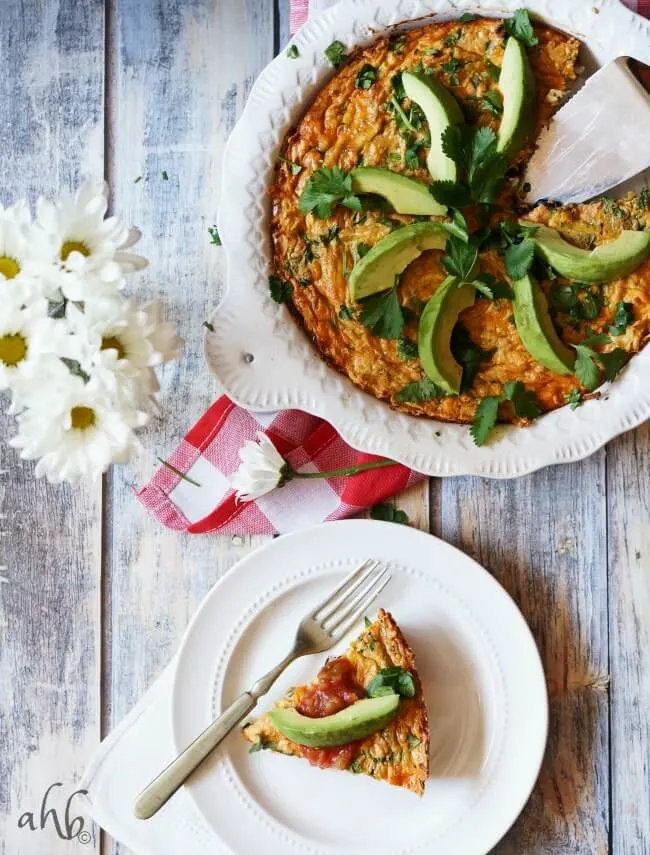 Accidental Happy Baker, Amy, shares this tastebud stimulating southwestern chipotle quiche that will make your Easter guests smile. It's a mouthwatering union of egg, cheese, beans, potatoes, and other vegetables. There's hearty elegance in every bite of this vegetarian lent-appropriate meal. And just because there's no meat doesn't mean it won't make an excellent main course brunch.
Visit Accidental Happy Baker for the recipe.
Orange Pound Cake
Melissa's Southern Style Kitchen pumps out this and many other appetizing pound cake recipes year-round. But it's that bright burst of orange that makes this recipe perfect for the spring and, naturally, Easter. Although, of course, it's a simple enough cake to make. Still, you'll find clear instructions complete with step-by-step images and tips, and insight on the differences between pound cake and layer cakes.
Visit Melissa's Southern Style Kitchen for the recipe.
Italian Struffoli Honey Balls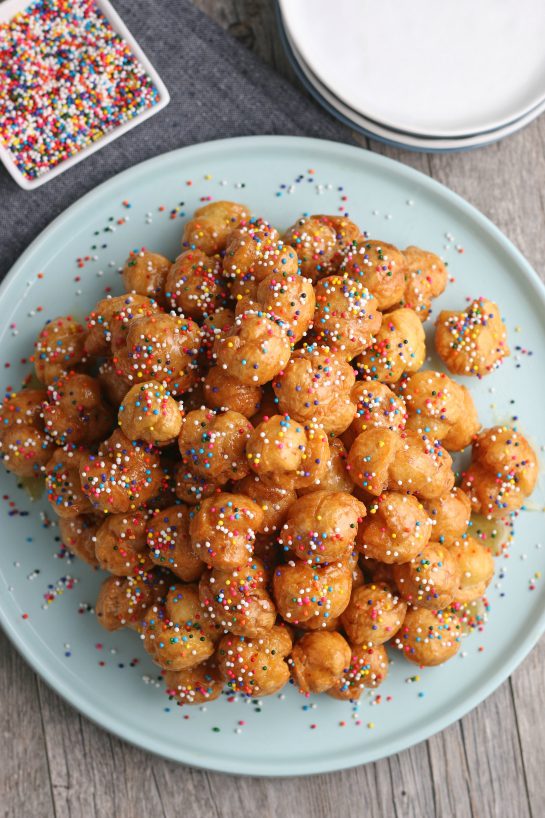 Christmas isn't the only time you'll make this irresistibly popular Italian dessert, a honey ball recipe from Ashley of Wishes And Dishes. Struffoli is an Italian doughnut made of dough with no added sugar. Instead, the sweetness comes when you drench them in a honey mixture. So are you ready to make these mini doughnuts for Easter? These little bites may become a new tradition for your Easter celebration.
Visit Wishes And Dishes for the recipe.
Which Easter Recipes Will You Make?
So which of these recipes are you excited to make this Easter? Will you stay with tradition and make a succulent honey-baked ham, or maybe bunny truffles or maybe lemon shortbread bars? Let us know in the comments!
Don't forget to pin this page on Pinterest so you don't lose it.