This grilled corn and chorizo dip recipe is addictive. It will ruin your life! Like for real, you will go to bed thinking about it and wake up hoping no one polished it off while you were sleeping. But don't act like that's just me! Seriously, this recipe is that good!
Jump to Recipe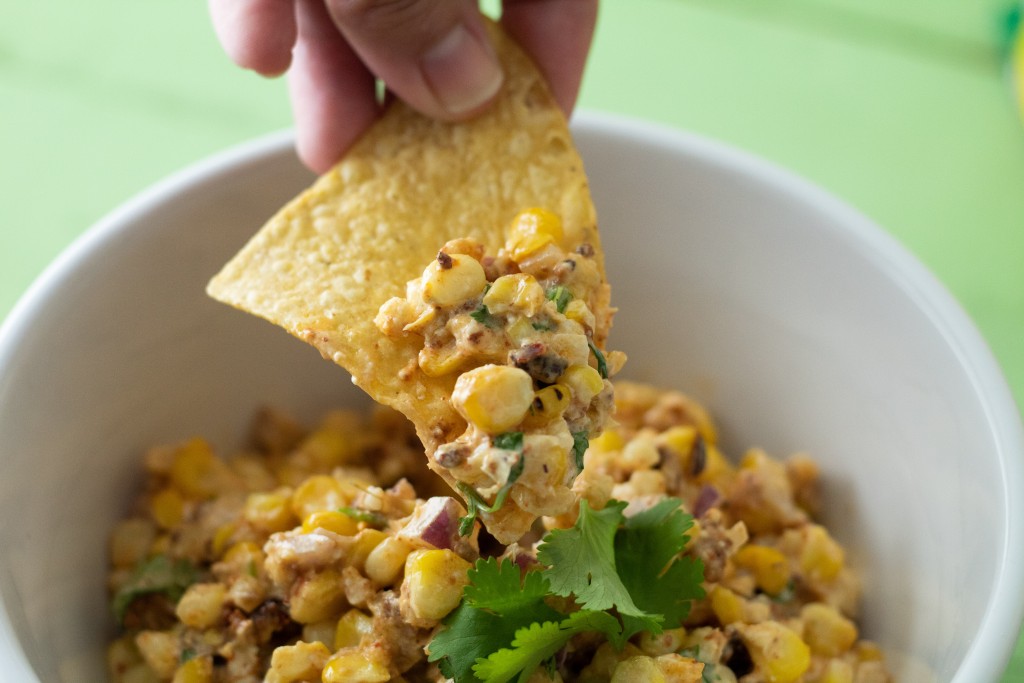 There are many corn dip recipes out there, but this one is my favorite. It is packed with so much flavor. But not only is it addictively tasty, but it also looks beautiful. There are so many vibrant colors that pop out that it is the dish that really displays well.
So, if you're looking for an amazing dish to bring with you to a summer cookout or pot luck, I promise this one won't let you down. But, unfortunately, you will run out of this dip before the other side dishes.
It's a straightforward recipe, everything that you need to make it is readily available at your local supermarket. Even the Queso Fresco cheese was easy to locate and super-cheap at Walmart. Chorizo might sound exotic if you've never bought it before, but it is easily found at many grocery stores. No specialty stores are necessary.
I will go ahead and pat myself on the back here for contributing to the recipe (Sarah usually does all of the recipe development). I suggested the chorizo.
At first, Sarah turned her nose up at it, like "don't mess with my corn dip recipe," but now she prefers the dip with the chorizo in it too. It is a star player in this recipe, and in my opinion, it really makes it…addictive.
Grilled Corn is Best, But…
You don't have to grill the corn if you don't have a grill or if you don't want to fire it up. Grilling definitely makes the recipe a bit more involved. If you don't already have plans to grill, this isn't the type of dish that you fire up the grill for.
So, save this recipe for when you will grill for the best taste. That smoky flavor is definitely present in this recipe. The scorch marks also add some more color to the dish.
When it comes to grilling, we prefer charcoal, but a gas grill works too. If you want to save on time, we recommend boiling fresh corn. After a boil, you can even put them in the oven on broil to get that char flavor.
As a last resort, you can use canned corn. It will not taste smoky, but it should still be pretty darn good. So in order of our preference, it would be:
Charcoal grill
Gas grill
Boil and broil
Boil
Canned
(If we crave this recipe in the winter, then we will use canned corn. But, unfortunately, we're not too good for canned corn.)
For best texture and taste, we recommend that you cook the corn for no more than 20 minutes. You don't want overcooked corn. We like to place the corn on the grill – still wrapped in the husk – opposite the fire. This allows the corn to steam first.
Then we unwrap the corn from the husk and place them directly on the fireside to get that char. Be careful when handling the corn at this stage, as they will be boiling. Use grilling gloves (welders gloves used only for grilling are the best) or oven mitts to handle.
Use a sharp knife to cut the corn off of the cob.
Other Recipes to Try:
Where to Find Chorizo…
So now that we've got the corn out of the way let's talk about that chorizo. We found cheap chorizo at Walmart that, to our surprise, we prefer to the stuff we usually get at the specialty store.
It was only a couple of bucks which made it cheaper per pound as well. And better still, we don't have to make a special trip to get it. You should be able to find it at your local chain grocery store.
When it comes to cooking the chorizo, you want to make sure that you cook it until it is firm and most of the excess oil is cooked off. Once the chorizo is finished cooking, make sure to pat it dry to remove any excess oil. You don't want an oily dip.
How To Make Grilled Corn and Chorizo Dip…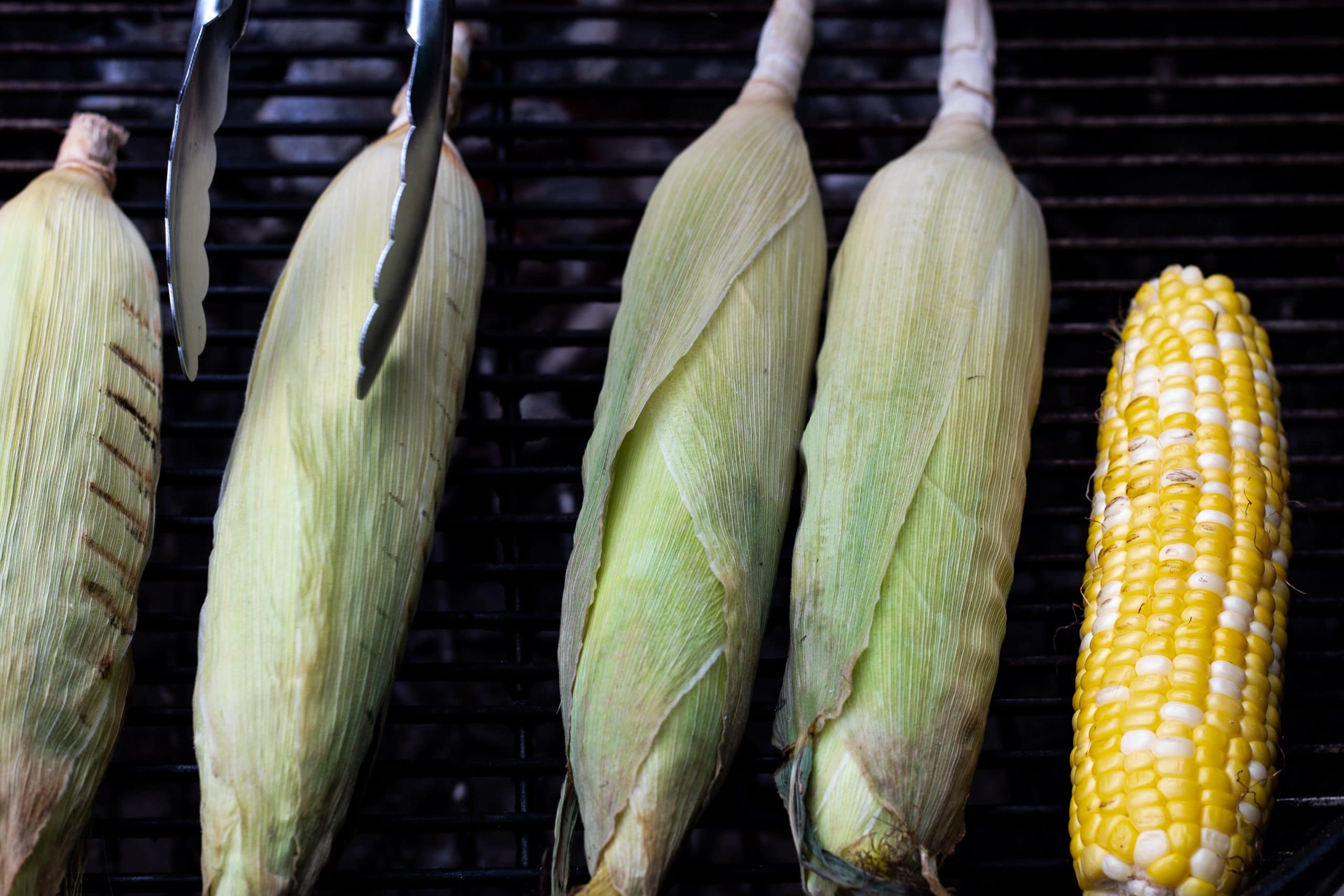 Place the corn opposite the fire to allow the corn to cook without burning. After 15 minutes or so, peel the husk and place the corn directly over the fire for one to two minutes at a time or when you start to see the char marks.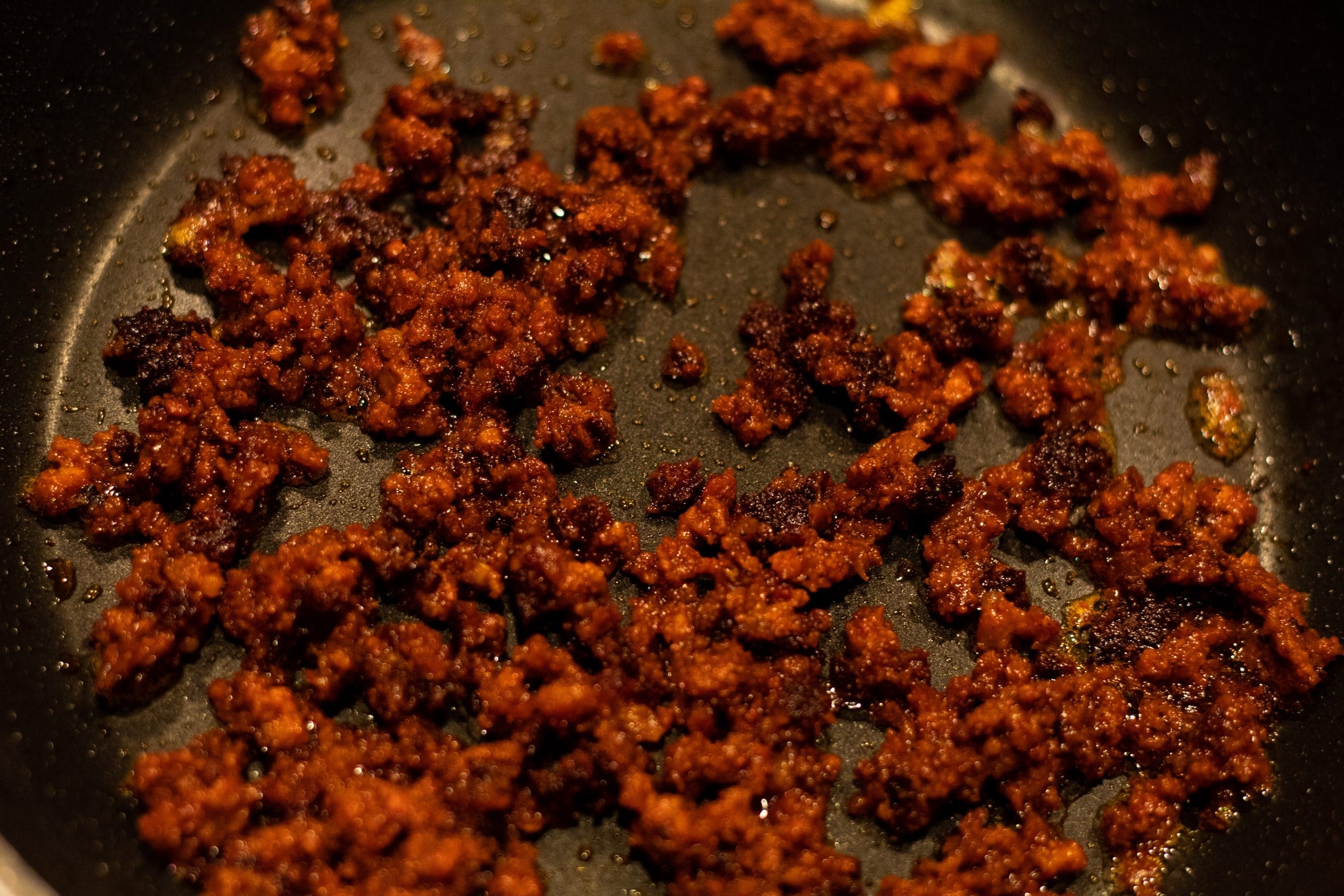 Raw chorizo looks like a paste. Cook it until firm, like taco meat. It will be crumbly when cooked. Once cooked, pat dry with a paper towel to remove excess oil. We don't want oily corn dip.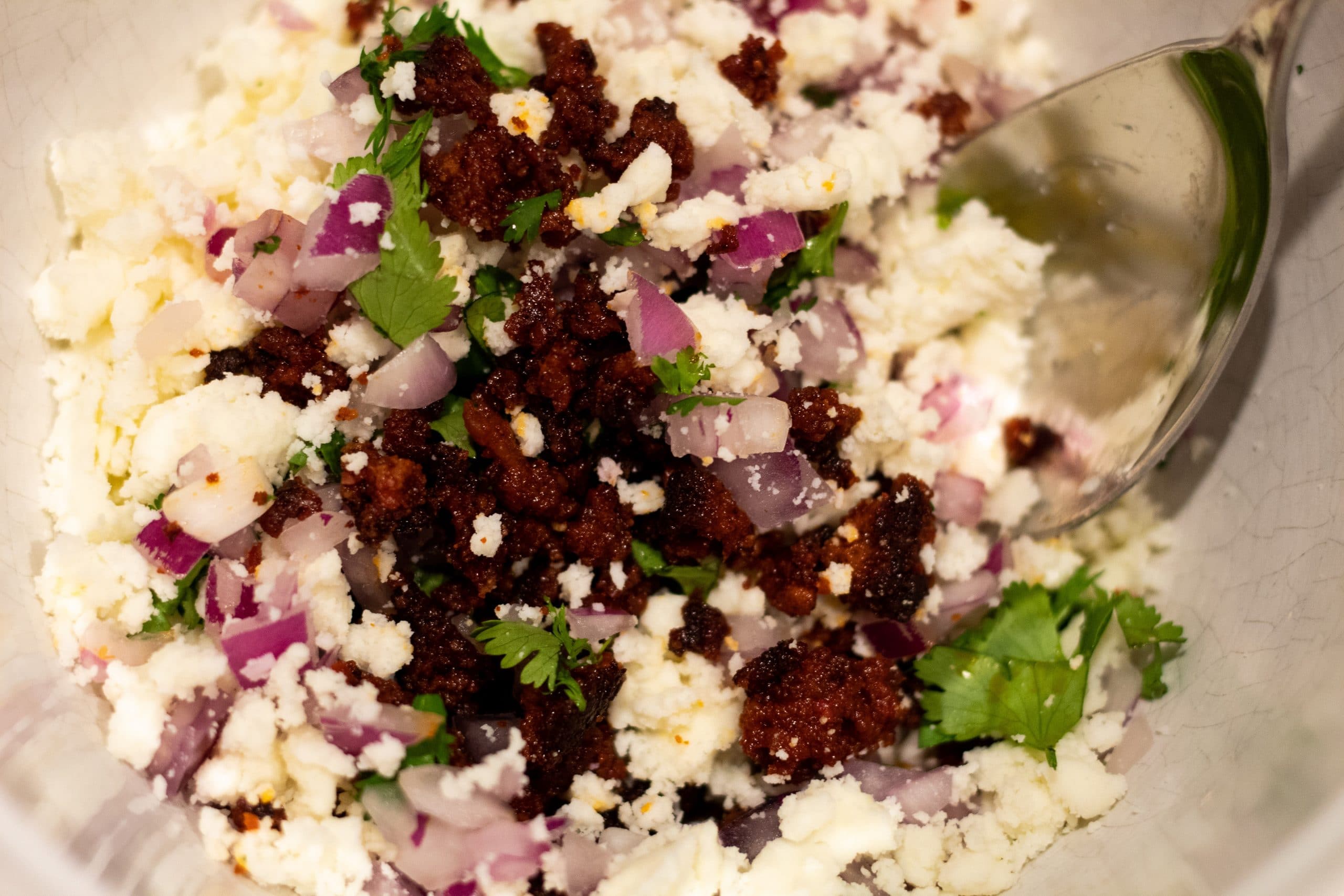 Add the chorizo, queso fresco, onion, and cilantro to a bowl.
Add the corn and mayo, mix, and let the magic happen!
Mmm…mmm…mmm. Enjoy.
Ways to Serve and Eat Corn Chorizo Dip
From a presentation standpoint, there are several things you do with this dish. First, you can just put the dip in a bowl, open a bag of chips and let everyone go to town. There's certainly nothing wrong with that.
You can also bake or fry some wontons and use them as little cups to serve the dip in. You could also serve the dip in little plastic shot glasses and use tortilla strip chips. This dip can also be used as a condiment.
It would be so good on a hotdog or sausage. Corn chips with this dip are addictive, but I imagine that it would taste great with some Lays potato chips as well.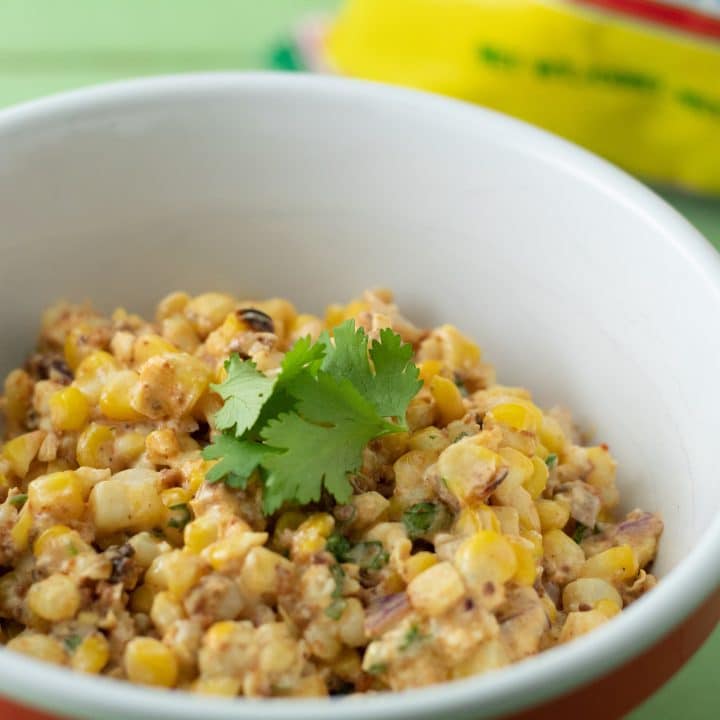 Grilled Corn and Chorizo Dip Recipe
This grilled corn and chorizo dip is a very summery, Mexican flavor inspired dish with the grilled corn and the chorizo. You also get that burst of fresh from the cilantro and a little heat from the chili powder. It is very tasty and even addictive. There probably won't be any left overs with this one.
Ingredients
2

Ears of Grilled Corn

1

oz

Cooked Chorizo

¼

cup

Mayo

1/8

tsp

Chili Powder

Juice From half a Lime

3

tbsp

Chopped Cilantro

1/4

cup

Diced Red Onion

1

oz

Queso Fresco
Instructions
Place corn on hot grill opposite the coals for about 15 minutes. Leave the husks on to steam the corn.

While the corn is cooking (opposite the coals) cook the chorizo in a small pan on medium high heat. Make sure you cook it until most of the oil is cooked off this will take about 10 minutes. You don't want mushy chorizo. Once the chorizo is cooked place it on a paper towel lined plate to collect the excess oil and set aside.

In a small bowl mix the mayo, chili powder, and lime juice. Set aside.

In a medium bowl add the chopped red onion, cilantro, cooked chorizo and the cheese. The cheese comes in a block so you will need to crumble it.

After about 15 minutes or so, go back to the corn, it should be finished now. Remove the husks and finish the corn by placing them directly over the coals. You will want to turn them every minute or so to roast them as evenly as possible. It will take about 3- 5 minutes to get those beautiful grill marks. The grill marks also help give the corn that smoky roasted flavor you want. Do not leave the corn unattended at this stage as it will burn.

Once the corn is done cut the corn off the cob (I use a trick to get the corn off the cob. See notes.)

Add the chopped corn into the medium bowl with the other ingredients. Pour in the Mayo sauce. Mix all ingredients and enjoy! This is going to be a hit I am sure of it. ☺
Notes
I take a medium bowl and place a smaller bowl upside down in the medium bowl. I sit the cob on top of the smaller bowl and with a knife start by cutting one side at a time. This helps keep the corn from running all over the counter as you cut. I hate having run away corn. Lol

If fresh corn is out of season, use canned corn. You won't get that same smoky flavor but it will still be good.
Nutrition
Calories:
93
kcal
Carbohydrates:
1
g
Protein:
1
g
Fat:
10
g
Saturated Fat:
2
g
Polyunsaturated Fat:
5
g
Monounsaturated Fat:
2
g
Trans Fat:
1
g
Cholesterol:
9
mg
Sodium:
115
mg
Potassium:
11
mg
Fiber:
1
g
Sugar:
1
g
Vitamin A:
68
IU
Calcium:
33
mg
Iron:
1
mg
Other Delicious Recipes You May Like: