We took bacon, a perfect food, and made it "perfect-er with this chicken fried bacon BLT sandwich." That's right, we dredged and deep-fried bacon and put it between two pieces of toast, then added lettuce and tomatoes. So, each bite has crunchy breaded bacon that's so savory and addictive. Do you want even more flavor? Okay, so we added chipotle peppers for an easy spicy flavor upgrade instead of regular ole mayo. The result? An irresistible flavor party perfect for a Saturday or Sunday lunch.
And if you want to introduce this idea to your friends, we've got you covered. We'll show you how we made our "chicken fried bacon BLT mini two-bite sandwiches." Whew, say that five times fast, ha. Enjoy!
Jump to Recipe
Who doesn't like a good BLT sandwich? It's a perfect go-to sandwich that can be the base for your creative sammie creations. You can upgrade the mayo (chipotle, jalapeno) or maybe the bread, brioche bun, anyone? Are you looking for a change-up to your typical appetizers? Just check out our miniature deep-fried bacon sandwiches below.
Okay, now that you're drooling, let's show you how we made them.
Jump to:
Ingredients
Below, you will see a picture of all the ingredients you need to make chicken-fried bacon BLT sandwiches with chipotle mayo.
Bacon
Lettuce – we used green leaf lettuce as it is prettier.
Tomato
Bread
Eggs
Milk
Flour
Cornstarch
Pepper
Mayo
Chipotle peppers
See the recipe card for quantities.
How to make Chicken Fried Bacon BLT Sandwiches
Making this recipe is very easy! The only part to be concerned about is dredging and frying, but that's easy as well. We used our deep fryer setup (a dutch oven with about two and a half inches of oil). But you could shallow fry in a frying pan if you like. The frying will take between four and five minutes. We got the best results by frying the bacon at 375-degrees for three minutes on side one, then a minute and a half on side two.
But, before you fry, make sure to toast the bread.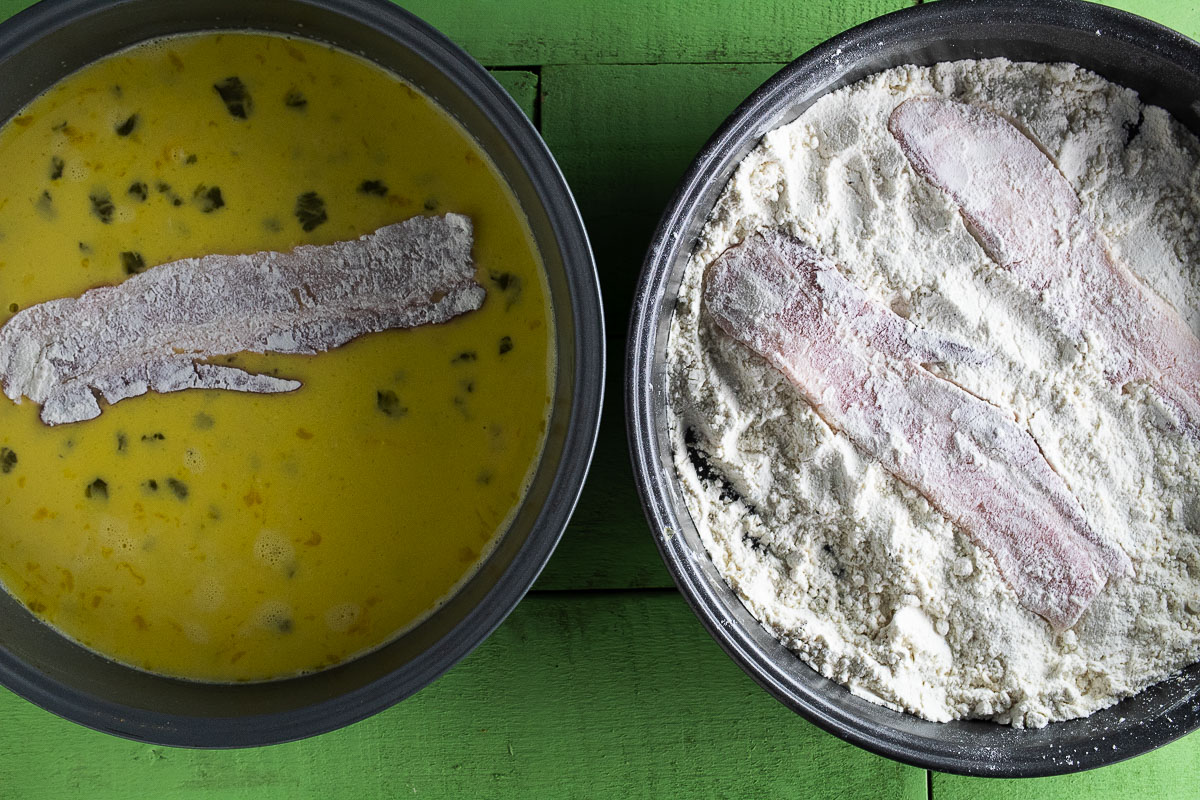 First, cut the bacon in half – this works best the colder the bacon is. Then, grab two bowls or shallow pans. In pan one, add eggs and milk, and whisk. For the second pan, add flour, cornstarch, and black pepper. Dip the bacon in the flour, making sure to coat it well. Then dip them in the egg/milk mixture and finally back into the flour.
Fry at 375 for about three minutes on the first side, then one to two minutes on side two. We fit six half slices of bacon in our seven-quart dutch oven. Now, your mileage may vary, but don't crowd the pan. Finally, place cooked bacon on a paper towel-lined baking rack.
Hints: To keep your hands clean, use a pair of tongs while coating the bacon. The second tip would be to line half of a baking rack with a paper towel. Place the fried food on that half. After a minute, transfer it to the other side of the rack. We do this to absorb excess oil.
Can I Use an Air Fryer to Cook the Bacon?
Yes! We tested this out. So, we dredged the bacon just as we did in the steps above. Then we lightly sprayed both sides of the bacon with cooking spray. We then air-fried them at 375-degrees for 15 minutes, turning over halfway.
How to Make Chicken-Fried Bacon Mini Sandwiches
So, we used a biscuit cutter to cut out bread rounds. First, we cut out two per slice of bread with our two-inch biscuit cutter. This was the perfect size to fit a slice of tomato on it. Now, depending on the length of your bacon, you may want to cut the slices into thirds or even quarters. Or, you can fry the bacon whole and cut them into the size you need.
Variations
There are all sorts of ways you can switch up this recipe. Check out the list below for some ideas. Hopefully, it sparks something really cool!
Different Mayo – Perhaps you could try an orange mayo, or a jalapeno jelly, or a different or additional condiment all together (or two). How about jalapeno pepper jelly?
Brioche Buns – Looking back, I think brioche would been even better here.
Add an Egg – An egg would take this sandwch to new heights.
Equipment
Below is the equipment that we used to make this recipe:
Air Fryer – We tested this recipe in the air fryer. And we also tested this recipe for reheating in the air fryer.
Biscuit Cutter – If making mini sandwiches.
Storage and Reheating
Look, you probably won't have any leftover bacon because who has leftover cooked bacon in the history of humanity ever. But, just in case you do, you can store it in an air-tight container for up to three days. Reheating is simple in the air fryer at 375-degrees for about 3 to 5 minutes and flip halfway. Or, if you don't have an air fryer, reheat them in the oven for the same amount of time – the convection feature would be useful here for crispiness.
Top tip
Set up your frying station so that it looks like this:
Raw Food => Flour => Egg => Flour => Oil => Baking Rack
Chicken Fried BLT Sandwich Recipe
Our chicken fried bacon BLT sandwiches are perfect for your weekend lunch or brunch. They are easy to make, tasty, and best of all, filled with bacon.
Equipment
Dutch Oven (or deep fryer)

food thermometer

Backing Rack (or cooling rack)
Ingredients
1

Pound

Thick Cut Bacon

2

Large Tomatoes

Sliced

Green Leaf Lettuce

10

Fresh White Bread

Slices
Chiptole Mayo
1/2

Cup

Mayo

2

Chipotle Pepper

Minced

2

Tbsp

Adobo Sauce
Coating
1

Cup

Flour

2

Tbsp

Cornstarch

1

Tsp

Black Pepper

2

Large Eggs

1/4

Cup

Milk

2

Quarts

Vegetable Oil
Instructions
Chiptole Mayo
In a small bowl mix the mayo, adobo sauce, and minced chipotle peppers until combined. Refrigerate until ready to assemble the sandwiches.
Coating and Assemblying
In a large bowl whisk the eggs and milk. In another large bowl add the flour, cornstarch, and black pepper. Mix until combined.

Cut each strip of bacon in half. Work with 1 piece of bacon at a time place it in the flour mixture, turn to coat. Then, place the bacon into the egg mixture, turning to coat. Finally, place it back in the flour and turn to coat. Place the bacon on a plate and repeat steps with the remaining pieces.

Use a dutch oven or a deep pot filled with 2 inches of oil (about 4 cups). Preheat the oil to 375 degrees cook the coated bacon for 4-5 minutes. Lay the cooked bacon on a cookie sheet lined with a paper towel to catch any excess oil.

Toast the bread and spread the chipotle mayo on both slices. On one slice of bread, add the lettuce, tomato, and a few pieces of bacon. Top with the other slice cut it in half and enjoy!
Notes
This recipe only takes about 30 minutes to make 5 delicious sandwiches.
Don't overcrowd the pot or the temperature will get too low and the bacon won't get crispy.
Cook the bacon on the first side for 3 minutes, turn and cook for another 1-2 minutes. 
The bacon only curled a little on the ends, so this is perfect to lay on a sandwich.
To keep the bacon hot while you are cooking the rest just preheat the oven to 275 degrees. This will keep the bacon crispy and won't overcook it. 
Reheat the cooked bacon in an air fryer at 375 degrees for about 5 minutes. Flip halfway. 
Nutrition
Calories:
613
kcal
Carbohydrates:
26
g
Protein:
4
g
Fat:
19
g
Saturated Fat:
3
g
Polyunsaturated Fat:
10
g
Monounsaturated Fat:
5
g
Trans Fat:
1
g
Cholesterol:
11
mg
Sodium:
1386
mg
Potassium:
66
mg
Fiber:
2
g
Sugar:
2
g
Vitamin A:
52
IU
Vitamin C:
1
mg
Calcium:
30
mg
Iron:
1
mg