Get ready to explore this delicious and exciting list of 21 unique pumpkin dessert recipes. I mean, really, these food blogger creatives came up with some of the most interesting "how did they think of that" pumpkin recipes we've ever seen.
No, seriously!
As a preview, we'll give you a little sniff of what you can expect, like pumpkin spice tamales and pumpkin pie samosas. And have you ever heard of a pumpkin lava cake with chocolate ganache?
We know you're just as excited as we were to find these fall treats. So without further delay.
Let's dive in!
Pumpkin Spice Waffle Whoopie Pies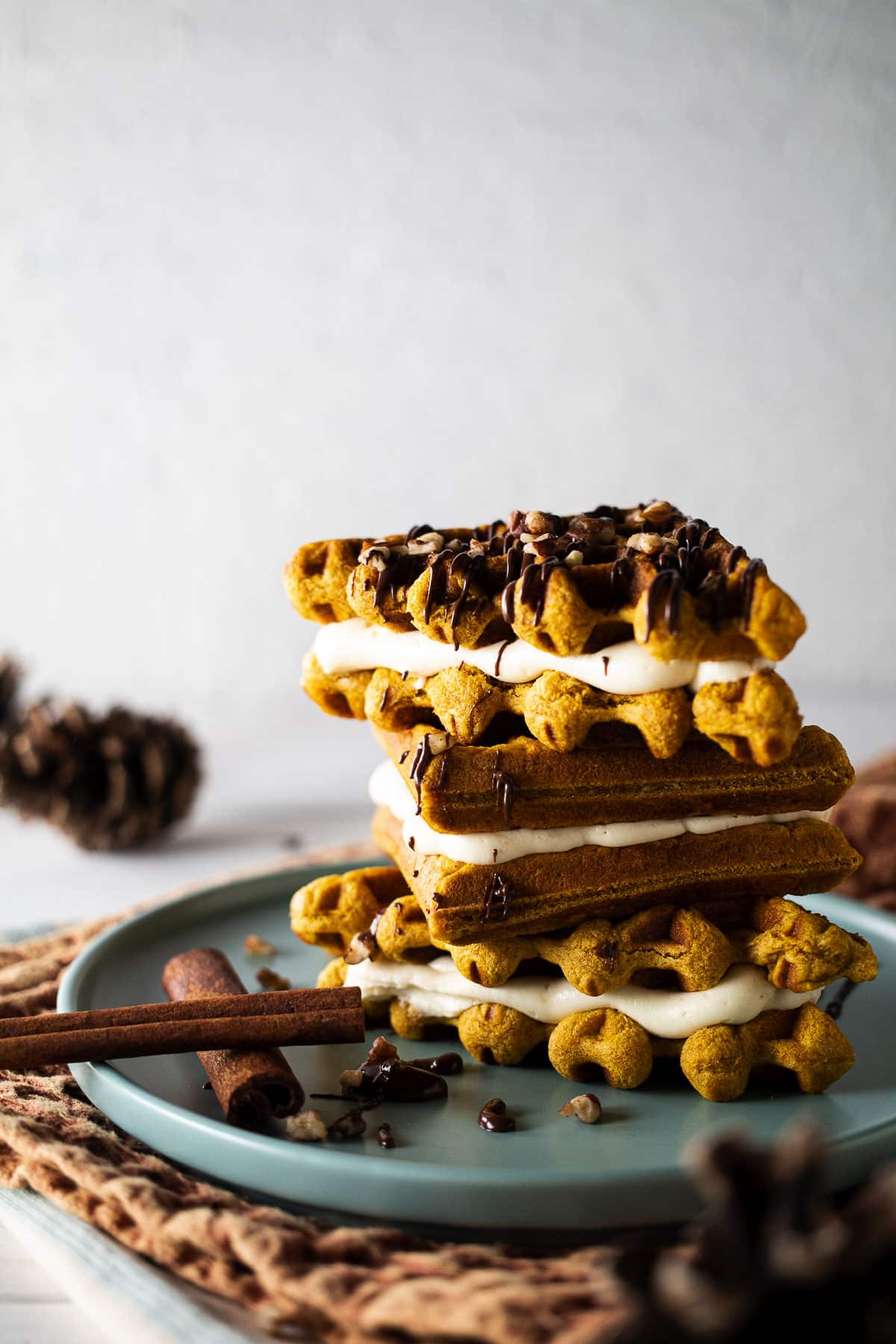 These pumpkin spice waffle whoopie pies are soft waffle sandwiches with maple frosting. They're a simple dessert treat that we created to avoid turning on the oven. And they taste so good! You'll love this fun dessert as well the red velvet version.
Pumpkin Cheesecake Cookies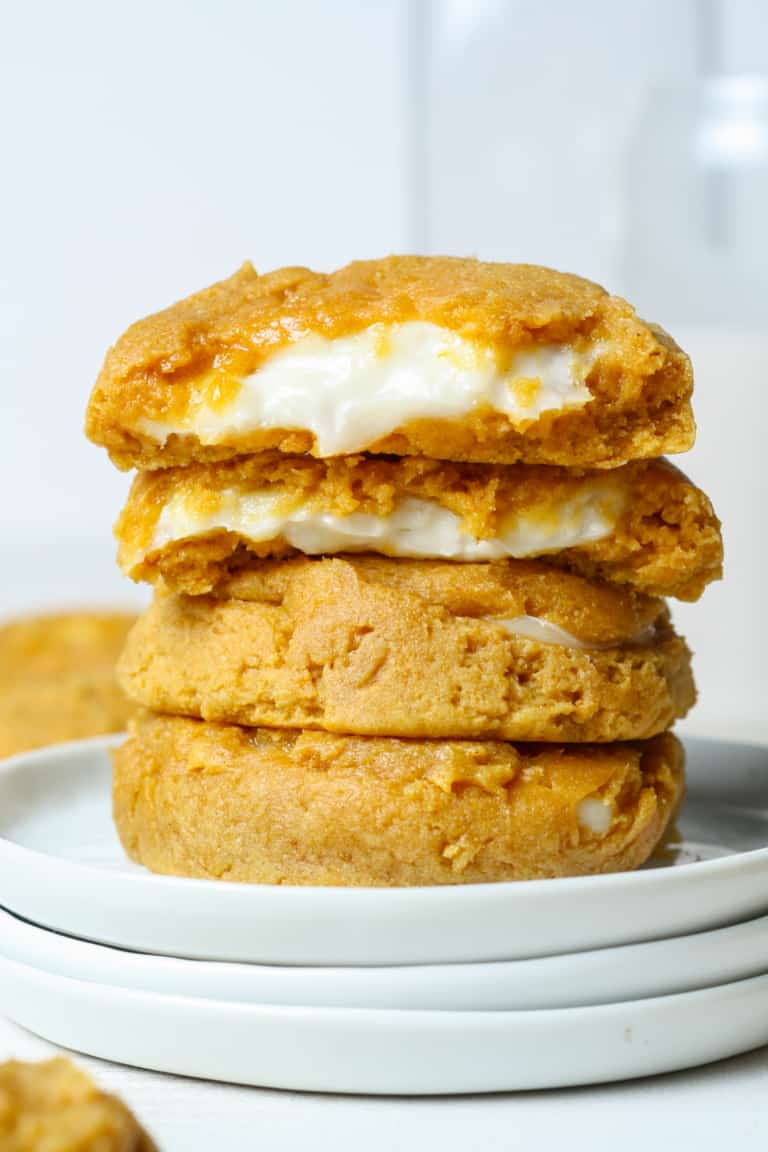 Pumpkin cookies are good, but in 2022 and beyond, it takes more than dry-ish pumpkin cookies with chocolate chips to get us excited. But these cheesecake stuffed pumpkin cookies from Organically Addison are a different species altogether.
There's a laundry list of reasons you'll love this recipe (Addie actually made a list). However, the least of which is not that they are ooey-gooey, soft-baked deliciousness, with a creamy surprise.
Visit Organically Addison for the recipe.
Pumpkin Lava Cake
Ryan of Chisel And Fork acknowledges that novel food ideas are getting harder and harder to come by. But he's undoubtedly crafted something we've never seen before with this pumpkin lava cake.
As it sounds, you make the cake with pumpkin puree, and on the inside, there's lava. That lava is chocolate ganache that oozes with every bite you or your significant other take. It's the perfect autumn dessert for two.
Visit Chisel And Fork for the recipe.
Harry Potter Inspired Pumpkin Pasties Recipe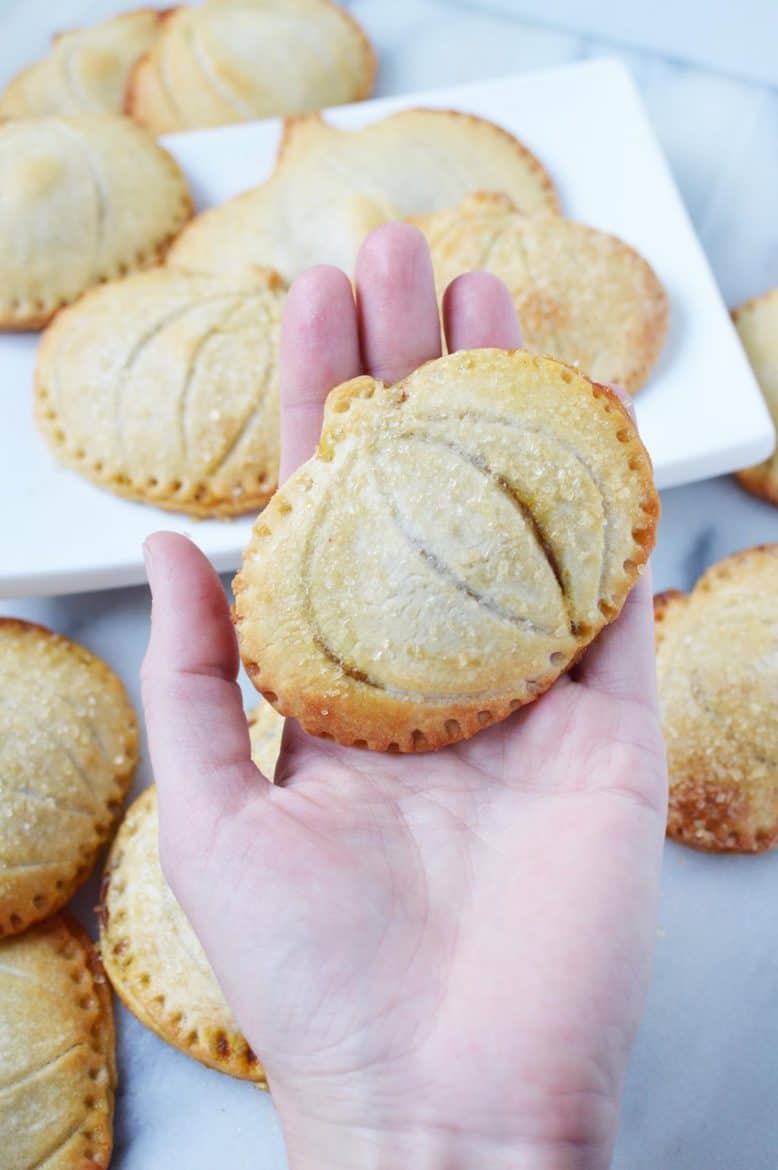 You know, there's something very fall-Esque about Harry Potter movies and books. And for all the Harry Potter super fans, these pasties from Jeana of Surf And Sunshine will add to that feeling.
The recipe itself is simple, with only three ingredients: dough, pumpkin pie mix, and maple syrup. But keeping with the fall aesthetic, Jeana uses pumpkin-shaped cookie cutters and a knife to draw lines and add the pumpkin details. They're cute and delicious.
Visit Surf And Sunshine for the recipe.
Baked Pumpkin Donuts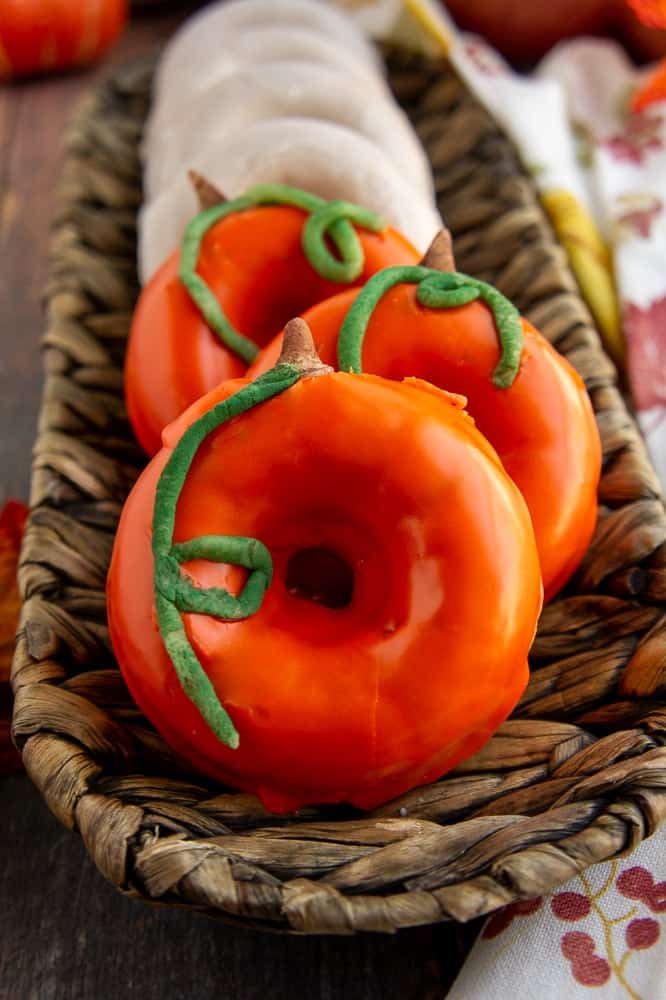 We know baked pumpkin donuts aren't something to jump out of bed for. However, the cuteness levels are so dangerously high for Mikayla, The Flour Handprint creator's version. So you just might have to make them today.
The from-scratch baker provides a classic recipe for moist and perfectly spiced pumpkin donuts. Then she shows you how to finish them with glaze or level them up with marzipan to resemble a pumpkin. We hope you choose the latter.
Visit The Flour Handprint for the recipe.
Pumpkin Cheesecake Lasagna Recipe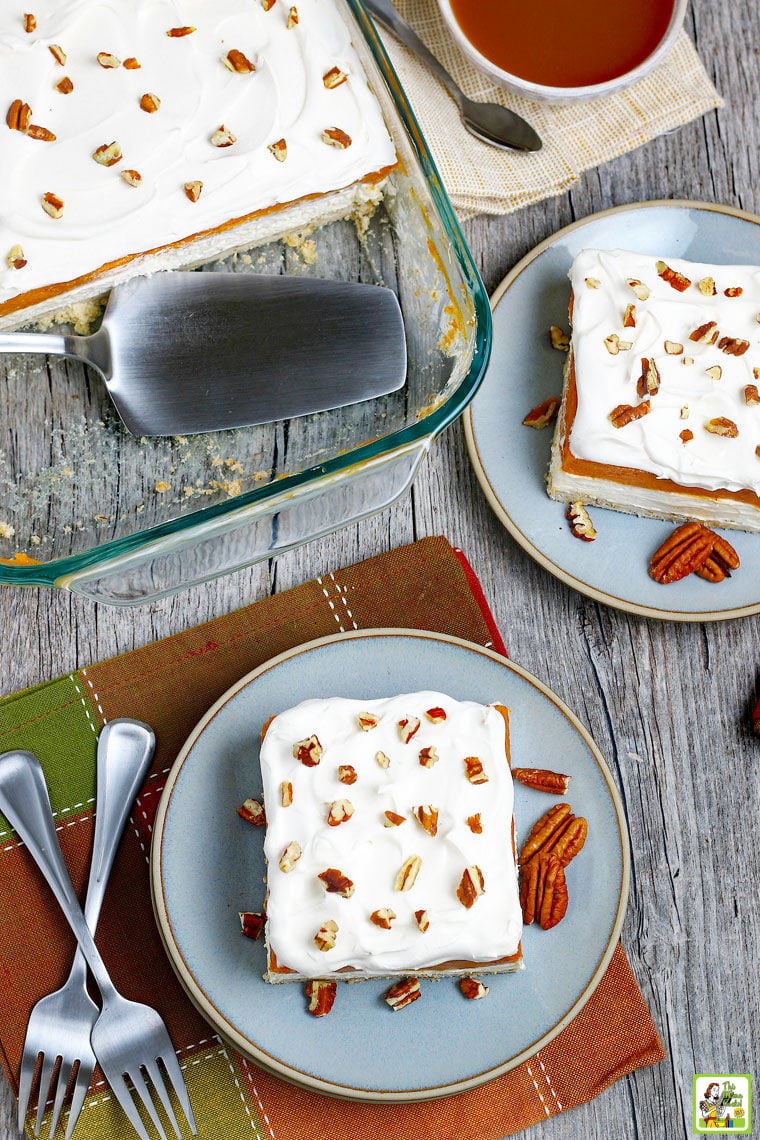 We see layered cold "dream style" desserts like this pumpkin cheesecake lasagna from Anne-Marie of This Mama Cooks everywhere. Often, though, they call for spring or summer ingredients like strawberries or blueberries.
So you'll find ingredients like pudding mix, cream cheese, and whipped cream, similar to those easy and delicious vintage summer layered desserts. But now, it's fused with pumpkin puree, chopped pecans, and a baked crust for that irresistible fall flavor.
Visit This Mama Cooks for the recipe.
Gingersnap Pumpkin Ice Box Cake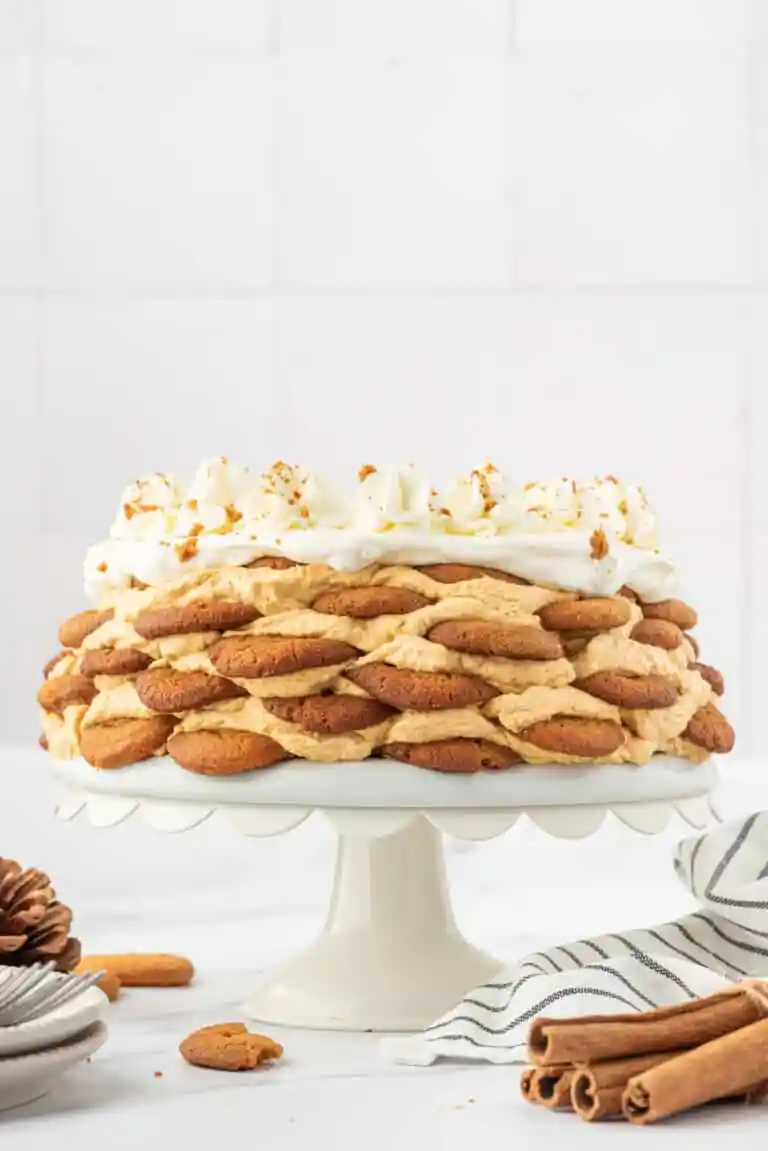 Kellie stands tall on The Suburban Soapbox with pictures worthy of magazine covers. She might as well have a bullhorn. Our attention was hers as soon as we gazed upon this gingersnap pumpkin icebox cake. It's a showstopper.
But don't let the showy presentation distract you. It's still an icebox cake which means no baking is involved. Instead, there are simply alternating layers of delicious gingersnap cookies and spiced pumpkin cream. Did this one make your must-try list?
Visit The Suburban Soapbox for the recipe.
Pumpkin Cheesecake Brownies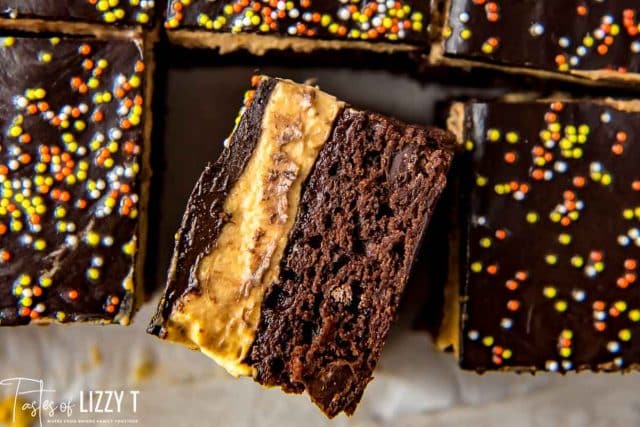 We're sure you've seen pumpkin brownies before, but what about triple-layer pumpkin cheesecake brownies from Julie of Tastes Of Lizzy T. These moist, tastebud-exciting treats will have everyone fall in love.
The first layer is a deliciously moist brownie, followed by pumpkin pie filling, and the third layer is chocolate ganache. Finally, finish your brownies with festive orange, white, and yellow sprinkles.
Visit Tastes Of Lizzy T for the recipe.
Pumpkin Choux Au Craquelin
This pumpkin choux au craquelin (pronounced: shoo-o-krat-ker-lan) from Katalin of Spatula Desserts is perfect if you want to really impress.
And yeah, we struggled to pronounce it too! But you can learn that later. For now, we'll describe it as a cream puff "topped with a thin cookie disc," thanks, Katalin. You fill that cream puff with rich pumpkin ganache and caramelized white chocolate ganache.
It's a process but worthwhile. So head to the recipe page and let a pro recipe developer show you how it's done.
Visit Spatula Desserts for the recipe.
Pumpkin Cream Filled Donut Recipe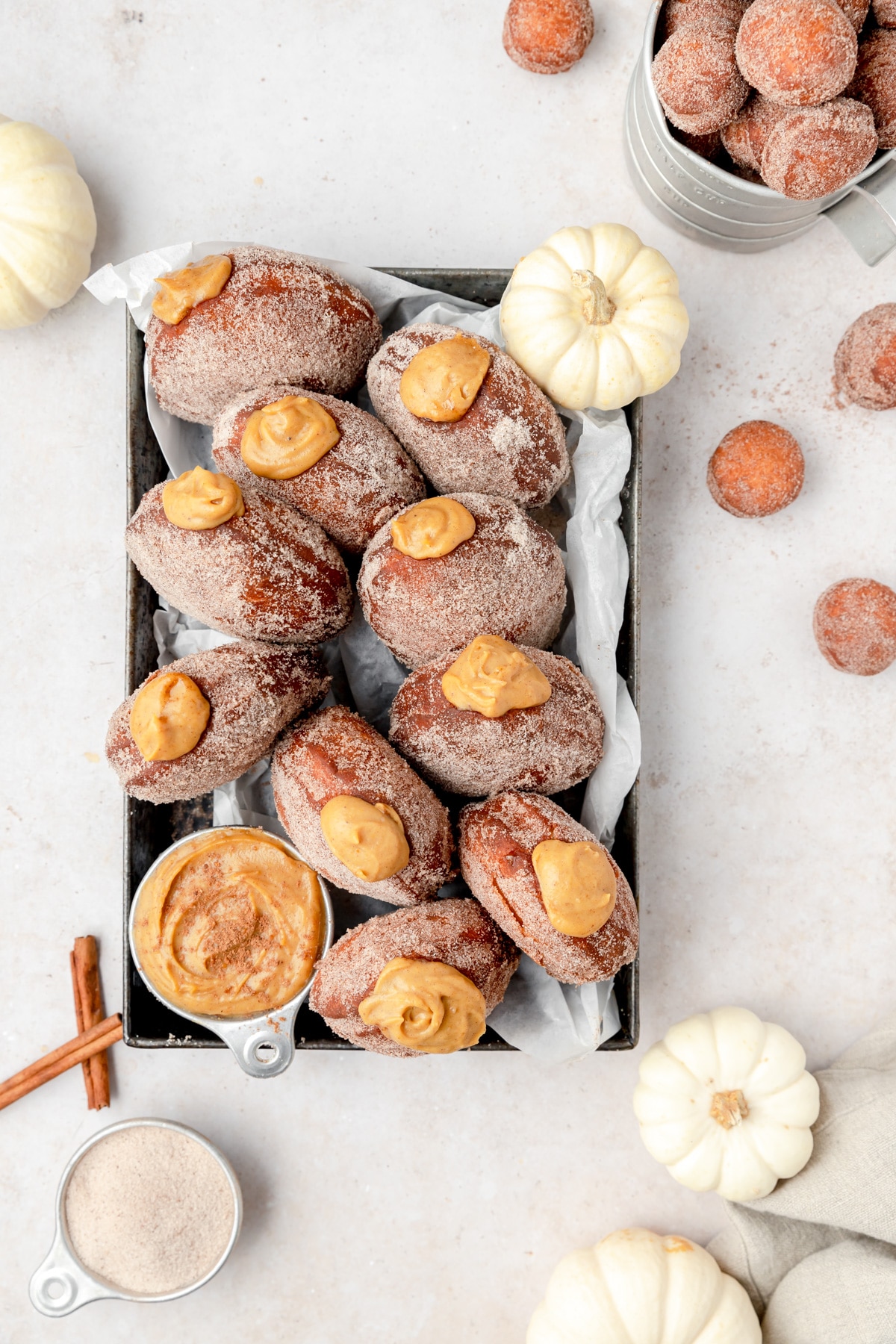 Kyleigh, the creator of Barley And Sage, had us completely hooked at light and fluffy fried donuts filled with rich pumpkin cream. But then, she rolled the darned things in cinnamon sugar, and we almost lost it.
So, with expert tips and even a canned pumpkin brand recommendation, Kyleigh shows you how to make these more than delicious fall donuts. Your challenge, if you choose to accept it, is not eating them all.
Visit Barley And Sage for the recipe.
Pumpkin Cheesecake And Chocolate Mousse
This pumpkin cheesecake and chocolate mousse topped with dark chocolate ganache from Christina's Cucina is an elegant fall dessert that's sure to be remembered. And it deserves to be front and center for Turkey day.
Tired of ordinary pumpkin pie Christina decided to up the wow and flavor factor. You make the crust with ginger speculoos biscuits. Then there's the pumpkin cheesecake filling, airy mousse, and that divine rich deep chocolate ganache on top. How about two servings?
Visit Christina's Cucina for the recipe.
Pumpkin Star Bread with Dried Cranberries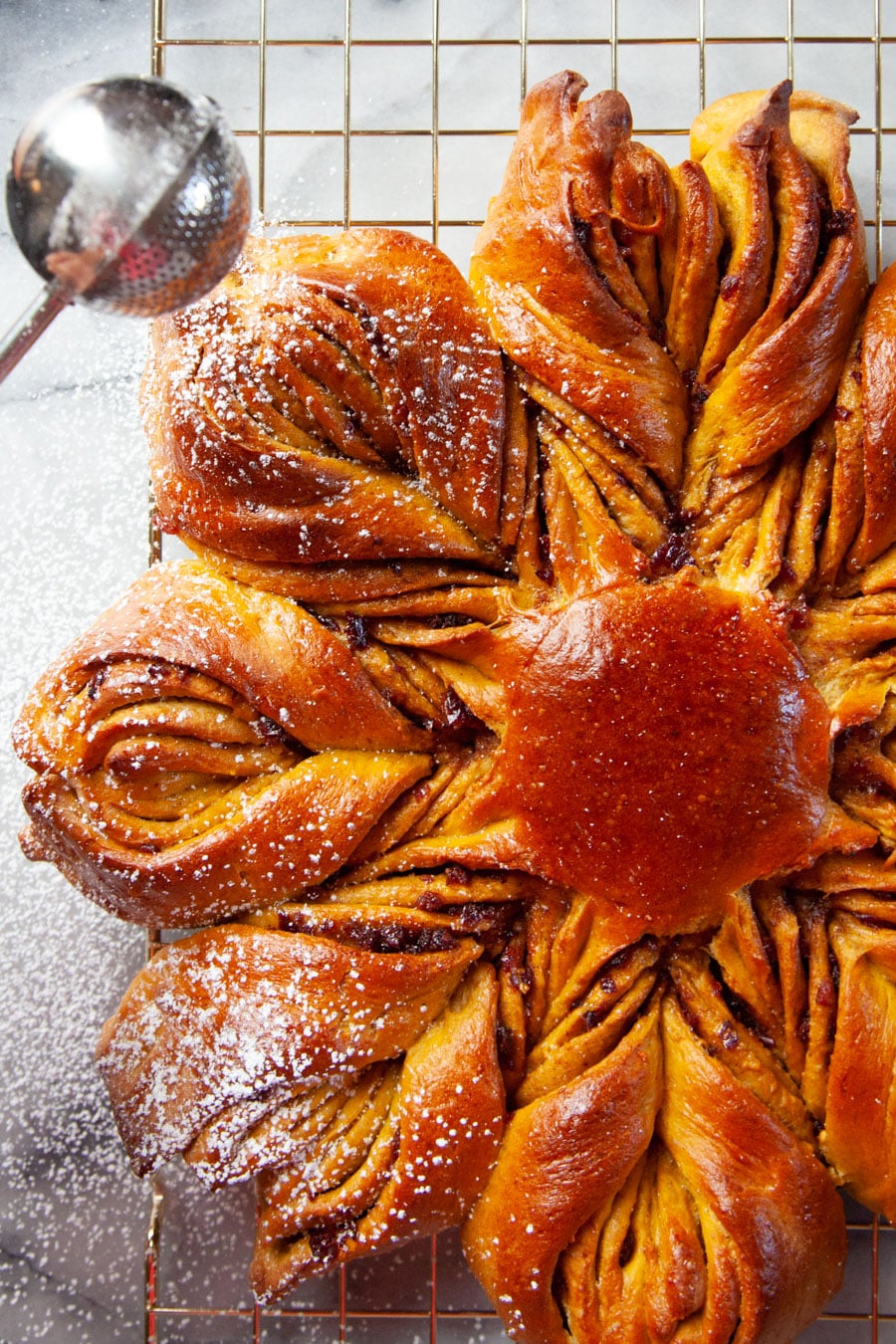 Pumpkin star bread is a sinfully delicious autumn-inspired confection layered with a cranberry/dark brown sugar filling.
And if you're intimidated while staring at the picture from the highly lauded baker and photographer Irvin Lin of Eat The Love, you wouldn't be alone.
But take Irvin's word for it. This bread isn't as hard to make as it may seem. The critically acclaimed cookbook author walks you through this masterpiece with crystal clear instructions. So don't worry, you can do it, and everyone will be glad you did.
Visit Eat The Love for the recipe.
Pumpkin Spice Panna Cotta
If you were wondering, pumpkin spice panna cotta is a silky smooth chilled Italian-inspired dessert recipe that reminds you of pudding. It's easy to make with just seven ingredients, including pumpkin puree, pumpkin pie spice, and gelatin.
But for the best panna cotta, you'll want to top it with a rich and decadent caramel sauce, which is precisely what Danielle of The Six Figure Dish did.
Visit The Six Figure Dish for the recipe.
Pumpkin Baked Alaska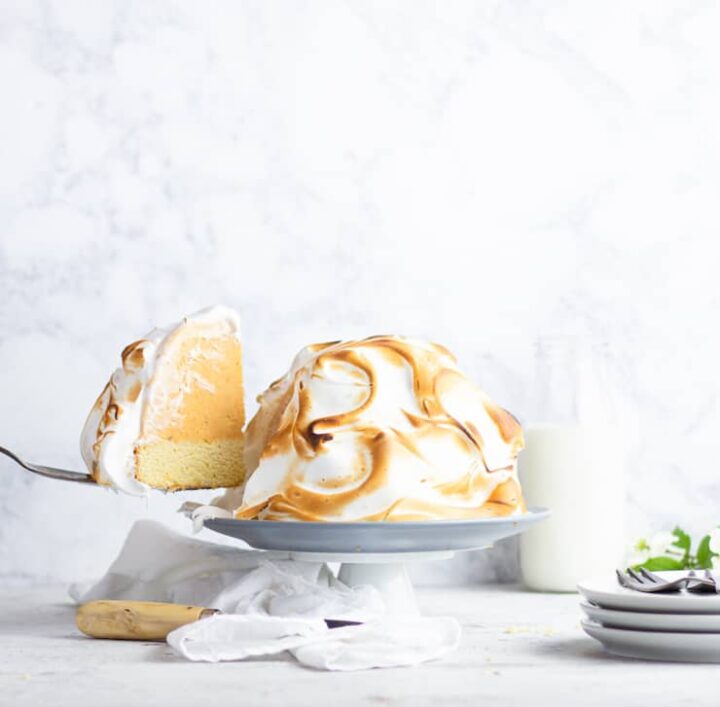 This Pumpkin Baked Alaska recipe from Claire of The Simple Sweet Life is a rustic yet beautiful dessert perfect for fall celebrations. But what is it, you ask? It's a layered pound cake, pumpkin spice ice cream, and meringue dessert that cast a spell at first sight.
Now, you should know that while it is easy, the dome-shaped treat isn't quick to make as the ice cream requires six to eight hours to freeze. But amazing things come to those who wait. And we can't wait to wait for this one!
Visit The Simple Sweet Life for the recipe.
Pumpkin Tiramisu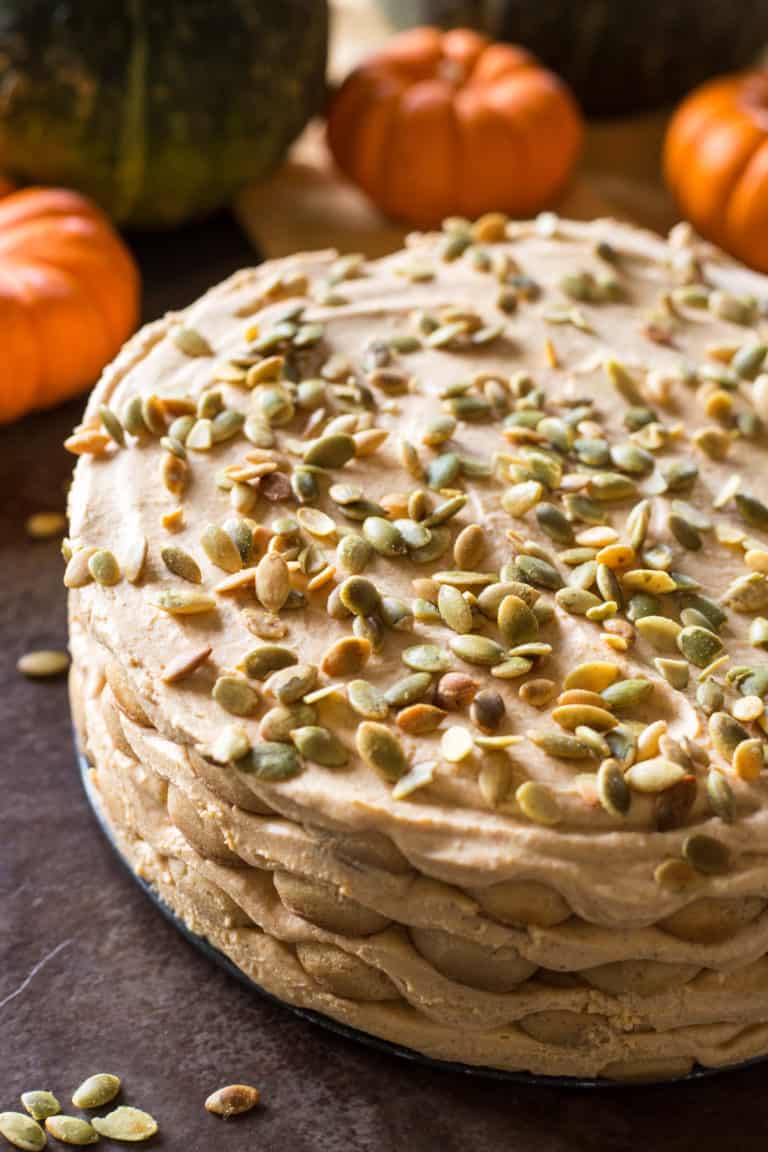 Nicole, of Coley Cooks said it best. This pumpkin spice tiramisu is a fun fall twist on the iconic "pick me up" Italian dessert. Like the traditional version, this one is light and delicate but with different flavors.
To make the cream, you'll combine mascarpone cheese with pumpkin puree and pumpkin pie spices. The rest is familiar as you dip the ladyfingers in the coffee/rum concoction and alternate layers of cookies and pumpkin cream.
Finally, sprinkle with roasted and salted pumpkin seeds.
Visit Coley Cooks for the recipe.
Vertical Layer Pumpkin Orange Chocolate Cake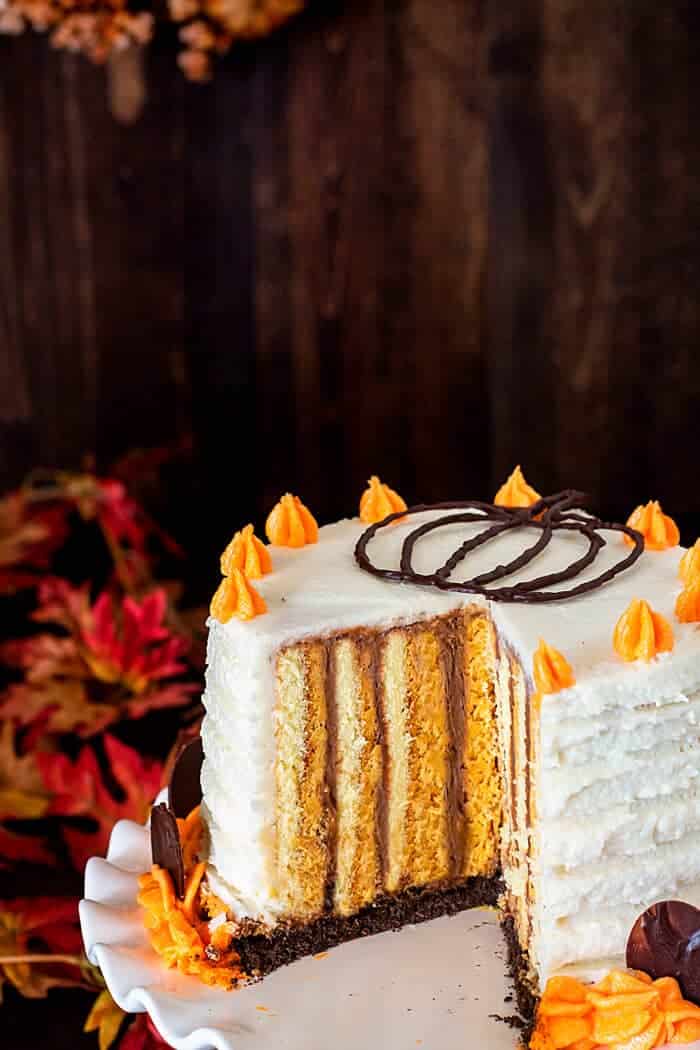 All That's Jas presents this vertical layer cake that's almost too pretty to eat. Almost! Orange, pumpkin, and chocolate work harmoniously to produce a flavor affinity that'll drive you to seconds and thirds and perhaps a little shame.
But wait! How did Jas create a cake with vertical layers? And how did she make those fun chocolate garnishes? She reveals all this and more on her page with step-by-step instructions. You're going to love it!
Visit All That's Jas for the recipe.
Pumpkin Spice Macarons
French Macarons are tricky to make at home because of the little things you need to get right. So luckily, this pumpkin spice macaron recipe from Kylie of Barley And Sage isn't just a delicious fall treat but also a how-to and troubleshooting guide.
You'll find ingredients typical of a macaron cookie but with pumpkin pie spice and orange gel food coloring. And for the filling, there's cream cheese and pumpkin puree. But Kyleigh also shares her favorite almond flour and her reason for aging the egg whites.
So if you've ever wanted to make macarons at home, you need to see this post.
Visit Barley And Sage for the recipe.
Pumpkin Pie And Cheese Pastelitos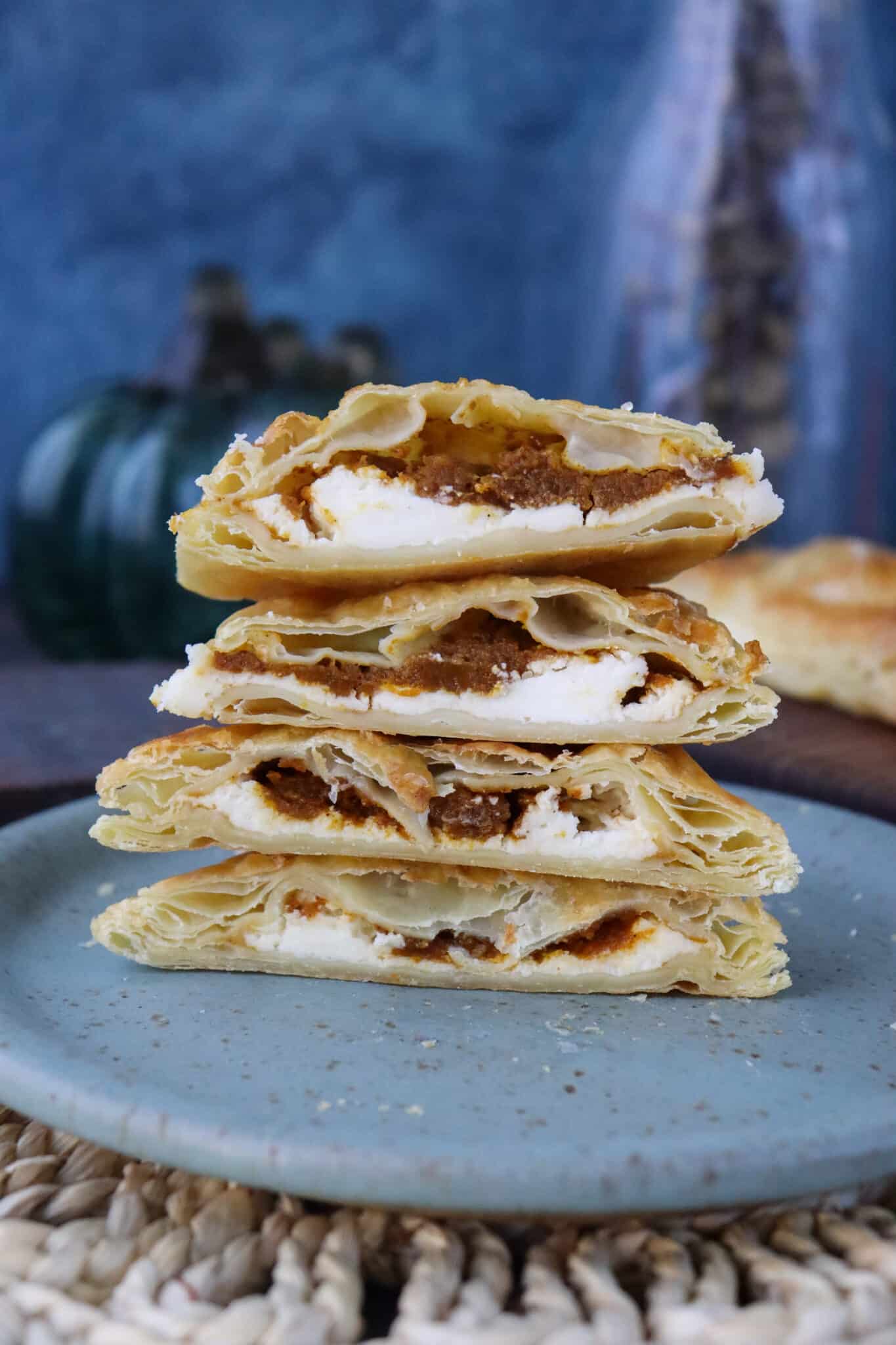 For Cari of Fat Girl Hedonist, holiday dishes are usually an amalgamation of American and Cuban flavors. So for this pumpkin pie and cheese pastelito, you get a traditional Cuban pastry, but instead of guava or minced meat, there's pumpkin pie and cream cheese filling.
Suppose you're not familiar with Latin American cuisine. In that case, the name may sound exotic, but you can make the mini pies mainly using easy-to-find store-bought ingredients, including puff pastry, pumpkin puree, and pumpkin pie spice.
Visit Fat Girl Hedonist for the recipe.
Pumpkin Tres Leches Cake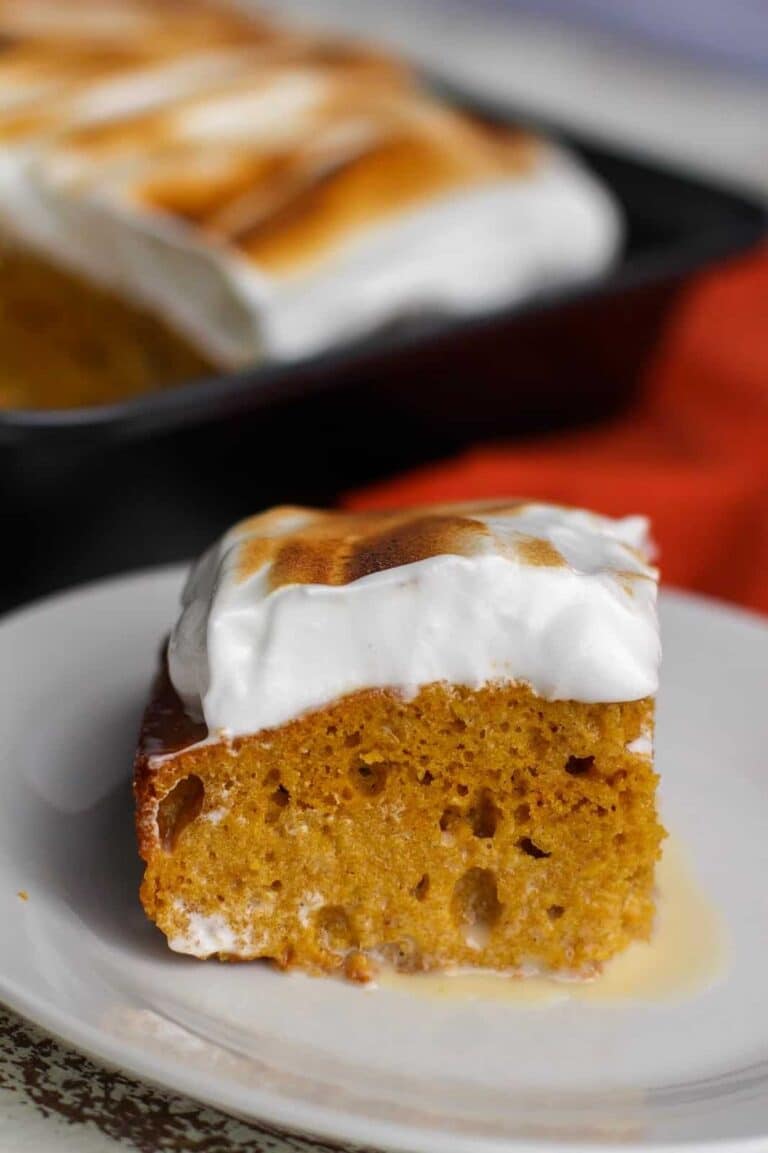 Another way Cari of Fat Girl Hedonist celebrates her Cuban roots on Thanksgiving is with this Pumpkin Tres Leches cake. While we are partial to tres leches cake, Cari taught us it originated from Nicaragua (we thought it came from Mexico).
Anywho, tres leches cake is a sponge cake soaked in three different kinds of milk: condensed milk, evaporated milk, and heavy cream hence the name. This version is different because it contains pumpkin puree, pumpkin pie spices, and bourbon for a festive fusion no one will forget.
Visit Fat Girl Hedonist for the recipe.
Pumpkin Roll Cake With Mascarpone Filling
Roll cakes are spongey cakes stuffed with a filling, rolled, then sliced. This pumpkin roll cake from Amanda of Saporito Kitchen was handed down from her mom, but she added her own little spins.
The first twist is the addition of mascarpone cheese for a velvety smoothness and richer mouthfeel for the filling. Next, for the cake, Amanda adds anise, a spice with a slightly spicy licorice flavor, for a bit of a zip. Sounds fun!
Visit Saporito Kitchen for the recipe.
Clear Pumpkin Pie
Crystal clear pumpkin pie from Joss of In The Kitch is a dessert you've probably never seen before. This idea was inspired by Chicago chefs who distill the pie filling to make it clear. But distillation is a long process you don't want to do just for pie.
So Jess came up with another method to make clear pumpkin pie. But how? Well, that's the big secret. So head on over to the page and see how she does it. Then imagine the look on your guests' faces when they try it.
Visit In The Kitch for the recipe.
Which Pumpkin Dessert Recipe Will You Try First?
Is it our delicious fall pumpkin whoopie pies, pumpkin baked Alaska, pumpkin tiramisu, or something else? Let us know.