Whether chocolate, caramel, or cream-filled, these coffee drink recipes are a guilty pleasure many enjoy. The caffeine-loaded sippers are lovely treats to enjoy at your favorite cafe, but they can be expensive at $5 to $8.
So, with this list of Easy Homemade Coffee Drink Recipes, we'll show you how to make your favorite copycat coffee drinks right at home for a fraction of the cost.
Also, you will find some incredible coffee drinks that you've likely never seen before, like malted mocha dalgona coffee, and cafe de olla.
Let's jump in, shall we?
(By the way, if you like this list, you'll love these amazing dessert recipes made with coffee.)
Iced Vanilla Matcha Latte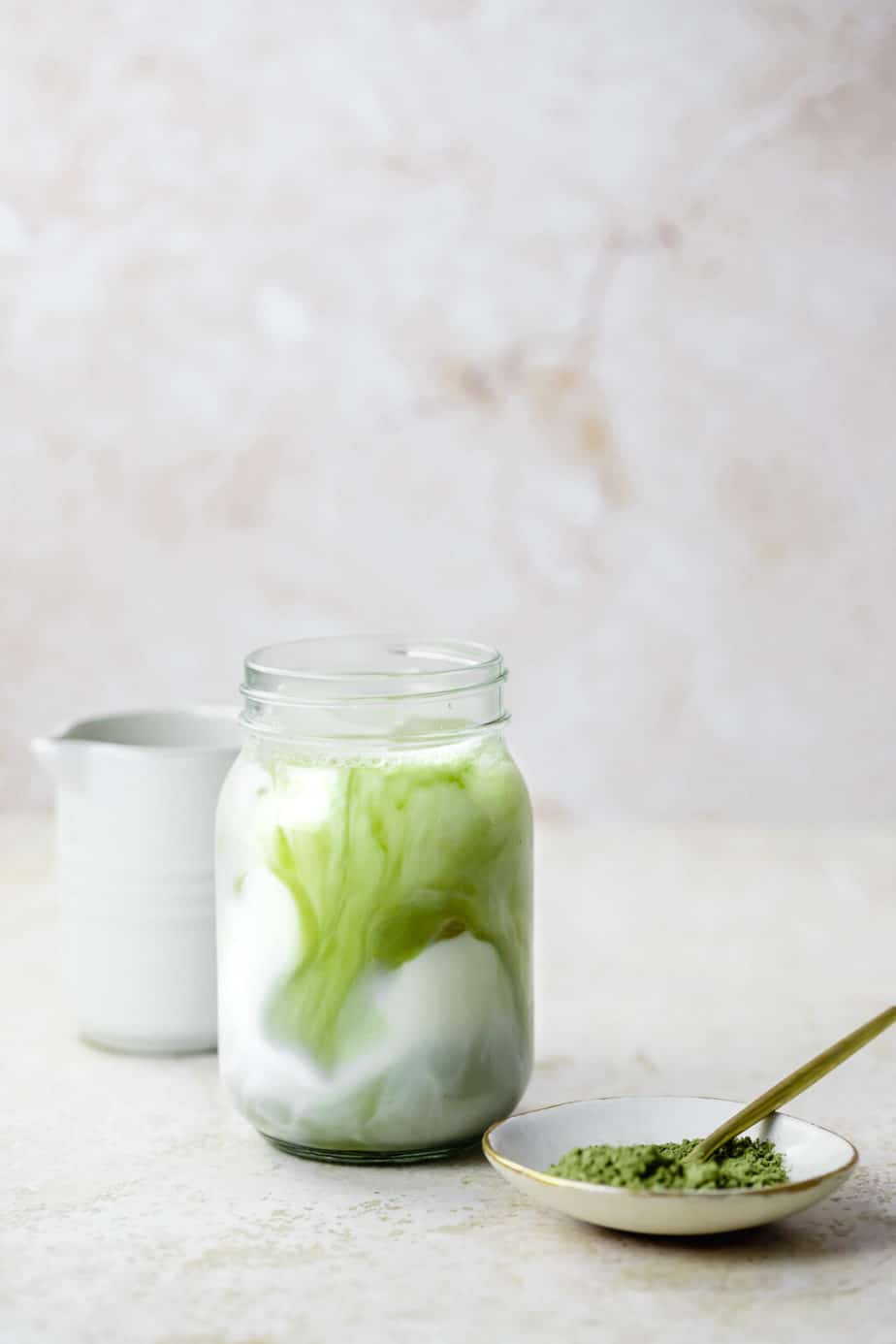 This iced vanilla matcha latte is a Starbucks copycat from Clara of Baking Ginger. Each sip is sweet, creamy, and slightly earthy, thanks to the matcha. Matcha, which can sometimes be a bit intense with a grassy or earthy flavor, is balanced out with vanilla, coffee, and cream.
Visit Baking Ginger for the recipe.
Cold Brew Iced Coffee
Jenn of Princess Pinky Girl has a solution for long coffee lines and high prices with this simple cold brew iced coffee. If you're not familiar, a cold brew means there is no coffee machine involved, and many say cold brew tastes better. Just add coffee grounds to a water-filled pitcher and let it stand overnight.
Visit Princess Pinky Girl for the recipe.
Espresso Martini Mocktail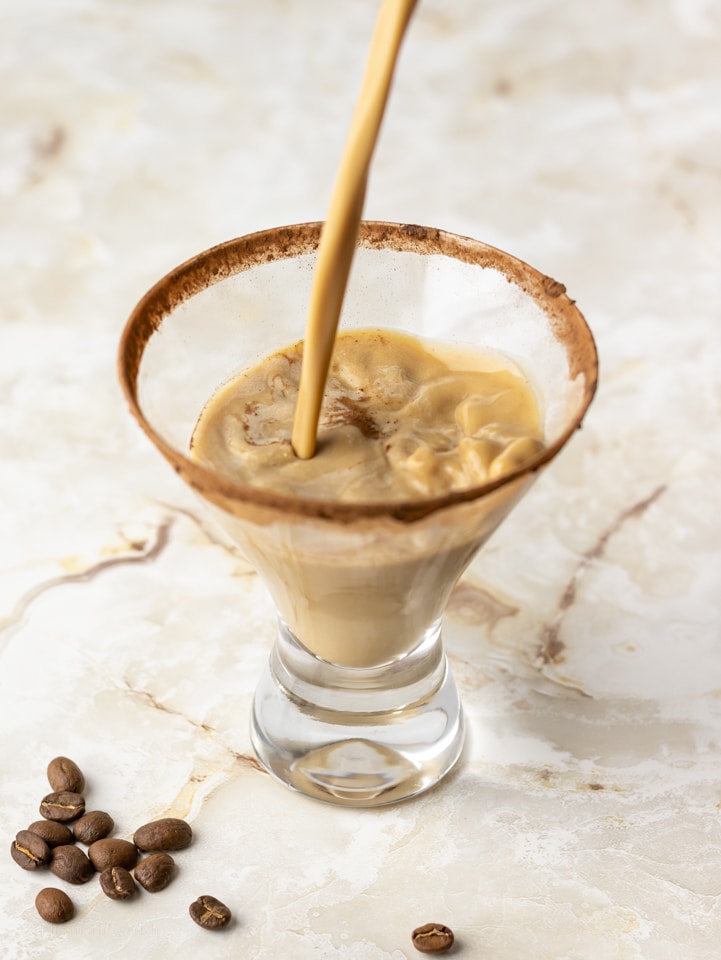 We loved liqueur-spiked coffee drinks. So, we were intrigued when we came across this espresso martini mocktail from Entirely Elizabeth. This six-ingredient mocktini is shaken, not stirred. Simply add the ice, coffee, cream, and vanilla to the shaker. Then shake, shake, shake! Pour into the cocoa-rimmed martini glasses and garnish with a few coffee beans.
Visit Entirely Elizabeth for the recipe.
Mint Mojito Iced coffee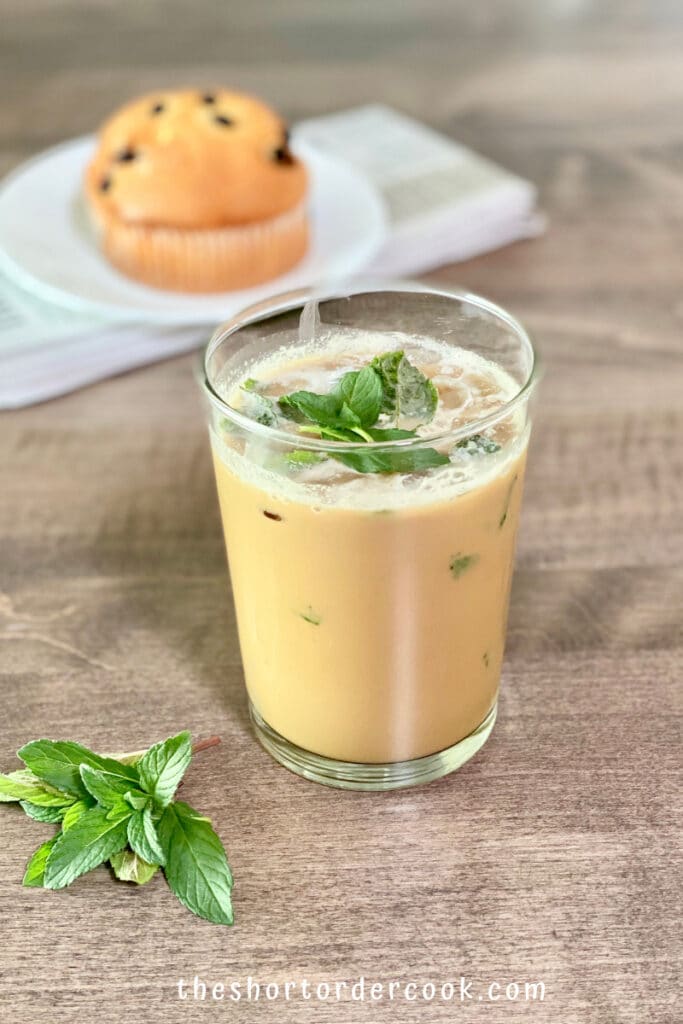 This intriguing mint mojito iced coffee from Angela of The Short Order Cook is a copycat from the Philz coffee shops—a major player in third-wave coffee whose specialty is pour-over style. Pour over coffee allows for greater control of tastes, texture, and temperature.
This recipe is easy. It calls for cold brew or cooled coffee, mint leaves, and cream. First, you muddle the leaves in a drink shaker, then muddle, add the coffee, ice, and cream, and shake.
Visit The Short Order Cook for the recipe.
Creamy Pumpkin Spice Latte
What's fall without pumpkin spice latte? And this version from Shauna of Satori Design For Living is creamy with pumpkin butter, coconut milk, and strong coffee. It's like sipping a pumpkin pie through a straw.
Visit Satori Design For Living for the recipe.
Butterbeer Latte Recipe
No, butter isn't actually beer. So while this Harry Potter-inspired coffee drink from Stacey of The Soccer Mom Blog looks good served in a mason jar, it's alcohol-free. Instead, it's sweet and buttery, thanks to the caramel and toffee syrups.
Visit The Soccer Mom Blog for the recipe.
Gingerbread Coffee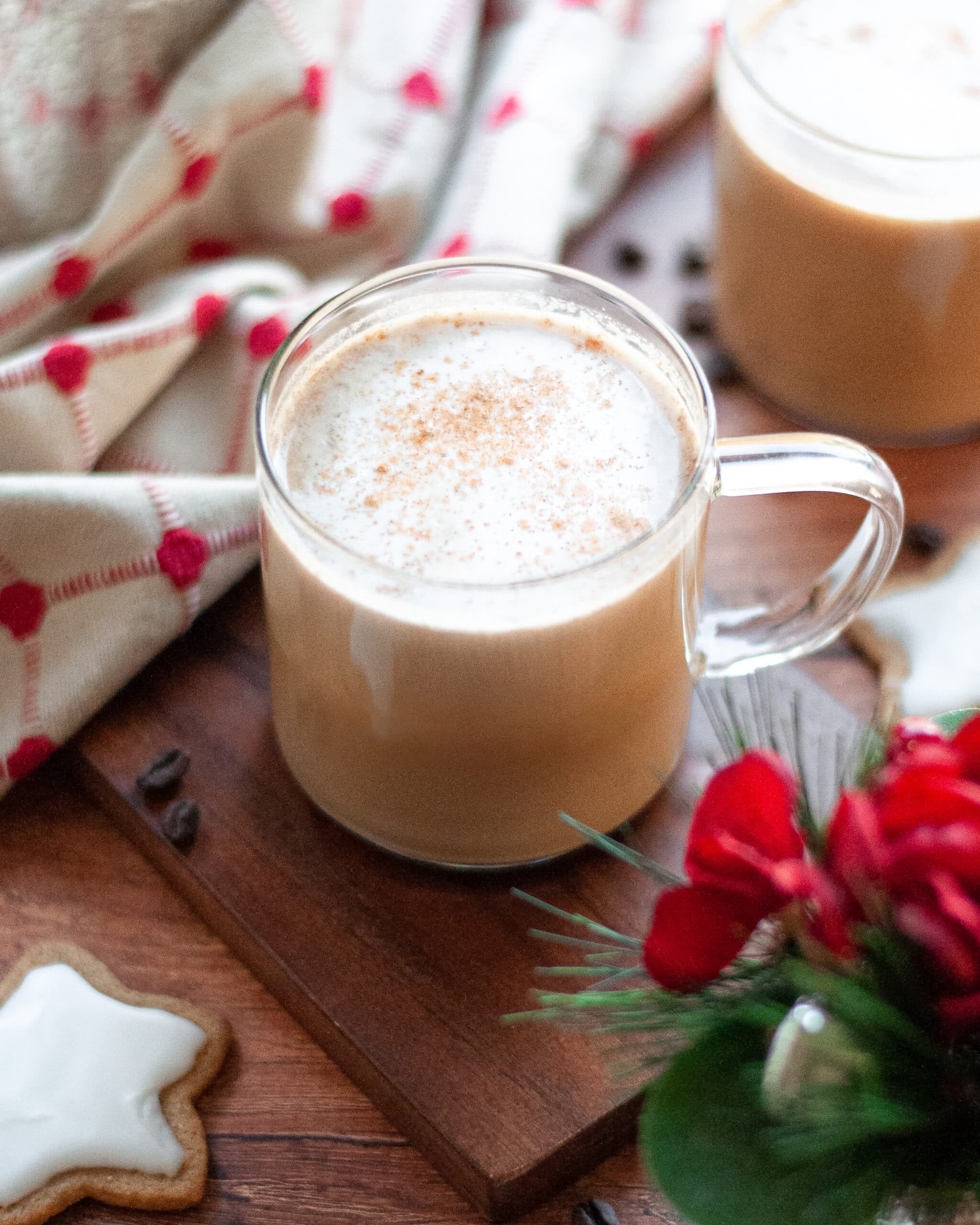 This gingerbread cafe au lait, also known as gingerbread coffee from Meredith of Our Love Language Is Food is a delicious holiday dessert drink. And with just four ingredients, including gingerbread syrup, it just might become you're favorite Christmas season coffee drink.
Visit Our Love Language Is Food for the recipe.
Protein Coffee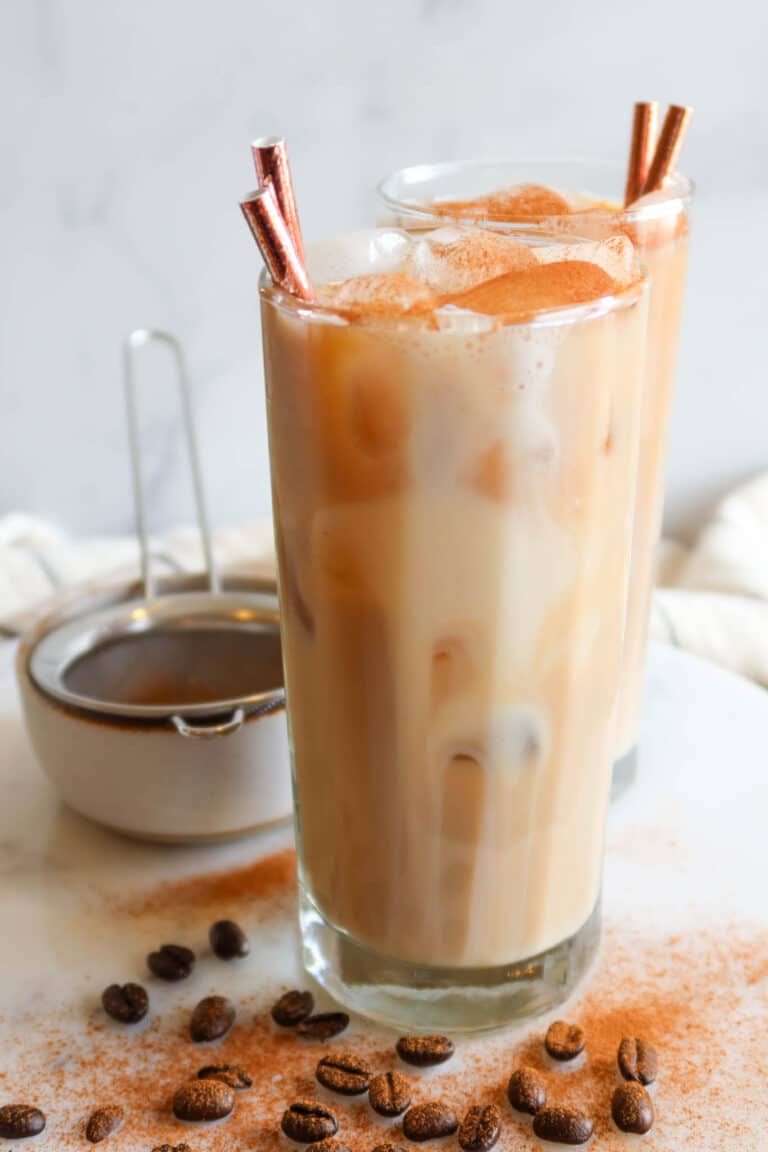 With this tasty Proffee (protein-packed coffee) from Stacey of Garlic, Salt, And Lime, your morning brew doesn't just have to be empty calories from sugar, cream, and sweeteners. And while it's a straightforward recipe to make, Stacey still provides some simple tips, like preventing the protein powder from clumping.
Visit Garlic Salt And Lime for the recipe.
Pandan Latte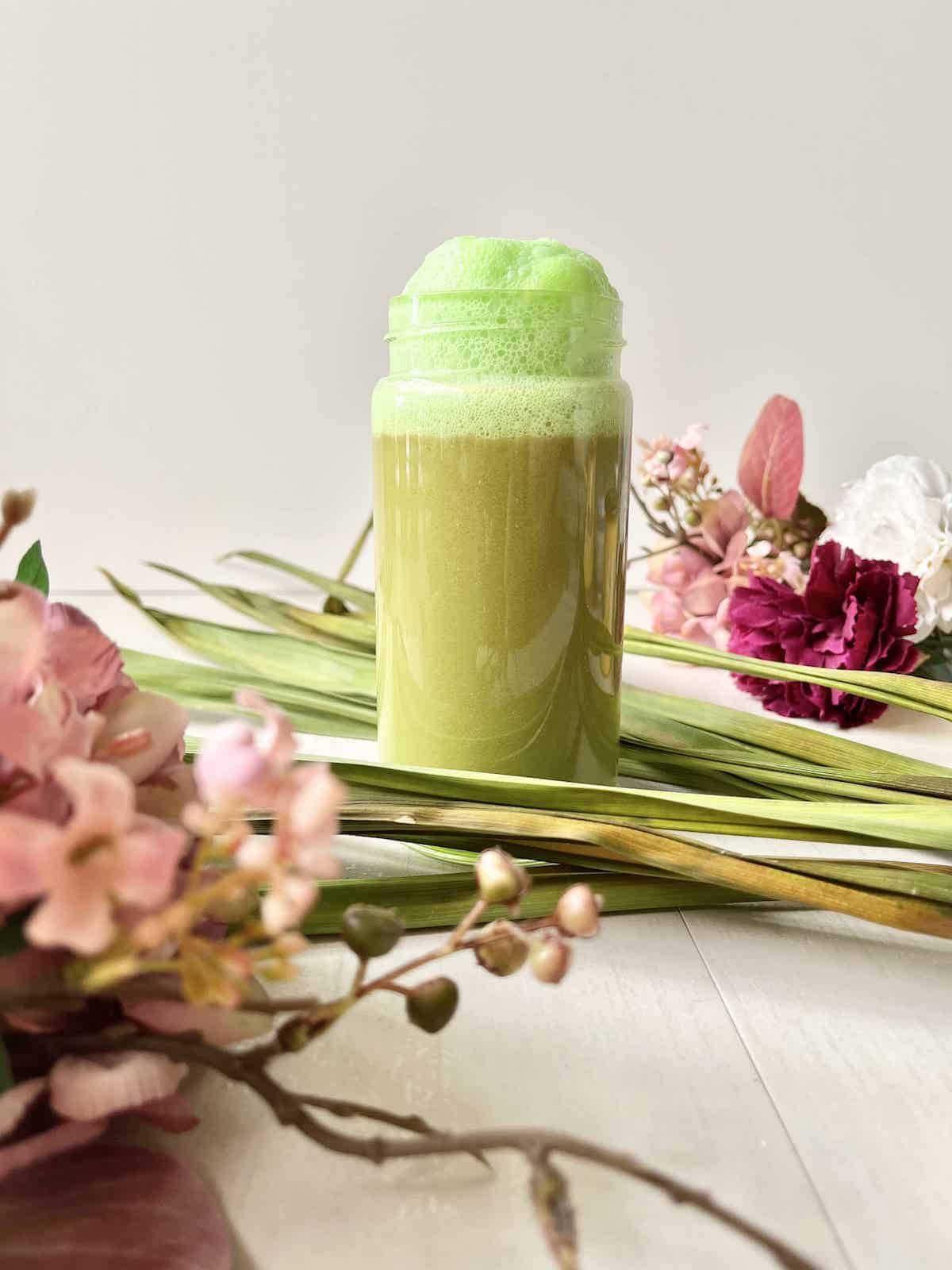 Pandan is essential to South East Asian cooking. It's floral and distinctive. But when combined with coffee, like this 3-ingredient Pandan Latte from Zhou of Greedy Girl Gourmet, it is a match made in heaven.
Visit Greedy Girl Gourmet for the recipe.
Frozen Coffee
It'll be hard to wait for summer to try this copycat Dunkin' Donuts recipe from Rebecca of Sugar And Soul. The best part is that it takes just five minutes to make. And the frozen coffee is just the base. You can flavor it with chocolate, caramel sauce, or whatever your heart desires.
Visit Sugar And Soul for the recipe.
Cinnamon Maple Latte
This cinnamon latte from Kim of Two Kids And A coupon is a five-minute, five-ingredient coffee drink that tastes like the essence of fall. It's an espresso and maple-flavored delight sure to satisfy your tastebuds on those cold autumn days.
Visit Two Kids And A Coupon for the recipe.
Malted Mocha Dalgona Coffee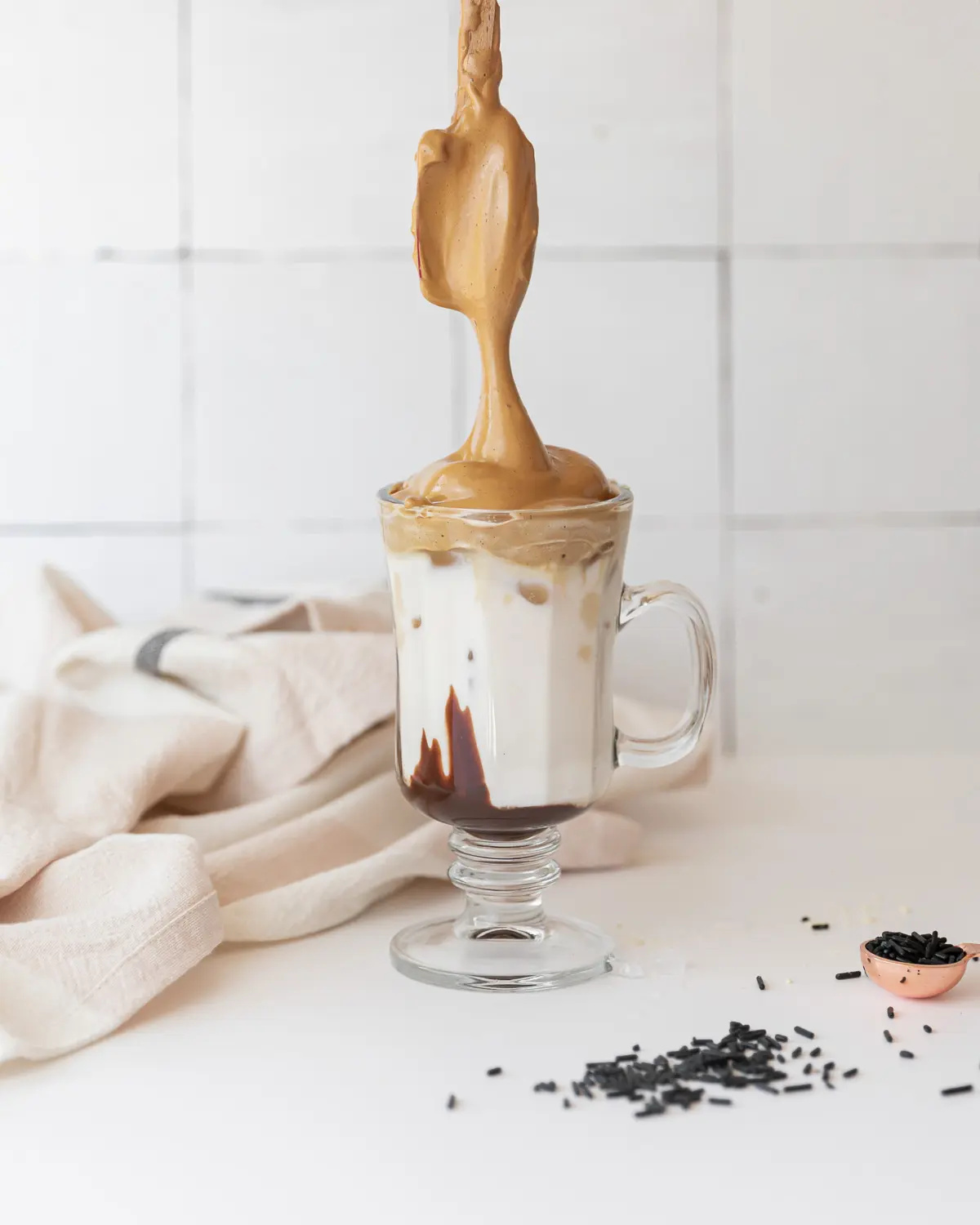 Perhaps the most fascinating drink on this list is this malted mocha dalgona coffee from Riz of Chocolates And Chai. Dalgona coffee is a South Korean creamy whipped drink made with equal parts water, instant coffee, and sugar. But Riz makes it more intriguing by adding chocolate, milk, and malt powder. Check it out!
Visit Chocolates And Chai for the recipe.
Eggnog Latte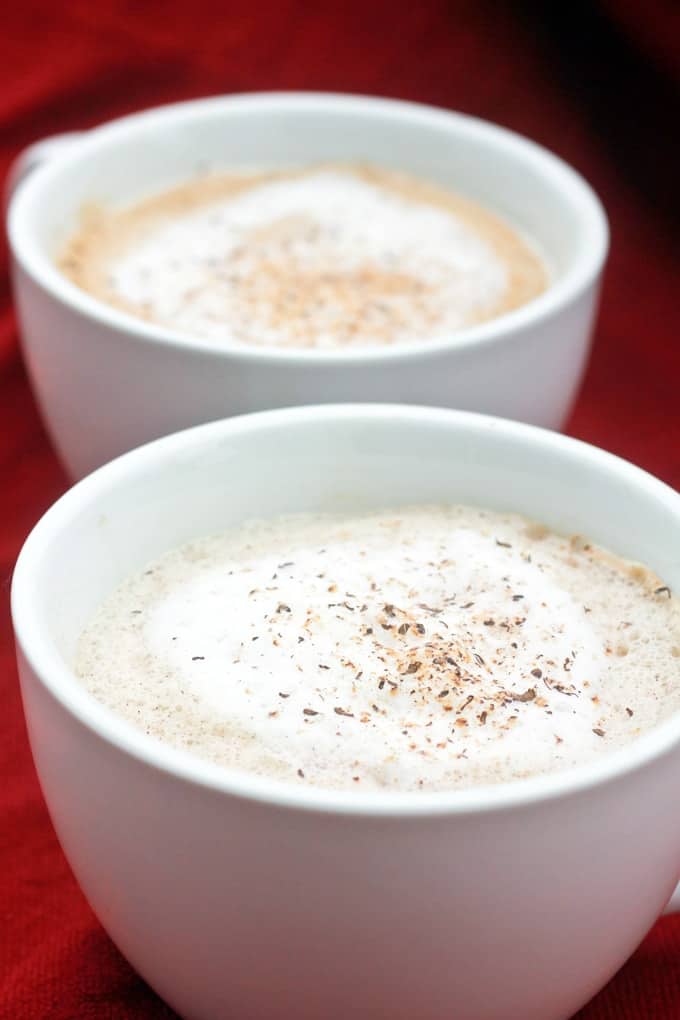 Eggnog is a love-it-or-hate-it kind of thing. So if you love it, this eggnog latte from Sarah of Champagne Tastes will be your new best friend. Here's why: it's equal parts espresso and eggnog. Yummy! Then, add some milk and garnish with nutmeg, cinnamon, and whipped cream.
Visit Champagne Tastes for the recipe.
Mexican Clay Pot Coffee
This cafe de olla, also known as Mexican clay pot coffee from Maricruz Avalos, is made with coffee, cinnamon, star anise, cloves, and piloncillo. Piloncillo is unrefined cane sugar or, rather, Mexican brown sugar. It's a sweet, aromatic, yet slightly bitter coffee. It takes 15 minutes to make but totally worthwhile.
Visit Maricruz Avalos for the recipe.
Mexican Mocha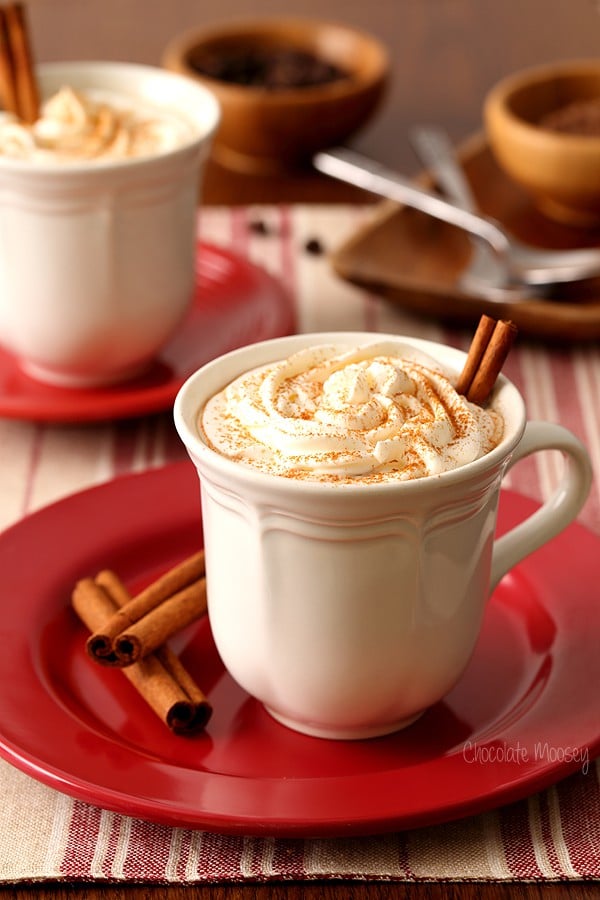 Mexican hot chocolate is delicious hot cocoa with a kick. But when you add it to coffee, you get this wonderful Mexican mocha recipe from Carla of Chocolate Moosey. It's a spiced hot chocolate coffee drink with cinnamon, chili, and just what you need energize you on those cold winter days.
Visit Chocolate Moosey for the recipe.
Coconut Mocha Iced Coffee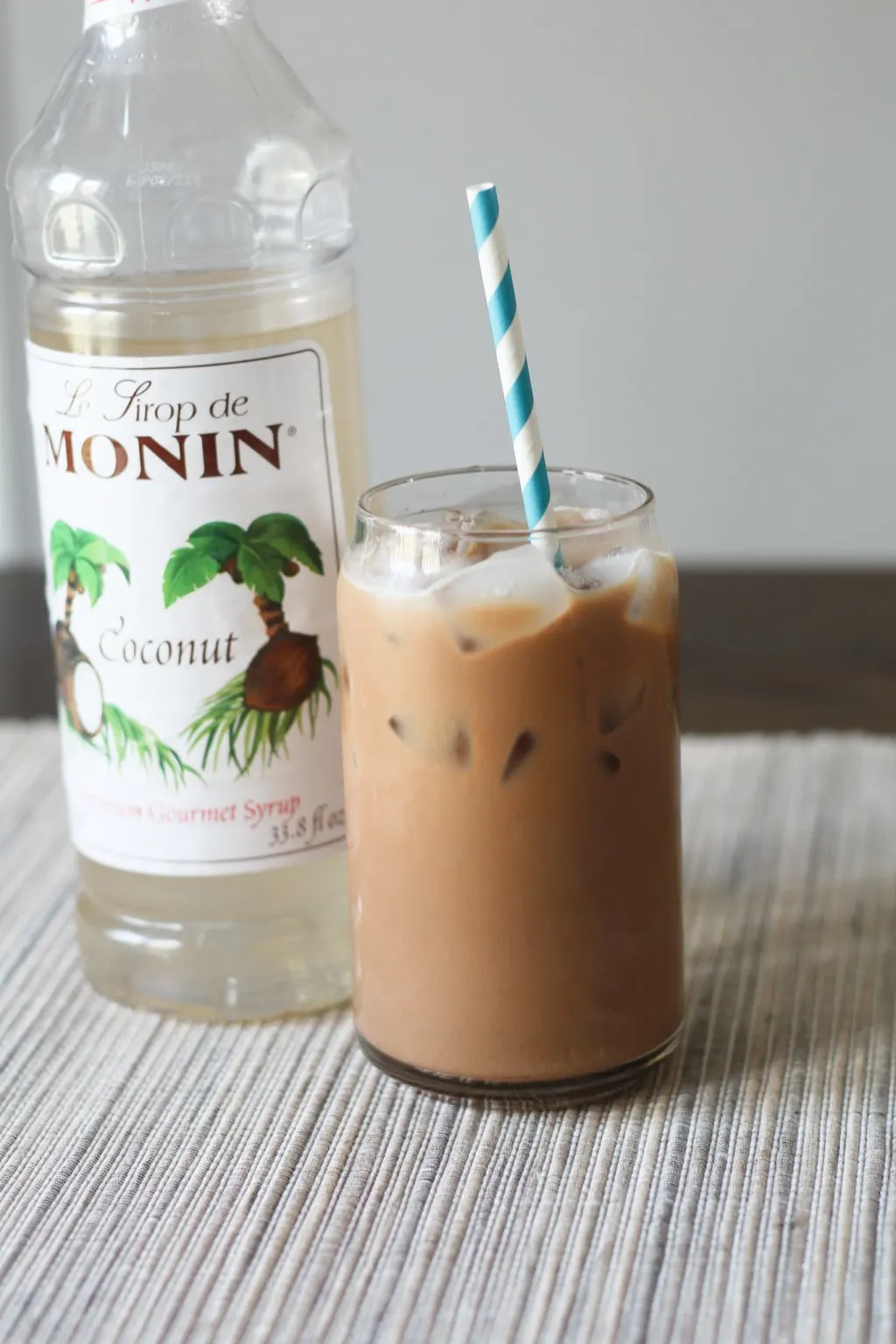 This mocha iced coffee from Jen Around The World is a delicious warm-weather drink. There are just four ingredients, including dark chocolate and coconut syrup, for a silky texture and intriguing taste. It sounds a bit like drinking a mounds bar.
Visit Jen Around The World for the recipe.
Jolly Pong Crush Milkshake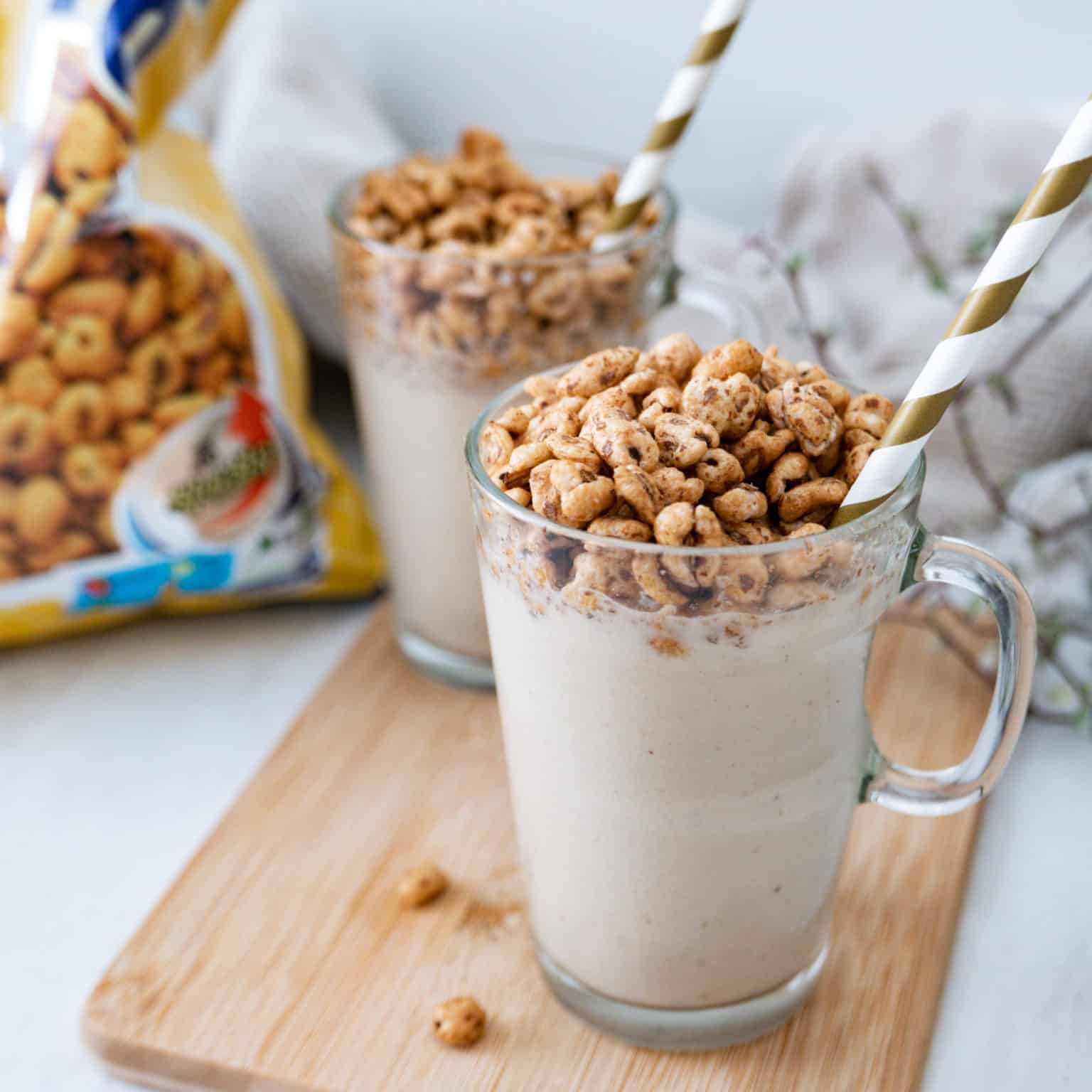 Inspired by bubble tea shops, this Korean snack cereal latte recipe from Nomms is a fascinating drink we are so excited to introduce to you. It's a coffee milkshake topped with jolly pong—a Korean puffed wheat cereal. Here's how it's made: you mix vanilla ice cream, milk, and a shot of espresso. Then cap it with satisfyingly crunchy jolly pong. You'll love it!
Corn Cappuccino
Don't you just love novel recipes like this corn cappuccino from Marie of Beyond Flour Blog? The prolific cookbook author was inspired by a gag on a popular Canadian TV show. But the funniest joke is that this recipe is actually delicious.
It starts with pulverized corn that you strain through a sieve and add to blonde roast coffee. The result is unexpected, but you might keep it in your repertoire.
Visit Beyond Flour Blog for the recipe.
Espresso Tonic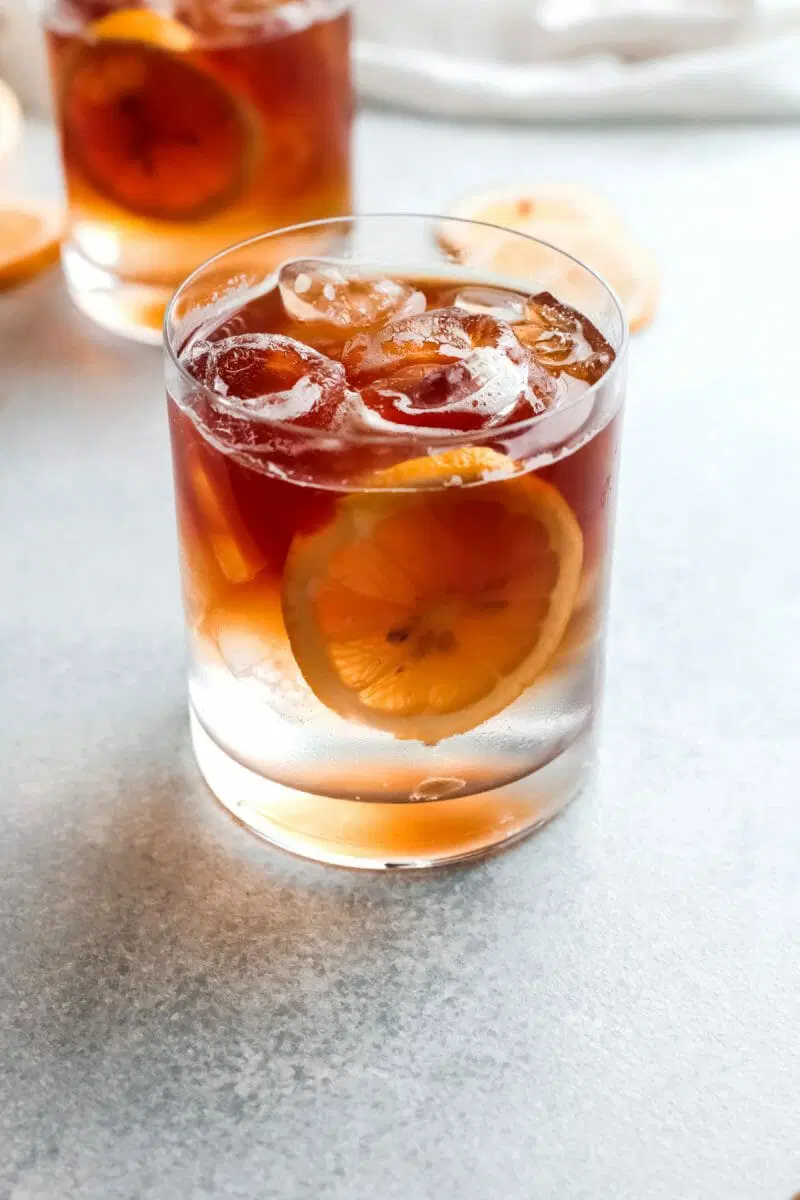 If you can't get enough fizzy drinks, try this espresso tonic from Rachel of Coffee Wise. This recipe, created by accident at a Swedish coffee house, is so simple you'll be thinking, "why didn't I think of that?"
With just four ingredients, including carbonated water, espresso, an orange slice, and ice, it's refreshing, delicious, and effervescent!
Visit Coffee Wise for the recipe.
Iced Coffee With Condensed Milk
Sweetened with condensed milk, this coffee from the Cinnamon Jar offers a new coffee experience. It's sweet but more exciting than just sugar. The condensed milk, sometimes called liquid candy, will be reminiscent of caramel. We also like the topping recommendation of dalgona.
Visit Cinnamon Jar for the recipe.
Homemade Vanilla Iced Coffee
Making homemade vanilla iced coffee from Helene of Masala Herb with a cold brew or filtered coffee will become your new go-to brew when you can't be bothered with long lines at your favorite cafe. It's a simple and versatile drink. You can even omit powdered sugar if you're on keto or low carb.
Apple Crisp Macchiato
Creamy, indulgent, and vegan? Yes, this apple crisp macchiato from Mel of A Virtual Vegan is dairy free. But even those
among us that don't follow a vegan diet will love this caffeinated liquid dessert.
It starts with espresso (or strong coffee) and plant milk, but you top it with a sweet apple drizzle and apple brown sugar syrup. So, vegan or not, it's simply delicious.
Visit A Virtual Vegan for the recipe.
Java Chip Frappuccino
Rachel of Sweet Tea And Sprinkles brings us this tasty java chip frappuccino recipe—a homemade version of the famous chocolatey Starbucks drink. All you need is some chilled coffee, milk, ice, chocolate chips, chocolate syrup, and a few minutes to make this cold coffee drink at home and avoid the long wait and high prices. That sounds like a win!
Visit Sweet Tea And Sprinkles for the recipe.
Which Coffee Drink Will You Try First?
There are 23 caffeinated beverages on this list. Which one is the most intriguing to you? Is it the apple crisp macchiato? That one is vegan yet creamy and perfect for fall. Or is it the espresso tonic, a fizzy drink and a suitable alternative to soda? Maybe it's something entirely different. Let us know!