Celebrate with one of these 20 Epic Easter Dessert Recipes from around the web. You will find so many delicious, unique, and pastel options from talented food bloggers for an impressive dessert spread for the big Easter Sunday.
For example, there's the most epic Mini Egg Cake. But a gorgeous Lavender Lemon Tart also screams spring and Easter. Plus, there are many, many more. So, yeah, there's plenty to discover. Are you ready?!
Let's dive in!
Like our Best Easter recipes post and Excellent Easter Dinner Recipes post
Hummingbird Cake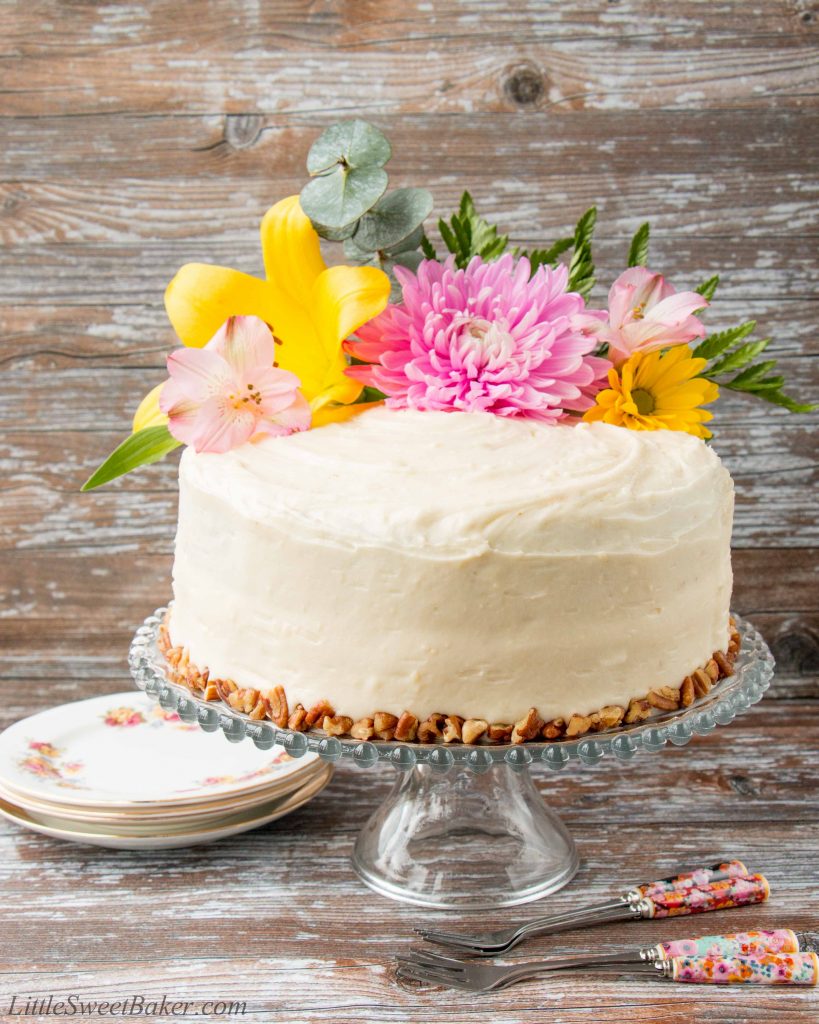 Moist, dense, and sweet with pineapple chunks and pecans throughout, this Hummingbird Cake from Lily of Little Sweet Baker is delicious and worthy of your Easter celebration. Besides, if you decorate it like Lily, flowers and all, it just screams spring.
Mini Easter Tarts with Cheesecake Filling
Certain to steal all of the attention at the Easter dessert table are these elegant yet playful Mini Easter Tarts with Cheesecake Filling by Julia's Recipes. The crust is a buttery shortcake, while the filling is a creamy cheesecake. Lastly, to make the little pies more festive, you add pastel Hershey's eggies for a festive presentation.
Air Fryer Cinnamon Roll Bunnies
It doesn't get any cuter than these Air Fryer Cinnamon Roll Bunnies from Air Fryer Yum. While you probably wouldn't want to make them as your only or main dessert, they do serve another purpose. That is keeping the little ones satisfied while you wrap up the main course. And don't you think they would make a cute breakfast?
Skillet Cookie with M&Ms
Oh, how we love a good skillet cookie. They're the perfect easy dessert for a crowd. So when we found this Skillet Cookie with M&M's from Irvin of Eat The Love, we knew it had to make the list. It's so easy to make. However, Irvin makes it more jubilant with the addition of soft-hued M&M's and flaky salt. It's the perfect dish to bring to the Easter potluck.
Mini Egg Cake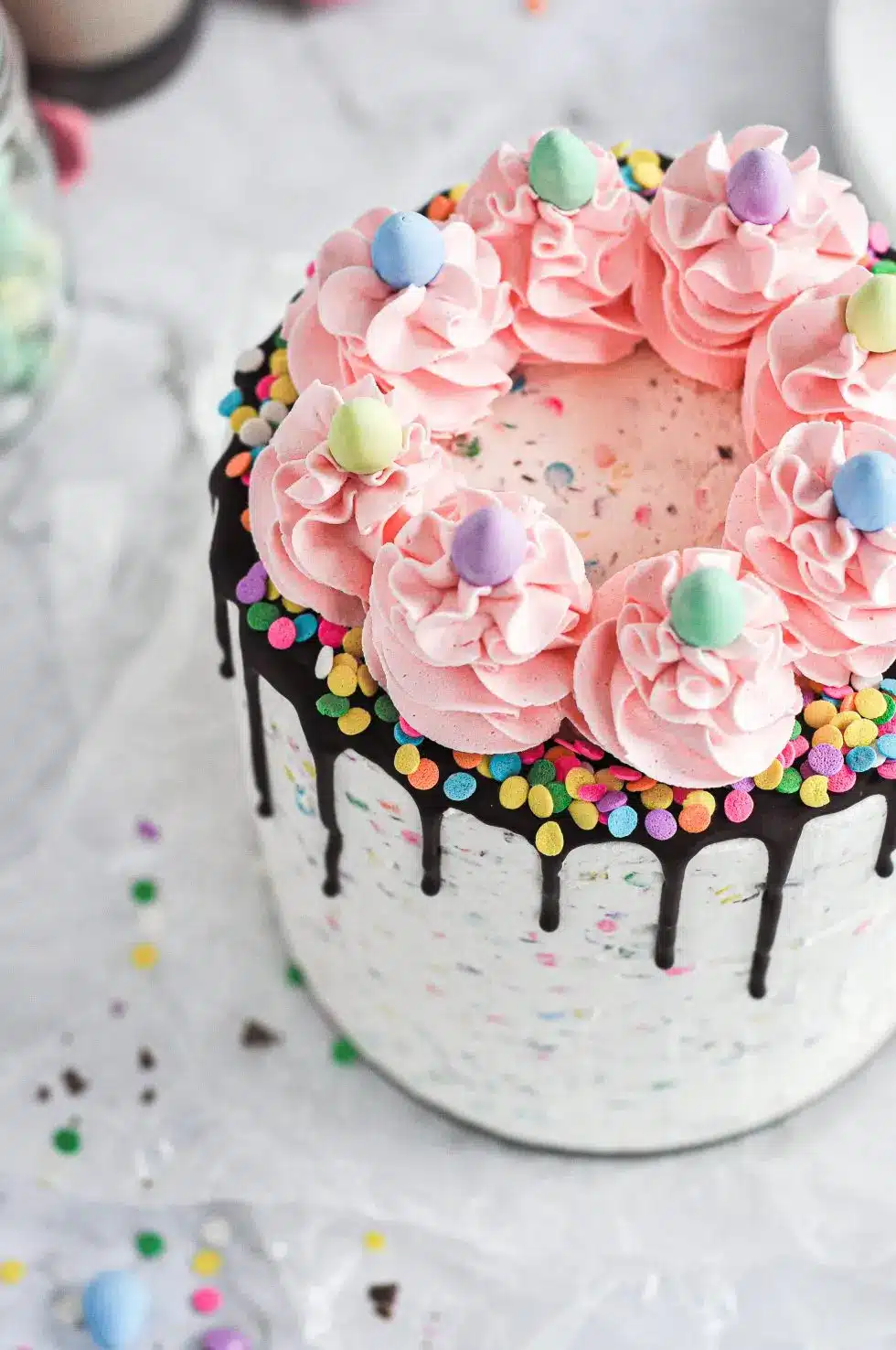 First, Kate reels you in proclaiming her love of mini eggs candies. Then once she hooks you, a bombshell, this Mini Egg Cake is better than mini eggs candies. No, it's many orders of magnitude better. And without even the tiniest bit of resistance, we agree. Here's why. It starts with a milk chocolate cake with a moist, tender crumb.
But that's only the beginning. It's then coated in a buttercream frosting; not just any ole buttercream, but buttercream enhanced with mini eggs. Then, as if that weren't more than enough, you crown it with chocolate ganache and more mini eggs.
Bunny Tail Easter Cupcakes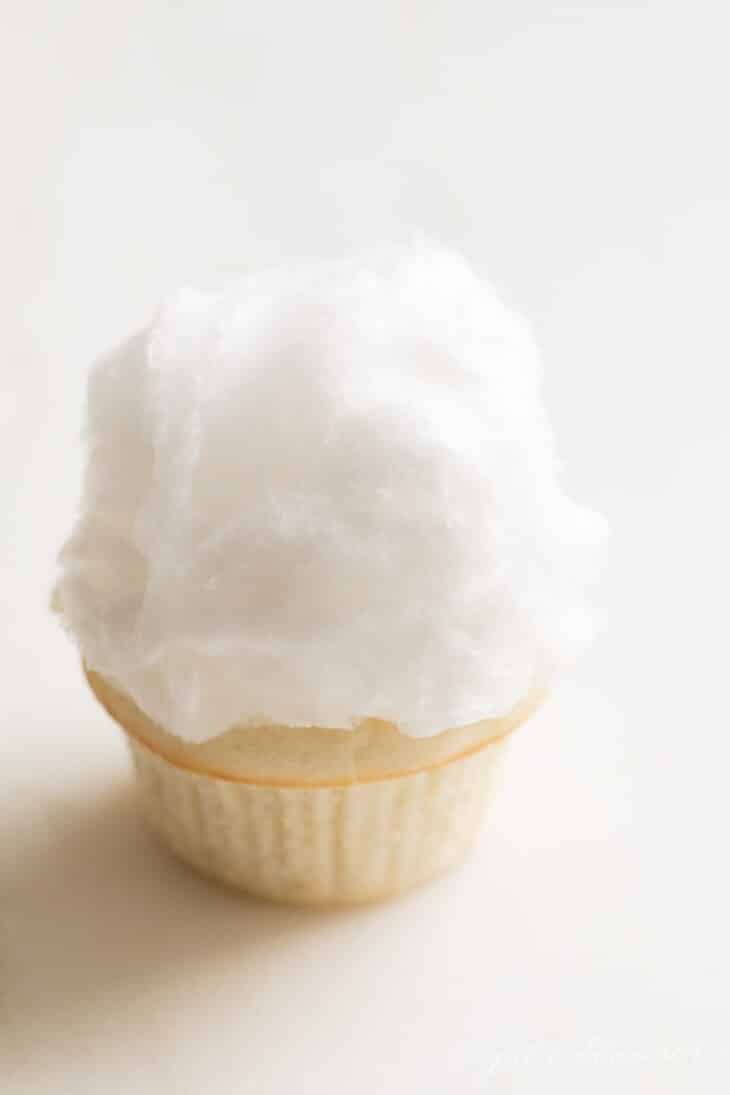 Some Easter dessert recipes are just a little too cute for the adult table. However, this Bunny Tail Easter Cupcakes recipe by Julie Blanner fits that "just right" spot. That is, it's still fun and decorative but also sophisticated and elegant. And just so you know, you can use Julie's white cake recipe or use cake mix for convenience.
Lavender Lemon Tart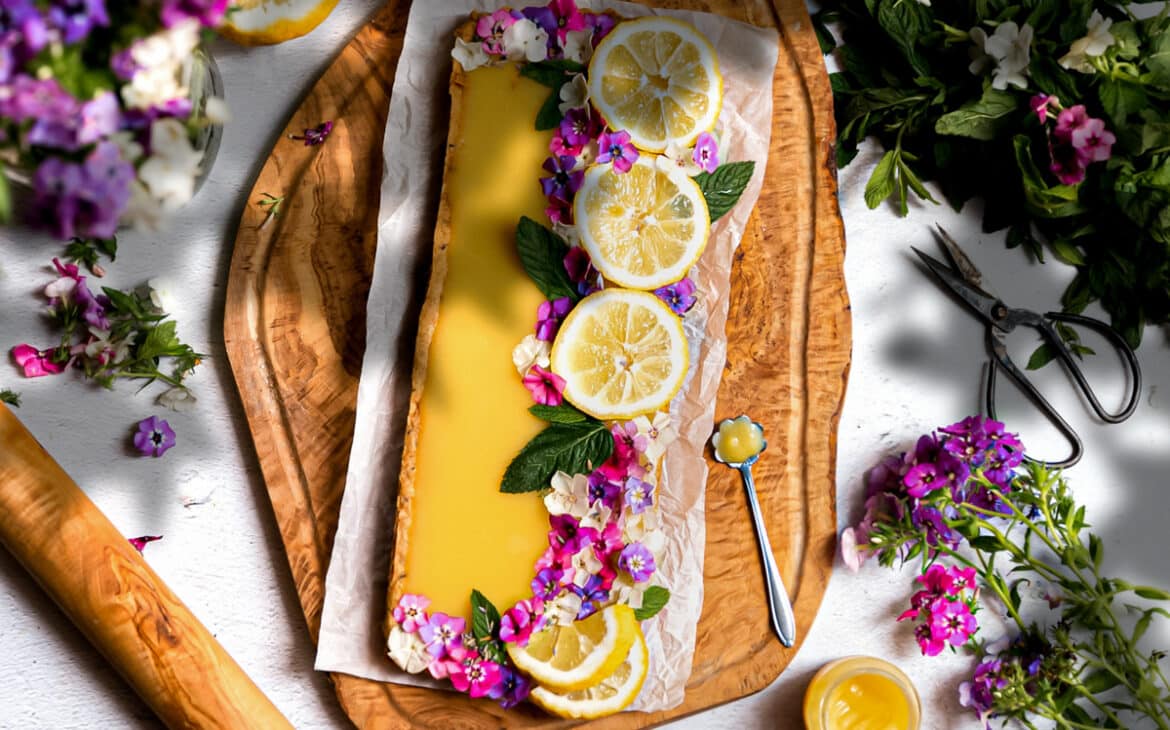 Take Sarah's word for it, make this Lavender Lemon Tart recipe once, and it will become your most requested treat for years to come. The base is lavender shortbread made with real, dried lavender, food grade, of course. Next, you top the cookie with the most electrifying, zesty curd filling for the lemon dessert of your dreams.
Robin's Egg Macarons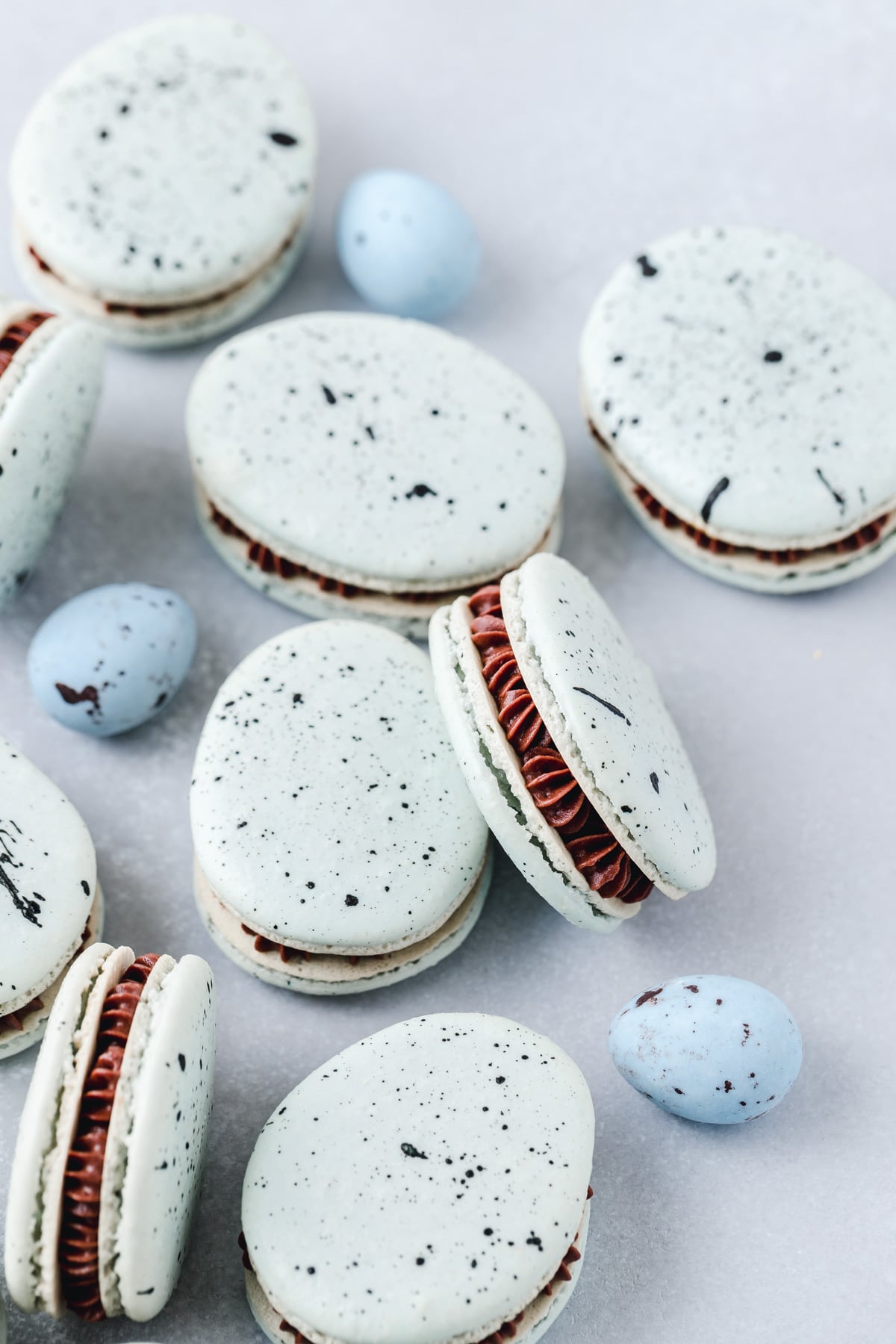 If you want to earn respect for your culinary prowess, these Robin's Egg Macarons with Chocolate Buttercream will do just that. Because unfortunately, the little French cookies are notoriously tricky to master, especially without an amazing guide. But you're in luck, my friend, as Kyleigh guides you with a well-tested recipe and all the tips you need for success.
Homemade Marzipan Truffles
These Homemade Marzipan Truffles from Veena Azmanov are easy as can be. But what is marzipan? Also known as almond paste, it's an almond dough made of ground almonds, sugar, egg whites, and a few flavor-adding ingredients. For this recipe, you roll a piece of marzipan into a ball, then dip it in chocolate. See there. Simple!
Lemon Blueberry Coffee Cake
With a crunchy, lemony crumble on top, this Lemon Blueberry Coffee Cake from Cooking Gorgeous will work on more than just your Easter dessert table. In fact, you'll be dreaming of the springtime snacking cake all season long. But, of course, Ayla's favorite part is the texture. And she's sure you'll adore it too. It's an ideal combination of moist, rich, light, and fluffy.
Mini Easter Cheesecakes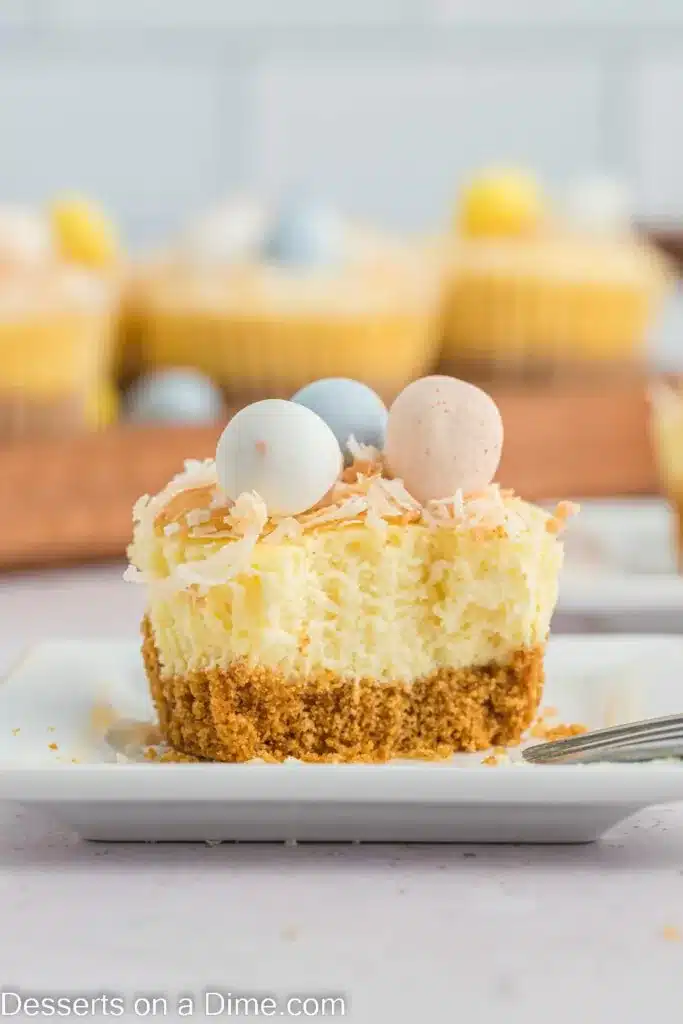 These 35-minute Mini Easter Cheesecakes from Desserts On A Dime are perfect for when you're running short on time. On the bottom, there's a buttery graham cracker crust followed by a creamy and sweet cheesecake. But it's the decorations that bring it to insane levels of cuteness. You decorate each little cheesecake with toasted coconut and mini eggs for the most adorable presentation.
Easter Candy Charcuterie Board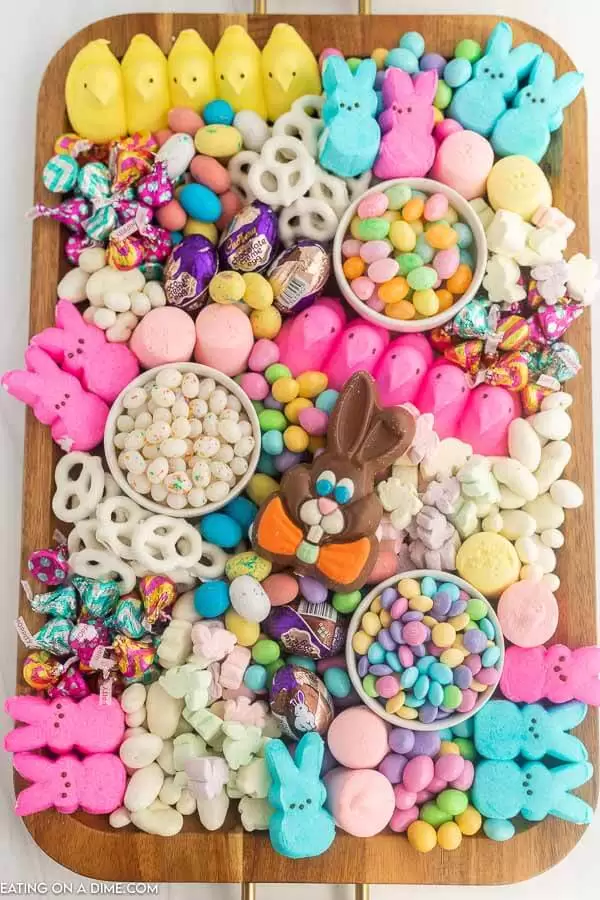 You've probably never seen a more colorful and playful Easter spread than this Easter Candy Charcuterie Board from Eating On A Dime. It's simply a serving board/tray covered with all kinds of delicious, sweet Easter treats. You'll find chocolate bunnies, chick marshmallows, candy eggs, jellybeans, and other goodies.
Whiskey Speckled Easter Donuts
Heather of Whisking Wolf is perhaps the most self-aware food blogger we've ever encountered. The self-proclaimed sugar addict never goes a day without dessert. So naturally, that would include Easter. To celebrate everyone's favorite pastel holiday, she offers these robin's egg blue baked Easter donuts speckled with whiskey and cocoa and topped with cracked mini eggs.
Best Carrot Cake Recipe
Although carrot cake doesn't last very long in our house, we don't make it very often. Because, like paczkis and whole turkey, it's just one of those very seasonal foods. However, you may crave Elizabeth's Best Carrot Cake Recipe all year. It's a super-moist and delicious confection filled with grated fresh carrots, crushed pineapple, coconut, and nuts. Oh, and on top, there's an unforgettable tangy and sweet cream cheese frosting.
Traditional Greek Easter Bread
Voula of Pastry Wishes introduces us to Tsoureki – Traditional Greek Easter Bread with orange zest coated in almond slices. Likely, this is an exotic recipe for you. But the results, pillowy soft with a stringy texture, are worth finding the ingredients like ground mastic gum and ground mahleb.
Caramel Carrot Cake Poke Cake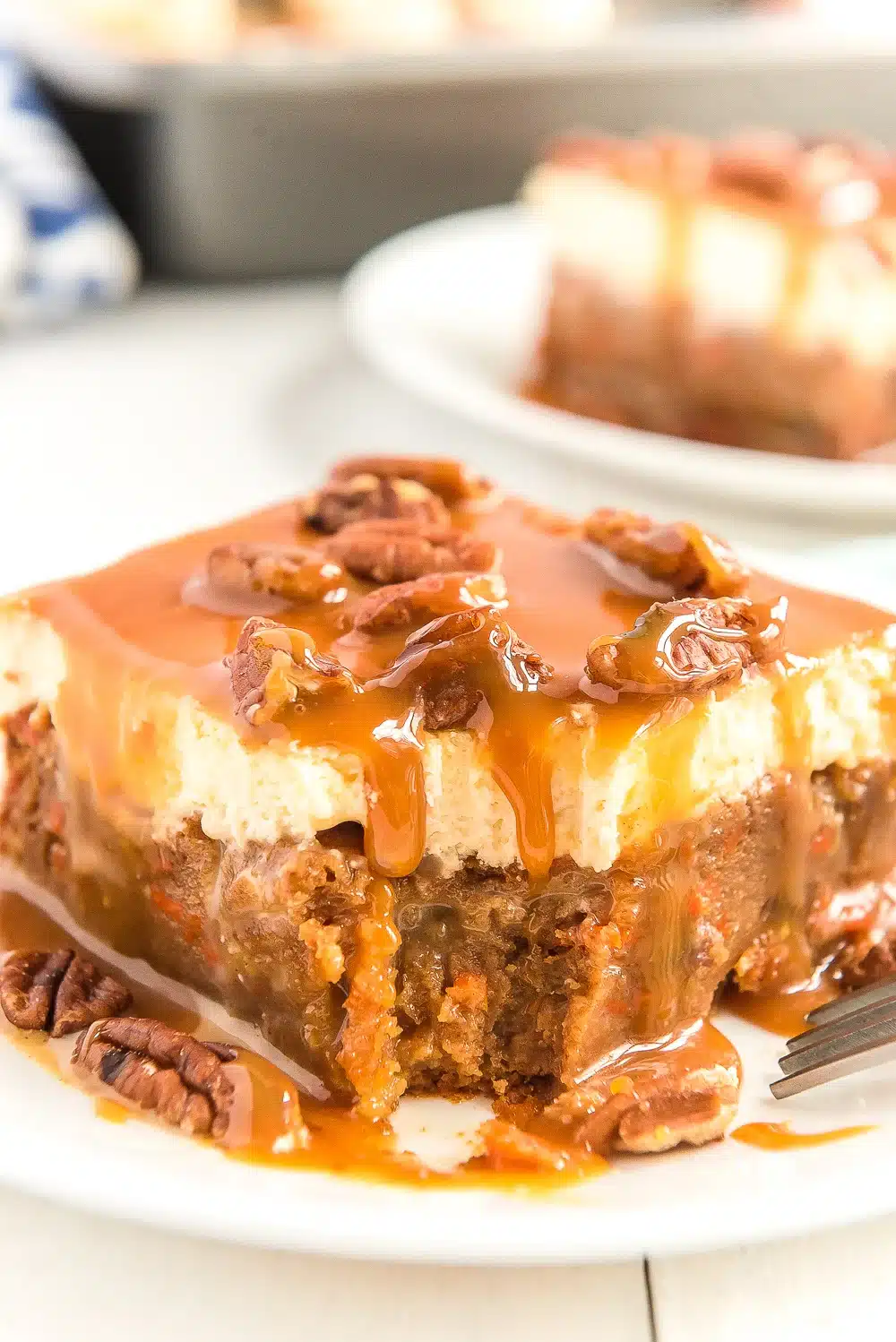 This Caramel Carrot Cake Poke Cake from Rebecca of Sugar & Soul graduates from seasonal to year-rounder. Here's why. The decadent, waistline-assassinating treat starts with a box cake mix for ease. Then, you poke holes in it, add a thick layer of frosting, and soak it with caramel sauce. So, yeah, that sounds good all the time.
Italian Lemon Drop Cookies
These traditional Italian Lemon Drop Cookies are popular around Easter. You know, lemons are such a spring flavor. And with lemon zest and juice, they are exploding with it. But it gets better. They couldn't be easier to make with just eight ingredients (not including the glaze).
Coconut Cream Pie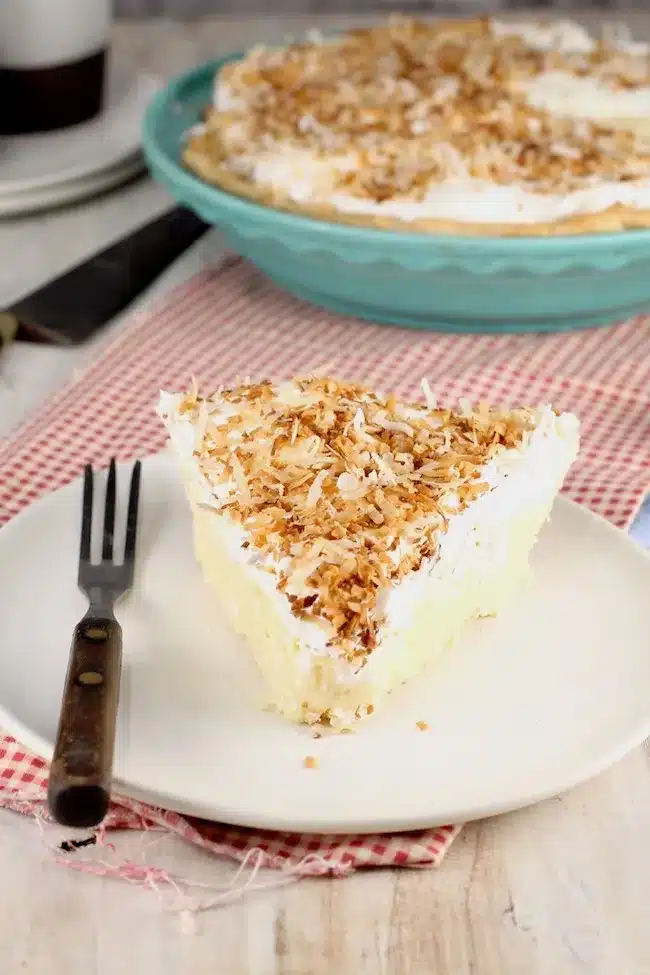 This Coconut Cream Pie from Melissa of Miss In The Kitchen is an heirloom recipe that goes back to her mother's aunt. Now, that's a legacy! And it's pretty simple, like most old-fashioned desserts, but the flavor will keep it in your rotation forever. You start with a pie crust, fill it with coconut cream filling, and refrigerate to set. Lastly, serve it with whipped cream, and toasted coconut for an Easter treat all will love.
Mini Chocolate Meringue Nest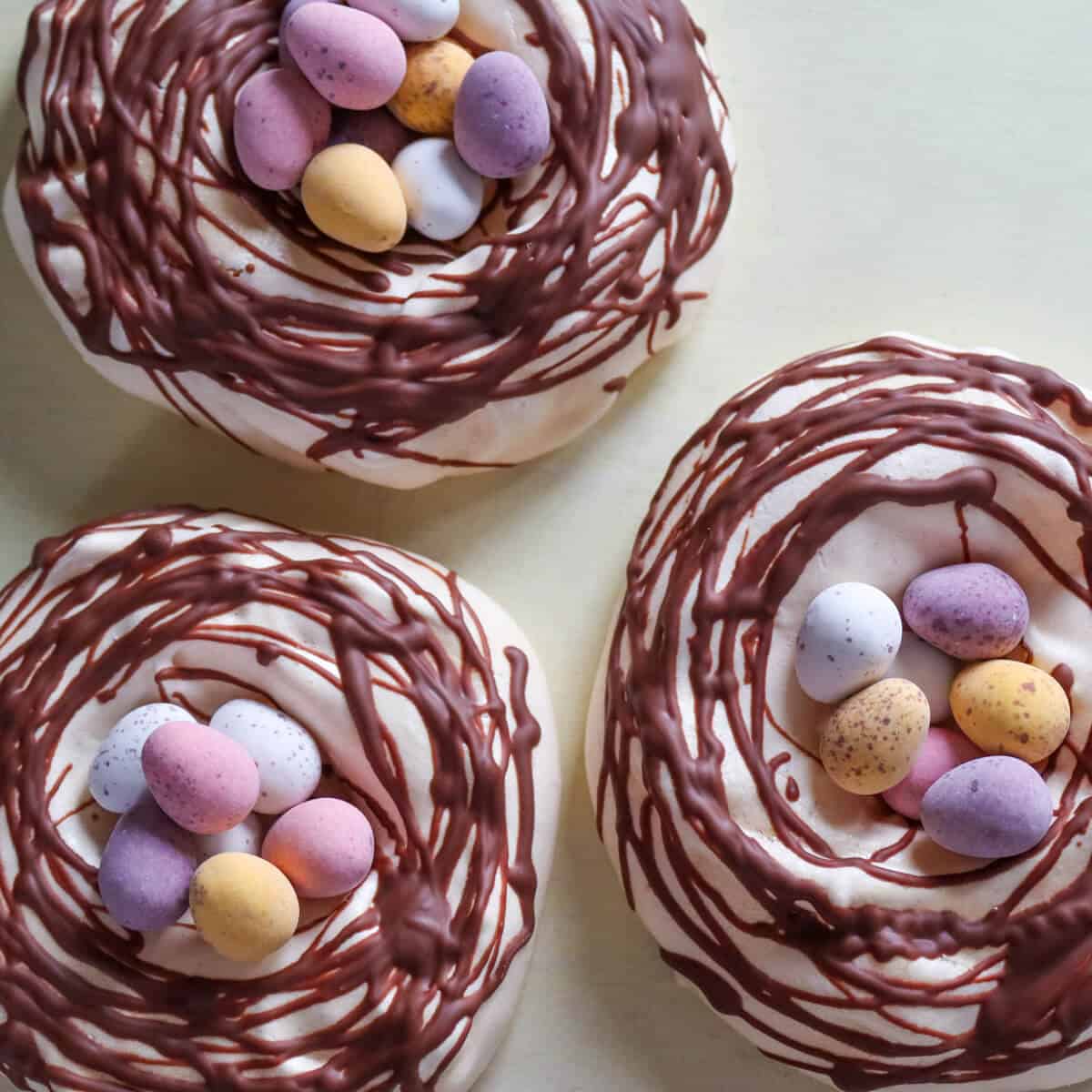 Are they desserts or decorations? Actually, these Mini Chocolate Meringue Nests by Rosanna ETC are both. They're brilliant and surprisingly easier than they appear. You start by making the meringue nest. Next, pipe on the chocolate and allow them to set. Finally, add the mini candy eggs. Finally, watch kids of all ages go gaga for them.
Neapolitan Cake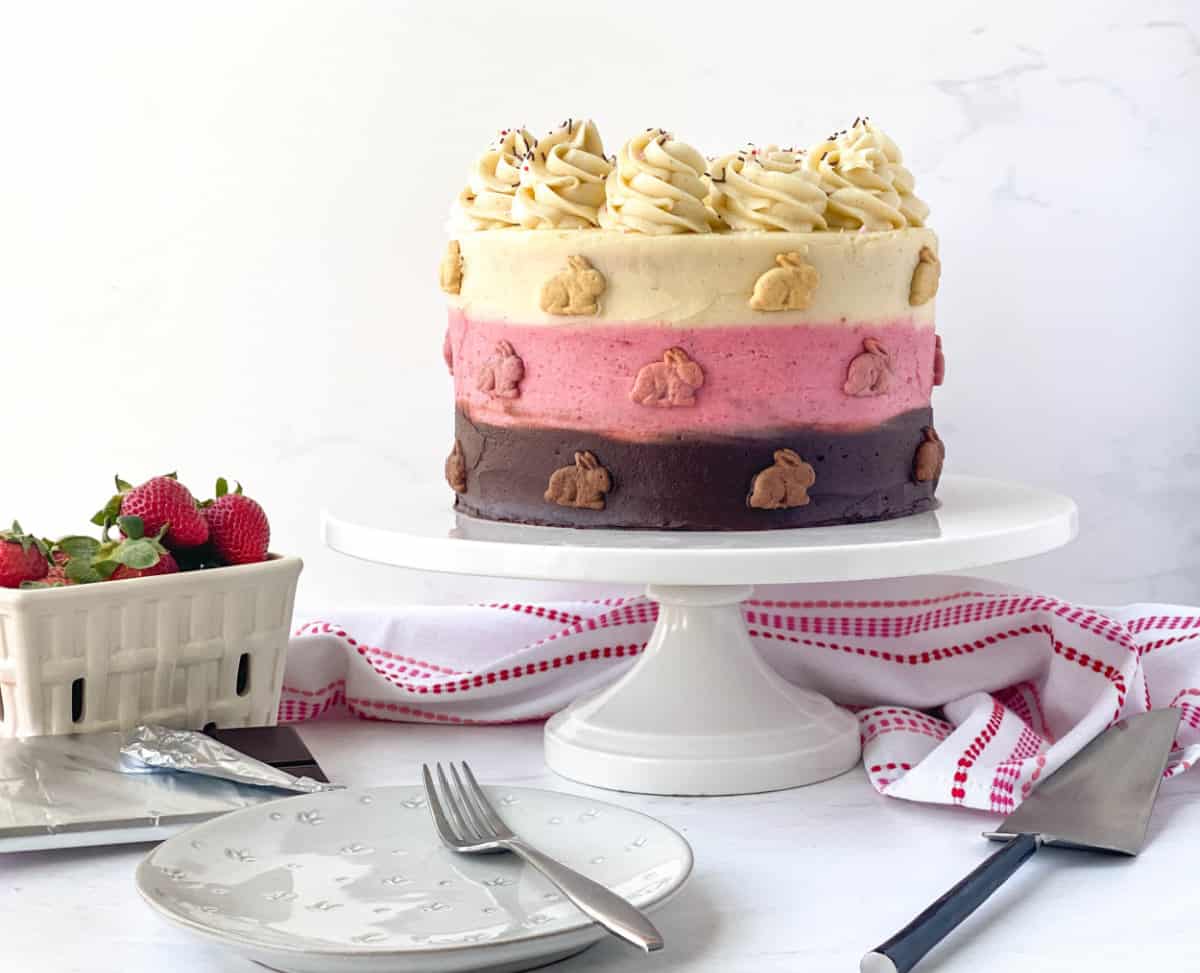 Rounding out this list of Easter treats is this stellar Neapolitan Cake adorned with wee bunny grahams from the brilliant Aimee of Live To Sweet. The three-layer royalty-worthy confection features the classic combination of flavors: Vanilla, strawberry, and chocolate. The cakes are moist. The frosting is thick, rich, and so very flavorful thanks to vanilla bean paste, freeze-dried strawberries, and Dutch cocoa powder. This one is a must-try any time of year.
Which Easter Dessert Recipes Are You Craving?
You've seen so many Easter Dessert Recipes like Coconut Cream Pie, Italian Lemon Drop Cookies, and even the moistest carrot cake with pineapple and nuts. OMG, there are so many incredible options. How do you choose? But it's time to decide. So which dessert(s) will make your menu? We'd love to know!
Looking for other Easter delights? See this list of Easter dinner recipes.