After you peruse this collection of 20 phenomenal popcorn recipes, there will be no going back to the basic and, dare I say, mediocre stuff. So let's put it like this, once you go gourmet, there's no other way.
We curated this list by choosing unconventional ideas like duck fat popcorn, za'atar popcorn, and even Thai-style popcorn. Holy moly!
So without further delay, let's discover. Here's to no more ordinary popcorn!
Let's dive in!
Caramel Popcorn without Corn Syrup
No corn syrup, no problem. With this caramel corn recipe from Maggie of No Frills Kitchen, you can make an incredible snack sans the HFCS. So it doesn't matter why you don't want to use the sweetener. Here's the short version of how she does it. First, make the caramel, then pour it over the popcorn. Finally, bake the caramel corn to dehydrate it.
Visit No Frills Kitchen for the recipe.
Easy Spicy Popcorn Recipe (No Chili Powder Needed)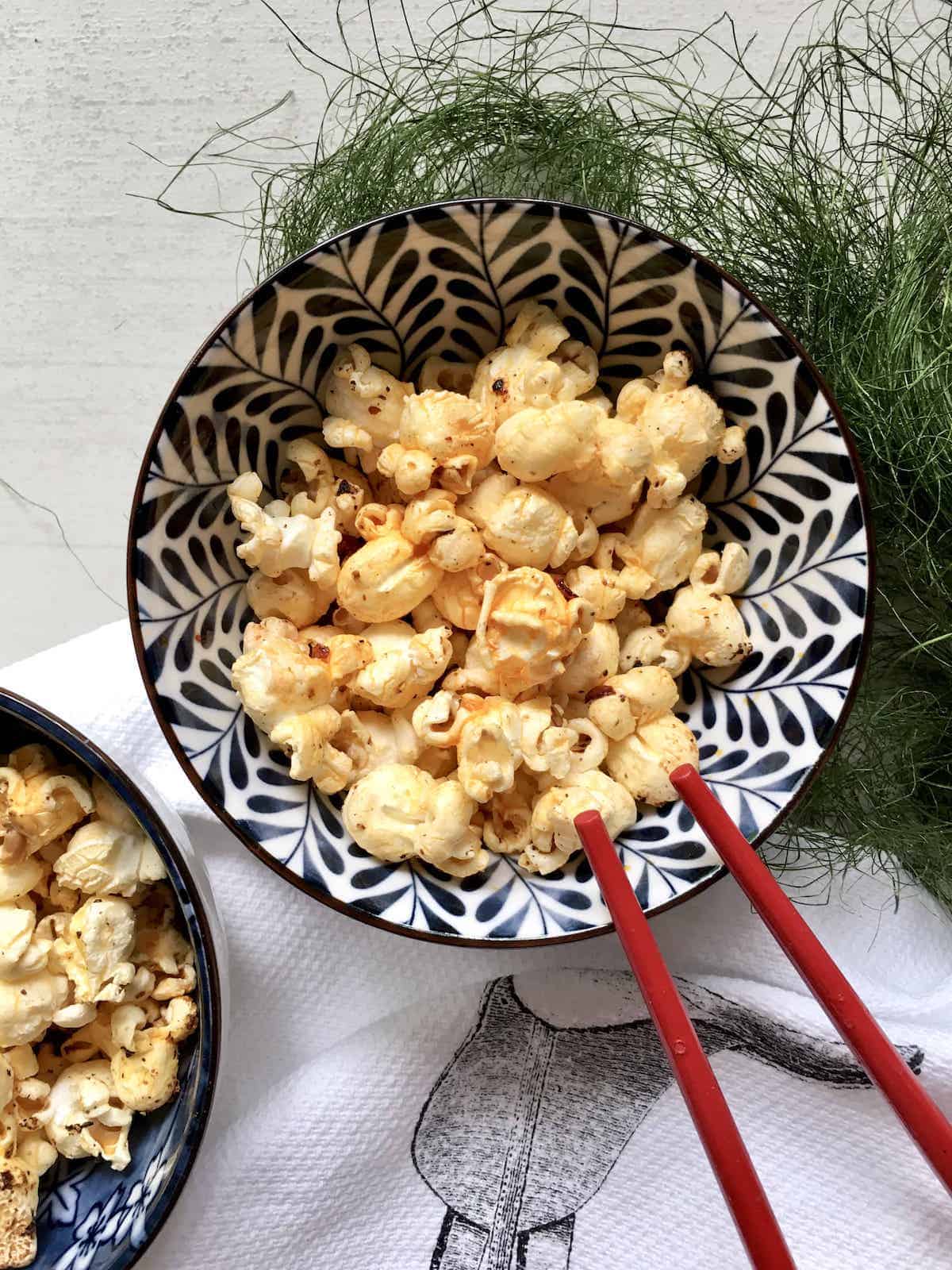 We continue this popcorn deliciousness with an offering from one of our favorite Asian-cuisine food bloggers, Zhen of Greedy Girl Gourmet. While there's a lot of sameness across the web, she stands out. You're sure to discover something interesting. However, today, she's introducing us to her version of spicy popcorn. What makes it different is her use of chili oil instead of chili powder, as well as her tips to intensify the umami flavors.
Visit Greedy Girl Gourmet for the recipe.
4-Ingredient White Chocolate Churro Popcorn
Make it 'just because' or make it for a special holiday. Whatever the reason, you'll love this white chocolate churro popcorn from Misty of Borrowed Bites. Get this, y'all! It features crunchy popcorn enveloped in white chocolate and is sprinkled with cinnamon sugar for a churro-esque snack that will surely delight. But that's not all. You'll also find tips for adding Christmas, Halloween, or Easter flair.
Visit Borrowed Bites for the recipe.
Unicorn Popcorn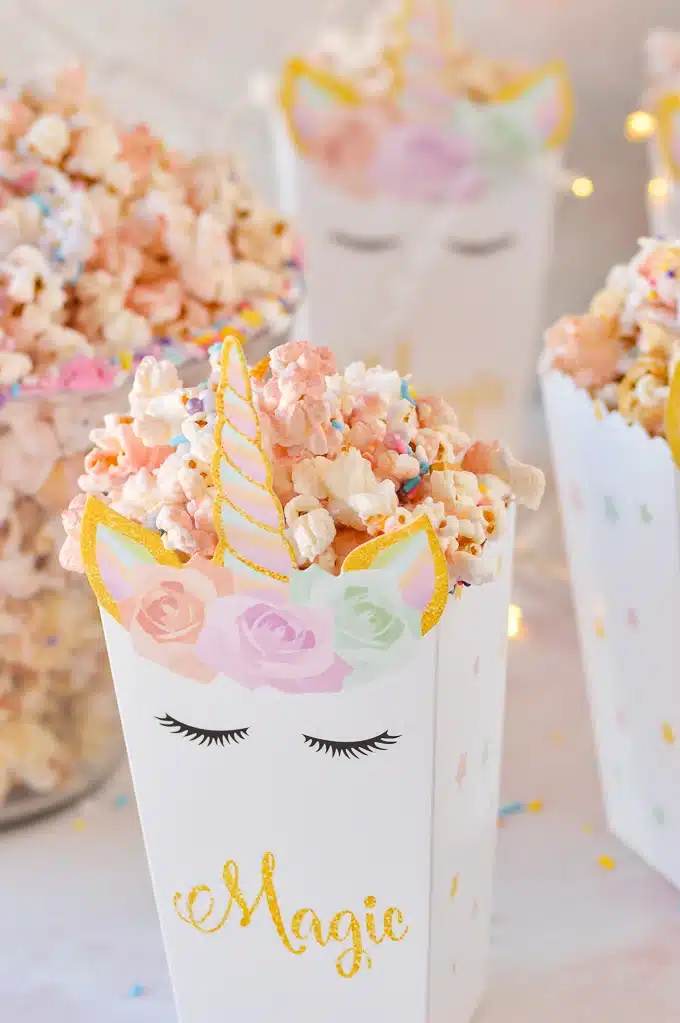 Unicorn mania continues with birthdays and celebrations themed after the legendary, mythical, and mystical one-horned horse. So, it should be no great surprise that unicorn-styled popcorn would enter the fray. And sure, you could buy the treat premade from a number of retailers. But why do that when Sophia has created what might be the best guide on the topic?
The Partylicious blogger shows you how to make the popcorn with candy melts and sprinkles easily. But if you want to go for the gusto, there are also ideas, such as adding marshmallows and other candies.
Visit Partylicious for the recipe.
Chocolate Peanut Butter Popcorn
Dawn's chocolate peanut butter popcorn will open you up to a World Of Deliciousness. Here's why! It is a simple snack you'll find yourself making over and again. And it features one of the most important culinary combinations ever created.
On the recipe page, you'll find step-by-step instructions as well as tips such as which peanut butter and chocolate to use.
Visit World Of Deliciousness for the recipe.
Duck Fat Popcorn
For the ultimate in gourmet movie snacking, you want to try this duck fat popcorn from Jen of Peel With Zeal. Now, you might be interested in knowing that duck fat has a favorable monounsaturated fat profile, or you might only care about the particular quality it bestows upon your food.
But just because it may sound exotic doesn't mean it's any less accessible; you can find all the needed ingredients at your favorite grocery store.
As for the flavors, Jen provides three. You can stick to the bunny slopes, as it were, keeping it simple with just sea salt. Or go for it with spicy buffalo wing flavored or rosemary truffle. In any case, there's no wrong way to do this popcorn. This recipe is a must-try for us!
Visit Peel With Zeal for the recipe.
Za'atar Popcorn Recipe
Summer Yule shows you how to make popcorn in the Ninja Foodi in this za'atar popcorn recipe. It's a four-ingredient snack that takes but minutes to complete, although the flavor is amazeballs. But what is za'atar? Well, it's a taste bud and imagination-stimulating spice blend featuring citrusy sumac, toasted sesame seeds, and cumin, among other ingredients. And your mind will run wild thinking of all the food you can put it on.
Visit Summer Yule for the recipe.
Confetti Popcorn
An oft-overlooked component of success is celebrating those small wins. You know, like not flipping out when you were cut off in traffic (don't act like it's just me). It's the little things that become big things. So think of this three-ingredient confetti popcorn from Chenée Today as a way to reward yourself with a quick treat. You deserve it!
Visit Chenée Today for the recipe.
Browned Butter Brown Sugar Homemade Kettle Corn
You can depend on Joni of The Pypers Kitchen for contemporary comfort food like this browned butter brown sugar popcorn. Browned butter imparts a distinctive nuttiness combined with the deep molasses flavor of brown sugar for a snack sure to become a household favorite.
Visit The Pypers Kitchen for the recipe.
Coconut Nutella Popcorn
We find coconut to be rather polarizing. There's the gotta-have-it camp and the keep-it-away-from-me camp. Now, if you fall into the former group, you'll be happy to have this coconut Nutella popcorn from Saving Talents. It's a healthy-ish snack you can make in minutes with less than five ingredients, including microwave popcorn.
Visit Saving Talents for the recipe.
Instant Pot S'mores Popcorn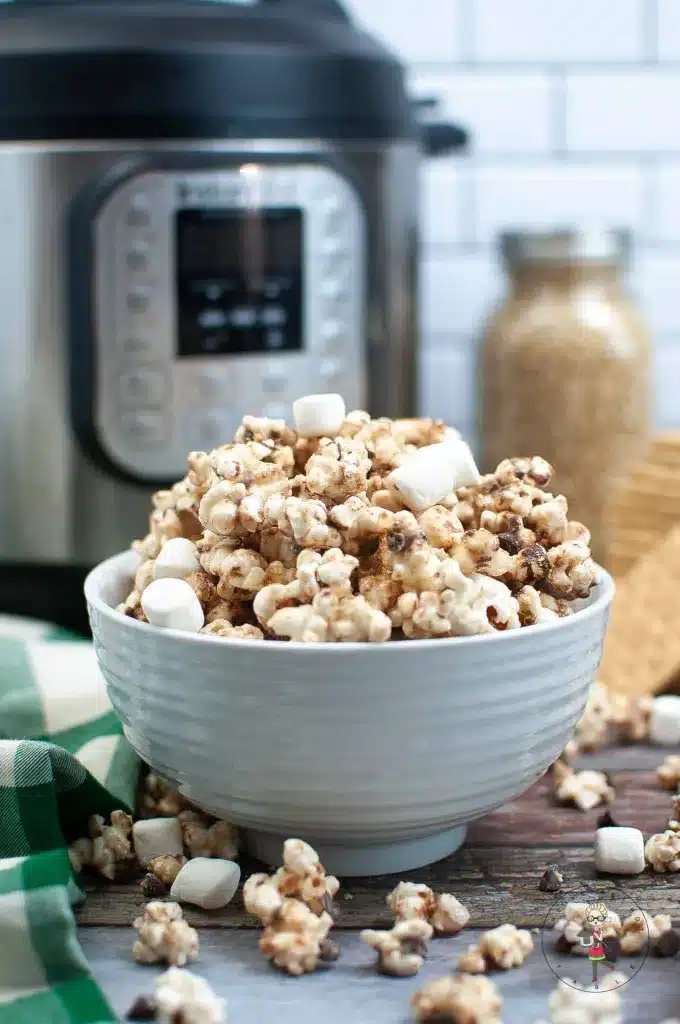 The Instant Pot Table keeps hitting us with one surprise after another. This time it's this s'mores popcorn. It has us reimagining uses for the talented multicooker. Using the sautee function, you pop the popcorn and add mix-ins like marshmallows, white chocolate candy melts, and crushed graham crackers.
Visit The Instant Pot Table for the recipe.
Thai Style Popcorn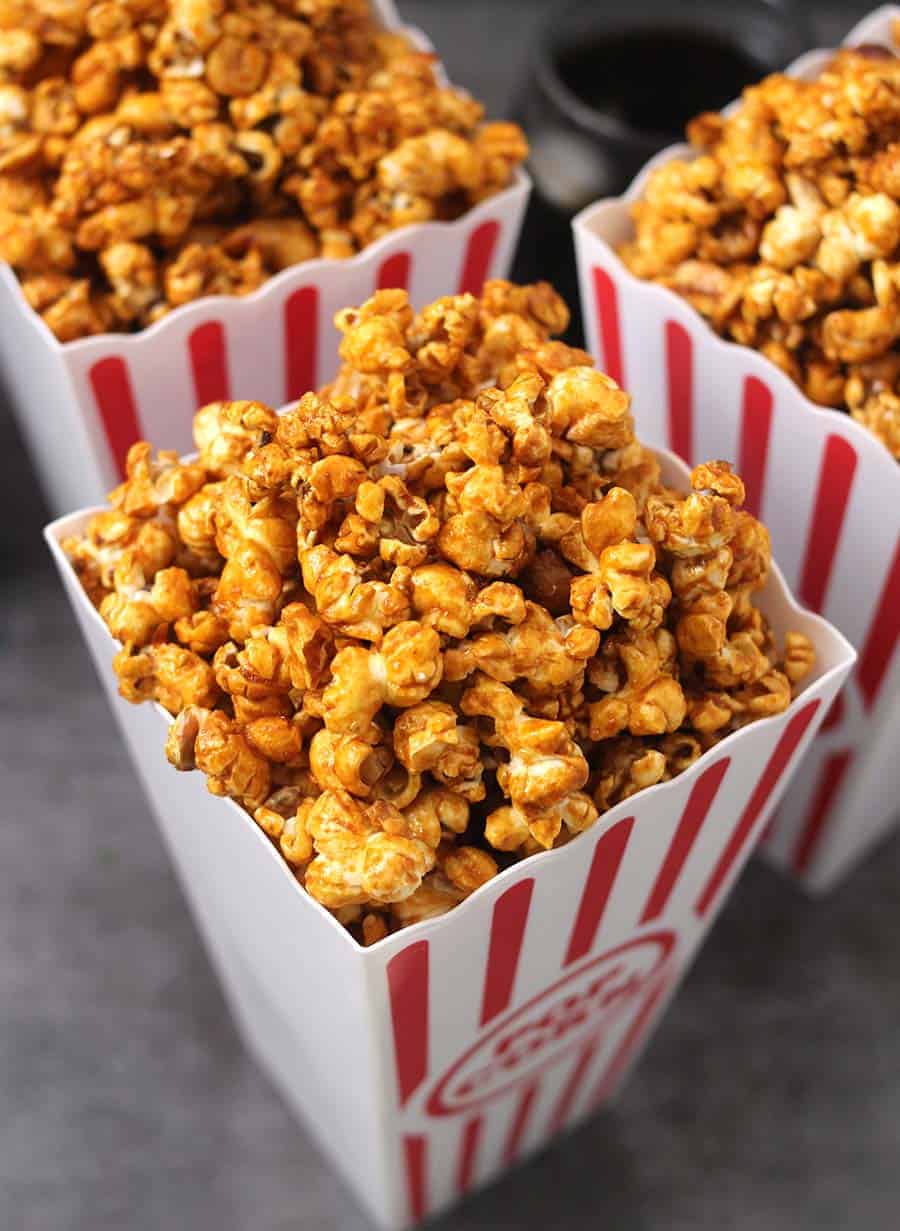 While it may look like it, that isn't an image of caramel corn. Instead, it's something far more novel. And no, that's not a knock on classic caramel corn. But this Thai popcorn snack smacks your taste buds with something more dynamic. Each bite epitomizes Thai cuisine – sour, sweet, and umami, with just the right amount of heat.
Visit Cook With Kushi for the recipe.
Curry Popcorn
It's Marie of Foodolic's business to develop creative recipes with a healthy touch. So with that slogan in mind, we're totally diggin' this curry popcorn recipe. The simple after-school or movie night snack requires just four ingredients, including curry powder and butter, for a uniquely flavorful snack.
Visit Foodolic for the recipe.
Homemade Pumpkin Spice Popcorn
Pumpkin spice is the flavor of fall. So, save this recipe from Three Olives Branch for when the leaves start to change and you're craving new snacks doused in everyone's favorite autumn flavor. Kim provides her spice blend recipe. All you need to do is pop the popcorn and sprinkle it.
Visit Three Olives Branch for the recipe.
Soy Sauce Butter Popcorn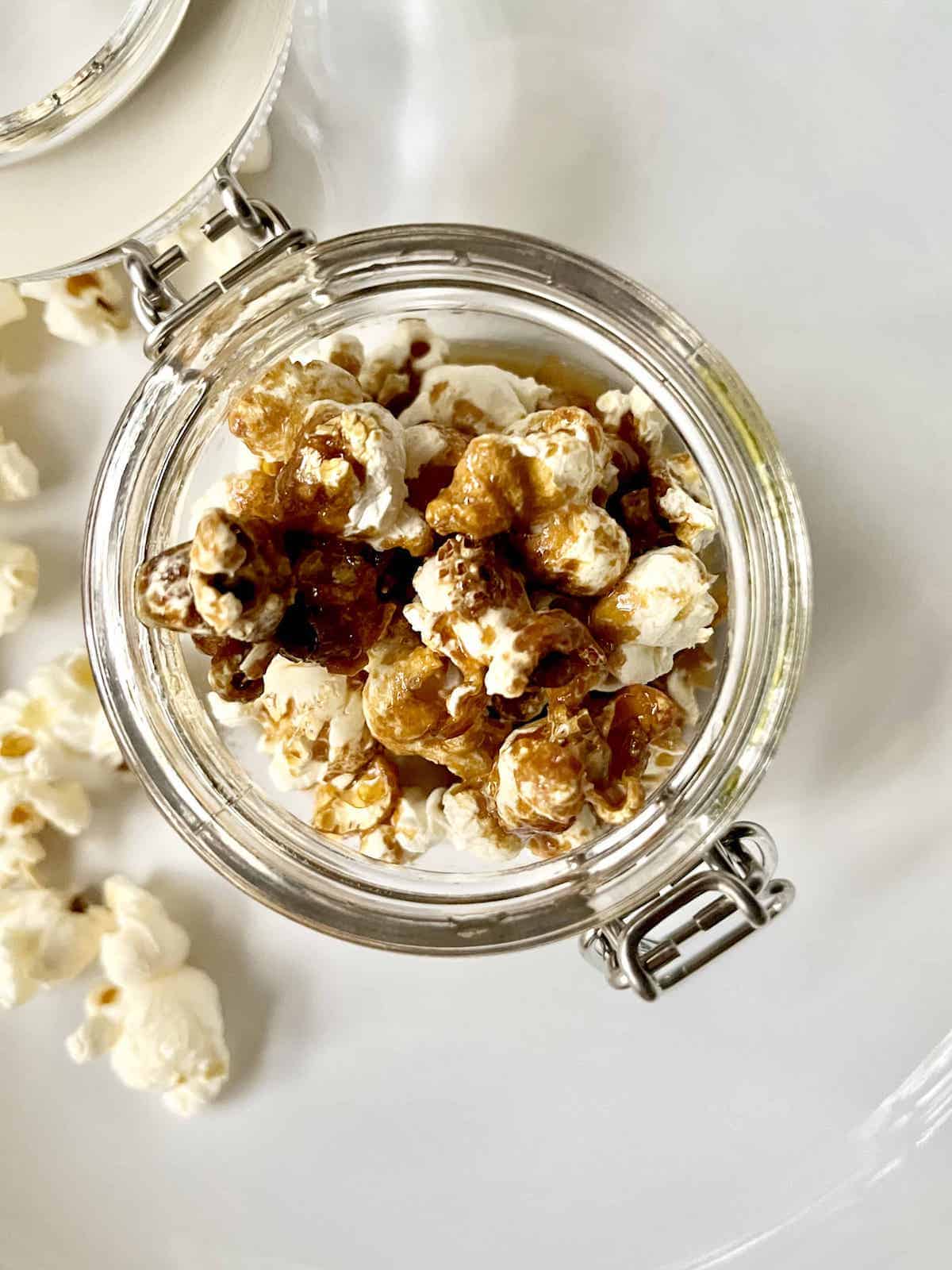 Chances are you've never even considered soy sauce butter popcorn. We haven't, either. But we wonder what Greedy Girl Gourmet is trying to do to us. Overload our taste buds? Great! Because with butter, ghee, soy sauce, and optional add-ons like garlic and onion powder, it's a savory snack brimming with umami flavor. And we're totally here for it!
Visit Greedy Girl Gourmet for the recipe.
Popcorn Salad
If you're looking at this popcorn salad recipe from The Suburban Soapbox, thinking, what the heck? You wouldn't be alone. But surprisingly, this idea isn't some new trendy clickbait-y creation. It's vintage, actually, going all the way back to the '50s. And while the word salad gets used loosely, as you can see in the picture, it has popcorn, shredded carrots, bacon, and all the fixings you can get from a salad bar. So, are you feeling experimental?
Visit The Suburban Soapbox for the recipe.
Sweet Tajín Popcorn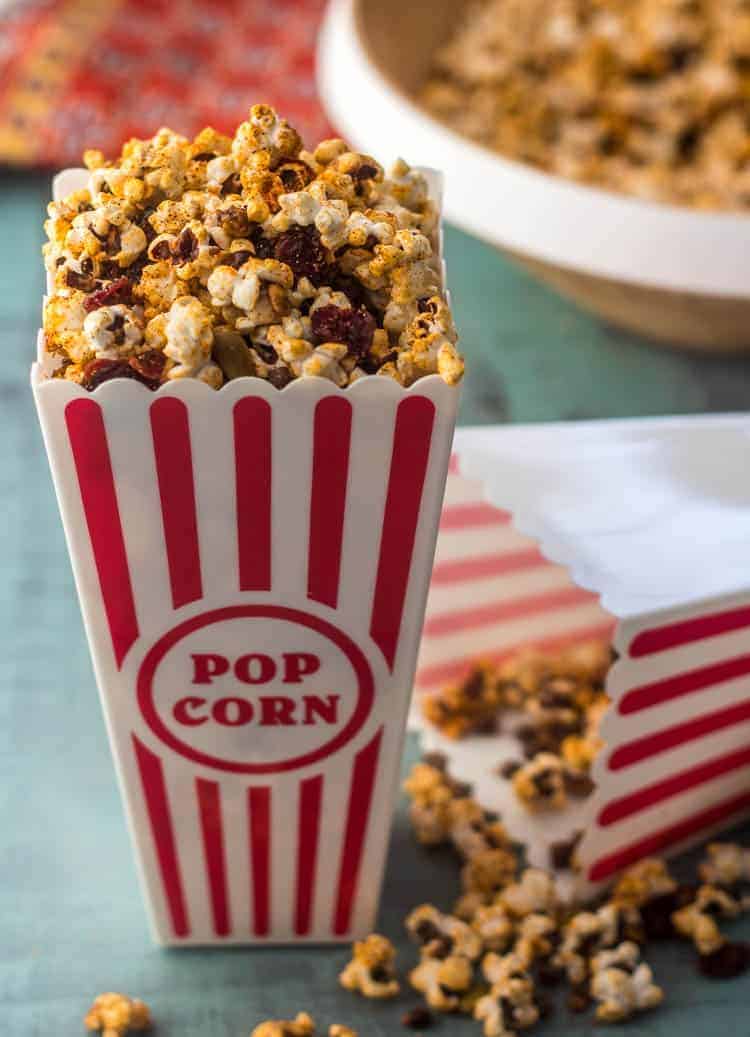 Beyond Mere Sustenance is one of our favorite virtual destinations to grab easy Latin-inspired recipes. So far, we've tried a repeatable fish dinner recipe and other deliciousness. Tamara is styling up our snacking with this sweet tajin popcorn recipe this time. If you're having cravings, wait for the description. It features citrusy chili powder tajin, dried cherries, candied pepitas, chocolate chips, and quite a bit more. Mmmm, so good!
Visit Beyond Mere Sustenance for the recipe.
Kashmiri Chili and Cheese Popcorn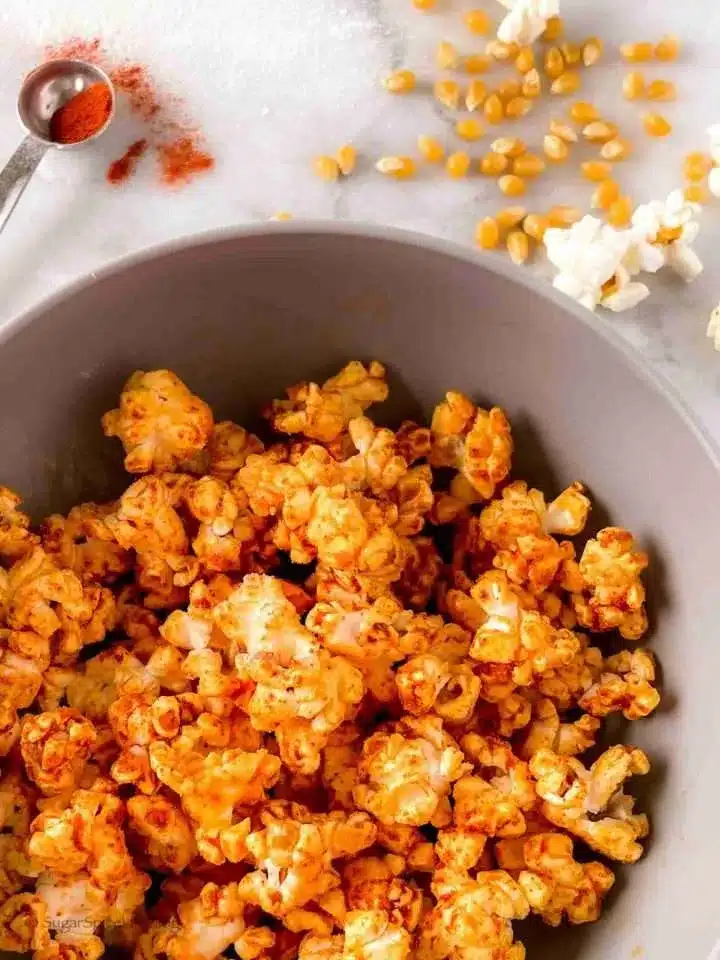 Once you try this gourmet Kashmiri chili cheese popcorn from Jill of Simple Sweet Masala, you won't return to the regular stuff. So, don't say you weren't warned. It's a snack that perfectly blends salty and spicy. But just because it has that red hue doesn't mean it's blazing hot; Kashmiri is a mild pepper. So then, combined with cheddar cheese powder, you've got a snack that's better than good.
Visit Simple Sweet Masala for the recipe.
Christmas Popcorn Recipe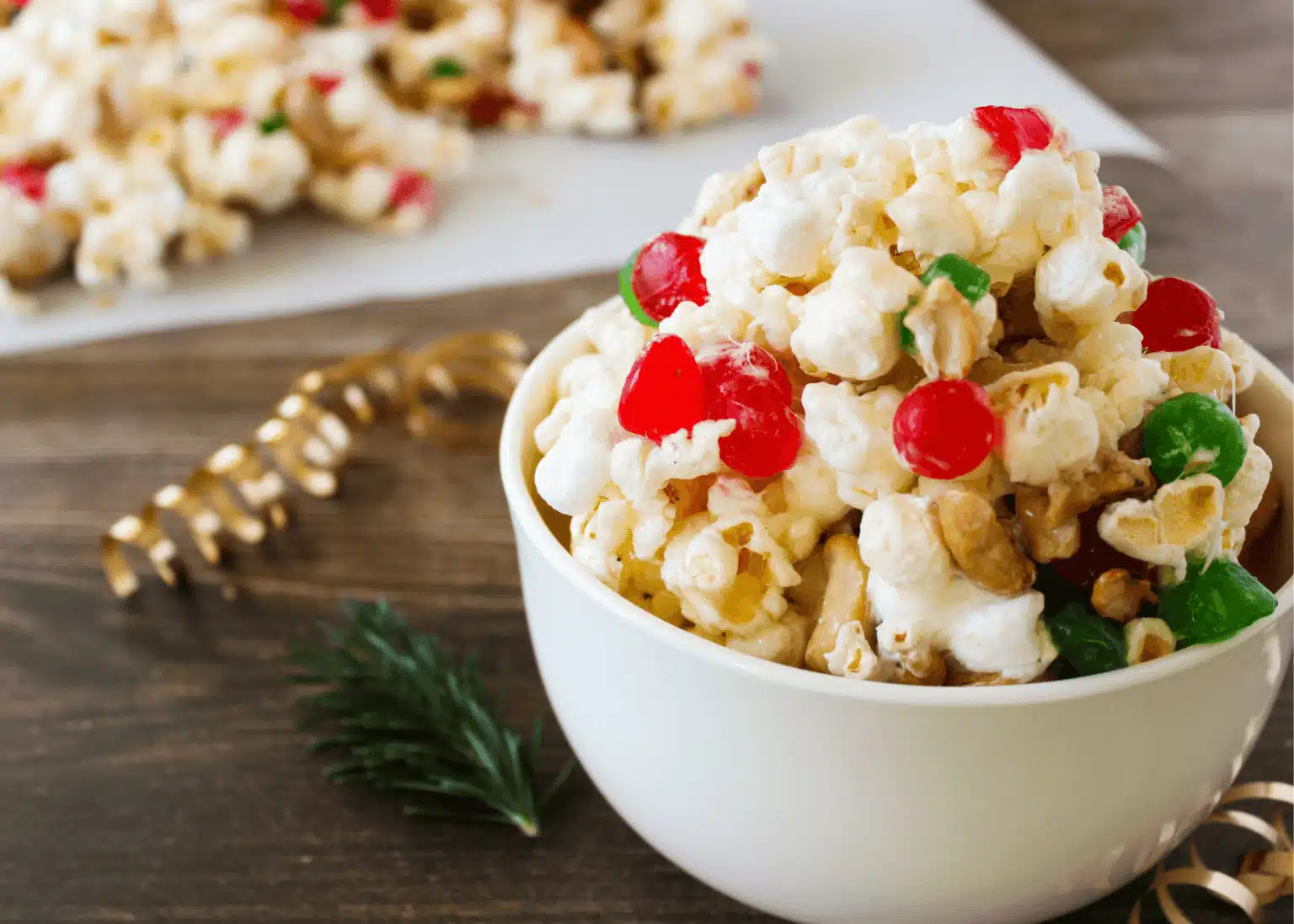 This Christmas popcorn from the team at Simply Scrumptious is a delightful solution to numerous holiday dessert conundrums. For one, it's a fantastic Christmas-styled no-bake dessert. Also, it makes a beautiful gift for popcorn lovers. But what's in it? The base is good quality popcorn, but there are also dots candy, mini marshmallows, and cashews. Sounds, well, scrumptious!
Visit Simply Scrumptious for the recipe.
Butterbeer Popcorn (Inspired by Harry Potter)
Harry Potter fans will rejoice with this butterbeer popcorn recipe from An Edible Mosaic. But it's not just Faith's ode to Harry Potter. In a way, it's also her tribute to autumn. The season she yearns for year-round.
For this popcorn recipe, you'll discover a combination of flavors that make for one drool-worthy fall snack, including butter, rum, vanilla, and almond.
Visit An Edible Mosaic for the recipe.
Which Popcorn Recipe Will You Try First?
So by now, you've come across so many delicious popcorn recipes you must be brimming with ideas. So, which one are you most excited to try first? Is it the Harry Potter-inspired butterbeer popcorn, the Kashmiri chili and cheese, or something different? We'd love to know!