With this delicious list of 22 leftover ham recipes, you'll never let it go to waste again! They're a tasty way to use up leftovers before they go to waste.
Wouldn't it be better to turn that leftover ham bone into an old-fashioned ham and beans stew, slow cooker ham and potato hash, or pizza pinwheels with ham?
So, get ready to discover the tastiness.
Let's dive in!
And if you're interested in more leftover recipes, see our list of leftover recipes for brisket or our leftover mashed potato recipes.
Delicious Ham and Potato Soup Crock Pot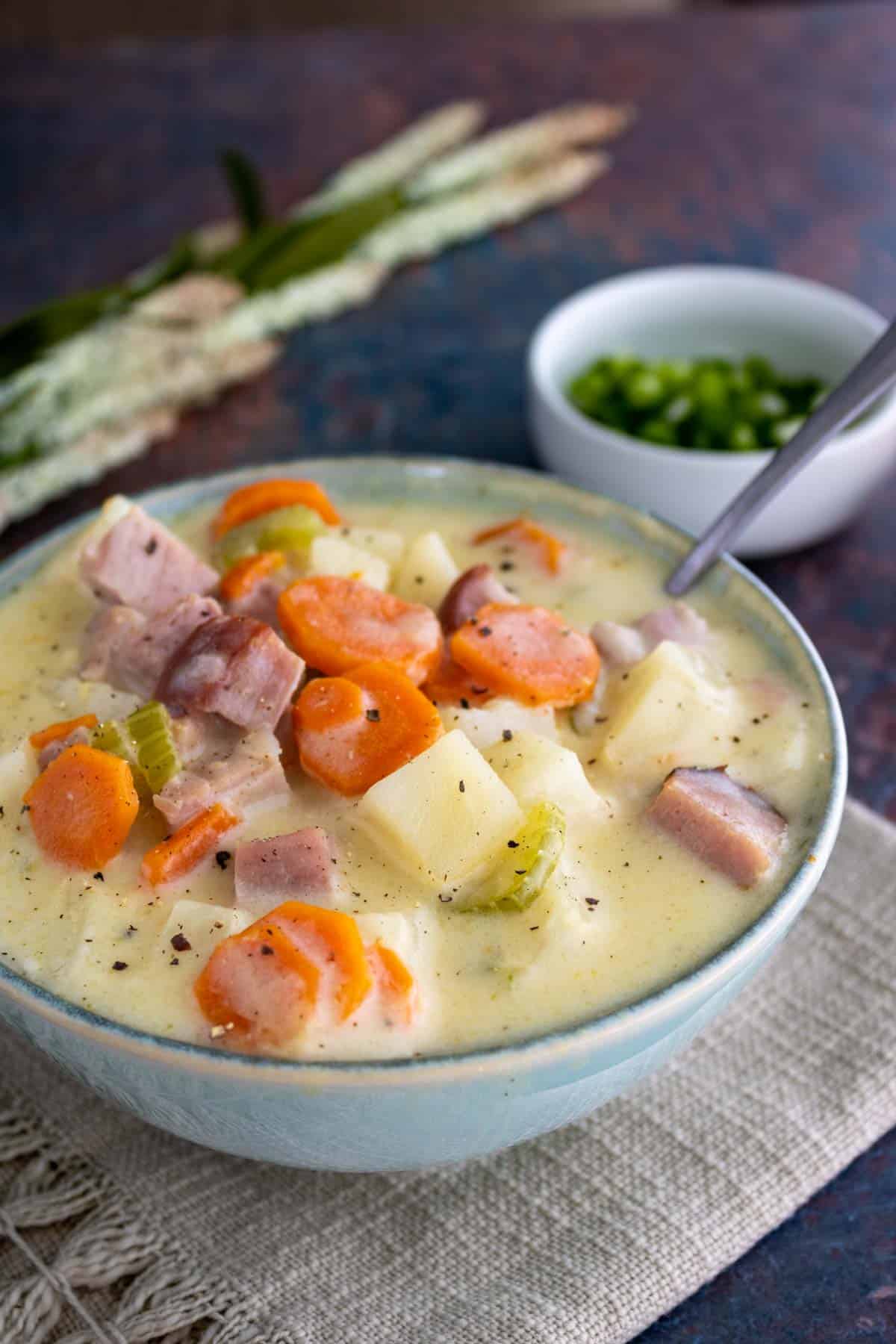 Oh yeah! Andrea and Nicole of Simply Scrumptious know precisely what to do with leftover ham. They make delicious ham and potato crockpot soup. Talk about comfort food! Although it takes 4 hours in the slow cooker, you can prep in just 10 minutes with everyday ingredients.
Visit Simply Scrumptious for the recipe.
Mexican Ham Pasta Salad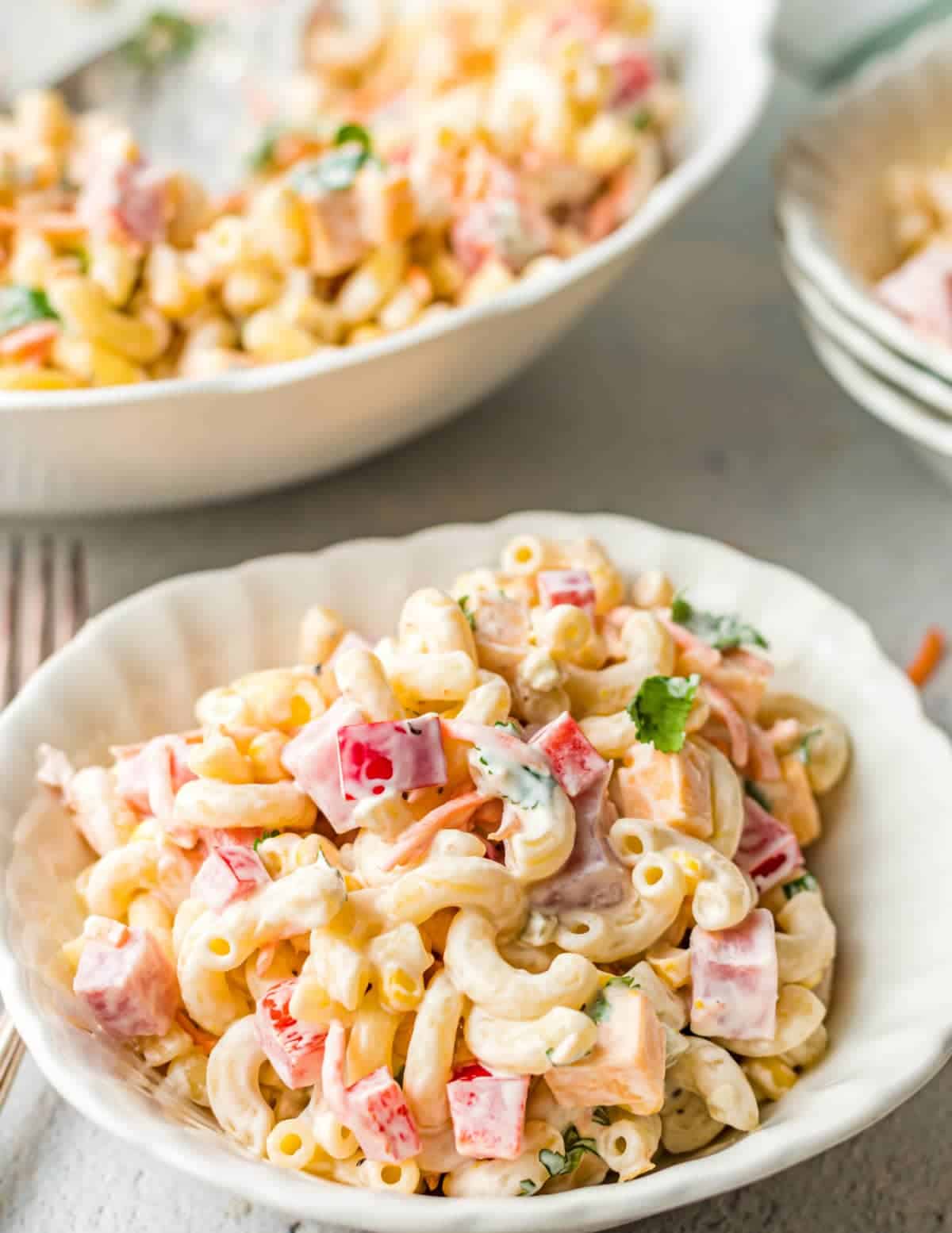 Congrats! You've just found the star of the next potluck you attend with this Mexican ham pasta salad from Wendie of Butter Your Biscuit. It's a delicious dish made with pasta (of course), ham, corn, cheese, pickled jalapenos, bell peppers, and more.
Visit Butter Your Biscuit for the recipe.
Old Fashioned Ham and Beans Stew
The Go Cook Yummy team brings you this tasty old-school ham and bean stew—a great way to use that leftover ham. You make the money-saving, perfect-for-fall soup using simple ingredients like dried beans (they have to soak overnight), garlic, ham (of course), and onions. Better still, prep time is just minutes before it simmers for an hour.
Visit Go Cook Yummy for the recipe.
Ham Fried Rice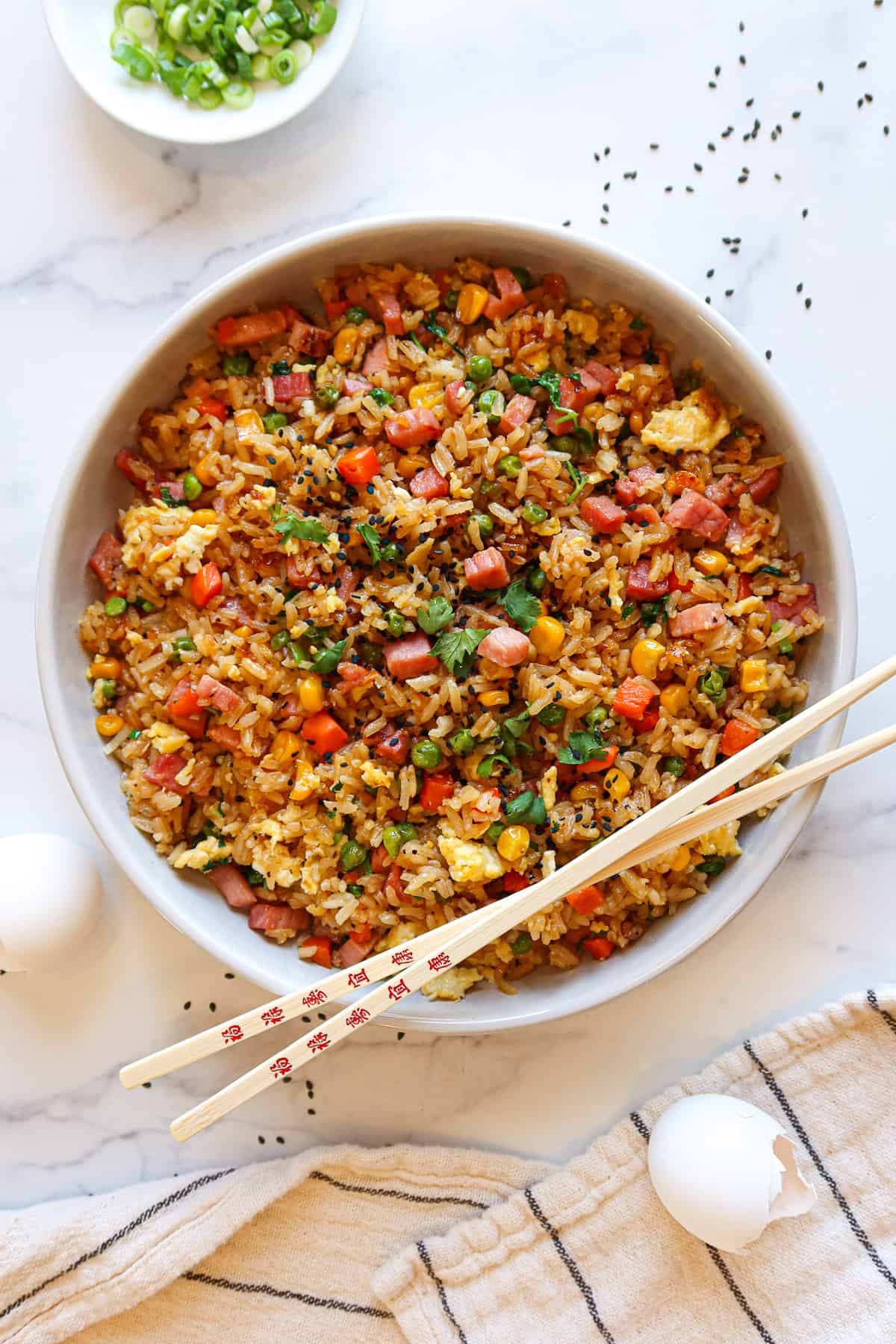 What could be better than Easter or Christmas ham? Um, we have an idea. How about this ham fried rice by Stacey of Garlic Salt Lime? So instead of dried-up slices of ham that eventually lose all appeal, she combines it with rice, peas, carrots, and corn for a leftover dinner remix that's better than the original.
Visit Garlic Salt Lime for the recipe.
Grilled Ham And Cheese Recipe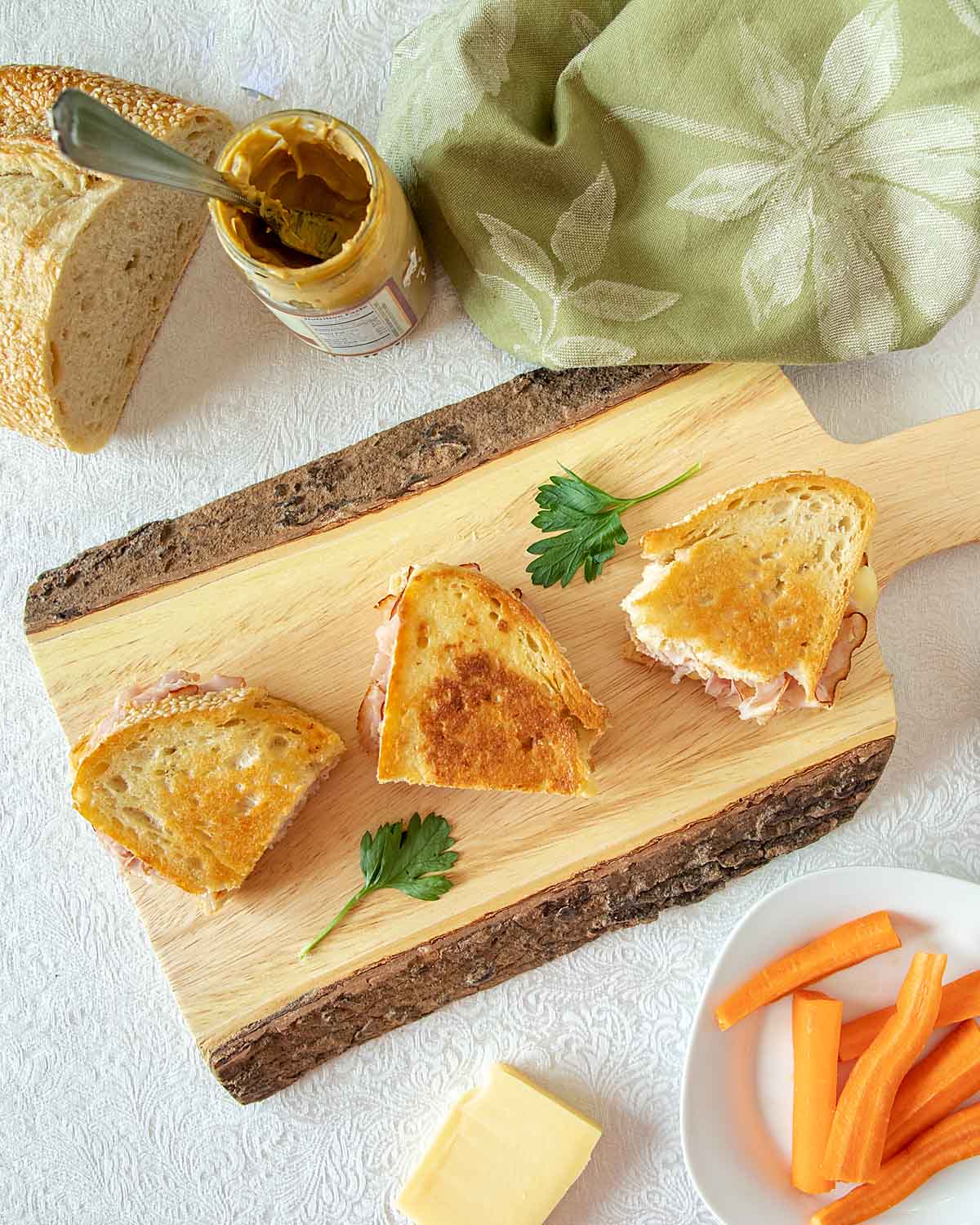 Inger of Art Of Natural Living offers her take on the classic grilled cheese with the simple addition of ham. Just have another look at that beauty. The bread is browned and buttery with crispy edges, warm cheese, and ham inside. And although the images show thinly sliced ham, you can certainly use thicker slices.
Visit Art Of Natural Living for the recipe.
Pizza Pinwheels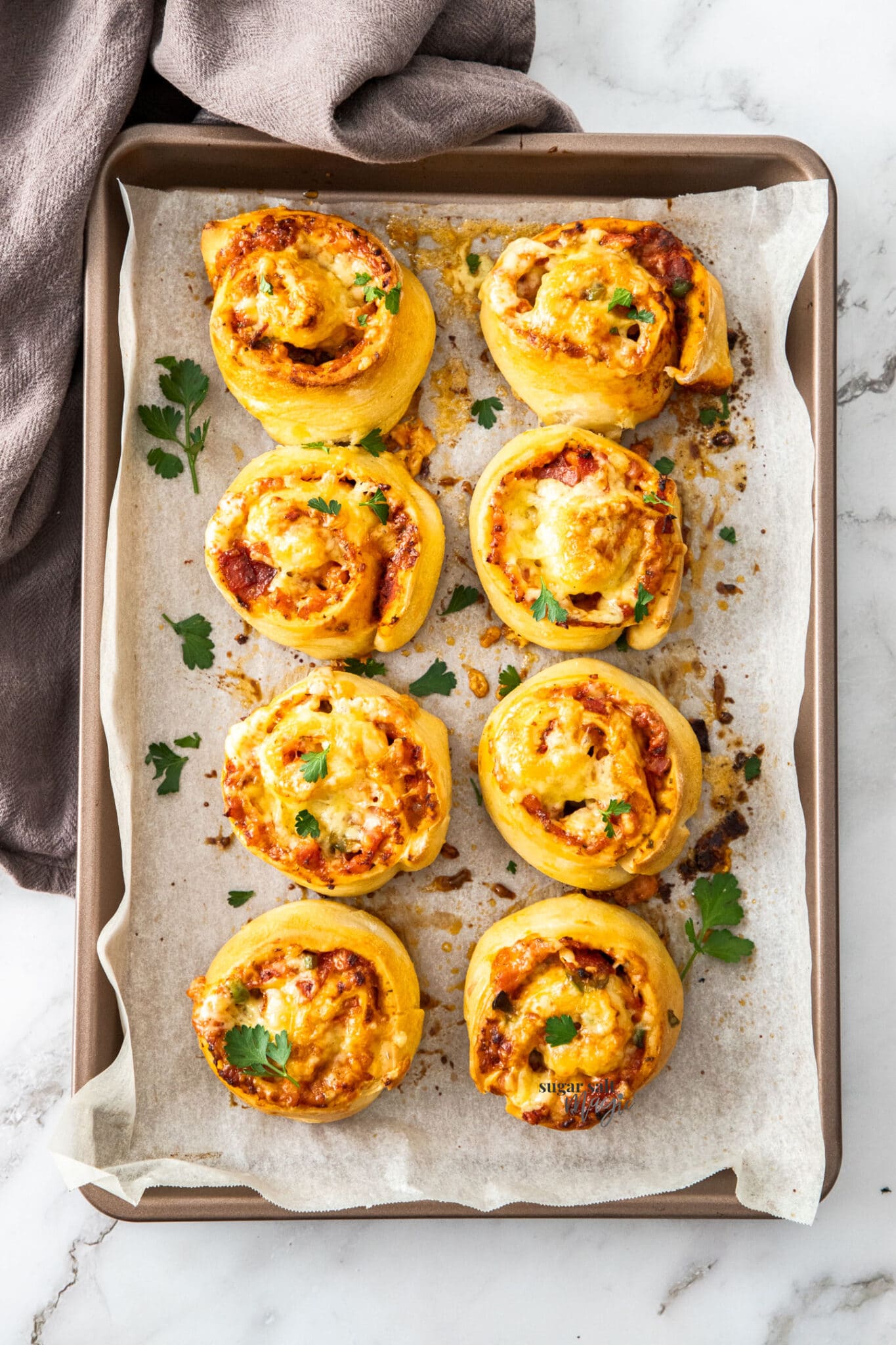 Marie of Sugar Salt Magic inspires you to get creative with these easy pizza pinwheels (known as pizza scrolls in the land down under). They are so easy to make using common grocery store ingredients like pizza sauce, cheese, pepperoni, or leftover ham. But here's the kicker: don't make the dough if you're feeling lazy. Use the premade variety.
Visit Sugar Salt Magic for the recipe.
Slow Cooker Baked Beans with Ham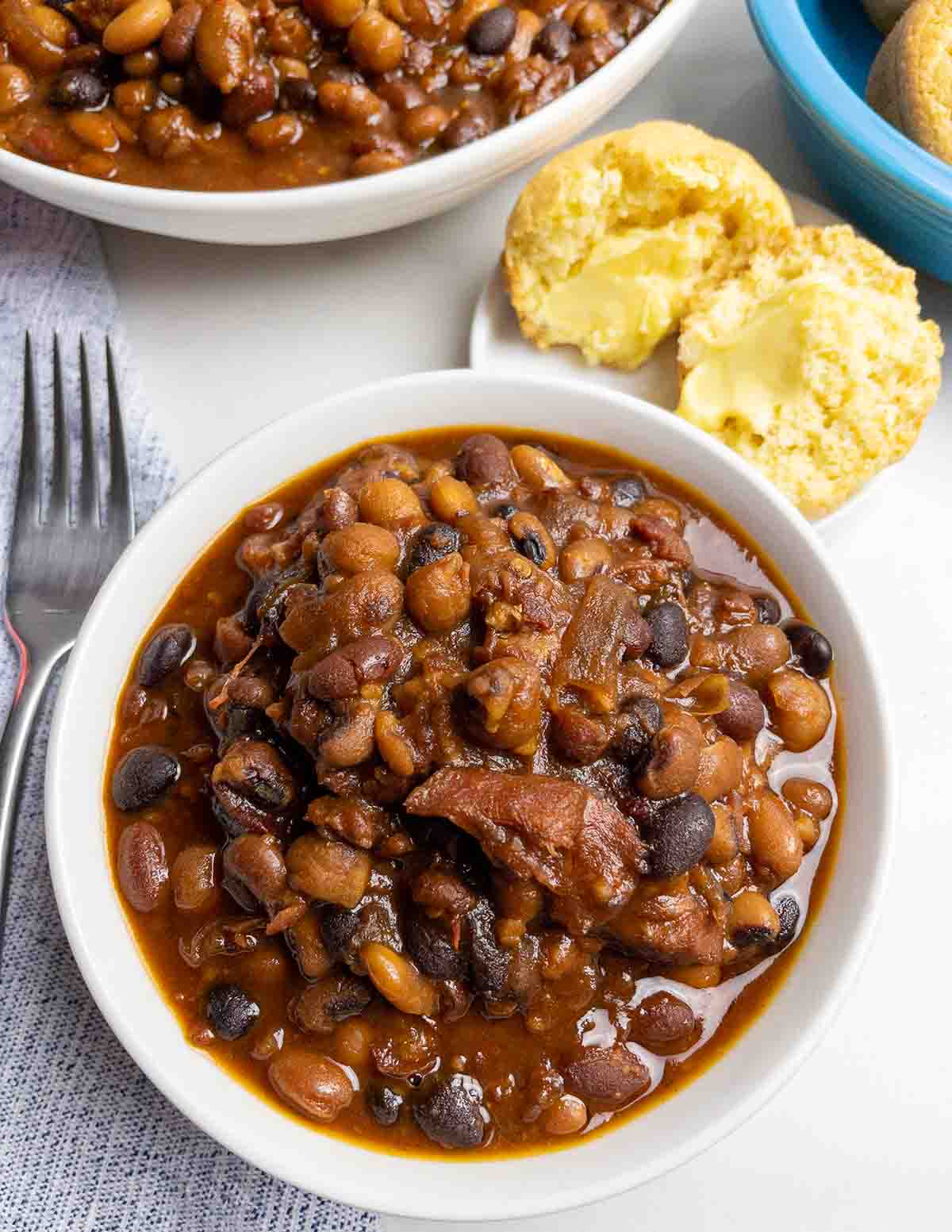 Whether you're using leftover ham or bacon, these savory baked beans from Cara of Midwestern HomeLife ain't what grandma used to make. Instead, the flavor-loaded legumes with ham, chipotle, Jack Daniels, molasses, and brown sugar are a substantial side and nearly a meal all their own.
Visit Midwestern HomeLife for the recipe.
15 Bean Soup
You can make this versatile 15-bean soup from Jessica of Fantabulosity stovetop or in the slow cooker. The hearty soup features a package of 15-bean mix, onion, carrot, celery, and a large helping of leftover ham. While you'll need to soak the beans overnight, with some planning, you can still enjoy them during the hectic week.
Visit Fantabulosity for the recipe.
Creamy Ham and Tomato Penne al Baffo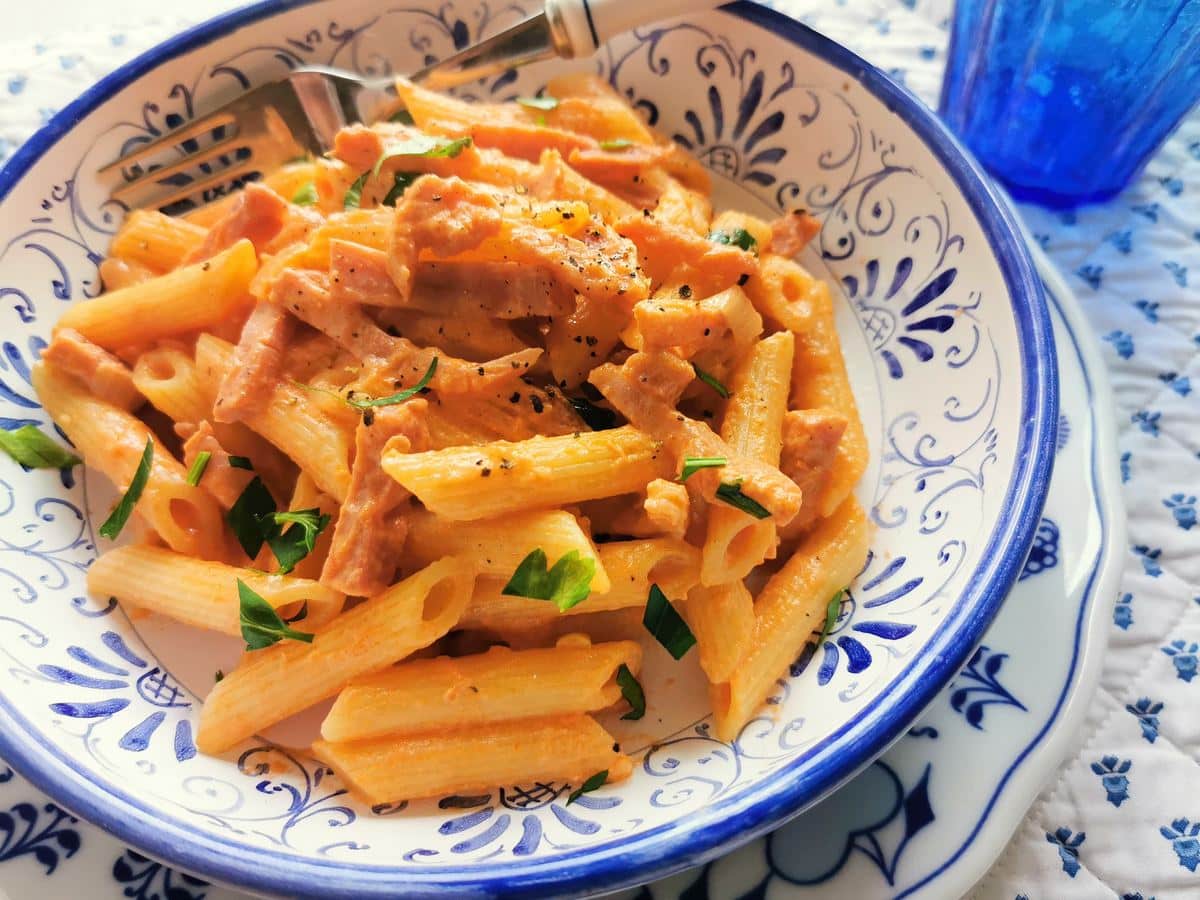 With a blog named The Pasta Project, it's no surprise Jacqui would have a brilliant pasta recipe using leftover ham. It's satisfyingly creamy with shallots, parsley, and tomato. But while everything sounds better in Italian, don't let the fancy name scare you; it's a quick dish. You can have it on the table in less time than it takes to pronounce "creamy ham and tomato penne al baffo properly."
Visit The Pasta Project for the recipe.
Schinkennudeln (German ham and egg pasta)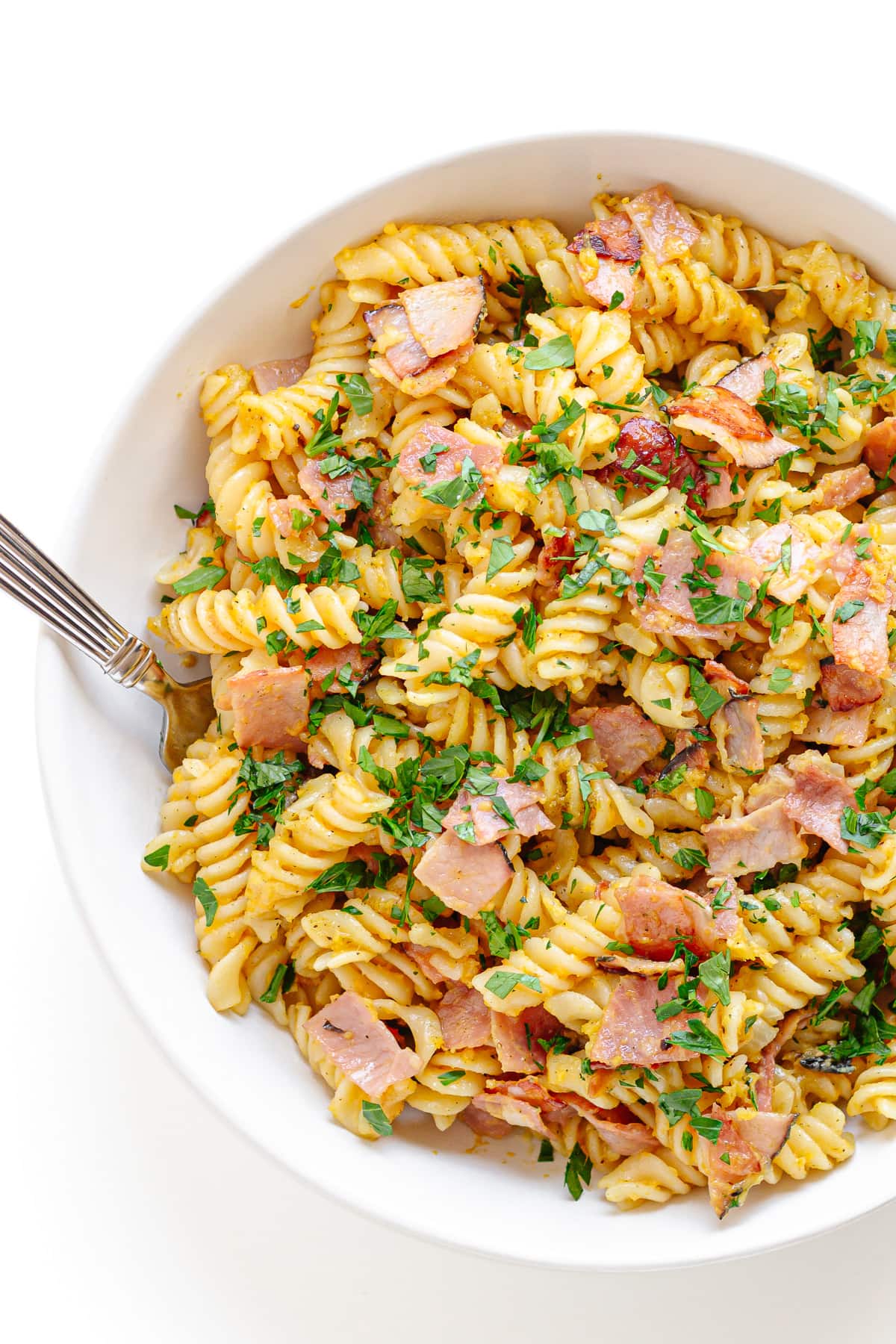 Ham is the bridge connecting scrambled eggs, breakfast, and pan-fried noodles, dinner, in this exciting German creation by Vanessa of Maple + Mango. It's a meal her mom made whenever she had leftover ham and pasta. And although exotic sounding, it's made with simple ingredients like pasta, cheese, ham, eggs, and butter and takes less than 30 minutes.
Visit Maple + Mango for the recipe.
Navy Bean Soup With Ham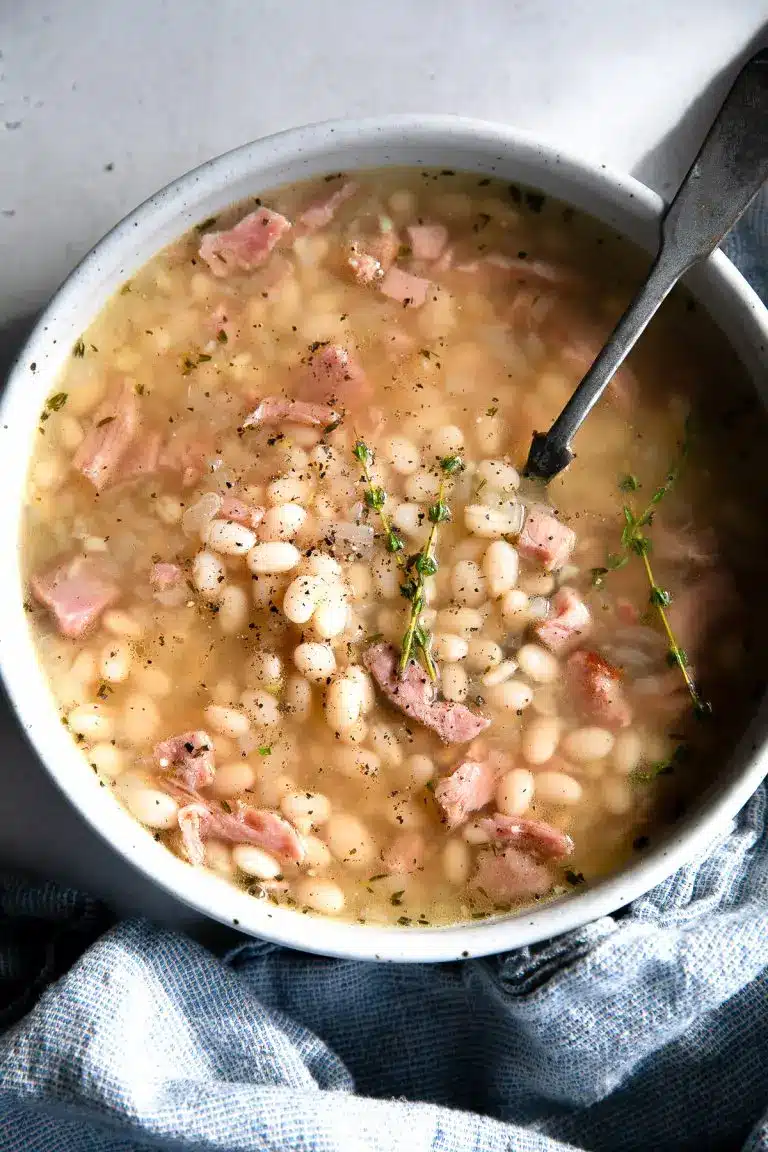 While additions like kale, carrots, or celery could work in this navy bean soup by Jessica of The Forked Spoon, she recommends keeping the first-rate dish simple. It is an old-school, waste not, want not kind of meal with tender, inexpensive navy beans, leftover ham bone, onions, and herbs.
Visit The Forked Spoon for the recipe.
Ham And Spinach Quiche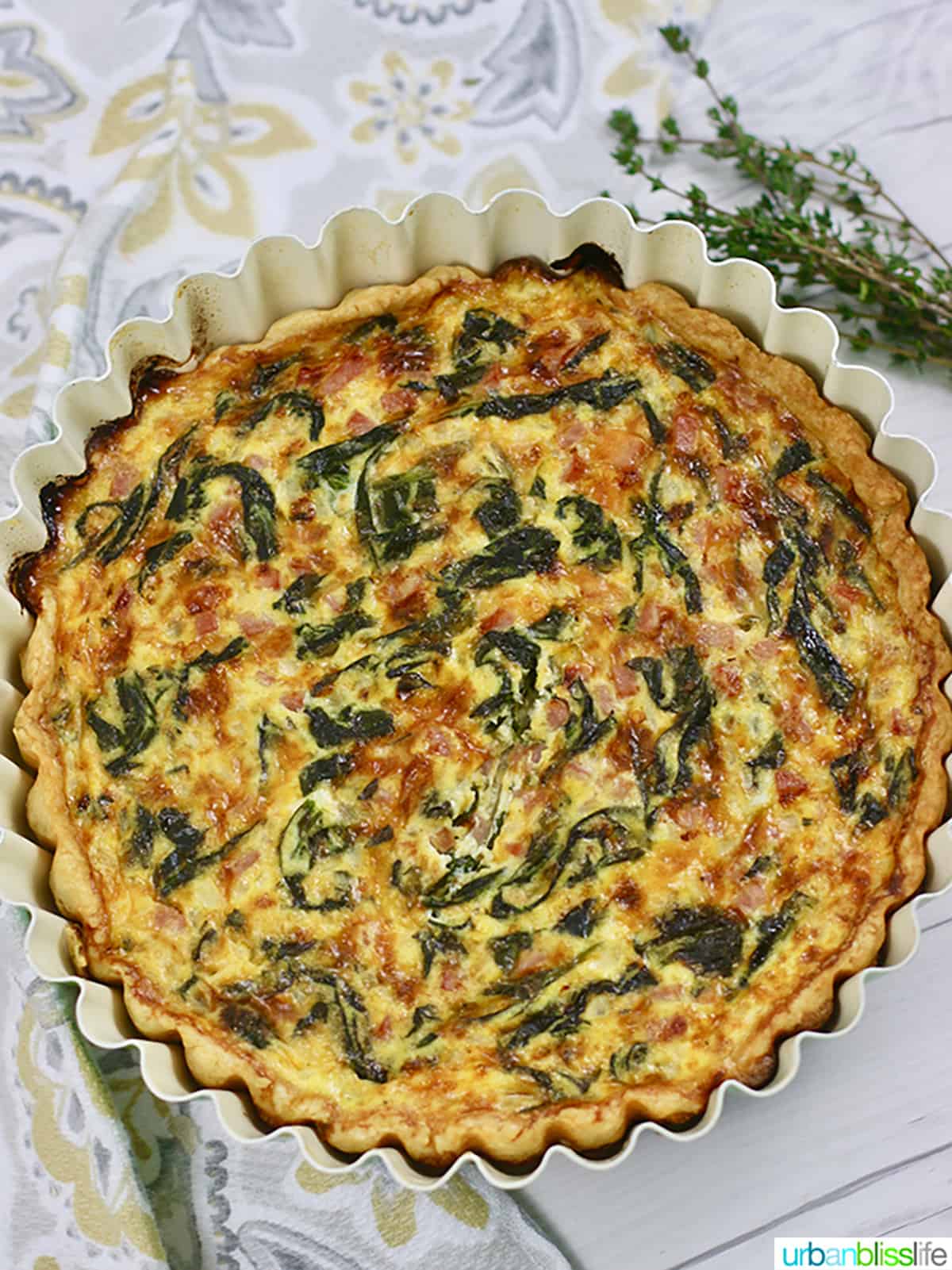 You can't really have brunch without a quiche. And Marlynn of Urban Bliss Life crowns this ham and spinach quiche ruler of all quiches. With the flakiest, most melt-in-your-mouth buttery crust and a delectably eggy, cheddar cheesy, and leftover ham filling, it's her favorite. We see why!
Visit Urban Bliss Life for the recipe.
Leftover Ham And White Bean Soup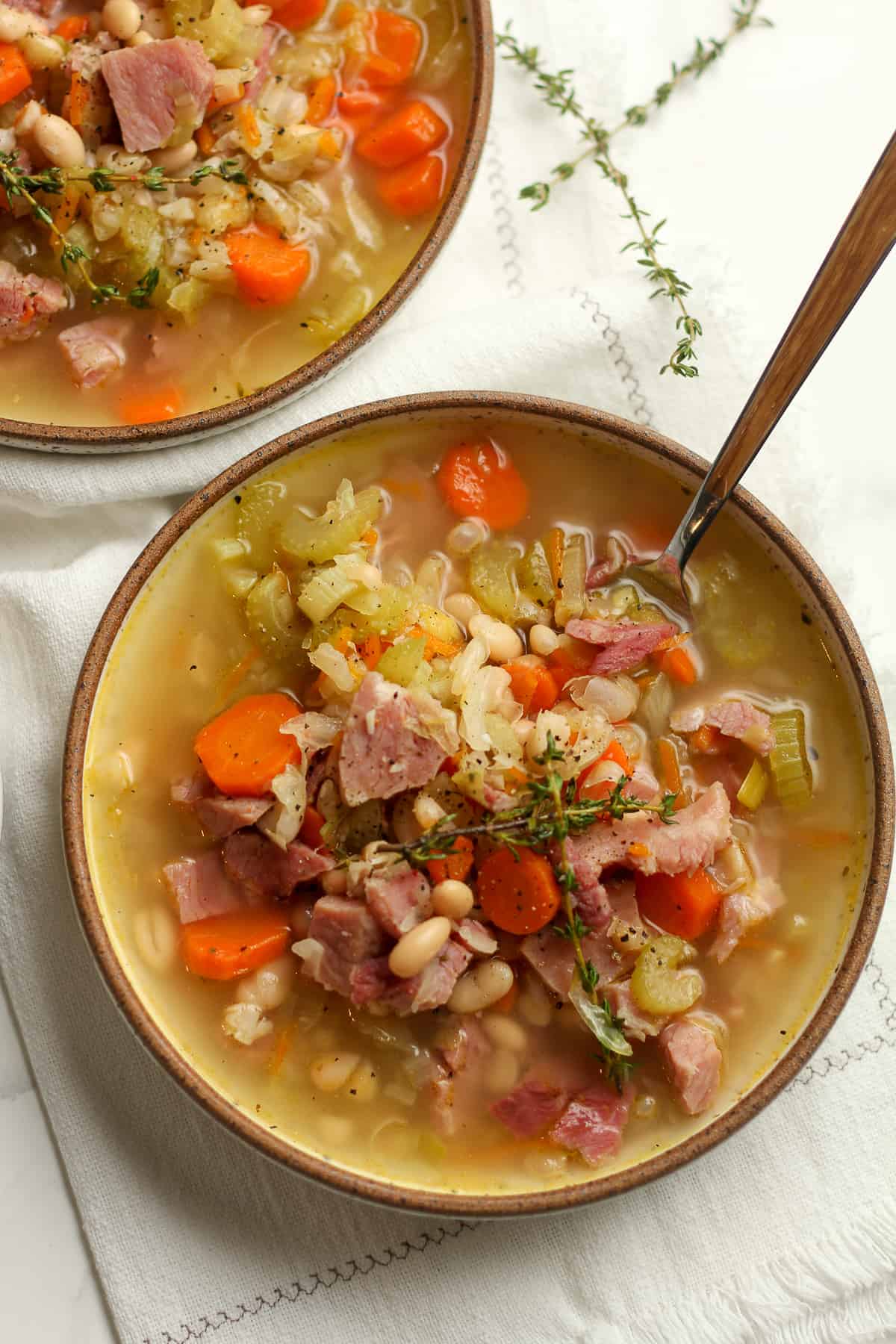 With the abundance of food in many places, we've become more wasteful than we should be. So with this leftover ham and white bean soup, a.k.a. "clean-out-your-fridge" soup from Sue Bee Homemaker, you can be more thoughtful about your food waste. Got some leftover ham and celery? How about carrots and potatoes? Chop it up and throw it in there.
Visit Sue Bee Homemaker for the recipe.
Slow Cooker Ham And Potato Hash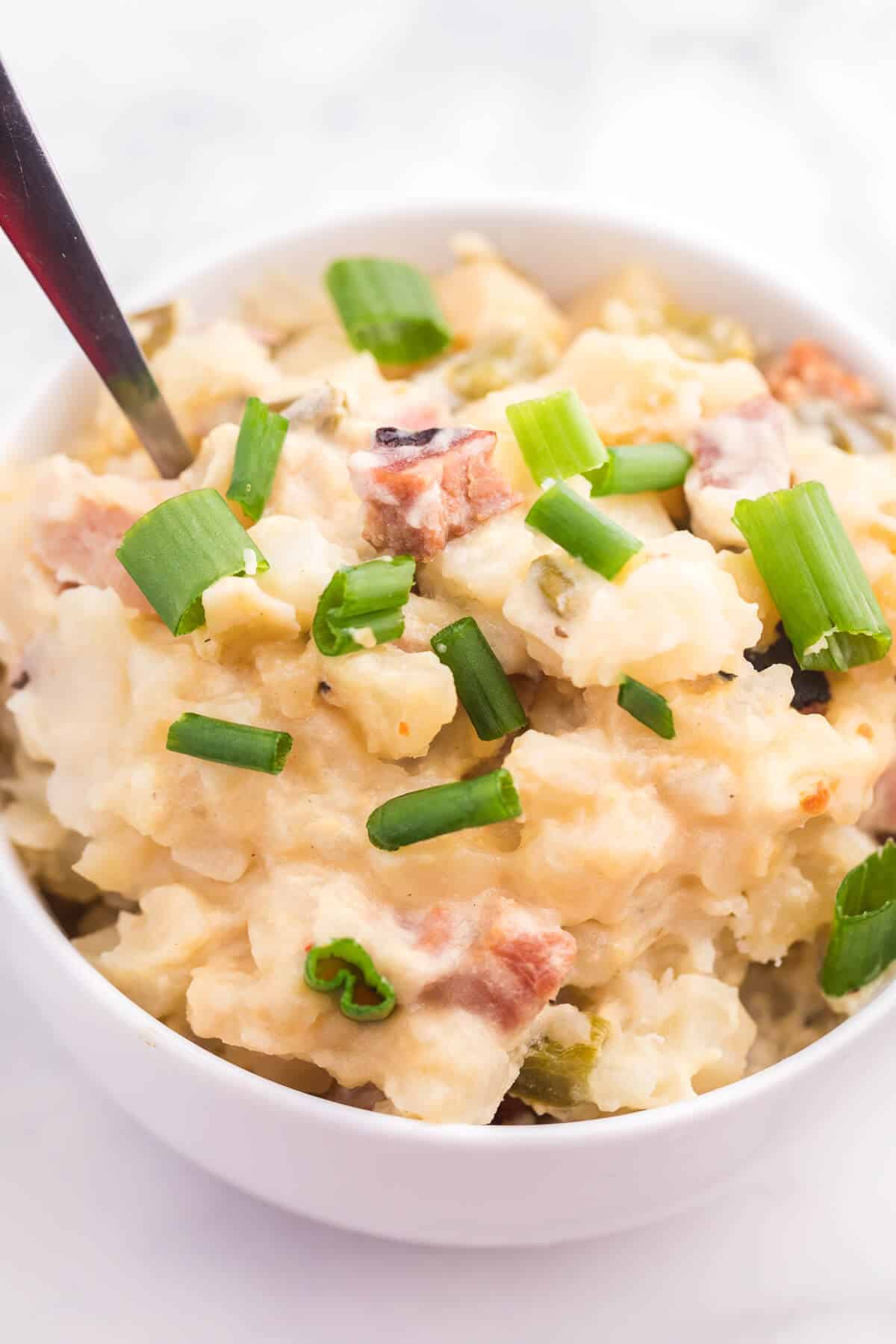 Don't you love anytime meals like this slow cooker ham and potato hash recipe from Simply Stacie? It's cheesy, salty from the ham, and sure to satisfy. It works for breakfast, lunch, or dinner. And like the recipe listed right above, it's one of those "fridge and freezer clean out" recipes. So leftover meat, potatoes, bell peppers, onions, and even sweet potatoes are fair game.
Visit Simply Stacie for the recipe.
Lentil And Ham Soup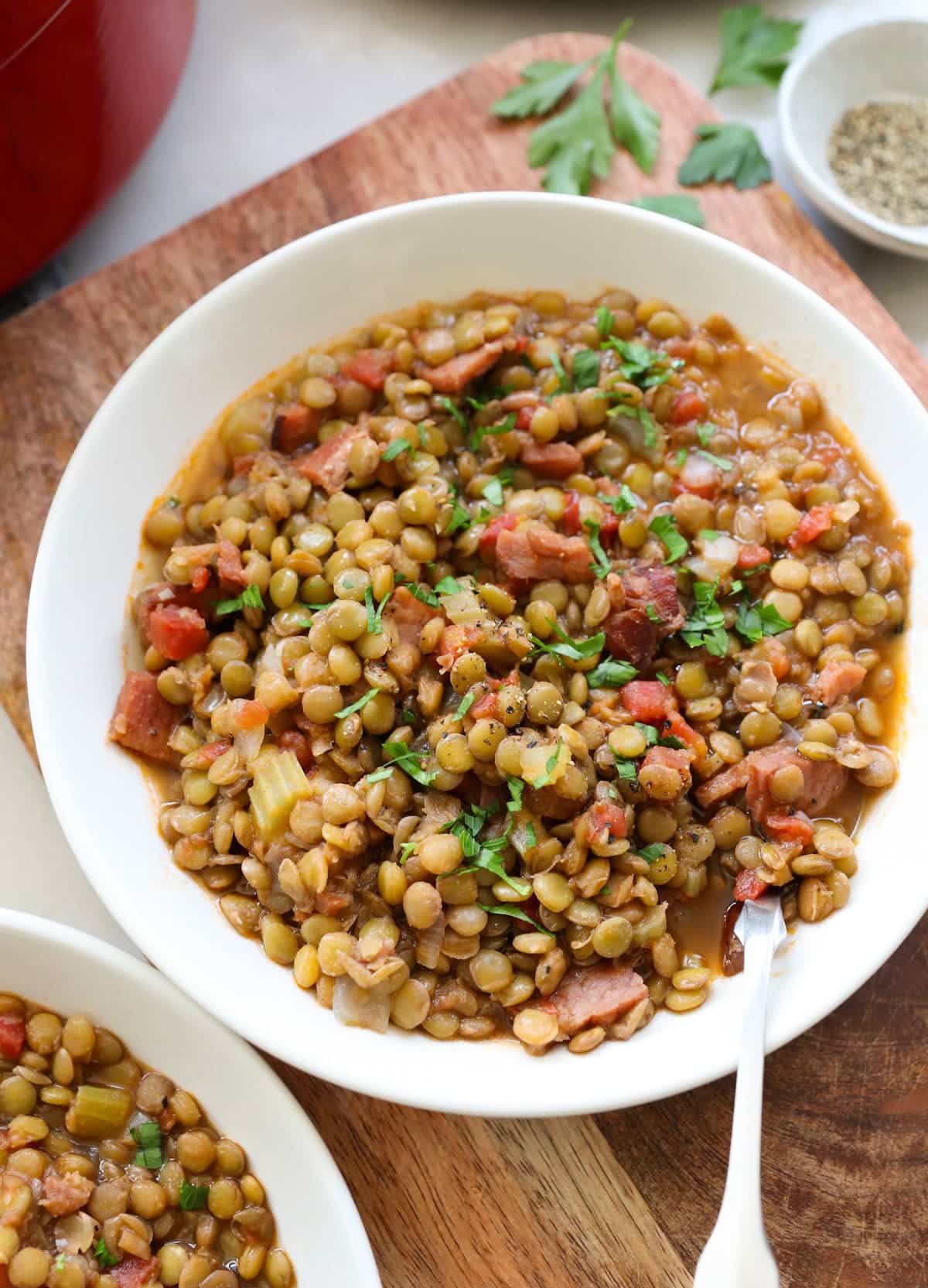 For this classic lentil and ham soup from Cook At Home Mom, throw everything in the Dutch oven and let the magic happen. All you need are a few staple ingredients like a bag of dried lentils, a can of diced tomatoes, vegetables, and a leftover ham bone. Then after less than an hour of simmering, you've got a cozy one-pot meal perfect for dreary days.
Visit Cook At Home Mom for the recipe.
Tagliatelle Carbonara (No Cream)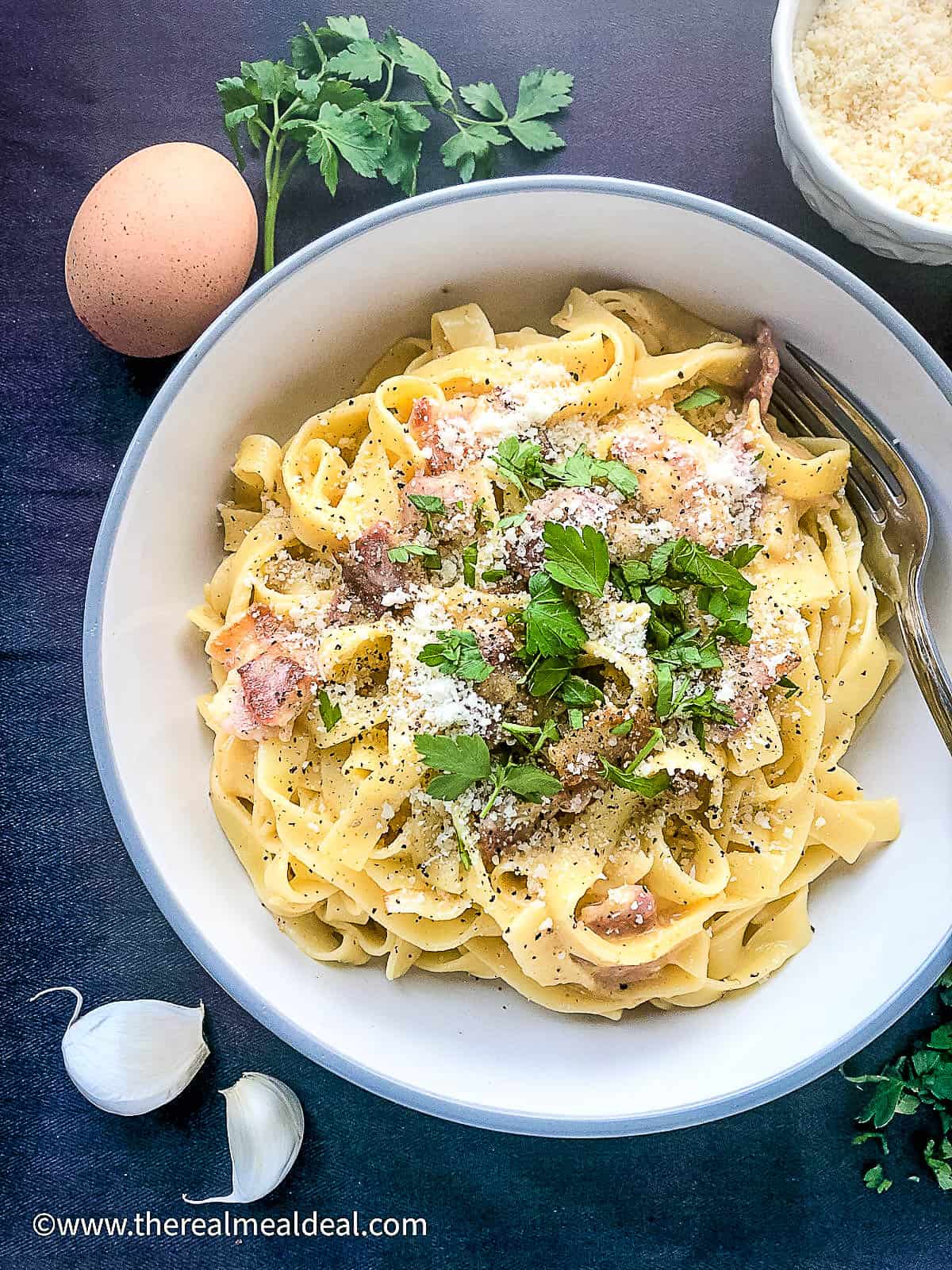 Say what? A carbonara recipe without cream? Yes! But fear not, friend, this tagliatelle carbonara from Claire of The Real Meal Deal is still rich and creamy because of the eggs and cheese. But that's not all. There are a few more change-ups here. For one, Claire finds that tagliatelle sticks together less than spaghetti. And while traditional carbonara calls for bacon, she calls for leftover ham.
Visit The Real Meal Deal for the recipe.
Savory Southern Deviled Ham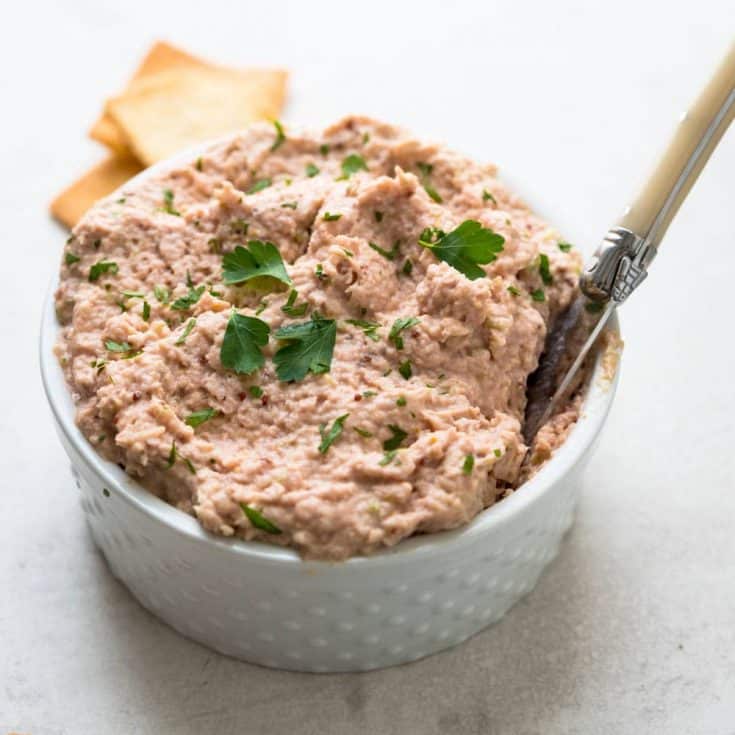 Sure, it goes by many names. They call it deviled ham in the south, but it's ham salad up north. Whatever you want to call it, we'll call this marvelous party dip delicious. What's more? It's super easy to make. Just add the leftover ham, celery, onion, dijon mustard, and other ingredients to the food processor, chill, and serve with your favorite dippers.
Visit Garlic & Zest for the recipe.
Ham And Cheese Baked Rice Recipe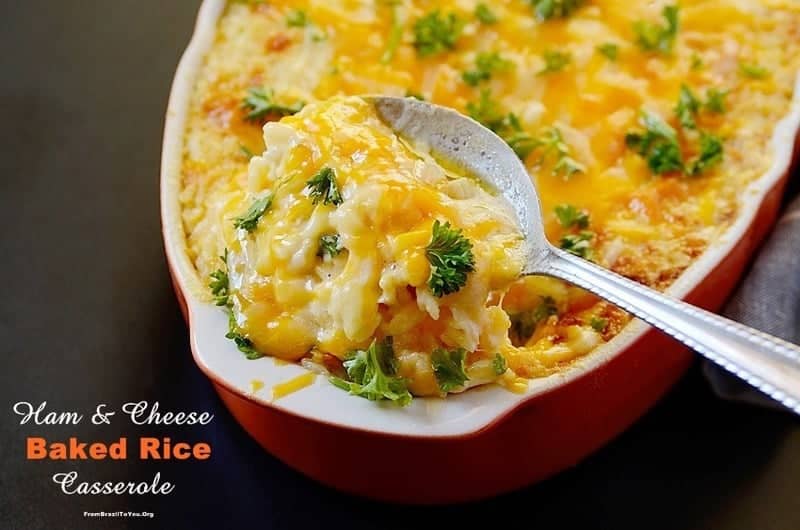 According to Denise of Easy And Delish, yesterday's ham and rice dinner become tonight's cheesy ham and rice casserole. The one-pan meal is too easy to be true. All you do is mix the cooked rice, chopped ham, cream, and veggies. Next, add it to a baking dish. Then, in just 25 minutes, it's ready to eat!
Visit Easy And Delish for the recipe.
Air Fryer Ham And Potatoes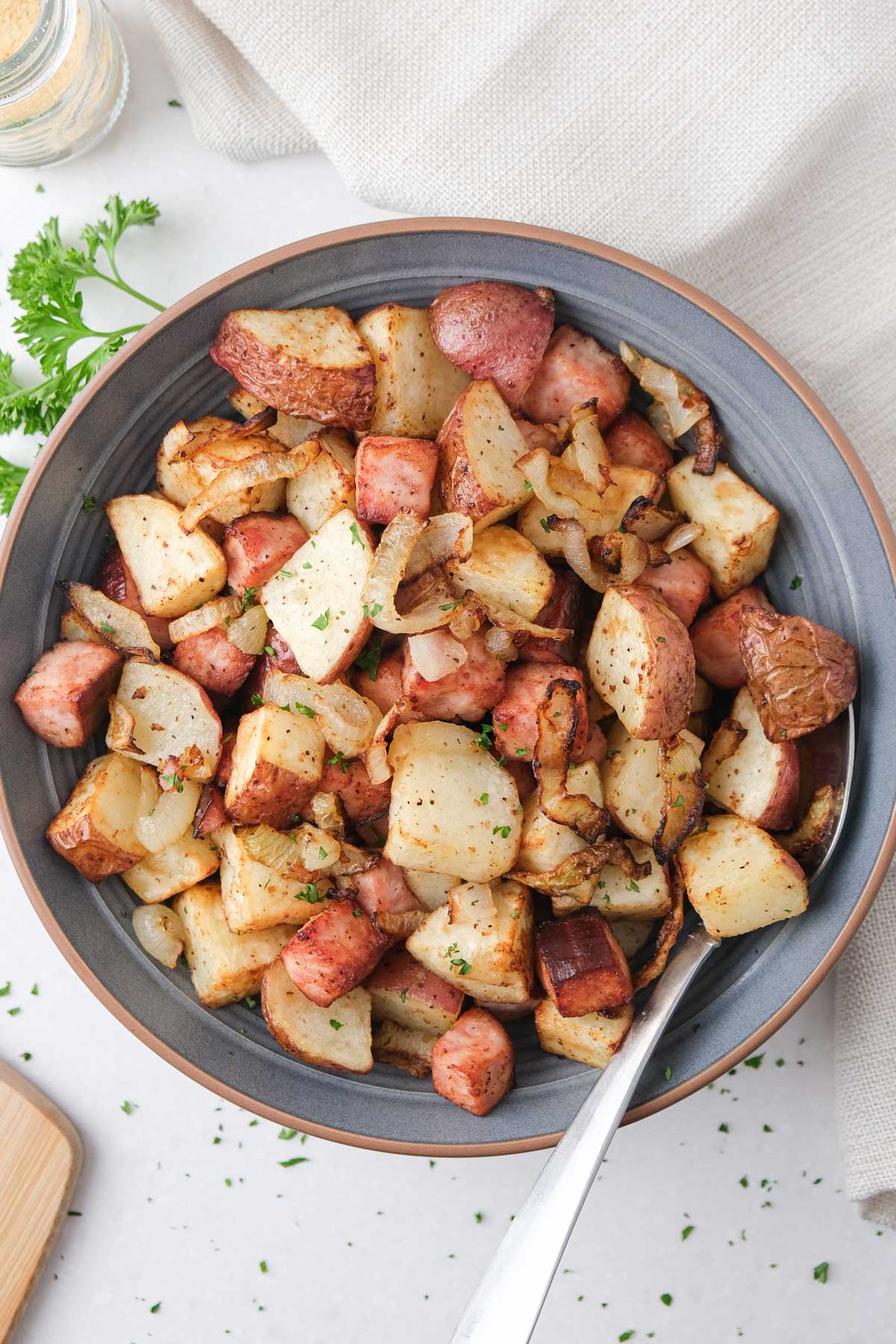 This air fryer ham and cheese recipe from the Simply Air Fryer team features chunks of succulent meaty ham paired with crispy potatoes. And if you're feeling it, chop up some onion. Twenty-five minutes later, you're chowing down on a simple meal with everything you need in weeknight cooking; easy, filling, and tasty.
Visit Simply Air Fryer for the recipe.
Ham Pot Pie
Louisa of Living Lou gets it! For most of us, weekdays are for getting through, not experimenting. So, with this gorgeous and delicious ham pot pie dripping with savory gravy and sustaining vittles, she stacks the efficiency of leftover ham with the ease of puff pastry. Of course, there are still a few vegetables to chop and measure. However, the most challenging parts are done for you.
Visit Living Lous for the recipe.
Ham and Cheese Frittata with Asparagus
While the frittata is most commonly known as a breakfast dish, filling bellies with protein, fat, and carbs to power your mornings. But when they're heartily filled with salty ham, asparagus, and tangy cheese, like this one from Christine of The Rustic Foodie, you might find yourself pining for it when dinner rolls around.
Visit The Rustic Foodie for the recipe.
Tagliolini Au Gratin With Ham And Cream
For those who've only seen Venice, Italy, in dreams or on the covers of magazines, Jacqui of The Pasta Project brings the dreamy destination to your kitchen. The mode of travel? Tagliolini au gratin with ham and cream.
The inspiration? A dish gracing the menu of one Cipriani's Harry's Bar, simplified for the humble home cook, of course. This stripped-down-to-the-studs version requires just a few ingredients you likely have; pasta, eggs, grated parmigiano, and leftover ham.
Visit The Pasta Project for the recipe.
Which Leftover Ham Recipe Will You Try First?
So, by now, you've seen over 20 ideas for leftover ham. They all look tasty, but we have our eyes on the savory southern deviled ham, cheesy slow cooker ham and potato hash, and the grilled cheese and ham sandwich. Which one are you smitten with? Let us know.
And don't forget to see what we did with leftover corned beef.