Hey there, pasta lovers! Ever wondered how to make your favorite pasta even better? Four words: ground beef pasta recipes. Ground beef adds a hearty, flavorful punch to pasta dishes you simply can't resist.
In this post, we'll explore some fantastic ground beef pasta recipes like homemade hamburger helper and more exotic offerings like Fideo Loco that'll take your pasta game to a whole new level.
So, tie on your apron, grab your favorite pasta, and get ready to cook up a storm!
Let's dive in!
If you love these pasta recipes, don't forget to see this list of yummy pasta and noodle recipes that can't be beat!
Homemade Hamburger Helper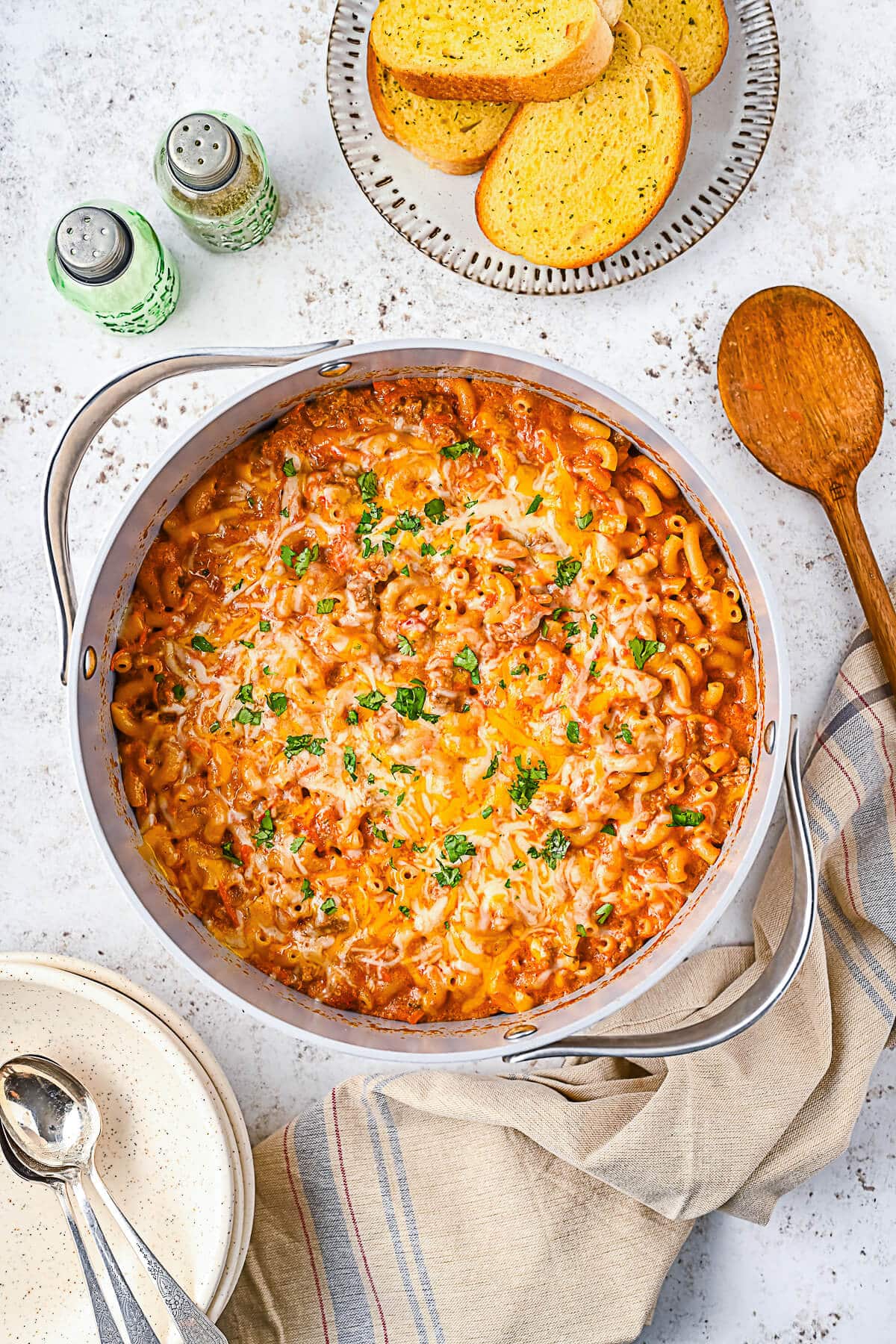 Homemade hamburger helper from Bernice of Dish N The Kitchen is quick, easy, and loved by the whole family! With minimal ingredients like ground beef, macaroni, and evaporated milk, it's a speedy meal that surpasses the boxed version in taste and satisfaction. So, enjoy a scrumptious meal in no time!
Beef Ramen Noodles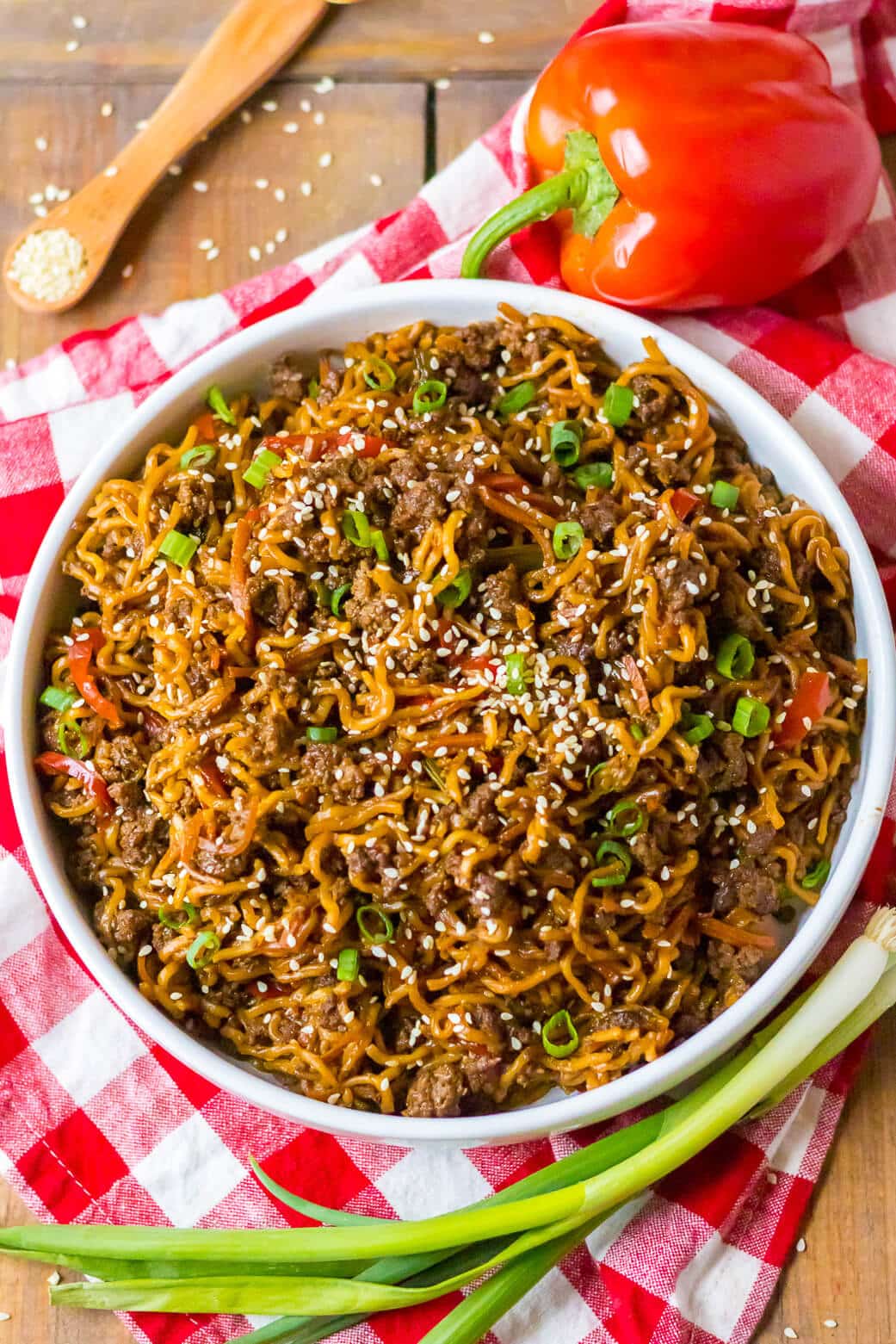 Transform your weeknight dinners with the ultimate Slow Cooker Beef Ramen Noodles by Dish N The Kitchen. It's bursting with mouthwatering flavors, wholesome veggies, and a delectable sweet-savory sauce. It's guaranteed to be your family's top-requested and cherished dinner recipe. Enjoy the delightful simplicity and deliciousness!
Fideo Loco Recipe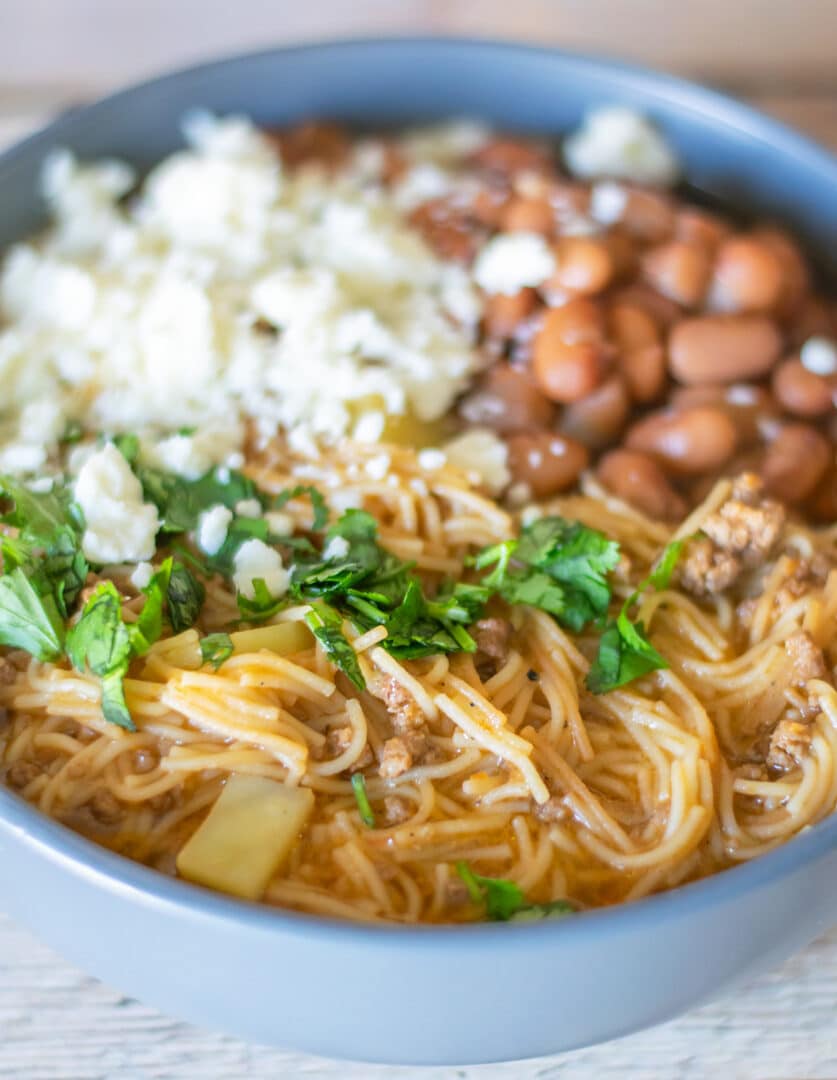 Discover the delightful Mexican dish, Fideo Loco, from Carissa of Thrift And Spice! Savor the fusion of fideo noodles and savory ground beef simmered in a rich and flavorful tomato broth. It's a hearty and tasty dinner that's sure to please!
Meaty Marinara Baked Pasta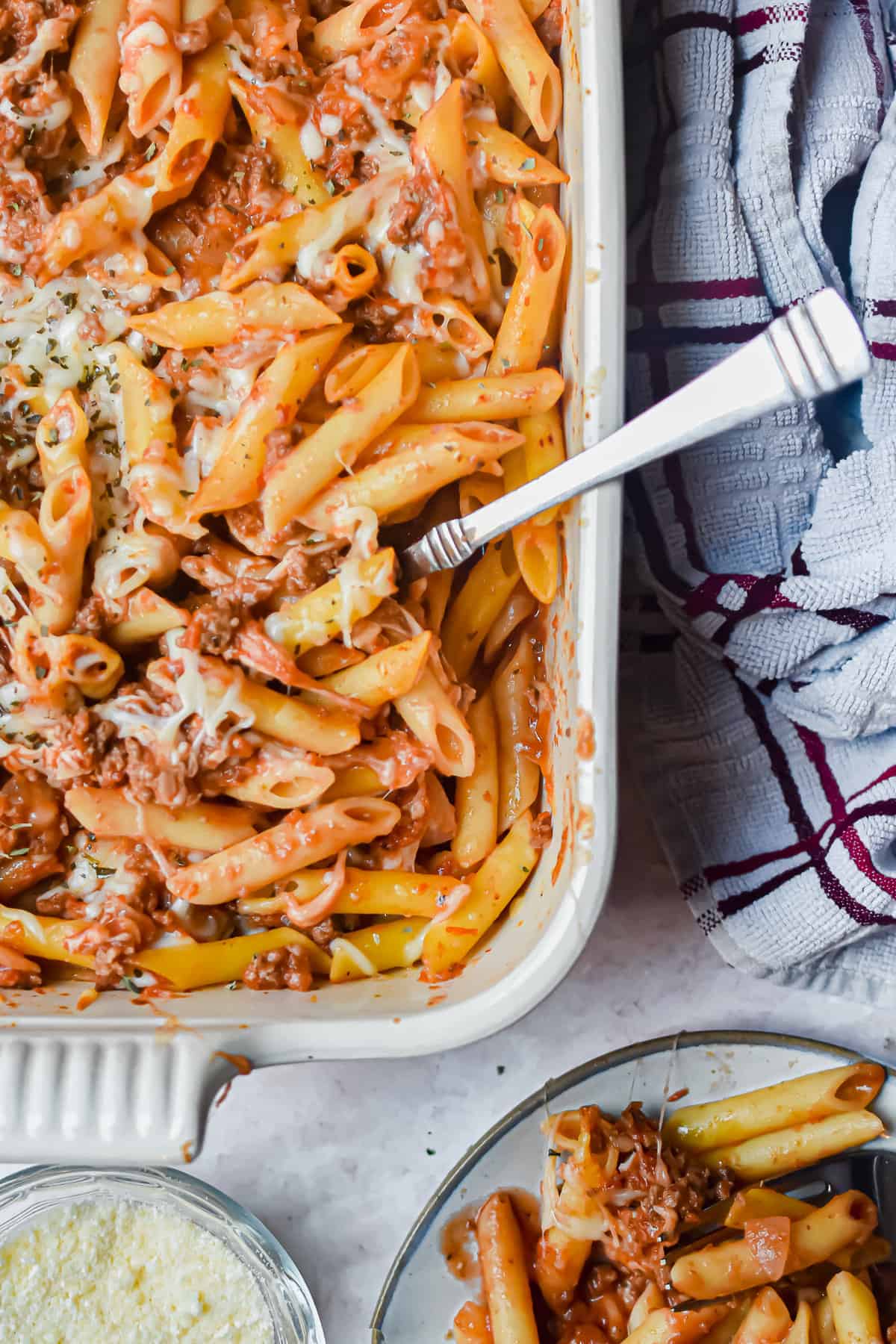 Satisfy your family with ease using the delightful meaty marinara pasta bake from Lynn's Way of Life! Ready in under an hour, this comforting weeknight meal boasts lean ground beef, flavorful tomato sauce, melted mozzarella, and your favorite pasta. A delicious dinner awaits!
Cheesy Tortellini Skillet Lasagna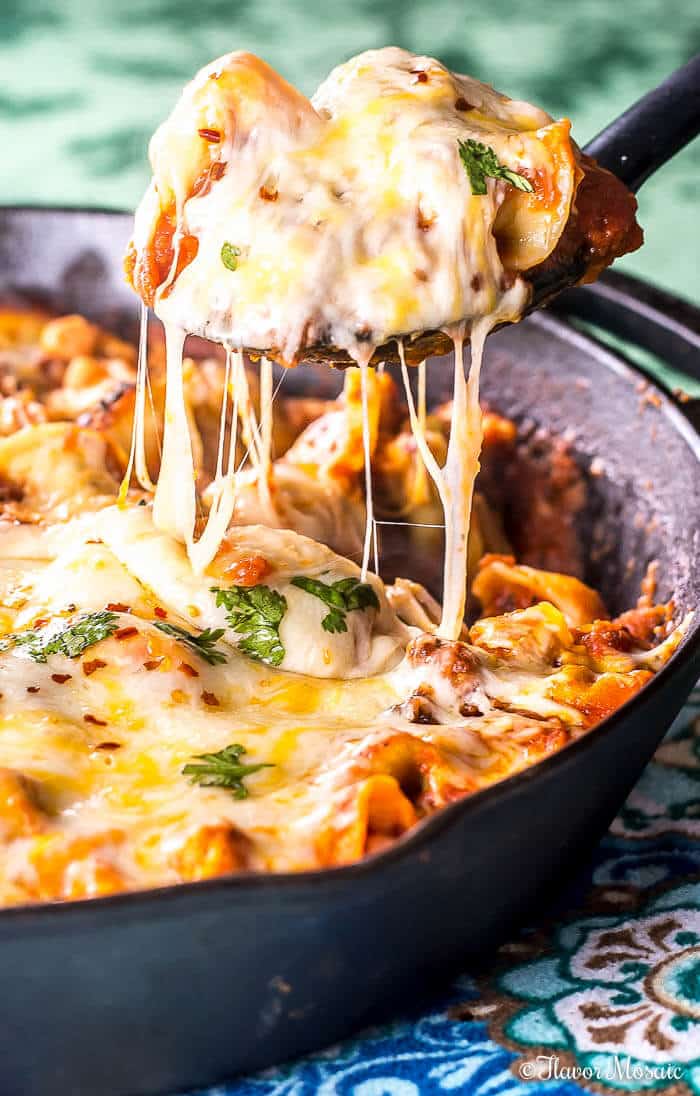 This cheesy tortellini skillet lasagna is a delectable alternative to traditional lasagna. Changing things up, you use tortellini. Plus, this one-pot wonder is ready in just 20 minutes! Savor the flavors without lengthy preparation.
Spaghetti Bolognese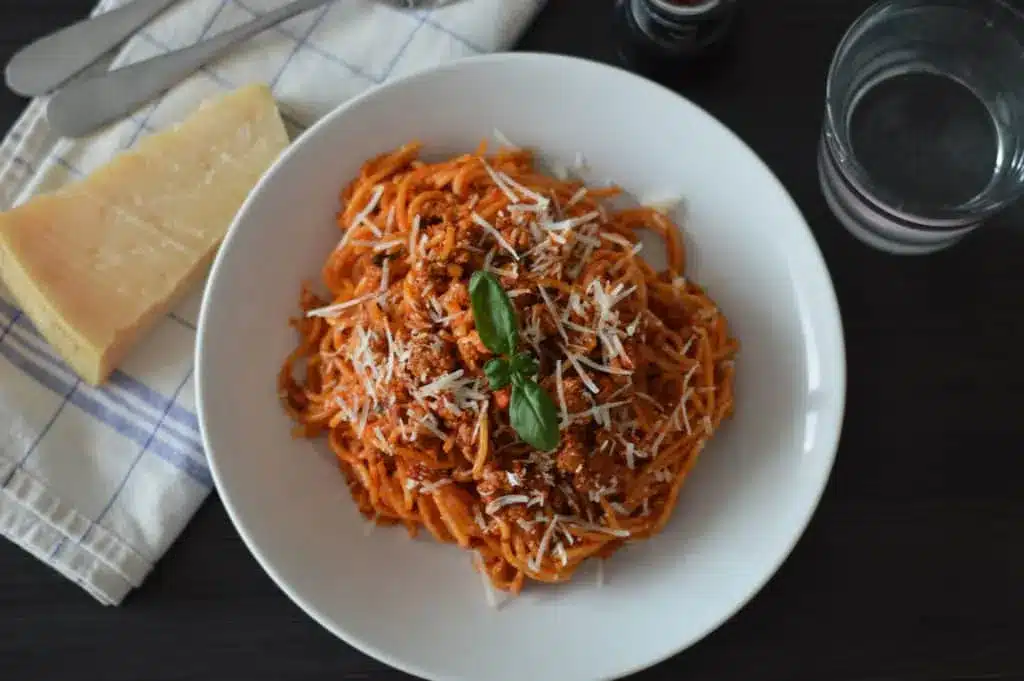 Spaghetti bolognese, a beloved European classic, remains a top favorite. The delightful mix of beef mince, tomatoes, parmesan, and herbs results in a delicious and effortless dish that's loved by all.
Delicious Beef Cannelloni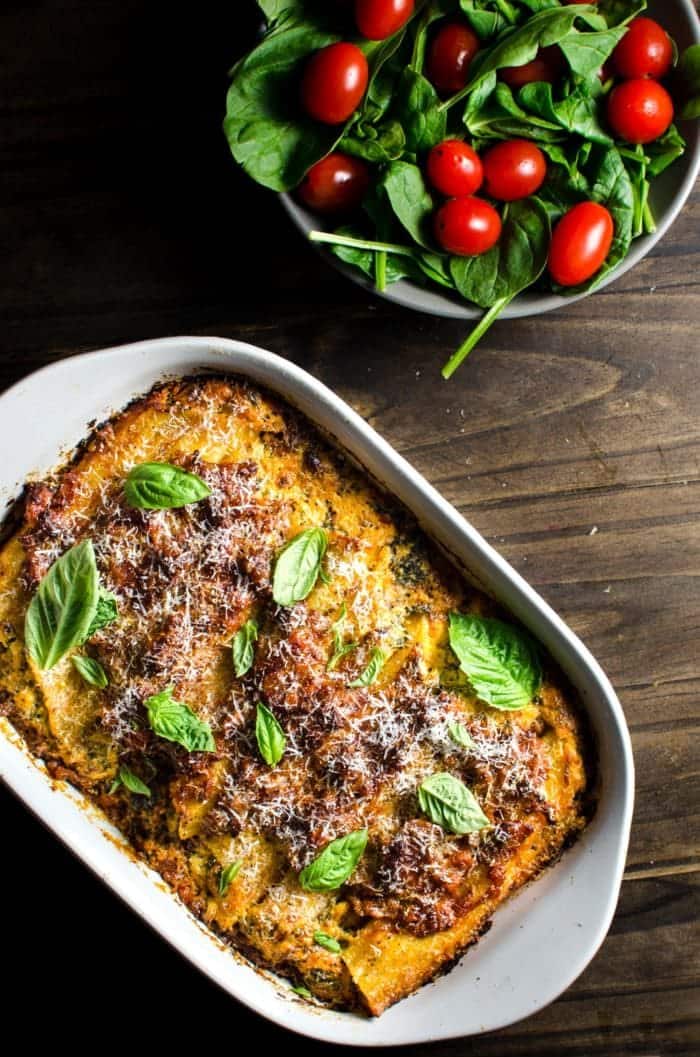 Discover the gourmet delight of delicious beef cannelloni from The Flavor Bender—your family's new favorite homemade dinner! They'll savor the hearty stuffed pasta, filled with creamy, herby, cheesy ricotta, smothered in flavorful meat sauce, topped with melted parmesan, and baked to perfection.
Pastitsio – Greek Lasagna
Experience the deliciousness of Pastitsio, a classic Greek comfort food. Savor the layers of rich béchamel sauce, flavorful beef ragù sauce, and pasta—a truly irresistible culinary delight.
French Onion Ground Beef Casserole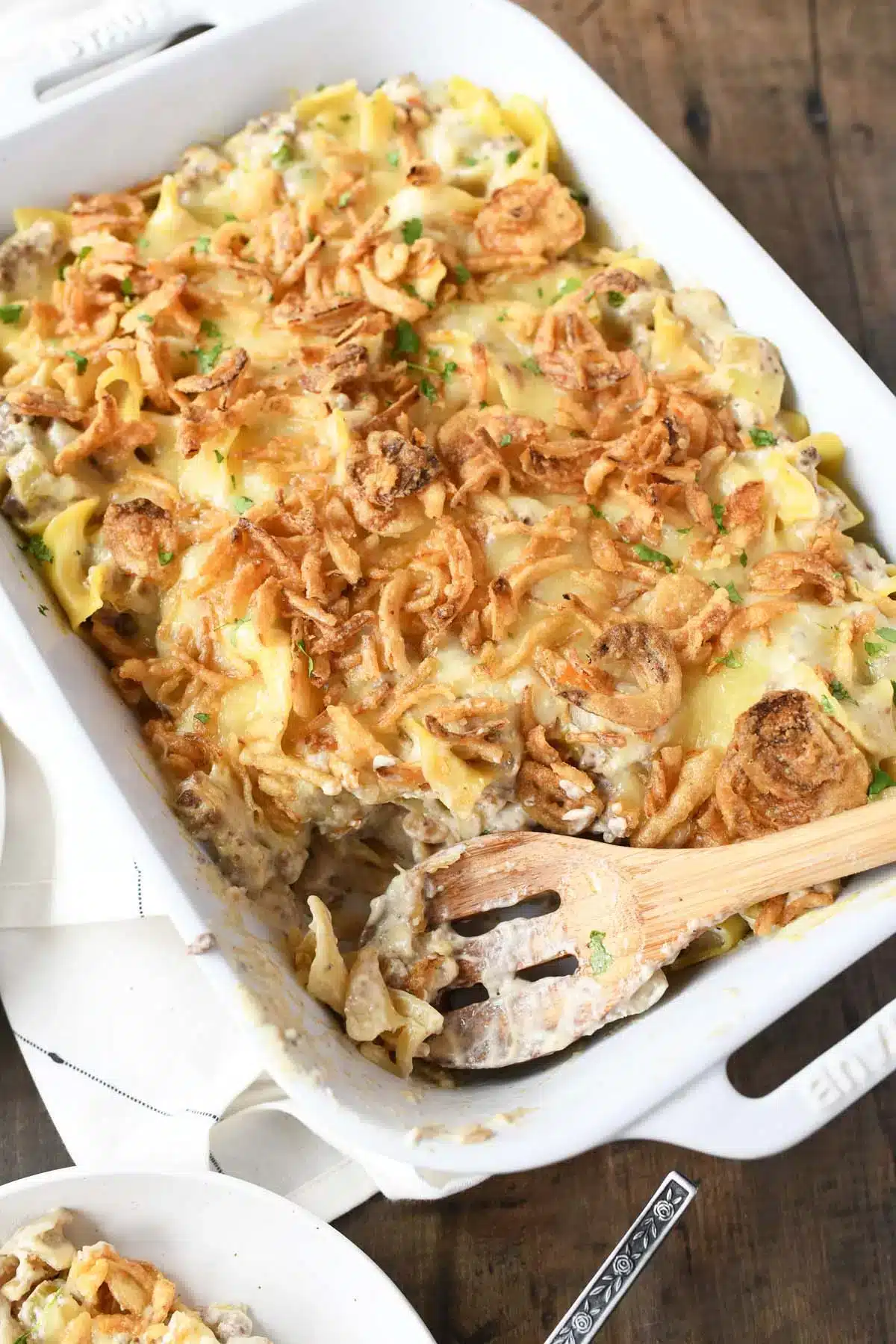 This French onion ground beef casserole by Savvy Saving Couple is creamy, rich, and full of flavor. It's packed with ground beef, onions, and egg noodles. Then top it with cheese and fried onions so each bite bursts with mouthwatering goodness.
Instant Pot Taco Pasta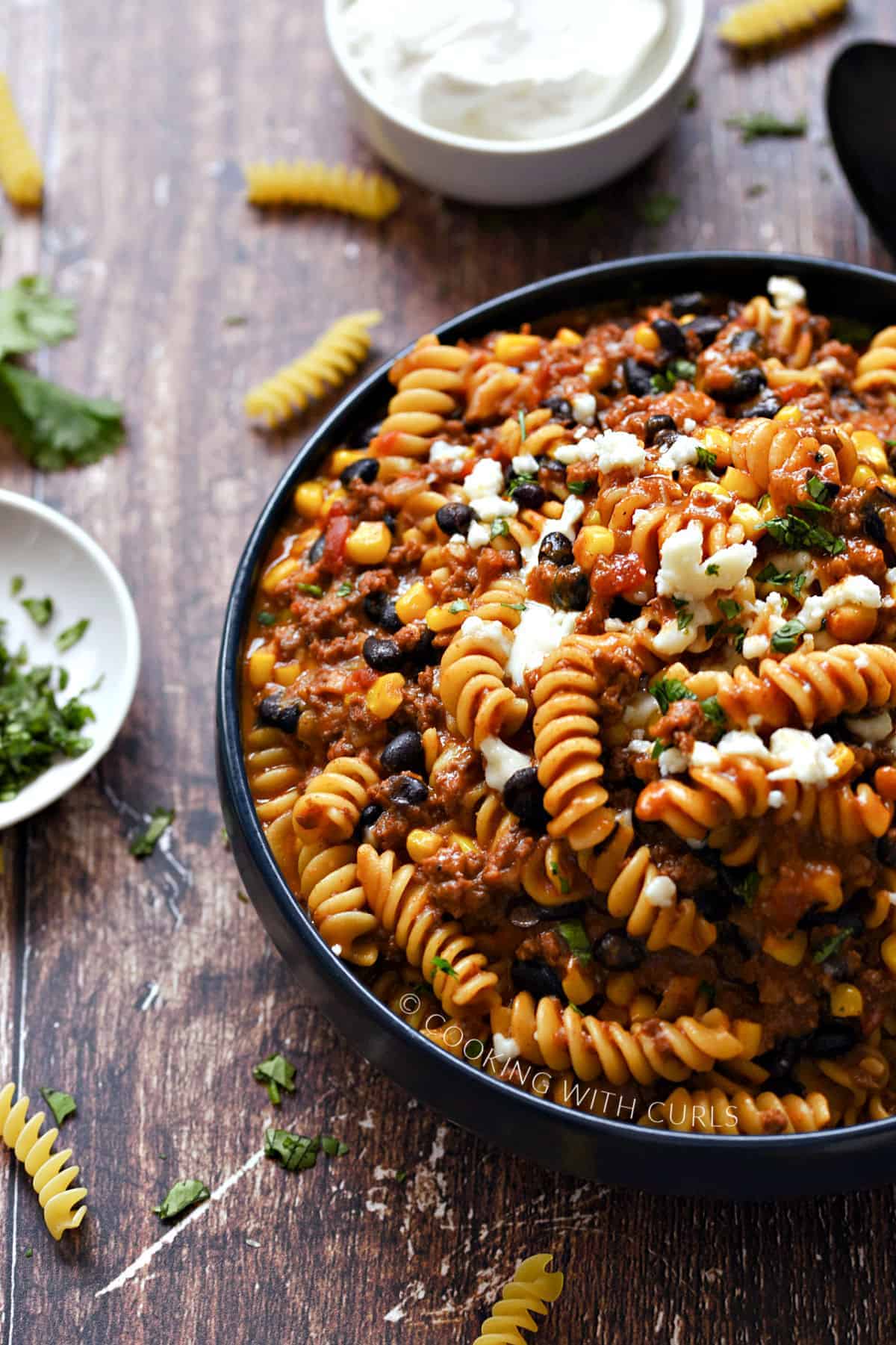 For hectic weeknights, Instant Pot taco pasta by Cooking With Curls comes to the rescue. It's creamy, cheesy, and effortless with ground beef, taco seasoning, salsa, pasta noodles, and lots and lots of cheese.
Instant Pot Hamburger Stroganoff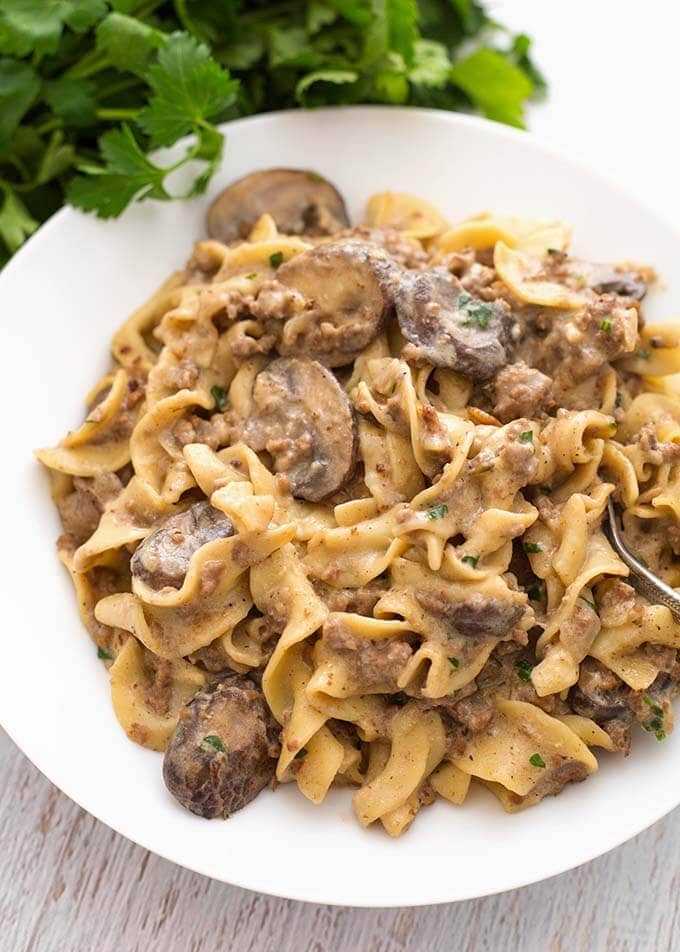 This budget-friendly Instant Pot hamburger stroganoff is a twist on the classic Beef Stroganoff. You won't need any 'cream of' soup. Still, this pressure cooker ground beef version boasts rich flavor from simple ingredients. It'll become a guaranteed family favorite!
Peruvian Beef Noodle Soup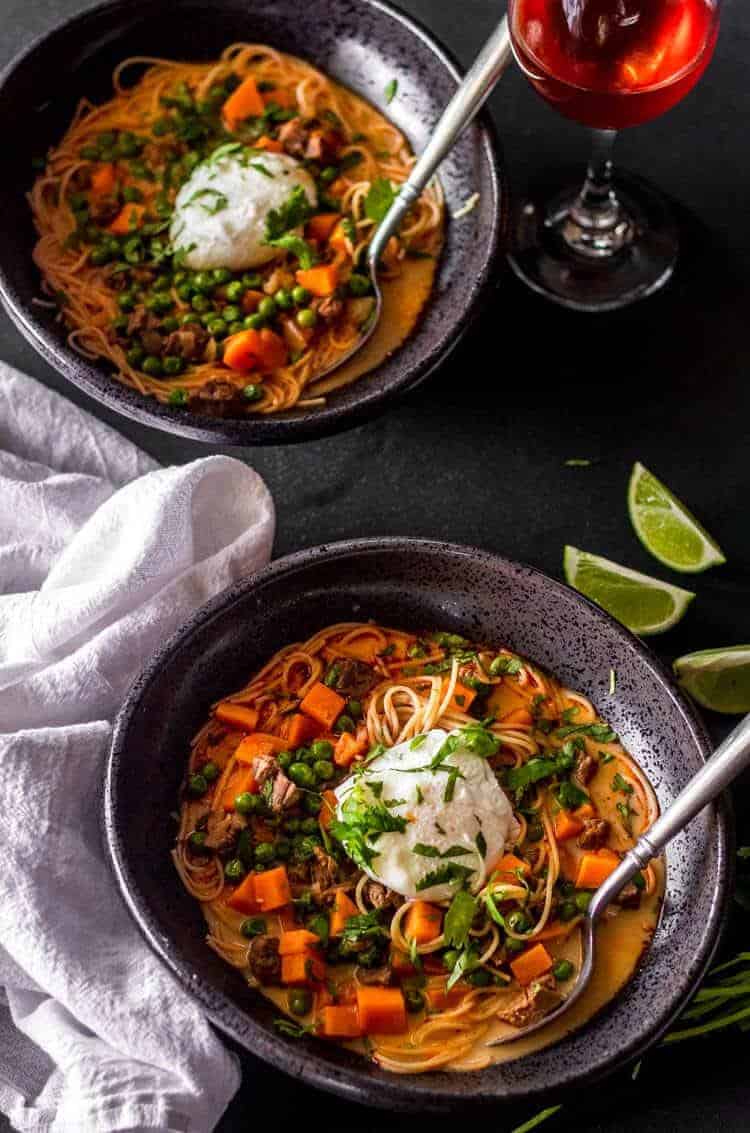 The warmth and goodness of Peruvian beef noodle soup (Sopa Criolla) will beat the winter chill! And with lean beef, angel hair pasta, and aji panca's subtle heat, this hearty and healthy Peruvian comfort food is ready in just 30 minutes.
Grammi's Classic Chili Mac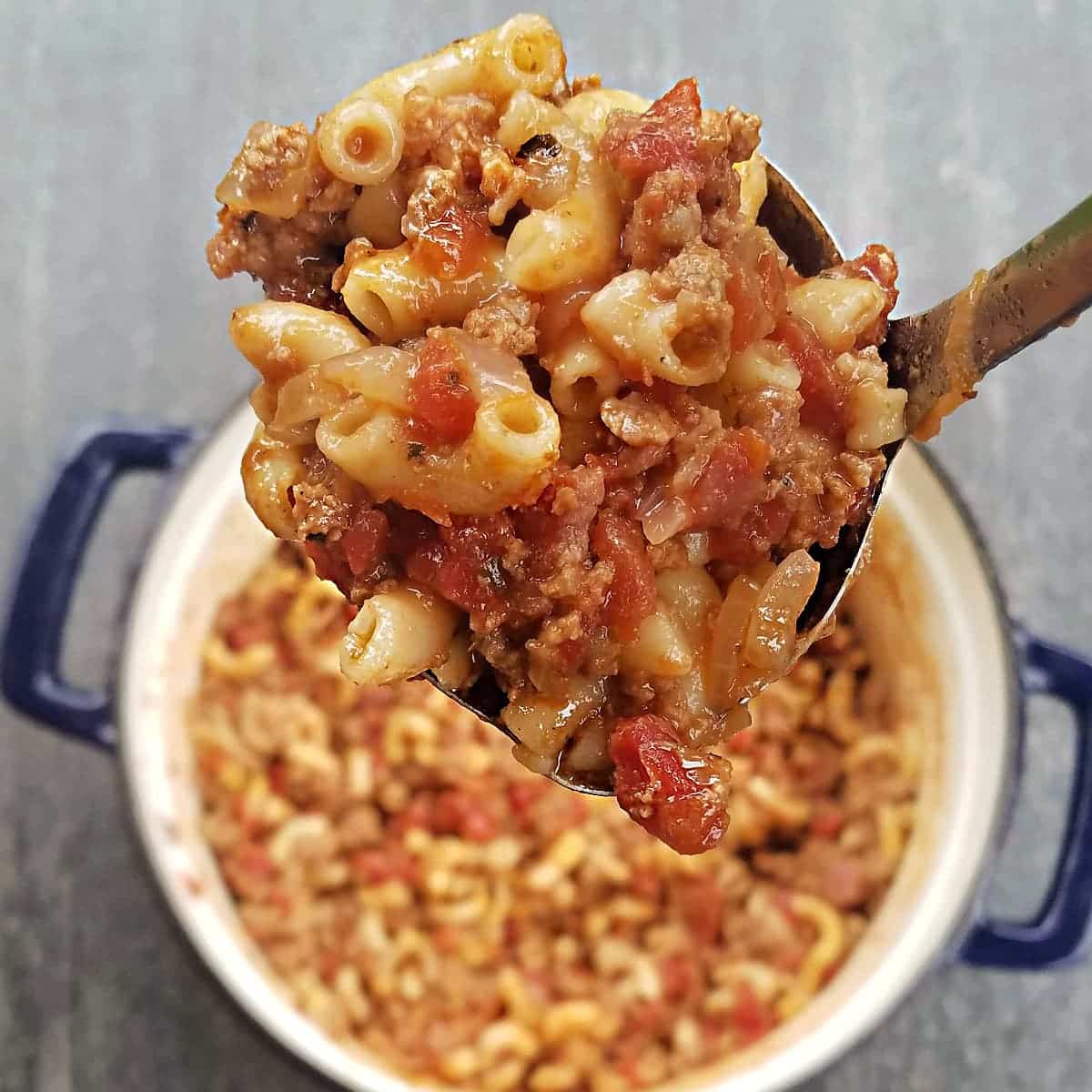 Grammi's classic chili mac, also known as American Goulash, is the ultimate in hearty comfort food. With mild chili seasoned with Italian herbs and mixed with elbow macaroni, it's a delicious, budget-friendly family meal that'll warm hearts and taste buds.
Pizza Casserole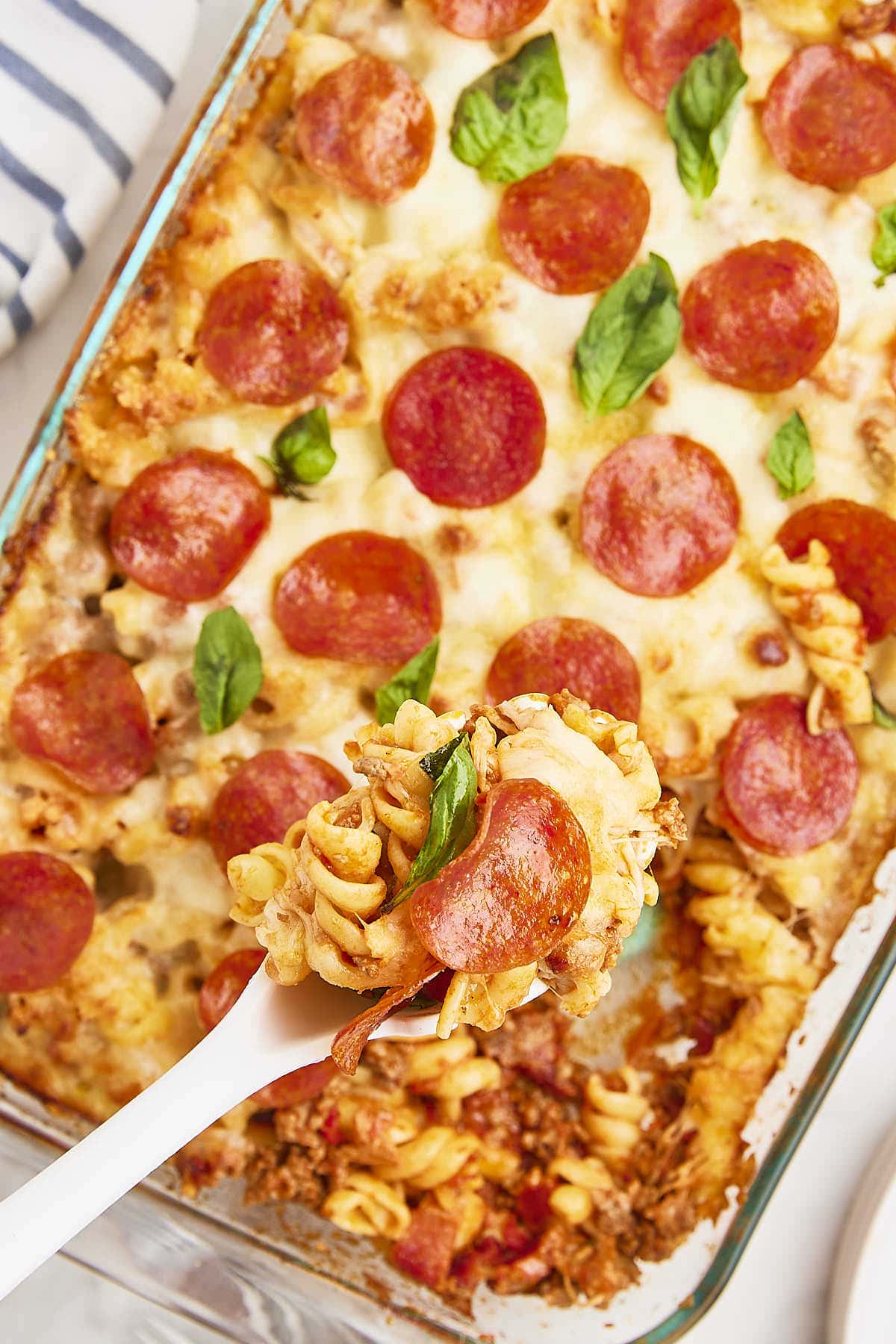 This pizza casserole by Cheerful Cook is jazzed up and morphed into a Carnivore's Dream, intermingling the robust flavours of sweet Italian sausage, beef, bacon, and pepperoni with the melt-in-your-mouth cheese and soft, comforting pasta.
Lasagna Roll Ups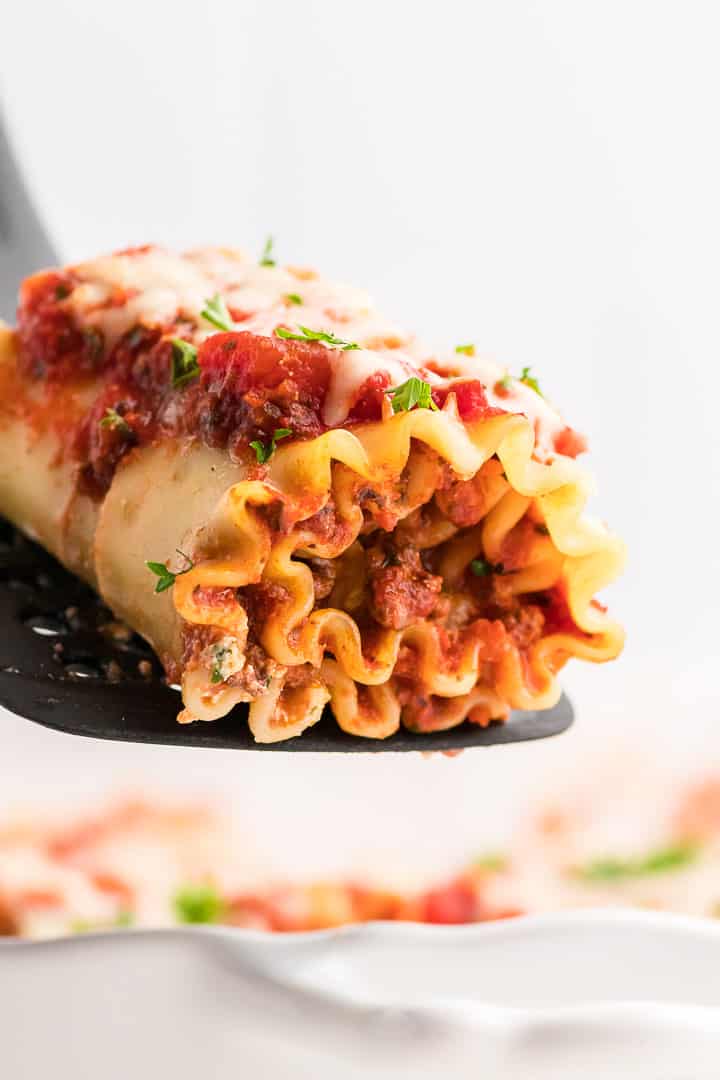 Lasagna roll ups by Cheerful Cook serve as a quirky, innovative, and delicious spin on the standard lasagna. Here, a lasagna noodle spirals around a tempting cheese core mingled with hearty meat sauce.
Ground Beef Stir Fry Noodles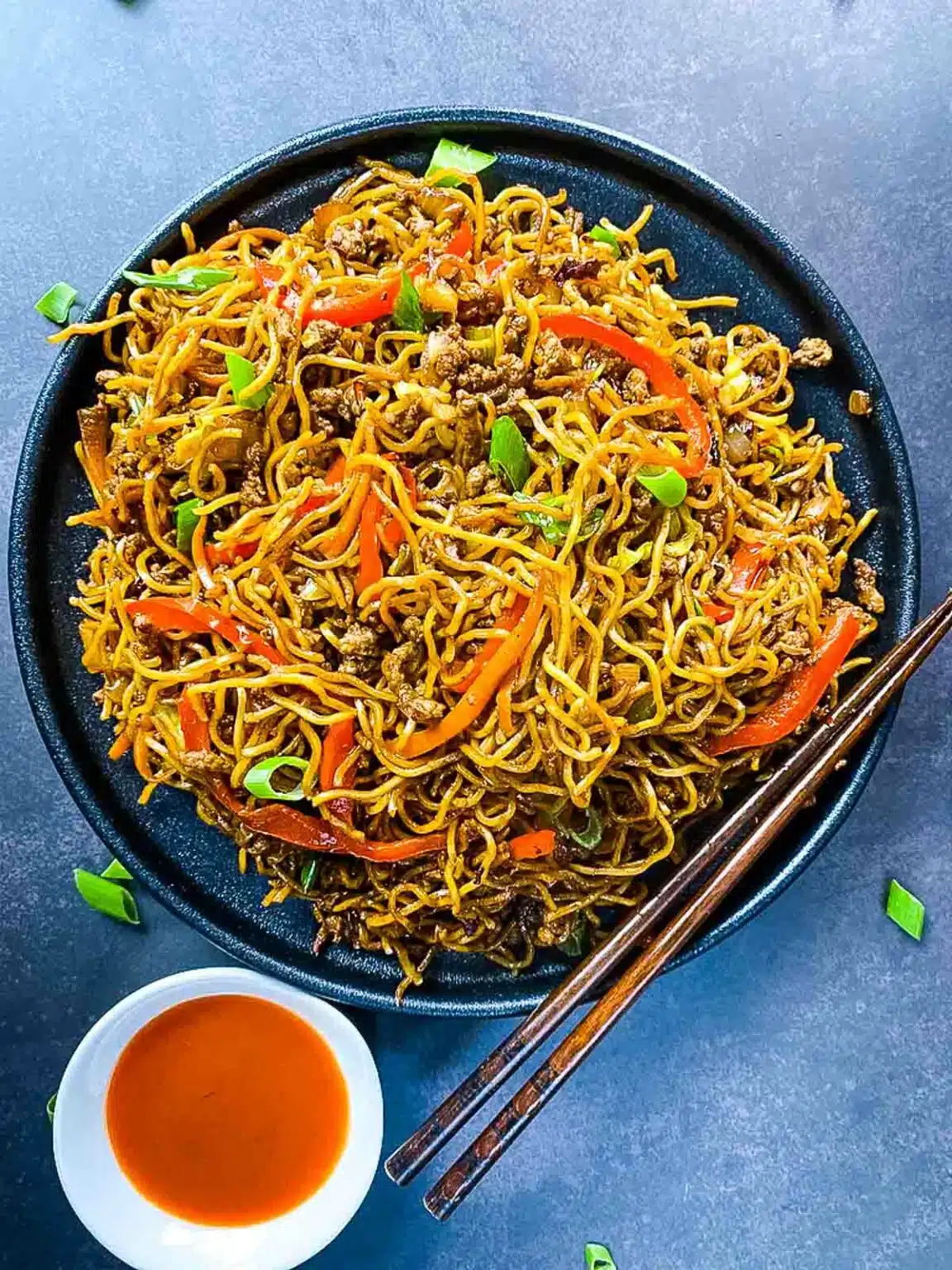 Delivering a meal that hits all the right notes, these ground beef stir fry noodles from Caramel And Spice present an indulgent blend of salty and umami flavors. Not only that, but they also utilize budget-friendly ground meat to serve a crowd-pleasing feast.
Moussaka – Greek Eggplant Potato Casserole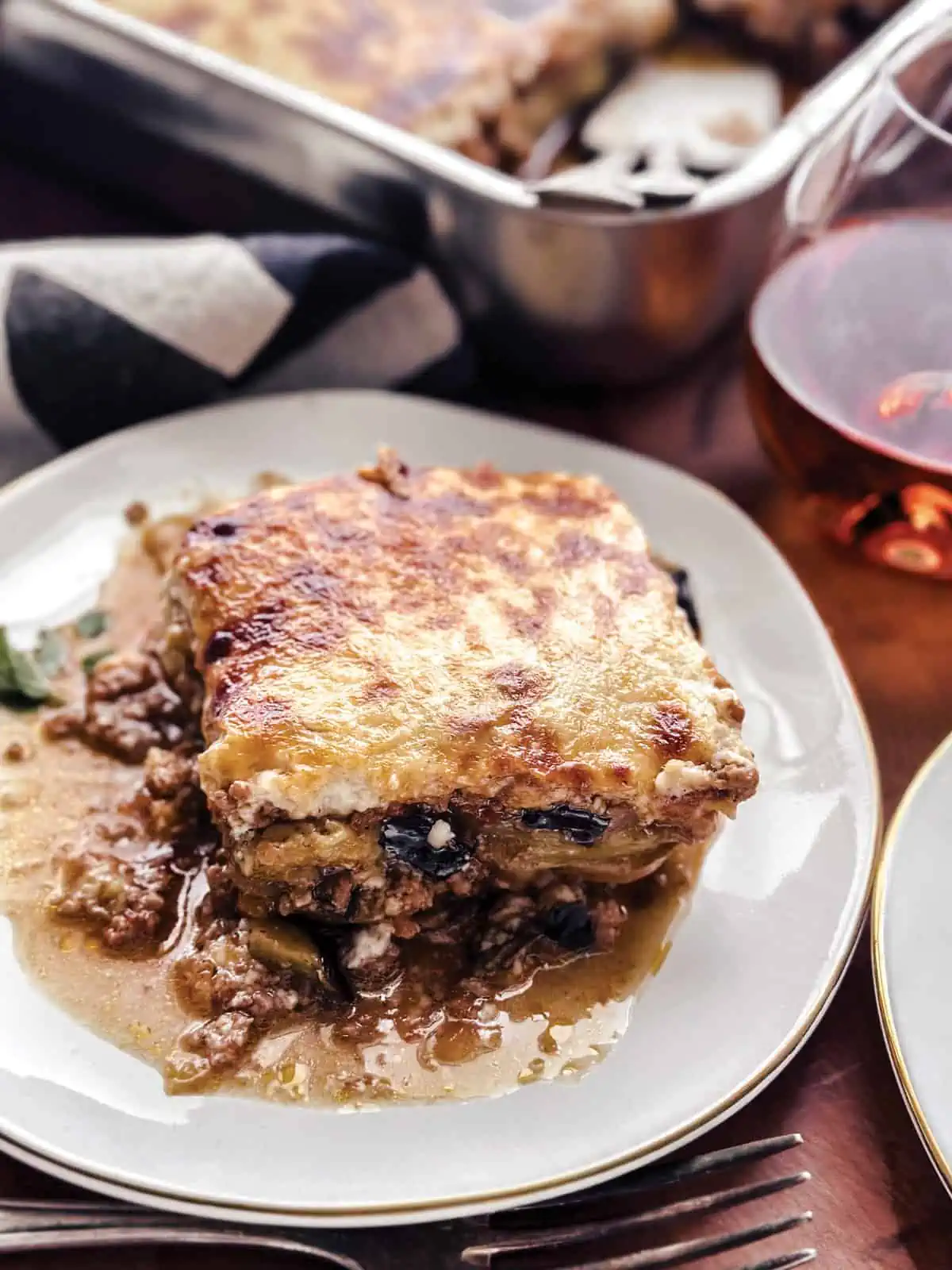 Unveiling the star of Greek cuisine: Moussaka. This Eggplant Potato Casserole, showcased in its prime, is adored globally with eggplant, potatoes, ground beef, and a bevy of seasonings. It's picture comfort food in its purest form.
Ground Beef & Cabbage Stir Fry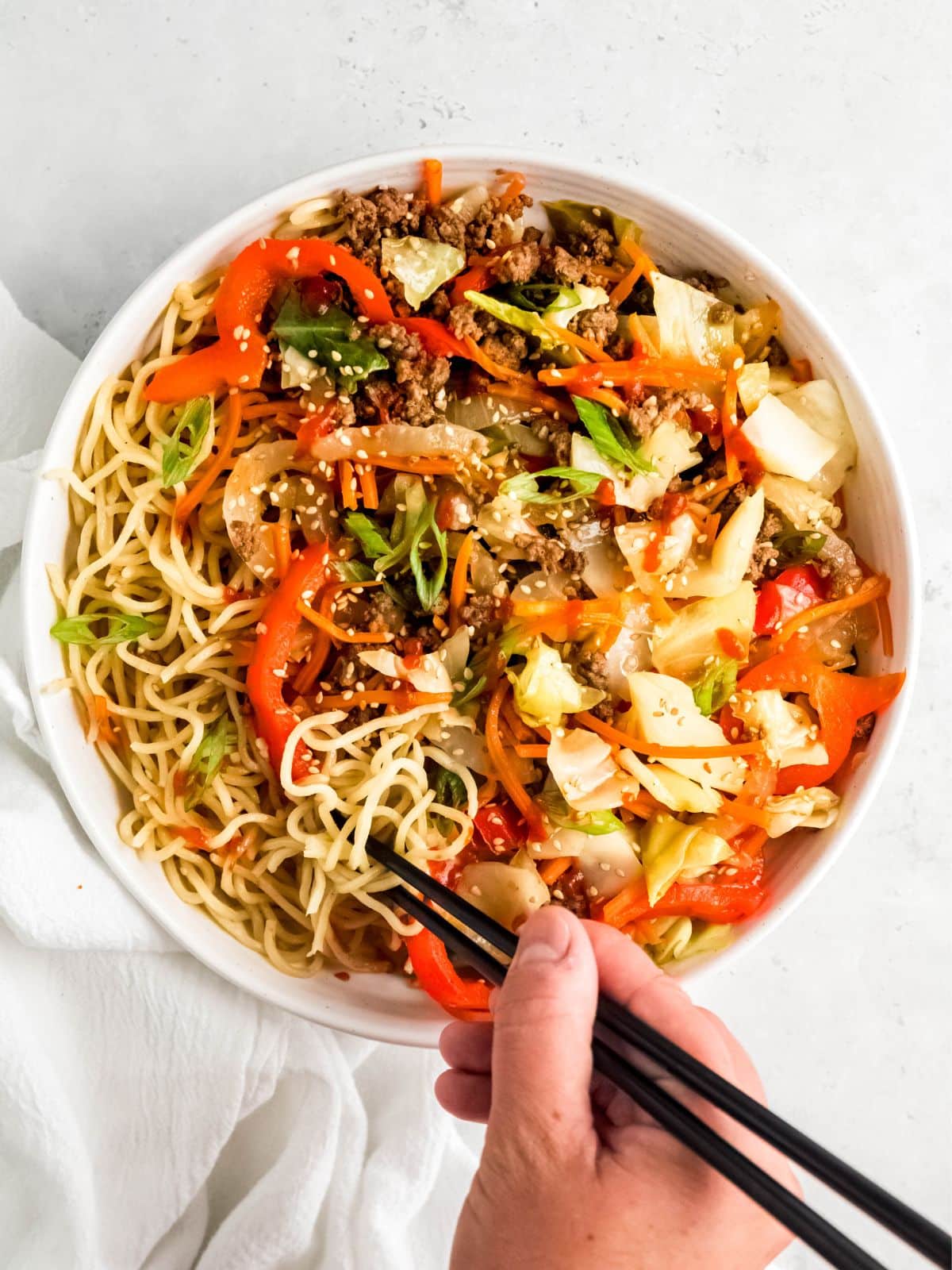 Get ready for a ground beef & cabbage stir-fry from The Oregon Dietitian! Imagine the crunch of veggies and cabbage combined with savory, crumbled meat in a vibrant sauce – as healthy as it is yummy. Whip it up in one pot, ready in half an hour.
Mexican Pasta Bake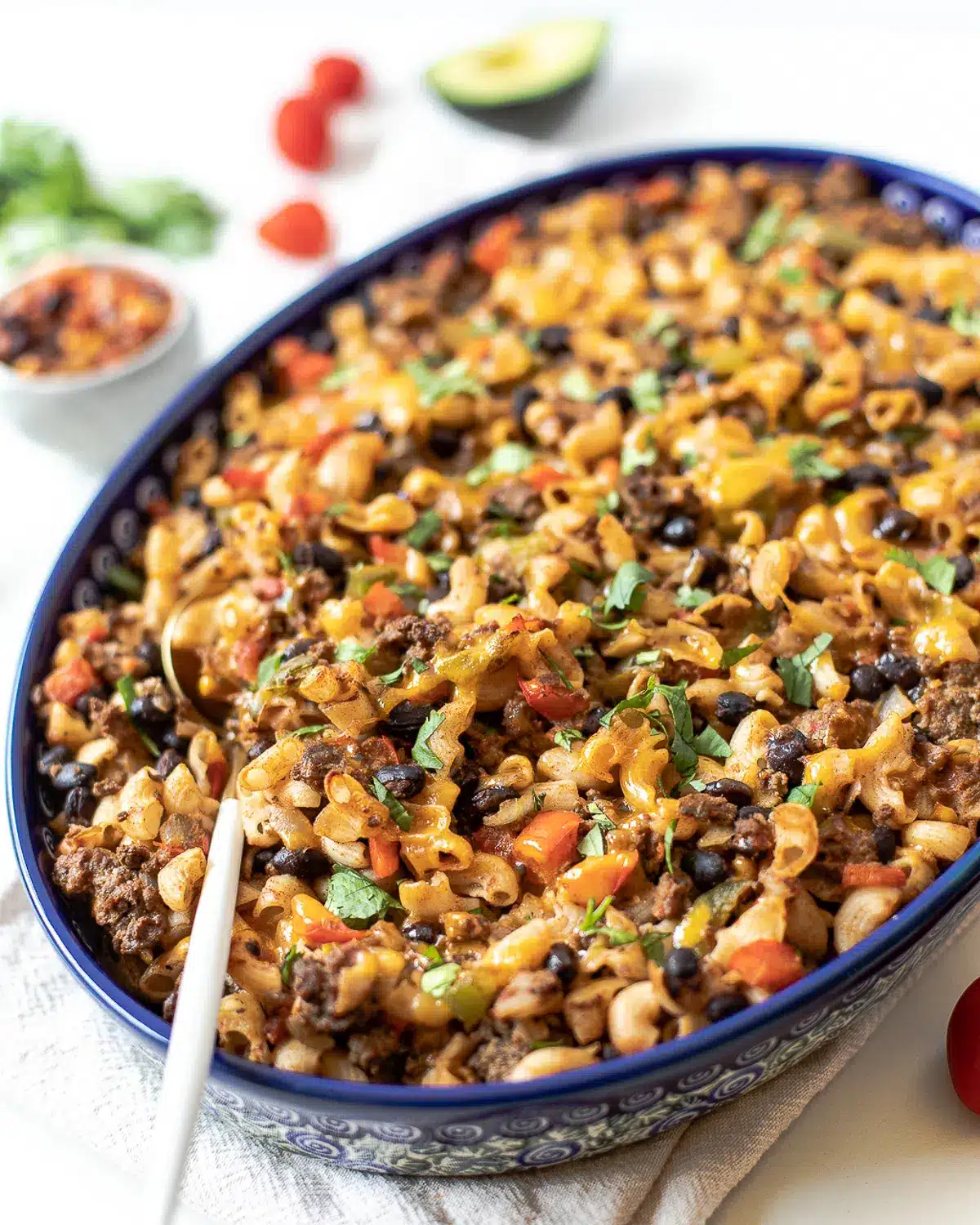 Have you ever thought of a Mexican pasta bake? If not, prepare to be amazed! This recipe will reinvigorate family dinners. It's packed with beef, bursting with beans, corn, and cheese, and utterly comforting. Healthy and balanced, this Mexican noodle casserole will soon be a family favorite!
Which Ground Beef Pasta Recipe Will You Try First?
To sum it all up, ground beef pasta recipes are fantastic! They're like a food playground because they're super flexible. You can stick to the classics or have fun trying new things like ground beef pizza casserole or Greek eggplant potato casserole (moussaka). As you've discovered, no matter your taste, there's a recipe here for you. So, which one will you try first? We'd love to know!
By the way, don't forget to see our list of ground beef recipes without pasta.