Come with us on a globe-trotting culinary adventure with this collection of 25 Egg Recipes. You'll discover uniquely delicious recipes that will transform how you consume the humble egg.
If that didn't get your attention, some examples of what you can expect will.
There's the deliciously aromatic Indian Egg Bhurji. And you will savor the flavor and uniqueness of cloud eggs. Yum! And we can't forget the bacon-wrapped asparagus with eggs, shakshuka, French omelet, and many more. So, are you ready to explore?
Let's dive in!
Looking for more breakfast options, see these high protein breakfast recipes.
Ramen Eggs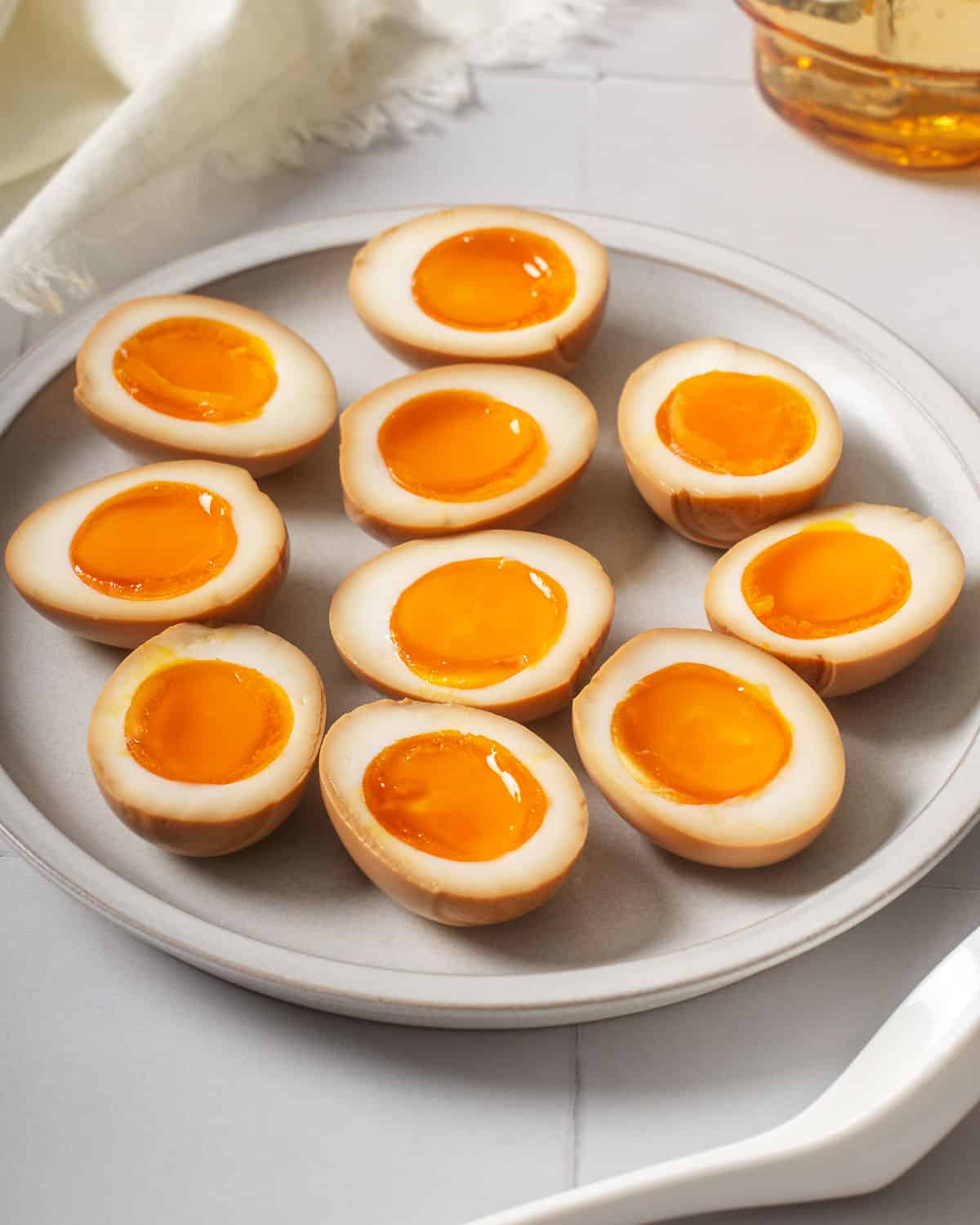 If you've ever ordered Ramen from a restaurant, you know all about ramen eggs, also known as Ajitama. But now Megan and Eliezer of Takes Two Eggs show you how to make them at home.
The delicious umami treat is a soft-boiled egg with a twist. First, you boil the Japanese eggs according to the team's specifications. Next, soak them in a flavorful mix of soy sauce (light and dark), mirin, sake, and sugar. The result is a tasty upgrade to your ramen, an unexpected side dish, or a savory anytime snack.
Fried Chimichurri Eggs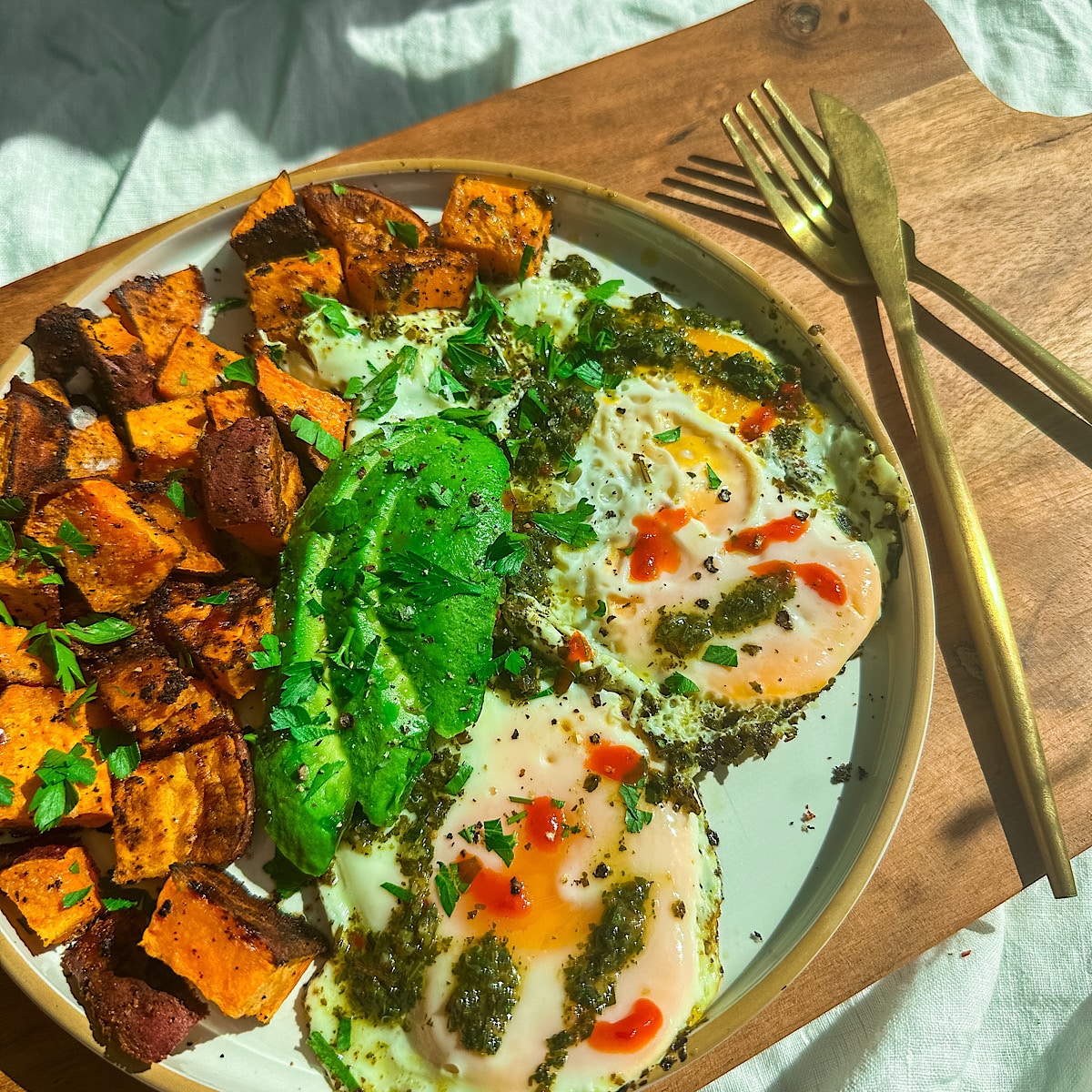 Add a burst of flavor to your morning egg routine with fried chimichurri eggs recipe from Kristi of Avocado skillet. The nutritious and delicious (sorry, I couldn't resist a rhyme) meal is simple to make with just two ingredients. So, enjoy them with potatoes, sourdough bread, or even avocado, and start your day off the right way.
Campfire Egg Cups with Ham
Introducing a versatile camping breakfast is Jenn of Take Them Outside, with her simple, fun, and yummy campfire egg cups with ham recipe. These cups are not only delicious and filling, however. They're also fun. So much so that the kids will want to join in. All you need are eggs, thinly sliced ham, cooking spray, and a muffin tin. Oh, and here's a bonus, cleanup is a breeze.
Kimchi Omelet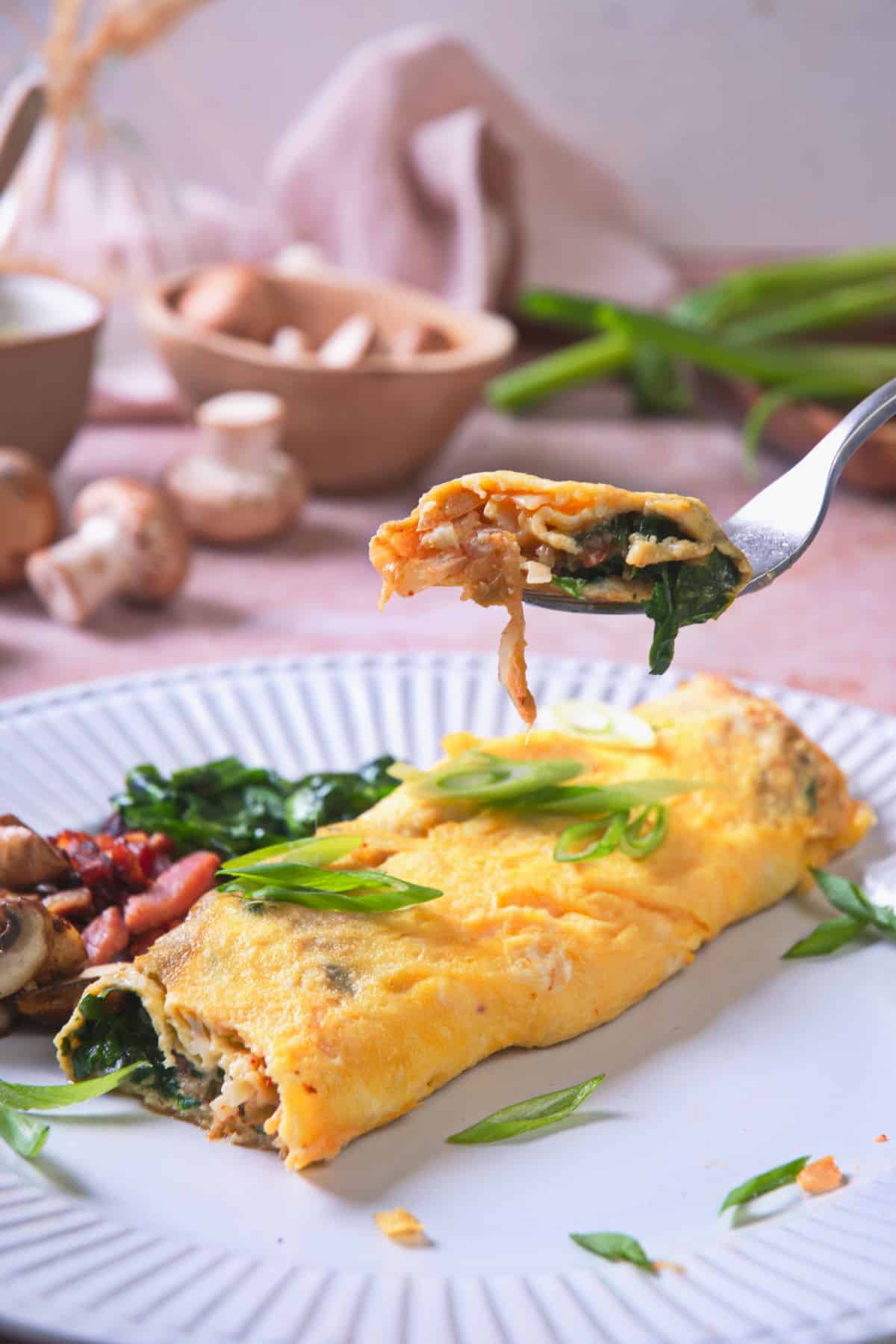 Ah yes, the omelet, a requisite for culinary students and a breakfast fave worldwide. But perhaps, you're looking for a flavor upgrade to keep this interesting. That's where this kimchi omelet by Joss of In The Kitch comes in. She takes your basic omelet and combines it with fermented cabbage condiment for a vibrant, tangy, and nutrient-rich remix.
Corsican Mint Omelette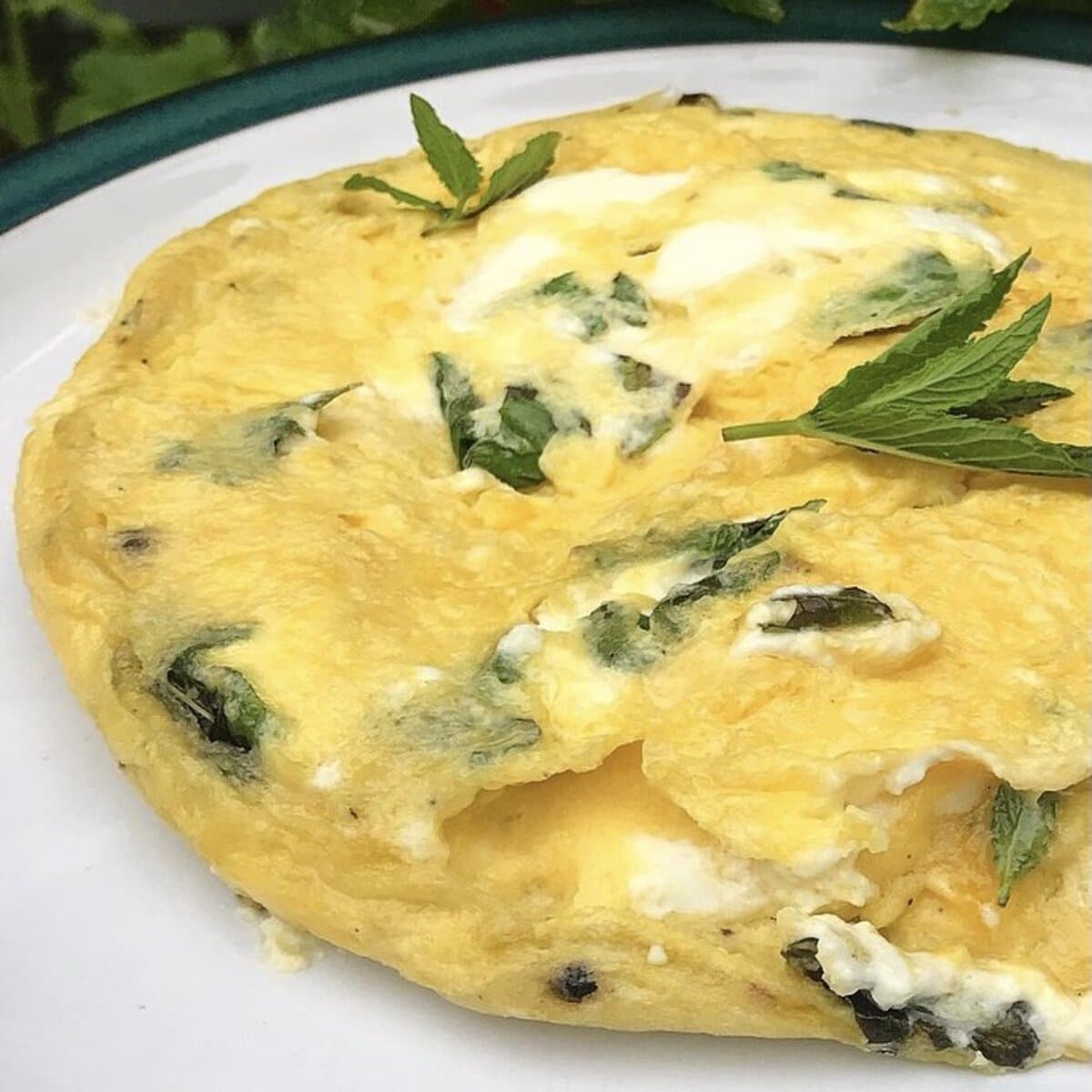 Jill of Mad About Macarons offers this Corsican mint omelette, an effortless, if unique, take on the French breakfast staple. Unlike a traditional French omelette, this version is served flat. You cook it with olive oil and optionally add cheese. Ingredients make or break this dish. So be sure to use fresh organic eggs and lots of fragrant mint leaves.
Korean Soft Steamed Eggs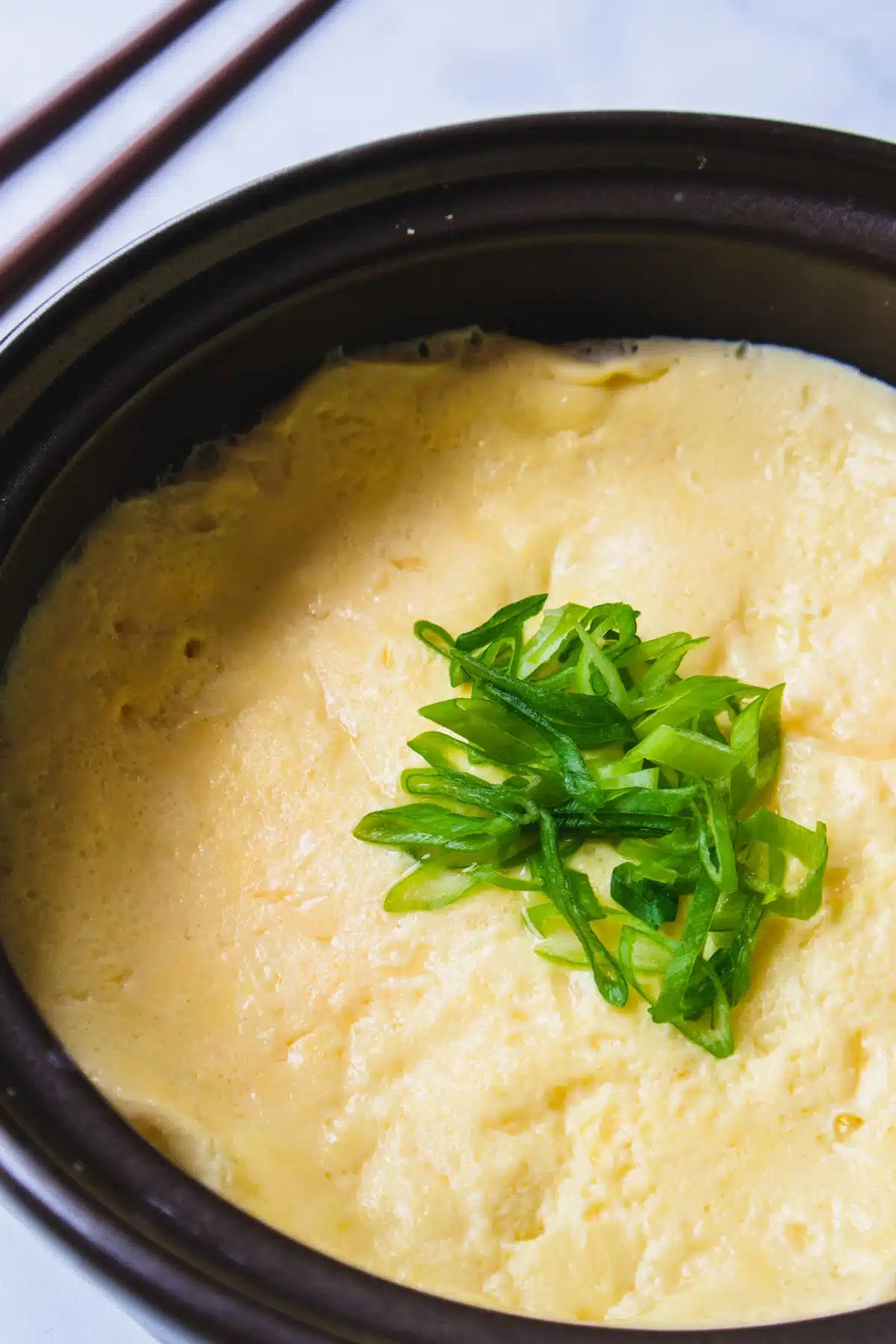 Allow Mikha Eats to show you the way of Korean soft steamed eggs, also known as Gyeran Jjim. It's an irresistibly fluffy and savory dish made by whisking whole eggs with dashi broth, mirin, and fish sauce. While popular in Korean homes and restaurants, you can now have the culinary delight in your home with four ingredients and 10 minutes.
Biscuits Eggs Benedict
In a moment of genius, Cynthia of But First We Brunch created this biscuits eggs benedict, and luckily for us, she shared it with the world. The fusion dish features a buttermilk biscuit topped with a heavenly combination of poached eggs and finger-lickin' good, rich country gravy. It's a surefire way to surprise and elevate your breakfast game to legendary levels.
Japanese Egg Salad Sandwich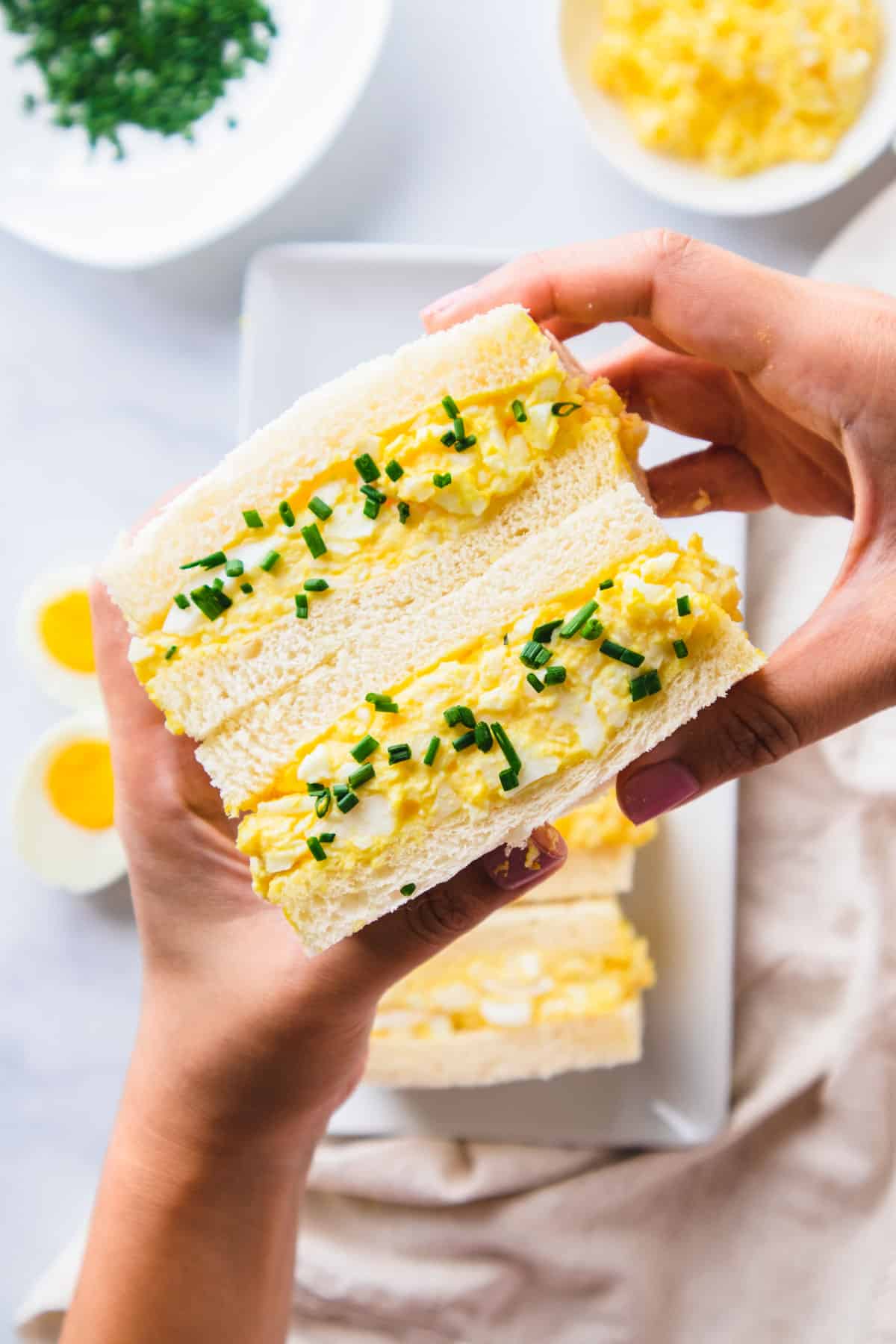 Not only will Mikha Eats share her delectable recipe for a Japanese egg salad sandwich (tamago sando). But she also reveals her secrets for ridiculously easy-to-peel eggs. It takes just seconds. Seriously, there are some cheat codes in this recipe. You'll learn how to avoid soggy bread for an egg sandwich and make the egg filling the creamiest and tastiest.
Huevos Pericos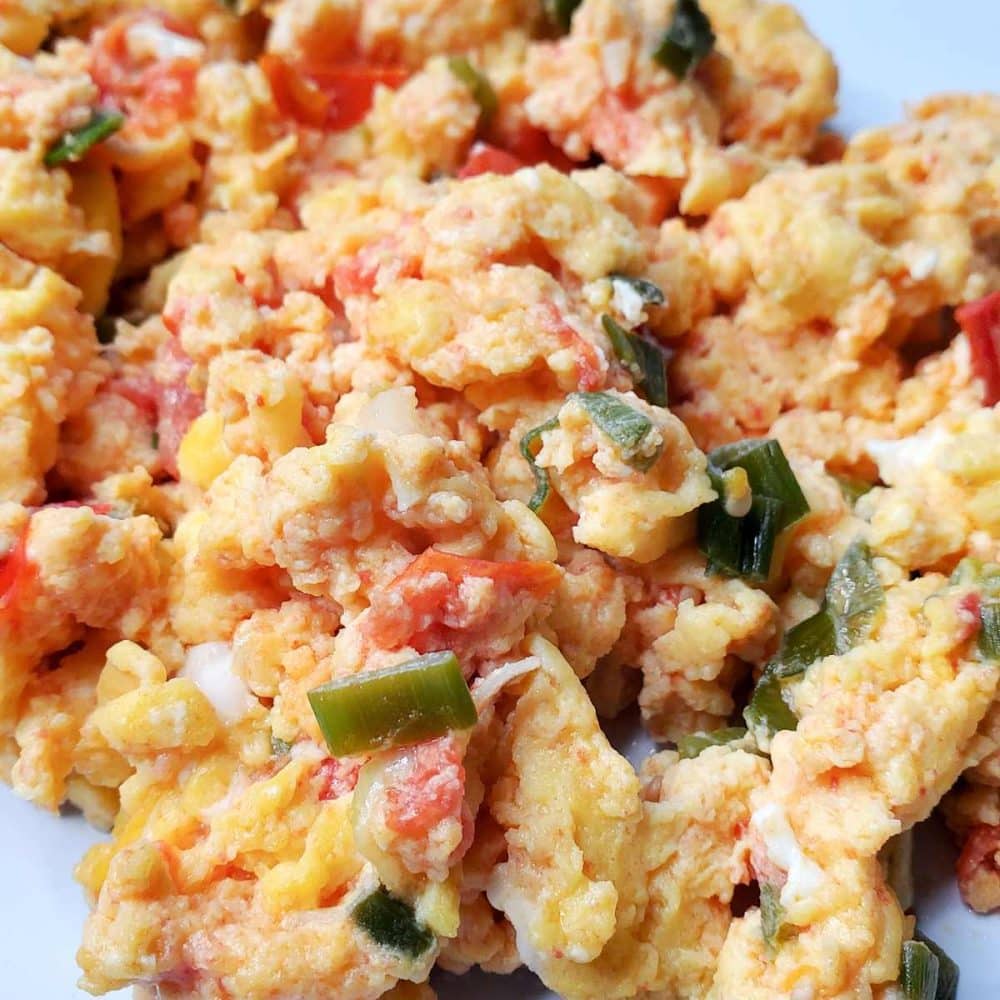 With the help of Olga of Cocina Republic, delight in the popular Colombian breakfast treat known as huevos pericos. It's a tastebud-pleasing egg scramble brimming with vibrant ripe tomatoes and green onions. So, while a vacation to the nation might not be in the cards right now, you can travel there by scent and taste.
Egg Bhurji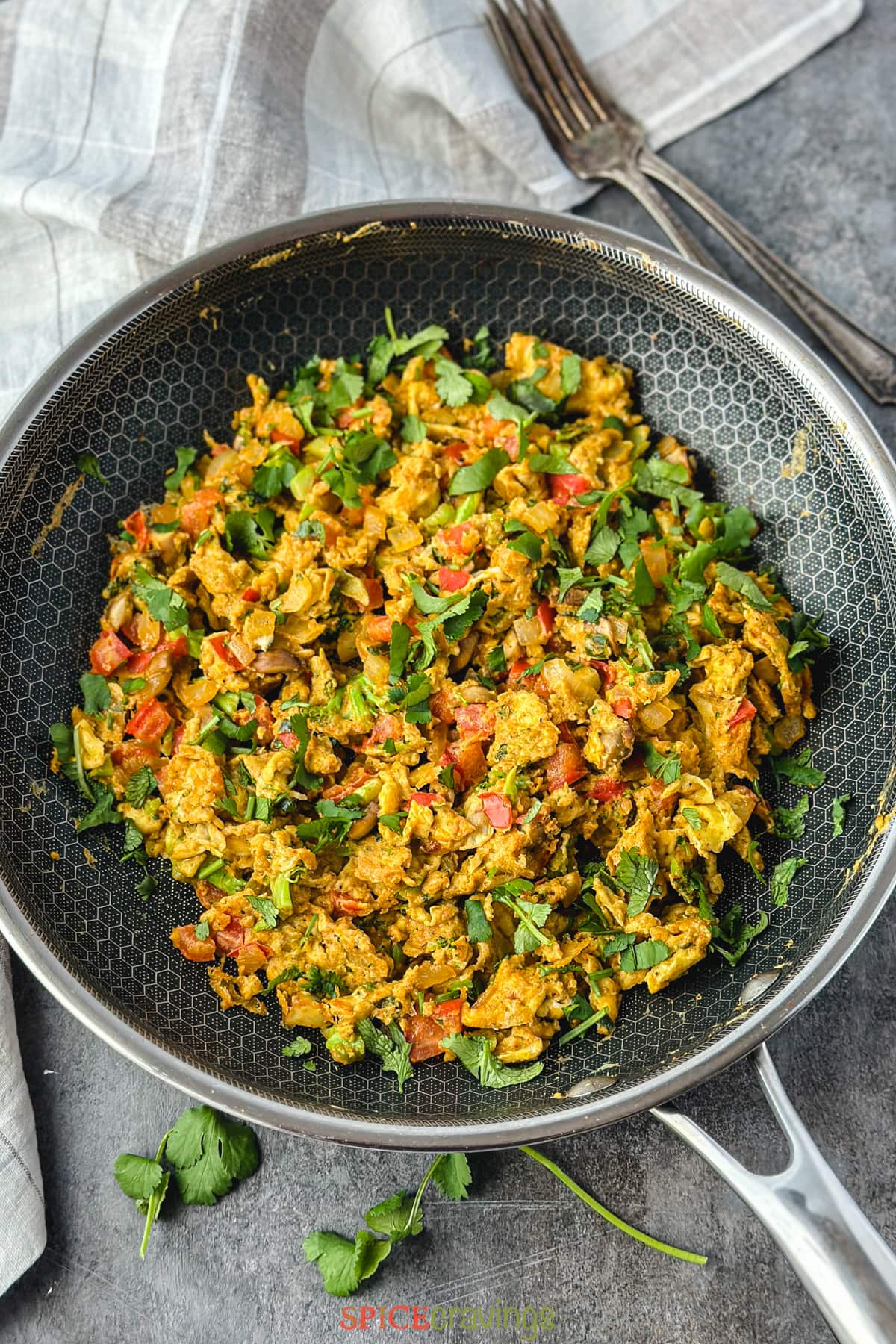 Aneesha of Spice Cravings introduces us to this Egg Bhurji recipe—a beloved Indian-style scrambled eggs dish. If you love spicy, full-flavor dishes, you'll be impressed. There's an assortment of veggies like broccoli, tomatoes, and onions. You'll also find lots of flavor from ginger and spices like turmeric and masala.
Million Dollar Deviled Eggs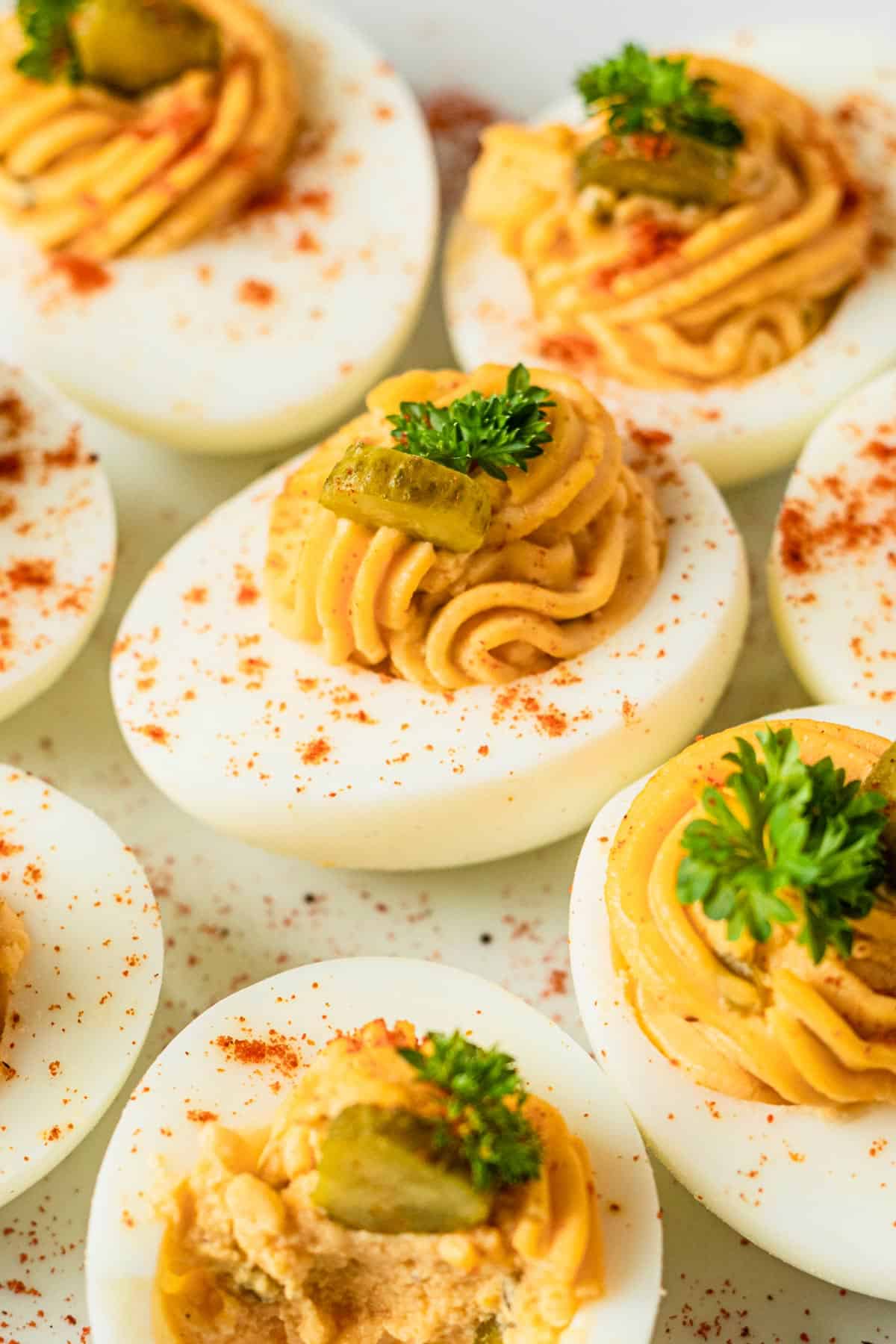 Be warned, these million-dollar deviled eggs by Julia of The Yummy Bowl will disappear as quickly as you put them out. That's because they are a luxurious twist to the classic crowd-pleaser. But what makes them so good and different? This version is creamy, thanks to specific proportions.
Omelet with Smoked Salmon & Chive Cream Cheese Recipe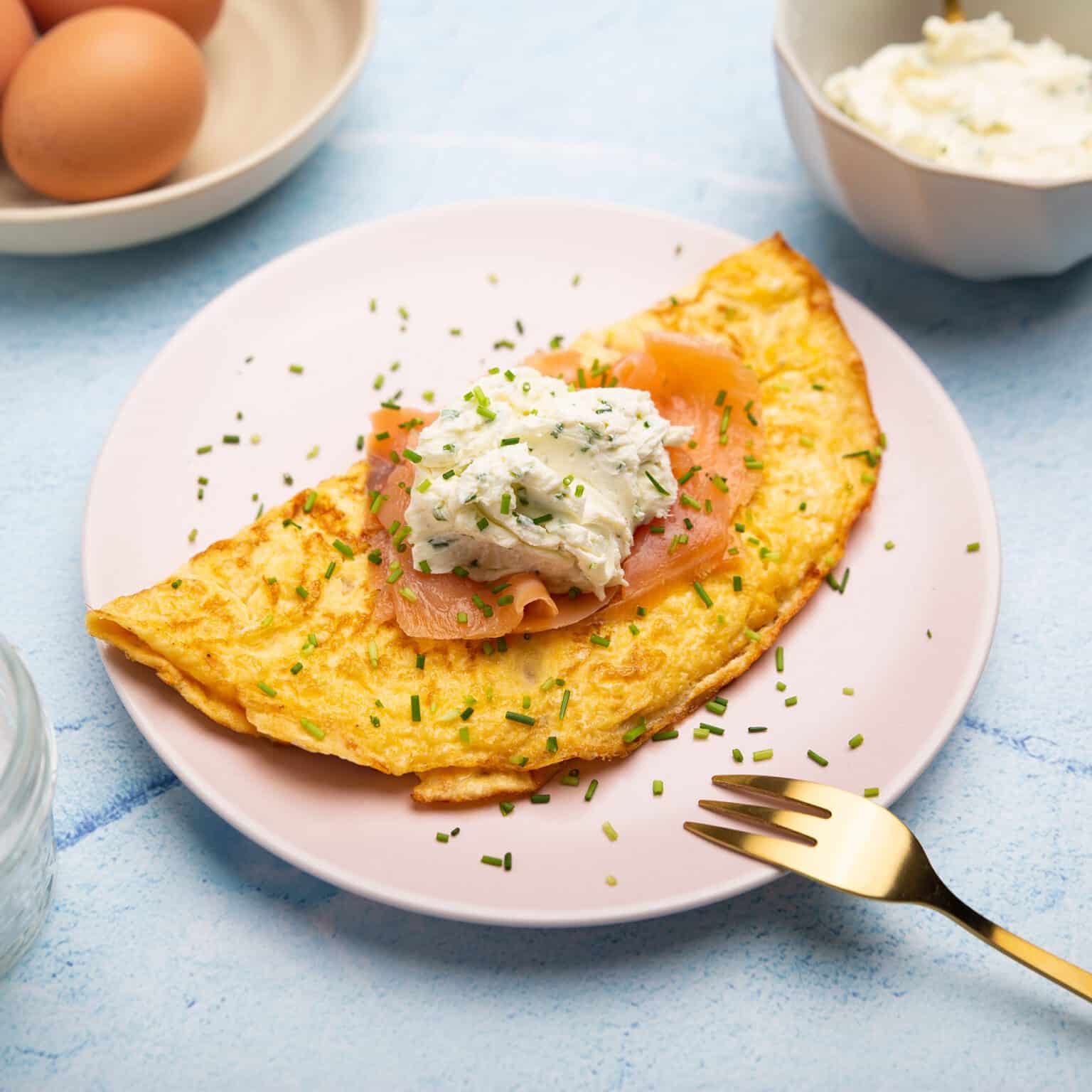 All you need is a handful of ingredients and minimal prep time to create this sensational omelet with smoked salmon & chive cream cheese by Shannah of Just Gimme Fries. First, she shows you how to make a picture-perfect omelet, then serve it with smoked salmon. It's simple and delicious.
Shakshuka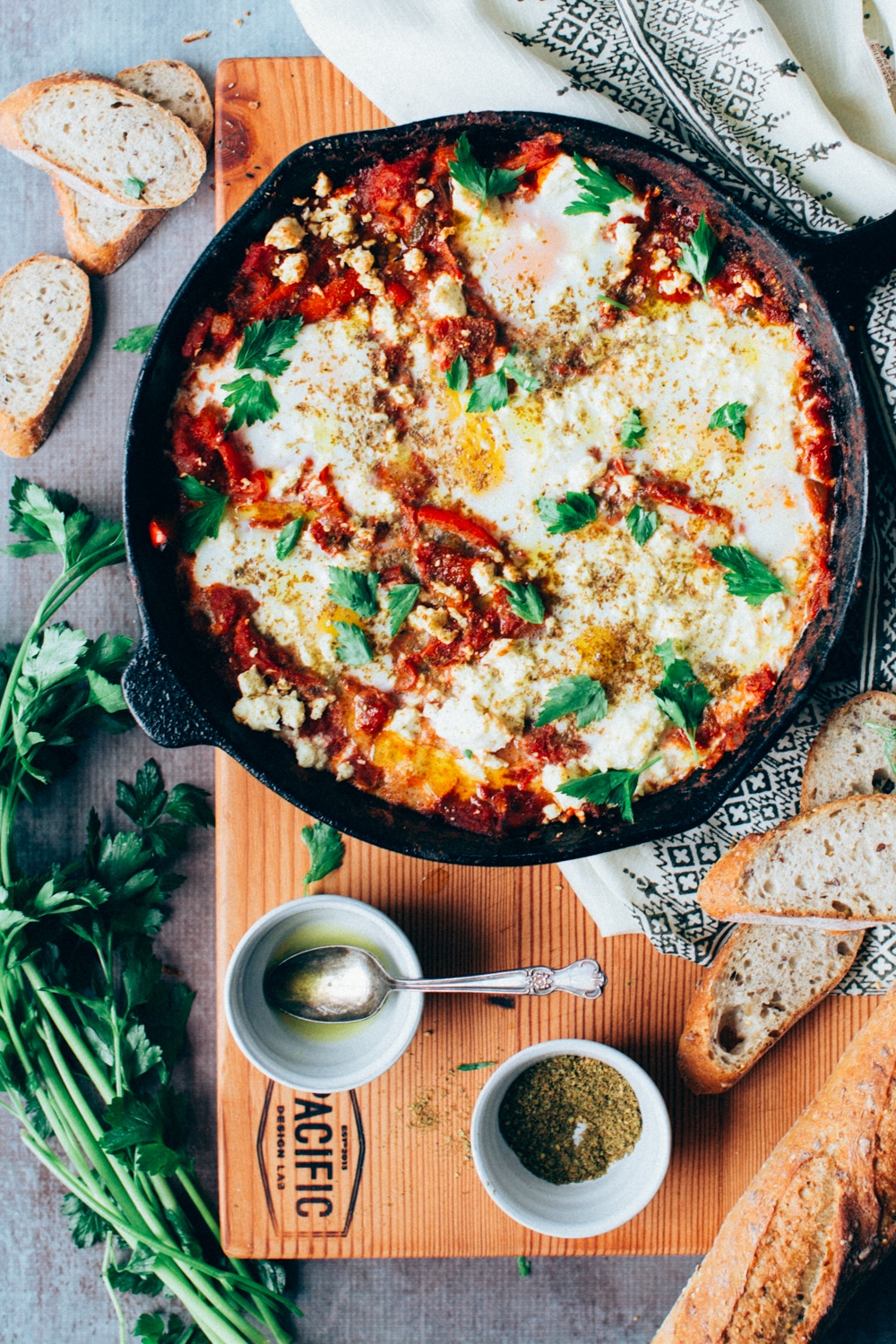 Do you crave a savory and spicy breakfast? Well, then, this shakshuka recipe by way of Foodess is just what you need. It's a flavor-packed meal with a sauteed medley of onions, garlic, red pepper, and jalapeno. Next, there's a vibrant mix of tomatoes and aromatic spices like cumin, paprika, jalapeno, and za'atar. Once simmered, you'll have an intensely flavorful sauce for the eggs and top with feta. Finally, serve it with delicious homemade bread for the most impressive breakfast bread you ever made.
Chinese Egg Stir Fry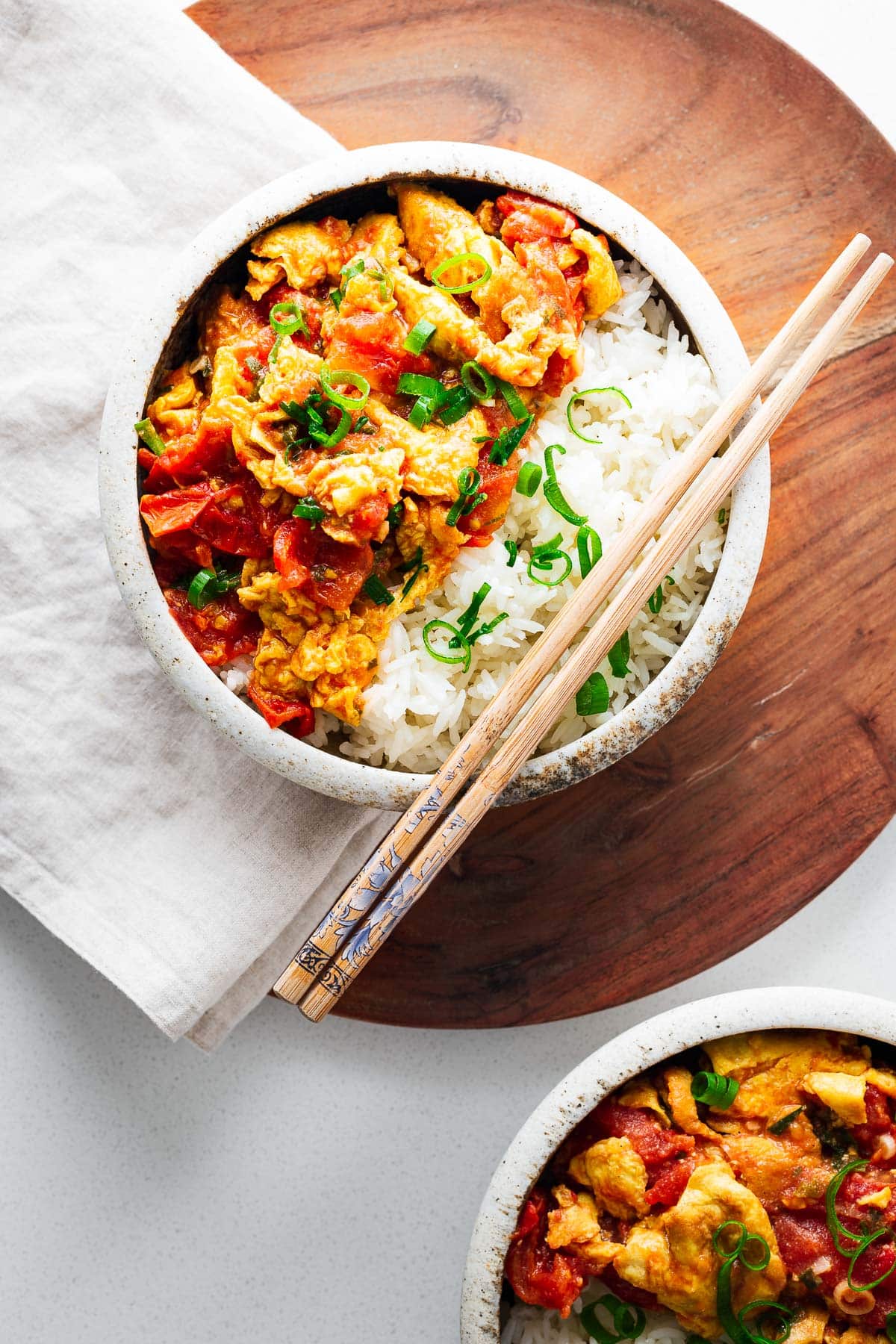 With this Chinese egg stir fry recipe by Adri of Non-Guilty Pleasures, you will experience the ultimate Chinese comfort food. What's more? It's a mid-week lifesaver of a dinner. You can whip up a flavorful meal in just minutes with just a few simple ingredients, including leftover rice, eggs, tomatoes, garlic, onions, and sesame oil.
German Eggs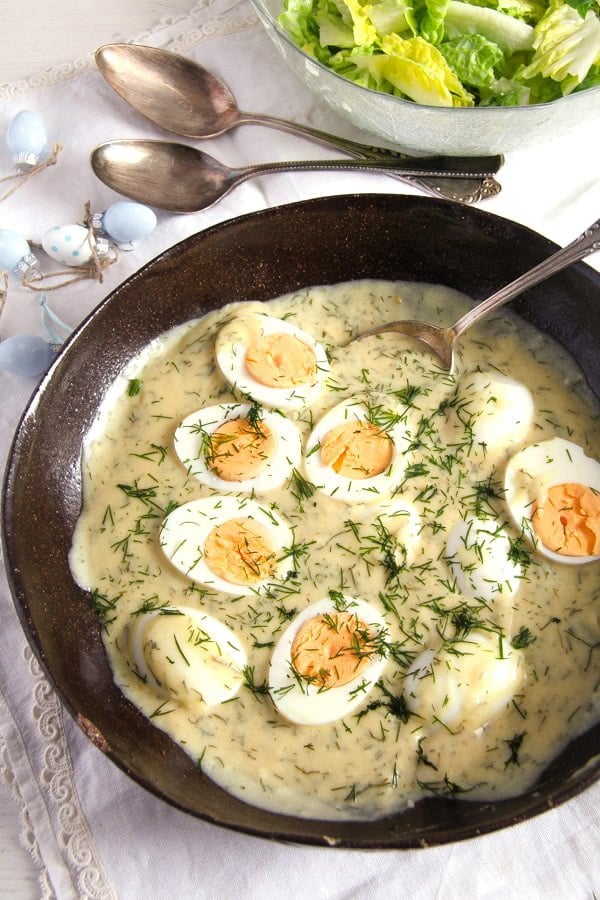 It's the day after easter, and you have two dozen boiled eggs lying around. Whatever do you do? Well, you make this German eggs in mustard sauce recipe by Adina of Where Is My Spoon. It features hard-boiled eggs in a creamy, buttery mustard, lemon, and dill sauce. It's budget-friendly, and when served with potatoes, it's sure to please all crowds.
Shirred Eggs
The Healthy Recipes 101 team introduces us to these Shirred eggs, also known as "oeufs en concotte" in French. It's a 10-minute tasty crowd-pleasing dish where you bake eggs in a flat bottom dish or ramekin in butter and cream. But that's just the beginning. Like most egg recipes, it's highly customizable. So add seafood, meat, or vegetables.
Turkish Eggs (Cilbir)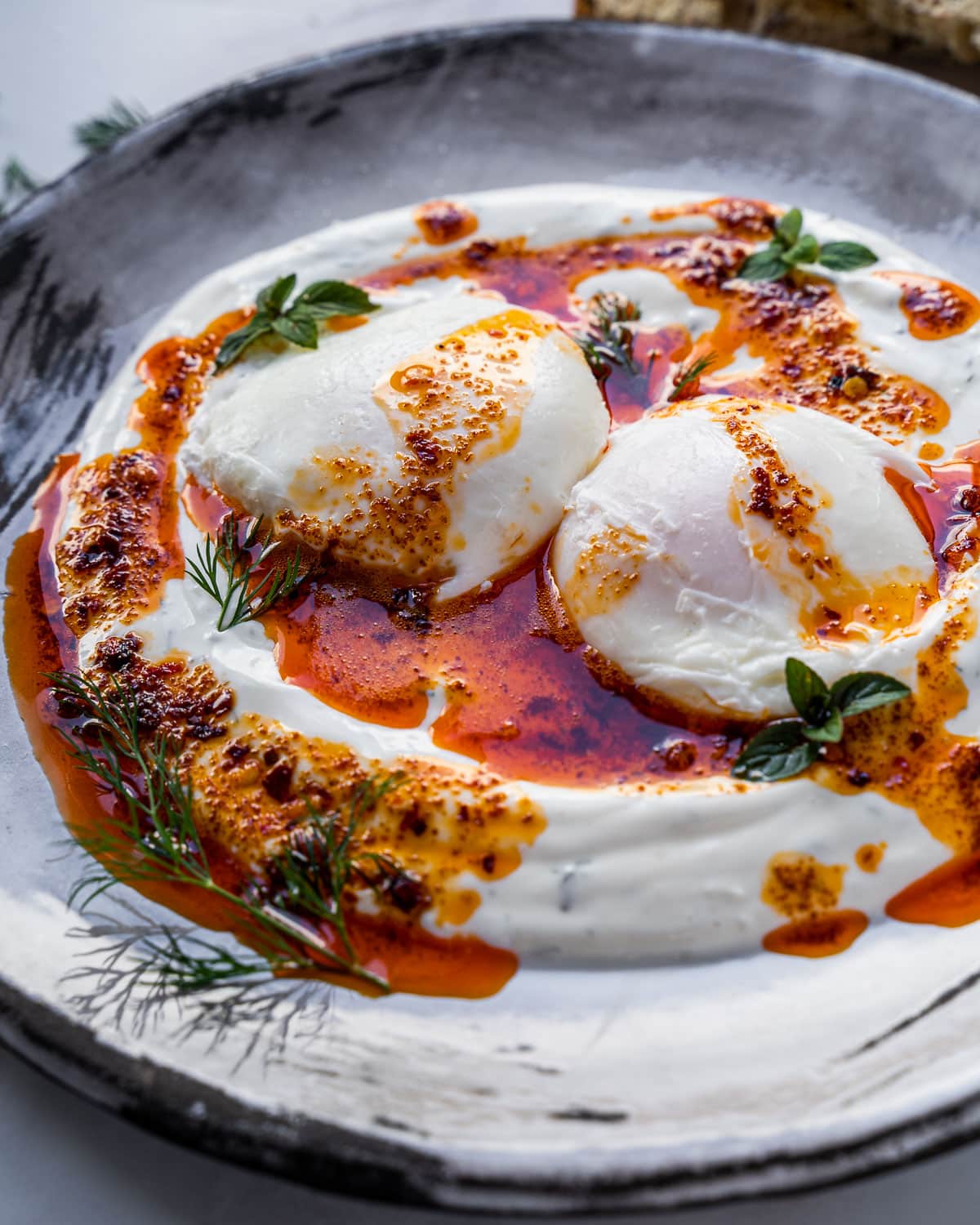 You combine herbed Turkish yogurt, spiced butter sauce, and poached eggs for this Turkish egg recipe by the Six Hungry Feet team. It's an ideal quick meal for when you don't feel like cooking. Preparation is easy. The flavors are bold. What more could you need on a lazy Sunday morning?
Spanish Omelet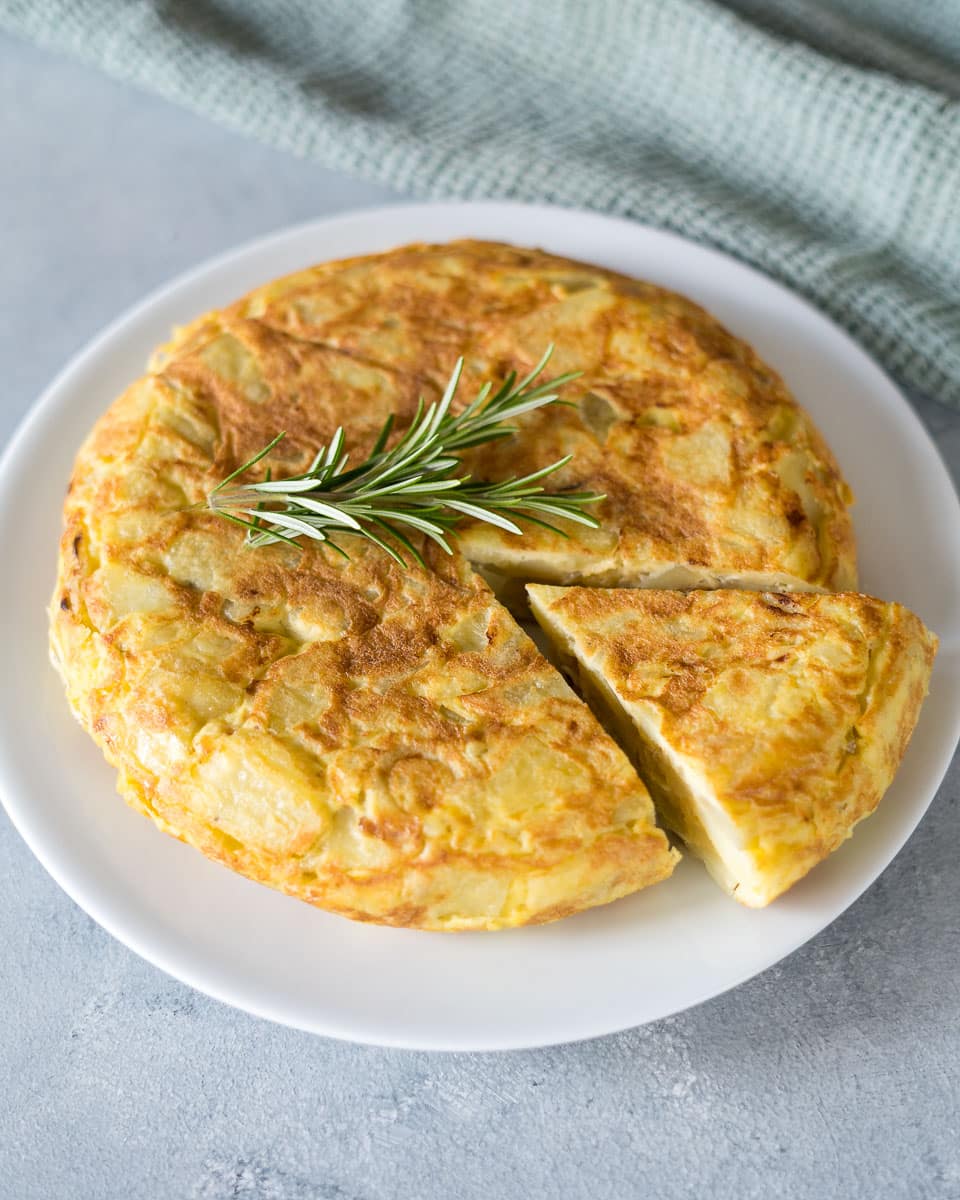 You don't have to travel to Spain to enjoy this Spanish omelet. The popular breakfast dish, also known as tortilla de pata, is made with simple ingredients like olive oil, potatoes, eggs, onion, and salt. It's large enough to feed the whole family. You'll find out why it holds a special place in the hearts of so many.
Eggs Benedict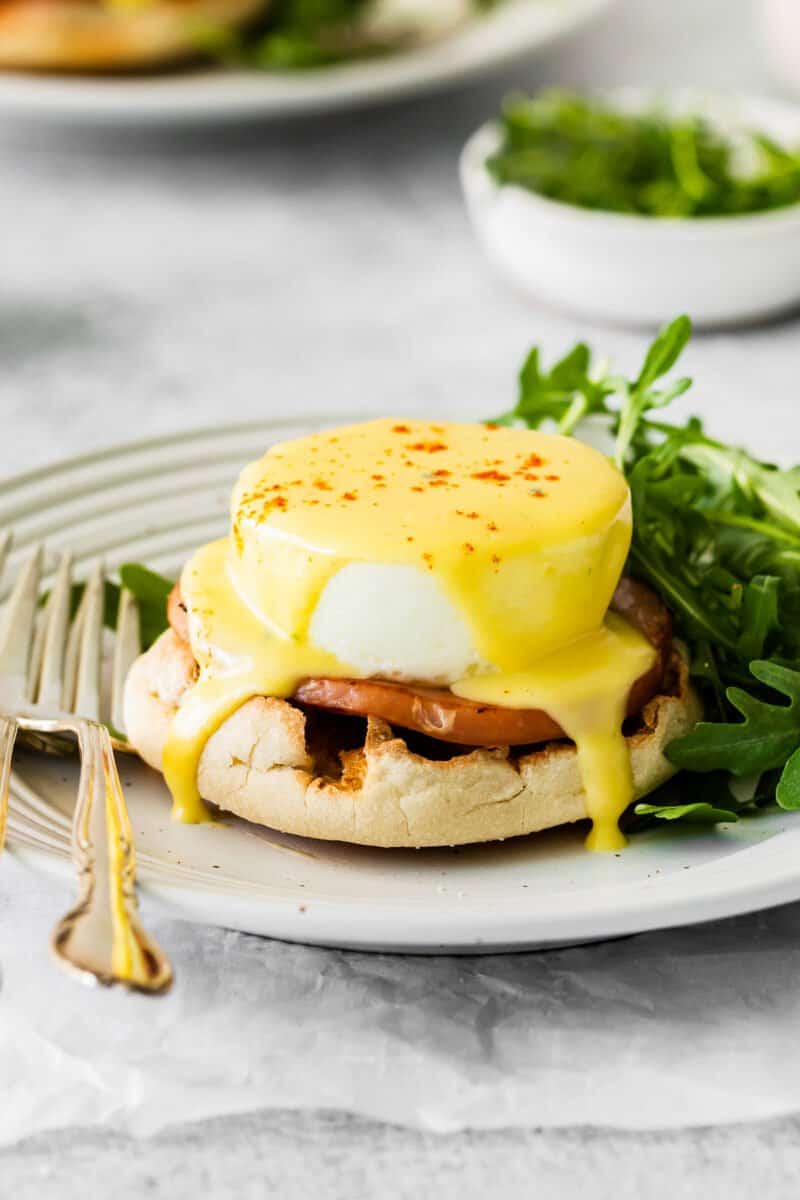 Add a touch of elegance to your morning routine with this classic eggs benedict recipe by Becky of Easy Chicken Recipes. You make the reliably delicious dish with poached eggs, Canadian bacon, and a rich and creamy hollandaise sauce. It's all put together on top of a toasted English muffin. And while it may look fancy, it's pretty straightforward with a bit of practice.
Perfect Air Fryer Eggs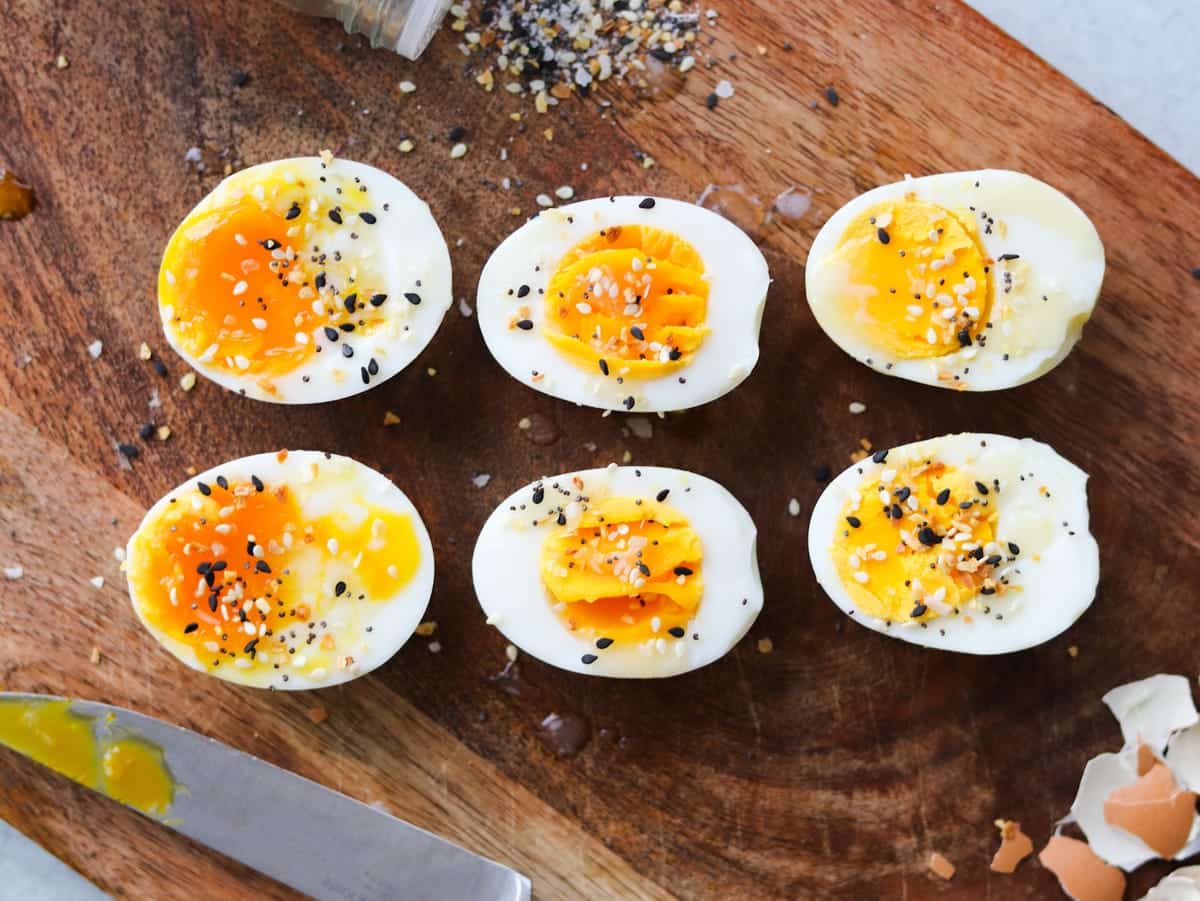 While she can't quite put her finger on it, Laura of Cook At Home Mom knows the best method of peeling eggs. It's the air fryer. But that's the only benefit of this perfect air fryer eggs guide. She'll also teach you exactly how to get perfect eggs with predictable doneness: hard-boiled, soft-boiled, or jammy eggs.
Bacon Wrapped Asparagus And Eggs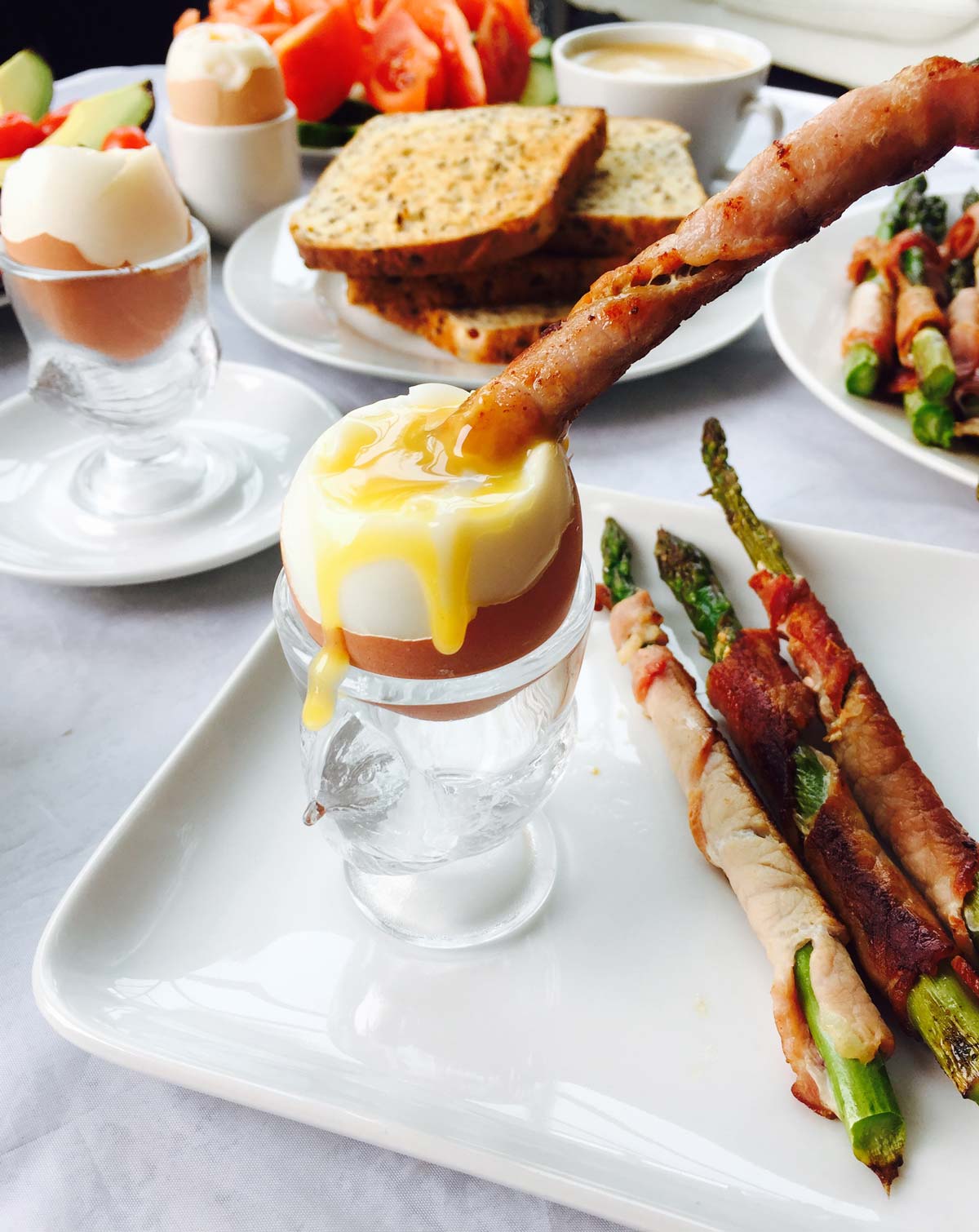 Eating asparagus in season is a great way to support your local farmers and your health. And we could think of no better way to eat asparagus than with this Egg And Bacon Wrapped Asparagus Breakfast recipe. The masterpiece combines the salty goodness of bacon with the bright freshness of asparagus for a dish that will leave your guest craving more.
Nigerian Egg Stew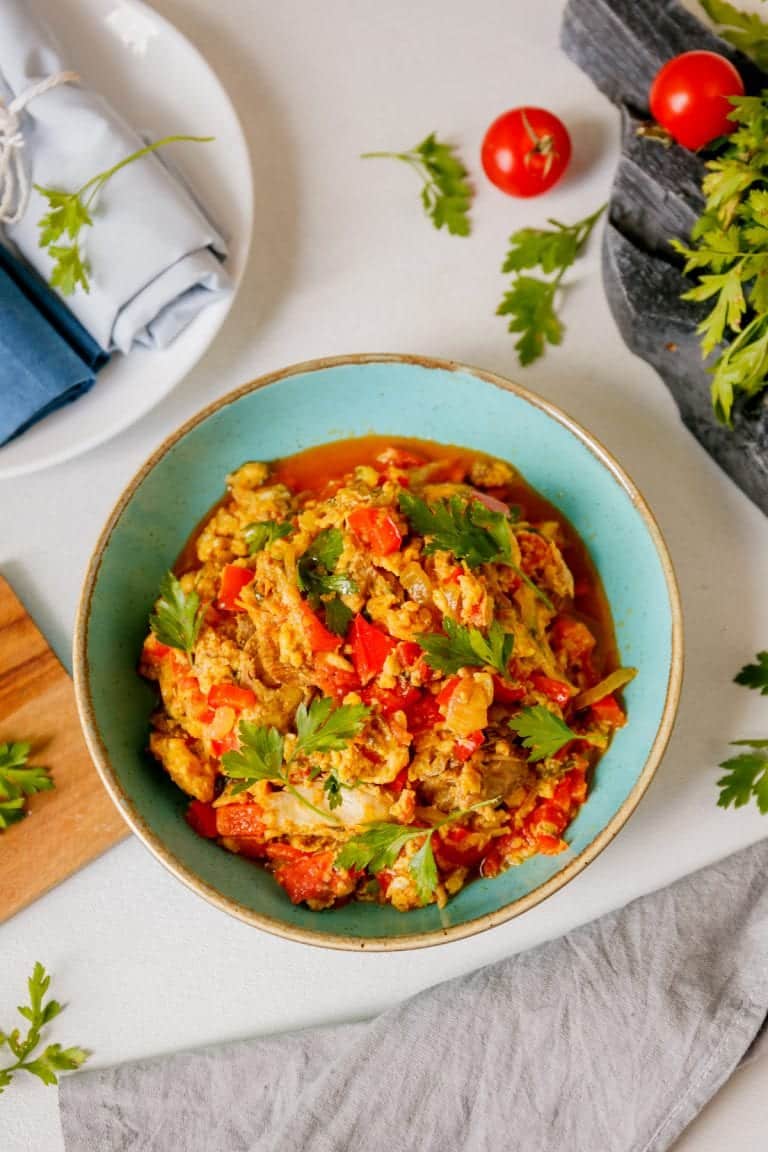 This Nigerian egg stew is a delicious go-to meal for college students and a beloved favorite all over West Africa. Luckily for us, we have Louisa to guide us. It's a recipe bursting with eggs and the flavors of curry powder and thyme. Mackerel adds protein and a taste of the sea. But the secret lies in the ratio of tomatoes to peppers.
Cloud Eggs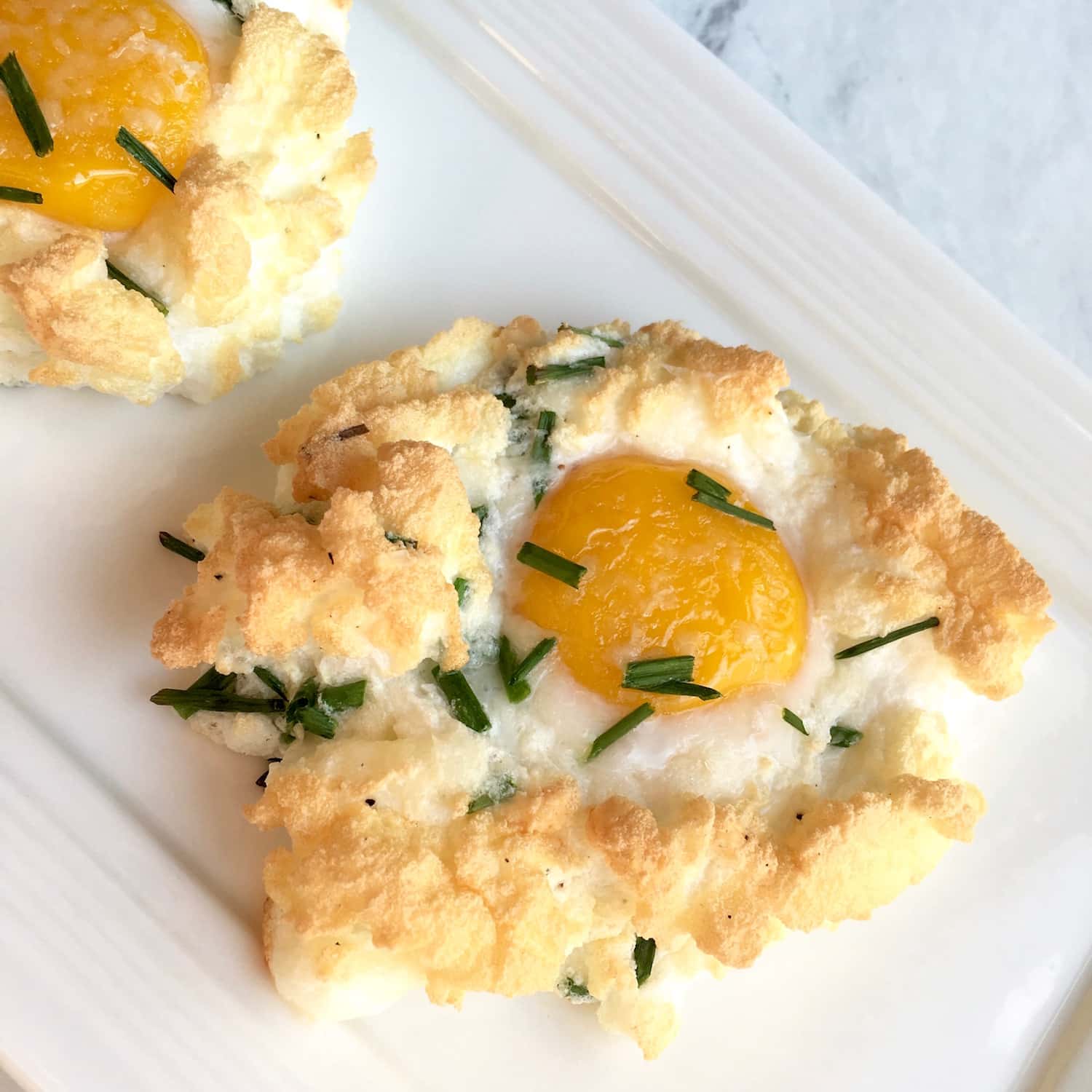 Debi of Our Wabisabi Life shows us how to make trendy cloud eggs. Maybe, they look like they "shouldn't look like that." But I assure you they are an easy and tasty way to have your eggs. First, you separate the yolks from the whites, then whip the whites into stiff peaks, forming "clouds," and then add the yolks (sun?) and bake. Ultimately, you have perhaps the most fun way to eat eggs.
Fried Egg Burger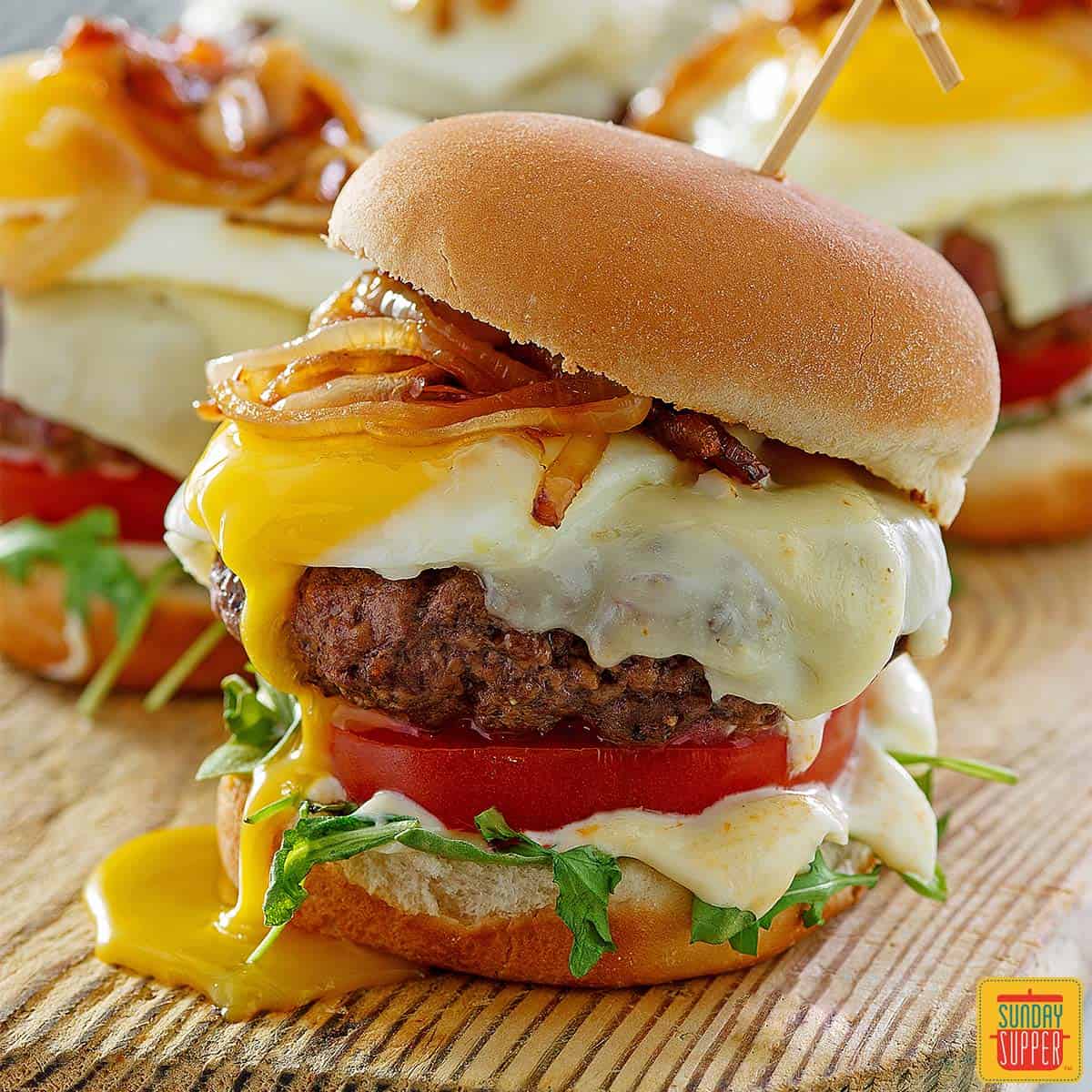 When you combine your burger with a luscious runny egg, as Isabel of Sunday Supper Movement does with this fried egg burger, there's no need for excessive burger sauces (although we love a good sauce). Adding an egg, smoked gruyere, and caramelized onions, you have a mouthwatering combination of flavors and textures. It's a mind-blowing burger experience you won't soon forget.
Naan Breakfast Pizza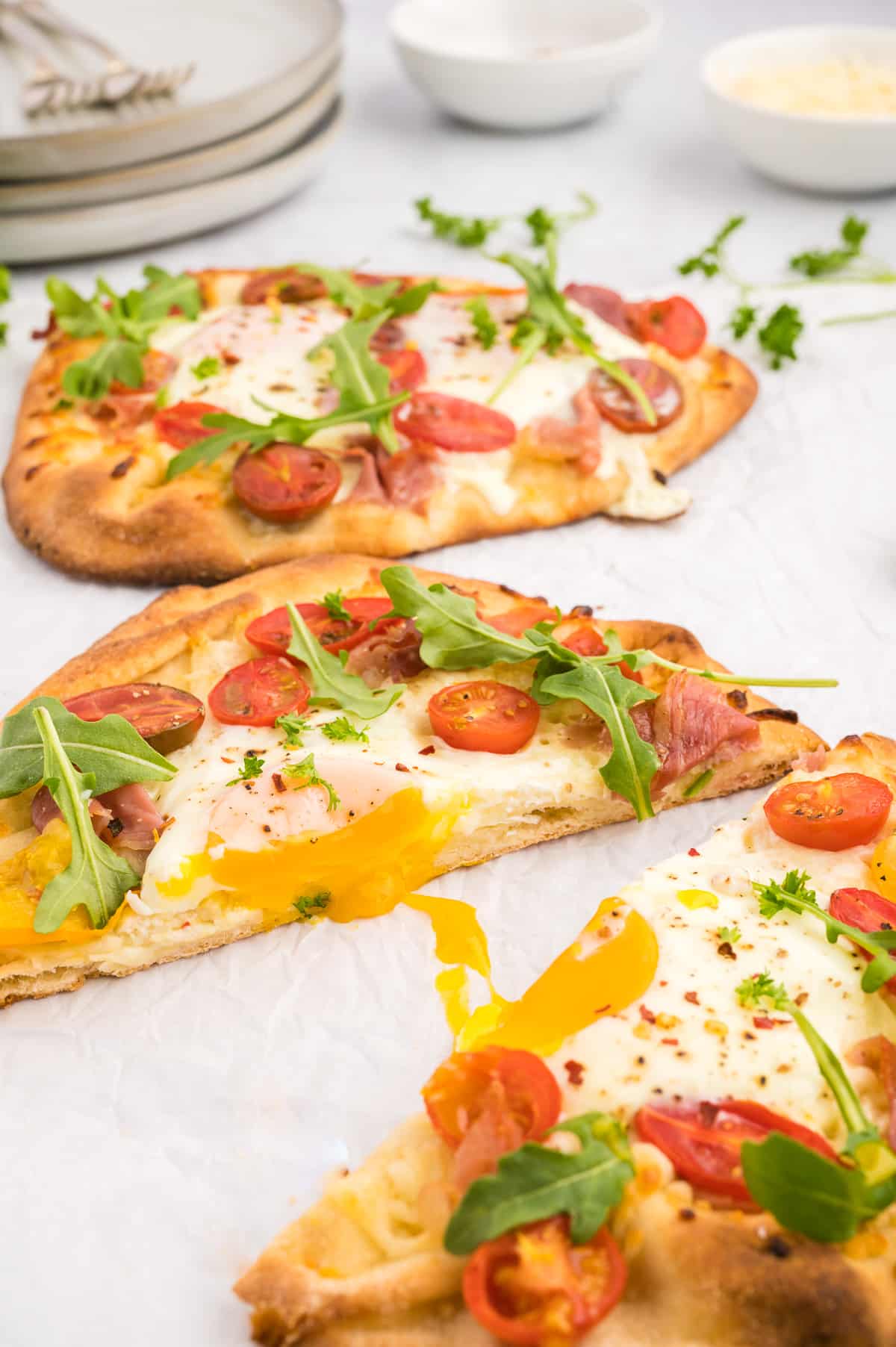 For a convenient change up to your morning routine, try this naan breakfast pizza recipe by Danielle of Love From The Table. Instead of homemade dough, use naan bread as the crust for a chewy and crispy base. As for the toppings, eggs, cherry tomatoes, and arugula are an excellent start, but you're limited only by your imagination.
Which Egg Recipe Are You Most Excited to Try?
People the world over love eggs for their nutrition and versatility. You can find the oval-shaped, protein-packed food in all manner of cuisine. So, from the cozy Spanish omelet to the zesty Nigerian egg stew, each dish is an example of unique flavors and possibilities. Hopefully, you are inspired to take your "egg game" to the next level. We are! And we'd love to know which egg recipe you're looking forward to making.