First, a word of warning, these Neapolitan Rice Krispie Treat Ice Cream Pinwheels are addictive! I challenge you to have just one! These little ice cream disc of deliciousness will put your diet on notice so, you know, eat responsibly. For us, it's the perfect cheat meal/snack.
Like a lot of families in the 90s, we use to have rice crispy treat ice cream sandwiches in the summer when I was a kid. Rice crispy ice cream sandwiches are the perfect summer treat because they are cheap to make and super easy and most importantly, they taste DELICIOUS! I even remember a couple summer birthday parties where these where the main attraction instead of a traditional cake. When I was growing up, I don't remember parents buying store bought cakes. It was always homemade (often box cake) which meant that the kitchen would get hot. I don't know about you but many folks just didn't have central air back then. These treats make the perfect alternative to cake for those summer birthdays and gatherings because you don't have to heat up the whole house.
They are so easy, even uncle can make them! My uncle who has a penchant for "over-caramelizing" (see burning, sorry, love you Unc, but we know how you get down) barbecue would make these rice crispy ice cream treats to perfection. He would make two big cookie sheets of rice crispy treats, then spread the softened ice cream on top of one of them, add the top layer of crispy treats, freeze for a little while and voila. Oh, the good times, second and third helpings, please! I'm seriously having flashbacks to 90's childhood here. Okay, off the nostalgia train, there is work to be done. If I keep this up, I'll end up talking about high-top fades, L.A. Lights and Nickelodeon cartoons.
Anyway, we thought of making these simple but oh so delicious treats but with a little twist. And thus "Neapolitan Rice Crispy Treat Ice Cream Pinwheels" were born. That's a mouthful but they are just good. You get the crispy exterior, and a little sogginess from the melting ice cream.
There are lots of pinwheel desserts out there but we thought these would be really fun to make and take pictures of. They do end up looking just as good as they do in the photos (if you follow the directions, lol) I promise.
Other Post You Might Like: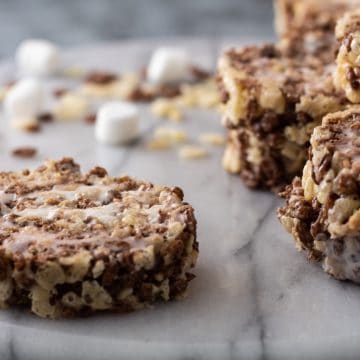 Neapolitan Rice Krispie Treat Ice Cream Pinwheels Recipe
Our Neapolitan Rice Krispie Treat Pinwheels are a spin on an old classic. They are easy to make and use easy to find ingredients, some of which you probably already have. These delicious snacks make are the prefect no-bake dessert. We made these with regular Rice Krispies and chocolate Rice Krispies, and we used Neapolitan ice cream.
Ingredients
1 ¼

Cups

Cocoa Krispies Cereal

1 ½

Cups

Rice Krispy Cereal

2 ½

Cups

Mini Marshmallows

2

tbsp

Unsalted Butter

2

Cups

Neapolitan Ice Cream
Instructions
Start with taking the ice cream out of the freezer to soften a little bit. This will help to easily spread it on the rice Krispy sheet.

Add the butter and marshmallows to a sauce pan and turn the stove on medium heat.

While the marshmallow is melting add the dried cereal in a large bowl.

Once the marshmallow is completely melted add it to the dried cereal. Mix all ingredients until combined. Now you may have to use a little muscle to make sure all the cereal is coated with the yummy marshmallow sauce.

Spread the mixture on a silicone mat or baking pan lined with parchment or wax paper and press lightly. Form a rectangle. I found the silicone mat worked so much better. The mixture did not stick at all.

Spread the ice cream all over the top of the mixture. Take the short end of the mixture and mat and start rolling like you would a cinnamon roll.

Place the rolled mixture in the freezer for about 30 minutes. Longer if you can.

Cut the mixture into about 1 inch pieces and enjoy!
Notes
Tested rolling the krispie treats both length and width wise and the width-wise is better. They look more like pinwheels like when rolled the shorter way

Use sharp serrated knife to cut.
Depending on the person a serving could be one or two pieces. Probably two. 🙂
Doubling or even tripling this recipe is simple. If you need to increase the number of servings, click on the number next to serving size, and use the slider to get to the desired number of servings.
Nutrition
Calories:
122
kcal
Carbohydrates:
22
g
Protein:
1
g
Fat:
4
g
Saturated Fat:
3
g
Polyunsaturated Fat:
1
g
Monounsaturated Fat:
1
g
Trans Fat:
1
g
Cholesterol:
10
mg
Sodium:
42
mg
Potassium:
14
mg
Fiber:
1
g
Sugar:
14
g
Vitamin A:
353
IU
Vitamin C:
3
mg
Calcium:
9
mg
Iron:
1
mg