If you are looking for something to do with canned salmon other than salmon patties or croquettes, then check out this list of 13 amazing canned salmon recipes.
Canned salmon is a pantry staple to keep on hand when you need a quick, cheap, and healthy weeknight meal without all the fuss.
And just below, we have listed everything from delicious (but obligatory) salmon croquettes to Korean bbq stir fry and spicy sushi salmon bake. It's great! We guarantee there are recipes here you've never seen before.
So, get ready to discover this amazing list of 13 canned salmon recipes.
And if you're looking for other canned food recipes, check out our canned spam recipes.
Spicy Salmon Sushi Bake
Sushi Bake! What the heck is that?! Well, this unexpected, fun creation is an intermediary step to homemade sushi (which has a bit of a learning curve). It's a cross between sushi and casserole. And we are totally here for it!
This sushi bake is freestyle, like dips, ice cream sundaes, and other casserole dishes. Once you understand the components, you can adjust the ingredients as you see fit.
However, this version from Danielle of Love From The Kitchen has nori sheets (dried seaweed sheets), canned salmon, sliced cucumbers, and sriracha mayo. We can't wait to try it!
Visit Love From The Table for the recipe.
Citrusy Kale Salmon Salad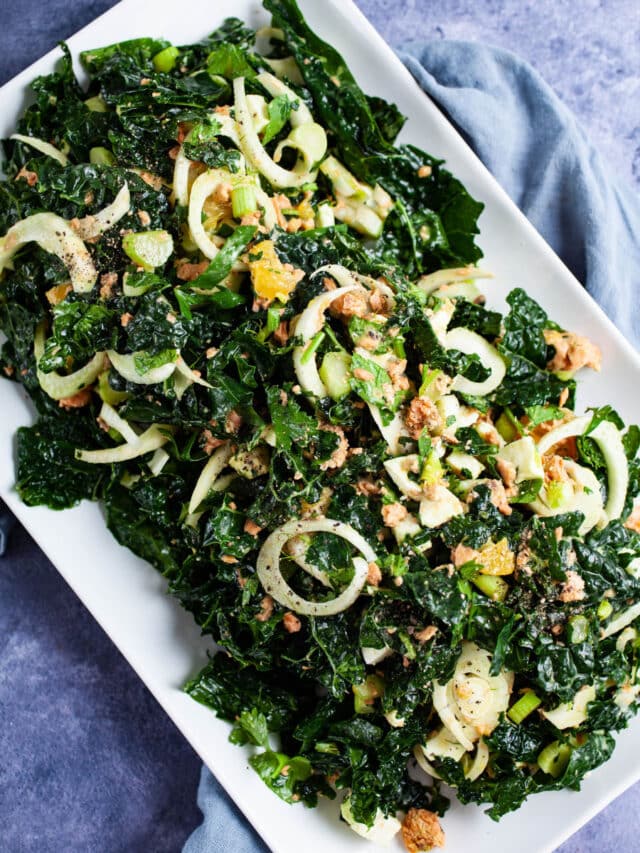 You will feel so good after eating this citrusy kale salmon salad from Mariska of My Chef's Apron. It starts with chopped leafy dark green kale that you lovingly massage with olive oil until tender.
But next, you add the orange slices, fennel, parsley, canned salmon, and mozzarella before drizzling with uber-flavorful lemon, orange, and dijon dressing.
Visit My Chef's Apron for the recipe.
Dill Salmon Mousse
Even show-stopping dishes like this dill salmon mousse from Joss of In The Kitch uses canned salmon. Joss even ups the ante a bit by topping it with black caviar. But as impressive as this mousse is, it takes less than 20 minutes to make and requires a few common ingredients like cream cheese, white wine, lemon, canned salmon, and unflavored gelatin. Serve it with crackers or toast, and your holiday guests may never leave!
Visit In The Kitch for the recipe.
Air Fryer Salmon Patties
For a satisfying meal, all will love, see this salmon patty recipe from Jessica of Fantabulosity. It's tasty, old-school middle-of-the-week dining. Also, it's nutritious, and you can make it even easier with the air fryer.
Seriously, it makes a good case. Mix the ingredients, form the patties, and plop them in the air fryer. Ten minutes later, serve with rice or quinoa, and you've got a supper the whole family will love.
Visit Fantabulosity for the recipe.
Salmon Avocado Salad Sandwich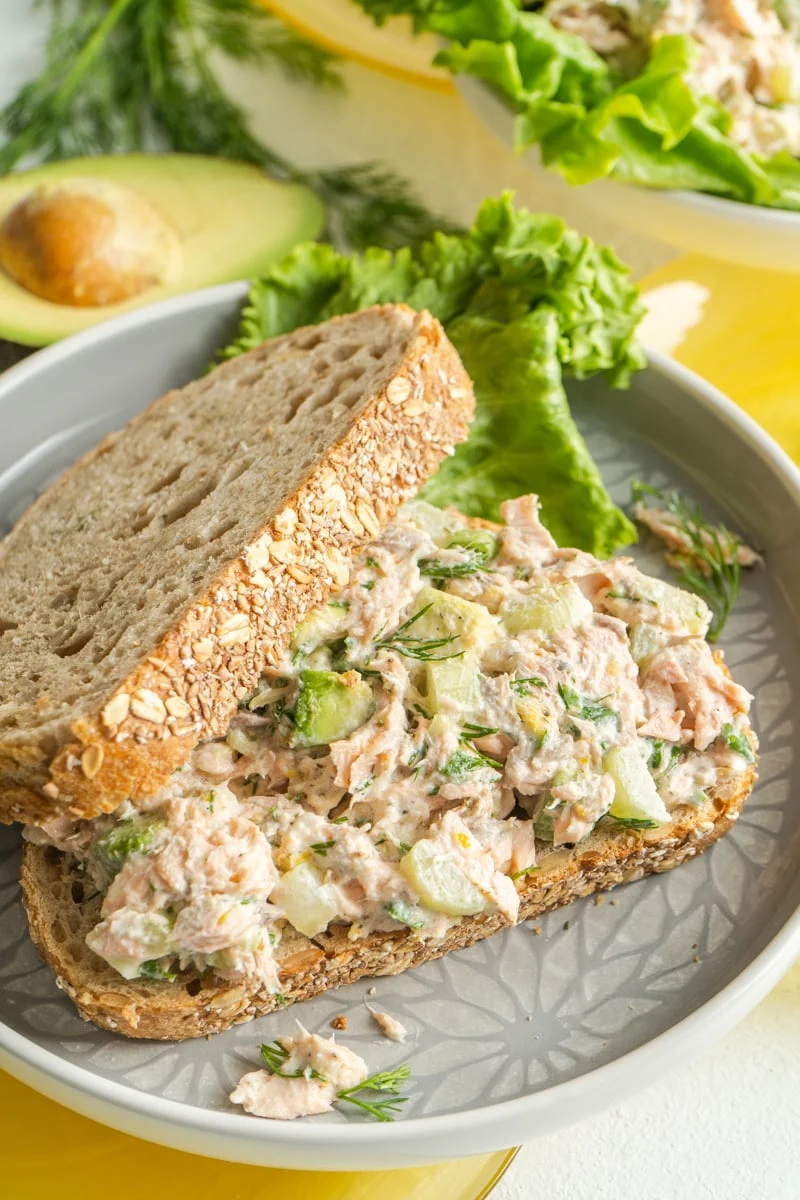 Alisa of The Delicious Spoon recommends baked fresh salmon fillets for this salmon salad sandwich. But you can certainly use the wallet-friendlier canned stuff.
Along with salmon, the delicious sammie features nourishing ingredients like celery, green onion, greek yogurt, and creamy avocado. And dill and lemon juice bring loads of flavor. Serve it between slices of bread, as an open-face sandwich, or as a lettuce wrap, and you've got a healthy lunch to look forward to.
Visit The Delicious Spoon for the recipe.
Korean BBQ Salmon Stir-Fry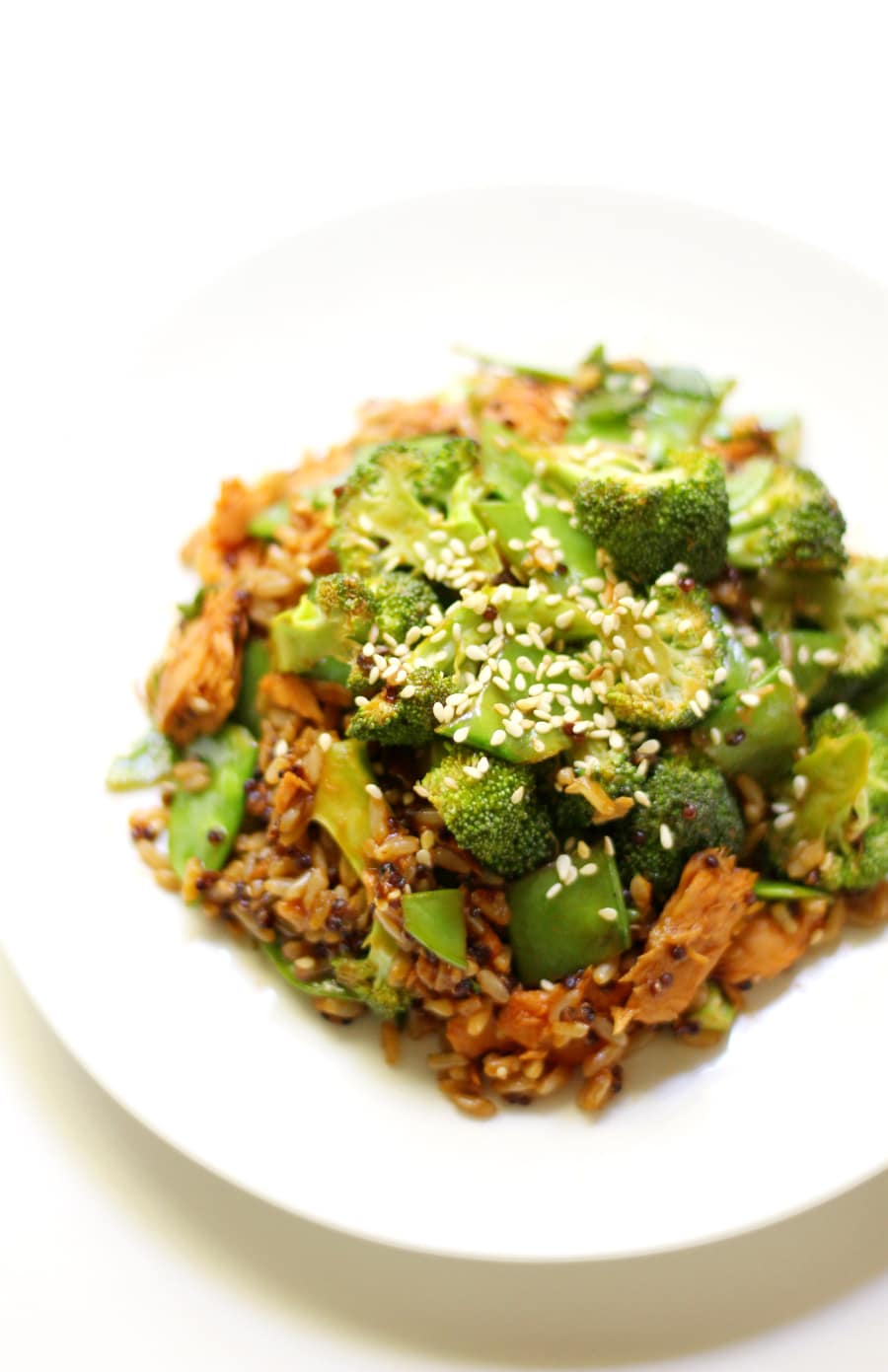 Let's see, with ingredients like brown rice, salmon, broccoli, sesame seeds and oil, minced garlic, this Korean bbq stir fry from Rebecca will bring you Strength & Sunshine.
However, tastiness isn't the only benefit here. Rebecca prudently recommends pouch salmon (you can use canned) and minute rice for a meal that's as delicious as it is quick.
Visit Strength & Sunshine for the recipe.
Canned Salmon Salad
There's something viscerally attractive about foods like this canned salmon salad from Summer Yule. Do you immediately smile? We know the feeling. We believe it's our body's way of saying, yeah, we want that.
Not all food does that for you.
And if you're on a specialized diet, you'll be happy to know it's paleo, keto, grain-free, and dairy-free. But, and this is very important, with a zesty orange salad dressing, it's still a delicious symphony of flavors. Which means you'll want to make it over and over again.
Visit Summer Yule for the recipe.
Pasta Alla Salmone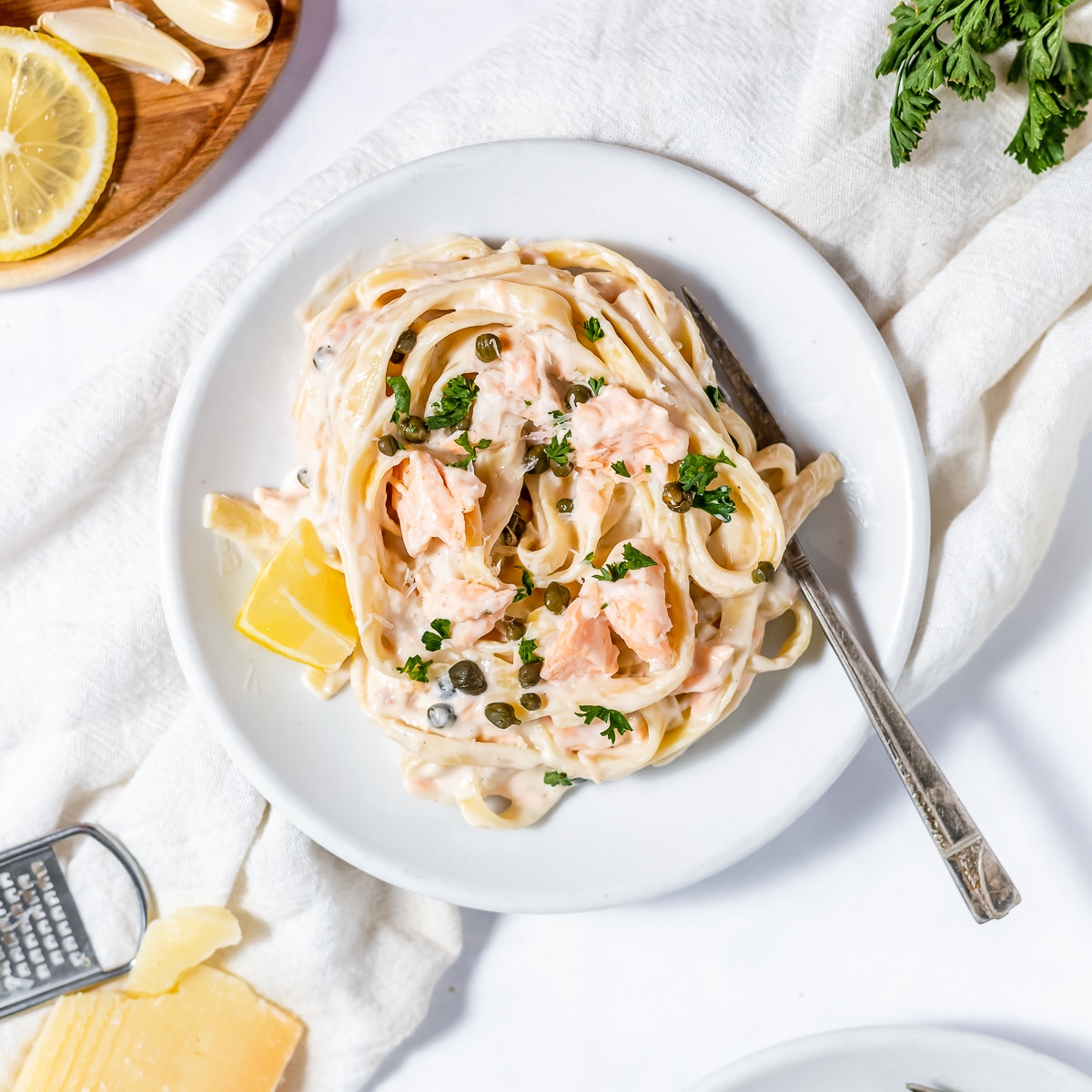 Sabrina Currie provides us with this flavorful pasta alla salmone recipe-a dish inspired by seafood and pasta dishes found on authentic Italian restaurant menus. It's an easy recipe that comes together in less than 30 minutes.
The simple yet luxurious parmesan sauce is so creamy and thick that that it sticks to every strand of pasta. The lemon and caper flavors keep the dish bright and interesting. While using canned salmon keeps the dish inexpensive and quick.
Visit Sabrina Currie for the recipe.
Salmon Chowder with Canned Salmon
With all the deliciousness you come to expect from chowders, this salmon version from Meaghan of The Quicker Kitchen brings all the restaurant-quality flavor but is far less fussy. In addition, it has all the ingredients you expect in a thick chowder, like potatoes, corn, celery, onions, and carrots.
So if you're in the mood for a seafood soup but don't want to spend much cash, this thick and hearty salmon chowder is just the dish for you.
Visit The Quicker Kitchen for the recipe.
Salmon Salad Spread
This herby, super-flavorful spread from Meaghan of 4 Sons R Us is your new favorite alternative to tuna sandwiches. It's just as easy to make and tastes just as great! In every bite, you'll have the flavor of celery, dill, lemon, dijon mustard, and of course, salmon for dipping crackers or spreading on bagels.
Visit 4 Sons R Us for the recipe.
Salmon Crab Cakes
These salmon crab cakes from Jessica of The Forked Spoon become a complete meal when you pair them with rice, a fresh green salad, or a fried egg. It's a fabulous elevated meal for a Sunday brunch, and it'll make mama proud. And best of all, using both canned salmon and canned lump crab meat, this is a meal that looks and tastes like it came from a bistro but at a fraction of the cost.
Visit The Forked Spoon for the recipe.
Sesame Ginger Soba Noodle Bowl with Salmon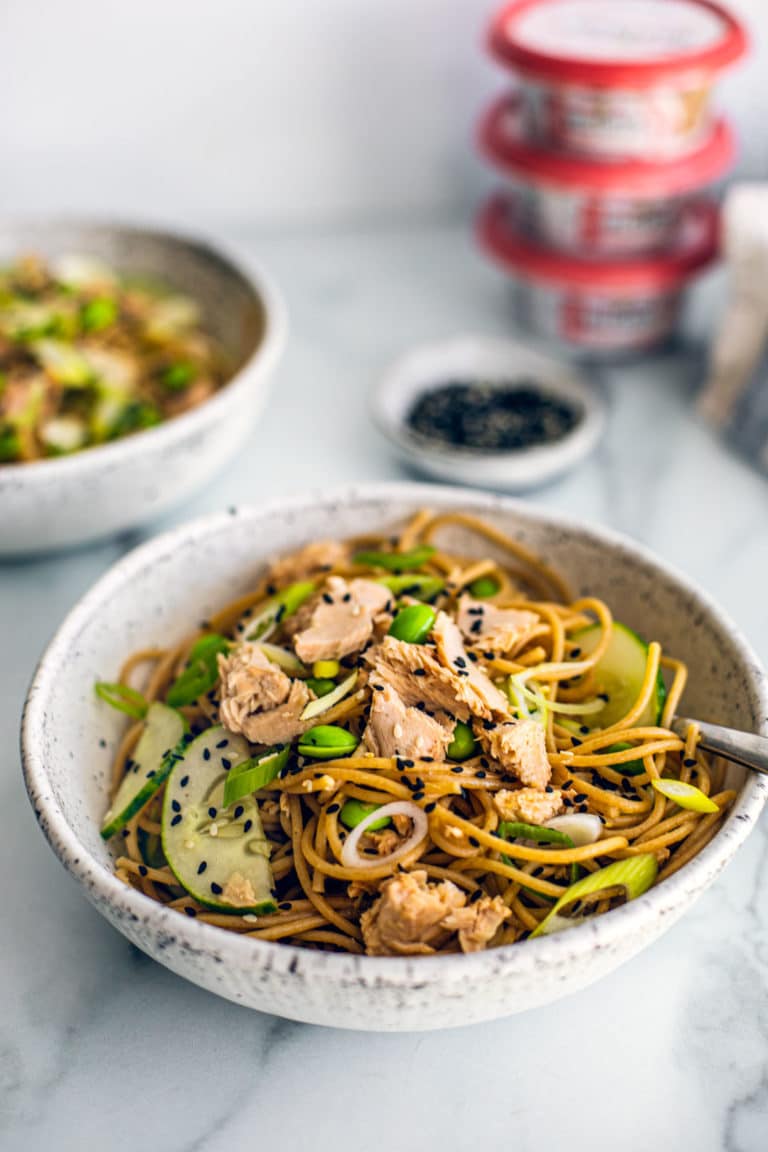 With this quick and flavorful summer meal deal from Dana, she'll have you Killing Thyme. We love it! Edamame, canned salmon, soba noodles, and refreshing cucumbers make it a nutrient-packed powerhouse. And ginger, sesame oil, garlic, and rice vinegar provide bold flavors you won't soon forget.
Visit Killing Thyme for the recipe.
Canned Salmon Impossible Pie
Listen! In just 10 minutes of prep, you can make this quiche-like healthy, wallet-friendly canned salmon impossible pie from Michelle of A Taste For Travel. Along with a lovely recipe, the Canadian travel and food blogger informs us of the origins of such recipes as well as the best type of canned salmon to use, healthwise.
Visit A Taste For Travel for the recipe.
Which Canned Salmon Recipe Will You Try First?
Is it the holiday canned salmon mousse, the salmon crab cakes, Korean bbq salmon stir fry, or something else? Let us know!