Are you ready to discover 20 new and exciting canned tuna recipes made by amazing cooks! Because this list will change how you look at the humble canned tuna.
So, say goodbye to bland tuna sandwiches and casseroles and get ready to welcome delicious, tastebud stimulating, and inspiring tuna creations to your plate.
Here's a preview of what you can look forward to; pasta with tuna carbonara, Mediterranean tuna salad, fried tuna meatballs, and more!
Let's dive in!
Before you go, don't forget to see our canned salmon recipes post!
Tuna Meatballs With Linguine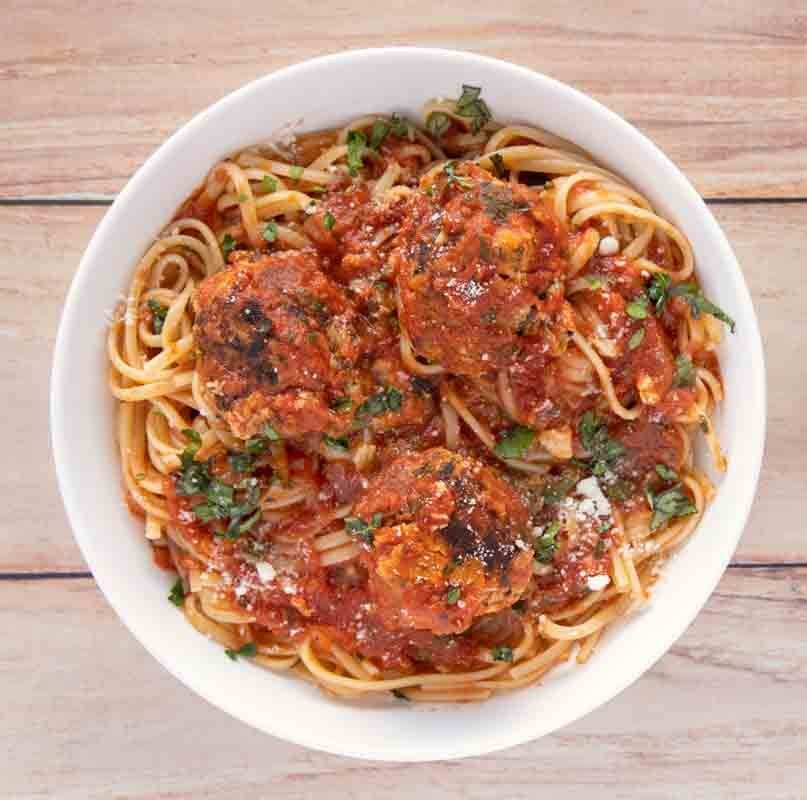 If you Ask Chef Dennis, "how do you make meatballs with all the flavor but none of the guilt?" he'll direct you to his tuna meatballs with linguine. That's right! The 40-year culinary technician shows you how to make this herby, saucy dinner-by-candlelight-worthy cuisine using none other than humble canned tuna.
Visit Ask Chef Dennis for the recipe.
Mexican Tuna Cakes With Jalapeno Cream Sauce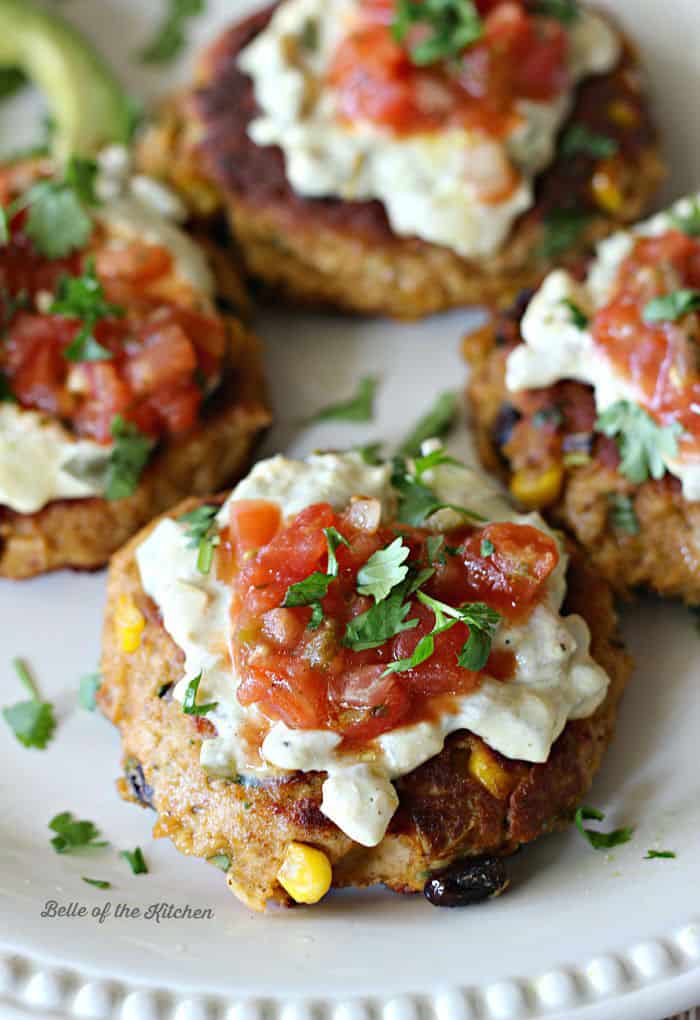 Perhaps you've had tuna or salmon cakes before. But chances are you have yet to try tuna cakes like these from Ashlyn of Belle Of The Kitchen. With beans and corn, they are filling and so flavorful. Cumin, lime juice, and chili powder are just the beginning. There's also a chile, onion, and garlicky cream topping.
Visit Belle Of The Kitchen for the recipe.
Tuna Kimchi Cakes with Soy Ginger Dipping Sauce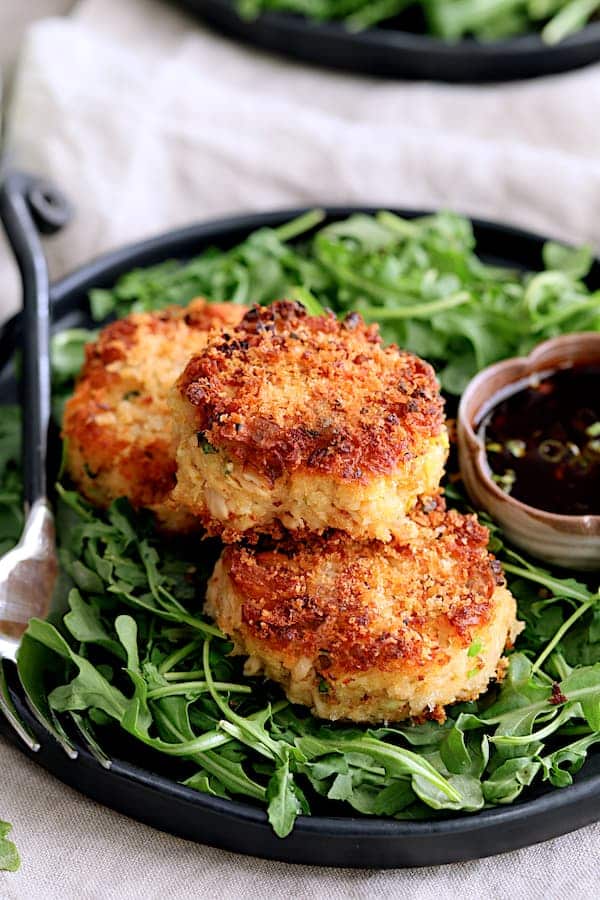 Chef Carol of From A Chef's Kitchen knows you probably have a can or three of tuna in the pantry. And there's a good chance you've got kimchi on hand. So, why not combine them to make these out-of-the-box tuna kimchi cakes? Of course, it doesn't get much more flavorful than the funky (in a great way) fermented cabbage. But the chef does just that, taking it even higher with a delicious ginger and garlic dipping sauce.
Visit From A Chef's Kitchen for the recipe.
Pasta with Tuna Carbonara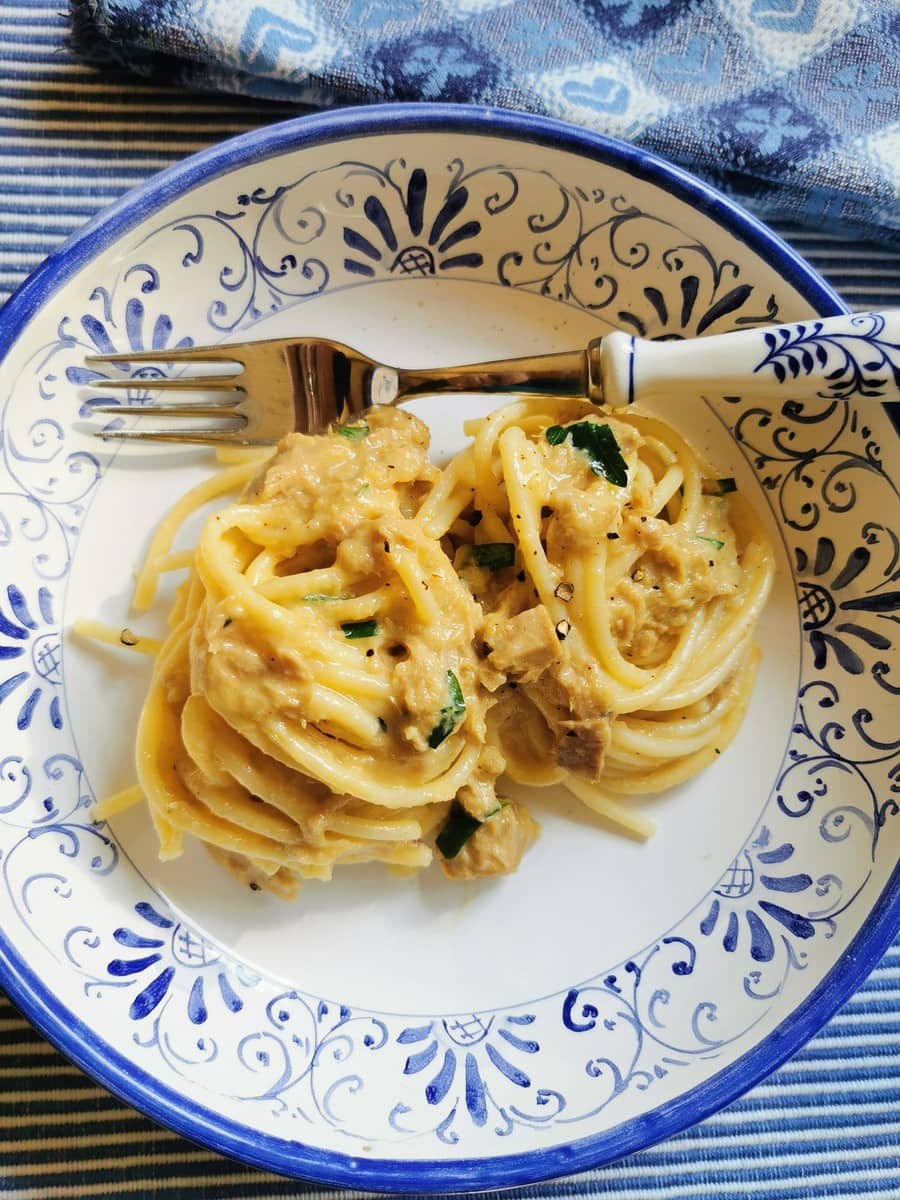 As though written in stone, Italy doesn't endorse cheese paired with fish. So if you ever visit, don't expect to find anything resembling a tuna patty melt on the menu. However, the culinary rule-bending Jacqui of The Pasta Project challenges that notion with this pasta with tuna carbonara. It's an eggy, cheesy, and tuna fish-filled pasta dish sure to become a mainstay on your dinner or lunch menu.
Visit The Pasta Project for the recipe.
Mediterranean Tuna Salad
Don't give up on tuna salad just yet! Instead, you'll be reinvigorated with this mayo-free Mediterranean tuna salad from Nicole of Wonky Wonderful. Like a traditional greek salad, you'll find fresh tomatoes, salty feta cheese, meaty green and kalamata olives, and so much more. And the from-scratch dressing is so easy to make! But the show's star is the protein—tasty, muscle-building canned tuna.
Visit Wonky Wonderful for the recipe.
Tuna Pesto Pasta with Arugula Spinach Pesto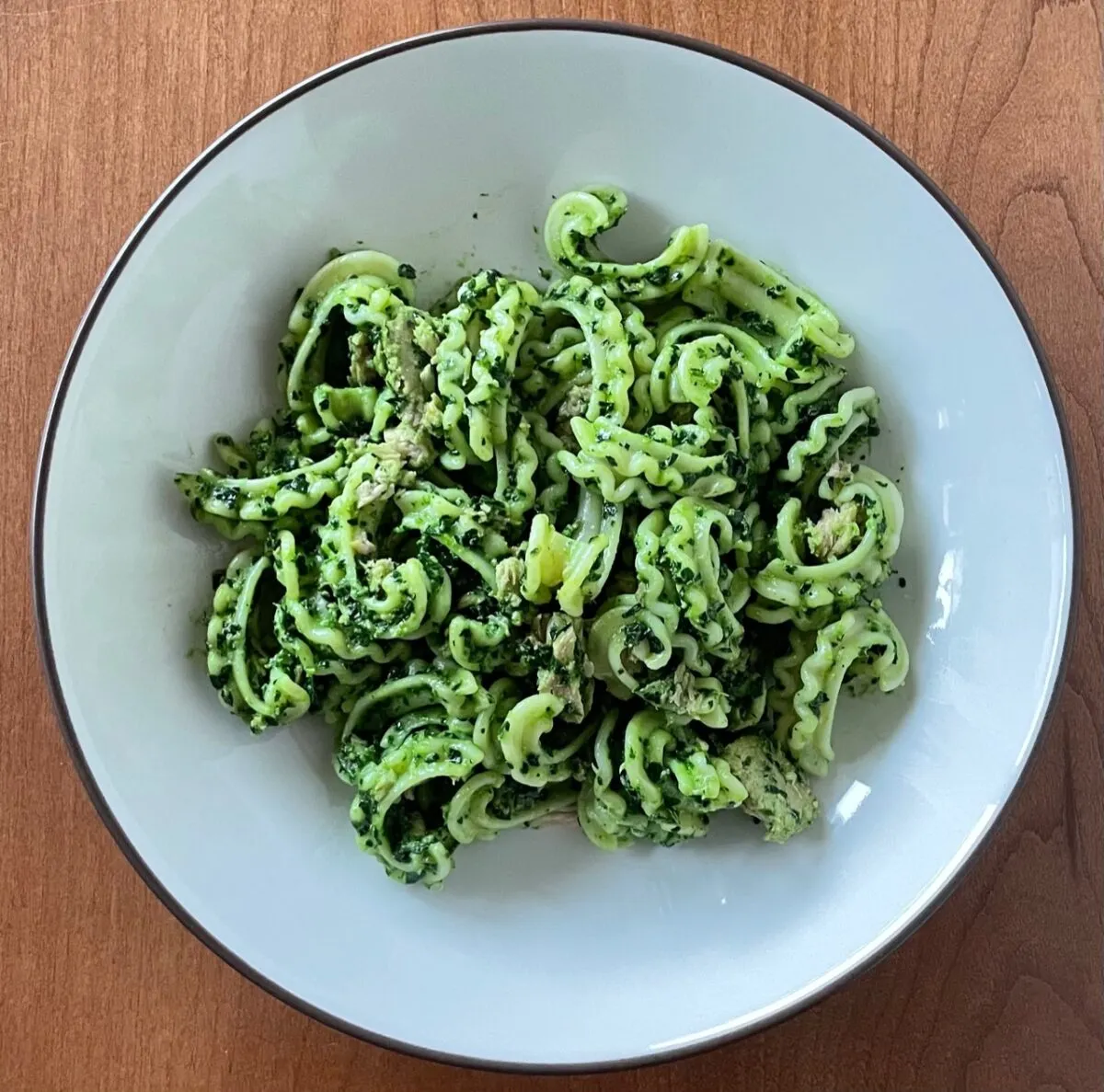 While pesto commonly includes pine nuts, this version from Joanne of Ugly Duckling Bakery uses walnuts instead to balance the arugula-this is but one of the cool tidbits you'll learn from Joanne. You'll love the robust flavors of lemon, parmesan, and garlic; the tuna (preferably canned in oil) and short pasta will keep you full.
Visit Ugly Duckling Bakery for the recipe.
Wasabi Tuna Boats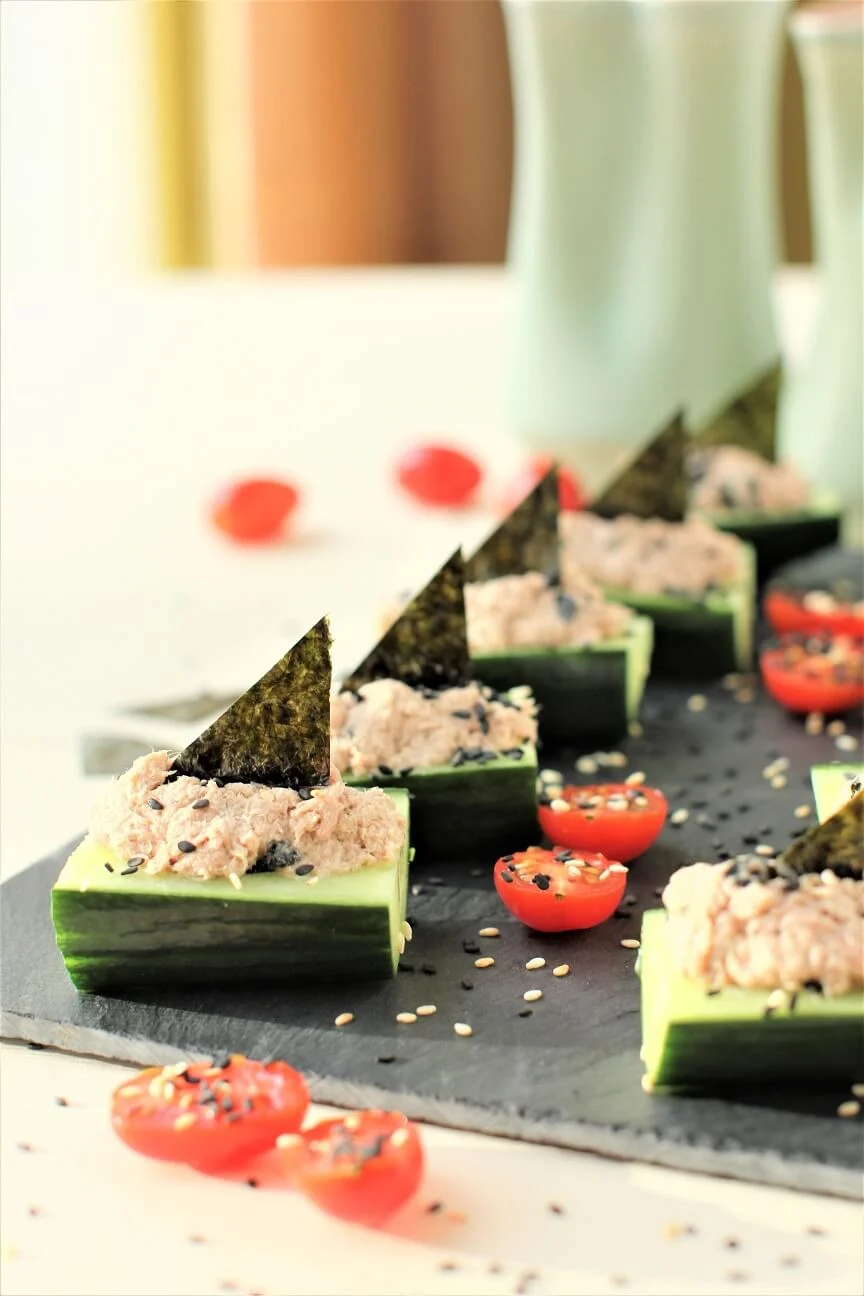 Wasabi tuna boats from Margaret of Kitchen Frau are a fun, fresh, and visually appealing appetizer. The "boats" are cucumber blocks hollowed out and filled with tuna. That tuna is enhanced with minced onions, rice vinegar, and wasabi (among other ingredients), then topped with a seaweed triangle. Now, that's a brilliant way to celebrate or eat lunch!
Visit Kitchen Frau for the recipe.
Creamy Avocado Tuna Melt Quesadillas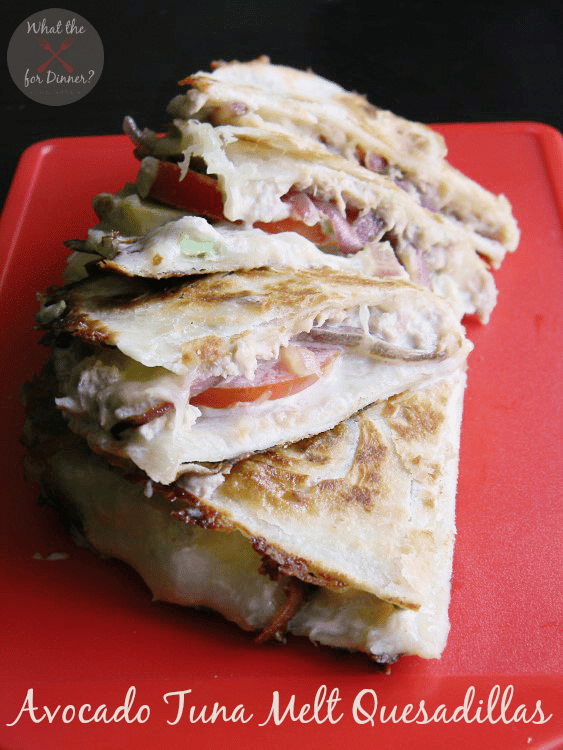 Adults and kids alike love quesadillas. So these tuna melt quesadillas from Jaime of Mom's Test Kitchen will certainly induce smiles at lunch and dinner. Each little triangle is filled with dressed-up canned tuna, tomatoes, creamy avocado, red onions, and cheese between buttery tortillas. What's not to love?
Visit Mom's Test Kitchen for the recipe.
Spanish Tuna Salad With Avocado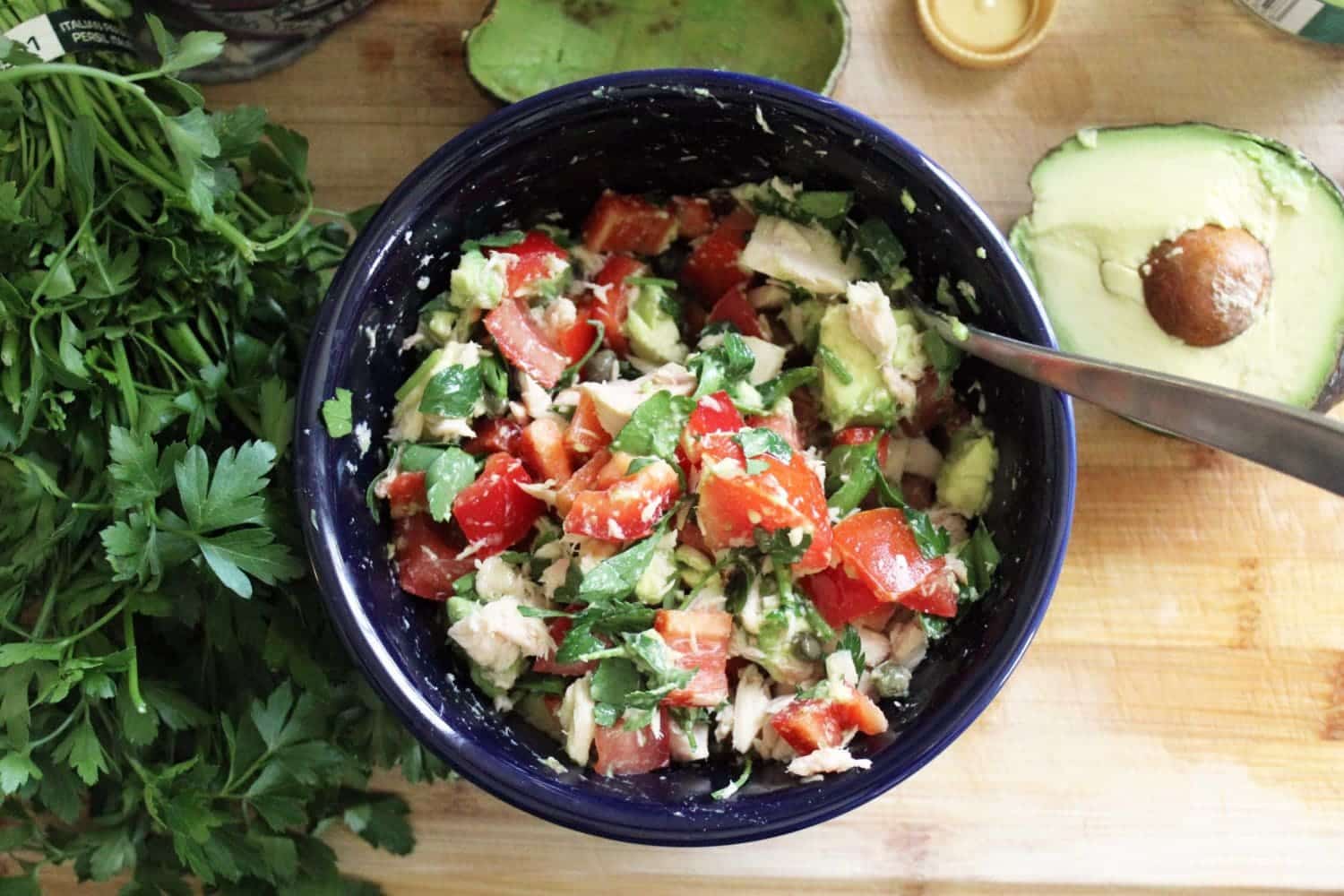 Lindsay of My Therapists Cooks shows you how to make this Spanish tuna salad delicious and creamy without any mayo-this is made possible thanks to naturally creamy avocado. Now, this is a simple little recipe. After all, there are only seven ingredients (not including salt and pepper), but with capers, sherry cooking wine, and parsley, there is more than enough flavor to keep 'em coming back for more.
Visit My Therapist Cooks for the recipe.
Tuna Tostadas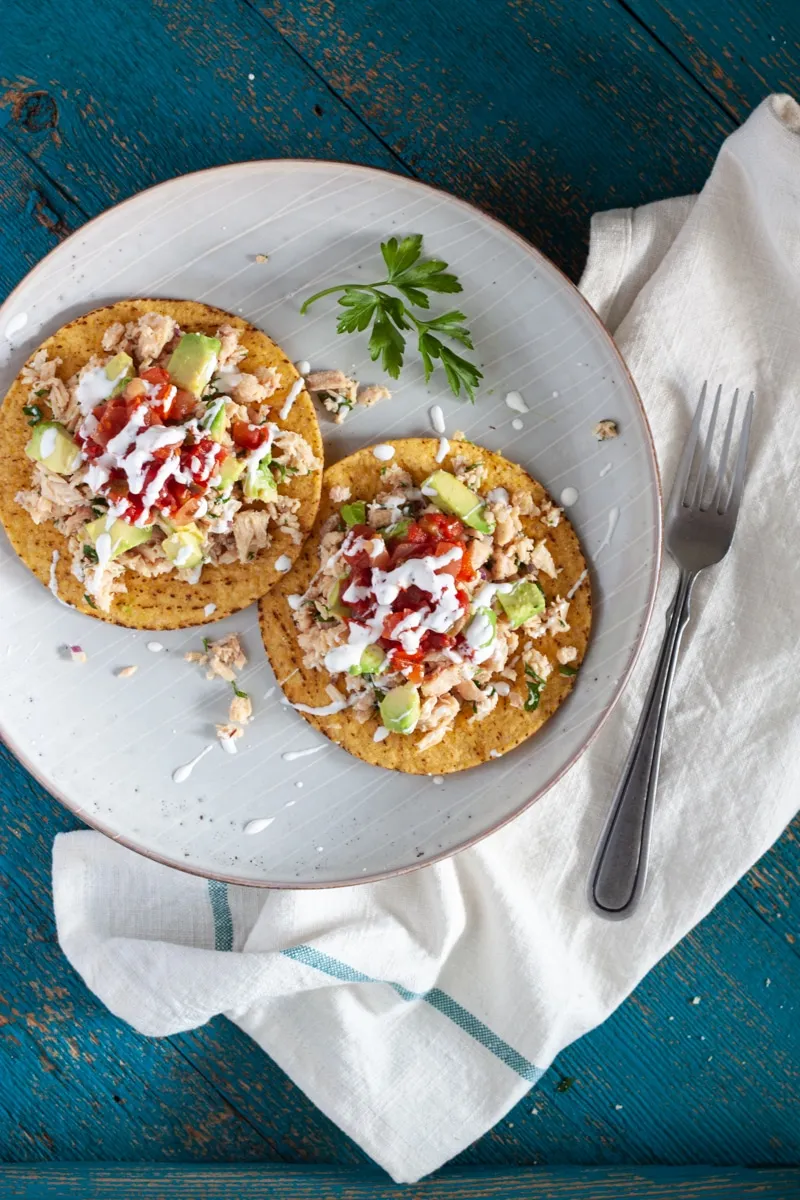 Ah yes, the tostada, forever shadowed by the omnipresent taco, but just as tasty if a little harder to eat. This one from Tino of Mid Wexican starts with a toasted tortilla, then piled high with tuna (Tino gives a specific recommendation), bursting with the flavors of herbs, lime juice, and red onion. On top of that, there's salsa and optionally crema.
Visit Mid Wexican for the recipe.
Tuna Mayo Deopbap (Korean Tuna Rice Bowl)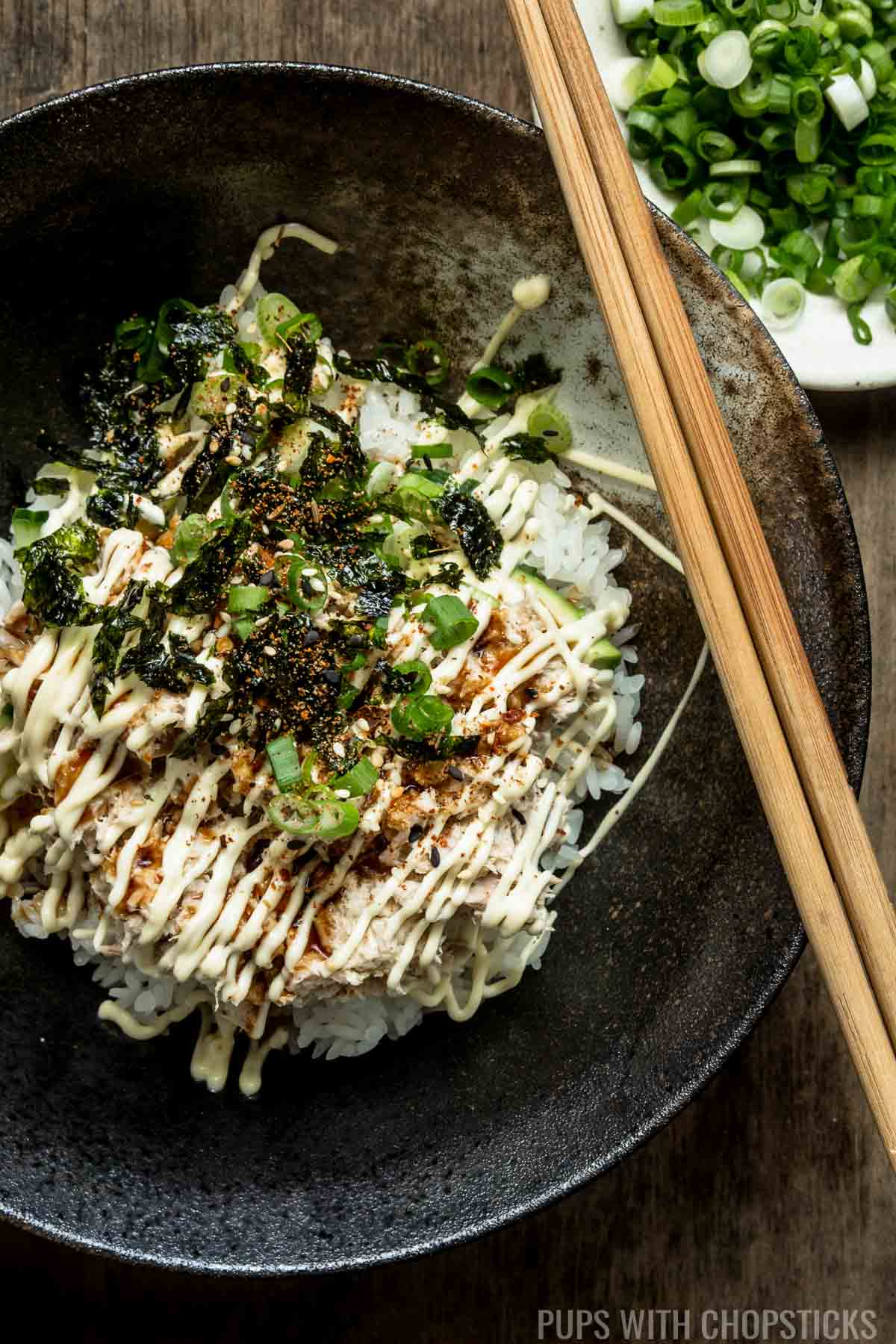 If you aren't drooling at the sight of this Korean tuna rice bowl from Joyce of Pups With Chopsticks, then we can't be friends! This loaded bowl is layered with flavors sure to inspire, including canned tuna, avocado, seaweed, and Japanese mayo. But that's just the beginning. The best part of this dream lunch is that there isn't much time commitment.
Visit Pups With Chopsticks for the recipe.
Venetian Cicchetti Meatballs
These canned tuna Venetian Cicchetti meatballs from Jeff of Zous Chef are pure perfection when paired with a nice glass of Italian white wine. Because, as Jeff puts it, they are the bar snack version of full-sized meatballs. The indulgent little nibbles are moist, tender, and pan-fried until golden brown.
Visit Zous Chef for the recipe.
Buffalo Tuna Salad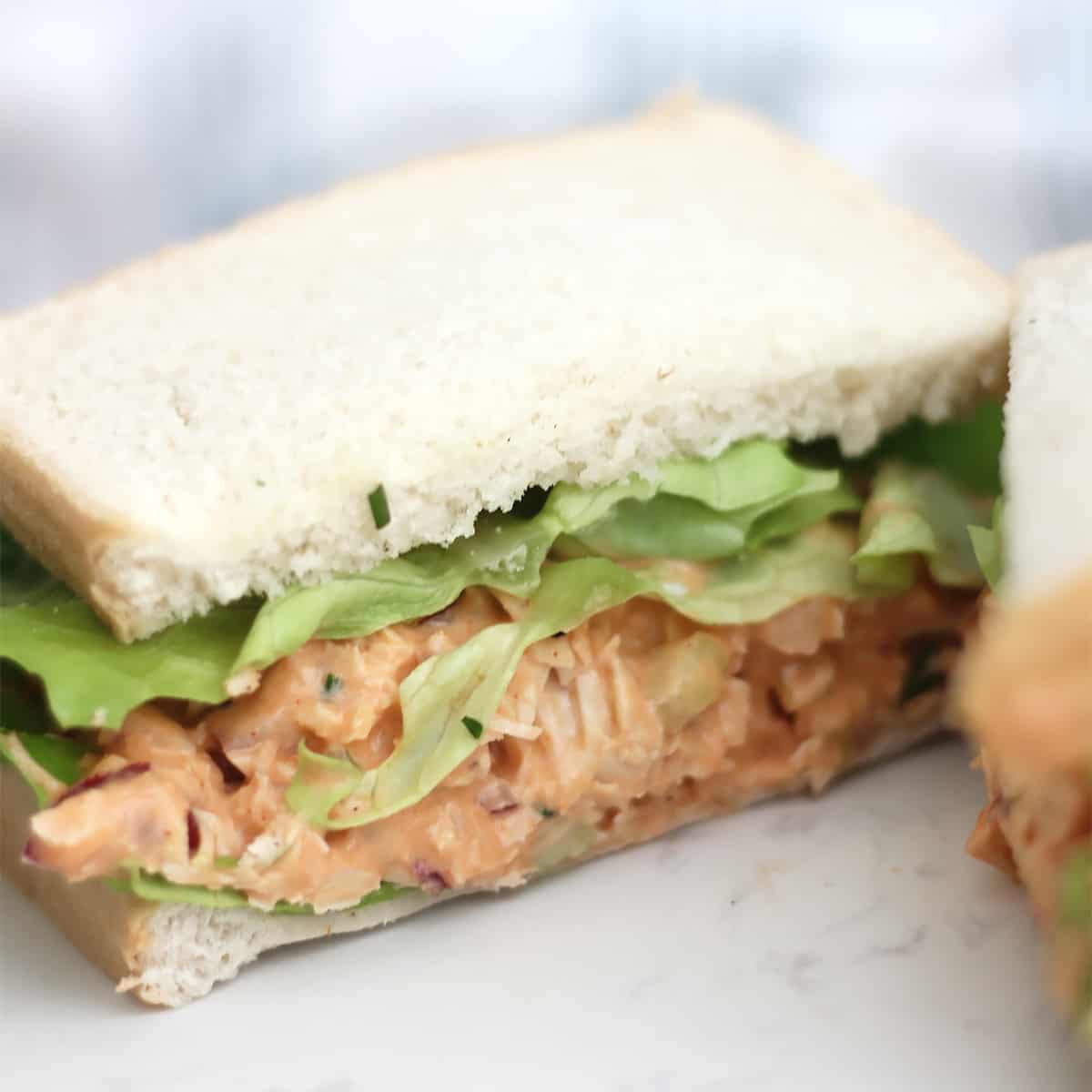 By now, every kind of food has been Buffalo'd, but admittedly, this Buffalo tuna salad from Slow The Cook Down escaped our radar. It's an easy six-ingredient recipe, including ranch, buffalo sauce, and canned tuna. It makes for a tasty dip or sandwich—what a great way to switch up your tuna lunch.
Visit Slow The Cook Down for the recipe.
Tuna Onigiri
The team at Takes Two Eggs specializes in simple, accessible Asian fusion recipes. It is a fun food blog you will repeatedly visit because you'll discover novel and delicious recipes like these eye-catching Tuna onigiri.
We'll give you a brief description—seasoned rice is filled with a delicious tuna and Japanese mayo mixture. Next are your optional toppings; crispy seaweed, toasted sesame seeds, and furikake seasoning.
Don't worry. We'll forgive you if you leave right now to check it out.
Visit Takes Two Eggs for the recipe.
Open Faced Tuna Melt with Bacon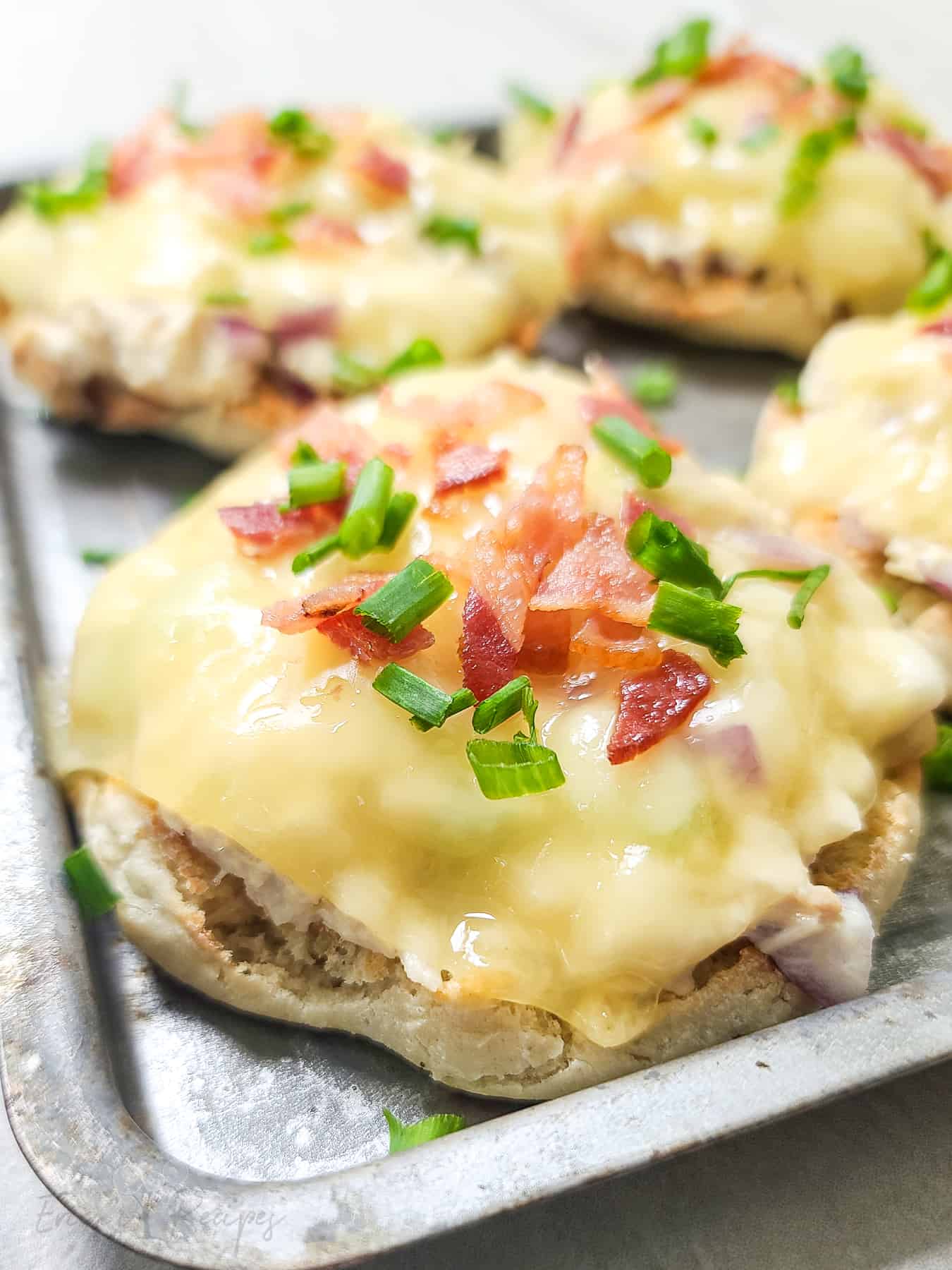 Remember those boring tuna sandwiches you ate for lunch as a kid? Well, this open-faced tuna sandwich from Erica's Recipes isn't that. Because as Erica says, tuna salad "should not just be tuna and mayonnaise on bread." Instead, she presents a tuna salad with red onion, celery, mayo, and a special ingredient for your consideration. It's served on an English muffin and adorned with bacon, swiss cheese, and chives.
Visit Erica's Recipes for the recipe.
Tuna Ragu With Bucatini
This tuna ragu with bucatini pasta from Mangia With Michele is aromatic, splendid dining right in your home. It's full of rich flavors from anchovies, herbs, and white wine. So, you might expect to find it at your local Italian restaurant. But because it consists primarily of canned tomatoes and tuna, it's a surprisingly inexpensive meal made with pantry staples.
Visit Mangia With Michele for the recipe.
Greek Tuna Salad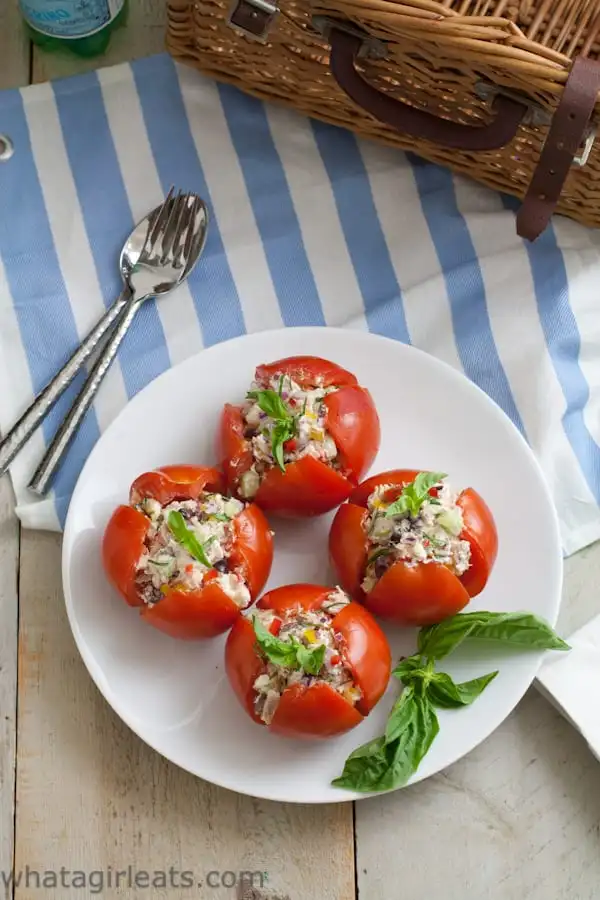 We like this greek tuna salad from Cynthia of What A Girl Eats because it's super flavorful and cute, served in a tomato. We eat with our eyes first, so we should make pretty things to eat. The recipe includes canned tuna, sliced kalamata olives, feta, and fresh basil, amongst other ingredients. Plus, it's quick, healthy, and has just ten ingredients.
Visit What A Girl Eats for the recipe.
Tuna Thai Red Curry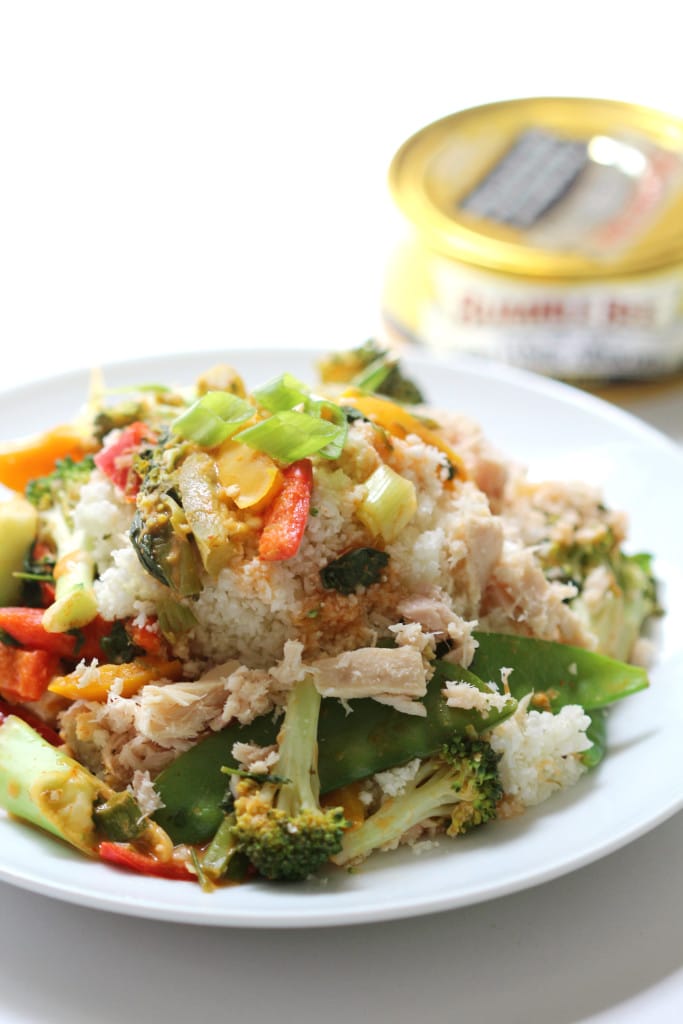 This tuna Thai red curry recipe from Rebecca of Strength And Sunshine is a beautiful combination of hearty vegetables, protein, and oodles of flavor. Your tastebuds will be excited by the ginger, coconut, basil, garlic, and lime-flavored curry. Rebecca serves it over gluten-free cauliflower rice, but there are no laws against rice or quinoa if that suits your diet better.
Visit Strength And Sunshine for the recipe.
Tuna Fried Rice
When you get in late, and the last thing you want to do is cook or eat out, this quick tuna fried rice recipe from Emily of The Rice Chick is right up your alley. It's a tasty, simple, nutritious meal with tuna, leftover rice, peas, green onions, and eggs. You season it with garlic, onion, and soy sauce. Your family will love it!
Visit The Rice Chick for the recipe.
Tuna Pate Recipe
Are you looking for a quick appetizer to feed unexpected guests or hungry kids? Put this canned tuna pate from Michelle of My Morning Mocha on your lineup. It's a simple, delicious 10-minute, four-ingredient nibble that you can whip up on the fly. Serve it with crackers, and you won't have any left.
Visit My Morning Mocha for the recipe.
Which Canned Tuna Recipe Are You Looking Forward To Making?
Is it the tuna meatball linguine, the tuna Thai red curry, tuna tostadas or something else? Let us know!
And if you like this canned fish recipe, check out our canned salmon recipes post.