We know you love chicken wings because, well, have you ever met someone who didn't? It's just a matter of which you can get your hands on first! So, with these chicken wing recipes below, you will surely find your new favorite game-day food.
You'll find baked, air-fried, slow-cooked, smoked, and fried varieties.
There's our favorite; Korean fried chicken wings. But there are also lemon pepper, garlic parmesan, butter, blackened wings, and so many more!
So, if you're not hungry yet, you will be soon.
Enjoy!
Korean Fried Chicken Wings
Korean chicken wings are something to behold. Let's just say if there were a chicken wing royal court, they would have a case for king or queen. So, we had to include this double-fried chicken wings recipe on the list.
After marinating in garlic, ginger, and mirin (Japanese cooking wine) for an hour or so, they get a dunk in an oil bath at a lowish temp. Then you crank up the heat to get the wings extra crispy. But wait, there are sauces! One sweet and tangy, the other sweet and spicy. Both otherworldly!
Now, we love our chicken wings baked, slow-cooked, or air-fried, but deep-fried breaded chicken wings are our absolute favorite, by far!
Visit Drive Me Hungry for the recipe.
Lemon Pepper Chicken Wings Air Fryer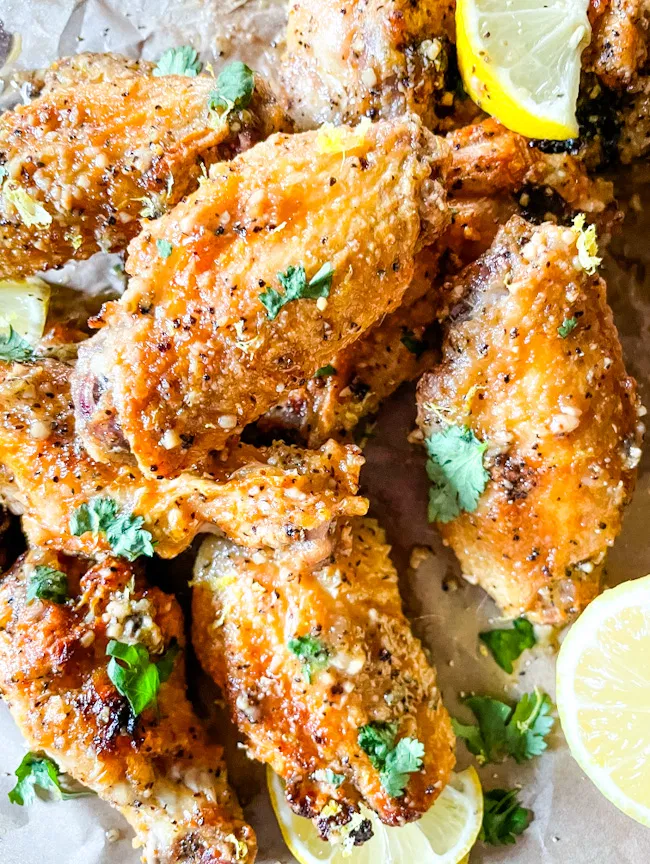 Kim of Three Olives Branch shares her secrets to getting the crispiest chicken wings without using a deep fryer. Instead, you use the air fryer to make these lemon pepper-doused wing dings. Just be sure to serve with plenty of ranch for dipping.
Visit Three Olives Branch for the recipe.
Vietnamese Fish Sauce Chicken Wings (Fried)
Jessica of Balance With Jess dredges her Vietnamese chicken wings in a blend of cornstarch and flour. Then fries them until perfectly crispy, golden brown, and mouthwateringly juicy on the inside.
But frying is just the first step. Next, douse those wings in a heavenly sauce—a splendid mixture of fish sauce, shallots, garlic, and sugar. So, they get our vote whether you make them for a party or a weekend meal!
Visit Balance With Jess for the recipe.
Sticky Teriyaki Chicken Wings
Jamie of Drive Me Hungry knows how to bake a really crispy chicken wing. The technique is an open secret at this point, however. But that sauce! Oh me, oh my, that teriyaki sauce with soy sauce and mirin (and other ingredients) combine to make something worth writing home about. Mmmm!
Visit Drive Me Hungry for the recipe.
Air Fryer Garlic Parmesan Wings
No matter how large the batch, these air fryer garlic parmesan wings from Deanna of The Busted Oven will go, and go, until they're gone. Imagine crispy, buttery, garlicky chicken wings coated in parmesan cheese. And then there's the dipping sauce. Try a creamy garlic dip or everyone's favorite; ranch.
Visit The Busted Oven for the recipe.
Brined Chicken Wings
This chicken wing brine recipe from Aubrey's Kitchen isn't for the chicken wings but rather the brine itself. It's a uniquely savory, sweet, and salty concoction that captivates all your tastebuds.
And while we're usually all about the sauce for our chicken wings, Aubrey's recipe is so good you won't need any.
Visit Aubrey's Kitchen for the recipe.
Crispy Smoked Chicken Wings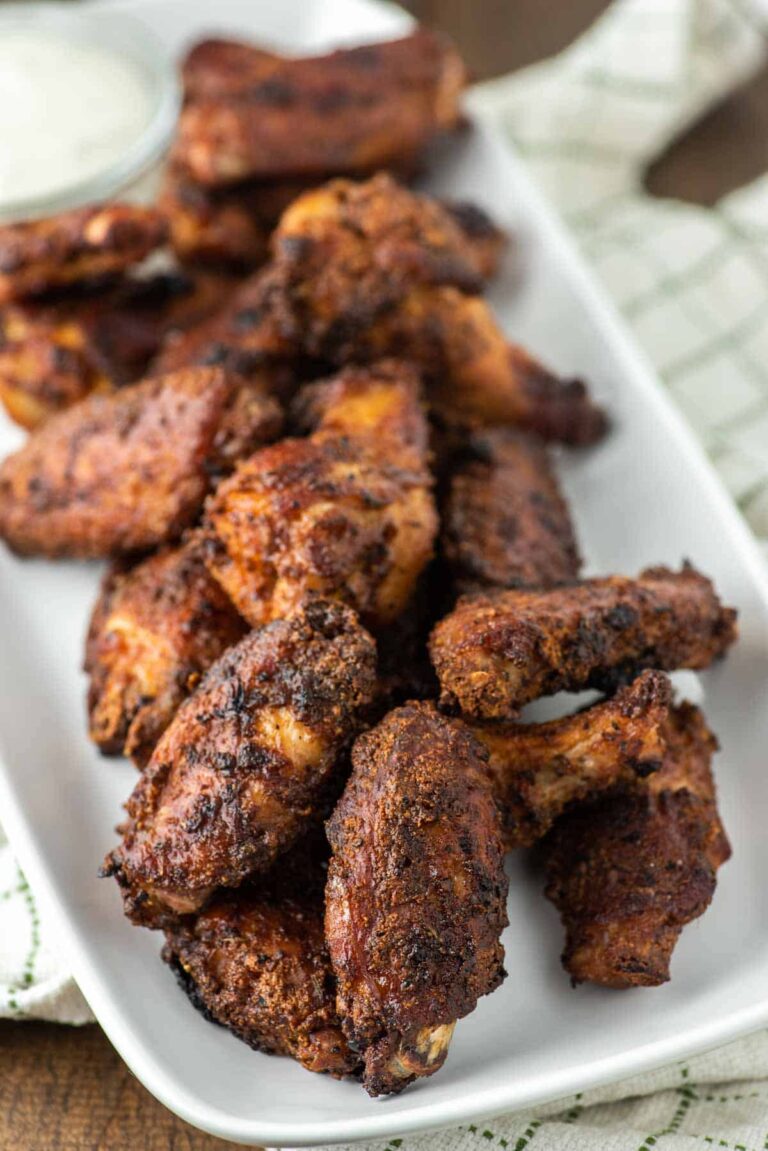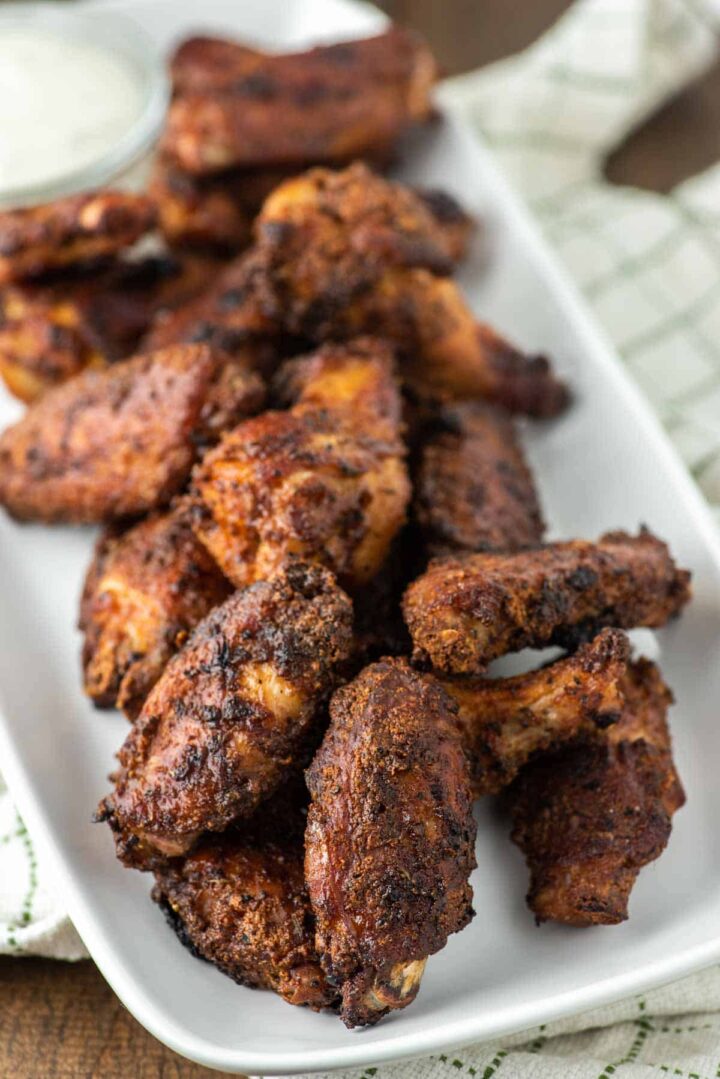 Ryan of Chisel And Fork is your guy whether you need a DIY farmhouse desk tutorial or incredible crispy smoked chicken wings.
First, coat the chicken in a seductive mix of herbs and spices, including thyme, cayenne, smoked paprika, onion, and garlic powder.
Then smoke them for an hour per his expert instructions for smoke-kissed deliciousness.
Visit Chisel And Fork for the recipe.
Crispy Baked Asian Chicken Wings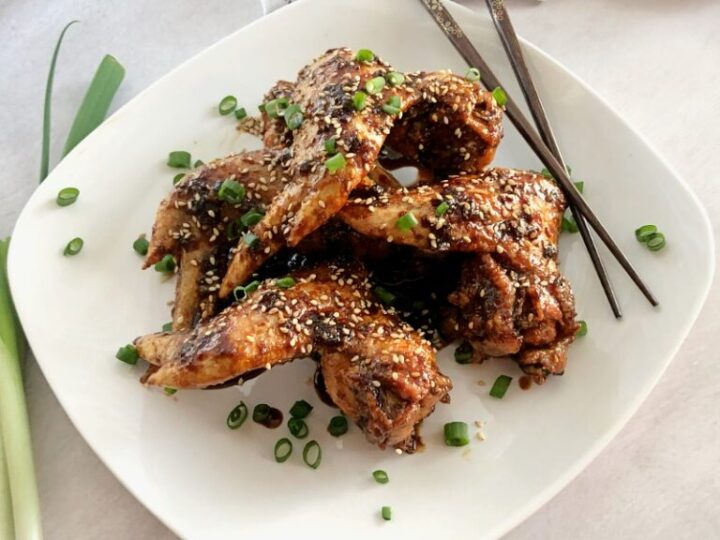 Forget the napkins. Your fingers will get messy with these crispy baked Asian chicken wings from Emily Fabulous. While Emily loves fried foods, cooking them at home leaves a lot to be desired, like the oil's mess, smell, and cost.
So, for this recipe, she eliminates those issues. Instead, you get crunchy wings covered in a sweet, salty sticky sauce. And the sesame seeds add an extra layer of nuttiness.
Visit Emily Fabulous for the recipe.
Honey Sriracha Chicken Wings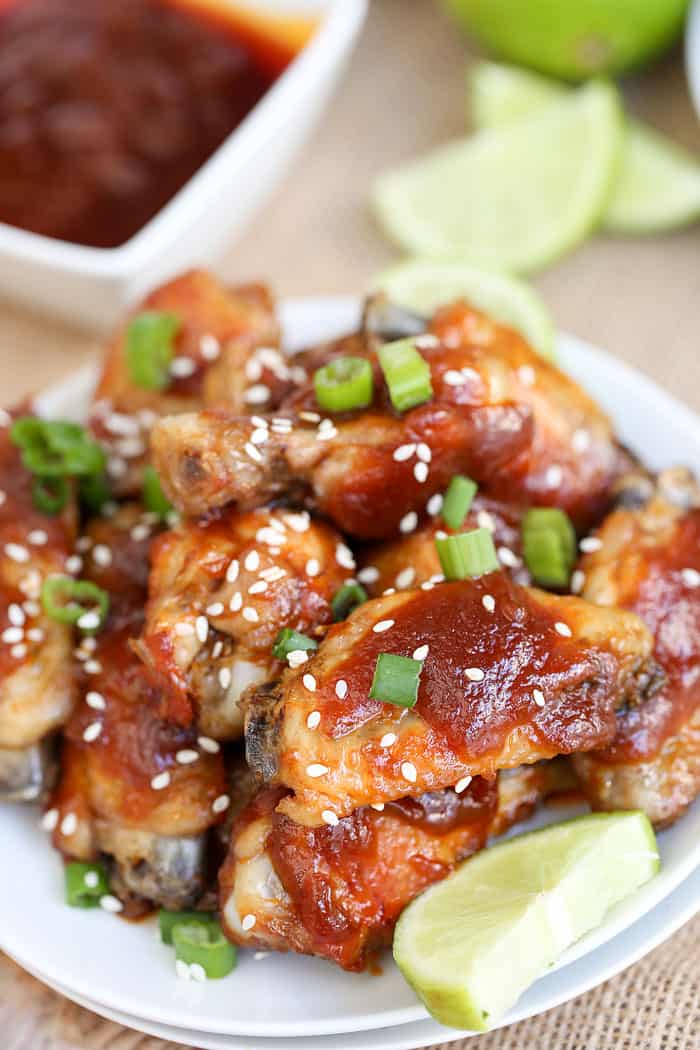 If you're looking for a game-day wing that hits all the flavor spots, these honey sriracha chicken wings from Tammi of My Organized Chaos are what you need. This flavorful recipe isn't just sweet heat, though. They're also buttery with a hit of soy sauce and lime juice.
Visit My Organized Chaos for the recipe.
Bacon Wrapped Chicken Wings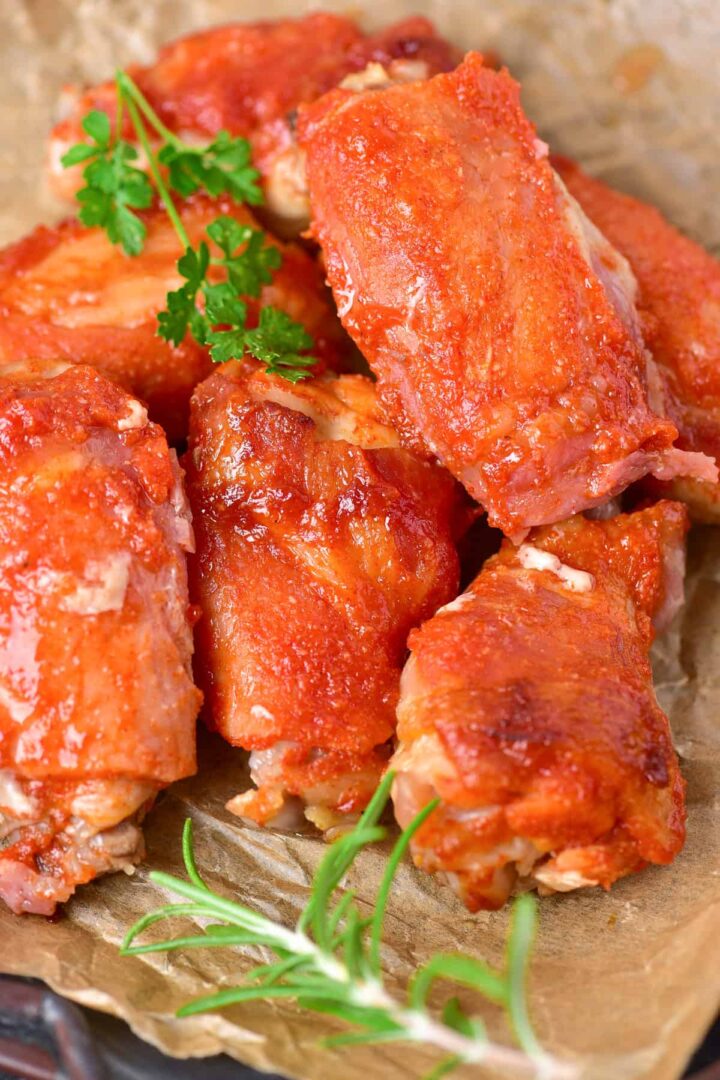 Just when you thought you'd seen chicken wings every which way, Kate of You Say Potatoes went and discovered bacon-wrapped chicken wings. And we all know bacon makes everything better! You'll learn how to wrap and cook these wings in the oven or air fryer. Then dip them in a fantastic maple bbq sauce.
Visit You Say Potatoes for the recipe.
Cranberry Pomegranate Sticky Chicken Wings
For Marlynn of Urban Bliss Life, the fall is all about holidays and tailgating entertaining. So, these chicken wings with sticky cranberry and pomegranate sauce are a natural choice. We like that the wings are dredged in flour, then baked until they're slightly crispy. Next, drench them in the sauce and enjoy.
Visit Urban Bliss Life for the recipe.
Everything Bagel Chicken Wings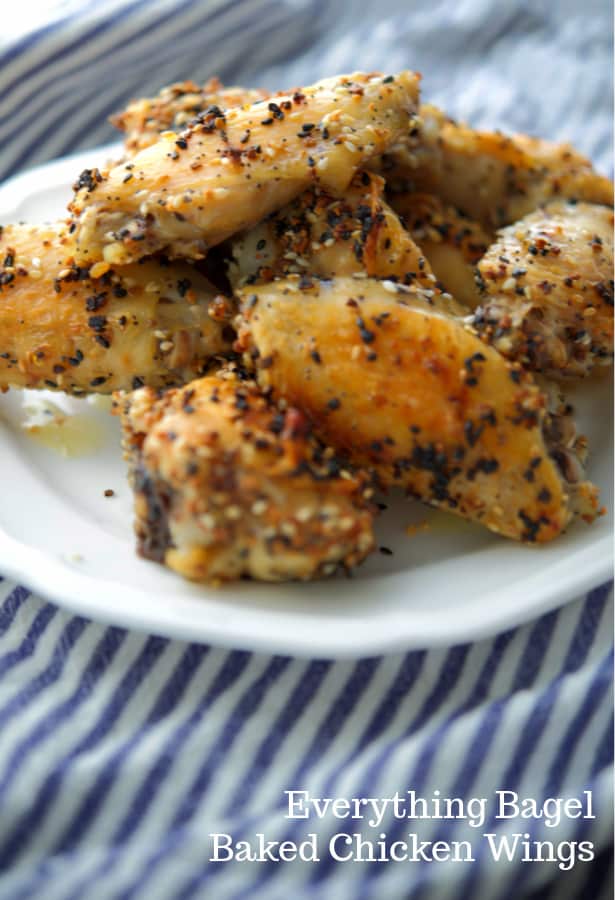 Full of sesame, poppy seeds, dried onion, garlic, and more, everything seasoning is delicious on bagels. And now, Carrie's Experimental Kitchen introduces you to a new way of using the delicious seasoning mix with this simple three-ingredient everything bagel chicken wings recipe.
Visit Carrie's Experimental Kitchen for the recipe.
Crispy Fish Sauce Chicken Wings
Zhen of Greedy Girl Gourmet brings us these mouthwatering, crispy fish sauce wings inspired by the defunct but critically acclaimed Pok Pok Thai restaurants.
Zhen's advice ensures wings are baked to crispy perfection so they don't stick to the rack. And with ingredients like sugar, soy sauce, fish sauce, and sambal belacan chilies, you know the sauce is sticky and full of flavor.
Visit Greedy Girl Gourmet for the recipe.
Honey Lemon Pepper Wings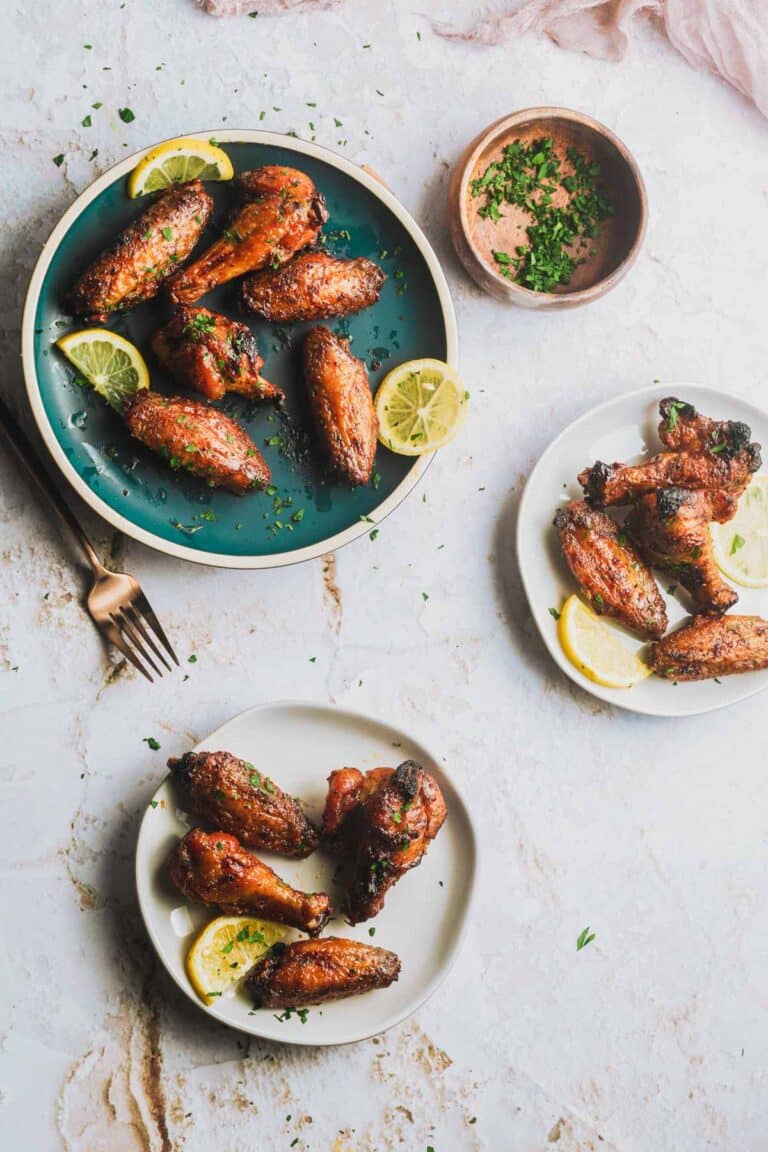 If you thought you knew which wings recipe to make for your big game day bash, well, you can thank Eden of Sweet Tea And Thyme for ruining those plans in the best way.
Her offering is sweet, spicy, lemony, herby, and garlicky, all wrapped up in bite after tasty bite. Eden also provides the origin story of the ubiquitous lemon pepper flavoring as well as her inspiration for her delicious creation.
Visit Sweet Tea And Thyme for the recipe.
Crockpot Chicken Wings
Slow cooker recipes like these crockpot chicken wings from Liz and Tyler of The Clean Eating Couple are the ultimate in hands-off cooking. But the twist here is, when they're nearly done, you finish them in the oven for crispier skin. Then cover them in original buffalo sauce. Finally, serve with bleu cheese dressing or ranch, and let the snacking commence.
Visit The Clean Eating Couple for the recipe.
Crispy Honey Garlic Chicken Wings
You won't need to bread or deep fry these crispy honey garlic chicken wings from Cheryl of Two Kooks In The Kitchen. Nope! She proudly uses the Cooks Illustrated method, which involves baking the wings at a lower temp, then a higher one until the skin is crispy and "can't eat just one" irresistible. Oh, then there's the sauce which is savory, sweet, and so good.
Visit Two Kooks In The Kitchen for the recipe.
Tequila Lime Wings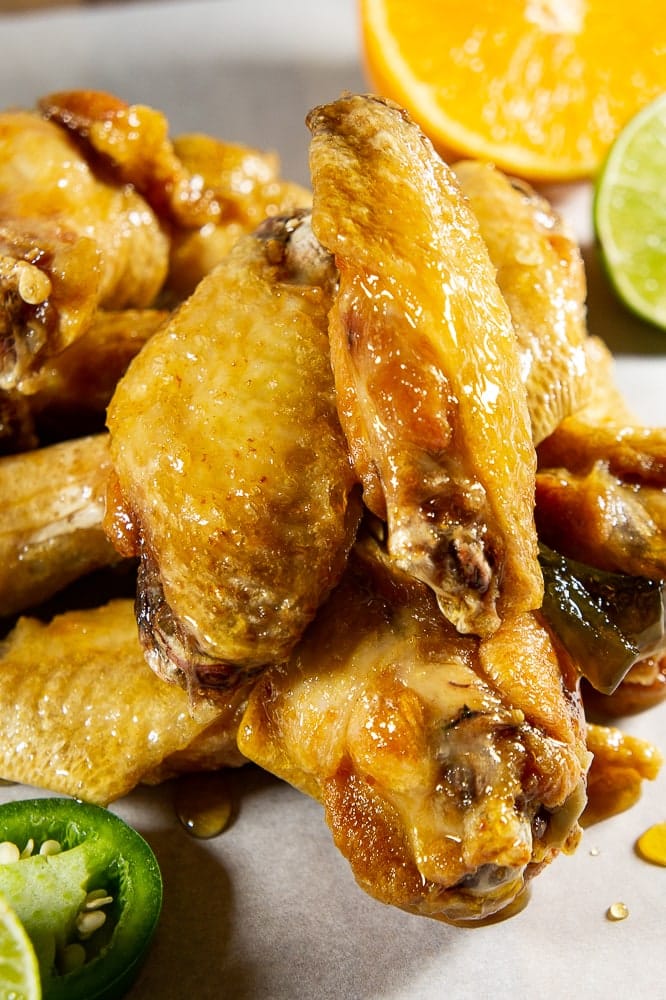 Also known as margarita wings, these fun drunken wings from The Flour Handprint are a perfect party trick sure to please your guests. And get this, while many of the wings here are baked or slow-cooked, these get a hot oil bath. That's right. They're naked deep fried before getting slathered in a tangy and sweet elixir of tequila, orange juice, lime juice, and honey. Mmmm!
Visit The Flour Handprint for the recipe.
Crispy Salt and Pepper Chicken Wings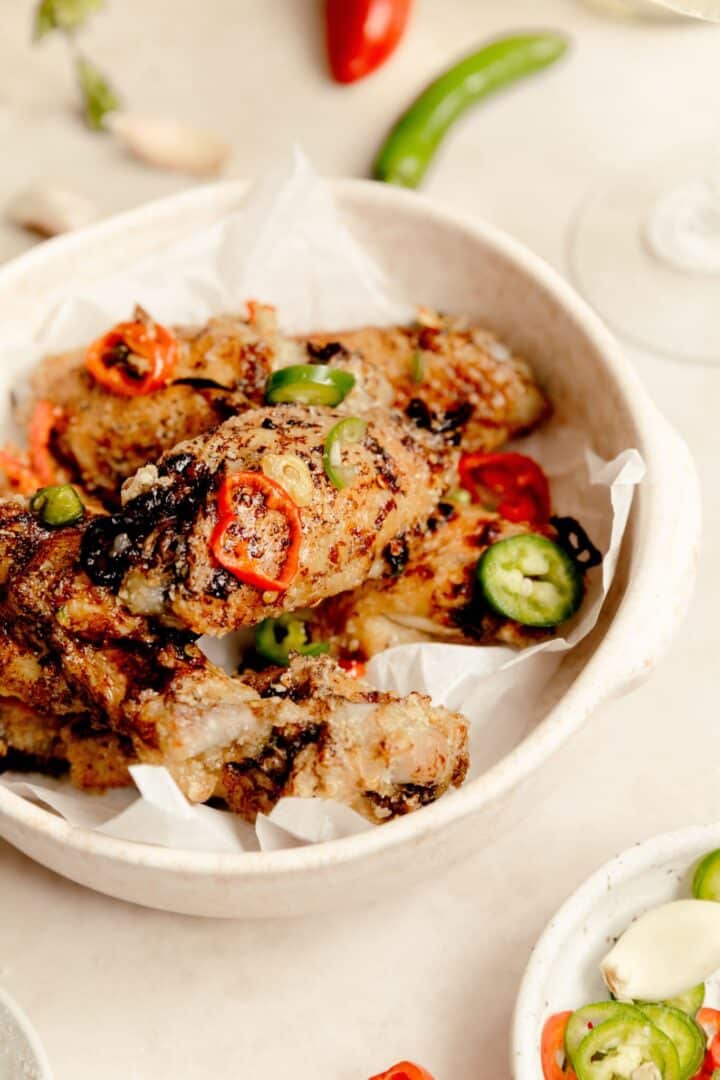 This recipe from Sara of White Kitchen Red Wine is a delicious and healthier interpretation of the famous Chinese salt and pepper chicken. These scrumptious 30-minute air fryer wings are marinated in a delightful mix of white wine, Chinese five-spice seasoning, garlic, ginger paste, and soy sauce before you toss them in cornstarch to make them extra crispy.
Visit White Kitchen Red Wine for the recipe.
Butter Chicken Wings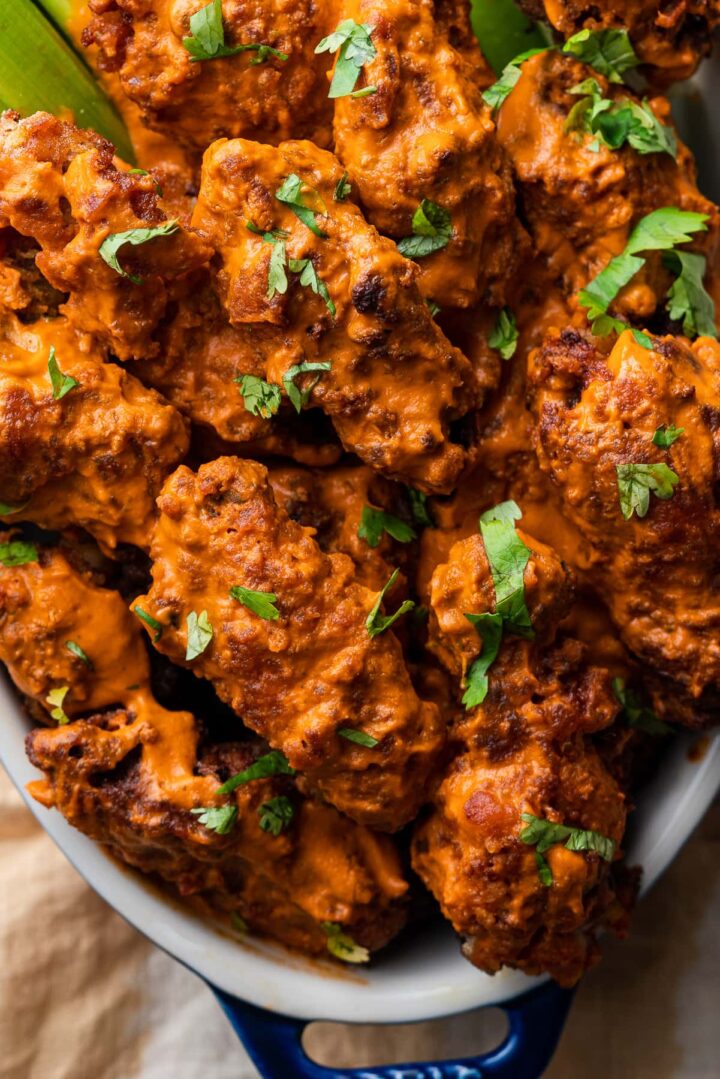 This recipe from Shweta of Masala And Chai combines two iconic dishes worlds apart. Butter chicken is a spice-loaded, luxuriously creamy chicken curry from India. So naturally, those flavors work well with fried chicken wings.
Now, there are many ingredients, but the taste is unique and will become the most memorable part of your next game day.
Visit Masala And Chai for the recipe.
Nandos Chicken Wings In Air Fryer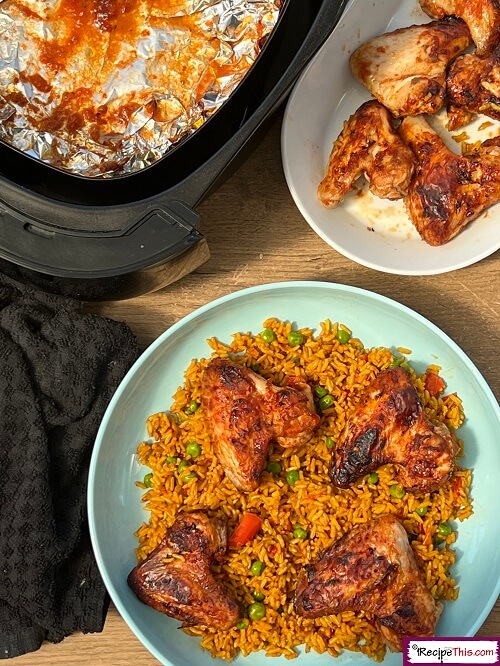 Not only are these copycat Nandos air fryer chicken wings from Recipe This delectable and seconds worthy, but you can also make them ahead and freeze.
The Milners show you how to make the world-famous peri-peri sauce—a delicious concoction of spices, tomatoes, garlic, peppers, and chilies. Plus, they'll brief you on Nandos—the popular international African-Portuguese restaurant chain.
Visit Recipe This for the recipe.
Air Fryer BBQ Peach Bourbon Wings
You'll love these air fryer peach bourbon wings from XOXO Bella. They're sticky, smoky, and sweet with just a touch of heat from the cayenne. Make them for game day, potlucks or parties, and lunch. Just don't expect any leftovers. These things tend to go rather quickly.
Visit XOXO Bella for the recipe.
Korean Chicken Wings (Baked)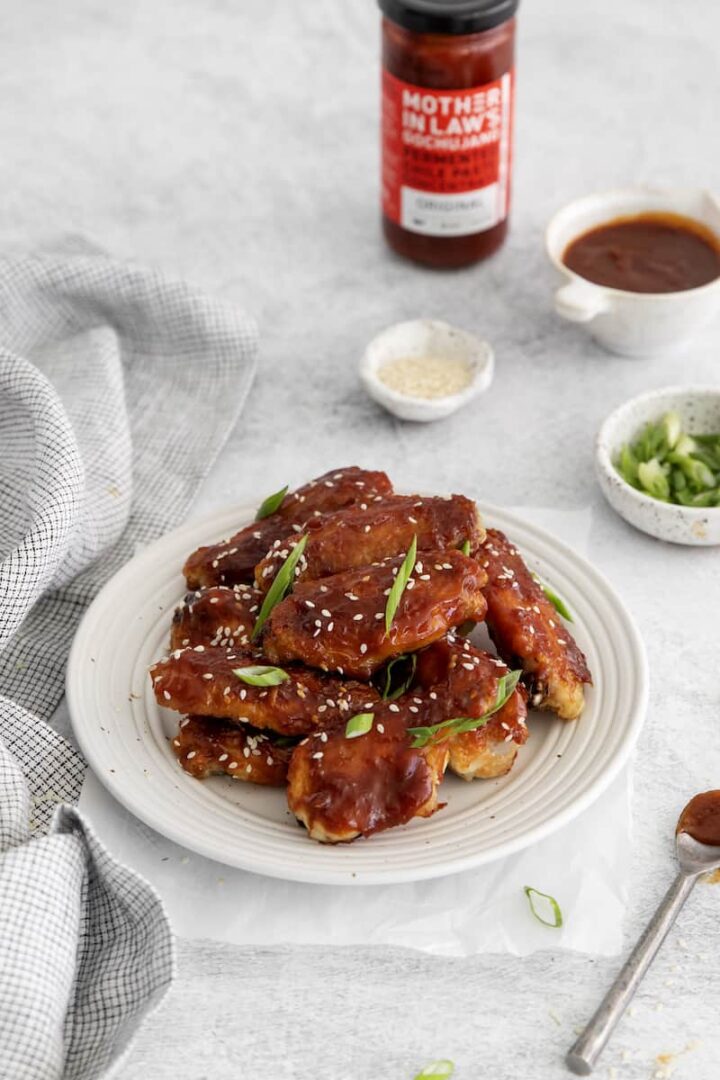 Gochujang (sweet, spicy, and smoky paste), soy sauce, ginger, and garlic, are essential to many Korean dishes, including these chicken wings from Bintu of Budget Delicious. They get a dip in buttermilk and a light flour coating before you bake them in the oven for an appetizingly crispy yet saucy wing with a distinctive flavor.
Visit Budget Delicious for the recipe.
Shwarma Chicken Wings
You won't believe these shwarma chicken wings from Jen of Peel With Zeal aren't fried. But, they certainly look the part. Nope! Instead, these inviting baked wing dings are crispy with all the flavors you'd expect in a shwarma, like cumin, turmeric, garlic powder, and cinnamon. Dunk them in refreshing lemon and coriander dip, and you've got a tempting food fusion.
Visit Peel With Zeal for the recipe.
Baked Whiskey Glazed Chicken Wings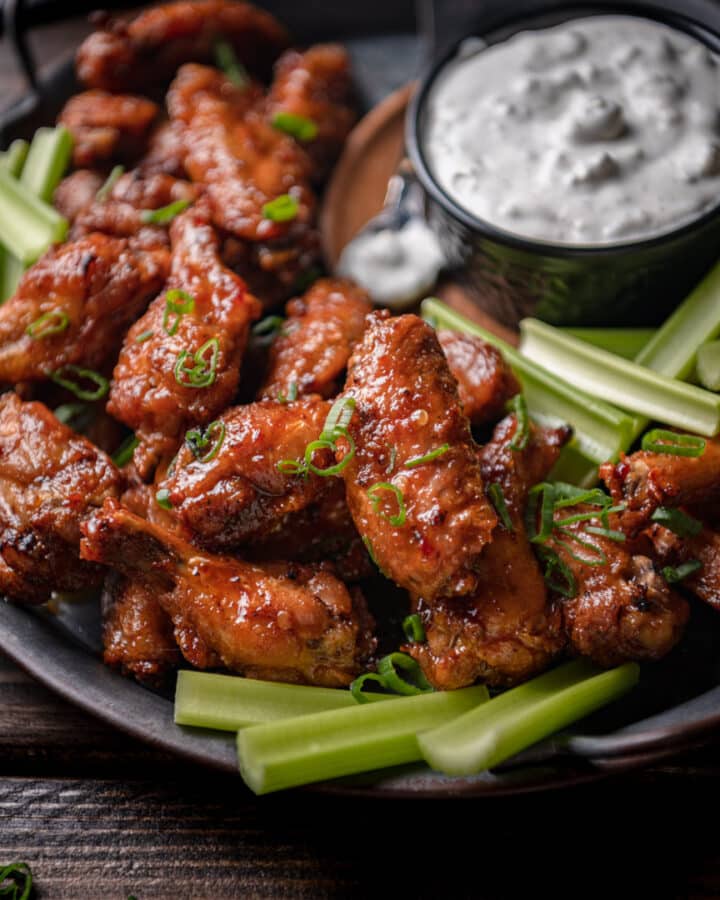 Behind the alluring, moody photography, you'll find an equally appealing and well-developed wing recipe from Cooking With Wine. It's a crispy wing, like many on this page, thanks to a bit of food science. But the star of the show is the intensely flavorful whiskey glaze. It includes whiskey, of course, but there's also hot sauce, Worcestershire, and honey, among other flavor-boosting components.
Vistit Cooking With Wine Blog for the recipe.
Crispy Blackened Chicken Wings
Lauren of Lauren From Scratch will show you how to make these blackened chicken wings. They're extra crispy, thanks to her pro tips. She'll even show you how to make the blackening seasoning, which requires just about every spice you own. Nevertheless, it's an appetizingly juicy chicken wing recipe with a cajun punch.
Visit Lauren From Scratch for the recipe.
Which Chicken Wing Recipe Will You Try First?
Is it the Korean fried chicken wings, Vietnamese wings, peach bourbon bbq wings, or something else? Let us know.