Celebrate the cutest holiday of the year with these 21 Excellent Easter Dinner Recipes.
These recipes are fantastic for special occasions, especially Easter. For example, there's a smoked prime rib recipe, salmon wellington, and even the best southern mac and cheese recipe. Plus, there are many more!
Look, there are some absolute show-stopping recipes! You are in for a treat, and so are your dinner guests. So, are you ready to discover the tasty?
Let's dive in!
Like our Best Easter Recipes and our list of Easter Dessert Recipes
Smoked Prime Rib
Amanda of Burrata And Bubbles is your cheese-obsessed guide to gastronomic delights. And with a collection of impressive features such as The Pioneer Woman, Country Living, and Style Caster, you can trust her with the centerpiece of your Easter dinner. In this case, Smoked Prime Rib. But it's not just any ole hunk of meat. Instead, it's lovingly coated with spiced garlic butter. Then, it's off to your pellet, gas, or charcoal grill until it becomes the masterpiece you see above. We could write more, but you know what they say about pictures and words.
Individual Salmon Wellington Recipe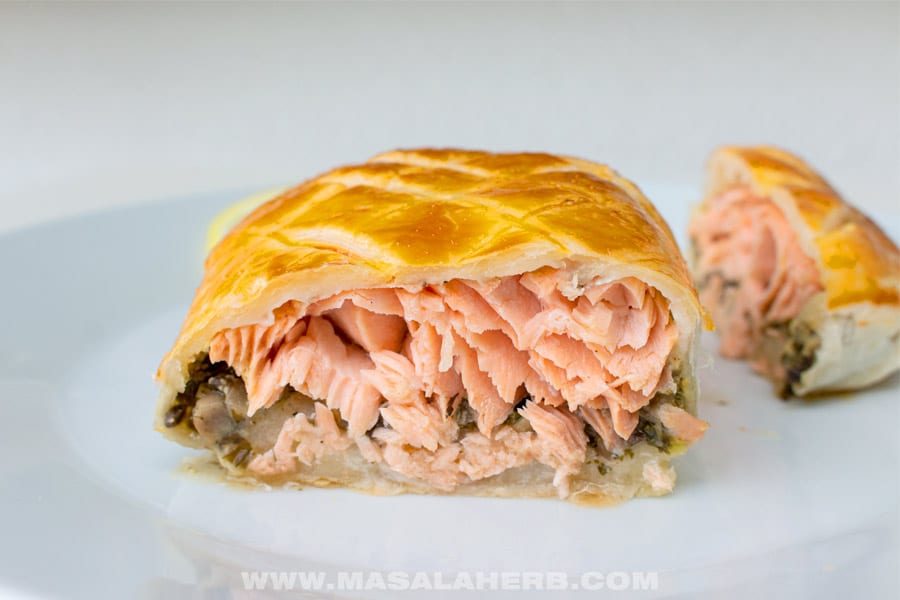 Helene of Masala Herb offers this Salmon Wellington Recipe. And we think it could make for a thoughtful alternative to beef or lamb on Easter. It's a fancy dinner recipe, to be sure. But what is wellington? It's traditionally a cut of beef, large enough to feed four to six, topped with a mix of sauteed mushrooms and fresh parsley, then wrapped in puff pastry. Don't fret. She explains it in depth. For her version, however, you wrap individual servings of salmon in the pastry and score it for a beautiful presentation.
Adult Macaroni And Cheese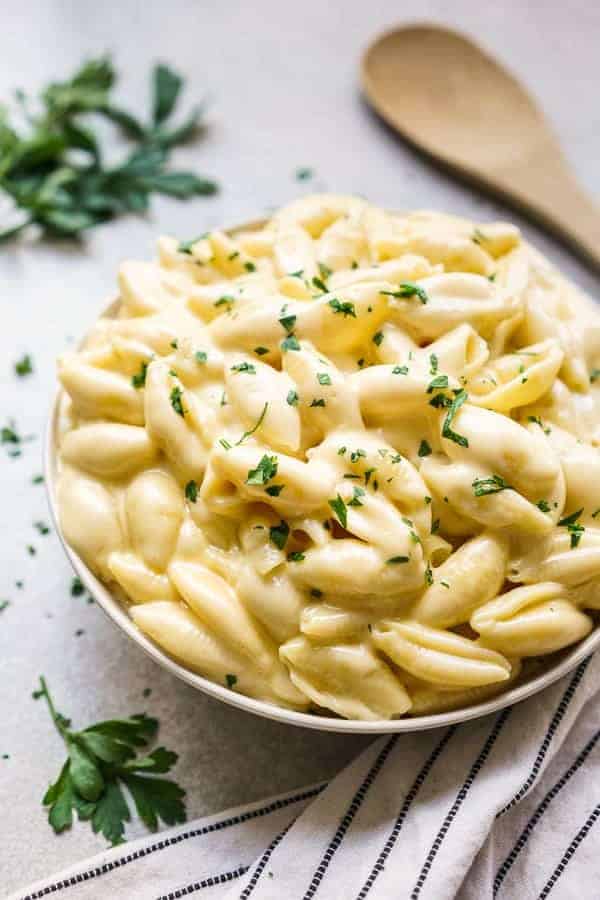 With her adult mac and cheese recipe, Minshien, the creative behind the wonderfully delicious Joyous Apron food blog, subtly shames us. She thinks it's time for our mac and cheese to grow up. And while she encourages us to cut the apron strings, as it were, she still holds our hand through the process. Starting with the silky, rich, and creamy cheese sauce featuring mountains of white cheddar and American cheeses, heavy cream, butter, and herbs. Now that's an adult mac and cheese perfect for an Easter potluck.
Whole Roast Cast Iron Chicken Recipe
Scott and Taylor, the adorable couple behind Food Worth Feed, make a tempting Easter Main dish proposition with this Whole Roast Cast Iron Chicken Recipe. In fact, after reading through it, you'll find it difficult not to add it to your menu. Just take a look at that delicious bird, all juicy, with the crispy skin shimmering, speckled with herbs de Provence (an herb blend that typically includes thyme, oregano, rosemary, savory, and marjoram). But while it's simple, it only comes out so picture-perfect, thanks to the specific tips in their post.
Sour Dough Hot Crossed Buns
After much anticipation, Chef Lindsay Farr found the right moment to make her Sourdough Hot Crossed Buns Recipe. Because, after all, she wanted it to be perfect. Of course, the results were so worth the wait. The buns are pillowy soft with a bright burst of orange zest and a hint of allspice. While every now and again, you run into a sweet and tangy currant (similar to a raisin). It's perhaps the aptest Easter side dish on this list.
Bacon Wrapped Green Bean Bundles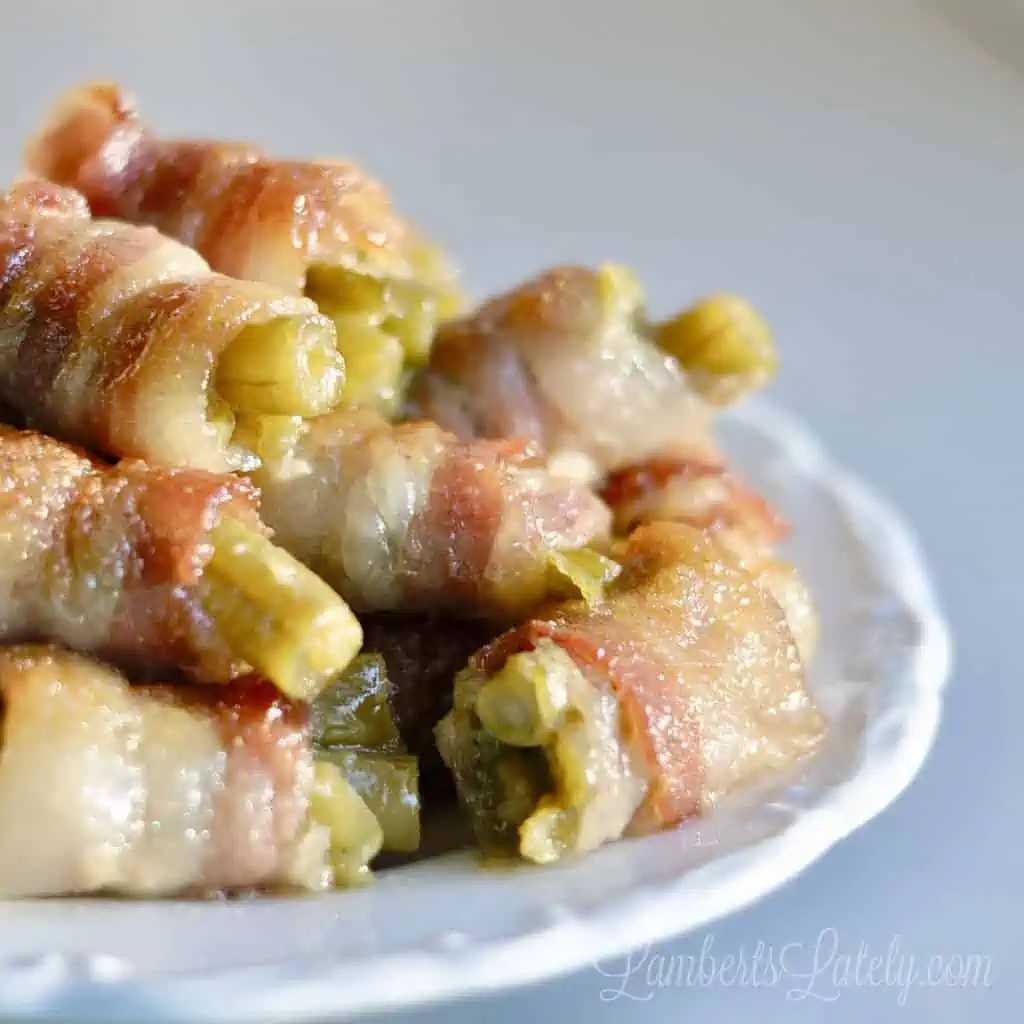 These Bacon Wrapped Green Bean Bundles from Leslie of Lamberts Lately show us what sides should aspire to be. Quick, tasty, and make ahead appropriate. So, what starts as modest ingredients: canned green beans, thick-cut bacon, and brown sugar becomes a dish to remember. Just feast your eyes on those little green bean parcels that'll look so picturesque sitting next to your main dish.
Italian Savory Easter Pie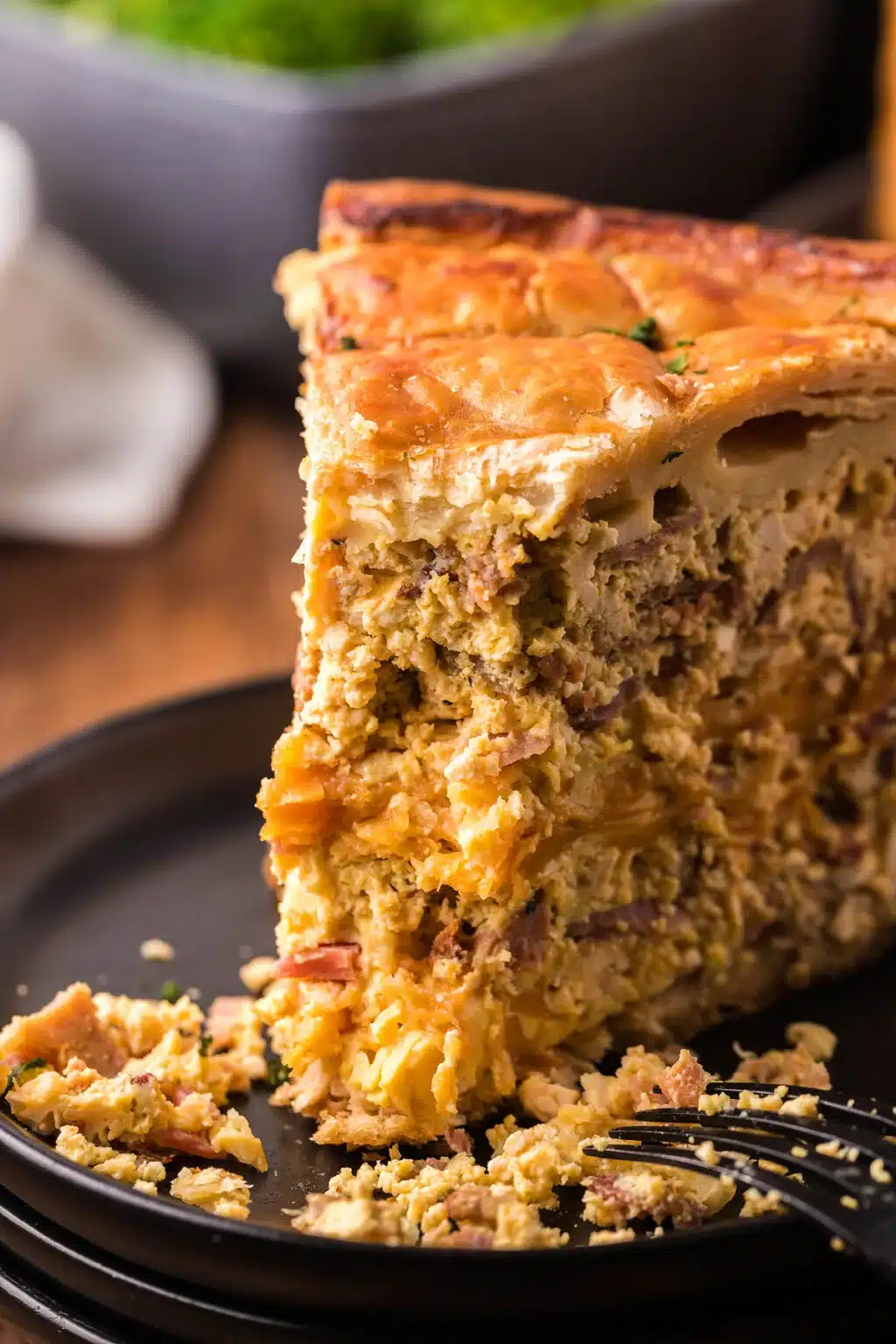 From the quilted pattern donning the top to the super-deep layers of meat, eggs, cheeses, and dough, you'll gush over this Italian Savory Easter Pie from XOXO Bella. As Bella calls it, a fusion of quiche, pizza, pie, and calzone. But we'd be remiss if we didn't dive deeper into the details. There are four kinds of meat: salami, capicola, Italian ground sausage, and ham. And as for the cheeses: fresh mozzarella, provolone, creamy ricotta, and parmesan. Holy Moly!
Honey Thyme Roasted Rainbow Carrots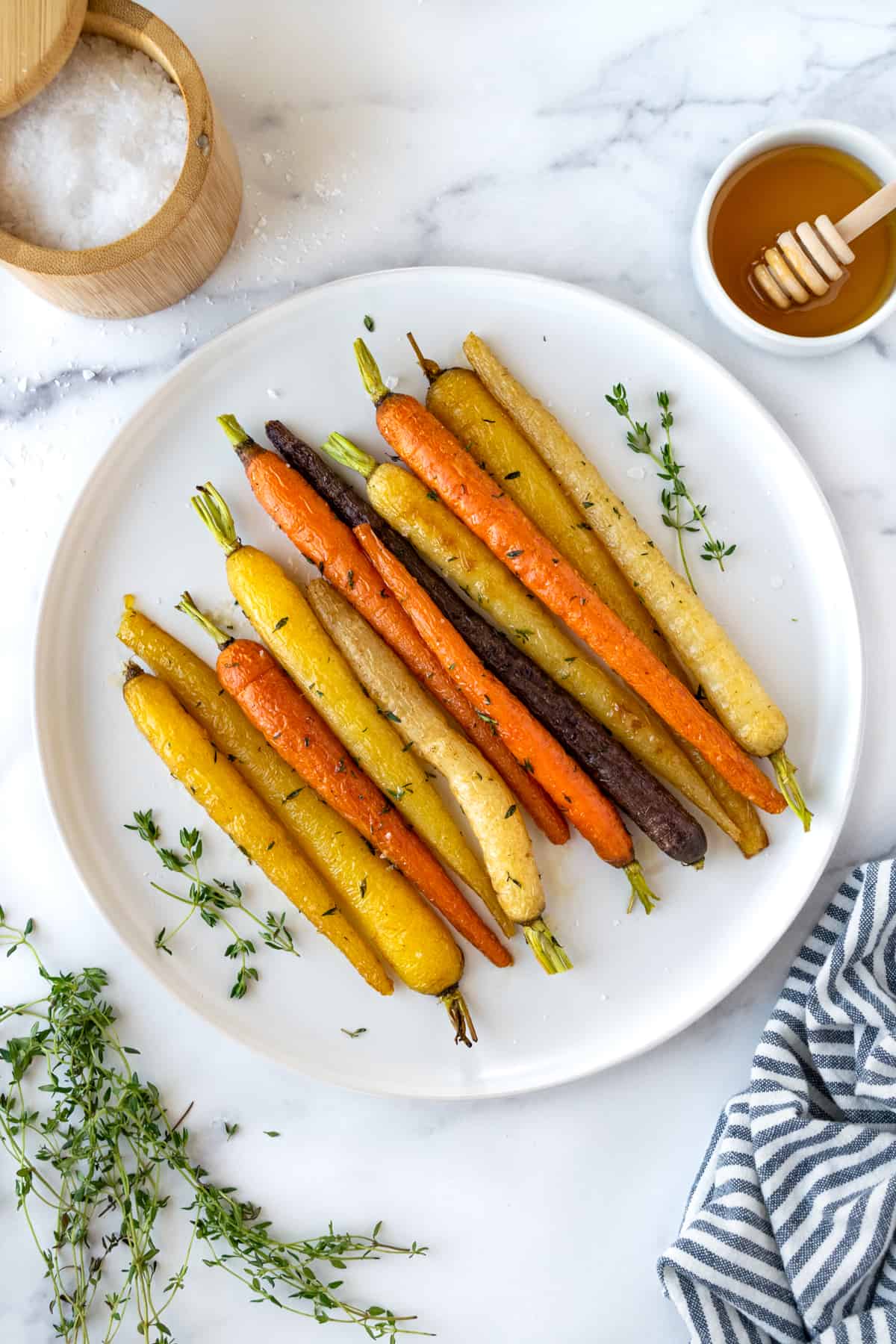 Vibrantly colorful, sweet, and savory, you'll love these Honey Thyme Roasted Rainbow Carrots by Nicole of Fresh Apron. First, it's pretty. But it's more than just eye candy. The five-ingredient side dish is versatile as it works with a myriad of mains like smoked prime rib or cast iron chicken (see above). But what if you can't find rainbow carrots? Don't worry. The regular orange ones can also work here, albeit the flavor is slightly different.
Smoked Leg of Lamb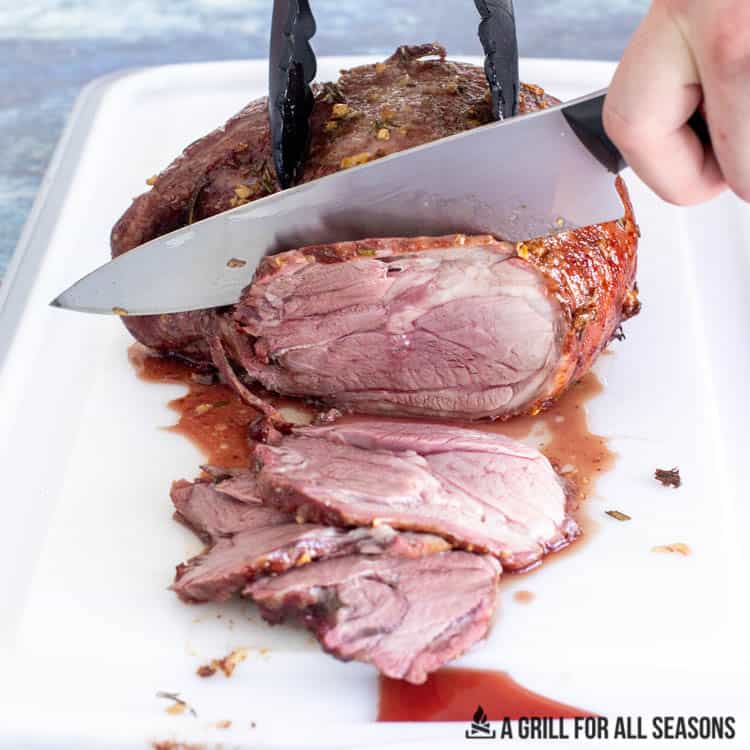 The best way to prepare a leg of lamb is to smoke it. That's certainly the way of the team at A Grill For All Seasons. It begins with a quality leg of lamb that you massage with olive oil, garlic, and fresh rosemary. Then, the smoker takes over where you cook it for a couple of hours. The result is a deliciously tender smoked leg of lamb with an incredible bark. Your ordinary Easter dinner just got an upgrade.
Maple Glazed Spiral Ham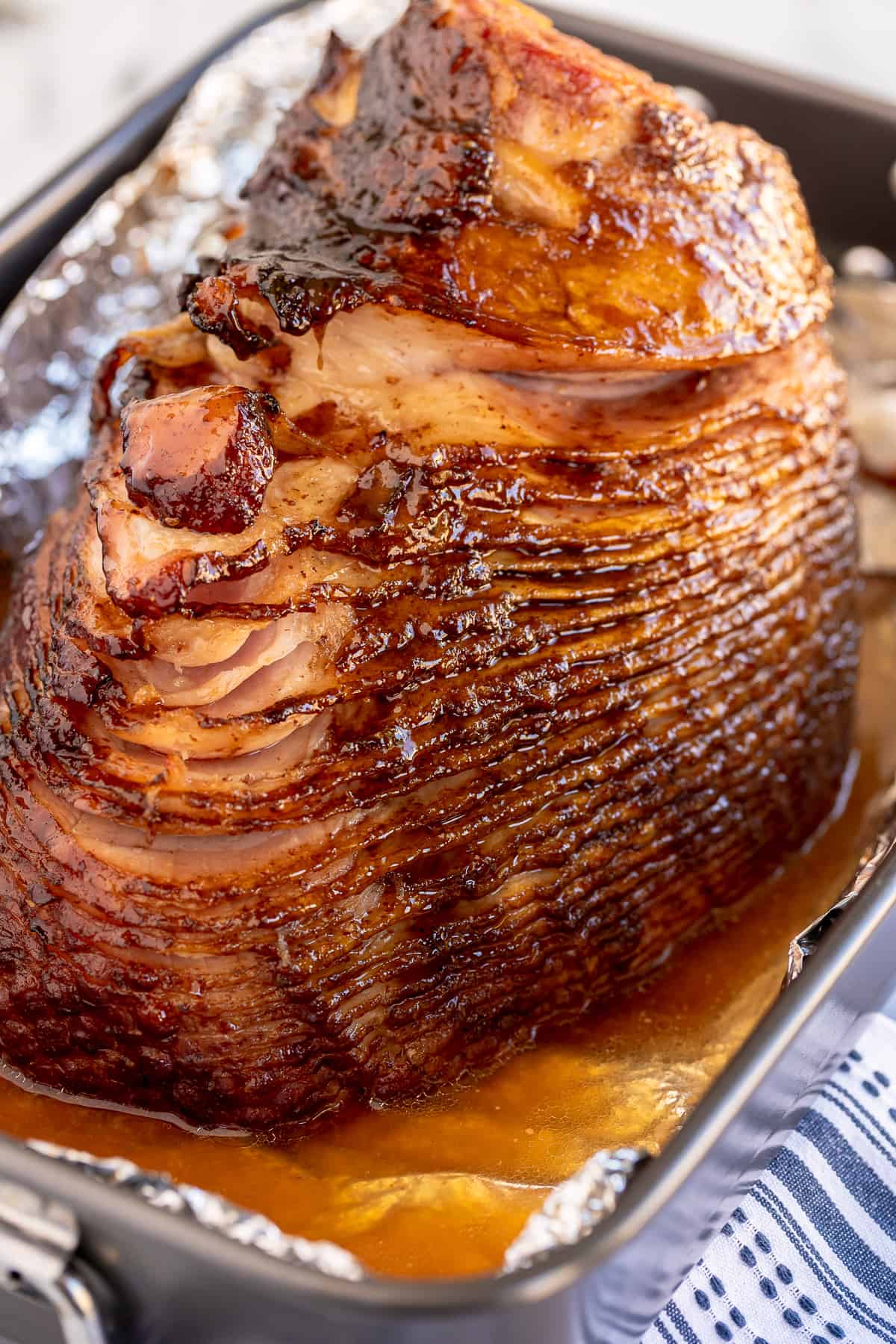 Yes! You can make this Maple Glazed Spiral Ham in your own kitchen. And the promise From Valerie's Kitchen is that it'll taste better and cost less than what you would buy premade at the store. She has us sold! Just look at that big juicy hunk of meat, thinly sliced, drenched, and dripping with maple glaze. Easter can't get here fast enough!
Burrata Arugula Salad
This Burrata Arugula Salad from Krista of Hello Frozen Bananas is the best salad you've yet to have. Peppery arugula makes up the bulk of the greens, but your dinner guests will be delighted by the lemony basil. Then there are the juicy tri-color tomatoes which are perfectly themed for Easter. And guys, that's not half of it. Each bite also has the flavor of kalamata olives, burrata cheese, pistachios, and tahini orange dressing. What a salad!
Stuffed Leg of Lamb
While some roast, braise or smoke a leg of lamb and coat it with olive oil and herbs, Lisa of Garlic And Zest has other plans. Instead, she stuffs it with spinach, feta, and walnuts. So that cutting into it reveals a green and white filling contrasted perfectly with the pink-hued meat. It's delicious and beautiful. But it does take a bit of time to make. So, you'll want to save this Stuffed Leg of Lamb recipe for special occasions like Easter, Christmas, or Mother's Day!
Make Ahead Cheesy Scalloped Potatoes
Foolproof, cheese-filled, and hearty, these Make Ahead Cheesy Scalloped Potatoes from Danielle of Borrowed Bites are simply irresistible. Guess what? You can actually make the dish, then freeze it for advance prep. But that's not all. Danielle also addresses some common pitfalls of making scalloped potatoes, like browning, uneven cooking time, and tedious preparation.
Best Southern Mac and Cheese Recipe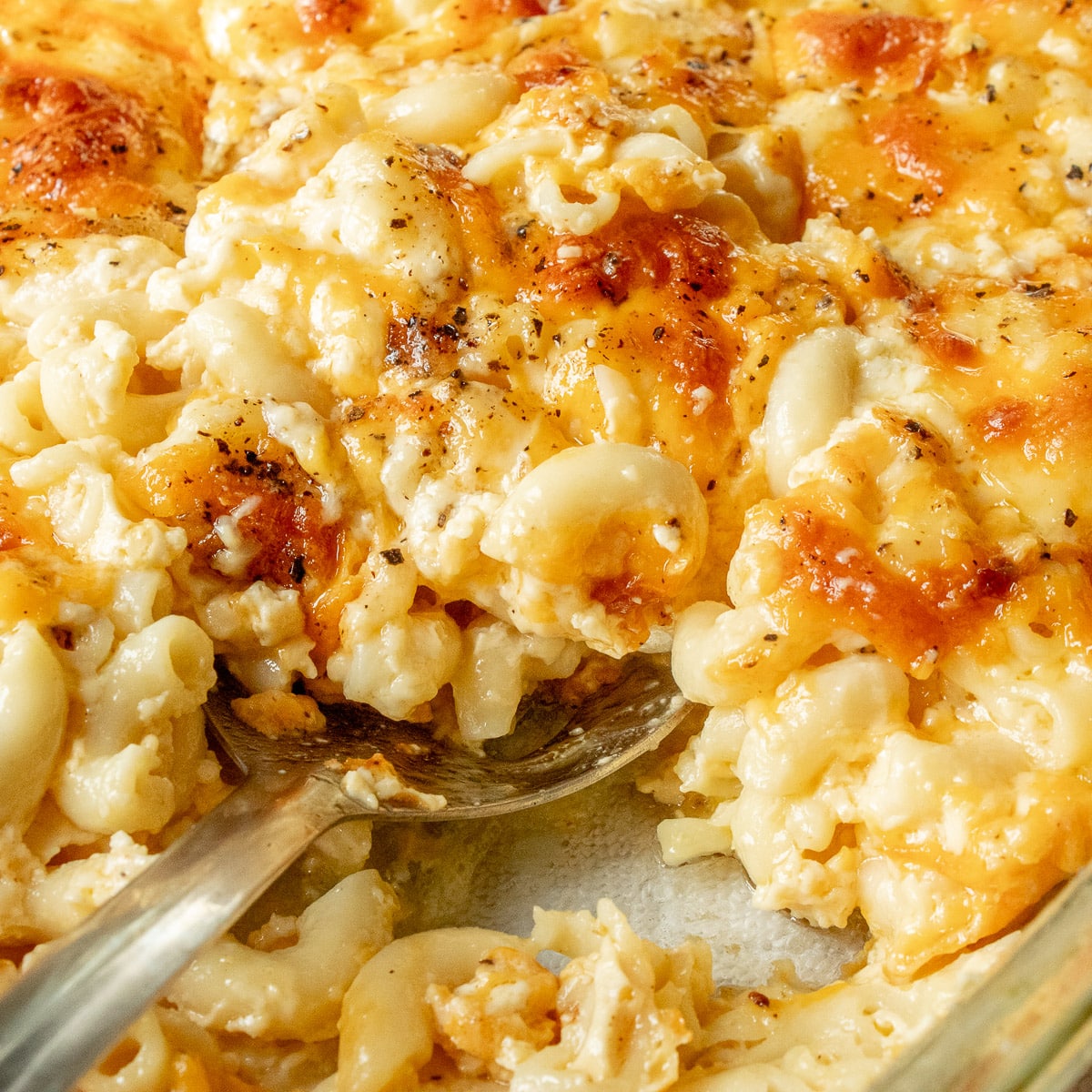 There's mac and cheese, and then there's MAC & CHEESE. Chenée Today shows us how to make the latter. While earlier, you learned how to grow up your mac and cheese, Chenée shows us how to give it some soul. It's what she calls the best southern mac and cheese recipe. Her secret ingredient makes it creamy, ridiculously cheesy, and oh-so comforting. So, while it's excellent for cozy stay-at-home days, it's always a welcome addition to your holiday spread.
Asparagus Radish Salad with Honey-Mustard Dressing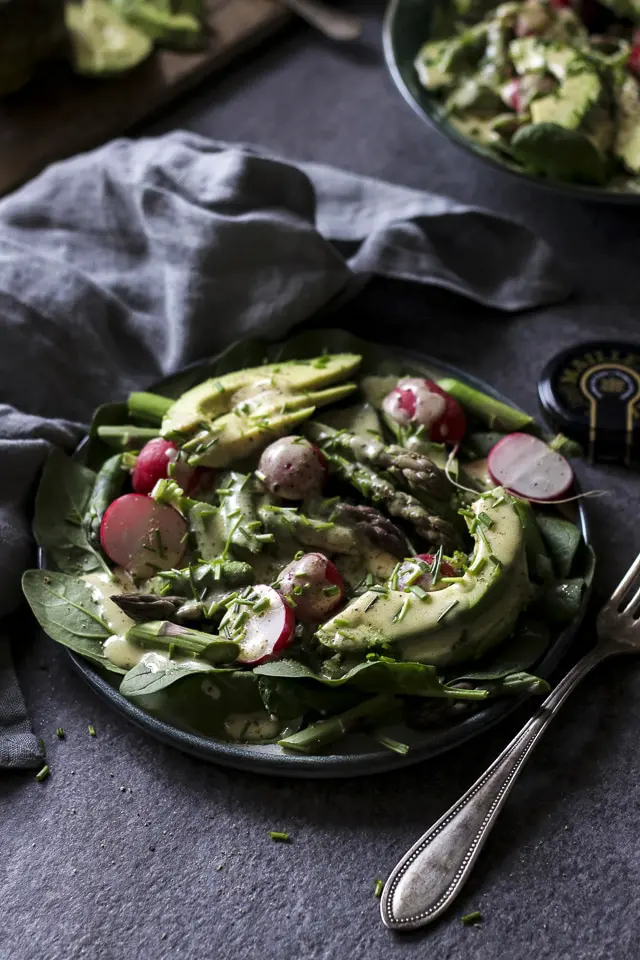 Do you ever notice that salad is treated like an afterthought at holiday celebrations? Of course, careful planning goes into the main dish, the sides like potatoes and mac & cheese. But most will buy a bag of salad mix and call it a day. Well, not with this Asparagus Radish Salad with Honey-Mustard Dressing from Happy Kitchen. It's filled with blanched asparagus, baby spinach, avocado, and a creamy honey-mustard dressing for a real salad that shows you care.
Air Fryer Turkey Breast
While turkey wouldn't be our first choice (or second or third) as a main dish for Easter, it can have a place for those who don't want red meat. So, that's where this Air Fryer Turkey Breast recipe comes in handy. Thanks to Jamie's air fryer expertise, it comes out herby, "deliciously moist," and tender with crispy skin.
Roasted Radishes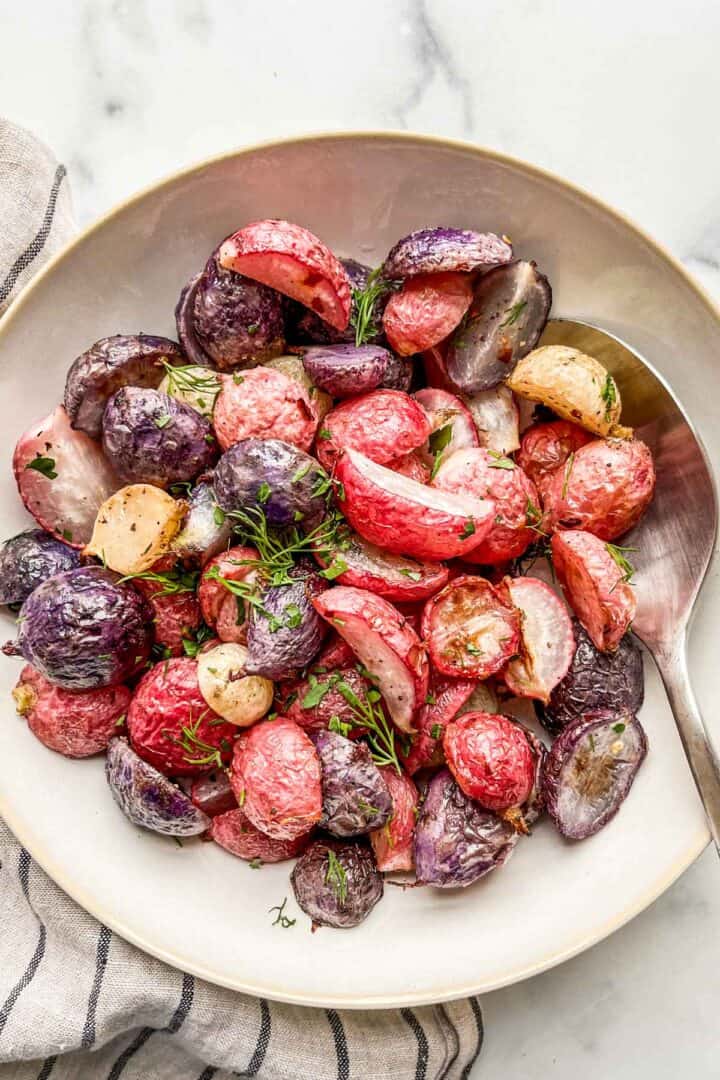 Radishes are the forgotten root vegetable almost no one pays attention to. But they are so worth exploring. So, not only does this Roasted Radishes recipe from This Healthy Table serve as an interesting Easter dinner side dish, but it's also a delicious way to explore the forgotten root vegetable. It's a simple recipe that sees you season and tosses the radishes with olive oil before roasting them in the oven for about 40 minutes.
Italian Porchetta Roast
OMG! You must consider making this Italian Porchetta Roast the star of your Easter dinner show. You won't regret it! The impressive pork recipe starts with tender pork loin wrapped in pork belly. But in between those layers, you'll find a wonderful mix of seasonings like rosemary, citrus zest, and sage (but there's much more). Here's how it all comes together. That outer layer becomes a wonderfully crispy, pork-rind-like shell enshrouding perfectly juicy meat.
Risotto Al Limone
Looking for an alternative to mashed potatoes? How about this Risotto Al Limone by Joni of The Pyper's Kitchen? Now, we're going to keep it real with you. Risotto is a labor of love. There is a lot of stirring. But in the end, you have an elegant rice dish that's creamy, impressive, and so full of flavor from the lemon juice and zest, parmesan, onion, and white wine (or vermouth).
Air Fryer Mashed Potatoes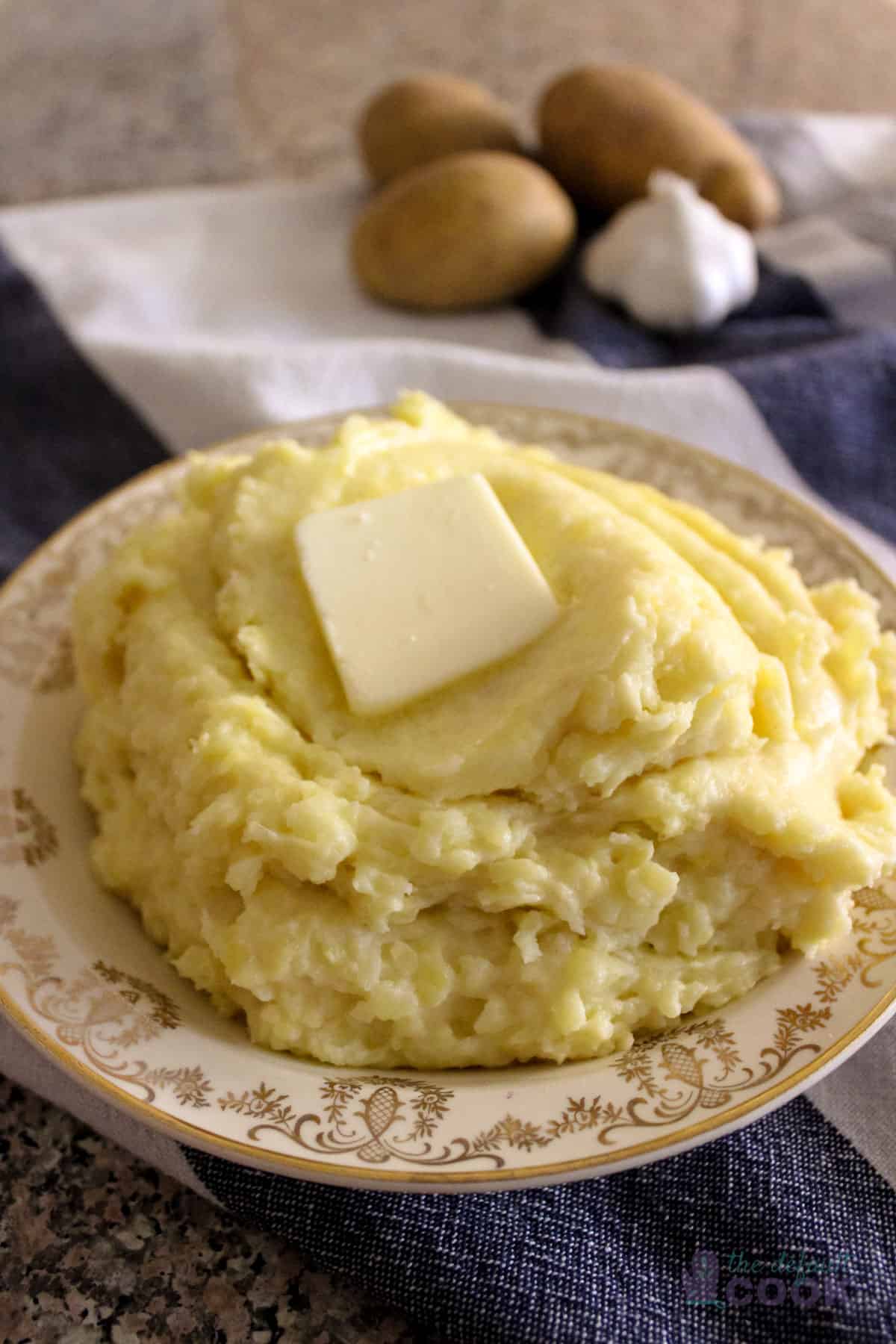 Anne of The Default Cook teaches us that roasting your potatoes in the air fryer instead of boiling them makes for much better mashed potatoes. But Anne doesn't stop there. She has a few other tricks up her sleeve. For instance, she roasts the garlic alongside the golden potatoes. And for extra creaminess, she adds heavy cream and cream cheese. So, while the stovetop and oven are occupied, make these convenient Air Fryer Mashed Potatoes.
Green Bean Casserole Recipe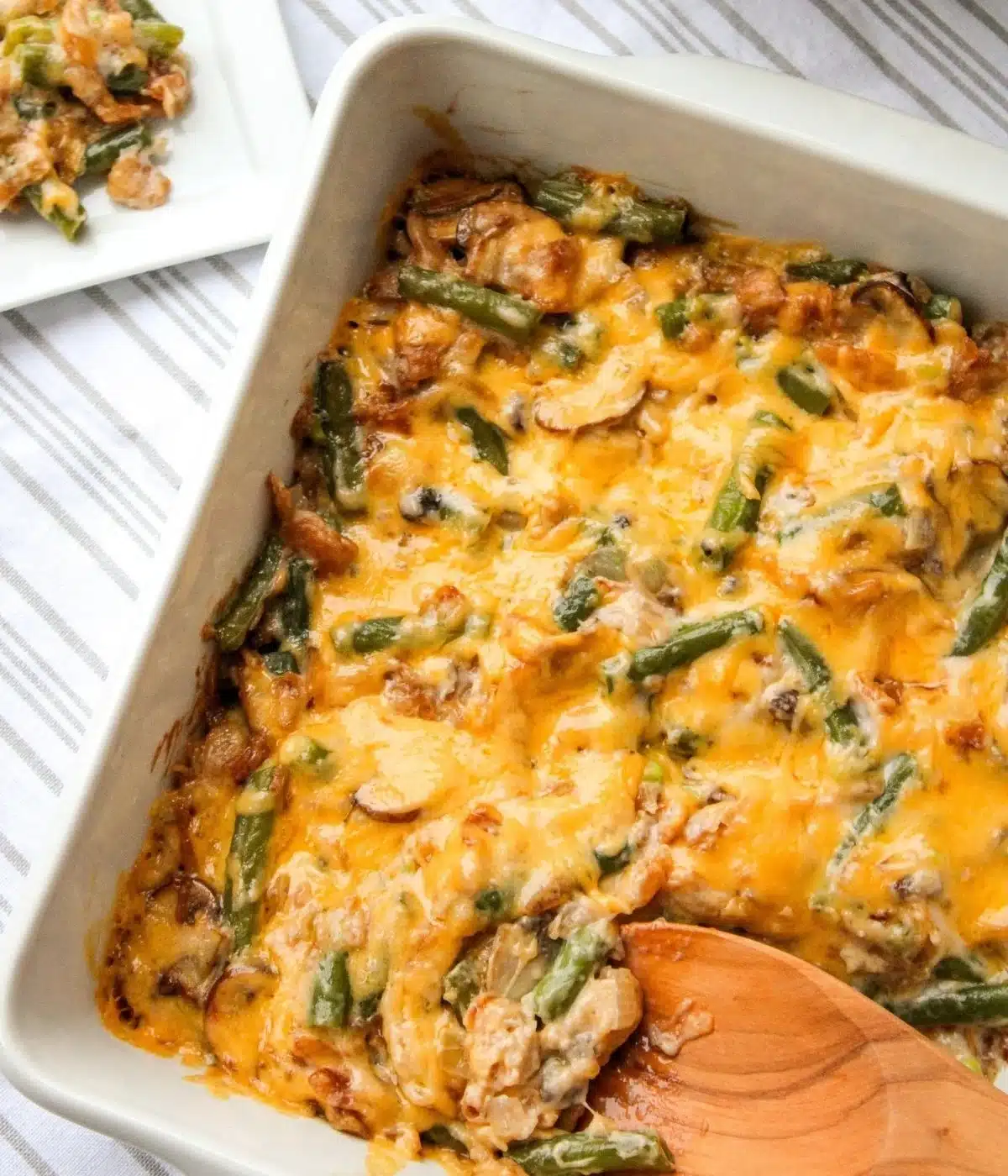 Green bean casserole is sidedish royalty. But this Paula Deen Green Bean Casserole recipe by Simply Scrumptious Eats is a game changer. While it does include canned mushroom soup, there are primarily fresh ingredients, e.g., green beans, onions, and mushrooms. And you can be sure that the tasty 30-minute side dish is a welcome part of any Easter feast.
Which Easter Dinner Recipes Will You Make?
By now, you've come across over 20 Easter dinner recipes. So which are you looking forward to making? We've got our eyes on the smoked prime rib, and air fryer mashed potatoes, and ultimate green bean casserole. So, which one(s) make your menu? We'd love to know!