You're going to absolutely love this collection of  19 Sensational Shish Kabob Recipes. So if you love food on skewers, you'll go crazy for these grilling season favorites.
For example, there are Grilled Moroccan Chicken Skewers, Shish Tawook, Salmon Kababs, and so many more! So, are you ready to discover some deliciousness?
Let's dive in!
By the way, if you like these shish kabob recipes, you'll love these other summer dinner meals.
Grilled Moroccan Chicken Skewers
We love Dana's recipes at Killing Thyme. You'll find that they're not only well-tested, balanced, and thorough, but the writing is good. In addition, she's an entertaining teacher. Today she'll teach you about her Grilled Moroccan Chicken Skewers and a brief history of Morrocan seasonings.
So as for the recipe, here's what you can expect. Tender skewered chicken breast, cherry tomatoes, and red onions seasoned with a harmonious mix of deep flavors like cumin, cinnamon, allspice, ginger, and turmeric and then grilled to perfection. Pinch me. I must be in heaven!
Ground Beef Kababs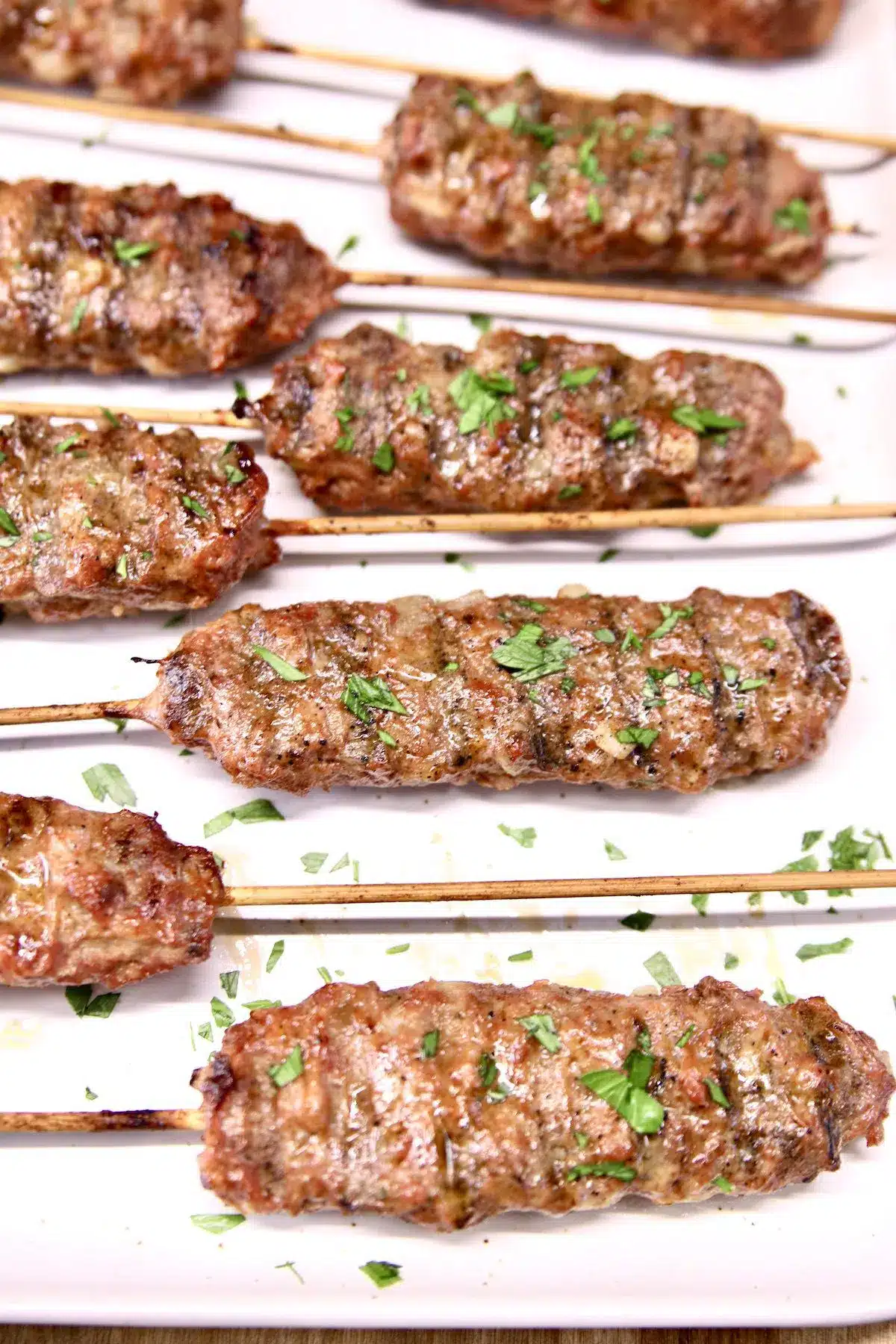 These Ground Beef Kababs from Out Grilling, or burgers on a stick, are tender, juicy, and full of flavor. So for this recipe, Milisa uses her ground chile rub that's full of brown sugar, onion flakes, onion powder, and more. And the burger itself has onion and egg and is topped with fresh parsley.
Shish Tawook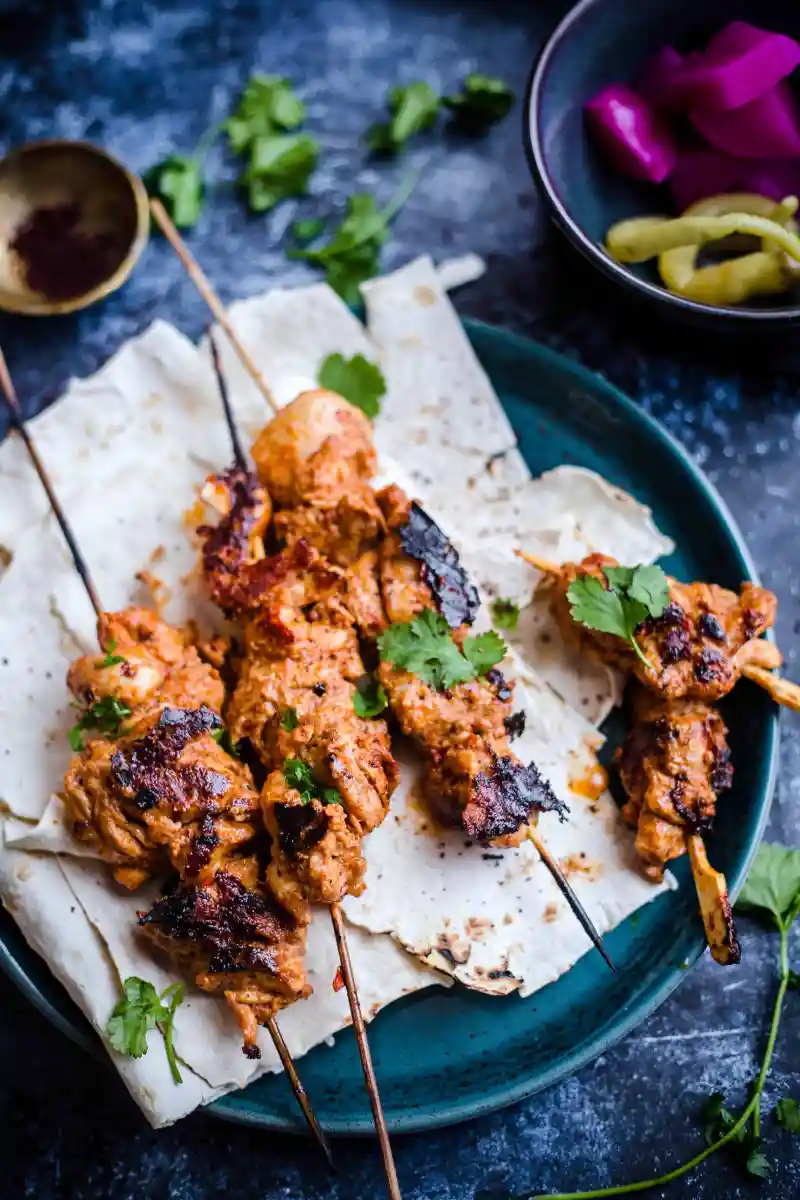 Instead of chicken breast, which can be unforgiving, Safira of Tiffin And Teal uses chicken thighs in her Shish Tawook because they are "gloriously juicy." We couldn't agree more! The rest of the recipe includes flavor-enhancing ingredients like yogurt, lemon, tomato sauce, and lots of spices.
Sweet and Sour Pork Kababs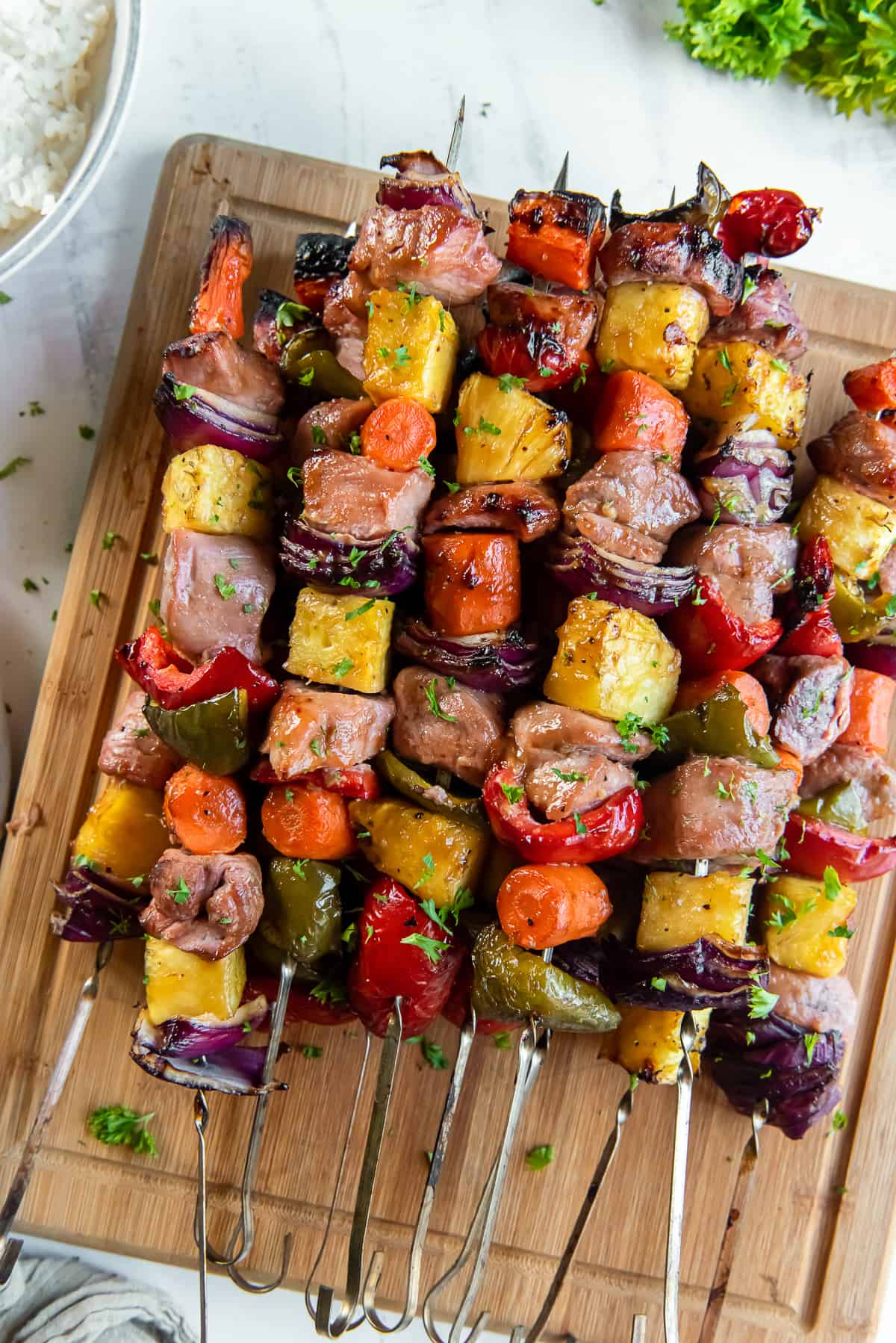 These Sweet and Sour Pork Kabobs by Valerie of Wholesome Made Easy are summer vibes on a stick. So each delicious lunch skewer is complete with tender chunks of lean pork, pineapples, onions, carrots, and bell peppers. Then, they're slathered with an ecstasy-inducing sweet and sour sauce.
Lamb Shish Kababs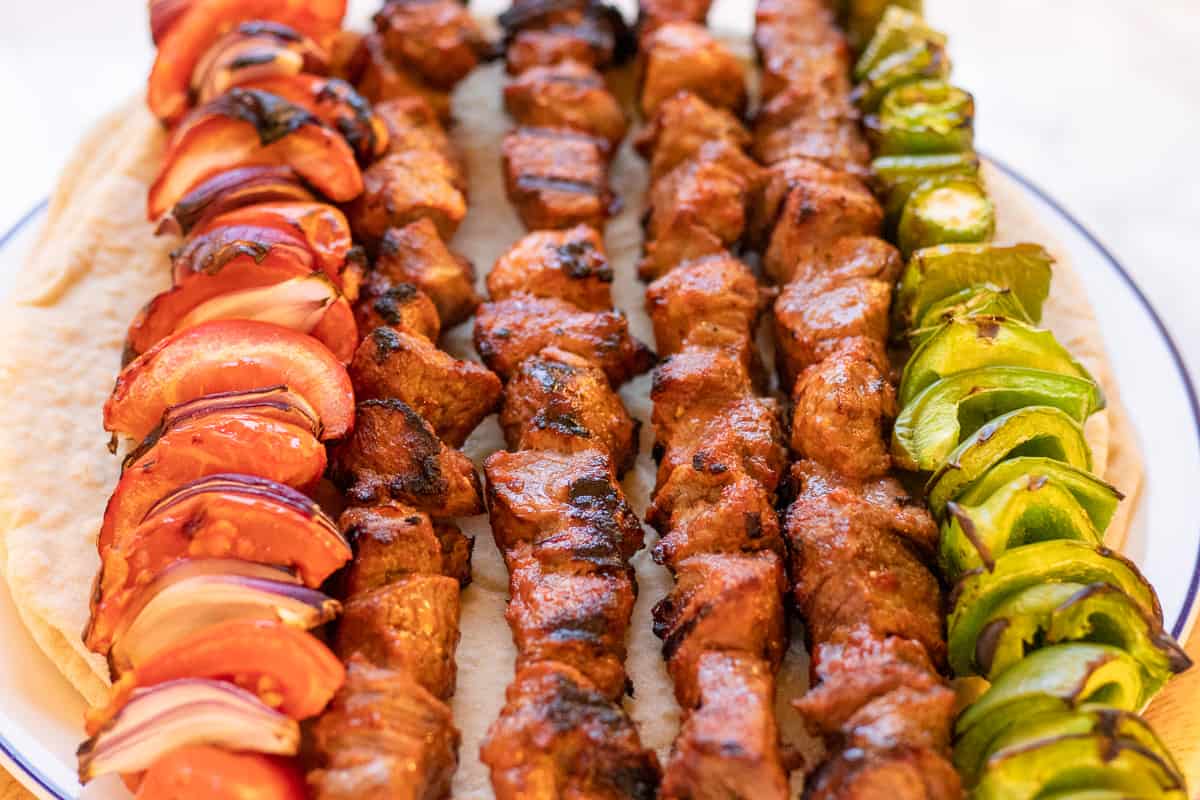 If you ask us, Lamb Shish Kababs are THE kebabs. But if it's your first time cooking lamb, you definitely want a guide. So, we chose Ayla of Cooking Gorgeous to show us the ropes. She gives you tips like marinating them and bringing the meat to room temperature before grilling.
Spicy Honey Lime Chicken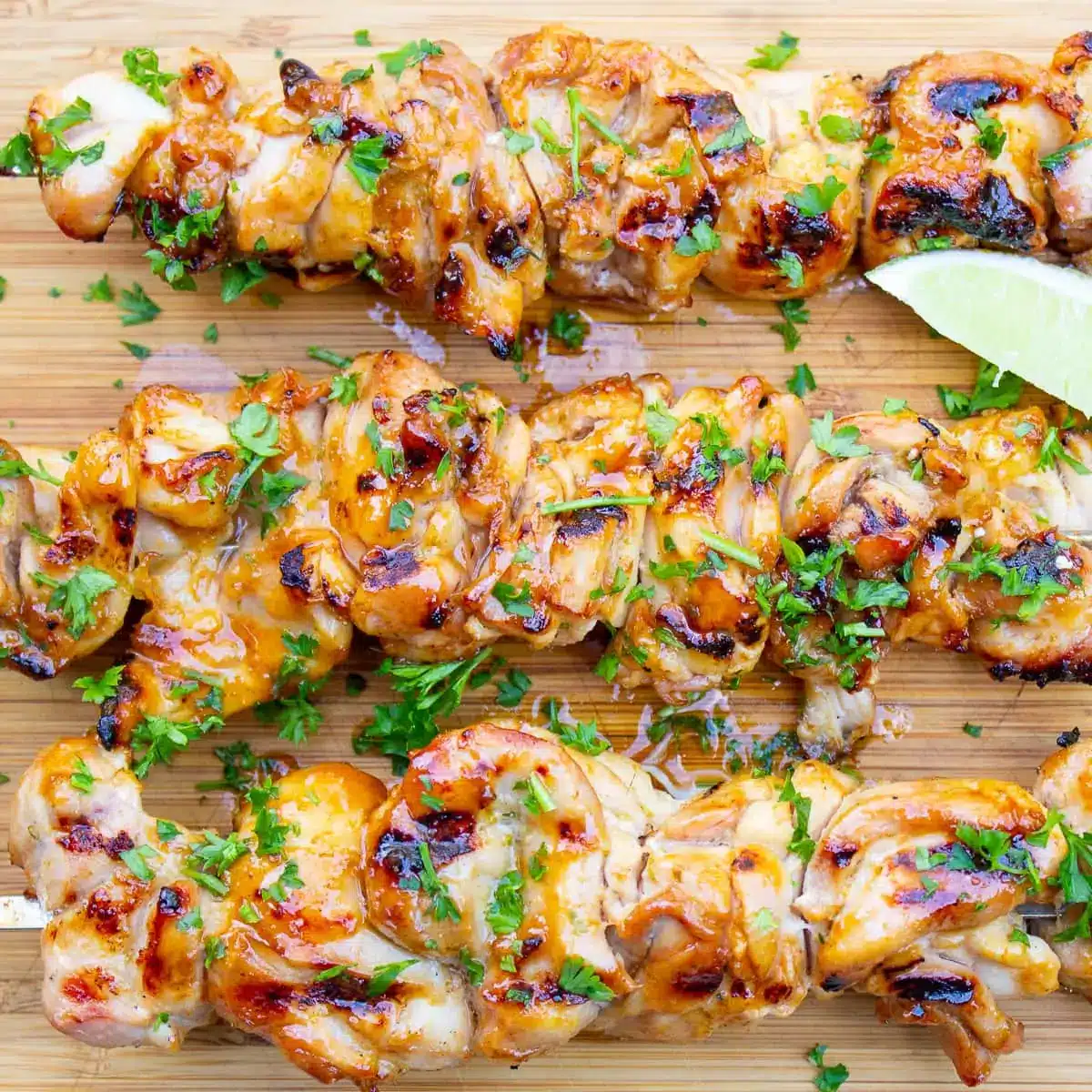 While you can make this Spicy Honey Lime Chicken from Two Kooks In The Kitchen with chicken breast, chicken thighs make for moister results. But either cut will provide a suitable canvas for the sauce, which is the true masterpiece of this dish. It's a drinkable mix of honey, soy sauce, sriracha, lime, garlic, and ginger. Whoa!
Italian Sausage Skewers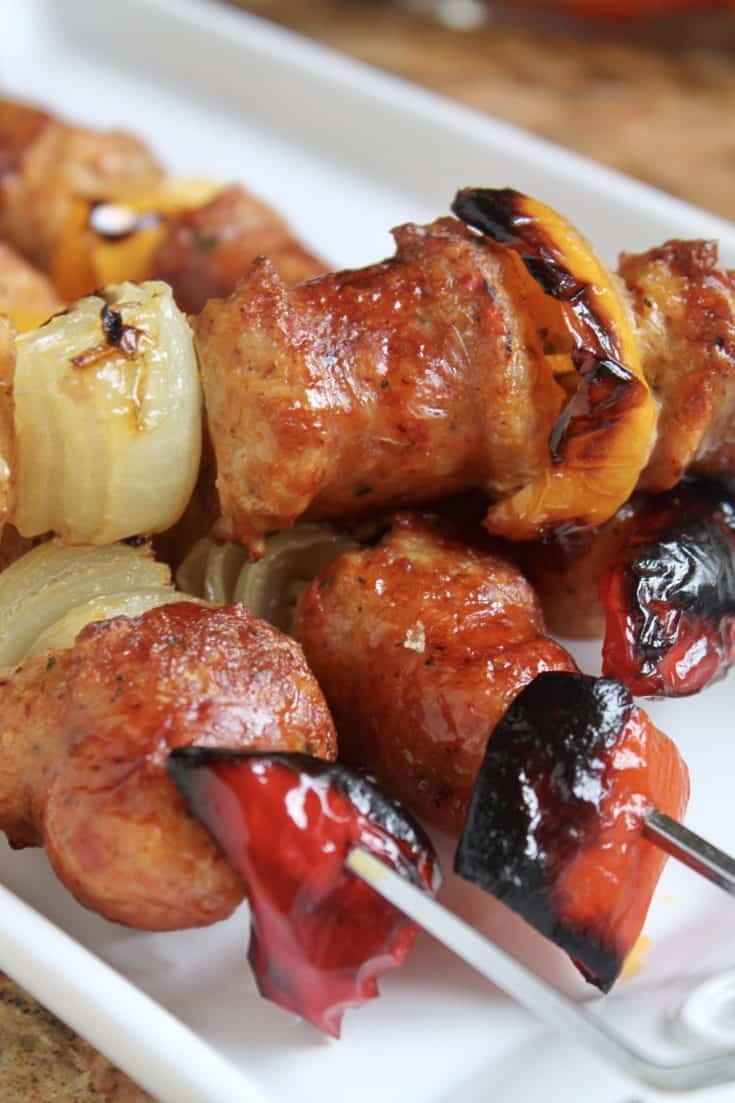 These Italian Sausage Skewers from Christina's Cucina are a simple way to mix up the menu of your next summer barbecue picnic. All you need is top-shelf Italian sausage (she offers a brand), vegetables, and skewers.
Salmon Kabobs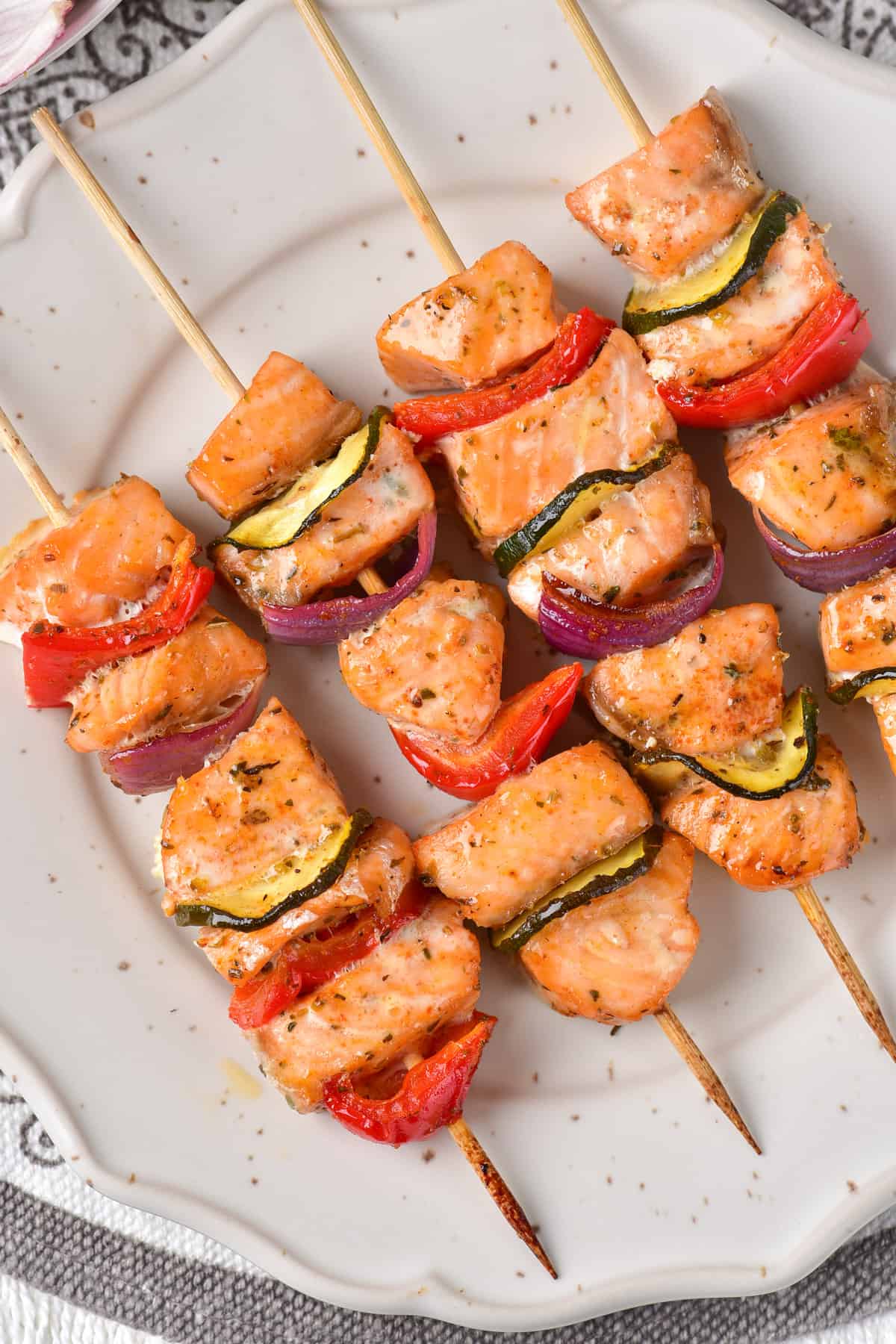 These Salmon Kabobs by Kate of Wow Easy Recipes are healthy and tasty. But best of all, they're simple with less than ten ingredients, including salmon fillets, zucchini, bell pepper, and red onion. The protein-packed food on a stick is ideal for when you need a 30-minute weeknight summer meal.
Steak Kabobs with Dijon Green Beans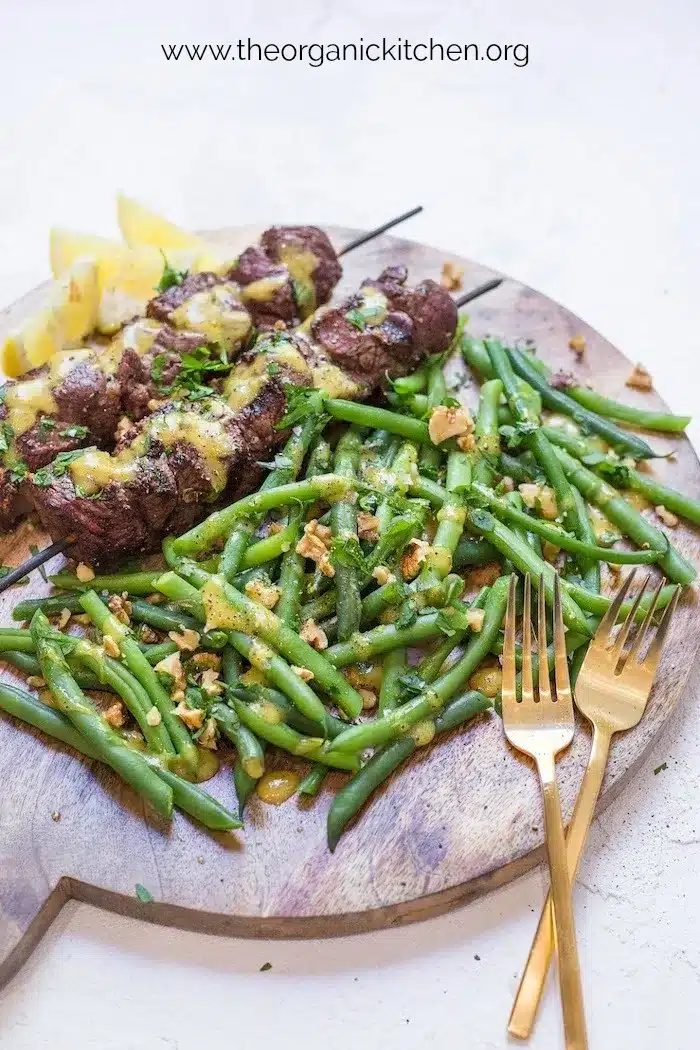 If you're anything like Linda of The Organic Kitchen, you can't wait for summer. You want to kick off your shoes and walk barefoot through your backyard, fire up the grill, and make these Steak Kababs with Dijon Green Beans. The steak is tender, the green beans are crisp, and that dijon sauce is zest, savory, and oh so good!
Lula Kabab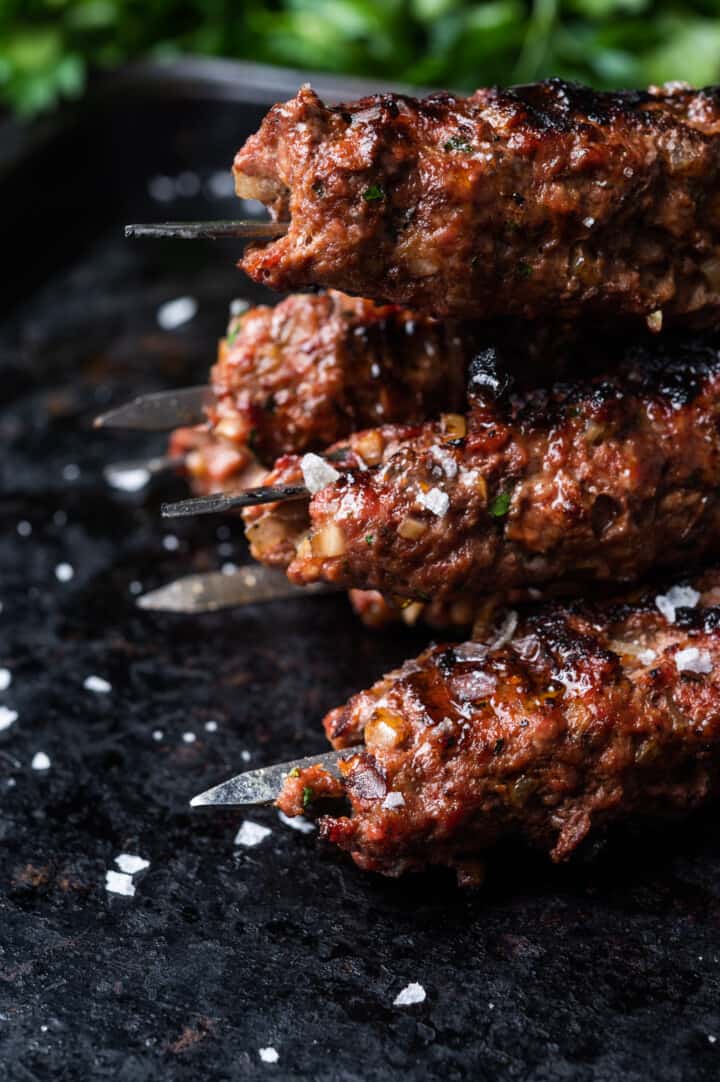 "Where have you been all my life?" That's the question you'll ask yourself upon taking that first bite of this Lula Kabab recipe from KC of G-Free Foodie. But what is a Lula Kebab? It's ground beef and lamb, supremely seasoned with ingredients like onion, parsley, paprika, and cumin. Then it's skewered, grilled, and finally, heaven.
Greek Chicken Kebab Bowl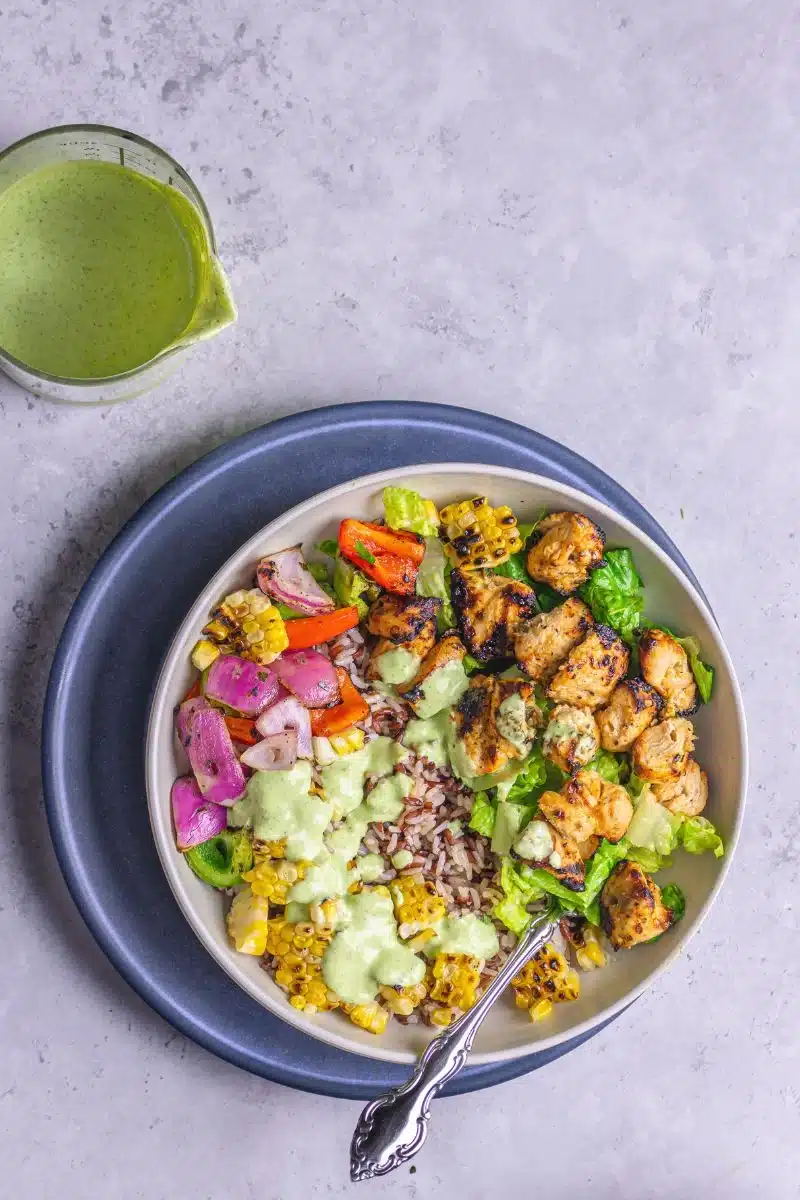 So we know chicken kebabs are appetizing as is, but Maureen of Worldly Treat makes them even more mouthwatering with this Greek Chicken Kebab Bowl. It's a dish that takes seasoned grilled skewered chicken and combines it with rice, red onion, grilled corn, and minty cilantro yogurt sauce for the flavorful bowl of your dreams.
Ground Turkey Kababs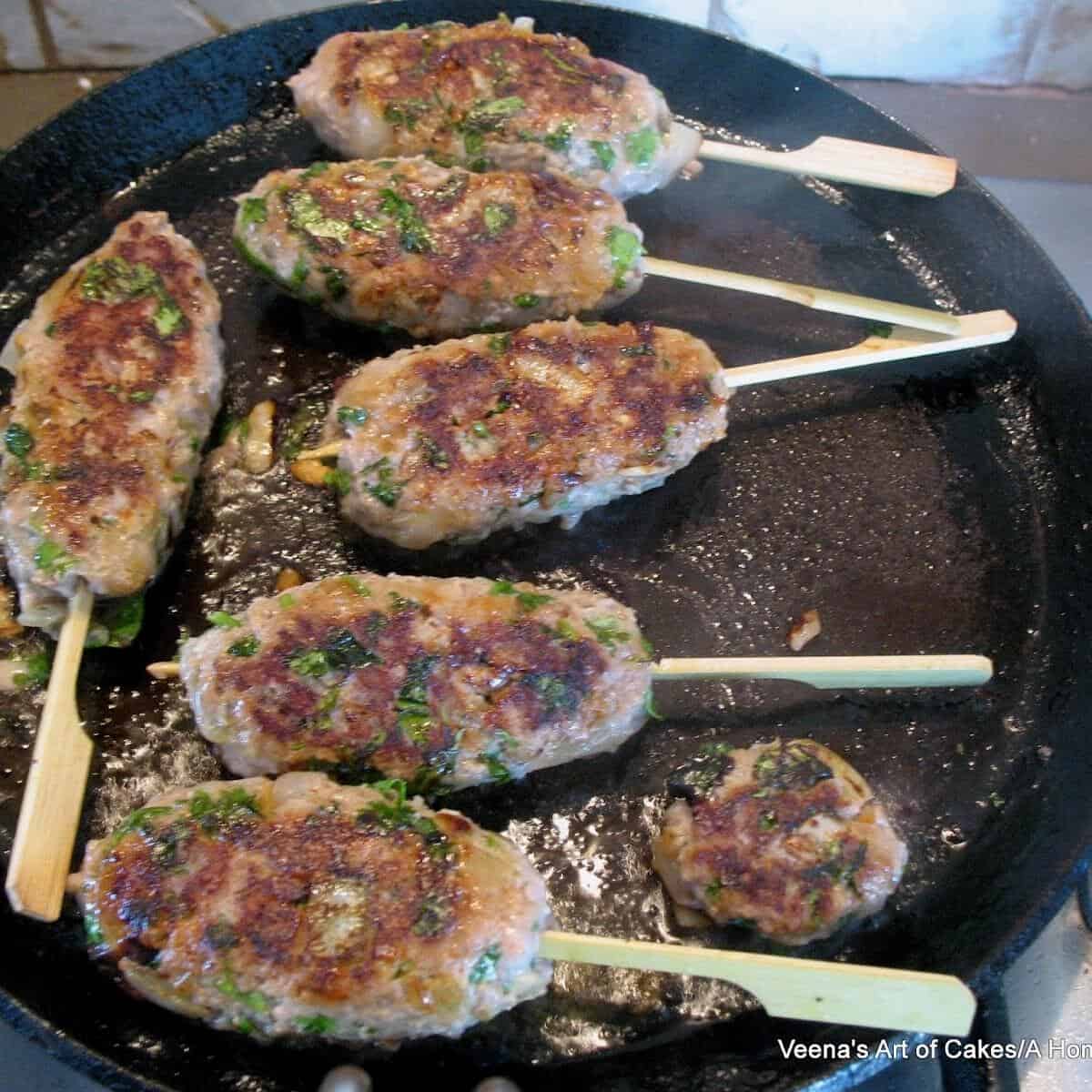 I am not going to lie. If I had to choose between shredded beef recipes and ground turkey recipes, it would be the former. That's because turkey is easy to overcook and becomes dry and unappetizing.
However, with these Ground Turkey Kababs from Veena Azmanov, you'll learn to keep them nice and moist. Plus, they are packed to the hilt with flavor from onions, herbs, and spices.
Pineapple Jalapeno Shrimp Skewers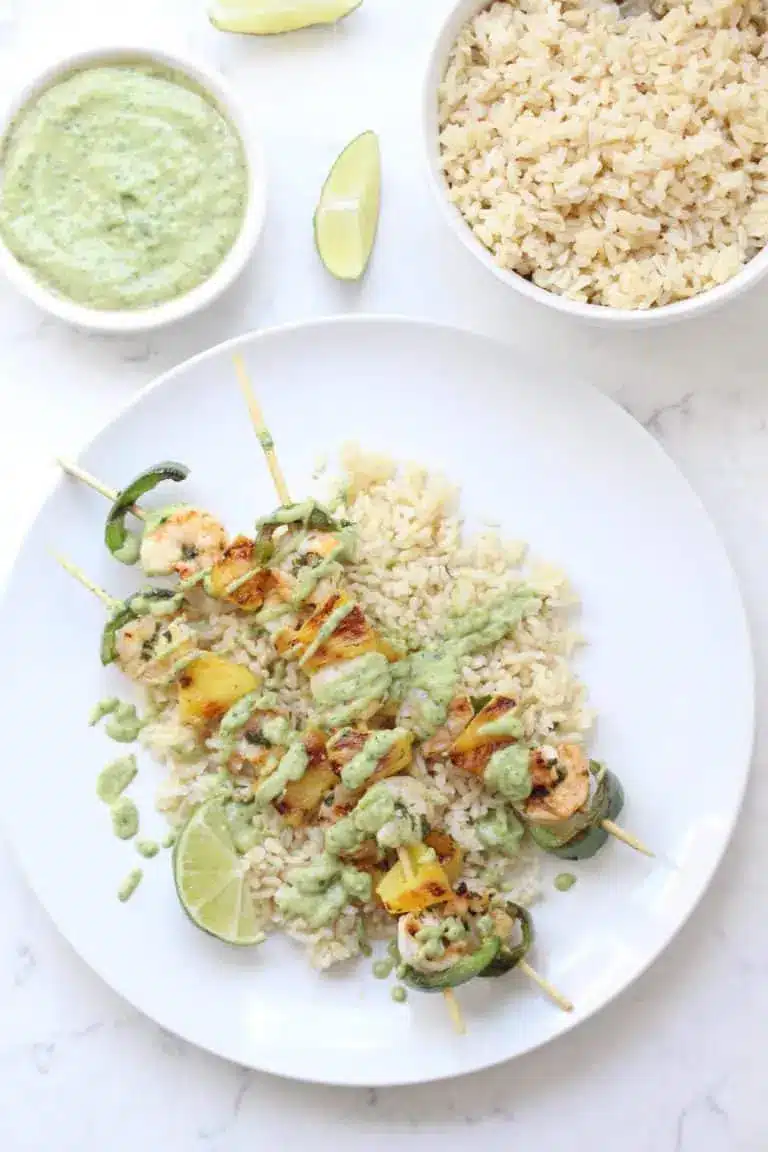 Bold. That's the word that comes to mind when thinking about these Pineapple Jalapeno Shrimp Skewers from Rachel of Zested Lemon. They have that peculiar tropical sweetness from the pineapple complemented by the unmistakable heat and flavor of the jalapeno. Combined with shrimp and rice, you've got a clean, protein-packed meal.
Beef Satay and Grilled Vegetables with Peanut Sauce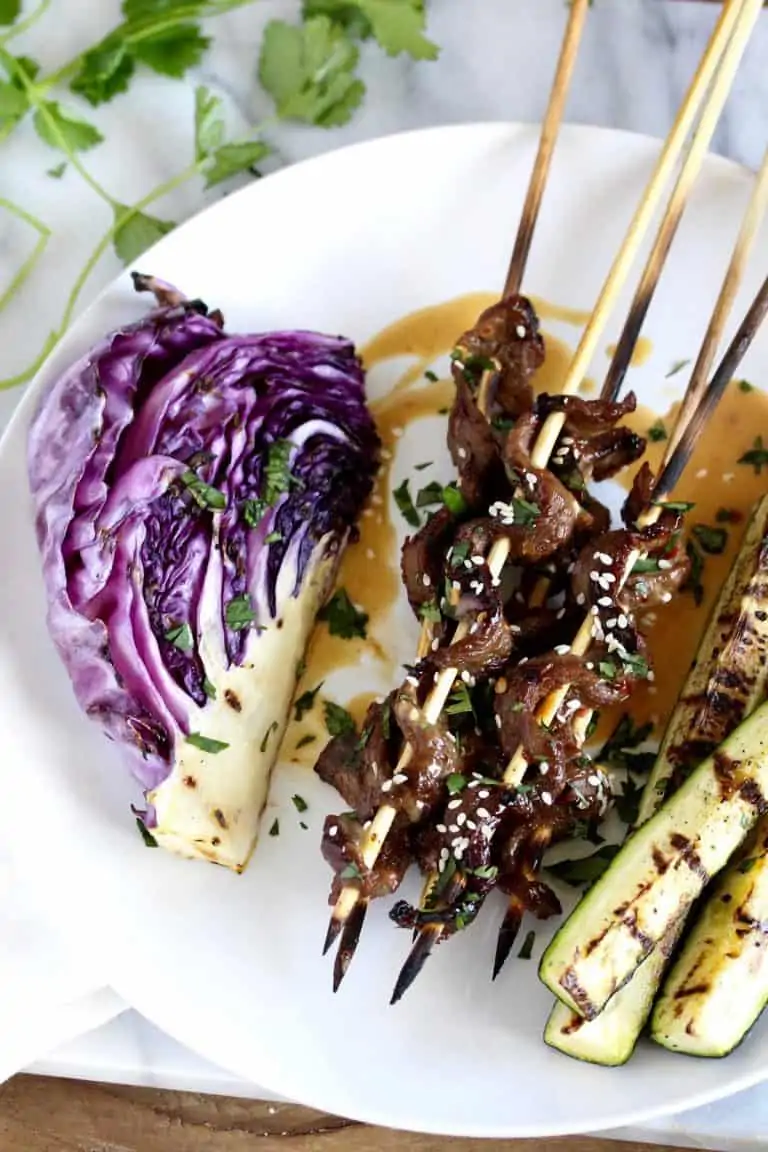 This Beef Satay and Grilled Vegetables with Peanut Sauce by Zested Lemon is perfect for Father's Day, Summer BBQs, and any other time you want to get together and feed a crowd.
It starts with beef flank steak, skewered and marinated in an unforgettable mix of brown sugar, soy sauce, rice wine vinegar, sesame oil, and ginger. Then it's grilled along with cabbage and zucchini. Finally, serve it with peanut sauce; your guests will always return.
Filipino Pork BBQ
You can't miss with this Filipino Pork BBQ shish kabob recipe from Urban Bliss Life. It starts with cubed pork marinated in flavor-maximizing ingredients like calamansi juice (golden lime juice), brown sugar, and ginger ale. Are you with me?! Then that pork is skewered and grilled. But here's another reason you'll love this recipe. Advance prep is simple. Cooking is easy, so you'll get to enjoy the cookout too.
Indian Tandoori Chicken Kebabs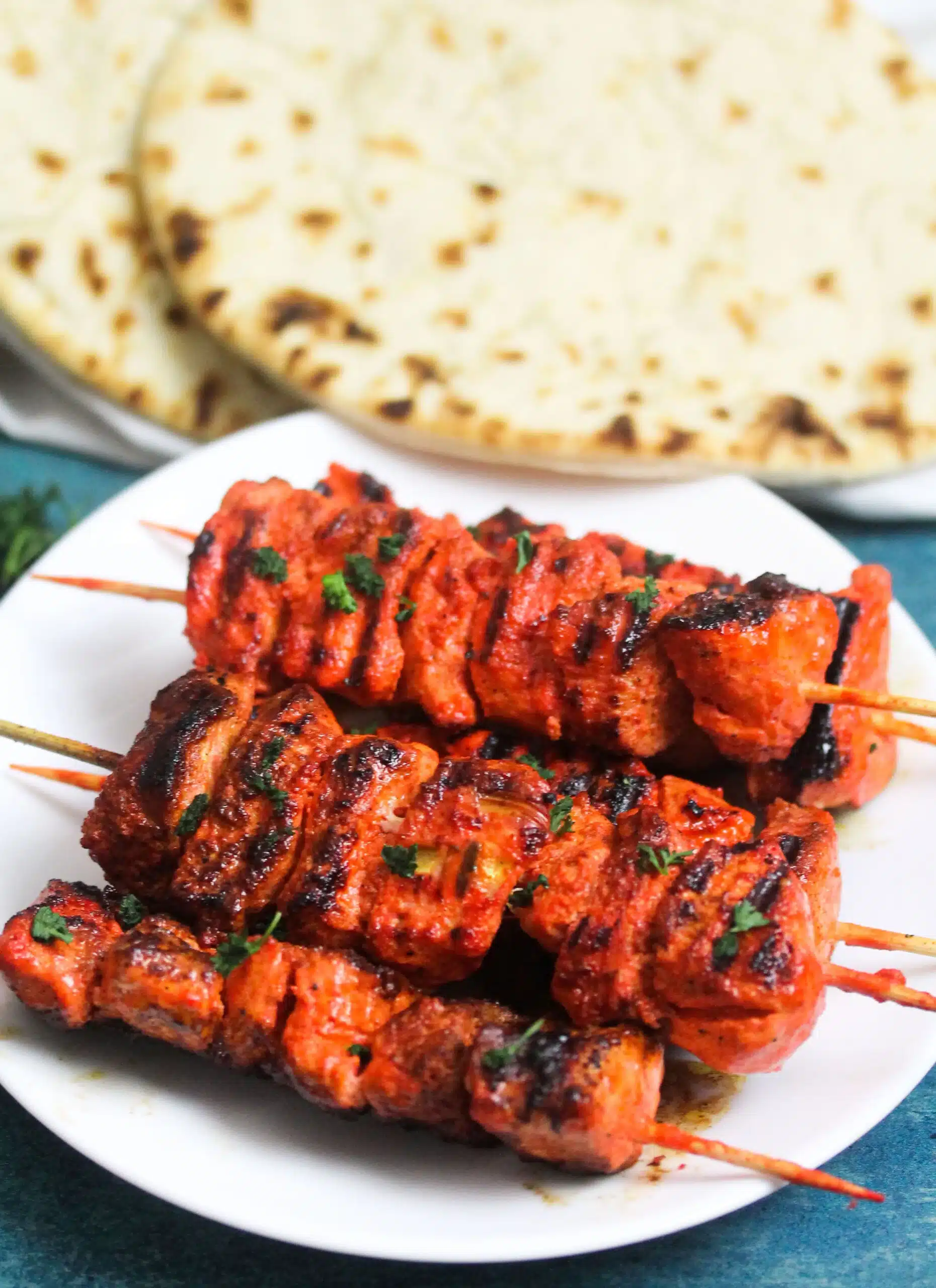 These Indian Tandoori Chicken Kebabs from Jen of Sims Home Kitchen are a tornado of flavor. You have chicken breast fillets marinated in tandoori masala, turmeric, yogurt, garlic, and more. And then it's skewered and grilled and served with pillowy soft naan bread.
Garlic Pepper Steak Kabob
Are you out of patience? Do you want food now? Well, this Garlic Pepper Steak Kabob from Longbourn Farms is just for you. Why? Because you don't have to marinate it. Instead, skewer meats, vegetables, season and grill. All you have to do is fire up the grill (pellet if your big hurry).
Venison Steak Kabobs
This Venison Steak Kabobs recipe from Beth of Binky's Culinary Carnival is a great way to use up those last few deer steaks. Or, if you're not familiar with Venison, this is a good way to get introduced to it. Beth keeps it simple with this one, seasoning the meat and veggies with fajita marinade.
Garlicky Cilantro Lime Swordfish Kebabs
These Garlicky Cilantro Lime Swordfish Kebabs by Lisa of Garlic & Zest will become part of your repertoire. You know, the recipe you pull out of your back pocket when you need something quick, easy, and healthy. Swordfish is thick and meaty, so it stands up to grilling, while the marinade is a simple but flavorful mix of oil, cilantro, garlic, jalapeno, and lime.
Which Shish Kabob Recipe Will You Try First?
You've seen so many excellent shish kabob recipes like Garlic Cilantro Lime Swordfish Kebabs, Filipino Pork BBQ Shish Kabob, Salmon Kabobs, and many more. So which one will you try first? We'd love to know!
By the way, don't forget to check out these other summer favorites.