Get ready to discover this amazing list of 21 red velvet dessert recipes. What originated as a red-hued chocolate cake with slightly tangy notes thanks to the vinegar and buttermilk is now a phenomenon with creations spanning a variety of confections.
Check this out! So, of course, you will find red velvet layer cake and cupcakes. Those are delicious classics. But we'll also take you on an exploration of the wilder side, where you will find everything from red velvet cinnamon rolls, puppy chow, cheesecake brownies, and pop tarts.
Yes, there's even a heart-shaped red velvet pop tart on this list!
Okay, keep calm. Take a deep breath!
Now, let's dive in!
And if you love this list, you will love our delicious red velvet waffle whoopie pies, and our red velvet cake jars recipe.
Red Velvet Cake
Naturally, the first recipe on this list should be a red velvet cake. Diana, the creator of Little Sunny Kitchen and this delicious recipe, offers her version of this classic. It's a made-from-scratch cake with none other than cream cheese frosting, as well as tips and tricks to help you get the best results. You'll love it!
Visit Little Sunny Kitchen for the recipe.
Red Velvet Cupcakes Recipe with Cream Cheese Frosting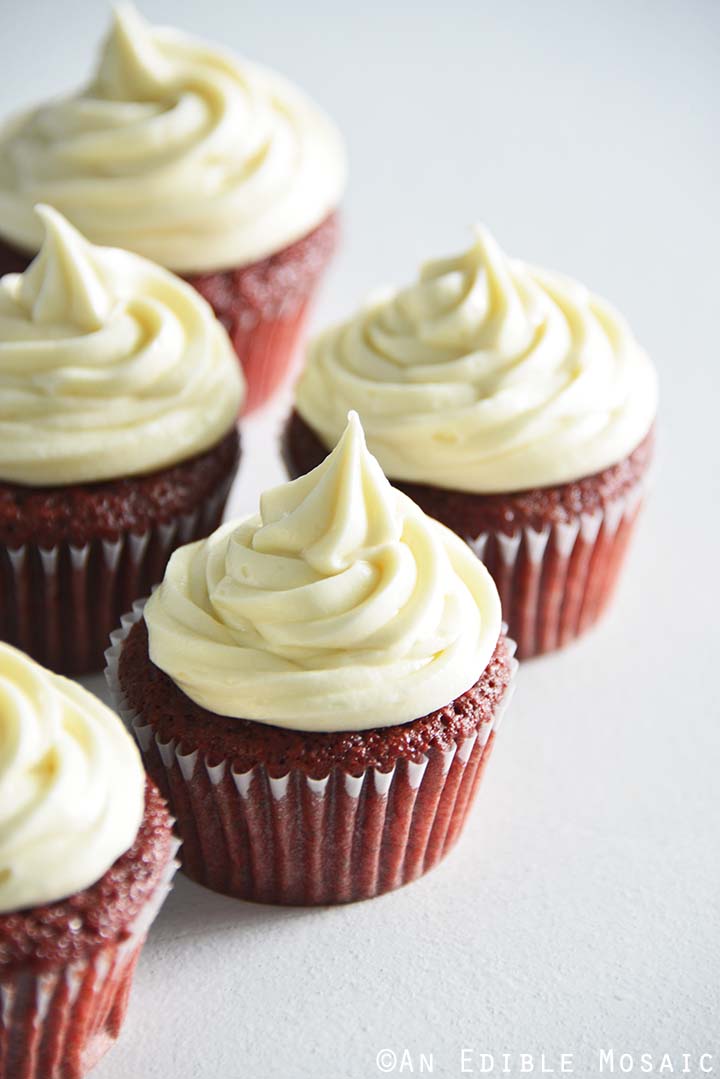 In less than an hour, you can whip up these marvelous red velvet cupcakes with cream cheese frosting from Faith of An Edible Mosaic. The cake is red but chocolatey, slightly tangy from the buttermilk, and dense yet fluffy. And the cream cheese is sweet and tart and pairs flawlessly with the cake.
Visit An Edible Mosaic for the recipe.
Red Velvet Puppy Chow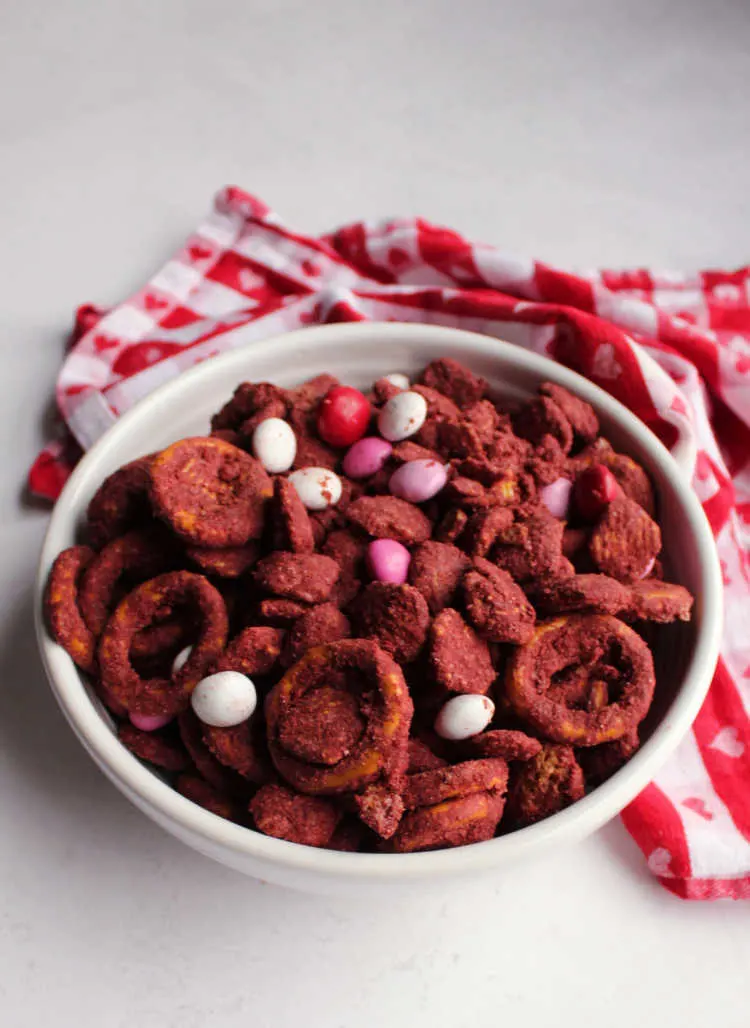 This sweet and salty red velvet puppy chow recipe from Cooking With Carlee has just a handful of ingredients and takes just seven minutes to make. Better still, the only cooking, if you can call it that, is melting the chocolate chips. What a fun snack!
Visit Cooking With Carlee for the recipe.
Red Velvet Latte
While the whipped cream is more pink than red for this red velvet latte from Ali of The Littlest Crumb, it's still a remarkable drink recipe that will leave an impression on Valentine's day. Plus, it comes together in just minutes with ten ingredients, including chocolate chips, milk, red food coloring, and sugar (chocolate shavings are optional).
Visit The Little Crumb for the recipe.
Red Velvet Marble Cake Recipe
This red velvet marble cake from Kate of I Heart Eating is a beauty of a recipe. The cake is moist, dense, and dreamy. But in addition to a decadent cake, Kate also shows you how to make picture-perfect cake swirls. A simple technique that's "duh" simple but genius.
Visit I heart Eating for the recipe.
Red Velvet Cake Mix Crinkle Cookies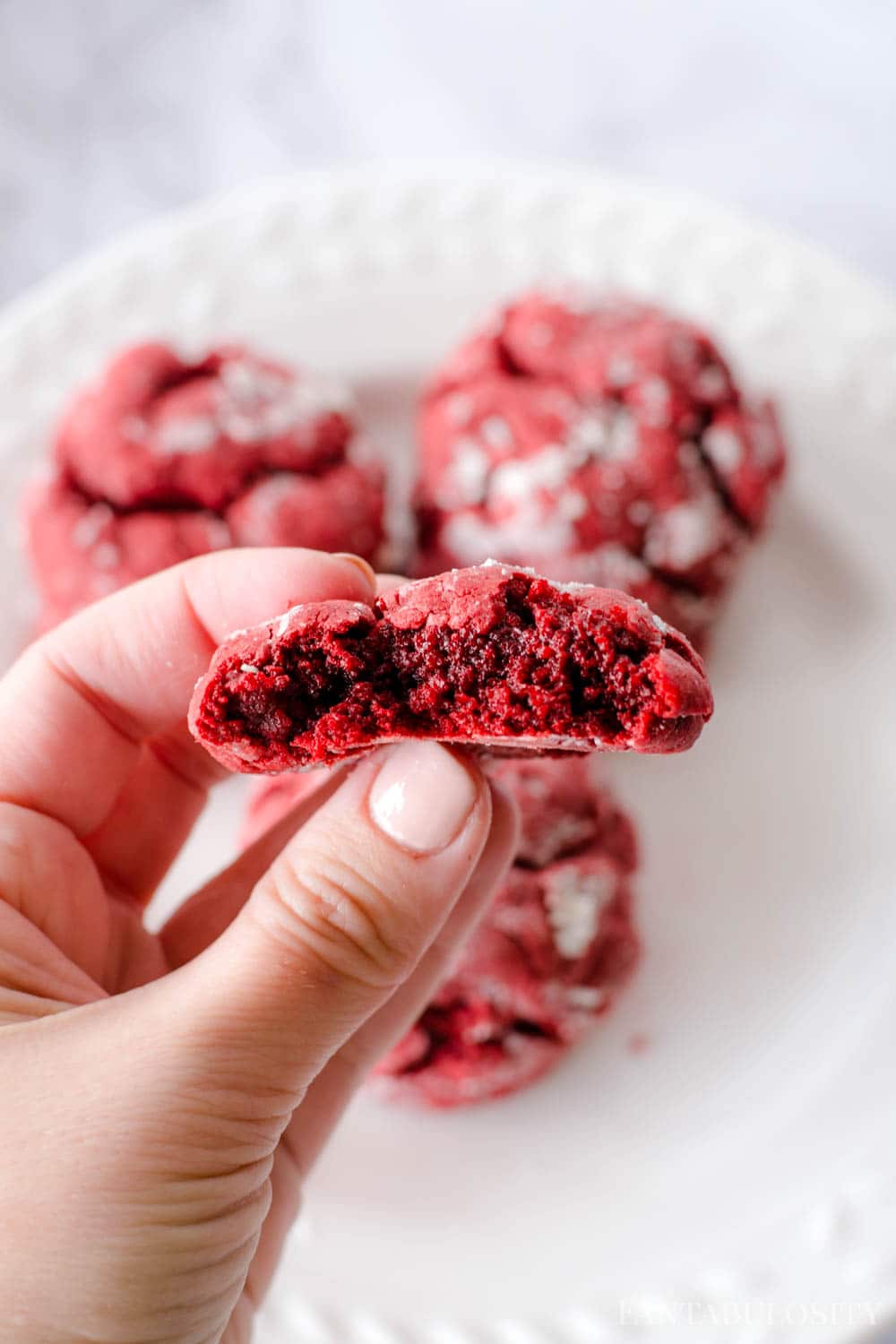 Like everyone's new favorite cookie shop that rhymes with "humble," these red velvet cake mix crinkle cookies from Jessica of Fantabulosity have an ooey-gooey center. Still, they're slightly crispy on the outside. Best of all, there are just a few ingredients, including the cake mix.
Visit Fantabulosity for the recipe.
Red Velvet Stuffed Cookies With Peppermint Crunch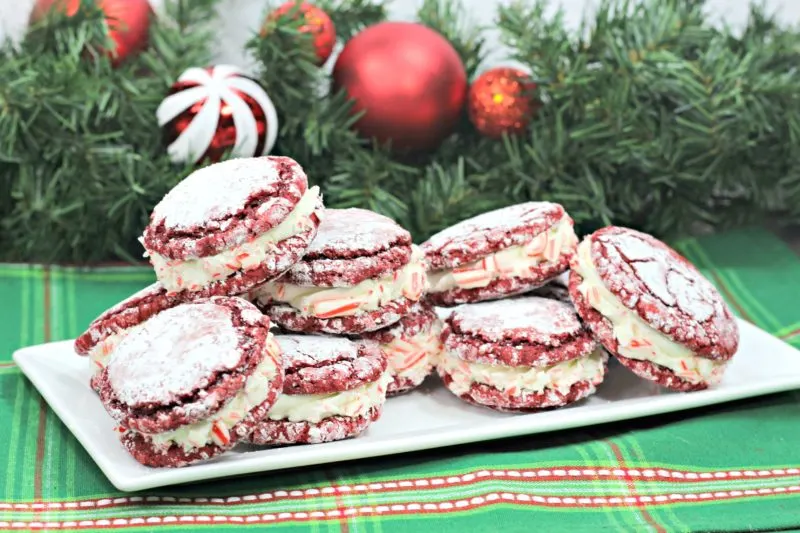 These red velvet cookie sandwiches from Kimberly of Savvy Mama Lifestyle may be some of the most spectacular cookie sandwiches you've ever seen. Get this; stuffed between two moist and tasty red velvet cookies, there's a delicious and cooling peppermint frosting. So here's an idea; give them away and make new friends.
Visit Savvy Mama Lifestyle for the recipe.
Red Velvet Cheesecake Balls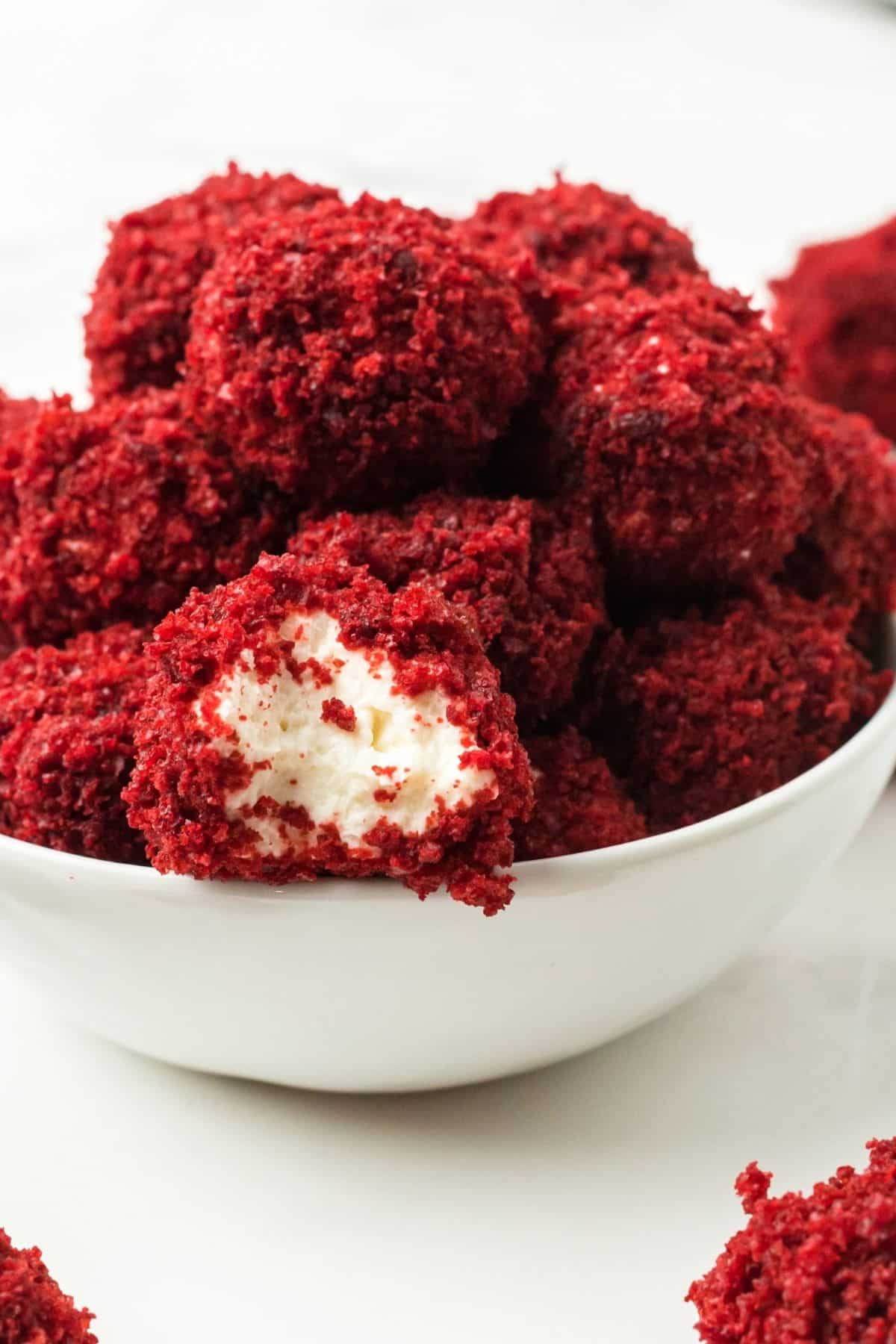 These red velvet cheesecake amaze-balls prove Alicia is doing a great job at Balancing Motherhood. For this simple recipe, you take no-bake cheesecake balls and coat them in red velvet cake crumbs. And as a bonus, they freeze well, so you can make them in advance for a delicious Valentine's day or anytime treat.
Visit Balancing Motherhood for the recipe.
Chocolate Raspberry Red Velvet Trifle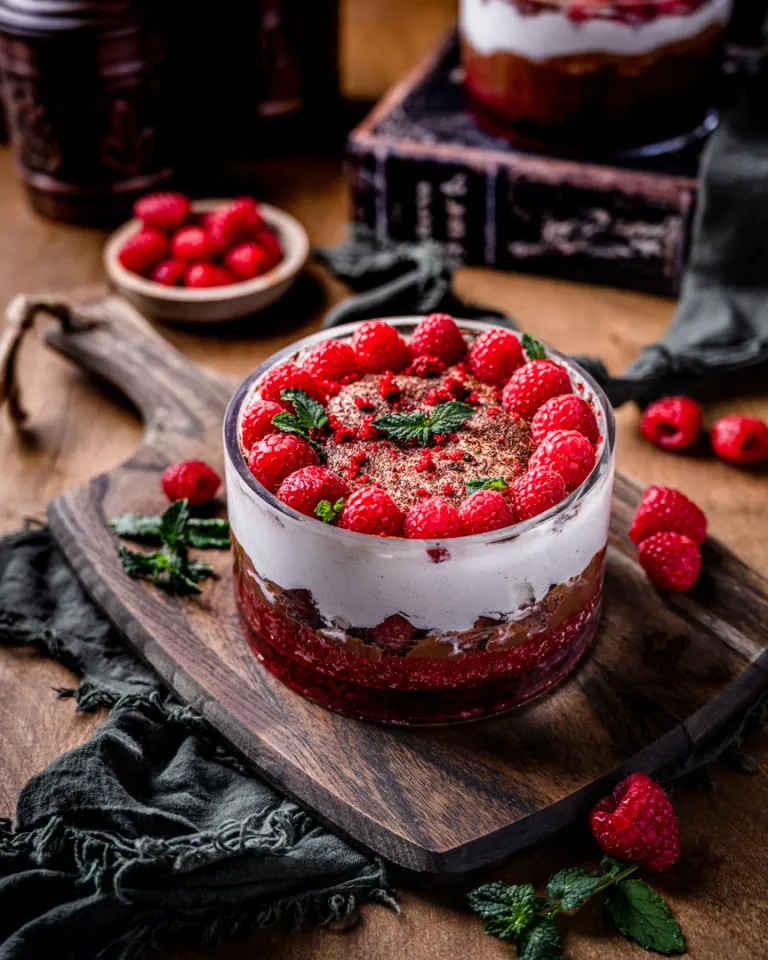 This gorgeous chocolate raspberry red velvet trifle recipe from team Cooking With Wine will stimulate your senses. But as stunning as this beautiful dessert is. The appearance is second to the flavor. First, you'll find a red velvet cake layer followed by liqueur-spiked chocolate raspberry sauce, fresh raspberries, and mascarpone.
Visit Cooking With Wine for the recipe.
Red Velvet Cookie Dough Ice Cream
Ditch the cookie dough ice cream and opt for this red velvet frozen creation from Susie of We Are Not Martha. This fun dessert is a delicious union of decadent red velvet cookie dough and silky smooth custard ice cream.
Visit We Are Not Martha for the recipe.
Red Velvet Macarons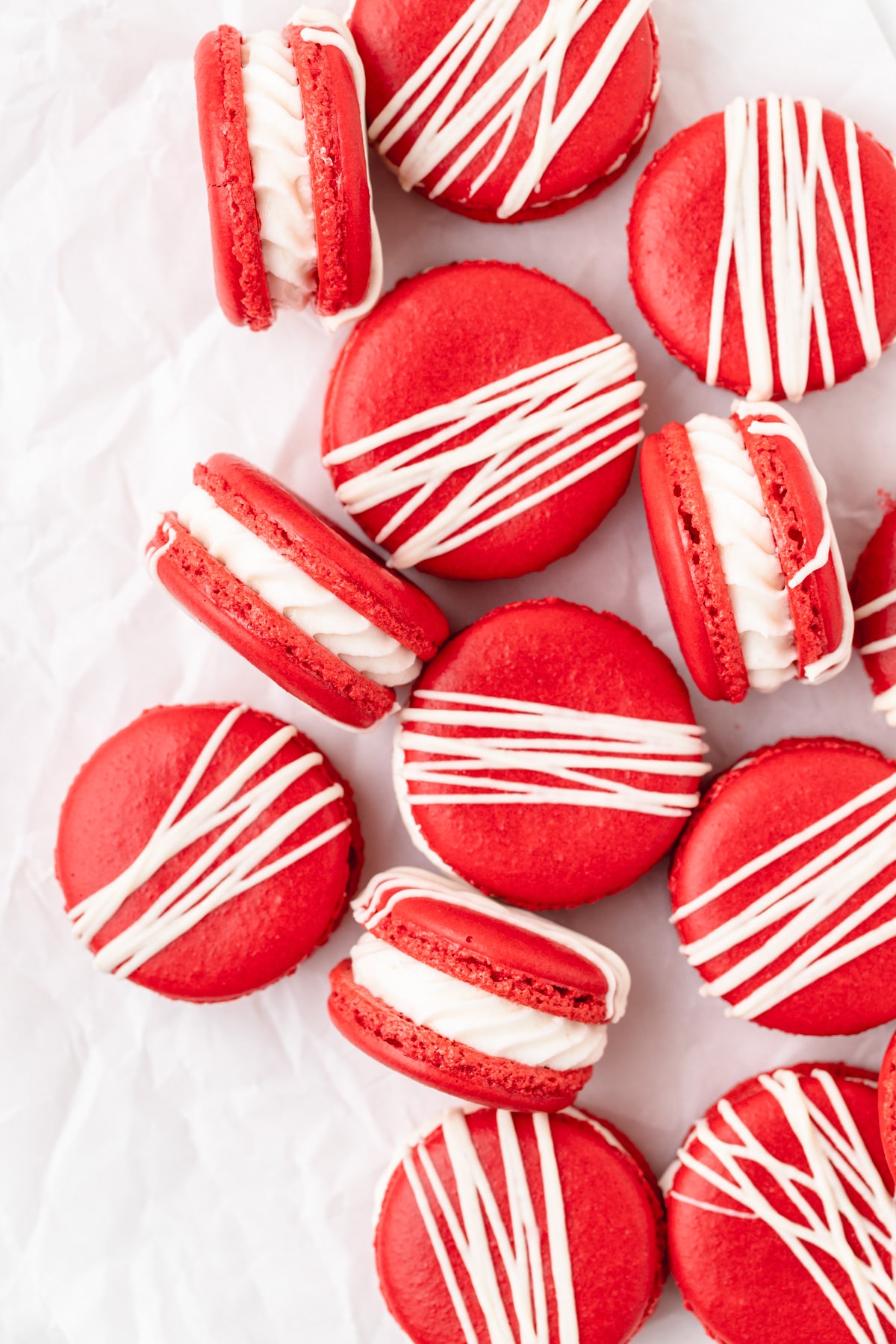 Red velvet macarons from Kyleigh of Barley And Sage are the most elegant way to eat a red velvet dessert. The stylish almond flour cookies are enhanced with chocolate and red food coloring. And sandwiched between them is a rich cream cheese frosting with white chocolate drizzled on the outside.
Visit Barley And Sage for the recipe.
Easy Red Velvet Ice Cream Cake
Is it anything other than luck to be born to a passionate baker? Such is the life of Terri's son. Each year the Food Meandering creator lets him choose his cake (and eat it too). One year he decided on this bright red, fluffy, moist red velvet cake filled with a delightfully easy no-churn cheesecake ice cream. Each component, the cake, ice cream, and frosting, is well-developed and utterly delicious. It's a dream.
Visit Food Meandering for the recipe.
Red Velvet Cheesecake Brownies
Although we eat with our eyes first, aren't you glad you don't get the calories from ogling desserts? These decadent red velvet brownies from Flavor The Moments are complete with swirls of cream cheese and chocolate chips. They're so beautiful with minimal prep time. Our fear is sticking to eating just one.
Visit Flavor The Moments for the recipe.
Red Velvet Cinnamon Rolls
So these red velvet cinnamon rolls from the Eat The Love test kitchen were born out of an unsatisfactory cinnamon roll experience. And Irvin just can't let that stand! So, he created these toothsome rolls with tangy cream cheese frosting.
We love Irvin's recipe because he made it from scratch, whereas most others use cake mix. The yeasted dough ensures a texture you're familiar with.
Visit Eat The Love for the recipe.
Red Velvet Mini Cheesecake Bites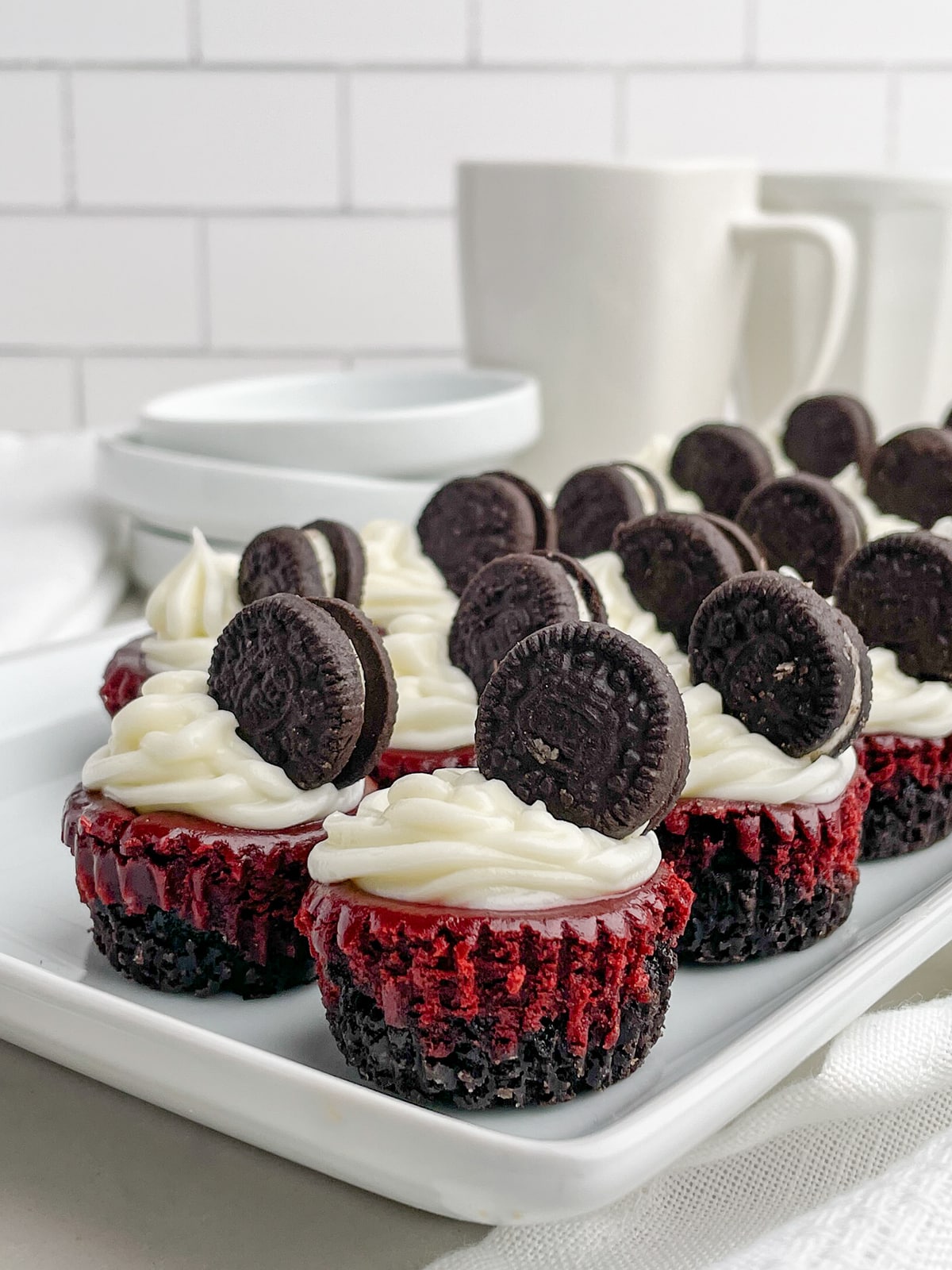 These dessert bites from Cara of Midwestern HomeLife have a crushed oreo crust and a red velvet cheesecake filling. They're topped with cream cheese filling and a mini oreo to up the cute factor, which makes them perfect for parties and potlucks.
Visit Midwestern Homelife for the recipe.
Red Velvet Cake Jars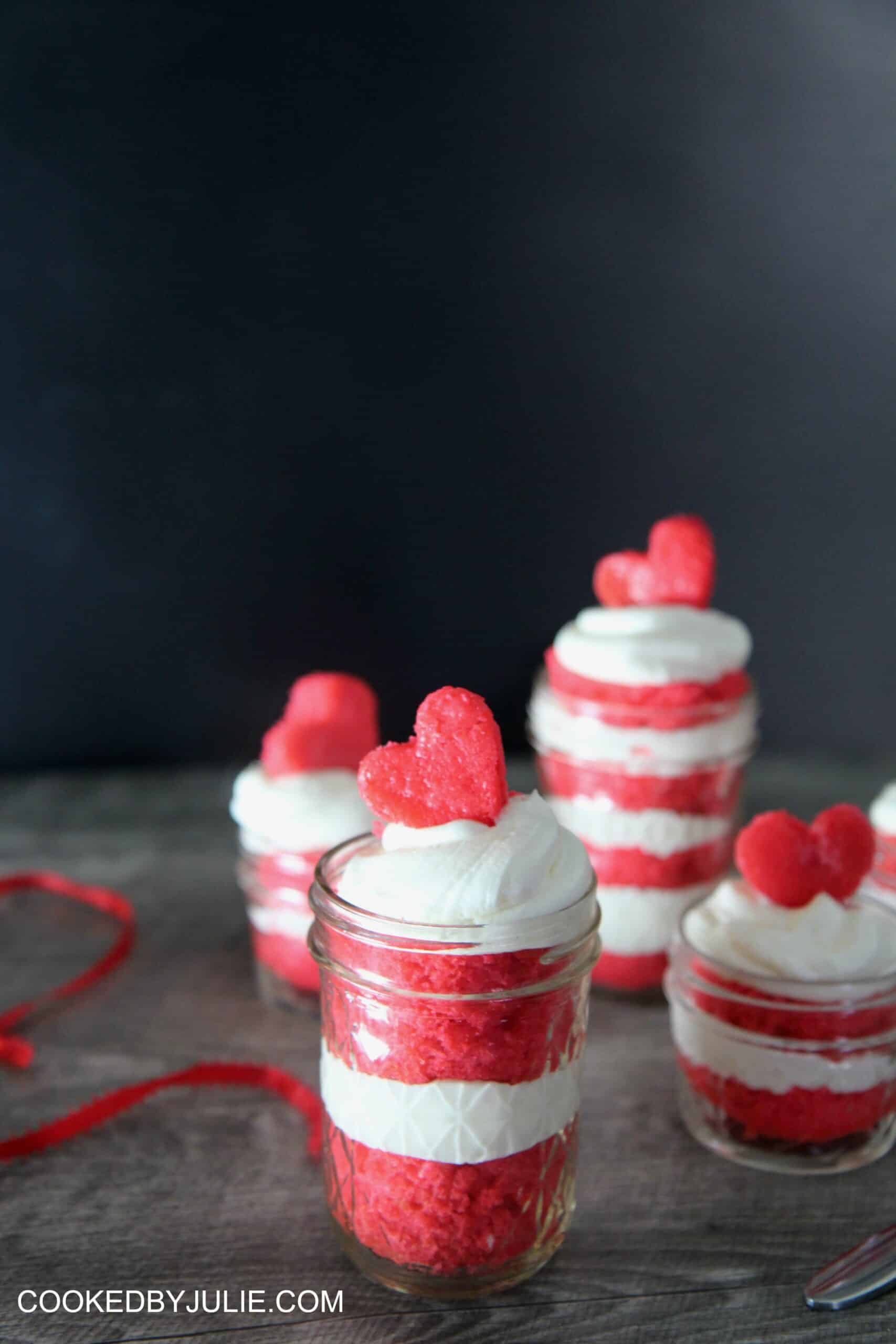 These red velvet cake jars from Cooked By Julie are almost too cute for words. Like our Christmas cake jars, they are an ideal holiday treat or food gift. Why? Because they are delicious, adorable, and easy to make. You simply bake the cake, make the frosting, and alternate layers of cake and frosting in the jars.
Visit Cooked By Julie for the recipe.
Red Velvet Blossom Cookies
Cookies like these beautiful red velvet blossoms from Alli of Dancing Through The Rain are great for holiday celebrations. They look amazing with the bright red color and chocolate kiss in the center. Plus, they're easy, inexpensive, and great tasting, and you can make a lot for a crowd in no time!
Visit Dancing Through The Rain for the recipe.
Red Velvet Cake Roll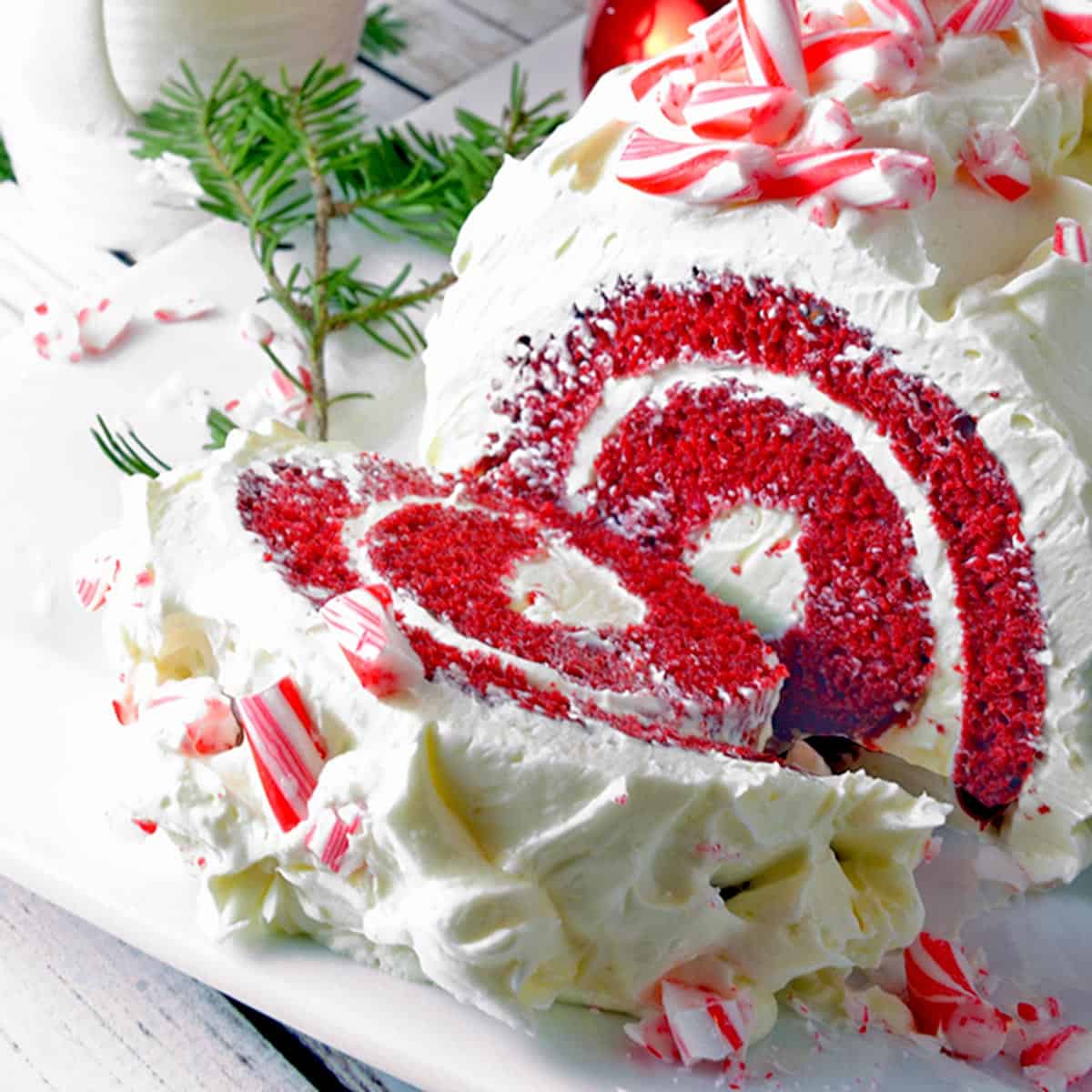 This Christmas roll cake from Dan of Platter Talk is made with red velvet sponge cake and white chocolate peppermint buttercream frosting. It's a fun and easy dessert that captures the essence of the holidays. And as a bonus, it'll be the envy of the dessert table.
Visit Platter Talk for the recipe.
Red Velvet Pop Tarts
While these red velvet pop tarts from Sues of We Are Not Martha are bright red, heart-shaped, and covered with heart-shaped sprinkles, she encourages you to make them for Valentine's Day or any time you get the red velvet food itch. And if that wasn't enough to convince you, the crimson pastries are stuffed with a tempting cream cheese frosting.
Visit We Are Not Martha for the recipe.
Red Velvet Wreath Cake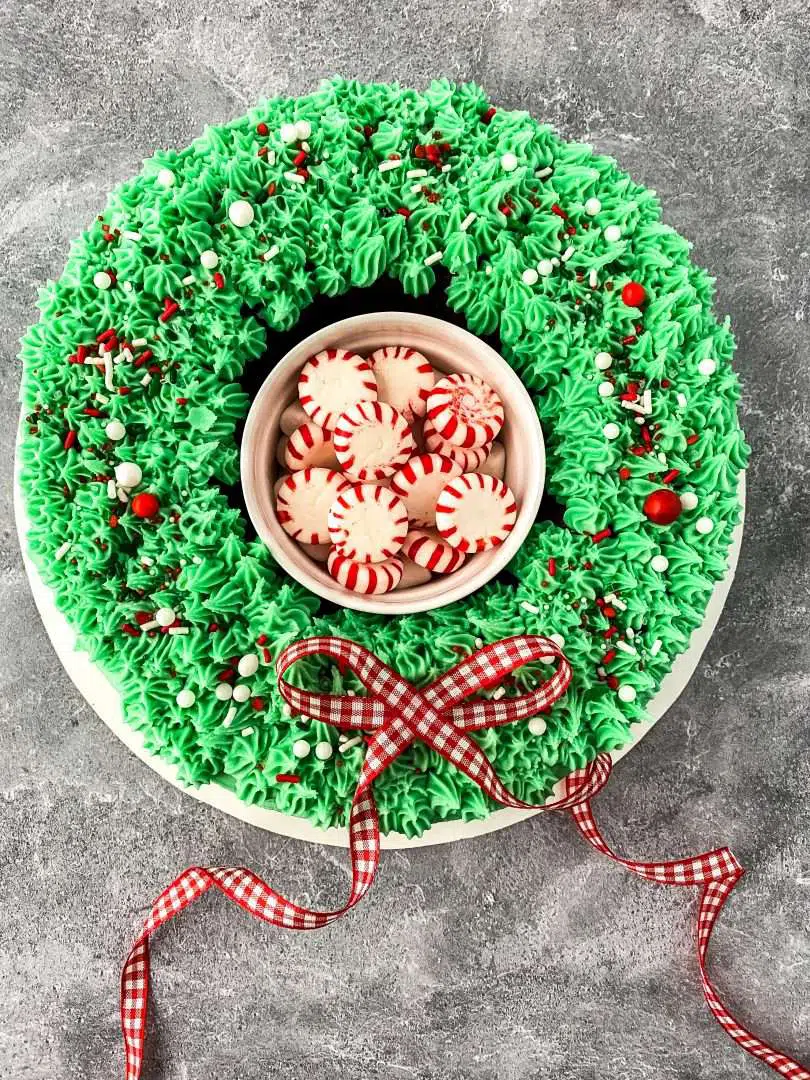 Sure, everyone loves your Christmas cookies, but imagine the look on their faces when you present this brilliant red velvet wreath cake from Allison of Loving Living Lancaster. So, your guests will love it for novelty, but you'll be happy to know that it's easy to make. It starts with a box cake mix you bake in a giant donut pan, then you frost and decorate.
Visit Loving Living Lancaster for the recipe.
Easy Red Velvet Fudge Recipe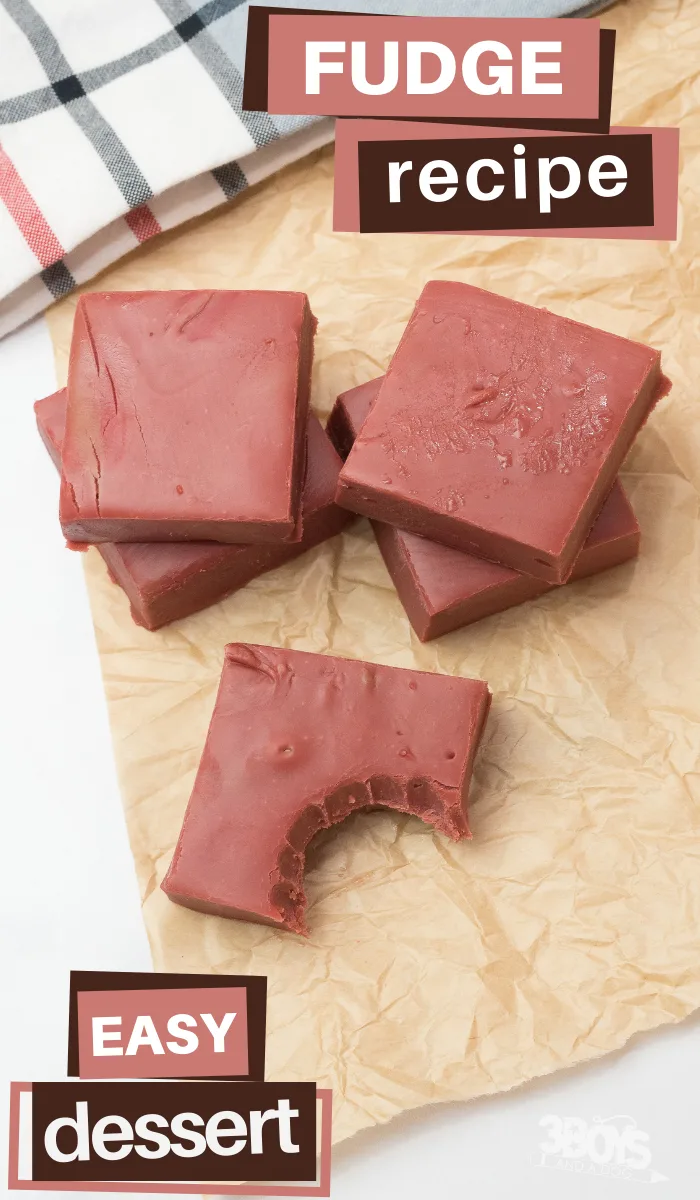 This four-ingredient red velvet fudge recipe from Kelli of 3 Boys And A Dog couldn't be easier to make. First, combine the white chocolate chips, condensed milk, and milk chocolate, then microwave (in increments) to melt, then add red food coloring. The hardest part is letting it set for two hours.
Visit 3 Boys And A Dog for the recipe.
Which Delicious Red Velvet Recipe Are You Looking Forward To Trying First?
So, will it be the red velvet Christmas wreath, cake roll, marble bundt cake, or something else entirely? Let us know!