These jalapeno popper stuffed pretzels are a crowd favorite. And one of our favorite stuffed pretzel recipes. They are easy to make and will fly off the plate as soon as you put them out. On top of that, they come out looking so beautiful!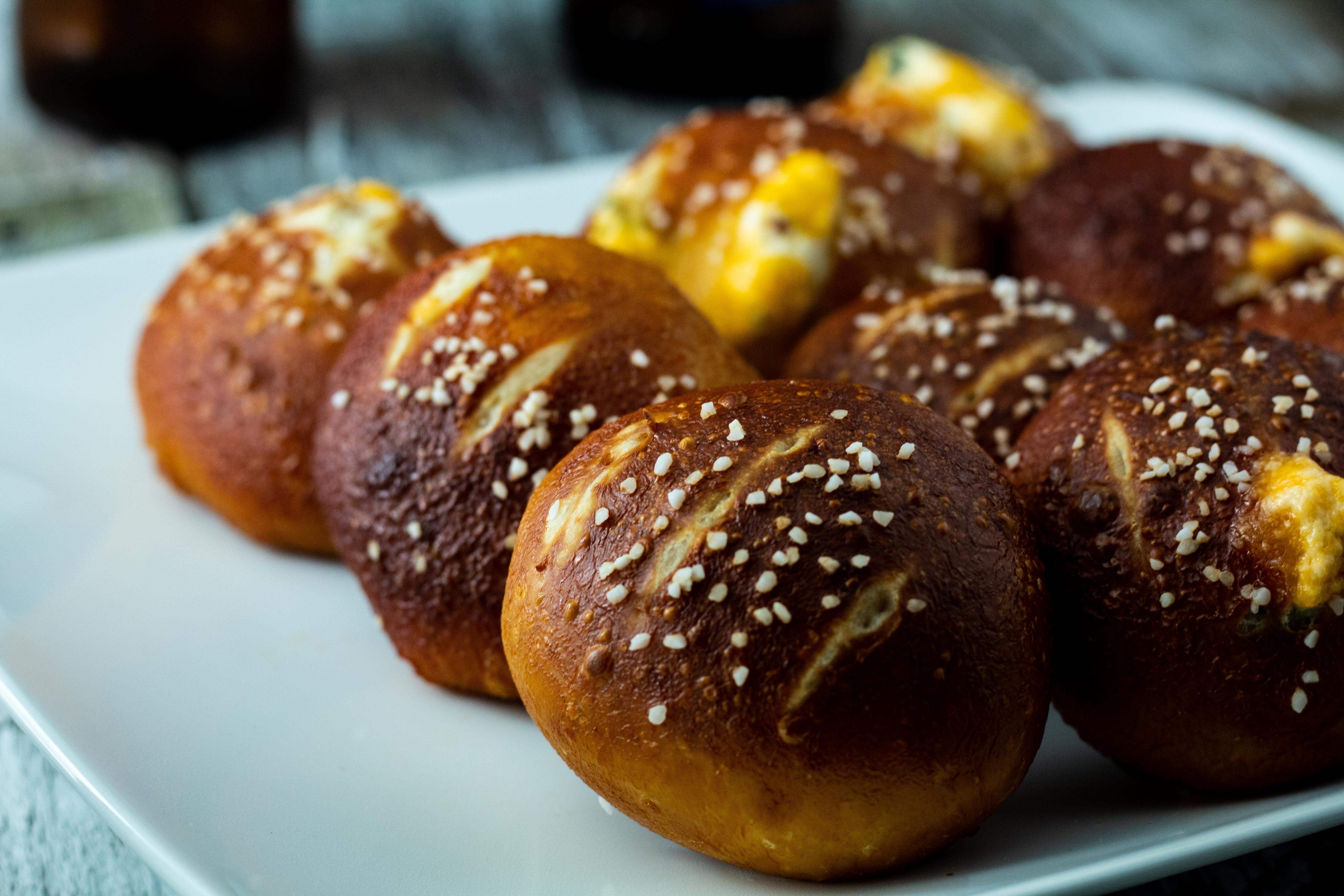 We are very big pretzel fans. So much so its borderline obsessive. And we're also a bit snobby when it comes to the mahogany colored dough. Just a little. Now, that doesn't mean that we are strictly traditionalist. I mean, you are reading a recipe for Jalapeno popper stuffed pretzels. But, we do think that pretzels should taste like, well, pretzels.
Popular mall versions of the pretzel have, in my opinion, changed the way folks once thought of pretzels. I'm not saying that the food stuff made at these places doesn't taste good. It's just that it doesn't taste like an actual pretzel. Call em' buttery dough bites or make up some other cute name for the twisted dough and I don't have problem with it. But a pretzel it is not.
So, what makes a pretzel a pretzel? The magic of the pretzel happens when the dough takes a bath in a high alkaline solution. The dough needs to be dipped in a food grade lye or baking soda solution. Preferably lye. This step is what gives pretzels that deep brown mahogany color and almost leathery skin. Look, we've tried pretzels made both ways and nothing beats the food grade lye bath if you're trying to get that deep authentic flavor.
But why do so many folks opt for a less tasty non-pretzely pretzel? Well, for one, there is the fear of lye. I don't blame you if you're a little apprehensive to work with food grade lye. After all, it is the stuff that we use to clean drains. Although, I promise you it's not that bad. Another is that food grade lye can't easily be found at your local grocery store. It's a specialty item.
I'm here to tell you that ordering food grade lye is easy, just go here. And that it isn't dangerous IF the proper precautions are used. You can find more information on the proper precautions here.
Note: If you don't want to use lye, see the instructions to make a baking soda bath in the recipe section below.
Okay, so that's the end of my rant. Moral of the story: eat better pretzels!
Now, I'm sure that there are lots of other jalapeno popper pretzel recipes out there. We may have even pinned a couple to one of our Pinterest boards. But, we went ahead and made this one because we love pretzels and we love jalapeno poppers.
This combination is a no-brainer. That cream cheese, cheddar, bacon, and jalapeno filling goes perfectly with that authentic pretzel flavor.
First you will need to make the dough. For the liquid, you can use beer or water. To maximize the flavor, we recommend that you use beer. But, water is fine.
Next, make that filling. It's very easy to do. Let the cream cheese come to room temperature or soften it by putting it in the microwave. Take a bowl and combine the cream cheese, jalapeno, bacon, and cheddar. Boom! You're in the game!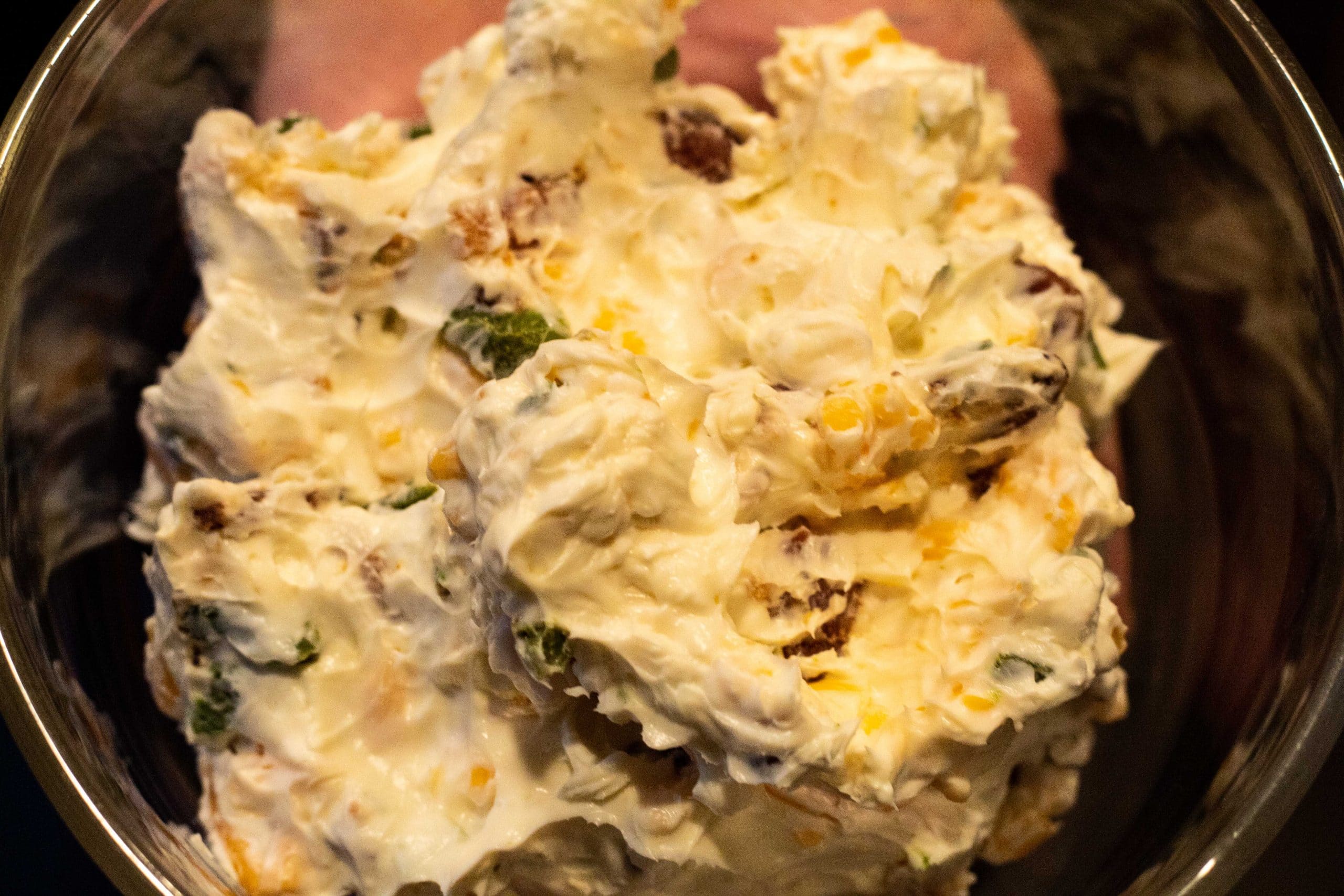 We wanted to make our pretzel balls to a pretty consistent size, so using our kitchen scale, we weighed out about 1.5 (About 3 to 4 tablespoons) ounces of dough for each ball. We felt this was a perfect snack size.
Then we rolled out the little do ball to about ¼ inch thick, added about two teaspoons of filling, and closed the dough ball.
We then dipped the balls into a food grade lye bath solution. Don't let the pretzel dough soak. Seriously, a quick dip of 30 seconds is all that is needed. We recommend that you use a kitchen timer.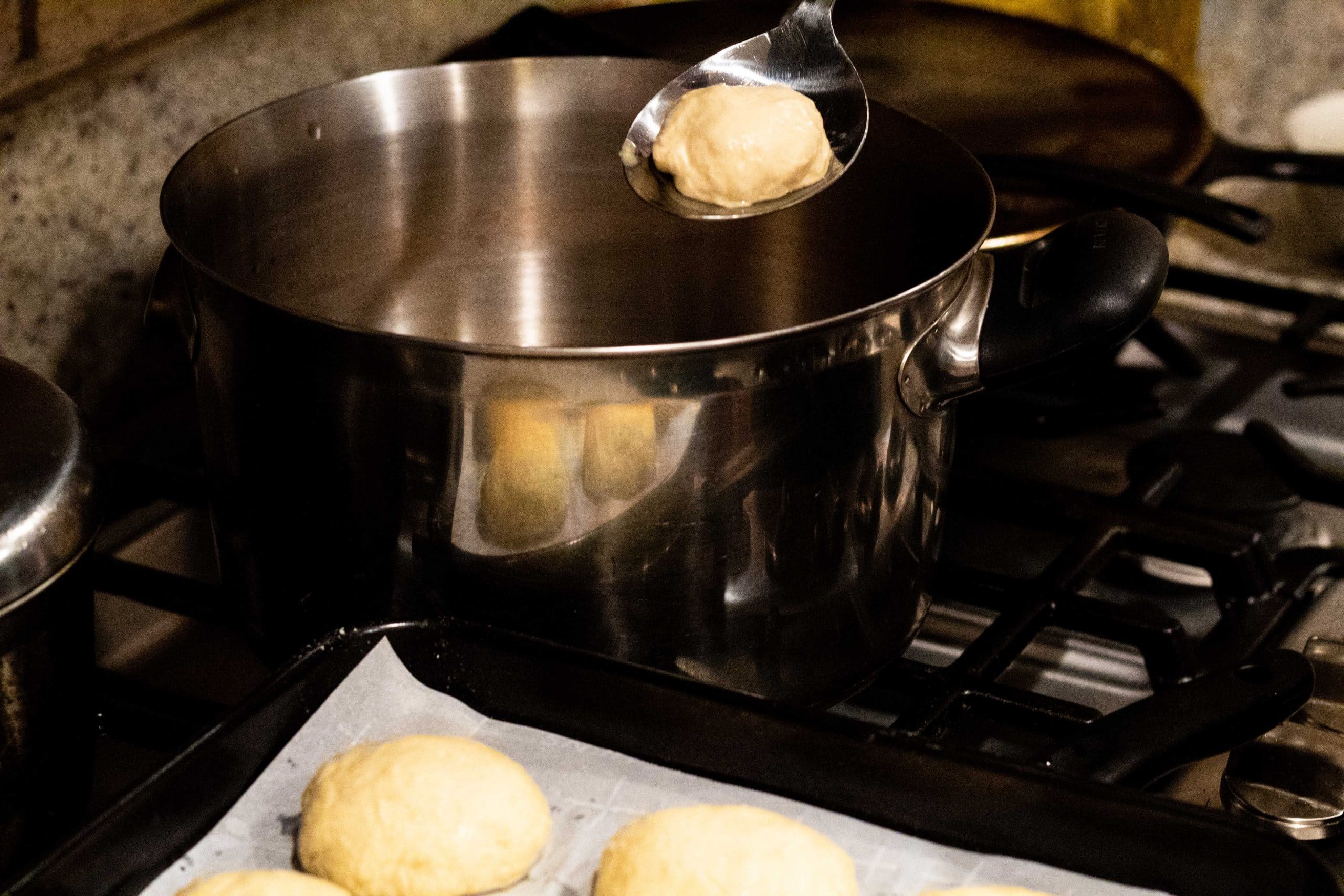 Place the dipped pretzel balls onto a parchment or wax paper lined oven pan or cookie sheet. Then, use a sharp knife to score the stuffed dough balls. We made scores on each ball. You can mark an "X" across the top or you can make 3 separate scores. This helps to prevent the pretzels filling from bursting through. Unless you score to deeply (like we've done more than a couple times).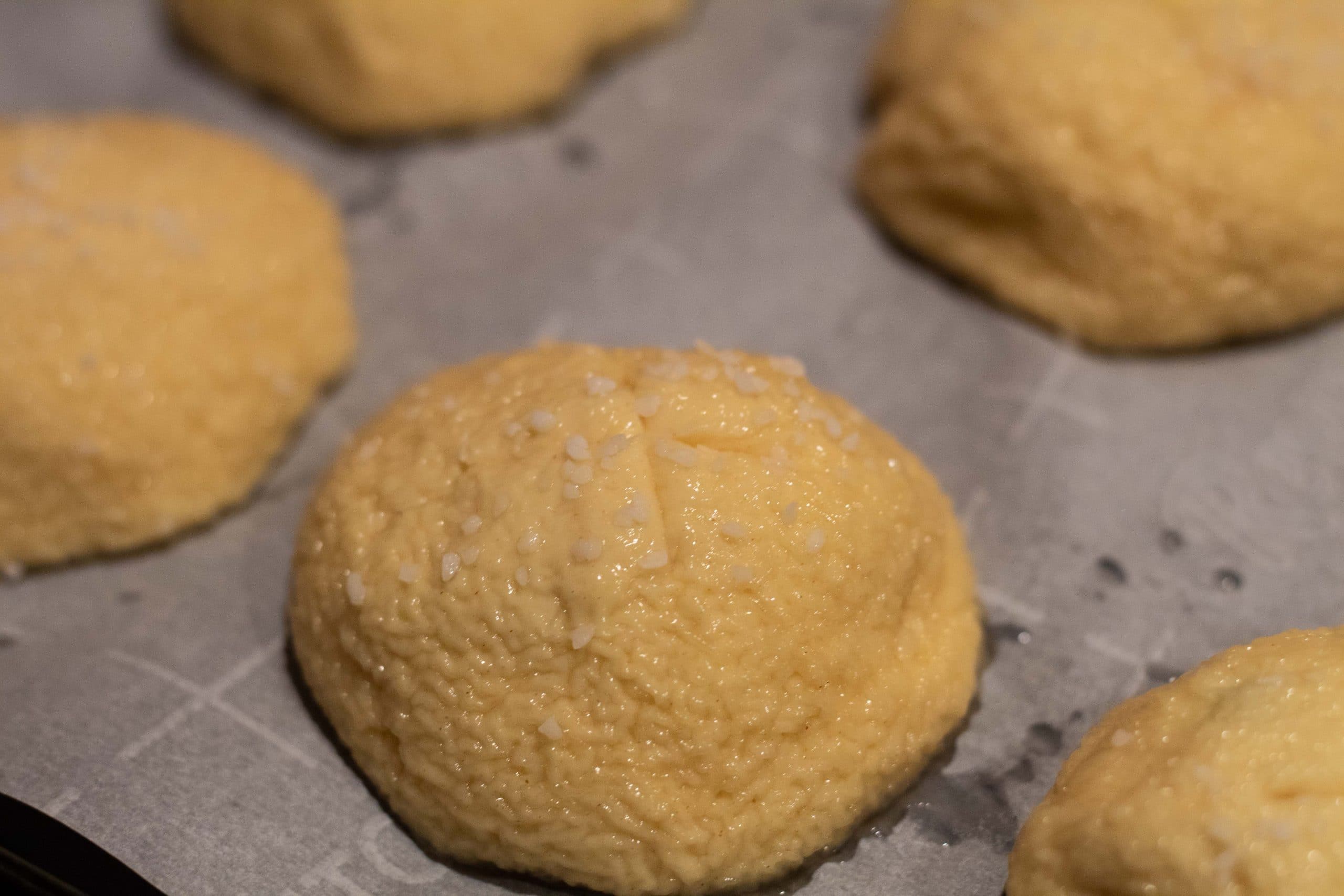 Now, the baking time can vary for a few reasons. Including the size of the dough ball and which rack you use. We have a smallish oven so our baking time seems to be quite fast. For us, our pretzels were done in about 8 minutes. 10 or 12 minutes might be the time you require. We recommend that you watch the progress at about 7 minutes and adjust accordingly.
These little shareable pretzel ball bites are a crowd-pleaser perfect for football games, tailgating, birthday parties, and other similar gatherings. Make these once and you're guest will want them all the time!
Jalapeno Popper Pretzel Bites
These jalapeno popper stuffed pretzels are a crowd favorite. And one of our favorite stuffed pretzel recipes. They are easy to make and will fly off the plate as soon as you put them out.
Ingredients
Jalapeno Popper Filling
4

Ounces

Cream Cheese

Room temperature

¼

Cup

Cheddar Cheese

Shredded

1

Medium Sized Jalapeno

Broiled

Salt and pepper to taste

2

Sliced of Bacon

Crumbled
Lye Bath
2

Tablespoons

Food Grade Lye

6

cups

of water
Instructions
Make a batch of basic pretzel dough. Click here to see the recipe.

Start by cutting the jalapeno in half and taking the seeds and rib out. If you like it spicy then by all means keep the seeds in and broil the jalapeno whole. Broil the jalapeno in the oven for about 10 minutes or until the skin gets nice and charred (rotate the pepper to ensure all sides are charred). The cooking time could change depending on how close your rack is to the broiler so keep an eye on it. When the jalapeno is done take a paper towel and pull the skin off then mince and set aside. (See notes)

Cut the bacon into strips and cook on medium heat until crispy. Add the cooked bacon in a small bowl lined with paper towel. (See notes)

Add the cream cheese, jalapeno, bacon and cheddar cheese in a medium size bowl. Mix until everything is well combined.

Measure out a 1.5 ounce of pretzel dough using a food scale. (See notes) Roll the dough out about ¼ inch thick. Fill the dough with 2 teaspoons of the cream cheese mixture.

Fold the dough over the mixture ensuring no filling will leak out. Pinch the dough once you have covered the filling. Place on a parchment lined baking sheet.
Lye or Baking Soda Solution
Gather safety goggles, disposable rubber gloves, stainless steel pot, long stainless steel stirring spoon. Put on safety goggles and rubber gloves.

Take the stainless steel pot and fill it with 6 cups of water. Add the lye to the pot and heat on high until you see steam. Then turn the heat off and set aside for about 5 minutes until you no longer see the steam. Make sure that the area you work in is well ventilated. Do not inhale the steam.

If you opt to use baking soda instead of lye, follow these instructions:

When using the baking soda bath you will need to bake ¼ cup of baking soda at 250 degrees for 1 hour. Then you will need a stainless pot with 8 cups of water. Add the baked baking soda to the pot of water and cook on high until you it simmers. Use a stainless steel spoon to mix the solution to make sure the baking soda dissolves. Then turn the heat to medium to maintain a simmer. You are ready to dip your pretzels for 30 seconds then cook.

Once all bites are made dip them in the lye bath for only 30 seconds. That's right I said 30 seconds. You do not want to soak the pretzels in the lye bath. Make sure to use a kitchen timer to ensure each bite only sits in the lye bath no longer than 30 seconds. Place the bites back on the parchment paper. At this stage, because of the lye, do not touch the pretzels with bare hands.

After all of the pretzels have been dipped in the lye solution be sure to clean the pot, any utensils and work area. You can pour the lye solution down the drain. Clean the pot, utensils and work area with soap and warm water.
Baking
Preheat the oven to 425 degrees.

After dipping the pretzels use a sharp knife cut a couple slits on the bites to prevent them from exploding in the oven. Top each bite with salt and bake at 425 degrees for 10-12 minutes.

Let the bites rest about 5 minutes before digging in, you don't want to burn your mouth. Enjoy!
Notes
I like getting the skin of the jalapeno nice and charred that is where you will get that smoky flavor without using a grill. You want to pull the skin off after it's done because let's face it eating a piece of charred skin isn't going to taste that good and you don't want to make the mixture taste bitter. I promise you will still have that smoky flavor.

If you don't put the bacon on paper towel, then the mixture could be too wet and no one likes a soggy pretzel.

If you do not have a food scale you could use a tablespoon. Measure out about 3-4 tablespoons to ensure all bites are even in size and to ensure proper cooking.

If these don't fly off the plate you can place leftovers in the refrigerator for up to 3-5 days.

They are best reheated in the oven at 350 degrees for about 5 minutes.

If you let the bites sit too long on the baking sheet it will be a little harder to score them. Make sure you score each bite as soon as you finish dipping them in the lye bath.

Follow all of the safety precautions when working with food grade lye.