At the time of this Vitamix 6300 review (also known as Vitamix 1891) for more than 3 years, and it is by far the most expensive and important small kitchen appliance purchase we've made thus far.
Please note that this review is necessarily long in order to provide with enough information to help you in your research.
(Update: We've had this Vitamix for nearly 4 years now and it is still going strong)
Healthy green smoothies, an easy way to get your fruits and vegetables, are a regular part of our diet now.
We found out about Vitamix a long while ago but it wasn't until a trip to Costco in late 2014 (crazy, I know) that we really began to pay attention to the brand. They do a really good job selling these machines with the live demonstrations.
With a loud microphone and plenty of fruits and vegetables at her disposal, Sharon, the Vitamix demonstrator, worked her magic. "You Sir, have a try", I did and, whatever that concoction was, (I forget but it had apple and celery and some other stuff) it was great. That was the best green smoothie thingy I ever had up til' that point at least.
Click here to see the Vitamix 6300 (1891) on Amazon…
But…
There was no way on this planet or Mars even that I was going to pay $500 for a blender. Or so I thought. I mean it's just a blender, right?
We wouldn't buy a new super-blender on that cold fall day. But the seed had been planted. And my subsequent research lead me into a world I never knew existed. A world of blending and of one that you could only access with the right equipment. Three years later and we are still in love with our Vitamix.
Note: The Vitamix 6300 has been discontinued but you can still find them for sale online. A refurbished model – the 1891 – is a great way to go.
Appearance
The Vitamix 6300 has a simple enough design. You won't find fancy chrome-looking plating on it. With its analog control panel, It's basic and that's all you really need. The unit we purchased is red (the face is black) but it is available and black or white finishes as well.
Although it's plain and lacks the bells and whistles that adorn the best offerings from Ninja blenders, there's still an attractive quality to it. Ultimately it's a handsome machine but certainly more function than fashion.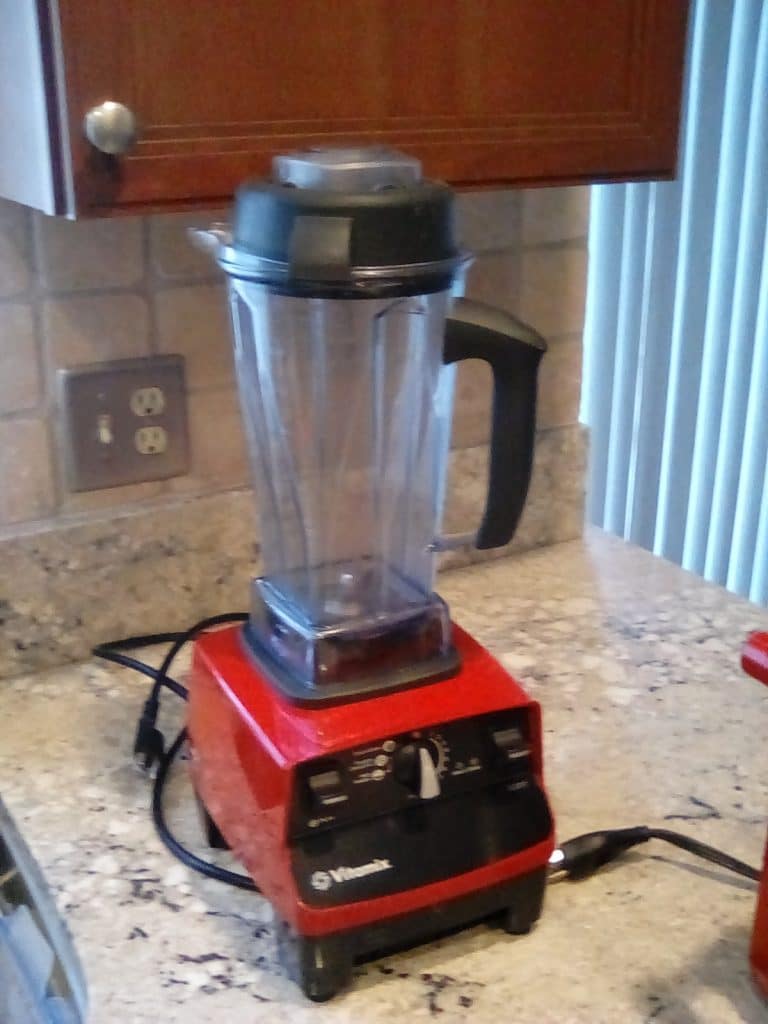 See how with the lid on the Vitamix 6300 is too tall to fit on the counter and under the top cabinet.
With its rounded corners and smooth edges you can tell that it is really well-made. The rubberized knobs feel great in your hand and the plastic is thick and durable.
Size
The base is hefty and has a good size to it. It measures about 7 inches tall by 7 inches wide and about 7.5 inches front to back. It's a nice and heavy block. Now, when you place the pitcher on the base the height becomes about 20 inches making it too tall to fit on our counter underneath the upper cabinets.
When you add the tamper (apparatus that pushes ingredients towards the blades) this makes the unit even taller which further adds to storage constraints.
If there is one big drawback to this machine, size would be it. Well, Vitamix must have had their "ear to the ground" listening to customers, so to speak, as the later models have a wider yet shorter blender pitcher. You can order one of these "fat" pitchers for the Vitamix 6300 separately.
The cord is thick which makes it harder to damage the wires from coiling. The cord is also thoughtfully long at about 6-feet. You might be thinking that is too long for a blender power cord but trust me, it comes in handy.
Besides, there is a convenient cord storage compartment underneath the base that you can wrap the cord around to shorten or lengthen the amount of exposed cord as needed. This is a really, really convenient feature.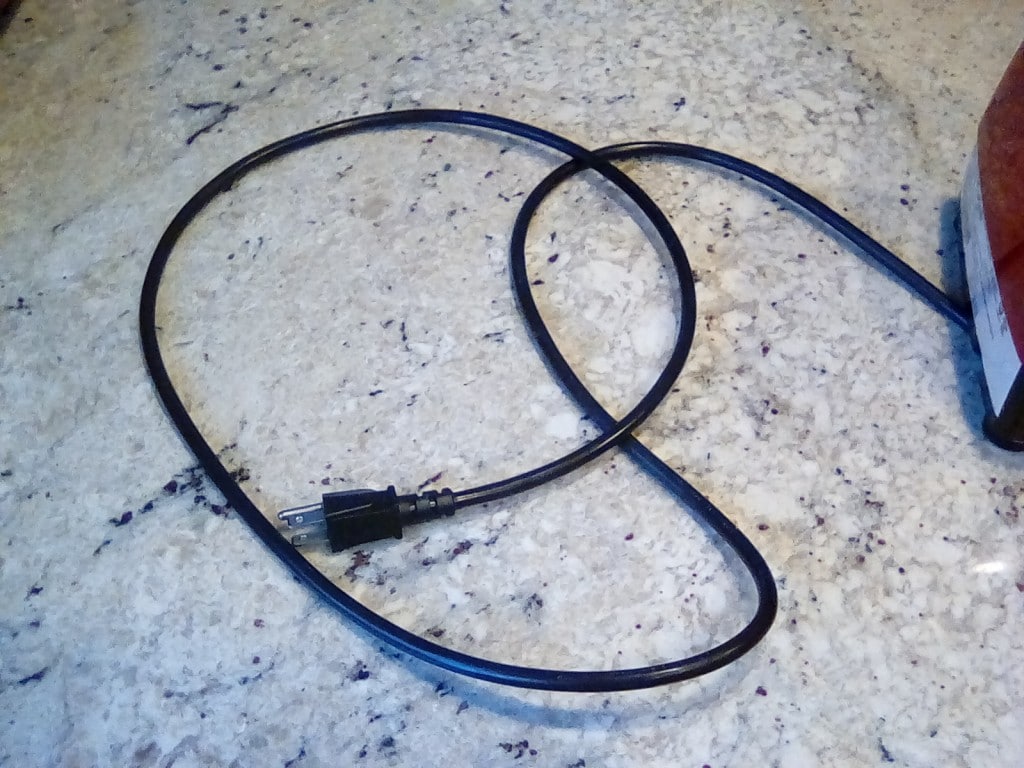 Long power cord that stores underneath the base of the machine.
Check price for Vitamix Standard Programs Blender (6300 & 1891)
Power and Performance
This machine is a beast! It almost seems like it's going to take off from the counter. Officially the amps are 11.5 at 120 volts. Look, there are full-size upright vacuums out there that don't that kind of power.
If you are comparing this super-blender to the competition then you may want the power to be expressed in more commonly used units; watts. So I found this calculator here, and determined that the wattage was 1380. And that works out to nearly 2 peak horsepower.
That's a whole lot of power packed into a little machine!
We haven't had any trouble making anything we tried to make in this machine. We make smoothies, with ice, almost every day. If you've ever tried to make a smooth smoothie in one of those el-cheapo $20 blenders (like we did for years) then you know how much they suck. You always end up with chunks of ice in your smoothie. And forget about leafy greens. Who the heck wants a chewable smoothie?
This thing absolutely obliterates everything that you put in it. But it does have a few little quirks. For example, when we make a small amount of dip/tapenade that isn't an amount that extends above the blades we find that it doesn't work very well.
Another thing that can take a while to get used to is that your smoothies will be quite frothy if you let it blend for a long time. This also happens when you make soups. We find that when you let the smoothies sit a while that the froth dissipates but we end up having to scrape the rest of it off.
This power translates into great performance but the power certainly isn't the only thing needed to make a great blender…
Blades
The stainless steel blades are very sharp, like, you can easily cut yourself if you touch them. They will chop up everything from ice to fibrous vegetables. Three years later and the blades are still very sharp, but not so stainless. They actually have a little discoloration and I'm not sure what caused it. We don't baby this machine (it's a workhorse) but we clean it right after every use. This discoloration doesn't affect performance or anything, this is but a cosmetic issue (not rust).
But, if you're comparing this to a high-end Ninja blender, like the bl773co, then you may be disappointed as the 6300 cannot turn ice into snow. This has more to do with blade design rather than power.
Presets & Speed Settings
Did you know that you can make hot soup in the Vitamix 6300? Go ahead, pick your jaw up from the ground. It's one of the presets along smoothies and frozen drinks. At first I didn't think that these presets were necessary. But there is a difference in how they handle blending – it isn't just high-speed the whole way. When you select the smoothie function the speed will start out slowly then gradually ramp up.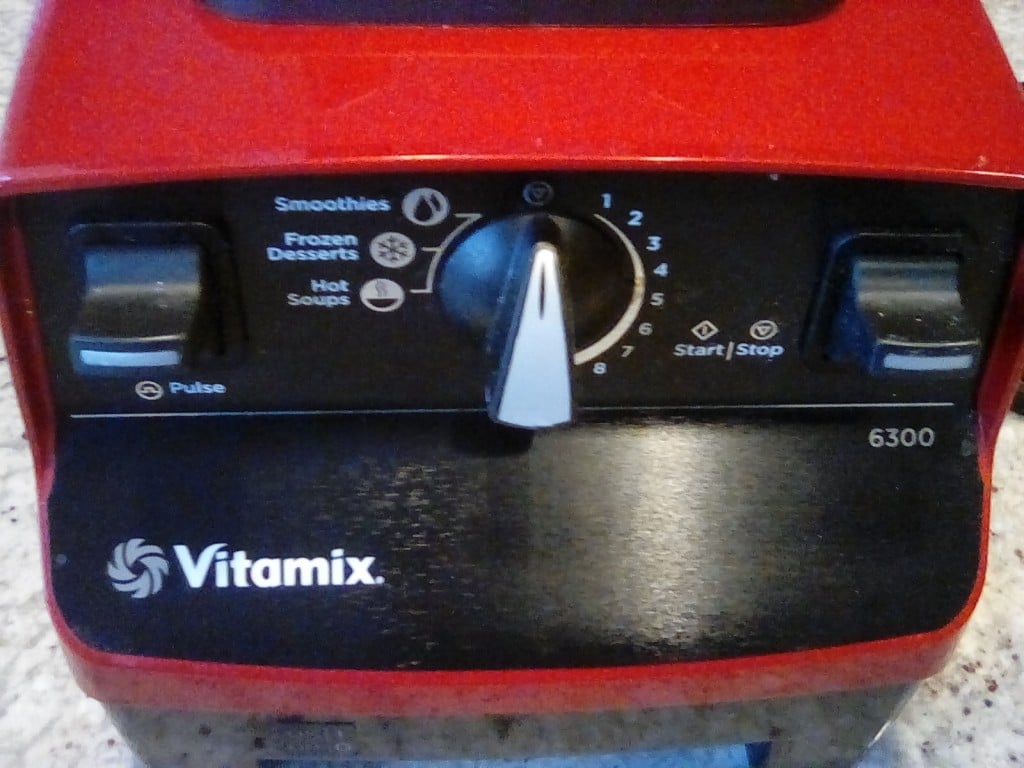 Vitamix 6300 Base – see the speeds and presets
So, in total there are 3 presets that will handle all of the intricate blender work. If you need more blending time then you should use one of the other blender speed settings. The speed settings range from 1-9, and high. There is an on/off switch as well as a pulse button.
Click here to get more details on this Vitamix Blender
Tamper
The tamper is this little plastic rod that you use to combat cavitation. Cavitation is when the spinning blades create a vortex and the ingredients end up on the sides of the pitcher rather than in the path of the spinning blades.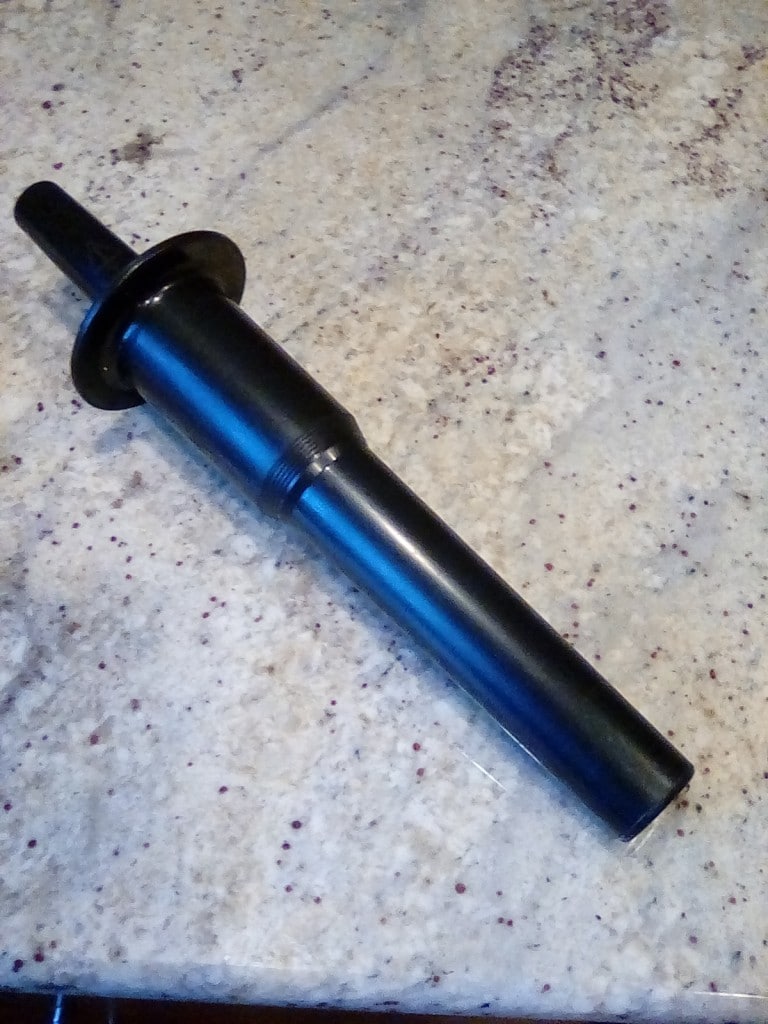 Vitamix 6300 Tamper
To use the tamper, you simply remove the cap from the pitcher lid and use it to move the ingredients around, pushing them towards the blades. In my opinion, a tamper is a game changer when it comes to high-powered blenders.
In fact, the tamper is the reason why chose the Vitamix over Blendtec offerings in the same price range. It is that important.
Recipe Book
This is the most impressive and complete recipe/instruction book I've ever seen accompany a product. Instead of a thin little floppy, crumpled instruction book that I've gotten used to over the years, this one is a full-sized spiral bound book.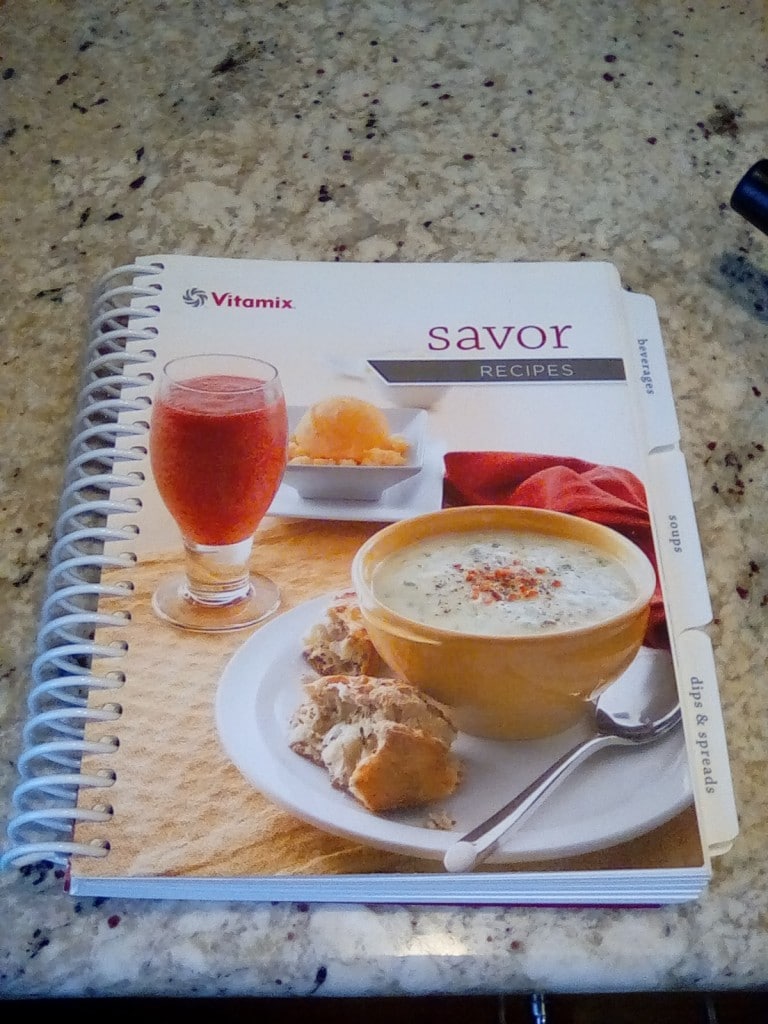 The Vitamix Savor cookbook is very thorough.
It is simply amazing. There is a table of contents but there are also these tabs for recipes by categories. You can choose beverages, soups, dips and spreads, sauces, and even breads. The recipe book really opens up your mind to what is possible with this machine.
Pitcher
The 6300 comes with a very large pitcher with an 8-cup capacity. We use it to make smoothies, pina coladas for multiple people at once. The rubberized lid attaches secure and snug to the pitcher and the lid cap removes easily to add ingredients and use the tamper. The handle for the pitcher is also rubberized and has a groove for the thumb as well as contours for your grip.
Vitamix 6300 Pitcher.
The pitcher is plastic and during my research I did find that some users were disappointed by this fact. Some people think that a $500 blender should have a glass pitcher. Some users reported black specks in their smoothies. We discovered these complaints before we made the purchase and decided to take the risk.
Now, after nearly 3 years of almost daily use we have some complaints. First, understand that haven't experienced any problems with leaks or specks.
However, the pitcher looks all cloudy and marred scratches along the sides. This is due to abrasive ingredients like seeds but also from the tamper coming into contact with the sides. This is only a cosmetic issue.
Noise Level
Some users complain about the noise level. I honestly don't get this complaint. This is a powerful blender with about 2-horsepower. What do you expect?
This machine is loud, quite loud, in fact. Depending on the layout of your home will determine whether or not you will wake any sleeping members of your family if you use it for your morning smoothies. If you want a blender this powerful but also very quiet then you will have to go for a commercial unit. But that is going to cost you several times more than the 6300.
Made in the USA
Of the many good reasons to purchase a Vitamix 6300 (1891), the least of which could be the fact that it's made in the good ole US of A. For many patriotic shoppers, this is a huge benefit. All else being equal most US consumers will choose to buy an American made product over one sourced abroad.
For me, this was just the icing on the cake. Virtue signaling notwithstanding, I would choose a better-made product made on foreign soil over a competing American made product. It's just that this one happens to be excellent, falls into a price range for which we are comfortable with, and it's American made.
Click here to see more customer reviews for the Vitamix 6300 (1891)
Cleaning
The 6300, along with most other high-speed blenders, are so easy to clean, it's ridiculous. All you have to do is fill the pitcher about half-way with water, add a couple drops of dish soap and run it on a speed 6 or 7 for about 30 seconds. Then you just need to rinse from there. So easy.
Accessories
The 6300 comes with everything that you need to get up and running including: the 6300 Vitamix main unit, pitcher, lid, tamper, and recipe book.
Warranty
A comprehensive and long warranty is a sure sign of a quality machine and a sign of a good company in general. Brand new, our unit came with a 7-year warranty. If I get a full seven years out of this machine I would be extremely happy with that. Every year after that I will consider a bonus (I've come across numerous users who claimed to have an old Vitamix for more than 20 years).
If you go with the 1891 (same as the 6300) refurbished model you will get a 5-year warranty. Also, you can purchase an additional 3 years of warranty within the first 30 days of ownership.
Summary
Hopefully this vitamix 6300 review helped you out. Our Vitamix was the best small kitchen appliance purchase that we've made thus far. We've been using our machine nearly every day for the last 3 years and we've had absolutely no issues yet. The only potential issue we could see one having is that this machine is tall. If you have a small kitchen you might not be able to place it where you want to.
This thing is versatile, comes with an amazing recipe book that will show you all of the wonderful creations you can make with your new toy.
Unfortunately, the Vitamix 6300 is a retired product, meaning that the company won't be making any new units. But you can still purchase a refurbished unit. From what I can tell reading customer feedback these machines are like-new and the bonus is that you will save quite a bit of money by buying refurbished. On top of that they still come with a 5-year warranty.
If you're going with Vitamix, I don't think you can go wrong.