Are you ready to unleash your inner grill master with this teasingly delicious list of 18 juicy burger recipes? This compilation is perfect if you're looking for tasty ways to elevate your homemade burgers.
So, what can you expect?
You'll discover classics like the Juicy Lucy and the phenomenon known as the smash burger. But you'll also learn to make new offerings like the Hawaiian burger with grilled pineapple and a special sauce. So are you ready?
Let's dive in!
By the way, for more ground meat recipes, see this list of five-star ground beef recipes.
Juicy Grilled Hamburgers
After learning how to make the most flavorful burgers from a professional demonstration, Kristin of Yellow Bliss Road brings us this juicy grilled hamburger recipe. You'll learn seasoning techniques and even alternative cooking methods. So, you'll be a grilling master in no time. Wondering what to serve with the burgers? Kristin provides recipes for slow cooker baked beans, bacon ranch, red potato salad, and more.
Smash Burgers On The Grill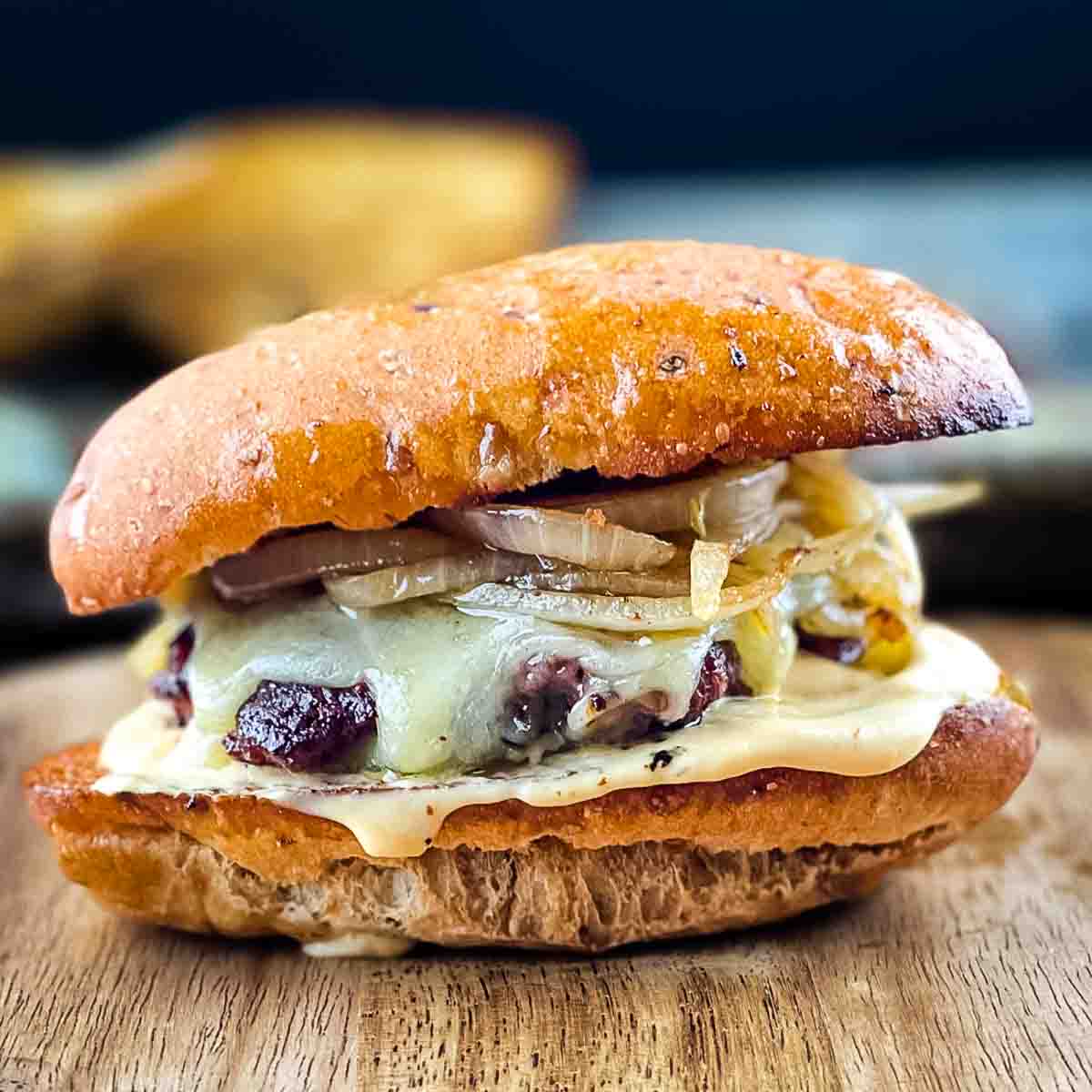 Avoid the lines and the high prices because burger perfection awaits with these grilled smash burgers by Jeri of Winding Creek Ranch. As the name suggests, Jeri shows you how to smash the burgers until they are crispy and irresistible. Then you take it to new heights by slathering it with homemade burger sauce and caramelized onions.
Sweet & Spicy Hawaiin Burger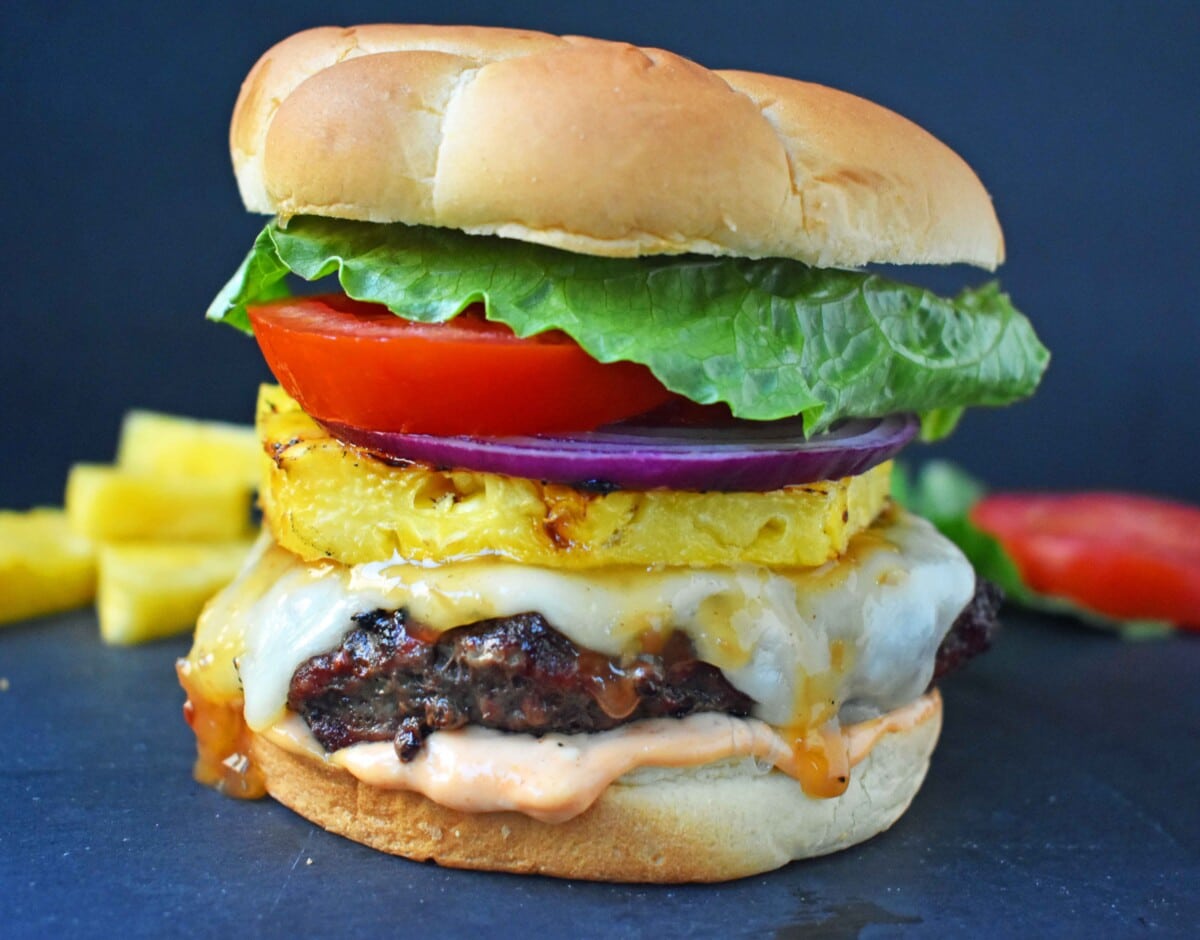 Change your burger routine with this sweet and spicy Hawaiin burger by Melissa of Modern Honey. Melissa reminds us that a great burger starts with high-quality beef. But that's just the beginning. For an out-of-this-world experience, there's Hawaiian pineapple sauce, melted Swiss cheese, grilled pineapple, and sriracha mayonnaise on a toasted bun.
Philly Cheesesteak Burger
This Philly cheesesteak burger is a mouthwatering fusion of two classics. It's easy to make in under 30 minutes and bursting with savory goodness. Picture this! You'll find melty, gooey provolone cheese, tender grilled onions, and bell peppers coming together atop a medium-well patty for a familiar symphony of flavors.
Grilled Greek Chicken Burgers
Experience the Mediterranean with these grilled Greek chicken burgers from Busy Day Dinners. The team shows you how to make juicy chicken patties brimming with flavorful ingredients like red onion, fresh basil, Italian bread crumbs, and feta cheese. So whether you're planning a summer cookout or yearning for a mouthwatering burger experience, this recipe is a must-try.
Best Veggie Burger
Did Jessica of The Forked Spoon make the Best Veggie Burger ever created? She certainly thinks so! It's filled with a mouthwatering blend of black beans, pumpkin, peppers, and onions. Each bite is so delicious that your taste buds will thank you. Finally, top it with creamy avocado, and chipotle spreads for a veggie burger even carnivores will love.
Halloumi Burgers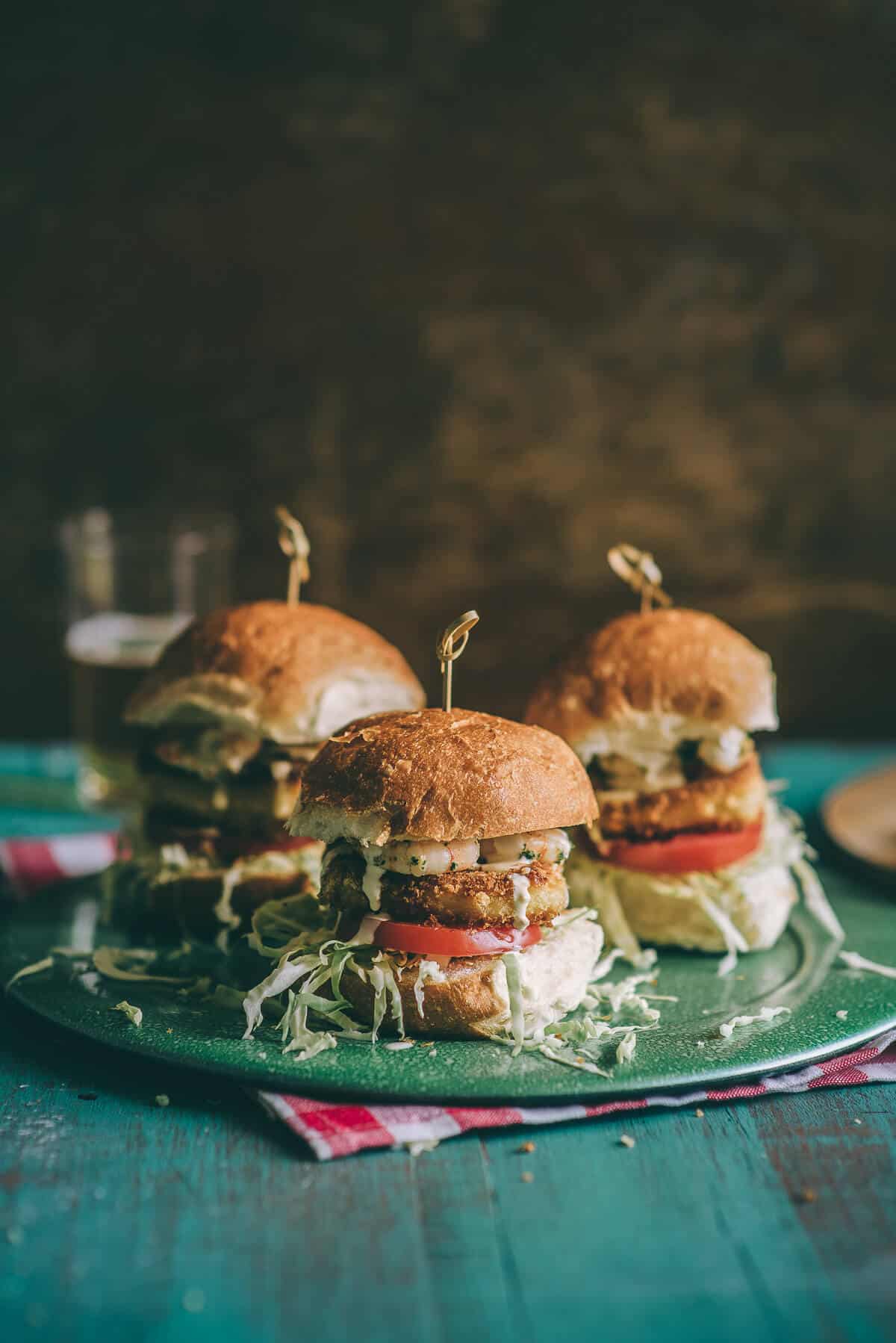 Halloumi burgers made by Souvlaki For The Soul will captivate your taste buds! It's vegetarian, but unlike others, it features crunchy, golden, breaded halloumi cheese, crisp cabbage salad, and die-and-go-to-heaven aioli. All that goodness is stuffed in a pillowy soft bun for a shocking twist on the veggie burger you'll embrace and never look back.
Italian Burgers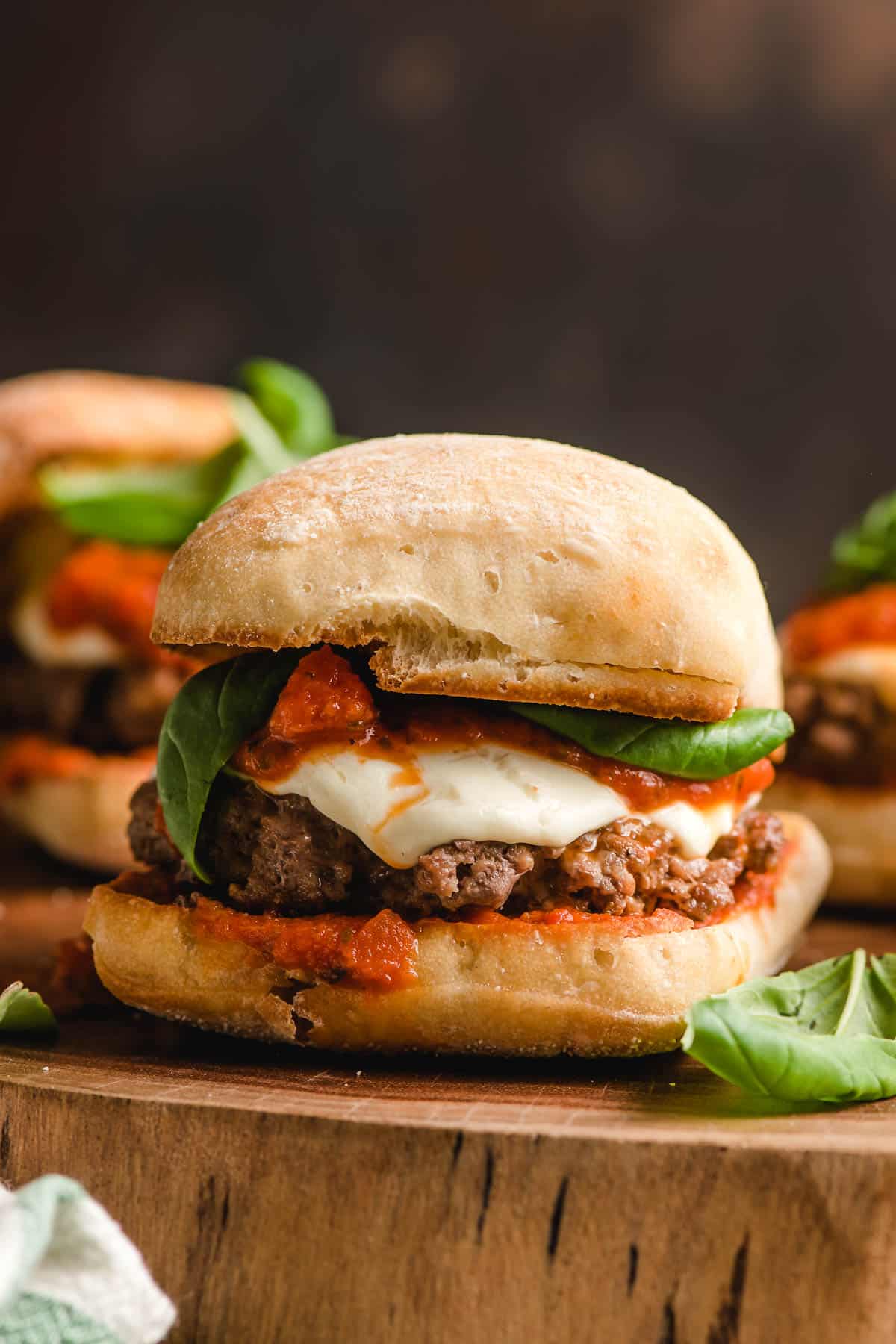 These Italian burgers by Ground Beef Recipes are a creative combination of American and Italian cuisine. Every bite is a burst of bold and savory flavors. Imagine this: juicy burger patties topped with melty, stretchy mozzarella, and fresh tomato slices, nestled between garlic-toasted buns and smothered in a zesty homemade marinara sauce. Mama mia!
Ultimate Turkey Burger
If you think ground turkey yields dry, boring, and predictable meals? Well, not so fast. Lauren From Scratch invented the ultimate turkey burger. It starts with a juicy patty seasoned well with Worcestershire, garlic, onion, and Dijon mustard. But it gets better! On a pretzel bun, you top it with caramelized onions, velvety brie, and sun-dried tomato mayo. Now that's an unforgettable experience.
Pork Banh Mi Smash Burgers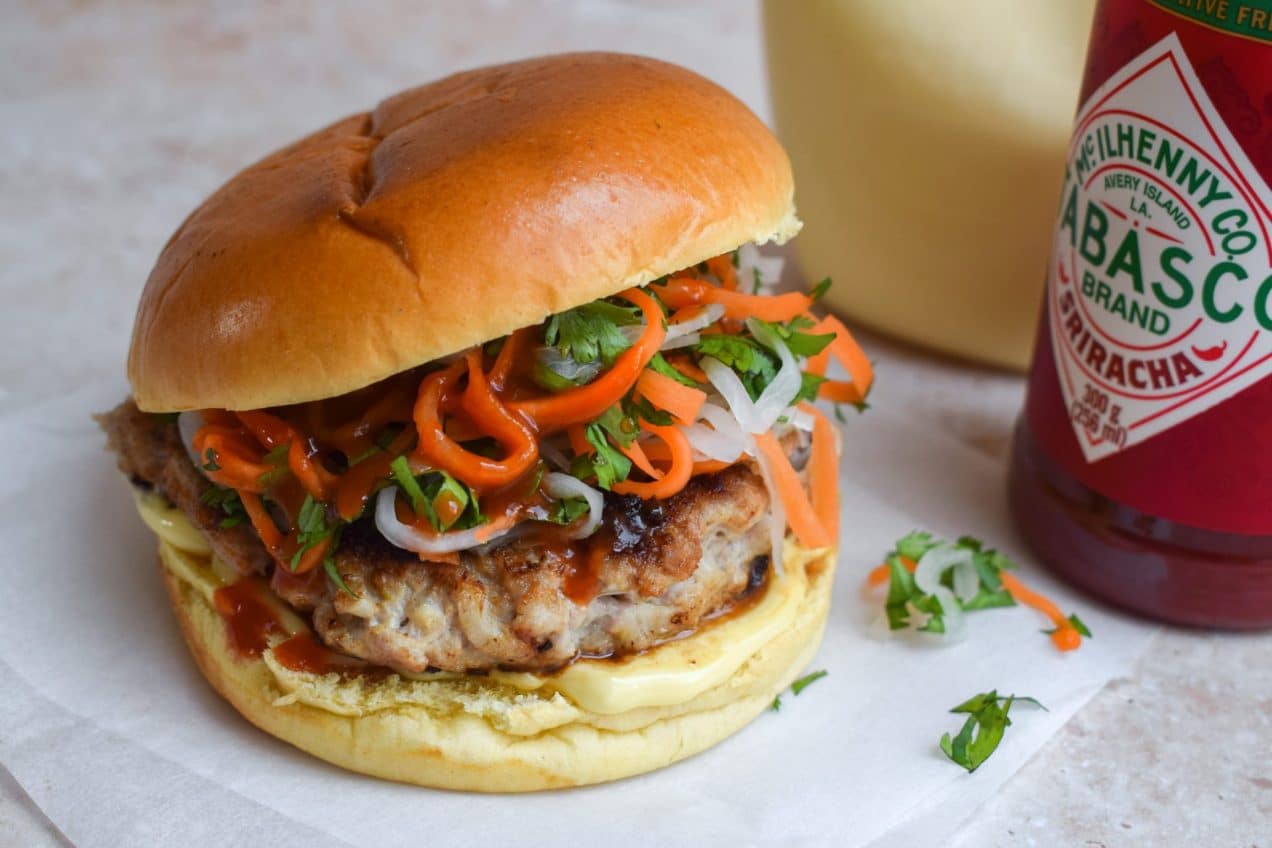 Pork Banh Mi Smash Burgers from Rachel Phipps is bursting with saucy and juicy flavors. They're an East meets West concept combining the classic American burger with Asian-inspired ingredients like shallots, ginger, and sesame oil. Serve it on toasted brioche with banh mi slaw (a blend of carrots, daikon, and seasonings), mayo, and sriracha for the ultimate burger experience.
Juicy Lucy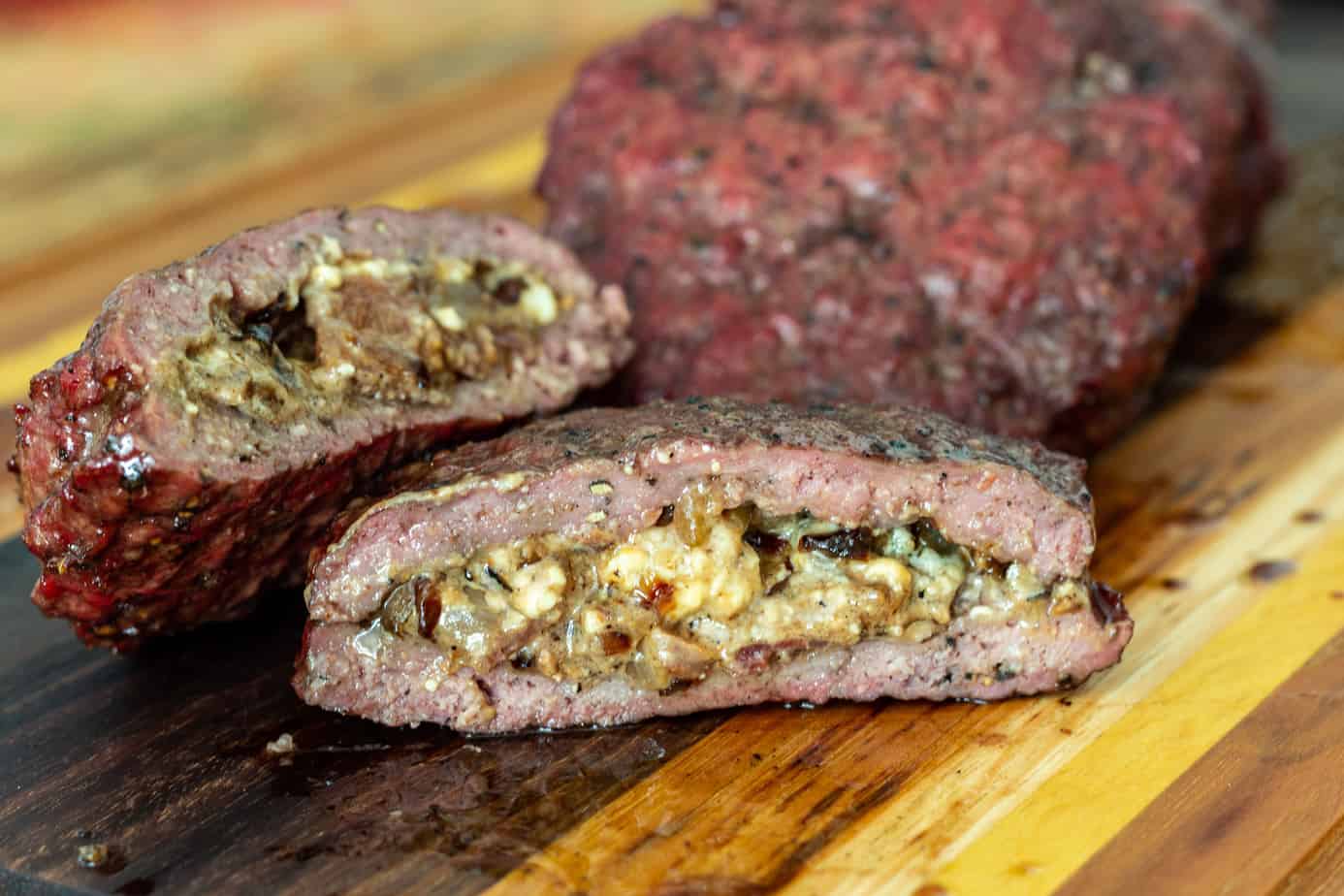 Slowly but surely, Chris of Smoked Meat Sunday has been converting his wife to the wonderful flavors of smoked food. In fact, it was her doubt that led to this creation. His backyard version of the Minnesota favorite, Juicy Lucy, features blue cheese stuffing with smoky bacon and a delightful blend of seasonings for a taste explosion like no other.
Wild Boar Burger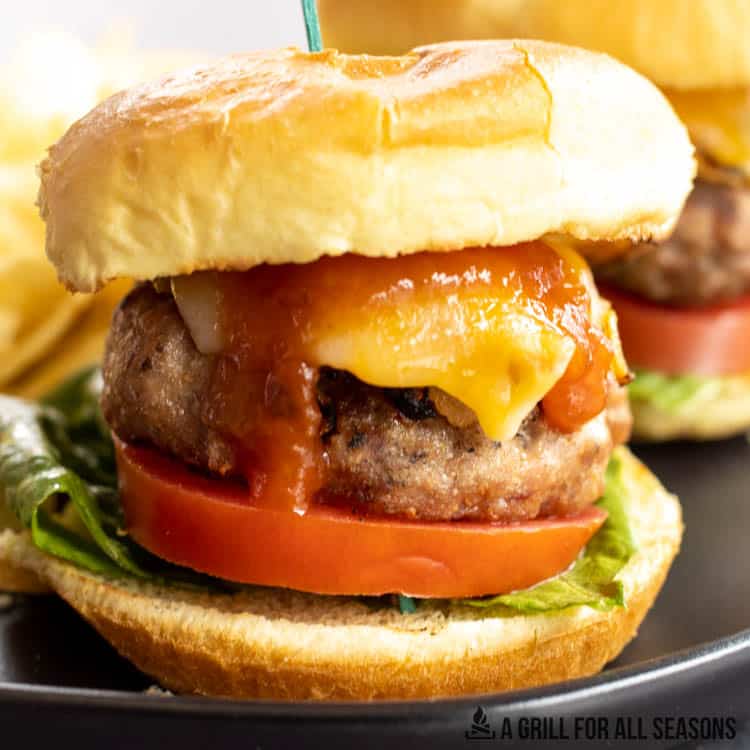 Have you ever considered a wild boar burger? Well, Paul and Taryn of A Grill For All Seasons recommend it for its distinctive flavor. The low-fat ground meat is tender and tastes more intense than ground pork. Keep the seasoning simple with garlic powder, onion powder, and black pepper to let the meat flavor shine.
Air Fryer Beyond Burger Recipes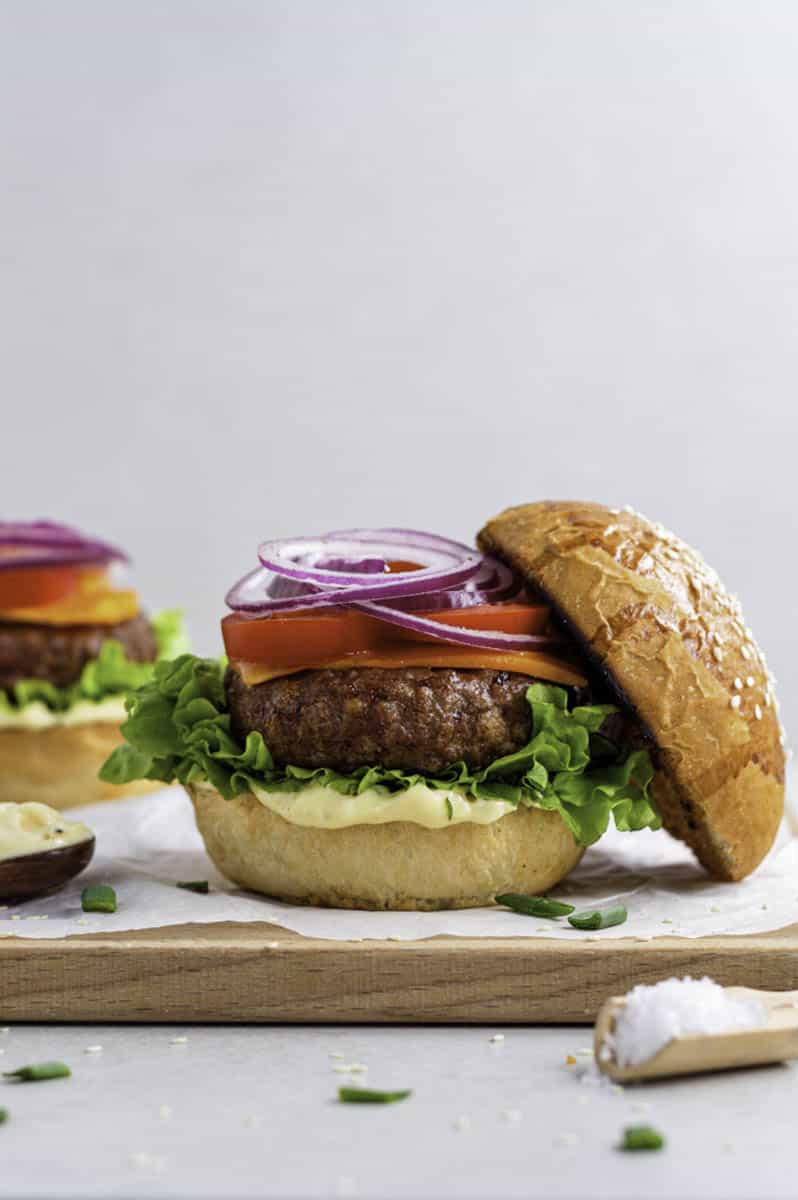 Indeed, you've heard of Beyond Burger. The plant-based "meat" is a modern marvel that tastes like the real thing. And with this air fryer beyond burger recipe, Petranka shows you how to combine two modern marvels. Each bite is flavorful, tender, smoky, and best of all. You can have it on your plate in just 10 minutes.
Mushroom Swiss Burger
Grilling season just got much more delicious with this mushroom Swiss burger from Inger of Art of Natural Living. What you have are juicy beef patties crowned with sauteed onions, intensely flavorful mushrooms, and Swiss cheese. But the burger itself is amped up with Worcestershire sauce and beef bouillon.
Juicy Elk Burgers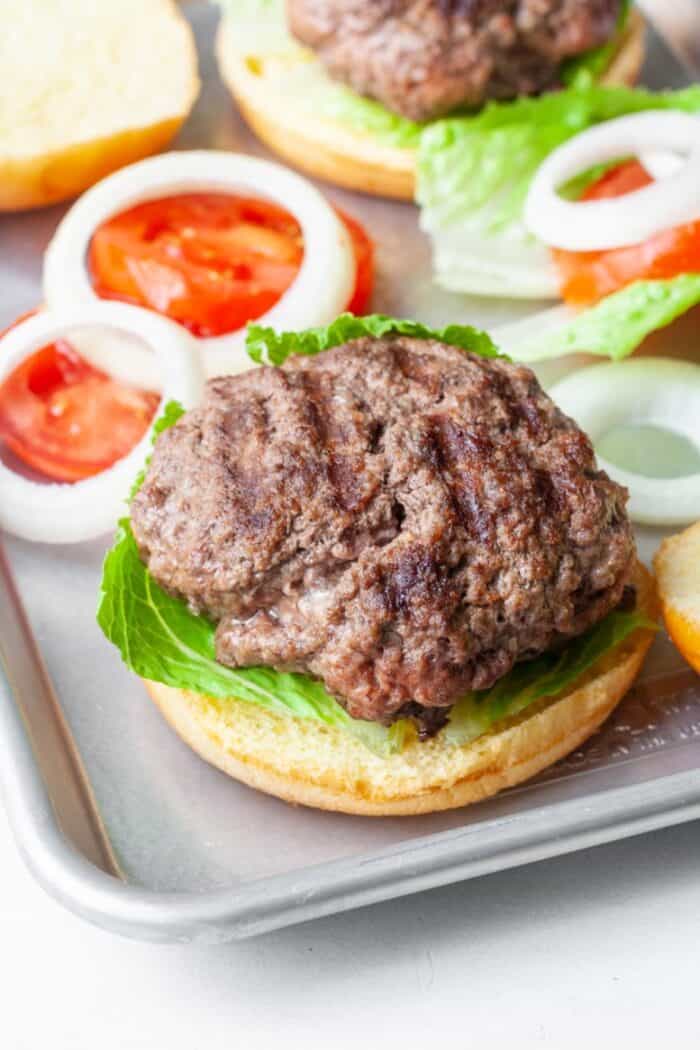 These elk burgers by Organically Addison showcase the flavor of the meat by using only salt. While grated butter helps make them incredibly tender and irresistibly juicy. So while you likely never thought of using elk as burger meat, this offering will change your mind and take your taste buds on a wild ride.
Lamb Burger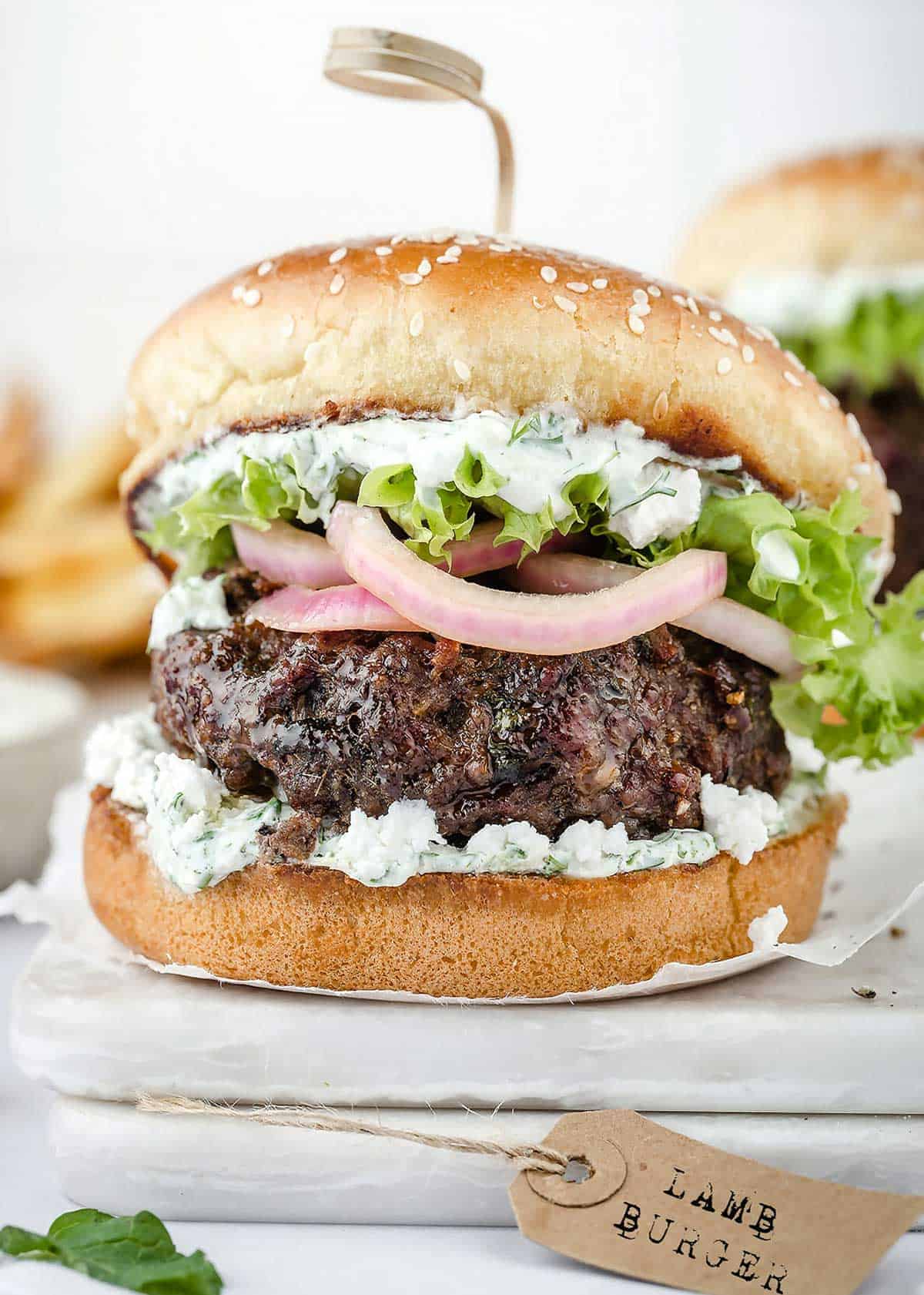 With these mouthwatering lamb burgers from Tati of Chef Jar, you won't be wanting for flavor. Her recipe calls for mint, cumin, and cinnamon before you throw them on the grill for a bit of smokiness. Next, nestle them on soft brioche buns, then top them with creamy tzatziki, tangy pickles, crumbled feta, and crisp lettuce. The tender lamb and Greek-inspired ingredients guarantee an unforgettable meal.
Buffalo Chicken Burgers
After a long day at work, you need quick and healthy meals your family will love, so turn to options like this buffalo chicken burger from Kimber of Easy Family Recipes. You'll enjoy the bold flavors of buffalo-infused ground chicken, sweet onions, and a hint of spice. And as the burgers take just 20 minutes to make, they'll stay on your dinner rotation for years.
Homemade Pizza Burgers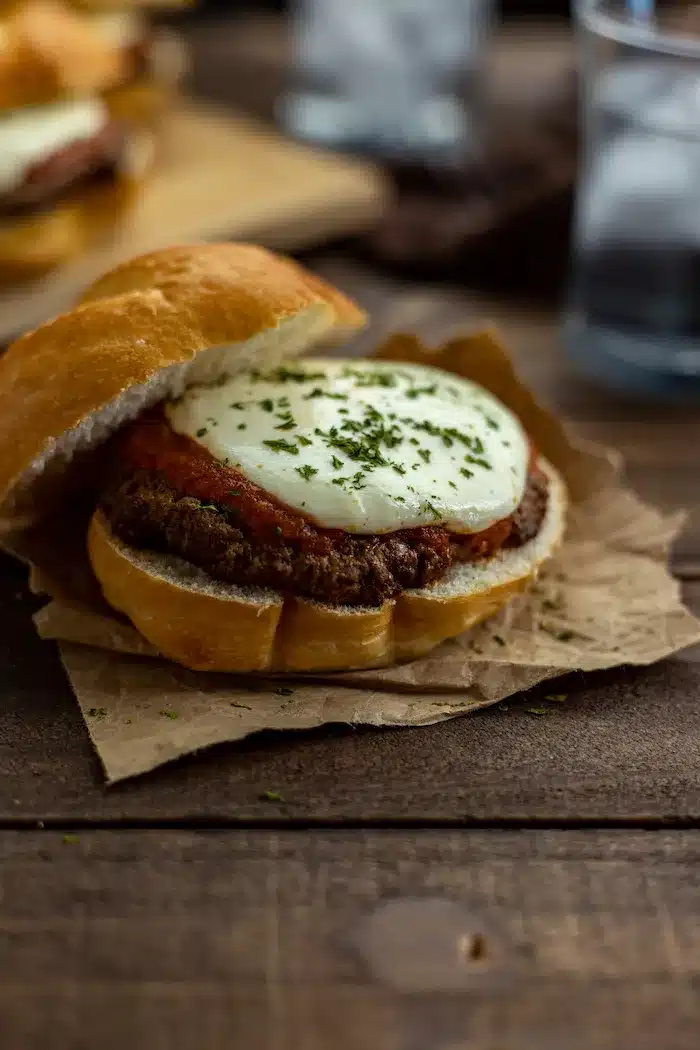 You'll love this culinary mash-up known as pizza burgers from Stephanie of Son Shine Kitchen. It's tasty fusion food that joins two beloved classics. Just imagine sinking your teeth into a juicy, smokey patty topped with pizza, stretchy mozzarella, and an aromatic blend of herbs and spices.
Which Burger Recipe Are You Most Excited To Try?
Hopefully, this burger compilation has expanded your culinary horizons and satisfied your appetite. Now you have a collection of diverse and delicious burger recipes at your fingertips to impress your family and friends with memorable meals. The possibilities are endless, from the classic smash burger to grilled Greek chicken burgers. So, which are you most excited to try? We'd love to know!
If you're looking for more ground meat recipes, see this list of ground lamb recipes.