Whether you call them air fryer pizza crescent rolls or pizza rolls, these tantalizing pizza treats are tastebud teasing bites of heaven. Each little dough bite features the decadence of cheese and pepperoni stuffed inside the warm and fluffy layers of croissants.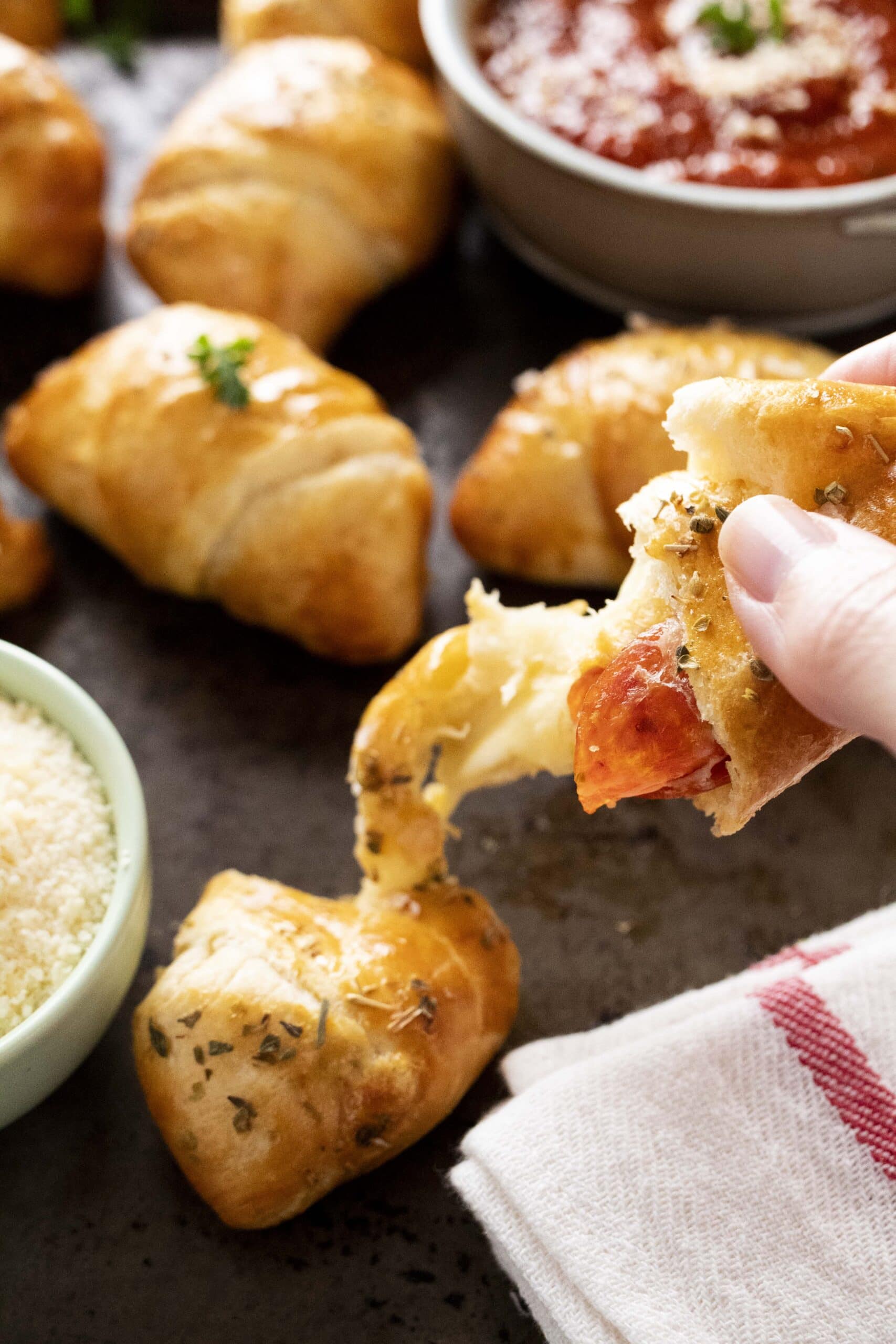 This recipe is great any time of the year. But can you imagine how the kids will look forward to them as an after-school snack or a special Friday treat? Yummy!
But the best part is that you can whip them up in no time, and yet they taste so outstanding. So are you ready to make them?
Let's dive in!
By the way, if you love these air fryer pizza rolls, you'll love these cinnamon sugar crescent rolls and chocolate cheesecake crescent rolls.
Jump to:
Ingredients
Can you believe you only need five ingredients to make these air fryer pizza croissants? That's right, from the crescent rolls to the mozzarella cheese and pepperoni, these ingredients are cheap and easy to find. Below, we'll be sure to fill you in on each ingredient's significance.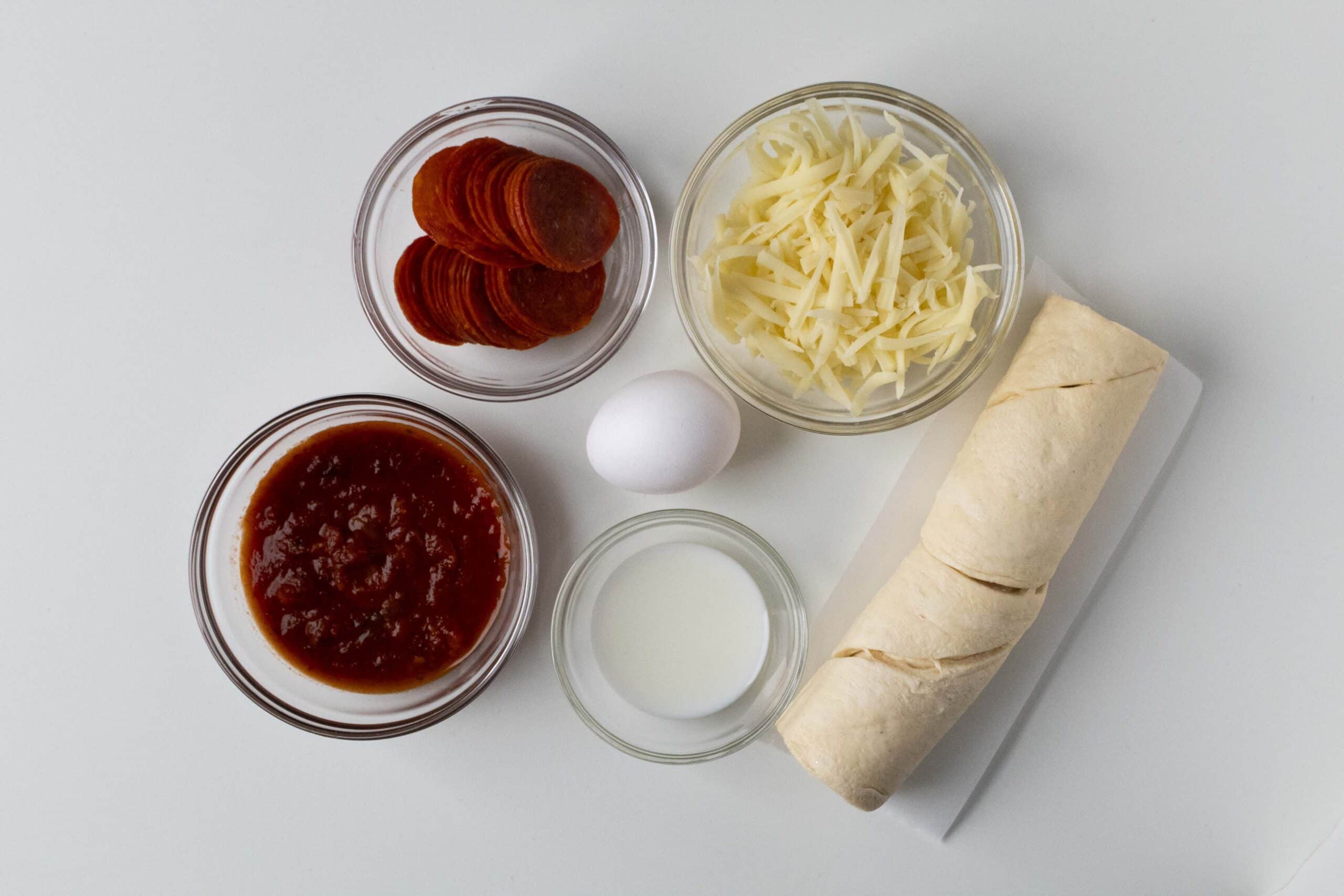 Canned Crescent Rolls – It's what holds everything together. The canvas, if you will, for all of the delicious toppings. By the way, we've tried the national brand and the generic brands and didn't notice a difference.
Mozzarella – You can't have za without cheese! Mozzarella is perfect for its stringy meltiness and neutral yet slightly salty flavor.
Pepperoni – It's classic, slightly spicy, and oh-so delicious! We kept our slices whole, but you can dice them up if you like.
Pizza Sauce or Marinara – For predictable results, we don't put any pizza sauce in our pizza rolls. Instead, we keep it on the side to use as a dip.
Egg – Egg is for the egg wash key to get that golden brown mouthwatering color you see in the images here.
Milk – The milk thins out the egg so you can more easily apply it to the pizza croissants.
See the recipe card for quantities.
How to Make Air Fryer Pizza Crescent Rolls
Now that you know what you need for this recipe, let's discuss how to make them. We'll teach you how to fold, roll, and stuff them while avoiding overstuffing them. Then we'll show you how to cook them in the air fryer. But first, could you preheat your air fryer to 315 degrees?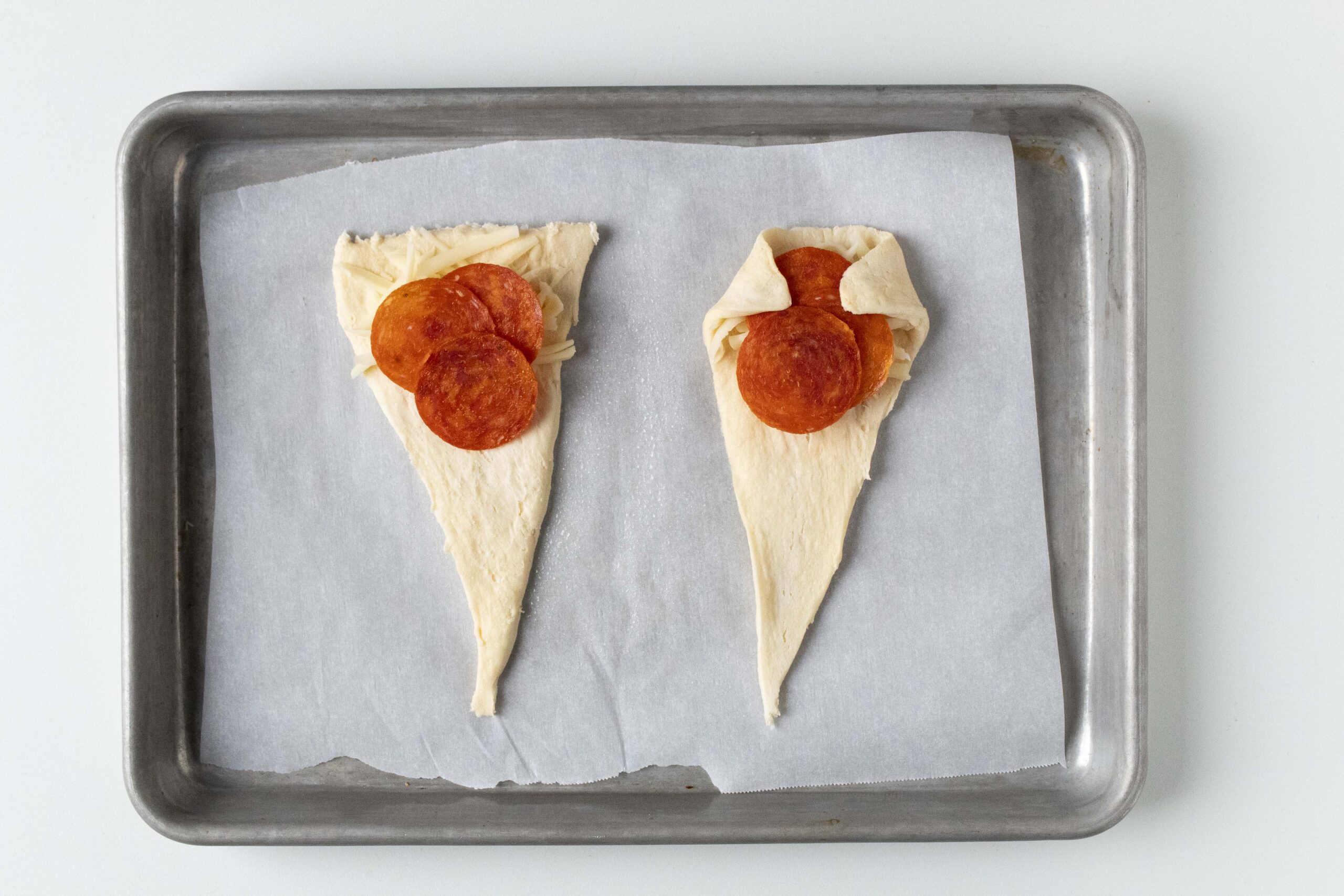 Separate the crescent rolls into individual triangles. Then, on the broad side, add the appropriate amount of cheese and pepperoni. Next, fold the dough corners over the filling, as shown in the image above.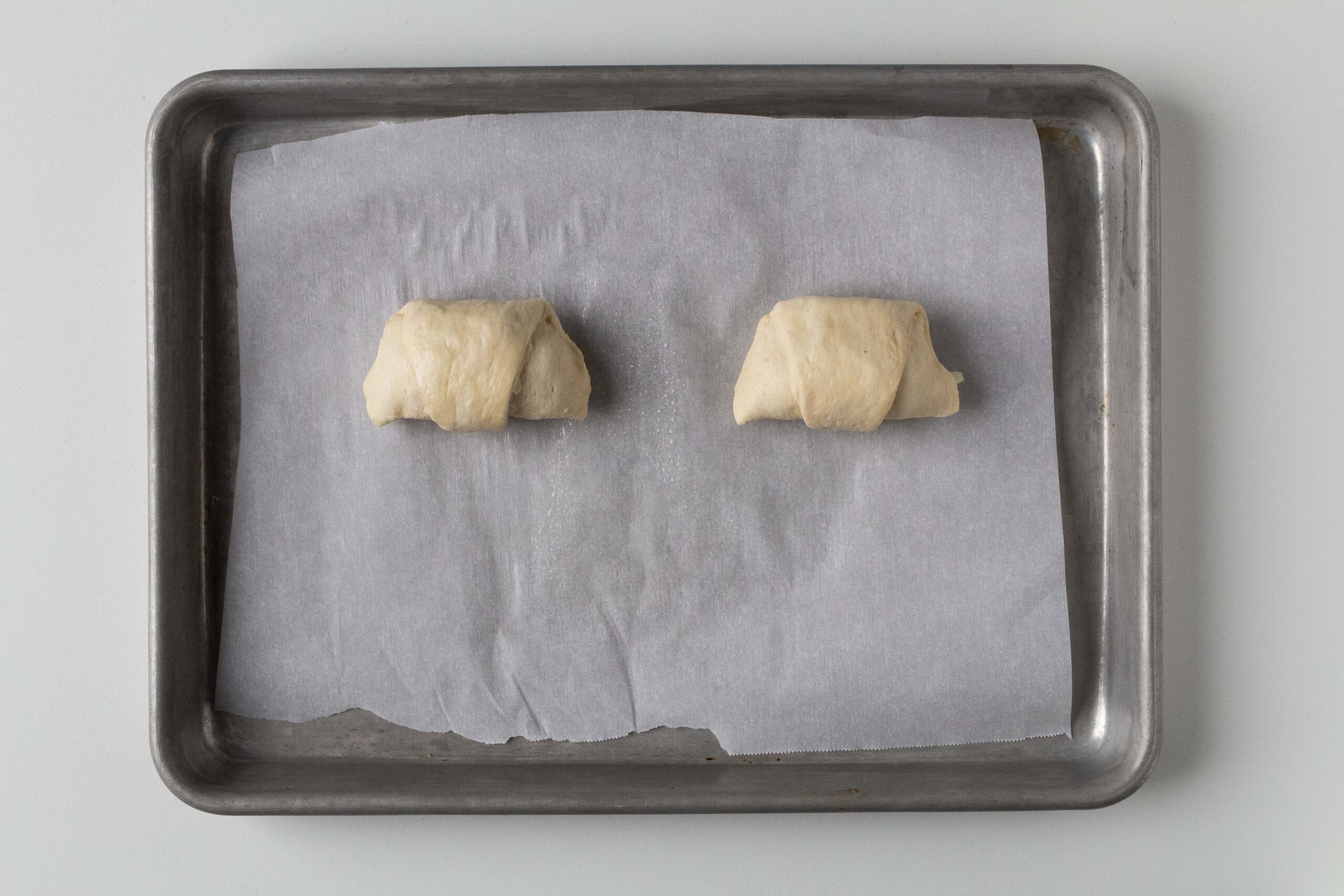 Then, starting with the broad side, roll the crescent dough towards the narrow side.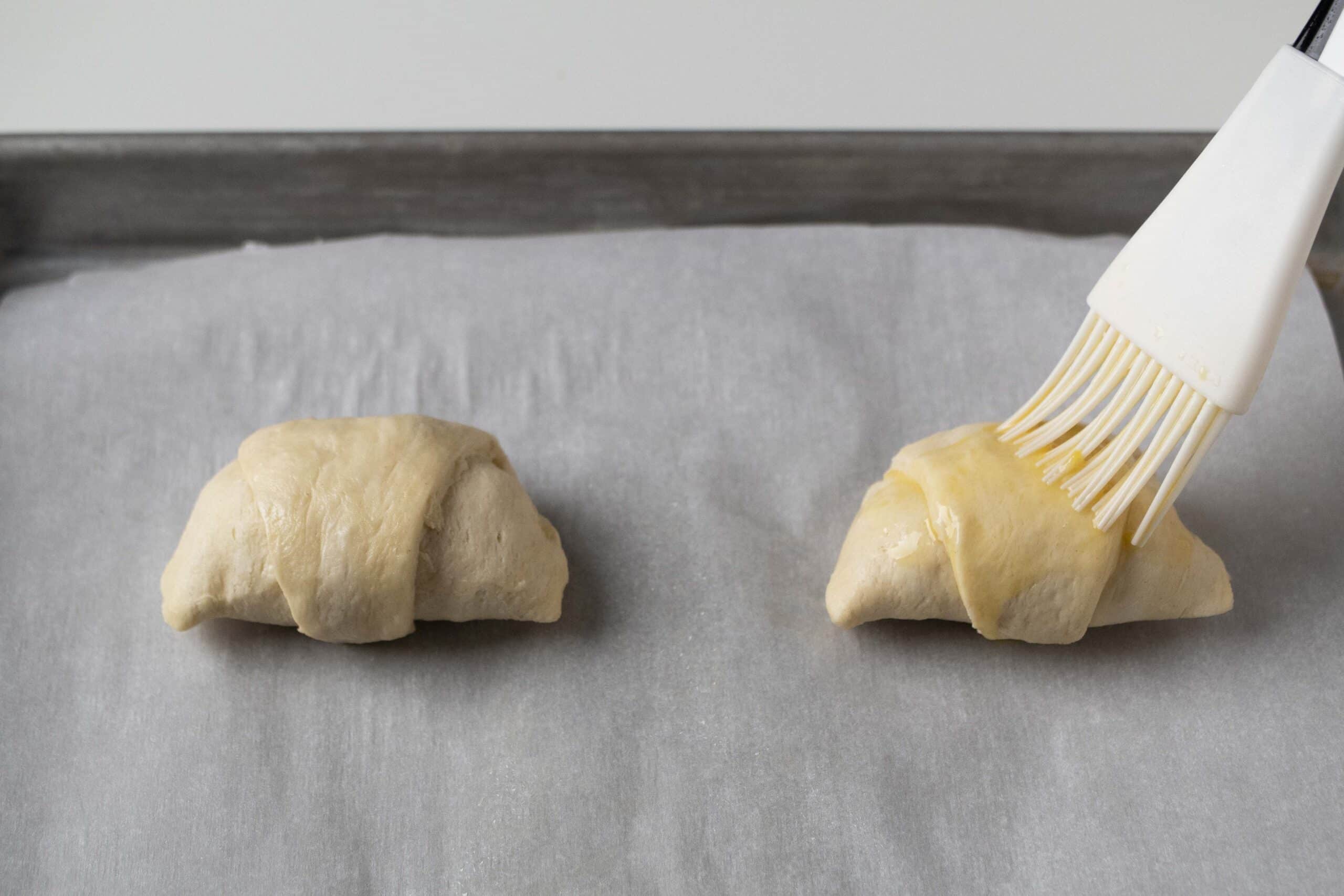 Brush the completed pizza crescent roll with egg wash. Finally, sprinkle them with Italian herbs and salt (kosher or flake).
Hint: Cook these pizza crescent rolls in batches, as you do not want to overcrowd the air fryer basket.
Variations
The beauty of pizza is that it has endless possibilities. So, while pepperoni is always good, we wouldn't blame you for wanting to switch it up a bit. Below, we've conjured up some tasty variations for you to consider.
BBQ Chicken – What a great way to use leftover shredded chicken. Just add chicken, cheese, and barbecue sauce.
Margherita: Fresh mozzarella, tomato slices, and basil leaves keep it simple yet utterly delicious.
Spicy Sausage and Red Pepper: Use spicy Italian sausage and red pepper flakes for those who prefer their pizza with a kick.
Tropical Twist – If you have leftover ham, cheese, and a can of pineapple, it is a beautiful change-up.
This is just the beginning; there are so many other ways to enjoy this pizza. You are only limited by your imagination.
Equipment
The only piece of equipment you need is an air fryer. We use our trusty Instant Pot Vortex Air Fryer.
Storage
We bet there won't be many leftovers, but if there are, place them in a zip-lock bag or sealed container in the fridge for a few days. If you want to keep them longer, you can put them in the freezer for several months.
To reheat, place them in the air fryer at 350 degrees for a few minutes or until heated through.
Top tip
While there are several tips to ensure your pizza crescent rolls turn out the right way, the first tip is to pre-heat your air fryer. Doing so ensures even cooking and perfect golden crispiness.
FAQ
Can I make these ahead of time and reheat later?
Certainly! If you'd like to make batches of these pizza rolls and reheat them later, that would be a great idea. Just set the temperature to 350 degrees and cook for a couple of minutes.
How do I ensure they don't stick to the air fryer basket?
The oil in the crescent rolls should ensure that they don't stick, but if you're still concerned, add a bit of cooking spray.
Is it necessary to coat or brush them with anything before air frying?
We brush our pizza rolls with an egg wash before air frying. This leads to a nice golden brown appearance.
More Quick & Tasty Air Fryer Meals
Looking for other recipes like this? Try these:
Air Fryer Pizza Crescent Rolls Recipe
You're going to love our simple air fryer pizza crescent rolls recipe. It's easy to make, tasty, and fun. Enjoy!
Ingredients
8

Crescent Rolls

4

Oz

Shredded Mozzarella Cheese

24

Pepperoni Slices

1

Large Egg

1

Tbsp

Milk
Instructions
Preheat the air fryer to 315 degrees.

In a small bowl, lightly whisk the egg and milk. Put it aside.

Separate the crescent dough into 8 triangles. Put 1 tablespoon of the shredded cheese on the wide end of each triangle and top it with 3 slices of pepperoni.

Fold the dough corners over the filling and roll it up, starting from the wide end. Wrap the dough around the cheese and pepperoni until you reach the other end. Make sure to seal the edges to keep the filling inside while cooking.

Spray the air fryer basket with non-stick baking spray. Brush the tops with the egg wash and put the crescent rolls in the basket, leaving space between them so they're not touching.

Cook for 7-8 minutes or until they're fully cooked.

Take the crescents out of the air fryer and enjoy!
Notes
You don't want to overstuff the crescents with the filling. 
Store in an air-tight container and refrigerate for up to 2 days. 
Reheat them in the air fryer at 315 degrees for 2-3 minutes.
Depending on the size of your air fryer, you may have to cook these in batches. 
Nutrition
Calories:
98
kcal
Carbohydrates:
11
g
Protein:
1
g
Fat:
6
g
Saturated Fat:
3
g
Polyunsaturated Fat:
2
g
Monounsaturated Fat:
1
g
Sodium:
220
mg
Sugar:
3
g
Iron:
0.4
mg