Jump to Recipe
These air fryer cinnamon sugar croissants are what you turn to when you need a simple sweet treat but don't want to spend all day in the kitchen.
It's an easy 4 ingredient recipe (6 if you do the egg wash) that calls for crescent rolls, butter, brown sugar, and cinnamon. It's great for holidays, game days, or any time your sweet tooth calls.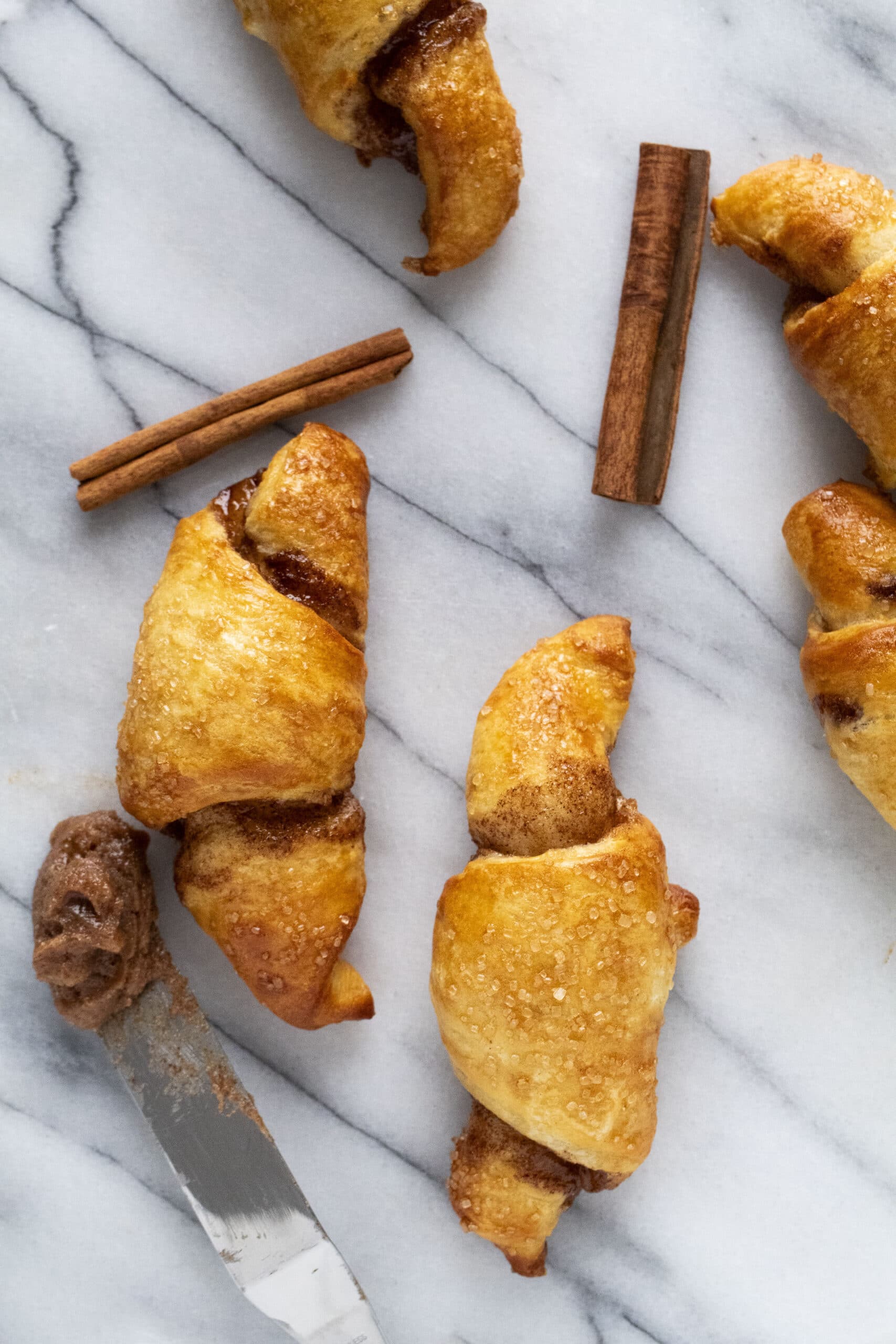 It'll save you if you need something quick for a potluck, or a quick app while the oven is full of the main course or side dishes.
And if you're looking for some other air fryer treats, don't miss these air fryer Funfetti donuts or these air fryer chocolate cheesecake croissants.
Jump to:
Ingredients
Ah, the magic of cinnamon sugar croissants! Marrying sweet cinnamon with flaky, buttery croissant layers creates an irresistible aroma and taste no one will soon forget. So, are you ready to make this quick sweet? Let's talk about the key ingredients.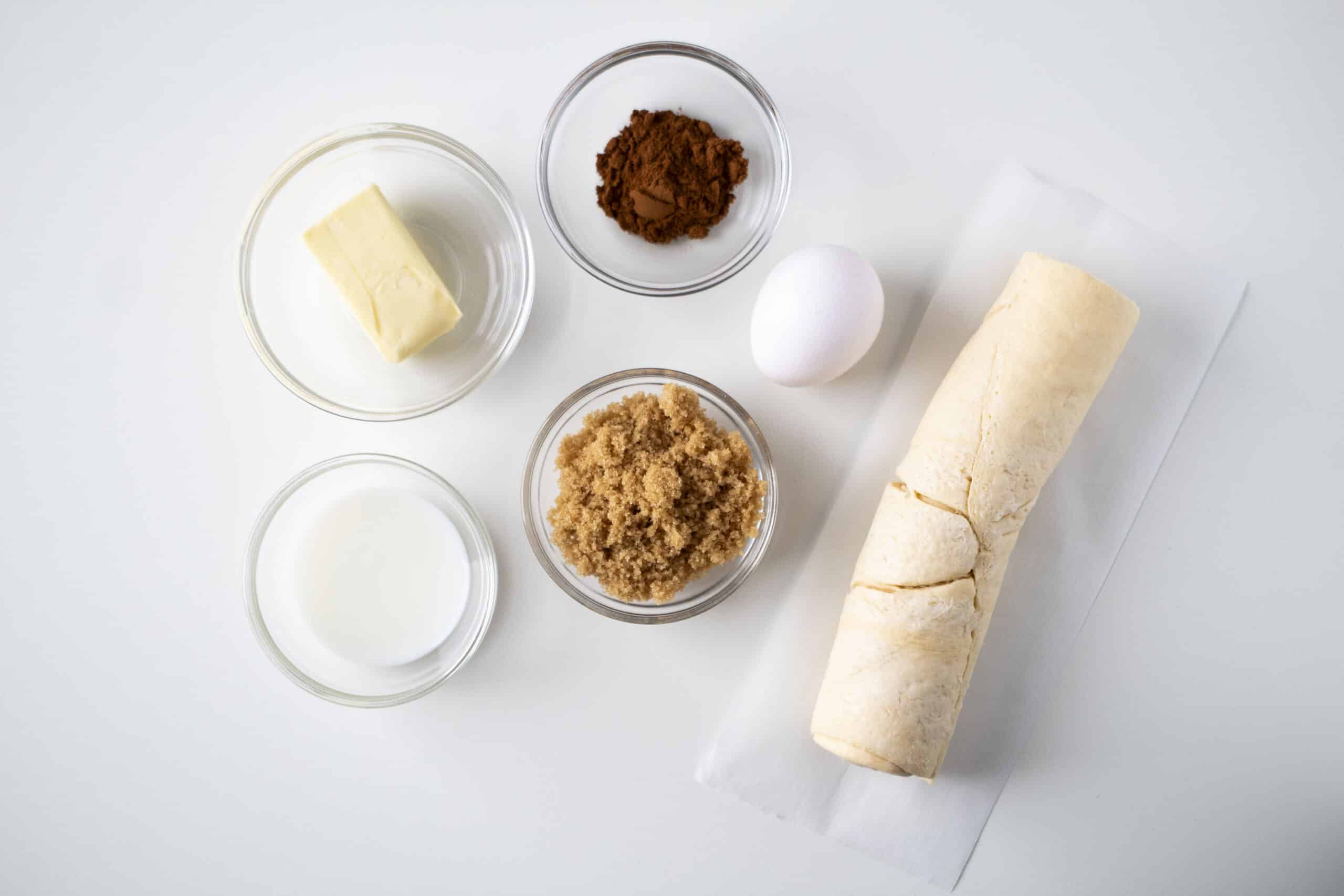 Canned Croissants – The base of our treat, these give us a quick and flaky start with bakery-worthy results. It's a shortcut, but still taste so very good.
Cinnamon – This aromatic spice lends warmth and depth, transforming simple dough into a dazzling experience.
Sugar – sugar adds that delightful crunch and sparkle on top, creating the perfect contrast.
Butter – Butter helps ensure a golden-brown finish and a rich, melt-in-the-mouth texture.
Egg – Key to the egg wash, it gives our croissants a glistening, tempting sheen.
Milk – Partnered with egg, milk thins the wash for a uniform and radiant glow on our pastries.
Turbinado Sugar (optional) – Raw and rustic, it brings not just sweetness but a nice crunch and appearance that sets these pastries apart.
See the recipe card for quantities.
Instructions
Here we go, my fellow baking friend! You are just a few steps away from enjoying warm, pillowy soft, cinnamon-sugar croissants. Oh, joy! Plus, with turbinado sugar adding its magic and a hint of rustic flair, they can't be beat. Lets get to it!
First, you'll want to add the butter, cinnamon, and sugar to a mixing bowl. Then, mix well, to combine.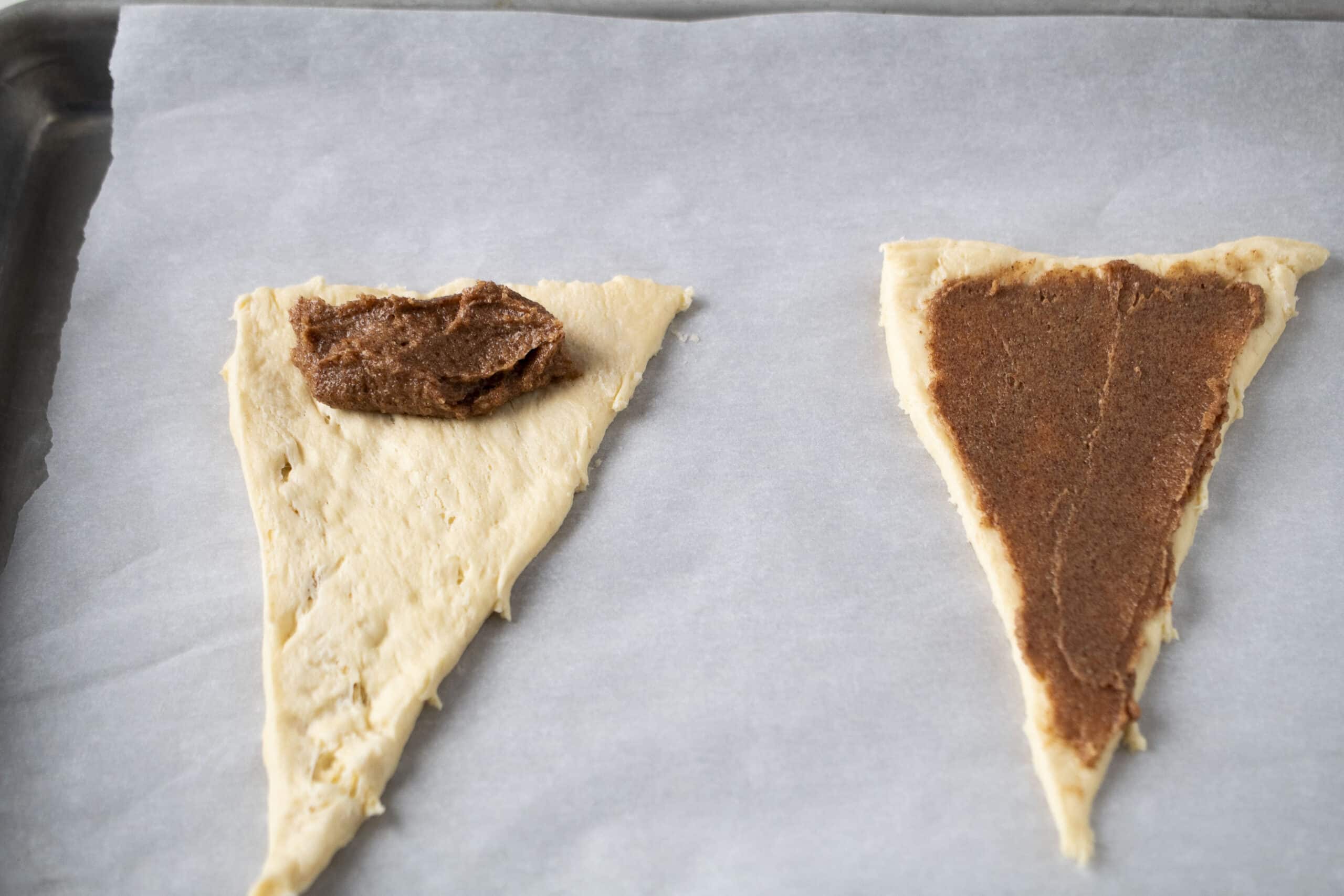 Next, spread the cinnamon-sugar-butter on the crescents as shown.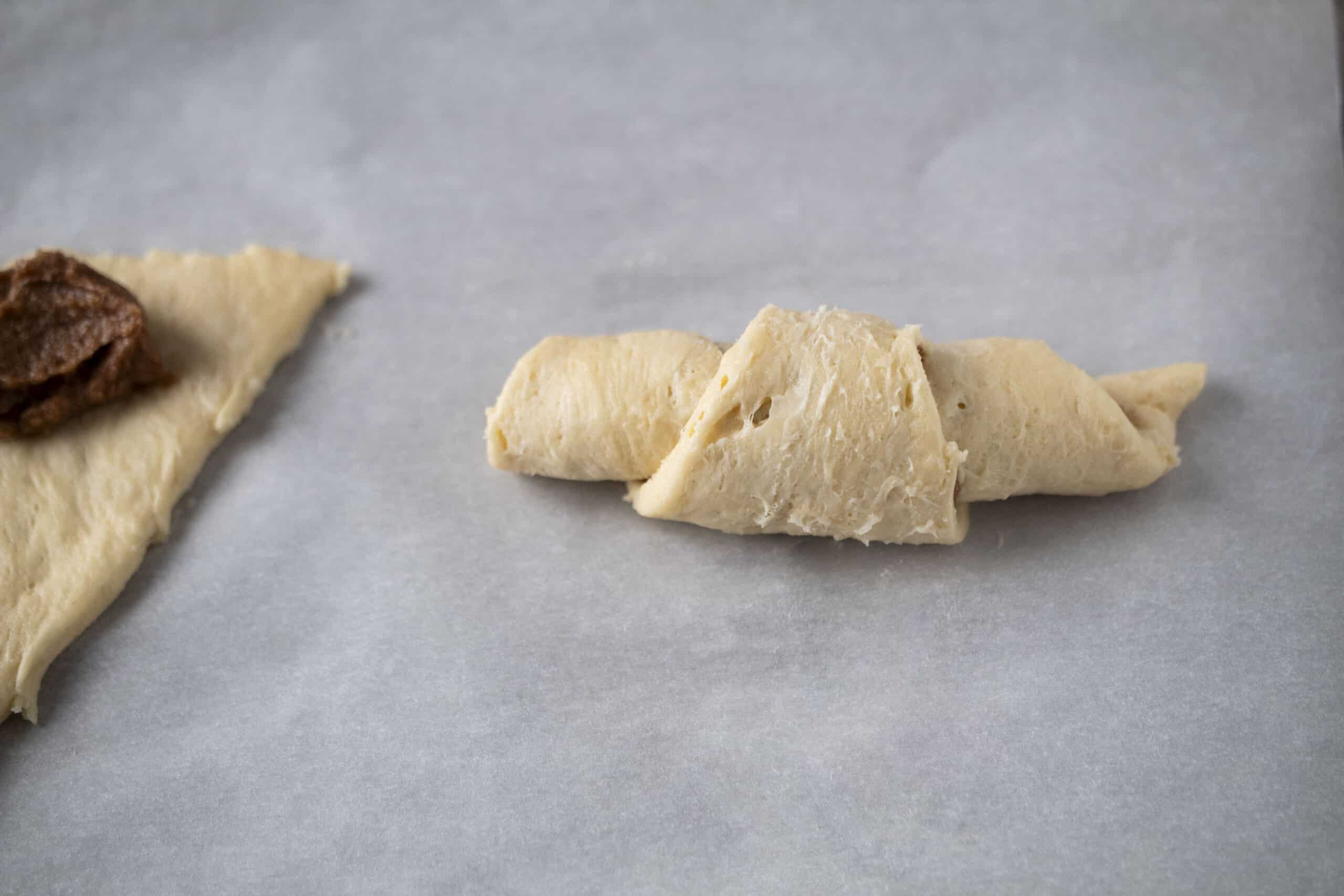 Then, roll them up as shown.
Finally, brush them with an egg wash and sprinkle them with turbinado sugar before air frying them at 315 degrees for 7-8 minutes.
Hint: Spray the parchment paper or your working surface with a bit of cooking spray. This will prevent the croissants from sticking.
Variations
Beyond the classic cinnamon sugar croissant, there lies a world brimming with tasty twists and turns. Here, we've dreamt up some inventive variations. So, are you feeling adventurous? Let's explore!
Velvety

Cream Cheese Filling

– Think of a creamy heart for our croissants. A dollop of cream cheese, kissed with vanilla essence, makes every bite a creamy dream.
Make it Nutty – Elevate the classic with a sprinkle of chopped nuts—be it pecans, walnuts, or almonds. The crunchy texture combined with our beloved cinnamon sugar? Simply harmonious.
Make it fruity – Yearning for a bit of zing? How about adding some slivers of apples or pears, paired with a smidge of lemon peel? This combo melds seamlessly with the sugary folds of our pastries.
Make it Chocolatey – Whether you use Nutella or add some cocoa powder to the buttery mix, a chocolate upgrade is exactly the kind of addition to take your goodie to the next level.
Equipment
For this quick treat, you'll need an air fryer. Personally, we like the Instant Pot Vortex. Now, if you want the egg wash, you will need a pastry brush.
Storage
Stored in an airtight container, our cinnamon sugar marvels will remain soft and inviting for up to 3 days. But honestly, who can resist them for that long? If your will power holds up, you can even freeze them in the container for up to 3 months.
Top tip
The number one tip I recommend is to remove them from the air fryer on time. Allowing them to stay in even a minute or two longer can completely change the outcome.
FAQ
What's the allure of turbinado sugar?
Ah, turbinado sugar! It's a coarser, golden-hued gem that bestows an extra crunch and a hint of molasses magic to our croissants.
Can I substitute the canned croissants?
Indeed, my culinary artist! You can brave the world of homemade dough, though remember, it will slightly alter the texture and time of our dance.
How do I get that golden, shiny exterior?
The magic lies in the egg wash! Brushing your croissants with a mixture of beaten egg and a splash of milk before baking will grant them that enviable, golden glow.
See These Other Air Fryer Treats
Looking for other recipes like this? Try these: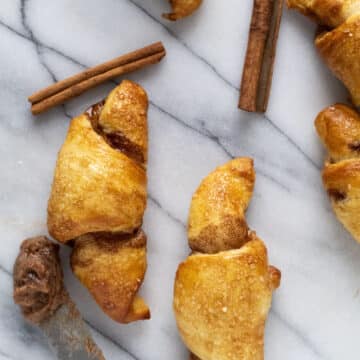 Air Fryer Cinnamon Sugar Crescents Recipe
Are you looking for a quick and cheap appetizer or dessert? Check out these air fryer cinnamon sugar crescents. They are so good, buttery, and tasty. You can't resist!
Ingredients
8

Crescent Rolls

1/4

Cup

Unsalted Butter

Room Temperature

1/3

Cup

Light Brown Sugar

2

Tsp

Ground Cinnamon

1

Large Egg

1

Tbps

Milk
Instructions
Preheat the Air Fryer to 315 degrees.

In a small bowl, lightly whisk the egg and milk. Put it aside.

Mix the butter and cinnamon until thoroughly combined. Set this mixture aside.

Take the dough and separate it into 8 triangles. Put two teaspoons of the butter mixture and spread it all over.

Starting from the wide end, gently wrap the dough around the butter mixture and roll to the opposite point.

Spray the air fryer basket with non-stick baking spray. Brush on the egg wash and put the crescent rolls in the basket, leaving some space between them so they're not touching.

Cook for 7-8 minutes or until they're fully cooked.

Take the crescents out of the air fryer and enjoy!
Notes
Store in an air-tight container and refrigerate for up to 2 days. 
Reheat them in the air fryer at 315 degrees for 2-3 minutes.
Depending on the size of your air fryer, you may have to cook these in batches. 
Nutrition
Calories:
194
kcal
Carbohydrates:
21
g
Protein:
2
g
Fat:
12
g
Saturated Fat:
6
g
Polyunsaturated Fat:
2
g
Monounsaturated Fat:
3
g
Trans Fat:
0.2
g
Cholesterol:
36
mg
Sodium:
232
mg
Potassium:
26
mg
Fiber:
0.3
g
Sugar:
12
g
Vitamin A:
211
IU
Vitamin C:
0.02
mg
Calcium:
20
mg
Iron:
1
mg