Jump to Recipe
Have you ever made a recipe so good, knowing you would make it forever? Well, my friend, this frosting, the best strawberry frosting ever, is just that. It doesn't just taste like strawberry. It's the most intensely strawberry flavor you've ever had, thanks to a secret ingredient!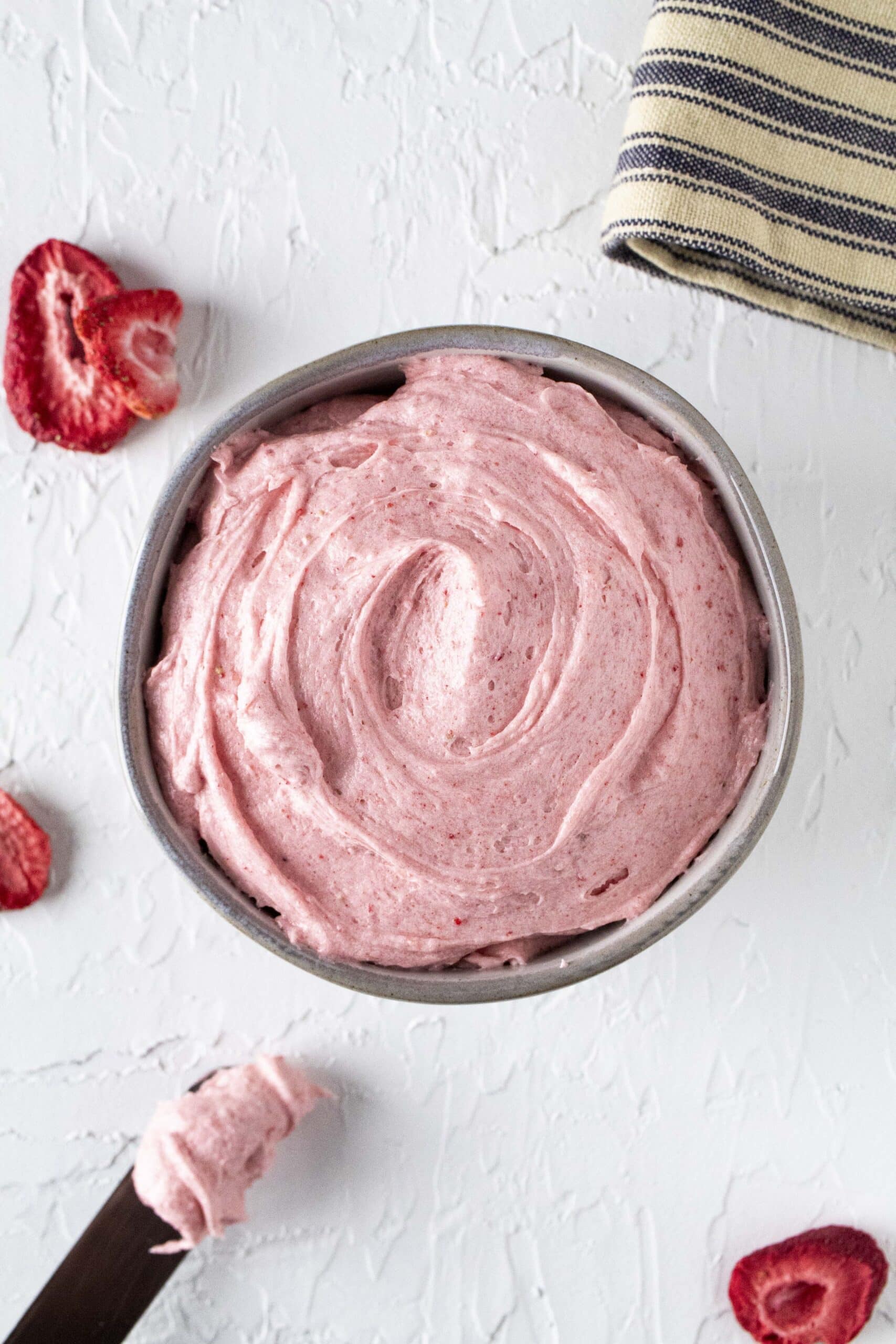 Don't believe me? Make it once and you'll be dreaming up sweet treats to pair it with like these air fryer confetti donuts or this air fryer skillet sugar cookie. And just imagine how it can enhance a chocolate cake!
So are you excited to make it?
Let's dive in!
Jump to:
Ingredients
First, let's talk about the ingredients you'll need for this simple masterpiece. On their own each part is ordinary, but together extraordinary. But while there are only five ingredients each one is incredibly important. We'll explain why.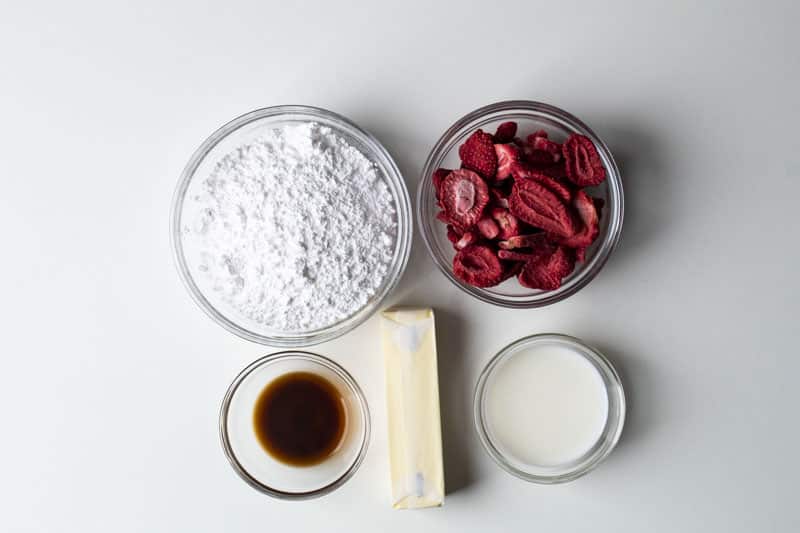 Freeze Dried Strawberries – While you may need to go out of your way to find them (we found ours at Target), dried strawberries are vital to this recipe. They give our frosting a strong strawberry taste minus all the water, making it taste even more like real strawberries!
Powdered Sugar – Powdered sugar makes our frosting creamy, smooth, and sweet.
Butter – You've got to have unsalted butter for that nice, rich flavor and that smooth mouth feel. It makes the frosting spreadable for cookies, cakes, and other desserts.
Milk – So, your frosting may be too thick and dense without milk. Add a little at a time until it is the consistency you desire.
Vanilla – A teaspoon of vanilla will add a pleasant aroma reminiscent of a flavor everyone knows.
Salt – Just a pinch will enhance the strawberry flavor even more. Remember, a little goes a long way.
See the recipe card for quantities.
How to Make The Best Strawberry Frosting
Now that you know about the ingredients, let's talk about the sweet journey to making the best strawberry frosting. So follow along as we blend, mix, and pour our way to the most velvety, pink-hued dessert topping.
The first is to blend or food process the dried strawberries. Then combine it with about half of the powdered sugar.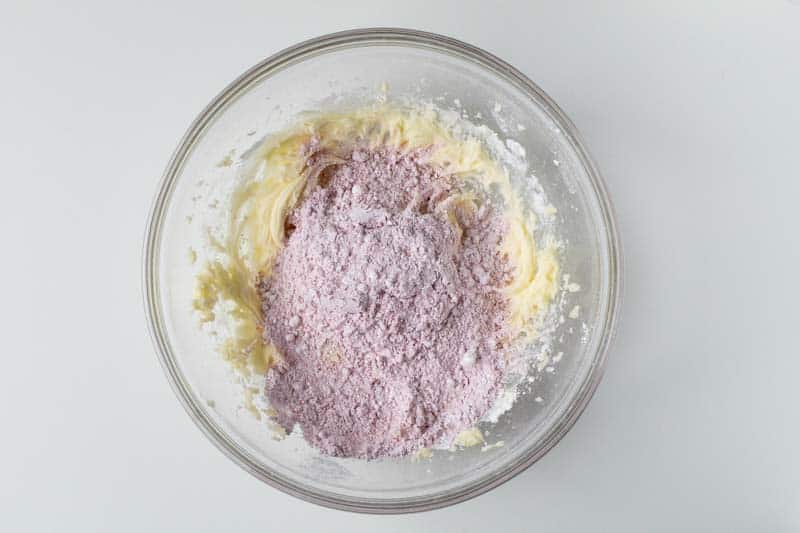 Next, cream the butter with the sugar (an electric hand mixer is best). Finally, combine the powdered sugar/dried strawberries with the creamed butter, sugar.
Hint: Make your frosting a day in advance as we found it actually taste better. 🙂
Variations
Okay, okay, so this strawberry frosting recipe is so good as is. But we can still explore such cool variations. Below, we'll look at chocolate-strawberry, citrus, and even nutty options.
Chocolate – add a spoonful of cocoa powder for a chocolatey-strawberry twist on the classic.
Citrus Burst – orange or lemon zest sounds like a delicious spin to explore for spring or summer, doesn't it? Imagine topping a lemony cupcake with it.
Peanut Butter Swirl – this one might sound weird, but imagine swirls of peanut butter for a delicious PB&J treat. This would work so well on sugar or peanut butter cookies.
Equipment
While the only piece of equipment that you need is a good blender; Vitamix or Blendtec is best. With that said, we do also recommend a hand mixer for best results.
Storage
It's hard to resist this creamy strawberry frosting, so I wouldn't be surprised if it's gone in one sitting. (You won't catch any flack from us if you ate a spoonful or two.)
But if you do have leftover frosting, then place it in a tight-sealing container and store it in the fridge for up to a week. When you are ready for more, sit it out at room temperature for a bit so it becomes more spreadable.
Top tip
If the frosting is too stiff, add a bit of milk. But if you add too much milk and it's too thin, add more powdered sugar. It's tough to mess it up. It's best to bring the butter to room temperature. Also, you can sift the powdered sugar to avoid clumps.
FAQ
Can I use fresh strawberries instead of dried ones?
No. Freeze-dried strawberries pack so much flavor per ounce compared to fresh. There is no way to substitute it. However, if you would like to add fresh strawberries, you can.
What's the secret to getting the frosting perfectly spreadable?
To get your frosting perfectly spreadable, you must keep adding milk a little at a time until it is the right consistency. Also, make sure you are starting with room-temperature butter.
Is there a difference between using unsalted and salted butter in the recipe?
Instead of salted butter, we recommend using unsalted butter because you want to control the salt. All you need is a pinch.
Related
Looking for other recipes like this? Try these: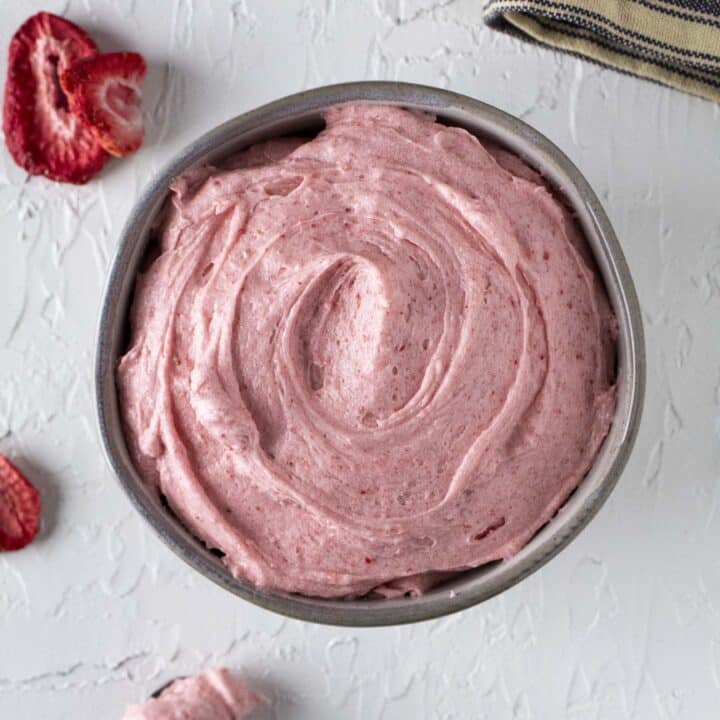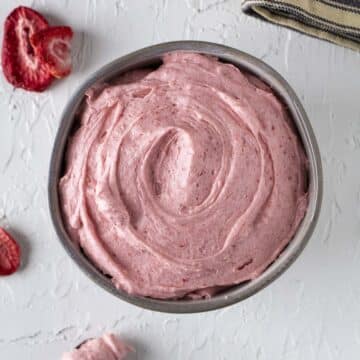 Best Strawberry Frosting Recipe
Are you ready to discover the absolute best strawberry frosting you've ever had? Well, you are in for a treat with our simple 5 ingredient recipe.
Ingredients
1

Oz

Freeze Dried Strawberries

28 Grams

1/2

Cup

Unsalted Butter

Room Temperature

2

Cups

Powdered Sugar

2

Tbps

Milk

1/2

Tsp

Vanilla Extract

Pinch of Salt
Instructions
Blend the strawberries in a blender or food processor until completely ground up. Put it in a bowl and set aside.

Mix the butter, vanilla, half the powdered sugar, and a pinch of salt in a medium bowl. Scrape the sides and add the remaining powdered sugar, blended strawberries, and the milk.

Continue mixing until completely combined and is the desired consistency.

Use with this sugar cookie skillet or frost some cupcakes.
Notes
You don't want to add all the powdered sugar all at once or the mixture will be all over your kitchen. 
You can add more milk, depending on your desired consistency. 
This batch is enough to frost 24 cupcakes. 
Store in an air-tight container in the fridge for up to a week or freeze for a month.
Nutrition
Calories:
118
kcal
Carbohydrates:
17
g
Protein:
0.1
g
Fat:
6
g
Saturated Fat:
4
g
Polyunsaturated Fat:
0.2
g
Monounsaturated Fat:
2
g
Trans Fat:
0.2
g
Cholesterol:
15
mg
Sodium:
2
mg
Potassium:
29
mg
Fiber:
0.2
g
Sugar:
16
g
Vitamin A:
180
IU
Vitamin C:
22
mg
Calcium:
5
mg
Iron:
0.4
mg