No time for camping or a bonfire? No problem! Instead, try our air fryer s'mores crescent rolls! Inside a soft, fluffy crescent roll, you'll find inviting, warm, melty chocolate chips and marshmallows, while on top, you'll find crunchy bits of graham crackers. How fun!
Everyone is going to love them. They are delicious, nostalgic, and certain to take you back to childhood.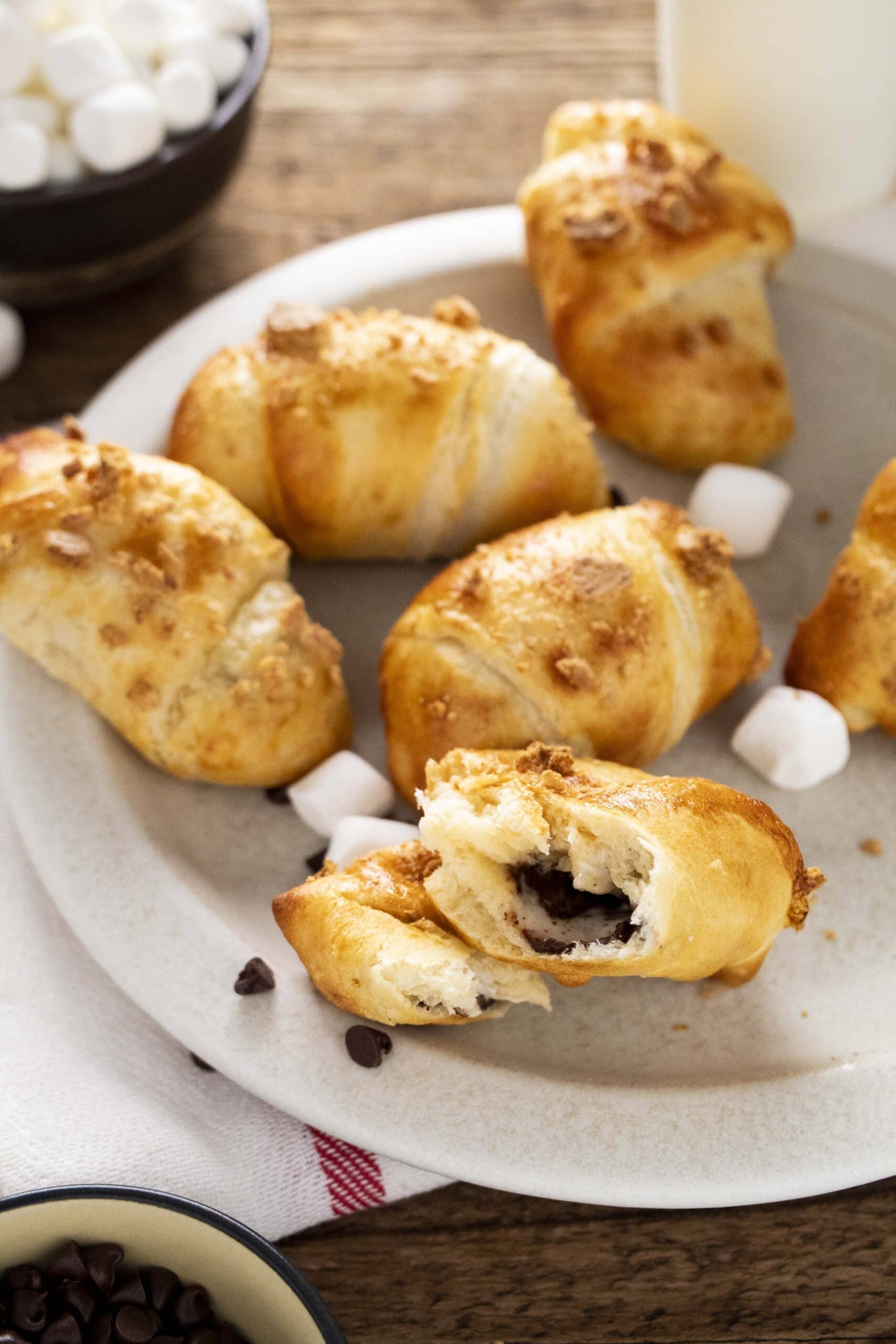 You know, it's always a good time for s'mores. But if you save them as a special treat for the weekend or after school, they'll look forward to it. Best of all, you can make them easily in your air fryer.
But while we're at it, how about you check out some of our other air fryer treats like these chocolate cheesecake crescent rolls and these cinnamon sugar crescent rolls?
Jump to:
Ingredients
Let's talk about the ingredients needed to make these delicious little heavenly bites of goodness! There are only a few, and chances are you have some of them on hand already.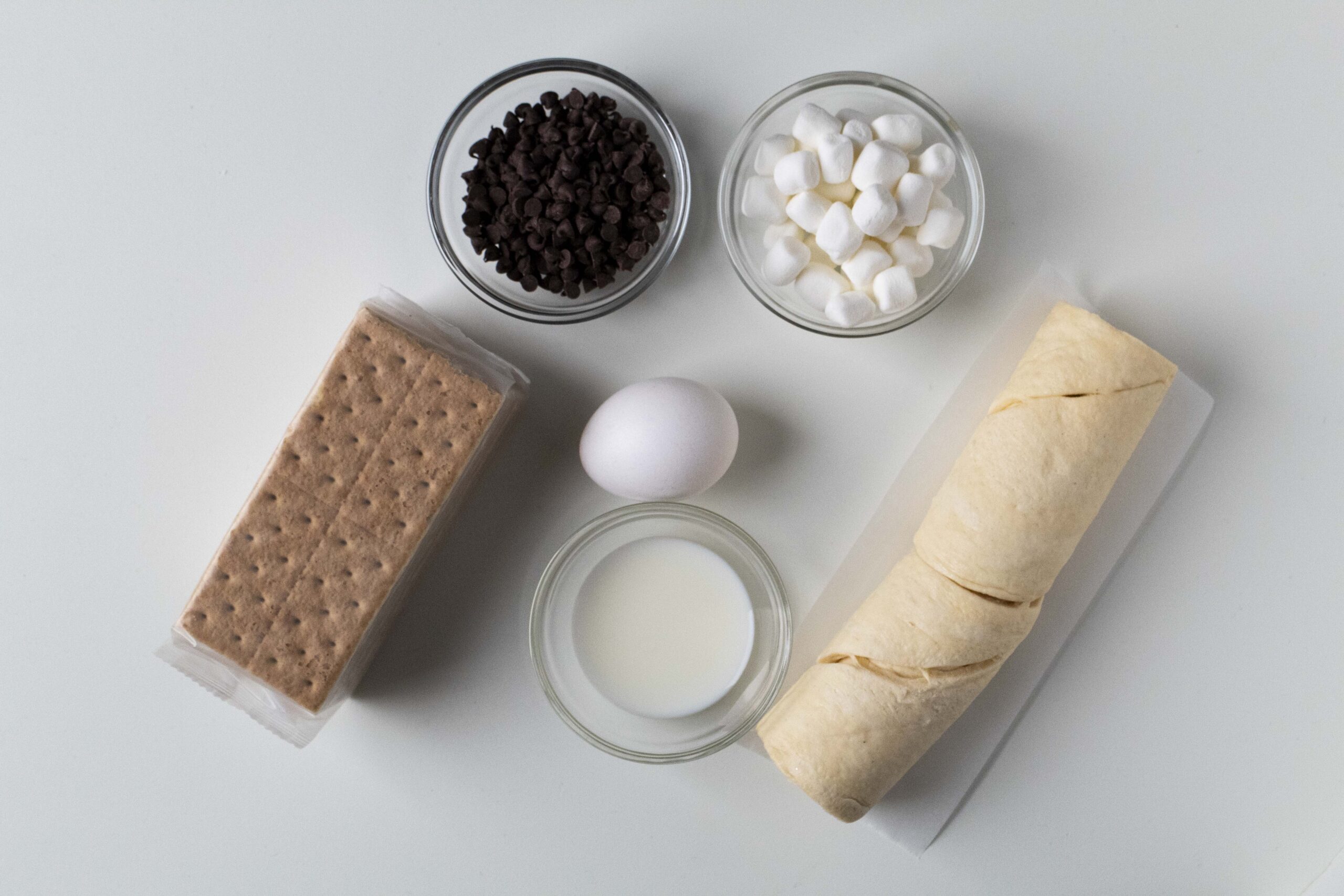 Canned Crescent Rolls – So, of course, canned crescents are the flaky, doughy base for your chocolatey s'mores crescent rolls dessert. You can go with a name brand or go with the generic brand, as it's usually cheaper.
Chocolate Chips – We used mini chocolate chips, but you can choose regular-sized chips.
Marshmallows – Pillowy soft marshmallows transform into tantalizing gooiness in the air fryer for that nostalgic sweetness reminiscent of those campfire nights. We used mini marshmallows so that they fit inside the crescents.
Graham Crackers – First, we crush those graham cracker sheets into small pieces. But do not pulverize. We like to have some of those pieces for that nice crunchy texture that contrasts with the softness of the crescent rolls.
Egg – That egg is responsible for that golden brown color.
Milk – The milk thins out the egg to make it more spreadable.
See the recipe card for quantities.
How to Make Air Fryer S'mores Crescent Rolls
Now that you know about the ingredients you need, let's talk about how to make these simple treats. The first thing you need to do is preheat the air fryer to 350 degrees.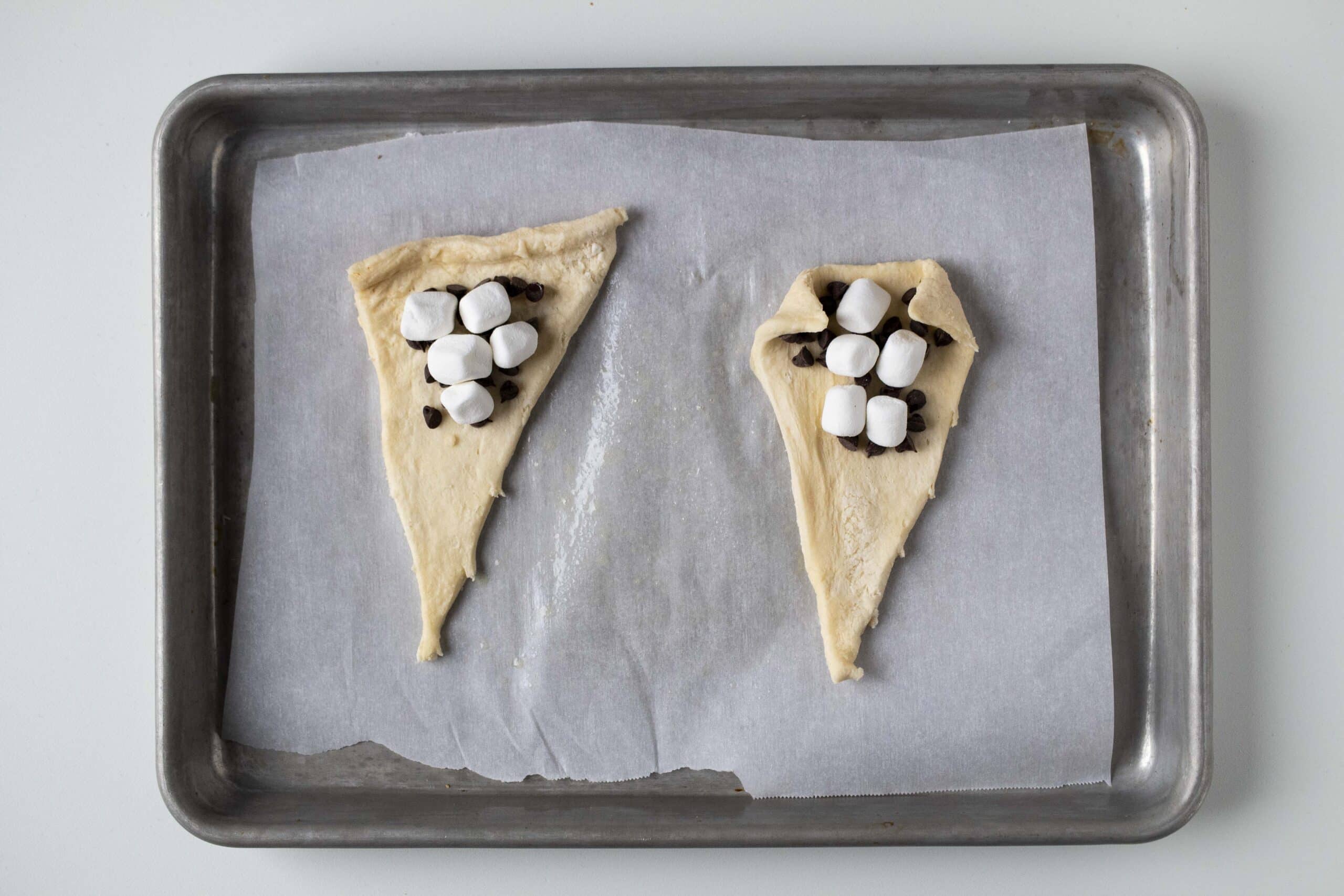 Unroll the crescent rolls and place them on a pan. Then, add the chocolate chips and marshmallows to the wide end of the crescent roll and fold the ends over as shown on the right side of the image.
Starting with the wide side, roll the crescent towards the narrow side as shown in the image above.
Brush the s'mores crescents with egg wash.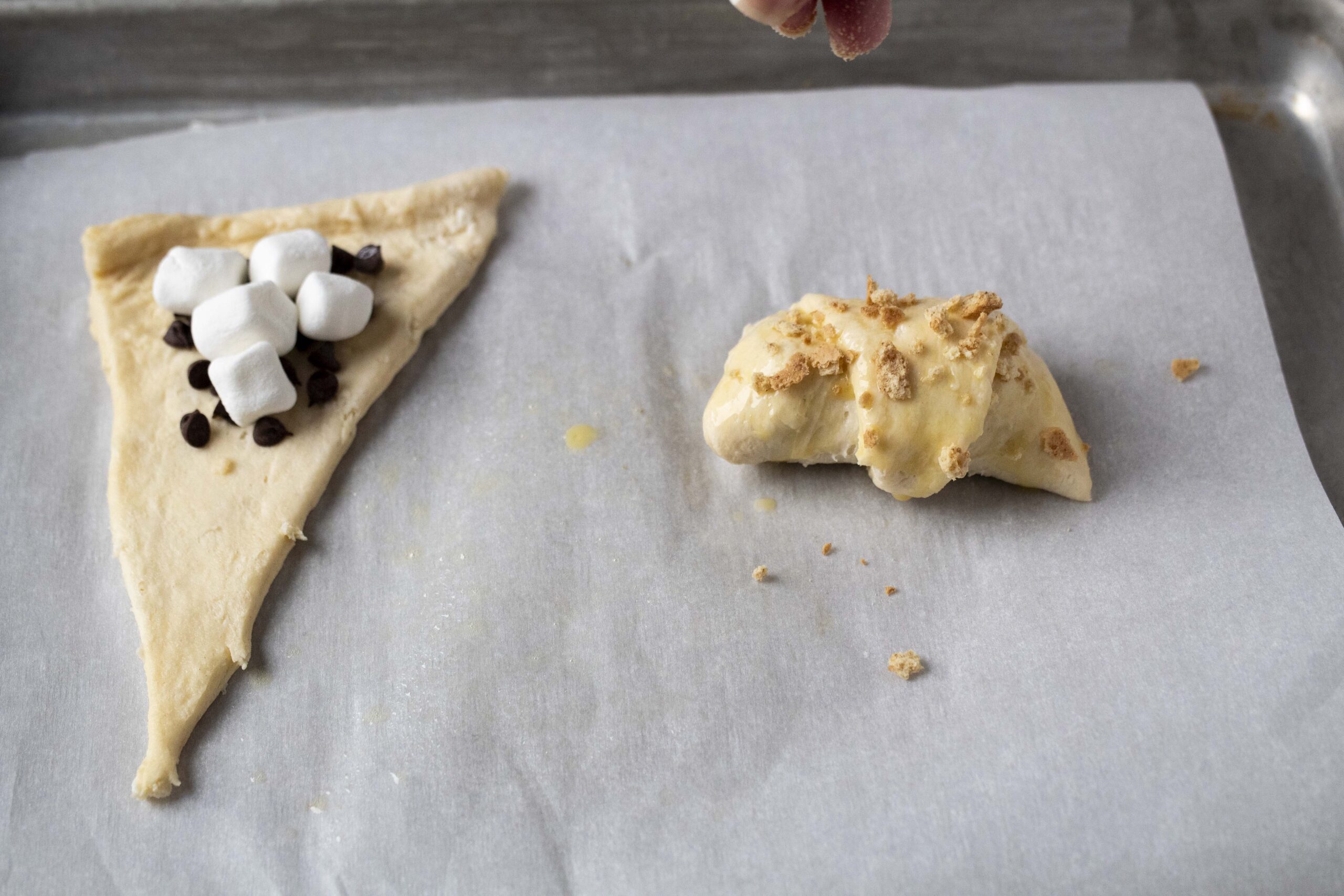 Finally, sprinkle the crescents with the broken graham cracker pieces.
Hint: Seal the air fryer s'mores crescents well so they don't leak while cooking.
Variations
These air fryer s'mores crescent rolls are so good that you'll love them as is, but if you want to change them up some, we've come up with some excellent ways to do just that.
Toasted Coconut – You know, toasted coconut would make for an amazing upgrade for your basic s'mores crescent rolls recipe.
White Chocolate Raspberry – Okay, so go ahead and swap out the milk chocolate for white chocolate, and add some raspberry jam for an elegant upgrade.
Salted Caramel – We love salted caramel, so why don't you go ahead and add some salted caramel chips to your crescent rolls. It's an excellent and unexpected addition.
Peanut Butter – We know full well how delicious peanut butter combines with chocolate, graham crackers, and marshmallows as seen in our gourmet peanut butter recipe. Add that deliciousness to crescent rolls for an amazing treat.
Equipment
The only special equipment you need to make this recipe is an air fryer, we like the Instant Pot Vortex Air Fryer.
Storage
If you plan on eating these air fryer s'mores crescents within a couple of days, storing them on the countertop in an airtight container is fine. However, for more extended storage, slide that container in the fridge for up to a week.
When you are ready to eat them, they are best when reheated. Place them in the air fryer at 350 degrees for a few minutes.
Top tip
Please make sure you carefully pinch the crescent rolls closed to make sure the filling doesn't ooze out.
FAQ
How do I prevent the chocolate and marshmallows from oozing out while they cook?
We found two ways to ensure that the chocolate and marshmallows do not ooze out of the crescents. First, make sure that you pinch them close along the seam of the rolls. Next, use the appropriate temperature. We bake them to 350 degrees so that they cook and the chocolate and marshmallow become gooey but don't ooze out.
Is it possible to make them ahead of time and reheat when ready to serve?
Yes! Making the air fryer crescents in advance is a great way to plan ahead. Just pop them back in the air fryer for a few minutes when you are ready to eat them.
Is there a specific brand of canned crescent rolls that works best for this recipe?
Nope! We use whichever brand is on sale at the time we grocery shop. Of course, if you find a brand you like best, go for it!
More Air Fryer Crescent Rolls
Looking for other recipes like this? Try these:
Air Fryer Smores Crescent Roll Recipe
You don't need to go camping to experience the joys of s'mores! Instead, enjoy these air fryer s'mores crescent rolls. They are so easy and tasty!
Ingredients
8

Crescent Rolls

1/4

Cup

Mini Chocolate Chips

Semi-Sweet

40

Mini Marshmallows

4

Honey Graham Cracker Sheets

1

Large Egg

1

Tbsp

Milk
Instructions
Preheat the air fryer to 350 degrees.

In a small bowl, lightly whisk the egg and milk. Put it aside.

Put the graham crackers in a ziplock bag and crush them using a rolling pin or meat mallet. (See note)

Separate the crescent dough into 8 triangles. Add 2 teaspoons of the mini chocolate chips. Then top with 5 mini marshmallows. (See note)

Fold the dough corners over the filling and roll it up, starting from the wide end. Wrap the dough around the chocolate chips and marshmallows until you reach the other end. Make sure to seal the edges to keep the filling inside while cooking.

Spray the air fryer basket with non-stick baking spray. Brush the tops with the egg wash and add the crushed graham crackers.

Place the crescent rolls in the basket, leaving space between them so they're not touching. Cook for 5-6 minutes.

Take the crescents out of the air fryer and enjoy!
Notes
We liked the texture of the graham crackers on top, so we lightly crushed them. Keeping some pieces as big as a chocolate chip. 
Don't overstuff them, or the filling will spill out during cooking. 
Store in an air-tight container at room temperature for up to 2 days. 
Reheat them in the air fryer at 350 degrees for 2-3 minutes.
Depending on the size of your air fryer, you may have to cook these in batches. 
Nutrition
Calories:
191
kcal
Carbohydrates:
23
g
Protein:
3
g
Fat:
10
g
Saturated Fat:
4
g
Polyunsaturated Fat:
2
g
Monounsaturated Fat:
2
g
Trans Fat:
0.01
g
Cholesterol:
21
mg
Sodium:
278
mg
Potassium:
65
mg
Fiber:
1
g
Sugar:
9
g
Vitamin A:
36
IU
Calcium:
16
mg
Iron:
1
mg