Jump to Recipe
Are you looking for a simple, chocolate treat that takes just minutes to make in the air fryer? Well, look no further than these air fryer chocolate cheesecake croissants. They are almost too good to be so simple.
Inside each golden brown pastry is a luscious chocolate chip studded cream cheese mixture. Mmmm!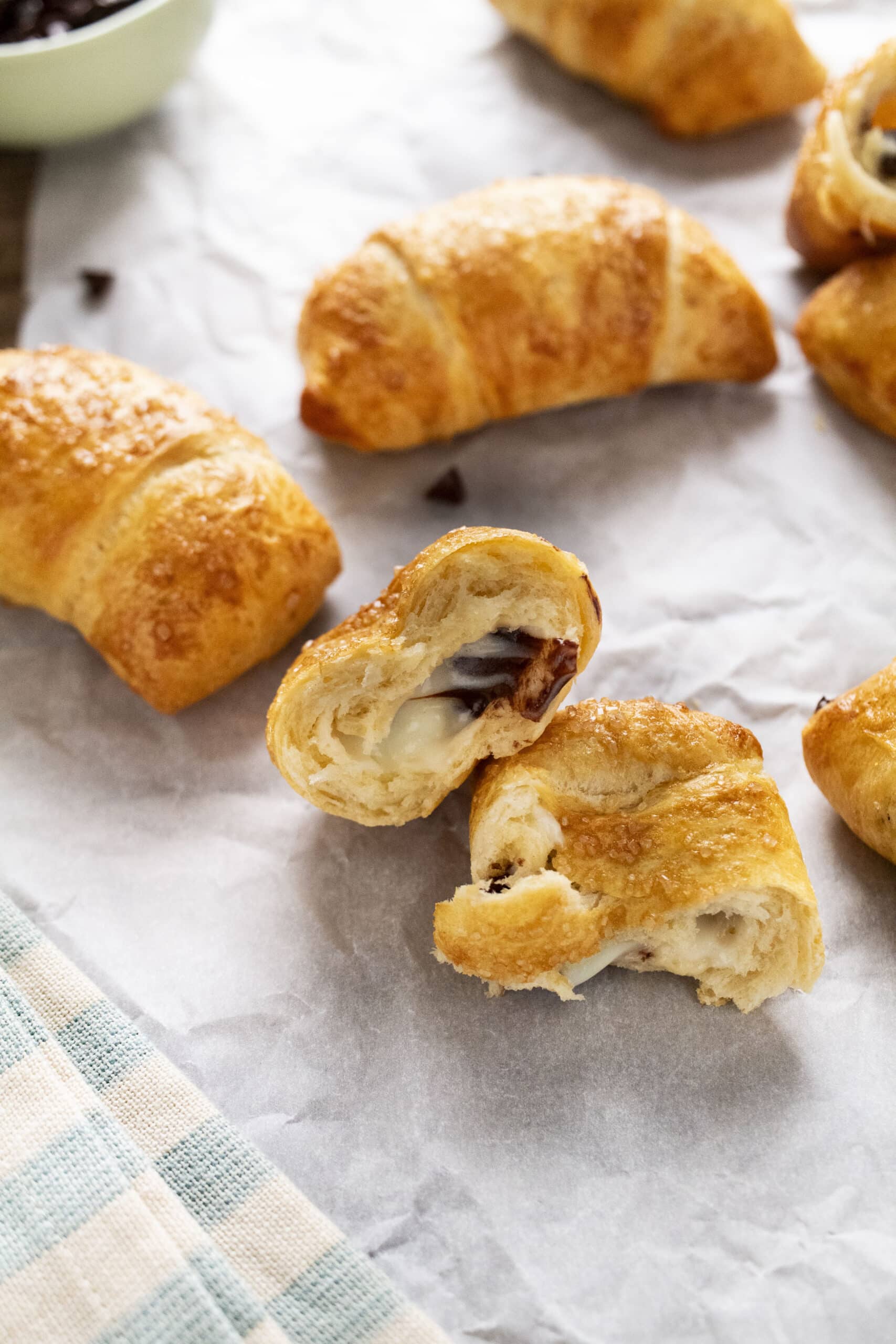 You'll want to make them all year round, but you'll really want them when the weather starts to change. It's a perfect fall and winter treat. And a delightfully quick appetizer to put out when while you work on the main holiday course.
And, if you want some other quick fall or holiday treats don't forget to check out our chocolate sweet potato cheesecake bites or our spectacular chocolate glazed pumpkin donuts.
Jump to:
Ingredients
Ready to make tasty chocolate cheesecake croissants in your air fryer? Great! Here are all the ingredients you'll need to begin. That includes the egg wash. It gives the baked goods a shiny and golden look.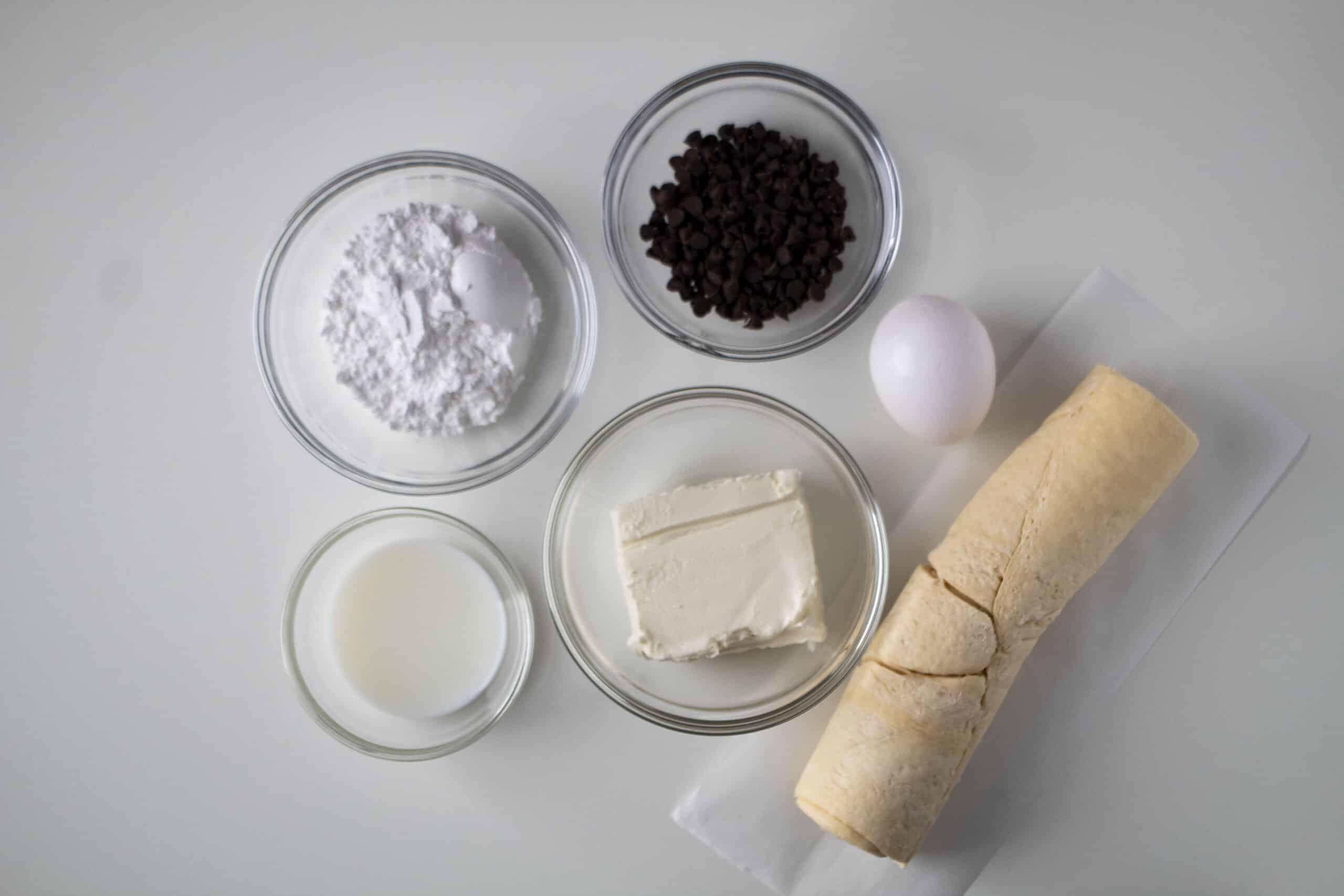 Canned Croissants – For our chocolate cheesecake croissant recipe, we'll be using crescent rolls as the base, making preparation quick and the end result deliciously flaky.
Cream Cheese – Cream cheese adds a creamy, tart, rich filling that pairs perfectly with the sweetness of the chocolate.
Chocolate Chips – semi-sweet chocolate chips provide a sweet and melty touch inside the croissants, complementing the creamy texture of the cream cheese.
Powdered Sugar – Powdered sugar rather than granulated sugar mixes well with the cream cheese, making the filling sweet and smooth.
For Egg Wash
Egg – The egg helps give pastries a golden and shiny finish when baked.
Milk – The milk helps thin it out, making it easier to brush on and giving the pastries a lighter golden color.
See the recipe card for quantities.
Instructions
Alright, let's get to it! Here are the clear and simple steps to make your chocolate cheesecake croissants in the air fryer. Follow them closely for the best results. Let's begin! Before you begin, preheat your air fryer to 315 degrees.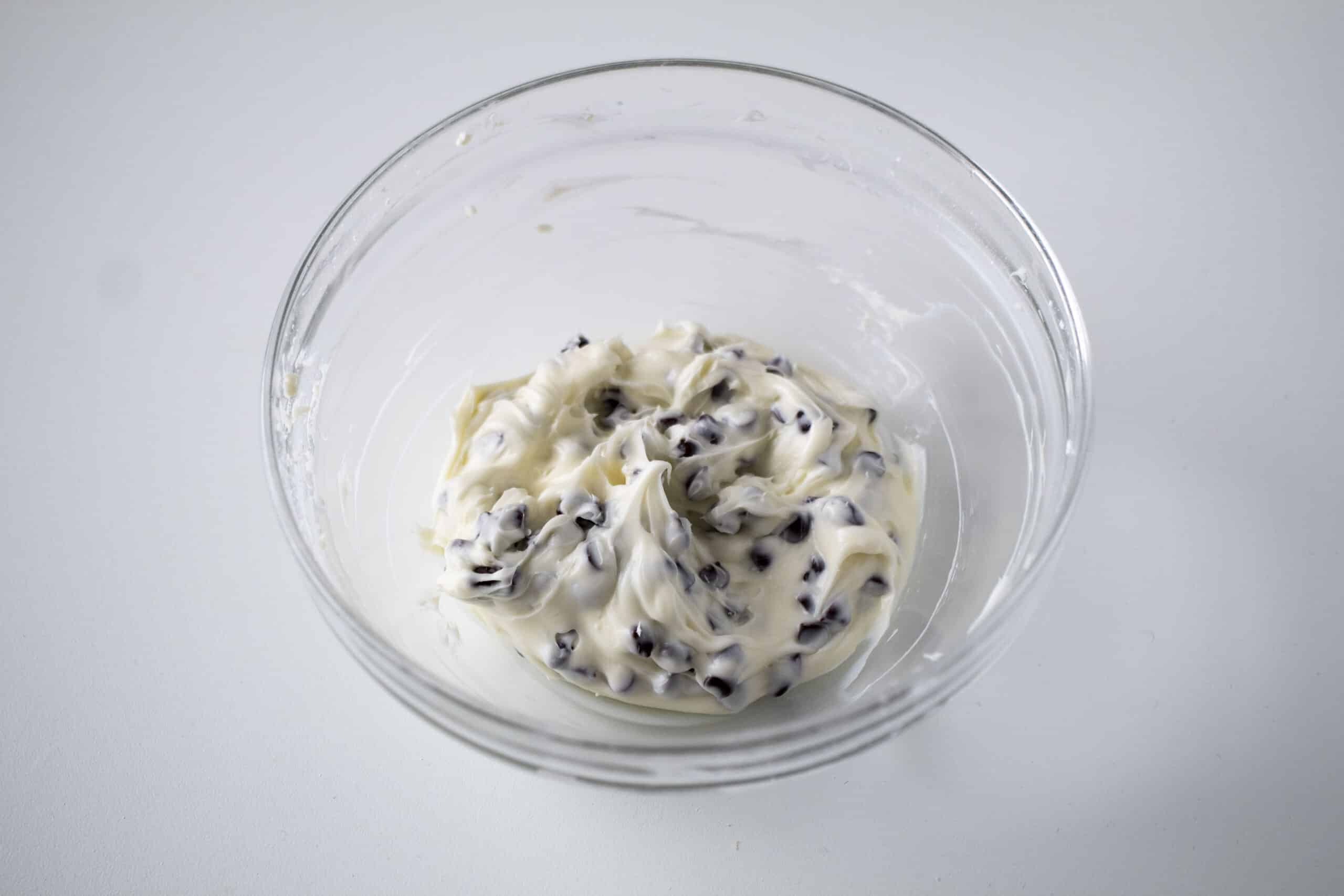 Add cream cheese, powdered sugar, and chocolate chips to the bowl and mix to combine.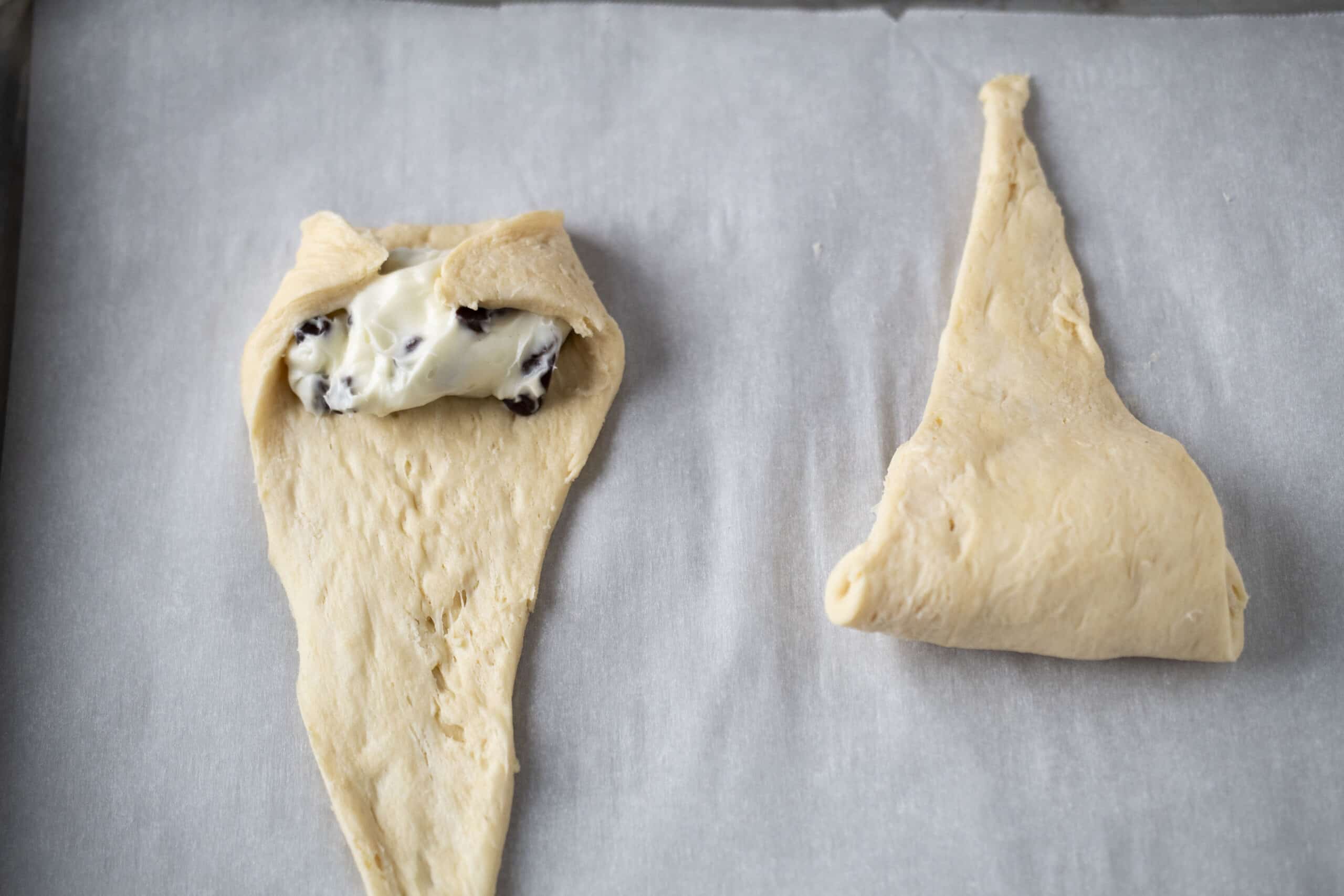 Add mixture to wide end of crescent rolls and fold the ends over the mixture as shown. Then roll towards the narrow end. Pinch the edges closed.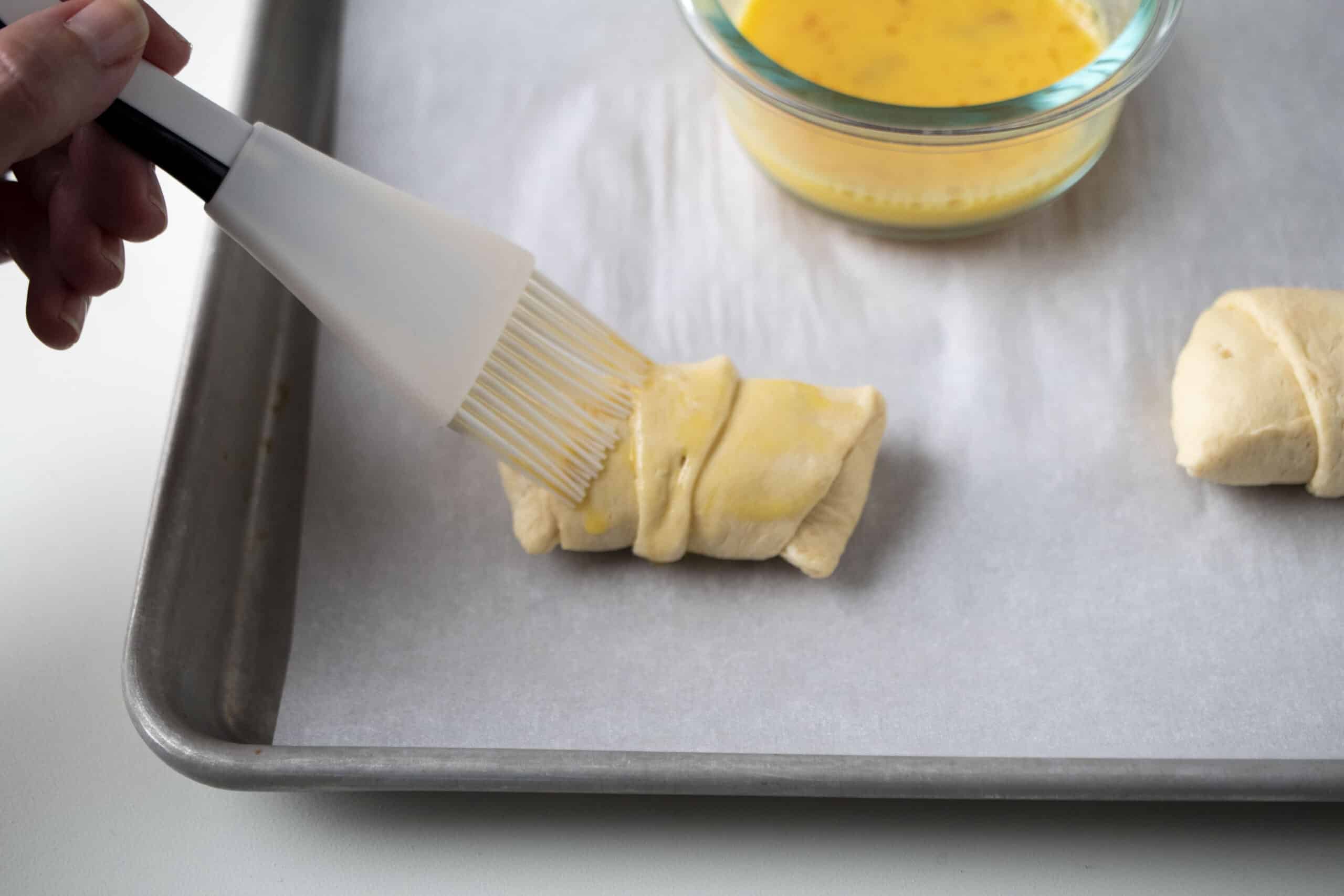 Next, brush them with an egg wash.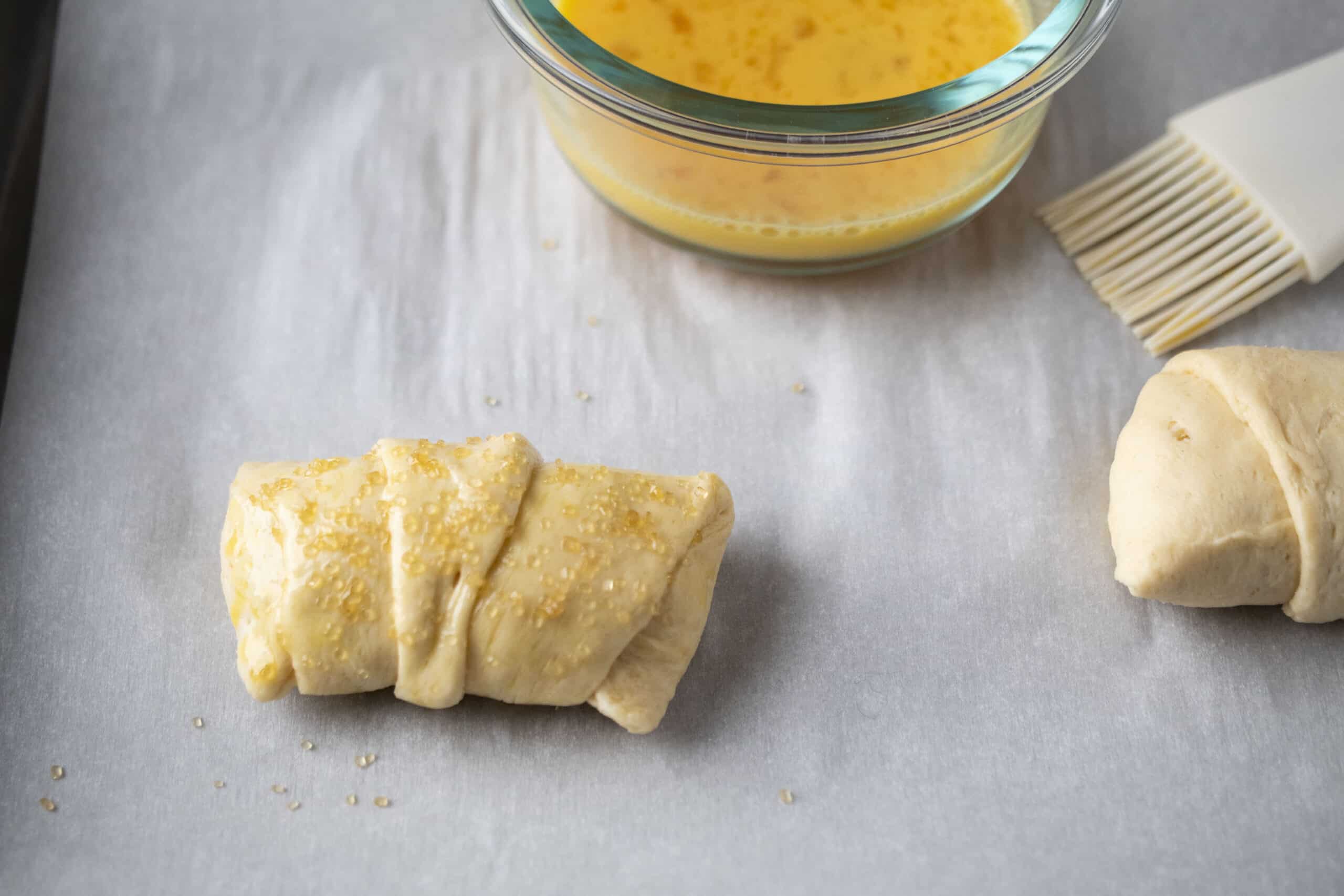 Optionally, sprinkle with some turbinado sugar, and cook in the air fryer for 7-8 minutes until they are golden brown and the chocolate chip and cream cheese mixture is melty.
Hint: Be sure to pinch the edges together tightly to seal the filling inside. If the edges of the croissants are not sealed properly, the filling can leak out during cooking and make a mess.
Variations
Want to try something new with your air fryer chocolate cheesecake croissants? Let's explore some fun flavors and fillings! You can add things like fruit or nuts to make these croissants even better. Let's explore some fun changes you can try!
Double Chocolate – After baking, drizzle some extra chocolate on top of your croissants. It'll make them super chocolaty and look fancy too!
Add some nuts – Mix in chopped walnuts, pecans, or almonds to the filling to make it crunchy.
Add some fruit – Mix in little bits of strawberries, raspberries, or blueberries to the cheesecake filling for a yummy fruit flavor.
S'mores Style – Add mini marshmallows to the filling and sprinkle graham cracker crumbs on top before cooking.
Equipment
So, of course, you will need an air fryer to make these air fryer chocolate cheesecake croissants. After trying several, our favorite is the Instant Pot Vortex.
Storage
To keep your chocolate cheesecake croissants fresh, put them in an air tight container in the fridge for up to 3 days. Want to save them longer? Wrap each one in plastic and put them in a storage box in the freezer for up to 2 months.
When you want to eat them again, don't microwave. It can make them soggy. Instead, warm them up in the air fryer at 350°F for about 3-5 minutes until heated through and the chocolate is melty.
Top tip
Be careful not to put too much filling in the croissants. If you add too much cheesecake and chocolate, they might break open when cooking. Make sure there's some space around the edges when you add the filling.
FAQ
What type of chocolate is best to use?
For these croissants, it's best to use semi-sweet chocolate chips because they melt nicely and taste great with the cheesecake. But if you like, you can also try using milk chocolate or dark chocolate chips. Choose what you think tastes best!
Can I use store-bought crescent rolls for this recipe?
Absolutely! Store-bought canned crescent rolls work great for this recipe. They save time and are easy to use. Just unroll them, add your fillings, and you're good to go!
Do I need to grease the air fryer basket before cooking the croissants?
No, you don't need to oil the basket. The rolls have butter, so they won't stick. But if you're worried, you can use a little non-stick spray.
More Easy Air Fryer Sweet Treats
Looking for other recipes like this? Try these: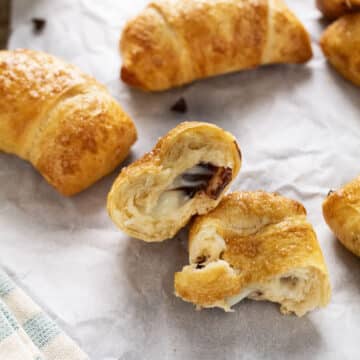 Air Fryer Chocolate Crescent Recipe
Air fryer chocolate cheesecake recipe is chocolatey, creamy, rich, and super easy to make with just a handful of ingredients. They make a delicious holiday appetizer or anytime snack.
Ingredients
8

Premade Crescent Rolls

4

Oz

Cream Cheese

Room Temperature

1/4

Cup

Powdered Sugar

1/4

Cup

Mini Chocolate Chips

Semi-Sweet

1

Large Egg

1

Tbps

Milk
Instructions
Preheat the Air Fryer to 315 degrees.

In a small bowl, lightly whisk the egg and milk. Put it aside.

Mix the cream cheese and powdered sugar until it's all combined. Then, add the chocolate chips and mix them in. Set this mixture aside.

Separate the crescent dough into 8 triangles. Put two teaspoons of the cream cheese mixture on the wide end of each triangle.

Fold the dough corners over the filling and roll it up, starting from the wide end. Wrap the dough around the cream cheese mixture until you reach the other end. Make sure to seal the edges to keep the filling inside while cooking.

Spray the air fryer basket with non-stick baking spray. Brush on the egg wash and put the crescent rolls in the basket, leaving some space between them so they're not touching.

Cook for 7-8 minutes or until they're fully cooked.

Take the crescents out of the air fryer and enjoy!
Notes
You don't want to overstuff the crescents with the filling. 
Store in an air-tight container and refrigerate for up to 2 days. 
Reheat them in the air fryer at 315 degrees for 2-3 minutes.
Depending on the size of your air fryer, you may have to cook these in batches. 
Nutrition
Calories:
214
kcal
Carbohydrates:
20
g
Protein:
3
g
Fat:
14
g
Saturated Fat:
7
g
Polyunsaturated Fat:
2
g
Monounsaturated Fat:
3
g
Trans Fat:
0.01
g
Cholesterol:
35
mg
Sodium:
274
mg
Potassium:
71
mg
Fiber:
1
g
Sugar:
10
g
Vitamin A:
227
IU
Calcium:
24
mg
Iron:
1
mg