We all crave something light and refreshing to eat as the temperature rises. So this list of 24 super summer pasta recipes is the perfect solution to satisfy our cravings while being easy to prepare.
This impressive list has all kinds of dishes, so you will certainly find something to make. Here's a sneak peek.
There's salmon pasta salad which is light and protein-packed, and creamy mushroom pappardelle. But you'll also find quirky recipes like the out-of-this-world good Foglie D'Ulivo with pancetta & olives. So are you ready to discover?
Let's dive in!
If you love this list, you'll love this tasty collection of noodle and pasta recipes.
Creamy Lemon Orzo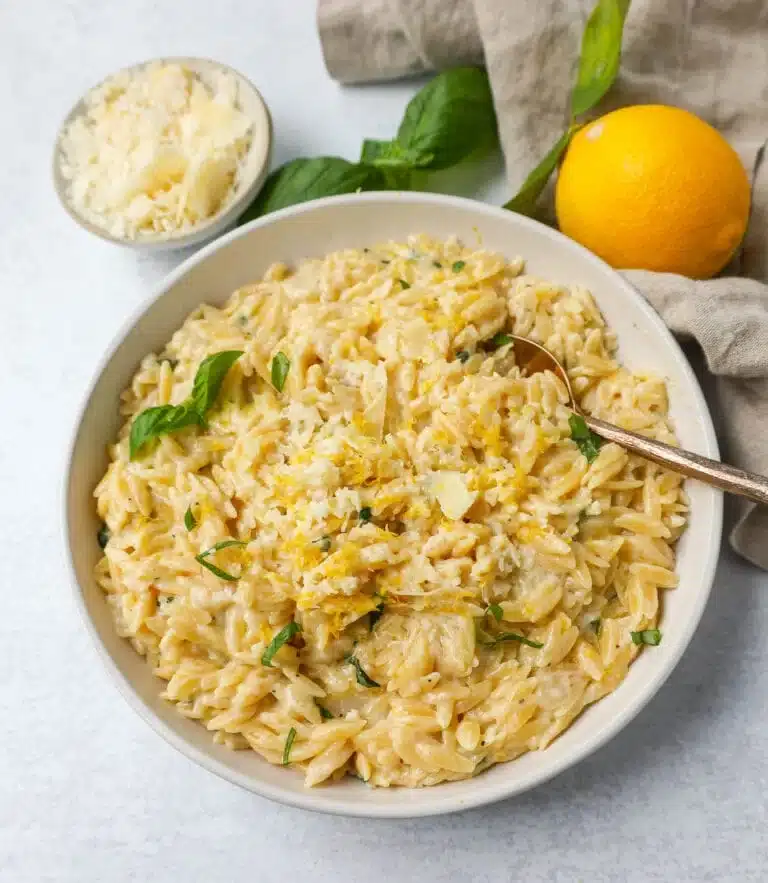 If you're looking for a creative summer side dish, check out this creamy lemon orzo pasta recipe by Melissa of Modern Honey. It's bright and flavorful with lemon juice, zest, basil, onion, and garlic and takes just 20 minutes to make.
Pasta Fredda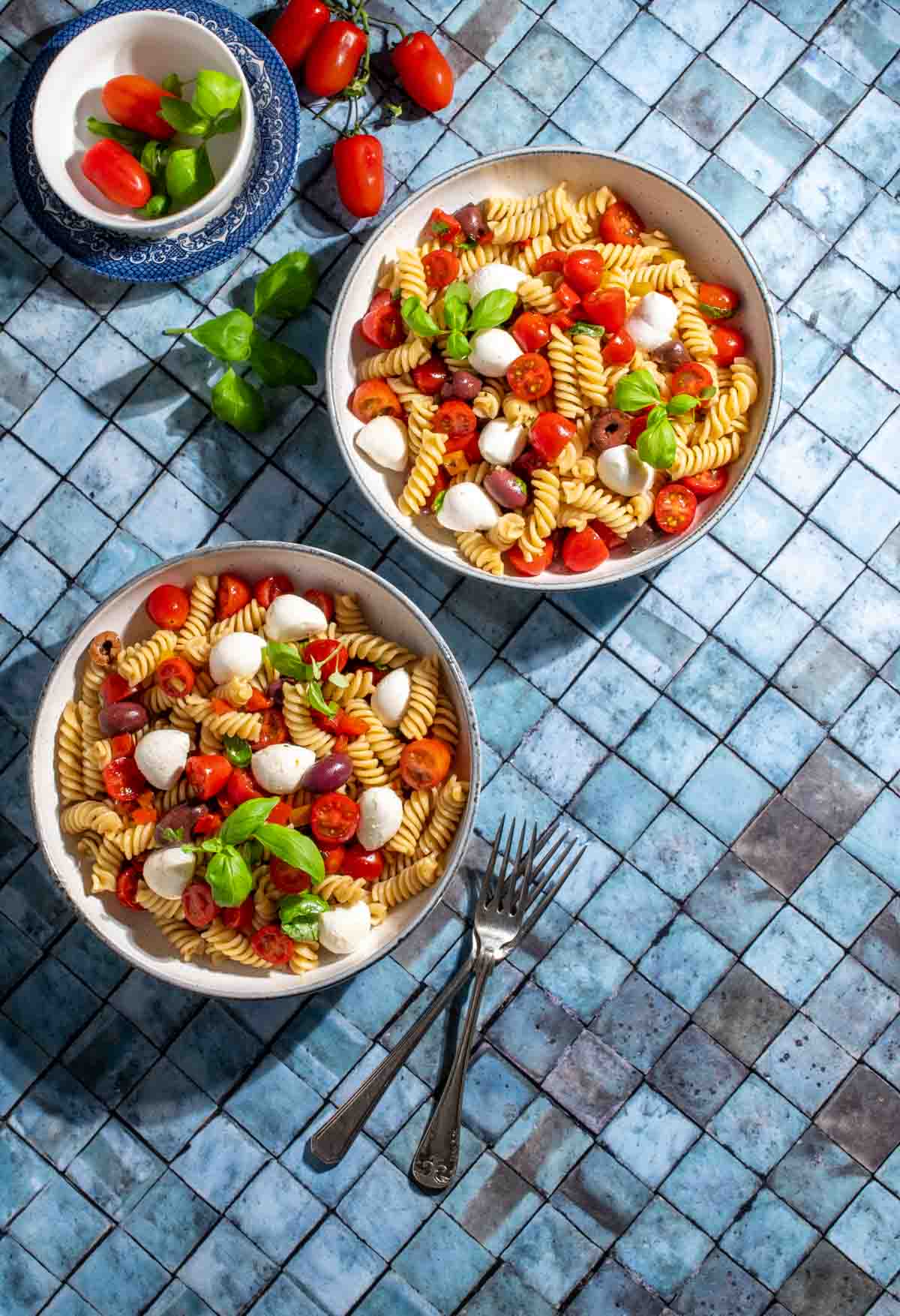 Maretha of The Cinnamon Jar introduces simple, beautiful elegance with this Pasta Freda (cold pasta salad) recipe. Enjoy it as light lunch, dinner, or a side. It takes just 15 minutes to prepare. All you do is combine cooked pasta with sweet cherry tomatoes, peppers, olives, mozzarella, and basil.
Orzo Salad with Feta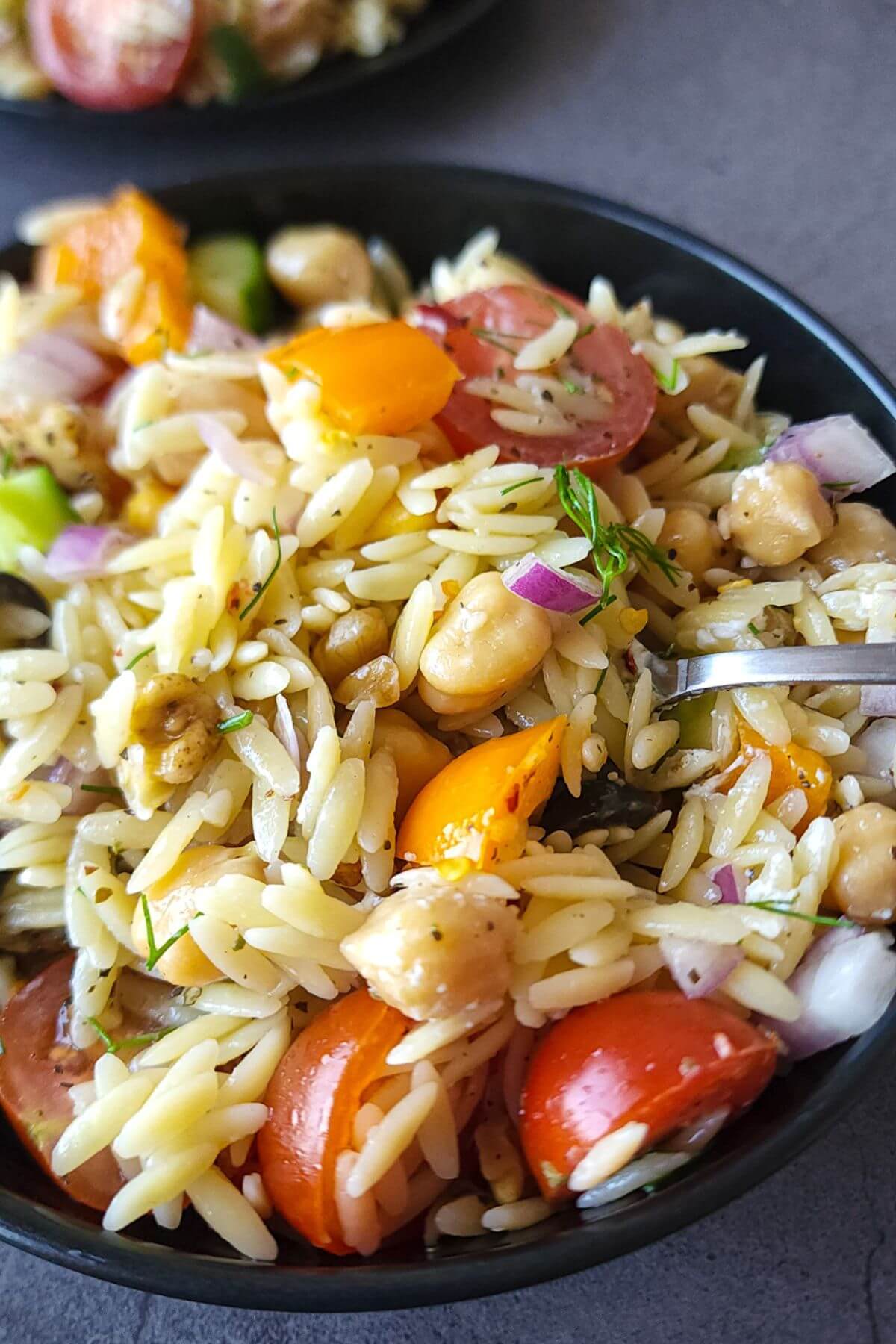 Are you planning a picnic? Well, you have to bring more than just meat and bread. You'll also need tasty sides like this orzo salad with feta by Green Bowl 2 Soul. It's full of Mediterranean flavor with crunchy veggies like cucumber, chickpeas, bell pepper, tomato, sweet and tangy dressing, and feta cheese.
Sun-dried Tomato Alfredo with Chicken Fettuccine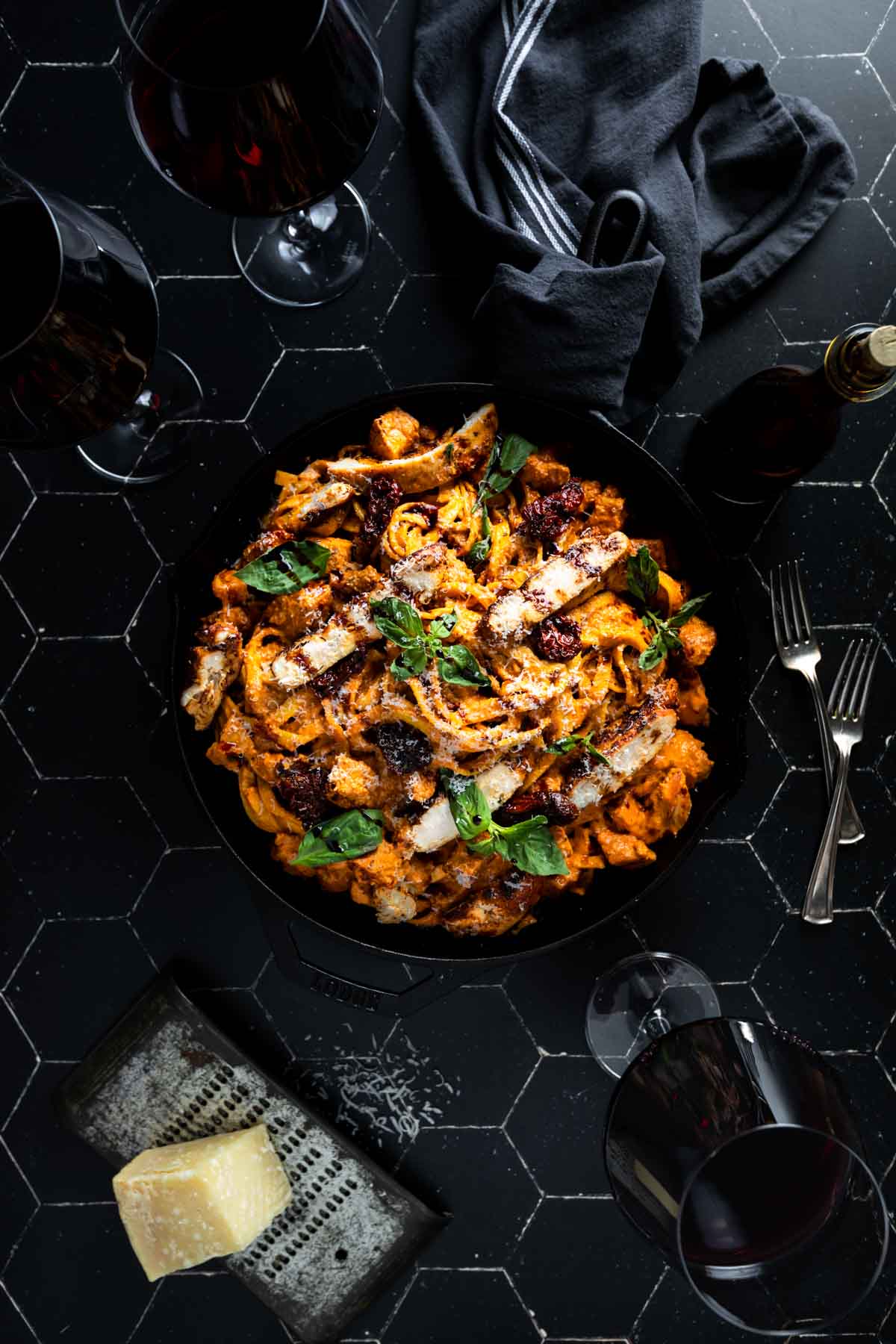 If you're looking for a summer pasta dish that's more than just a side dish, consider this sun-dried tomato alfredo with chicken fettuccine by The Sage Apron. The 30-minute, flavorful, impressive date night meal is full of flavor from the sun-dried tomatoes, basil, garlic, parmesan cheese, and seasonings.
Lighter Salmon Pasta Salad
Lighter salmon pasta salad by The Spelt Kitchen is a great way to use leftover salmon. The main ingredients are salmon, pasta, cucumbers, onion, and bell peppers. Then, add your flavorful but lighter Greek yogurt and mayo dressing.
Southwest Jalapeno Ranch Pasta Salad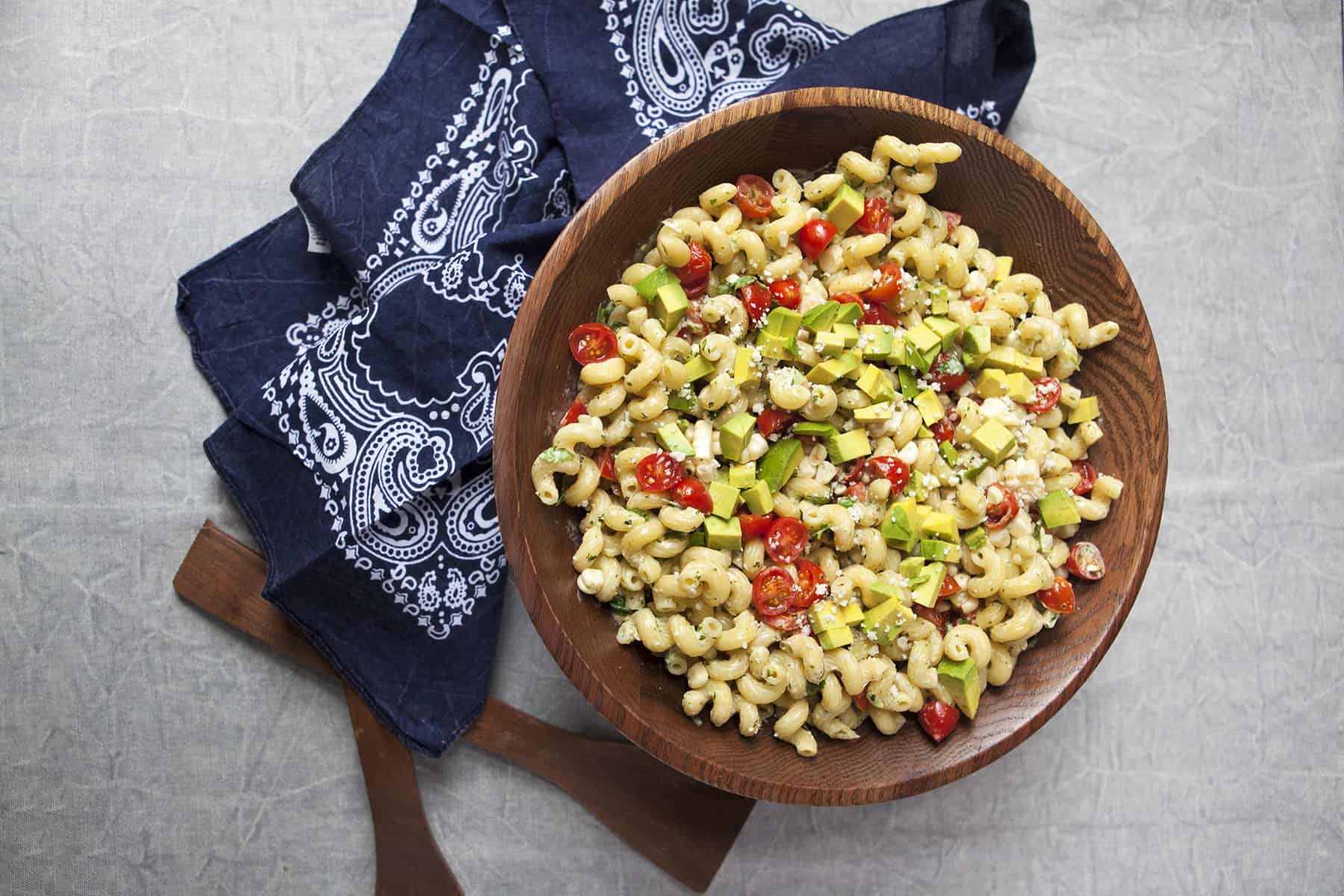 Becky of Nest And Nosh calls this 15-minute Southwest jalapeno ranch pasta salad "summer in a bowl." And we get it, you take your favorite pasta, like a corkscrew-shaped cavatappi, and add diced avocado, bell pepper, cilantro, tomatoes, cotija cheese, and a creamy avocado ranch dressing.
One Pot Lemon Ricotta Pasta Recipe
Hayley of J Cooking Odyssey barely counts this one-pot lemon ricotta pasta recipe as cooking. It's almost too easy. All you do is cook the pasta per package instructions, then add the ricotta and parmesan cheeses, lemon, and seasonings.
Zucchini Noodle Pasta with Yogurt Herb Sauce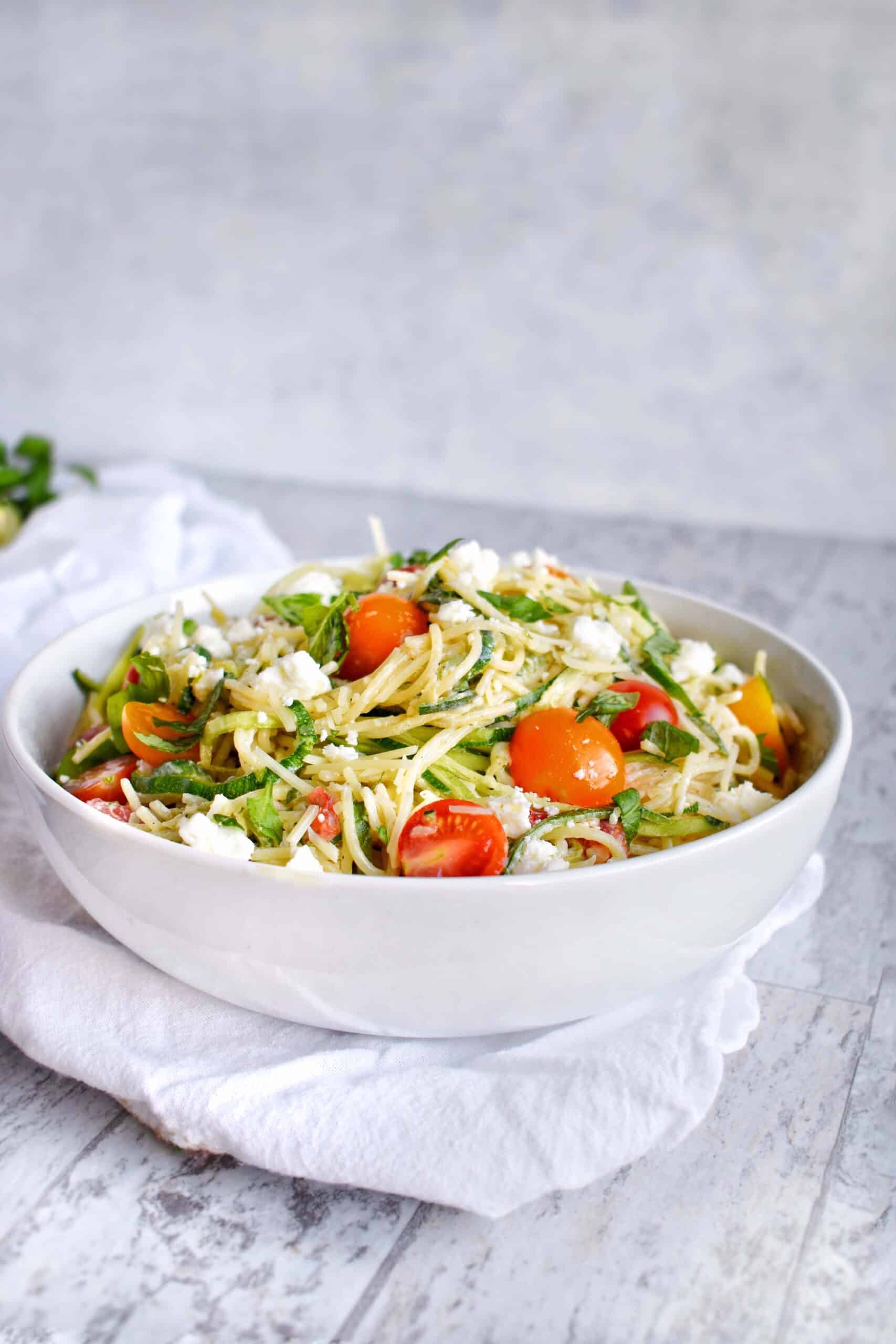 This zucchini noodle pasta with yogurt herb sauce is a clever way to cut down on carbs. The In Fine Taste team subs half of the spaghetti with zoodles (zucchini noodles). But it's still big on flavor with lots of garlic, cherry tomatoes, basil, mint, parmesan, and feta cheese.
Instant Pot Bruschetta Chicken Pasta Recipe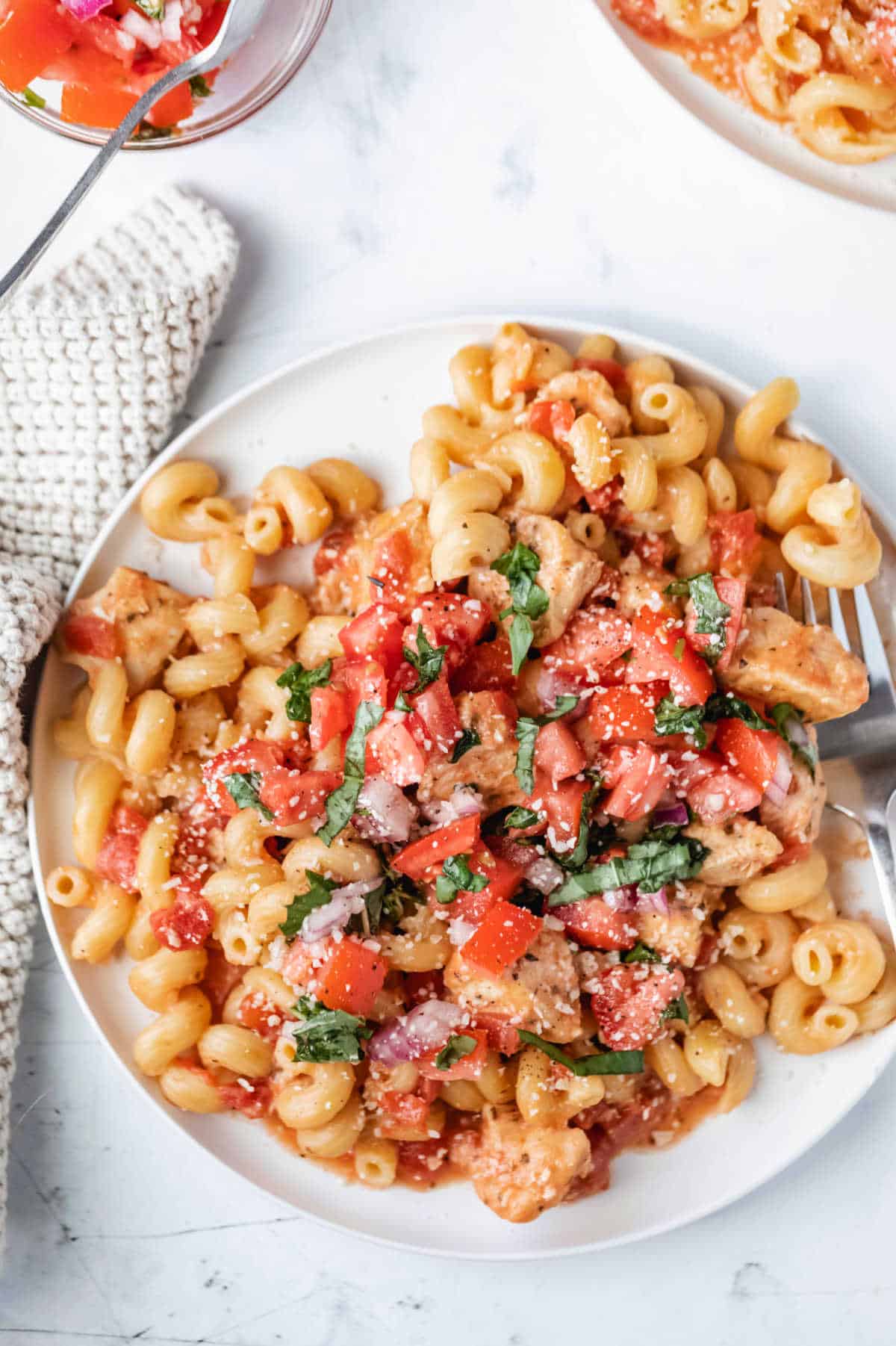 Kate turns the fancy appetizer into a complete meal with this Instant Pot bruschetta chicken pasta recipe by Eating In An Instant. Boneless skinless chicken breast is your protein. But then there's the Italian-style diced tomatoes, fresh basil, and balsamic vinegar for a quick and flavorful meal in an instant.
Creamy Mushroom Pappardelle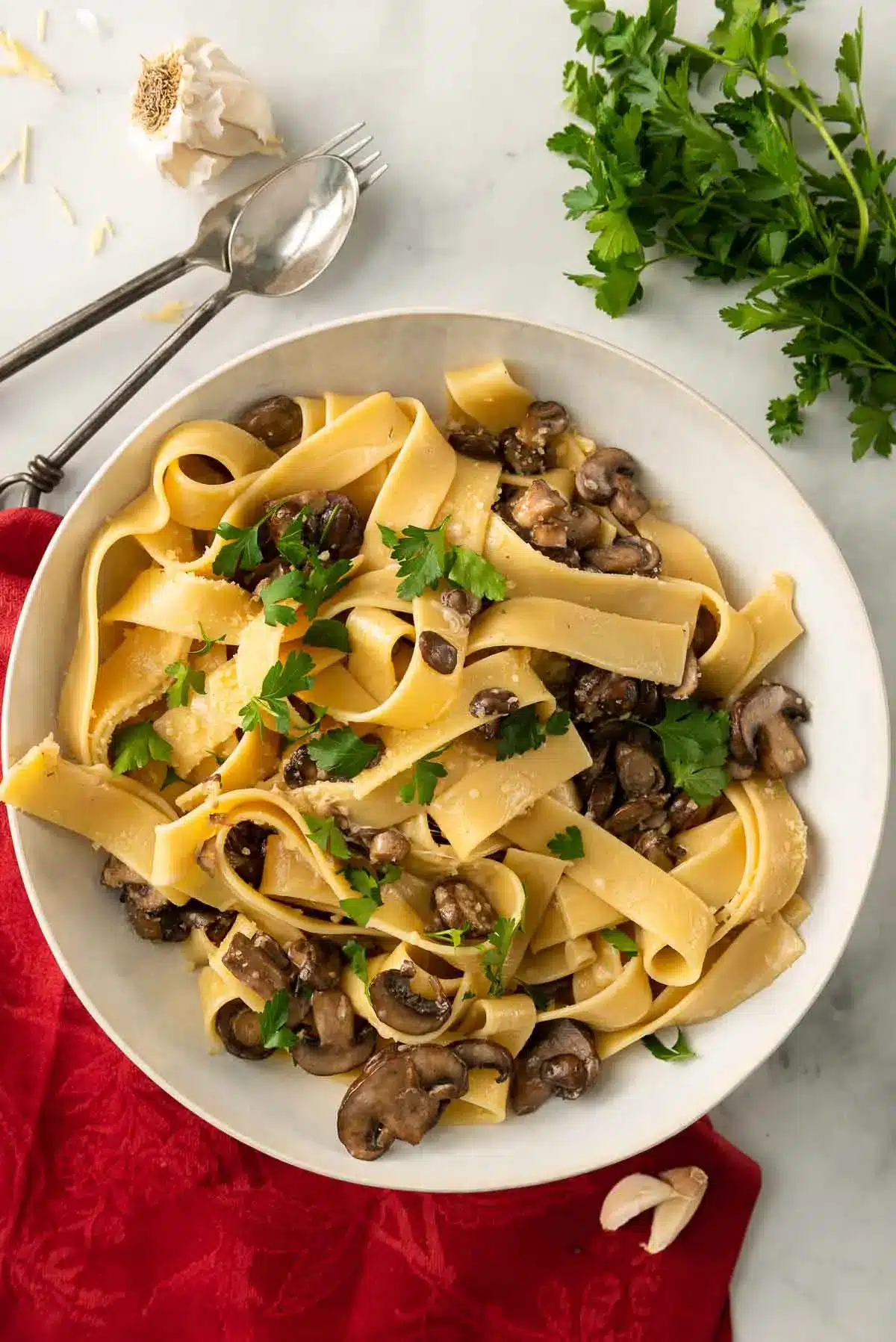 This creamy mushroom pappardelle from Chocolates & Chai is an elegant and impressive dish that looks like it takes longer than it does. You have tender pappardelle pasta with sliced mushrooms coated in a silky smooth, creamy sauce.
Sweet Corn and Zucchini Gnocchi Skillet
With sweet corn, gnocchi, basil, bell pepper, and lime, this sweet corn and zucchini gnocchi skillet from The Healthy Epicurean is a summery meal you will surely repeat. Plus, it's creamy with three tablespoons of cream without being overly indulgent.
Lemon Chicken Piccata Pasta
Capers, cream, garlic, spaghetti noodles, and lemon juice combine to make this zesty and bright lemon chicken piccata pasta recipe by The Cookin Chicks. It takes just 30 minutes and is filled with so much flavor.
Rotini Chickpea Pasta
Keep your summer dinners easy and breezy with recipes like this rotini chickpea pasta from Piping Pot Curry. Accompanying the tasty and protein-packed rotini are flavorful ingredients like garlic, comprising just a few simple ingredients like garlic, cherry tomatoes, feta, and arugula.
Farmers Market Pasta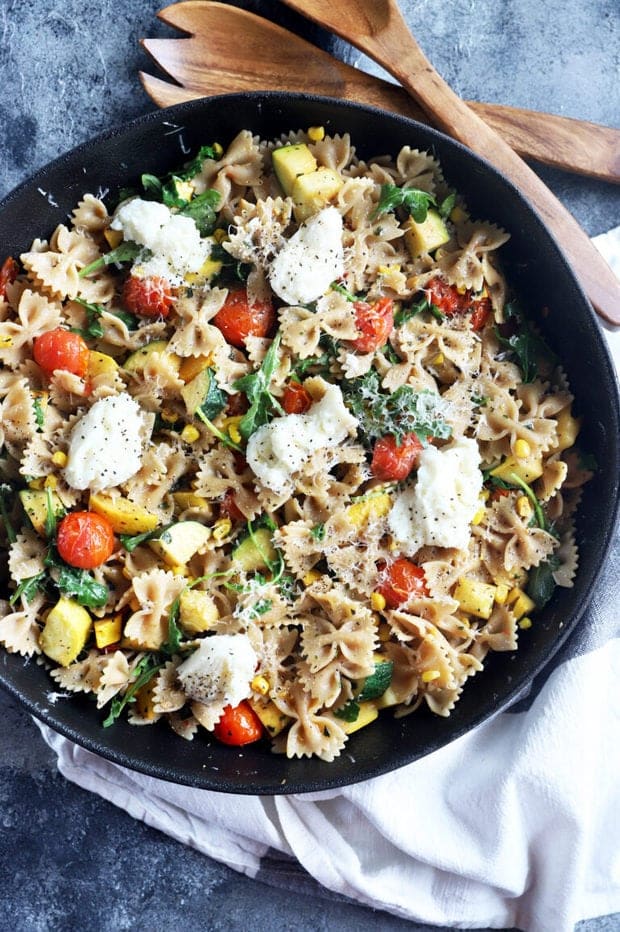 The best part of this farmers market pasta recipe by Cake N Knife is its versatility. Just use your favorite pasta, like bowtie, add corn, cherry tomatoes, or whichever veggies you find, parmesan and creamy ricotta cheese.
Chicken Pasta Salad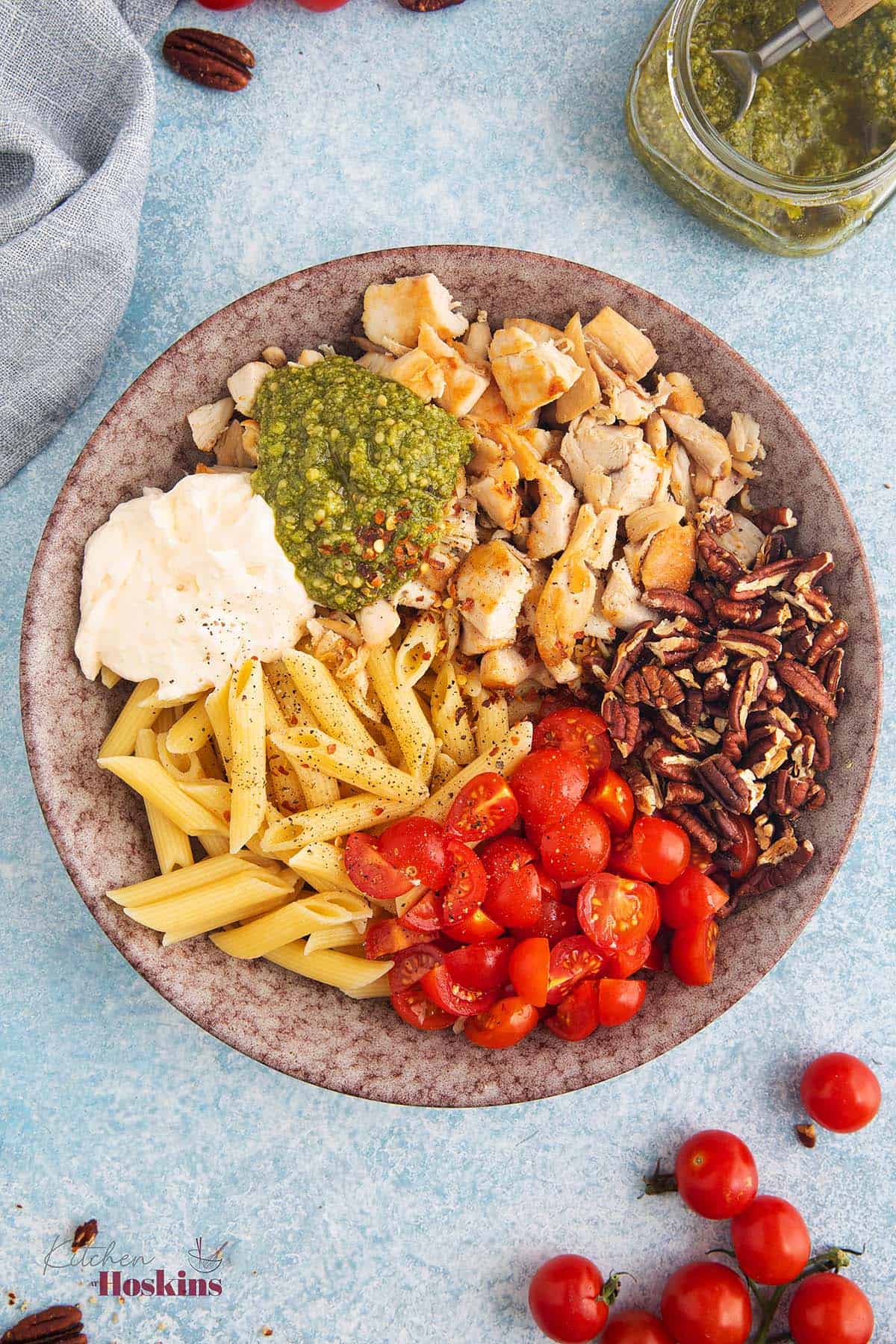 Chicken pasta salad by Kitchen At Hoskins is a great way to use up leftover rotisserie chicken. For this simple 30-minute meal, all you need is basil pesto, mayo, cooked pasta, seared chicken, toasted pecans, and fresh cherry tomatoes.
Fried Spring Onion Noodles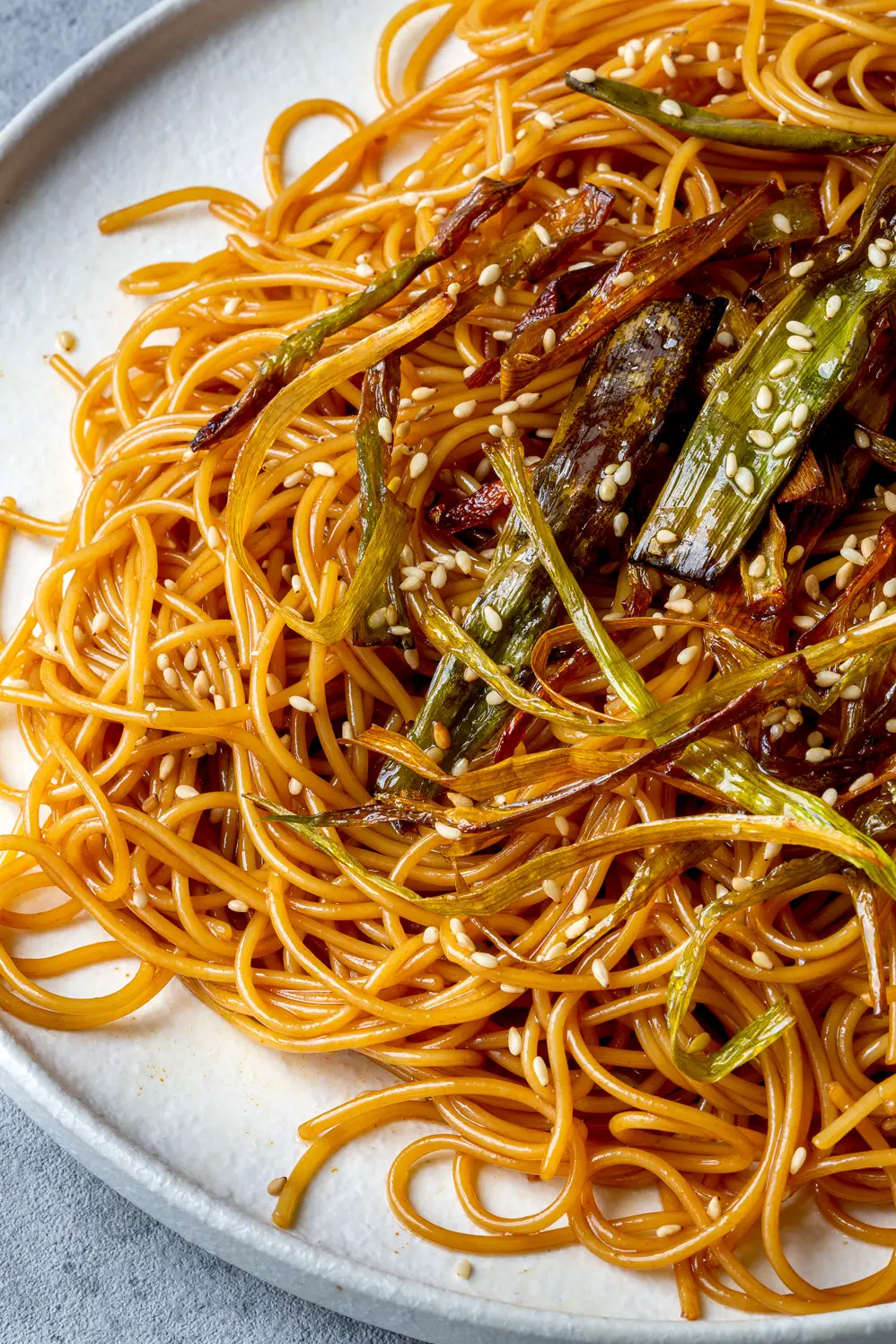 There are many good reasons to make this fried spring onion noodles recipe by Cooking with Lei. For one, it's tasty with Asian flavors of soy sauce, sesame, and sweetness. But it's also quick, taking just 15 minutes, and budget-friendly.
Roasted Zucchini and Tomato Pasta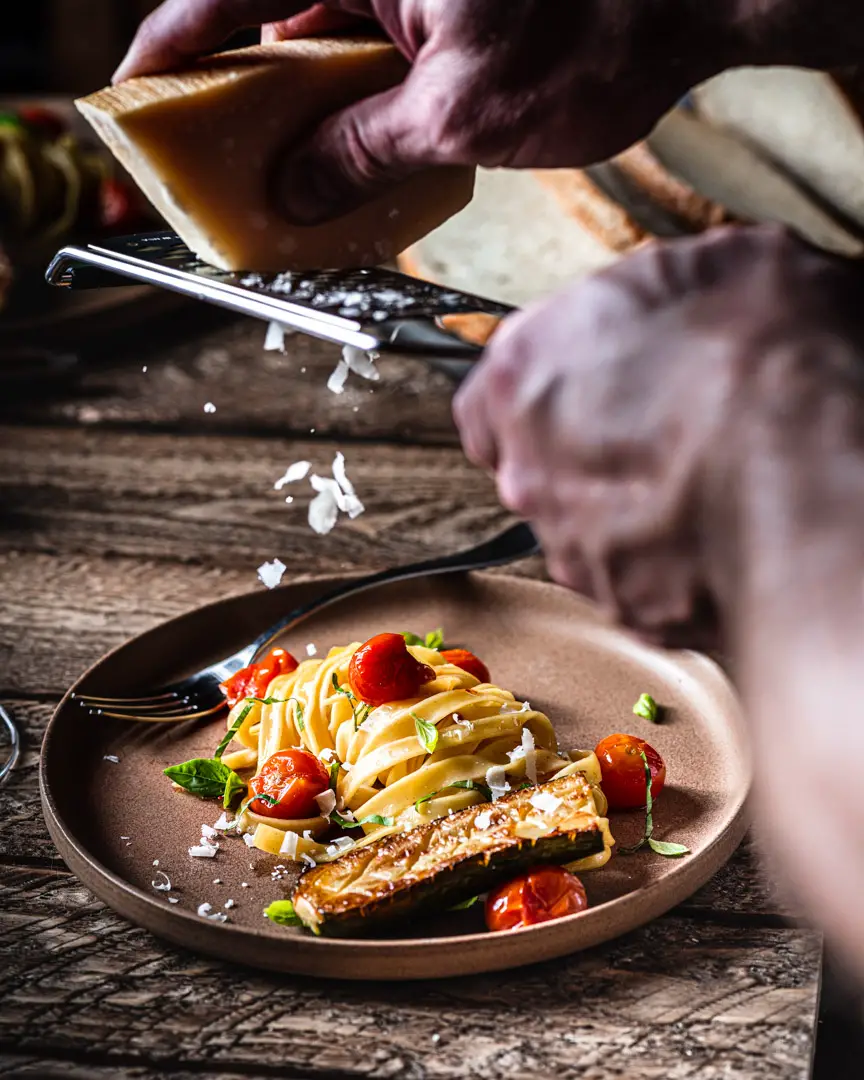 Never miss an opportunity to make a Cooking With Wine Blog creation. Like all their recipes, this roasted zucchini and tomato pasta is carefully crafted with homemade pasta, cherry tomatoes, and zucchini. Finally, enjoy optional garnishes like lemon juice, parmesan, and basil.
Creamy Pesto Pasta with Seared Scallops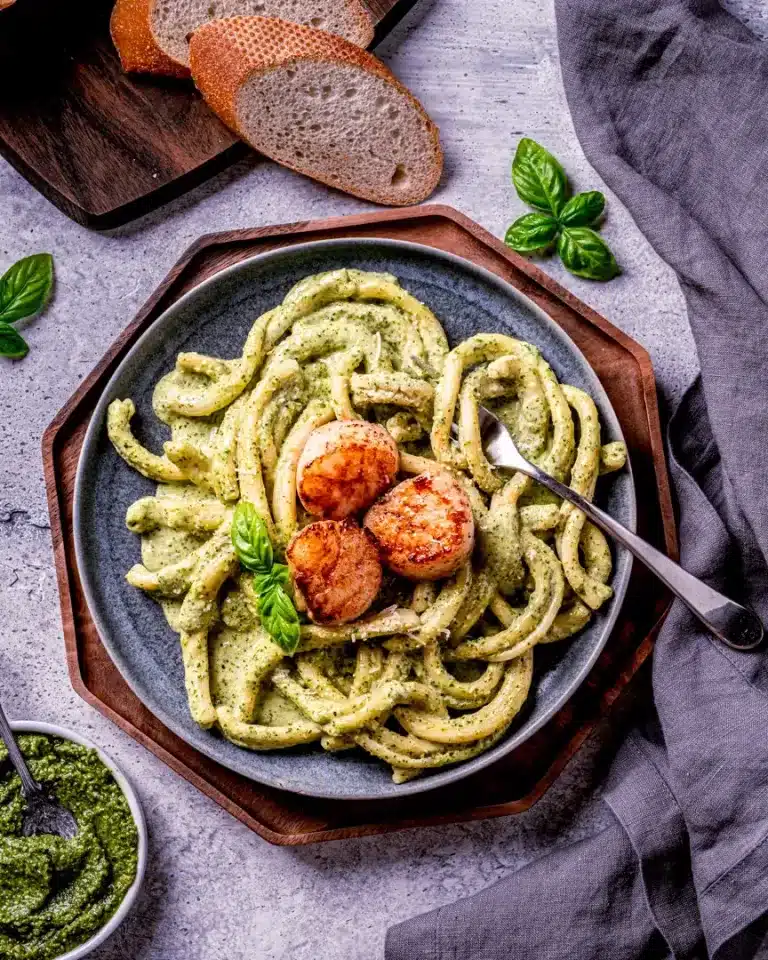 Or, go with their Creamy Pesto Pasta with Seared Scallops. It features perfectly seared, slightly sweet scallops seasoned simply with salt and pepper. Oh, and there's also delicious linguine or fettuccine drenched in a divine lemony, garlicky, creamy pesto sauce.
Tomato and Mascarpone Pasta Sauce
You don't have to wait for the leaves to change color to enjoy this comforting tomato and mascarpone pasta sauce from Knife and Soul. Helen shows you how to make a deliciously rich and creamy tomato sauce with onion, garlic, basil, lemon, oregano, and mascarpone. Just pour it over your favorite pasta.
Caprese Pasta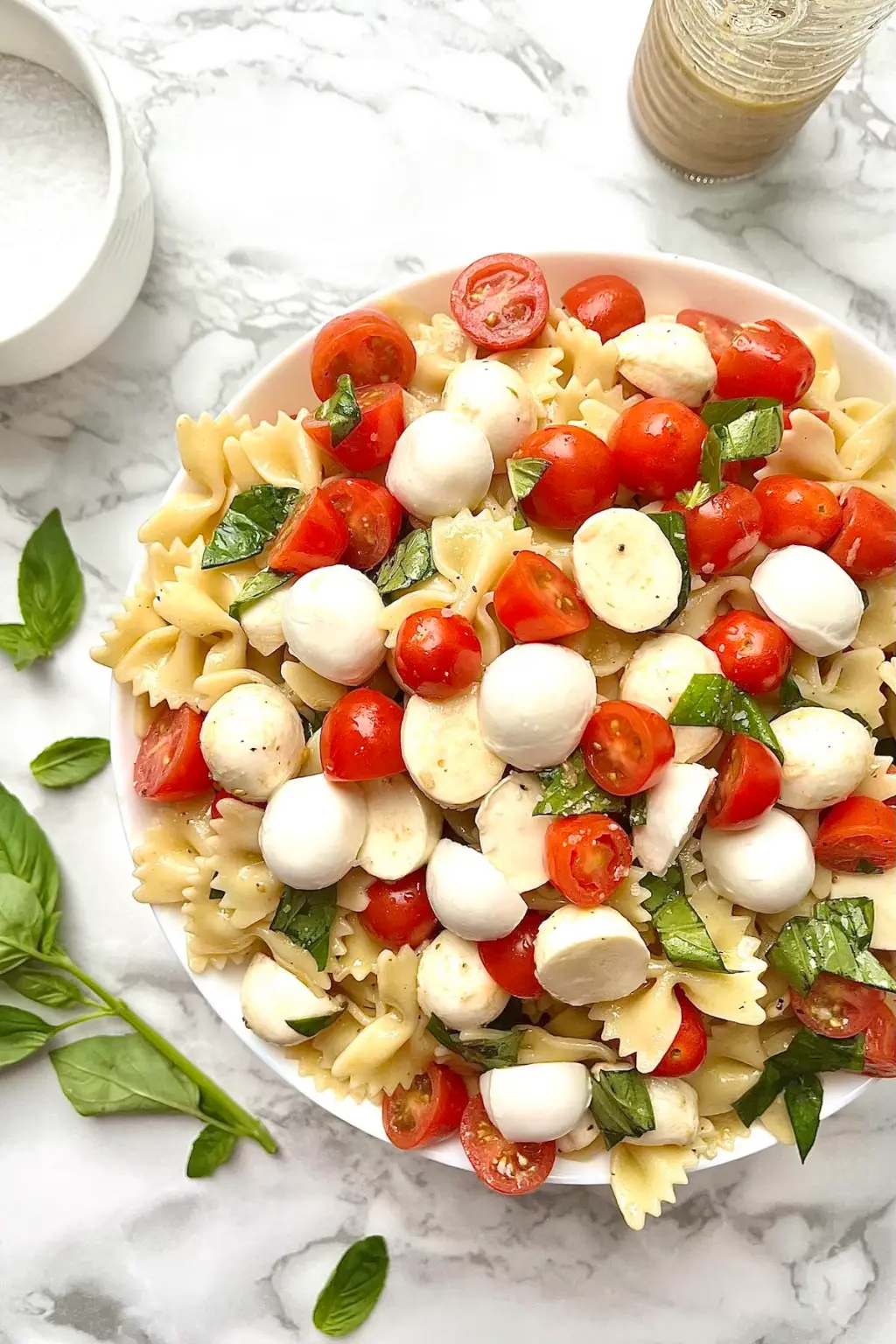 Caprese salad gets remixed with this Caprese pasta recipe from Andrea of Cup Of Flour. So you have all the same delicious flavors of tomato, mozzarella, basil, and balsamic vinegar, but this time you serve it with your favorite pasta.
Foglie D'Ulivo with Pancetta & Olives
Foglie D'Ulivo with pancetta & olives is a gourmet pasta meal that translates to olive leaves. The green leaves are actually pasta, and the color comes from pureed spinach. The flavor comes from that beautiful sauce made with white wine, garlic, black olives, pancetta, and parmigiana reggiano.
Chicken Caesar Pasta Salad
It would be tough to return to ordinary pasta salad after you make this chicken Caesar pasta salad from Suburban Soapbox. Kellie shows you how to make perfectly cooked pasta. Then, toss it with smoky grilled chicken, tomatoes, kale, and a zesty Caesar dressing.
Pesto alla Siciliana with Busiate Pasta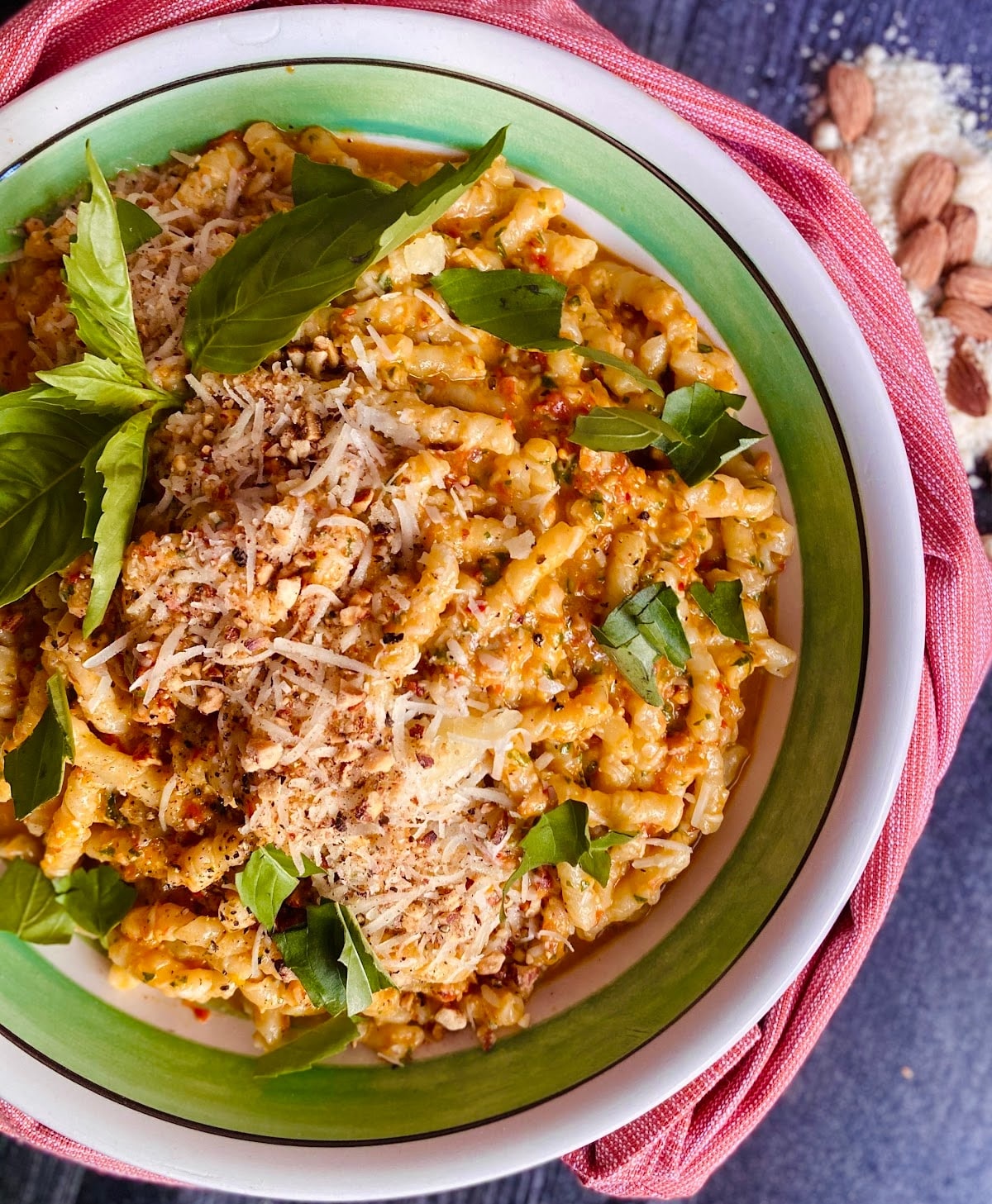 If the mouthwatering description of this Pesto alla Siciliana with Busiate Pasta recipe from Mangia With Michele doesn't draw you in, the picture certainly will. It features pasta smothered with an irresistible no-cook tomato and almond sauce, with the bright and sharp flavors of basil and garlic confit. This one is a must-try!
Antipasto Pasta Salad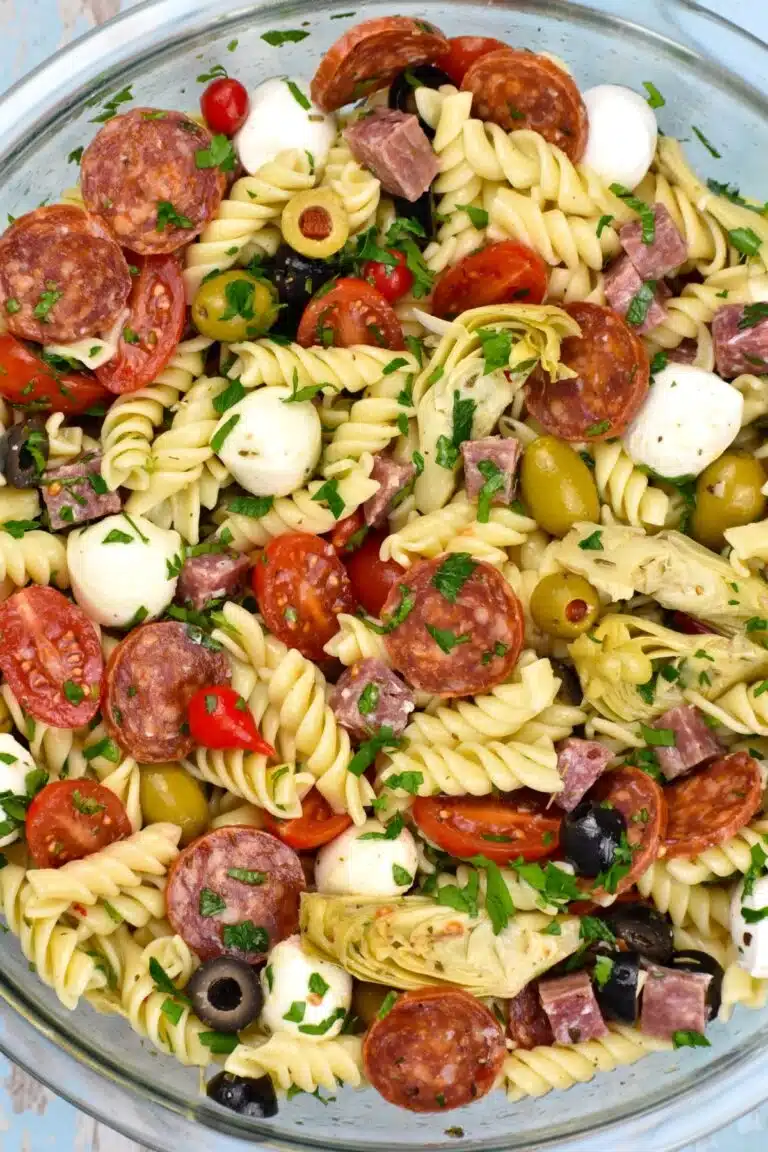 This antipasto pasta salad by Gypsy Plate is a colorful side that just might upstage the main dish. Here's why. It's filled with Genoa salami, pepperoni, cherry tomatoes, olives, mozzarella, and a deliciously tangy dressing.
Which Summer Pasta Recipe Will You Make First?
Summer pasta dishes are a great way to enjoy the season's freshest produce while indulging in a comforting and satisfying meal. From simple tomato-based sauces to more complex dishes with seafood and herbs, there's a summer pasta recipe for everyone. So why not try something new this season and whip up one of these delicious recipes? Your taste buds will thank you!
Before you leave, don't forget to check out this list of cozy egg noodle recipes.