This list of white fish recipes is perfect if you're looking for light and healthy protein-rich meals for your family. What's more? They're easy to prepare and delicious to eat! And because white fish is so mild in flavor, the kids will love it too.
Here's a sample of what you can expect.
There's a simple baked haddock recipe with a crispy crust, a Brazilian seafood stew, blackened mahi mahi tacos with cilantro lime sauce, and many more. So are you ready to go on this adventure?
Let's dive in!
If you love this list, you'll love our list of brilliant baked fish recipes.
Brazilian Seafood Stew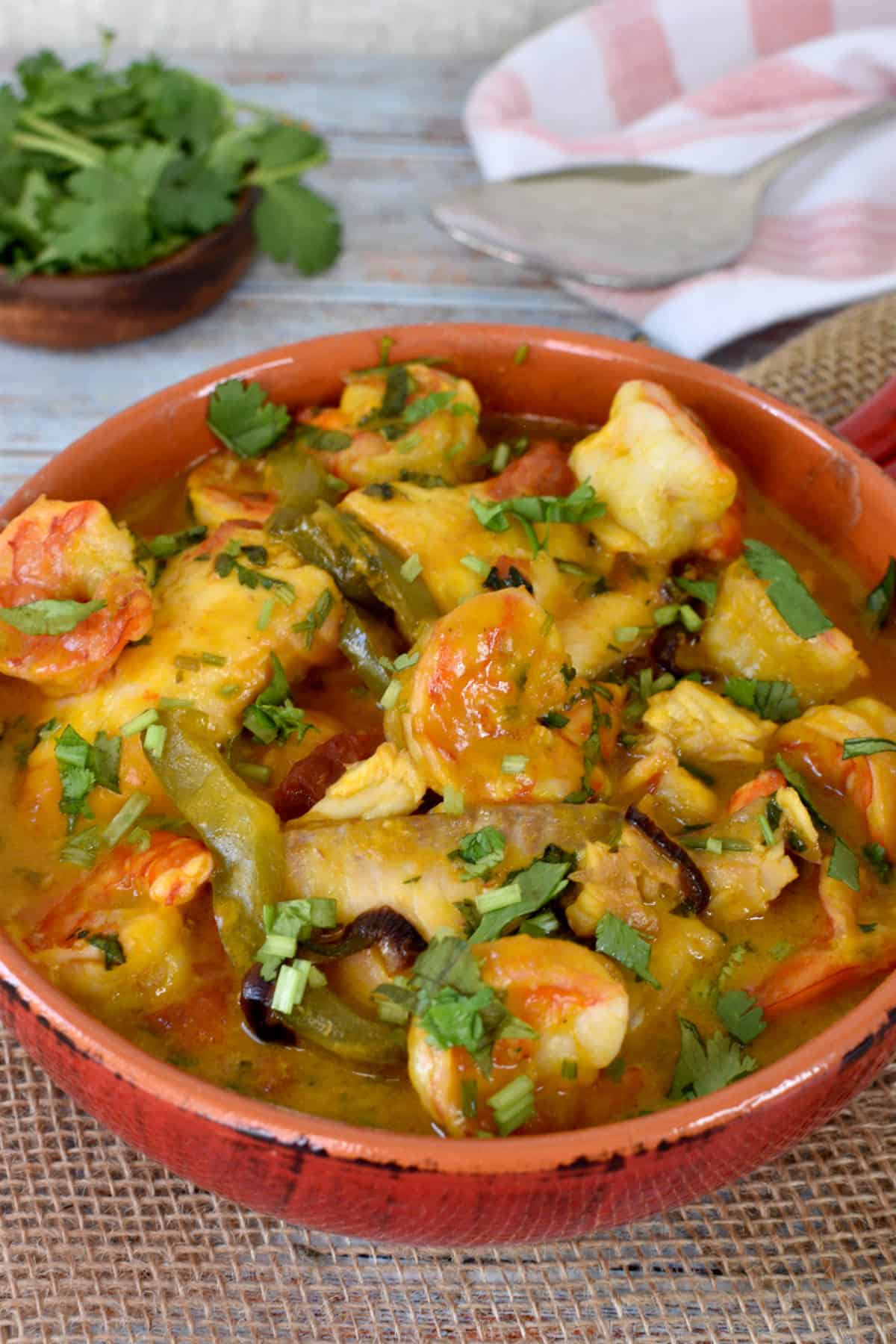 Flavorful and simple, this Brazilian seafood stew from Simple Living Recipes, also known as 'Moqueca Baiana,' is a traditional dish that blends Indigenous Brazilian, Portuguese, and African cuisines. You make it with white fish, shrimp, tomatoes, bell peppers, onions, garlic, chili pepper, lime, coconut milk, red palm oil, and cilantro, which give it a distinct and delicious flavor. This dish is the perfect choice if you're looking for an easy and tasty way to impress your guests.
Baked Haddock Recipe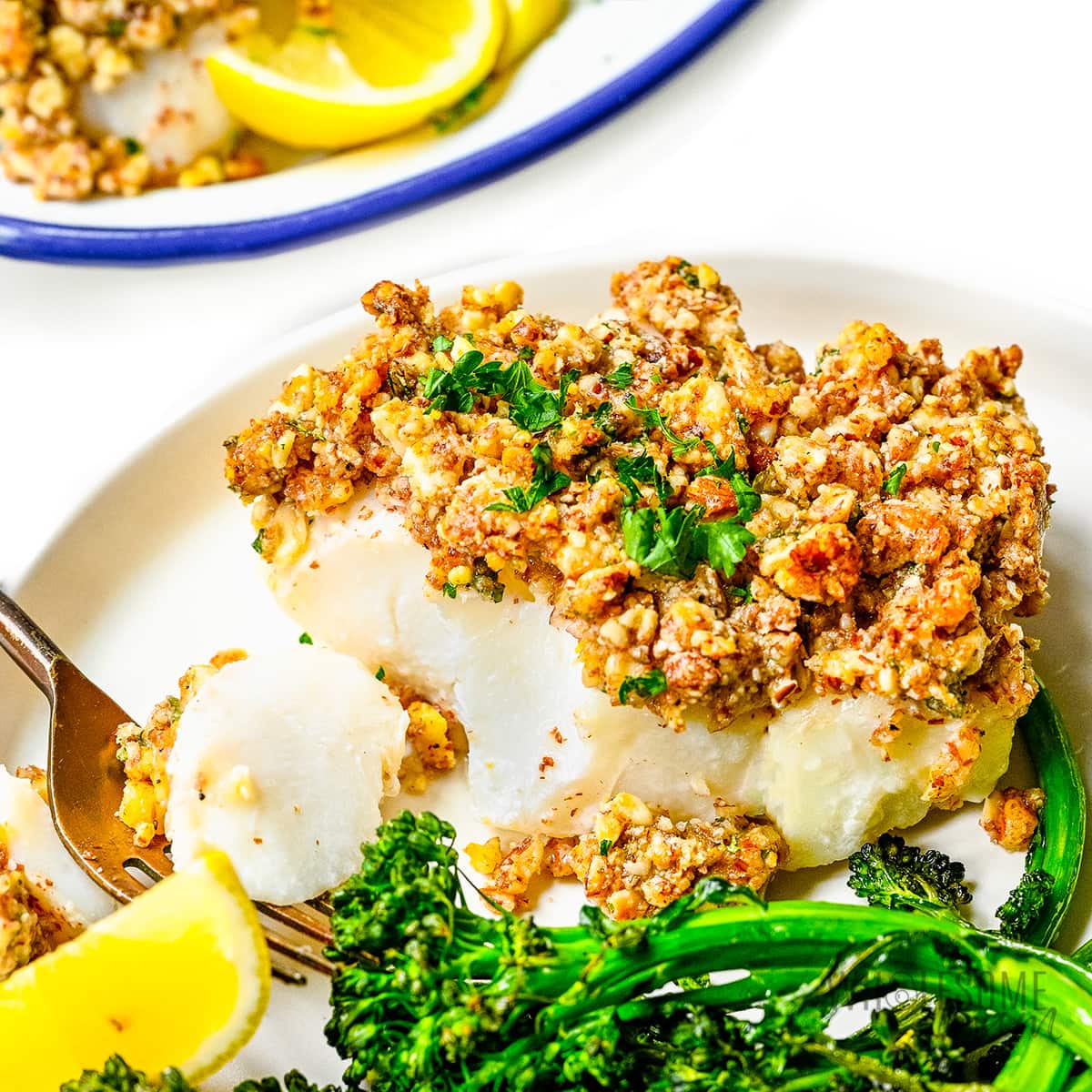 You can't resist the crunch of this baked haddock recipe from Wholesome Yum, which features a nutty and herbaceous topping that is both delicious and healthy. The almond crust adds a delightful texture to the succulent and flaky haddock fillets, making it an easy and impressive recipe for your friends and family. With minimal prep time and a cook time of just 15 minutes, this delicious fish recipe is your new go-to healthy dinner.
Blackened Mahi Mahi Fish Tacos With Cilantro Lime Sauce
You'll love that these blackened mahi mahi fish tacos Begin With Balance and are easy to make and packed with so much flavor! The mild and slightly sweet taste of mahi mahi pairs perfectly with the homemade blackened seasoning blend. For a delicious and customizable dinner option, top them off with corn mango salsa, cilantro lime ranch, or any of your favorite toppings.
Korean-Style Pan Fried Fish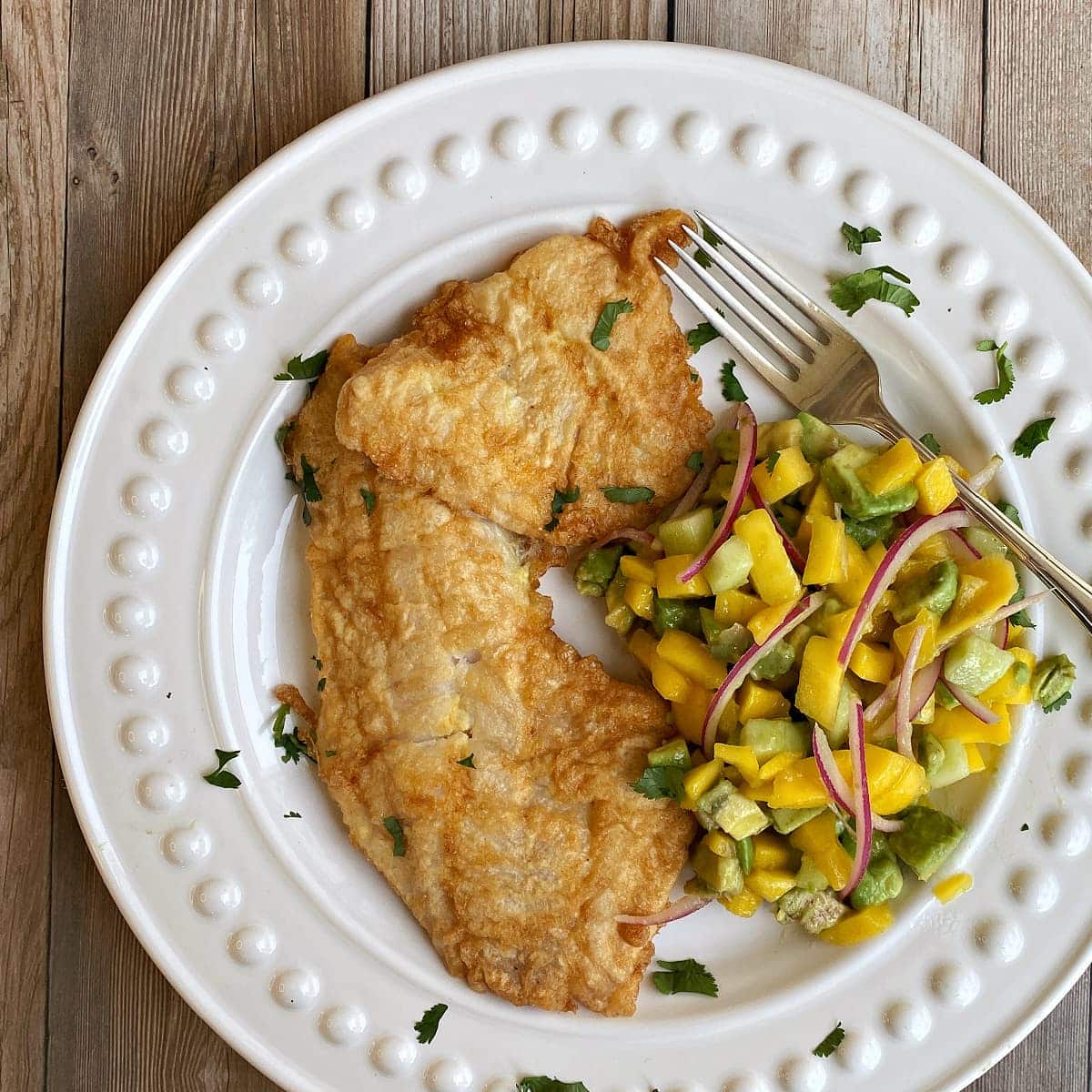 What is Saeng sun Jun? Korean-style Pan Fried Fish by The Good Hearted Woman is a quick, easy, and delicious recipe for a weeknight dinner. This healthy and tasty recipe uses simple ingredients like flour, eggs, and white-fleshed fish, making it a versatile dish to serve as an appetizer or a light main course.
Baked Blue Grenadier Recipe
How about trying this easy-to-make, budget-friendly Blue Grenadier recipe from A Is For Apple, packed with protein and Omega-3 Fatty Acids? This flaky white fish is naturally rich in flavor and cooks quickly in the oven with only a handful of ingredients like butter and lemon slices. But not only is it delicious, but it's also a great gluten-free and low-carb option that requires minimal cleanup.
Air Fryer Chilean Sea Bass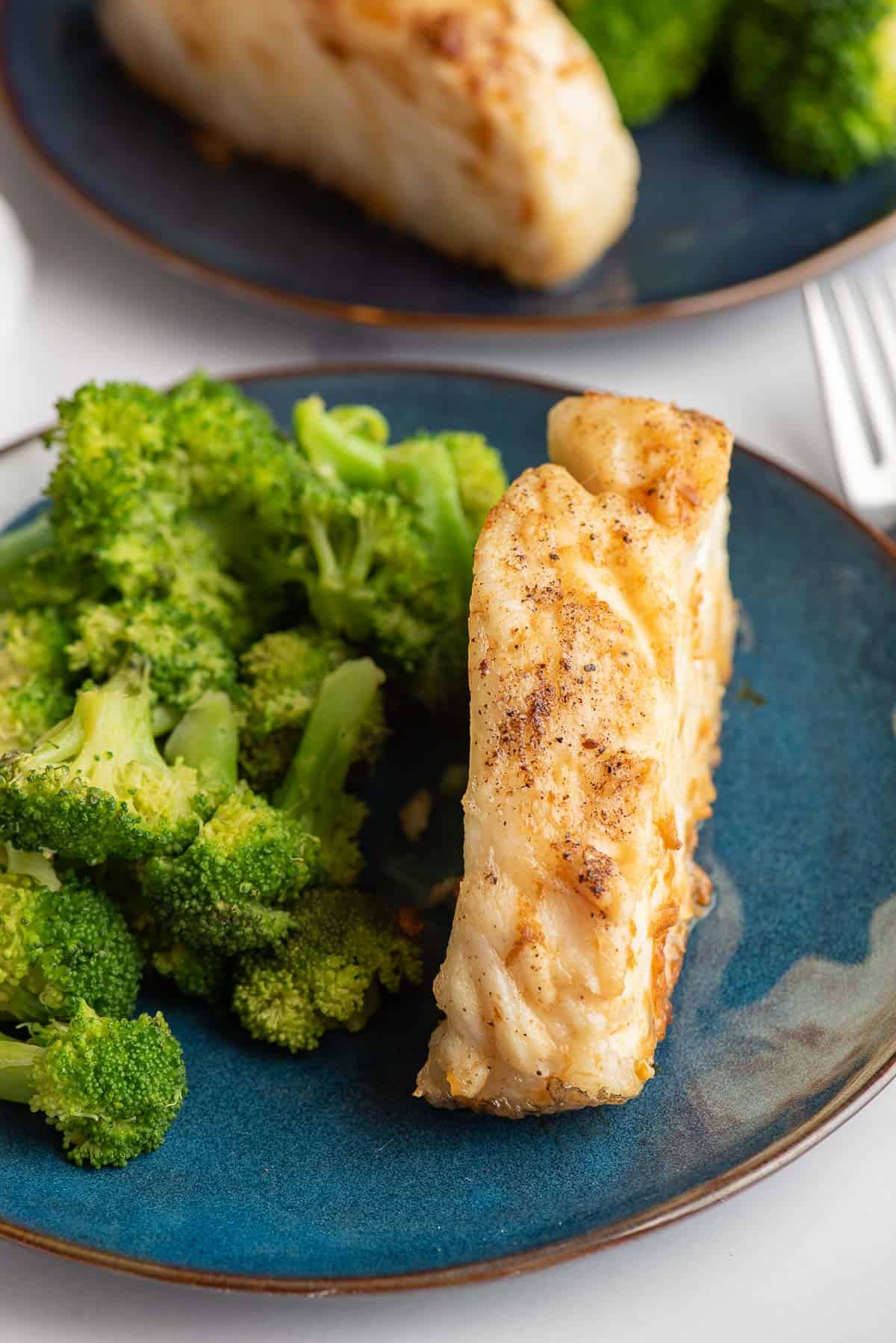 This Chilean Sea Bass recipe by Make It Skinny Please is a game-changer, ready in just 15 minutes in the air fryer! The fish is buttery and flaky, topped with an Asian-inspired glaze that's perfect for special occasions or when you're craving a restaurant-style dish. Plus, it's a low-carb and high-protein meal that's packed with Omega-3's, making it a healthy and delicious option.
Coconut Cod with Pineapple Salsa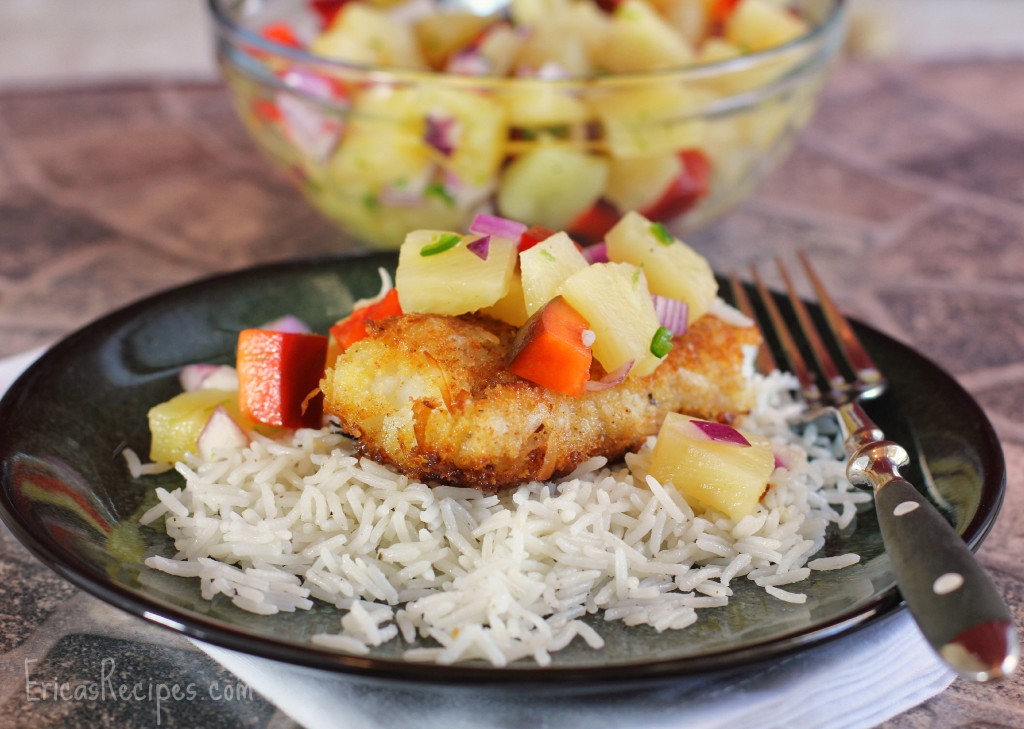 The tropics await with this delightful Coconut Cod with Pineapple Salsa from Erica's Recipes. This dish boasts a deliciously crispy and crunchy cod coated with sweet coconut flakes, paired with refreshing and juicy pineapple salsa, and served over creamy coconut rice. The combination of flavors and textures is out of this world, and the recipe is easy to follow. Whether you're looking for a new way to enjoy cod or add some tropical flair to your dinner, this recipe is a must-try.
Basa Fish Curry
Do you ever wish for a delicious and easy-to-make fish curry recipe? Look no further than this Basa Fish Curry, which features chunks of Basa fish marinated in a flavorful blend of yogurt, garlic, chili, turmeric, and ginger, cooked in a homemade coconut curry paste. Any firm white fish, such as Cod, Haddock, or Tilapia, can be used instead. This medium-spiced curry is low in calories and fat, making it ideal for a midweek meal or weekend takeaway.
Strozzapreti with Swordfish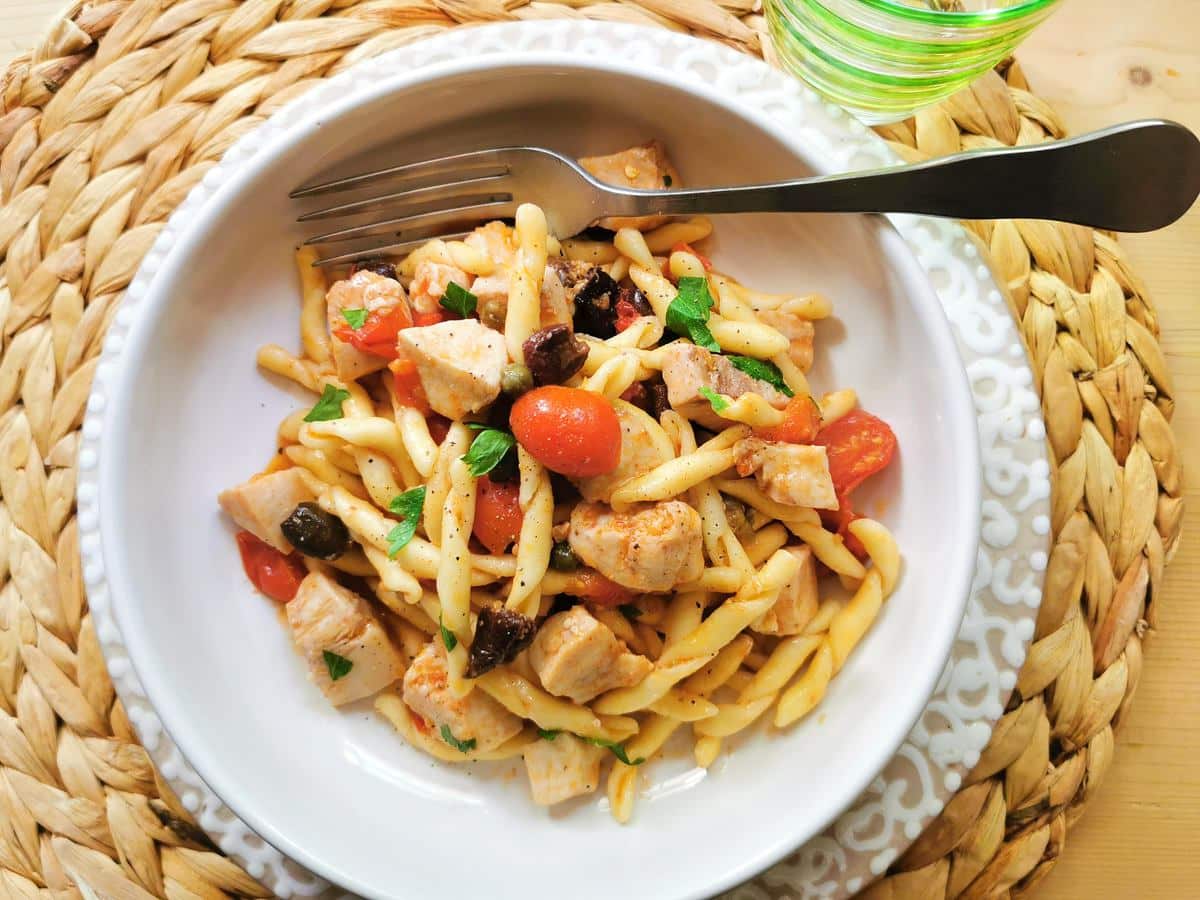 This recipe for Sicilian strozzapreti with swordfish is the perfect way to strangle your hunger! Pairing the elongated pasta with swordfish creates a dish that is full of Mediterranean flavors. It's so easy to make that anyone can do it!
Singapore Tamarind Coconut Fish Curry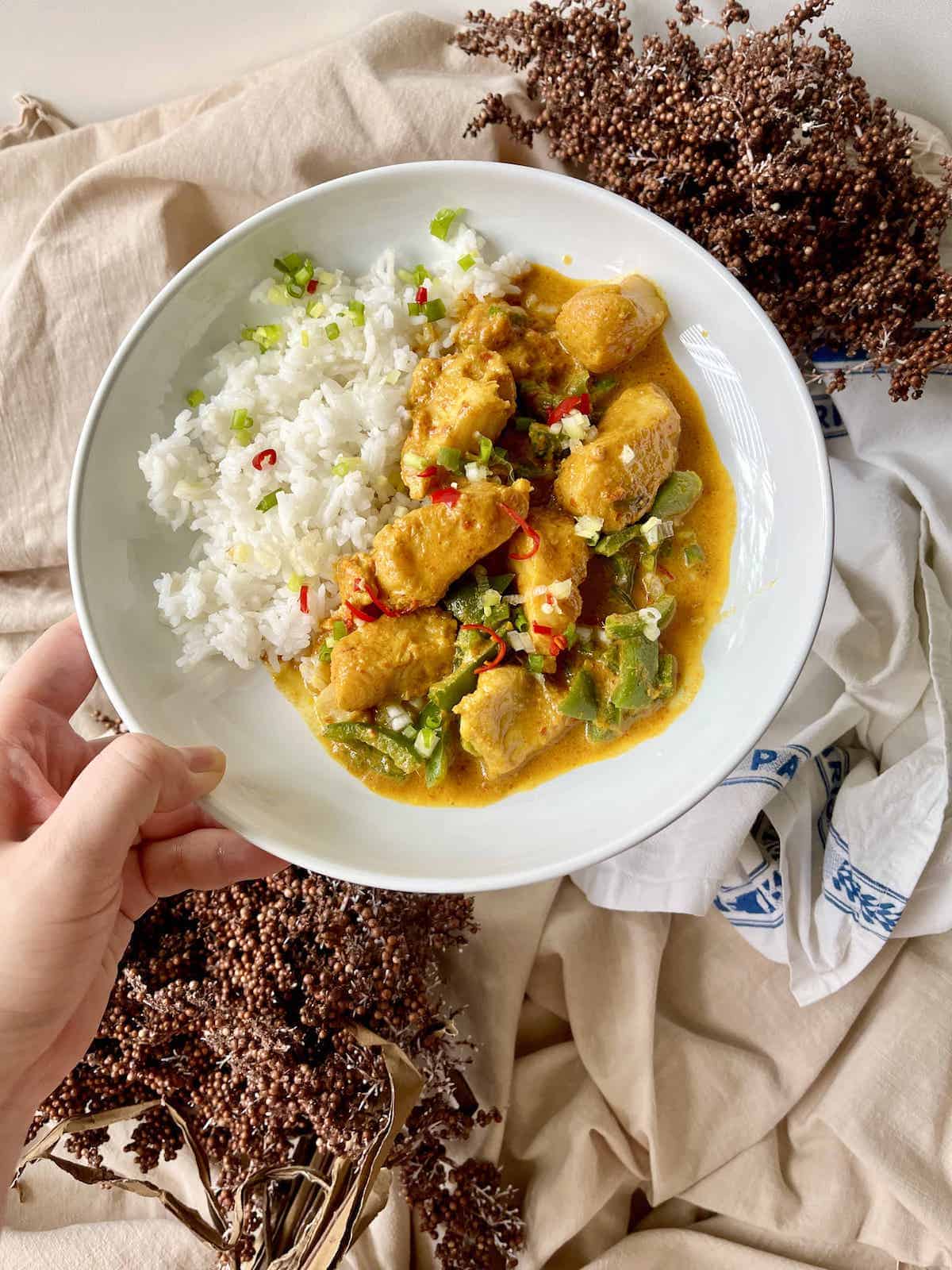 For an exotic flavor, try the Singapore Tamarind Coconut Fish Curry recipe. This creamy curry sauce is made with firm white fish fillet, tamarind, and coconut cream. The dish is tangy and nutritious, and you can serve it with white rice or other Asian side dishes like soy mushrooms or soya sauce pork stew.
Mexican Fish Ceviche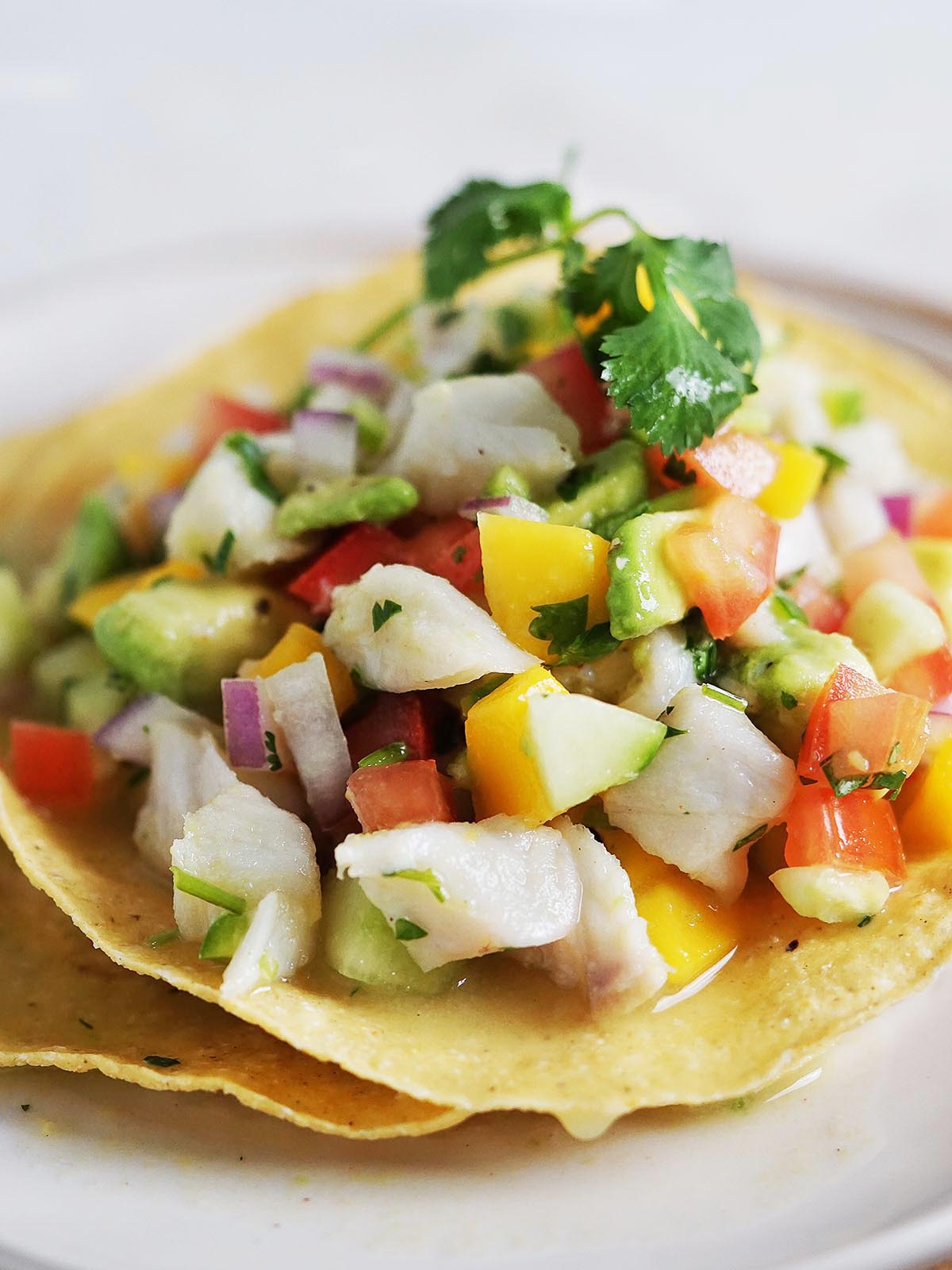 This delicious Ceviche De Pescado by Muy Delish is packed with protein and vitamins for a healthy meal or snack. The fresh lime juice "cooks" the fish and gives it a tangy kick, while mango, avocado, and other veggies provide a satisfying crunch and sweetness. This economical dish is perfect for meal prep and can feed many people, making it great for get-togethers.
Bangus Steak Recipe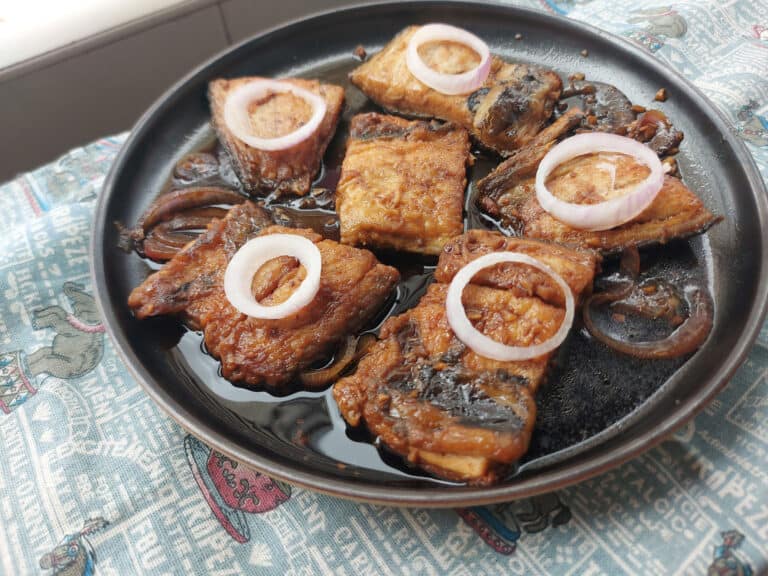 Bangus steak from The Odehlicious is a flavorful Filipino dish with a crispy golden outer layer cooked in a tangy and savory sauce made from vinegar, soy sauce, garlic, onion, and other seasonings. Enjoy it for any meal of the day, as it's a great way to enjoy the mild, sweet flavor and firm, flaky texture of bangus. With its versatile nature, you can easily make this dish your own by adding your favorite vegetables or side dishes.
Homemade Fried Fish Sticks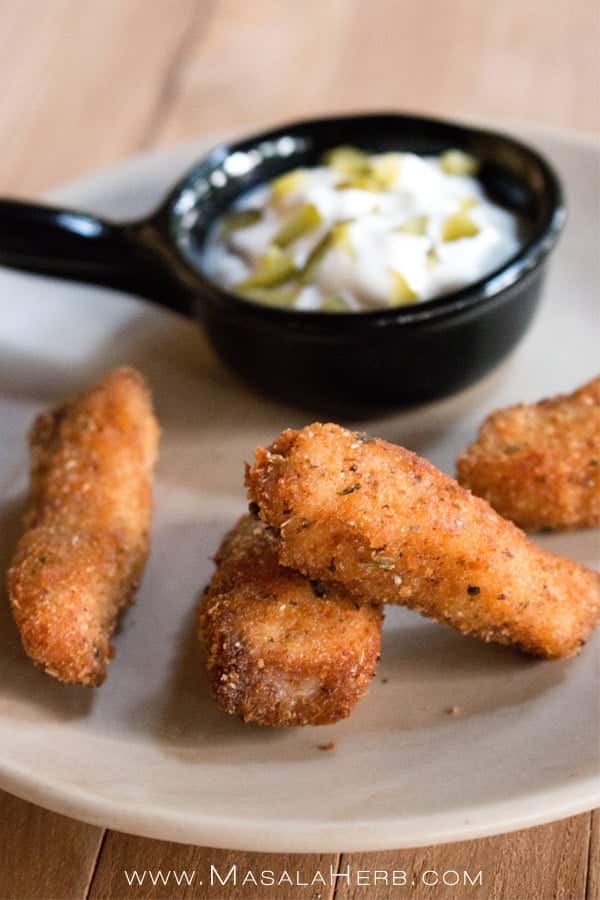 Fried fish sticks made with your favorite white fish are a classic comfort food that you enjoy with homemade french fries and various dipping sauces. While they may not be the healthiest option due to being deep-fried, they can be baked for a healthier alternative.
Smoked Haddock and Leek Risotto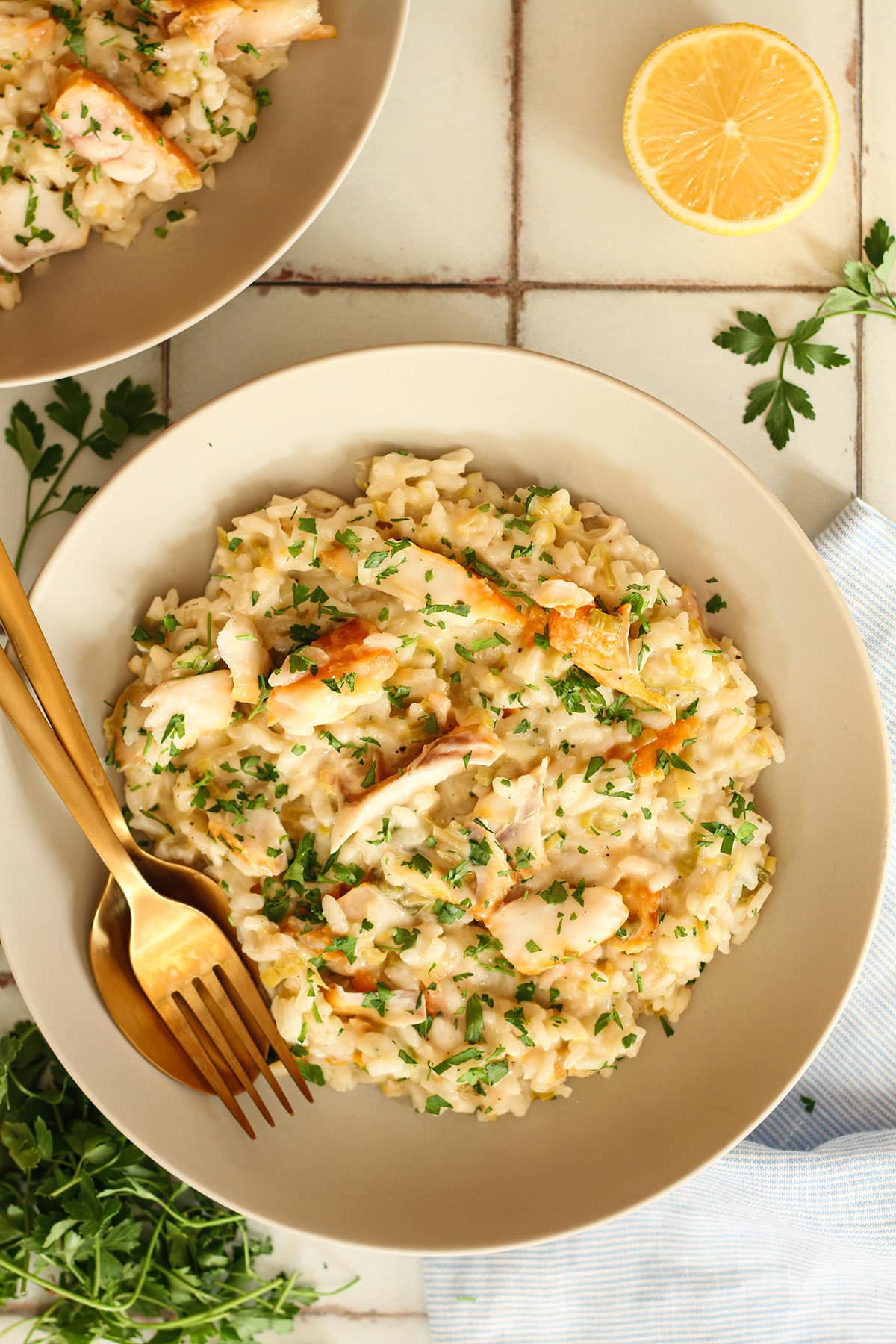 Just when you thought you couldn't find a more satisfying fish and rice dish, this creamy smoked haddock and leek risotto comes along. The plate features soft, flaky smoked haddock, creamy al dente risotto, and a rich and nutty Parmesan flavor. It's a one-pan recipe ready in just over 30 minutes and just what you need for a quick and delicious weeknight dinner.
Broiled Walleye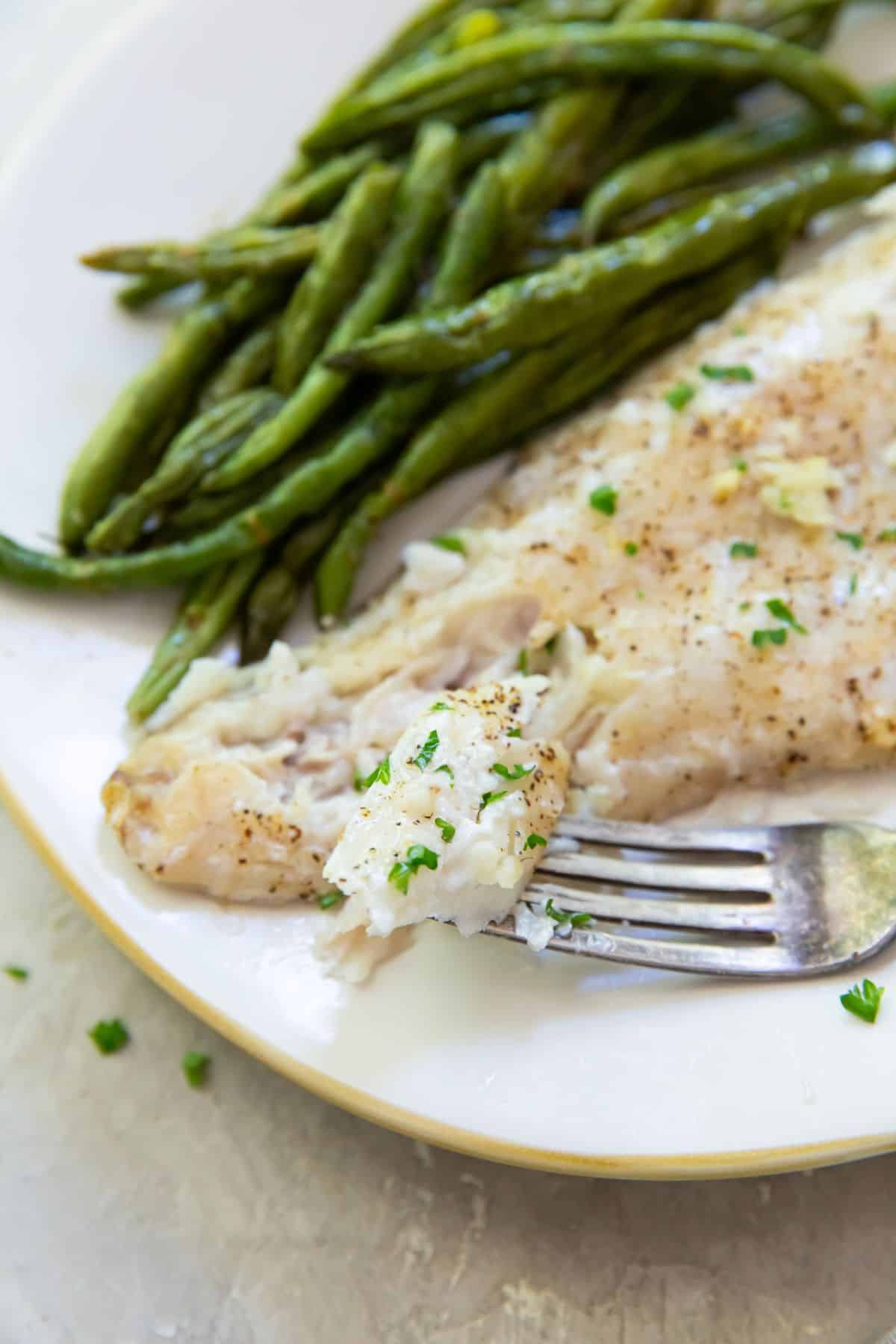 Imagine making a quick and easy broiled walleye dinner in under 10 minutes! Well, thanks to Laura Clevenger, now you can. This recipe requires only three simple ingredients: fresh walleye filets, salt, and pepper. Broiling the fish locks in the flavor, leaving it tender and delicious.
Cod Piccata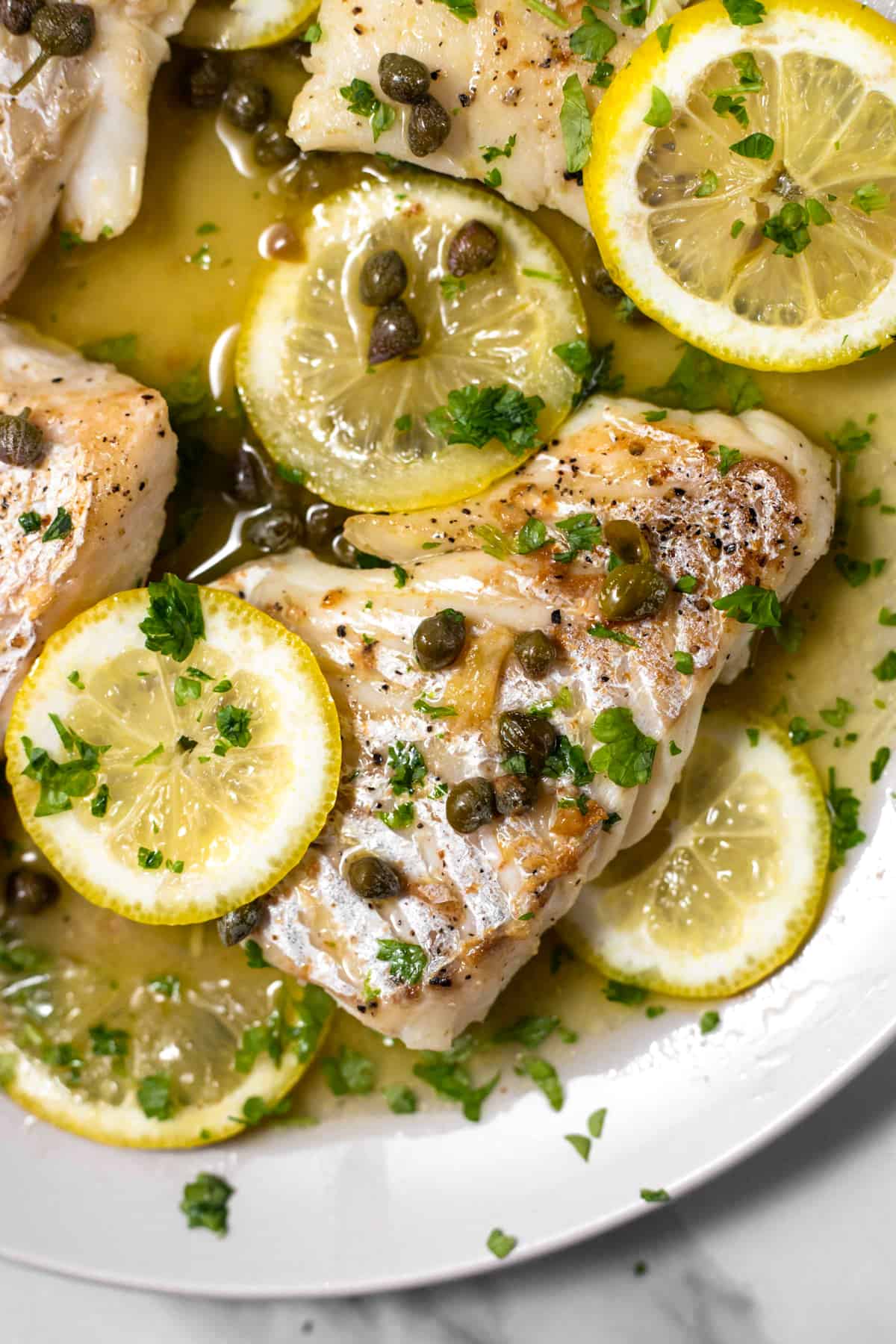 The flavor of Cod Piccata can't be beat, with succulent fillets of seared cod paired with a buttery, lemony sauce, and capers for a delicious meal for special occasions or weeknight dinners. Unlike most piccata recipes, this version is naturally low-carb and gluten-free as it skips the flour coating, making it a healthier option that's just as delicious.
Spicy Fish Sandwiches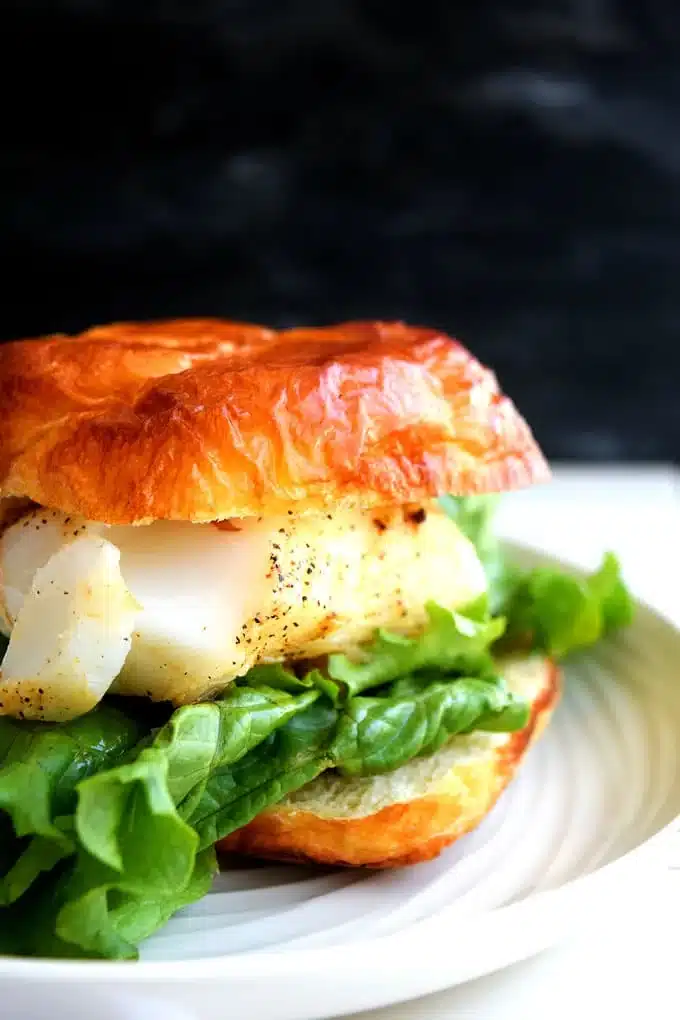 Whitefish is excellent for fish sammies, and this spicy fish sandwich recipe is no exception. With a rub of garlic powder, onion powder, ground chipotle powder, and black pepper, this dish is packed with flavor and protein, making it a filling and healthy meal option.
Grilled Barramundi with Radishes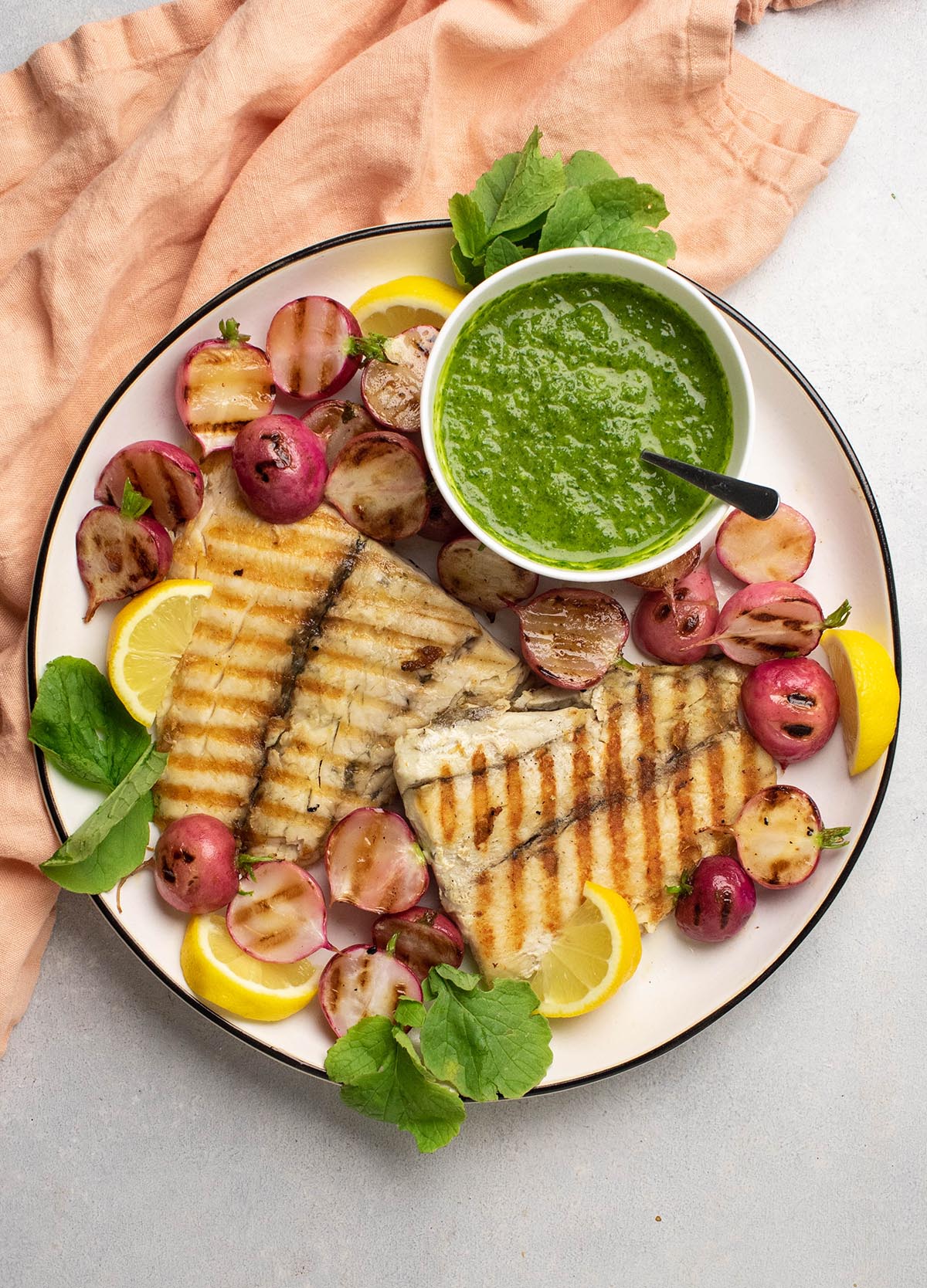 Get ready for a summertime feast with this easy grilled barramundi recipe! Barramundi is the star of this meal, providing a meaty, hearty white fish that is perfect for grilling. Paired with grilled radishes and a bright, peppery radish top pesto, this meal is ready in just 30 minutes and bursting with flavor and color!
Fish and Chips with Tartar Sauce
You can't have a whitefish list without this classic Fish and Chips with Tartar Sauce recipe that's crispy and golden brown on the outside and tender on the inside. The dish features whitefish, garlic powder, onion powder, and sea salt and is fried to perfection in vegetable oil. Adding tartar sauce gives it a fresh, tangy flavor that perfectly complements the savory taste of the fish and chips.
Kingfish Sashimi Salad
This isn't your average white fish dish. Instead, it was designed to impress. Kingfish Sashimi Salad with Pickled Radish is a gourmet dish that requires sophisticated plating and a unique ingredient. It includes fresh kingfish fillet, pickled radish, red radish, and creamy peas. The pickles mixed with the nose-clearing wasabi, peppery red radish, and creamy peas are a mouthful of pure joy.
Pan Seared Chilean Sea Bass with Herb Butter Sauce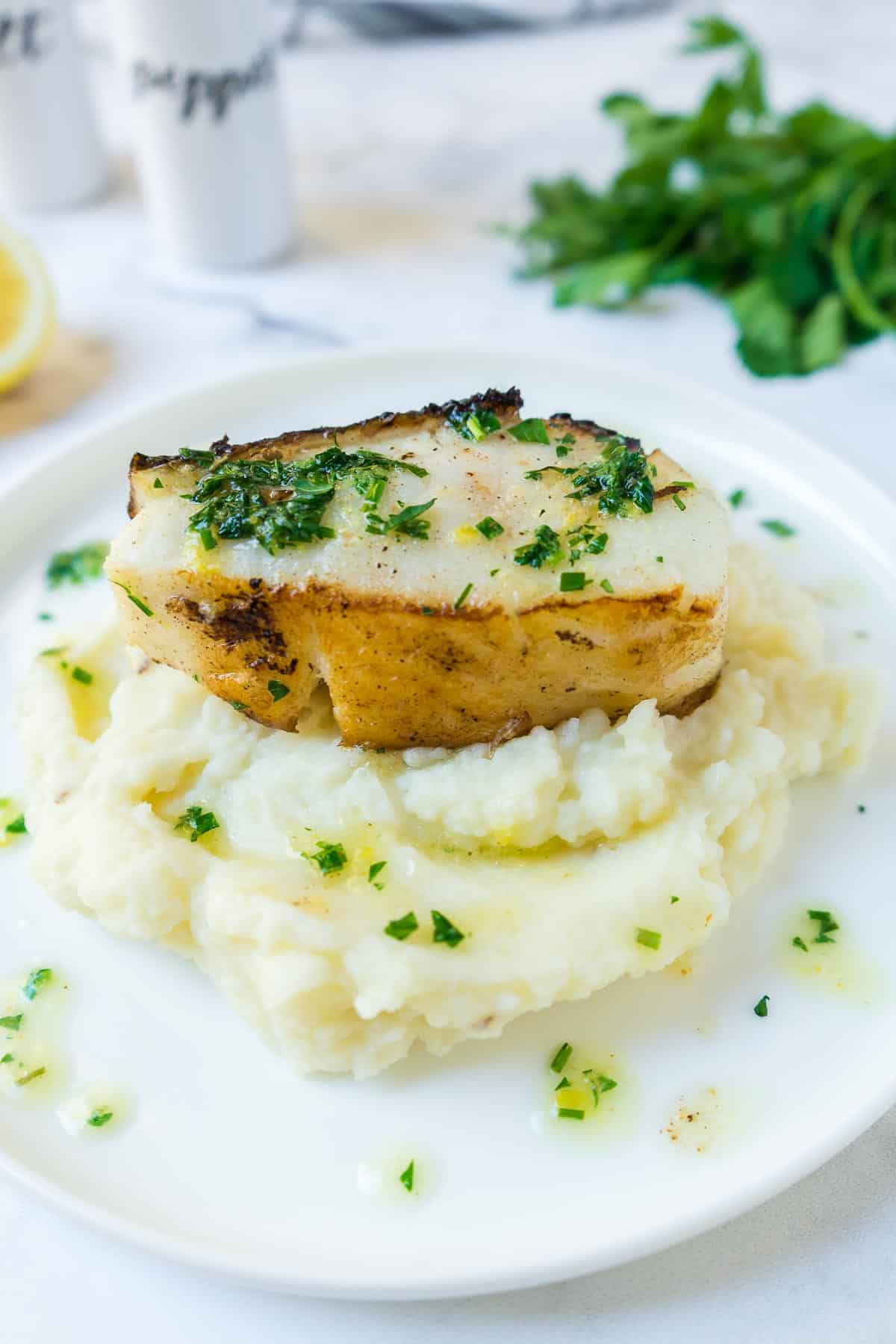 Don't miss out on this easy-to-make Pan Seared Chilean Sea Bass recipe that is perfect for special occasions! The mild, flaky fish is cooked to perfection and topped with a decadent herbed lemon butter sauce that is restaurant-quality yet comes together in minutes. You can serve this versatile fish with creamy mashed potatoes or a green veggie like broccoli or sautéed spinach.
Which White Fish Recipe Will You Try First?
By now, you've seen plenty of delicious and healthy white fish recipes. It's a staple protein source you need in your kitchen. And because of the mild and delicate flavor, it pairs well with a variety of dishes and cooking techniques. So, grill, bake, or fry it. You've seen zesty fish tacos, classic fish and chips, and all kinds of other deliciousness. The only question that remains is, which one will you try first? We'd love to know!
Before you go, don't forget to check out this list of delicious easy fish recipes for dinner.