This baking season, fall in love with this irresistible list of 23 cozy fall cookie recipes. It's the most snuggly time of year. The air is brisk, and the leaves are beautiful. And it's when you want to bake, get cozy, and spend quality time with family and friends.
What better way to do that than with cookies?
So, here's a preview of what you can expect below. There are the most adorable acorn-shaped cookies, pumpkin sandwich cookies, apple pie cookies, and many more. Are you ready to explore?
Let's dive in!
If you love this list of cozy fall cookie recipes, check out this list of gourmet cookie recipes.
Acorn Cookies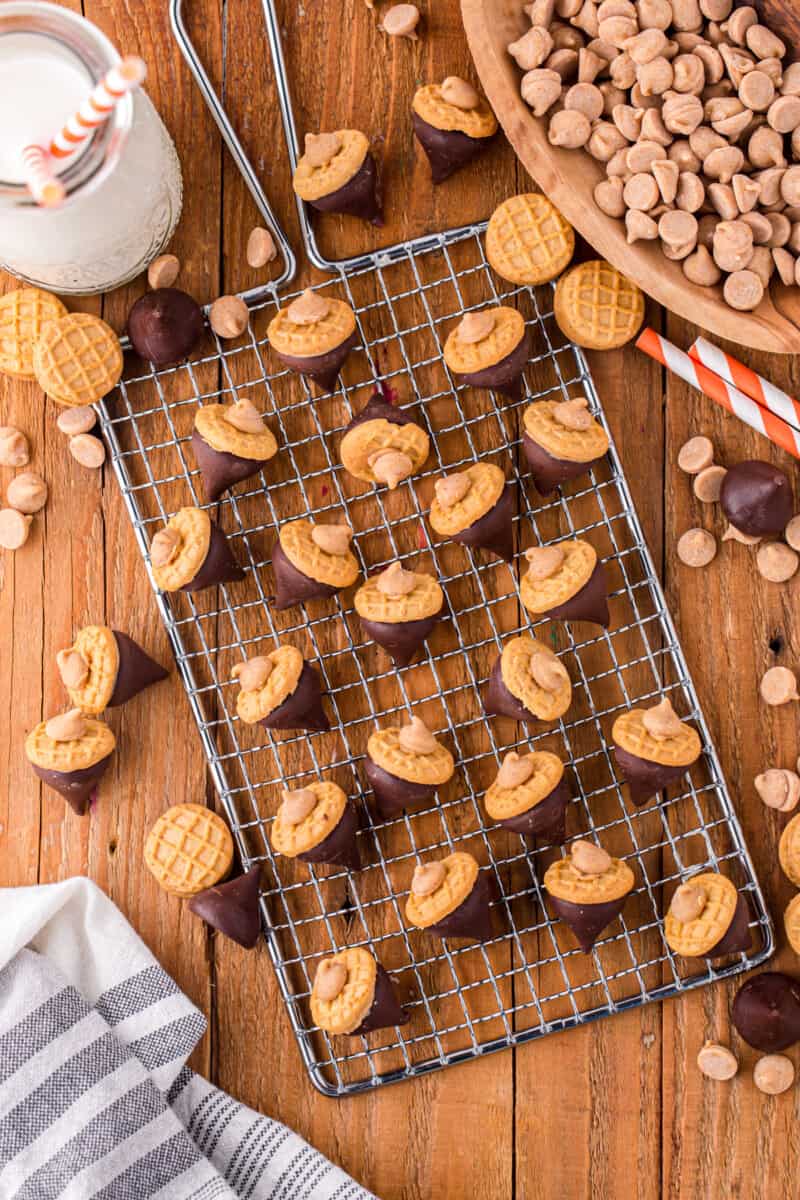 The best part about these acorn cookies from Becky of Easy Dessert Recipes isn't that they're quick to make with only three simple ingredients. It's that they're so ridiculously cute and giftable! Just look at them.
Caramel Filled Snickerdoodle Cookies
While Melissa of Modern Honey has made these Christmas caramel filled snickerdoodle cookies for years, they're not just for the holidays. Make these delights any day when the cold weather starts, and watch them disappear.
Apple Cinnamon Cookies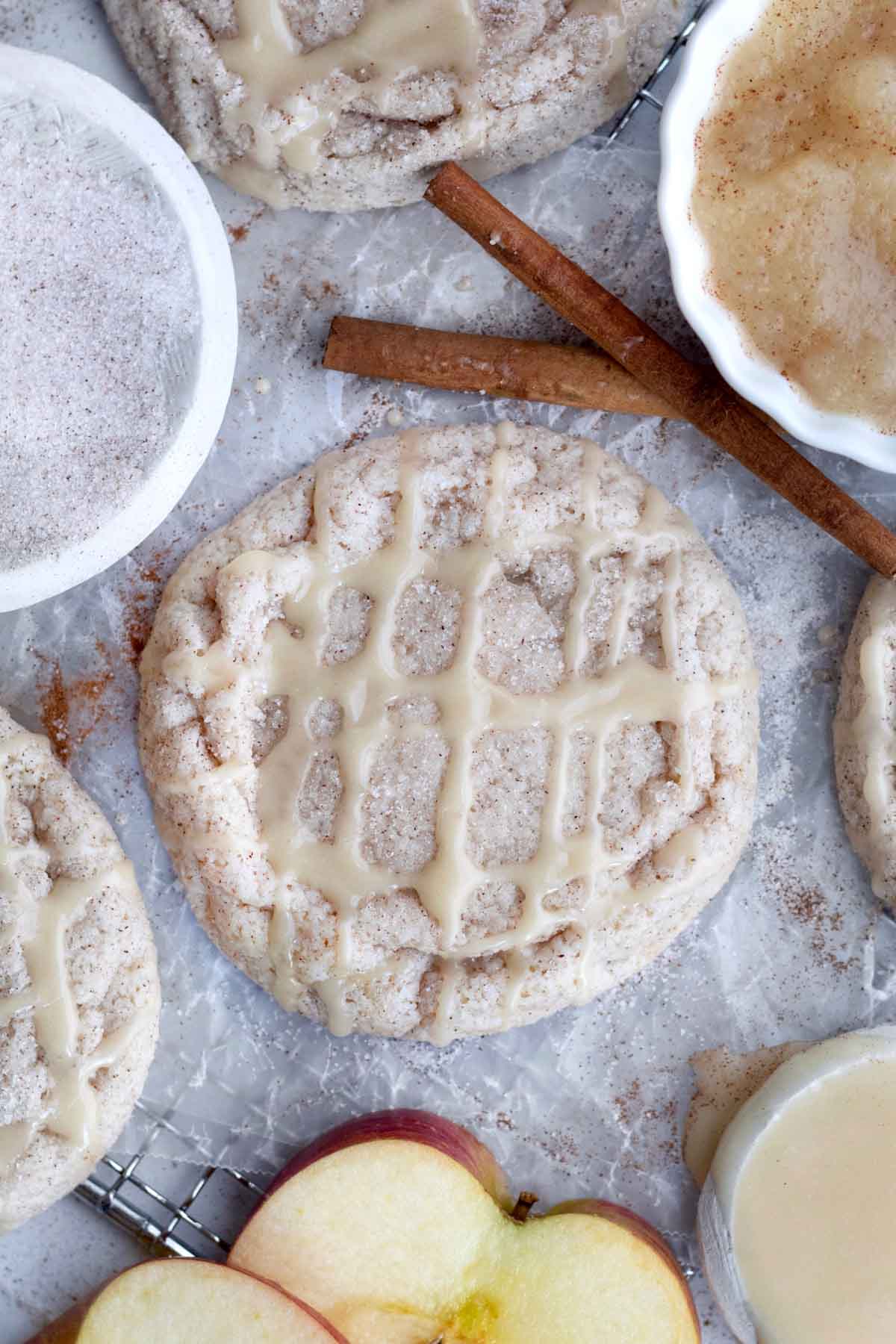 These apple cinnamon cookies by Lane And Grey Fare aren't your average fall cookies. Nope! You'll find crispy edges and tender, chewy centers with the seasonal flavors of apple cinnamon. But that's not all. Add a drizzle of apple cider reduction on top. And because these treats are gluten-free, all can enjoy them.
Pumpkin Oatmeal Cookies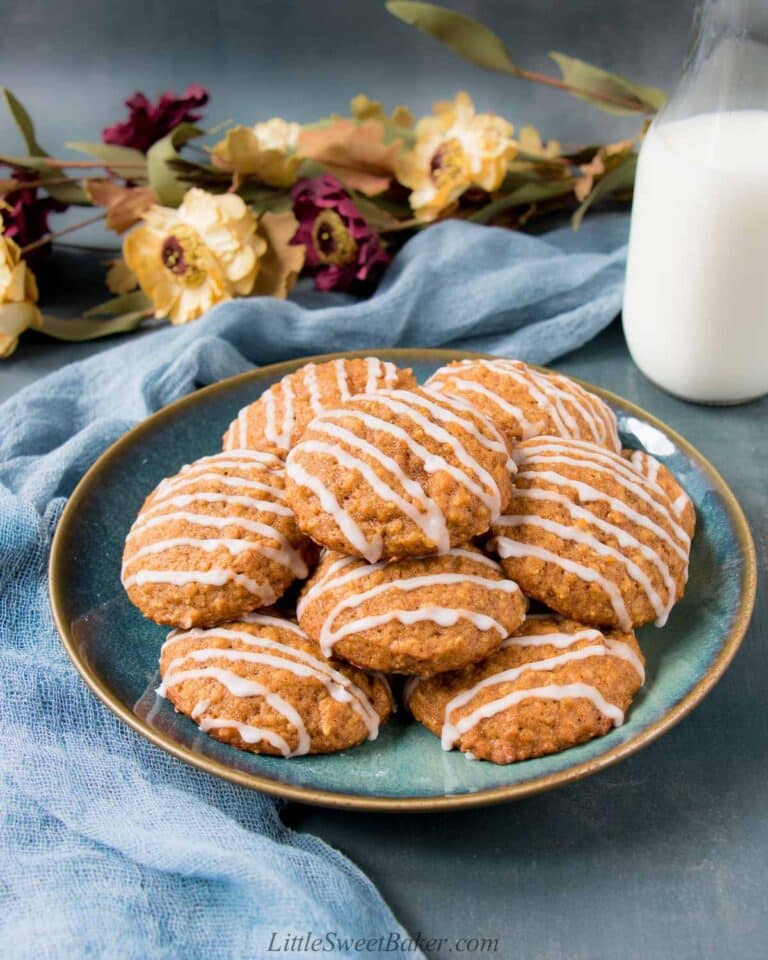 You'll love these pumpkin oatmeal cookies from Lily, your favorite Little Sweet Baker. They're so soft with crisp edges. And they're charming and intensely flavorful with brown sugar and pumpkin puree. Plus, stripes of sweet maple glaze make for a beautiful presentation.
Pumpkin Oatmeal Cream Pies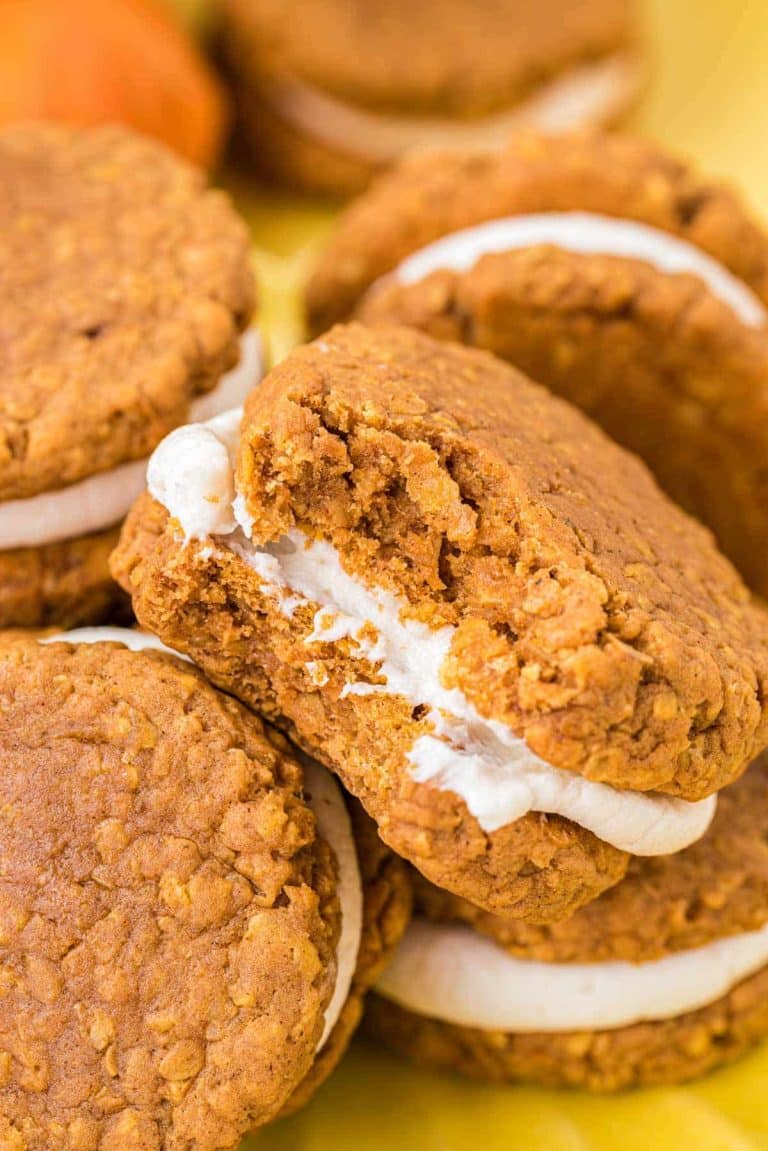 Now, if you love pumpkin as much as Rebecca of Sugar and Soul, you won't stop making these pumpkin oatmeal cream pies. You'll find a deliciously sweet and tangy cream cheese filling between two fluffy pumpkin cookies.
Maple Pecan Cookies
Kayla of Broken Oven Baking is your self-taught baker bringing you delicious, trustworthy treats like these incredible maple pecan cookies complete with the flavors of cinnamon, chopped pecans, nutmeg, and real maple syrup (some use extract).
Maple Glazed Cut Out Cookies
Do you need a break from pumpkin and salted caramel? Well, check out these maple glazed cut out cookies from Heather of The Toasty Kitchen. They are soft and chewy with the deliciously subtle flavor of maple syrup and a sprinkle of crushed pecans.
Pumpkin Spice Macarons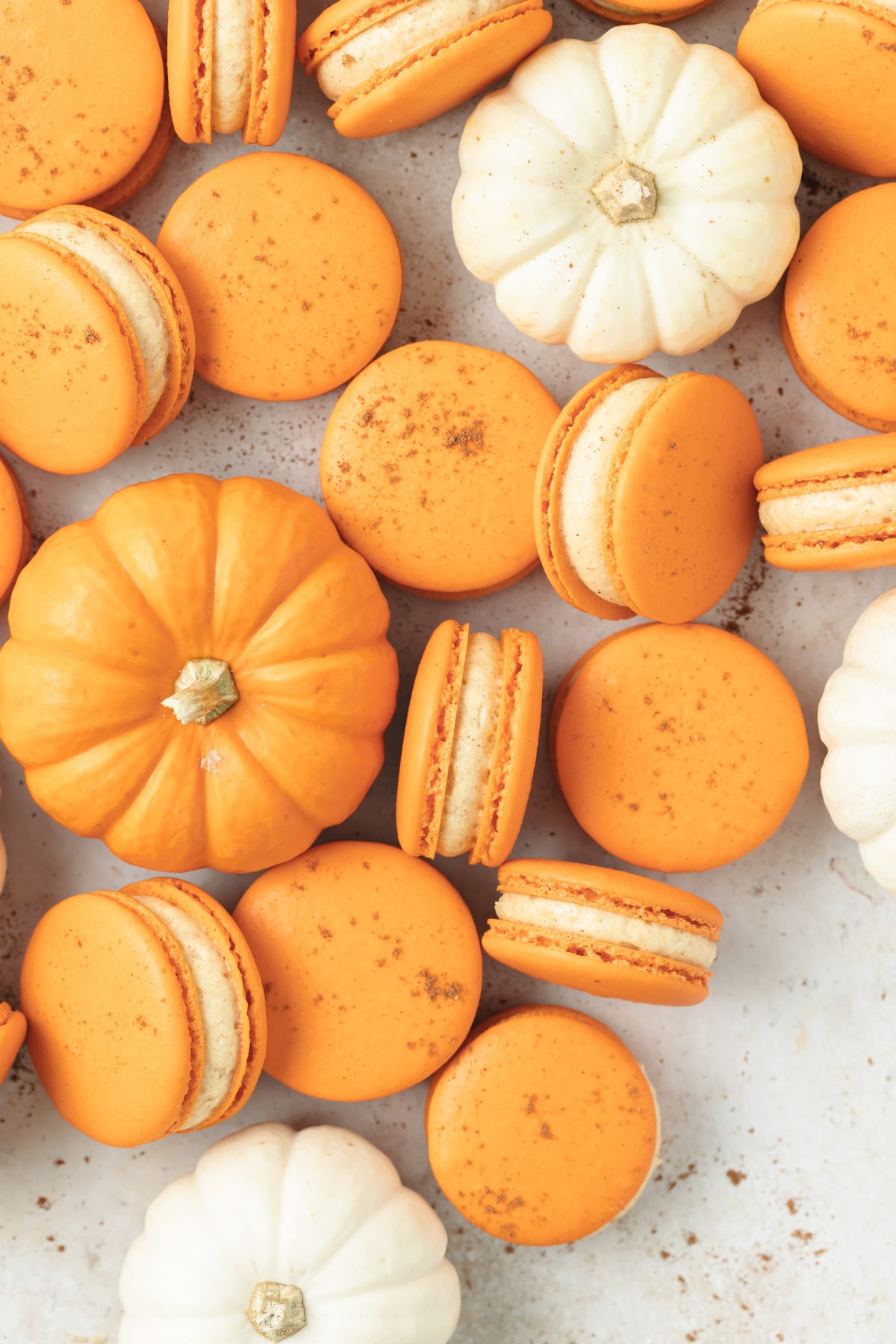 Leave it to Kyleigh of Barley & Sage to bring you amazing gourmet treats like these pumpkin spice macarons. It starts with a delicate orange-colored pumpkin spice shell. But inside, there's a buttery cream cheese and pumpkin puree filling. Delish!
Cinnamon Roll Sugar Cookies
Like Kristin of The Cookin Chicks, you may be lost for words describing how good these cinnamon roll sugar cookies are. But, after that first bite, you might describe them as a fluffy, melt-in-your-mouth Cinnabun mixed with a moist sugar cookie.
Pumpkin Pie Thumbprint Cookies
Get a load of these pumpkin pie thumbprint cookies by Baker's Table with their soft, buttery shortbread exterior. In the middle, there's a divot with pumpkin pie filling. It tastes just like the traditional dessert but in the most delicious cookie form.
Crumbl Cinnamon Toast Crunch Cookie
Lenny of Fat Dad Foodie implores you to make these copycat Crumbl cinnamon toast crunch cookies for a special treat no one will expect. They're a deliciously buttery balance of sweetness, spice with just the right amount of crunch.
Apple Pie Cookies
Don't miss trying America's favorite dessert but in a whole new fashion with these apple pie cookies by Saving Dollars And Sense. It starts with a base layer of pie crust, then caramel, and topped with a lattice crust. Mmmm! New and delicious!
Pumpkin Chocolate Chip Cookies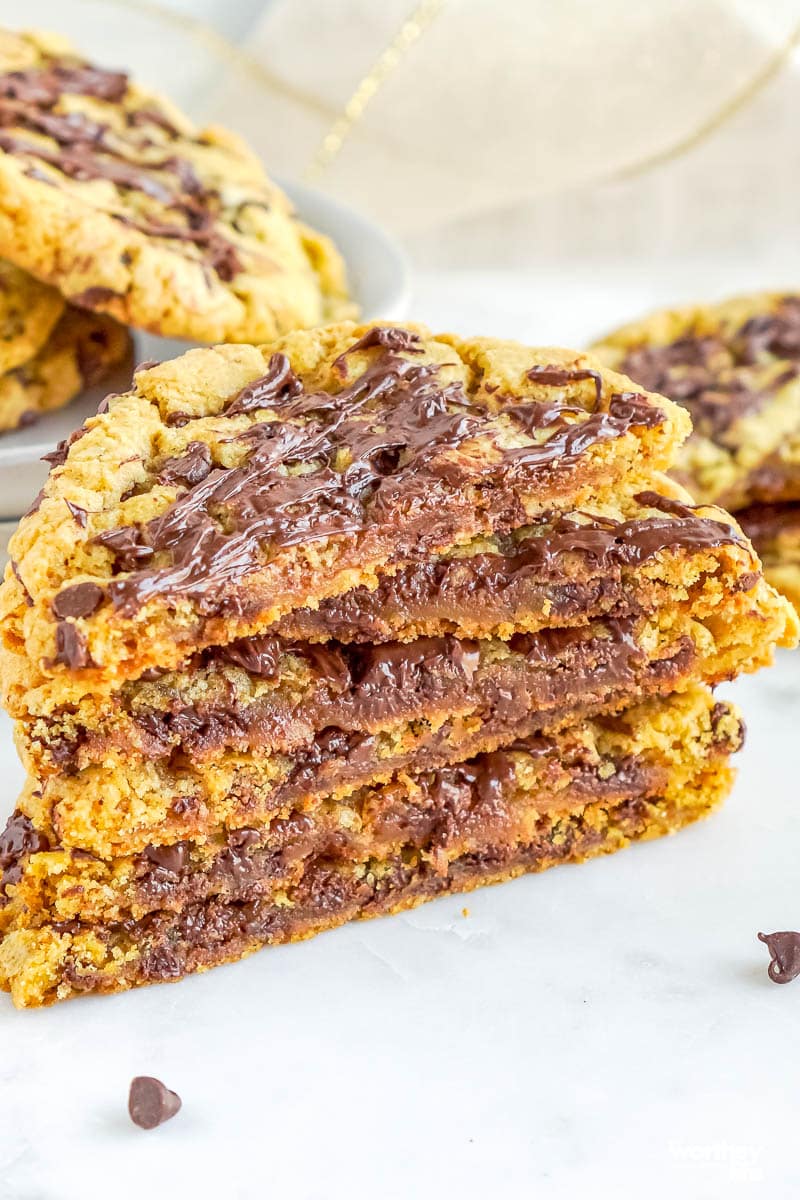 These pumpkin chocolate chip cookies from A Worthey Life are so delicious even non-pumpkin lovers will eat them. They're gooey, rich, sweet, and chocolatey with just the right amount of fall pumpkin flavor.
Sourdough Discard Chocolate Brownie Cookies
Sourdough discard chocolate brownie cookies from Dirt And Dough is precisely what you want if you're looking for a way to use up sourdough discard. They're incredibly tender, maxed out with chocolate, and balanced with flake sea salt.
Dark Chocolate Crinkle Cookies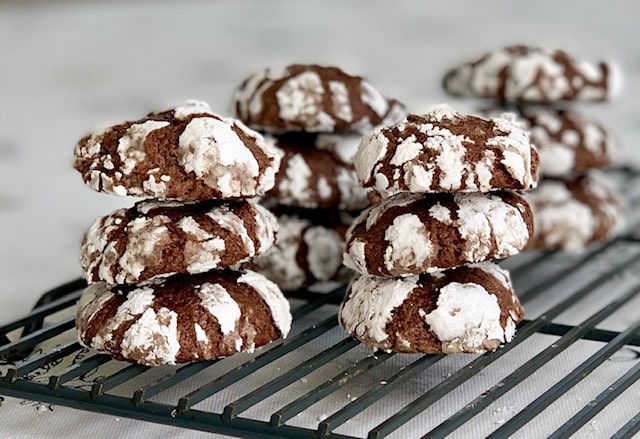 While dark chocolate crinkle cookies by The Art Of Food And Wine aren't specifically fall cookies, they are too delicious to wait until Christmas. They start with cookie dough made with melted chocolate, then you form them into balls and roll them in powdered sugar.
Salted Caramel Thumbprint Cookies with Cinnamon Sugar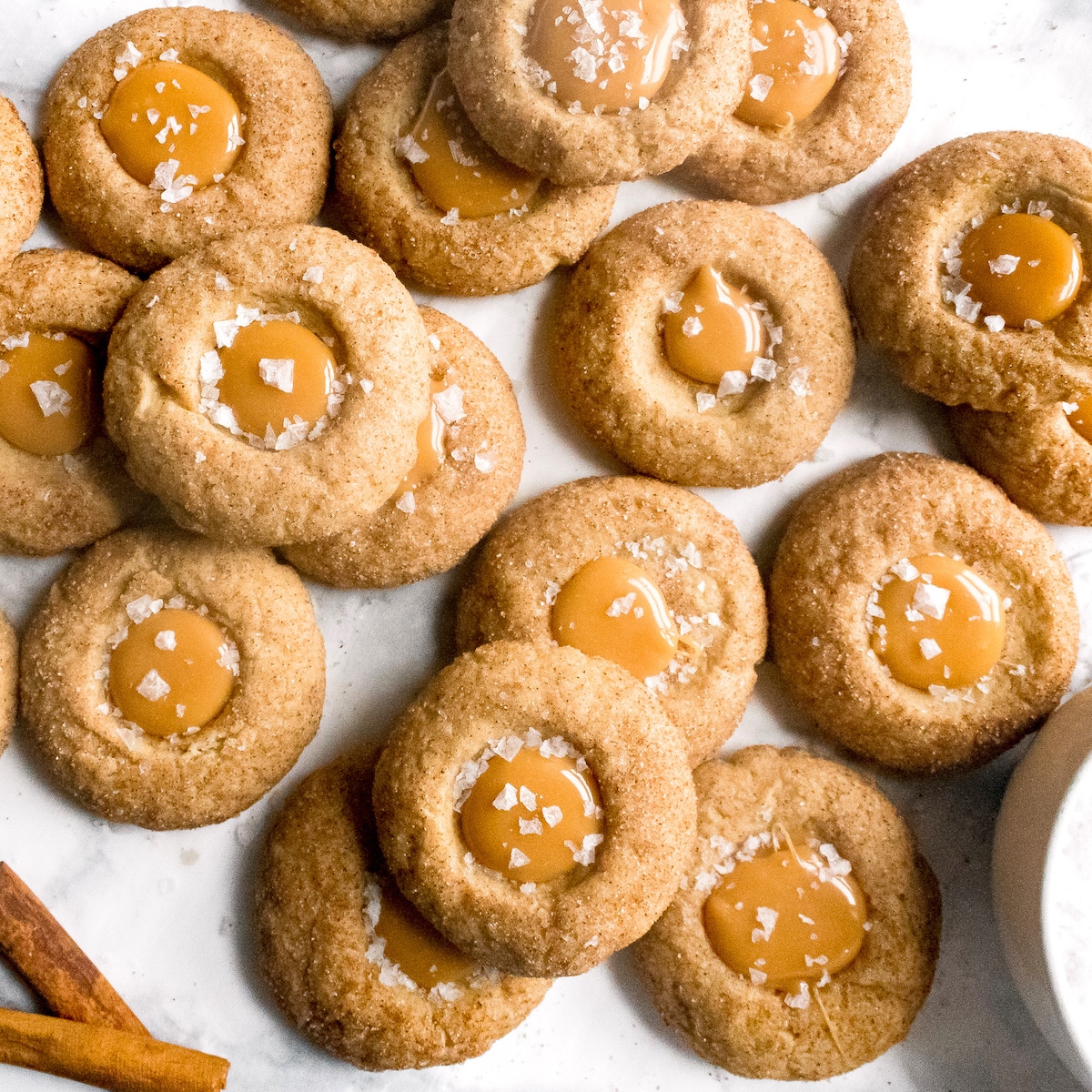 These salted caramel thumbprint cookies with cinnamon sugar are Chenée's delicious public service announcement. That is, you need more caramel and cinnamon in your life. The base is a thumbprint sugar cookie rolled in cinnamon sugar, and you'll find an irresistible pool of caramel in the center and a sprinkle of flaky sea salt.
Brown Butter Pecan Cookies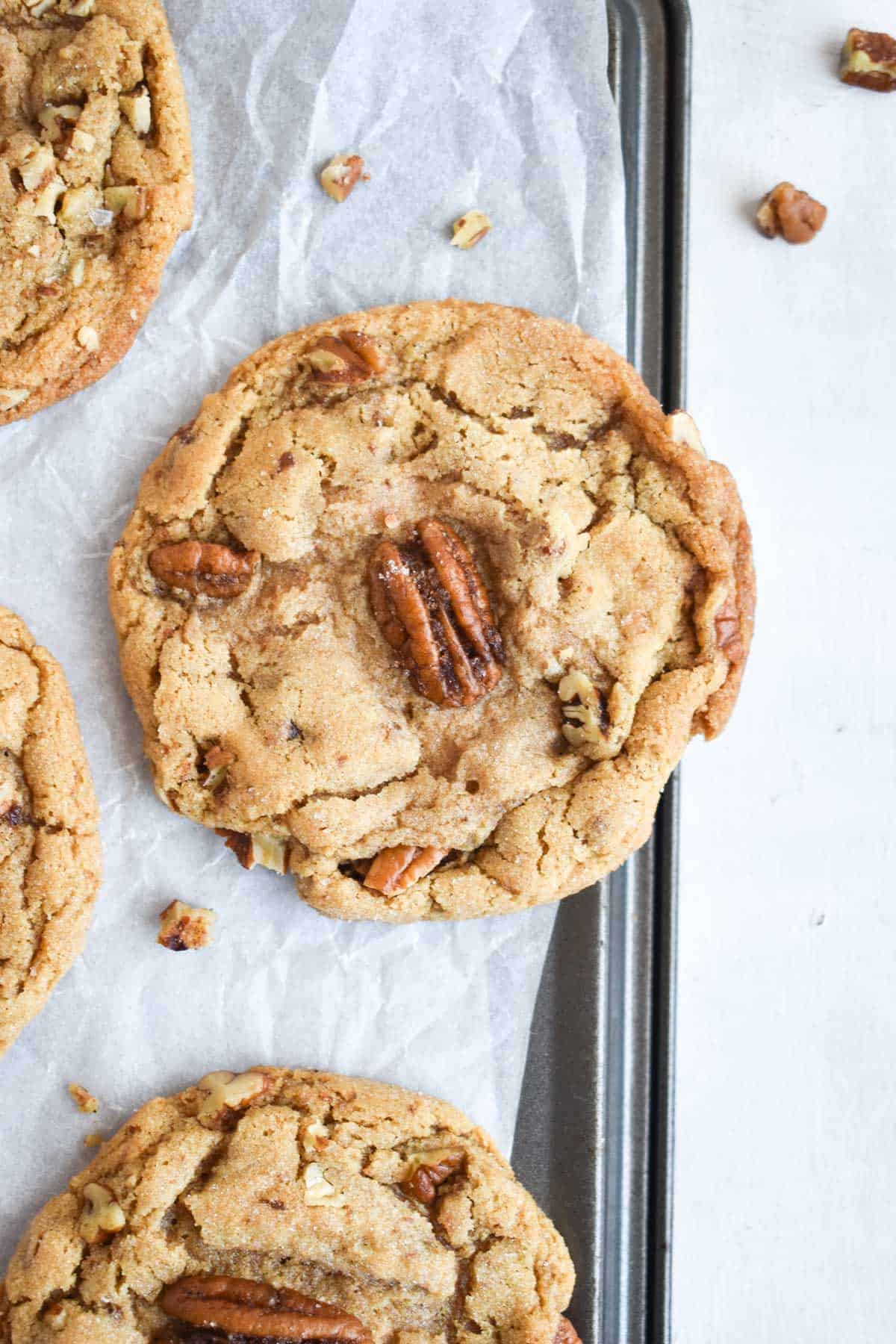 Brown butter is the secret ingredient you need to transform pedestrian cookies into gourmet, special-order delights. These brown butter pecan cookies by In Fine Taste are rich, buttery, nutty, and perfect for a cozy fall evening.
Butterscotch Gingerbread Cookies
You'll want to whip up these easy butterscotch gingerbread cookies From Valerie's Kitchen, not only because they're deliciously spiced with ginger, cinnamon, and molasses. But also because of the nostalgia-inducing scent that will fill your entire home.
Toffee Apple Pie Cookies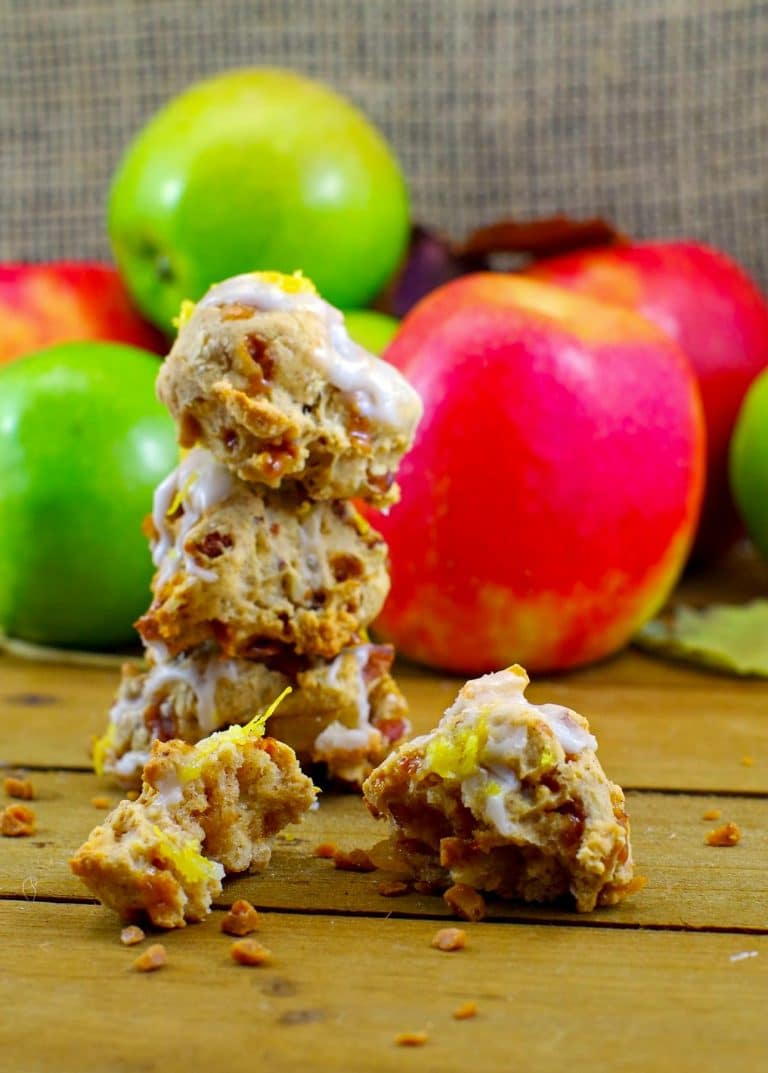 Are you looking for a new baking obsession this fall season? Look no further than these toffee apple pie cookies from Food Meanderings. The grand-prize-winning treats feature fresh apples, toffee bits, and all the addictive autumn flavors.
Chai Spiced Snickerdoodle Skillet Cookies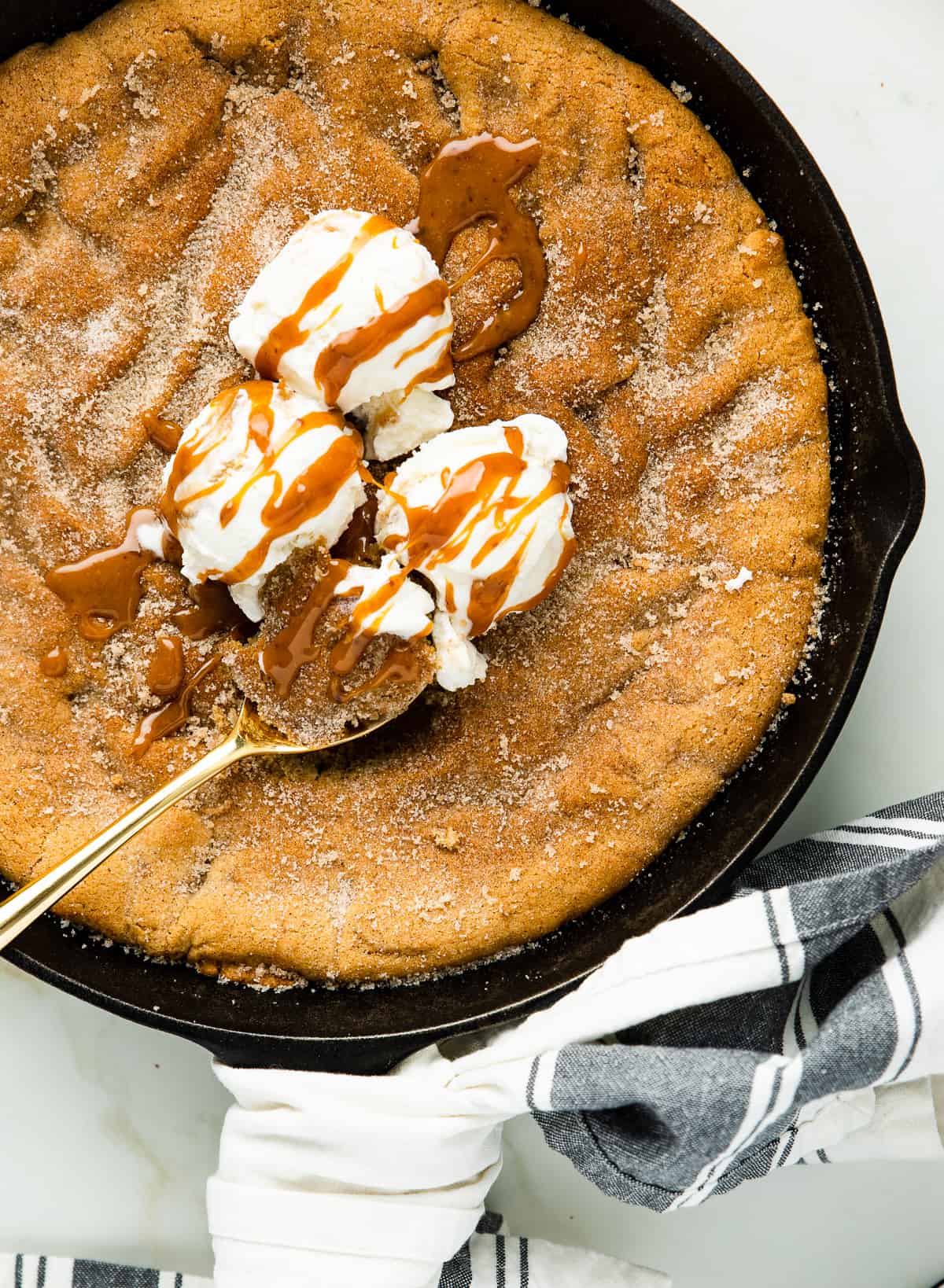 Sunena of The Sassy Foodie upgrades perhaps the best cookie for this chai-spiced snickerdoodle skillet cookie recipe. She makes it tastier by adding chai (spiced tea) and more fun and sharable by baking it in a skillet.
Turkish Apple Cookies
Exploring recipes from Ayla of Cooking Gorgeous is always a joy. And this is at least the second time we've covered these adorable, delicious, and surprisingly easy Turkish apple cookies. Inside a crispy pastry exterior, you'll discover a delightful apple, cinnamon, and walnut filling.
Kitchen Sink Cookies
As you could probably guess, these kitchen sink cookies, a Panera copycat, contain everything but the…well, you know. This version is jam-packed with caramel, chocolate, and pretzels, but you can go nuts with add-ins. Oh, and a special ingredient keeps them nice and chewy.
No Bake Haystack Cookies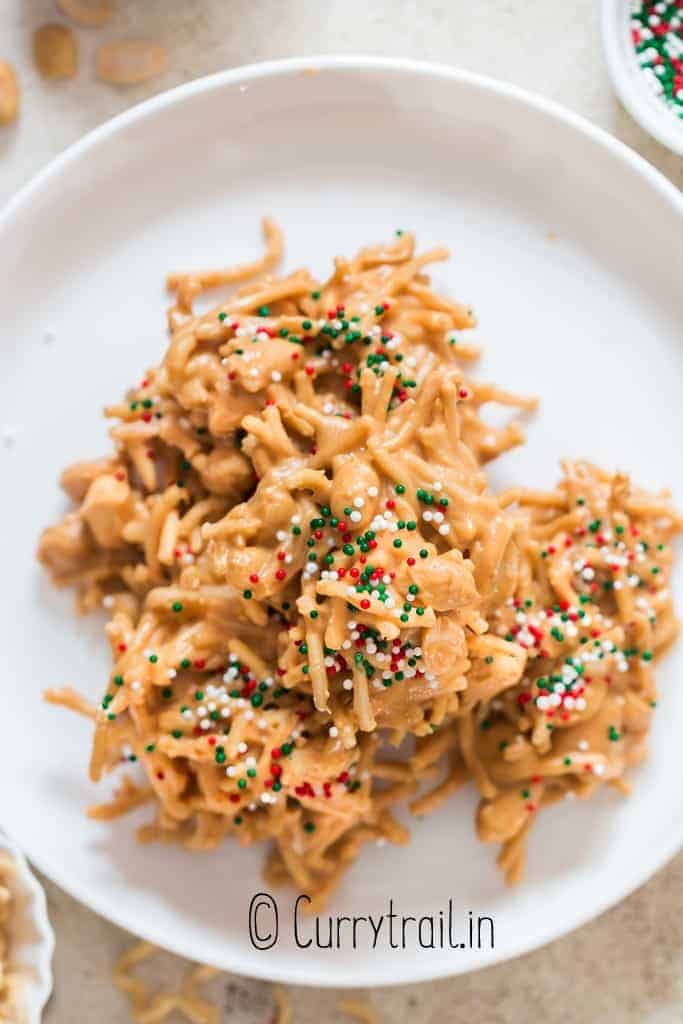 Jyothi of The Curry Trail presents these no-bake haystack cookies. They're cookies, unlike what you're used to. Instead of dough, these crunchy cookies feature uncooked chow-mein, butterscotch chips, and peanut butter.
Which Fall Cookie Recipes Will You Try First?
Fall cookie recipes bring an extra touch of warmth and joy to the autumn season. From the iconic pumpkin spice to the comforting flavors of apple and caramel, there's a fall cookie for every palate. Baking these delightful treats fills your home with pleasant aromas and creates cherished moments with loved ones as you gather to enjoy these seasonal indulgences together. So, now there's only one thing left to decide. Which one will you make first? We'd love to know!
Before you go, don't forget to check out this list of shortbread cookies.