These 7 layer dip cups are a super simple party snack that everyone at your next tailgating or game day party will surely enjoy.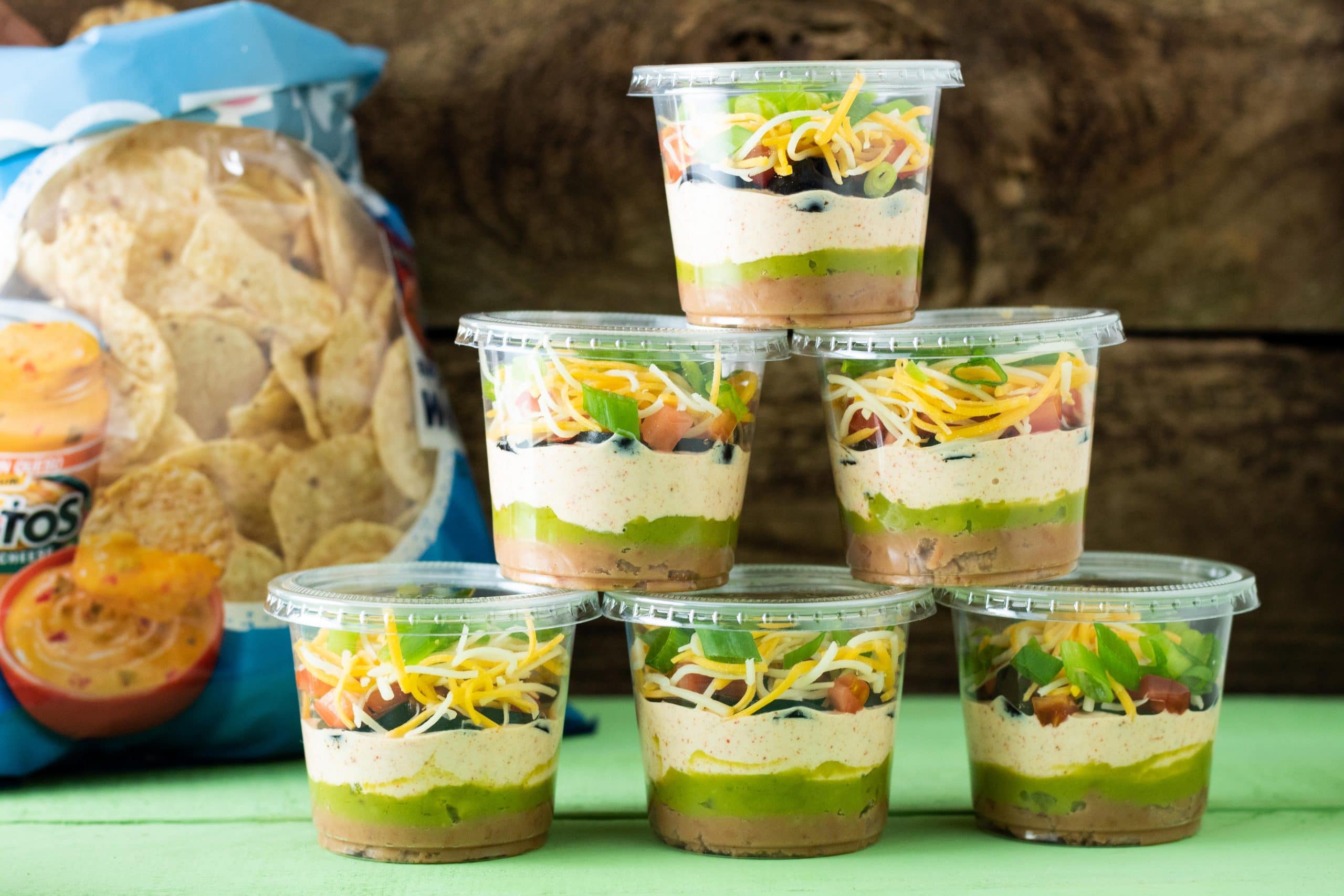 You know, sometimes a good ole classic is all you need. No need to be all haughty. Personally I've never met a person that didn't like a good 7 layer or taco dip. I mean what's not to like.
These little cups are so easy. Typically when Sarah makes her 7 layer dip, she makes homemade guacamole (or guac as it is sometimes annoyingly called). But the Avocados at the store were kind of sorry and we didn't feel like going to another store. I said, "bump that, lets keep it lazy". And that's what we did. Thankfully Wholly guacamole makes an amazing premade guacamole. No this is not a plug (we'll always let you know if we are sponsored) it's just that this guacamole is really that deal! We love it! Sometimes you just have to ask yourself, "Can I make this better than the brand?" and "Is it worth the hassle?"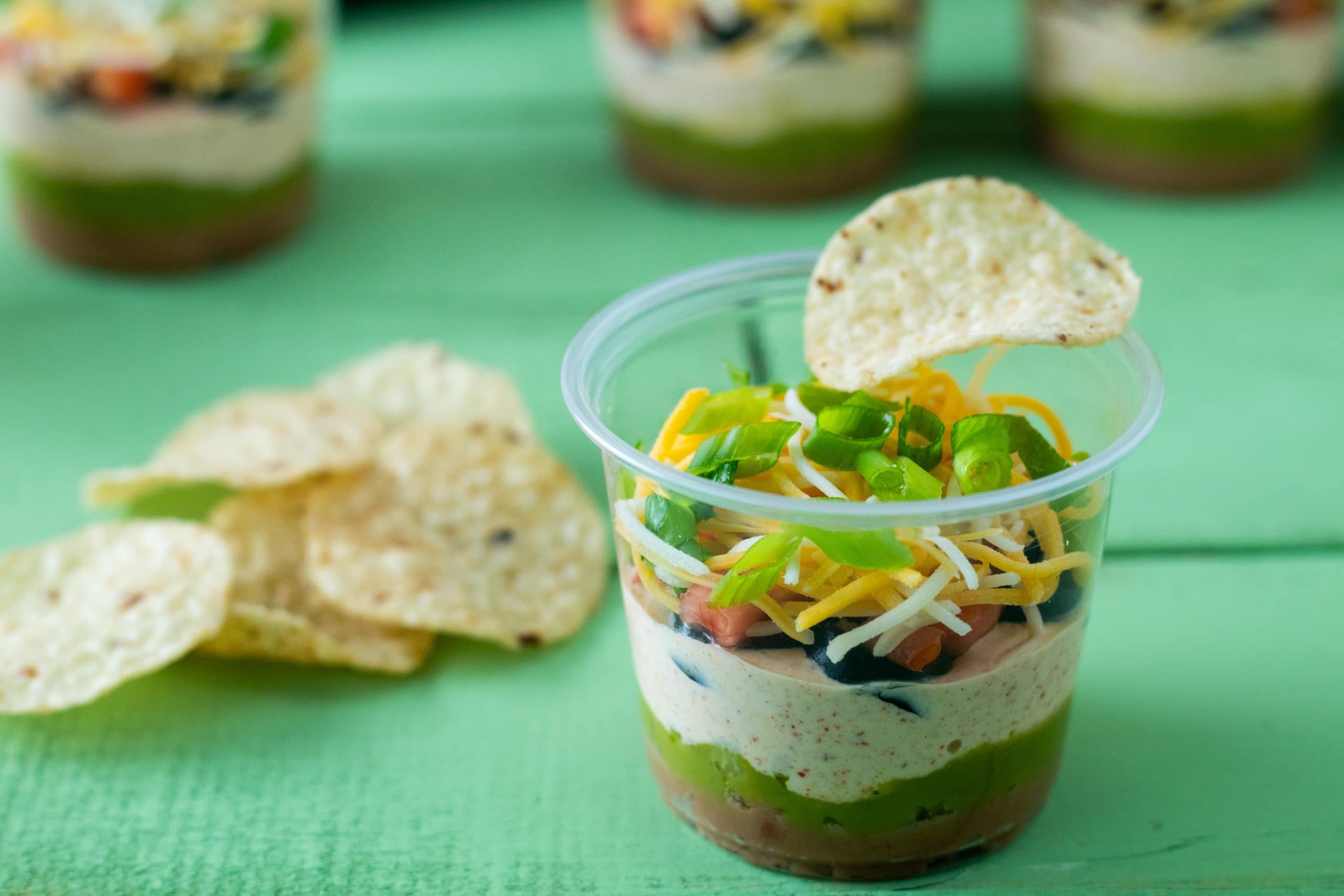 Okay enough of that rant.
As stated earlier, 7 layer dip is so simple. The only difference is that we put the guacamole in little containers for easy self-serving. Serving 7 layer dip in this fashion is so convenient and it cuts down on mess and clean up. No need for large dish. No need for individual plates or bowls. And with the chips there is no need for utensils. We love self-contained party foods.
So these little cups are great but let's get into making them.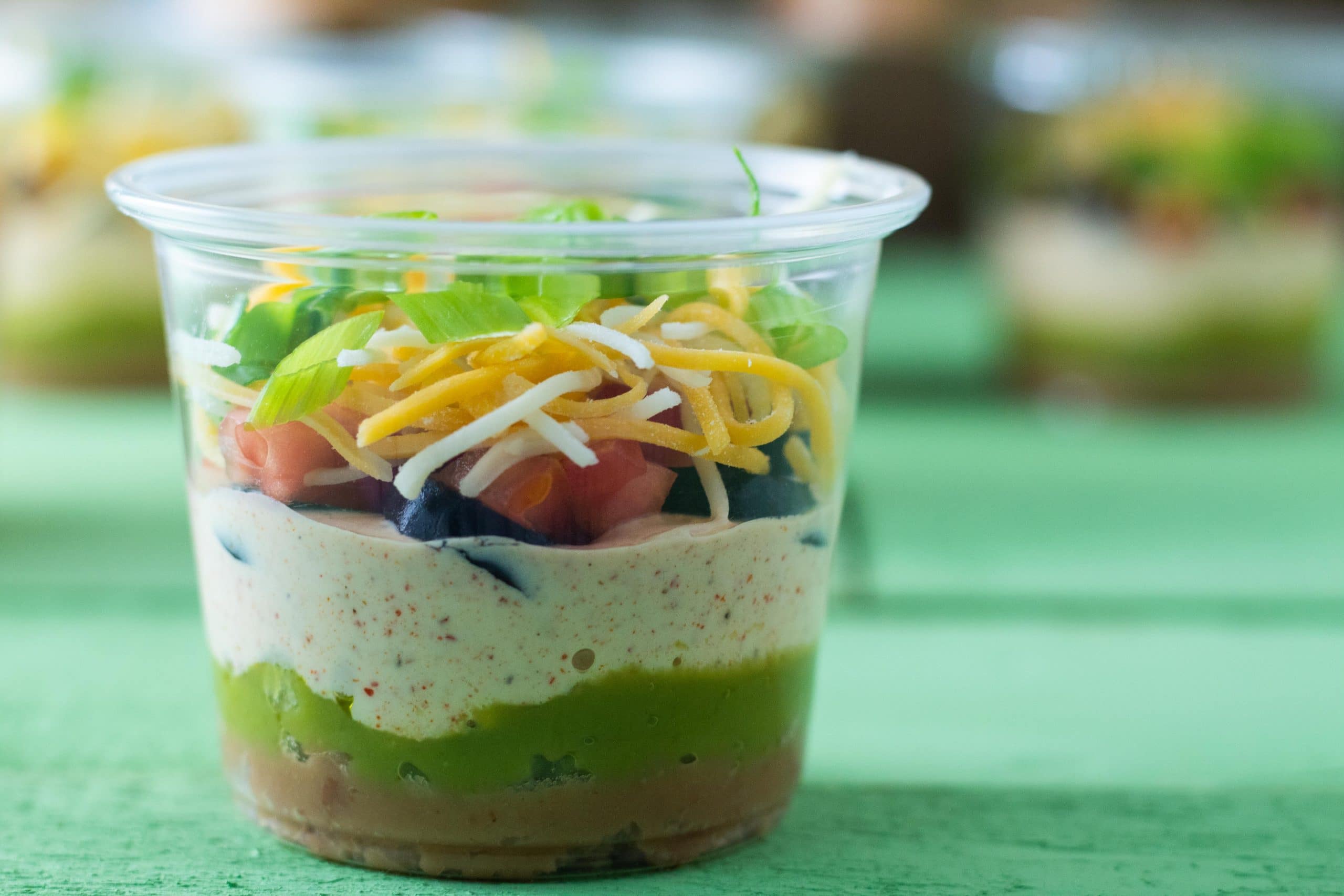 First, we started with the refried beans. Neatly we placed the dollop of refried beans into the cup, then using a spoon, we smoothed it evenly around the bottom of the cup.
We did the same for the guacamole.
And the Sour cream with taco seasoning.
Next, we added the olives.
Then the tomatoes, cheese, and green onions.
And there you have it. A flavor packed 7 layer dip cup that's so easy to make!
Enjoy!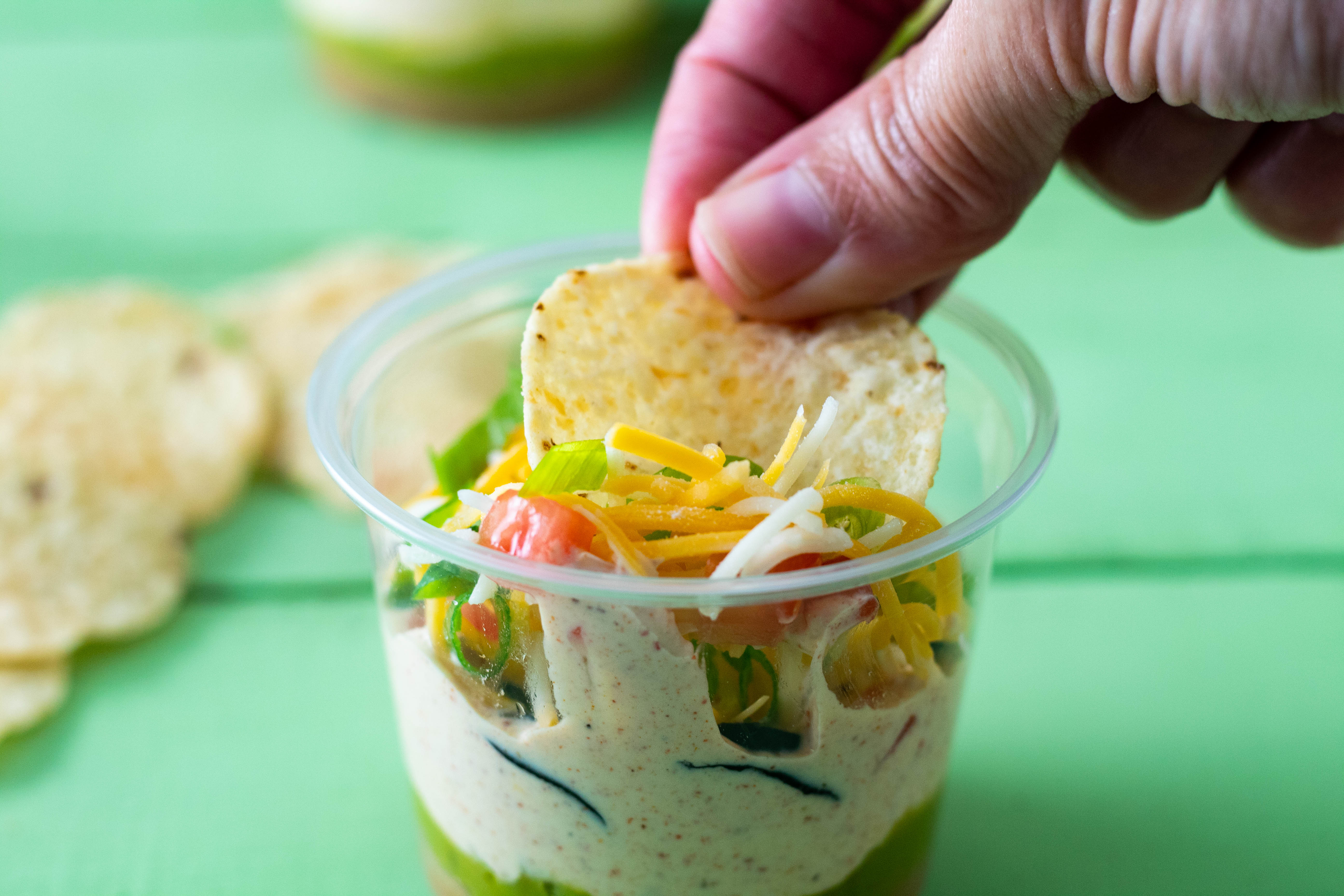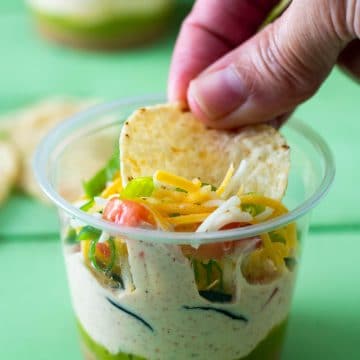 7 Layer Taco Dip
These 7 layer dip cups are a super simple party snack that everyone at your next tailgating or game day party will surely enjoy.
Ingredients
16

Ounce

Can of Refried Beans

8

Ounce

Package of pre-made guacamole

We prefer Wholly Guacamole

16

Ounce

Container of Sour Cream

1

Packet of Taco Seasoning

1 ounce

6

Ounce

Can of Black Olives

3

Roma Tomatoes

Diced

8

Ounce

Shredded Mexican Cheese

3-4

Stalks of Green Onions

Sliced Green and White
Instructions
Start with chopping the tomatoes and green onions and slice the black olives and set aside.

In a medium bowl add 2 cups of sour cream and 2 tablespoons of the taco seasoning. Mix until well combined and set aside.

Time to layer. Take 1 tablespoon of refried beans and spread it at the bottom of the snack size cup.

Next add 1 tablespoon of guacamole and spread it to cover the beans.

Add 1 tablespoon of the sour cream mixture and spread over the guacamole.

Add some of the sliced black olives, and tomato. Then add some shredded cheese and top it with some green onions. Continue steps 3-6 until all cups are filled. (See note) Serve cold enjoy!
Notes
This recipe is very simple all that is needed it a little slicing and layering. I decided to use snack size containers that had lids. You can use whatever serving dish you want or have. Using the snack size cups it allows each person to have an individual serving.

You can switch up the order of ingredients however you like. You can also use an 8x8 baking dish and serve family style.

This dip can be stored in the fridge for 5 days but I don't think it will last that long. Lol