This list of 15 canned spam recipes is so amazing you'll want to rush out to the grocery store immediately and get cooking.
We put together a delicious catalog of fun and tasty bites like spam fries, green eggs & spam tacos, and a Mexican spam sandwich.
So, with an open mind, go forth, friend, and discover delicious canned pork tastiness.
Let's dive in!
For more canned meat recipes, see this list of canned tuna recipes and canned salmon recipes.
Spam Fries (2-Ingredients)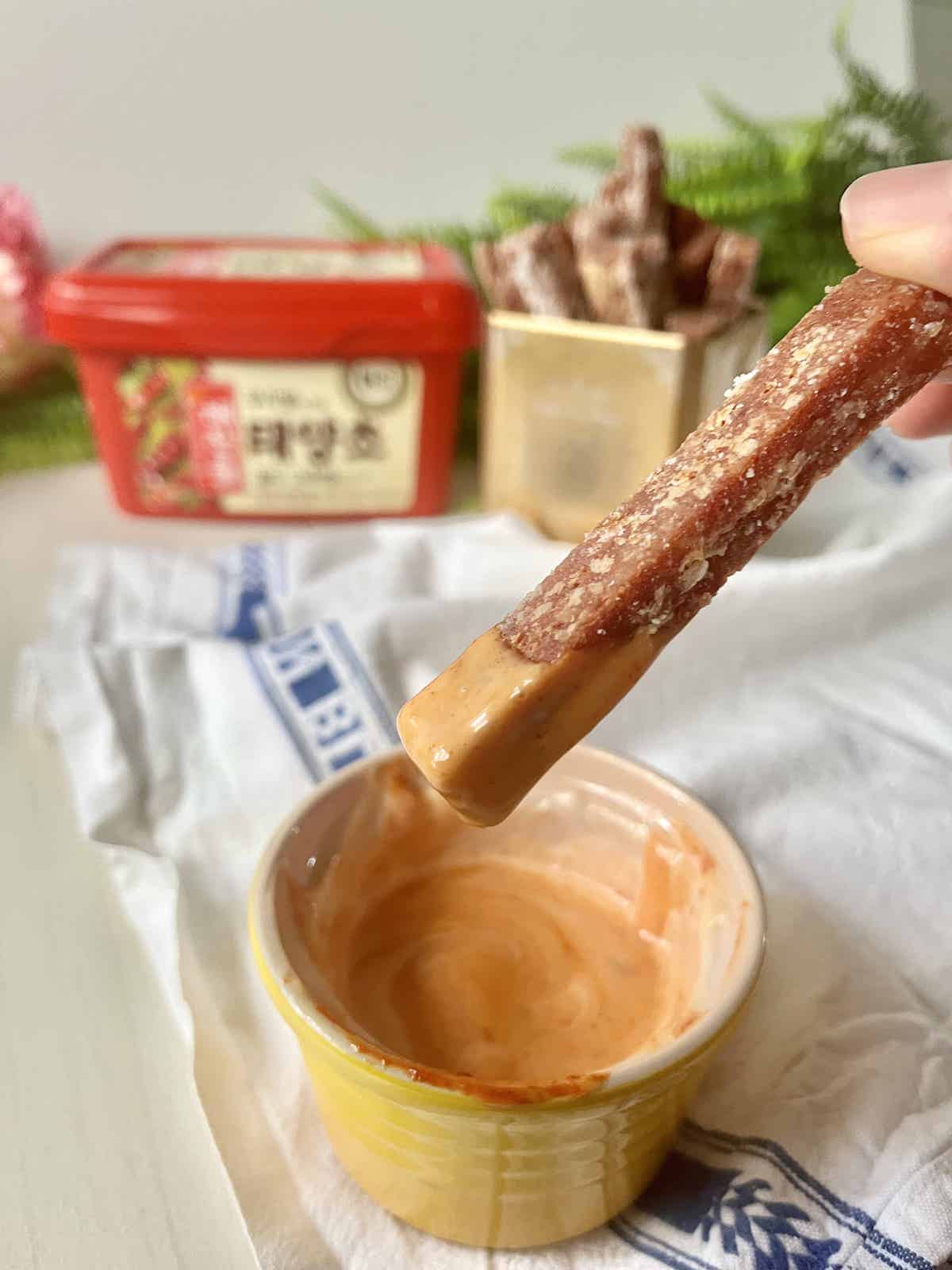 You can't help but smile at the thought of these simple yet creative spam fries from the consistently delicious Greedy Girl Gourmet blog. After many tests, Zhou shows you how to make these delightful umami meat sticks crispy on the outside and tender on the inside. Then, for balance, serve them with her sambal aioli or Gochujang mayo, and you're on your way!
Visit Greedy Girl Gourmet for the recipe.
Green Eggs And Spam Tacos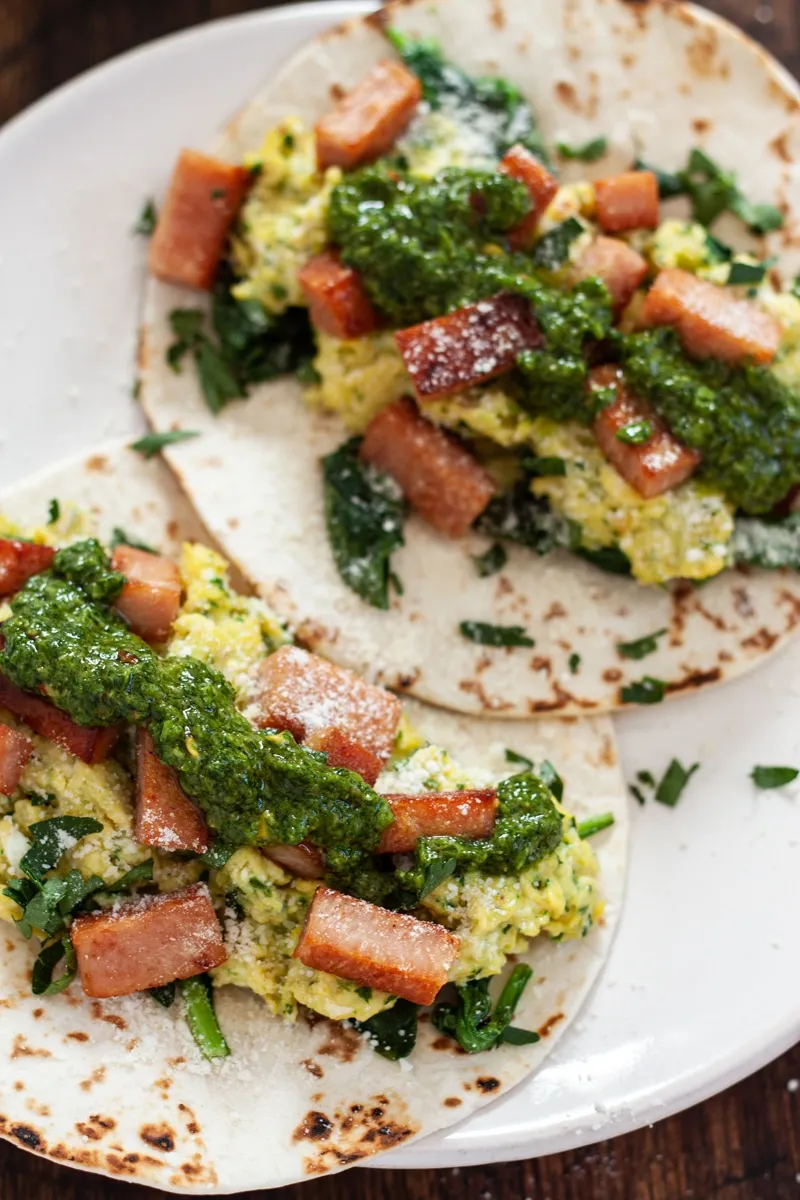 Were we looking for an exciting breakfast? Or better yet, how about breakfast for dinner? Then you definitely want to explore this green eggs and spam recipe from Christina of MidWexican. Look, we can't get enough fun recipes. So when we came across this crispy fried spam, sauteed spinach, and chimichurri egg-filled tacos, we knew it would make our must-try list.
Visit MidWexican for the recipe.
The Best Spam Sandwich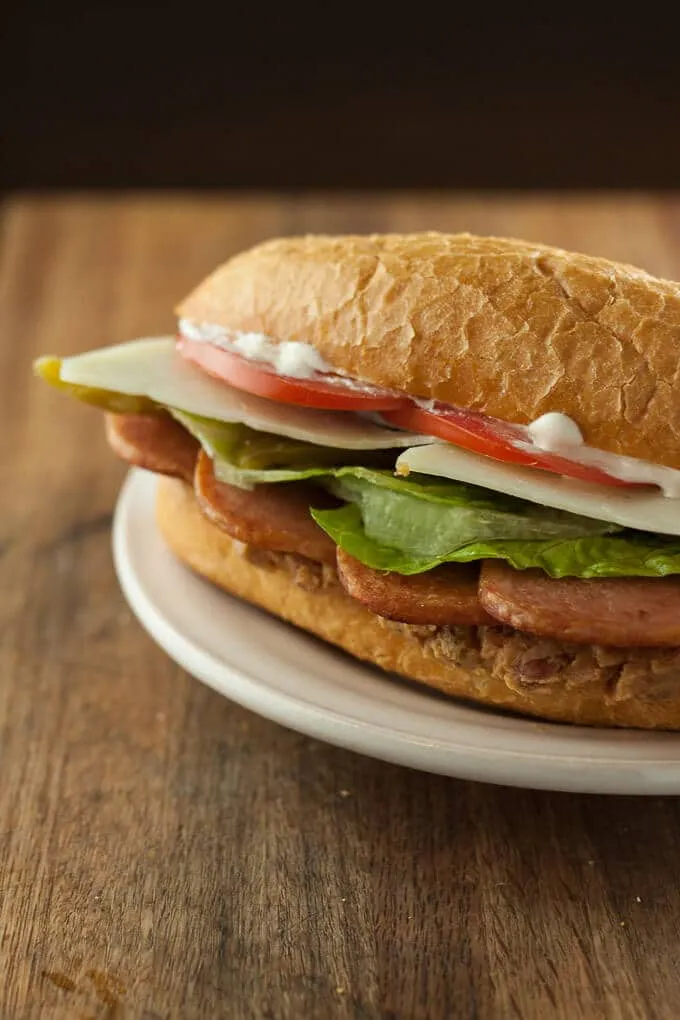 Culinary fusion expert Christina of MidWexican is back doing what she does best; blending cuisine with this, her best spam sandwich. She combines crispy fried spam with the flavors of a traditional torta. So, you'll taste pickled jalapeno, cheese, crema, and of course, that salty, delicious porkiness of the spam.
Visit MidWexican for the recipe.
Spam Musubi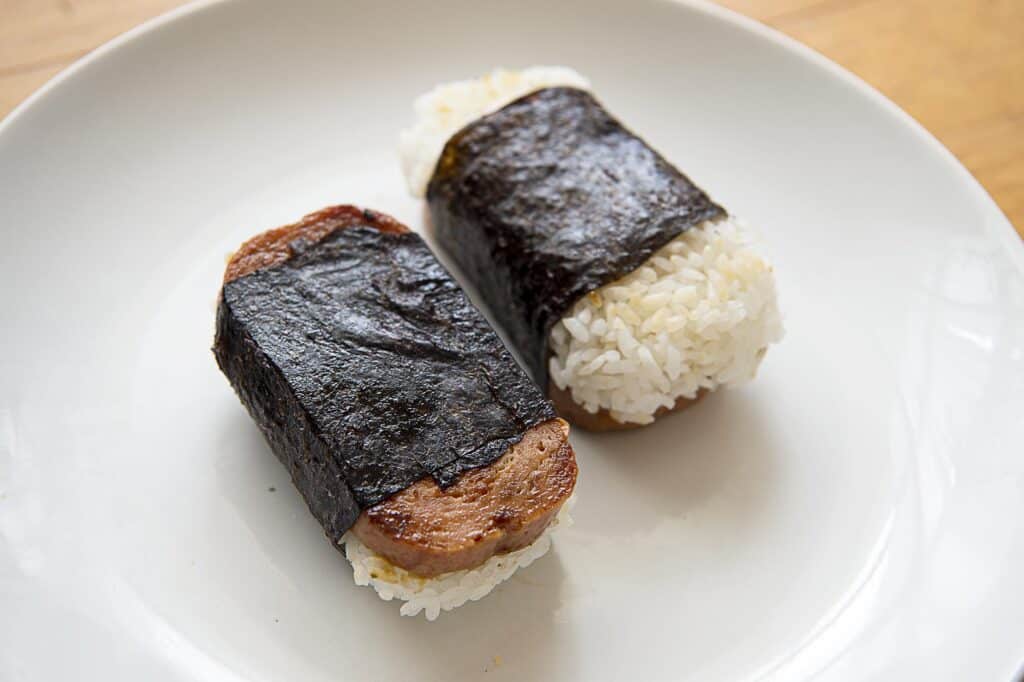 Lovers of all things food, Maddy and JD, the duo behind Them Bites, offer us this spam musubi recipe. It's rice topped with glazed fried spam and wrapped in nori (seaweed). And it looks absolutely delicious and visually appealing. But not only will you learn how to replicate it. They also share the storied history of the dish as well as spam itself.
Visit Them Bites for the recipe.
Spam Moco Loco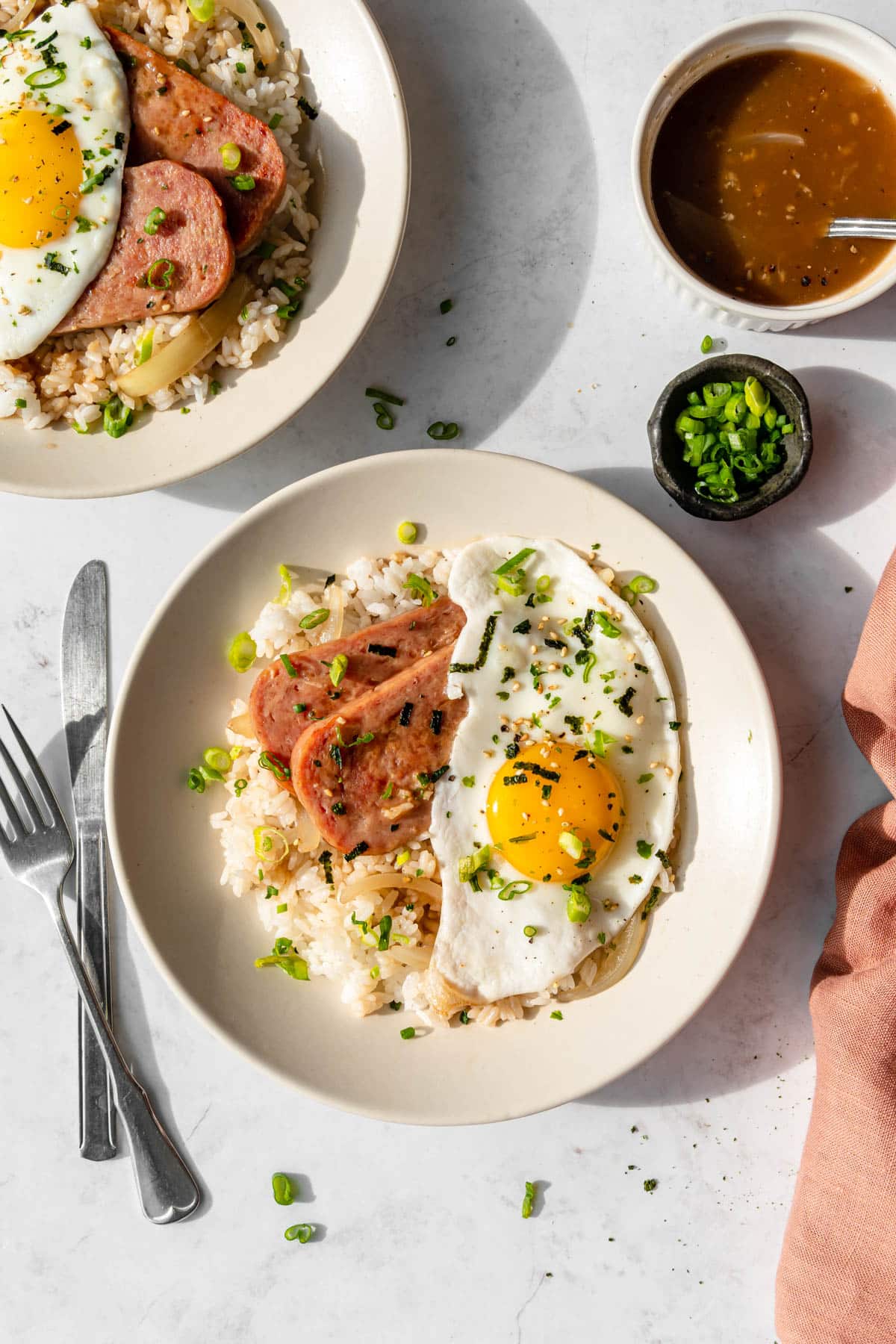 We always find interesting bites at Balance With Jess. There are just so many must-try recipes you'll be challenged on what to cook first. But with white rice, lightly fried spam, and welcoming sunny side-up eggs, this spam loco moco plate just might find its way to the top of your list.
Visit Blance With Jess for the recipe.
Air Fryer Spam Recipe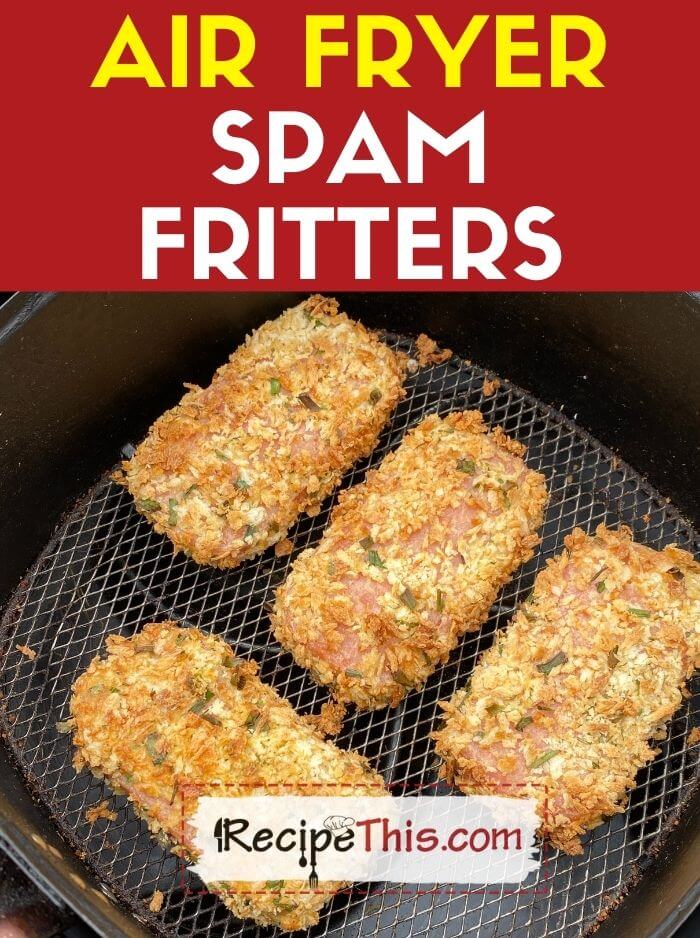 Our favorite gadget-forward cooks, the Milners of Recipe This, bring us this super tasty and reliable air fryer spam recipe. You'll learn how to properly set up a breading station with egg, homemade bread crumb mix, and flour for a super crunchy and cheaper alternative meat dish no one will complain about.
Visit Recipe This for the recipe.
Ham And Bean Soup Recipe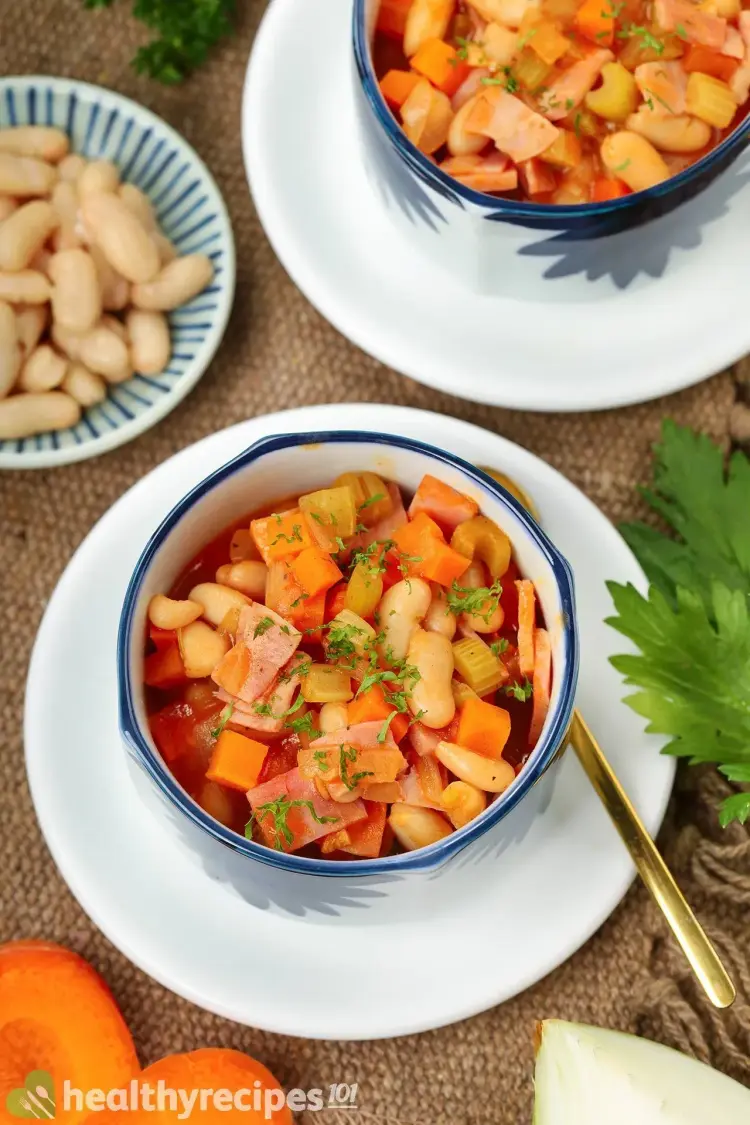 Feed your family a hearty, bean and ham soup from Luna of Healthy Recipes 101. The registered dietician's offering includes carrots, onion, celery, garlic and spam, but with lower sodium. We also appreciate the preparation recommendations. Such as utilizing frozen, or already pre-chopped veggies.
Visit Healthy Recipes 101 for the recipe.
Kimchi Fried Rice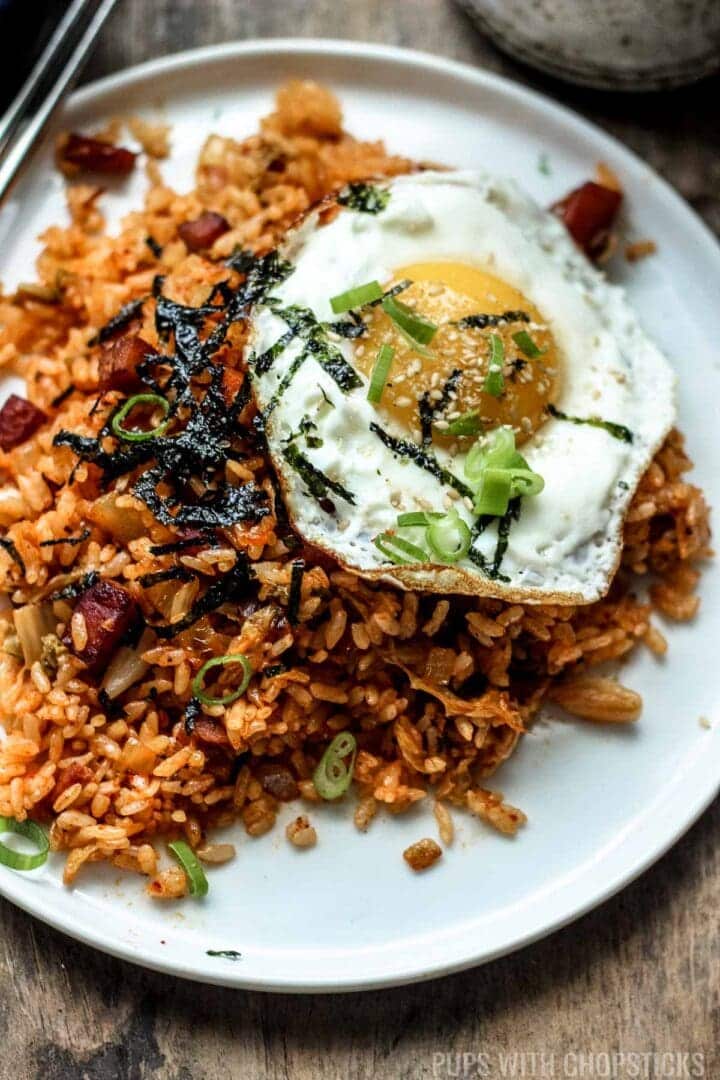 One of our favorite places to find Asian recipes is Pups With Chopsticks. Joyce's recipes are always so beautiful, full of helpful hints, and so drool-worthy. So, when we came across this kimchi fried rice featuring one-day-old rice, kimchi (aged for best results), spam, and fried egg, we knew it was a must-try. Oh, and the garnishes, toasted sesame seeds, green onions, and roasted seaweed are a must.
Visit Pups With Chopsticks for the recipe.
Teriyaki Spam Musubi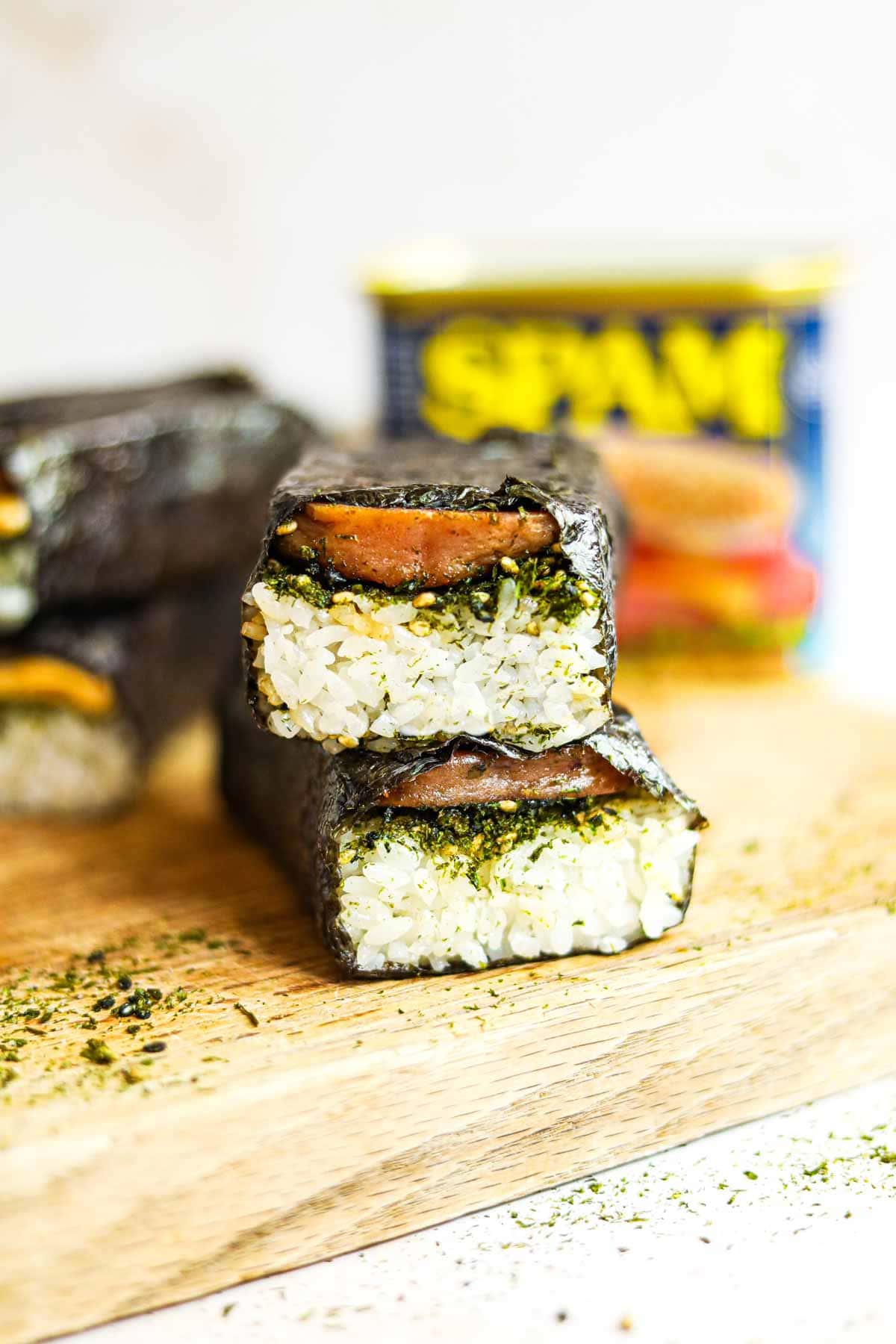 Keep them guessing with this teriyaki spam musubi recipe from Kathleen of The Heirloom Pantry. This fun beach snack starts with fried teriyaki marinated spam. Then, you build on that with the furikake season blend and short-grain rice. Finally, wrap it in nori (seaweed). Now, you've got a cute, quick, and fun appetizer that will surprise everyone!
Visit The Heirloom Pantry for the recipe.
Deep Fried Spam Fritters In Beer Batter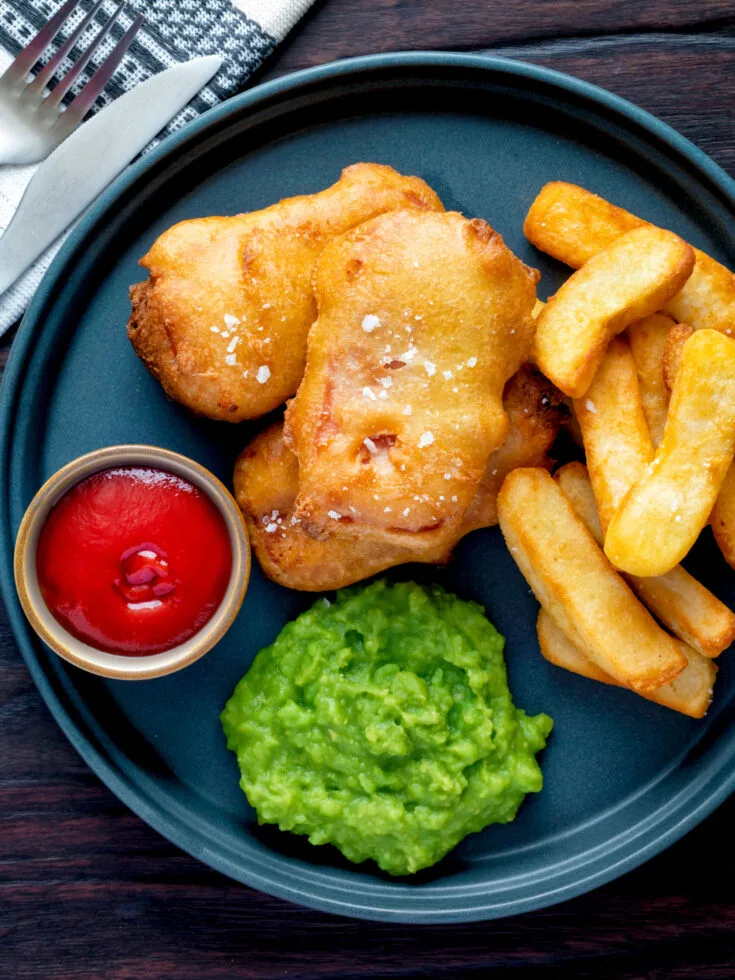 Our friends across the pond sure do enjoy their battered and deep-fried foods like battered sausage and fish. But Brian of Krumpli introduces us to delectable spam fritters.
The "Eating In Should Be Special" blogger shares his expertise, showing you how to coat the canned meat before dipping them in the mustard and beer batter and frying. Serve with mushy peas and ketchup, and enjoy bite after crispy bite.
Which Canned Spam Recipe Will You Try First?
By now, you've seen many canned spam recipes. So which one are you looking forward to trying the most? Is it one of the musubi recipes? Those look incredible. Or maybe you'll introduce your family to the spam moco loco or something else. Let us know!