On this page, you will find our Breville Smart Oven Pro review (bov845bss). We've owned this machine for more than two years. Find out what we think about it below.
The Breville Smart Oven Pro is a countertop convection oven. It measures 23.2 x 18.1 x 15.5 inches which makes this oven a large "small" appliance. Be sure that you have enough space for it on your counter before you buy.
Update: We liked what we read about this machine so much that we decided to buy one. And we couldn't be happier with our experience. Please scroll down to read more about it.
Countertop convection ovens are convenient, particularly in the summertime when you don't want to heat the entire house. However, perhaps your living arrangements don't provide you with full access to kitchen accommodations. Or maybe you want or need a second oven.
Breville claims that this is a smart oven – even though it's not "connected." After exploring this oven, I discovered exactly what makes it "smart." Below, look at my review to determine if this is the right toaster oven for you.
Click here to check the price…
Table of contents
Breville BOV845BSS Smart Oven Pro Review
Sometimes using your traditional oven isn't an option, and the microwave isn't ideal for all reheating and cooking jobs. Personally, I don't particularly appreciate using the microwave to reheat breaded food items like chicken wings, fried fish, or pizza. They usually end up with a soft, chewy texture rather than crunchy. That's where a countertop oven comes into play. A toaster oven like the Breville BOV845BSS can produce much better results.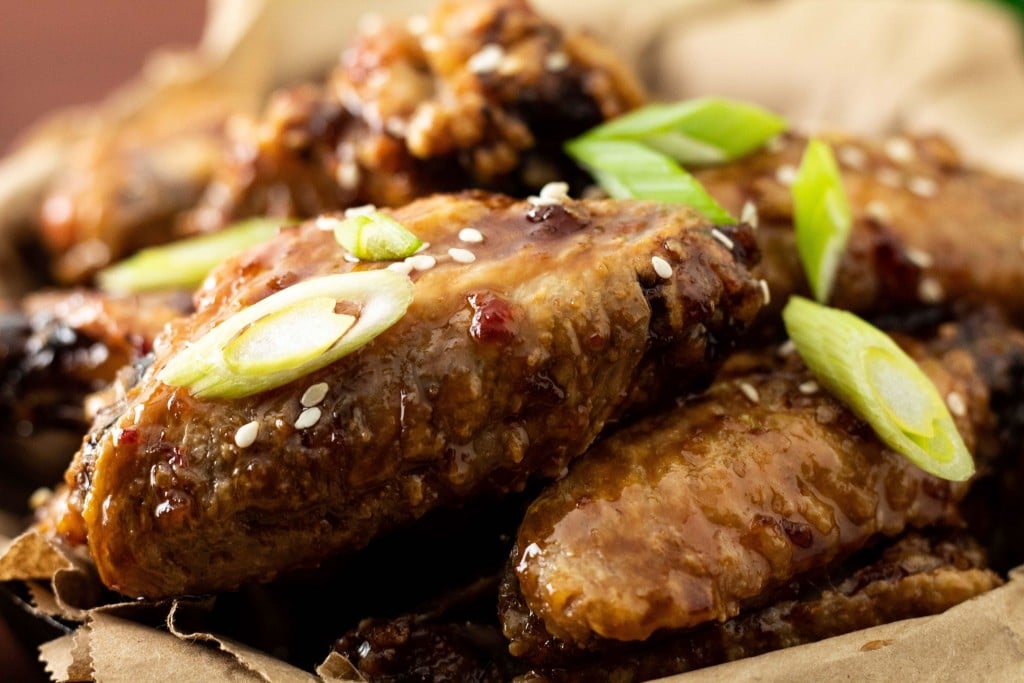 We cooked these delicious Asian sweet-spicy wings in our Breville Smart Oven Pro!
Performance
Efficiency is a big deal when it comes to the Breville BOV845BSS convection oven. Convection ovens circulate hot air around cooking foods. If you choose to use the convection feature, you will cook food up to 30% faster than when using other settings.
Yeah, this machine really is "smart," let me count the ways; The intuitive 1800-watt "Element IQ" heating system automatically detects where heat is needed most, the keep warm function is automatically activated when food is done cooking (keeps food warm for up to two hours), and there are ten preset cooking functions. Those ten cooking options include; bagel, toast, roast, bake, broil, pizza, cookie, reheat, warm, and slow cook.
I like multi-cookers that can replace several machines. For example, the Breville BOV845BSS can replace a toaster, oven, and slow cooker. The slow cooking feature can cook your food at low temperatures for up to ten hours.
Convenience
The Breville BOV845BSS has several features for convenience. For example, the timer has an auto-shutoff feature that alerts you when food is done cooking. In addition, the magnetic auto-eject rack protrudes halfway when the door is opened. This allows for easy access to your cooked foods.
Appearance
Not only does Breville make intuitive "smart" machines, but their machines are also beautiful. It's one of the things that attracts me to the brand. For example, take a look at the Breville BJE510XL Juice Fountain. These machines are usually clad in stainless steel with a digital LCD and easy-to-use controls.
Click here to get more details
Features & Specs.
12 x 12 baking pan
12 x 12 broiling rack
Nonstick pizza pan
​Measures 23.2 x 18.1 x 15.5
Fully detailed user guide
Stainless steel exterior
Breville BOV845BSS Compared to Other Convection Ovens
Although I believe that the Breville BOV845BSS is a quality countertop oven, you might have some reservations or want to see what the competition has to offer. That would be a reasonable concern as you should always see what else is out there. Overall, I do trust the quality of the Breville brand. However, for those that would like to consider the competition, I've listed a comparison below.
VS Cuisinart CSO-300 Combo Steam/Convection Oven, Silver
The Cuisinart CSO-300 is a combination steam and convection oven. It, too, is a good-looking machine with a silver stainless steel exterior. The Cuisinart CSO-300 certainly has a unique value proposition that separates it from the Breville BOV845BSS, a steam function. There is a lot of customer feedback available on the Cuisinart CSO-300. Many customers are thrilled with their purchases.
The Cuisinart CSO-300 has 9 preset cooking settings, which includes a couple of streaming options. For example, the steaming settings allow you to reduce cooking times by as much as 40%. It's a really cool feature that gives you more control and variety over your food. For example, using the combination steam and broil setting, you can make roasts that are moist on the inside and perfectly browned on the outside.
The Breville shares many features with the Cuisinart, including the accessories. The choice comes down to this; smart features versus steamer. Depending on what small appliances you already have, this could be a tough choice. I believe that both of these machines are of high quality. If I were choosing, though, I'd probably go with the Cuisinart as it has the steamer function.
Click here to see Cuisinart CSO-300
VS Breville BOV800XL Smart Oven
The Breville bov800xl is another stellar machine from the popular brand. In fact, it has the same features as the bov845bss with one small exception: an interior light. The oven light is certainly a desirable feature but not a make it or break it feature. Even still, I'd prefer an oven with a light. Unfortunately, I think that for some, an oven light is a deal-breaker.
Click here to get more details on the Breville bov800xl
Even More Toaster Ovens to Consider:
Our Personal Experience
Update: We read so many great things about this machine that we decided to buy one ourselves. After several months of using it, including making a small Thanksgiving dinner, we are delighted. This is the best little oven that we've ever used. We like it most because it cooks so evenly, and it has lots of built-in features like the slow cooker (read more below for our favorite functions and features).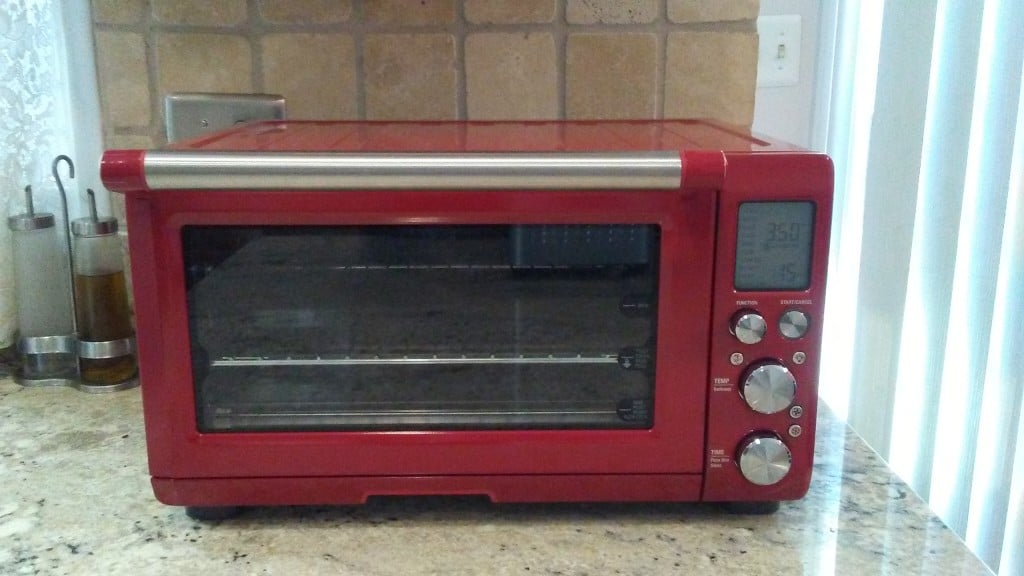 Slow Cooker
Okay, so the slow cooker function on the Breville Bov845bss ended up being our favorite slow cooker ever, even better than the slow cooker function on our instant pot. We usually make a roast once a month in our stand-alone slow cooker, but in December 2016, we made a roast 3 times. It turned out that good – way better than before. Like, so much better that we will never go back to the old, slow cooker.
Convection
A convection oven is a feature that many folks look for in a new toaster oven. It is simply a fan used to circulate the hot air around the inner chamber of the oven. This helps to make the food cook more evenly. You use a small round button to turn the convection function on and off – it's an icon that looks like a fan located on the left side of the temp dial. Some say that the convection function isn't that useful with a toaster oven as the size is so small. However, I've yet to perform any meaningful test to determine if it is necessary. So far, we've cooked with the convection function on and off and haven't really noticed much of a difference – except that the oven seems to heat up quicker when on.
Without the convection function on this oven is nearly silent. Please turn it on, and it starts to make whirring sounds that can be a bit annoying. This is the fan spinning.
Bake
We've baked all kinds of stuff in this machine by now, and it has all come out great. Before this experience, I had no idea how much of a role the oven actually played in making your food turn out well. I thought an oven is an oven. Sarah's sweet potato cheesecake was even better than it usually is in this machine (and that's saying a lot).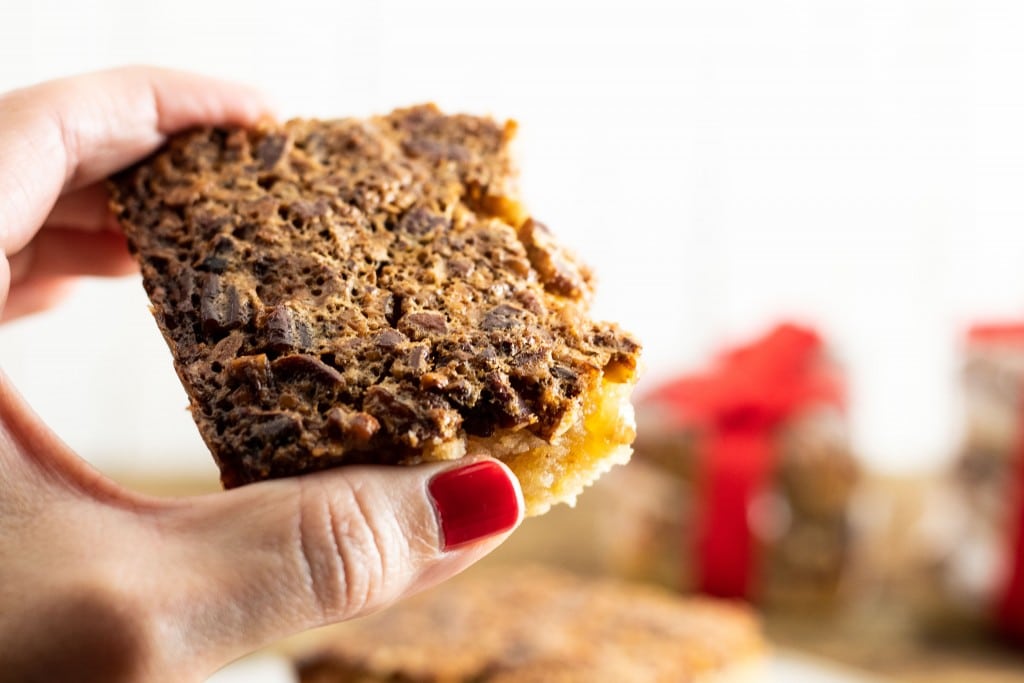 Toast
Once again, we're setting records here. This has become our favorite toaster oven. The toast ends up being so evenly toasted on both sides. In addition, you get to select the toast shade and the number of toast. What we really dig about it is that we have our machine programmed to our favorite toast settings. So in the morning, all we have to do is turn the preset dial to toast and hit the start button. Really simple.
After using it, we did notice that there is water that accumulates on the window of the door. This is completely normal and nothing that you have to worry about. It's simple condensation that comes from heating bread.
Presets
So, if you buy freezer aisle pizza a lot or even those "just bake" cookies as we do, then you will love the preset features. There are selections for pizza and cookies that you can adjust based on the specified baking times. The Breville will store your preferences for next time.
Usability
This thing is super simple to use. All you do is turn a couple of dials, and you are ready to go. You turn one dial to select the function, another for the time, and another for the temperature.
Look and Feel
Breville makes beautiful machines. So there is no surprise here. This one looks great. We actually got ours in red, and it looks amazing on our countertop (stainless steel looks good too). It stands out, especially because all of our major appliances are stainless steel. The buttons and dials feel quality made. And trust me, we know. We went around to many different local department stores (Target, Bed Bath and Beyond, Walmart) and touched a lot of different Machines. The Breville is simply a cut or 20 above the rest. There is nothing flimsy about this machine at all.
Convenient Features
This oven has lots of little convenient features that stand out. The most important is the automatic shutoff. Once your food is finished cooking, the machine turns off. For us, sometimes we're in the basement hanging out, and we have something in the oven. It's good to know that we will not burn our food if we forget that we put something in the oven.
Another convenient feature is that the light automatically turns on when you open the oven door and when the timer expires. It makes it easy for you to see where to grab your pot or pan.
The power cord is a decent length and is designed with a loop built into the connector. Well, this loop makes it incredibly easy for you to remove the plug from the outlet – a small design change for convenience.
Tips
Clean the drip pan, at least once per week.
Do not use an abrasive scrubber to clean it.
Warm soapy water and a wash cloth is the best way to clean this drip pan.
Summary
The Breville BOV845BSS is a good buy. Like I stated above, I trust the Breville brand. Their products are well-made and look very good. You can always expect Breville products to be rated at or near the top in performance compared to similar products in the same price range. The Breville BOV845BSS Smart Oven Pro is a quality machine with many happy customers. If you prefer to go with a countertop oven with a little more history and a steamer function, you can always choose the Cuisinart model listed above.
Update: If you want a quality, well-built convection toaster oven, this is the way to go. We tried this machine, and we love it. Because our family is only 3 people, we don't need to really use the big oven anymore. The Breville cooks so much better than our wall oven (and uses far less energy) that I really don't know when we will ever use it again.