The NutriChef PKRT15 is a vertical countertop rotisserie rotating oven. This is a small appliance that is perfect for you if you want to prepare delicious, healthier meats, mainly whole chicken. All of that excess fat falls off the meat, yet it is still juicy and tender. This good-looking small kitchen appliance has a very futuristic look.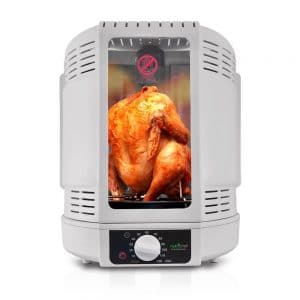 It'll take up very little countertop space, which is a good thing. I always consider the dimensions before purchasing a new kitchen appliance. I've researched this nifty countertop roaster for you. Find out more below.
A SPACE-AGE LOOKING HANDY LITTLE ROTISSERIE OVEN
The NutriChef PKRT15 doesn't look like any other kitchen ovens or multi-cookers. It kind of looks like a space pod or something. Its unique design will make your house guest think you spent more on it than you did. The swing door hides its hand, and because of this, the purpose of this machine is not obvious at a glance.
It is white so it will match any kitchen décor. The dimensions are 9.1 x 9.1 x 10.2 inches. Its small size brings a smile to my face because I prefer small countertop appliances. There is enough space for it to go on your countertop; out of the way but not forgotten.
The vertical orientation of the machine serves two purposes. The first and more important one is that it keeps the chicken upright allowing the chicken to freely spin. This spinning style is very efficient. The other benefit is that the vertical design takes up less horizontal space than traditionally styled rotisseries.
When it comes to rotisserie, the name of the game is "low and slow". The NutriChef PKRT15 has a 700-watt output and can reach a maximum temperature of 185 degrees Fahrenheit. This prevents the overcooking and undercooking, leaving you with mouthwatering masterful creations.
Your chicken will be seared on the outside, and juicy on the inside. There are two heating sources on the PKRT15. This guarantees that your food is cooked thoroughly and evenly. Using the machine is super simple. You just insert your food, and the timer. The timer maxes out at two hours.
It comes with a bunch of different accessories. The set includes a poultry rack and a skewer tower with 8 metal skewers. The poultry rack is for chicken, pheasant, duck or other poultry. The skewer tower is for making shish kabobs or other types of meat and veggies on a stick. You also get a nonstick drip pan, a roasting rack, and a cooking basket tower. The cooking basket can be used to cook your veggies and other sides.
Click here to get more details
Features/Specs.
Powerful 700-watt output
Includes poultry rack, skewer tower & 8 skewers, drip pan, cooking basket, and roasting rack
Measures 9.1 x 9.1 x 10.2
Max temperature of 185 degrees
Compared to Other Rotisserie Ovens
There are a lot of other players in the rotisserie oven market. Below I've taken a closer look at how the PKRT15 stacks up against another popular rotisserie.
vs Cuisinart CVR-1000 Vertical Countertop Rotisserie with Touchpad Controls
The Cuisinart CVR-1000 is a countertop roaster with an amazing set of features. The biggest thing apart from the NutriChef PKRT15 is the LCD touchpad.
The Cuisinart roaster has a touchpad while the Nutrichef has an old-school-styled rotary dial. The programming seems superior in the Cuisinart rotisserie as there are five preset cooking modes.
They have the exact same accessories. The Cuisinart model measures 16 by 15-3/5 by 17-1/2 inches while the Nutrichef model is 9.1 x 9.1 x 10.2 inches. That's quite a big difference in size. Normally, if I were in the market for a rotisserie, I would go for the smaller machine, but probably not this time.
Overall, the Cuisinart has many more features and flexibility. For example, the max temp for NutriChef is 185 degrees, while the CVR-1000 can get much hotter.
Get a closer look at the Cuisinart CVR-1000
Summary
I think that this is a good roaster. But, there are many rotisserie roasters out there. The NutriChef PKRT15 does not have as many features as some of the competition. The lack of features offered on this little machine might not pose any problems for you. On the flip side, you might want to explore your options.