Jump to Recipe
A buttery, air fryer skillet sugar cookie is an easy, delicious little dessert you can't wait to make. Best of all, with just a few ingredients, most of which you already have on hand, it's an quick treat you can make any time.
But the best part is the strawberry frosting. It's literally the best ever!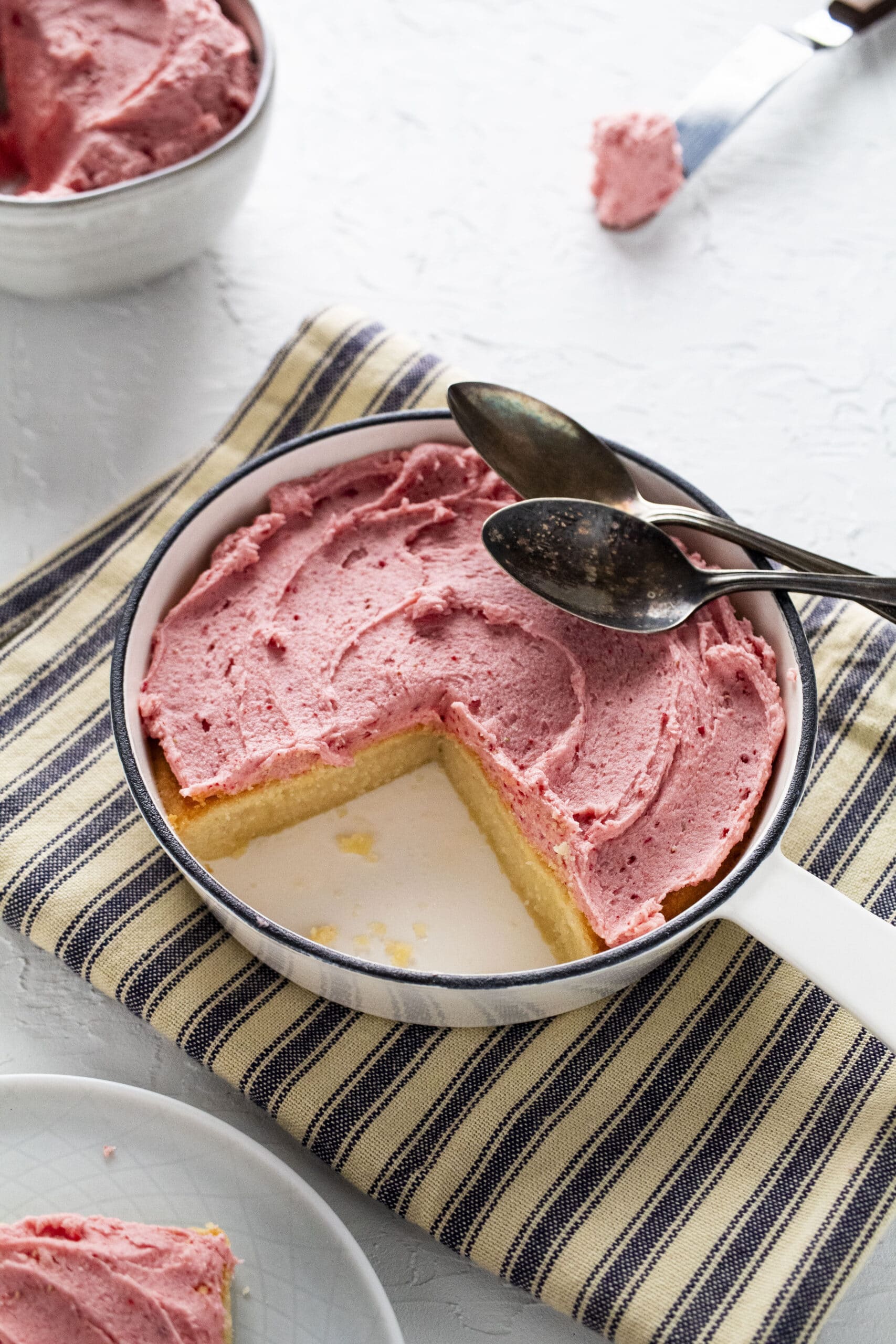 But this dessert is so good, it can also make for a delicious treat on special occasions like birthdays, Easter, and more.
So we're kind of obsessed with skillet cookies as you can see with our chocolate chip skillet cookie, and this salted caramel chocolate skillet cookie. And this one just might be our favorite.
Jump to:
Ingredients
This skillet sugar cookie is so good! You've got the crispy edges, soft gooey center, all made with simple ingredients and your little air fryer. Now lets talk about what you need to make it.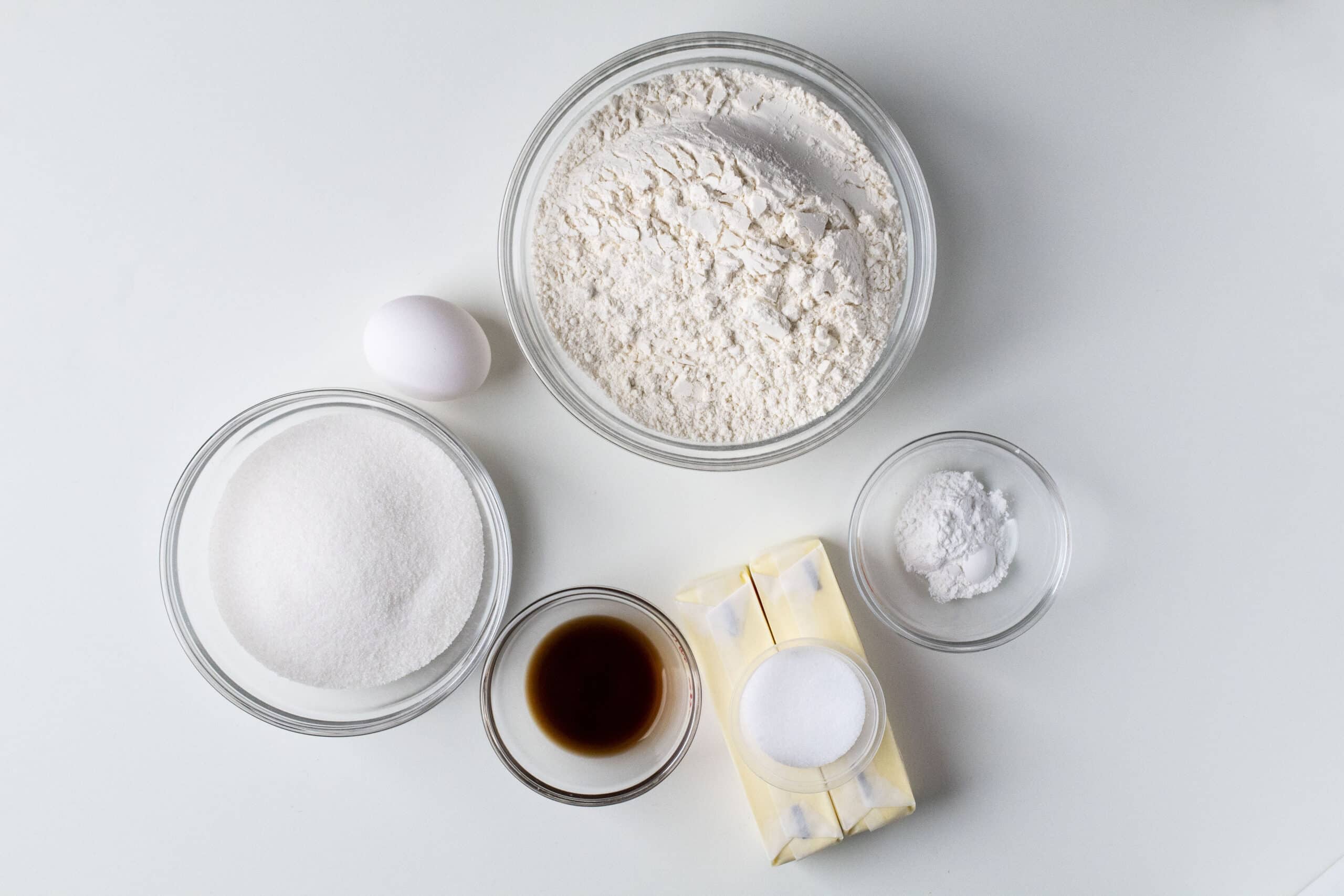 Flour – All purpose flour is the best flour to use for this recipe. For best results, weigh it instead of scooping.
Sugar – Just the right amount of granulated sugar is what gives this skillet cookie it's sweetness.
Egg – Eggs are what you need to bind and enrich your skillet cookie so that they remain tender. Use a fresh egg for best results.
Butter – We used unsalted butter. It is rich, cream, and makes the cookie so amazingly soft, velvety, and well, buttery.
Vanilla – Vanilla adds a rich aroma and deepens the flavor of our cookie.
Salt – While it may sound odd, salt actually enhances the flavor of the sugar. Just a pinch makes the cookie sweeter.
Baking Powder – Baking powder promises our cookie a delicate lift, ensuring it's neither too flat nor too puffed.
See the recipe card for quantities.
How to Make Air Fryer Skillet Sugar Cookie
After you gather your ingredients Follow along closely to make this air fryer skillet sugar cookie come as beautifully as ours. So first preheat the air fryer to 350 degrees. So now, let's jump into this cooking making adventure!
Using a hand mixer, cream the butter and sugar for about two minutes.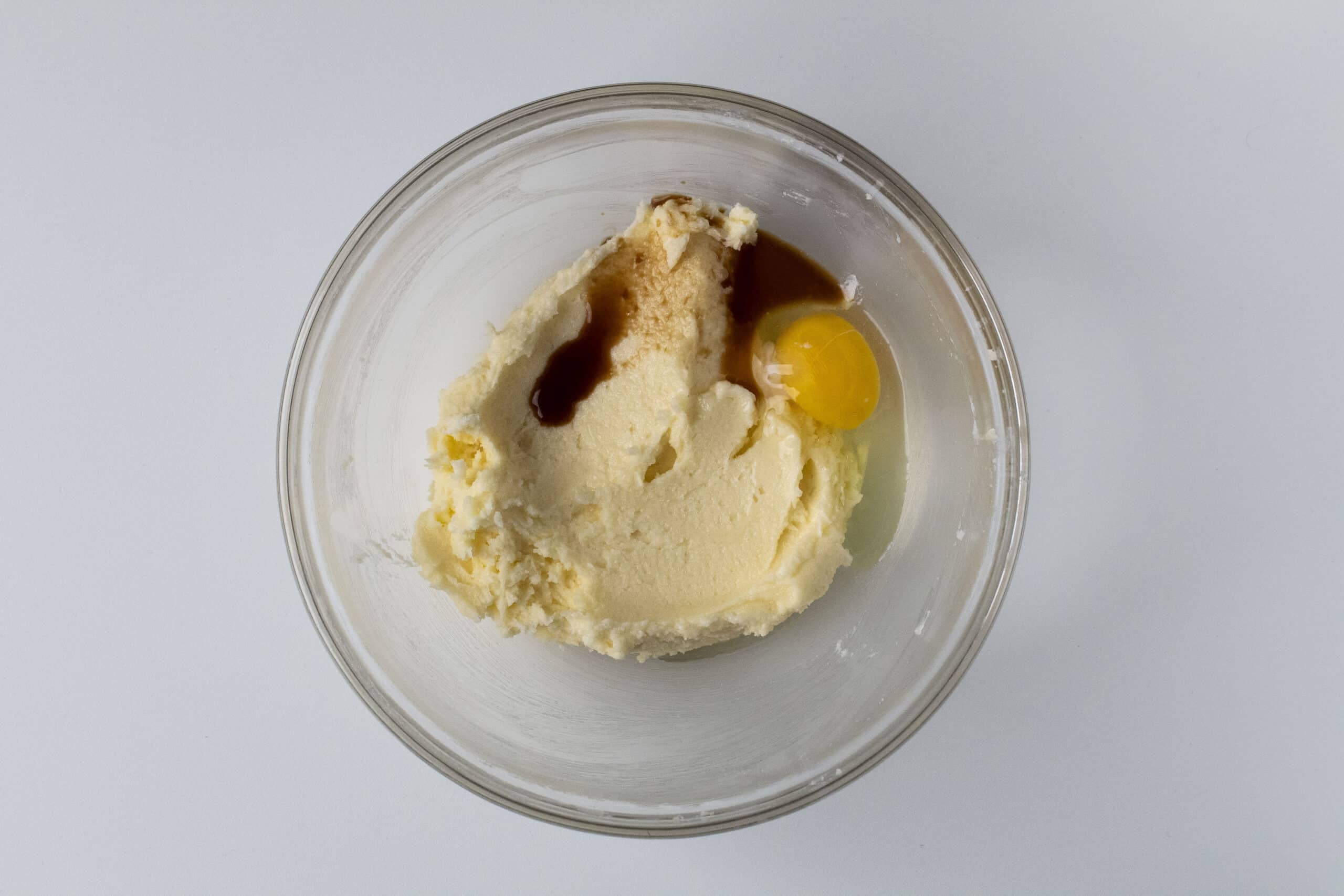 Next, add the egg and vanilla and mix well until completely combined. Then, scrape the sides and add the flour until all of it is mixed.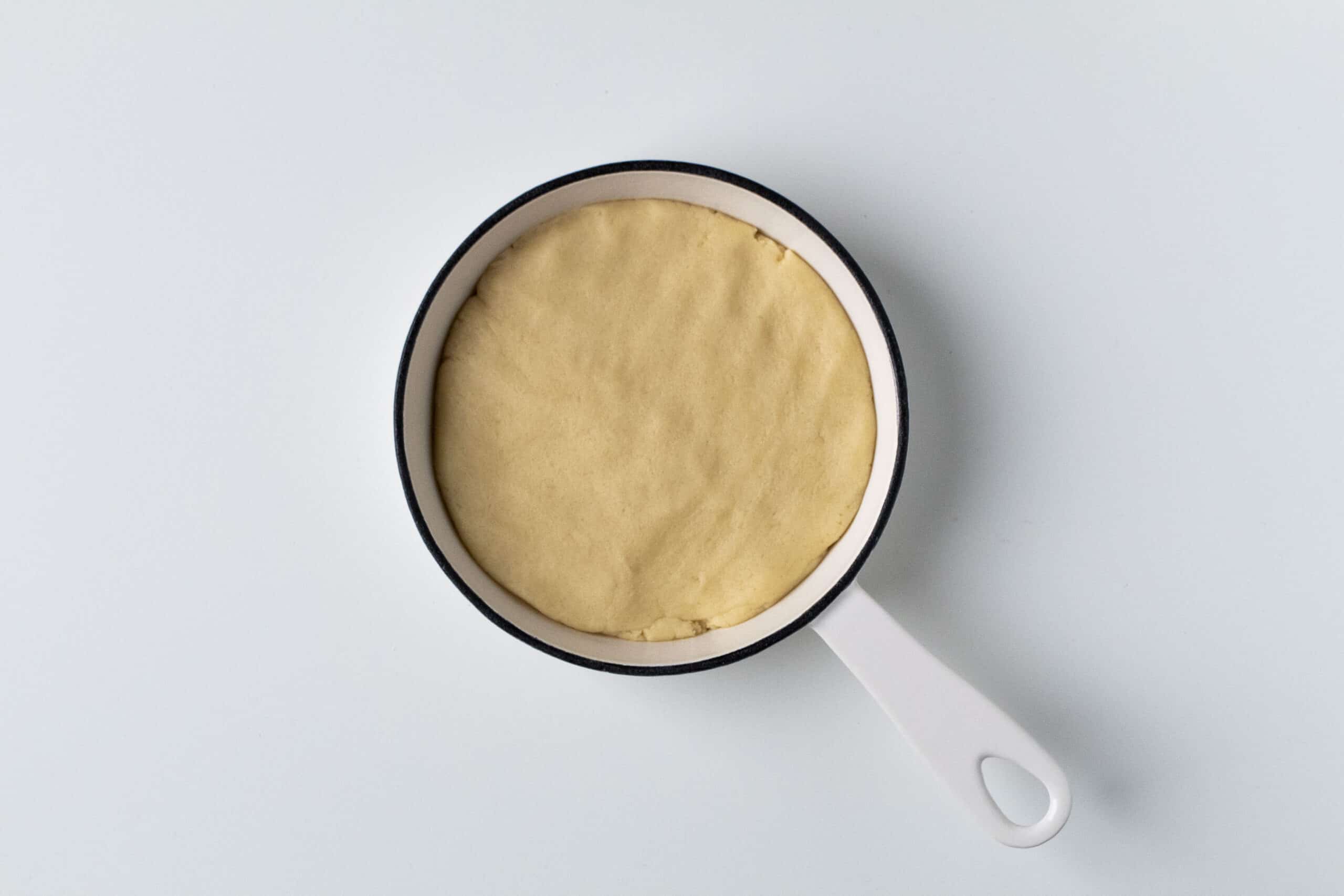 Now, we want to spray the cast iron pan with cooking spray, then fill the pan up about 3/4 or about 10 ounces of the mixture. Next, bake the cookie in the air fryer for about 10 minutes.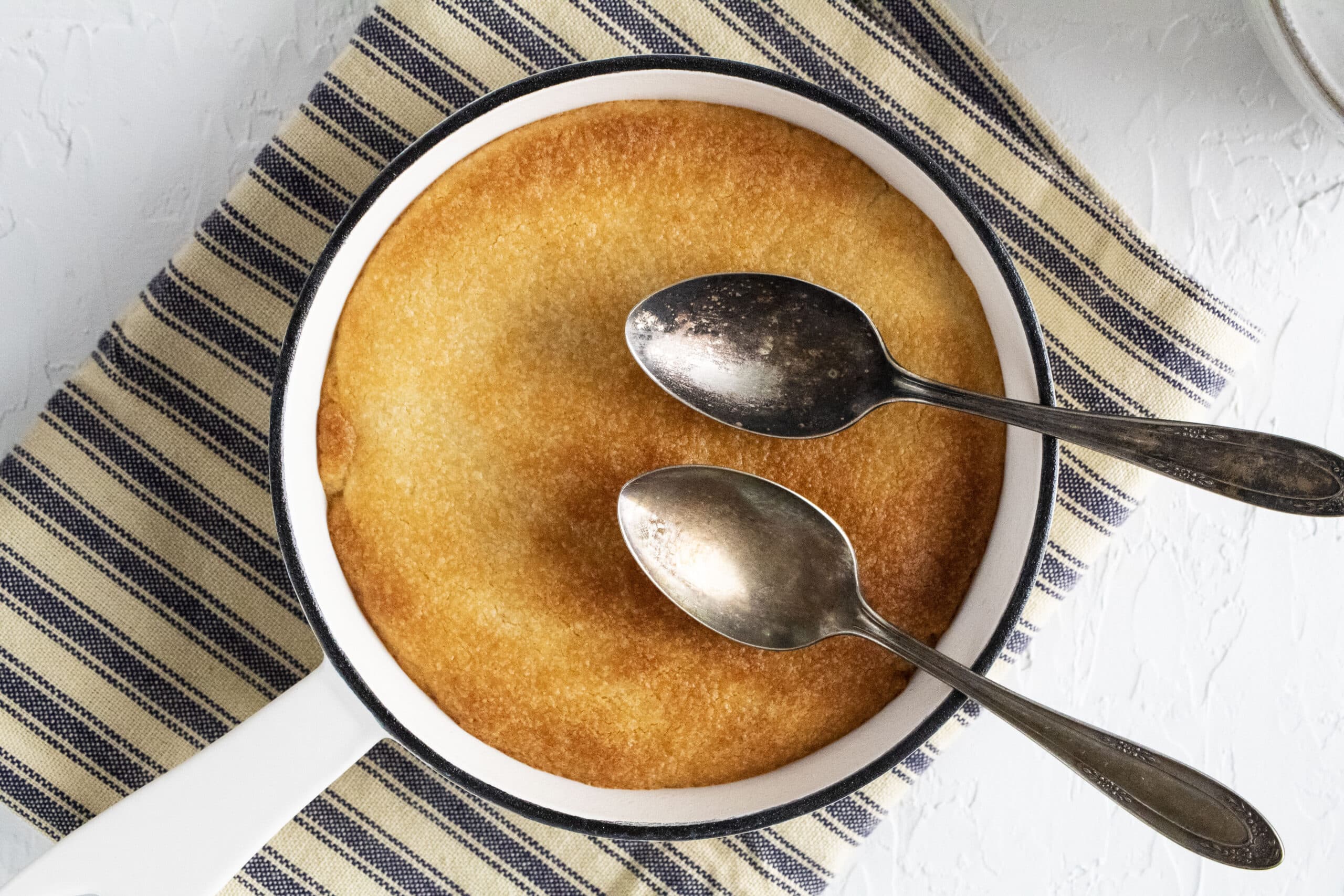 Allow the cookie to cool down completely before adding the frosting. This may take about an hour.
Hint: A wonderful tip for you to keep in mind when making this recipe or any baking pastry recipe in general is to weigh the ingredients, especially the flour, with a kitchen scale for best results.
Variations
Do you want to venture beyond the classic sugar cookie? We don't blame ya! The classic is just a starting point. So whether you're looking for a rich chocolatey experience or something fruit-infused there's something enticing for you to explore.
Dark Chocolate & Peppermint – For a festive spin of the classic consider adding cocoa and topping it with peppermint frosting.
Lemon Zest & White Chocolate -Ooh la la! Add lemon zest for a citrusy twist that combines well with chips or chunks of creamy pools of white chocolate.
S'mores Style – You can never go wrong with s'mores. It's a classic treat. Add mini marshmallows, chunks of milk chocolate, and some crushed graham crackers. It's a campfire treat in cookie form minus the mosquitos.
Pumpkin Spice -This seasonal favorite is just about everywhere now. You've got pureed pumpkin, and those amazing warming spices for cozy fall treat.
Equipment
So there is some equipment you need to make this air fryer skillet sugar cookie recipe. Firstly, you'll need an air fryer. We like the Instant Pot Vortex. Additionally, you'll need a small cast iron pan. We used a six inch pan.
While you can use a large spoon or spatula, a hand mixer works best to combine the ingredients well. Lastly, a digital scale works best for recipes like this one.
Storage
Are you planning on enjoying your new favorite air fryer treat in the next day or two? Great! All you need to do is keep it on the counter in an air tight container. If you want to nibble on it all week, put it in the fridge.
When you're ready to enjoy another serving, let it warm up a bit beforehand.
Top tip
So we've tested this skillet cookie many times so we are confident that you will have great results. However, as air fryers can vary, keep a close watch on the first cookie it to get a feel for the ideal cooking time. You're looking for that golden hue!
FAQ
How do I ensure that the center of my skillet cookie stays gooey and soft?
If you want your skillet cookie to have a dreamy gooey and soft center, consider the following: master your air fryer's timing, spread the dough evenly, and consider chilling the dough.
Can I serve the cookie directly from the skillet, or should I wait for it to cool?

Whether you serve your cookie directly from the skillet or wait for it to cool, is about preference. If you serve it from the skillet, you get that nice warm and gooey experience. If you wait for it to cool, however, you can add the frosting, and it makes it easier to slice.
What are some ideal accompaniments for the air fryer skillet sugar cookie?
If you forgo the unbelievably delicious strawberry frosting, you still have a bunch of different options for toppings such as chocolate ice cream or a drizzle of caramel.
Other Air Fryer Treats
Looking for other recipes like this? Try these: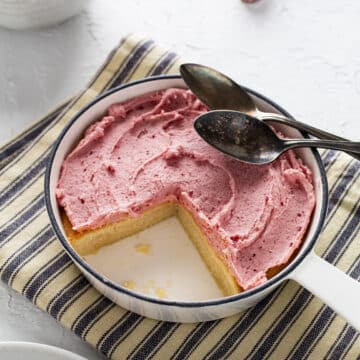 Air Fryer Skillet Sugar Cookie Recipe
This air fryer skillet sugar cookie is a gourmet treat so good you'll want to grab a spoon and dive in. Serve this buttery treat with strawberry frosting for a dessert you can't resist.
Ingredients
8

Oz

Unsalted Butter

Room Temperature

8

Oz

Granulated Sugar

1

Large Egg

Room Temperature

1

Tsp

Vanilla Extract

12

Oz

All-Purpose Flour

1/2

Tsp

Salt

1

Tsp

Baking Powder
Instructions
Preheat the air fryer to 350 degrees.

Cream the butter and sugar in a medium bowl for 2 minutes.

Add the egg and vanilla extract and continue to mix until completely combined.

Scrap the side of the bowl and add the flour. Continue to mix until the flour is thoroughly combined

Spray the skillet with baking spray add about 10 ounces of the dough and press it into the skillet. Bake the cookie for 10 minutes.

Allow the cookie to completely cool for about an hour. Once cooled, frost with this delicious Strawberry Frosting. Enjoy!
Notes
Creaming evenly distributes the sugar within the batter, entirely dissolving it into the butter.
If you don't have a hand mixer, mix the dough using a wooden spoon or rubber spatula. 

We used a 6-in skillet for this recipe. This dough would make about 3 skillet cookies. 

If you have a larger skillet, the cookie time will be different. 
Refrigerate the leftover dough for a few days, or you can freeze the leftover dough for up to 3 months. 
Nutrition
Calories:
318
kcal
Carbohydrates:
41
g
Protein:
4
g
Fat:
16
g
Saturated Fat:
10
g
Polyunsaturated Fat:
1
g
Monounsaturated Fat:
4
g
Trans Fat:
1
g
Cholesterol:
54
mg
Sodium:
140
mg
Potassium:
41
mg
Fiber:
1
g
Sugar:
19
g
Vitamin A:
492
IU
Calcium:
31
mg
Iron:
1
mg