Jump to Recipe
With these air fryer Funfetti donuts, say goodbye to oily, messy donuts and say hello to vibrant, colorful, fun, sprinkle-topped, strawberry frosted donuts. They are so good that after just one bite, all you'll be able to say is "wow!"
And trust us, that isn't an exaggeration. These little treats are so good you'll keep them on rotation all the time. And we haven't even talked about that finger-licking good strawberry frosting. It's simply the best frosting we've ever had!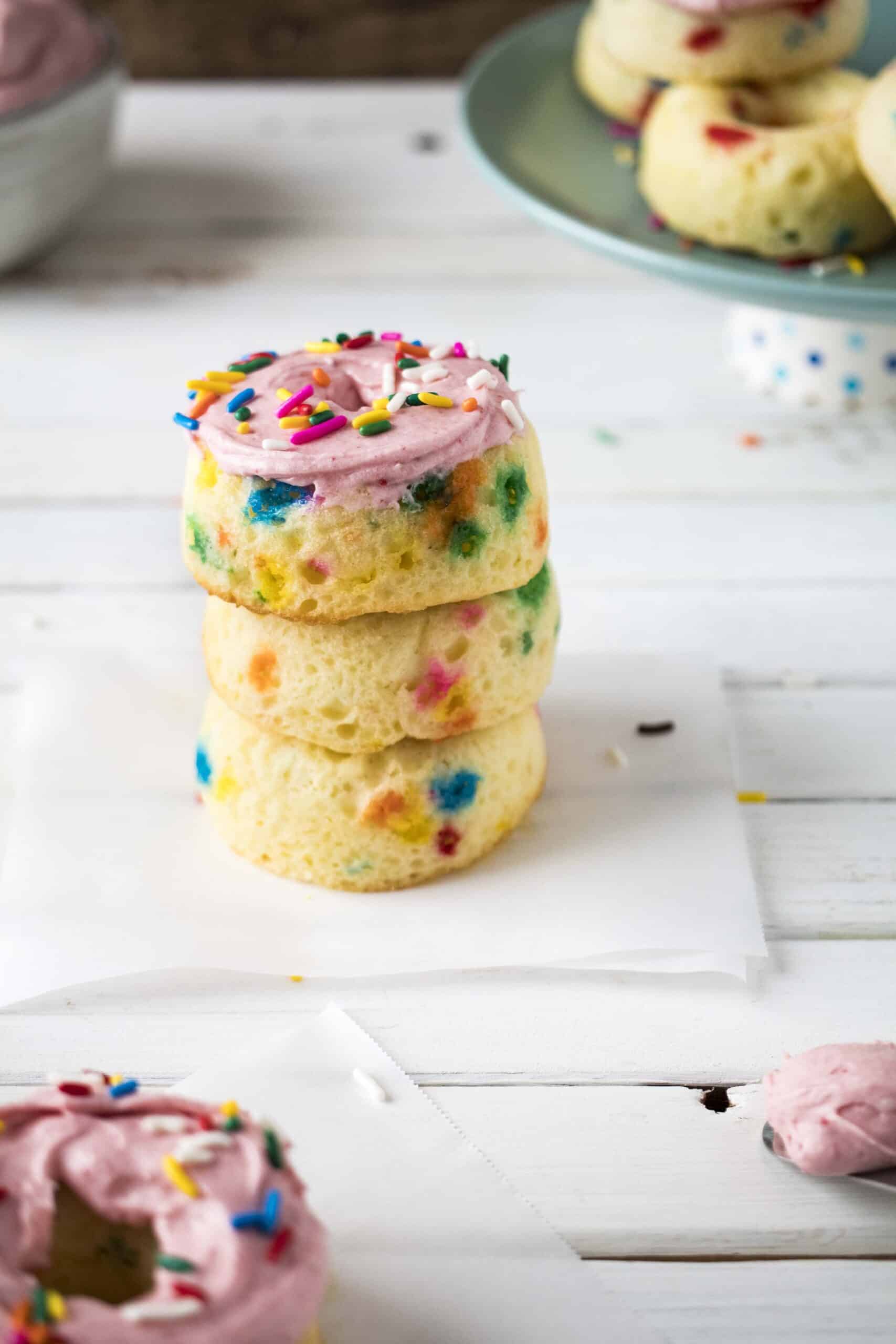 So are you looking for a delicious treat that's sure to be remembered? How about a fun change-up from cupcakes or sheet cake for a birthday party? This is a great choice. You can't go wrong!
But while these yummies are great for special occasions, you'll want to make them year round! Enjoy!
Jump to:
Ingredients
After a short trip to the grocery store you'll be able to make these tasty little treats in no time. Here's what you'll need: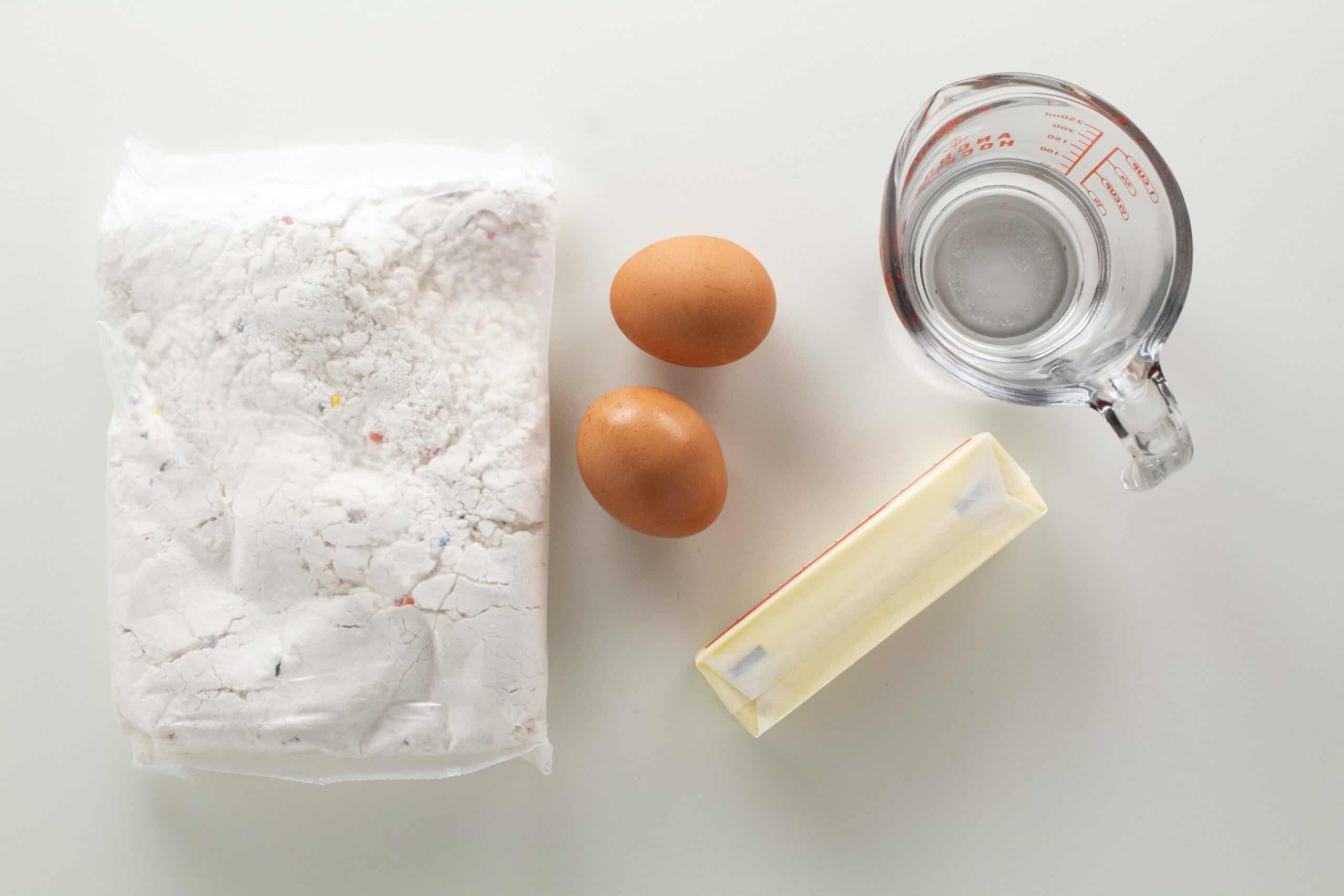 Funfetti or Sprinkle Cake Mix – We used the Funfetti brand of cake mix but if you have white or yellow cake mix you could just add some sprinkles to the mix.
Water – To make the batter appropriate for a donut mold add the amount of water as per the instructions in the recipe card.
Oil – Use the right amount of oil for the cake mix, not the amount listed on the back of the box.
Egg – You will need to use the proper amount of egg for the recipe, not the amount that is listed on the box.
See the recipe card for quantities.
How to Make Air Fryer Funfetti Donuts
Grab your bowl, spatula, and ingredients and get ready to make these simple treats in no time right in your air fryer. Here's how:
First, add the cake mix, egg, oil, and water to your mixing bowl and stir until the batter is well combined. If you will use a piping bag, now is the time to place your piping bag inside of a cup or glass, then fill it with the batter.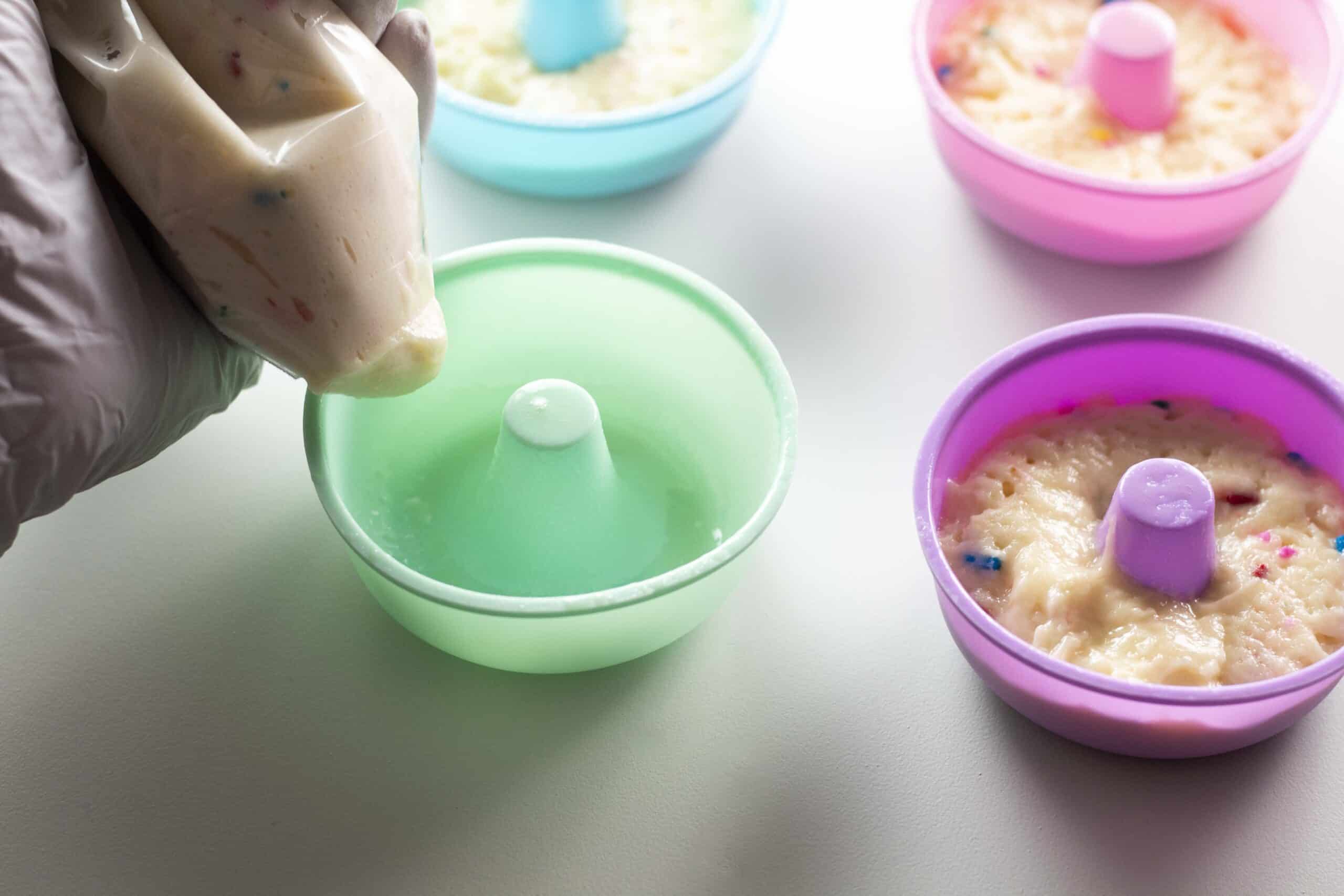 Next, spray the donut molds with cooking spray and pipe or spoon the batter into the molds. Only add enough batter to fill the mold about halfway.
Preheat your air fryer to 330 degrees. Once heated, add the batter-filled donut molds to the air fryer and bake for six minutes or until they are done. You can use a toothpick to check.
Allow the donuts to cool completely, about 30 minutes before adding the frosting.
Do not overcrowd the air fryer. Instead, add four or five donuts to the batch at a time.
Hint: You don't need to buy a piping bag. Instead, put the batter in a freezer or sandwich bag and cut open a corner. Doing this makes the process so much easier :).
What is the Secret to Making the Best Strawberry Frosting?
Using freeze-dried strawberries is the secret weapon for the ultimate strawberry frosting. Unlike fresh strawberries, which can add too much moisture and dilute the flavor, freeze-dried strawberries provide a concentrated burst of authentic strawberry taste without the excess water. When you grind these dried berries into a powder and mix them into your frosting, you get an intense, pure strawberry flavor.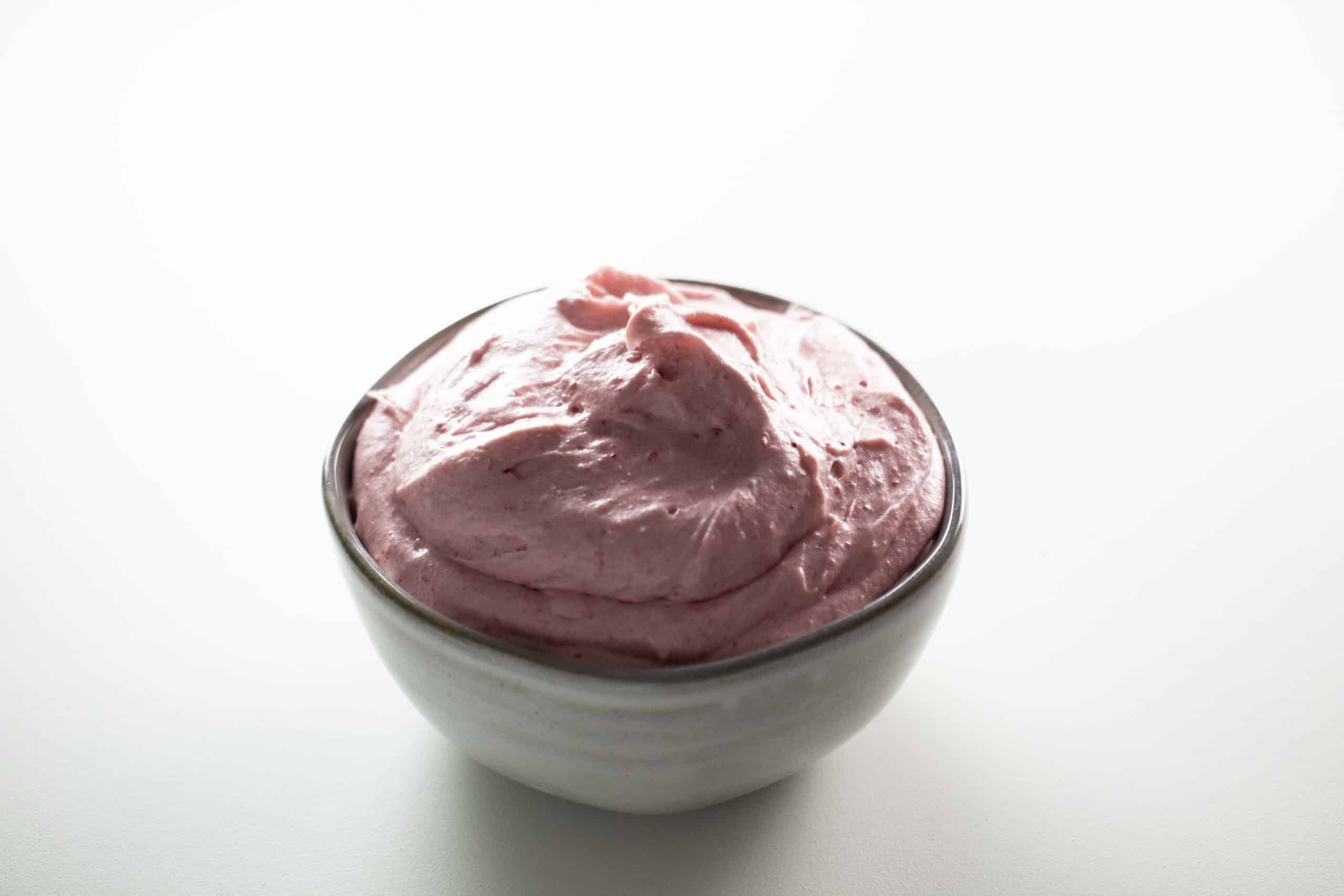 Variations
As shown, this recipe is simply divine. However, there are so many ways that you can change it up to make it your own. Here are a few ways listed below.
Change the frosting – not particular about strawberry or can't find freeze dried strawberries? Make a simple white or chocolate or even lemon frosting instead. Homemade taste better but store-bought will work too. It'll still be delicious!
Change the cake – for a delicious spin, add some cocoa powder to the mix. Chocolate cake works great here.
Food Coloring – Add a few drops of red food coloring to the mix to make a vibrant and colorful presentation.
Topping Variations – Use holiday themed sprinkles, nonpareils, chocolate sprinkles, or even crushed candies.
Equipment
The only equipment you need to make these air fryer Funfetti donuts with strawberry frosting is an air fryer and donut molds that fit your air fryer. However, a piping bag or freezer bag are also helpful.
Storage
Now that you've made the most delicious cake mix Funfetti donuts ever, how long will they last? While you can keep them on the counter in an airtight container for up to three days. They're definitely better when eaten sooner rather than later. Also, if you make a large batch, consider freezing them for up to three months.
Top tip
When baking these donuts in the air fryer, keep an eye on the time. Keeping them in the air fryer for just a few extra minutes can result in them burning.
FAQ
What exactly is "Funfetti"?
"Funfetti" is a fun word for baked stuff, like cakes or cookies, with colorful sprinkles mixed in. It's like having a party inside your food with tiny confetti! The name comes from combining "fun" and "confetti." Pillsbury started it in the 1980s, but now lots of people use the word. It's especially popular for birthday treats because of its happy and colorful look.
Can I use store-bought cake mix for Funfetti donuts?
Yes, you can! And fit's we did! Many people use store-bought cake mix to make Funfetti donuts. It's a quick and easy way to make the tasty and colorful treat without starting from scratch.
Are there different types of glazes or toppings that pair well with Funfetti donuts?
Certainly! Funfetti donuts are versatile and can be paired with many glazes and toppings. A classic vanilla glaze is a sweet and simple choice that complements the colorful sprinkles. For those who love a richer taste, a chocolate glaze is a delightful option.
More Easy Desserts
Looking for other recipes like this? Try these: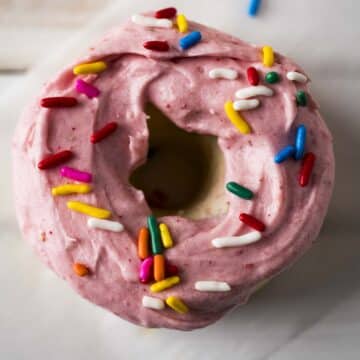 Air Fryer Funfetti Donut Recipe
You will love these air fryer Funfetti donut recipes made with just 4 ingredients including cake mix. And if you would like to make it unforgettable, make our strawberry frosting.
Ingredients
1

Box Funfetti Cake Mix

2

Large Eggs

1/2

Cup

Vegetable Oil

3/4

Cup

Water
Instructions
Preheat the Air Fryer to 330 degrees.

Add all ingredients to a medium bowl and blend until thoroughly combined.

Scoop the batter into a plastic ziplock bag, and cut a corner off. Then set it aside. (See note)

Spray the silicone donut molds with cooking spray. Fill them about halfway.

Cook the donuts for 6-7 minutes or until a toothpick comes out clean when you poke them.

Let the donuts cool completely before icing, which takes about 30 minutes.
Notes
You can mix using a whisk or wooden spoon. 
To scoop the batter into the ziplock bag, you can put the bag into a large cup. Then, fold the sides over. This will stabilize the bag while you fill it. 
Depending on how much you fill each mold, you may get a few more donuts. 
Nutrition
Calories:
117
kcal
Carbohydrates:
14
g
Protein:
1
g
Fat:
6
g
Saturated Fat:
1
g
Polyunsaturated Fat:
3
g
Monounsaturated Fat:
1
g
Trans Fat:
0.03
g
Cholesterol:
14
mg
Sodium:
121
mg
Potassium:
5
mg
Fiber:
0.4
g
Sugar:
9
g
Vitamin A:
20
IU
Calcium:
9
mg
Iron:
0.4
mg