My family loves having taco night. Every now and then however, we like to change things up. Over the years our taco night has evolved. For example while taco bell is not our favorite mexican restaurant (It's not really mexican food), we do like the small grain of the ground beef, and figured out how to make it from home. We experiment and it's helped up to enjoy our taco night even more.
For us, what was once a modest taco night has turned into something more adventurous. Below are 7 simple ways to spice up your tacos.
1. Blend Meat for desired texture
Blend your meat. We really wanted to figure out how to make small grain taco meat like taco bell. I tried 2 methods of cooking the ground beef to see which one worked. First method was cooking 1 pound of ground chuck in the slow cooker on low with my taco spices for about 3 hours.
The second method was cooking the ground chuck on the stove. Once meat was browned I drained it of any excess fat. Then I took a quarter of the meat at a time and put it in my blender. I pulsed it about 4 times until I got the texture I wanted. I then put all the meat back in the pan and added my taco spices. I added a little water to mix everything together and finish cooking it.
Out of the 2 methods my family prefers blending the meat in the blender. It gave us that small grain texture like taco bell that we were looking for. The meat in the slow cooker was tasty but the meat was not as small or tender as blending it.
2. Try different taco shells
Once I was able to create the texture for our meat I then experimented with taco shells. We buy the crunchy taco shells and flour tortillas from the grocery store. The best way to eat the hard shells is to warm them up in the oven just by following the instructions on the package.
For the flour tortillas I also warm them up on the stove in a pan or over the fire. That gives you the soft yet crunchy edges that I love. We also decided to make our own taco shells. I bought corn tortillas and deep fried them, they tasted much better than the store bought shells. This is our favorite.
3. Add Amazing Simple Homemade Salsa
I wanted to add some flare to our tacos by making homemade salsas. I made corn salsa which has a sweet and spicy taste. Usually I use canned corn but when in season fresh grilled corn taste much better. When I have to use canned corn I would drain and rinse it. I added all the ingredients in one bowl and mixed everything together.
If you don't like your salsa hot then you can add less of the jalapeno. I also made mango salsa which I use the same ingredients as the corn salsa but instead of corn you add mango.
I made one more type of salsa which was pico de gallo. It has tomatoes, jalapeno, lime, cilantro, and red onion. We like this salsa on everything. It is not only great for tacos. We use it for breakfast, lunch, and dinner. These recipes are very flexible, you can add more or less of any ingredient as you please.
They are very easy to make just put all ingredients in a bowl mix, and enjoy.
Corn Salsa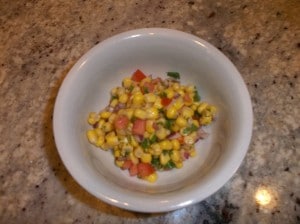 1 15 oz can of sweet whole corn (or 2 grilled corn on the cob)
1 tomato diced
1/2 medium jalapeno
1/2 red onion diced
2 tablespoons of chopped cilanto
Mango Salsa
1 mango diced
1 tomato diced
1/2 medium jalapeno
1/2 red onion diced
2 tablespoons of chopped cilantro
Pico De Gallo
2 medium tomatoes diced
3 tablespoons of cilantro chopped
1 medium red onion diced
1 teaspoon of lime juice
1 medium jalapeno minced
4. Taco Holders
Once I had our tacos ready to serve I found that the tacos would just fall over on the plate. I made these delicious tacos but the filling fell out before we even began to eat. I found some taco holders that worked great. They are called Taco Propers. This package had 4 red holders to use.
I was able to plate the tacos without worrying about the shells falling over. The holders fit on any size plate. It also helps make the tacos look more appetizing.  You can also try the flat bottom taco shells available at most grocery stores.
5. Try Different Meat
There is an endless amount of meat options for tacos. You can have alligator, chicken, pork, lamb, fish, even vegetable . For the fish tacos you can use any white fish like, tilapia, cod, mahi mahi, or even shell fish. I have tried fish, lobster, shrimp, and crab tacos and they taste great. You would use the same spices but your cooking time would change. Don't be afraid to experiement with the meat you use for your tacos.
6. Try Your Own Spice Blend
Most people use store bought taco spice packets. If you like to use the store bought then go right ahead and continue. I like creating my own spice blend because I can control the salt and the amount of heat. I use about 10 different spices and trust me they are all worth it. Of course play with the spices if your family likes heat add more red pepper flakes or use less if you don't. Below is a spice blend I found a while ago that I altered based on my taste.
7. Homemade Taco Spice Blend
1 tablespoon of chili powder
1 1/4 teaspoon cumin
1 teaspoon salt
1 teaspoon black pepper
1/2 teaspoon garlic powder
1/2 teaspoon dried oregano
1/2 teaspoon coriander
1/2 teaspoon onion powder
1/4 teaspoon paprika
1/4 teaspoon cruched red pepper flakes or 1/8 teaspoon of cayenne pepper
Bonus Tip…
Try Something Crazy Different
Try something way crazy for tacos. There are some great recipes out there. For example you can make tacos using asian spices and sauces, like this korean tacos asian fusion recipe. You have the asian flavor while incorporating the mexican technique. Step outside of the box and try something new.