Jump to Recipe
In recent years, the humble chicken sandwich has experienced a surge in popularity, with fast food chains battling for the top spot. But what if I told you that our air fryer chicken sandwich, a recipe inspired by the sound of Heaven's gates swinging open, will become your new favorite?
Here's why. Between two glistening brioche buns, you'll find an immaculately juicy, crunchy panko-coated chicken thigh seasoned to absolute perfection and crowned with your favorite toppings. Best of all, there's no lines to wait it, excessive oil and no big mess. It's simply the best chicken sandwich you've ever made at home!
It's so good. In fact, you'll immediately add this quick meal to your weekly menu. And it'll stay there for a long time!
But while we're at it, check out these other chicken favorites like our mouthwatering air fryer chicken breast, air fryer chicken wraps, and air fryer chicken tenders (chicken nuggets coming soon).
Let's dive in!
Jump to:
Ingredients
Let's discuss the ingredients you'll need for the best homemade air fryer chicken sandwich recipe. In the image below, we included all of the ingredients you'll need to season and bread the chicken.
Chicken Thighs – For ease, we use boneless and skinless chicken thighs.
Panko Breadcrumbs – We toast our breadcrumbs for that delightfully golden brown appearance. This is a critical step.
Flour – After you season your chicken thighs, dip them in flour to coat them. It is crucial in helping the egg and panko adhere to the chicken.
Seasonings – We used paprika, garlic powder, onion powder, and oregano. But there are no hard and fast rules. If you have a seasoning blend that you like more, go for it.
Egg – A beaten egg is a part of the egg wash that helps the breadcrumbs stick to the chicken.
Milk – Milk thins out the egg, making it easier to dip and coat the chicken entirely.
Salt – We prefer kosher salt. You will need salt for both the brine and seasoning after the brine.
Pepper – Fresh cracked black pepper is life-changing. Ditch the pre-ground stuff.
Toppings
Tomatoes – We like vine ripe and hot house best for chicken sandwiches but you can use your favorite like Roma if that suits you.
Lettuce – We like green leaf lettuce because it's refreshing and pretty.
Mayo – We kept it simple with mayonnaise, but if you like garlic mayo, go for it.
Pickles – Optional but delicious.
See the recipe card for quantities.
Why Chicken Thighs Over Chicken Breast
While you can make a fine air fryer chicken sandwich with juicy chicken breast, we prefer chicken thighs. They are more succulent and more flavorful if a bit fattier. You'll want to use boneless, skinless chicken thighs for ease. Although, you can skin and debone chicken thighs yourself to save money, but who has time for that?
How to Brine Chicken Thighs
While brining chicken breast usually involves pounding it with a mallet first, you can skip that step for chicken thighs as they are pretty uniform in thickness. First, you'll need to dissolve salt in the hot water. Then, allow the water to cool down. Next, you'll want to add the chicken thighs to the water and soak them for 30 minutes to overnight.
How to Toast Breadcrumbs
Toasting breadcrumbs can be done in many ways. First, melt the butter and mix it with the breadcrumbs. Next, microwave them for approximately 90 seconds, stirring halfway through.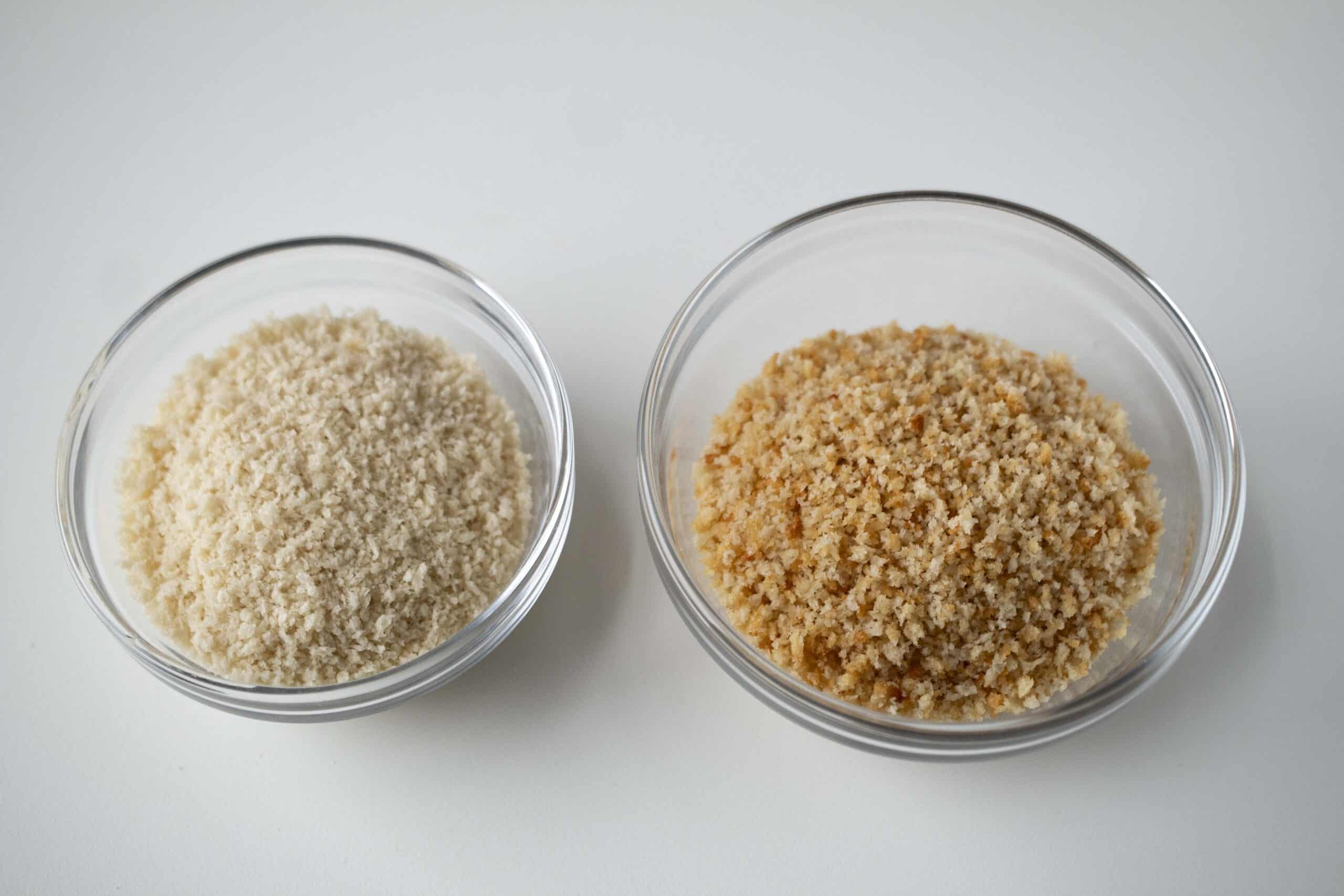 No microwave? No problem. You can toast them in the air fryer. Remove the tray from the air fryer basket and preheat it to 400 degrees. Next, place the breadcrumbs in the basket. Cook for 90 seconds. Be sure to stir every 30 seconds using a wooden spoon or rubber spatula.
How to Make Air Fryer Chicken Sandwich
Now it's time to walk you through making the best air fryer chicken sandwich you've ever had. It's easy as pie. But first, you'll want to go ahead and preheat your air fryer to 400 degrees.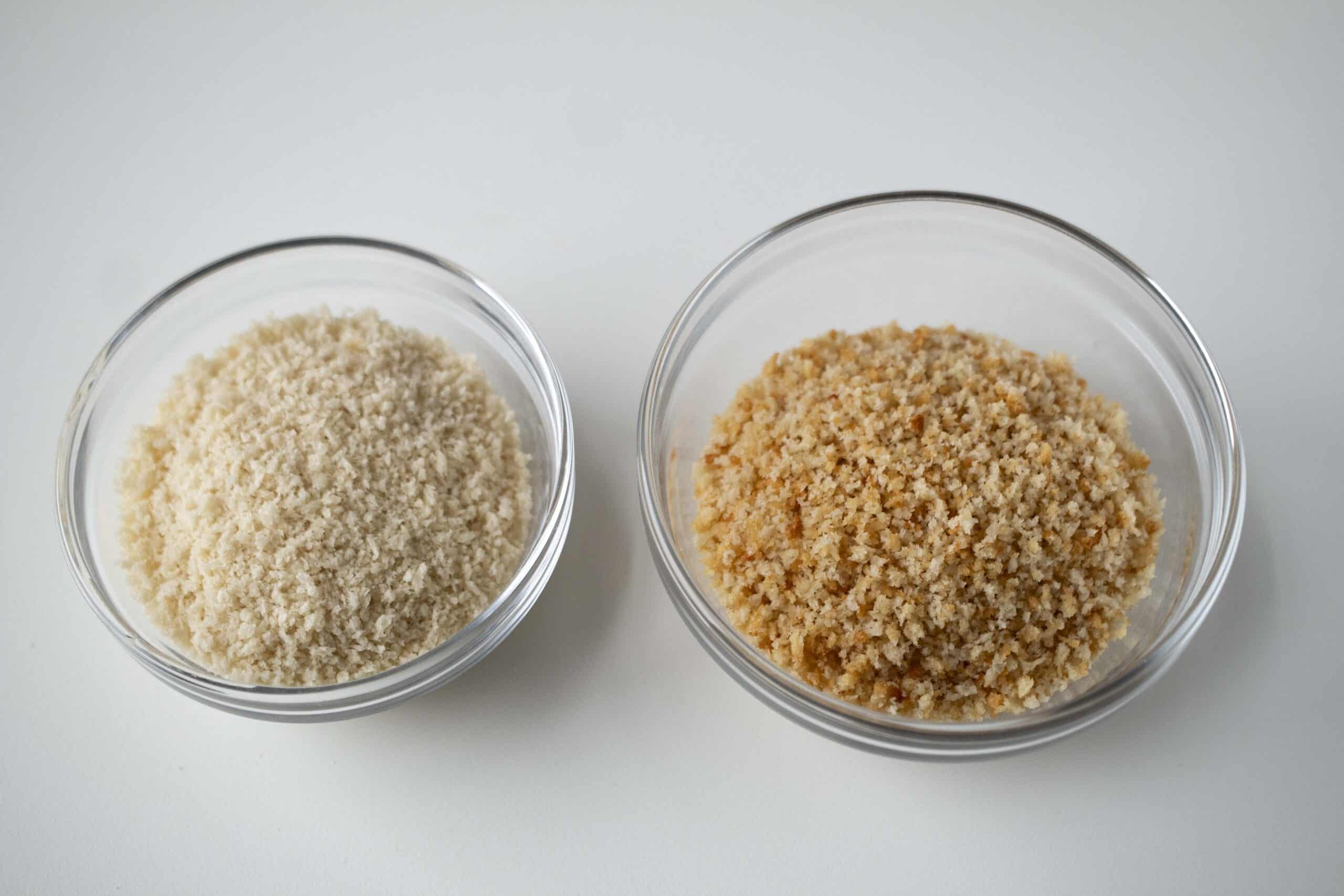 First, you'll need to toast your breadcrumbs using the instructions above.
Next, make your breading station, as shown in the image. You'll want a container for flour, one for egg wash, and finally, toasted panko breadcrumbs.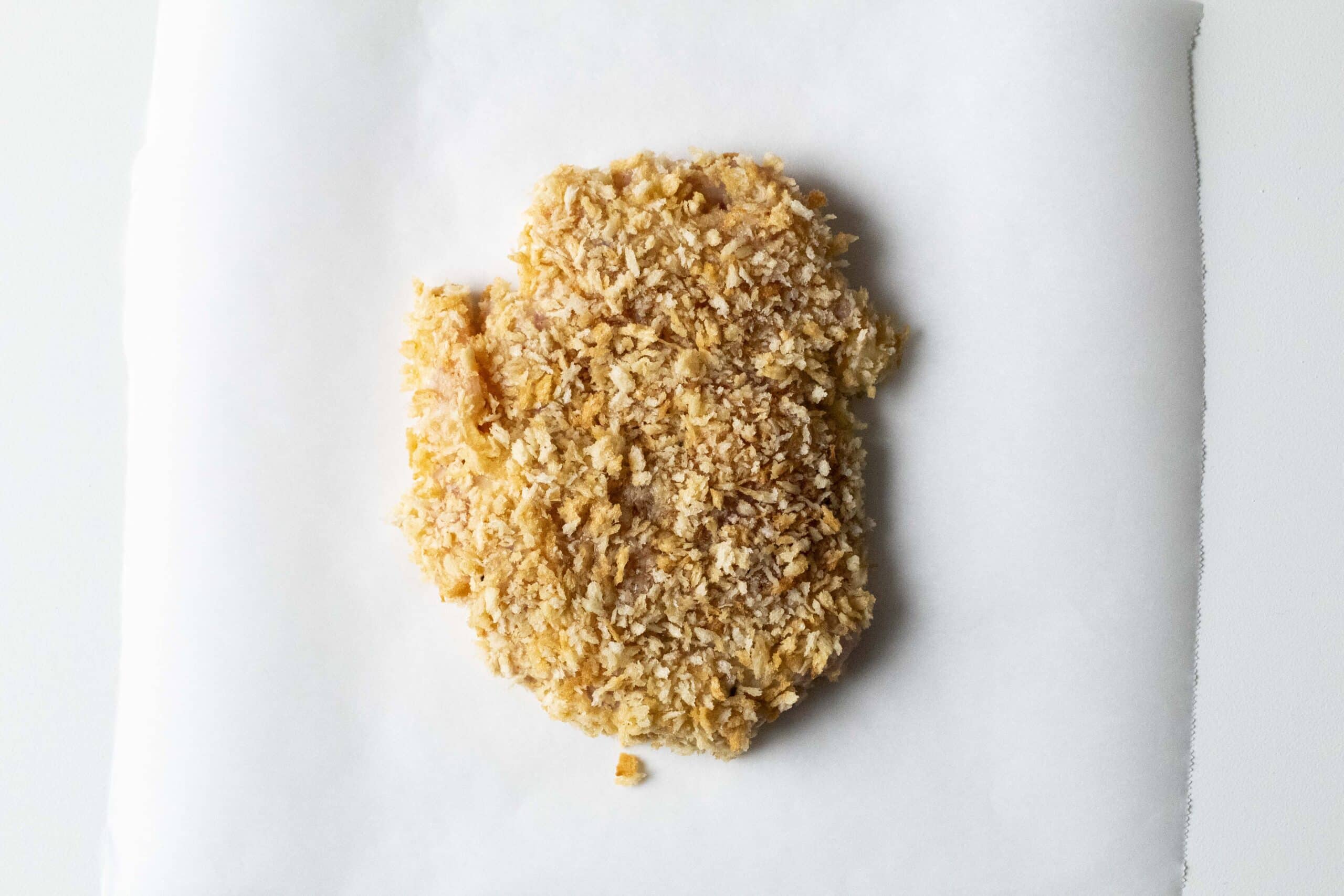 Dip the chicken thigh in the flour, then the egg, then the breadcrumbs. Firmly press the panko breadcrumbs on the chicken to ensure the coating does not come off. Place all of your breaded chicken thighs on parchment paper or tray.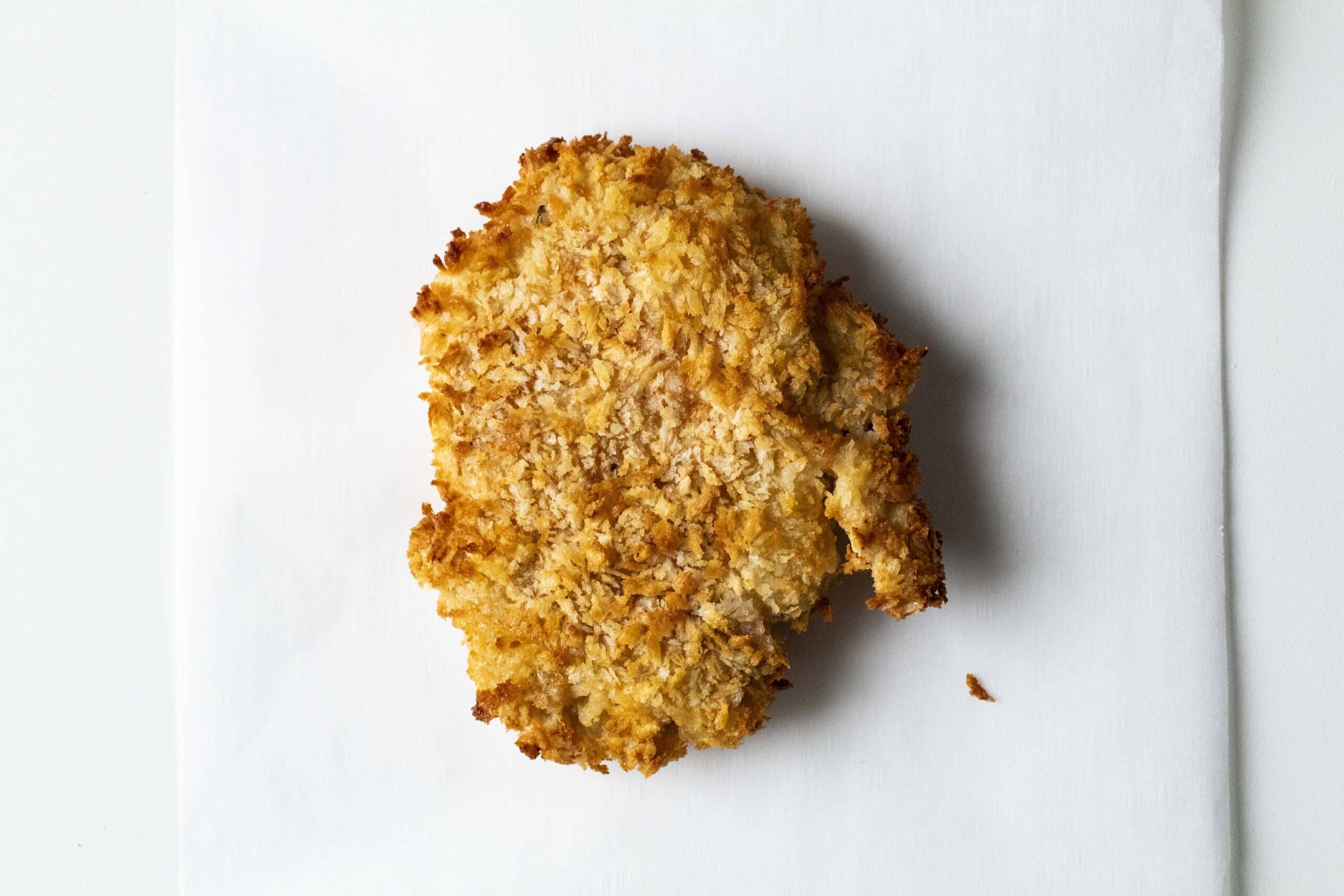 Finally, place the breaded chicken thighs in the air fryer and cook for eight to ten minutes or until the internal temperature is 165 degrees.
Hint: If making for meal prep or several people, do not overcrowd the fryer basket. The number you can fit in the basket will vary depending on your air fryer. For our 6-quart air fryer, we can do two at a time.
Variations
You'll love this air fryer chicken sandwich recipe as is. However, it's fun to switch things up. So, from spicy to bacon to mashed, you'll discover so many tastebud-teasing ideas.
Spicy – There are several ways to spice up your chicken sandwiches. Make a chipotle mayo, marinate or brine it with hot sauce, or add cayenne to your spice blend.
Honey Mustard Chicken Sandwich – Do you like sweet and tangy? Spread honey mustard on the bun, then add lettuce, red onion, and Swiss cheese for balance.
California Chicken Avocado – Add mashed avocado, tomato, microgreens, or other veggies for a fresh spin.
Cordon Bleu Chicken Sandwich – Okay, let's fancy things up with ham, swiss cheese, and Dijon mustard.
Caprese Chicken Sandwich – The fancy continues with layers of mozzarella, fresh tomatoes, and fresh basil. Then top it with a drizzle of balsamic glaze for Italian-inspired cuisine in your kitchen.
Equipment
There is only one piece of equipment that you must have to make the best air fryer chicken thighs, and that is, of course, an air fryer. We prefer the Instant Pot Vortex because it is simple to use, easy to clean, and reliable.
Storage
If you have any leftovers, you should aim to eat them within three days. Be sure to remove the remaining bun and toppings.
If you would prefer to freeze some for meal prep, here's how:
Wrap individual chicken pieces in aluminum foil or plastic wrap.
Then place them in an airtight container or freezer bag.
Store them in the freezer for up to three months.
When ready to reheat, place it in the air fryer at 350 degrees for up to 5 minutes or until heated.
Top tip
Allow the air fryer to heat up thoroughly before adding the breaded chicken. This will ensure that the panko coating is crispy.
FAQ
What type of bun works best for air fryer chicken sandwiches?
That's totally up to you! But we prefer brioche buns for our air fryer chicken sandwiches.
Do I need to preheat the air fryer before cooking the chicken?
Yes. For consistency and even cooking, you should preheat the air fryer. This is key to perfectly cooked, tender chicken coated in crispy panko breadcrumbs.
How do I ensure my chicken stays crispy in the air fryer?
Two things. For one, preheat your air fryer. For two, don't bread the chicken too far in advance as we found the coating gets a bit soggy.
More Air Fryer Chicken Recipes
Looking for other recipes like this? Try these: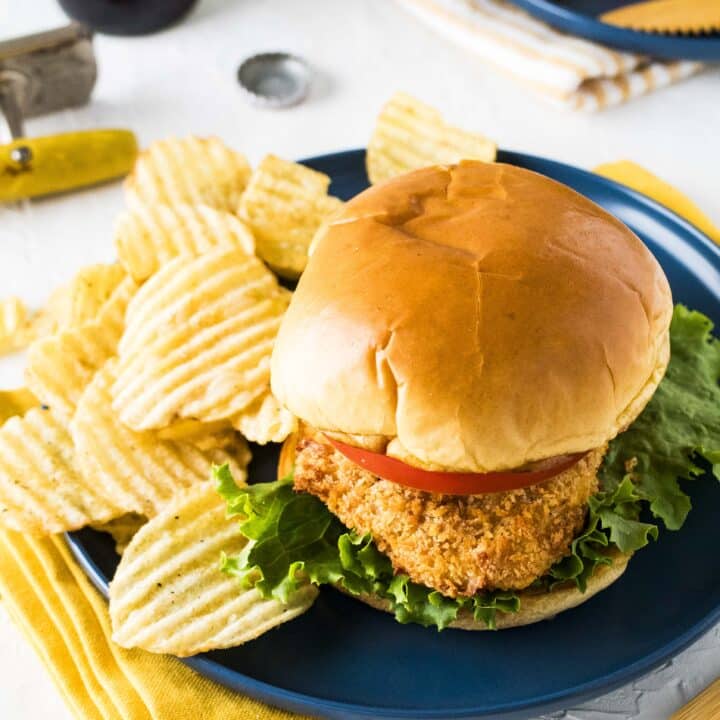 Air Fryer Crispy Chicken Sandwich Recipe
Ready for the best and easiest crispy chicken sandwich you've ever made at home? Make our delicious panko breaded air fryer chicken sandwich today.
Ingredients
1

Pd

Boneless Skinless Chicken Thighs

1/2

Cup

Flour

1

Large Egg

1

Tbsp

Milk

1

Cup

Toasted Panko

4

Brioche Buns
Seasoning Blend
1

Tsp

Garlic Powder

1

Tsp

Onion Powder

1/2

Tsp

Paprika

1/2

Tsp

Kosher Salt

1/2

Tsp

Oregano

1/4

Tsp

Black Pepper
Brine
20

Oz

Water

1

Oz

Kosher Salt
Optional Toppings
Lettuce

Tomato

Mayo

Sliced Pickles
Instructions
In a small bowl, add all the ingredients for the seasoning blend and mix until completely combined. Set aside.

For the Brine, put the salt and half the water in a small saucepan. Heat until the salt has dissolved. Then, add the remaining water to help cool it down.

Put the chicken thighs in a ziplock bag. Pour the cooled brine into the ziplock bag with the chicken making sure it's completely submerged. Then refrigerate for at least 30 minutes or up to a day.
Toasted Panko
Add 1 tablespoon of melted butter and 1 cup of panko in a medium bowl. Mix until the panko is completely coated with the butter. Preheat the Air Fryer to 400 degrees. Add the panko and toast for up to 3 minutes or until golden brown. Make sure to shake the basket a few times throughout this process. (See note)

Remove the chicken from the brine and pat dry with a paper towel. Lightly drizzle with olive oil, and add the seasoning blend.

Preheat the air fryer to 400 degrees.

To prepare the breading, you will need 3 shallow dishes. In the first one, add the flour. In the second dish, lightly whisk the egg and milk. In the third dish, add the toasted panko.

Dip a chicken thigh in the flour, the egg mixture, and lastly, the panko. Place the breaded chicken onto the basket of the air fryer. Make sure to space them out. You don't want to overcrowd them.

Cook the chicken for 4 minutes. Carefully flip and cook for another 4 minutes or until the internal temperature reaches 165 degrees. (See note)

Time to assemble your sandwich. Lightly toast the buns, and add some mayo, lettuce, tomato, and pickles or your favorite toppings. Enjoy!
Notes
When toasting the panko, you want to watch it. It can go from brown to burnt. The cooking time may vary based on the Air Fryer you have. 
Depending on how big your chicken thighs are, check the internal temperature after 8 minutes to ensure it reads 165 degrees. If it's not, please cook the thighs for a couple more minutes. 
You can store them in an air-tight container for up to 4 days. 
You can reheat the chicken thighs at 375 degrees for up to 6 minutes. This temperature will keep the coating crispy. 
Nutrition
Calories:
500
kcal
Carbohydrates:
63
g
Protein:
15
g
Fat:
21
g
Saturated Fat:
11
g
Polyunsaturated Fat:
1
g
Monounsaturated Fat:
1
g
Trans Fat:
0.01
g
Cholesterol:
185
mg
Sodium:
3557
mg
Potassium:
88
mg
Fiber:
1
g
Sugar:
1
g
Vitamin A:
810
IU
Vitamin C:
1
mg
Calcium:
102
mg
Iron:
3
mg